Tarkarli Beach in Maharashtra: Essential Travel Guide
Scuba Diving and Water Sports off the Tourist Trail
Unspoiled Tarkarli beach is best known for its water sports including parasailing, scuba diving and snorkeling. The beach is long and pristine, and the area is reminiscent of Goa decades ago before development set in. Its narrow, palm-fringed roads are lined with village homes, and locals can often be seen unhurriedly riding bicycles or walking to get around.
At the confluence of the Karli River and Arabian Sea, in the Sindhudurg district of Maharashtra. It's about 500 kilometers (310 miles) south of Mumbai and not far north of the Goa border.
How to Get There
Unfortunately, reaching Tarkarli is time consuming. Currently, there's no airport in the area, although one is under construction. The nearest airport is 100 kilometers (62 miles) away in Goa.
The nearest railway station is at Kudal, about 35 kilometers (22 miles) away on the Konkan Railway.   You'll need to book well in advance, as trains fill up fast on this route. Expect to pay around 600 rupees for an auto rickshaw from Kudal to Tarkarli. Autos are readily available at the railway station, and local buses also run from Kudal to Tarkarli.
Alternatively, it's possible to take a bus from Mumbai.
If you're driving from Mumbai, the quickest route is National Highway 4 via Pune. Travel time is approximately eight to nine hours. National Highway 66 (also known as NH17) is another popular, albeit slightly slower, route. Travel time from Mumbai is 10 to 11 hours. More scenic but much longer is State Highway 4 (the coastal route) from Mumbai . This route is best suited to motorcycles. It involves taking numerous ferries and the roads are in poor condition in parts. The views are stunning though!
The weather is warm throughout the year, although winter nights can be a bit chilly from December to February. The summer months, during April and May, are hot and humid. Tarkarli receives rain from the southwest monsoon from June to September.
Most of the people who visit Tarkarli are Indian tourists from Mumbai and Pune. Hence, the busiest times are during Indian festival season (particularly Diwali), Christmas and the New Year, long weekends, and school summer holidays in May.
A popular Ram Navami festival takes place at Mahapurush Temple every year. Ganesh Chaturthi is also widely and enthusiastically celebrated.
If you want to enjoy pleasant weather and empty beaches, January and February are the perfect months to visit Tarkarli.  Off-season discounts are offered, and accommodations receive very few guests during the week.
The Beaches: Tarkarli, Malvan and Devbag
Tarkarli is the region's most well known beach. It's bordered by two tranquil, lesser-frequented beaches -- Devbag to the south and Malvan to the north. Both are home to fishing communities. Devbag is situated on a long, thin stretch of land with the Karli River backwaters on one side and Arabian Sea on the other.
What to Do There
Water sports are carried out on nearby Tsunami Island, a sandbar at the mouth of the Karli River estuary near Devbag beach. (There's some debate over whether or not it was in fact formed by tsunami waves after the earthquake in 2004). Local boat operators will take you there for a fee, and various water sport packages are offered. Prices are fixed and you can expect to pay 300-500 rupees for each activity, such as jet ski rides. A full package costs 800-1,000 rupees. Parasailing with a speedboat is about 1,000 rupees per person.
Malvan has one of the best coral reefs in India, and scuba diving (from 1,500 rupees) and snorkeling (from 400 rupees) are possible near Sindhudurg Fort. Marine Dive is a reputable company, based in Malvan, that offers trips. The best months for snorkeling and diving are November to February, when the water is clearest.
If you're interested in undertaking scuba diving training, Maharashtra Tourism's Indian Institute of Scuba Diving and Aquatic Sports runs certified training courses near the Maharashtra Tourism resort on Tarkarli beach. The courses are certified by the Professional Association of Diving Instructors in Australia. 2-day Discover Scuba Diving courses cost 3,500 rupees, while 45-day (minimum) PADI Dive Master courses cost 65,000 rupees.
Sindhudurg Fort, located in the sea just off Malvan beach, is one of the area's top attractions. The fort was constructed by great Maharashtrian warrior Chhatrapati Shivaji in the 17th century. It's a substantially sized one -- its wall stretches for 3 kilometers (1.9 miles) and has 42 bastions. The whole area of the fort is approximately 48 acres. The fort can be reached in about 15 minutes by boat from Malvan pier, and boat operators will allow you approximately an hour to explore the fort. What's interesting is that a handful of families, who are descendants of staff appointed by Shivaji, still reside within it. Unfortunately, maintenance and preservation of the fort are poor, and there is a disappointing amount of trash there.
Traditional rapan net fishing is undertaken on the beaches and is fascinating to watch. On Sunday mornings at Malvan beach, the whole village participates. The huge netting, which is placed in a "U" shape in the ocean, is hauled in by fishermen when the fish are spotted, thus trapping them. It's a long, labor-intensive and lively process, as the netting is extremely heavy. Most of the fish caught are mackerel and sardines, and there's a buzz among the fishermen to see how successful they've been.
Where to Stay
Maharashtra Tourism has a resort with dorms, bamboo boat houses, and Konkani cottages nestled under the pine trees on Tarkarli beach. It has a prime location and is the only place right on the beach, making it extremely popular with visitors. Reservations need to be made months in advance during busy times ( book online here ), when it's packed to capacity with Indian guests. As it's a government-run property, service and maintenance are noticeably lacking though. Expect to pay about 6,000 rupees for a bamboo house and 4,000 rupees for a Konkani cottage, per night, for a double including breakfast. This is on the pricier side, considering that facilities and rooms are basic.
If you'd prefer somewhere less costly but better maintained and in the same area, Visava is recommended. Otherwise, neighboring Devbag and Malvan beaches have some appealing options. If clean and peaceful surroundings are a factor, staying on one of these two beaches is recommended, as Tarkarli is sadly becoming littered with trash dropped by the increasing number of tourists.
Enterprising locals have constructed homestays amid the coconut groves on their beachfront properties at Malvan beach. These homestays are typically comfortable but basic cottages with just a few rooms, only steps from the sea. Two of the best ones, which are located next two each other, are Sagar Sparsh and Morning Star. Expect to pay 2,000-2,500 rupees per night, for a double. The cottage at Sagar Sparsh is super close to the sea but Morning Star is a bigger property with chairs, tables, and hammocks interspersed underneath the coconut palms. This ensures that all guests have plenty of personal space to chill out.
You'll find more options on this website .
Devbag has a few upmarket hotels, as well as many inviting guesthouses and homestays, all lining the ocean. Try Avisa Nila Beach Resort for a touch of luxury. Rates start from about 3,900 rupees per night, including tax.
What to Note
The area is geared more towards Indian tourists, rather than foreigners who seldom visit it. Many of the signs are in the local language, particularly in Malvan where there are homestays. Foreign women should dress modestly (skirts below the knees and no revealing tops) in order to avoid attracting negative attention. Foreign women may feel uncomfortable sun baking and swimming on Tarkarli beach, particularly if there are groups of Indian guys around (which is likely, due to the proximity of the Maharashtra Tourism resort). Quieter Malvan beach offers much more privacy.
Local Malvani cuisine predominates, featuring coconut, red chilli and kokum. Seafood is a specialty, as fishing is one of the villagers' main sources of income. Delicious surmai fish thalis are priced around 300 rupees. Bangra (mackerel) is prevalent and cheaper. Choices for vegetarians are limited.
Unlike many other beaches in India, you won't find shacks or snack stands lining the shore.
10 Top Beaches on the Maharashtra Konkan Coast
The 14 Best Beaches in India
How to Travel From Mumbai to Tarkarli by Train, Bus, and Car
18 Farmstays in India to Get Back to Nature
The 10 Best Day Trips from Goa
Goa in the Monsoon Season: Essential Travel Guide
Essential Guide to Adventure Travel and Tours in Goa
Essential South Goa Travel Guide
13 Exceptional Homestays in India
Top 8 Beaches in Kerala, India
Palolem Beach Goa: Essential Travel Guide
Your Ultimate Trip to India: The Complete Guide
Patnem Beach Goa: Essential Travel Guide
How to Travel From Mumbai to Goa by Train, Bus, Plane, and Car
Your Trip to Goa: The Complete Guide
One Week in Mumbai: The Perfect Itinerary
By clicking "Accept All Cookies", you agree to the storing of cookies on your device to enhance site navigation, analyze site usage, and assist in our marketing efforts.

Mumbai Tarkarli Road Trip on an Extended Weekend
The last long drive we did was in November to Hampi, Badami, and Vijaypura. Four months have passed after that. The long weekend of the Holi week offered a perfect opportunity for another trip. An off on Friday made it an extended weekend of four days. Hence, after much consideration, Mumbai to Tarkarli road trip was decided for our next family adventure.
There are two routes for going to Tarkarli, one via NH66 (old Mumbai-Goa Highway) and another via NH48.
The distance via NH66 is ~ 500 km
The distance via NH48 is ~ 550 km.
We decided to go to Tarkarli via NH66 and return via NH48.
Quick Navigation
Mumbai Tarkarli Road Trip
Our plan was to start in the afternoon once my daughter comes back from school. It is not possible to reach Tarkarli on the same day. So, the destination for the first day was Chiplun.
Day 1: Mumbai to Chiplun
We started at 2.25 pm.
I prefer the Airoli bridge over the Vashi bridge to cross the creek and get into Navi Mumbai. So, from Jogeswari, we took JVLR to reach Airoli via Powai. Since we stay at Goregaon, we could have opted for Aarey colony rood.
We did not do that and it proved to be a mistake very soon. On account of Mumbai Metro work, JVLR has become substantially narrower. There was bumper to bumper traffic jam from Jogeswari up to the crossing of JVLR and Ballavbhai Patel road. It took around 20 minutes to cross that stretch.
Also Read:  Road Trip to Gujarat – A Memorable Journey of 10 Days
Powai – Airoli – Belapur
After that traffic eased out substantially. We crossed Powai at 3.05 pm, touched Eastern Express Highway at 3.15 pm, and were at Mulund East, at the junction of Airoli-Mulund road and Eastern Express Highway by 3.20 pm.
We encountered the second round of traffic jams at Airoli, just before getting onto Thane-Belapur road and lost around 10 minutes there.
There was a sporadic traffic jam even on Thane-Belapur Road. The road became free and drive became painless only after Nerul. We crossed Belapur at 4.05 pm and by 4.18 pm, we were on Mumbai-Pune Expressway.
It was quarter to 5 pm when we reached Khalapur toll gate. After crossing the toll gate, we took a left turn for Pen-Khapoli Road. Immediately After getting onto Pen-Khapoli Road, we took a U-turn and perpendicularly crossed the Mumbai-Pune expressway by the overbridge.
Khalapur – Nagothane
There, the road trifurcates. The rightmost branch is Pen-Khapoli Road which goes towards Pen. The left-most branch goes back to the Mumbai- Pune expressway. The middle one is SH92 which goes to Nagothane. We took a 5 minutes tea break at a roadside tea stall and then proceeded towards Nagothane.
The distance between Khalapur and Nagothane is approximately 40 kms. It is a single-lane road. One of the claims to fame of this road is that Imagica Theme Park is on this road. You also need to take this road if you intend to go to Durshet forest.
I last drove on this road in December 2017. Then, the road condition was good or rather excellent. The traffic on this road is quite sparse. Driving on this road used to be a pleasure in spite of it being a single-lane road. The situation has changed now. The road is being widened. Construction work is underway. Asphalt is being replaced by cement. Now it is a broken dirt track.
The road condition improves significantly after the first 10 km and remains so for the next 15 km. The last 15km is a mix of good and bad patches.
Also Read:  Mumbai to Mahabaleshwar Road Trip – A Refreshing Journey
Sahyadri Hill Range
It is a serpentine road through the Sahyadri hill range, full of twists and turns. It passes through Pali town and some villages. The grassland on both sides of the road was completely dry. In the blistering afternoon sun, it was emitting a golden glow.
In many places, the trees at the side of the road were devoid of leaves. The skeleton-like branches moved up in an apparent attempt of catching the feet of the rain god. In the afternoon Sun, the dry branches were looking a bit mystic. I am pretty sure that on a dark night, these branches look eerie in the headlight of the vehicle.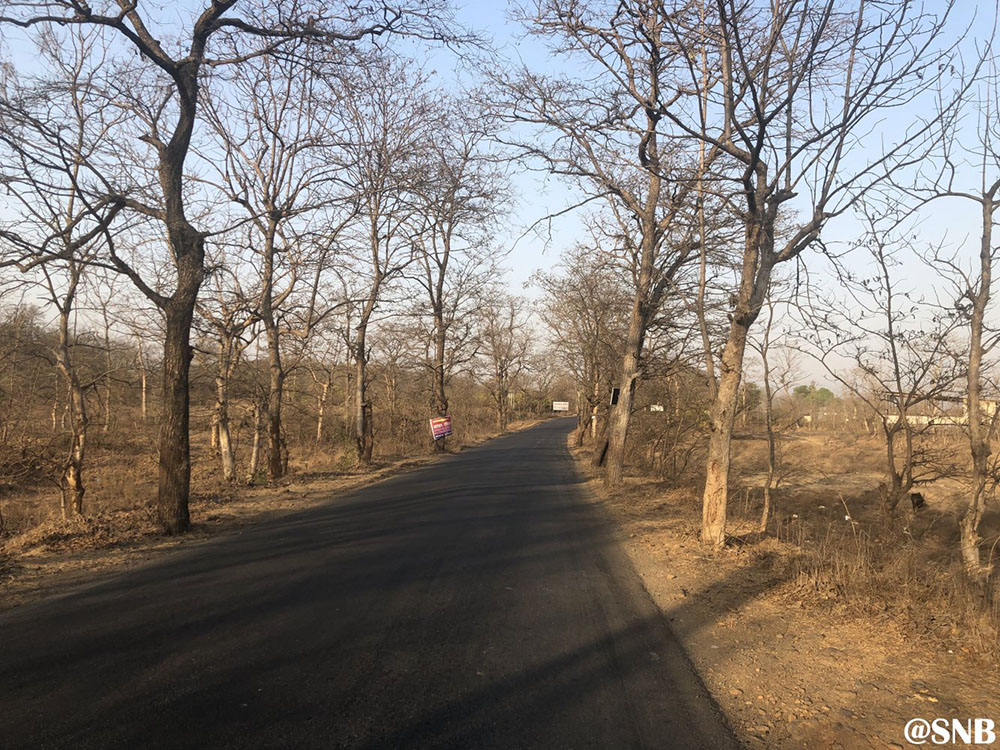 SH92 meets NH66 near Nagothane bridge on Amba river. This place is approximately 3 km after Nagothane town while you are going towards Chiplun. We reached there around 5.55 pm. By that time, we had covered a distance of 124 km. Before getting onto NH66, we took a snack break with some homemade stuff on the banks of the Amba river.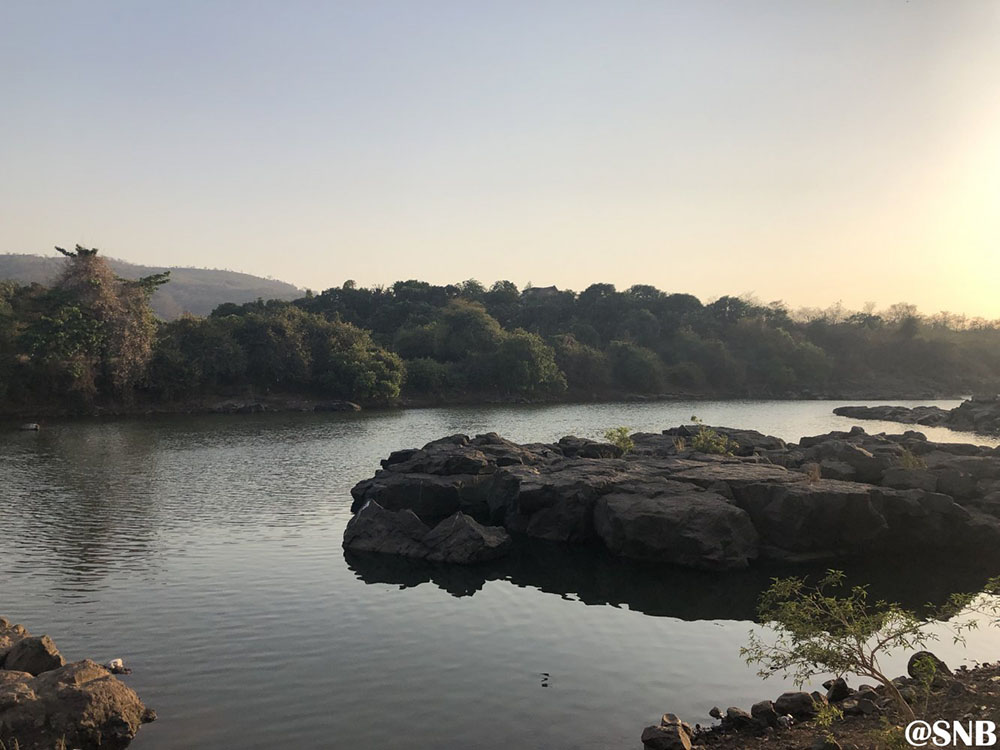 We resumed our journey after 15 minutes. Before saying goodbye to SH92 we took the last few snaps of the road. In the slanting rays of the setting sun, it was looking surreal.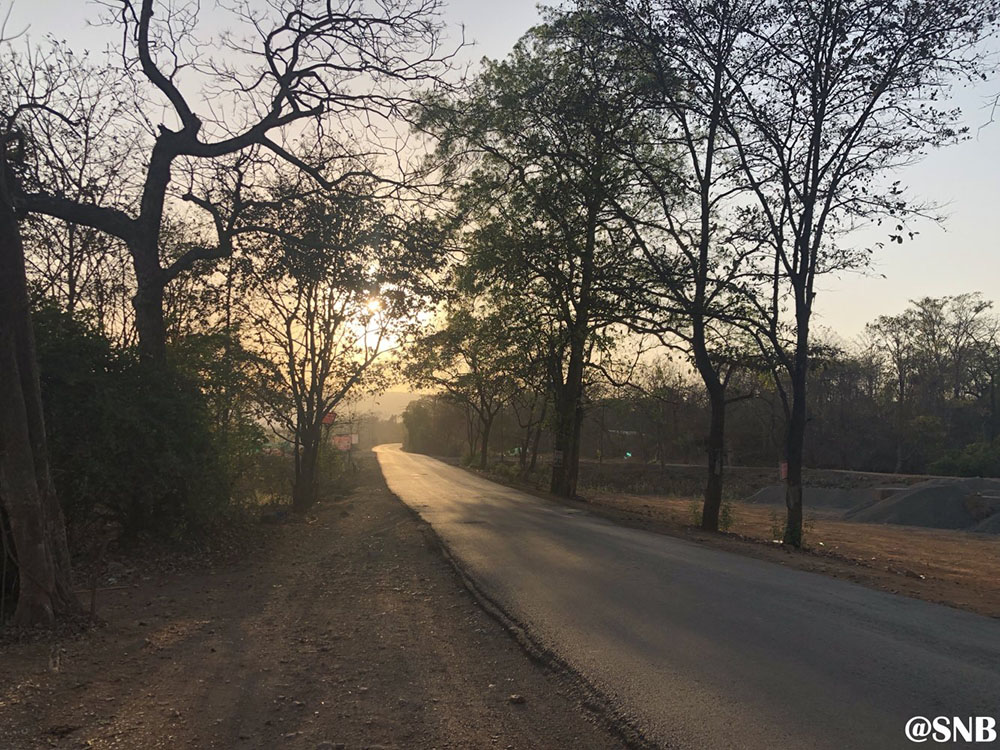 By the time we took NH66, it was already in the captivity of the shadow of the hills standing tall at the west. The dusk was setting in. The moon appeared in the east.
By the time we crossed Mangaon, the darkness was visible.
I drove a number of times on NH66 since 2009. Though it is a single-lane hilly road, it used to be an enjoyable drive. The route offers fascinating vistas and a bit of adrenalin rush. The road surface used to be impeccably good. The traffic used to be scanty traffic, especially after Poladpur. I have even driven on this road in dark and found that pretty manageable.
The assumption of good road quality does not hold good anymore. Road widening work has been going on NH66 for the last 3-4 years. It has significantly worsened the surface quality.
When I drove last on NH66 in December 2017, the stretch up to Mangaon was affected. This time, based on this day's as well as the following days' experiences, we found that the entire NH66 has come under the ambit of road widening work.
I am ok with driving at night on a single-lane road even with twists and turns provided the road throw unpleasant surprises in form of broken track and sudden diversions. Here the case was exactly the opposite.
The track was broken at many places and it was full of diversion. To make the matter worse, most of the vehicles coming from the opposite side were engaged in a vulgar and competitive display of brightness of the headlights. It was a difficult drive.
My advice for myself and other travelers is to avoid NH66 for the next few years to the extent possible.
Poladpur – Chiplun
Driving became a bit easier once we crossed Poladpur. One of the reasons is that traffic became light after Poladpur. Another reason is that the Moon started glowing full throttle and moonlight caused darkness to disappear considerably. It was the previous evening of 'Holi Purnima'
Driving on a hilly road on a moonlit night is an exhilarating experience. The hills, the valleys, the forest were looking mystic in the moonlight. It was a treat to the eyes.
Unfortunately, I could not capture the same in the lens. You need to take a super slow shot to capture the beauty of nature. You need a proper camera and a tripod. I had ammunitions but did not have time as we were already running late.
We reached Chiplun at 9.45 pm. We had pre-booked our accommodation at 'Hotel Oasis'. It is on the highway. It is a neat and clean hotel with a restaurant and parking lot. The room is a bit smaller but quite ok for a stopover.
Also Read:  Trip to Lonavala – How to Plan and What to See !!!
Day 2: Chiplun to Tarkarli
After getting up, I came out of the hotel for a stroll and found the morning bit overcast and foggy. The hotel staff told that Chiplun experiences foggy morning till March.
What I read from the internet is that Tarkarli has several other good beaches in the company, both in the north and south of it. In its north, there are beaches namely Kunkeswar beach, Achara beach, Chiwla beach, etc.
We planned to cover these beaches on our way to Tarkarli. It is difficult to get down on the beach with Sun over the head. So, we decided to start late so that we did not hit the beaches before the afternoon.
We started at 10.30 am. The toad condition was similar to what we faced the previous evening. After covering a distance of around 71km, at 12 noon, we took a left turn and left NH66 as per the advice of Google maps. It was a narrow hill road.
I was a bit surprised with Google Maps' guidance for taking left because our destination was on our right-hand side. Still, I obliged Google map hoping that it would take us to our destination using some underpass below NH66.
However, after driving a few kilometers, I realized that my apprehension was correct. This road leads to NH66 only. Google map directed us to this road instead of sticking to NH66 because as per its analytics, that was saving some time.
I am not sure whether we saved any time. But we do not have any complaints also. The road was quite scenic. Though it was narrow, its surface condition was very good. There was very less traffic on this road. We enjoyed driving there.
We came back to NH66 at 12.25 pm. From there, NH66 was in excellent condition. So, the speedometer started hovering around 100km/hr.
We took our lunch break at 1.15 pm at Hotel Gurumauli Lodging. By that time, we had covered approximately 124km. The hotel was looking quite decent from the highway. It was actually. We ordered a vegetarian Thali for my wife and one-half chicken handi with chapati and rice for my daughter and myself. The food was good. The meal cost around Rs. 500/-.
We resumed our journey at 2.05 pm. After crossing around 8 kms, we took the right turn for MDR61 and started ascending immediately. It was a nice serpentine road through greens.
Also Read:  Mahabaleshwar Travel Guide | Places to Visit & Things to Do
After some time, we reached the top which is flat, essentially a plateau. The surface is rocky and barren. The black asphalt road has gone towards the horizon by splitting the plateau. We were driving on a parched land under the scorching Sun.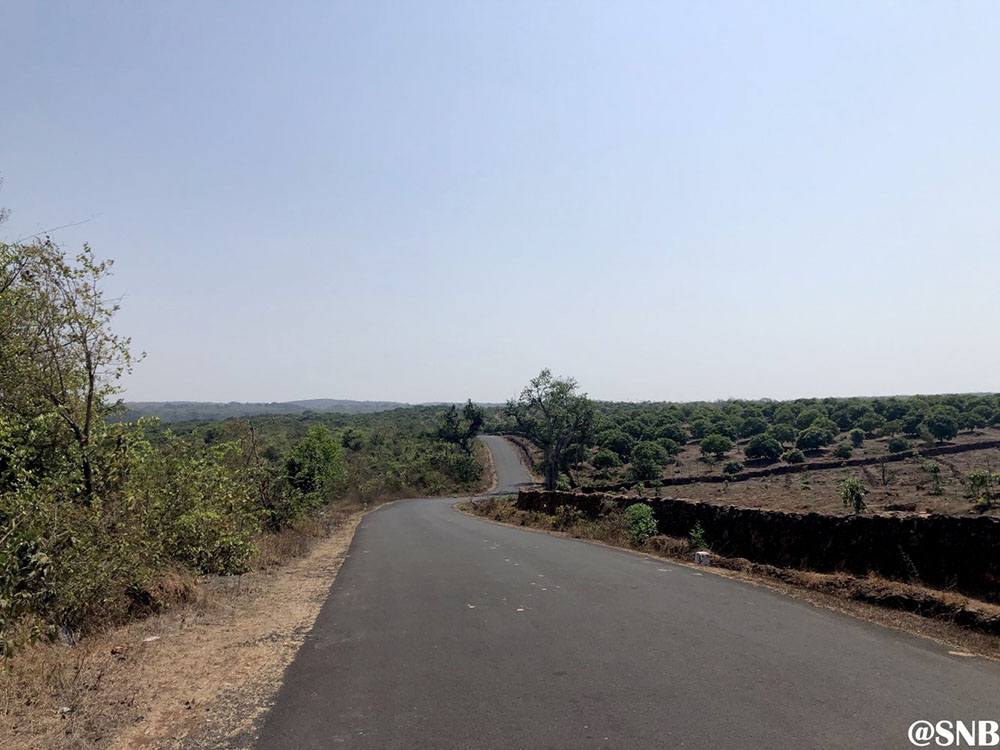 After driving for around 26 km on MDR61, we took a left turn for Rajapur road. After another 7 km, we took SH4. We crossed the Vagothan river around 2.55 pm.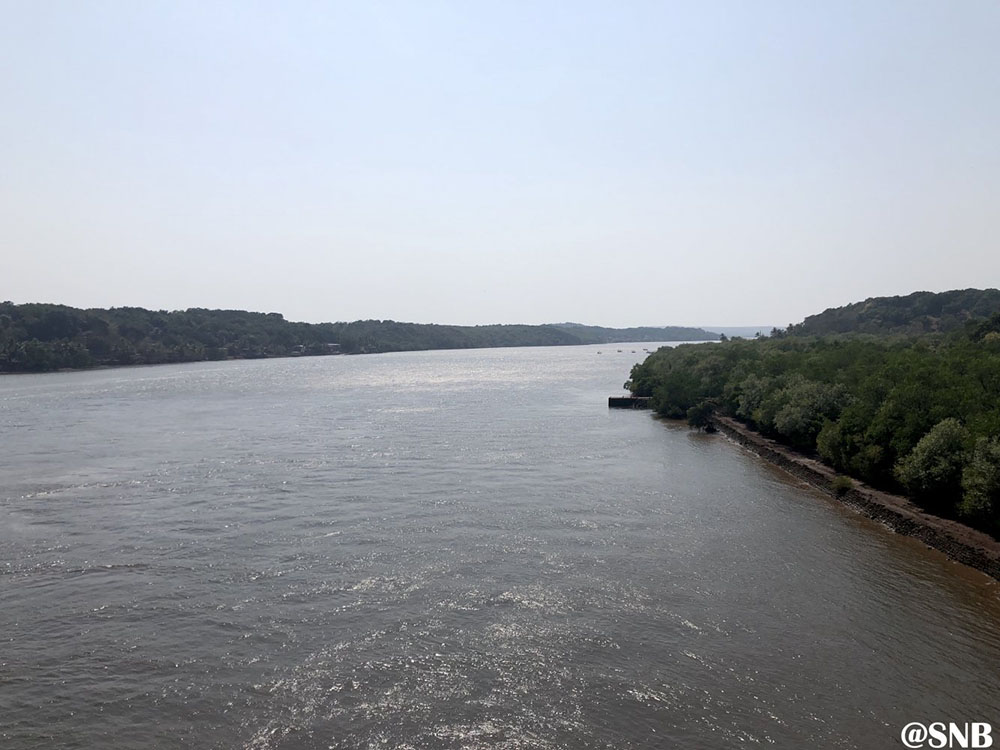 We passed through a few mango orchards in between and crossed the Kharada river around 3.20 pm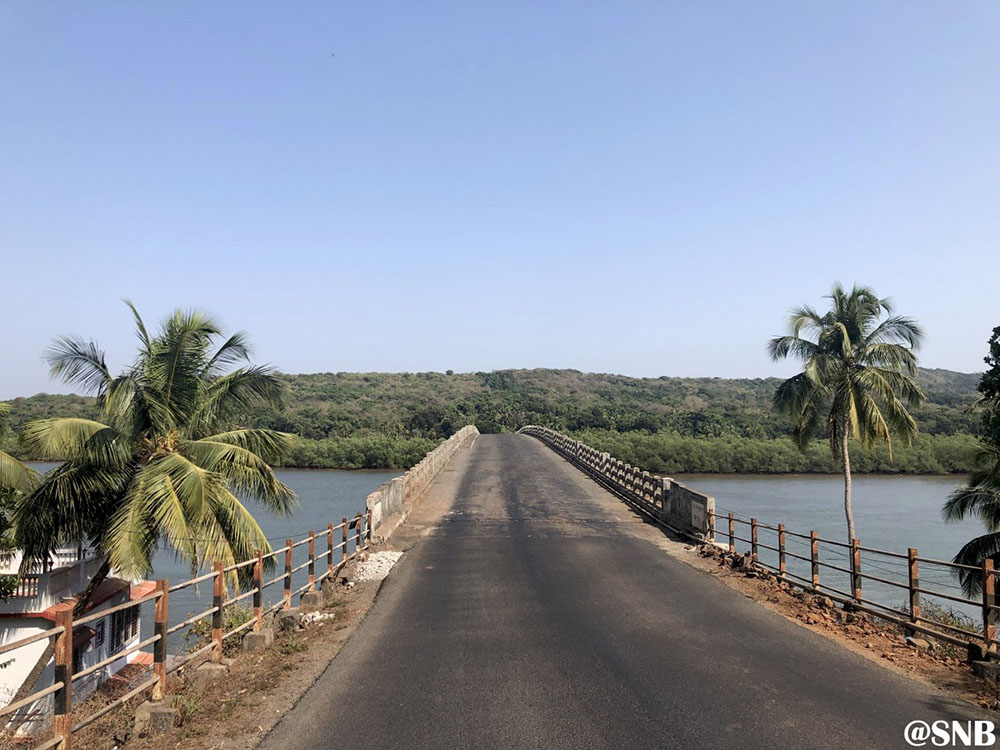 After driving for around 13 km on SH4, we took a right turn for Devgarh Nippani road around 3.25 pm.
We crossed another river around 3.30 pm name of which is unknown to me. There is a nice temple on the bank of the river on the upstream side.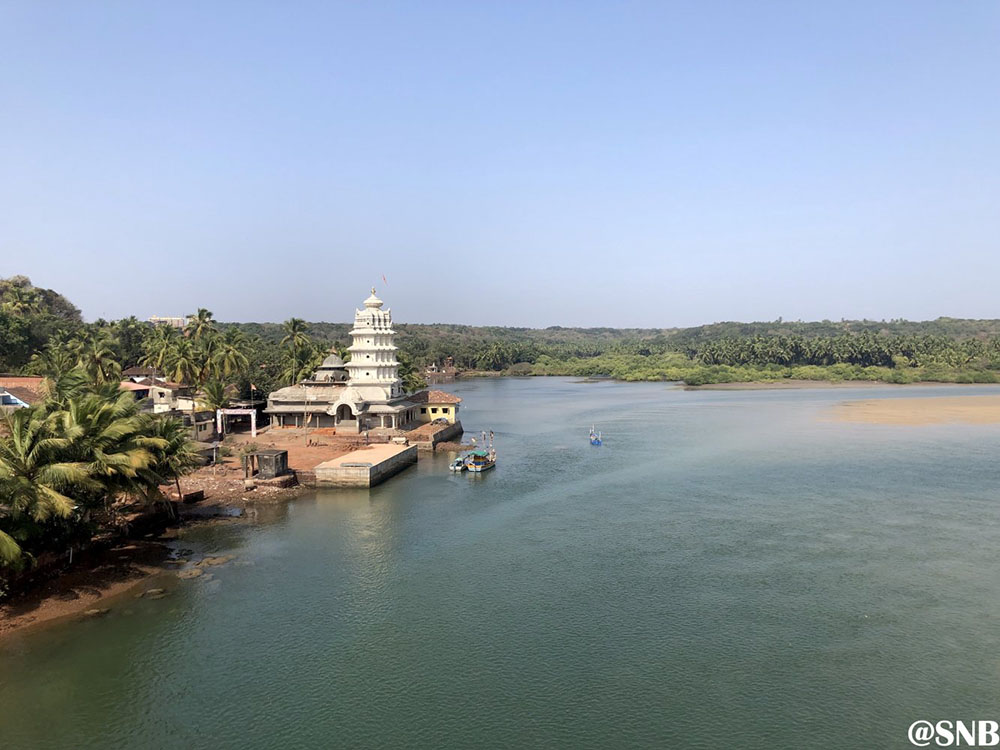 In the other direction, the confluence was visible.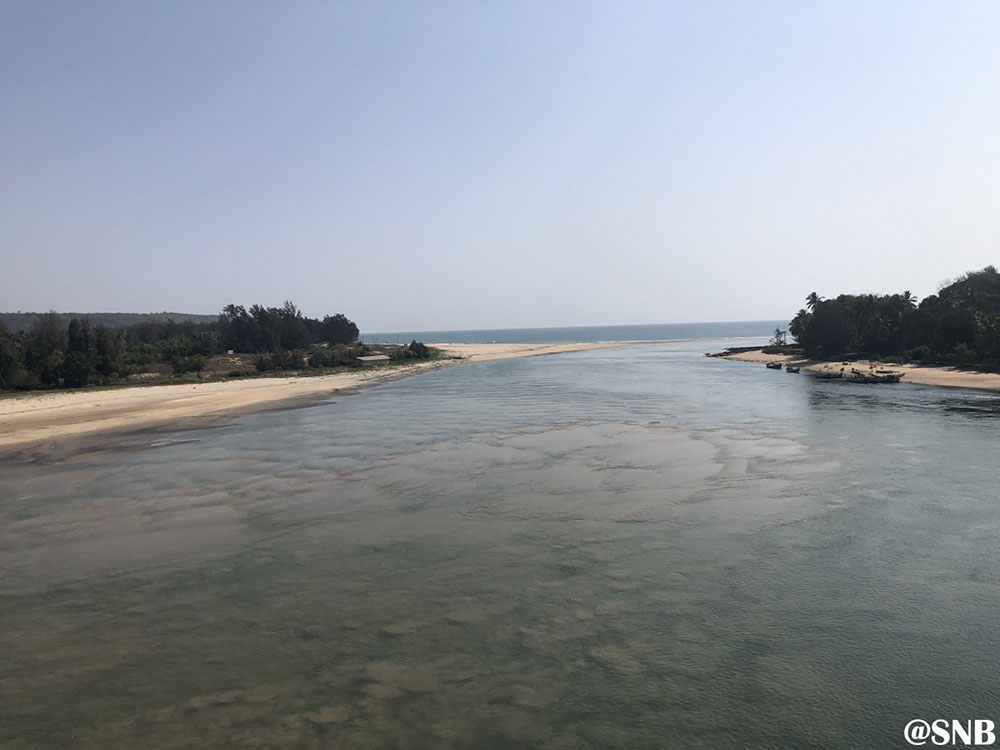 Mithmumbari Beach
We reached Mithmumbari beach immediately after that. On the other side of the confluence is Taramumbari beach.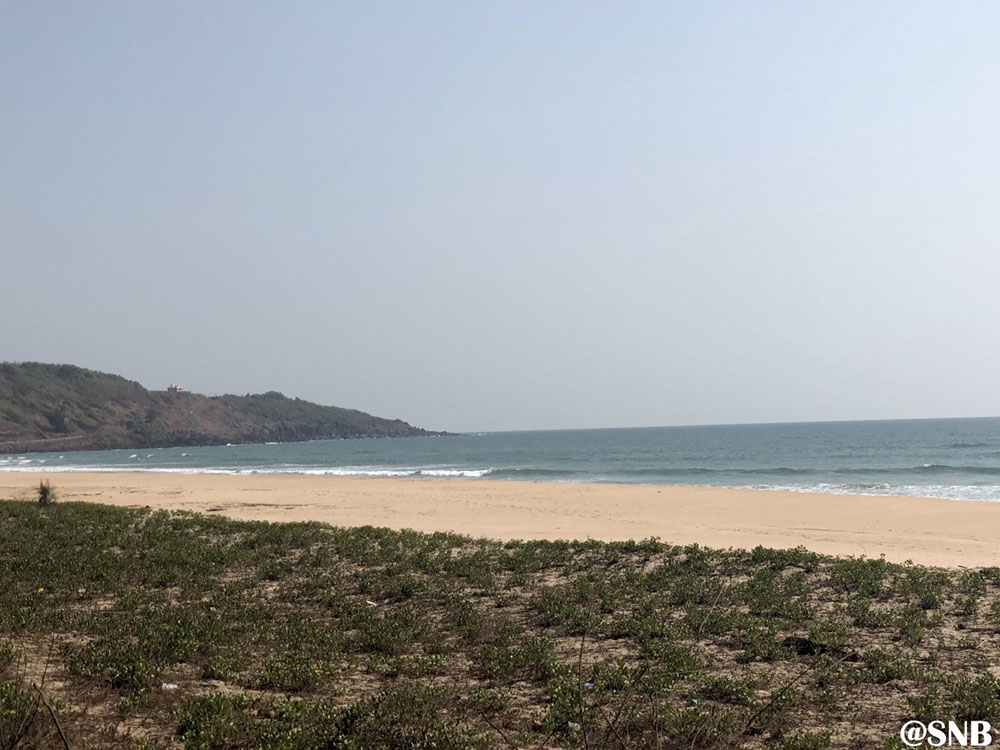 There is a narrow stretch of green separating the beach from the road. It is a white sand beach. It is completely secluded. We saw only one family there. There are a few stalls on the road selling water and cold drinks.
Though we got down from the car, we did not dare to venture to the beach. The Sun was merciless. So, we took a few photos from a distance and started for Kunkeswar beach.
By that time a problem has cropped up with my vehicle. Whenever I was applying break, a metallic sound was emanating from the rear left wheel. From my limited knowledge, I guessed that the brake shoe had completely worn out. That made me a bit worried and somewhat distracted me from enjoying the beautiful surroundings.
A small hillock separates Mithmumbari beach from Kunkeswar beach. We took one more stop before starting the uphill drive and took a photograph of Mithmumbari beach from another angle.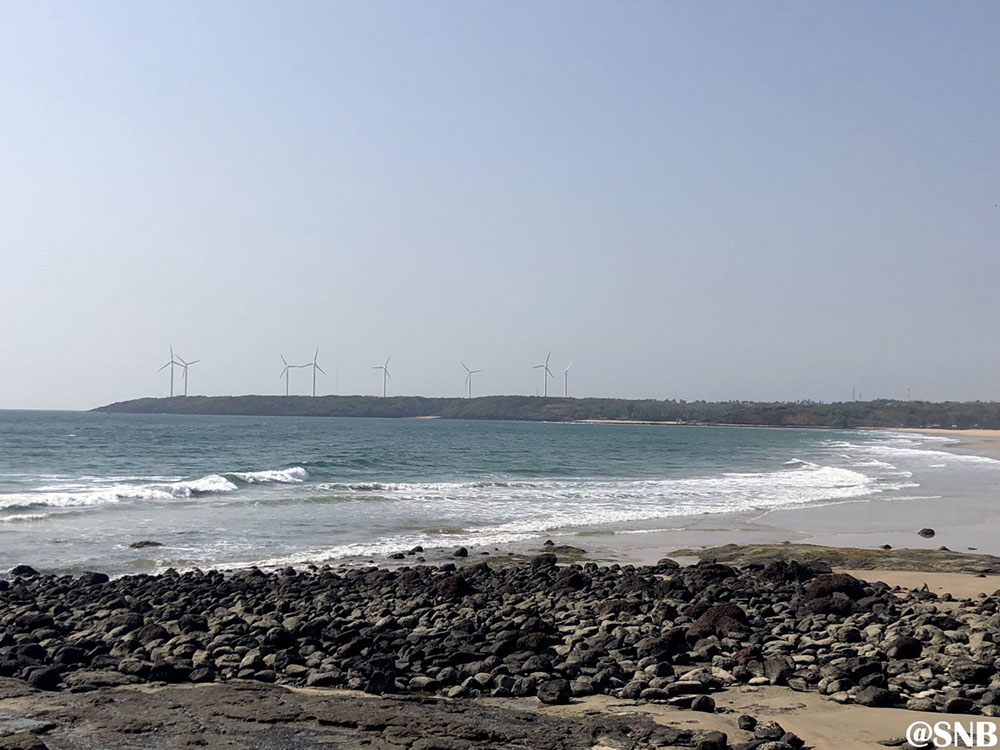 Kunkeswar Beach
Kunkeswar beach got visible immediately after the commencement of the downhill drive. It is simply stunning.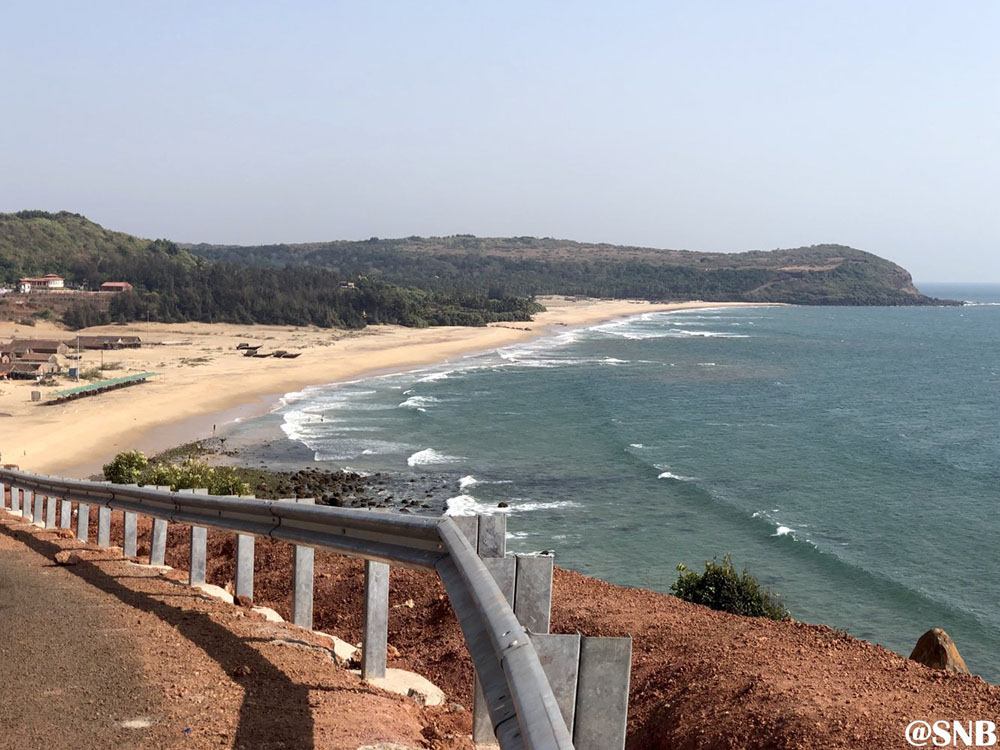 Kunkeswar beach is flanked by hillocks on both sides. The approach to the beach is a bit tricky. The road becomes really narrow at the downhill with a considerable slope. It branches into two.
We were a bit confused. Fortunately, there was a passerby at that time. He told that we could take any of the branches. The left one goes through the village. The right one goes via the Kunkeswar temple. The branches merge in the small market along the beach.
We took the right one and crossed Kunkeswar temple immediately. The temple is at the northern end of the branch. Since I was occupied with the problem of the brake, we did not stop there which I repent at the hindsight.
After crossing the Kunkeswar beach, we started climbing the hillock at the right flank of the beach. After some time, we reached the plateau. Our driving continued towards our next destination – Achra beach.
A Beautiful Drive
By that time, we discerned the sequence of the terrain. First, you will climb up to a plateau that will be rocky, arid, and lack vegetation. After some time, you will come down to a green valley and will cross a few picturesque villages. Then you will cross a river which is worth a visit on its own.
That will be followed by a few picturesque villages again. Then, you will climb up again to a dry plateau. In a way, this sequence reflects various phases of our life. The river reflects that phase of life when we are full of jest, mobile, and active. The green valley is an image of that phase of contentment.
The arid plateau is akin to that phase of life when everything around us starts departing and we helplessly watch that as mute spectators.
Though the sequence was repetitive, it was not boring at all. Every turn would offer a new vista. Every twist would show something unseen. A driving through Konkan is exhilarating in all seasons.
After some time, we came down to the valley and crossed a village temple.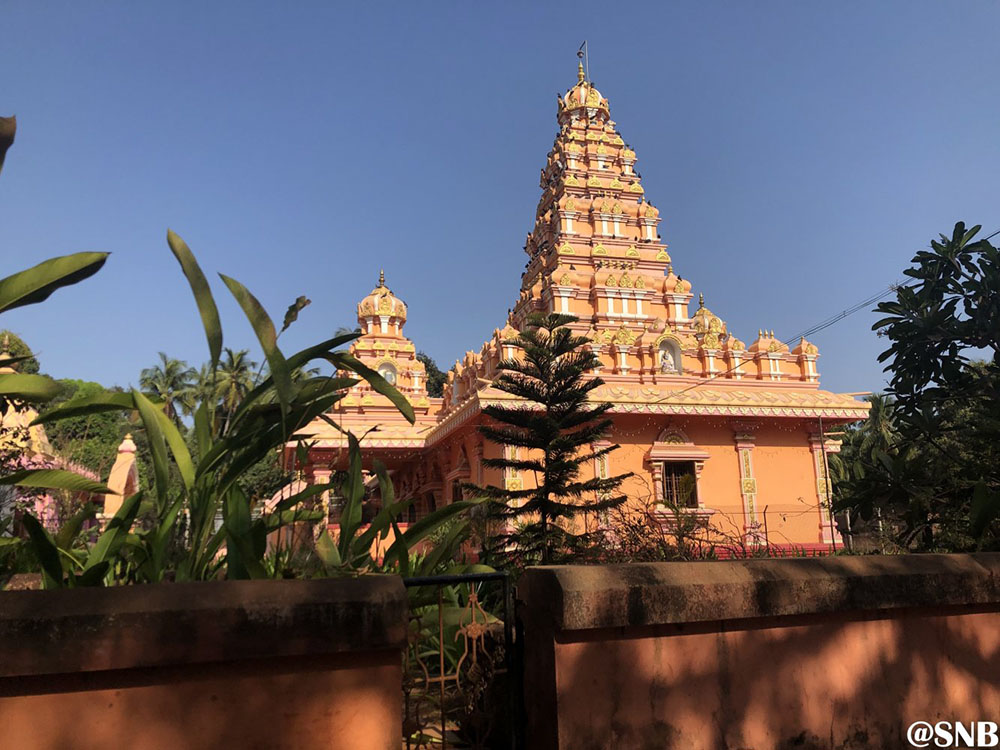 Then we crossed the Achra river.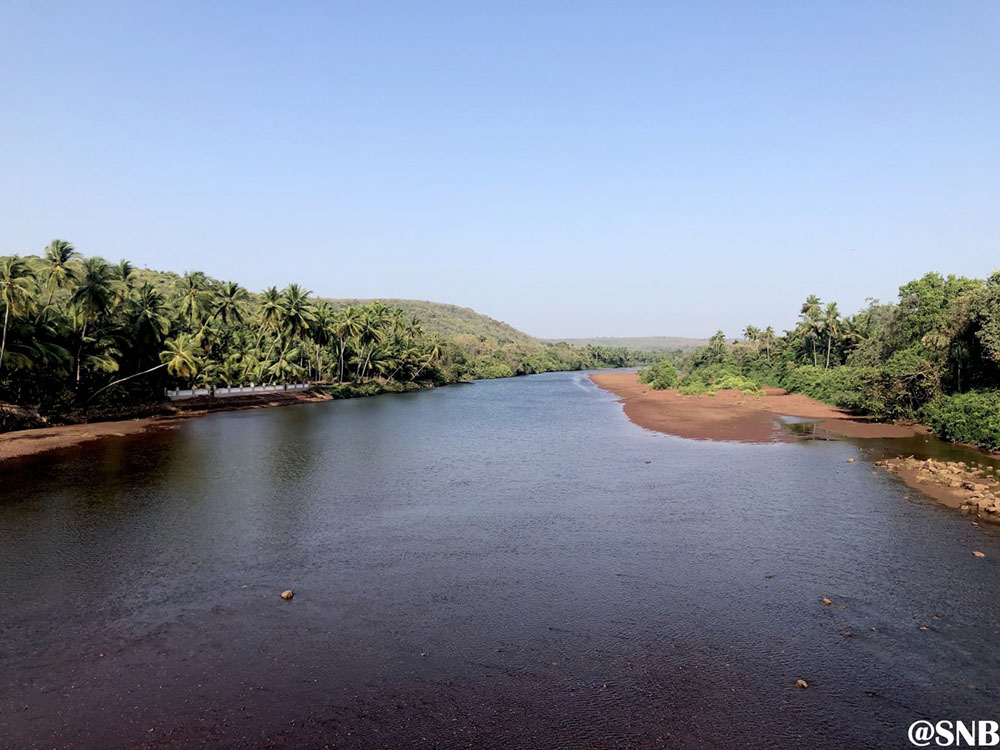 This road does not go to Acra beach. You need to take a right turn for Achra bridge after crossing Achra market. By enquiring the village people, we took the right turn from the tight junction.
Achra Beach
We were at Achra beach around 4.45 pm. The parking lot is reasonably spacious. The beach was relatively crowded compared to Mithmumbari and Kunkeswar beach.
There was one more family and a few bachelors. In total, there were 10-15 living souls on the beach at that time. There were some shops along the beach but all were closed on account of Holi. The sun was bright but not blistering. It was an ideal time to venture to the beach.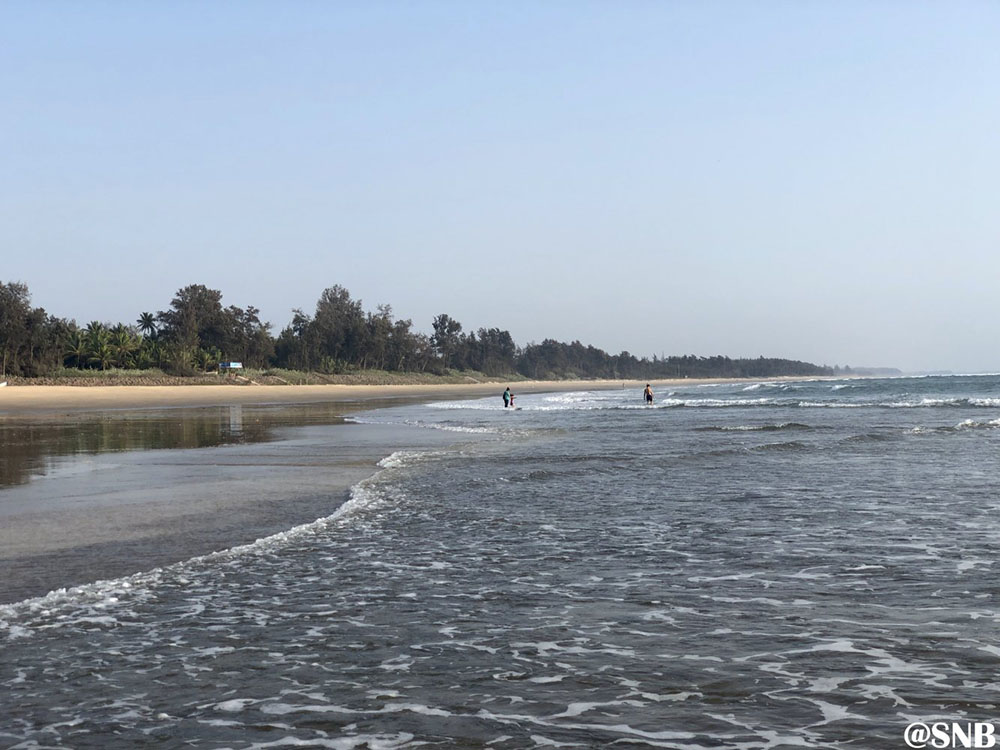 We spent around 10 minutes there and then resumed our journey. The next destination was Chiwla beach. It is adjacent to Malvan town. We came back to the junction and took a right turn. It took almost 45 minutes to reach Malvan town.
On the way, we crossed the Gad river. The lanes of Malvan town are narrow. Late afternoon marketing activities by the local populace made those lanes narrower. We carefully navigated through those lanes. By the time we reached Chiwla beach, the clock has crossed 6 pm and the Sun God is about to take leave.
Chiwla Beach
Chiwla beach does not have any designated parking space. There is a narrow lane along the circumference of the beach. We managed to park our vehicle there and got down to the beach.
It's a semi-circular beach.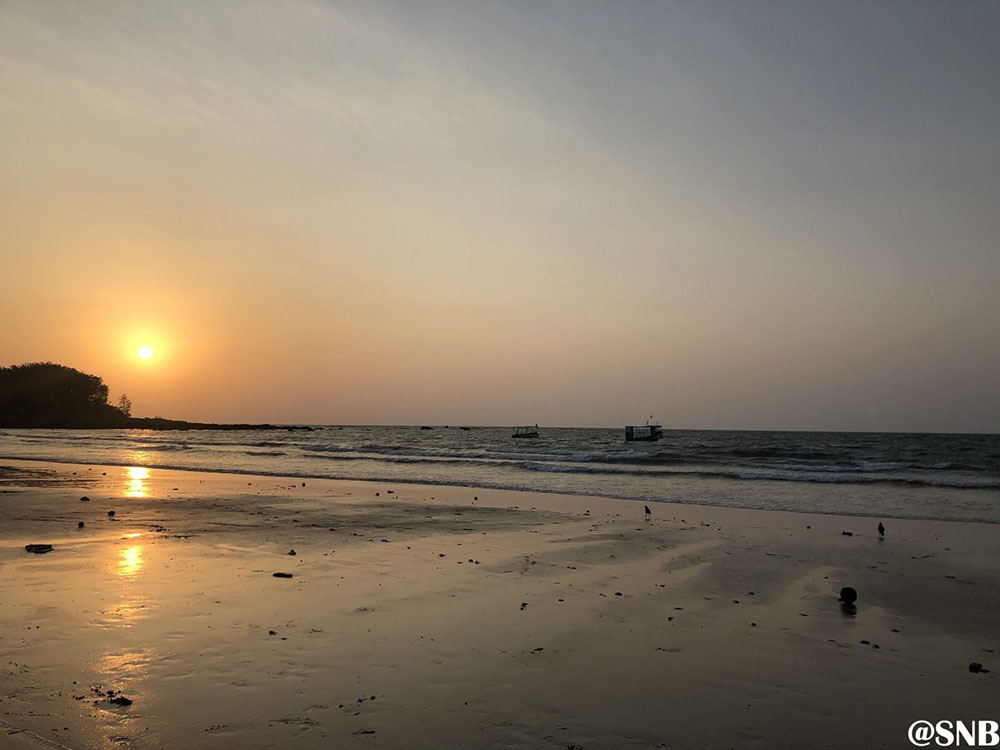 After spending some time there, while we were about to leave, we noticed a few vehicles on the beach. On inquiry, locals informed that it was allowed. So, we also took our vehicle to the beach and did some driving while watching the sunset.
We started from Chiwla beach around 6.30 pm. The distance of Tarkarli is approximately 4.5 km. However, it took almost 25 minutes to reach Tarkarli since we were driving slowly on account of the brake-related issue. By the time we checked in Tarkarli Nyahari Niwas, it was past 7 pm.
Tarkarli Nyahari Niwas is quite a good place to stay at Tarkarli. The rooms are quite spacious, well decorated, and maintained. It has a parking facility. It has an in-house restaurant. Staffs are courteous and helpful.
After freshening up, when we came out, it was quite dark. The moon had just arisen on the hills at the east.
The hotel staff advised us not to venture to the beach because the beach has not been electrified. We had an early dinner and retired for the day.
Day 3: Sightseeing in Tarkarli
I got up around 5.30 am and came out of the hotel. It was still dark. So, I went back to my room.
I again came out around 6.30 am. By that time, it was clear. So, I decided to go to the beach.
The hotel staff informed us that for proper pedestrian access to the beach, we had to go to the Tarkarli beach parking lot which was adjacent to the MTDC property. That place is at a distance of approximately 1 km south of our hotel.
The alternate is to follow a walking trail starting from opposite of our hotel which goes through heaps of sand, trees, bushes, and a few hutments. Since I was going alone to the beach at that time, I opted for the later one.
Tarkarli Beach
Within a few minutes, I was on the beach. The moon was still visible.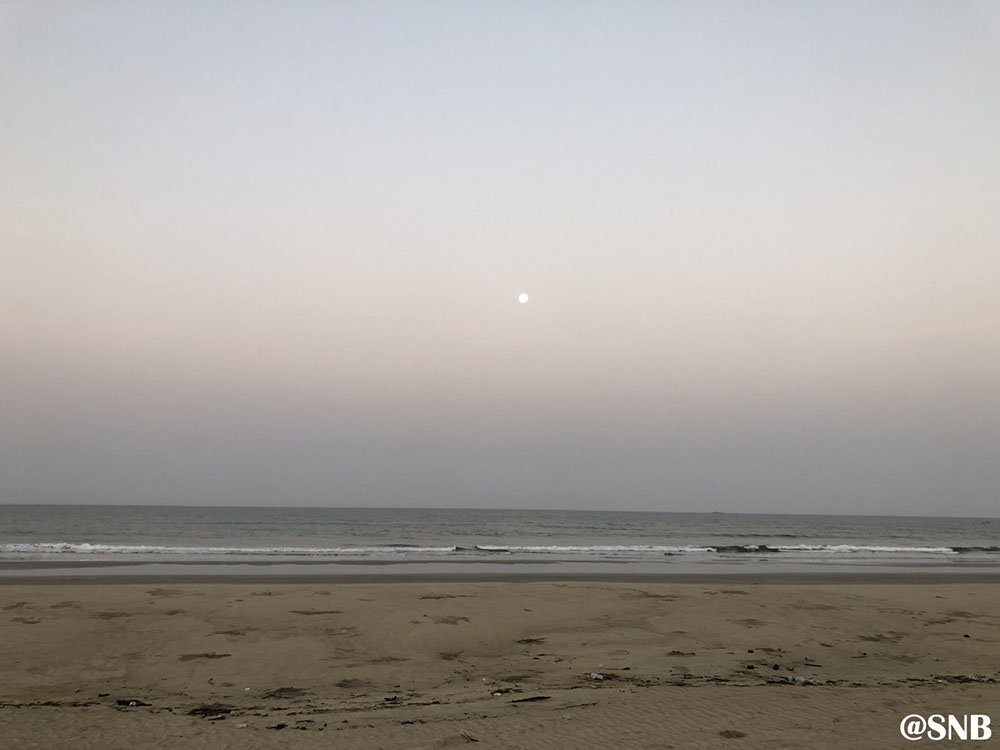 Tarkarli beach is a very pristine beach. There were no commercial activities on the beach barring a couple of food stalls just in front of the MTDC resort. It is a very calm and soothing beach. It's not obtrusive. It's not imposing. It just lovingly and caressingly hugs you.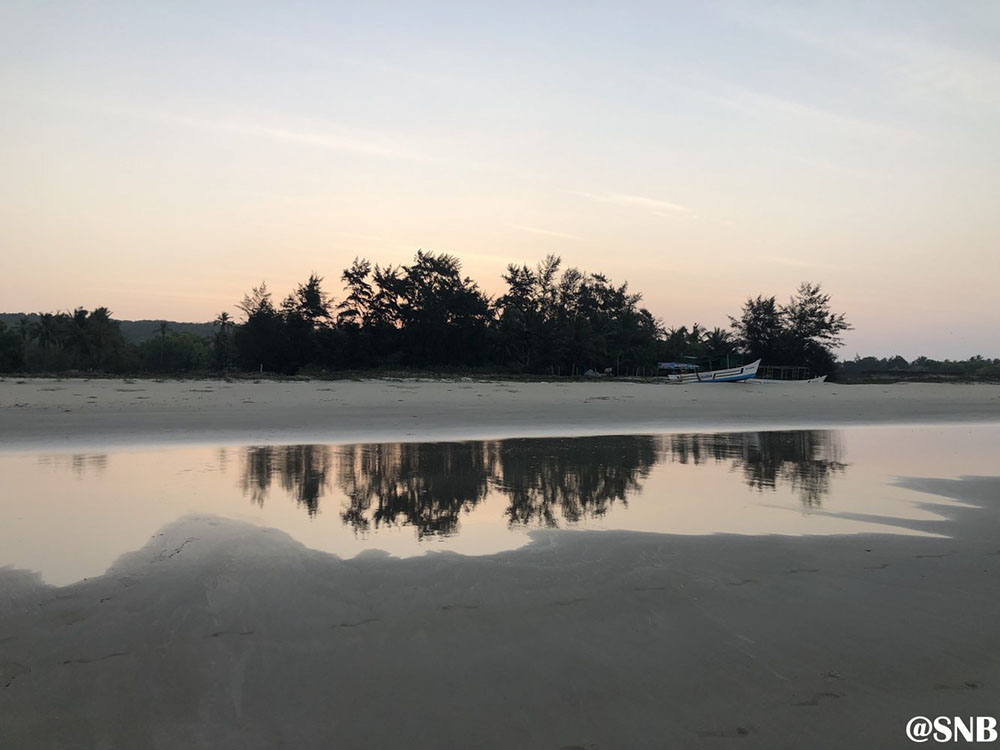 After standing at a particular place for 5-10 minutes, I started walking slowly towards the south along the waterline.
By that time the Sun had risen above the hills at east.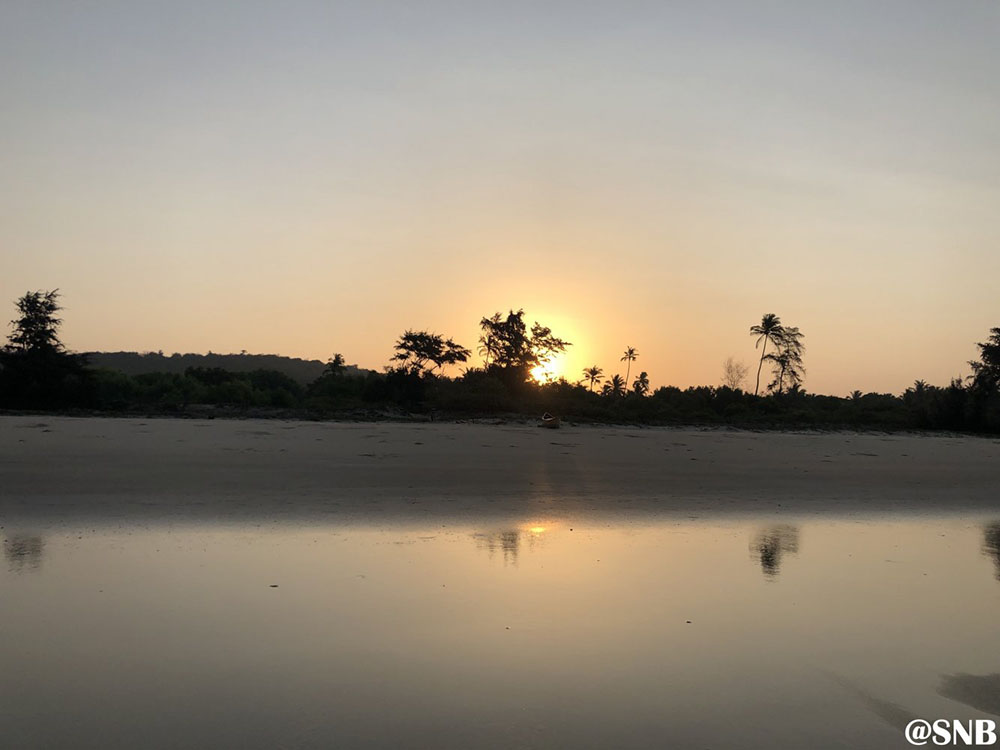 After walking for around 20-25 minutes, I took a U-turn to return to the hotel. This time, I opted for the village road. It was 7.30 AM by then. The normal village life had started. Kids were going to school. In the morning sunlight, Tarkarli village was looking very soothing.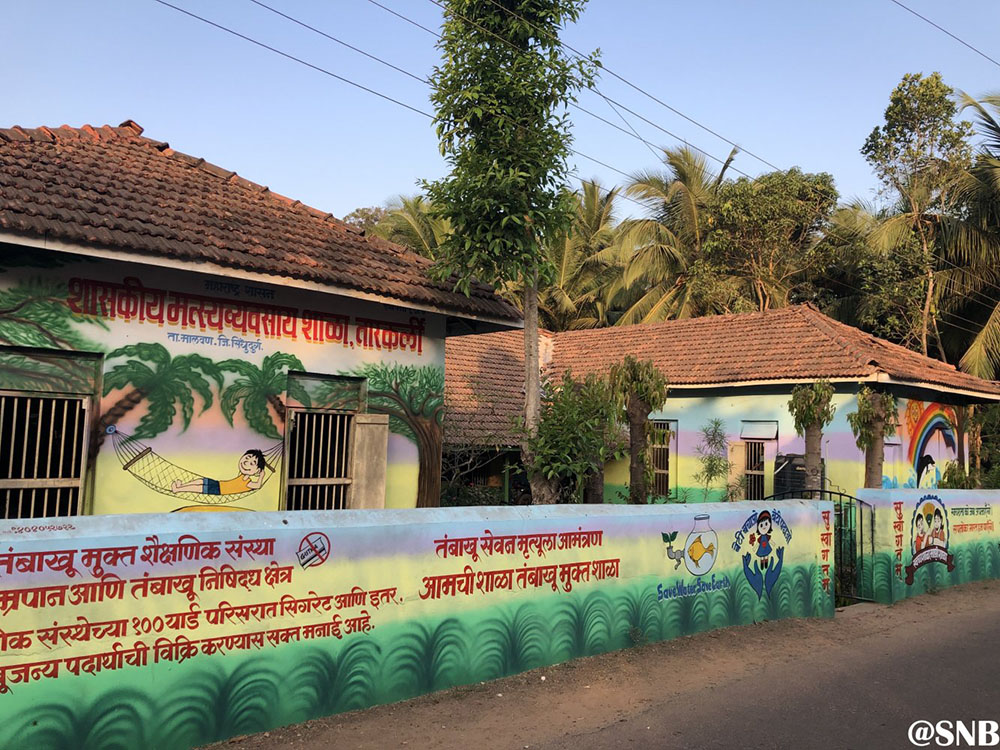 While coming back to the hotel via village road, I located the Tarkarli beach parking lot and accessed the beach through that, and stayed there for a few minutes. By the time, I reached the hotel, it was almost 8 am.
Car Mechanic
Last evening, after reaching the hotel, I requested the hotel staff to put me in touch with some local car mechanics. They told me that car mechanics would be available in Malvan town only. In the morning, they put me in touch with a local car mechanic named Mahasin Khan. Mahasin has a garage in Malvan town. He requested to get my vehicle there.
We were scheduled to go to Dandi beach in the same morning for some water sports. Dandi beach is adjacent to Malvan town. So, the plan was, after having breakfast, we would first go to the garage of Mahasin, would drop our vehicle there, and then go to Dandi beach by an autorickshaw.
Watersports in Tarkarli
There are two centers of water sports at Tarkarli and its adjacent area – Dandi beach at Malvan and Tsunami Island at Devbag Sangam beach. The offering includes scuba diving, parasailing, jet ski, banana ride, and bumper ride (two variants). Apparently, Tsunami Island is better for scuba diving.
For the rest, Dandi beach is better. The reason is that at Tsunami Island, the water sports are done in Karli River where water is relatively calm. At Dandi beach, it is done on the sea which offers waves and therefore causes more adrenalin rush. Further, the price tag at Dandi beach is slightly cheaper than that of Tsunami Island.
However, our decision to go to Dandi beach was not directed by all these technical and financial reasons. It was just a matter of convenience. Malvan town and Devbag Sangam beach were in opposite directions from Trakarli.
We were supposed to go to Malvan anyway to get the brake of our vehicle repaired and therefore it was convenient for us to go to Dandi beach from there as it is adjacent to Malvan town. Further, in the previous evening, one representative of one of the water sports agencies of Dandi beach came to our hotel and we had made an arrangement with him.
So, after breakfast, we started for Malvan. I was driving the vehicle at a snail's pace so as to ensure minimal use of break. Once we reach Mahasin's garage, he checked the vehicle and found that the problem is with the broken shoe of the rear left wheel. It was completely worn out.
Those brake shoes were not available at Malvan and had to be brought from Kolhapur. So, the vehicle would be delivered on the next day. About cost, he said that he would inform us about the same only after procuring those brake shoes because he did not have any idea about the price of the same.
Dandi Beach
We left our vehicle at Mahasin's garage and reached Dandi beach by an auto-rickshaw. It was a short distance. However, the auto-rickshaw fellow charged Rs. 50/- realizing that we had no other option. It was around 11.30 am then.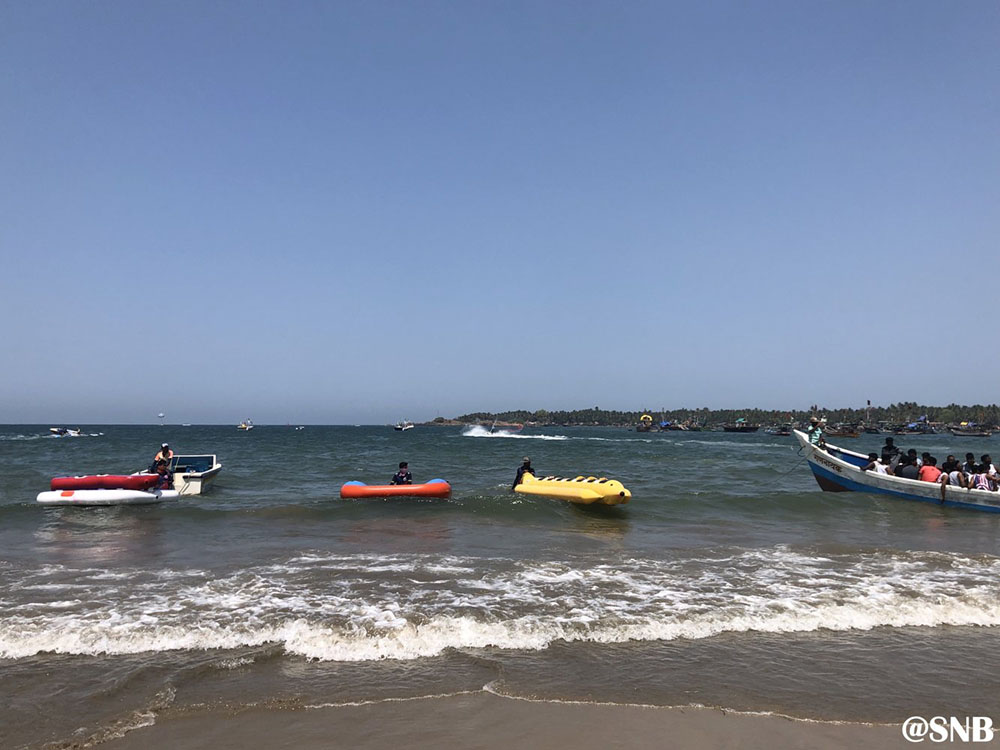 Our water sports package was comprised of parasailing, banana ride, and two variants of a bumper ride. We decided not to go scuba diving because we had concerns about the safety standards. We do not enjoy Jet Ski that much and that's why we exclude that too. The package cost was Rs. 1,000/- per person.
First, we did banana rides and bumper rides. Those were very exhilarating. Parasailing was at last. We along with 7-8 members of another group were taken a little bit inside the sea. There, we got transferred to a speed boat which took us for para-sailing. I was the first one to go.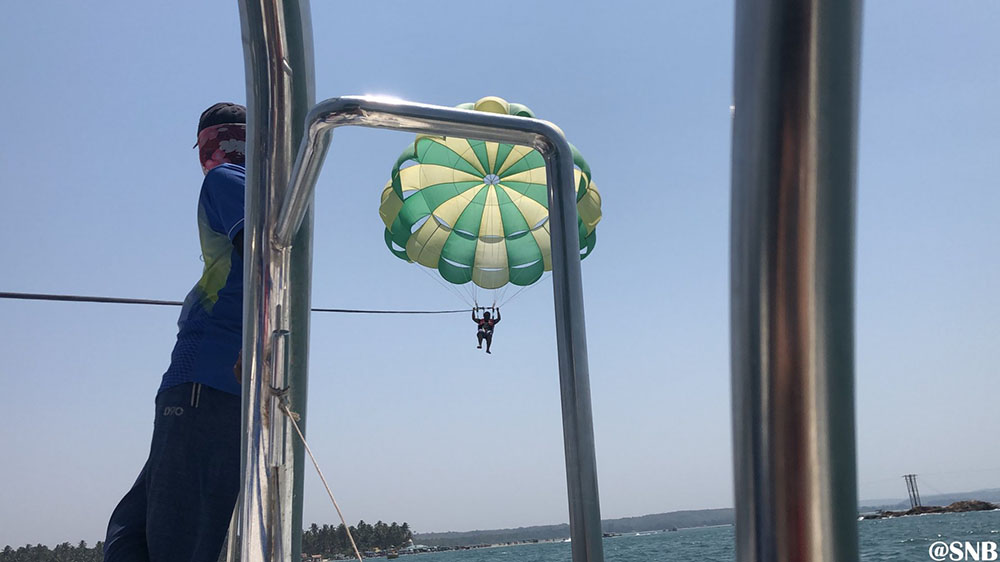 After that, while waiting for others' turns to be over, I took some random photos.
Once water sports got over, we came back to Tarkarli by auto rickshaw. Reaching Tarkarli, instead of going to the hotel, we decided to go to the beach. It was not a prudent decision. It was around 1.15 pm. By that time, beach sand was too hot. Nobody was there and we also came back from the beach to our hotel within 5 minutes.
We had our lunch at the hotel. We ordered two Surmai Thali and one Pomfret Thali. Each thali cost Rs. 300/-. Food was just ok type.
Devbag Sangam Beach
Our plan for the afternoon, rather a late afternoon, was to go to Devbag Sangam beach. Since our vehicle was at the garage, we requested the hotel staff to arrange for an autorickshaw. They obliged. The driver Nilesh Padkad was at the hotel by 4.10 pm. We started for Devbag Sangam beach at sharp 4.15 pm. The fare was settled at Rs. 150/-.
Devbag Sangam beach is at a distance of approximately 6.5 km from Tarkarli Nyahari Niwas towards the south. After the first 1 km, it is basically a narrow extension of the mainland with water bodies on both the side – Karli River at east and Arabian sea at west.
Karli river flowing from the east towards the sea takes a southward turn and flows close to the sea for about 6 Kms forming this narrow peninsula. The serpentine road passes through this narrow parcel of land from north to south with village houses on both sides. Many of those village houses have been converted into hotel/homestays.
We took a stop when we saw the Karli River for the first time.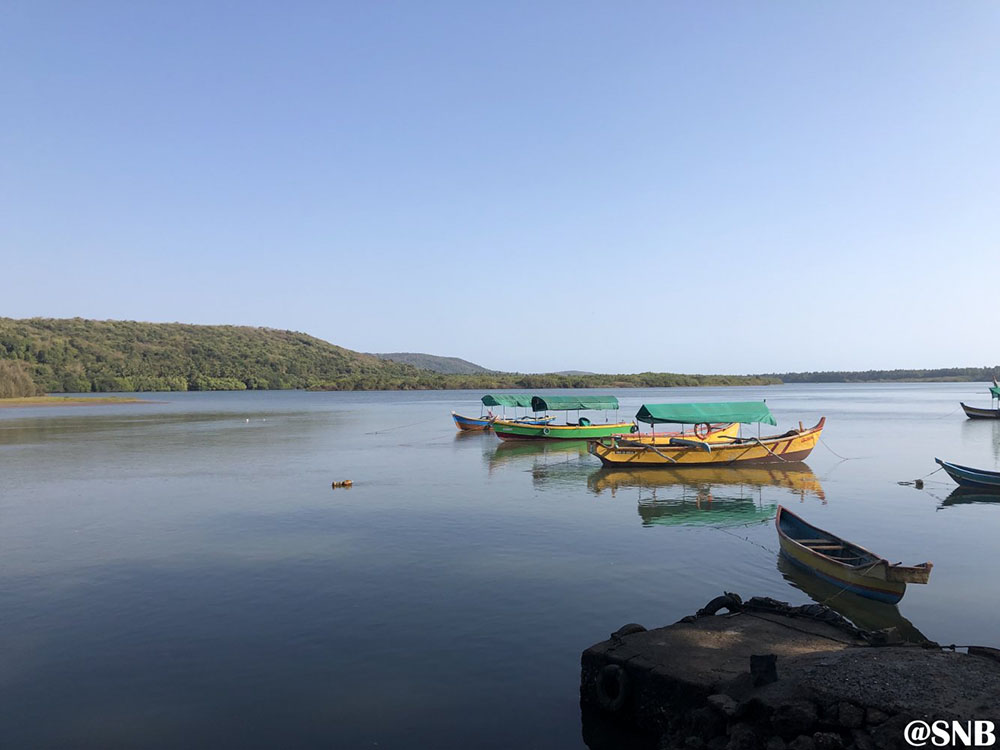 Karli River
Few people asked us whether we were interested in boat rides. We said no and resumed our journey. Since the road was serpentine and narrow, the auto-rickshaw was going at a moderate speed. We were also enjoying the view of the green village.
In between, a group of youth was enquiring whether we were keen to do water sports at Tsunami Island. Obviously, our answer was negative. Finally, we had to stop at a place almost 1km away from the final destination point – the tip of the peninsula.
They said that the main attraction of Devbag Sangam beach is Tsunami Island. That can be accessed by boat only. Instead of taking the boat from Devbag Sangam beach, if we took the boat from that particular place, we would also get an experience of a boat ride on the Karli River. We found the logic appealing and got down from the auto-rickshaw.
Nilesh took Rs. 120 instead of the agreed rate of Rs. 150 since we were getting down 1 km before the destination. Honesty does exist. Since auto rickshaws were not readily available on that rough, we took Nilesh's number so that we could call him for returning to Tarkarli.
The charge for the boat ride was Rs. 600/-. It would be a 40 minutes' boating. We would be taken to Sangam Point, Bhogve beach, Seagull Island. Then we will be dropped at Tsunami Island. As and when we would wish to return from Tsunami Island, the boat would bring us back to the starting point.
From my earlier experiences, I knew that list and number of points did not matter. The 40 minutes' boat ride was the main attraction.
The boarding point was a few hundred meters away from the road towards the east.
We started the boat ride at 4.45 pm towards the confluence.
After some time, we crossed Tsunami Island but we did not get down. As per the plan, we were supposed to get down on Tsunami Island in the return leg of the boat ride.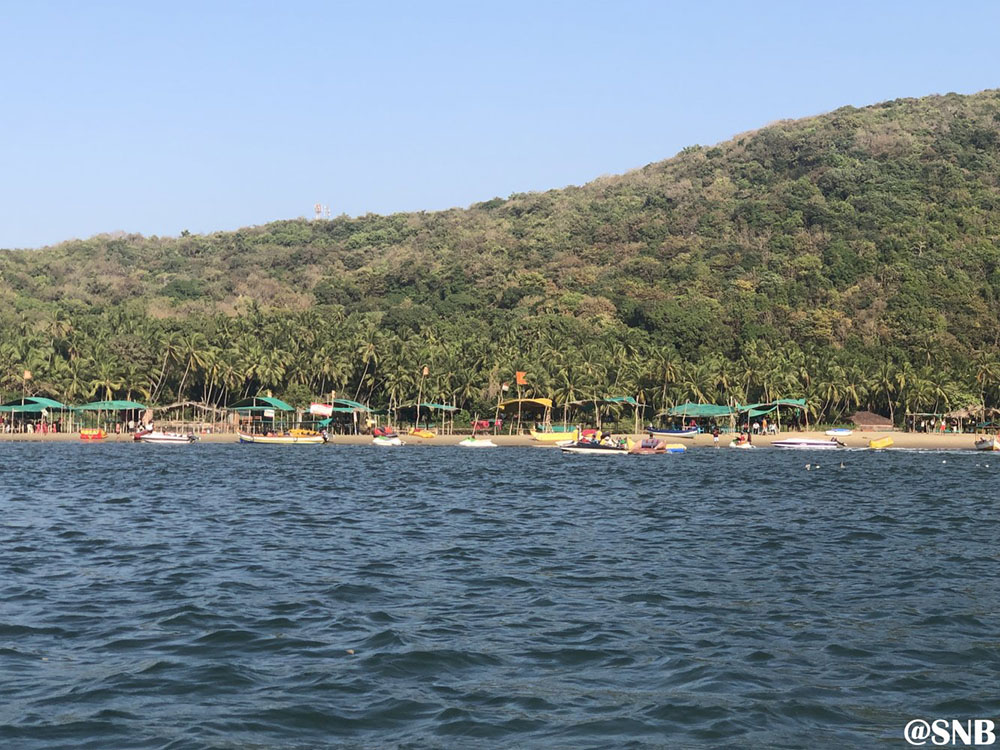 Bhogave Beach
After some time, we reached Bhogave beach. Bhogave beach is a nice secluded beach. It is on the opposite side of Devbag Sangam beach. It's part of Vengurla Taluka.
We requested the boatman to take us near to the beach and allow us to get down there. He refused to do so saying it was not allowed. Instead of arguing with him, we preferred to enjoy the beauty of the beach and the surrounding from the boat. It was the beauty of tranquility and seclusion.
However, we managed to get down on Seagull point which is essentially a tiny island full of seagulls, by paying him additional Rs. 100/-. The island is at the confluence and in all probability, goes underwater at the time of high tide. We got down at the eastern tip of this tiny island and saw a number of seagulls at the western tip.
So, we walked towards the western tip to get a closer look. But more we moved closer; more birds started flying out. So, we started taking photos from a distance.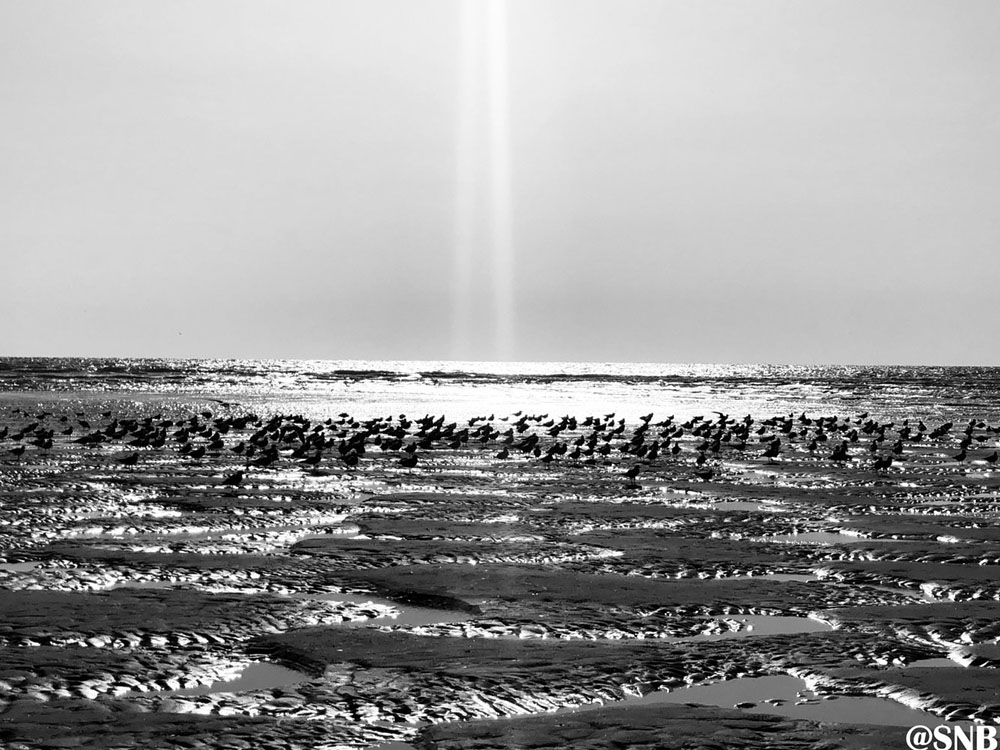 We spent around 10-15 minutes there. It was a nice feeling.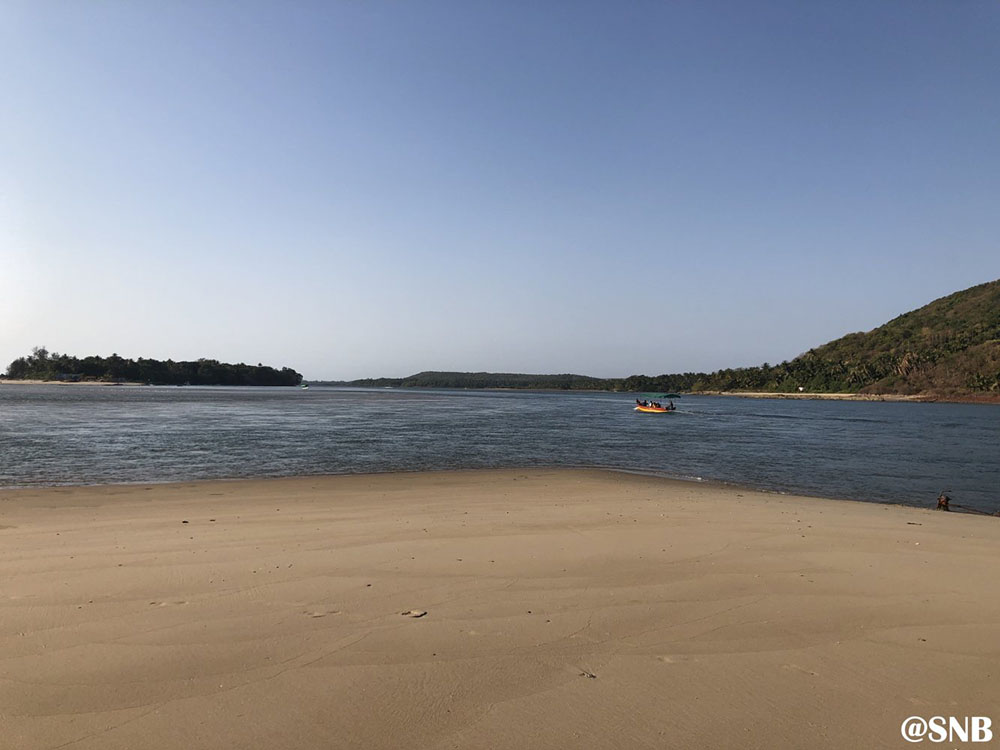 Tsunami Island
Then we started for Tsunami Island which is a bit upstream and reached there around 5.45 pm.
Locals say that Tsunami Island got formed by the 2004 tsunami. The island is a center for water sports. It has 5-6 counters of various water sports agencies. It also has 2-3 tea & food stalls. Most part of the island gets submerged water during high tide. We went there during low tide so couldn't experience that.
We spent there around 20 minutes and had tea. Since we did water sports in the morning, we were not interested in water sports there. We were just soaking the ambiance.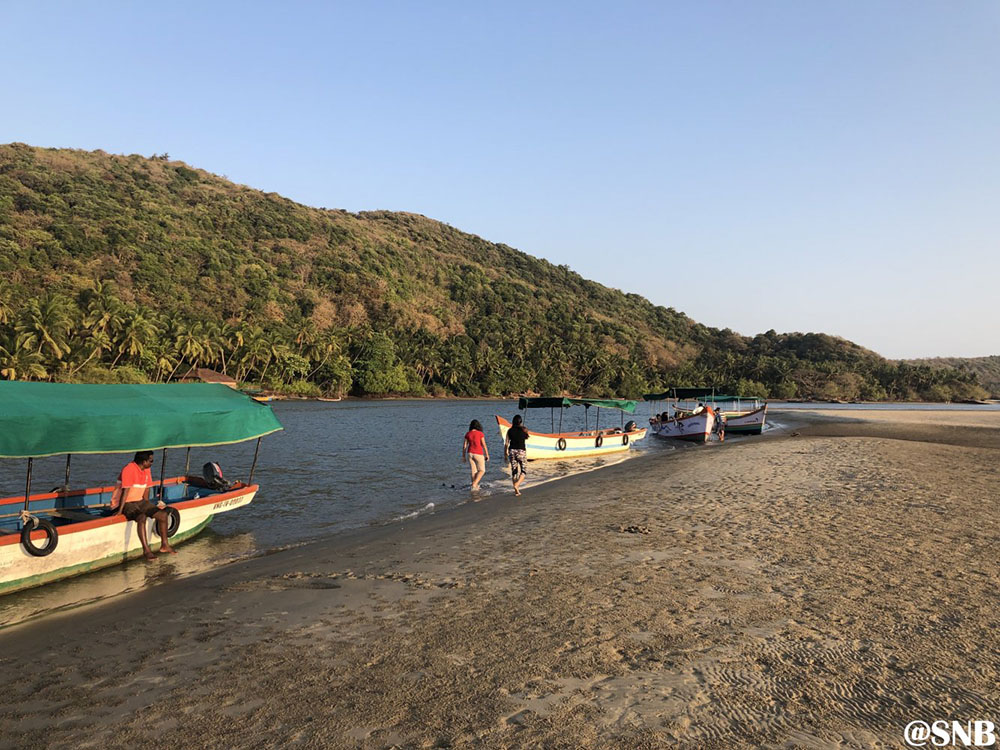 We came back to the mainland around 6.20 pm. By that time, the Sun has started hide and seek game behind the trees. Sunset was approaching fast.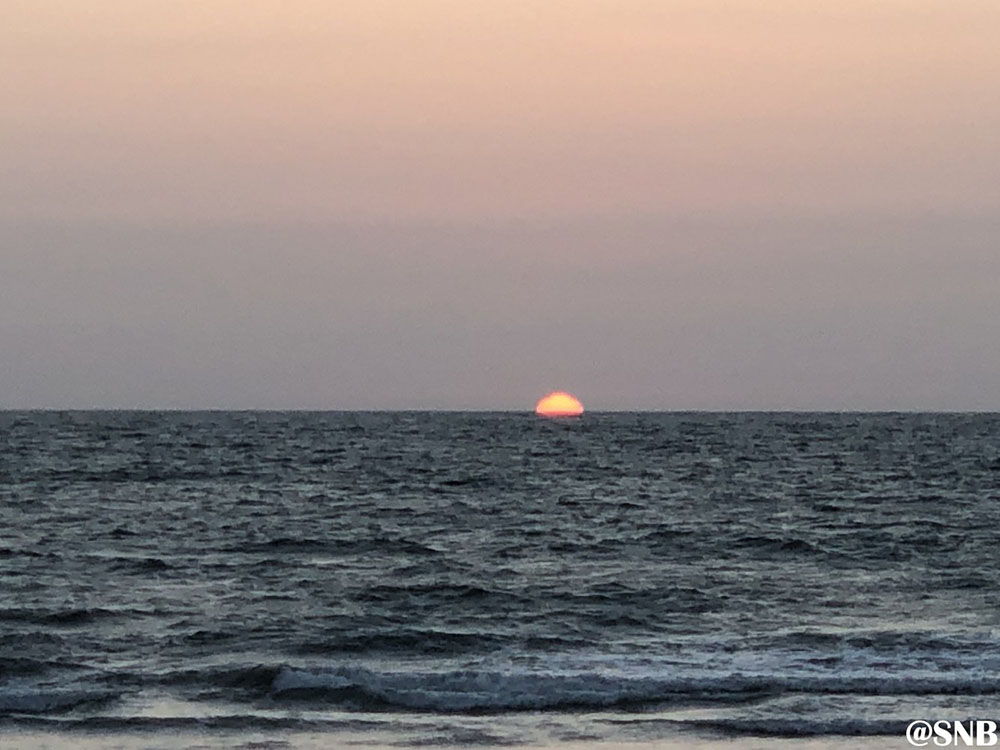 We had called Nilesh almost 15 minutes back. So, he was there. We started our return journey. Instead of directly going back to the hotel, we got down at the Tarkarli Beach Parking lot. The objective was to capture the picture of the sunset. We didn't have much time and literally ran to the beach from the parking lot.
Journey Ahead: Places to Visit in Tarkarli & Things to Do
We spent some more time on the beach and returned to our hotel when it got completely dark. Thus, day 3 of our trip came to an end. Please click on the link above to continue reading the next part of the travelogue.
Mumbai Tarkarli Road Trip – Conclusion
I hope the travelogue, pictures, and information on the Mumbai Tarkarli road trip were of help. If you have any questions or need any other details, please feel free to ask in the comments section below or at our Community Forum , and I will be happy to answer.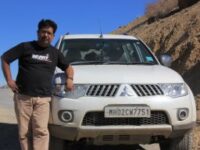 Santanu Bhaumik
By profession an engineer and a finance person, Santanu was born and brought up in Kolkata. However, since 2000 Santanu has been staying in Mumbai. Long-drive is Santanu's passion. His travel philosophy is 'Journey is the destination'. Beaty of nature and historical places attract Santanu most. Besides traveling, Santanu's other hobbies are reading, listening to music, photography, cooking, and watching football. Santanu is an avid fan of Kolkata football giant Mohun Bagan
Related Articles
Sonamarg in winter – how to plan a..., road trip to kashmir – delhi to kashmir..., jammu to srinagar via mughal road.
Your time and route from Mumbai was very confusing .why did you take the expressway if you wanted to come to nagothane from khalapur ?? Road from panvel to wadkhal is excellent . I want to know how was your experience driving from mangaon towards chiplun and then tarkarli . In your blog u havent mentioned road conditions.
Leave a Comment Cancel Reply
Save my name, email, and website in this browser for the next time I comment.
Top Hotel Collections

Beach Resorts
Beach Hotels
Plan Your Travel To Tarkarli
Tarkarli travel essentials.
Ideal duration: 1-2 days
Best Time: Oct-Mar Read More
Planning a Trip? Ask Your Question
"Gorgeous Beach, Sunshine and the Water Sports"
Tarkarli tourism.
Tarkarli is famous for its long and narrow stretch of beach, with its pristine water, white sand, and of course Singhudurg, Maharashtra's popular sea fort.
Tarkarli with a series of pristine beaches made up of white sand makes it an ideal choice for a holiday weekend. If lucky enough, you might spot Dolphins too. Tarkarli boasts of the finest talcum-powder sand to be found along Konkan. It could be called the most beautiful beach in all of Maharashtra, if not in India. As this place is just being discovered, you might be in time to find it untarnished by commercialization. The pristine white beaches shrouded with suru trees are a perfect place to relax, get in touch with nature and eat amazing Malvani food. The choice ranges from a long stroll along pristine white sand beaches to revisiting the past glory of Maratha bastion and forts.
Must Visit Places in Tarkarli

Water sports

Tarkarli Beach
Places To Visit In Tarkarli

Karli backwaters

Shopping in Tarkarli

Dhamapur lake
Top Hotels In Tarkarli
₽ 1,608 onwards
₽ 1,100 onwards
₽ 6,971 onwards
₽ 856 onwards
₽ 9,411 onwards
More on Tarkarli Travel
A coral delight in maharashtra, sea life in tarkarli, suggested itinerary for tarkarli, best time to visit tarkarli, top stories about tarkarli tourism.

Beaches & Islands
Best Beaches in Tarkarli That Every Traveller Must Visit

Sightseeing
Things to Do in Tarkarli for a Perfect Beachside yet Adventurous Vacay

Thrilling Water Sports in Tarkarli to Give You an Adrenaline Rush
Nearby Places

Browse Hotel Collections
By hotel type.
Resorts In Tarkarli
Villas In Tarkarli
Camping In Tarkarli
By Star Category
5 Star Hotels In Tarkarli
With Specific Facilities
Homestays In Tarkarli
For Special Purposes
Resorts in Tarkarli- Beach Resorts in Tarkarli for a Fun Beachy Stay
Beach Hotels in Tarkarli
Tarkarli Photos

+ 15 photos
How To Reach Tarkarli
Faqs on tarkarli, what is the local food in tarkarli, what are the places near tarkarli, what are the things to do in tarkarli, what is the best way to reach tarkarli, what is the best time to visit tarkarli, who should visit tarkarli, what is not so good about tarkarli, what is famous about tarkarli, have a question on tarkarli.

Popular Questions And Answers on Tarkarli
Q. How is it to scuba dive in� Malvan� (Tarkarli/Sindhudurg)? Is there any presence of marine life or only corals?
Q. How to reach from Goa airport to Tarkarli? Kindly give taxi options as we are 8 people travelling
Q. scuba diving....details need.. how to book.. where to stay..?
Tarkarli Reviews
Gurmit kaur
Rohit Shroff
Similar Places

Get Customized Travel Packages
Compare quotes from upto 3 travel agents for free
*All prices shown on the website are tentative. Final prices will be shared by our partner agents based on your requirements.
Log in to your account
Welcome to holidify.
Forget Password?
Share this page
1800-123-5555
Travel Agent? Join Us
Get Travel Triangle in your pocket.
Get your app via sms
Honeymoon Packages
Family Packages
Holiday Packages
Holiday Deals
Luxury Holidays
Destination Guides
Holiday Themes
Plan My Holiday
Indian Destinations
International Destinations
Sikkim - Gangtok - Darjeeling
South Africa
Seasonal Packages
Water Activities
₹18,000/- ₹19,565/-
Tour Packages
Maharashtra
Tarkarli Beach Tour From Mumbai
Tarkarli Beach Tour Package From Mumbai Rated 4.3 /5 (based on 9 reviews) Tarkarli Beach Tour Package From Mumbai
Tarkarli Beach Tour Package From Mumbai 5 Days & 4 Nights
Tourists enjoy and relax at tropical Tarkarli beach, Malvan
Beach At Devgad Malvan Tarkarli
Best from waste creation in Tarkarli city
Nivati Rocks, Rocks near Tarkarli
Sun set At Tarkarli Beach
Hotel included in package:
Starting from:
Per Person on twin sharing
Price For The Month
TravelTriangle has served 3000 + travelers for Maharashtra
Commonly known for wide stretches of narrow beaches, with crystal clear water, and white sand, Tarkarli is one of the most popular places in Maharashtra. It is also famous for one of the popular tourist attractions Sindhudurg Fort which is mainly a sea fort. Due to a series of pristine beaches along with white sand, it is considered by tourists as one of the most appropriate places for spending holidays and weekends. Even though the beaches in Tarkarli are not popular in India, but it is extremely popular in Maharashtra. The stunning beaches are covered by suru trees, which makes it just the right place to relax and to enjoy the beauty of nature. The authentic Malvani food along with the bounty of nature makes every holiday special.
Achara Beach
When travelling with the Tarkarli beach package from Mumbai , make sure that you are not missing out on the famous Achara Beach. Most of the adventure seekers and at the same time enjoy thrill and enthusiasm. Leisure seekers, as well as the nature seekers, can enjoy some good time over here too. Plenty of tourist activities are available on the beach, and one can find dolphins near the beach as well.
Dhamapur Lake
With the Tarkarli beach package from Mumbai , one can visit the beautiful Dhamapur Lake situated in Tarkarli. People who love to enjoy boating in still water; this is the right place for them. The lake stretches to about 10 acres of land along with eatery spots, water sports option as well as entertainment. The famous Bhagwati temple enveloped by greenery is one of the well-known attractions of the place.
Devbagh Beach
Located in the village of Devbaugh, the Devbaugh beach is yet another famous tourist attraction of Tarkarli. As the beach is situated in a remote location, the place is covered with lush greenery all around.
Make plans for your holiday, and go out on an amazing tour to Tarkarli by availing the Tarkarli beach package from Mumbai.
Indulge in the stunning views of Tarkarli beaches
Spend some quality time at Chivla Beach
Go for a trip to Achara Beach
Cherish marine life at Rock Gardens
Enjoy the calm and serene atmosphere at Sindhudurg Fort
Malvan: Arrival
Other Benefits (On Arrival)
One step closer to Malvan
The first day of the Tarkarli beach package from Mumbai begins with the arrival at Thane from where you will be taken to Malvan. The total distance of Malvan from thane is 527.9 km. While on the way you can enjoy some exclusive scenic beauty and the breathtaking views of nature. After reaching the hotel, check-in at the reception, and you can go to your rooms so that you can relax. Freshen up and you can go around, and visit some of the local places near Malvan. At night, enjoy overnight stay.
Malvan: Chivla Beach
Enjoy some thrilling water sports and activities
On this day after having breakfast, you will be taken to Chivla Beach which is one of the most popular beaches in Tarkarli. You can enjoy some fun time over here and enjoy thrilling water activities over here. After that, you will be taken to one of the most relaxing holiday destinations with a touch of thrill. You can also spend some quality time on the Malvan Beach and indulge in some water sports to make your holiday memorable. Then enjoy a serene and exotic marine life at the Rock Gardens, and have some great time over there. Finally, you will be taken back to the hotel. Enjoy overnight stay.
Malvan: Sightseeing
Walk towards the beautiful attractions
The day will begin with a delicious breakfast, and then you will be taken to the Chivla beach where you can enjoy a great time. Then you will be taken to the Rock Garden which is also known as 'Sunset Point in Malvan' and is a naturally decorated garden. You can find a rich marine life over here. After that, you will be taken to the Sindhudurg Fort which is one of the most popular landmarks of Tarkarli built by Shivaji Maharaj. The fort can be easily reached by boat from Malvan. You then will be transferred to the Padmagarh fort which is famous for mind-blowing architecture and serenity. Finally, you will be taken to Dhampur Lake, and you will be taken back to the hotel. Enjoy a sumptuous dinner at the hotel and stay overnight at Malvan.
Malvan: Karli Backwaters
Sail around the stunning backwaters of Karli backwater
On this day, in the morning, enjoy a delicious breakfast at the hotel. You will be taken to enjoy the pristine backwaters of Karli. You can sail on the Karli backwaters. Then you will be taken to the famous Tsunami Island so that you can cherish and have a good time over there. By the evening, you will be taken back to the hotel where you can enjoy toothsome dinner and then stay overnight at Malvan.
Thane: Departure
End of this memorable journey
On this day, after having a wholesome breakfast at the hotel, you will be checking out from the hotel by evening. While on the way back to Thane, you can enjoy the breathtaking beauty of the place and relax. As soon as you arrive at Thane, you can then take a train or bus, and go back to your respective hometowns.
Note: Our agents will provide you these or similar hotels depending on availability
Oyo 15532 konark residency
12 OYO 15532 Konark Residency Mechanical Road Opposite Mama Warerkar Natyagruha, Malvan 416606 India
Accommodation
All taxes of hotels and vehicles
Sightseeing
Toll, Parking, Driver Allowance, and Fuel
Monument Entrance fee
Personal expenses
Travel Insurance
Your Preferences
Where do you want to go?
FAQs for Maharashtra
What are some of the activities to try in tarkarli.
Here are some of the popular activities in which you must try in Tarkarli
Scuba Diving
Parasailing
Dolphin Spotting
What is the best time to visit Tarkarli?
Here are the best times of visiting Tarkarli for all the tourists
October till March as the temperature remains moderate during this time.
July to September only if you enjoy monsoons.
What are the things that you can buy from Tarkarli?
Tarkarli has various shops from where you can different items and some of them are
Fresh cashew nuts
Cashew bars
Karvande Wadi
What are some of the popular cuisines to try in Tarkarli?
Some of the popular cuisines that you cannot miss out to try in Tarkarli are
What is Tarkarli famous for?
Tarkarli is famous for its long sandy beaches, crystal clear water, various scuba diving and snorkeling sites, excellent marine life, various water sports, and its clean and unspoiled natural wonders.
650+ Verified Agents
Traveltriangle Verified
Stringent Quality Control
How It Works
Personalise this package.
Make changes as per your travel plan & submit the request.
Get Multiple Quotes
Connect with top 3 agents, compare quotes & customize further.
Book The Best Deal
Pay in easy installments & get ready to enjoy your holiday.
Hotels recommended by our Travel Experts
Expert Rating
Regenta Resort Soma Vine Village Nashik
12 km from City Center
Top Rated Luxury Property
Gateway Ambad Hotel Nashik
4 km from City Center
Club Mahindra Sherwood Mahabaleshwar
Mahabaleshwar
2 km from City Center
Rhythm Lonavala
1 km from City Center
Grand Rio Nashik
Hotel emerald park nashik, hotel landmark ratnagiri, the ren hotel nashik.
3 km from City Center
Citrus Hotel Lonavala
1978 km from City Center
Mango Valley View Mahabaleshwar
15038 km from City Center
Maharashtra Packages By City
We are hiring!
Testimonial
Travelogues
Terms and Conditions
Privacy Policy
Corporate Office:
Holiday Triangle Travel Private Limited
Address: Plot No - 52 , 3rd Floor,
Batra House , Sector 32,
Gurugram - 122001 ,Haryana
Landline: 1800 123 5555
Connect with us on :
All rights reserved © 2023

Login or Create Account
Maharashtra
Tarkarli is a quaint village in Maharashtra, and home to mesmerizing backwaters, stunning white sand beaches and serene temples. Tourists can also sign up for exciting water sports here!
Things To See & Do
Water Sports Near Tarkarli
Adrenaline pumping activities.
Minimum 1 hour
Suggested Time
Tarkarli Beach
White sand beach.
Minimum 2 hours
Karli Backwaters
Houseboat stay.
Sindhudurg Fort Near Tarkarli
Beautiful historical fort.
1 to 2 hours
Visava Beach Resort
Sea-facing rooms.
Blue Heaven Beach Resort
Homely atmosphere.
Blue Sea Beach Homes
Close to tarkarli beach.
Ratna Sindhu Beach Resort
Splendid sea views.
Tropical Cabanas
Luxury wooden cottages.
Famously Called 'Chota Mumbai'
1 to 2 days
Amboli Near Tarkarli
Quaint hill station.
The Land of Alphonso Mangoes
Beautiful Seaside Temple Town
Postcard-Perfect Hill Station
Scenic Beaches and Happening Nightlife
2 to 3 days
A Town of Rich Heritage
Best time to visit tarkarli, all year round destination, peak season, moderate season.
What To Expect : Pleasant temperatures during the day followed by slightly colder nights.
Things You'll Love : The outdoor activities and water sports.
FESTIVALS AND EVENTS
Ramnavmi Utsav March-April
Anganewadi Jatra January-February
Book Your Trip to Tarkarli
Stay in tarkarli.
Recommended Options
3 STAR HOTELS
Recommended for you.
Average Price
4 STAR HOTELS
Holiday packages for tarkarli.
Top Recommendations
Memorable Trip to Tarkali - From Mumbai
Hotels,activities,transfers.
₹24,740 ₹15,525
Discover by Interest
Idyllic Romantic Destinations
Serene Hill Stations
Best Beach Destinations
Honeymoon destinations
Affordable International Destinations
Perfect Weekend Spots
More about tarkarli, tarkarli: your perfect weekend escape.
A small village located in the Malvan region of Maharashtra, Tarkarli is a popular tourist destination that is synonymous with peace and tranquility. This beautiful hamlet, which has Konkan Coastal lines, is a treasure trove for beach lovers. Places to visit in Tarkarli include beaches, national parks, forts etc. Adventure seekers can also participate in a variety of fascinating outdoor activities and immerse themselves in never-ending fun-frolic moments in the several places to visit in Tarkarli. It is also a place where you can spot dolphins. The monuments and forts are reminders of the glorious past of the Maratha warriors.
Tarkarli Overview
Best time to visit tarkarli.
Tarkarli enjoys a pleasant climate throughout the year, but the influx of tourists is at its peak during the winter. The best time to visit Tarkarli is between October and March. Monsoons are also considered a good time to see nature replenish itself, but heavy rains might mar your outdoor plans. Summers are extremely hot and moist, so it is not advisable to plan a tour of places to visit in Tarkarli.
How to Reach Tarkarli?
Kudal railway station is the nearest railhead to Tarkarli, Maharashtra. To enjoy the places to visit in Tarkarli you can take a train from cities like Mumbai, Pune and Goa to Kudal. You can also take buses to the Malvan bus stop which is just 6 km from Tarkarli. Malvan is well-connected to Kolhapur, Sangli, Kudal and Ratnagiri. Tarkarli does not have an airport. You will have to book a flight to Dabolim (Goa) Airport and then cover the rest of the distance by road to explore the places to visit in Tarkarli.
What Are the Things to See & Do in Tarkarli?
Tarkarli attracts many tourists who come here to participate in Tarkarli water sports like snorkeling, scuba diving and parasailing. Staying in a houseboat is also a unique activity in which you can indulge. The places to visit in Tarkarli are spellbinding and will keep you engaged throughout your trip. You can also spot dolphins at Tarkarli Beach Malvan.
Places to Visit in Tarkarli
The sandy coastline, turquoise water and a beach overshadowed by Shuru trees are the things that you can expect at Tarkarli Beach. The beach is an ideal place to sit and watch the sun go down. One of the most sought-after places to visit in Tarkarli, this beach also offers many options for adventure sports.
Get awed by the view of the lush green vegetation on the banks of the river as you go on a boat ride on the still backwaters at Karli. The view of the confluence of the Karli River and the Arabian Sea is breathtaking! Dont forget to add this place to the list of places to visit in Tarkarli as it is the only place in Tarkarli that offers a stay in the houseboat. You can stay in a houseboat at night and enjoy the beautiful surroundings amidst nature.
Deobagh is a small village that is often visited by birdwatchers. It is home to several migratory and local birds. Deobagh has made its place to the list of places to visit in Tarkarli as people come here to observe the day-to-day life of the fisherman community residing in this village. You can talk to a local fisherman who will happily rent out his boat and take you sightseeing. Delicious seafood is available in several restaurants of Deobagh.
Dhamapur Lake
Dhamapur Lake covers an area of 10 acres and is surrounded by hills. The lake's water is exceptionally clean. It is a must-see among the other places to visit in Tarkarli, especially for those who enjoy water-based activities. King Nagesh Desai built the lake around 1530.
It also has the Bhagwati temple located nearby. Tourists who wish to spend more than a day around the lake can stay in one of the local homestays. You will find native and rustic amenities in the huts.
Sindhudurg Fort
Built near the shore of the Arabian Sea, Sindhudurg Fort stands aloft as a witness to the glorious past of the Marathas. It was constructed by the Maratha king Shivaji, and it took almost 3 years to complete the construction. This fort was built for the protection of the Maratha empire from intruders. Among all the places to visit in Tarkarli, this tourist spot holds historical significance.
Food to eat in places to visit in Tarkarli
Food in Tarkarli is influenced by Malvan cuisine which is predominantly non-vegetarian. You will find hints of Maharashtrian cuisine and Goan cuisine in this style of cooking. The local masalas contain a mix of dried red chillies as well as additional spices such as coriander seeds, peppercorns, cumin, cardamom, ginger, garlic and so on. Kokum, dried kokam (amsul), tamarind and raw mango are also used in some cuisines. Most of the places to visit in Tarkarli sell tasty seafood. If you are a seafood lover, then relish the seafood dishes at the restaurants near the beaches. They sell freshly caught sea fish after cooking them in fiery spices. Murg Malvani, Mori Masala, Bangda Fry, Malvani Mutton Curry, Kavda curry, Bombay Duck Fry etc. are some of the non-vegetarian dishes that should be tried by you on your excursion to different places to visit in Tarkarli. Vegetarian tourists must try Phanasachi Bhaji, Kaju Chi Aamti and Solkadhi to experience the real flavour of Malvani cuisine.
Shopping Around Places to Visit in Tarkarli
Once you are done exploring the places to visit in Tarkarli, you might want to buy some souvenirs. Cashews are abundant in the Konkan belt including Malvan. You will find fine cashews and cashew-based products in the local markets. Roasted and salted cashews are packed and sealed to retain their freshness and sold. These can be bought as souvenirs for your kith and kin. This region is also known for the world-famous Alphonso mangoes. Dont forget to taste it while on your trip to the various places to visit in Tarkarli. Malvani Masala, the prime ingredient used in Malvani cuisine, kokum drinks, kokum wax etc. are a few other things that can be bought from places to visit in Tarkarli.
A delightful beach vacay awaits you at Tarkarli. You will love the outdoor activities and water sports. If relaxation is what you're after, head to Tarkarli.
Here are a few quick facts to make your travel safe and easy to Tarkarli. Tarkarli is a Beach destination. The best time to visit Tarkarli is October, November, December, January, February and March. Since this is the peak season expect a little crowd during this time. July, August and September period experiences moderate weather. So, you can easily avoid facing a large gathering.
In peak season the weather is pleasant temperatures during the day followed by slightly colder nights, whereas in off-season the weather is hot and humid weather. Weather in moderate season is medium to heavy rainfalls. During Ramnavmi Utsav, Anganewadi Jatra, a large number of tourists flock together. The festivals are celebrated in the month of March-April, January-February,... consecutively. So, if you are fond of bustling streets and localities, choose this time of the year to travel.
If your travel seems incomplete without getting into some fun activities then you will love to get indulged in the outdoor activities and water sports. In moderate season you will love to get indulged in the lush green surroundings.
The white sandy beaches and clear blue waters of the places to visit in Tarkarli are gaining popularity. Tarkarli has become one of the must-visit places in Maharashtra. Proximity to nearby cities like Mumbai, Goa and Pune makes it a perfect weekend escapade for people living in these cities. Whether you are living in Maharashtra or any other state, pack your bags today and get ready to explore the exotic places to visit in Tarkarli!
FAQs - Frequently Asked Questions about Tarkarli
What are the best places to visit in tarkarli, what are the activities you can explore during the peak season and moderate season in tarkarli.
In the peak season months October, November, December, January, February and March you will experience pleasant temperatures during the day followed by slightly colder nights wherein around moderate season i.e. July, August and September you will enjoy medium to heavy rainfalls. Whatever that suits your calendar, Tarkarli awaits you for a good time.
What is the best time to visit Tarkarli?
Ideally the best time to visit any place is considered when the weather conditions are delightful. For Tarkarli, you can choose to go in October, November, December, January, February and March which is the peak season and July, August and September which is the moderate season. Both will serve you well to unwind from your tedious routine.
More in Tarkarli
Historical places in india, best time to visit in similar destinations, other destination like tarkarli, places to visit in other destinations, top beaches destinations in india, explore more, more destinations to explore, best hill places in india, popular trekking places in india, popular religious destinations in india.
© 2023 MAKEMYTRIP PVT. LTD.
Country India US UAE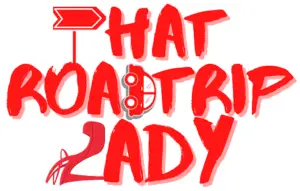 Women's Road Trip from Mumbai: Tarkarli-Vengurla-Amboli
I had been wanting to drive along the Konkan coast Since Forever .
I finally coaxed my mom into accompanying me on this road trip. The plan was to not have a plan – drive towards Goa and have a stopover at any place along the route.
Yep. One of the reasons why I love road trips .
Leg 1: Mumbai to Ganpatipule
Although driving on national highways is a smooth experience and obviously quicker than the state highways, these are rarely scenic.
If it was up to me, I would have driven along the coast starting from Alibag. However, the issue with doing that is there are approximately five points where you either need to take a long road diversion or take a ferry.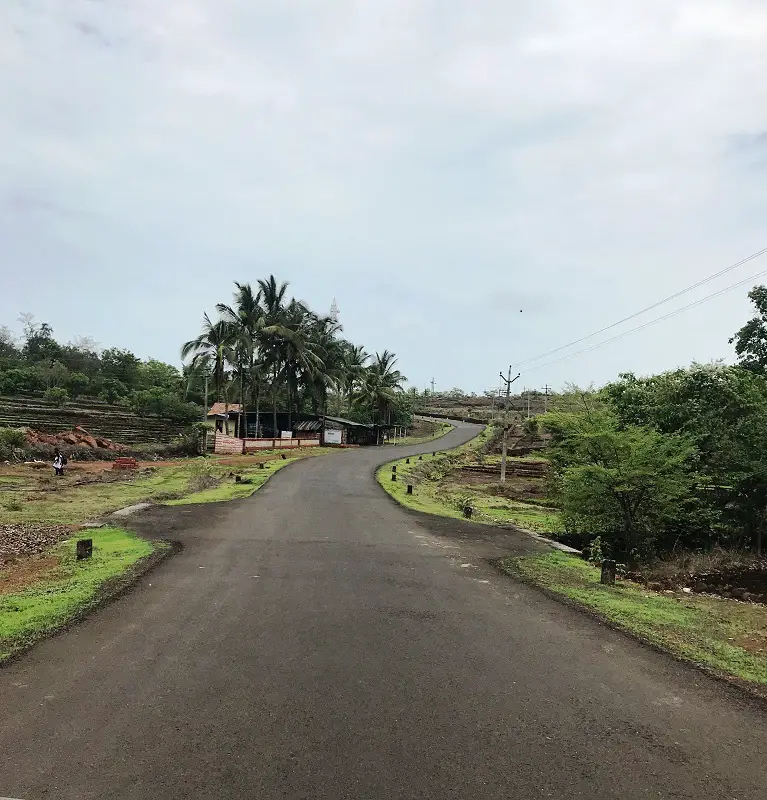 Since we had a car, it was a little risky to depend on a ferry due to the frequency and probable waiting queue for cars. Hence, we played it safe and took the NH66 till Chiplun and then headed towards MSH4 via NH66E.
Also read about my road trip from Mumbai to Ganpatipule using the coastal route done in July 2021 on my way from Mumbai to Goa .
As soon as we took the turn to get on to NH66E, the atmosphere changed. I didn't waste too much time in rolling down my windows. Nothing like taking in the countryside and feeling the wind in my hair, obviously along with a few drops of rain.
My dream road trip had begun.
We reached Ganpatipule in about six hours from Mumbai. Ganpatipule is a small beach town before Ratnagiri and has derived its name from its famous Ganpati temple.
Since we were making good time, we decided to have a quick lunch and make it to Tarkarli before sunset.
After a scrumptious fish curry at the beachside MTDC (Maharashtra Tourism Development Corporation) resort, we resumed with our southward journey towards Tarkarli.
Leg 2: Ganpatipule – Ratnagiri
The drive from Ganpatipule to Ratnagiri (around 25 km) is one of the best stretches of the Konkan coastal road. In my opinion, it is Indian version of US's Route 1   and Australia's Great Ocean Road , albeit a little too short.
And unlike its foreign counterparts, there is enough shoulder on the Indian coastal highway to stop your vehicle and take in the views.
Much needed for the driver.
And we did make numerous stops and that's why this leg deserved its own section.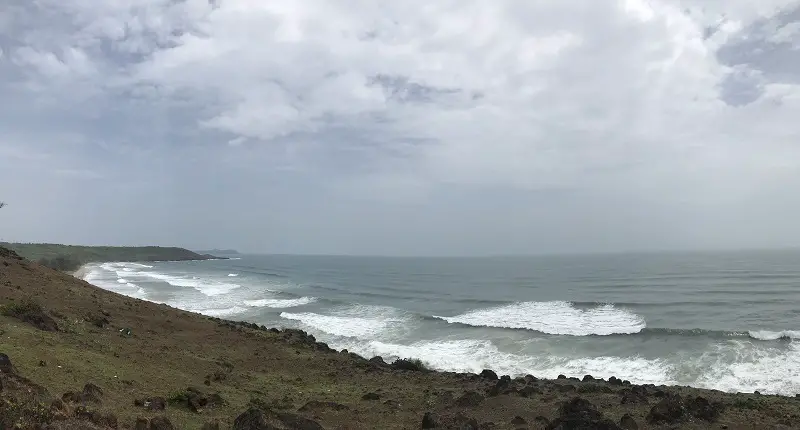 Leg 3: Ratnagiri – Tarkarli
The Good: This stretch right till Tarkarli is very scenic with numerous backwaters, small bridges, ghats, velvety mountains, coconut trees, ample greenery and frequent glimpses of white-capped Arabian sea from the top of the cliffs.
It was like a rendezvous with nature.
The Bad: The Airtel network from Ratnagiri-Tarkarli was weak due to which we kept losing our GPS connectivity and had to resort to the traditional way of asking passersby (and boy, were they few and far between) for directions.
The astonished look on the faces of those helpful villagers was quite amusing.
Two women driving on their own in the interiors of Maharashtra is not a very common sight.
The Ugly: By 5 pm we were about one hour from Tarkarli when quite a few things happened that stressed my mom out.
It had started to get dark since it was a very cloudy day
We lost our network connectivity and that's why could not access our Google maps
There were hardly any passersby on the road to help us with directions and the few that were there did not know where 'Tarkarli' was. After our initial few direction enquiries, we realized "Tarkarli" was not that familiar with the locals and they knew that region by "Malvan".
We were low on petrol and there were quite a few ghats on this stretch
With no map, I relied on my sense of direction and just made sure to drive southward along the sea. In the hindsight, probably the situation was worth getting stressed about but at that time my mom's stress was stressing me out further.
The stressful drive lasted for one hour before we got our network connection back.
It was already nearing sunset by the time we reached Tarkarli and I was desperate to dip my feet in the sea while my mom was panicking over the fact that we did not have any confirmed accommodation. That is when I acquiesced to get to the MTDC resort, get a room and then head to the beach.
The location of the MTDC resort, Tarkarli was excellent (like all other MTDCs) – it was right on the beach with a beautiful open area leading to the beach. However, the rooms were terrible – they were dusty, swarming with mosquitoes, seemingly old construction and very poorly maintained.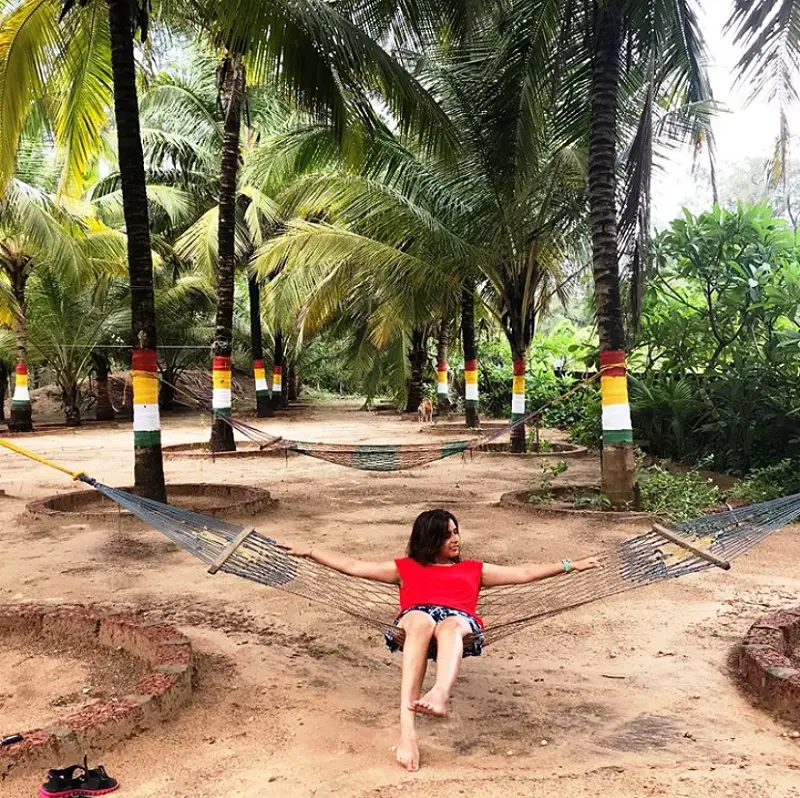 Moreover, the rooms were expensive and certainly not worth it.
As much as I wanted to be done with the booking and head to the beach, I could not give in to this place. We drove along the coast and found a small place which was at a two-minute walking distance from the beach. The room was quite basic but had all the necessities.
I parked my car and literally ran to the beach, just in time to witness a spectacular sunset.
My mom strolled along behind me and in between the sound of the waves, I could faintly hear my mom saying "Phew! Boring banaa do ji ab is trip ko" a la Geet from Jab We Met.
This was off season at Tarkarli and all the adventure sports like scuba diving, snorkeling, parasailing, water scooter rides, houseboats had wrapped up by this time.
The next morning, we set out to explore the town in pouring rain. The walk from Tarkarli beach till Devbag Sangam point which is the confluence of Karli river and Arabian Sea is nothing short of blissful. You can either walk via road or via beach – we kept shuffling between the two.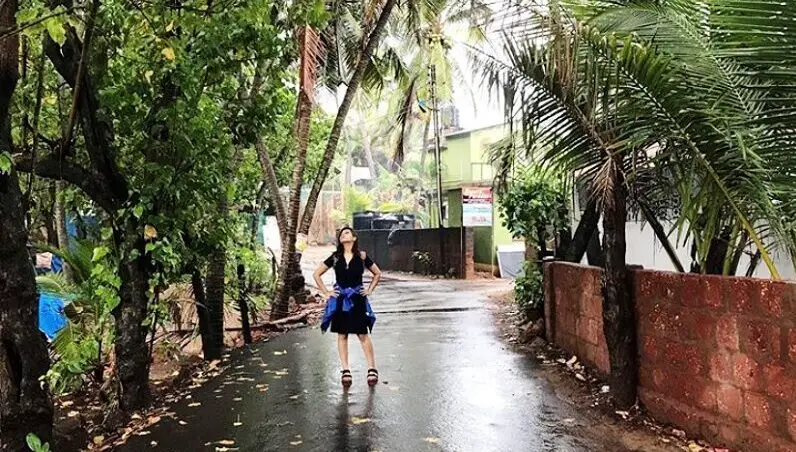 The walk is nearly 8 km long and it took us around two hours. We walked on our way to Sangam point and took the local bus on our way back.
Since it was the monsoons, we could not visit the Sindudhurg fort and only saw it from the shore.
Leg 4: Tarkarli to Vengurla
This is a small town about 1.5 hours from Tarkarli and the drive between these two towns is beautiful, lined with verdant fields, deserted roads (not really an anomaly in this region, it seems) – true countryside drive.
The Chipi bridge over Karli river is a very nice spot for a quick stop to take in the views. And probably get a few photos.

The route also goes along the Sindhudhurg airport for quite a long stretch.
On reaching Vengurla, we booked a room in a small beach side hotel (having a total of 4 rooms) where we were the only ones staying! The staff who consisted of one manager/owner and one help were extremely helpful (after going through the initial shock of knowing the two of us had travelled all the way from Mumbai).
After a swim in the sea followed by hot tea-pakodas, we walked towards Navabag beach where Mandavi river meets the Arabian Sea.
We had some very pleasant experiences with the locals at Vengurla. Read about it here .
I did not get enough of this place and would certainly like to go back there.
Leg 5: Vengurla to Amboli
I skipped my morning swim in the sea as we were anyways planning to go to a waterfall later in the day.
After breakfast, we set out towards our next stop: Amboli Ghat waterfall.
I had planned the visit in such a way that it would be a weekday so that we could avoid the crowd.
Turns out that the crowd bit should have been least bit of my worry.
Due to the delay in monsoons that year, there was no water at this waterfall despite it being end June. Since I was already there, I decided to make the most of it and climb the waterfall.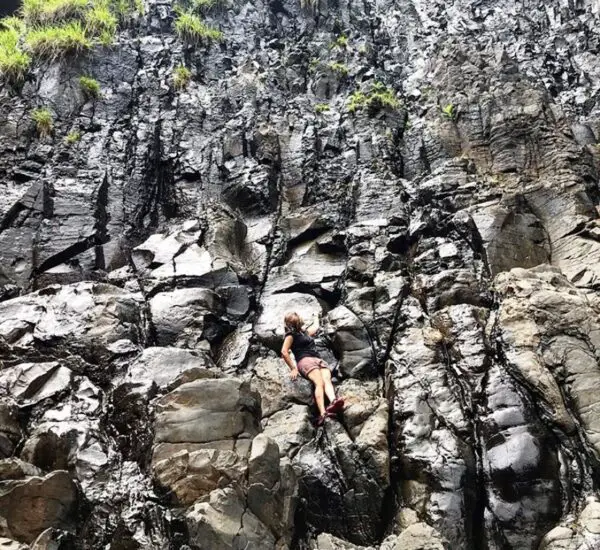 Leg 6: Amboli to Mumbai
The state highway from Amboli to Kolhapur was another pretty stretch with lush green foliage on both sides of the narrow roads.
We took the state highway till Kolhapur and then got onto NH48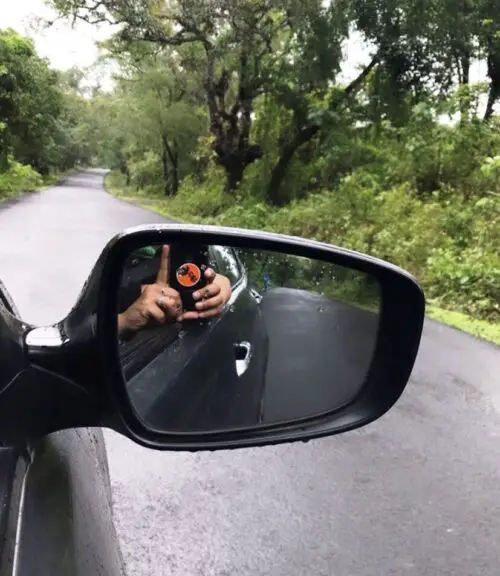 We had initially planned to halt around Kolhapur or Satara, however since we did not spend a lot of time at Amboli and were already at Kolhapur by afternoon, we decided to not stop anywhere and directly reach Mumbai.
As we were taking the busy NH48 and the Mumbai-Pune expressway, night driving was not an issue.
While crossing Kolhapur, try and stop there for a Kolhapuri spicy meal. We had some heavenly Kolhapuri Paneer there.
We reached Mumbai at around 1 AM and slept for 15 hours straight.
Afterall, we had driven for nearly 25 hours out of 70 hours.
Network : The Airtel connectivity on most stretches of the MSH4 beyond Ratnagiri is very weak with Jio being the most dominant connection. If like me, you are dependent on Airtel, do download the offline maps.
Winter (October – March) : This is the peak tourist season for south Konkan region and watersports are in full swing during this season. From a weather point of view, this time is perfect. The only con is that the area will be bustling with tourists (especially on weekends) and accommodation will be expensive and limited.
Summer (April-May) : Summers are very hot and humid and, in my opinion, it would be best to avoid this region during the summers.
Monsoon (June – September) : This season is perfect for the drive. If you are a nature lover, love the sound and sight of the rough sea, want to have a relaxing trip and are not interested in water sports, this would be a good time to visit. We visited in June (just before the onset of monsoons) and by this time, most of the hotels/restaurants had shut down. It's also a good time to get the best hotel deals.
There are very few petrol pumps on the MSH4 and since there are quite many ghats on this route, make sure to have enough petrol.
Cuisine : Try the Malvani thali in Tarkarli and Kolhapuri food while crossing Kolhapur.
Mosquitoes : Especially in Tarkarli and Vengurla, we faced some issue with mosquitoes and hence it is advisable to carry insect repellant and preferably find a room with mosquito nets.
Food availability : Since it was off season and there were no other guests in both our hotels. Hence, their restaurants were not functional and were only serving tea. If you are visiting during this season, make sure to have some food with you (instant noodles, biscuits, peanuts). Apart from the hotel, most standalone restaurants were also shut.
Duration : We stopped for one night at Tarkarli and one night at Vengurla. I believe that was not enough. I would recommend at least three nights along the Konkan coast.
Things to Do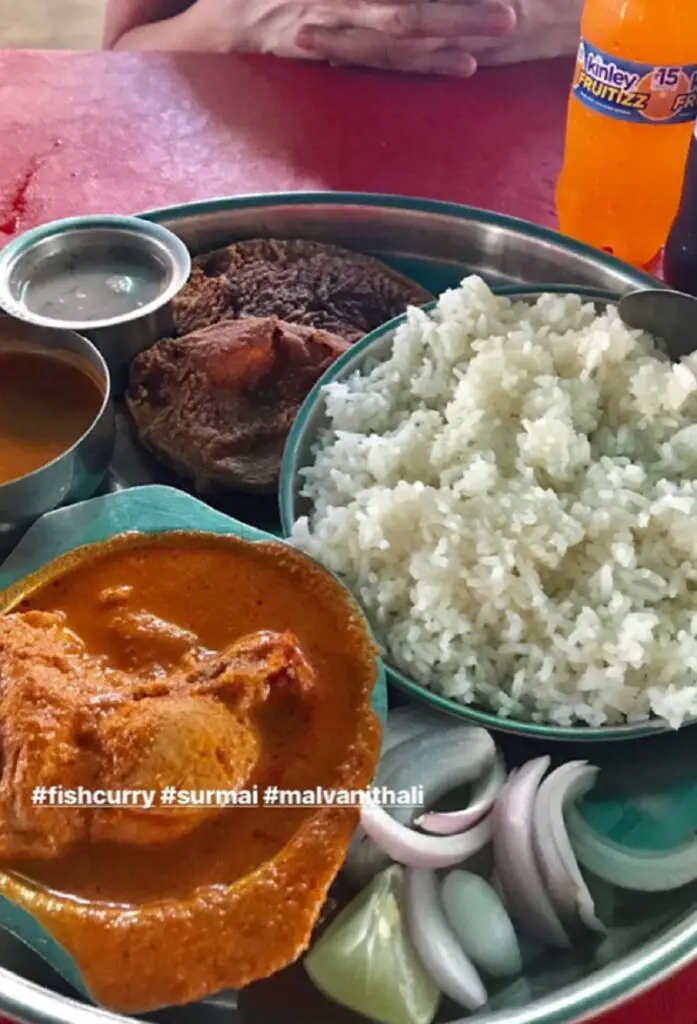 Water sports: These are open from October – March every year
Eat Malvani food: We ate it "Atithi Bamboo" hotel and can certainly vouch for this thali. Another recommended place was Chaitanya
Sindhudhurg fort: This fort was built by Shivaji in the 17 th century and is a protected monument. We unfortunately could not visit as it was shut.
Devbag Sangam point: Sangam of Karli river and Arabian sea
Walk along Devbag beach and Karli river
Relax and enjoy the pristine beach. Walk along the beach
Vengurla lighthouse
Walk in the town to get a feel of the Konkan life
Mochemad beach is an Olive Ridley turtle nesting site and is about 20 minutes drive from Vengurla
Walk along the backwaters of Mandavi river
Accommodation
Below are some decent options. We did not stay at these places as we found these resorts while exploring the area:
Tarkarli: There are quite a few options in Devbag and that should be the area to stay at.  Many of these are beach facing good properties. We had breakfast at Konkan Breeze resort which seemed decent. Avoid staying in Tarkarli town.
Vengurla:  We came across a decent resort during our walk to Navabag beach – "Golven resort". We did not stay here, but saw the rooms (in preparation for our next visit to this region.)   https://golvenresorts.com/
Final Words
It is definitely one of the best driving routes in India. No wonder it is a favourite with road trip lovers as well as bikers.
Contrary to our expectations, the condition of the roads throughout our 1100 km drive was very good; especially considering we were on state highways for most part. However, the condition of road is not a constant and it is advisable to check GPS for any road constructions.
The region is not as untouched and unexplored as it was about ten years ago. However, relative to its neighbouring Goa, it is definitely 'more virgin'.
Also, Maharashtra government recently approved the plan to have beach shacks along eight of the Konkan beaches. The combination of 'seafood-mojito-sand in our toes-sea breeze' will soon be closer to home for Mumbaikars.
@Konkan – I Will Be Back!
Priyanka Dhankher
I am the owner/driver of this blog and I love road trips. Women only road trips is a rarity in India and through this blog, I would like to inspire women like me to hit the road. Lack of male co-passenger should not be a deterrent. It took me a lot of years to finally go on my first women only road trip (in 2016) and since then there has been no stopping me. One long distance trip (>1000 km) and a few shorter ones per year is my aim.
2 thoughts on " Women's Road Trip from Mumbai: Tarkarli-Vengurla-Amboli "
Very Nice and best way in which you have shared your experience. Very detailed information. Thanks a lot…..
Thanks a lot. Glad you liked it and hope it provided the information you needed.
Leave a Reply Cancel reply
Your email address will not be published. Required fields are marked *
Save my name and email in this browser for the next time I comment.
Recent Posts
Women's Roadtrip with Dogs in India
Are you skeptical about taking your four-legged friend on your next roadtrip? It's not as difficult as you might think - it will surely be an adventure for you and your furry companion. I am a...
Women's Roadtrip: Delhi - Jaipur - Kishangarh via Mumbai-Del Expressway
On 1 March 2023, on my mom's bday she expressed an interest in going for a roadtrip on the newly inaugurated Mumbai-Delhi Expressway. Since I did not really give her any gift, I thought an...
Trek & camping +9173876 42734
Backapcking +9172086 20046
New Year's Eve
Mumbai Treks
Himachal Tours
Uttarakhand Tours
Rajasthan Tours
South Tours
North - East Tours
Himalayan Summer Treks
Himalayan Winter Treks
Spiti Valley
Kedarkantha
Har Ki Dun Trek
Valley of Flowers Trek
Malvan Tarkali
We Are Hiring
Malvan Tarkarli with Scuba Diving
Instant Confirmation
Best Price Guaranteed
1000+ Happy Customers
Weekend Getaway from Mumbai
Backpack tours
Backpack Trips
Short Tours
Weekend Getaway from Bangalore
Upcoming Events
South India Group Tours
Weekend Getaway from Hyderabad
Holi Special
Weekend Getaway from Mumbai & Pune
Unveiling the Deep: Malvan and Tarkali Scuba Diving and Adventure Sports Tour
Nestled on the mesmerizing Konkan coastline of Maharashtra, Malvan, and Tarkali are two hidden gems that offer a unique blend of natural beauty, cultural heritage, and thrilling adventure experiences. The pristine waters of the Arabian Sea, with their crystal-clear visibility, make these destinations a scuba diving enthusiast's paradise. But there's much more to this coastal haven than meets the eye. On this trip, we will delve into the world of Malvan and Tarkali, exploring scuba diving and adventure sports opportunities that can elevate your travel experience.
Malvan and Tarkali are renowned for their scuba diving sites, providing an opportunity to explore the breathtaking underwater world. The clear waters make this region a perfect place for divers of all levels. Whether you are a beginner or an experienced diver, the marine life, coral reefs, and shipwrecks in this region will leave you awe-inspired. 
Adventure Sports Extravaganza: Beyond scuba diving, Malvan and Tarkali offer a range of adventure sports that can cater to your thrill-seeking spirit. From snorkeling to parasailing, jet-skiing to banana boat rides, these destinations provide a medley of options. The Tsunami Island in Tarkali, a popular hub for adventure sports, is worth mentioning.
Cultural Charms and Local Delights: Malvan and Tarkali are not just about adventure; they are steeped in cultural heritage. The Sindhudurg Fort, built by Chhatrapati Shivaji Maharaj, stands as a testament to the region's history. The Malvani cuisine, with its delectable seafood dishes, is a must-try.
Malvan and Tarkali, with their scuba diving and adventure sports offerings, serve as a treasure trove for travelers. By crafting a comprehensive itinerary that offers valuable travel insights, you can inspire travellers to embark on an unforgettable adventure along the stunning Konkan coast. Dive into the depths, relish the adventure, and immerse yourself in the cultural charm of Malvan and Tarkali.
Highlights of this Trip:
Activities:  Scuba diving with video, Parasailing, Jet skiing, Banana ride, Bumper Ride
Beach & Sightseeings  - Rock Garden visit with Magical Sunset, Sindhudurg fort visit with boat Ferry, Tarkarli Beach, Devbaug Beach Sunset, Ganesh Temple Visit, 
Delicious Malvani cuisine
Brief Itinerary:
Day 01: Mumbai/Pune to Malvan Overnight Journey 
Day 02:  Experience Water Sports at Malvan Beach, Visit Ganesh Temple. Stay in Malvan
Day 03: Explore Sindhudurg Fort, Tarkarli Beach, Devbaug Beach - Depart for Pune
Day 04:  Arrival in Pune / Mumbai
Available Group Departures:
November: 3, 10, 11, 12, 17, 24
December: 1, 8, 15,
Christmas & New Year: 22, 23, 29, 30
January: 5, 12, 19, 26
February: 2, 9, 16, 23
March: 1, 8, 15, 22, 29
For customized dates & packages, contact us at @7397823876
Pune:  5799/-
Mumbai:  6799/-
Couple Sharing Room: 500/- per person extra
AC Room: 200/- per person extra
What is included in the tour
Transportation:  Pune/Mumbai to Pune/Mumbai (Tempo Traveler) and Internal traveling For sightseeings for 2 days
Accommodation: Room Stay   on Triple\Quad sharing
Meal Plans: Day 2 Breakfast + Lunch, Day 3 Breakfast + Lunch
Activities:  Watersports, Scuba Diving and Parasailing, Jet skiing, Banana Ride, and Bumper Ride (All Activities are one-time only), Sindhudurg Boat ferry charges
Sightseeing:  Malwan beach, Tarkarli Beach, Devbaug beach, Sindhudurg Fort, Rock Garden, Ganesh Temple
Tour Leader and Expertise 
Entry charges at all sightseeing points mentioned in the package
What is NOT included in the tour
Travel till pickup point.
Dinner on all days
All kinds of Additional Meals / soft drinks / Mineral Water ordered or purchased for personal consumption
An additional cost of any repeated watersport activities.
Any kind of personal expenses
All expenses incurred due to unforeseen and unavoidable circumstances like roadblocks, bad weather
Any medical / Emergency evacuations if required
Food during travel
Any other expense not mentioned in the inclusions.
Tempo Traveller Bus:
Mumbai pickups  will be between  03:00 PM  -  04:30 PM  ( Dadar - Sion - Chembur - Vashi.)
(Mumbai people will be transfered from Dadar to Wakad via cab)
Pune pickups  will be between  08:30 PM - 10:00 PM  ( FC Road, Wakad, Chandani Chowk, Katraj )
This entire night will be traveling to Malvan because it is a long route. So you can relax on the Bus because you are going to have a long trip! 
Arrive in Malvan in the Morning and check in to Our Stay Property
Get freshen up, have breakfast, and leave for watersports
After watersports, we move forward for a late lunch 
After a bit of rest, we will head towards Beachside Rock Garden to enjoy the picturesque beach sunset
Then we will visit Ganesh Temple and enjoy some peaceful quality time there.
Enjoy the authentic Malvan cuisine (Dinner) and spend our leisure time with Beachside bonfire/ group fun games
We finish our day by taking night walks and Head back to our rooms. Get good sleep and reenergize yourself for the next day.
Wake up and enjoy the early morning peaceful vibe in Malwan
Get freshen up, Have breakfast
load our bags onto the bus and move towards the Historical Sindhudurg fort
After a jetty ride, we will explore the Sindhudurg Fort 
Later we will head towards Trakarli beach.  You can enjoy watersports here (own expense)
Then visit Devbaugh Beach (one of the cleanest beaches in Konkan) for a magnificent sunset
Conclude the day, then depart for Pune/Mumbai
07:00 AM:  Arrival in Pune 
11:00 AM:  Arrival in Mumbai
(Mumbai people will be transtransferred Wakad to Dadar via cab)
Things To Carry:
A rucksack bag and a day pack
3-liter water bladder or water bottle
One cotton long sleeve and 2 short sleeve T-shirts
1 pair of gloves
At least 2 long pants (trek pants and cargo pants are favorable)
4 sets of undergarments
2 pairs of socks
A small towel
A rain jacket or a poncho
Above-the-ankle waterproof and breathable hiking boots with good grip
Flip flops/sandals
Glucose powder
Medicines for headaches, diarrhea, motion sickness
Personal Accessories
Toothpaste, toothbrush
Paper soap, or sanitizer
Sunscreen minimum of spf40, lip balm, cold creams
LED torch light
Payment Details :
UPI ID : 7387523876@upi
Net banking :
Name- RAJBALA YADAV Bank name - HDFC BANK  ACC No.- 50100308491863 IFSC code- HDFC0002501
Name- NITIN YADAV Bank name - PUNJAB NATIONAL BANK  ACC No.- 0530001500002688 IFSC code- PUNB0053000
Cancellation and Refund Policy:
NO REFUND SHALL BE MADE WITH RESPECT TO THE INITIAL BOOKING AMOUNT FOR ANY CANCELLATIONS. HOWEVER IF FULL PAYMENT HAS BEEN MADE THEN,
If cancellations are made 30 days before the start date of the trip, 50% of the trip cost will be refunded within 5-7 working days.
If cancellations are made 15-30 days before the start date of the trip, 25% of the trip cost will be refunded within 5-7 working days.
If cancellations are made within 0-15 days before the start date of the trip, 100% of the trip cost will be charged as cancellation fees. No refund will be processed.
In the case of unforeseen weather conditions or government restrictions, certain activities may be canceled and in such cases, the operator will try his best to provide an alternate feasible activity. However, no refund will be provided for the same.
No show No Refund.
Event Tickets cannot be transferred to another date against cancellation.
Event Tickets can be transferred to another person against cancellation.
If we cancel the TRIP, only the TRIP AMOUNT will be refunded.
Trekhievers Policy:
A complete schedule of the trek will be given to the registered participants 12 Hours prior on WhatsApp.
Organizers have all the right to modify or change the schedule in case of any unavoidable circumstance.
The tour is weather-based and depends on the weather conditions. There may be last-minute cancellations if weather conditions deteriorate.
Q: What makes Tarkali and Malvan stand out as tourist destinations? A: Tarkali and Malvan are known for their unspoiled beaches, rich marine life, water sports, and historic forts, offering a unique blend of nature and culture.
Q: When is the best time to visit Tarkali and Malvan for scuba diving and water sports? A: The ideal time is from October to March when the weather is pleasant, and water activities are in full swing.
Q: What is the significance of Sindhudurg Fort in Malvan? A: Sindhudurg Fort is an iconic historical site built by Chhatrapati Shivaji Maharaj, showcasing maritime architecture and historical importance.
Q: Can you recommend some water sports and adventure activities in Tarkali and Malvan? A: Popular activities include scuba diving, snorkeling, parasailing, jet-skiing, banana boat rides, and Tsunami Island water sports.
Q: What kind of marine life can be spotted during scuba diving in these regions? A: Divers can encounter a diverse marine world, including colorful corals, schools of fish, rays, and sometimes even turtles and dolphins.
Q: Are there certified scuba diving instructors available for beginners? A: Yes, both Tarkali and Malvan have PADI-certified instructors and training centers, making it suitable for beginners.
Q: What is the local cuisine like, and what dishes should I try in Malvan? A: Malvani cuisine is famous for its spicy seafood dishes, especially Malvani fish curry, sol kadhi, and a variety of delectable seafood preparations.
Q: What are the recommended accommodations in Tarkali and Malvan for travelers of different budgets? A: There are options for all budgets, from beachside shacks to boutique resorts and homestays. Prominently mention some popular places to stay in your article.
Q: How can I reach Tarkali and Malvan from major cities like Mumbai and Pune? A: Mention the available transportation options, including road and rail, and the approximate travel times from major cities.
Q: What is the cultural significance of Tarkali and Malvan, and are there any festivals that tourists can witness? A: Highlight local customs, traditions, and any annual festivals that offer a unique cultural experience to visitors.
Loading the map...
INCLUSIONS/EXCLUSIONS
PICKUP POINT
Awards, Affiliations & Press Coverage
OTHER POPULAR TOURS
Andharban Jungle Trek | Pune
Devkund Waterfall Trek | Mumbai
Ratangad Night Trek | Pune
OTHER ACTIVITIES
New Year's Tours
Kerala Tours
Winter Treks
B-502, Siddhart Heights, Oriental Gold Society, Aundh, Pune - 41100, Maharashtra, India
Privacy Policy
Cancellation & Refund Policy
Terms & Condition
Online booking system by Vacation Labs | © 2023 Trekhievers
Upcoming tours
Sign In/Sign Up
Bus Tickets
Change Travel Date
Show My Ticket
Mumbai to Tarkarli Bus
Mumbai to tarkarli bus service, mumbai to tarkarli bus distance, mumbai to tarkarli bus timings & fare, useful information on bus from mumbai to tarkarli.
The journey from Mumbai to Tarkarli is very smoothly covered by a bus in 16 hours. For bus booking on Mumbai to Tarkarli route, customers can check the buses based on travel time and sort the buses based on less duration. There are operators running their buses between Mumbai to Tarkarli bringing necessary travel convenience for several people in India. Usually, 205 buses are plying from Mumbai to Tarkarli. All buses are driven by proficient drivers ensuring safety during the journey.
Operators Serving on this Route
A number of prominent operators ply buses from Mumbai to Tarkarli ensuring punctuality and safety for its passengers. Major operators offering various kinds of bus services are:
Khapreshwar Travels
Ganesh Krupa Travels
Ghumdai Travels
Enjoy Safe and Comfortable Journey with Primo Buses!
If you're looking to travel from Mumbai to Tarkarli and worried about safe travel, you can choose the Primo service launched by redBus. Primo is where passengers can enjoy travelling in high-rated buses with best-in-class services. While looking for bus tickets booking on Mumbai to Tarkarli route, customers can check Primo tag in order to choose this wonderful service. From hygiene standards to on-time service and comfort, there are many benefits that passengers can get from Primo bus booking.
Top Bus Operator Images
Many bus operators on the route from Mumbai to Tarkarli offer sleeper buses. While booking Mumbai to Tarkarli buses, you can filter out the sleeper buses and book a bus that suits your needs.
Buses are the best modes of transportation for traveling from Mumbai to Tarkarli . You can book a bus ticket from Mumbai to Tarkarli from the comfort of your home by simply logging on to redBus website or app, entering Mumbai and Tarkarli as your source and destination respectively, and selecting the most suitable bus available from the list.
Yes, redBus makes cancelling or rescheduling the bus tickets extremely easy for passengers. You can reschedule your Mumbai to Tarkarli bus ticket by entering the ticket details and choosing a future date of traveling. Confirm the rescheduled date of travel and pay the difference amount for the ticket. Disclaimer: Please note that rescheduling the tickets is subject to bus operator policy. One can check the availability of rescheduling the tickets of the respective bus operator while booking tickets online.
The total bus duration taken on Mumbai to Tarkarli buses depends upon the bus operators, the road route they follow, and the break duration they take. While booking Mumbai to Tarkarli buses on redBus, one can see the total time taken by each bus operator in the detail and choose accordingly.
redDeal is a discount offered by top bus operators exclusively on redBus. The redDeal discount amount which ranges from a minimum of 5% to a maximum of 25% is in addition to any other discount applicable at the time of booking your online bus ticket. There is no need to apply any coupon/offer code to avail this benefit.
Get additional discount with redDeals offered for route Mumbai to Tarkarli
RETURN_TRIP Discount by Prakash travels: Get 10% Extra OFF. Offer valid till 25 Dec 2023
Book the cheapest online bus tickets with redDeals
redDeals are discounts offered by top bus operators exclusively on redBus. The redDeal discount amount which ranges from a minimum of 5% to a maximum of 25% is in addition to any other discount applicable at the time of booking your online bus ticket. So with redDeals you can be assured of not just safe & comfortable travel but also of the cheapest travel option at any time. Different types of redDeals offered by operators include Return trip offer, Early bird offer, Last minute offer, Trial offer, Festive/Holiday offer and more
About Mumbai
Mumbai to tarkarli bus types.
Various types of buses serving passengers from Mumbai to Tarkarli ensuring safety and comfort. A few bus services are:
Volvo A/C Seater (2+2)
A/C Sleeper (2+1)
About Tarkarli
Tarkarli has a lot to offer to anybody who visits this place. Apart from conveniently located drop-off points, Tarkarli has a lot to offer that would entice anyone who visits this place. With a number of sites to visit and restaurants to raid, Tarkarli has it all. There are a ton of buses that run through Tarkarli and this ensures that Tarkarli is well-connected to the rest of the country. Don't think twice, book your bus ticket online today
Popular Routes from Mumbai
Mumbai to Pune Bus
Mumbai to Kolhapur(Maharashtra) Bus
Mumbai to Hyderabad Bus
Mumbai to Indore Bus
Mumbai to Bangalore Bus
Mumbai to Aurangabad (Maharashtra) Bus
Mumbai to Goa Bus
Mumbai to Ahmedabad Bus
Mumbai to Belagavi Bus
Mumbai to Sangli Bus
more >>
POPULAR ROUTES TO Tarkarli
Top Bus Operators in Mumbai
Neeta tours and travels
National Tourist
Dolphin travel house
Vaibhav travels
VRL Travels
IntrCity SmartBus
Orange Tours And Travels
Raj Ratan Tours And Travels
Prasanna Purple Mobility Solutions Pvt Ltd
Other Routes from Mumbai
Mumbai to Badnawar Bus
Mumbai to CHACHEGAON, KARAD, SATARA Bus
Mumbai to Amdapur (Buldhana) Bus
Mumbai to Gimavi (ratnagiri) Bus
Mumbai to Sanchore Bus
Mumbai to Taveda Bus
Mumbai to SHIVTAR PICKUP SHED,KHED,RATNAGIRI Bus
Mumbai to KONDMALUSAREY KOND, MAHAD, RAIGAD Bus
Mumbai to Jejuri Bus
Mumbai to Panvel Bus
Other Routes to Tarkarli
Other Routes
Vanagao Iti, Dahanu, Thane to Nandurbar Bus
Bhiwandi to Ahmedabad Bus
Pindwara to Ummedabad Bus
Kherwara to Malpura (Rajasthan) Bus
Molasar (Rajasthan) to Kuchaman Bus
Banda (Maharashtra) to Aurangabad (Maharashtra) Bus
Bharuch to Vanda (Gujarat) Bus
KHEDPATI, PANDHARPUR, SOLAPUR to Bableshwar Bus
Bangalore to Visakhapatnam Bus
Kadapa to Chegunta (telangana) Bus
Train Routes
Nagar-Untari to Makhdumpur-Gaya Trains
Turekela to Kundru Trains
Ulubaria to Dongargarh Trains
Bara Amda to Regupalem Trains
Malanpur to Gohad Trains
Fatwah to Bara Amda Trains
Vadlamannadu to Gudlavalleru Trains
Firozabad to But Berahawa Trains
Shivpuri to Ashok Nagar Trains
Shivrinarayan to Mathura Trains
Jamalpur to Harirajpur Trains
Moth to Shahganj Trains
Kurduvadi to Hindupur Trains
Ongole to Dondaicha Warwade Trains
Thanjavur to Nagapattinam Trains
Lucknow to Aurihar Kala Trains
Jakhal to Jhalawar Trains
Murdeshwar to Haldipur Trains
Panchgram to Hilara Trains
Harsinghpur to Bandel Trains
Railway Information
Train Ticket Booking
Train Between Stations
Train Seat Availability
Tatkal Ticket Booking
Premium Tatkal
Current Reservation
Top Bus Routes
Bangalore to Chennai Bus
Hyderabad to Bangalore Bus
Pune to Bangalore Bus
More >>
Hyderabad Bus Tickets
Bangalore Bus Tickets
Chennai Bus Tickets
Pune Bus Tickets
Top RTC's
Top rtc bus types.
Shivshahi Bus
Shivneri Bus
Amaravathi Bus
Top Operators
Are you sure you want to go back?
Holiday Rentals
Restaurants
Things to do
Tarkarli Tourism
Tarkarli Hotels
Tarkarli Guest House
Tarkarli Holiday Homes
Tarkarli Flights
Tarkarli Restaurants
Tarkarli Attractions
Tarkarli Travel Forum
Tarkarli Photos
Tarkarli Map
All Tarkarli Hotels
Last Minute Hotels in Tarkarli
Hotels near (BOM) Mumbai Airport
White Musk Resort
Golden Palms Hotel & Spa
River Village Resort
Govardhan EcoVillage
100 Acres Club
Leonia Holistic Destination
Club Mahindra Madikeri, Coorg
Discovery Village
The Khyber Himalayan Resort & Spa
Nethravathi
Jalsrushti Island Resort
Noormahal Palace
Lalithambika Guest House
Aamby Valley City
Saya Grand Club & Spa Resort
Popular All-Inclusive Resorts
Popular Beach Resorts
Popular Family Resorts
Popular All-Inclusive Hotels
Popular Hotels With Waterparks
Popular Honeymoon Resorts
Popular Luxury Resorts
Popular All-Inclusive Family Resorts
Popular Golf Resorts
Popular Spa Resorts
Popular Cheap Resorts
Cheap flights from Moscow to Phuket
Cheap flights from Moscow to Bangkok
Cheap flights from Moscow to New York City
Cheap flights from Moscow to Prague
Cheap flights from Moscow to Barcelona
Cheap flights from Moscow to Paris
Cheap flights from Moscow to Tenerife
Cheap flights from Moscow to Rome
Cheap flights from Moscow to Tel Aviv
Cheap flights from Moscow to Istanbul
Flights to Dubai
Flights to Phuket
Flights to Bangkok
Flights to Istanbul
Flights to Denpasar
Flights to Male
Flights to Sochi
Flights to Kaliningrad
Flights to St. Petersburg
Flights to Abu Dhabi
Basic Economy Flights to Tarkarli
Economy Flights to Tarkarli
Premium Economy Flights to Tarkarli
Business Class Flights to Tarkarli
First Class Flights to Tarkarli
Flights to Mumbai Airport
IndiGo Reviews
Air India Reviews
GoAir Reviews
SpiceJet Reviews
Vistara Reviews
IndiGo Deals
Air India Deals
GoAir Deals
SpiceJet Deals
Vistara Deals
GreenLeaders
Things to Do
Holiday homes
Travel Stories
Add a Place
Travel Forum
Travellers' Choice
Help Centre
Cheap Flights to Tarkarli - Tarkarli, India Flights
Asia
India
Maharashtra
Sindhudurg District
Tarkarli
Find the best flight to Tarkarli
Great deals to tarkarli.
Top Attractions in Tarkarli
Devbagh beach, achra beach, kolamb beach, shree shivchhatrapati temple, popular airlines flying to mumbai.
Flight stats for Tarkarli - did you know?
Tarkarli is 346 km from Mumbai Airport (Mumbai, India).
Mumbai Airport (Mumbai, India)
Right now, 47 airlines operate out of Mumbai Airport.
Mumbai Airport offers nonstop flights to 85 cities.
Every week, at least 1,948 domestic flights and 234 international flights depart from Mumbai Airport.
A trip to Tarkarli.. 

The Plan (MARCH 2016)
Tarkarli Beach
Have always heard praises for this place for its serene beaches, scuba diving and the delicious local food. People often feel the zest for a GOA trip but neglect this small yet budding village on the way which is starting to get accolades among the travelers community for the solitude it provides. So after a lot of iterations, we finally decide to visit TARKARLI !! A group of 7 mad heads (engineers) on a road trip from Mumbai to Tarkarli (approx 480 kms)
Note: Its better to have your vehicle to Tarkarli as there is no such public transport to travel within the village. If not, you can go to Kudal railway station (nearest) and a catch the state bus to Malwan. There you can hire bikes from the locals. But dont expect the ones like Goa. The bikes are few in numbers and without the commercial permit (no yellow number plate)
Day 0 (Road trip)
With an untimely shower for the month of March couple of days back, we get ready for the long overnite drive from Powai, Mumbai. The wheels roll and we head towards the Mumbai- Goa highway (NH 17, new numbered to NH 66). Songs play, we all banter and with time all fall asleep at around 4am. Our driver (aka Dada) too takes a short nap (of course with car parked) to start again. The road has a few ghats until one enters Malwan where the roads narrow down and we see early morning street markets, school children. After almost a 10 hour long ride and coupe of wrong turns, we reach Tarkarli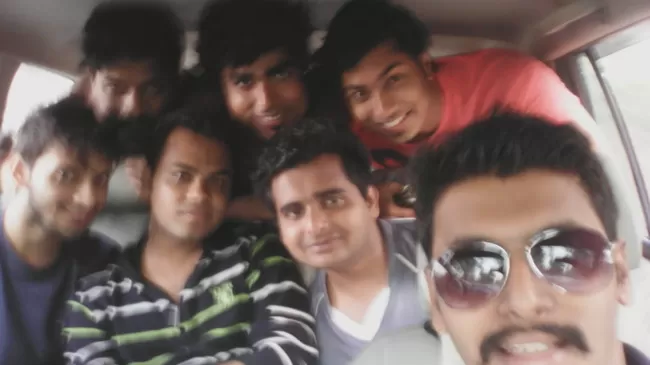 Day 1 - TARKARLI (SCUBA DIVING)
Without a lot a searching, we got a descent local cottage named Konkan Villa on the Malwan-Tarkarli road having comfortable rooms, good local food and proximity from the beach (don't know the name but not the tarkarli beach).
Sindhudurg Fort
First thing first, SCUBA DIVING. The cottage owner helped us out arranging for the Scuba near Sindhudurg Fort on the Malwan- Tarkarli road. Don't worry as the prices here are fixed at INR 1650/- which includes the underwater photography and a 2 minute video. I would personally suggest do not go for snorkling as you are just a couple feet under water watching the corals (Snorkling cost around INR 500) whereas SCUBA is approximately 20 ft deep. We reach the place, and the excitement builds just looking at the SCUBA gear.
SCUBA: Well I fall short of words to express this experience. The gear is on, instructions given, and you take the dip. The world under water just seems so unrealistic as if this is a dream. All you hear is the sound of you inhaling and the blowing bubbles when you exhale. The colorful fish around, so many in number and the red coral. The clear sea helps you see it all. After a while, of swimming around and above the corals, one can feel the pressure in the ears after about 15 mins under water. But you tend to still signal your guide ' everything is fine' . You just don't want to end this and keep swimming around when my guide pulls me out and back to the real world. So many sounds hit your ear, vision becomes more clear and you start wondering whether the last 20 minutes were real !!!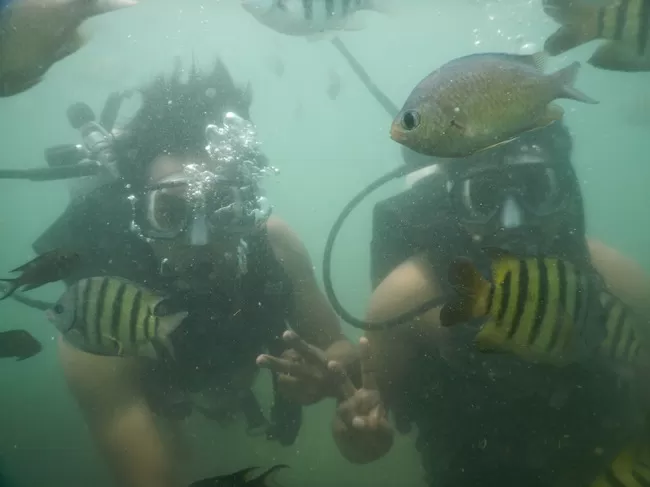 After the wonderful experience, we skip the Sindhudurg fort due to the scorching sun and head to a local restaurant for some food. The food here is the same in all the hotels, be it the cost or the taste. And both will make you happy. For the evening, we head towards Rock garden for the sunset. A very beautiful garden ruined by a lot of crowd. Could not find peace but the brink of the twilight was a good compensation.
NOTE: Check out Chiwla beach for good sea facing cottages at affordable prices (We missed it)
Day 2 (Tsunami Islands)
We started the day early as we had to go for water sports as well as Tsunami islands. The previous night saw some running and yelling on the beach. Scary pranks, ghost stories and running all the way to outlast each other. Not to forget the home made delicious food. The Malwani made chicken was the pick of the dishes served with hot Vadas (Kombdi- Vade). My another friend happened to visit Tarkarli at the same time so I booked a cottage for his family just beside ours. The night passed with some candid discussions and babaji to accompany. We reach the same beach from where we started for SCUBA. For water sports, one can go to Devbaugh, Tsunami island too, but it can upset your pocket a bit. Adding to the fact that at Devbaugh, water sports is done in backwaters whereas at Sindhudurg, its the bumpy sea which is more fun. In all we spent INR 600/- (includes bana ride, 2 bumpy ride, jet ski and kayaking ). Another INR 700 for parasailing, which gives you a breathtaking view which is worth every penny spent.
Devbaug Beach
For the evening, we check out from Konkan villa and head towards Tsunami islands, Devbaugh for another sunset. The name actually comes from the Tsunami in 2004 which resulted in the formation of this small island, which magically submerges underwater at night. One can enjoy the serenity of the still backwaters and just lay down on the sand. The islands actually seem to be the "Indian version of Kaho na Pyaar hai" island as quoted by one of my friends.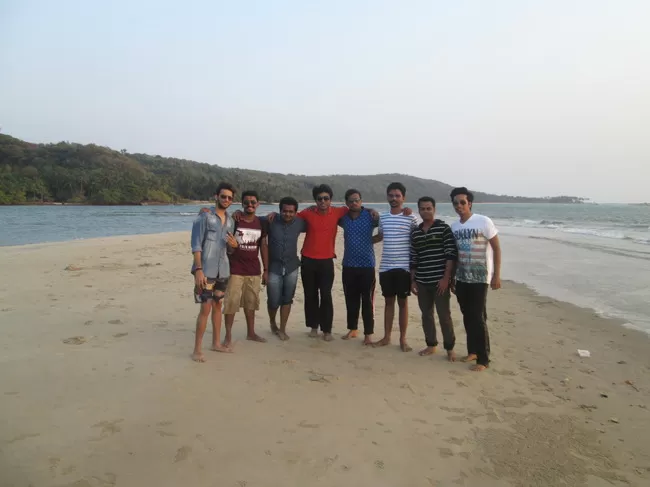 The sun crosses the horizon, and its time to say adios to this beautiful village located in Malvan. Tarkarli wins it for its tranquility, originality and yes food.!!
Total expenditure:
SCUBA= INR 1650/-
Water Sports + Parasailing = INR 1200/-
Food = approx INR 300/- per day
Stay = INR 1200/- per room per day (4 ppl in a room)
Frequent searches leading to this page :-
trip to tarkarli from mumbai , mumbai to tarkarli road trip,