VISIT ST KILDA
Pin Tweet Share WhatsApp
HOW TO VISIT ST KILDA
An isolated Scottish archipelago and the westernmost islands of the Outer Hebrides, St Kilda possesses fascinating social history and visual spectacle in equal measure. Indeed, this is demonstrated by it being one of the few places in the world to hold dual UNESCO World Heritage status, inscribed for both natural and cultural criteria.
For most who brave the North Atlantic's rough seas to reach its shores, a trip to St Kilda is a once-in-a-lifetime experience. If it is a journey that you hope to make, this guide covers all the essential details and will help you plan your visit to these distant and ruggedly beautiful isles.
WATCH OUR ST KILDA FILM MAP OF ST KILDA INTRODUCTION TO ST KILDA WHAT TO EXPECT ON A DAY TRIP WHAT TO DO ON ST KILDA CAMPING ON ST KILDA WHAT TO PACK FOR YOUR TRIP HOW TO GET TO ST KILDA RESOURCES & EXTRA READING
*Some of the links in this post are affiliate links – if you purchase a product or service via these links, we may earn a small commission at no extra cost to you . This helps offset the cost of running this blog and keeps us travelling so that we can continue to produce great content for you. We greatly appreciate your support!*
OUR ST KILDA FILM
Watch our instagram stories from st kilda, watch instagram stories from our st kilda trip.
St Kilda Stories
ST KILDA MAP
This map shows the main sites on the islands of St Kilda, along with the various ports of departure.
AN INTRODUCTION TO ST KILDA
AN INTRODUCTION
From the remarkable geography of this archipelago and what life was like for those who lived there, to the arrival of modernity, the community's eventual evacuation, and the circumstances of the islands today, the following introduction to St Kilda will hopefully pique your interest and get you excited for the trip to come.
ABOUT ST KILDA
More than 40 miles west of North Uist, St Kilda rises dramatically from the North Atlantic Ocean, a small archipelago formed by the remains of an ancient volcano. St Kilda, or Hiort as it's known in Gaelic, consists of the main island of Hirta, the smaller islands of Dun, Soay, and Boreray, and the prominent sea stacks Stac Lee and Stac an Armin.
Dramatic Coastline
Over millennia, St Kilda's dramatic coastline has been carved and worn by ice, rain, and sea. The sheer cliffs of Conachair on Hirta are the highest in the British Isles at 430 metres, and Stac an Armin is the highest sea stack at 190 metres. Impressive in their own right, the cliffs and stacks of St Kilda become an otherworldly sight during breeding season, when the islands support an estimated 1 million seabirds. It is the largest seabird colony in the north-east Atlantic, and includes puffins, gannets, fulmars, guillemots, razorbills, shearwaters, petrels, and shags.
The impressive Stac an Armin, rising 190 metres out of the water and covered in countless seabirds
Unique Wildlife
St Kilda is also home to unique wildlife species, including the endemic St Kilda Field Mouse, St Kilda Wren, and two types of primitive sheep, Soay and Boreray. A number of Soay sheep were transferred from Soay to Hirta following the evacuation in 1930, and their descendants roam freely around the island to this day. The Boreray sheep can be spotted on the steep slopes and rocky ledges of Boreray as you circle the island by boat.
Inhabited for at least 4000 years, the last permanent residents of St Kilda were voluntarily evacuated in 1930. Life on these isolated islands had always been challenging, but with only a handful of able-bodied men left in the remaining community of 36, the St Kildans' way of life was simply no longer sustainable.
LIFE ON ST KILDA
Life on the remote and isolated St Kilda revolved around the weather and seasons, and was highly dependent on the community working closely together for the survival of all.
Self-sufficient Crofters
For centuries St Kildans were self-sufficient crofters. They raised cattle and sheep for wool, milk, and meat, grew crops of barley, oats, and potatoes, and harvested seabirds and their eggs – especially gannets and fulmars – for food, feathers, and oil. Rough seas and the difficulty of landing boats meant fishing opportunities were rare. Supplies would be stored through winter in a cleit (plural cleitean ), a dry-stone storage hut with a turf roof. These cleitean can be seen dotted all over the hillsides of Hirta today.
Cleitean – drystone storage huts with turf roofs – on the hillside of Hirta, St Kilda's main island
Cleitean (drystone storage huts with turf roofs) on the hillside of Hirta, St Kilda's main island
Skilled Cragsmen
St Kildan men were highly skilled cragsmen. In order to hunt seabirds, they would scale sheer cliffs and sea stacks, and lower themselves over daunting precipices with only a rope tied around them for safety. Fowling expeditions to the outlying islands of Borerary, Soay, and Dun, and to the gannet breeding sites of Stac an Armin and Stac Lee, would take place in spring and summer. Men would row to the islands and stay in basic stone bothies or shelters during the harvest.
In August 1727, three men and eight boys were stranded for nine months on Stac an Armin when a smallpox epidemic swept through the village on Hirta, killing 94 people. Amazingly, all of the marooned St Kildans survived, making it through the winter by living off fresh water, birds, eggs, and fish caught with a bent nail.
Living on Hirta
Hirta was the only inhabited island, with everyone living along one street of houses in sheltered Village Bay. Each family kept a croft, consisting of a house, a strip of land, and a share in the common grazings for cattle and sheep. The cliffs for harvesting seabirds were also divided among the crofts, allotted annually. Borerary, Soay, Dun, and the stacs were considered common property, with fowling expeditions undertaken as a community and the gannet harvest being divided equally. Rent was paid to MacLeod of Dunvegan on Skye, usually in the form of seabird feathers and oil, plus tweed, barley, milk, cheese, and wool.
In the early 19th century, blackhouse dwellings were the norm. These were traditional hebridean houses built using double-skinned walls with rounded external corners and a thatched roof. They had no chimney, so the peat fires would smoke out the interior and blacken the roof, hence the name. Humans and animals shared the space over winter, with one end of the house being transformed into a byre.
Following a bad storm in the 1860s, housing improvements were made on the island. New homes were built with chimneys in the gable ends and windows to let in natural light, and the blackhouses were turned over to the cattle. The ruined houses lining the street today are from this era, with the thick, crumbling walls of the blackhouses still lying tucked between them.
Main Street, with the remains of the blackhouses in between the more modern houses (the ones with repaired roofs are used by the NTS today)
The Street, with the remains of the blackhouses in between the more modern houses (the ones with repaired roofs are used by the NTS today)
TOURISM, EMIGRATION, AND EVACUATION
Throughout the hundred years prior to the evacuation of St Kilda, life for the islanders had started to change.
The first tourists visited St Kilda on a steamship in the 1830s, and there was a steady growth in tourism to the island throughout the 19th and early 20th centuries. Islanders sold souvenirs like knitwear and cheese, and the men demonstrated their skills on the crags to amazed tourists. With this new stream of income, St Kildans could import goods from the mainland such as flour, sugar, tea, coal, and paraffin. While easing some immediate hardships, the increased dependence on supplies from elsewhere made life particularly harsh during the long winters, when boat services would stop and months would pass without contact from the outside world.
Increased tourism brought economic advantages, but it also increased susceptibility to illness and disease, as the isolated community had very little immunity. The regular summer steamship services improved communication and allowed for the import and export of goods, but also brought a growing awareness of the possibility of an easier life beyond St Kilda's shores. In 1851, 36 St Kildans emigrated to Australia, reducing the population to around 70.
Emigration and Evacuation
Between 1915 and 1919 a naval wireless station operated from St Kilda, providing employment opportunities, ease of communication with the mainland, and direct contact with servicemen. Following the departure of the navy at the end of the Great War, a large number of St Kildans emigrated to seek an easier life for themselves and their families. As the St Kildan way of life was so heavily reliant on community, the exodus put a serious strain on those who remained. Essential tasks such as handling the boat, cultivating the fields, and harvesting the cliffs became more difficult with fewer able-bodied people. The islanders became ever more reliant on passing trawlers for supplies.
By the year 1930, the population of St Kilda had dwindled to just 36, and a future on the island seemed impossible. The community formally petitioned the government for evacuation to the mainland in May, with the last residents leaving on August 29th, 1930.
ST KILDA TODAY
Following the evacuation and until the outbreak of WWII in 1939, tourists and St Kildans alike continued to visit throughout the summer months. In 1957 the Marquis of Bute bequeathed St Kilda to the National Trust for Scotland (NTS), and it was designated a National Nature Reserve. Some of the land was leased to the military, and in the same year, the Ministry of Defence (MoD) started building infrastructure to support a radar station, including accommodation, roads, and technical facilities.
To this day the MoD maintains a year-round presence on St Kilda (now largely a civilian workforce), while NTS staff are resident between April and September. NTS work party volunteers and scientists visit throughout the summer months, living in a few restored homes of former residents.
St Kilda is one of only thirty-nine dual UNESCO World Heritage Sites in the world, inscribed for both natural and cultural criteria. It is still owned by NTS, and is managed in partnership with Historic Environment Scotland, NatureScot, Comhairle nan Eilean Siar (the Western Isles Council), and the Ministry of Defence.
SEE MORE FROM SCOTLAND
Sailing The Hebrides On Tall Ship Bessie Ellen
A Guide To The Moray Coast Trail
Best Things To Do On Lewis And Harris
Best Things To Do On Uist
Best Things To Do On Barra And Vatersay
How To Visit St Kilda, Scotland
West Highland Way Route Sections: A Stage-By-Stage Guide
West Highland Way: The Ultimate Guide
Camping The West Highland Way
West Highland Way Accommodation Guide
What To Do On Sanday, Orkney
What To Do On Hoy, Orkney
What To See And Do On Orkney Mainland
The Best North Coast 500 Side Trips, Island Add-ons & Extended Itineraries
15 Outstanding North Coast 500 Highlights
9 Things To Do On The Isle Of Mull
The Scottish Bothy: An Introduction
Culross: Scotland's Best Preserved 17th Century Town
A Local's Ultimate Glasgow Guide
What to expect on a day trip to st kilda.
The only way to visit St Kilda is by boat, with most people embarking on a day trip from Harris, Barra, Uist, or Skye. We cover the various tour options in more detail in the How To Get To St Kilda section below, but first let's outline what a typical day trip to St Kilda involves.
DAY TRIP OVERVIEW
A day trip to St Kilda lasts between 11 and 13.5 hours in total , departing between 7 and 8am, and returning between 7 and 8:30pm. The travel time is between 2.5 and 4 hours in each direction , and can vary considerably depending on the conditions that day. On reaching St Kilda, you usually have about 4.5 hours on Hirta , and approximately 1 hour circling the outlying islands and sea stacks on the boat. The trip costs between £205 and £285 per person .
There is no phone reception or wifi on St Kilda itself, while during the boat trip, your signal and data connection will likely come and go.
The crossing can be rough due to big swells, and it's not uncommon for passengers to get seasick. Indeed, trips to St Kilda are often cancelled because of bad weather . As such, most tour operators offer a 2 day window. This means that if your trip is cancelled on the first day, it will run on the second day instead (if the weather allows).
All of the boats operating day trips to St Kilda have covered seating, an outdoor area, and a toilet onboard.
When you reach St Kilda you will anchor in Village Bay, where you'll transfer to a dinghy/zodiac boat to take you to the jetty. Flotation aids are provided.
After landing on Hirta you'll be met for a briefing by the National Trust for Scotland Warden (who is resident on St Kilda between April and September). This lasts around 15 minutes. The warden will cover what to see and do on the island, and provide practical information for your visit. You can pick up a map and info leaflet here, if you haven't already been given one on the boat. You're then free to go wherever you like on the island (other than inside the MoD buildings or the renovated volunteer houses).
Village Bay on Hirta, with the summit of Conachair hidden in the clouds above
There is a toilet, water tap, and small souvenir shop, but nowhere to buy food or drinks so be sure to bring your own.
Note that flying drones is not permitted on the islands.
BORERAY, STAC LEE AND STAC AN ARMIN
At the agreed time, return to the jetty on Hirta for your transfer back to the boat by dinghy/zodiac. You'll be offered tea, coffee, and snacks onboard.
After 15 minutes or so, your boat will depart Village Bay for a trip around the outlying islands and sea stacks of St Kilda. Your route will depend on the weather and your specific tour, but may include getting close to Dun, where the largest puffin colony can be found, and heading around the northeastern side of Hirta to see the towering cliffs of Conachair.
From Hirta, it's around 5 miles (15 minutes or so by boat) to Boreray, Stac an Armin and Stac Lee, where the highest concentration of gannets can be seen. Your boat will likely circle around Boreray, where you'll have fantastic views of the cliffs, seabirds, and stacks before starting the return journey to your port of departure.
WHAT TO DO ON A TRIP TO ST KILDA
Your first view of St Kilda is bound to send tingles down your spine, a mass of land rising from the ocean with nothing but sea for miles around. As you get closer, the distinction between the islands of this small archipelago becomes more clear, with Boreray and the enormous sea stacks (Stac Lee and Stac an Armin) clustered together to the northeast, and the main island of Hirta looming ahead. From most angles the small island of Dun appears to be an extension of Hirta, a long arm protruding from the southern side of Village Bay, and Soay remains hidden from sight beyond hilly Hirta.
The view of Dun from Village Bay
As you enter the curved, sheltered bay on the southern side of Hirta and get your first glimpse of The Village, there's every chance your eye will be drawn not to the historic stone structures lining the main street, or to those scattered up the hillsides, but to the numerous MoD buildings and related infrastructure: a few shipping containers lining the shore, a road winding up the mountain to a large radar installation, and a cluster of modern buildings set back from the pier.
Your heart might sink a little, these incongruous structures at odds with the image of St Kilda in your mind. Just know that the feeling should fade as you set off towards the Main Street and up the hillside beyond, and if not, make peace with the fact that the presence of the MoD and associated infrastructure is invaluable to the continued work of the NTS, providing electricity, water, bulk fuel storage, drainage, medical facilities, and regular supply drops by helicopter.
VILLAGE WALK
Approximately 1 Hour
Following the introductory talk by the warden, you're perfectly positioned to start exploring the village. The manse and school/church are behind the jetty (to the right of the MoD buildings), along with the toilets, water tap, and small souvenir shop. To the right of the jetty, you'll find the old storehouse and a WWI era gun emplacement (installed after a German U-boat bombardment of the naval wireless station in May 1918).
The Factor's House sits behind the MoD buildings, today providing accommodation for the resident NTS staff. Curving around to the left is Main Street, lined with houses. A few of them have been restored and act as accommodation for volunteers and scientists who stay over the summer. The rest are lying in ruin, with no roofs but walls still standing. Sitting in between are the remains of the old blackhouses, pre-dating the more modern gable end homes. The names of the former residents are written on slate and propped up outside each house, with the date referring to when the house was last occupied.
House No.3 has been renovated and turned into a museum. It is full of interesting photos and information related to the natural and cultural significance of St Kilda, and is well worth a look.
A slate displaying the names of the former residents of No. 1, evacuated with the rest of the remaining community in 1930
When St Kilda was home to a crofting community, the large wall surrounding the village, or head dyke, kept sheep and cattle out of the cultivated strips of land extending from each house. These days, Soay sheep roam freely around the island of Hirta, a primitive breed of wild sheep that are smaller than domesticated mainland sheep. Those around Village Bay are all tagged and monitored, part of a 30+ year research project by the University of Edinburgh and Imperial College of London. The lambs are especially cute in spring, with the elders looking particularly bedraggled when their coat starts moulting in early summer.
Young Soay sheep on the grassy shores of Village Bay, with Ruaival seen in the distance
Cleit (Cleitean)
Surrounding the village and dotted up the hillsides are the cold storage chambers made of rock and turf roofs called cleitean (singular cleit ). With more than 1,300 recorded on Hirta, they are an impressive sight. Cleitean were used to store food and supplies, as well as to dry peat and turf. These days you'll often spot fulmars nesting on top of them and Soay sheep hanging about inside.
Rows of cleitean line the hill below The Gap
CLIMB TO THE GAP
1 – 1.5 Hours Return
This is a highly rewarding but not too long walk on Hirta. Known as The Gap, the saddle between Conachair and Oiseval lies to the northeast of the village. It's a pretty steep climb up the grassy hillside, passing drystone sheep enclosures and numerous cleitean . A couple of bonxies (great skuas) live around here and take delight in swooping down and whooshing past your head, purposefully just missing you. As you climb, the view back over the village and bay is wonderful.
Looking back down to Village Bay from The Gap
As you reach the top, Boreray, Stac an Armin, and Stac Lee reveal themselves in the distance, and you're met with a sheer drop at the clifftop. Take great care with your footing and avoid getting too close to the edge – it can be very windy up here, with strong gusts. The view is spectacular, the perfect spot for a picnic and a bit of birdwatching, with fulmars flying around as they make their way to and from their cliffside nests.
Allow 1 – 1.5 hours to walk up to The Gap and back, including time up top to enjoy the views. It's also possible to carry on up to the left, continuing on the circular route to Conachair (outlined below).
An amazing view of Boreray, Stac an Armin, and Stac Lee, seen from The Gap
An amazing view of Boreray, Stac an Armin, and Stac Lee
SUMMIT CONACHAIR
Approx. 3 Hours Rtn via The Gap
Conachair (430 m) is the highest summit on Hirta, rising to the north of the village. From The Gap, you can continue up the increasingly steep grassy slopes to reach the trig point at the summit. The highest sea cliffs in the British Isles plunge straight down to the ocean from here, and the westernmost St Kildan island, Soay, becomes visible. The views are of course magnificent, given the right weather.
Continue west from the summit to the radar station on Mullach Mor (357 m), where a road leads back down to the village.
Allow about 3 hours to make a loop from the village via The Gap, Conachair, and Mullach Mor. It is not advisable to attempt a summit of Conachair in poor visibility as it can be dangerous close to the sheer cliffs. You can download a GPX of the route here .
Approx. 1.5 Hours Rtn
Ruaival (135 m) rises to the southern side of Village Bay, with the elongated island of Dun stretching out before it. A walk up here provides an alternative perspective over the bay and Dun, and the chance to see the fabled Mistress Stone. Tradition has it that before St Kildan men could marry, they had to prove their ability to provide for a family by balancing on this natural rock arch on one foot. Who knows whether it's true or not, but for a community that was heavily reliant on skilled cragsmen hunting seabirds, it's certainly possible!
Allow around 1.5 hours to walk from the village to Ruaival and back.
BOAT TRIP AROUND BORERAY, STAC LEE AND STAC AN ARMIN
The boat trip around Borerary and the sea stacks is a real highlight of the trip to St Kilda. Having already looked from afar, down over the cliffs of Hirta's northeastern side from The Gap, or from the summit of Conachair, viewing them up close and from below provides a whole new impressive perspective. Tens of thousands of gannets nest on Boreray, Stac an Armin, and Stac Lee, and witnessing them flying overhead as you work your way around these outlying St Kildan isles is truly breathtaking. You'll have the chance to see guillemots, puffins, shags, razorbills, and more, as well as Boreray sheep clinging implausibly to steep grassy slopes and rocky precipices.
A gannet in flight
The peak of Stac an Armin, 190 metres high
Birds swarm around Boreray's rocky pinnacles
Look carefully at Stac an Armin and you might spot one of the small stone bothies used for shelter by St Kildan men on their summer fowling expeditions. Here, the skill and bravery required to sustain a community in such an inhospitable and isolated place really hits home.
CAMPING ON ST KILDA
There is no accommodation on St Kilda, however there is a small, basic campsite where you can stay for up to 5 nights. You must book in advance through the NTS, then book a confirmed seat (not standby) with a boat tour company for your outbound and inbound dates, paying double the fare.
You'll have access to shared shower and toilet facilities and a fresh water tap. There is nowhere to buy supplies on St Kilda, so you must bring everything you need with you. This includes food, camping and cooking equipment, and enough extra supplies to cover double your intended period of stay, in case your return boat trip is cancelled due to bad weather.
Camping on St Kilda costs £20 per person, per night, with the fee payable in cash direct to the warden on your arrival. The NTS limits the number of people camping to 6, with a maximum 5 night stay permitted. You can check availability and make a booking by emailing [email protected] .
COME JOIN US ON INSTAGRAM
WHAT TO PACK FOR A TRIP TO ST KILDA
Clothing and footwear.
The weather on St Kilda, much like anywhere in Scotland, can be unpredictable and change quickly. It can be fiercely windy, rainy, misty, sunny, warm, and cold all in one trip. It's best to dress in comfortable 'outdoor clothing' , and pack warm layers like a fleece and down jacket, plus a waterproof jacket and trousers. A hat, gloves, and sunglasses are also recommended. Sturdy walking shoes are a must. You'll need to climb in and out of the dinghy/zodiac boat, and will spend your time on Hirta walking around the island on uneven terrain. During the trip around the outlying islands and sea stacks, you'll be moving around on the rocky boat deck and can get wet from sea spray.
FOOD AND DRINKS
A trip to St Kilda lasts all day, with no possibility of buying food or drinks , so be sure to pack your own . You can refill your water bottle at the tap on Hirta. There's no better place to enjoy a picnic than at The Gap, looking down over the village on one side and out to Borerary and the stacks on the other. Remember to take all your rubbish off the island.
CAMERA, BINOCULARS, AND SPARE BATTERIES
Binoculars are handy for bird watching, and there's every chance you may deplete a fully charged camera or phone battery, so it's best to pack a power bank , phone charging cable , and extra camera batteries just in case.
SEA SICKNESS TABLETS
The crossing can sometimes be rough, so you may wish to take travel sickness tablets, or whatever motion sickness remedy works for you.
PLAN A TRIP ON THE NORTH COAST 500
BUILD YOUR TRIP AROUND THE OUTSTANDING HIGHLIGHTS OF THE NC500
GOT PLENTY OF TIME? EXTEND YOUR NC500 JOURNEY AND SEE MORE OF SCOTLAND
HOW TO GET TO ST KILDA
The only way to get to St Kilda is by boat. Most people visit on a day trip from Skye, Harris, Eriskay, or Barra, although some companies offer multi-day sailing itineraries that include a visit to St Kilda.
DAY TRIPS TO ST KILDA
There are four companies offering scheduled day trips to St Kilda between April and September . These trips usually operate 3 times per week, and can be up to 6 times per week if the weather allows.
Each boat can carry a maximum of 12 passengers , and trips often book out well in advance, especially during the peak months of July and August. Pre-booking is essential , with many people booking up to a year in advance. Last minute bookings are possible though, especially from April to June, and in September.
Each of the day trip operators offer a 2 day booking window . This means that if your trip is cancelled due to bad weather on the first day, the trip will run on the second day instead (if the weather allows). Standby reservations are possible for the second day, but you will only be able to go if the boat goes on the first day with the confirmed passengers, and the weather on the second day allows the trip to operate with the standby passengers.
All of the boats operating day trips to St Kilda have covered seating, an outdoor area, and a toilet onboard . Be sure to arrive at the departure point at least 15 minutes before the scheduled departure time.
Boats in Village Bay operated by Hebridean Sea Tours, Sea Harris, and Kilda Cruises
DAY TRIPS TO ST KILDA FROM SKYE
Go St Kilda runs day trips to St Kilda from Skye, departing from Stein in Waternish. The boat departs at 7am and returns at 8 – 8:30pm. The journey is around 4 hours in each direction, the longest travel time of any of the four day trips.
Go St Kilda day trips cost £280 per person , and they offer an optional guided walk on Hirta for £5 per person.
The Isle of Skye is connected to mainland Scotland by a bridge, making this the most accessible departure point for anyone not already in the Outer Hebrides .
DAY TRIPS TO ST KILDA FROM HARRIS
Two companies operate day trips to St Kilda from Harris. Both depart from Leverburgh at the southern end of the island.
Sea Harris departs at 8am and returns around 7pm. The journey lasts about 2.5 hours in each direction, the shortest travel time of any of the four day trips.
Sea Harris day trips cost £220 per person .
Kilda Cruises also depart at 8am and return around 7:30pm. The journey takes about 2h45m in each direction.
Kilda Cruises day trips cost £285 per person .
Harris and Lewis share the same landmass, so a day trip with either of these companies is ideal for anyone already visiting Lewis or Harris.
You can get to Lewis or Harris by CalMac Ferry . These operate from Ullapool (mainland) to Stornoway (Lewis) and Uig (Skye) to Tarbert (Harris). A CalMac ferry also connects North Uist (Berneray) to Leverburgh (Harris). Alternatively, you can fly to Stornoway (Lewis) direct from Glasgow, Edinburgh, or Inverness with Loganair.
DAY TRIPS TO ST KILDA FROM BARRA OR ERISKAY
Hebridean Sea Tours operate day trips to St Kilda from Barra, with an optional pick up on Eriskay. Their trips operate only once a week, on Mondays (standby day Tuesdays). They depart from Ardmhor on Barra at 7am, picking up at Eriskay ferry terminal around 7:10am. The boat returns to Eriskay around 7:30pm, and to Barra around 7:40pm. The journey is about 3 hours in each direction. Note that the Eriskay pick up/drop off option is not mentioned on the main booking page, but you can select this option at the confirmation stage.
Hebridean Sea Tours cost £205 per person , the cheapest St Kilda day trip available.
Taking in the views of Boreray from the catamaran operated by Hebridean Sea Tours
Barra is at the southern end of the chain of islands that make up the Outer Hebrides. Eriskay is connected to South Uist, Benbecula, and North Uist by causeways, making this day trip the ideal option for anyone already visiting Barra, Eriskay, the Uists, or Benbecula .
You can get to Barra, South Uist, and North Uist from mainland Scotland/Skye by CalMac ferry . The routes are Oban to Barra (Castlebay ferry terminal), Mallaig to South Uist (Lochboisdale ferry terminal), and Skye (Uig) to North Uist (Lochmaddy ferry terminal). There is an inter-island CalMac ferry service between Barra (Ardmhor ferry terminal) and Eriskay. You can also fly direct from Glasgow with Loganair, to Barra (landing on the beach!) and Benbecula.
MULTI-DAY ST KILDA BOAT TRIPS
There are a number of companies offering multi-day boat trip itineraries to St Kilda and elsewhere in the Outer Hebrides. You live onboard, and have meals included. These usually run just a few times throughout the season, so booking well in advance is recommended. A few options are listed below.
Island Cruising (MV Cuma)
Based out of Lewis, Island Cruising runs weekly 6 day trips to St Kilda and around between May and August. You can see the MV Cuma in action towards the end of our St Kilda film, the green boat surrounded by sea kayakers at Stac an Armin.
The MV Cuma offloading kayakers near the towering Stac Lee
The MV Cuma offloading kayakers near the towering form of Stac Lee
Clearwater Paddling St Kilda Kayaking Trip (Lady of Avenel)
What a fantastic experience it must be, sailing to St Kilda on the magnificent tall ship, The Lady of Avenel . Clearwater Paddling runs a couple of different sea kayaking St Kilda itineraries from Barra, with limited departures each season.
Northern Light Cruising Co (Hjalmar Bjorge)
Departing from Oban on the west coast of the Scottish mainland, Northern Light Cruising Co. runs a few trips each season to St Kilda, on the ex-Norwegian ice-class rescue vessel, Hjalmar Bjorge .
Bessie-Ellen
Another beauty of a tall ship, the Bessie-Ellen sails from Oban to St Kilda a couple of times each season.
Go West Sailing
Go West Sailing runs a few yacht sailing trips each season to St Kilda from Oban/Largs.
BROWSE OUR SCOTLAND PRINT COLLECTION
ST KILDA RESOURCES AND FURTHER READING
For those interested in reading more about St Kilda, the National Trust for Scotland St Kilda articles archive is a great place to start. You can also read more about the cultural and natural significance of St Kilda on the UNESCO St Kilda page .
Some excellent books written about St Kilda include the coffee table publication by Historic Environment Scotland, ' St Kilda: The Last and Outmost Isle ', and Charles MacLean's, ' Island on the Edge of the World: The Story of St Kilda '. Other notable books include the first-hand account of life on St Kilda in the early 1900s by Rev. Donald John Gillies, ' The Truth About St. Kilda: An Islander's Memoir ', and Tom Steel's, ' The Life and Death of St. Kilda: The moving story of a vanished island community '.
We hope you enjoyed our guide to visiting St Kilda and found it useful. If you have any questions, drop them in the comments below, and if you've been to St Kilda, we'd love to hear about your own experience on the islands.
ORGANISE YOUR TRIP
Still not sorted your travel insurance it's not too late get a quote now.
Liked This Guide? Pin It For Later!
Leave a reply.
WORK WITH US
We use cookies to ensure we give you the best possible user experience on Going the Whole Hogg. By continuing to browse this site, we assume you're happy with this.
Cookie and Privacy Settings
We may request cookies to be set on your device. We use cookies to let us know when you visit our websites, how you interact with us, to enrich your user experience, and to customize your relationship with our website.
Click on the different category headings to find out more. You can also change some of your preferences. Note that blocking some types of cookies may impact your experience on our websites and the services we are able to offer.
These cookies are strictly necessary to provide you with services available through our website and to use some of its features.
Because these cookies are strictly necessary to deliver the website, refusing them will have impact how our site functions. You always can block or delete cookies by changing your browser settings and force blocking all cookies on this website. But this will always prompt you to accept/refuse cookies when revisiting our site.
We fully respect if you want to refuse cookies but to avoid asking you again and again kindly allow us to store a cookie for that. You are free to opt out any time or opt in for other cookies to get a better experience. If you refuse cookies we will remove all set cookies in our domain.
We provide you with a list of stored cookies on your computer in our domain so you can check what we stored. Due to security reasons we are not able to show or modify cookies from other domains. You can check these in your browser security settings.
We also use different external services like Google Webfonts, Google Maps, and external Video providers. Since these providers may collect personal data like your IP address we allow you to block them here. Please be aware that this might heavily reduce the functionality and appearance of our site. Changes will take effect once you reload the page.
Google Webfont Settings:
Google Map Settings:
Google reCaptcha Settings:
Vimeo and Youtube video embeds:
You can read about our cookies and privacy settings in detail on our Privacy Policy Page.
Jump to main content
Jump to main navigation
We use necessary cookies to make our site work. We'd also like to set optional analytics cookies to help us improve it. We won't set optional cookies unless you enable them or accept our recommended settings. Using this tool will set a cookie on your device to remember your preferences.
Your preferences have been set. If you wish to change your preferences, you may do so on our cookies page .
Looking for places? Use our place search to find them by name, town or postcode.
There have been people on St Kilda since prehistoric times, exploiting the rich resources of the sea, growing crops and keeping animals. It's not clear when the first settlers came to St Kilda, but simple stone tools found on Hirta suggest that Bronze Age travellers may have visited St Kilda from the Western Isles some 4,000–5,000 years ago. In the 1830s the Rev Neil Mackenzie found what were probably the remains of burial cists in Village Bay. Excavations in 1995 revealed a possible burial structure dating from the Bronze Age.
The village as we see it today was laid out by the Reverend Neil Mackenzie in the 1830s and consists of a crescent of houses with associated cultivation plots, all within a head dyke. The houses built in the 1830s were typical Hebridean blackhouses – single-roomed, with the cattle being accommodated inside them in winter. In the 1860s new houses were built. These were of a standard Hebridean design with an entrance lobby, small closet behind, and two main rooms.
There are hundreds of cleits scattered around the village area. These are drystone storage structures unique to St Kilda and are found across all the islands and stacks in the archipelago, around 1,400 in total. They were used to store and dry birds, eggs and feathers, harvested crops, and peat and turf used for fuel.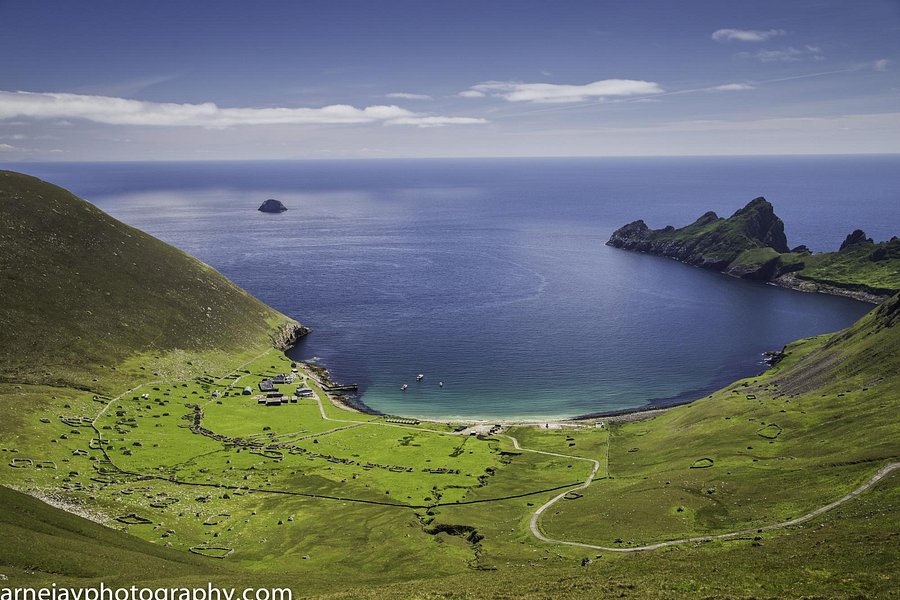 Top ways to experience St. Kilda and nearby attractions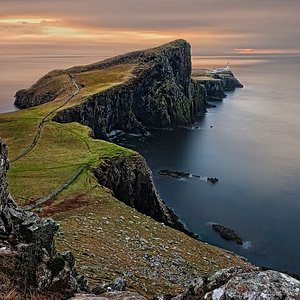 Also popular with travelers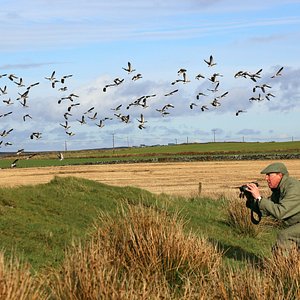 St. Kilda - All You Need to Know BEFORE You Go (with Photos)
St. kilda information.
Advice and Support
One of the few World Heritage Sites to hold mixed status for its cultural and natural qualities.
Inscription and significance
Visit St Kilda
Management of St Kilda
St Kilda is a group of five remote islands – Hirta, Soay, Boreray, Dun and Levenish – in the North Atlantic, 100 miles off the west coast of Scotland. It is one of the few World Heritage Sites to hold mixed status for its cultural and natural qualities.
The last residents of St Kilda were evacuated in 1930, bringing to an end about 4,000 years of human occupation. They had survived what appears to be a very harsh environment by catching seabirds for food, feathers and oil, farming crops and raising livestock.
The archipelago is a spectacular landscape of vertical cliffs and sea stacks surrounding the safe haven of Village Bay. Clear oceanic waters support a diverse and stunning range of animals and plants. Cliffs host the largest colony of seabirds in Europe. The sheep, field mice and wrens on St Kilda are unique to the islands.
As well as being a World Heritage Site, St Kilda is a:
National Nature Reserve
National Scenic Area
Site of Special Scientific Interest  
European Union Special Protection Area
The St Kilda archipelago is situated 100 miles off the west coast of Scotland.
Western Isles Manager National Trust for Scotland 40 Huntly Street Inverness IV3 5HR Email: [email protected]
2 Inscription and significance
St Kilda is one of the few World Heritage Sites to hold mixed status for its natural and cultural qualities.
UNESCO originally inscribed St Kilda as a World Heritage Site in 1986, for its natural heritage.
This was extended in:
2004 – to include St Kilda's surrounding marine environment
2005 – to recognise its importance as a cultural landscape
St Kilda has exceptional natural beauty and significant habitats. It is unique in the very high bird densities that occur in a relatively small area, thanks to its range of complex and varied ecological niches. The complex ecological dynamic in the marine zones is essential to maintaining both marine and terrestrial biodiversity.
The cultural landscape is an outstanding example of land use, which results from a type of subsistence economy based on the products of birds, agriculture and sheep farming, and reflects age-old traditions. The built structures and field systems, the cleits and the traditional stone houses bear testimony to 5,000 years of human occupation in extreme conditions.
Download the St Kilda World Heritage Site: Statement of Outstanding Universal Value [PDF, 187KB]
3 Visit St Kilda
St Kilda offers stunning scenery, a unique range of marine and terrestrial bird and animal life, and a rich cultural landscape.
The best way to see St Kilda is by either:
joining one of the many privately run boat tours and cruises
applying for a place on one of the St Kilda Conservation Work Parties
To find out more, visit the National Trust for Scotland website .
4 Management of St Kilda
The National Trust for Scotland owns the archipelago of St Kilda. It manages the World Heritage Site in partnership with:
Scottish Natural Heritage
Historic Environment Scotland
Comhairle nan Eilean Siar (Western Isles Council)
Ministry of Defence and its agents QinetiQ
Find out more on the St Kilda World Heritage Site website run by the National Trust for Scotland.
Statement of Outstanding Universal Value and management plan
Each World Heritage Site has a Statement of Outstanding Universal Value, which:
clearly states the reasons for the site's inscription on the World Heritage List
identifies what must be protected, conserved and managed to protect its Outstanding Universal Value for the long term
UNESCO also requires each site to have a management plan. This provides a shared framework for a site's active:
Download the St Kilda World Heritage Site: Statement of Outstanding Universal Value
Download the St Kilda World Heritage Site Management Plan 2012–17 [PDF, 5MB]
Skip to primary navigation
Skip to main content
Skip to primary sidebar
Skip to footer
Go to St Kilda
Adventures to St Kilda from the Isle of Skye
ST KILDA – ONE OF THE WORLD'S SPECIAL PLACES.
The archipelago of St Kilda, the remotest part of the British Isles, lies in the Atlantic Ocean, 41 miles (66 kilometres) west of Benbecula in Scotland's Outer Hebrides. Its islands, with their exceptional cliffs and sea stacs, are rich in wildlife and form the most important seabird breeding station in north-west Europe. The cliffs of St Kilda are home to an estimated 1 million sea birds including Puffin, Fulmar, Gannet, Shearwater, Petrel, Kittiwake and Shags. The evacuation of its native population in 1930 brought to a close an extraordinary story of survival.
Today, three organisations, The National Trust for Scotland, Scottish Natural Heritage and the Ministry of Defence work in partnership to further a continuing programme of conservation and research on the islands to ensure the care and protection of this World Heritage Site. Dual World Heritage Site St Kilda is one of only 35 global locations to be awarded World Heritage Status for both natural and cultural significance. The remote Hebridean Islands share this honour with natural and cultural wonders such as the Historic Sanctuary of Machu Picchu in Peru, Mount Athos in Greece and the Ukhahlamba/Drakensberg Park in South Africa.
THE JOURNEY TO ST KILDA
NOTE: THE JOURNEY FROM HARRIS TO ST KILDA IS IN THE EXPOSED ATLANTIC OCEAN AND CAN SEE LARGE SWELLS MAKING FOR AN UNCOMFORTABLE CROSSING IN ROUGH WEATHER.
WHAT TO DO ON ST KILDA
On arrival in Village Bay, passengers make the short transfer by Zodiac dinghy to the main St Kilda island of Hirta. Passengers are free to explore the Island. The St Kilda museum, school and Church provide a fascinating insight into the way of life of the St Kildans prior to their evacuation in 1930. The remains of the village, the graves and 2nd World War gun are all open to view.
By request prior to the date of travel, we may be able to arrange a guided walk at a cost of £5 per person. The season for puffins is usually from end of April to early August, and for gannets, from April to October.
FURTHER INFORMATION AND LINKS
Introduction video to landing on St Kilda  Click here .
Why St Kilda is a  UNESCO World Heritage Site  (available in 8 languages)
National Trust for Scotland  website about all aspects of St Kilda, inlcuding the  Wee St Kilda Guide  for children.
A picture of the St Kilda  school log book
A National Library of Scotland archive film of the  evacuation of St Kilda  from 1930 and one of a  voyage from Glasgow to St Kilda  from 1928.
If you search for St Kilda on the  Highland Council History & Culture  website you will find historic documents and images.
Further information from the National Trust for Scotland is available on our  Downloads  page.
HISTORIC CONNECTION BETWEEN SKYE AND ST KILDA
Today Go To St Kilda links the Isle of Skye to St Kilda by boat but the connection between the two places is historic.
The St Kilda group of islands was for centuries part of the lands of the MacLeod clan seated in Dunvegan Castle, Skye. They were sold in the 1930s after the islanders had been evacuated. Exhibits in Dunvegan Castle illustrate the extraordinary way of life of its people. An example is the horsehair rope. No man was allowed to marry until he had woven one of these, so that he could maintain his wife by being able to hunt for the sea-birds living on the great cliffs. This rope had to be able to bear his weight in case he fell from the cliffs during the hunt. Other examples are the door lock with its removable wooden key and the post-bag which are recognisable functions of everyday life today. Mail was thrown into the sea to be washed up eventually either on the shores of Norway or of Scotland, depending upon the currents at the time.
We recommend a visit to  Dunvegan Castle  and grounds while you are on Skye. This website has a comprehensive  history and tour of Dunvegan Castle  with many photos.
The World Through a Lens
Agony and Ecstasy on the Scottish Archipelago of St. Kilda
The 85-mile boat ride through rough seas left some of us huddling in discomfort. But the scenery on the remote and windswept islands was otherworldly.
The spindly island of Dùn, with the adjacent island of Hirta in the foreground. In the distance, on the left, is Stac Levenish. Credit...
Supported by
Photographs and Text by Stephen Hiltner
Published Oct. 11, 2021 Updated Oct. 13, 2021
For the first hour or so, the water was relatively calm. After departing from the small fishing village of Stein on the Isle of Skye, we sped through a strait known as the Little Minch toward the main band of the Outer Hebrides, the thick curl of rocky skerries that hovers like an apostrophe over the northwestern coast of mainland Scotland.
But as we pressed onward, traveling west beyond the islands of North Uist and Lewis and Harris , the water suddenly grew rougher. Here, fully exposed in the North Atlantic Ocean, we had no refuge from the swells: Every few seconds, for more than two hours, the hull of our tour boat slammed against the oncoming waves with enough force to rattle my teeth.
I looked to my right, across the boat's narrow aisle, and saw my brother and sister huddled uncomfortably in their seats. None of our fellow passengers — there were around 12 of us, all told, crammed into a surprisingly small boat — looked happy. But my siblings, clutching their disposable vomit bags, looked ill.
("Ill is an understatement," recounted my sister, Emelia, with a laugh. "I'd say we looked doomed.")
For centuries, the archipelago of St. Kilda, one of the most remote and unforgiving outposts in the British Isles, has electrified the imaginations of writers, historians, artists, scientists and adventurers.
Some 40 miles west of the chief islands of the Outer Hebrides, St. Kilda has a tantalizing history, replete with a rich cultural heritage, fiercely independent people, distinctive architecture and haunting isolation — as well as disease, famine and exile.
Recent archaeological research suggests that the main island, Hirta, which is around 2.5 square miles, was inhabited as far back as 2,000 years ago . Its last full-time residents, 36 in total, were evacuated to the mainland on Aug. 29, 1930, their community and their way of life having become unsustainable.
Designated as a dual UNESCO World Heritage Site for its natural and cultural significance, St. Kilda is now owned, managed and protected by the National Trust for Scotland, whose staff — occasionally alongside other volunteers and researchers — occupies Hirta for several months of the year . Contractors for the British Ministry of Defense also spend time on the island, where they operate a radar station.
For much of its inhabited history, reaching St. Kilda required a multiday journey across the open ocean. The threat of violent storms — especially common between the months of September and March — made the voyage daunting at the best of times and unthinkable at the worst.
Even today, boat schedules are subject to the whims of the forecast, and cancellations by tour companies aren't unusual. When my siblings and I visited in late August 2018, we had to preemptively shift our trip up by a day to avoid an impending spell of ominous weather arriving later that week.
St. Kilda's natural features are almost comical in their splendor. Jagged sea stacks rise like bundled knives from the opaque water; clamoring seabirds float nonchalantly above precipitous cliffs; swooping fields blanket an otherworldly landscape utterly devoid of trees.
And yet it was St. Kilda's architectural remnants that quietly hinted at the most dramatic elements of its history.
With a population that peaked at around 180 in the late 17th century, St. Kilda has never made for a convenient home. Its inhabitants raised sheep and a few cattle and were often able to grow simple crops like barley and potatoes. But the mainstay of their diet came from seafowl: the birds' eggs, along with the birds themselves, which were consumed both fresh and cured. (Fishing was often impractical because of the treachery of the surrounding waters; islanders also expressed a distinct preference for gannet, fulmar and puffin over fish.)
Villagers caught the birds and collected their eggs — using long poles and their bare hands — by lowering themselves on ropes from atop the islands' cliffs, or by climbing up the rock faces from the water below.
Gazing up at the archipelago's sea stacks from a boat lurching in the frigid ocean, I tried to envision the circumstances under which such extremes would be necessary simply to enjoy a monotonous meal. It tested the limits of my imagination.
Life on St. Kilda was an agonizing experiment in precarity. Stormy weather spoiled crops, threatened food stores, prevented fowling and delayed necessary work. Landing a boat at Hirta's Village Bay, the site of the archipelago's longstanding settlement, could be difficult even in ideal weather. Diseases, including smallpox, cholera, leprosy and influenza, spread quickly and with devastating effect. For decades, St. Kildans sometimes launched their mail blindly into the sea in small waterproof containers; the hope was that their "mailboats," as they were called, might by chance reach a populated place or be picked up and sent along by a passing ship.
The islanders' extreme isolation also bred a particular kind of cultural disconnection. In his 1965 book "The Life and Death of St. Kilda," the author Tom Steel describes a scene in which a St. Kildan washed ashore on the nearby Flannan Isles:
He entered what he thought was a house and began to climb the stairs — stone objects which he had never before seen in his life, but which he took to be Jacob's ladder. He reached the top and entered the brightly lit room. "Are you God Almighty?" he asked the lighthouse keeper. "Yes," came the stern reply, "and who the Devil are you?"
And yet St. Kildans were often described in contemporary accounts as uniquely cheerful. Crime was virtually nonexistent. Supplies and donations brought in from the outside world — along with much of the food gathered on the islands — were divided equitably among the islanders. Items such as boats and ropes, which the survival of the settlement depended on, were owned and maintained communally.
When the Scottish writer Martin Martin visited the archipelago in 1697, he noted the people's joyous character. "The inhabitants of St. Kilda are much happier than the generality of mankind," he wrote, "as being almost the only people in the world who feel the sweetness of true liberty."
In the end, though, life on St. Kilda proved untenable. The market for the islanders' exports — feathers, tweed, sheep, seabird oil — gradually waned. Infant mortality rates were astonishingly high. Failing to keep pace with the comforts and technologies of the mainland, the islands became increasingly anachronistic, and the people increasingly isolated.
A particularly harsh winter in 1929 and 1930 sealed the St. Kildans' fate. Fearing starvation, they petitioned the government to be evacuated.
Even that, however, wasn't enough to break the spell for Alexander Ferguson, one of the evacuees, who, years later, describing St. Kilda in a letter, wrote that "there is no paradise on earth like it."
"To me it was peace living in St. Kilda," Malcolm Macdonald, another longtime resident, once said. "And to me it was happiness, dear happiness."
Four hours after arriving, having wandered over Hirta's rolling terrain and strolled quietly along its hollow shell of a village, we lined up along the island's jetty and boarded a dinghy to return to our boat. Our eastward trip, returning to Skye, was smoother, quieter, calmer. For a long stretch, a pod of dolphins swam alongside us, as if escorting us back through the water.
When we finally reached Stein, I felt a tinge of loss. Only then did I begin to understand what it was that compelled several of the 36 islanders, who left in desperation in 1930, to return to and temporarily live on Hirta in the summer of 1931: a mounting certainty that the pleasure of wandering free among the islands, surrounded by the boundless ocean, was worth the trouble of getting — and being — there.
Stephen Hiltner is an editor on The New York Times's Travel desk, where he edits and contributes to the weekly World Through a Lens column . You can follow his work on Instagram and Twitter .
Follow New York Times Travel on Instagram , Twitter and Facebook . And sign up for our weekly Travel Dispatch newsletter to receive expert tips on traveling smarter and inspiration for your next vacation.
Stephen Hiltner is an editor on the Travel desk. You can follow his work on Instagram and Twitter . More about Stephen Hiltner
Advertisement
Ghost Town? Meet St Kilda - Scotland's Ghost Island!
St Kilda are some of the most dramatic coastlines in Scotland and after being inhabited for 4,000 years they are now ghost islands.
Everyone has heard of ghost towns - but ghost islands? Scotland has a number of ghost islands and one of the most famous of these is St Kilda. They are owned by the National Trust for Scotland and are UNESCO Listed - it is unusual in being dual-listed for both nature and culture. They are truly dramatic islands rich in history, seabirds, and towering cliffs.
Another ghost Scottish island is the island of Mousa - famous for its best-preserved Iron-Age Broch (the 'skyscrapers' of ancient Scotland) . Other dramatic islands to visit are the Neolithic Orkney Islands with their Skara Brae Prehistoric Village .
Why The Ghost Islands St. Kilda Are Unique
"There is no place like St Kilda. Towering out of the storm-tossed waters of the Atlantic Ocean, its cliffs and sea stacks clamour with the cries of hundreds of thousands of seabirds." National Trust For Scotland
St. Kilda is an isolated archipelago around 64 kilometers of 40 miles of the major Scottish island of North Uist in the Outer Hebrides. The archipelago is known as "Hiort" in Scottish Gaelic. It is the westernmost most of the island of Scotland's Outer Hebrides. The largest island of the small archipelago is Hirta and the three smaller islands are Dùn, Soay, and Boreray.
Located: 40 Miles West-Northwest of The Outer Hebrides of Scotland
Designated: World Heritage Site Since 1986
In the past, the smaller islands were used for grazing and seabird hunting.
Today one can see many of the unique stone storage huts called " cleitan " still on the islands. There are around 1,260 cleitan on the main island of Hirta with another 170 on the other smaller islands.
Related:  You Can't Leave Scotland Without Visiting These Dreamy Locations
History And Evacuation of St Kilda
The small population had major troubles during the 19th century and the upheavals of World War One added to the island being evacuated in 1930. The St. Kildan's voted to leave their island as their old way of life had become untenable.
That ended the permanent habitation of the islands that had likely been populated for around 2,000 years. Or according to the National Trust for Scotland , a community existed here for at least 4,000 years. They made their existence exploiting the dense colonies of gannets, fulmars, and puffins for food, feathers, and oil.
It is likely that the population peaked in the late 1600s at around 180 and went into decline thereafter.
Population:
The late 1600s: Perhaps Up To 180 Inhabitants
1851: 112 Inhabitants
1861: 71 Inhabitants
May 1930: 36 Inhabitants
Latter 1930: Remained Inhabitants Evacuated
The only people living on the islands today are conservation workers, volunteers, scientists, and military personnel. Volunteers labor in the summer months to restore the cleitan .
Seabirds and Unique Sheep Of St. Kilda
Even after the evacuation of the population, two types of early sheep have persisted on the islands - a Neolithic type called Soay and an Iron Age type called Boreray.
Importantly these ghost islands are important breeding grounds for various seabirds like northern gannets, Atlantic puffins, and northern fulmars. They have Britain's largest colony of Atlantic puffins. The total population of sea birds is thought to number some 1 million seabirds. The islands even have their very own unique species of wren as well as a sub-species of mouse that grows to be twice the size of its British fieldmice compatriots.
Related:  Guide To The Scottish Highlands & Why You Should Visit
Visiting St. Kilda Islands
Today visitors can make their own way to the island or come by tour. While the islands are very remote, some adventurous folk brave the weather to sail to the 'islands at the edge of the world' for the experience of a lifetime.
There are a few companies offering day trips to the St. Kilda islands. On these cruises, visitors can admire the masses of seabirds, the dramatic coastline with its towering sea stacks, and disembark to wander the islands.
Kilda Cruises:
Kilda Cruises offers day cruises to the islands that stop off at Hirta where visitors are equipped with a map detailing historical points of interest and suggested routes for touring the island on foot.
This cruise leaves at 8.00 am and arrives at St. Kilda around 10.45 am. After being treated by the National Trust for Scotland warden passengers explore the points of historical interest on Hirta (there are a church, schoolroom, and museum to be seen). Return to the boat at 3.30 pm for tea, coffee, and fresh home baking before heading back at 4.00 pm.
Type: Day Cruise
Price:  £245 ($325)
Departure Point:  Leverburgh Pier in South Harris
Season: Usually Start Mid-April And Run Through to Mid September
Frequency: Three Trips A Week (every day If the Weather Allows)
Another company offering trips to St. Kilda is Go To St. Kilda  also offers a selection of day tours, private trips, and camping trips to the remote dramatic islands.
Next:  What To Know Of The Ancient Gaelic 6 Royal Sites of Ireland
WATCH ME SEE | A SCOTLAND TRAVEL BLOG
Privacy Policy
Itinerary Review
Ready-Made Itineraries
Custom Itineraries
Planning Your Trip
Scottish Regions
Free Checklist
Scotland Itineraries
All Blog Posts
Where to go?
Scotland Resource Library
Photo Prints & Products
About Watch Me See
Work with Me
In the Press
Couple Travel , Day Trips , Outer Hebrides , Wildlife Encounters
Planning your st kilda trip – visit a double world heritage site.
St Kilda is a dream destination for many people visiting Scotland, yet you might have never heard about it – and it's hard to blame you. While it's on the bucket list of anyone who 'collects' World Heritage Sites and a paradise for birders, St Kilda is hardly a regular stop on typical Scotland itineraries. Too far away and tricky to get to, the islands are still a secret among Scotland fans – a secret that will be unveiled for you in this guide to planning your St Kilda trip!
This post contains affiliate links from which I may make a commission. Find out more here . All opinions are my own.
St Kilda is a small island group, approximately 50 miles west off the coast of the Outer Hebrides. There are four main islands – Hirta, Dùn, Soay and Boreray – as well as numerous sea stacks surrounding them. St Kilda is a double Unesco World Heritage Site – the only one in Scotland which carries this title due to its unique natural landscape and its history.
Having been home to a thriving Gaelic community for hundreds of years (more on that below) it is now mostly uninhabited, apart from a year-round military presence as well as wardens and scientists from the National Trust for Scotland who spend several months here during the summer.
All this makes St Kilda a popular day trip destination for nature lovers and history buffs alike. But how do you incorporate this unique location into your already bursting Scotland itinerary? This guide tells you everything you need to know about visiting St Kilda on a day trip.
Hooked on island hopping? The best Scottish Islands to Visit
Table of Contents
Booking a St Kilda trip
The main ingredients of a successful trip to St Kilda are planning and flexibility . You need to know where tour options start from, how to get there and how much time to spend in the area.
Tours run from mid-April to mid-September which coincides with the breeding season of the many seabirds that flock to St Kilda to mate and nest.
Most operators will require you to book far in advance and be available on at least 2 days, just in case a trip has to be cancelled due to adverse weather conditions. While the tours theoretically run Monday to Saturday, there are only 3 trips a week on average.
The flexibility required for a visit to St Kilda means, that you should be prepared to spend a few days in or near the destination from where the tour starts. And that is often the tricky part when trying to fit St Kilda on a regular Scotland holiday.
St Kilda last minute
With all that said though, it is possible to visit St Kilda on fairly short notice if you are flexible and the weather gods are on your side. It is certainly also easier to secure one last-minute spot, than if you wanted to visit as a group.
I managed to score a spot on a Monday boat trip and only phoned the Saturday before – I even managed to fit my hike on the Hebridean Way around the last-minute booking. It can be done, but I had not much choice in terms of dates and if the weather was bad that day, I would not have been able to reschedule for another time.
You might also like: A day trip to see puffins on the Treshnish Isles
Tour operator going to St Kilda
There are three tour operators offering day trips to St Kilda. They leave either from Stein on Skye or Leverburgh on Harris. Both locations have their benefits and disadvantages.
Skye to St Kilda day trips
The Isle of Skye is very easy to get to and since it is already a popular stop on many people's Scotland itinerary, it would be the easier location to incorporate a St Kilda boat tour in your trip. There is also plenty of things to do on Skye in case you have to wait for the right conditions to board your cruise. You just need to book your accommodation on the island well in advance.
The downside of leaving for St Kilda from Skye is that it's going to be a long way to get there. It takes 4 hours by speedboat from Stein to St Kilda, which is over an hour more than the journey from Harris. The sea can be rough even in good weather conditions and if you have a sensitive stomach, this is something worth considering.
The upside is that they offer a guided tour on St Kilda, so you don't have to explore by yourself.
The company operating from Skye is called Go to St Kilda . Their tour leaves the jetty in Stein at 7 am and returns at 8.30 pm. It takes about 40 minutes to drive from Portree to Stein, so you are in for a very long day.
You might also like: 20 Pretty Towns & Villages in Scotland
Harris to St Kilda day trips
The Isle of Harris is part of the Outer Hebrides archipelago which is a beautiful holiday destination in and of itself. Since it takes a couple of hours to get here by car ferry, the islands – also called Western Isles – are not often found on traditional Scotland itineraries.
However, they are well worth a visit and there is plenty to do even just on the two connected islands Harris and Lewis, should you have to wait for your cruise to go ahead. Accommodation here is easier to come by, but should also be booked in advance for the summer months.
St Kilda boat tours leave from Leverburgh in the south of Harris and it takes only about 2 hours and 45 minutes to reach St Kilda from here. The major downside of leaving from Leverburgh is that you need to get here first. If you only have a week or 10 days, planning a trip to the Western Isles will quickly dominate your Scotland itinerary.
When navigating the best connections between the mainland and the islands, I would go for the ferries between Uig and Tarbert on the way there and Stornoway to Ullapool on the way back. For the rest of your trip, why not utilise my 7-day Scotland itinerary and cut it down accordingly?
There are two companies operating from Leverburgh, Kilda Cruises and Sea Harris . Both leave the harbour at 8 am and aim to be back between 7 and 7.30 pm. The boat of Sea Harris is slightly faster – it takes only 2.5 hours to St Kilda. If you don't particularly enjoy spending time at sea, every minute can count.
You might also like: 10 things to do & see on the Isle of Lewis
Costs of a St Kilda trip
A day trip to St Kilda does not come cheap. As a World Heritage Site and a military base, a lot of resources go into making the island hospitable and accessible to the public, and the long boat journey explains the high cost on top of that.
The prices vary. The most expensive is the tour from Skye – most likely because it is also the longest time you spend on the boat. It costs £260 . Cruises from Harris are cheaper and cost between £220 (Sea Harris) and £235 (Kilda Cruises). – 2021 prices
This includes the boat transfer with an onboard toilet and knowledgable skippers who are happy to answer questions about the local wildlife. Before landing on St Kilda we all received an informative map of the island.
The landing fee of £5/person is also included in the ticket, as are teas and coffees and cake back on the boat after your stay on Hirta. We even got a dram of whisky towards the end of our boat journey with Kilda Cruises!
What to expect on a day trip to St Kilda?
Personally, I went with Kilda Cruises, so I only know for certain what they do – but it seems that Go to St Kilda and Sea Harris offer a very similar experience.
We met our boat and skippers at the harbour for check-in at 7.45 am and set sail at 8 am sharp. They gave us a run-down of the day's plan, people made introductions to their seat neighbours and off we were. On the way, we could already see our first seabirds, mostly flocks of gannets fishing or flying in graceful formations.
At some point, our skippers spotted a fin on the surface and slowed down immediately. They do what they can to make the boat ride about more than the destination – without wasting too much time, of course. The fin turned out to be a sunfish lying on its side as they normally do – the first they saw this season, our skipper told us.
You might also like: Scottish podcasts to fuel your wanderlust
We reached St Kilda around 10.45 am, were provided with flotation aids and got onto our little zodiac dinghy to go on shore. Back on land, our skippers left us in the experienced hands of the resident wildlife wardens, who explained a few rules about moving around the island.
They also gave us tips and advice on where to walk, in which order to do it and how to behave if we had an encounter with an angry bird parent – it is the birds' island after all!
After this brief introduction, we were let loose and had over 4.5 hours to explore at our own pace. St Kilda is a Cultural and a Natural UNESCO World Heritage Site – the only site in Scotland that has this double status.
Following the advice of the wardens, I decided to start by exploring the natural sites of the island. I began making my way to the Gap, a vantage point high above the village, but I did not even have to leave the village to get my first glimpse of the unique natural landscape.
Among the ruins, you can see sheep that look different than any sheep you have ever seen in Scotland. They come in different shades of brown and are smaller and somehow look woollier than sheep back on the mainland.
They are Soay sheep , a breed of domesticated sheep from the island of Soay. For centuries they have developed in isolation and can graze in places domesticated sheep could never go to – they are so agile and sure-footed. The breed is at risk today and the subject of a long-running ecological research project .
After about 30 minutes, I made it to the Gap and my effort to climb the hill behind the village was immediately rewarded with gorgeous views across to Boreray and down the tall sea cliffs of the island. The cliffs here are the tallest in the UK and home to a variety of seabirds.
WARNING: There are no fences or barriers, so you can go up as close as you like – but be aware of the wind; it can change quickly and come in quick bursts, so it's best to keep a safe distance.
From the Gap, the next obvious natural site to visit, is the highest peak of the island, Conachair . It is about a 45-minute climb up the steep hillside. Unfortunately, the clouds were rolling in and covered the entire hill in a white blanket and the wind was picking up.
Considering the no-barrier-situation, I decided not to risk anything climbing any higher and returned to the village. On a good day, the views from the top must be beautiful though – a full 360-degree view of all the islands and sea stacks of St Kilda.
You might also like: A Day Trip to Handa Island on the North Coast 500
Back in the village, I visited the small museum to learn about the life people had led on this remote archipelago. Their unique lifestyle is the reason why St Kilda is also a cultural heritage site. The island has been inhabited for thousands of years – there are remains of prehistoric sheepfolds and the oldest building in the medieval village below Conachair dates to between 500 BC and 300 AD.
People lived on the site of this medieval village until well into the 19th century, but in the 1830s they moved into a new settlement of blackhouses. These houses were traditionally built from stone with a turf roof, had only one entrance for people and animals, and a peat fire in the middle. In the ceiling, there would have been a small opening to let out the smoke from the fire, but since this was not particularly efficient, the smoke remained inside, darkening the walls and the lungs of its inhabitants – hence the name, blackhouse.
Thirty years later, new houses with zinc roofs, fireplaces and chimneys were built and life slowly became more modern on the island. WWI disturbed the isolation St Kildans had lived in for centuries and by 1928, most young men had left the island.
In 1930 the islanders decided for a new life and were evacuated to the mainland, along with their cattle and sheep. After thousands of years, the island was once again uninhabited.
Today, there is a military base on Hirta, which has been permanently inhabited since 1957 and provides the essential infrastructure for the wardens of the National Trust for Scotland. It is an unlikely, but symbiotic relationship on the edge of Europe.
After exploring the museum and the remains of the village, I still had plenty of time and started to make my way towards the southern part of Hirta . I left the village, walked through a lush green gully and emerged up the slope facing the south of the village.
The views from here were beautiful and I was surrounded by curly Soay sheep. From here I would have loved to walk further south, towards Dùn, but I was slowly running out of time and had to return to the jetty.
Back on the boat, around 3.30 pm, our skippers served tea, coffee and cake and we exchanged stories of our adventures on Hirta. But the trip was not over yet.
For the next 1.5 hours, we slowly cruised around the remaining islands and sea stacks of St Kilda – and learnt more about the seabirds that come here to nest. Our first stop was Dùn, home to the UK's largest puffin colony .
Since you can't go on land here, you don't actually get near any of the burrows – rather you are surrounded by puffins zooming through the air and diving into the waves to catch fish. They are like a swarm of midges, moving too fast to tell the individuals apart  – until they land in the sea, holding still long enough for you to marvel at them. It was an amazing experience.
You might also like: The best places to see wild animals in Scotland
After a 15 minute ride, we reached Boreray which is surrounded by some of the highest sea stacks in the UK. As inhospitable as these rocks look, they offer ideal nesting conditions for millions of seabirds. The world's second-largest gannet colony comes here to breed, but also other birds like guillemots, fulmars, petrels and skuas.
Throughout the cruise, one of our skippers is out on the deck with us, telling us more about the birds and pointing out the little stone bothies were locals would have stayed every year during hunting season. They would spend several weeks each year on one of these rocks, hunting for gugas (gannet chicks) in the harshest conditions.
Which birds will you see on St Kilda?
"If you don't see a gannet today, you can get your money back!" – our skipper said with a big smile as we left the harbour of Leverburgh. Minutes later, we were surrounded by flocks of gannets, flying up and down the sides of our boat, diving into the waves to catch fish or simply resting on the water surface. There is no way, you won't see a gannet on a trip to St Kilda…
But Gannets are not the only birds breeding on St Kilda. I won't tell you all – you can pick up a small leaflet at the shop on the island, but it is very likely that you will encounter fulmars, oystercatchers, various kinds of gulls, guillemots, puffins, kittiwakes, Great and Arctic skuas, storm-petrels, shearwaters and shags.
Around 5 pm we started making our way back to the Harris – this time with the wind in our back. Gently rocked by the waves, I actually fell asleep on the boat. A peaty smell in my nose woke me – did someone open a whisky?
And indeed, our skipper handed out golden drams – the perfect finish to an adventurous day at sea. We reached Leverburgh just after 7 pm, a once-in-a-lifetime experience richer.
You might also like: How to drink Scottish whisky the right way
Packing tips for St Kilda
St Kilda is a very isolated place and once you have left the harbour of Leverburgh or Stein, there are no facilities to stock up on supplies. It is important to bring everything you need with you.
What to wear
I wore active clothes – a hiking outfit, sturdy hiking boots and a rainproof jacket . In my day bag, I had my waterproof trousers , an additional warm layer and a buff . Throughout the day, I wore them all, so I'm glad I packed in layers!
What else to bring
Since it is a long day, you have to bring your own lunch pack  and water – there is no cafe on St Kilda, only a small shop and toilets. Don't forget your camera and plenty of batteries and if you're into bird watching, make sure you have some good zoom lenses  and binoculars .
You might also like: My ultimate packing tips for Scotland
St Kilda is a unique place to visit in Scotland and the fact that it takes quite a bit of effort to reach it, makes it even more special. When you do go all the way, you are rewarded with one of the most isolated places in Europe, fascinating history and breathtaking scenery.
Would you want to visit St Kilda?
Pin this post for later:
Planning a trip to Scotland?
Download my FREE Trip Planning Checklist .
Join my Facebook group to find inspiration for big & small adventures.
Listen to my podcast Wild for Scotland for lots of travel inspiration.
Take my FREE Scotland Itinerary Quiz to narrow down where to go.
Make trip planning easier with my Scotland Resource Library .
Save time and get one of my bulletproof Scotland itineraries .
Take out the overwhelm and let me help you plan an itinerary that is 100% YOU .
22 thoughts on " Planning your St Kilda trip – Visit a double World Heritage Site "
Thank you ! Great post A question about the cruises: other companies are sure ? We saw https://www.uistseatours.co.uk/stkilda-trip
Oooh thanks! Need to add them!
Pingback: 'Island on the Edge' - St Kilda - Wild for Scotland Podcast
I visited the isle of noss on Shetland in 2016 – all the same birds and all for 30 pound – someone is clearly making a lot of money out of these trips to St Kilda given that the 12 hour ferry from Aberdeen to Lerwick costs half the price. Clearly for the very rich!
Hi Eric, there are some amazing alternatives all over Scotland that are a lot more budget-friendly for sure. I think with St Kilda, the two key factors for the high price point in my eyes are the fact that it's a double world heritage site (so people might be more prepared to pay a higher fee) and that it's so remote. Admittedly, the ferry journey to the Outer Hebrides is quicker than to Shetland, but the boat ride out to St Kilda takes quite a long time. The season is also very short and unstable, so the operators have to cover their costs even if many of their tours get cancelled due to the weather conditions. I'm sure there are lots of other reasons, but these just come to my mind. It's like with many other travel experiences – some people can afford them easily, others have to save up to fulfil such a lifetime experience. I'm glad I was able to tap into my travel savings to visit. I know I would have regretted otherwise!
Yeah, great Eric… So if we are on the outer hebrides, trying to get to the remotest island.. with all its heritage… you recommend us to take a car, some ferries, car again for half a day, up to aberdeen , then take a 12h ferry to Shetlands, in order to spent 30gbp? It is a silly comment you make here. If one is around the Shetlands, ok why not.
In defence of the St Kilda boat trip prices, none of these are subsidised like the ferries that run to Shetland or any island community, and these boats burn 1000 litres per trip, they are limited to spaces of 12 passengers and they also have to soak up costs for trips involving less than full also, then you have the skippers and crews wages, insurances for boat and public liability, then you have a minimum of 80 miles at sea doing 20 knots, the Stein boat has a round trip of 150 nautical miles, but the article is slightly wrong, the Skye passage is 4 hours to get to Village bay, but they do the stacs part first, before going into Village bay, they also offer a guided tour ashore, the only company to do so and the return journey takes 3 hours from leaving Dun to arriving back at the jetty in Stein, where you can if you book ahead dine at the Michelin star restaurant under Chef Michael Smith, at Lochbay, or walk a further 60 miles to dine at celebrity Chef Paul Rankin
Thanks for your comment! The information about the tour from Stein is actually taken straight from the Go to St Kilda website and it says there that they go to Hirta first, and then on to Boreray and the sea stacks after. They also say that the return journey takes approx. 4 hours. I can imagine that depending on weather conditions they might swap the order of islands on the day and they might be faster if the wind is favourable, but I'd rather go with the information provided by the tour company. I will add the info about the guided tour part though – that might be of interest to some people. Cheers!
The website does say that, but I was never one to obey the bosses, 🤣 (I skipper the boat) but a great article and fully informative regarding the info you do give out,
Pingback: Tips For First Time Female Solo Travelers – (From a Panel of Female Travelers)
Never realised how remote St Kilda is! I love the earthy vibes though, definitely on my ever-growing Scotland list.
It certainly makes you appreciate how long it must have taken to travel the world by unmotorised boats one day – and the bumpy rides they must have endured… It's a gorgeous place though – worth the effort!
What an amazing place! I like that you were able to explore at your own pace. I am adding St Kilda to my bucket list. So beautiful.
Oh, I love Scotland, but I have never been that far north. I would love to see the puffins, they are so cute! It looks picture perfect there.
It's quite a trek, but so worth it 🙂
Can you believe I'm Scottish currently living in St Kilda in Melbourne and had NO IDEA there was a St Kilda in Scotland haha!! Such stunning photos and such an informative guide!
Ha ha, St Kilda in Melbourne has been doing my head in trying to geo-tag the Scottish St Kilda on Instagram!! You'll have to plan a trip there when you're back home it's quite a trek and an expense, but so worth it!!
Thank you for this post. It just reminds me how big Scotland is and how much more there still is to explore.
My bucket list doesn't seem to get any shorter… with every trip I add more things to it!!
I love these views! Everything is so wild and raw, and I get why it's so pricey. Thanks for sharing your experience, I always like to discover new places that are under the radar 🙂
Beautiful photos and a very informative post! This place is now on my bucket list 🙂
Would love to go! It sounds amazing, thanks for sharing your experience! 🙂
Leave a Reply Cancel reply
Your email address will not be published. Required fields are marked *
Scotland Trip Planning ADVENT CALENDAR
Visiting St Kilda
This post may contain affiliate links of which we earn a small commission should you choose to purchase through them. This helps us to keep the site running. Thank you for your support
Table of Contents
Coming from the Outer Hebrides , I was always aware of St Kilda. Everyone around me had an intrigue, or a want, to visit the island. Curious about the history and the unique way of life.
And honestly, I thought the majority of people in Scotland were the same. I now know how very naive that was, as now, having visited, I realise how many people know nothing of this little island that sits 40 miles off the coast, just west of the Outer Hebrides.
My grandparents visited St Kilda after years of talking about it, years and years of talking, and they thought it was so wonderful and enjoyed it so much, that they very kindly gifted me with some tickets one Christmas.
I say one Christmas because it took almost 3 long years to finally make the trip. Nonetheless, I couldn't be more thankful for the opportunity as it's somewhere that I have always wanted to visit but wasn't sure that I ever would in reality.
As I said, I was surprised by how many people don't know of St Kilda, so for those of you that don't, I will do my best to give a brief overview, but really, I think the pictures will speak for themselves.
Where is St Kilda?
St Kilda is an archipelago in the North Atlantic Ocean and it is the UK's only dual UNESCO World Heritage Site and this is really special as there are only 39 in the world!
It's famed for its sea stacks which are home to nearly 1 million seabirds but perhaps more so, it's the village and small crescent of houses found on Hirta, which provide a small insight into what seems like a very different world.
As I'm from the Isle of Lewis in the Western Isles, the easiest route for me to take was to travel to Leverburgh in the Isle of Harris. Other options are depending on which company you book tickets with and these also leave from Oban, Uist and the Isle of Skye as far as I'm aware.
How long does it take to get to St Kilda?
The trip from Harris to St Kilda is around 2.5 hours while some of the other routes can take more than double this time, definitely something to factor into your decision if you can.
If you are planning on making the trip to St Kilda, make sure to book in advance as travel is very weather dependant and as I'm sure we're all aware, Scottish weather can be testing!
We booked our trip with Kilda Cruises around 6 weeks before leaving (and even then, we were placed on a waitlist) and you are advised on booking that should the weather be unfavourable, your trip may be pushed back a day to allow for the previous days bookings to travel. So, do be aware to allow for that extra day should it be needed.
Luckily, we had lovely weather on the day, it's never guaranteed and it's honestly not something I was overly concerned about. I love the moody, misty shots of the sea stacks most of all but equally, I knew that with better weather, would come a calmer crossing. Peaks and troughs.
It's an early start. The drive from Stornoway to Leverburgh takes around 1 hour 30 mins, you are required to check-in around 20 minutes before departure and you leave Leverburgh at approximately 8 am.
But it's exciting, so it's not the usual dreaded early wake-up alarm. We arrived much earlier than required, as is in my nature, and we just sat in the car and assessed which of the people walking around we thought might be on the boat with us.
25 minutes before departure, we decided to head to the pier. I stepped off the kerb by the car, and my ankle just buckled beneath me. Now, I'm not particularly accident-prone and I've never broken a bone, but this really did floor me. I hobbled back to the car, took a couple of minutes, embarrassed and on the verge of tears but I regained composure in the fear of letting Peter down or having to cancel (also, being in doubt that cancelling so close to departure may just void my space and ticket).
The Journey to St Kilda
I gritted my teeth and limped towards the pier because I waited 3 years for this trip. I was going to go.
We eventually got on the boat to start our 2.5-hour journey towards St Kilda. There were around 12 of us on our boat and ever the optimists, we all sat on the benches outside.
I'll start by saying, dress warmly. Despite the lovely weather that we had, you are heading out into the Atlantic Ocean and it is cold on the boat, so whether or not you need it once you reach the island, take a jumper and a jacket of some sort.
Most people eventually chose to sit inside from the cold, or perhaps opt for the plush leather seats over the hard benches, but I tend to feel a little less seasick with the fresh air. So, secondly, I'd say, if you are prone to feeling seasick, take something for it. We had a calm crossing but we did hit a slightly rough patch and there were casualties. And it's not dignified. You really do have to puke in a cup and just hope that it's inconspicuous enough that people didn't see.
Luckily, my Grampa had warned me that you can see St Kilda within about 30 minutes of leaving Harris but not to be fooled and think it's closer than it is, and despite him telling me this, I believed that it was, but no, it will take you the full 2.5 hours to reach.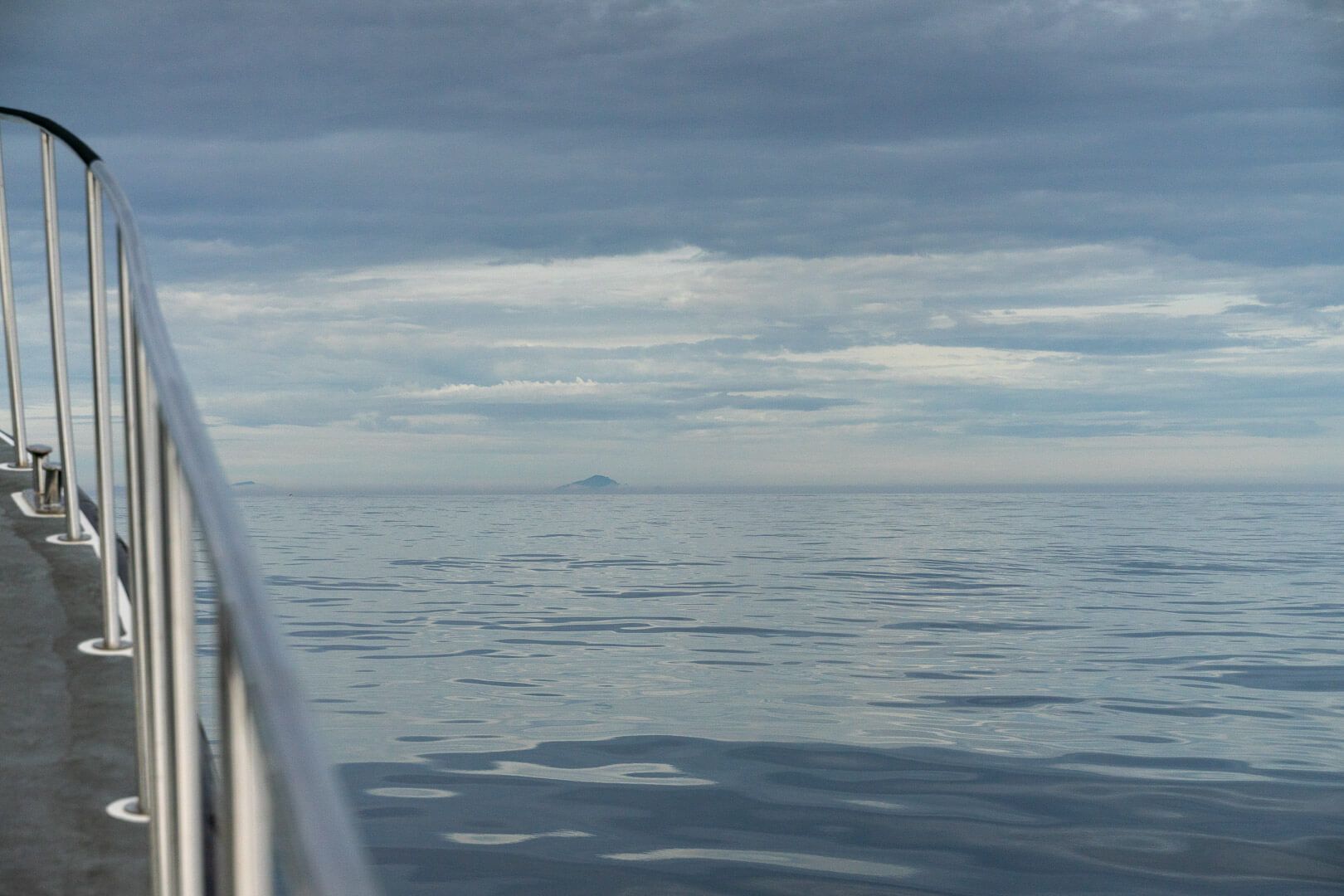 Whilst sitting outside, you have plenty of time to spot the wildlife around you. We think we saw glimpses of a whale, but we definitely saw seals, cormorants, puffins, kittiwakes, fulmars, guillemots and of course, gannets. On the same day, there was another boat that saw orcas, and I'm kicking myself for missing out. Not that I could have helped it.
It is a long, cold journey but equally refreshing and somewhat exhilarating. We were mostly left to ourselves on the journey there, we had the odd thing pointed out to us or a little bit of information but I had been expecting a lot more. The early morning though, I think we were happy to take it all in without interruption.
Now, I was in a lot of pain with my ankle and I could feel it seizing up after such a long period of sitting. I had a lot of concerns about getting off the boat as I really wasn't sure if there would be climbing involved and I couldn't bear the thought of putting weight on it. The anxiety that ensued when they stopped just outside of the bay and told us that we would be taken to land by speedboat, my heart stopped.
But it was ok, they secured the speedboat to the back of our boat and it only required climbing down one or two steps, a quick 1-minute ride followed by one (wobbly) step onto the small pier in the Village Bay.
Arriving at St Kilda
Once safely on land, a number of us, from different boat trips, congregated near the first building that you come across. Here, we were given a brief introduction on the dos and don'ts while on the island, things to be aware of and just a little bit about the history and what we could expect.
From there on, we had 4 hours to roam the island on a self-guided tour. I had a little bit of a seat, assessed the surroundings and took it all in before pushing on.
Do people live on St Kilda?
The island is not quite as abandoned as you may think, with the MoD holding a section of Hirta for training purposes, along with the conservationists and researchers for the National Trust of Scotland among others.
The ground is uneven all across the island once you leave the main road. I knew would be a struggle but it felt like a once in a lifetime opportunity and I wasn't going to waste it.
We spent a little time taking pictures, stocking up on some water and visiting the toilet before eventually walking around the village.
What really took me by surprise were the number of cleits on Hirta. There are approximately 1,260 cleits on Hirta alone. And for those that haven't heard of cleits, I hadn't, they are wee stone storehouses or bothies of varying size which are dotted around the lower parts of the village. Cleits were used by the islanders to dry and store foods or equipment. They are now home to many of the Soay sheep.
St Kilda is really special because there are so many flowers and wildlife that are unique to the islands. The Soay sheep are completely feral, meaning, you may see them with odd-looking tufts here and there as they naturally shed their wool. They are smaller than the average domestic sheep, seem totally unphased by people and can be seen all around the island. Just be careful where you step.
Some other animals that are unique to Hirta are the St Kilda wrens and the St Kilda field mouse and whilst I did see many of the wrens, I did not see any mice!
Despite my sore ankle, I committed to climbing The Gap. This was highlighted to us as the easiest of the walks, which I believe, but I also don't want to pass it off as 'easy'. It still requires quite a bit of effort if you aren't a frequent hillwalker.
With many starts and stops, it probably took us around 30 minutes to climb. It is steep, which was causing me a lot of discomforts but more so, we were advised not to make the climb as the mist rolled in. And let me just be clear, DO NOT make the climb as the mist rolls in!
We didn't, thankfully. I think your mind, by design, imagines that once you reach the top there will be another side, but it is a sheer drop of 150m+. Terrifying!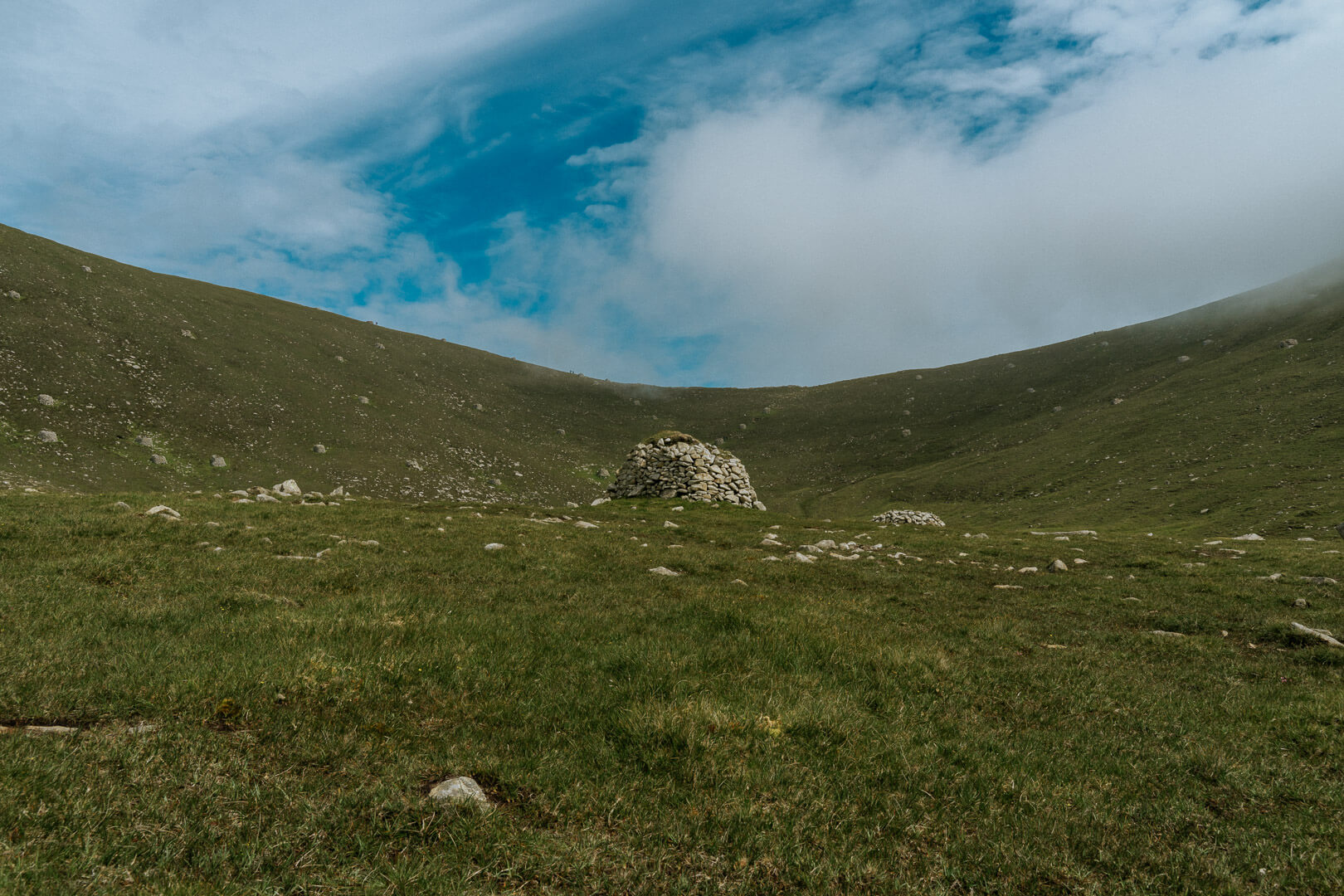 The views at the top are breathtaking. It was worth doing just to see the views both back down to the village and across the water. We were up in the skies, with the birds flying all around the cliffside and we just sat and took the time to take it all in, marvelling at the fact that the St Kildans, with just a bit of rope, would abseil these very cliffs to get the guga!
It was so beautiful that we decided to stop here and enjoy our lunch. Although you are only visiting Hirta for around 4 hours, it's a long day, so make sure to take plenty of food and drink with you as there are no shops! We ate our sandwiches and had a little snack before taking pictures and beginning the descent back to the village.
Once back in the village, we visited some of the houses which were open to the public. The majority of them are closed but one has been converted into a small museum which tells you all about the St Kildans and their way of life. There are also many items from the history of the island to be seen within the museum.
We visited the church and the school, which are connected. Both are very small and sparse but I think they give a good insight into how it would have been.
Within the school, there was a small shop area where you can pick up postcards, books and other memorabilia. They themselves used to send mail by mail boats which is surreal to think about, almost like messages in a bottle and just hoping that they would be found somewhere and passed on to the correct person! These days, you can actually send postcards from the island, you will find a post box towards the pier area and all post is marked with a special St Kilda stamp to prove that they were sent from the island!
Read one of the best books around the history of St Kilda
The Life and Death of St. Kilda: The moving story of a vanished island community – Available on Amazon
Check prices
Sea Stacks and Gannet Colonies
When it was time to leave Hirta, we boarded the speedboat once again before making our way back to the tour boat. Once settled, we were all given a slice of cake and a cup of tea or coffee, before bidding farewell to the island.
From there, it was time to visit the sea stacks of Stac Lee, Stac an Armin and Boreray. Stac Lee was possibly the most impressive to me as it is home to the worlds second-largest colony of Northern gannets (beaten only by Bass Rock in East Lothian). Over 120,000 of them.
The sea stacks are around 150-200 metres in height which make them the highest sea stacks in Britain. They are incredible to see, so tall and imposing and we were told that they are even better beneath the surface. Just, breathtaking.
As we made our way around the stacks, we were given facts about the rocks, the different birds and stories of the history visiting these rocks in the middle of the ocean! St Kilda is northwest Europe's largest seabird colony including the UK's largest colony of Atlantic puffin but we really only saw the puffins in the water. I was a little disappointed as I always see such beautiful pictures of puffins and this was my first time seeing them, but we really weren't very close.
I really don't want to ruin anything for those looking to visit St Kilda, so I will not regale any of these stories but just, wow. It's really something.
Boreray is another uninhabited island in the St Kilda archipelago that we heard some incredible tales of, but again, I won't ruin it for you. However, we saw some of the Boreray sheep which are feral and unique to the island and these have to be some of the most agile sheep around. It is honestly mind-blowing to watch these animals graze with such ease whilst on the side of cliffs, directly above the ocean.
Anyway, sheep appreciation aside, I'd say that we spent around an hour making our way around before eventually heading back towards the Isle of Harris. Fortunately, another smooth crossing but this time we were joined by some playful dolphins who were swimming alongside the boat. We were given a small dram of whisky and we ended our St Kilda trip feeling very content.
As far as day trips go, St Kilda tours were way up there on the bucket list of things to do and I'm so thankful to finally be able to tick it off.
If you are looking to book St Kilda trips from Harris, I would highly recommend Kilda Cruises but I think you are in safe hands whoever you choose!
Peter may be the go to guy for travel tips and information but I like to think I bring the heart (maybe even a little humour) back into our writing.
I'm Scottish and proud, a millennial 30 something and your stereotypical girls girl but as opposed to what the press may say, I don't see those as negatives and neither should you!
Leave a Reply Cancel reply
Your email address will not be published. Required fields are marked *
Discover Isolated Landscapes & Rich History
Lying more than 40 miles west of Scotland's Outer Hebrides, amongst crashing waves and the cries of thousands of seabirds, the archipelago of St Kilda is a destination like no other. Formed from the rim of an ancient volcano, the dramatically jagged landscape features some of the highest cliffs in Europe.
Uninhabited since 1930, St Kilda features tokens of human life, including the traditional Highland stone huts and bothies. The island still supports the largest seabird colony in the north-east Atlantic, including large colonies of rare and endangered species. Now appointed as a dual UNESCO World Heritage Site for its natural and cultural significance, St Kilda is owned and protected by the National Trust for Scotland.
Often referred to as ' the islands at the edge of the world ', St Kilda is bound to leave you mesmerised. For those willing to brave the four-hour ferry journey each way, a trip to St Kilda will surely be an unforgettable highlight of your trip to Scotland.
If you're feeling tempted, you can read more about planning a trip with our blog: The Essential Guide to Visiting St Kilda, Scotland .
Hebridean Island Hopping
Isle of skye & the outer hebrides, isle of skye & outer hebrides, myths & legends of scotland.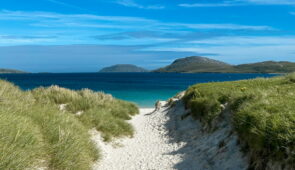 From £1335pp
Luskentyre beach - one of the most spectacular beaches in Scotland
Travel back in time at the 5,000 year old Callanish Standing Stones
16th century Kisimul Castle - the magnificent 'Castle in the Sea'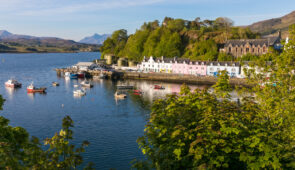 From £775pp
The magical Isle of Skye and the spectacular Cuillin Mountains
Discover the mountains and lunar landscape of the Isle of Harris
The archaeological treasures of the Standing Stones of Callanish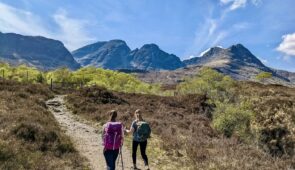 From £1270pp
Explore the spectacular Isle of Skye, famed for its striking landscapes and fantastic walking opportunities
Escape to the majestic Outer Hebrides, where there are plenty of sparkling beaches, rugged mountains, and Neolithic sites to explore on foot
Experience friendly island hospitality and learn about Scottish history and culture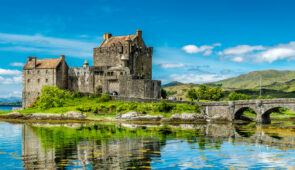 From £1375pp
Experience life on the edge in the Outer Hebrides, including the mysterious Standing Stones of Callanish
Visit dramatic Dunnottar Castle - one of the most striking and romantic ruined castles in Scotland
Get lost in the breathtaking scenery of The Cairngorms - Britain's largest national park

Day Trip to the Edge of the World

COLIN SIMPSON
Visiting Abandoned Village at Scotland's St Kilda
St Kilda, Scotland
T HE first Arctic skua zipped in from the side, forcing me to duck as it flew straight towards my head. Its mate, fast and agile, joined in the attack, and with my hands protecting my face I retreated hastily back the way I'd come down a grassy slope overlooking a bay.
The birds nest on the ground, and I'd inadvertently wandered too close to this pair's eggs, triggering their protective instincts. The aerial assault subsided as I moved a safe distance away.
I was on Hirta, the largest of the four rocky islands that make up the St Kilda archipelago, one of the most remote points in the British Isles. The islands jut out of the Atlantic 112 miles west of mainland Scotland.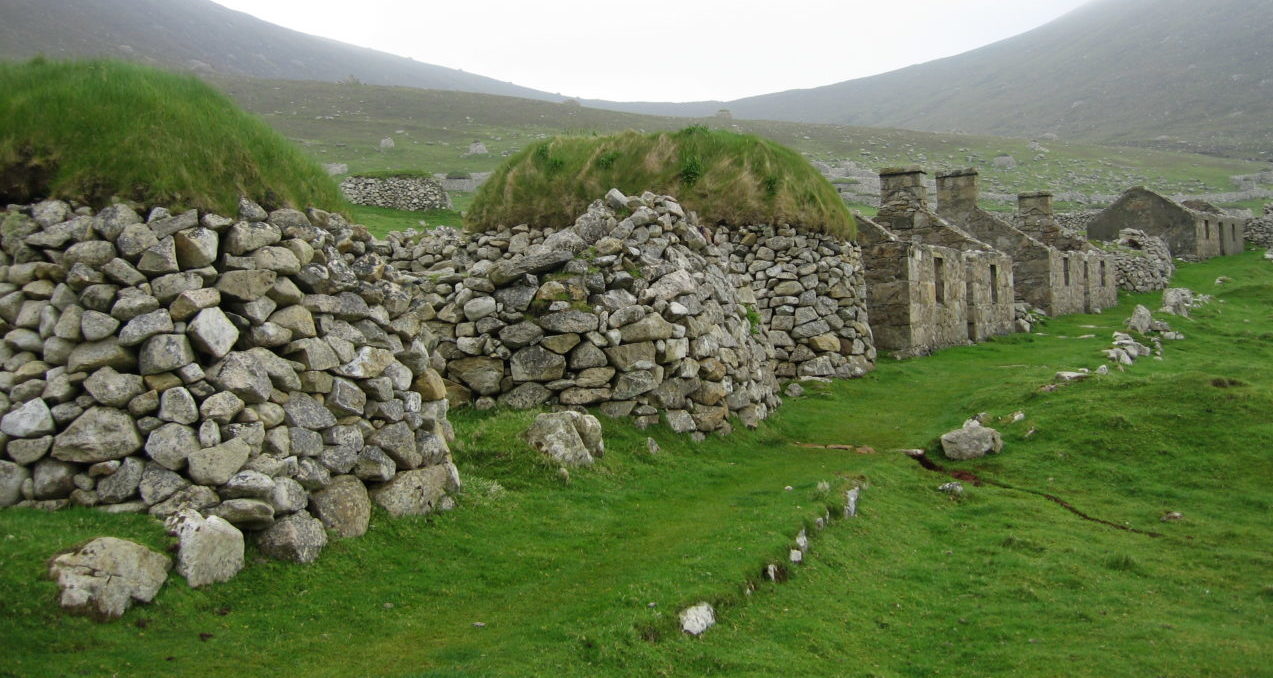 The hardy people who once lived there had a lot more to contend with than aggressive skuas – isolation, savage Atlantic storms with 140 mph gales, a monotonous diet (mainly eggs and seabirds), devastating cholera and smallpox epidemics, and the need to scale vertiginous cliffs and stacs to collect those eggs and birds. Disease was spread by tourists who came to gawp at them.
If they needed additional supplies or other assistance they would put letters in "mailboats", waterproof containers attached to a float such as an inflated sheep bladder, which they tossed into the sea. The hope was that they would wash ashore on other islands or the mainland and be found by people who would help. The St Kildans' predicament was made worse by a Free Church of Scotland minister who banned music and dancing, and insisted that they attended prayer meetings instead of going fishing.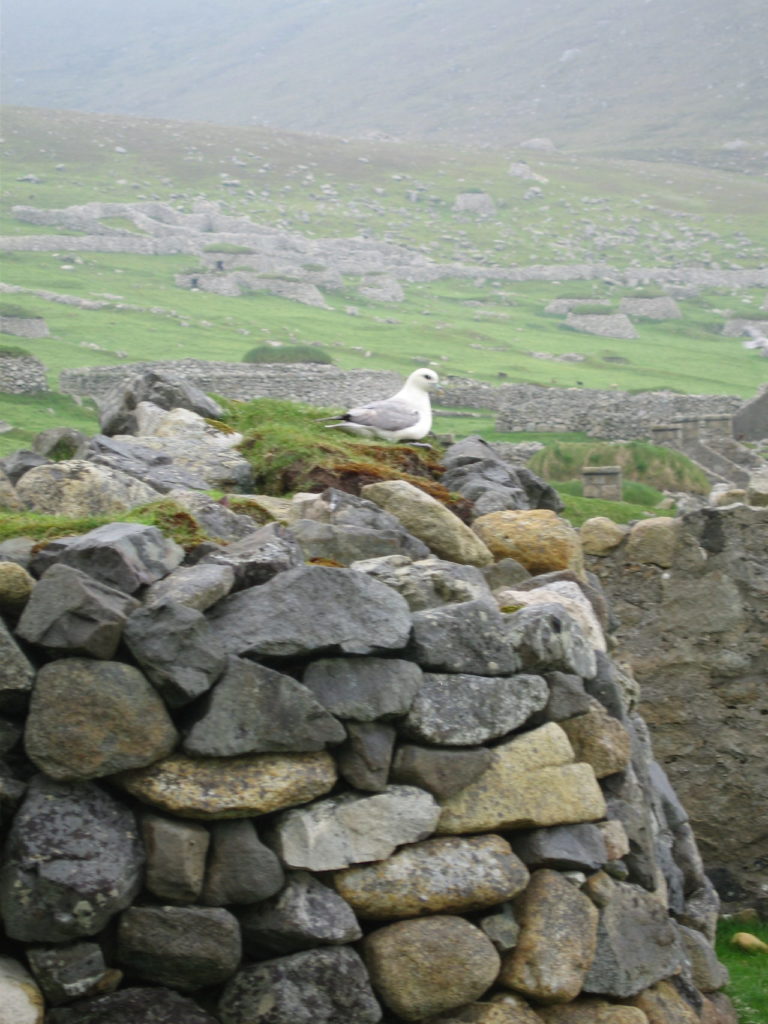 Eventually it all became too much, and the remaining 36 islanders were evacuated to the mainland at their own request in 1930 on HMS Harebell, ending 4,000 years of occupation. Their story inspired a 1937 film, The Edge of the World .
The islanders left behind their village on Hirta – the only island that was inhabited – consisting of a single street of stone-walled houses built in the 19th century to replace earlier dwellings known as black houses that still stand, their roofs covered with turf.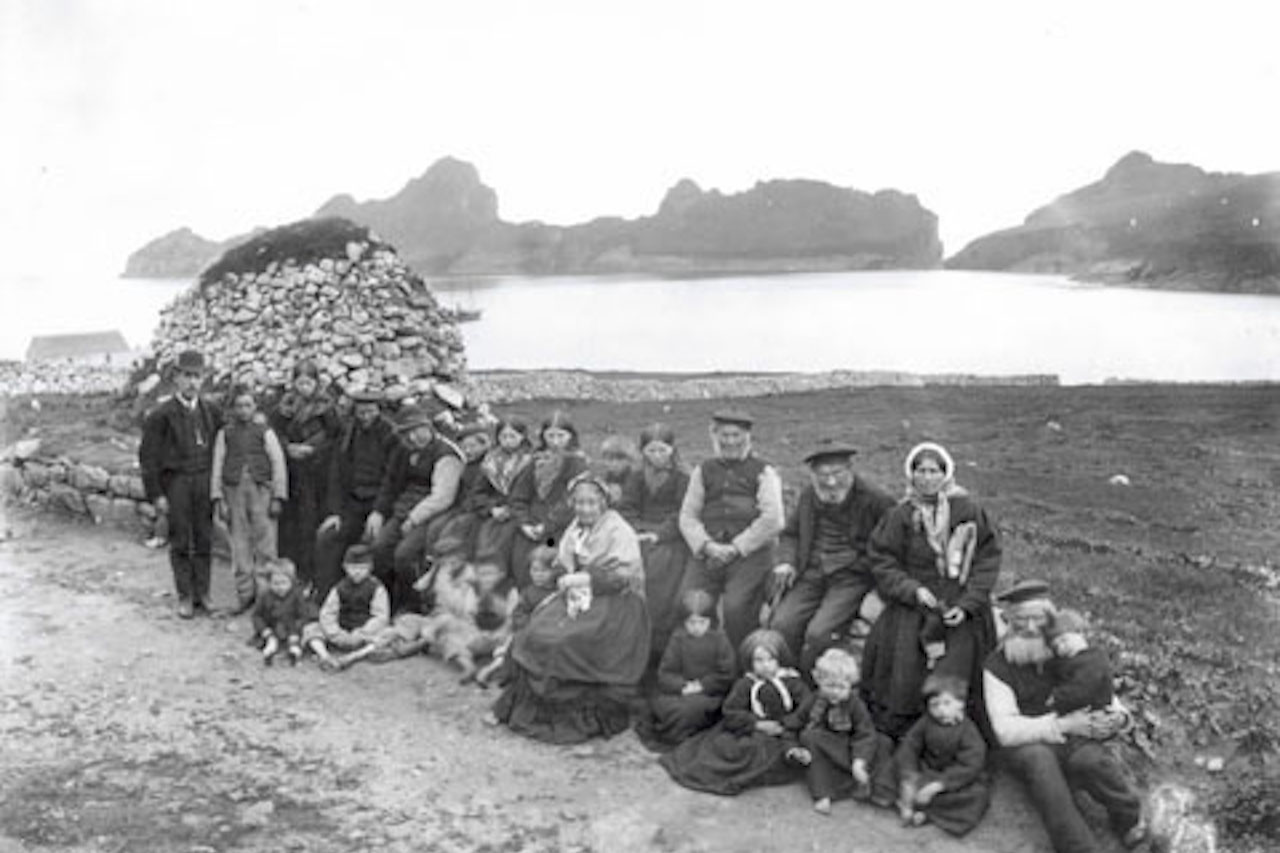 A number of operators offer day trips to the islands between April and September. I used Kilda Cruises, whose boats depart from Harris, and was pleased with the service. It's also possible to travel from the islands of Lewis and Skye. The trips are expensive.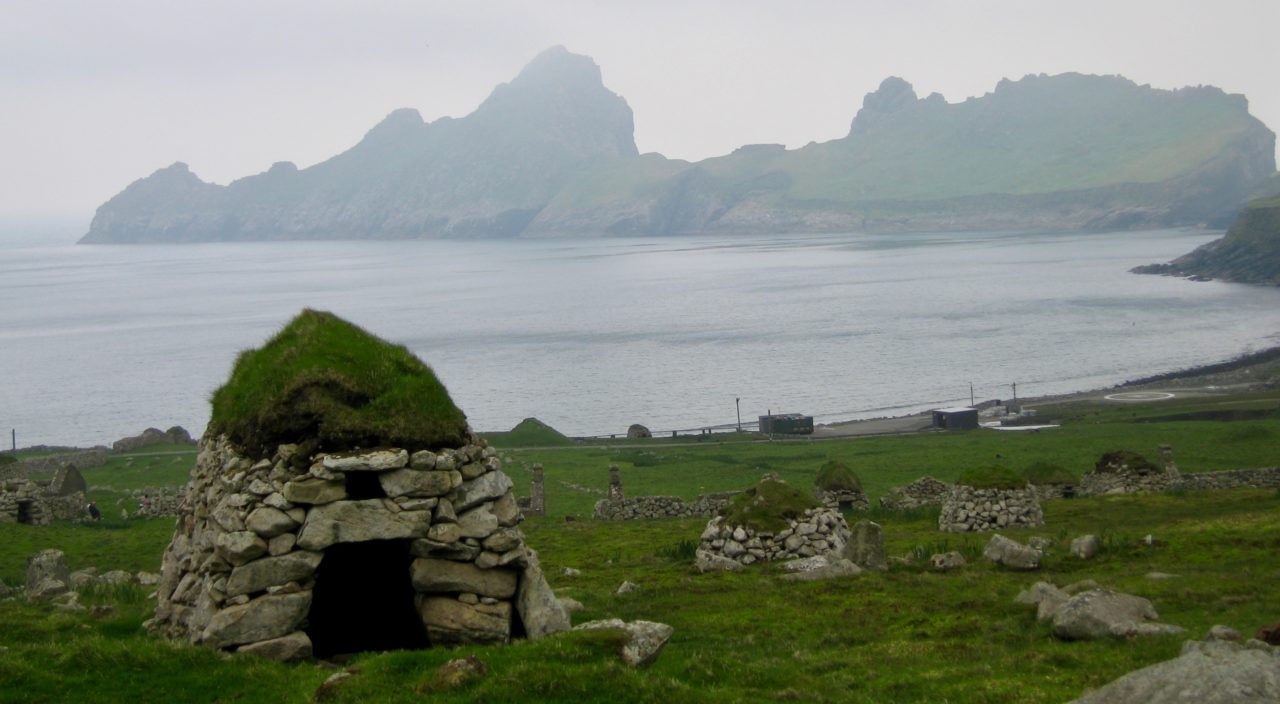 The three-hour boat journey started gently enough, but I began to feel queasy as the vessel picked up speed and the ride became bumpy. Once we reached Hirta we were free to explore as we wished, though we were told to always keep the village in sight, otherwise we could get lost and perhaps even topple off a cliff.
The row of  ruined houses set against the rugged landscape grabbed the eye, and the fact that it was a hazy day with grey skies contributed to the melancholy atmosphere.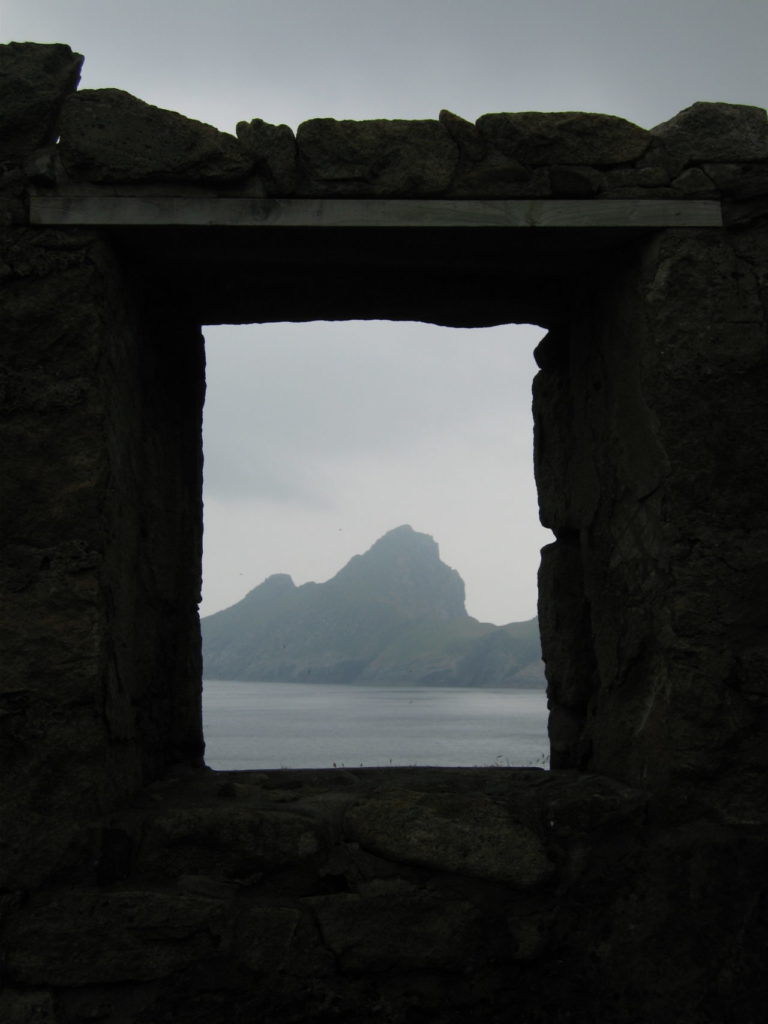 In the fireplaces of some of the houses were slates with the names of the former inhabitants written on them – Rachel MacDonald in number 16, Old Blind Callum in number eight – adding to a sense of sadness and loss that seemed to hang over the island. The graveyard was another poignant reminder of the individuals who once lived in this beautiful but harsh place. A small museum in a restored house gave more information about the lives and final days of the islanders.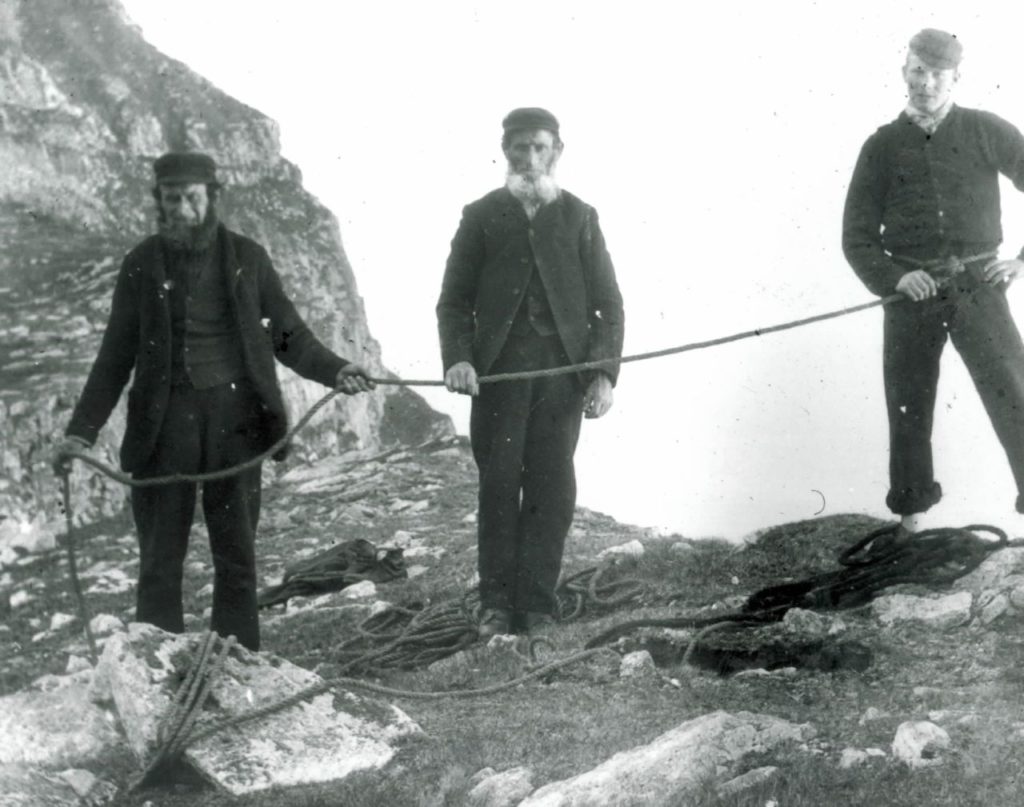 The last surviving native resident, Rachel Johnson, died aged 93 in Clydebank in 2016. She was eight when she, her family and the other remaining islanders left in 1930. Before the evacuation she was lowered by rope from clifftops to gather eggs.
St Kilda belongs to the National Trust for Scotland and is the UK's only dual UNESCO World Heritage Site – listed for both its natural and cultural importance. These days it's occupied by the staff of a small military base and, in the summer, trust employees and work parties.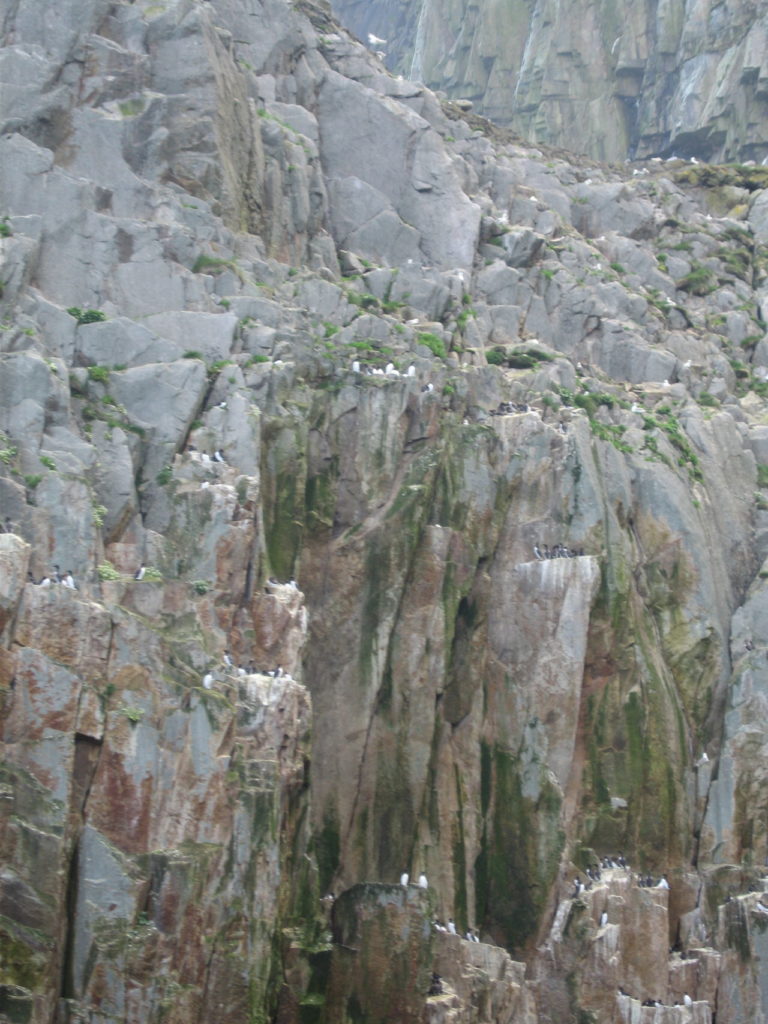 There are around a million seabirds on the islands, including huge puffin, gannet and fulmar colonies, as well as a unique wren. There is a  species of large fieldmouse found nowhere else, and Soay sheep – a breed that dates from the Iron Age – roam freely on Hirta.
When we returned to the boat beneath lightening skies we were taken to view the birds as they soared noisily around the other islands – Boreray, Dun and Soay – and nearby sea stacs and roosted on rocky perches. Gazing up at the towering cliffs, it was remarkable to think of the islanders routinely clambering on them to gather eggs and birds. A spectacular end to a memorable day.
Verdict:  Fabulous never-to-be-forgotten trip combining nature and social history.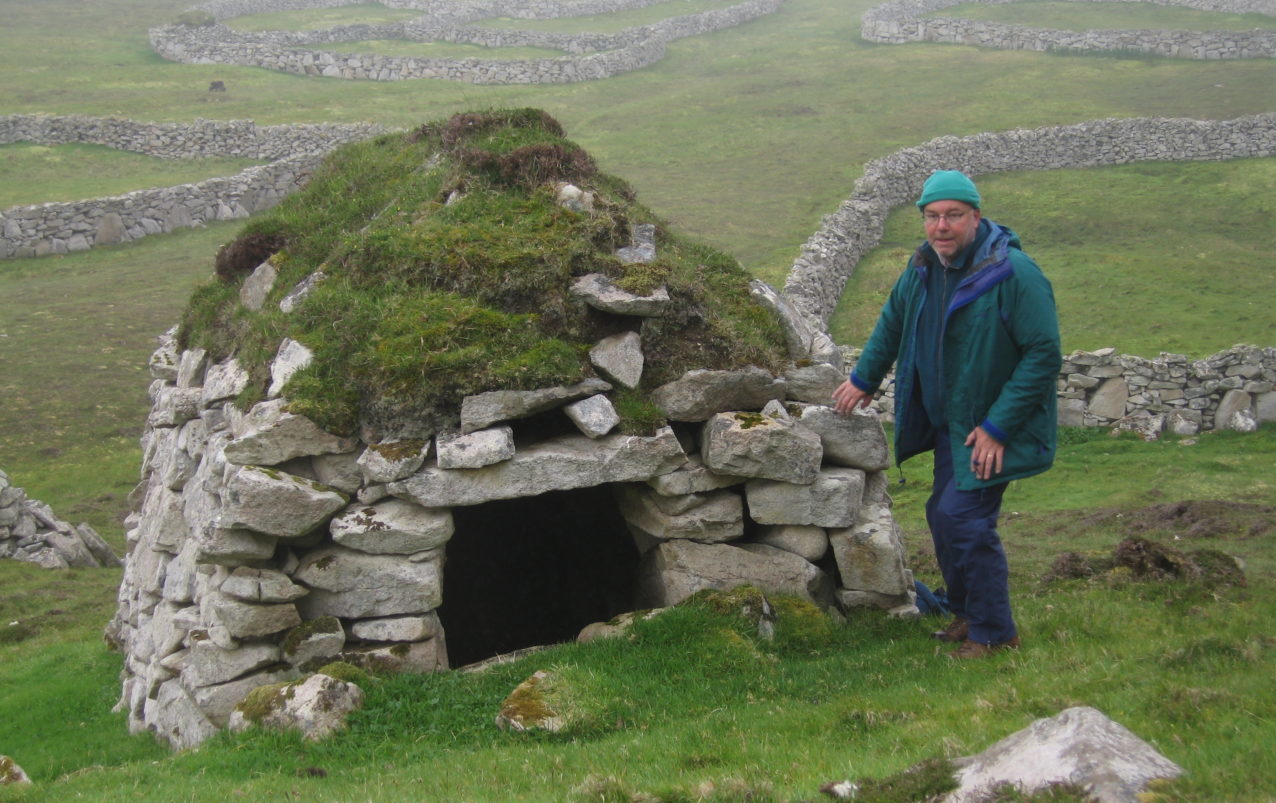 Top tips: Take a packed lunch – there are no food outlets on Hirta, though there is a drinking water tap. The Puff Inn, a canteen for military and Trust staff, is not open to the public. Mobile phones don't work on St Kilda, and there's no internet access. There are public toilets and a souvenir shop. Wear warm clothes and walking boots or similar, and take waterproofs – remember, this is Scotland.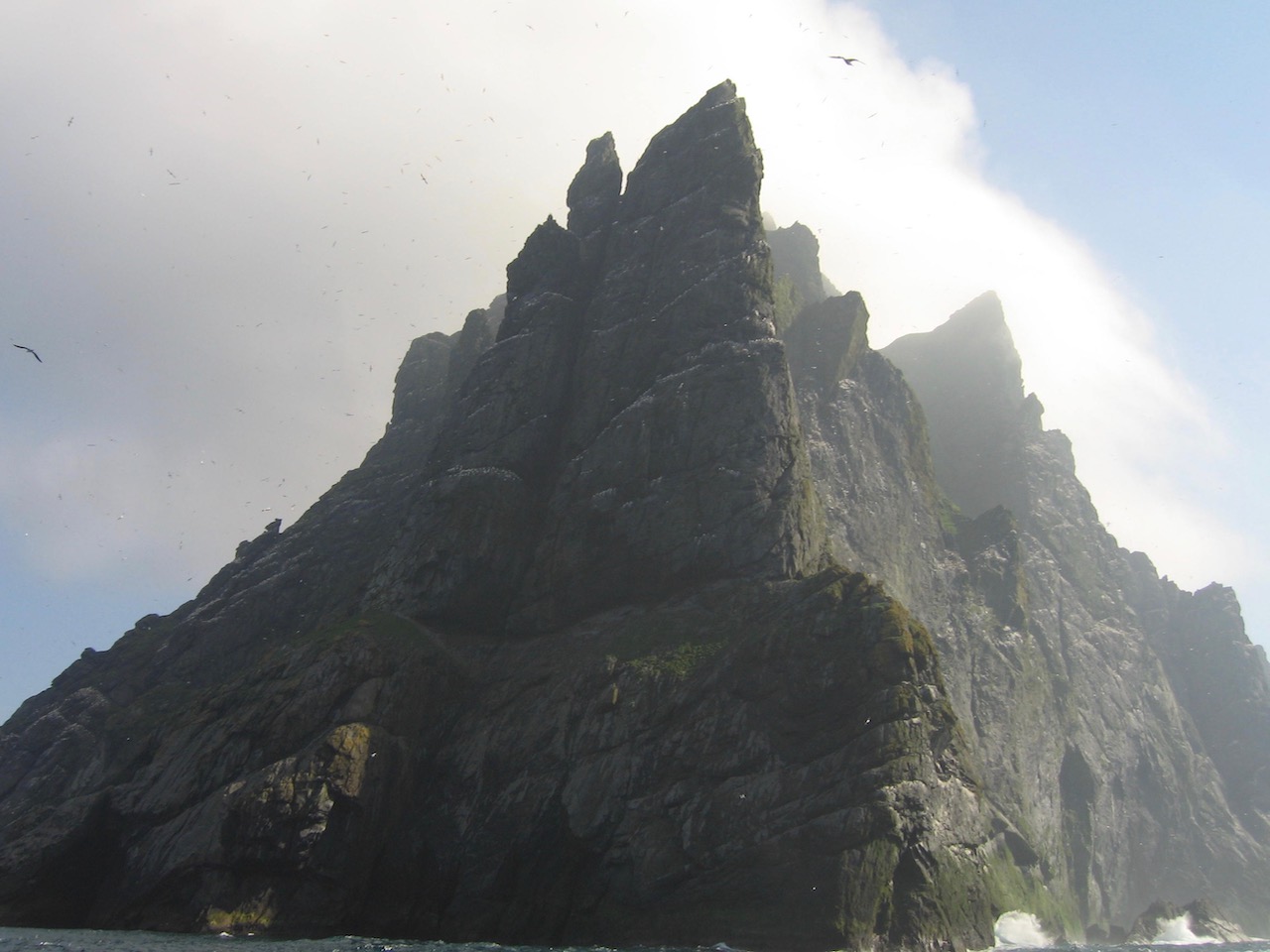 For a Directory of All Our Posts, Arranged by Country and Category, Click HERE
Recommended.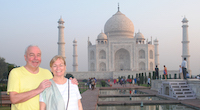 LET'S KEEP IN TOUCH!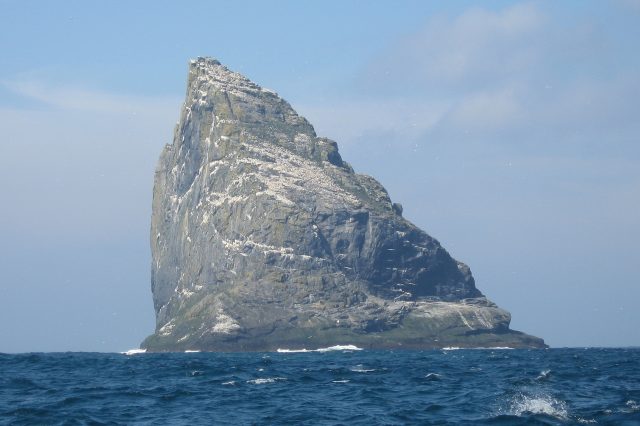 If they needed additional supplies or other assistance they would put letters in "mailboats", waterproof containers attached to a float such as an inflated sheep bladder, which they tossed into the sea. The hope was that they would wash ashore on other islands or the mainland and be found by people who would help.
The St Kildans' predicament was made worse by a Free Church of Scotland minister who banned music and dancing, and insisted that they attended prayer meetings instead of going fishing.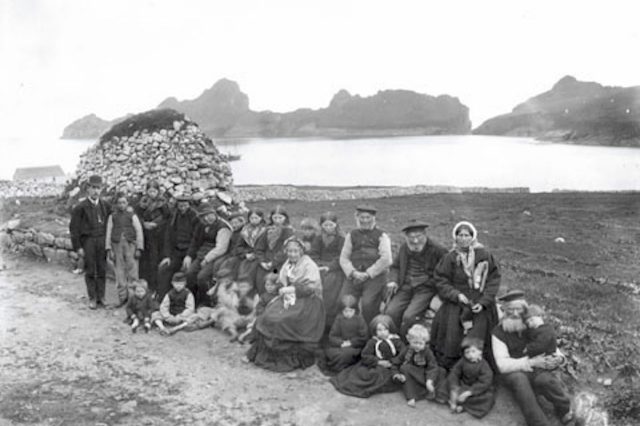 In the fireplaces of some of the houses were slates with the names of the former inhabitants written on them – Rachel MacDonald in number 16, Old Blind Callum in number eight – adding to a sense of sadness and loss that seemed to hang over the island.
The graveyard was another poignant reminder of the individuals who once lived in this beautiful but harsh place. A small museum in a restored house gave more information about the lives and final days of the islanders.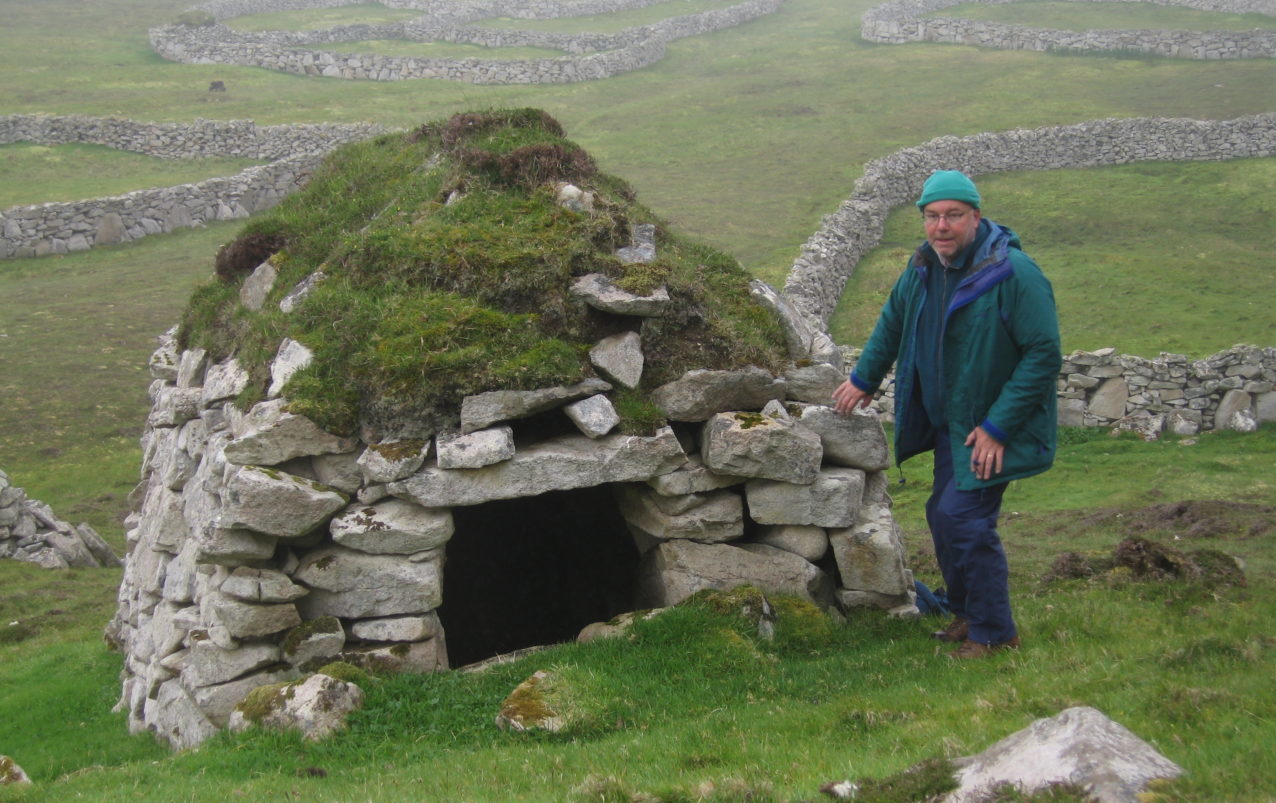 We've noticed that you're using an out of date browser. We recommend that you update to the latest version to enhance your browsing experience.
Availability Search for Go To St Kilda
Terms & conditions.
This booking system and any information appearing on this page relating to the availability of any accommodation is provided by third parties and not by VisitScotland. It is intended to provide real time availability information relating to accommodation which is also provided by third parties. You may use this booking system to place direct bookings with third party accommodation providers. Any booking you make will not be placed with VisitScotland and we will have no liability to you in respect of any booking. If you proceed to make a booking you will leave our Website and visit a website owned and operated by a third party. VisitScotland does not have any control over the content or availability of any external website. This booking system and any information appearing on this page is provided for your information and convenience only and is not intended to be an endorsement by VisitScotland of the content of such linked websites, the quality of any accommodation listed, or of the services of any third party.
Go To St Kilda
Day trips by boat from Skye to St Kilda - the last outpost of north-west Europe lying 85 miles west of Skye. St Kilda is a dual UNESCO world heritage site and national nature reserve.
Day trips by boat from Skye to St Kilda - the last outpost of north-west Europe lying 85 miles west of Skye. St Kilda is a dual UNESCO world heritage site and national nature reserve. It's home to the world's largest colony of Gannets & Fulmars. Also the biggest colony of puffins in Britain with highest sea cliffs and sea stacks in Britain. Visit St Kilda to experience dramatic scenery, spectacular seabirds and unique isolation to ponder their poignant history. Trips depart from Stein during April-September, please visit our website for sailing and availability.
Accessibility
Accessible Parking Or Drop-off Point
Environment
Cookies are required to view this content. Change your preferences at Manage Cookie Settings
The content of many of our web listings is provided by third party operators and not VisitScotland. VisitScotland accepts no responsibility for (1) any error or misrepresentation contained in third party listings, and (2) the contents of any external links within web listings ((1) and (2) together hereinafter referred to as the "Content"). VisitScotland excludes all liability for loss or damage caused by any reliance placed on the Content. The Content is provided for your information only and is not endorsed by VisitScotland.
What's Nearby
Accommodation, attractions, food & drink, terms and conditions.