Your browser is a-n-c-i-e-n-t! Upgrade to a different browser or install Google Chrome Frame to experience this site.

There are currently no items in your cart.
Distillery Tour & Tasting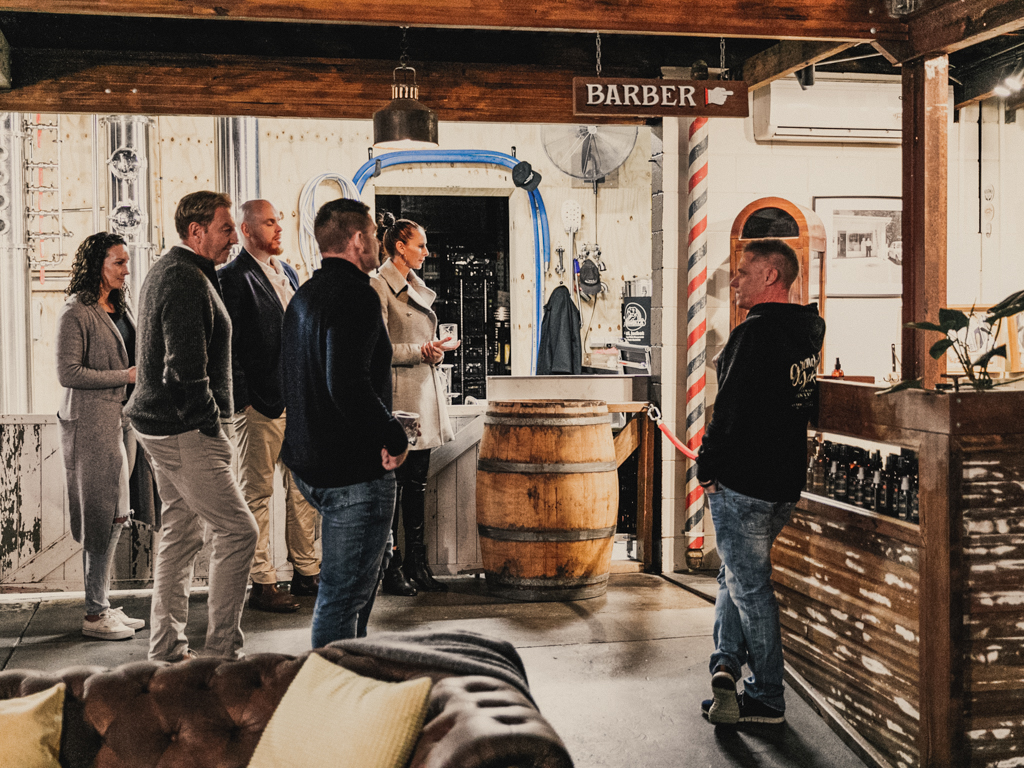 Duration: 1 Hours
Location : Burleigh Heads, QLD
Product code: TOUR&TASTING
Sip, sample and hear the story behind the Gold Coast's first gin, whiskey & vodka craft distillery.
This guided distillery tour will introduce you to the gin-making process and the Gold Coast's thriving craft spirit culture.
Enjoy a gin and tonic on arrival and tastings of our award-winning spirits and liqueurs as you are guided through the distillery and introduced to the history of Granddad Jack, the processes involved in making our beloved spirits and given a behind the scenes tour of our family-owned distillery.
A little bit about Granddad Jack's Craft Distillery... Built with up-cycled materials, this old surfboard warehouse has been converted to expose a raw and rustic, one-of-a-kind distillery. David & Luke Ridden are recreating age-old family recipes in memory of David's grandfather and Luke's great-grandfather, Granddad Jack. Each of our award-winning spirits is handcrafted, made from locally or nationally sourced raw materials and still hand waxed! Production is on full show to visitors from the Tasting Room and when inside you can smell the aromas of the botanicals and whiskey as it seeps through the oak barrels surrounding you.
We're a family-friendly neighbourhood distillery in the backstreets of Burleigh and have helped to build the epic craft culture the Gold Coast is renowned for. Just a short 2minute walk to the beach and surrounded by breweries, cafes and restaurants ( and great people ) you can quickly see why we've been landmarked as a 'must-see' destination on the Gold Coast. Come and see for yourself.
Please note, if you wish to stay after the tour ( recommended ) you will need to book a table also.
Things you should know before booking:
This is a private experience, we're not open to the public or spectators.
Please arrive 10 minutes before the start of the distillery tour, to make sure we can start on time and you don't miss out on anything.
All participants must be 18years or older. We advocate a responsible drinking policy and believe in enjoying alcohol responsibly.
You must organise your own transport. Due to the nature of the event, all participants are responsible for organising their own transportation to and from the experience as alcohol will be consumed during the experience.
Need to ask a few questions? Feel free to contact our legendary bookings team at [email protected] or phone 07 5612 5783.
PRIVATE BOOKINGS: Subject to availability, we can now consider bookings for private tours outside of our regular tasting room hours. Private Distillery Tours & Tasting - $45 per person Private Tasting and Talk - $35 per person
Please email [email protected] to organise.
Start Booking Now
Please enable cookies in your browser to place a booking how do I enable cookies?
Enter Number of Participants *
Choose a date *, choose a time *.
Come and Say G'day
G'day, the short film
Discover your Australia
Travel videos
Deals and offers
Australian Capital Territory
New South Wales
Northern Territory
South Australia
Western Australia
External Territories
The Whitsundays
Mornington Peninsula
Port Douglas
Ningaloo Reef
Airlie Beach
Kangaroo Island
Rottnest Island
Hamilton Island
Lord Howe Island
Tiwi Islands
Phillip Island
Bruny Island
Margaret River
Barossa Valley
The Grampians
Hunter Valley
McLaren Vale
Glass House Mountains
Alice Springs
Uluru and Kata Tjuta
The Kimberley
Flinders Ranges
Kakadu National Park
Eyre Peninsula
Karijini National Park
Great Barrier Reef
Blue Mountains
Daintree Rainforest
Great Ocean Road
Purnululu National Park
Cradle Mountain-Lake St Clair National Park
Litchfield National Park
Aboriginal experiences
Arts and culture
Festivals and events
Food and drink
Adventure and sports
Walks and hikes
Road trips and drives
Beaches and islands
Nature and national parks
Eco-friendly travel
Health and wellness
Family travel
Family destinations
Family road trips
Backpacking
Work and holiday
Beginner's guide
Accessible travel
Planning tips
Trip planner
Australian budget guide
Itinerary planner
Find a travel agent
Find accommodation
Find transport
Visitor information centres
Deals and travel packages
Visa and entry requirements FAQ
COVID-19 travel and entry advice
Customs and biosecurity
Working Holiday Maker visas
Facts about Australia
Experiences that will make you feel like an Aussie
People and culture
Health and safety FAQ
Cities, states & territories
Iconic places and attractions
When is the best time to visit Australia?
Seasonal travel
Events and festivals
School holidays
Public holidays
How to get to Australia's most iconic cities
How long do I need for my trip to Australia?
How to travel around Australia
Guide to driving in Australia
How to hire a car or campervan
How to plan a family road trip
How to plan an outback road trip
Lost Palms Brewing Company, Gold Coast, Queensland © Lost Palms Brewing Company
7 of the Gold Coast's best breweries and distilleries
Drink in a frothy beach brew or hand-crafted cocktail at these local breweries and distilleries.
By Sophia Watson
With innovative new brewing methods and an inclusive culture of dedicated brew-masters who love to experiment, you'll be glad you stopped in at one – or pub-crawled to all – of the region's breweries. In the mood for something stronger? Enjoy a gorgeous cocktail made with artisan spirits in the chic surrounds of one of the area's boutique distilleries. Discover a few of our favourites here.
BLACK HOPS BREWING
Black Hops Brewing taphouse, Burleigh Heads, Gold Coast, QLD © Black Hops Brewing
Where: Gardenia Grove, Burleigh Heads
If you're into places that are more about keeping it real than being 'trendy', this is the brewery for you. Black Hops Brewing is the story of three Gold Coast mates (Dan, Eddie and Michael) making craft beer and sharing everything they learn along the way. In the setting of a very cool yet unassuming beach shack bar, you'll be drinking from one of eight taps among stacks of kegs, fermenters and malt sacks. But that's what's so great about Black Hops: they're understated all round. Even their beers don't scream at you. Instead, smooth ales like the Beach House are made for long, chilled out sunny afternoons on the coast.
BURLEIGH BREWING COMPANY
Burleigh Brewing Company Taphouse, Burleigh Heads, Gold Coast, Queensland © Burleigh Brewing Company
Where: Ern Harley Drive, Burleigh Heads
Established in 2006 by Peta and Brennan Fielding, Burleigh Brewing Company is said to be the one that began the Gold Coast's love affair with craft beer 15 years ago. Unsurprisingly, they've won a slew of national and international awards, including World Beer Award Gold Medals, not to mention they beat out the Germans themselves for Best German Beer at the 2012 World Beer Cup – an impressive feat. Head into their brewery and taphouse for some live music, delicious food truck eats and good times.
Granddad Jacks
Granddad Jacks Craft Distillery, Miami, Queensland © Tourism Australia
Where: 45 Lemana Ln, Miami
The first distillery on the Gold Coast to be based by the beach, Granddad Jacks is home to a tasting room, distillery and shop. Sample the gin, whisky and spirits at the bar, or take a tour of the distillery. Be sure to book into a Make Your Own Gin experience , hosted once a week, where you'll choose your own botanicals and learn to distil using copper stills. Of course, you'll take your bottle home with you as a brag-worthy souvenir.
LOST PALMS BREWING COMPANY
Lost Palms Brewing Company beer garden, Miami, Gold Coast, Queensland © Lost Palms Brewing Company
Where: Oak Avenue, Miami
Breweries have a reputation of feeling a bit masculine. So if you're after a good beer with a side of playful femininity, head to Lost Palms Brewing Company . This pastel pink and mint taphouse makes the Gold Coast seem a little more gold. Located among the industrial factory yard trendiness of Miami, you'll enjoy a cute clubhouse feel, fairy lights and all, against the backdrop of gleaming silver beer stacks and a colourful concrete playground with a basketball hoop should the mood strike you. Enjoy the sunshine and modern takes on beer philosophy with must-try brews like the Beetroot Sour.
BALTER BREWING
Balter Brewing, Currumbin, Gold Coast, Queensland © Balter Brewing
Where: Traders Way, Currumbin Waters
Set up by five of the Gold Coast's most iconic pro surfers, including three-time world champ, Mick Fanning, and his best mate, world champ Joel Parkinson, Balter Brewing is about the "enjoyment of a task without any particular skill for it". This is a brewery where taste is the number one priority. Balter themselves note, "A neat can and cool place to hang out are great, but if our brews don't tickle your tongue and put a grin on your head, then we haven't done our job."
Located in the cruisy beach town of Currumbin, there are few places on the Gold Coast you'll want to spend a Sunday afternoon more than Balter. Be sure to sneak in one of their award-winning pale-ales while grooving along with the taphouse DJ as you play a round of 'World Tinnie Hurling' – a game they invented just for the occasion of sunny Gold Coast afternoons.
The Gold Coast's best rooftop bars
FORTITUDE BREWING CO.
Fortitude Brewing Co., Gold Coast, Queensland © Fortitude Brewing Co.
Where: Long Road, Mount Tamborine
If you're looking for a very chill atmosphere where the lush natural Gold Coast landscape creeps in, then Fortitude Brewing Co is your kind of place. The good folks at FBC have built a brewery to suit Australia's rugged exteriors and soft-hearted interiors. their range of brews are full bodied, bold, yet also balanced. They're not so crafty that the flavours will alarm you and not so mainstream that you'll find them just anywhere. In fact, they refer to themselves as the 'Goldilocks of beer' – because they're just right.
For a lazy afternoon session or a night reminiscing about the good old days with mates, FBC has a beer suited to your taste buds and mood.
Wildflower, Gold Coast, Queensland © Destination Gold Coast
Where:  2/486 Scottsdale Dr, Varsity Lakes
You may describe Wildflower distillery as "Burleigh in a bottle." Based in the Gold Coast suburb of Burleigh, Wildflower boasts some of the area's best gin and vodka. The distillery's signature gin is infused with honey from the distiller's backyard, meaning you'll taste hints of the local flora. Stop into the bar for a taste.
More articles like this
We use cookies on this site to enhance your user experience. Find out more . By clicking any link on this page you are giving your consent for us to set cookies.
Acknowledgement of Country
We acknowledge the Traditional Aboriginal and Torres Strait Islander Owners of the land, sea and waters of the Australian continent, and recognise their custodianship of culture and Country for over 60,000 years.
New Zealand (English)
United States (English)
Canada (English)
United Kingdom (English)
India (English)
Malaysia (English)
Singapore (English)
Indonesia (Bahasa Indonesia)
Deutschland (Deutsch)
France (Français)
Italia (Italiano)
中国大陆 (简体中文)
*Product Disclaimer: Tourism Australia is not the owner, operator, advertiser or promoter of the listed products and services. Information on listed products and services, including Covid-safe accreditations, are provided by the third-party operator on their website or as published on Australian Tourism Data Warehouse where applicable. Rates are indicative based on the minimum and maximum available prices of products and services. Please visit the operator's website for further information. All prices quoted are in Australian dollars (AUD). Tourism Australia makes no representations whatsoever about any other websites which you may access through its websites such as australia.com. Some websites which are linked to the Tourism Australia website are independent from Tourism Australia and are not under the control of Tourism Australia. Tourism Australia does not endorse or accept any responsibility for the use of websites which are owned or operated by third parties and makes no representation or warranty in relation to the standard, class or fitness for purpose of any services, nor does it endorse or in any respect warrant any products or services by virtue of any information, material or content linked from or to this site.
Winery Experience
Brewery experience, distillery experience, personalised experience, hen's party tours, corporate tours, mt tamborine, tweed coast.
Destination Experience
Bus hire and charter, chauffeur driven luxury vehicles, formal and event hire, vehicle hire.
Distillery Tours
Our distillery tours, husk distillery shuttle bus from the gold coast.
Scheduled Service
Starting in Main Beach
Heading South
One Way or return Services
Private Transfers available
Private VIP Tours Also available
Gin Blending Class
Winery Tour and Cocktail Masterclass Includes
45 Minute Gin Blending Class – Plenty of time to stay for a drink afterwards
Complimentary G&T on arrival
Food Available on site
Learn how to blend gin in a working distillery – tasting as you go
All ingredients and botanicals
Take home your own unique 200ml bottle of Gin
Free Club Membership with $10 on us to spend at the bar or bottle shop
Scenic lookout along the way
Luxury New Vehicles
Door to Door Service
Tamborine Mountain Cocktail Social
Cocktail Social Includes
Welcome drink
Cocktail Afternoon
Winery Tour and Refreshment Affair
Winery Tour and Refreshment Affair Includes
Guided wine tastings at a boutique family owned wineries
A Tail of Two Distillery Tours
Standard tour includes guided tastings at two distilleries – lunch at own cost
Premium includes a guided tour and tasting at a distillery and tasting at a second distillery and lunch
Informative and detailed description of the making process
Lively narrative on local sights, history and hidden gems
Rum, Gin and Liquor Distillery and Brewery Tour
Guided tastings at each venue
A gourmet pizza lunch
A guided tour of a working distillery
Cheese factory visit
Scenic lookouts along the way
Eco-friendly
Door to door service*
Newest luxury vehicles
Private Byron Bay Distillery Tour
Guided tastings at 3 destinations
Water and nibbles on the minibus
Scenic views
Time to stop at the beaches and Cape Byron Lighthouse
Photos of your day
Grandad Jacks Distillery Tour
A guided tour of the distillery – tour & tasting fees included
Informative and detailed description of the gin, rum and whiskey making process
Photo stops to see the sights and scenery
Private, experienced driver guide
Cape Byron Distillery Tour
Guided tastings at Cape Byron Distillery – tasting fees included
Informative and detailed description of the gin making process
Rainforest tour
Photo stops at beautiful scenic outlook
Husk Distillery Tour
We Offer groups 3 Tour Options Standard – Transfer to and from Husk with a knowledgeable Guide Tasting Package – Visit Husk Distillery with Gin and Rum Tasting Premium with Tour of Facility -Tasting paddle and lunch
Private Hire – Own Bus and Experienced driver guide
Premium Private Tamborine Mountain Distillery Tour
Guided tastings at 2 Venues
A guided tour of a distillery
Lunch at Fortitude Brewery with Beer Tasting Paddle
Scenic lookout
Luxury Vehicles
Private Hire
Beer, Wine, Spirits Tour
Guided beer tasting at an award winning craft brewery
Guided wine tasting at a boutique family owned winery
Guided spirit tasting as an award winning distillery
Gourmet pizza lunch
distillerytourspineappletours
Gold Coast Distillery Tours
On our tours to boutique distilleries around South East Queensland and Northern New South Wales, you'll combine the flavours of delicious Whisky, Gin and Vodka with a guided adventure including local stories and stunning sights. Our Gold Coast distillery tours are truly one of a kind.
You'll pleasure your senses by tasting a hand-picked selection of spirits produced by seasoned distillers and award-winning Distilleries along the way. Departing from the Gold Coast, Brisbane, or Byron Bay our tours allow you to support local communities & small family-owned businesses, learn from an experienced guide as you travel in a luxury air-conditioned mini-bus and experience a fun relaxing day with friends old and new.
If you're unsure which Gold Coast distillery tours best suits you needs – simply get in touch and we'll be happy to have a chat and help you decide how to get the most out of your day.
Our Distillery Tours Experiences
Self Guided Experiences
Bus Charter
Useful Info
Queensland Weather Info
Work With Us
Accessibility
Terms and Conditions
Refund and Exchange Policy
Allergies and Dietary requirements
Privacy Policy
Copyright © 2023 Pineapple Tours. All rights reserved. Designed by:
Kaptol Media
5 Distilleries to Discover Along the Oregon Coast
by Rusty Rae | Jun 19, 2019
If you're looking for diversity in your spirits, look no further than the Oregon Coast. From Astoria all the way to Charleston, near the state's southern border, five distilleries (and seven tasting rooms) punctuate highway 101, with each distiller bringing a different passion to a variety of delectable liquors. Add these stops to your next trip along the coast.
Pilot House Distilling
Opened in 2013, Pilot House Distilling — headquartered in Astoria and featuring a tasting room in Seaside — is known for its A-O (for Astoria, Oregon) Bourbon and A-O Whiskey, which is aged over four years in Oregon oak barrels. The popular spirit is currently sold out next batch is ready.
In addition to its whiskey, Pilot House also offers a traditional London dry-style gin and its Painted Lady Gin, as well as four flavors of vodka: Bar Pilot Traditional Vodka, Bar Pilot Lemon Ginger Vodka, Bar Pilot Cucumber Vodka, and  Pilot Jalapeño Lime Vodka.
It's 5 Artisan Distillery
Just down the road from Pilot House in Seaside, the It's 5 Artisan Distillery tasting room sells whisky produced by owner Colin Levi in his facility in Cashmere, Washington. He too takes pride in sourcing ingredients locally. A visit to the tasting room in Seaside gives aficionados the opportunity to taste a wide variety of spirits from whiskey and bourbon, to liquors and favorites like gin and vodka.
Cannon Beach Distillery
Not far from Seaside is Cannon Beach Distillery , where the passion for the distillation process and a quality product shines through. Here, owner Mike Selberg brings his ardor to life in a number of spirits, available for tasting or by the bottle.
Selberg uses a custom designed and built copper Vendome still to produce his spirits and takes pride that all his distillations are 100-percent produced from scratch using Oregon products wherever possible. "Obviously, agave is not found in Oregon," he quipped when speaking of the two agave labels he produces. He also offers three rums and a pair of gins, as well 17 whiskey releases since opening his operation in July of 2012.
"Those whiskies have all sold out by the bottle, though some are available for sipping at our tasting room," he said. "We hope to have our next distillation available in July, but it likely will sell out in two or three days."
With a degree in natural science from the University of Puget Sound, Selberg said after fooling around with home brewing and helping a friend with bathtub gin, he began looking into distillation.
"Honestly, it was more attractive to me than making wine, and I really fell in love with the process," he said.
Selberg has found his artistic outlet in the production of his spirits, which is evidenced in the labels available at the distillery. For example, the Il Keyote Spirits from Agave (made from organic Blue Weber Agave), which also takes a Selberg turn for the best from the traditional tequila-making process.
Distilled and matured more like brandy, according to Selberg, Il Keyote is aged in toasted American oak barrels for a quintessential flavor needing no lime or salt. "The sky is really the limit when it comes to developing the artistry of flavors and tastes in spirits," he said.
Rogue Distillery
For a decade or so the Rogue Distillery has been hand-crafting a variety of spirits made from ingredients grown on the Rogue farms in the Tygh Valley and in Independence, Oregon. Currently, distiller Brian Pribyl is producing four whiskies and a pair of gins.
A graduate of Oregon State University's Fermentation Science program, Pribyl brings a decade of experience in real-world distilleries to the Rogue whiskies and gins he produces in Newport. After graduating and starting his career as the assistant distiller at Rogue, Pribyl spent time in Tennessee at a craft distillery producing bourbon and brandy and then went to Grand Rapids, Michigan, where he helped start a craft distillery before returning to Newport.
Rogue produces two gins: spruce Gin and Pinot Spruce Gin; as well as four whiskies: Oregon Rye Malt, Oregon Single Malt, Dead Guy, and the newly released Rolling Thunder Stouted Whiskey, which Pribyl  notes is one of the first produced via cross pollination between the ale side of the company, its cooperage and the distillery.
One of the few organizations that makes its own barrels, this gives Rogue an added level of control in the process of making ales and whiskeys. The Rolling Thunder Stouted Whiskey, for example, begins its life as Dead Guy Ale and is distilled from that wash. It is then aged for a year in barrels that are specially toasted and charred. After a year in the barrels, it's  transferred for storage to stainless steel tanks.
The barrels are then taken to the brewery where they are used for aging Rolling Thunder Imperial Stout. After about a year of aging, the stout and the barrels are returned back to the distillery and the Rolling Thunder Whiskey is transferred back into the barrels for three to four years of aging until it reaches a specific flavor profile.
Stillwagon Distillery
South of Newport in Bandon, Stillwagon Distillery produces the most number of rums in Oregon with 18 and counting, not to mention a single-malt bourbon and vodka. Here, owner and chief distiller Richard Stillwagon is focused on producing spirits that are almost 100-percent sustainable.
Stillwagon's road to distilling was a long one that led to the creation of a single-column still originally intended for distilling water. However, when Stillwagon learned that the distillation of spirits took less energy, the idea for Stillwagon Distillery was born. "I really came to distillation and producing spirits kind of by accident," Stillwagon said.
Stillwagon's market research indicated rum was one of the smaller shelves in the liquor store, and while sugar isn't a local product, molasses — which is the original base product of rum — is.
"No one is making what we are," he said, but Stillwagon's true mission may be his passion for producing spirits in a totally sustainable environment.
At Stillwagon Distillery, nothing is wasted in the distillation process. "We want to work with Mother Nature, not against her," Stillwagon said. "Ultimately, we want to produce great products, but we also want to ensure that we leave behind a better world than found."
Sip Magazine Producer Profiles
Seattle Urban Wineries are Ready to POUR for You
Under The Radar: A Case for Carménère
Durant Celebrates Olive Oil Harvest with New Experiences at Annual Olio Nuovo Festival
MARK RYAN WINERY ANNOUNCES NEW WOODINVILLE TASTING ROOM
Upcoming Events
16th annual savor the san juans, halloween costume party at dirty couch brewing, durant's olio nuovo festival, aniche cellars open house & 50% off warehouse sale, pdx urban wineries holiday pop up shop.
what's new
Copperworks Distilling – Kenmore Opens This Thursday, October 19
by Sip Magazine
Kenmore, WA- Opening Thursday, October 19, 2023, to the public, Copperworks Distilling – Kenmore is a new tasting room and cocktail bar from the award-winning Copperworks Distilling Co. The 5,000 square foot space will feature over a dozen classic, craft, and...
Batch 206 Distillery Changes Name to Old Log Cabin Distillery with New Ownership Posed to Champion Namesake Bourbon Whiskey
The juggernaut team has impressive chops in the PNW's business and distilling world, placing Old Log Cabin Bourbon Whiskey in strategic hands for future growth. SEATTLE – Batch 206 Distillery quietly changed hands to new ownership in late 2022. New owner and...
Celebrating Oregon's Whiskey Culture
by Becky Garrison
Starting with Lewis and Clark's 1804 expedition where they carried six barrels of whiskey as part of their provisions, whiskey has embodied Oregon's pioneering spirit. "Oregon has the grain and water, along with ideal seasonality for aging whiskey in barrels," says...
get the latest
Sign up for the sip magazine newsletter., by subscribing online, you are opting in to receive our   sip magazine insider  e-newsletter— with the latest coverage in pacific northwest beverage scene, product reviews, libation destinations, events + more..
Get the Newsletter
THE 10 BEST Gold Coast Wine Tours & Tastings
Wine tours & tastings in gold coast.
Sightseeing Tours
Private Tours
Wine Tours & Tastings
Free cancellation
Up to 1 hour
1 to 4 hours
4 hours to 1 day
Likely to Sell Out
The ranking of tours, activities, and experiences available on Tripadvisor is determined by several factors including the revenue generated by Tripadvisor from these bookings, the frequency of user clicks, and the volume and quality of customer reviews. Occasionally, newly listed offerings may be prioritized and appear higher in the list. The specific placement of these new listings may vary.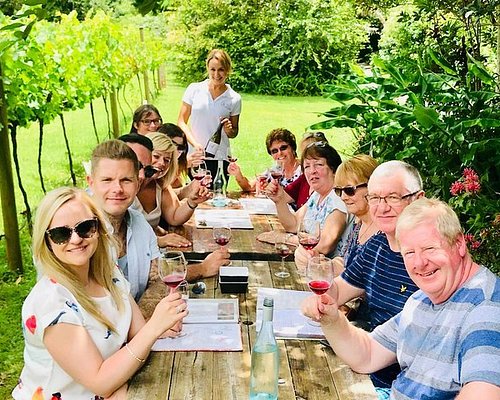 1. Mount Tamborine Wine Tasting Tour from Brisbane or the Gold Coast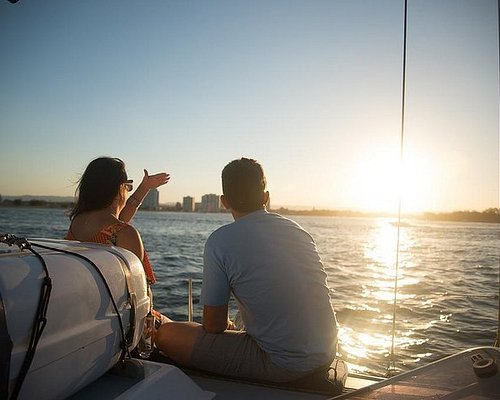 2. Gold Coast Sunset Cruise with sparkling wine & nibbles platter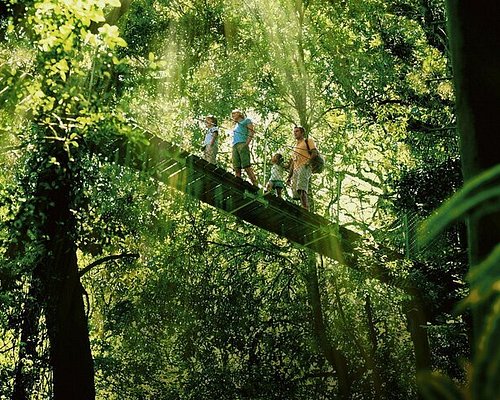 3. Lamington National Park, O'Reilly's & Vineyard Tour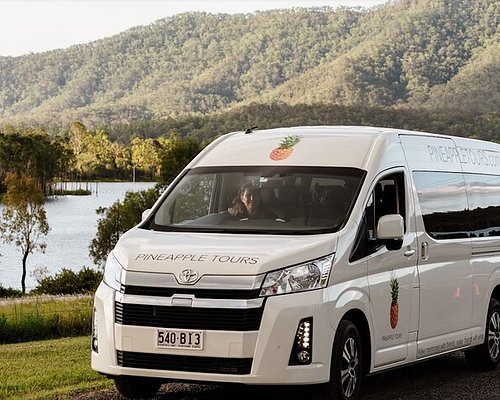 4. Barefoot Luxury Mount Tamborine Winery Tour from Gold Coast
5. Gold Coast Sailing Cruise with sparkling wine & nibbles platter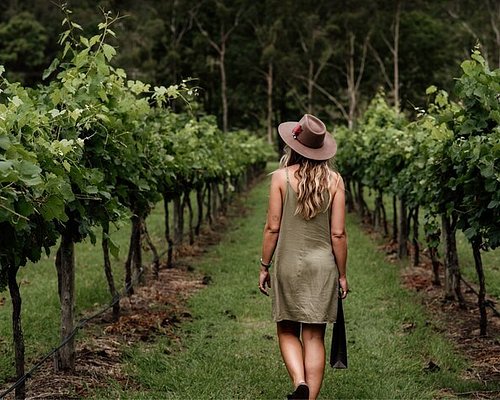 6. Mount Tamborine Winery Tour with Gourmet lunch
7. Gold Coast Hot Air Balloon with 5 Star Champagne Buffet Breakfast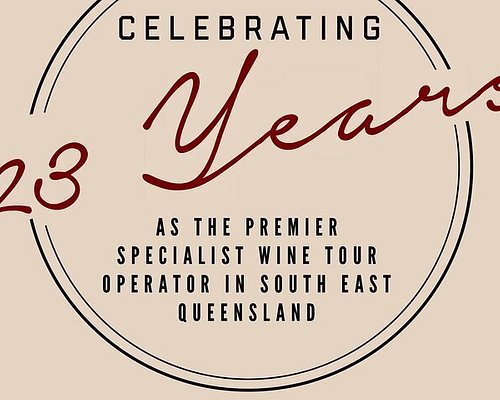 8. Full-Day Guided Wine Tour in Mt Tamborine From Gold Coast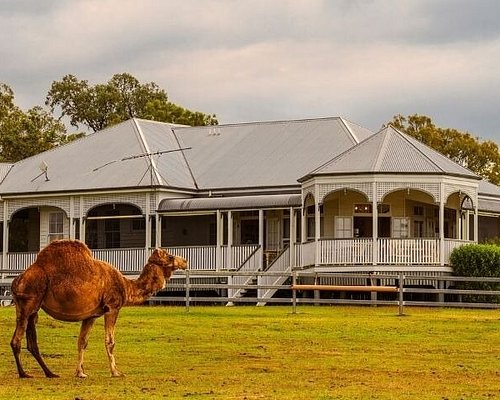 9. Scenic Rim Farm, Food & Wine Experience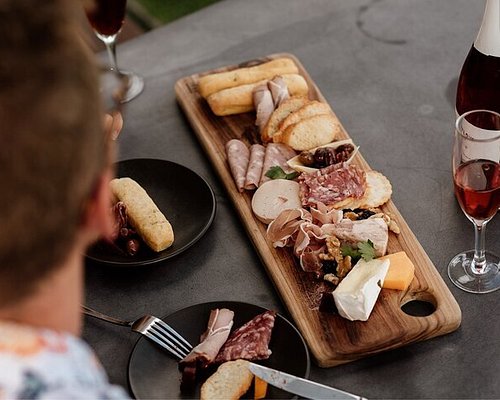 10. The Ultimate Gourmet Tasting Experience - Scenic Rim
Keep the fun going with other experiences in the area.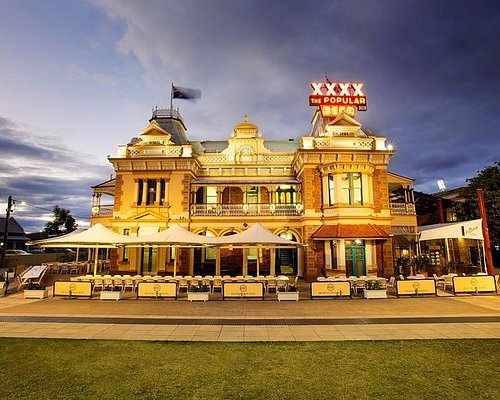 Brisbane Cruise To Lunch Package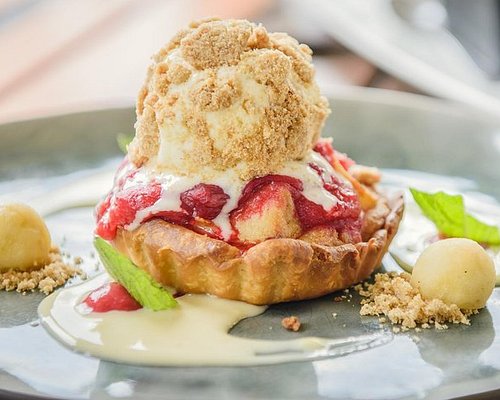 Deluxe Wine Tour to Tamborine Mountain, includes two course lunch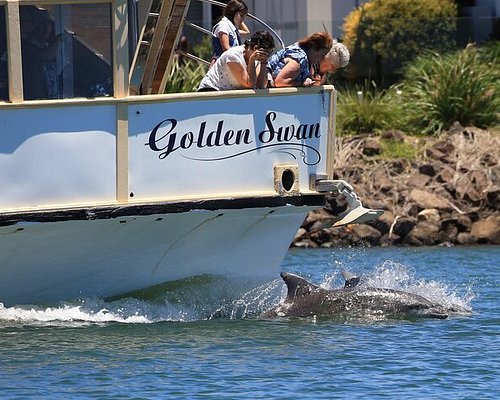 Tweed River and Rainforest lunch Cruise
XXXX Brewery Tour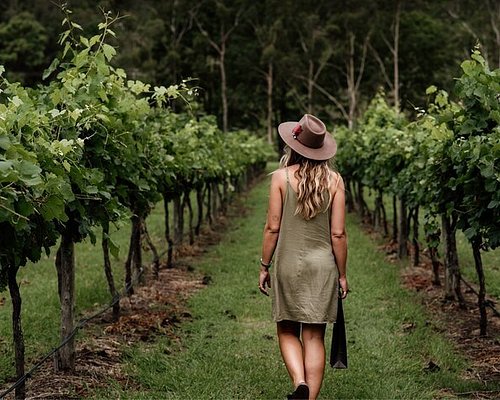 Barefoot Luxury Mount Tamborine Winery Tour from Brisbane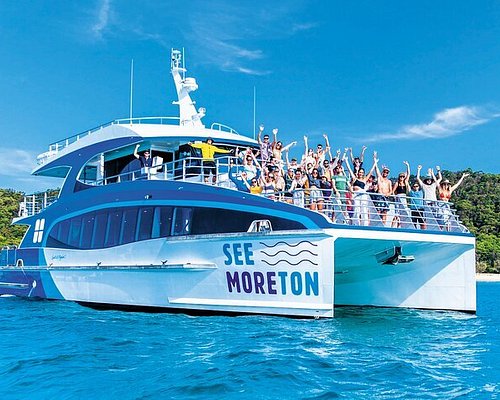 All-Inclusive Dolphin & Tangalooma Wrecks Day Cruise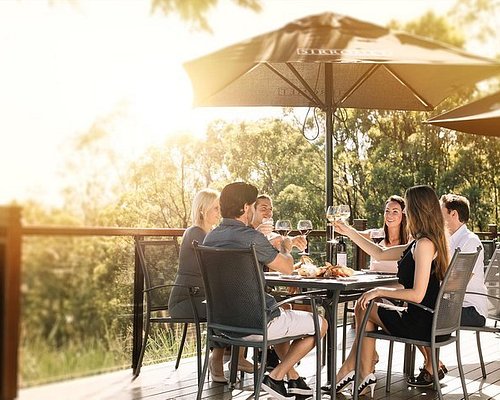 Sirromet Winery Tuscany Tour and Taste-Includes Tour, Tasting and 2 Course Lunch
Brisbane Sirromet Winery Helicopter Experience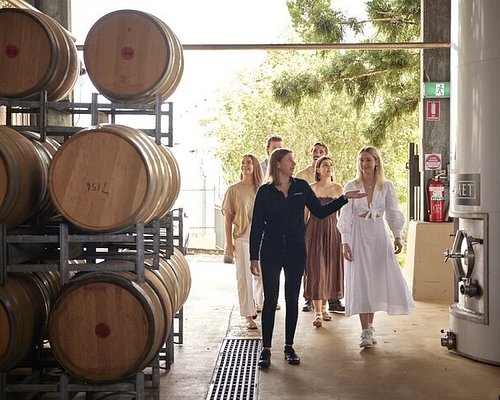 3-Hour Wine Tasting and Lunch Guided Tour at Cellar Door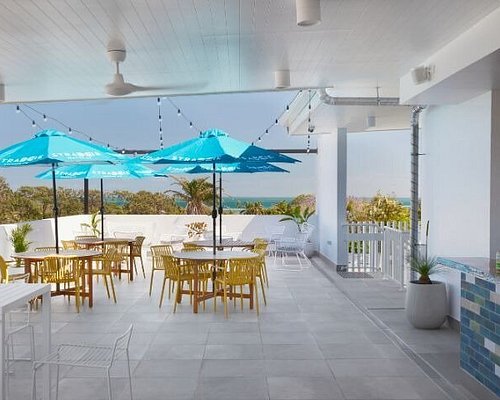 45-Minute Behind-the-Tanks Tour on North Stradbroke Island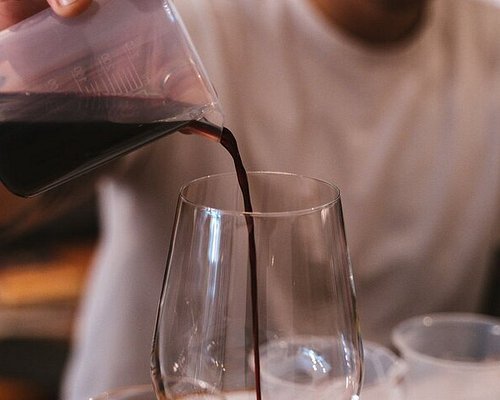 Wine Blending Workshop in Brisbane City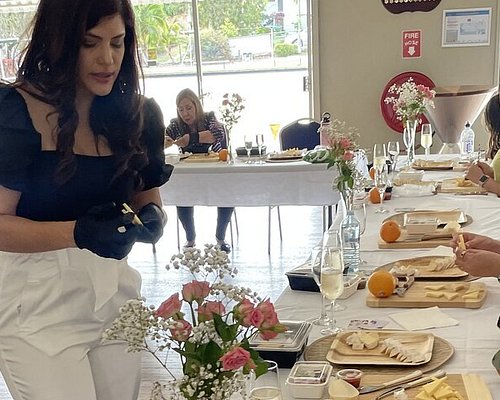 Private Charcuterie Board Workshop Experience in Queensland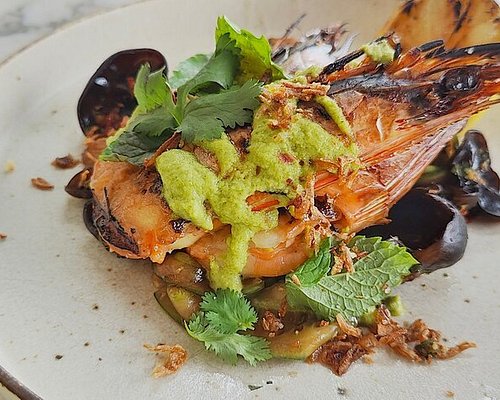 Brisbane Local Icons Tour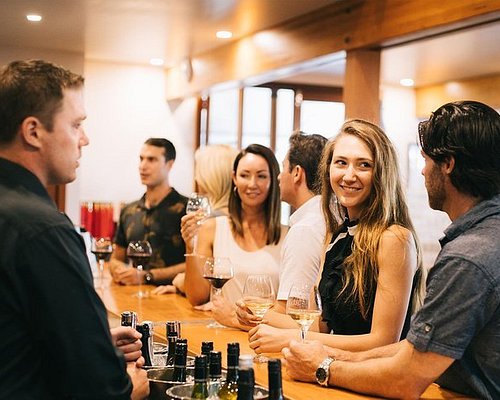 Sirromet Winery Tour and Wine Tasting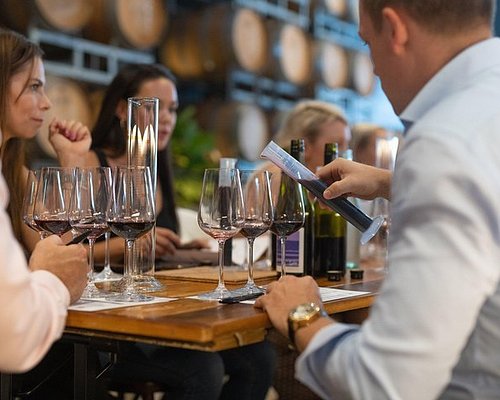 City Winery Brisbane Wine Blending Workshop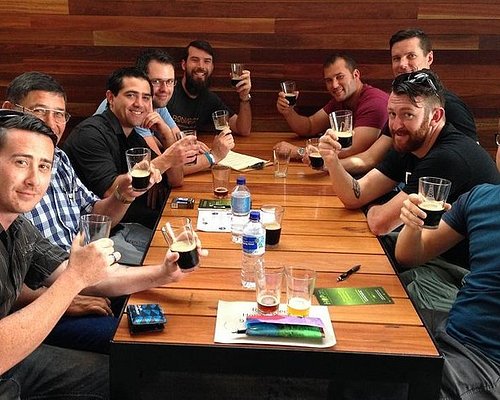 Brisbane Brewery Small-Group Tour with Lunch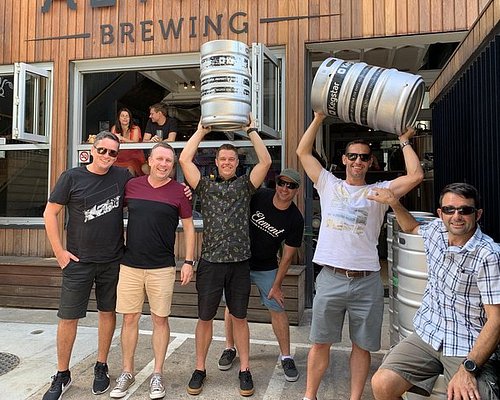 Afternoon Brisbane Half-Day Brewery Tour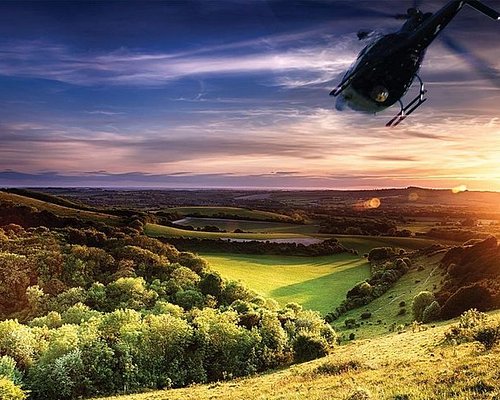 Helicopter Tour - Sirromet Winery & Scenic Flight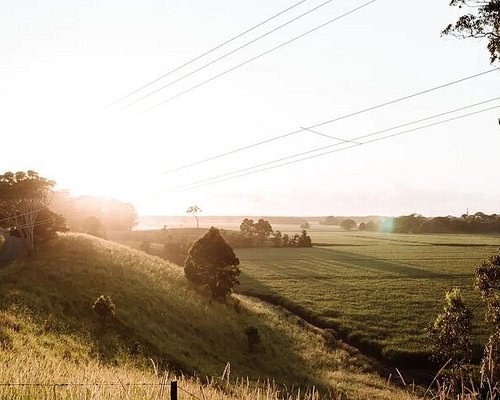 Art&Yoga Retreat
Sirromet Winery Eataly Discovery - Includes Tour, Tasting and 3 Course Lunch
What travellers are saying.

Mount Tamborine Wine Tasting Tour from Brisbane or the Gold Coast
Lamington National Park, O'Reilly's & Vineyard Tour
Gold Coast Sunset Cruise with sparkling wine & nibbles platter
Barefoot Luxury Mount Tamborine Winery Tour from Gold Coast
Gold Coast Hot Air Balloon with 5 Star Champagne Buffet Breakfast
Kiff & Culture Tours
Gold Coast Food and Wine Tours
Tipsy Tours
Flamingo Tours
Pineapple Tours
Ambience on Tour
Mount Tamborine Wine Tasting Tours
Gold Coast: Wine Tours Information
A whisky tour of Scotland: best whisky experiences and distilleries
Where else to enjoy a dram or two than in the 'home' of whisky?
Newsletter sign up Newsletter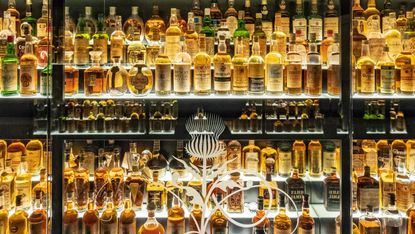 1. Whisky distilleries
2. 'is this the best whisky bar in the world', 3. unique places to stay for whisky lovers, 4. the glenturret: a michelin-starred distillery, 5. edinburgh: 'soaked in the whisky industry', 6. the scotch whisky experience, edinburgh, 7. johnnie walker princes street, edinburgh, 8. kinloch lodge whisky package, isle of skye, 9. rabbie's whisky tours of scotland: islay and the whisky coast, 10. the glasshouse hotel whisky experience, edinburgh, 11. gleneagles launches 'pursuits' whisky range, 12. new distilleries opening in 2023.
There is only one country in the world where whisky fans should go to toast "the water of life". And that, of course, is Scotland – the "home of whisky".
Tried and tasted: 61 wonderful whiskies from around the world Making money from 'liquid gold': investing in whisky
Scotch has become a huge part of Scotland's identity and is also a major driver for tourism. With its five whisky regions – Campbeltown, Highland, Islay, Lowland and Speyside – offering their own distinct style and flavour, as well as its cities, towns and stunning countryside, there's so many places to explore on a Scottish whisky trip.
From distilleries and visitor attractions to dedicated bars and tours, we pick out some of the best experiences and places in Scotland for whisky lovers.
Subscribe to The Week
Escape your echo chamber. Get the facts behind the news, plus analysis from multiple perspectives.
Sign up for The Week's Free Newsletters
From our morning news briefing to a weekly Good News Newsletter, get the best of The Week delivered directly to your inbox.
Did you know that Scotland is home to more than 140 malt and grain distilleries? This makes it the "greatest concentration of whisky production in the world", said the Scotch Whisky Association (SWA). No matter which distillery you choose to visit, "you can expect great Scotch whisky, a warm Scottish welcome, and a fabulous day out".
The abundance of distilleries in Scotland is "heaven for whisky lovers", but it can also be "a challenge when you're on the road and trying to keep track of them all", said Wandering Spirits Global . The distillery tour planning and travel tips website has put together a superb and very handy interactive Scotland whisky distillery map , above. Wandering Spirits Global notes that black pins show distilleries not open to the public; distilleries with green pins are open to the public; orange pins by appointment only; and yellow pins are under construction and not currently open to the public.
wanderingspiritsglobal.com
Bertie's Bar at The Fife Arms in Braemar is a bit of a "misnomer", said Millie Milliken on Master of Malt . "Because there isn't actually a bar." What you will find is 365 whiskies lining the walls of this "seriously plush space" giving off "the vibe of being a library of booze". Opened in 2021, Bertie's Bar is a "dram-lover's dream come true", said Alice Lascelles in the FT . "Is this the best whisky bar in the world?"
Based in "the heart of one of the "biggest whisky producing regions", The Highlander Inn in Craigellachie, Speyside, is "more of an institution than a bar", said Sean Murphy in The Scotsman . Boasting a collection of more than 400 different whiskies "it is a must see."
"Topping the list in terms of its range", The Quaich Bar at the Craigellachie Hotel has a "whopping" 1,000 bottles of whisky to choose from and "specialises in global single malts", said Milliken. "This is one you want to have on your Instagram feed."
The Pot Still in Glasgow offers a menu with more than 800 whiskies and hosts private tastings in the bar. The Pot Still has had "a few name changes along the way", but since the latter half of the 19th century people have been enjoying a whisky here, said VisitScotland . It's another of the most Instagrammable whisky bars to be found in the country.
On Edinburgh's Rose Street, The Black Cat is the spot for "unpretentious whisky drinking", said Milliken. With a "whisky-laden bar", it does a "good job of mixing the classics with new and limited bottlings".
Located in the heart of Speyside, Rothes Glen offers the "ultimate Highlands experience", an exclusive-use castle that sleeps up to 30 guests, said Robert Jackman on Spears . It was designed by the famous whisky architect Charles Chree Doig and "at the top of it all" sits the whisky observatory – an "exceptional private space to sample the best offerings from the nearby distilleries".
History and whisky "go hand in hand", but they're "even closer bedfellows" at Dornoch Castle , said Peter Ranscombe in Decanter . With rooms in the castle itself and in surrounding cottages, this is an "ideal hideaway" for a whisky break.
It's "no surprise" that a boutique hotel named after an "internationally famous distillery" should be a great place to drink whisky, said The Luxury Editor . Found in a "remote nook" of the Highlands overlooking the Moray Firth, the Glenmorangie House provides "beautiful surroundings in which to enjoy a few drams". The entire house "pays homage to the drink", and with just nine bedrooms, "a stay here feels very exclusive".
Established in 1763, The Glenturret in Perthshire is Scotland's oldest working distillery, said Forbes . It is also the "world's first Michelin star whisky distillery". "Intimate" restaurant Lalique "mixes the luxury with the everyday", said the Michelin Guide , both in its "surroundings" as well as in its dishes, "with the likes of tattie scone served alongside Highland Wagyu and caviar".
The Glenturret offers tours where visitors will be guided through the distillery and the whisky-making process before enjoying a tasting from the distillery's core whisky range.
theglenturret.com
Edinburgh has an amazing history which is "soaked in the whisky industry", said Jason Thomson on VisitScotland.com . And there's plenty to drink in for whisky lovers, literally.
Bars and pubs
The city is "exceptionally well served" by whisky bars, said Forever Edinbugh . From the "winding streets" of the Old Town to "cosmopolitan" Leith, "you're never far away from a great bar to enjoy a dram". Top whisky bars to visit include Usquabae in the West End, which is "crammed" with more than 400 whiskies, and The Albanach on the Royal Mile, which has a "fantastic selection" of more than 220 malts and blends.
A weekend in Edinburgh: travel guide, attractions and things to do Cheval Old Town Chambers review: a modern stay in Edinburgh's historic Old Town
Chef Rick Stein once called The Canny Man's the "best pub in the world" – and "it's hard to argue with that", said Time Out . The pub in Morningside has a menu of more than 240 malt whiskies and visitors have the option to buy a range of whisky flights. The best place in the city to "round off a day of whisky sampling" is The Devil's Advocate , said VisitScotland . "Tucked away" just off the Royal Mile, there's 300 whiskies from all over the world and the staff "can make a mean cocktail".
Tours and tastings
Should you be spending a weekend in Edinburgh , then save some time to go on a whisky tour or tasting. The Edinburgh Whisky Trail offers a guided walking tour through New Town, Old Town and Southside of the city, where guests can visit unique bars and venues. Holyrood Distillery offers tours, tastings and a whisky and beer festival, while The Dome has a whisky experience in collaboration with The Macallan and I.J. Mellis Cheesemongers.
One must-visit place in Edinburgh is The Scotch Whisky Experience, located by the castle at the top of the Royal Mile. It's recommended that you book a gold tour as not only do you spend time learning about how Scotch is made, but you also get to sample four delicious whiskies.
The five-star experience also has its own restaurant and whisky bar on the lower-ground floor, said Forever Edinburgh . At the Amber Restaurant & Whisky Bar, the food offering is "a highlight". Visitors can enjoy a "delicious Scottish tapas" or a full three-course meal, while sampling some drams, of course.
scotchwhiskyexperience.co.uk
Another top whisky attraction in Scotland's capital is Johnnie Walker Princes Street. Spread over eight floors, this visitor experience is "solid proof that Scotch whisky tourism is on the rise", said Prestige magazine. Located in the heart of the city, this is the "centrepiece" of Diageo's £185m investment in Scotch whisky tourism in Scotland, and the "largest single investment of its kind ever seen". Set over 6,640 square metres, the visitor centre uses "world-first technology to reimagine the traditional whisky tour experience".
As well many whisky experiences, Johnnie Walker Princes Street also features retail areas, a unique underground cellar and rooftop bars.
johnniewalker.com
For half a century, the "tiny, remote, eccentric" Kinloch Lodge has been among the "best-loved of Scottish hotels", said Condé Nast Traveler . Located on the Isle of Skye, this is a place that is "as grand as all get-out", but feels "totally down to earth, in a setting of surpassing natural beauty".
To mark the 200th anniversary of the Excise Act, whisky's so-called "Year Zero", Kinloch Lodge has introduced a new package stay dedicated to whisky. It costs from £850 per person based on two sharing and includes three nights' half-board accommodation. Guests will also get to enjoy a special Torabhaig cocktail on arrival, dinners, hearty Scottish breakfasts, countryside walks, a picnic basket, tutored whisky tasting and a tour of Torabhaig Distillery, Skye's newest distillery.
kinloch-lodge.co.uk
Coach tour operator Rabbie's has various small group whisky tours of Scotland , departing from locations such as Edinburgh, Inverness, Aberdeen and Glasgow. One highlight is the four-day Islay and the Whisky Coast tour, which departs from the capital. The journey goes through the mountainous landscapes of the western Highlands to the distillery in Oban, where guests can sample whisky that has been perfected over 200 years.
Next, travel to the Isle of Islay to be guided around one of Scotland's oldest and finest distilleries – Bowmore – to enjoy a tour before arriving at the modern Ardnahoe Distillery. At both, admire the craftmanship, passion, and spirit that goes into each drop of whisky.
Ride up to a remote stretch of Islay where Bruichladdich distillery awaits. Scotland's most famous whiskies – Laphroaig, Lagavulin and Ardbeg – follow. Taste whiskies that are intensely flavoured and rich, all while visiting Islay's historical sites like the ruins of Kildalton Church and Dunyvaig Castle. Price from £425 per person for departures from June 2023.
rabbies.com
Located in central Edinburgh, the five-star Glasshouse Hotel has a whisky experience package that's available throughout 2023. The package includes overnight accommodation with breakfast for two guests, the 90-minute Johnnie Walker Journey of Flavours tour including three whisky long drinks, and a whisky amenity in the room.
The boutique city centre property serves itself to guests as a "perfect blend of heritage and modernity with a whisky twist", said Joshua King in Scotland on Sunday Travel . One of the most popular spots at the hotel is "The Snug", an intimate hideaway offering access to almost 160 Scotch whisky varieties. There are also 17 luxurious suites all named after local whisky distilleries or regions.
Rates at The Glasshouse Hotel including the whisky experience package start from approximately £485 per room, per night (rates subject to change and availability).
theglasshousehotel.co.uk
The world-renowned Gleneagles hotel has launched "Pursuits", its own limited-edition single malt Scotch whisky range. The five-star luxury resort in Perth has sourced exceptional casks from four distinguished Scottish whisky distilleries to provide enthusiasts with the opportunity to own these single malt whiskies, each unique in its own right and limited to one cask per expression.
The series is named after and inspired by four popular countryside activities offered at the estate – fishing, falconry, shooting and horse riding – and all four expressions were bottled in December 2022. The bottles are individually hand-engraved, numbered and available for purchase at the hotel's Still Room for £1,200.
gleneagles.com
There are two notable new whisky distilleries scheduled to open this summer in Scotland: The Port of Leith Distillery in Edinburgh and ili distillery on Islay. "Rising up from the waterfront" beside the Royal Yacht Britannia, the "impressive" Port of Leith Distillery will be Scotland's "first vertical distillery", said the World Whisky Day website. With a target capacity of 200,000 litres per year, iii will be the "smallest of Islay's many whisky distilleries", but it has "pretty big ambitions" and aims to be "highly sustainable and carbon-neutral from the outset".

Continue reading for free
We hope you're enjoying The Week's refreshingly open-minded journalism.
Subscribed to The Week? Register your account with the same email as your subscription.
Sign up to our 10 Things You Need to Know Today newsletter
A free daily digest of the biggest news stories of the day - and the best features from our website
Mike Starling is the digital features editor at The Week, where he writes content and edits the Arts & Life and Sport website sections and the Food & Drink and Travel newsletters. He started his career in 2001 in Gloucestershire as a sports reporter and sub-editor and has held various roles as a writer and editor at news, travel and B2B publications. He has spoken at a number of sports business conferences and also worked as a consultant creating sports travel content for tourism boards. International experience includes spells living and working in Dubai, UAE; Brisbane, Australia; and Beirut, Lebanon.
Pros and cons The sites have saved lives but many worry they're too lax
By Devika Rao, The Week US Published 5 November 23
The Week Recommends An autumn recipe to cook in mid-November – when beaujolais nouveau is released
By The Week Staff Published 5 November 23
Under the Radar A new report found everything from cookbooks to self-help books are being removed from prisons
By Justin Klawans, The Week US Published 5 November 23
The Week Recommends From whale watching to hiking there is a lot to do in this 'lethal land'
The Week Recommends Plush properties to book for your next skiing holiday in Europe
By The Week UK Published 2 November 23
The Week Recommends Everything you need to know for a city break in the heart of the American movie industry
By Hollie Clemence, The Week UK Published 30 October 23
The Week Recommends One of the Caribbean's biggest islands is home to enchanting food, music and beaches
By The Week Staff Published 29 October 23
The Week Recommends Atlanta's foodie scene is 'colourful, diverse and vibrant'
By Jaymi McCann Published 27 October 23
The Week Recommends Discover some 'gruesome tales' this Halloween
By Mike Starling, The Week UK Published 23 October 23
The Week Recommends Discover the 'awe-inspiring' landscapes of the second smallest island in the Canaries
By The Week Staff Published 21 October 23
The Week Recommends Find some peace on the most popular island in Greece
By Mike Starling, The Week UK Published 20 October 23
Contact Future's experts
Terms and Conditions
Privacy Policy
Cookie Policy
Advertise With Us
The Week is part of Future plc, an international media group and leading digital publisher. Visit our corporate site . © Future US, Inc. Full 7th Floor, 130 West 42nd Street, New York, NY 10036.
Our Spirits
We focus on crafting high-quality, progressive spirits in a creative and collaborative environment, fueled by our genuine excitement for what we make.
We're a family of friends focused on craft, creative camaraderie and the spirited culture and history that surrounds us.
Sunshine Coast
New Zealand
Best Of The Gold Coast
Things To Do
Food & Drink
Health + Wellness
Local Escapes
Live the WA Dream
6 Of The Best Distilleries On And Around The Gold Coast
By Urban List Gold Coast 8th May 2021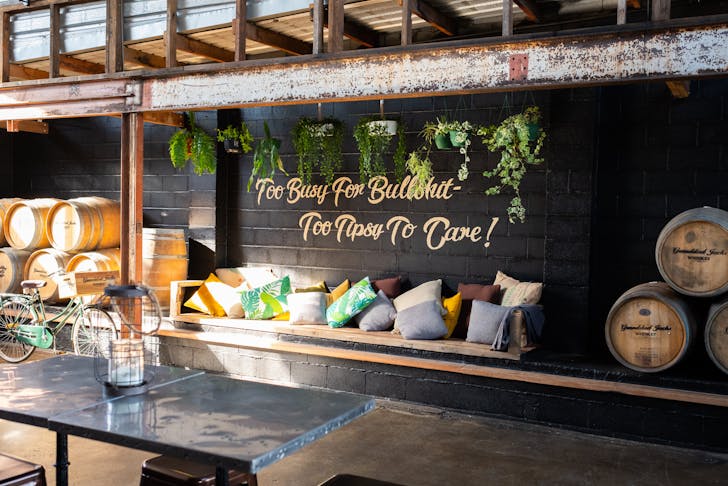 If you search for 'pure bliss' in the dictionary, it'll read something along the lines of: reclining back after a hard day's work in a sunny armchair with an overflowing G&T, vodka tonic or a whisky.
Whether you're a spirit aficionado or a recent addition to the fan club, you'll no doubt be stoked with all the distilleries on and around the Gold Coast. For your drinking pleasure, we've put them all in one handy list, so you can add them all to the bar cart immediately.
Here are all the best distilleries on the Gold Coast, handpicked by us for your drinking pleasure.
Husk Distillers
If you needed further proof that rum was having a serious moment, then the opening of Husk Distillery is it. Exploding in popularity thanks to their iconic Ink Gin brand, Husk Rum & Gin Distillery is Australia's first paddock to bottle Agricole rum distillery, which means it's made from freshly crushed sugar cane juice, instead of molasses. Nestled in the adorable village of Tumbulgum, the luscious property boasts 60 stunning acres of grazing cattle, sugarcane rainforest and, of course, the distillery. You've got to try the indigo-hued Ink Gin, which tastes as pretty as it looks and their top-notch rums, including the Triple Oak Rum and Spiced Bam Bam. To fully appreciate these sips, book yourself in for a distillery tour, where you can get a behind the scenes look at how the spirits are produced, score a G&T on arrival and finish up with a rum tasting.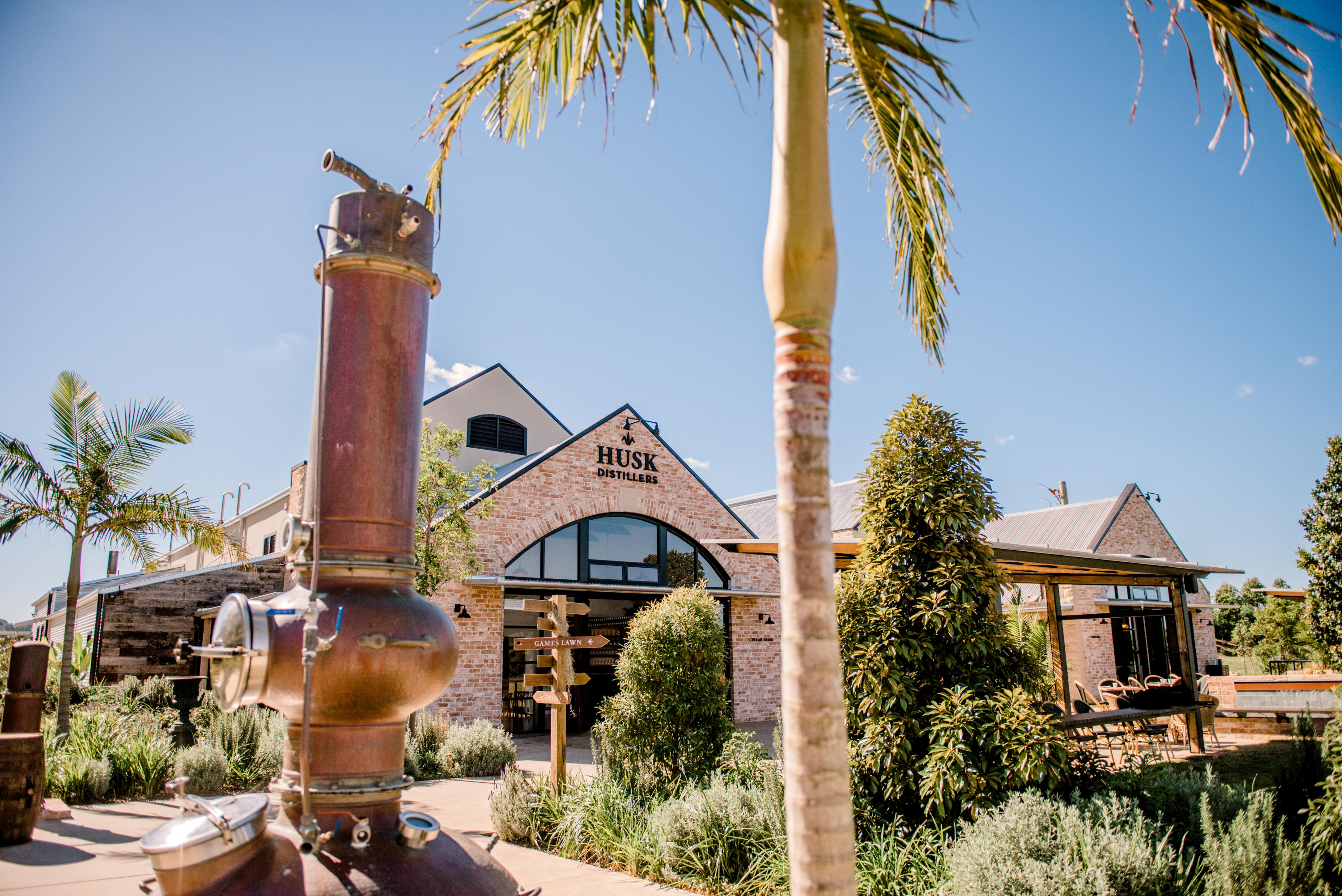 Paneszki Artisan Distillery
Every now and then, we step into a space and immediately get this feeling that we've walked into something special. Well, that's exactly the feeling we get when we visit Paneszki Artisan Distillery . This family-owned Polish vodka distillery prides itself on small-batch production of all spirits, with 100% of their alcohol from raw ingredients, and you can taste the passion and dedication in every sip. The beautifully designed 1920's tasting room oozes intimate vibes, with plush armchairs, chandeliers and dark curtains seamlessly working together to create a stunning space. Harnessing traditional methods with modern flavours, their vodka has an exceptionally smooth and creamy taste with subtle undertones of vanilla and citrus. This isn't that cheap Smirnoff you used to drink in the nightclubs—something truly special is happening here.
Granddad Jack's Craft Distillery
The Miami-based distillery was the first to open its doors back in August 2018 and since then has won multiple awards for its spirits including just this year claiming the title of World's Best Coffee Liqueur at the San Francisco World Spirits Competition (Barbershop Coffee). The space serves chic loft vibes with exposed brick walls, arched ceilings, lush hanging greenery, recycled wood and steel beams. And, we have to give a shout out to the epic concrete slab bar—it's just begging for you to pull up a stool and settle in for the night. Pop in for an amazing gin, vodka, whiskey and don't forget to bring your dog as well.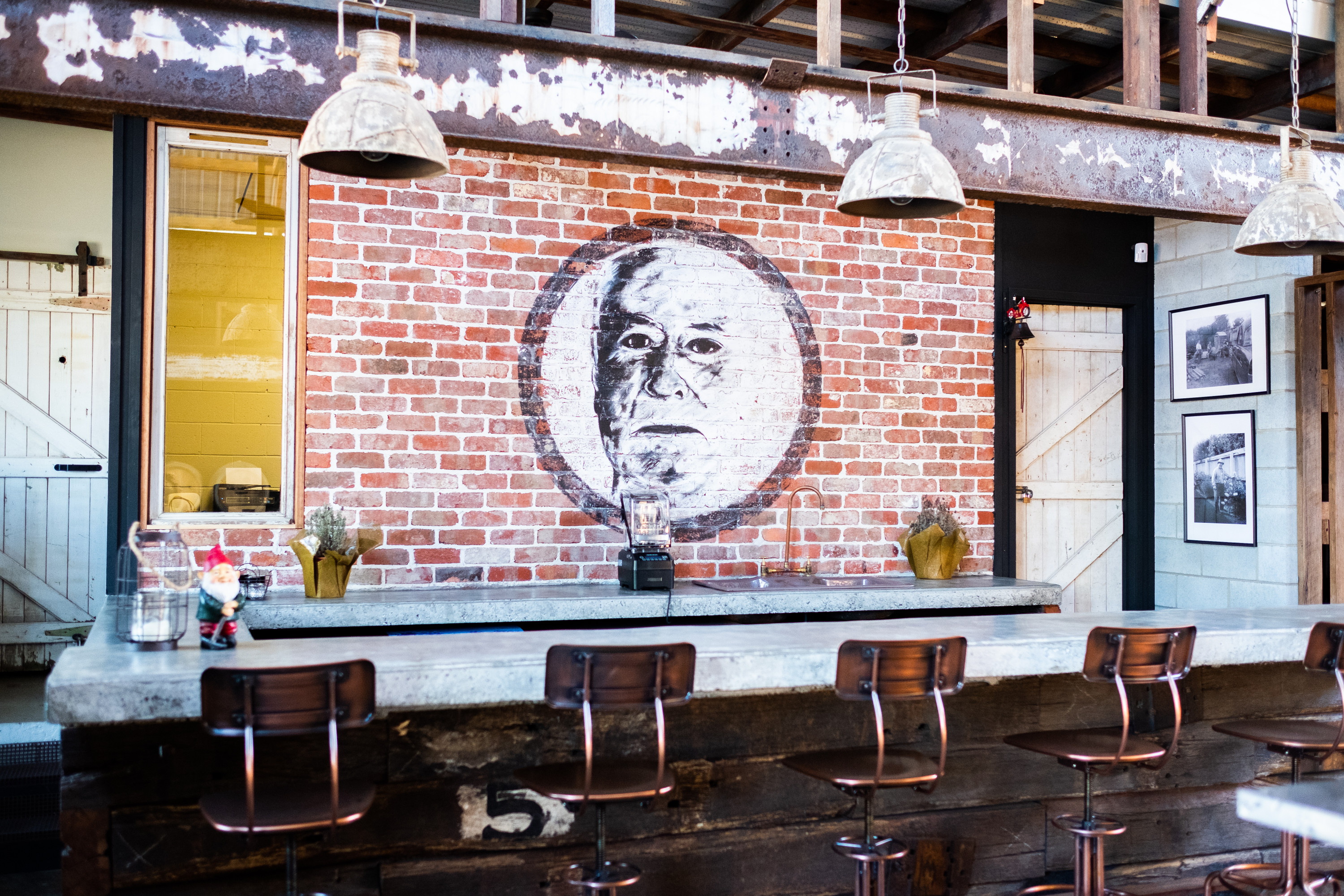 Tamborine Mountain Distillery
Tamborine mountain.
Just a short drive off the beaten track, Tamborine Mountain is natural beauty meets country charm epitomised. Embark on an idyllic adventure to the mountain and it would be rude not to pay a visit to the iconic Tamborine Mountain Distillery . The boutique distillery manufactures the finest liquors, vodkas, rum and gin and their reputation has steadily grown, as a result of winning over 300 prestigious international awards. Wander through the gorgeous Elizabethan Tudor style building and stop for a sample in their intimate tasting room, which is too good to pass up at just $8 per tasting. If you can't make it to the distillery, you don't have to miss out—order your favourite tipple online and get it delivered directly to your doorstep. Winning.
WildFlower Gin Distillery
Varsity lakes.
WildFlower are known for their delicious botanical gin flavours and when they opened up their own gin distillery bar in March this year, we were so ready to get down there, curl up on their vintage couches and sip on their inventive and award-winning flavours. The stylish space features an eclectic fit-out that invites you to sink into antique leather chairs—gin in hand, of course—and soak up the unique decor. Vintage collectables like typewriters, antique phones, a piano and a very distinctive chandelier cluster around the space and add to the eclectic vibe. The smart WildFlower Gin folk are catering to all your gintastic needs and are offering gin-making and gin-tasting sessions , so you can learn the secrets behind your favourite tipple and create your very own unique blend.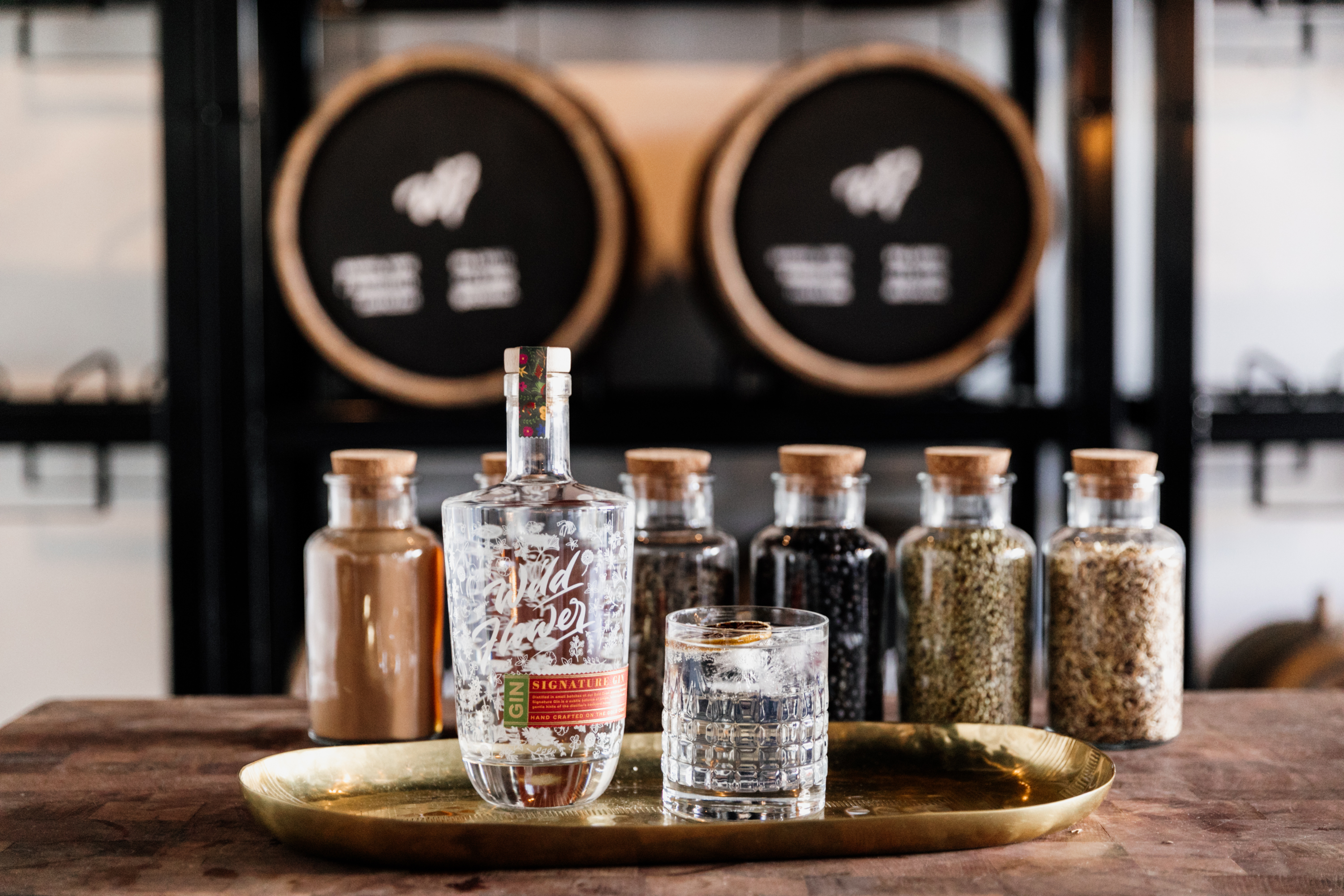 Beenleigh Artisan Distillery
When you hear about Australia's oldest operating distillery, you know it's worth a visit (or a few). Beenleigh Artisan Distillery is surrounded by both sugarcane and rum distillery history—they're the legendary OG creators behind Australia's original rum in 1886. Over 136 years later, they're still crafting small-batch rum the traditional way with Australia's finest molasses and every drop of their golden liquid ages gracefully in American Oak casks, to create their distinctive flavour and velvety-smooth finish. They've got a bunch of awesome experiences to give you a behind the scenes insight into the distillery, including a craft-your-own-rum tasting experience, distillery tours and a beer pairing. We'll raise a glass to that.
So, you've taken our sound advice, visited these epic distilleries and now you're keen to keep the night going. Keep the bevvies and the good vibes flowing at the stunning new waterfront pavilion taking the Coast by storm .
Image credit: Desert Island Media, Kaitlin Maree Photography, WildFlower Gin
We're dedicated to keeping our recommendations and content free. BECOME A SUPPORTER
Get our top stories direct to your inbox.
More On …
Update to privacy policy and how we use cookies.
We use cookies (om nom nom nom) to provide a better online experience, including to serve targeted ads. By using our website, you accept our use of cookies. For more information see our privacy and information policy

DISTILLERY TOURS & GIN MAKING
Brisbane distillery private tour.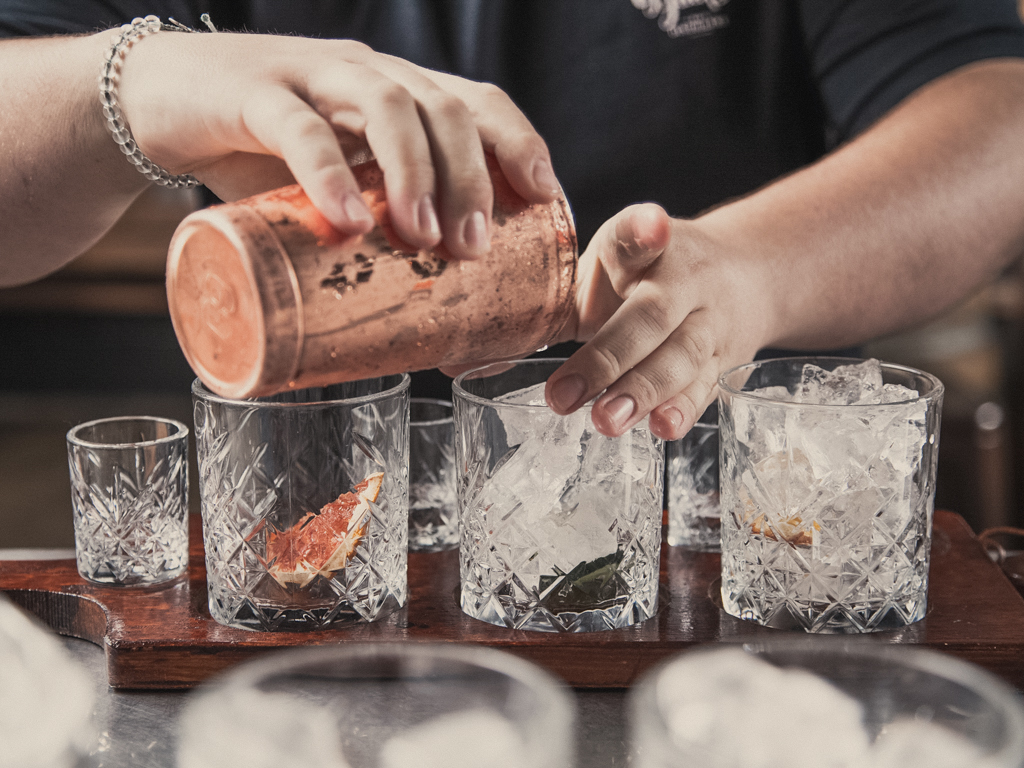 gold coast distillery private Tour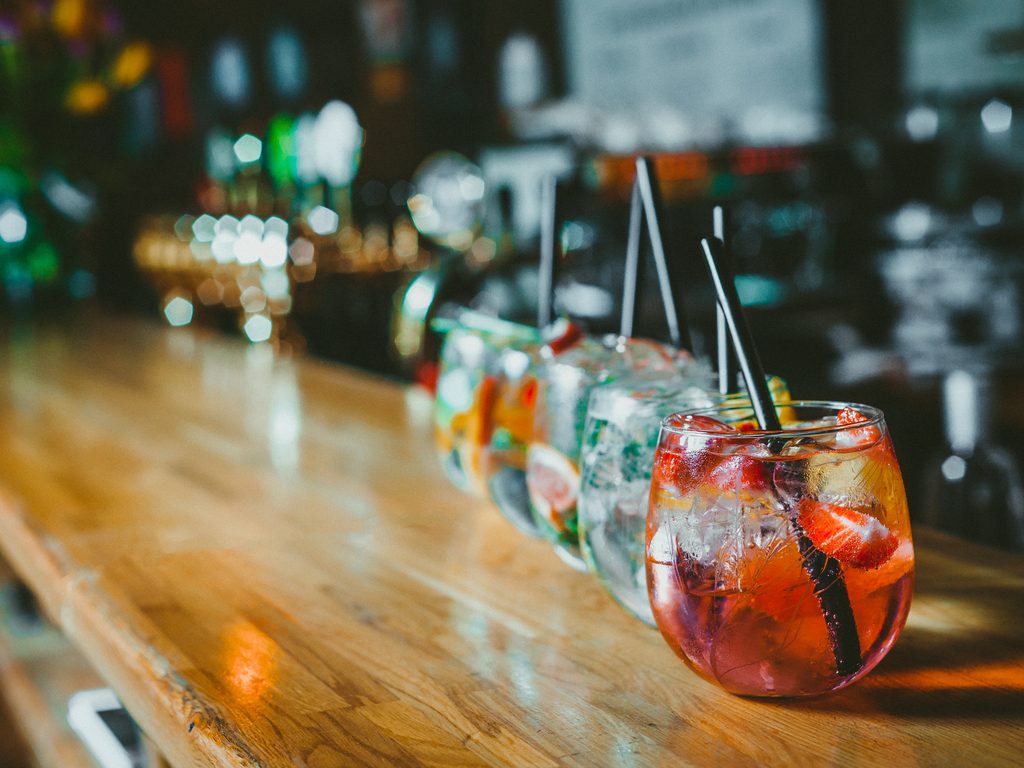 brisbane distillery Make your own gin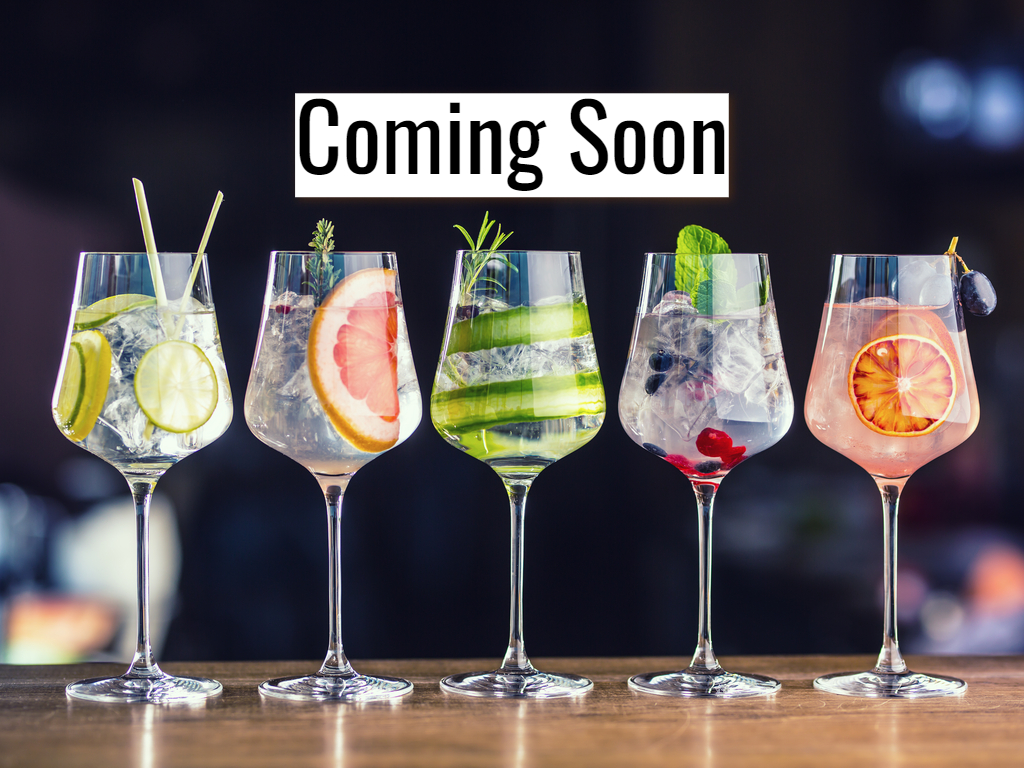 grandad jacks make your own gin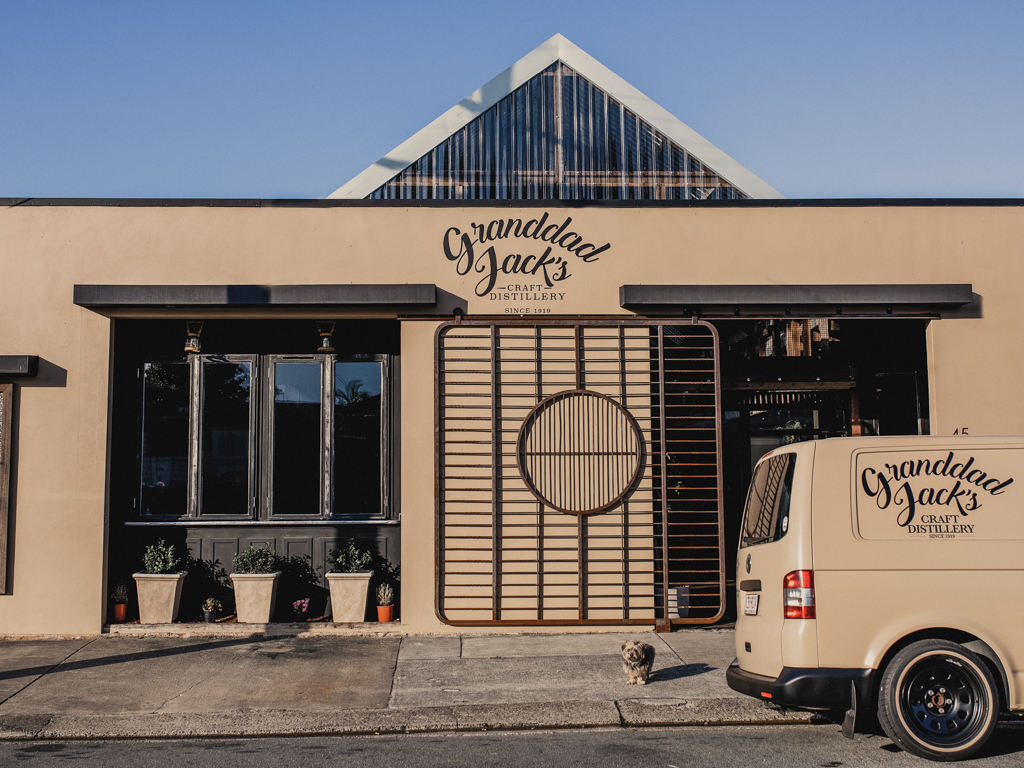 Brisbane Brewery Tours
PO Box 1129, Carindale 4152
Book A Tour Now

Best of Brisbane
Dash of Brisbane
Northern Exposure
Eastern Expedition
Southern Sessions
Western Explorer
Brisbane Distillery Tour
PACKAGE : Hatchets and Hops
PACKAGE : Sleuths and Suds
PACKAGE : Bee-R & VR
Coldie on the Goldie
Quickie on the Coast
Gold Coast Distillery Tour
PACKAGE : Urban Vikings
PACKAGE : Reality Brews
PACKAGE : Karting and Coldies
On Site Tastings
Gift Vouchers
Tour Calendar
Wine Tours (Brisbane/Gold Coast)
Private "Party" Wine/Spirits Tours
Sunshine Coast
Hop On Merch
Online Beer and Gifts
Keg Fills and Sales
Brisbane Bottleshops
Gold Coast Bottleshops
Hop On Team
Venue Partners
Activity Partners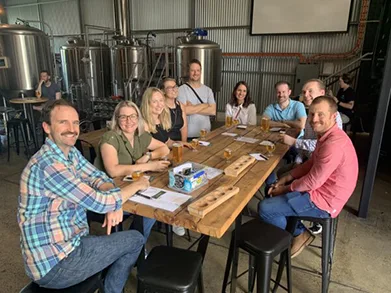 Best of Brisbane A showcase of inner-city breweries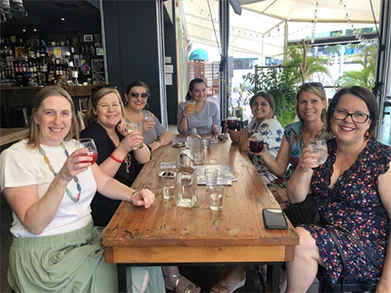 Brisbane Distillery Tour Local gin and rum tasting in Brisbane
Coldie on the Goldie Four of the finest on the Gold Coast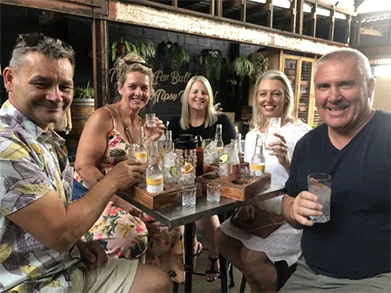 Gold Coast Distillery Tour Local gin, rum & whisky tasting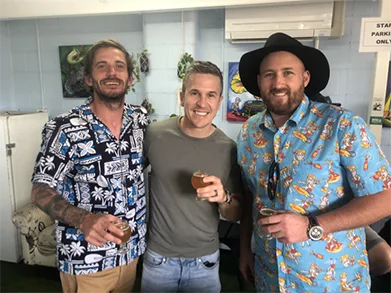 Northern Exposure Get out of the city and head north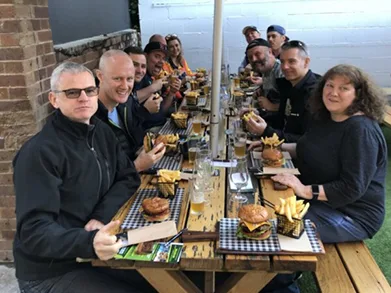 Eastern Expedition Get out of the city and head east
Southern Sessions Get out of the city and head south
Western Explorer Get out of the city and head west
Dash of Brisbane A quick jaunt to three breweries
Quickie on the Coast Visit three Gold Coast breweries
Hatchets and Hops Axe throwing and brewery tour
Sleuths and Suds Urban adventure + beer experience
Bee-R & VR VR gaming and brewery tour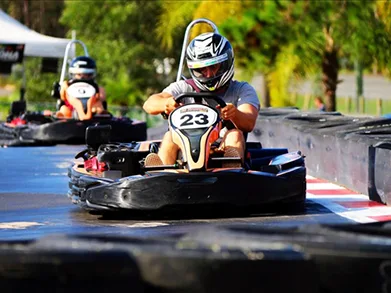 Karting and Coldies Go-karting and brewery tour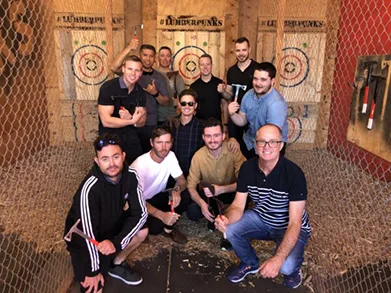 Urban Vikings Axe throwing and brewery tour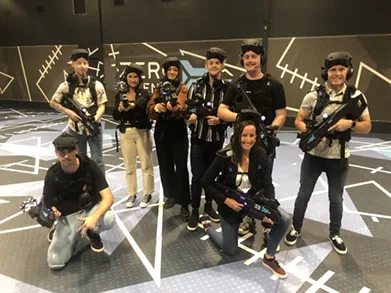 Reality Brews VR gaming and brewery tour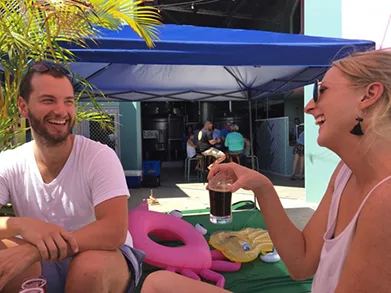 Gift Vouchers Good for all the tours we offer!
The Place for good Whisky on the Gold Coast
Whisky Experiences
We offer a range of different Whisky Experiences like Masterclasses and Whisky Flights.
Our broad range of different performers will entertain you every Friday and Saturday from 7pm - 10pm.
Celebrate With Us
If it is a Birthday, an Engagement or any other occasion, we can accommodate groups for up to 40 people.
If you are a music lover, a whisky connoisseur or an up and coming artist, we got you covered.
Subscribe to our newsletter • Don't miss out!
Thanks for subscribing!
Drink Less, But Better with Granddad Jack's.
Find anything you need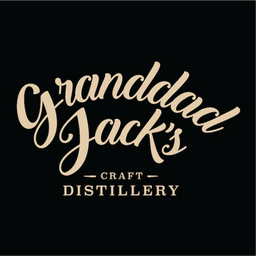 You have %itemCount% in your cart. Total being %total%
granddad jack's brisbane
CRAFT DISTILLERY & TASTING ROOM BAR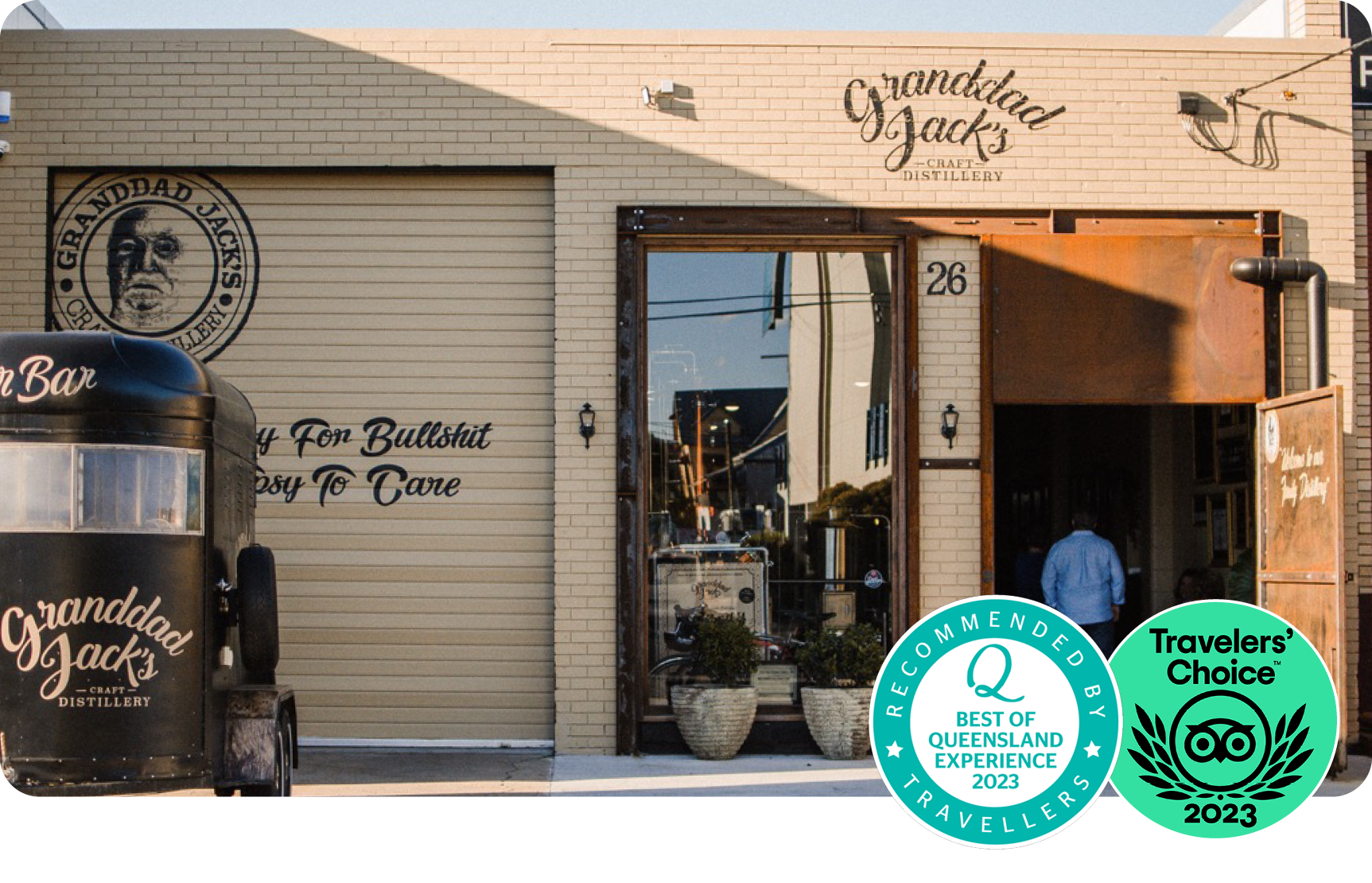 Granddad Jack's Craft Distillery  is Brisbane's newest neighbourhood craft  Gin, Vodka & Liqueur Distillery & Brewery  located in the industrial backstreets of Albion. Bringing award-winning spirits to the already thriving craft culture in Brisbane, we're passionate about creating the ultimate experience as we recreate age-old family recipes in memory of our great  Granddad Jack .
We're very proud to have won multiple prestigious awards since opening our Gold Coast Tasting Room & Distillery in August 2018 and invite you to join us on a tour or visit the Tasting Room to try for yourself (at either location).
Production is on full show to visitors from the Tasting Room and tours are available over the weekend.
We're family & dog friendly and within walking distance of some amazing local breweries & eateries, so you can make a day of it when you visit.
Follow us on social media to see our latest posts & events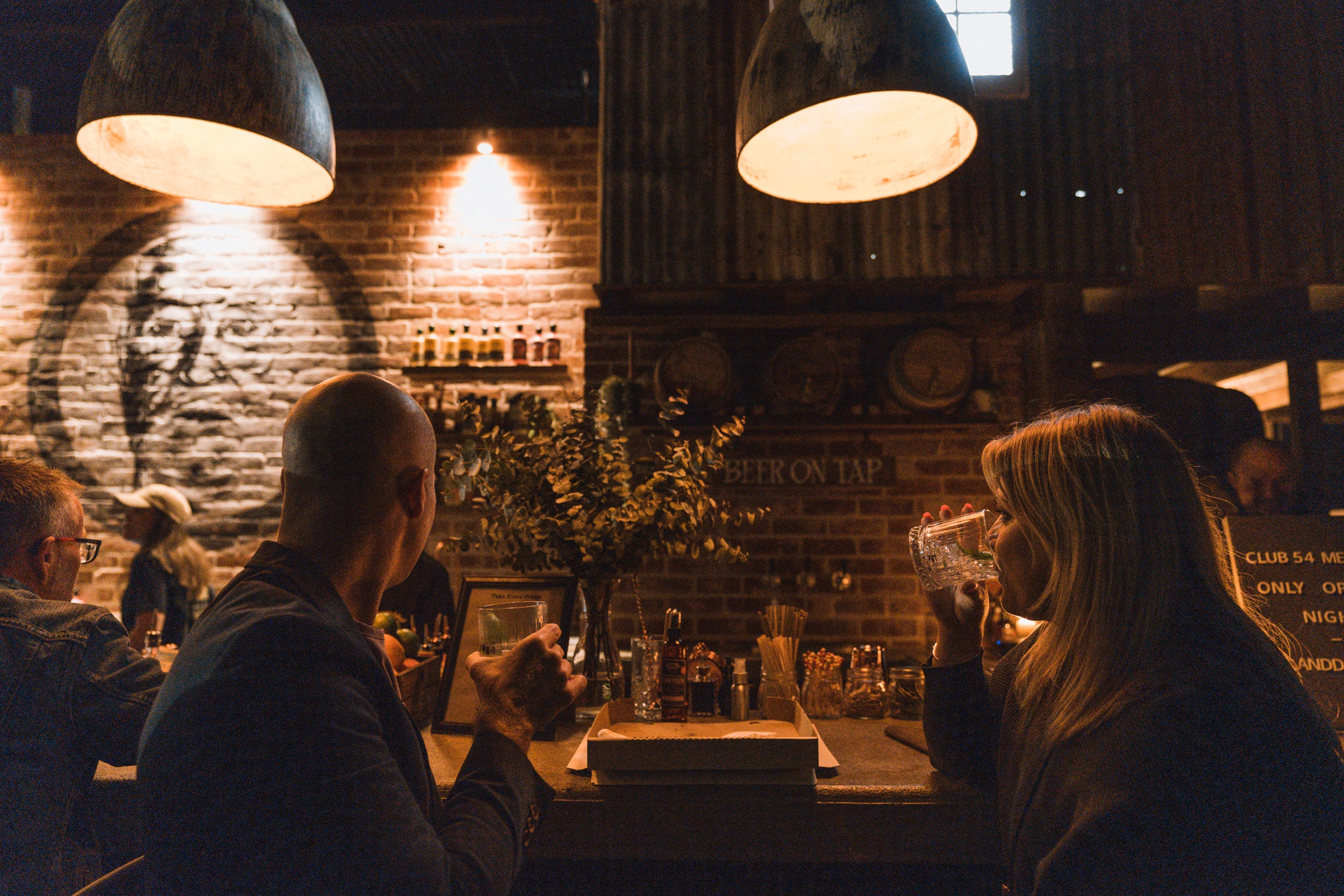 BOOK A TABLE
At  Granddad Jack's  we only serve what we make on-site. Everything from the garnishes and syrups in our cocktails to the artisan gin, whiskey, vodka and liqueurs you enjoy is handcrafted by our family for you.
Visit our Albion neighbourhood tasting room and enjoy a tasting board with our award-winning craft spirits or a drink from our seasonal cocktail menu. Bring in your own food (or order in) and sample the single-keg beer or cocktail of the week. Open from 2pm Thursday to Sunday. BYO Food. Family Friendly. Dog Friendly. Live music on weekends.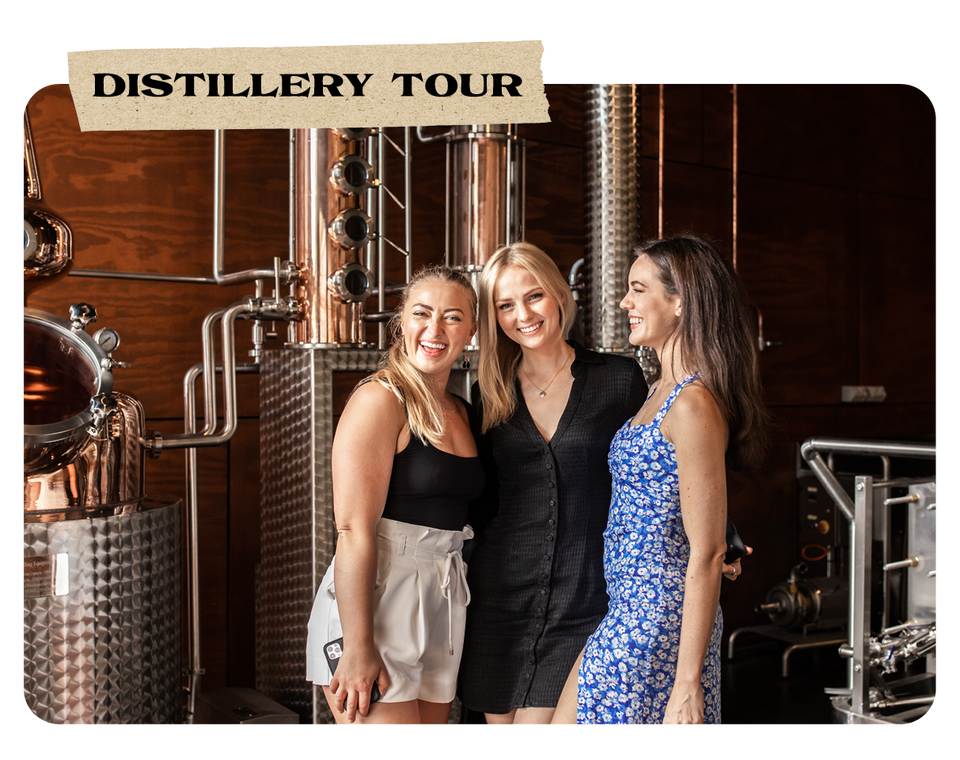 DISTILLERY TOUR
Sip, sample and hear the story behind  Granddad Jack's  - Brisbane's newest artisan gin, whiskey, vodka & liqueur distillery. Join us for a tour and complimentary tasting of our award-winning spirits & liqueurs as you're guided through the distillery and given a behind-the-scenes look into the production of our world-class artisan spirits.
Our distillery tours operate before we open on weekends. Bookings are essential. Available every Saturday & Sunday  before we open the tasting room. DURATION: 1HR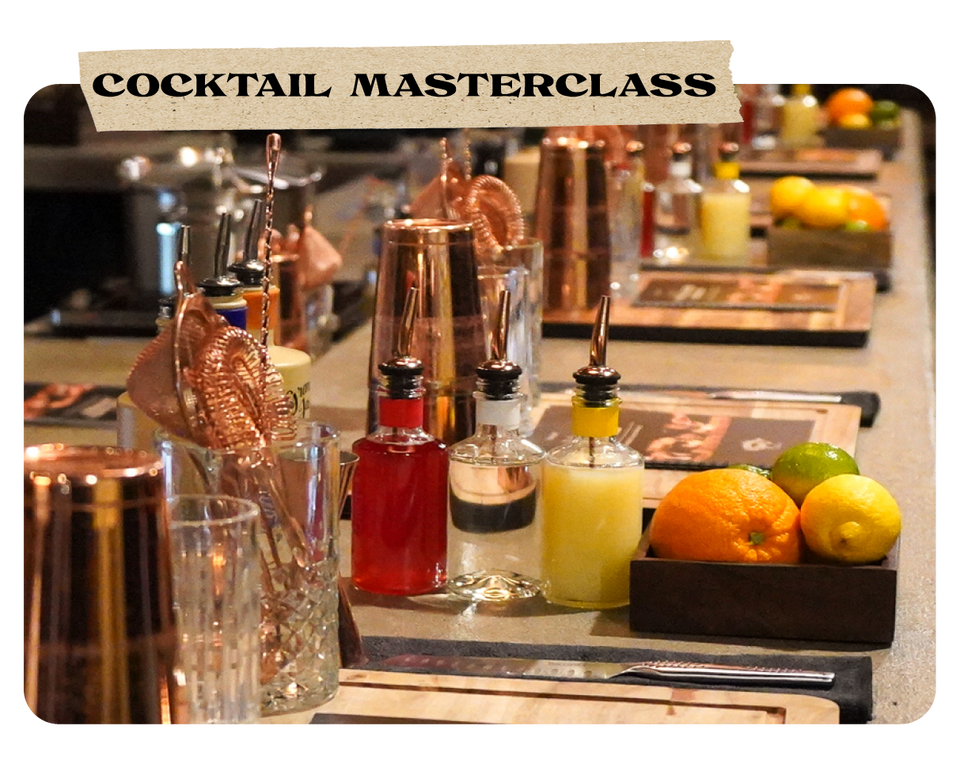 BRISBANE EXPERIENCES
Join our experienced Brisbane team during one of the intimate experiences we offer at our Albion tasting room. Book yourself a Cheese and Spirit Experience or a Cocktail Masterclass and enjoy a few hours in good company and even better spirits. Looking for a private experience for your team or group of friends? We also cater to private events, reach out to our friendly teams to discuss a tailored event package. Book online below.
Must visit destination
The ultimate experience
We're incredibly proud to announce that Granddad Jack's Tasting Rooms have collectively received over 550 five-star reviews, has been voted a 2022 Trip Advisors 'Travellers Choice' and have recently been recognised as a 2023 'Best of Queensland Destination' with Tourism & Events Queensland for the third year.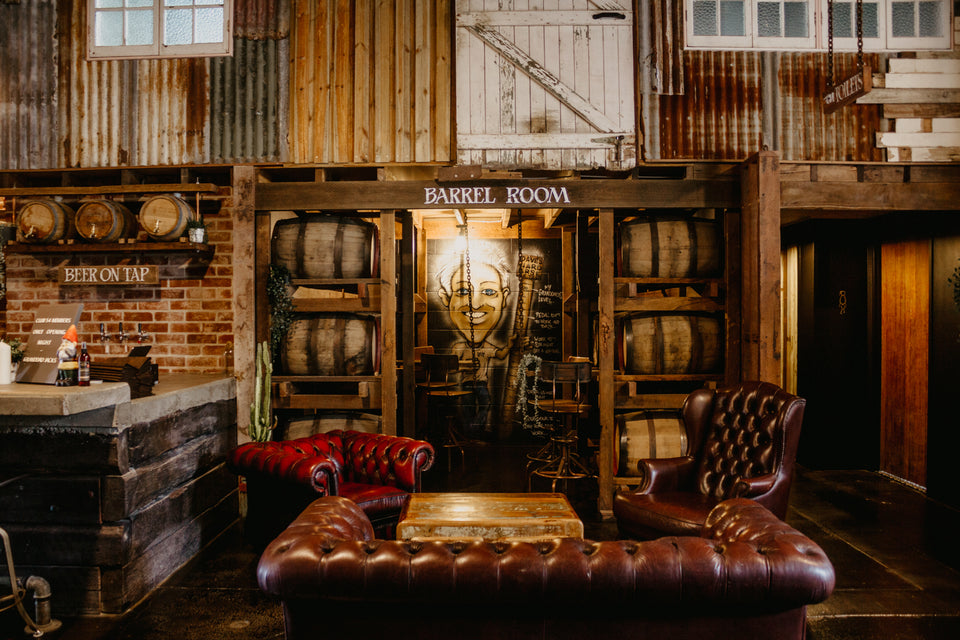 Follow the journey
@granddadjacks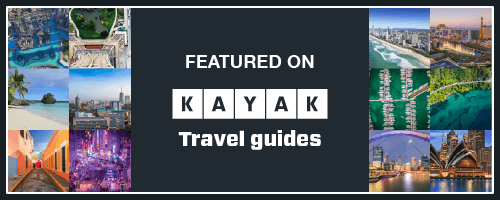 Granddad Jack's Craft Distillery is a family-owned and operated producer of award-winning spirits and liqueurs. With two established distilleries in Queensland and international expansion in seven countries, our exceptional range of handcrafted spirits, including gins, vodka, coffee liqueur, and single-barrel whiskey, are enjoyed around the world.
Shop online or visit our tasting rooms to enjoy the full experience and become part of the family.
This site requires cookies in order to provide all of its functionality.