Visit Llanes, Spain; a travel guide to the seaside town of Llanes
Visit Llanes
Llanes is a coastal town in the province of Asturias in the region of Asturias and Cantabria . Llanes is considered to be one of the most beautiful towns in Spain .
Explore Llanes
Llanes is a charming coastal resort on the beautiful northern Spain coastline, one of our favourites in the Asturias region. With the Picos de Europa behind, and on a very attractive stretch of coast - lots of cliffs, coves and beaches - its position is great.
Above one of the town's beaches, the Playa del Sablon, there is a long rambla, the San Pedro Walk. It's a great place to go for a walk and see the dramatic coastal scenery on one side and the town on the other. Another of the nice town beaches is the Toro beach pictured above.
The best beach in the area, and one of the best in Spain is the Cuevas del Mar beach with its beautiful sculpted rocky cliffs. The beach is now a protected landscape but that does not stop you from going and enjoying the beach and sea and there is a car park nearby.
Also to look out for are geological formations called 'jesters' which are holes in the cliff that go right down to the sea and through which spumes of seawater are sprayed out of the top. It often makes a howling noise at the same time! There are four jesters in the area; Bufones de Pria, Bufones de Arallinas, Bufon de Santiuste and Bufon de Santa Clara.
Llanes itself has a lovely old town with medieval walls and a number of impressive buildings to look out for. There is a circular medieval tower along the walls which is home to the tourist office and there are some Renaissance palaces including the Casa del Cercau, the Duques de Estrada and the Palacio de Gastanaga. The old quarter has been listed as a 'historic and artistic' complex.
Many locals from Llanes emigrated to the "Americas' to make their fortunes and many did indeed return rich. They then built large houses for themselves in an eclectic mix of styles from modernist to mountain chalet and inside had furniture brought in from Paris and Barcelona. These houses are collectively known as the 'Indianas' and examples can be seen on La Calle de la Concepcion, near the Casino, and Avenida de la Paz.
The harbour of Llanes is interesting with its 'Los Cubos de Memoria' (Cubes of Memory). This is a breakwater to protect the harbour made up of lots of cubes of reinforced concrete. It was designed by Augustin Ibarrola and the cubes are decorated to represent the towns history and fauna and flora as well as the artist himself.
Llanes was once one of Spain's most dangerous ports and its maritime history is descibed in Llanes Maritime Exhibition Centre.
Places to visit nearby
The pretty, small town of Potes is nearby. It is a good place to start a walk in the Picos de Europa mountains. Also with a backdrop of the Picos de Europa mountains is the pleasant town of Cangas de Onis with its 'Roman Bridge'.
You can find more local travel ideas in the Asturias and Cantabria guide .
Map of Llanes and places to visit
Llanes places to visit.
Ribadesella
Ribadesella is a charming seaside resort with an old town, a sandy beach and Modernista villas.
Covadonga village and sanctuary are set in beautiful mountain scenery. The Battle of Covadonga is considered to be the start of the Reconquest of Spain.
Mogrovejo is one of Spain's most beautiful villages. Mogrovejo is a mountain village in the Picos de Europa.
Take a step back in time as you wander around this lovely old town. An excellent base for visiting the Picos.
Cangas de Onis
Cangas de Onis has a lovely Roman bridge and fantastic mountain scenery. It is close to Covadonga said to be the starting place for the Reconquest.
Comillas is a very good resort which has lots of Modernista buildings including the El Capricho designed by Antoni Gaudi.
...or see all our recommended places to visit in Asturias and Cantabria
Spain This Way - copyright 2009 - 2023
Travel Safe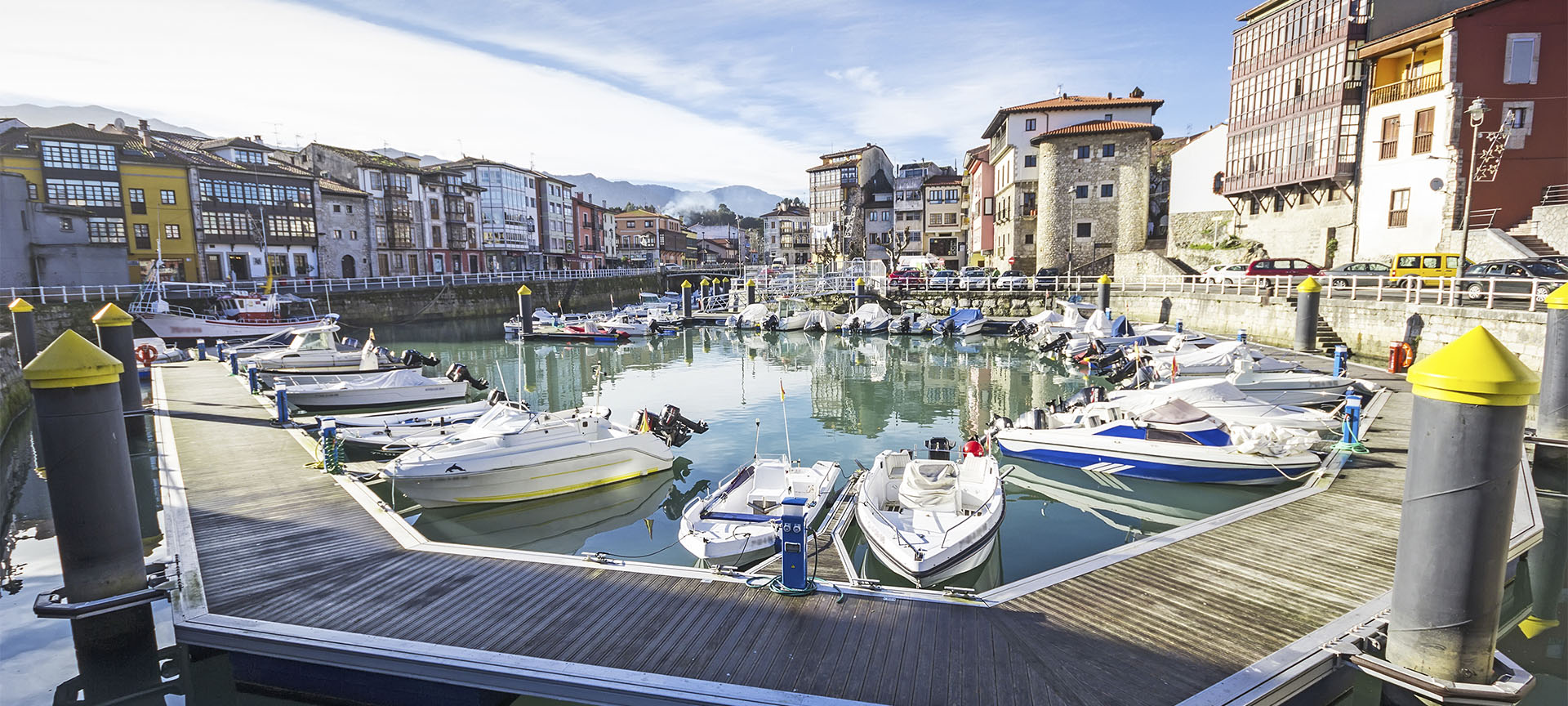 Principality of Asturias
Llanes is a perfect example of a historic town. Its old town centre is an official historic and artistic heritage site, with interesting civil, religious and military architecture.
Its most important areas are around Paseo de San Pedro, Paseo de San Antón, the river Carrocedo and the harbour - it was once an important part of the fishing and whaling industries. Its heritage buildings include 300 metres of city walls, dating from the 13th century; the castle tower; the Basilica of Santa María del Conceyu, which was begun in the mid-12th century; Gaztañaga palace and the palace of the Dukes of Estrada, and the house of the 19th-century politician Posada Herrera, now the Municipal Cultural Centre.  
Llanes also has magnificent beaches , such as San Antolín, Torimbia, Barro, Celorio, Poo, Sablón, and Toró. If you like natural areas, you can stroll along Paseo de San Pedro , a clifftop walk more than a kilometre long, with great views over the town and the Cantabrian Sea.

What to visit
Select from the list or hover over the map to find out about points of interest.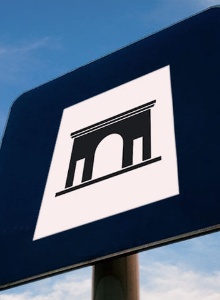 Espriella Palace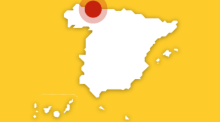 Idol of Peña Tú
Church of San Antolín de Bedón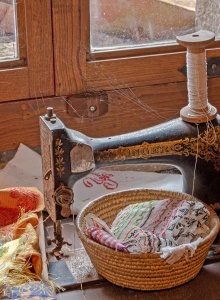 Ethnographic Museum of Eastern Asturias
Casino of Llanes
Travel plans for inspiring you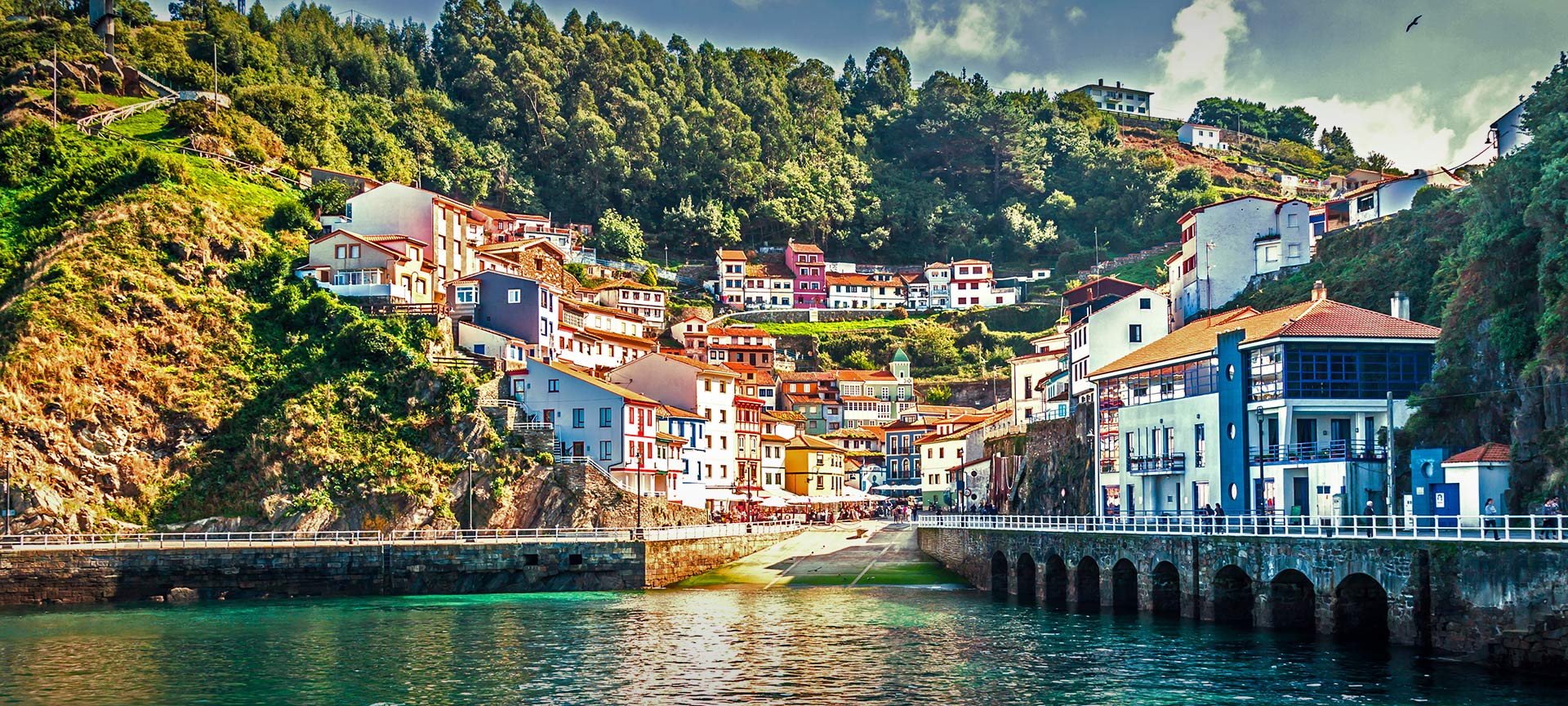 Postcard destinations in Asturias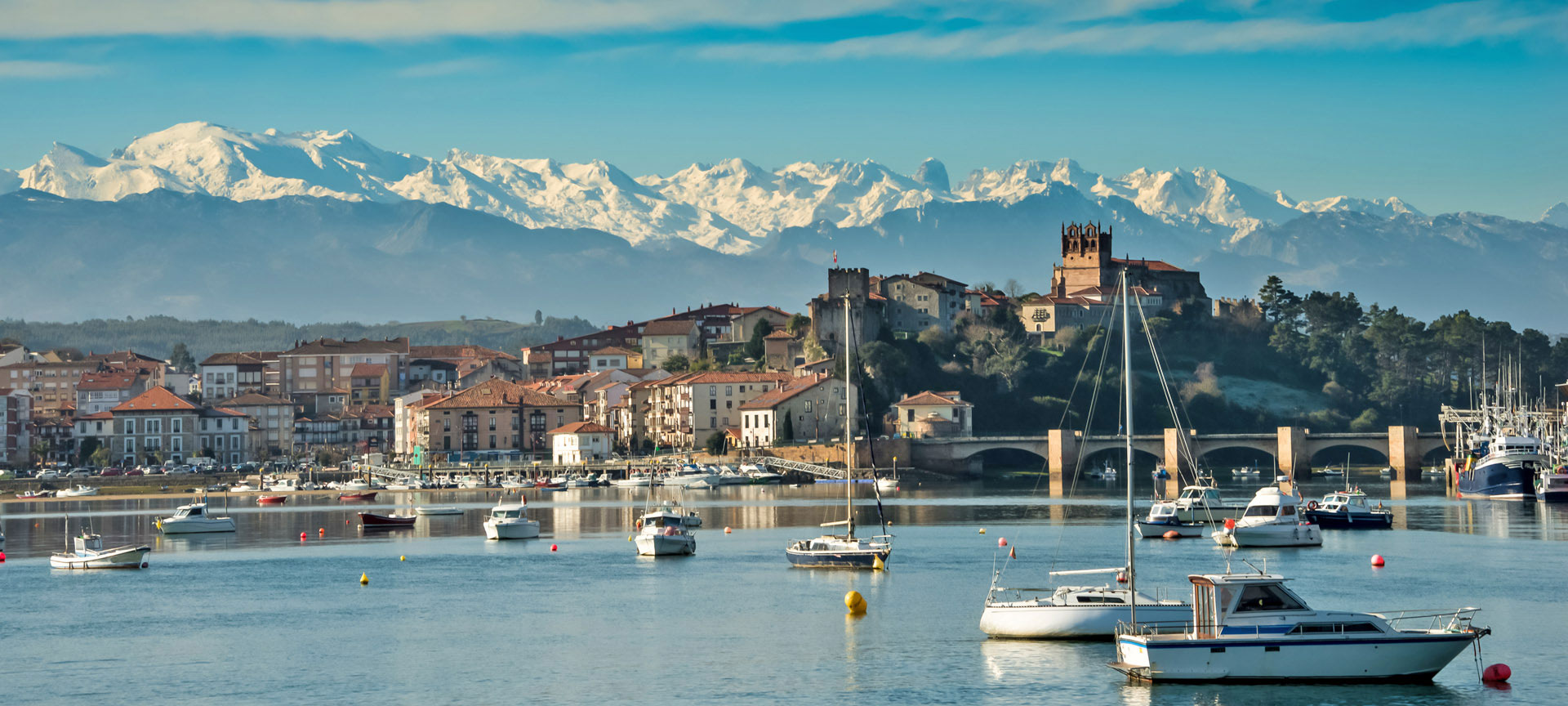 Memorable coastal towns
Shows, festivals, sports...
View some of the most relevant events you will be able to enjoy at the destination.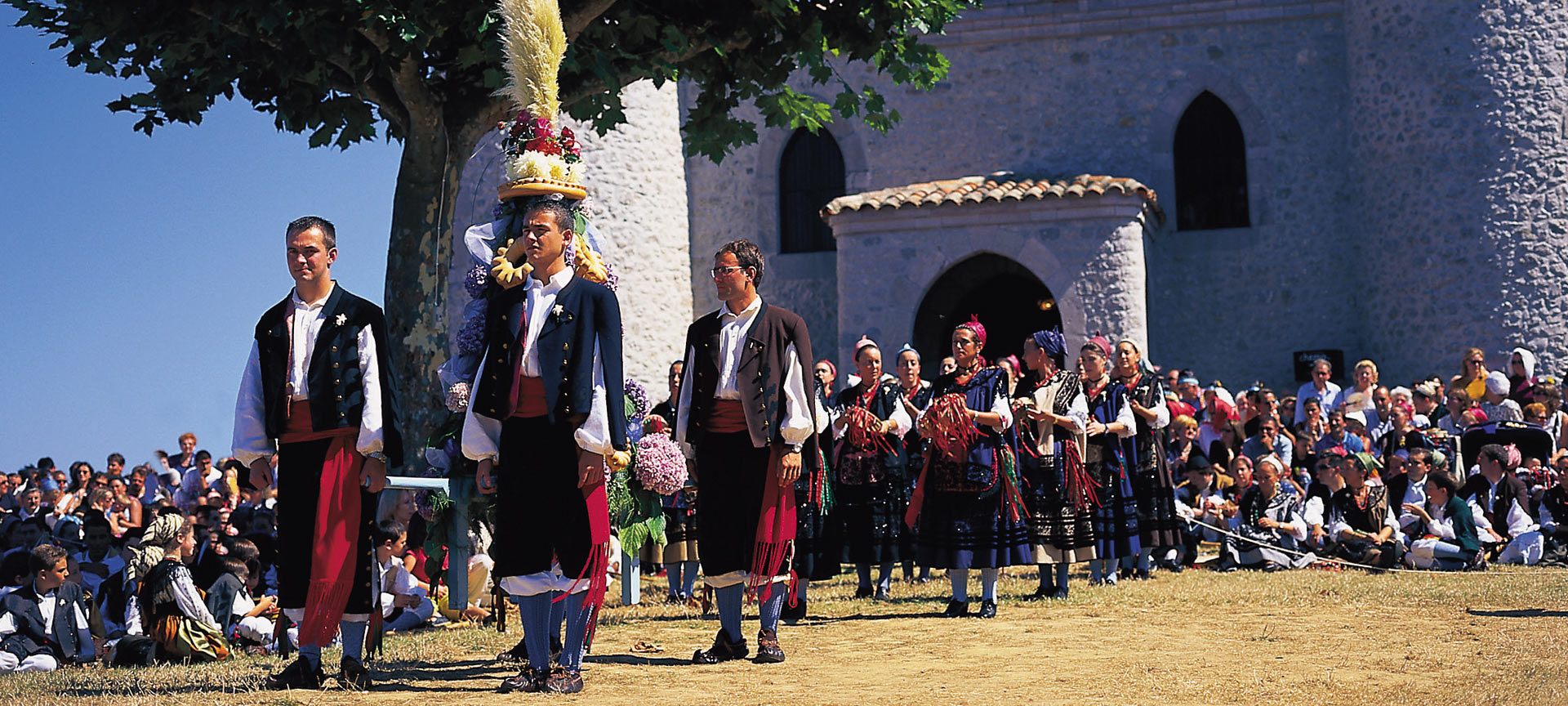 Virgen de la Guía Fiesta
08 September 2024

Choose between thousands of activities to live your best life on holiday.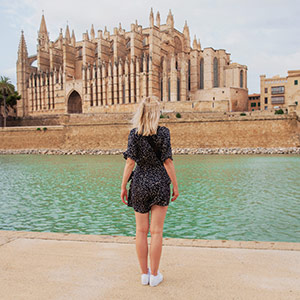 Explore Llanes
Llanes Tourism: Best of Llanes
Essential llanes.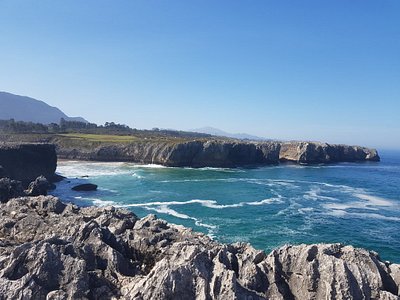 Llanes Is Great For
Art & history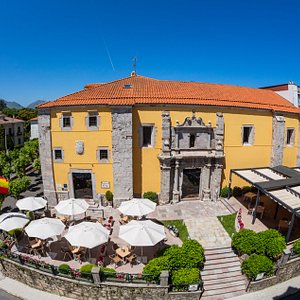 Eat & drink
Hotel Don Paco
Hotel Sablon
Hotel Rural Valleoscuru
Hotel Montemar
Hotel La Palma De Llanes
El Balamu Taberna Marinera
Restaurante Sidreria Casa El Rubiu
Restaurante Siete Puertas CB.
Restaurante El Retiro
Bar Sidrería La Amistad
Bufones de Pria
Playa de Gulpiyuri
Playa de Toro
Playa de la Ballota
Paseo de San Pedro de Llanes
Lighthouses
National Parks
Llanes, Spain 2023: Best Places to Visit (with Map & Photos)
What to see in llanes, the essentials, monuments and historic center, memory cubes, port of llanes, paseo de san pedro, movie palaces, what to see in llanes: the best beaches, el sablon beach, what to see near llanes, bufones de pría, gulpiyuri beach, llanes, spain map.
You may like these posts
Contact form
Explore Llanes
Llanes City Breaks: Best of Llanes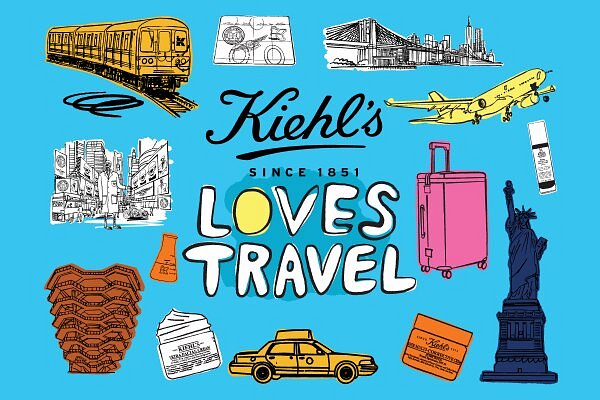 Your Fly with Kiehl's Exclusive Discount
Essential llanes.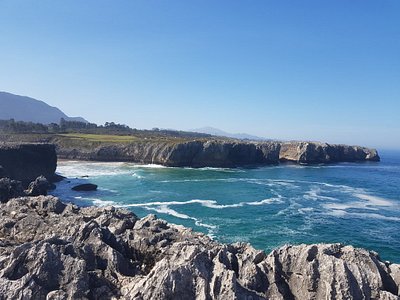 Llanes Is Great For
Art & history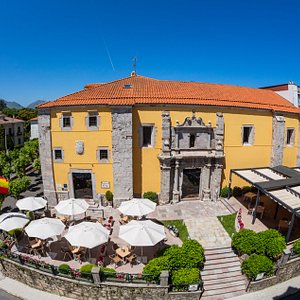 Eat & drink
THE 15 BEST Things to Do in Llanes
Things to do in llanes.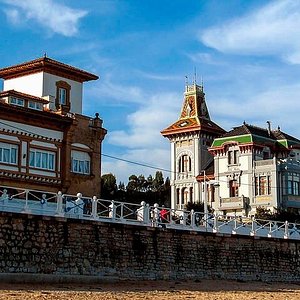 Tours in and around Llanes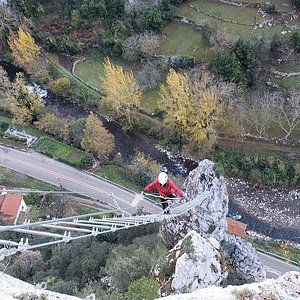 Top Attractions in Llanes
1. Bufones de Pria

2. Playa de Torimbia

3. Playa de Poo

4. Playa de Toro

5. Playa de Gulpiyuri

6. Playa de la Ballota

7. Playa de Cubijeru
8. Playa de Barro

9. Paseo de San Pedro de Llanes
10. Playa de Cuevas del Mar

11. Playa de San Martín

12. Bufones de Arenillas

What travellers are saying

Bufones de Pria
Playa de Toro
Playa de Gulpiyuri
Playa de Torimbia
Playa de la Ballota
Playa de Poo
Playa de Barro
Escuela Asturiana de Surf
Llanes Attractions Information
THE 30 BEST Places to Visit in Llanes
Places to visit in llanes.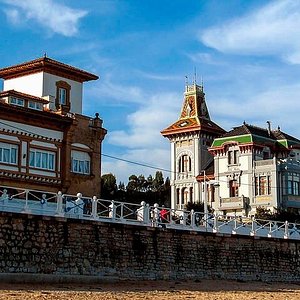 Tours in and around Llanes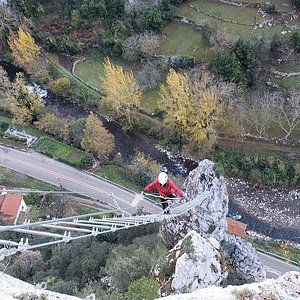 Top Attractions in Llanes
1. Bufones de Pria

2. Playa de Torimbia

3. Playa de Poo

4. Playa de Toro

5. Playa de Gulpiyuri

6. Playa de la Ballota

7. Playa de Cubijeru
8. Playa de Barro

9. Paseo de San Pedro de Llanes
10. Playa de Cuevas del Mar

11. Playa de San Martín

12. Bufones de Arenillas

What travellers are saying

Bufones de Pria
Playa de Toro
Playa de Gulpiyuri
Playa de Torimbia
Playa de la Ballota
Playa de Poo
Playa de Barro
Escuela Asturiana de Surf
Llanes Attractions Information
Dominican Republic
Fuerteventura
Gran Canaria
Riviera Maya
San Sebastián
article', 'event':'header_language'}); utag_data.event_category = 'header'; utag_data.event_action = 'change language'; utag_data.event_label = 'plans>article'; utag_data.event = 'header_language'; " class="wpml-ls-link"> Español
Barcelo. com
Places of Interest
Food and Drinks
Sea and Beaches
Routes and Walks
Sports and Adventure
Itineraries
Experiences
Where to stay
Health and Wellness
Leisure and Entertainment
Museums and Art
Llanes: a top holiday destination
Information
The charming medieval town of Llanes sits on the edge of the Cantabrian Sea, with the majestic Picos de Europa Mountains standing guard in the background. Its stunning architectural heritage only rivals the beauty of its beaches. Llanes is one of the most attractive tourist attractions in Asturias, offering everything from delicious cuisine, to picturesque landscapes and century-old traditions. Roam the town's medieval streets to the muffled sound of crashing waves. What are you waiting for? Come discover Llanes.
The beaches of Llanes: unmatchable beauty
It's no secret that the municipality's calling card is its beaches. Some of the Asturians' favourite stretches of sand are among the 40 beaches found along the Llanes coastline. If the sun isn't out, you can explore the Cantabrian coast's hidden secrets; if it is, just bask in the delights the beaches of Llanes afford.
The first beach on the list is Toró Beach. Located near the town, it can be reached on foot. Unique rock formations dot the quaint sandy beach. You'll get a gorgeous view of the Port of Llanes as you sit back in take in your surroundings. If you're looking for an endless stretch of golden sand, then head to San Antolín Beach . This unspoilt beach is also a favourite among surfers.
You can also access Asturias' best-kept secret, Gulpiyuri Beach , on foot. A designated natural monument and protected landscape, the beach's unique geological formations form a secluded inland beach, bounded by rugged cliffs. Sea water reaches the beach's shoreline by way of underground tunnels. Simply magical, you'll be moved by this destination's astounding beauty.
Poo Beach – don't let the name deter you – is another beautiful spot to explore. Located about 3 km from Llanes, the beach's calm waters are ideal for small children, especially when high tide rolls in. Torimbia Beach will transport you to paradise with its pristine aquamarine waters, framed by colossal cliffs and lush vegetation. Part of a protected area, you'll need to leave your car in the car park and walk the last bit. A nudist beach, it is considered one of the most beautiful beaches on the Cantabrian Coast. Looking for some quality quiet time with your better half? Then, this is your spot.
Another beach worth mentioning and visiting is the untouched beach of Ballota . As you walk towards the beach, you'll see a rugged boulder jutting through the water and verdant cliffs hugging the golden sand as rolling waves gently lap the shoreline. If the waves pick up, you'll witness the Santa Clara Blowhole come alive, spurting water with a vengeance. Walk up to the Boriza viewpoint and let yourself be mesmerized by the awe-inspiring views.
Cuevas del Mar means 'caves of the sea' and, as the name implies, this beach is dotted with remarkable caves and cliffs that have been carved out by the sea over centuries. This is one of the many protected beaches you can discover in Llanes – which ones will you be visiting?
What to do in Llanes
The gorgeous beaches are not the only attractions the region has to offer, there is so much more to see and do. The town of Llanes is just one of 28 parishes making up the municipality and it houses some of the region's most invaluable cultural landmarks and monuments. In fact, the old quarter contains several protected monuments that have been declared of cultural interest. The town was founded during the Early Middle Ages and parts of the medieval town wall remain intact. However, only one of the four town gates remains – the tower.
The 13 th –century Tower of Llanes is made out of limestone and formed part of the town's defensive wall. The Romanic-Gothic basilica of Santa María de la Asunción is another architectural gem, housing a singular Plateresque altarpiece. Don't forget to visit Gastañaga Palace , a unique example of Gothic architecture; the Chapel Maria Magdalena ; the palace of Posada Herrera ; and the modernist Casino . Meander the cobblestoned streets and soak in the town's heritage and tradition.
One of the most iconic landmarks of Llanes is Los Cubos de la Memoria , designed by the artist Agustín Ibarrola . It is one of the most important examples of public art in Spain. The giant concrete blocks lining the breakwater were painted using a variety of colours, designs and techniques that give life to new shapes and forms, depending on how the water and light come into contact with the blocks. The installation is a manifestation of the artist's memories, of art and of the region – one well worth contemplating.
Enjoy a view of the town from above by taking a walk along the Paseo de San Pedro . The verdant path runs along the top of the cliffs, bordering the village and the port. Have your camera ready when you reach the top to take some of the most unique picturesque shots. This natural terrace offers sweeping views of the medieval town, with the Cuera Mountain Range providing a spectacular backdrop. On a clear day, you'll be able to see the majestic Picos de Europe.
Llanes has drawn the attention of many Spanish film directors for its spectacular scenery. The Palace of Partarríu made the audience's skin creep in the supernatural film El orfanato , while the spectacular beauty of the Pría Blowholes was forever immortalised in La Señora . Llanes offers a combination of sea, mountains, cliffs and architecture – four pillars of Asturias' undisputable beauty that have captured the hearts of everyone who visits the region.
Eating out in Llanes
A walk along the Port of Llanes offers some wonderful sightseeing, both during the day and at night. You'll discover the unique Cubos de Memoria, the lighthouse, and some delightful bars and restaurants . Sit down and have a glass of Asturias' famous cider as you savour freshly-caught fish and seafood, exquisite Asturian cheese, and many other typical dishes. Some of our favourites include El Bálamu, Los Piratas del Sablón, Casa del Mar and Chigre El Antoju – they'll leave you wanting more.
Related plans
Asturian festivities: tradition, nature, cider and entertainment, senda del oso: discover the raw natural beauty of asturias.
Winter is here! Check out the winter wonderlands at these 5 amazing winter destinations in Montana
A Short Guide To Llanes – Asturias' Popular Seaside Town
Published: September 13, 2023
by Pris Newman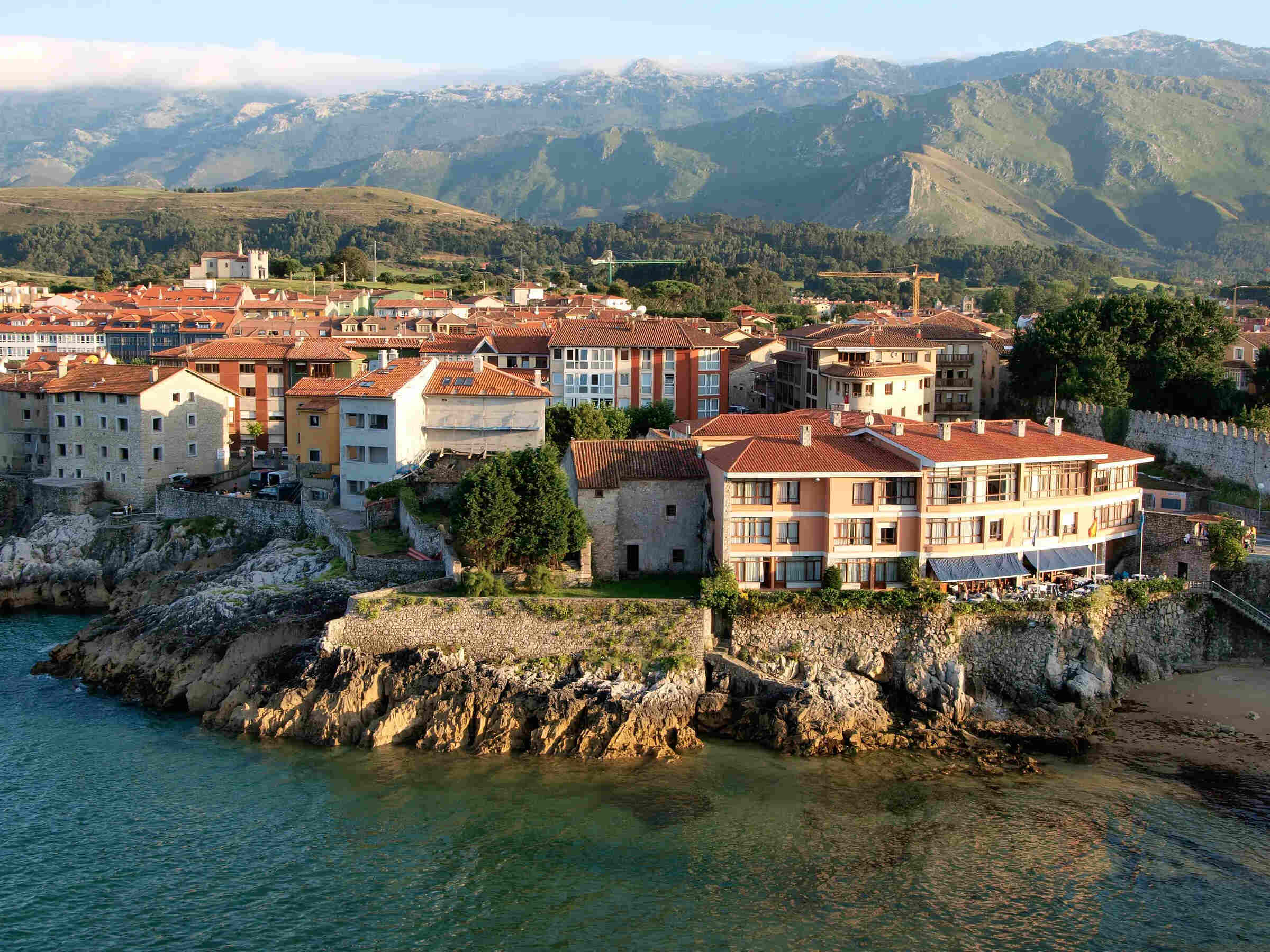 Introduction
Welcome to Llanes, a picturesque seaside town nestled along the Asturian coast in northern Spain. With its breathtaking natural beauty, rich history, and warm hospitality, Llanes is a must-visit destination for both locals and tourists alike. Whether you're seeking a relaxing beach getaway or an adventure-filled vacation, Llanes offers something for everyone.
Located in the region of Asturias, Llanes is known for its stunning landscapes, pristine beaches, and vibrant cultural heritage. This charming town seamlessly blends modern amenities with traditional charm, creating a unique ambiance that captivates visitors.
Step foot in Llanes, and you'll be greeted by colorful painted houses, cobbled streets, and a bustling town center. The vibrant atmosphere and friendly locals make it easy to immerse yourself in the local culture and experience the true essence of Asturian lifestyle.
But Llanes is more than just a pretty face. Its history dates back centuries, and evidence of its ancient origins can be seen through its architectural marvels, medieval structures, and intriguing historical sites. From the iconic Basilica de Santa Maria del Conceyu to the imposing walls of the medieval fortress, Llanes is a treasure trove of history waiting to be explored.
Not only is Llanes rich in cultural heritage, but it also boasts a stunning natural landscape. Surrounded by majestic mountains, verdant valleys, and the glistening Cantabrian Sea, the town offers a playground of outdoor activities. From hiking along the stunning coastal cliffs to exploring hidden coves and caves, you'll be awed by the beauty that awaits.
In this article, we'll delve into the history of Llanes, explore its geography and landscape, discover the pristine beaches, dive into the cultural and historical sites, uncover the thrilling outdoor activities, savor the local cuisine, and get a taste of the vibrant festivals and events. By the end, you'll be itching to pack your bags and experience the wonders of Llanes firsthand.
History of Llanes
The history of Llanes traces back centuries, with evidence of human settlements dating back to prehistoric times. Throughout the years, this coastal town has witnessed the rise and fall of various civilizations, leaving behind a rich tapestry of cultural influences.
In the Middle Ages, Llanes played a significant role as a strategic port, serving as a gateway for trade between the Cantabrian Sea and the rest of Europe. Its location made it a coveted region, leading to numerous conflicts and battles. The town's defensive walls, known as the Cubes of Llanes, were constructed during this time to protect the town from invasions.
The 16th and 17th centuries marked a period of prosperity for Llanes, as it became an important fishing and trading center. The town's wealth is reflected in its stunning architecture, with grand mansions and palatial houses adorning the streets. These impressive buildings, such as the Palace of the Marquis of Canillejas and the Casino de Llanes, showcase the town's historic significance.
Throughout the years, Llanes has experienced various cultural influences, including Roman, Visigothic, and Muslim occupations. Each era has left its mark, creating a unique blend of architectural styles and cultural traditions.
Today, Llanes is not only proud of its rich past but also embraces modernity. It has become a sought-after destination, attracting visitors from around the world who come to explore its history, indulge in its natural beauty, and experience the warm hospitality of its inhabitants.
When visiting Llanes, be sure to explore the town's historic center, known as the Paseo de San Pedro. Here, you'll find picturesque squares, narrow alleys, and charming buildings that harken back to a bygone era. Take a stroll along the harbor and admire the colorful fishing boats or wander through the bustling markets to get a taste of the local culture.
The rich history of Llanes is not limited to the town itself but extends to the nearby areas. Nearby villages, such as Celorio and Puertas de Vidiago, offer glimpses into rural life and provide opportunities to explore ancient churches, traditional houses, and archaeological sites.
As you wander through the labyrinthine streets of Llanes, you'll feel a sense of awe and wonder, transporting you back in time to the days of old. The town's history is a testament to the resilience of its people and serves as a reminder of the enduring spirit that continues to make Llanes a captivating destination.
Geography and Landscape
Llanes is blessed with a diverse and stunning natural landscape that attracts nature enthusiasts and adventure seekers alike. Nestled along the rugged coastline of the Cantabrian Sea and embraced by the majestic Picos de Europa mountain range, the town offers a breathtaking backdrop for outdoor exploration.
One of the highlights of Llanes' geography is its dramatic coastline. The rugged cliffs, hidden coves, and pristine beaches make it a haven for beach lovers and photographers. Playa de Toro, with its characteristic rock arch, and Playa de Cué are among the most popular beaches in the area, offering golden sands and crystal-clear waters.
For those seeking a more adventurous experience, the coastal path known as the Camino de Santiago del Norte offers a chance to hike along the cliffside, providing panoramic views of the sea and the surrounding countryside. The path showcases the untamed beauty and raw power of the Cantabrian coast.
Inland, you'll discover the incredible landscape of the Picos de Europa National Park. This UNESCO Biosphere Reserve is a paradise for outdoor enthusiasts, offering numerous hiking and mountaineering opportunities. Explore dense forests, deep valleys, and soaring peaks as you immerse yourself in the natural wonders of the park.
The Cares Gorge is another natural marvel located near Llanes. This breathtaking ravine cuts through the heart of the Picos de Europa, creating a spectacular hiking route known as Ruta del Cares. The trail follows a narrow path carved into the rock, offering staggering views of the deep gorge and the rushing Cares River below.
But Llanes is not just about its coastline and mountains. The town is also home to charming rural areas and picturesque villages. The rolling green hills and fertile valleys that surround Llanes provide a contrast to the rugged coast, offering a peaceful retreat for those looking to reconnect with nature.
Whether you're exploring the coast, hiking in the mountains, or meandering through the countryside, Llanes' geography and landscape offer a constant reminder of the natural beauty that dominates the region. Immerse yourself in this picturesque setting and let the tranquility of the surroundings wash over you.
Beaches in Llanes
When it comes to beaches, Llanes is a true paradise. With its pristine coastline stretching over 30 kilometers, the town boasts a diverse selection of beautiful beaches that cater to all preferences. From secluded coves to wide stretches of golden sand, Llanes offers a beach experience like no other.
One of the most famous and iconic beaches in Llanes is Playa de Toró. Situated just a short distance from the town center, this beach is known for its unique rock arch, known as the Bufones de Arenillas. The impressive natural formation creates a stunning backdrop for beachgoers, and the crashing waves provide a dramatic spectacle. It's an ideal spot for both relaxation and photography.
Another popular beach in Llanes is Playa de Barro. This family-friendly beach is characterized by its fine golden sand and calm waters, making it a perfect spot for sunbathing and swimming. It also offers convenient amenities like beach bars and parking facilities, ensuring a comfortable experience for visitors.
For those seeking a more secluded and tranquil beach escape, Gulpiyuri Beach is a hidden gem. This unusual beach is located inland, approximately 100 meters from the sea, and is accessible through a natural tunnel. It may be small in size, but its crystal-clear turquoise waters and stunning surroundings make it a true hidden paradise.
Playa de Ballota is another gem that offers a more rugged and wild beach experience. This secluded beach is accessible by a short hike and rewards visitors with breathtaking views of towering cliffs and untouched natural beauty. It's the perfect spot for those looking to escape the crowds and get in touch with nature.
Along the coastline of Llanes, numerous other beaches await exploration. From the sandy shores of Playa de Andrín to the picturesque Playa de Poo and the lively Playa de San Antolín, each beach offers its own unique charm and allure. Whether you're looking for a family-friendly beach, a surfing spot, or a romantic retreat, Llanes has a beach to suit every taste.
It's important to note that Llanes' beaches are not just known for their beauty but also for their commitment to environmental preservation. The town has received multiple Blue Flag certifications, highlighting its dedication to maintaining cleanliness and sustainability along its coastline.
When visiting Llanes, don't miss the opportunity to explore its stunning beaches. Whether you want to relax on the sand, take a refreshing swim, or simply enjoy the breathtaking views, Llanes' beaches provide the perfect setting for a memorable seaside experience.
Cultural and Historical Sites
Llanes is a town steeped in history and culture, offering a wealth of fascinating sites that showcase its rich heritage. From architectural marvels to ancient landmarks, a visit to Llanes is a journey through time.
One of the town's most iconic landmarks is the Basilica de Santa Maria del Conceyu. This magnificent church dates back to the 13th century and boasts a stunning Gothic design. Admire the intricate stone carvings and step inside to marvel at the beautiful altarpieces and religious artifacts that grace the interior.
The Cubes of Llanes, or Los Cubos de la Memoria, are another must-visit sight. These colorful, modernist structures are a representation of the town's fishing heritage and were designed by the renowned artist Agustín Ibarrola. These vibrant cubes add a touch of charm to the town's waterfront and have become an iconic symbol of Llanes.
For a glimpse into the town's medieval past, make sure to visit the Torre del Castillo. This imposing tower was part of the town's defensive walls and offers panoramic views of Llanes and its surroundings. Explore the tower and learn about its historical significance through interactive exhibits and displays.
Llanes is also home to numerous palatial houses and grand mansions that reflect its prosperous past. The Palace of the Marquis of Canillejas, with its stunning architecture and ornate details, is a prime example of the town's opulence during the 16th and 17th centuries. The Casino de Llanes, a beautiful neoclassical building, is another landmark worth visiting to soak in the town's cultural heritage.
As you wander through the town's narrow streets and charming squares, you'll come across numerous ancient churches that highlight Llanes' religious history. The Church of Santa Ana, with its Romanesque style, and the Chapel of San Roque, dating back to the 16th century, are just a few examples of the religious sites that grace Llanes.
For a more immersive historical experience, consider exploring the nearby village of Cuevas del Mar, which is home to the Prehistoric Caves of Andina. These caves showcase impressive rock art and carvings, offering a glimpse into the lives of our ancient ancestors and their artistic expressions.
With its wealth of cultural and historical sites, Llanes is a treasure trove for history buffs and art enthusiasts. Immerse yourself in the town's fascinating past and discover the stories that have shaped this charming seaside town.
Outdoor Activities in Llanes
If you're an outdoor enthusiast, Llanes is the ultimate playground. With its diverse landscape of mountains, coastline, and lush countryside, the town offers a plethora of exciting activities for nature lovers and adventure seekers.
One of the most popular outdoor activities in Llanes is hiking. The surrounding Picos de Europa mountain range provides endless opportunities for exploration. Lace up your hiking boots and hit the trails to discover breathtaking vistas, hidden lakes, and impressive peaks. The Ruta del Cares, a famous hiking route that follows a spectacularly scenic gorge, is a must-try for avid hikers.
For a unique and thrilling experience, consider exploring the underground world of Llanes by caving. The limestone caves in the region offer a fascinating subterranean landscape of stalactites, stalagmites, and winding passageways. Guided tours are available for both novice adventurers and experienced cavers.
Llanes is also a paradise for water sports enthusiasts. The Cantabrian Sea provides excellent conditions for surfing, with several surf schools catering to all levels. Whether you're a beginner catching your first waves or an experienced surfer looking for a challenge, Llanes has surf spots to suit your skill level.
Kayaking and paddleboarding are also popular activities in Llanes. Explore the coastline from a different perspective as you paddle through hidden coves, sea caves, and rugged cliffs. Rental equipment and guided tours are available for those looking to embark on an aquatic adventure.
For those seeking a more relaxed outdoor activity, Llanes offers numerous cycling routes that showcase the beautiful landscapes of the region. Biking along coastal paths, country roads, and mountain trails allows you to soak in the natural beauty at your own pace. Bike rentals are available for those who don't have their own equipment.
With its pristine beaches and crystal-clear waters, Llanes is also an ideal destination for swimming and sunbathing. Spend a day lounging on the golden sands, taking refreshing dips in the sea, and soaking up the sun. Don't forget to pack your beach essentials and embrace the laid-back beach lifestyle.
For the adventurous souls, Llanes offers rock climbing opportunities. The limestone cliffs and crags provide challenging routes for climbers of all levels. Whether you're a beginner or an experienced climber, the thrill of conquering a rock face is a unique experience in the stunning natural surroundings.
Regardless of the outdoor activity you choose, remember to respect the environment and follow safety guidelines. Take the time to appreciate the beauty of Llanes' natural surroundings and immerse yourself in the outdoor adventures that await you in this amazing coastal town.
Local Cuisine and Gastronomy
When it comes to culinary delights, Llanes is a food lover's paradise. The town's coastal location provides a rich and diverse selection of fresh seafood, while the surrounding countryside offers an abundance of local produce. From traditional Asturian dishes to innovative culinary creations, Llanes' gastronomy is sure to tantalize your taste buds.
Seafood takes center stage in Llanes' culinary scene, and you'll find a wide variety of options to satisfy your cravings. Indulge in succulent lobster, grilled octopus, or the famous Asturian fabada, a hearty bean stew that combines flavors of the sea and the land. Wash it all down with a glass of crisp cider, another Asturian specialty.
Llanes is also known for its extensive selection of cheeses. The region's fertile pastures provide ideal conditions for dairy farming, resulting in exceptional cheeses. From the creamy Cabrales to the smoky Gamonedo, cheese lovers will be in heaven with the wide variety of options available.
Additionally, Llanes boasts a rich tradition of farm-to-table cuisine. The fertile land yields an array of fresh produce, including vegetables, fruits, and aromatic herbs. The local markets offer a glimpse into the region's agricultural bounty, and you can taste the freshness and quality in every bite.
When it comes to dining in Llanes, be sure to try Asturian classics such as fabada, cachopo (a breaded and stuffed meat dish), and arroz con leche (rice pudding). These dishes highlight the region's culinary heritage and showcase the flavors that have been passed down through generations.
Visiting Llanes wouldn't be complete without indulging in the town's famous desserts. Asturias is known for its delectable treats, and Llanes is no exception. Treat yourself to a slice of tarta de queso (cheesecake) or a bite of frixuelos (Asturian crepes) filled with sweet cream. These mouthwatering sweets will satisfy even the most discerning sweet tooth.
Pair your culinary adventures with the warm and friendly hospitality that Llanes is known for. The local restaurants and sidrerías (cider houses) offer a welcoming and cozy atmosphere, where you can relax and savor the flavors of the region.
Whether you're a food connoisseur or simply someone who appreciates good food, Llanes' local cuisine and gastronomy will leave you wanting more. Immerse yourself in the culinary wonders of this charming coastal town and let your taste buds embark on a delightful journey of flavors.
Festivals and Events in Llanes
Llanes is a town that knows how to celebrate, and its calendar is filled with exciting festivals and events that showcase the vibrant culture and traditions of the region. From religious processions to lively music festivals, there is always something happening in Llanes to keep you entertained and immersed in the local festivities.
One of the most acclaimed events in Llanes is the Fiesta de San Roque, celebrated in August. This religious festival honors the patron saint of the town and features a variety of activities, including processions, traditional dances, and live music performances. The highlight is the "guaje" contest, where participants compete by drinking cider from traditional wooden cups.
The Semana Santa, or Holy Week, is another significant event in Llanes. Religious processions wind through the town's streets, with participants dressed in intricate traditional costumes. This solemn yet captivating event showcases the deep-rooted religious traditions of the region.
For music lovers, the International Jazz Festival is a must-attend event. Held annually in July, this festival brings together renowned national and international jazz artists for a series of concerts held in various venues throughout Llanes. From soulful melodies to energetic rhythms, the festival offers a diverse range of performances that will captivate music enthusiasts.
The Feast of Our Lady of Guía is another widely celebrated festival in Llanes. This religious event, held on the first Sunday of September, includes a procession through the town, offering a glimpse into the fervent devotion of the locals.
During the summer months, Llanes comes alive with cultural and recreational activities. The town hosts outdoor concerts, theatrical performances, and art exhibitions, creating a vibrant and festive atmosphere. Visitors can immerse themselves in the local arts scene and experience the creativity of Llanes' talented artists.
Culinary events also play a prominent role in Llanes' festival calendar. The Seafood Festival, held in August, showcases the abundant seafood harvest of the region, allowing visitors to savor the freshest catches from the Cantabrian Sea. The Cheese Festival, held in October, celebrates the rich cheese-making heritage of Asturias, offering tastings and demonstrations that will delight cheese enthusiasts.
These festivals and events are just a taste of the lively and engaging celebrations that take place in Llanes throughout the year. Whether you're drawn to religious processions, musical performances, culinary delights, or cultural exhibitions, Llanes has something to offer for every taste and interest.
Immerse yourself in the vibrant atmosphere, join in the festivities, and create lasting memories as you experience the rich traditions and joyful celebrations that make Llanes a truly remarkable town.
Shopping and Souvenirs
When it comes to shopping, Llanes offers a variety of options to indulge in retail therapy and bring back a piece of the town's charm. From unique local products to traditional crafts, you'll find a range of items that make for perfect souvenirs or gifts.
The town center of Llanes is filled with quaint boutiques and specialty stores, where you can discover handmade crafts, local artisanal products, and fashionable clothing. Stroll along the narrow streets and browse through shops that showcase the creativity and craftsmanship of the region.
Llanes is known for its vibrant textile industry, and you'll find a selection of locally produced woolen products, including blankets, scarves, and sweaters. These high-quality, woolen items make excellent souvenirs to keep you warm during the colder months or to adorn your home.
For a taste of the local flavors, visit the local markets and delicatessens, where you can purchase delicious Asturian specialties. From artisanal cheese and cured meats to traditional sweet treats, these culinary delights make for perfect gifts or treats for yourself.
Ceramics and pottery are also popular in Llanes. Visit the local workshops and galleries to find unique pieces crafted by talented local artisans. From decorative tiles and plates adorned with traditional designs to intricate sculptures, these handmade ceramics add a touch of artistry to any home.
Don't forget to grab a bottle of Asturian cider, one of the region's most famous exports. Cider houses and specialty shops offer a variety of local ciders, allowing you to bring back a taste of the Asturian tradition. Enjoy it at home or share it with friends and family, and savor the flavors that have been synonymous with Asturias for centuries.
When it comes to souvenirs, Llanes also offers an array of trinkets and mementos that capture the essence of the town. Local crafts, such as handmade jewelry, seashell decorations, and traditional wooden toys, make for unique and cherished keepsakes that remind you of your time in Llanes.
Whether you're looking for stylish clothing, artisanal crafts, delectable food products, or unique souvenirs, Llanes provides a fantastic shopping experience. Take a piece of the town's charm home with you and support the local artisans and businesses that contribute to the vibrancy of Llanes' shopping scene.
Accommodation Options in Llanes
When it comes to accommodation, Llanes offers a range of options to suit every traveler's needs and preferences. From cozy guesthouses to luxurious hotels, the town provides ample choices for a comfortable and memorable stay.
Llanes' charming town center is home to numerous boutique hotels and guesthouses. These accommodations capture the essence of the town with their traditional architecture and warm hospitality. Immerse yourself in the local atmosphere as you stay in these quaint establishments, which often feature beautiful courtyards, cozy lounges, and personalized service.
If you're seeking a beachfront stay, Llanes offers a selection of hotels and resorts that provide direct access to the sandy shores. Wake up to the sound of crashing waves and enjoy stunning views of the sea from your balcony. These accommodations often boast outdoor pools, sun terraces, and beach amenities, allowing you to fully embrace the beach lifestyle.
For a more private and independent experience, consider renting a holiday cottage or apartment in one of the surrounding rural areas. These self-catering accommodations allow you to have your own space and immerse yourself in the tranquil countryside. Wake up to breathtaking views from your window and enjoy the freedom to explore at your own pace.
Llanes is also home to campsites and caravan parks, providing options for outdoor enthusiasts looking to enjoy a more rustic experience. These establishments offer facilities and amenities that cater to campers and caravan travelers, allowing you to immerse yourself in nature while still enjoying basic comforts.
Regardless of the type of accommodation you choose, you'll find that Llanes is well-equipped to cater to your needs. Many establishments offer amenities such as free Wi-Fi, parking, and on-site restaurants, ensuring a convenient and enjoyable stay.
It's worth noting that Llanes is a popular destination, especially during the summer months, so it's advisable to book your accommodation well in advance, especially if you have specific preferences or are traveling during peak season.
Whether you're looking for a cozy retreat, a luxurious beachfront stay, or a rustic experience in the countryside, Llanes has a variety of accommodation options to suit all tastes and budgets. Relax and unwind in comfort as you create lasting memories in this beautiful coastal town.
How to Get to Llanes
Llanes is located in the region of Asturias in northern Spain. Despite its coastal location, reaching Llanes is relatively easy with various transportation options available.
If you prefer flying, the nearest airport to Llanes is Asturias Airport (OVD). It is located approximately 120 kilometers away from the town. From the airport, you can rent a car to drive to Llanes, which takes around 1.5 to 2 hours. Alternatively, you can take a taxi or use public transportation to reach the bus station or train station in Oviedo or Gijón, and then take a bus or train to Llanes.
For those traveling by train, Llanes is connected to the national railway network. The town has its own train station, making it convenient for visitors to reach directly. Renfe, the national train operator, offers train services that connect Llanes to major cities like Oviedo, Gijón, Santander, and even Madrid. The train journey provides a scenic route, allowing travelers to enjoy the picturesque landscapes of the region.
Traveling by bus is another option to reach Llanes. The town has a central bus station that serves both regional and long-distance buses. ALSA is the main bus company that operates routes to and from Llanes, connecting it to cities in the region as well as beyond. Buses are a convenient and cost-effective way to travel, and the bus station is located near the town center, making it easily accessible.
If you prefer to drive, Llanes can be easily reached by car. The town is connected to the national road network, and the A-8 motorway runs through the region, providing convenient access. From nearby cities like Oviedo or Gijón, it takes approximately 1.5 to 2 hours to drive to Llanes. The roads are well-maintained, and there are signposts that guide you to the town, making it a straightforward journey.
Once you arrive in Llanes, getting around the town is relatively easy. The town center is compact and can be explored on foot. If you plan to venture further or explore the surrounding areas, renting a car is recommended for the convenience and flexibility it provides.
Overall, reaching Llanes is a straightforward process with a range of transportation options available. Whether you choose to fly, take a train, catch a bus, or drive, you'll find yourself in this charming coastal town ready to immerse yourself in all that it has to offer.
Llanes truly embodies the essence of a captivating seaside town. From its rich history and cultural heritage to its stunning natural landscapes and vibrant festivals, Llanes offers a diverse and immersive experience for visitors.
Exploring the winding streets of Llanes, you'll encounter architectural gems, ancient churches, and grand palatial houses that reflect the town's prosperity and historical significance. The Cubes of Llanes and the Basilica de Santa Maria del Conceyu are just a few examples of the town's captivating landmarks.
The geography and landscape of Llanes are breathtaking, with its rugged coastline, pristine beaches, and majestic mountains. Whether you're hiking along the cliffside paths, discovering hidden coves, or taking in the panoramic views from the Picos de Europa National Park, Llanes offers a wealth of outdoor activities for nature enthusiasts.
The local cuisine of Llanes is a delight for food lovers, with its abundance of fresh seafood, artisanal cheeses, and traditional dishes. Sampling the local flavors while enjoying the warm hospitality of the town's restaurants and sidrerías is an experience not to be missed.
Throughout the year, Llanes comes alive with festivals and events that celebrate the town's culture and traditions. From religious processions to music festivals, these lively celebrations offer a glimpse into the vibrant spirit of the locals and create lasting memories for visitors.
When it comes to shopping and souvenirs, Llanes offers a range of options to take a piece of the town's charm home with you. Whether it's handmade crafts, local produce, or traditional ceramics, you'll find unique treasures to cherish and share.
Getting to Llanes is convenient, with various transportation options available. Whether you prefer to fly, take a train or bus, or drive, the town is well-connected to the surrounding areas, allowing you to easily access this coastal gem.
In conclusion, a visit to Llanes is a journey into a world of captivating beauty, cherished traditions, and warm hospitality. Immerse yourself in the town's rich history, explore its stunning landscapes, indulge in its gastronomy, and be a part of its vibrant festivities. Llanes welcomes you with open arms, ready to provide an unforgettable experience that will leave you longing to return.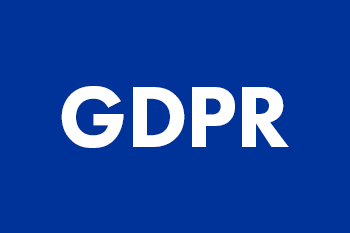 Privacy Overview
Strictly Necessary Cookies
This website uses cookies so that we can provide you with the best user experience possible. Cookie information is stored in your browser and performs functions such as recognising you when you return to our website and helping our team to understand which sections of the website you find most interesting and useful.
Strictly Necessary Cookie should be enabled at all times so that we can save your preferences for cookie settings.
If you disable this cookie, we will not be able to save your preferences. This means that every time you visit this website you will need to enable or disable cookies again.
Puertu Chicu beach set in a sandy cove in Llanes
Llanes travel guide
About llanes.
Llanes in Asturias is a beautiful coastal town with lots of beaches, stunning hiking routes and much delicious seafood!
Inhabited since prehistoric times, Llanes is an historic town whose defences were built at the beginning of the 13th century when King Alfonso IX brought the town under the rule of his kingdom. Some 300m of this pre-Romanesque wall remain standing whilst the defensive tower is now the Tourist Office.
A period of prosperity followed from the 13th to the 17th century as the town became an important seaport, however, in 1802 Napoleon's troops arrived and made the town its headquarters until 1812. Skirmishes took place between the French Army and local guerrillas, and after the French left, many of the townspeople, known as Llaniscos, left for Latin America.
Today, the town is a popular tourist destination for Spaniards and it enjoys sharing its past with visitors. The Museum of the Indianos shows the journey of those emigrating, many of whom returned with new-found wealth to build many of the mansions around the town which they use as holiday homes in the summer. There is also an ethnographic museum, and the Centro Regional de Artesanía y Artes Plásticas in nearby Poo is well worth a look to discover works by local artists and see them create their art in workshops.
The stunning beaches
There are 29 stunning beaches along the coast around Llanes with several in the town itself. Playa El Sablon is the most popular, a small beach of fine sand with calm waters, whilst Playa de Puerto Chico is a pretty beach with a lighthouse.
Slightly further east is the beautiful Playa de Toro, where rock formations pierce through the golden sand, the Playa de Antilles that connects the Isla Grande to the mainland at low ride, and the large beaches of Balotta and Andrin, which are renowned for their waves and are popular with surfers. To the west you'll find the Playa de Poo, a very calm beach that forms a narrow passage between the rocks. Follow the San Pedro walking route that extends 800m along the Llanes coast for some spectacular views of the sea and beaches.
In the town, one of Llanes most recognisable features is the Cubes of Memory, the brightly decorated cubes that form a breakwater in the harbour, which were created by Basque artist Agustín Ibarrola. With such great beaches and conditions for surfing, there are many surf schools around Llanes as well as opportunities for waterskiing, wakeboarding and snorkelling.
Inland, why not have a go at canyoning, quadbiking or caving to explore the striking gorges or go hiking or horseriding in the forest? If culture is more what you're interested in, there are many fiestas celebrated in Llanes with folk dancing and the townspeople wear their traditional costumes.
Food and festivals
With gastronomic festivals as well as the traditional religious fiestas, Llanes is a great place to try some Asturian cuisine. The town market is on a Tuesday selling crafts, jewellery, fabrics and plants and herbs whilst at the Friday market in nearby Posada you'll find local produce, including cheese and fish, for sale. Fish and seafood forms a large part of Llanes cuisine and crab, lobster, mullet, scorpionfish, anchovies and squid are just some of the delights on the menu.
Cheese is also very popular with the soft and creamy queso de Vidiago, the smoked Ahumado de Pría, and goat's cheeses such as La Cuevona. Fabada, a cassoulet-type stew, is a well-known dish and fabes beans are used throughout Asturian cuisine. Tortos served with picadello and fried eggs is also a common dish.
Those with a sweet tooth are not left out with casiedella, an anise flavoured pastry with hazelnuts and walnuts and chocolates shaped and designed to look like the Cubes of Memory. Of course, don't forget to enjoy your meal with a glass of the local cider, sidra, poured in the traditional way from a great height.
The easiest way to visit Llanes is via the ferry to Santander . The ferry to Santander leaves from either Portsmouth or Plymouth and the drive along the coast to Llanes takes in the beautiful Parque Nacional de Los Picos de Europa.
Ferries to Spain
Book online for the best price and choice of sailings. Choose the level of flexibility you want with a range of ticket types, and onboard accommodation to suit your budget!
Holidays in Spain
Sail & stay with us to save time and money! Pack your car with everything you need - even the family pet, and enjoy the fun of travelling on board.
COTTAGES IN SPAIN
HOTEL HOLIDAYS & BREAKS IN SPAIN
FAMILY HOLIDAYS IN FRANCE AND SPAIN
WINTER SUN HOLIDAYS
Getting to spain.
Get closer to your holiday in Spain with a choice of routes sailing to Santander and Bilbao
PLYMOUTH TO SANTANDER FERRIES
PORTSMOUTH TO BILBAO FERRIES
PORTSMOUTH TO SANTANDER FERRIES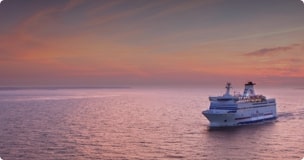 Book a ferry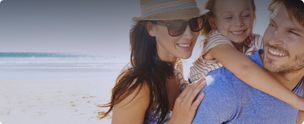 Search a holiday
Routes & Ports
Our ferries, onboard experience, planning your journey, destinations, highlighted holidays, collections, self-catering holidays, hotels, breaks & tours, top regions, city guides, inspiration, useful links, travel extras.
Please enable JavaScript to continue using this application.
Car Rentals
Airport Transfers
Attractions & Tours
Bundle & Save
Destinations
Trip.com Rewards

Llanes Travel Guide

Experience Llanes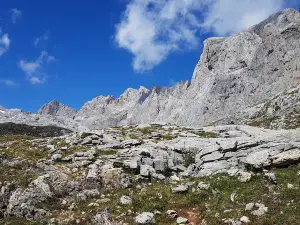 Parque Nacional de Los Picos de Europa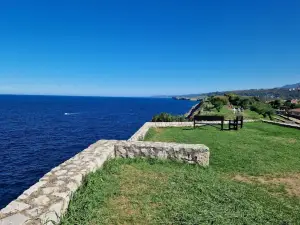 El banco más guapu de Llanes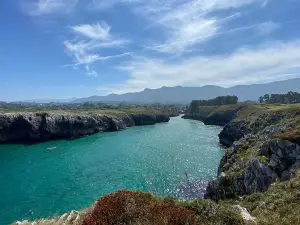 Guadamía beach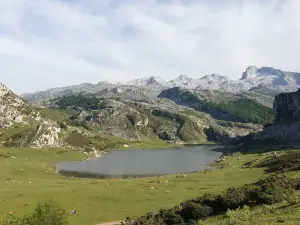 Mirador de Entrelagos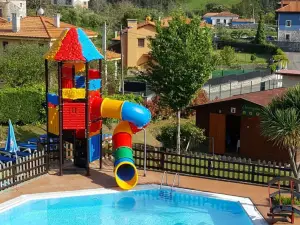 Camping Ribadesella Asturias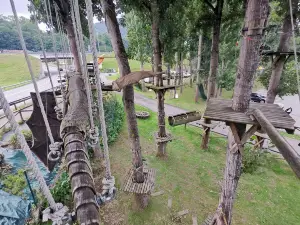 Cangas Aventura - Descenso del Sella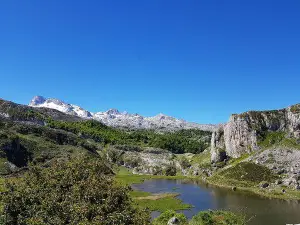 Lakes of Covadonga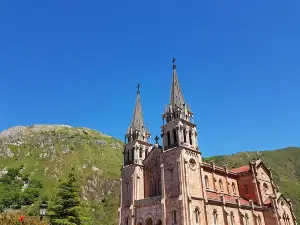 Basilica de Santa Maria la Real de Covadonga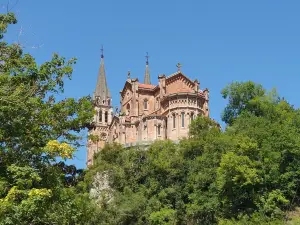 Sanctuary of Covadonga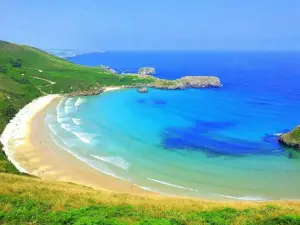 Playa de Torimbia
Where to stay, hotel la palma de llanes, la posada del rey, luna del valle, hotel bufon de arenillas, hotel balcón de la cuesta, hotel sablón, hotel puerto de llanes, hotel finca la mansión, hostal europa, apartamentos turísticos llanes, apartamentos silken playa de toró, what to eat.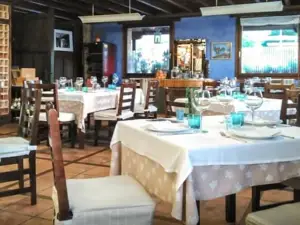 Ríu Calabres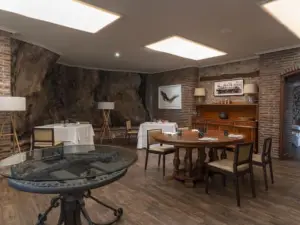 Restaurante El Retiro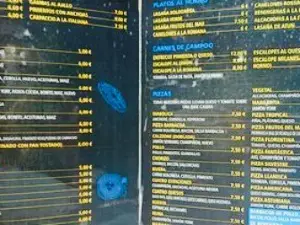 Restaurante El Buzu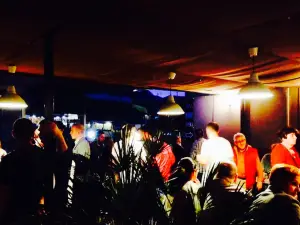 Asador del Brezzo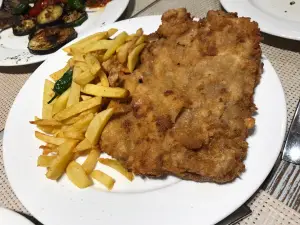 El Puerto Sidreria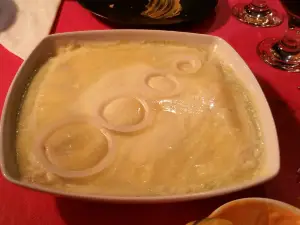 El Chibiski del Chilito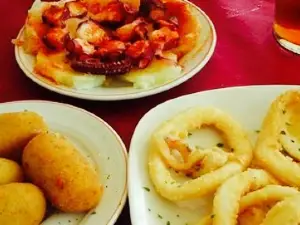 Asador Riegu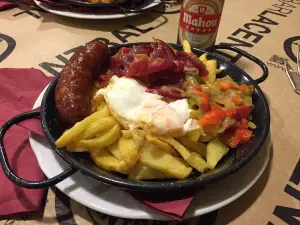 Mirador de Toro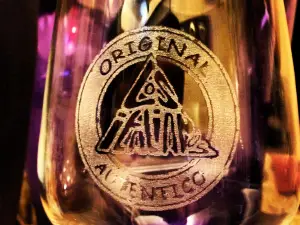 Los Italianos Pasta & Pizza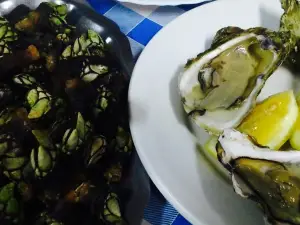 Los piratas del sablon
More ways to enjoy llanes, top 20 best things to do in llanes.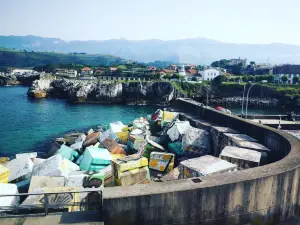 Los Cubos de la Memoria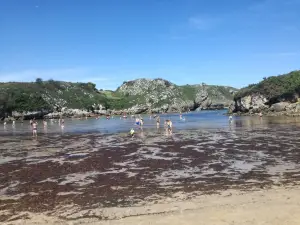 Playa de Poo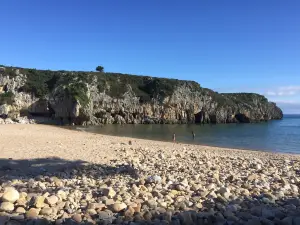 Playa de Cuevas del Mar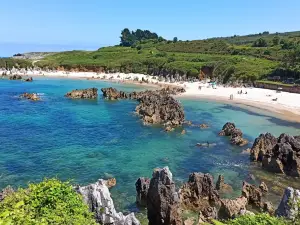 Playa de Toro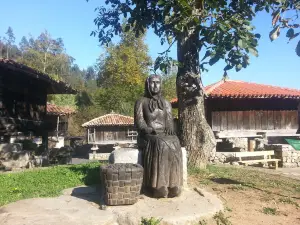 Camin Encantau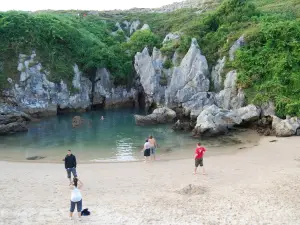 Playa de Cubijeru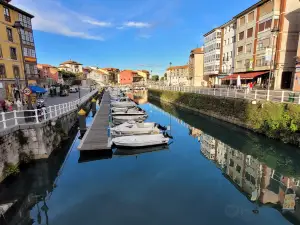 Puerto de Llanes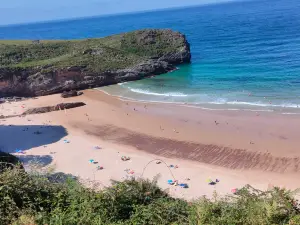 Playa de la Ballota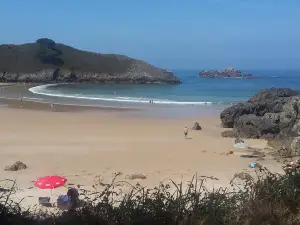 Playa de Barro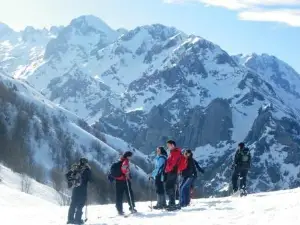 RUMBO A PICOS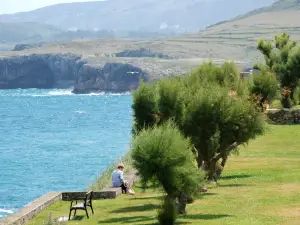 Paseo de san Pedro de llanes
Other recommended cities.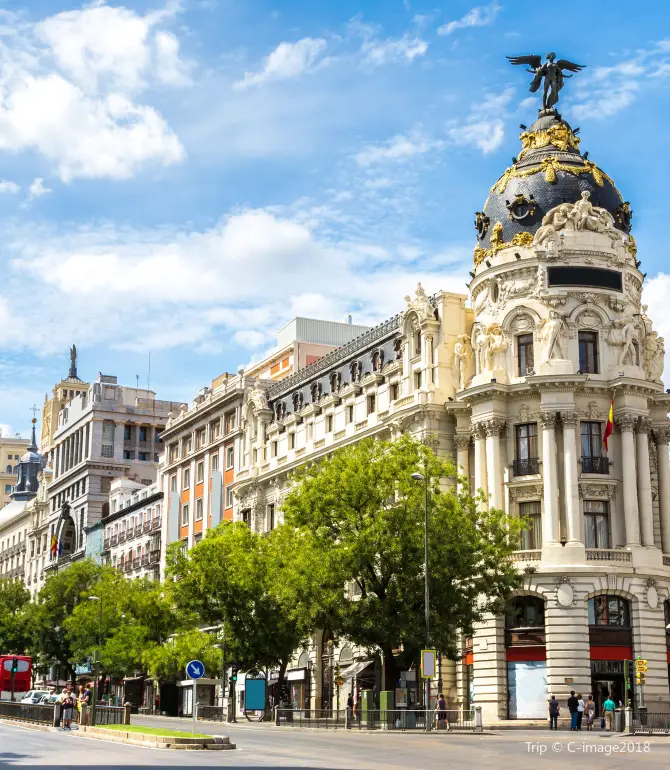 Popular Types of Attractions in Llanes
Popular attractions in llanes, popular restaurants in llanes, popular destinations, recommended attractions at popular destinations, more things to do in llanes.
Customer Support
Service Guarantee
Website Feedback
About Trip.com
Terms & Conditions
Privacy Statement
About Trip.com Group
Other Services
Investor Relations
Affiliate Program
List My Hotel
Become a Supplier

The Ultimate Northern Spain Road Trip: Routes, Sights, Guides, Maps And More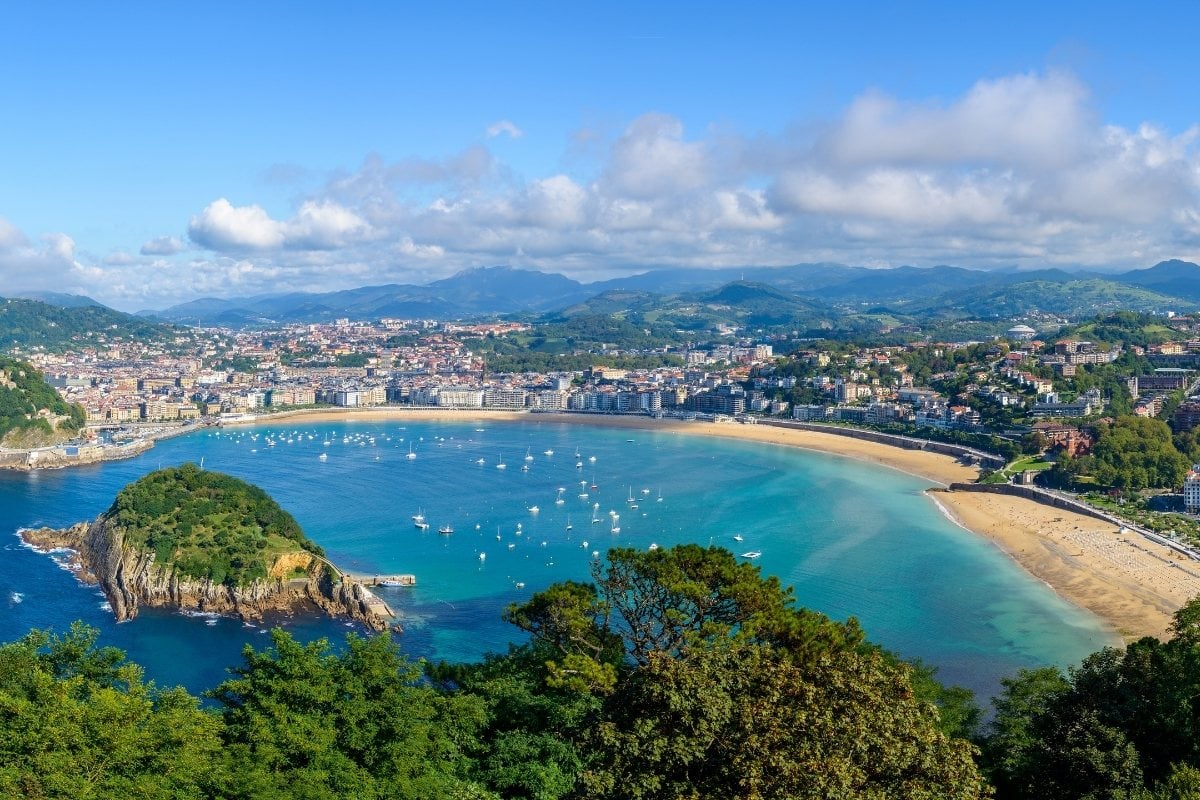 From Catalonia's unspoilt coastline and Aragon's scenic architecture to quaint cities in the Basque Country, this northern Spain road trip offers something for everyone.
Is there any better way to see a country than grabbing a set of car keys and having the freedom to explore at your own pace? If this is your favourite way to travel, then how about exploring the north of Spain?
Often it's when you decide to travel slowly and go off the beaten track, you start stumbling across hidden gems. You'll take a wrong turning and end up in an authentic Spanish town that isn't in any of the tourist guide books!
While this road trip through northern Spain takes you to a few famous places, it also gives you the opportunity to explore lesser-known regions. You'll experience spectacular vineyards a short drive from San Sebastian, the hiker's paradise that is Ordesa y Monte Perdido National Park and stop by some truly underrated Spanish cities.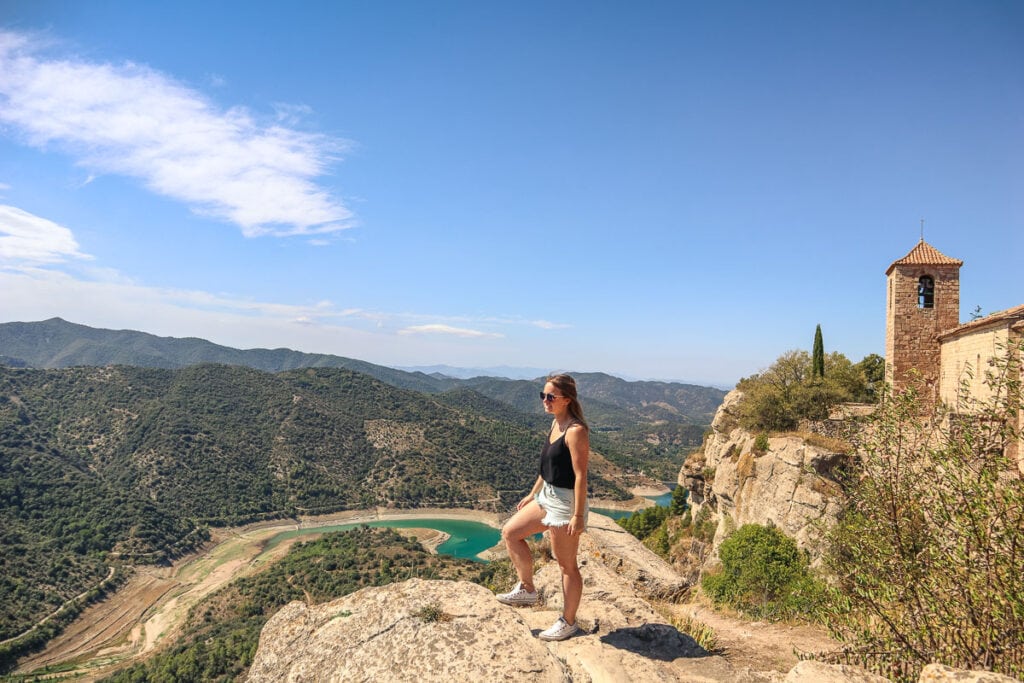 A road trip here through the north of Spain offers so much. Spend your time admiring the scenic coastlines in Catalonia and Asturias, before marvelling at the architecture of Castille and León.
If you're a foodie, you'll fall in love with the culinary scene in the Basque Country. It's absolute pintxos heaven! Meanwhile, if you're keen on the great outdoors, there are plenty of gorgeous green spaces and natural wonders to explore.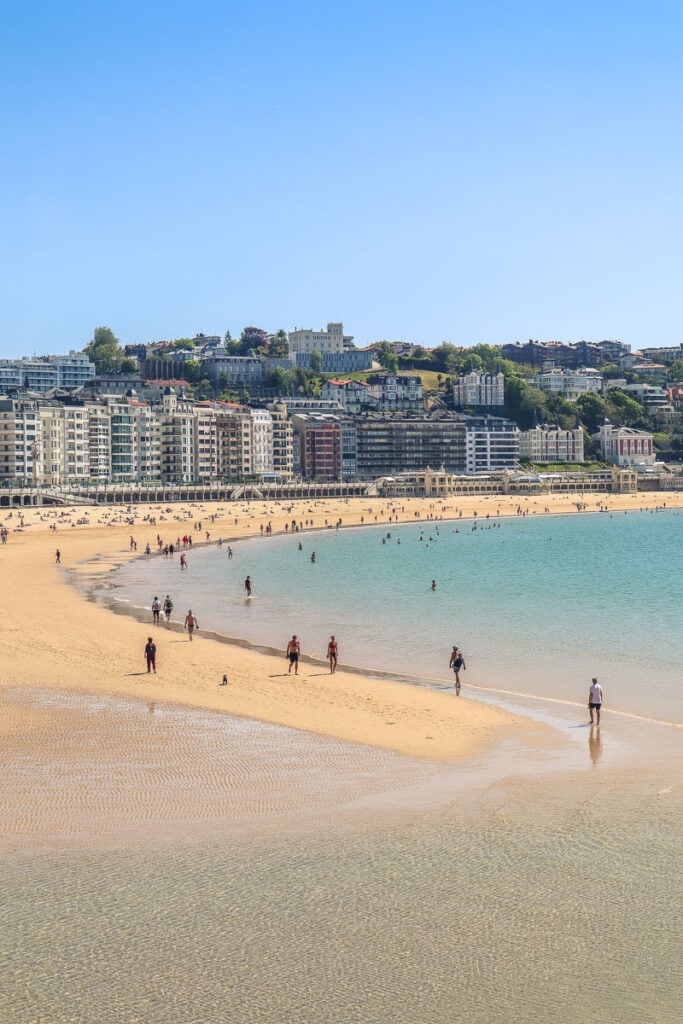 Spain is often associated with summer beach holidays, but it's worth remembering that many of the interior parts of the country offer just as much natural beauty, with vineyards, mountains, canyons, olive groves and picturesque towns! This road trip itinerary will introduce you to several authentic experiences.
So, whether you're looking for travel inspiration or you want to start planning your itinerary, this guide will cover all of the best places to visit in Northern Spain on a road trip.
Weather in Northern Spain
This region of Europe has warm summers and cool winters. The majority of people visit during the summer holiday season, when the weather is warmest.
If you want to make the most of the great outdoors, time your trip between May and September. It's the ideal time for beach days or countryside hikes. During this time, temperatures range between lows of 16°C (61°F) and highs of 26°C (79°F). If possible, I'd suggest avoiding the peak summer (July and August) and travel in May, June or September. You'll enjoy cheaper prices and won't be battling against big crowds at the big attractions!
It gets pretty chilly in Spain in winter , but there's a bit of magic to it! Between January and March the temperatures in the north of Spain range from 4°C (39°F) to 15°C (59°F).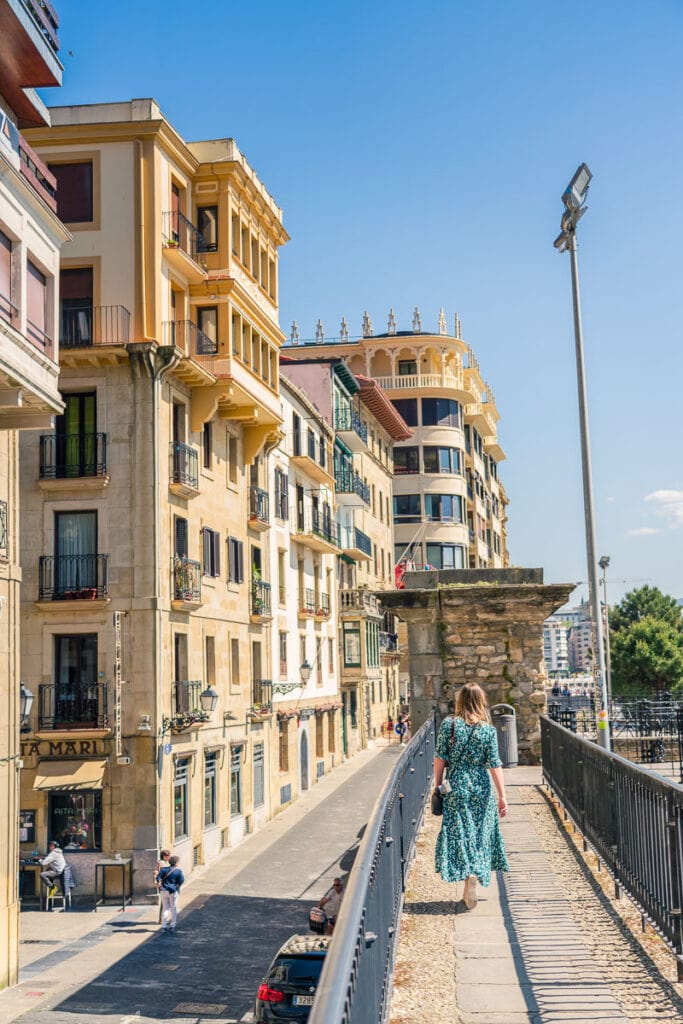 Northern Spain Road Trip Map
If you're happy to move at a pretty moderate pace, moving on every single day, you could just about fit this itinerary into one week.
However, I'd recommend moving a little slower so you can soak up all the little details in each destination.
Here's a handy map to go with this northern Spain road trip itinerary, which you can save to make your planning stress-free.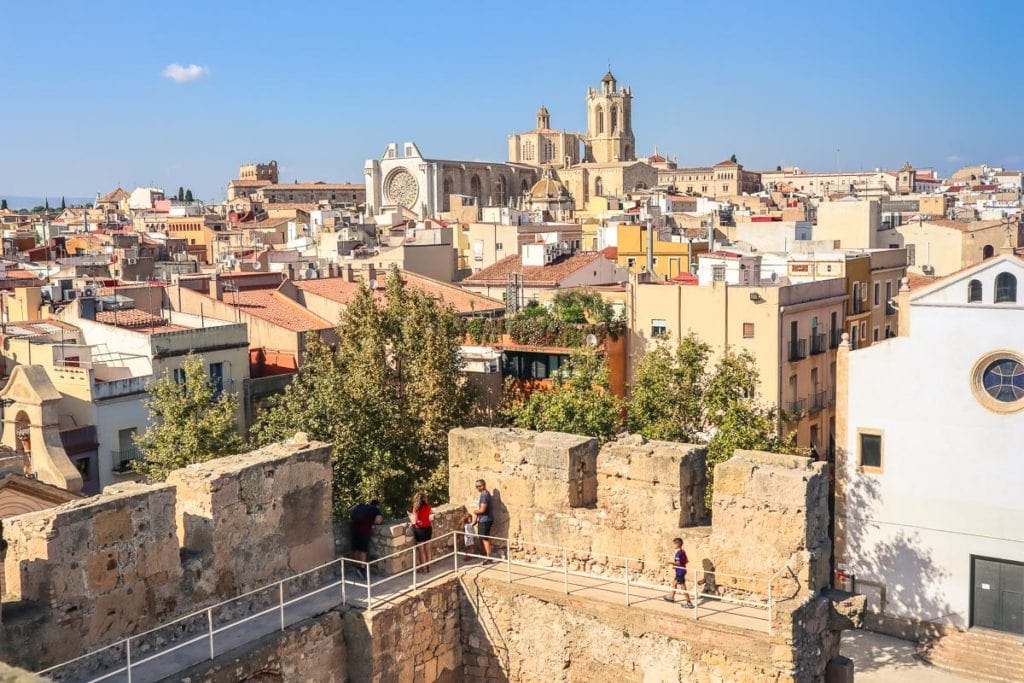 What to pack for your road trip
If you're wondering what to pack for your trip, this guide to road trip essentials has you covered. From portable chargers to ways to stay entertained on long journeys, it'll help you create your road trip packing list.
Northern Spain Road Trip Itinerary – Places to Visit in Northern Spain
Northern spain road trip: stop 1 – barcelona.
Barcelona is a great city to start your road trip from. Not only is it an incredible destination in its own right, but it's also easy to reach by plane. There are lots of car rental options too, both from the airport or the city centre.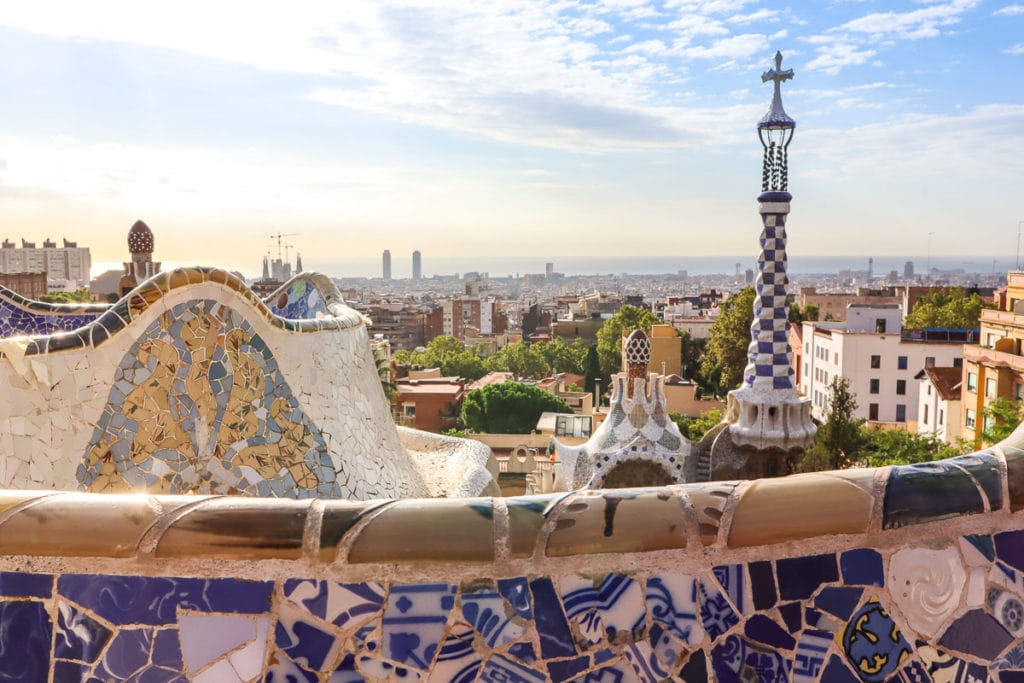 Marking the start of your Catalonia road trip , you'll quickly fall in love with Barcelona's scenic shoreline with sweeping views of the Balearic Sea. Enjoy the city's unique ambience courtesy of street musicians and tapas bars dotted in the atmospheric Gothic Quarter's narrow streets. I challenge you not to get lost in this mini maze – it's very easily done, especially after a few glasses of Cava!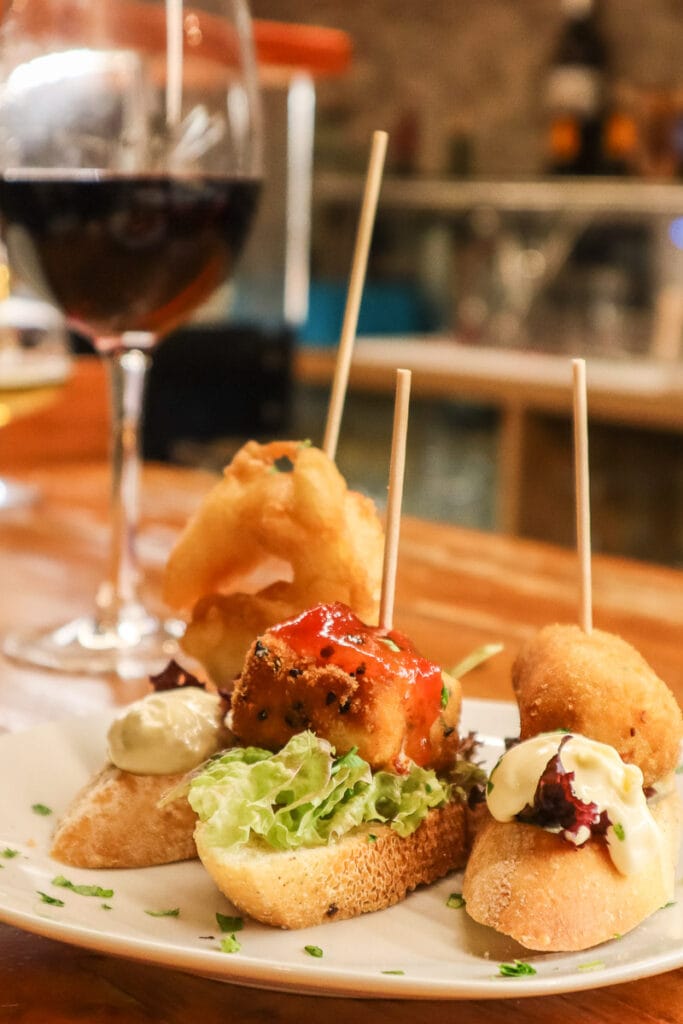 At the centre of Barcelona's bustling social scene is tree-lined La Rambla, which boasts restaurants, cafés, and avant-garde architecture. It's always busy with tourists, but I'd avoid most of the restaurants around here! Many are classic tourist traps, serving vats of low-quality paella at inflated prices. You'll find more authentic dining experiences in the small bars in the Gothic Quarter.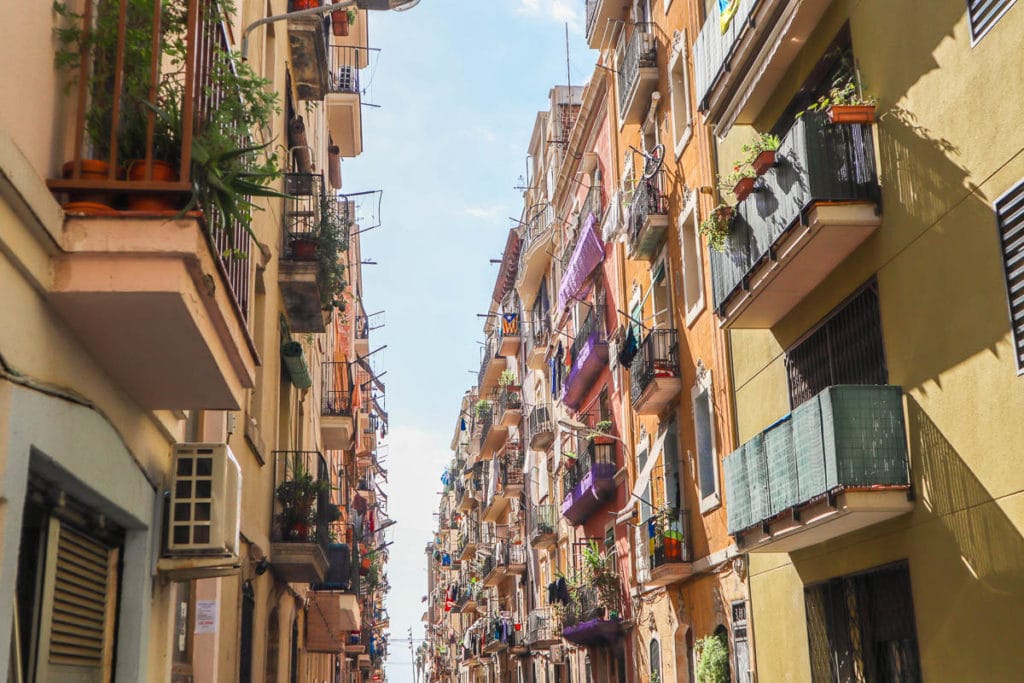 La Boqueria food market is located just off this main street and is an excellent place to take in the amazing ingredients of Catalonia. For a very special meal, book in for a tasting menu experience at Michelin-starred Disfrutar . I've been lucky enough to visit twice and I would regard these meals as the best meals I've ever eaten! Genuinely!
If you're interested in art there are lots of great attractions in Barcelona. You could visit the Picasso Museum , the Museu Nacional d'Art de Catalunya or the Fundacio Joan Miro . Oh, and don't miss a visit to one of Gaudi's many masterpieces. His unique style is visible throughout the city at locations such as La Sagrada Familia and Parc Guell. I was enchanted by these spots – I'm sure you will be too!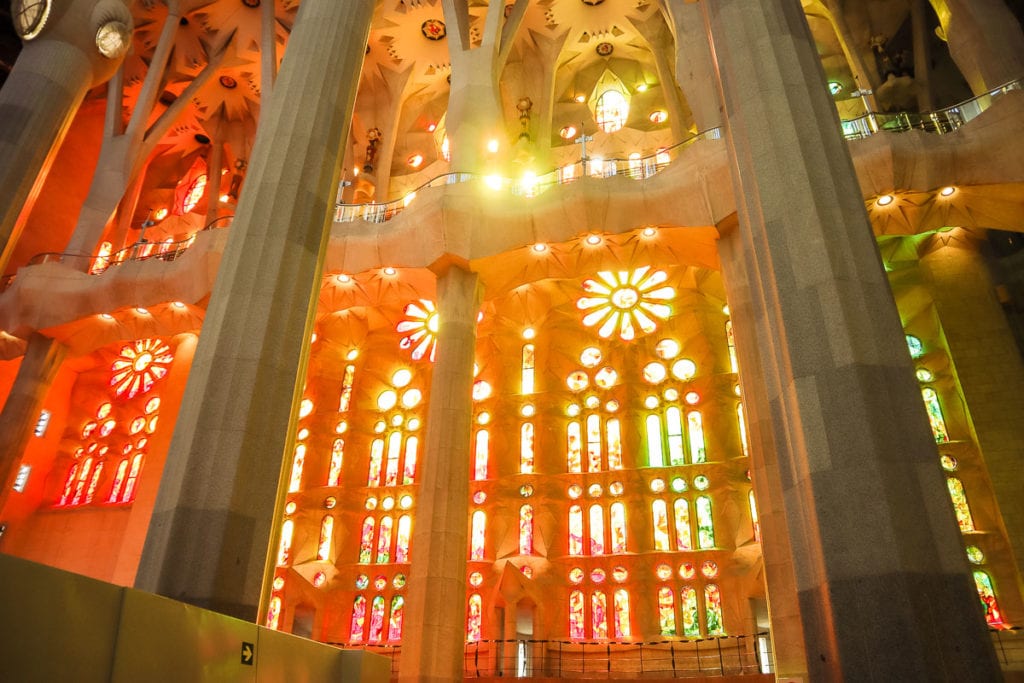 If you fancy a beach day, there's also a large beach in the city centre, lined with beach bars. It's amazing how much there is to do in this Spanish city. There really is something for everyone!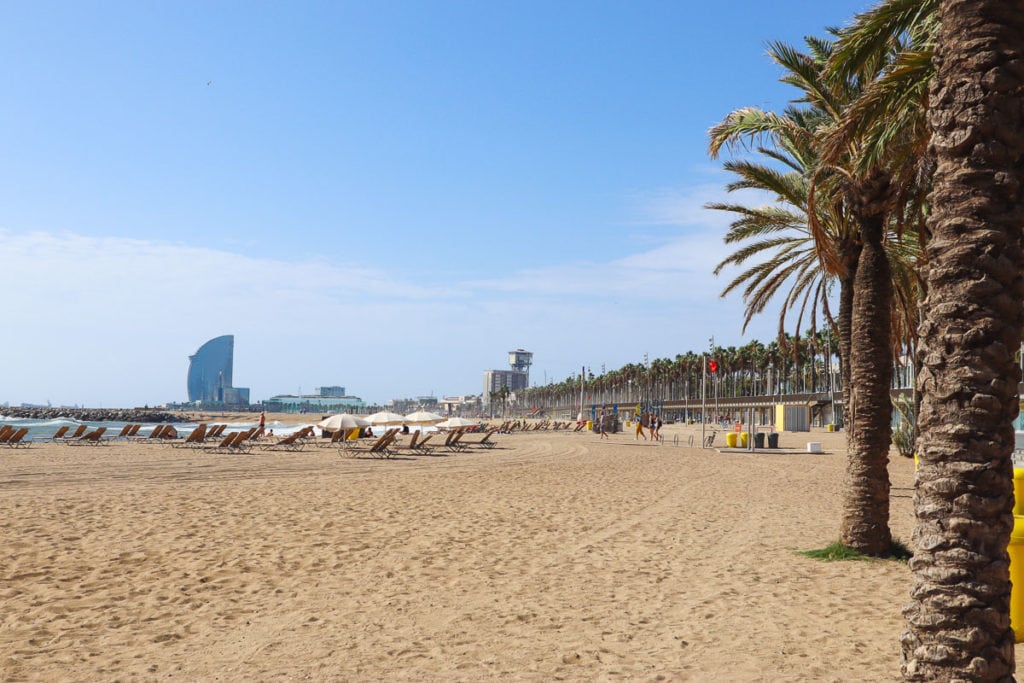 Northern Spain Road Trip: Stop 2 – Costa Brava or Catalonia
If time permits, you might want to head north of Barcelona to Costa Brava, before heading to Montserrat. One of Spain's most mesmerising coastlines, the area oozes charm with its whitewashed towns and fishing villages.
Alternatively, I loved the area south of here, which includes the underrated Tarragona, Reus and Siurana.
Siurana was a new discovery for me on one of my most recent trips. It's one of the prettiest villages in Spain and sits on top of a hill in the Prades Mountains. I'd recommend spending a couple of hours there. It's pretty small so you can wander the streets looking at the Moorish castle, the pretty houses and perhaps stop for a coffee.
The best part about Siurana? The views! Head towards the rocky cliffs and look out over the huge gorge which is filled with a bright turquoise reservoir. I'd suggest visiting first thing in the morning and you should have it all to yourself!
If you want to learn more about Gaudi, but don't fancy tackling the crowds in Barcelona, I'd suggest stopping by Reus. This small city is where Gaudi was born. You can learn all about his life and architectural wonders at The Gaudi Centre , before checking out some of the city's buildings which inspired him.
You can read my detailed guide on how to tour this region by car in my Catalonia road trip post.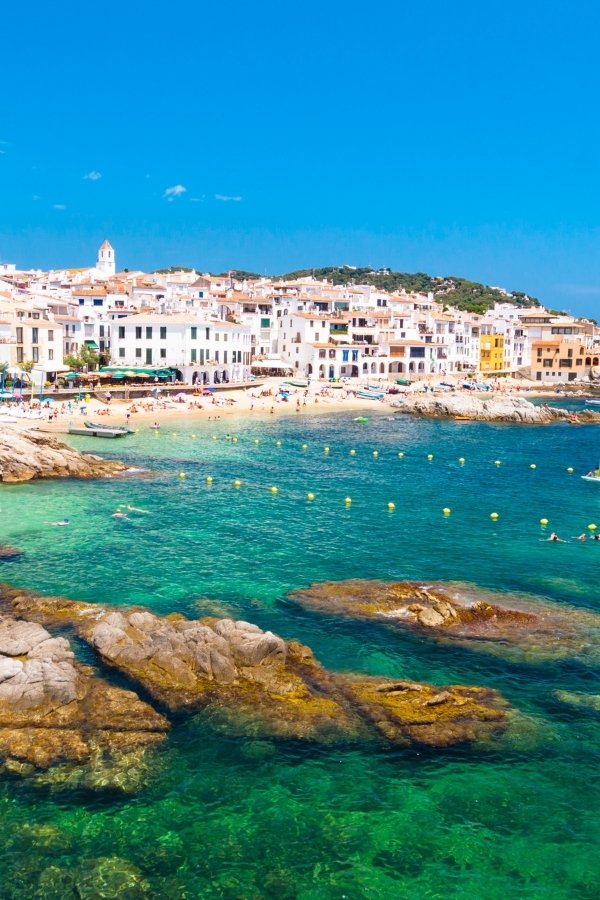 Northern Spain Road Trip: Stop 3 – Montserrat
Montserrat is another must-visit on your road trip through Northern Spain. The area's top attraction is the Benedictine Montserrat Monastery, perched on a rocky crag surrounded by magnificent cliffs.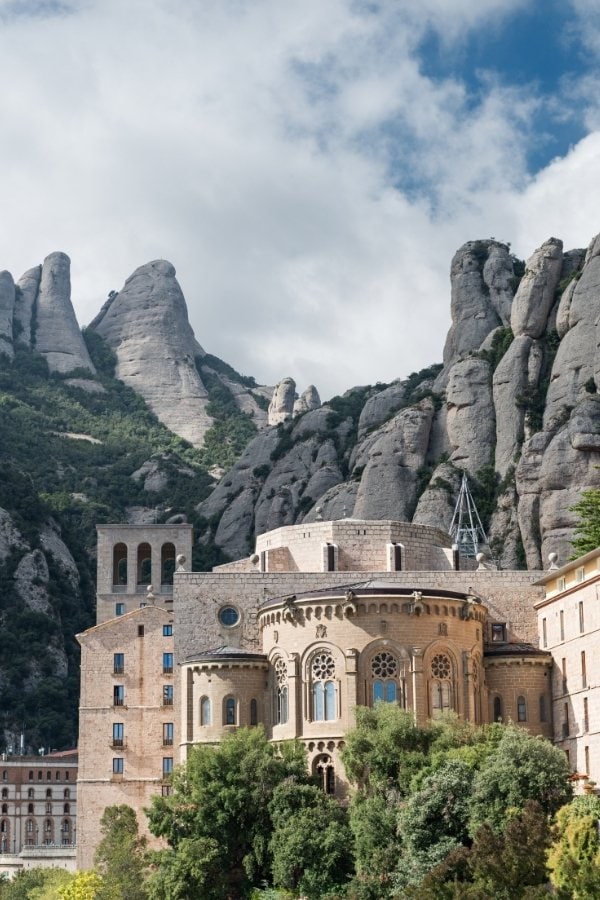 Just getting there is a bit of an adventure, as you reach the monastery via cable car! Once there, enjoy panoramic views of the Catalonian countryside while soaking in the sights and history of the monastery.
Montserrat to Zaragoza: 266 km / 2h 46min approx.
Northern Spain Road Trip: Stop 4 – Zaragoza
Next stop on your journey from Montserrat is Zaragoza, the capital of the Aragon region. This is a great place for museums, architecture, and historical monuments, including the Basílica de Nuestra Señora del Pilar .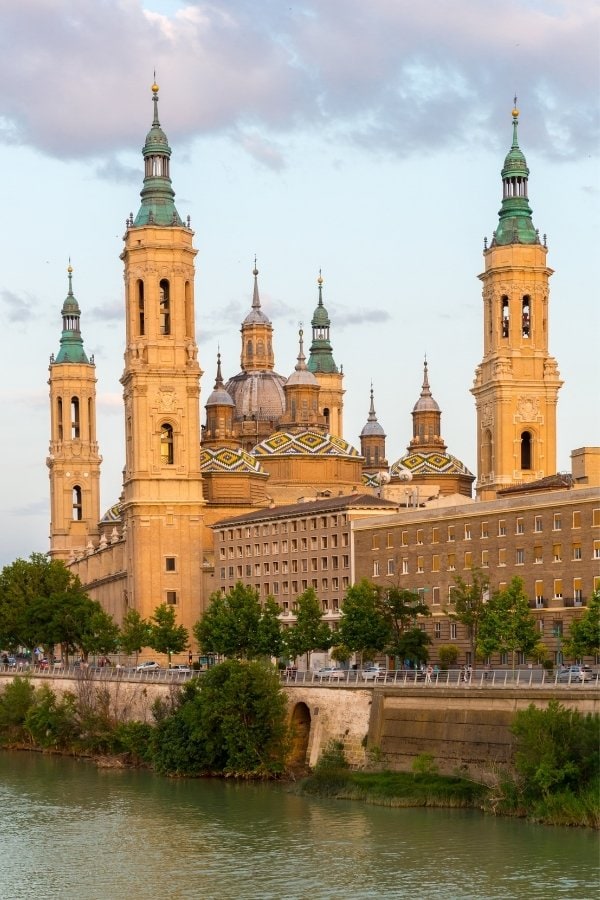 In between sightseeing, I'd recommend a bit of restaurant-hopping at Plaza del Pilar so you can taste some authentically Spanish delights. For a real flavour of the region, sit down to dinner at Restaurante La Borde de Chema . This rustic restaurant offers Aragonese dishes including roast goat, along with plenty of regional wines.
Northern Spain Road Trip: Stop 5 – Ordesa y Monte Perdido National Park
Step away from the glitz and glamour of city life with a visit to the Ordesa y Monte Perdido National Park. This hiker's paradise has several trails to choose from, each leading to sweeping views of the mountains.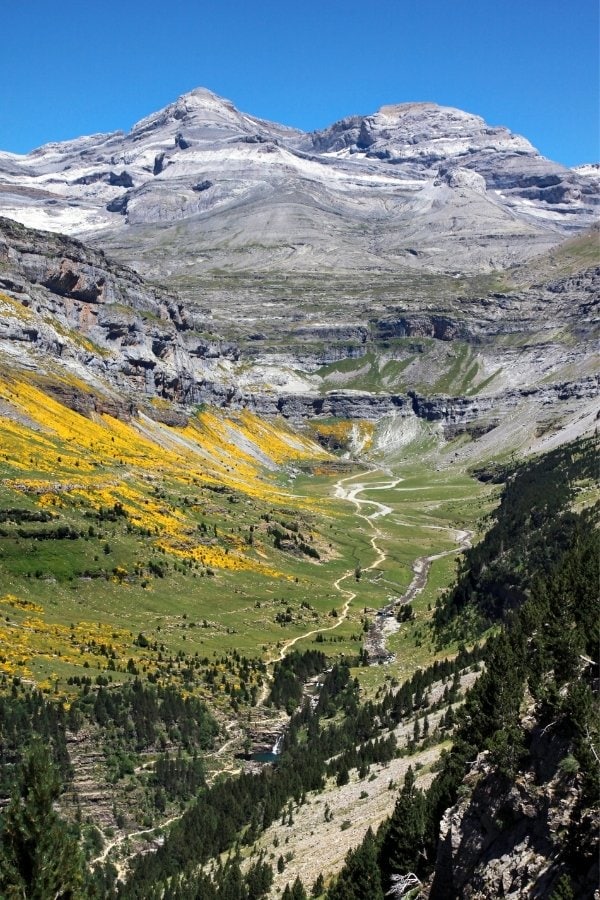 Be sure to pack your camera for this stop on your road trip! It's one of the most photogenic places on this itinerary, so no doubt you'll want to snap a lot of photos!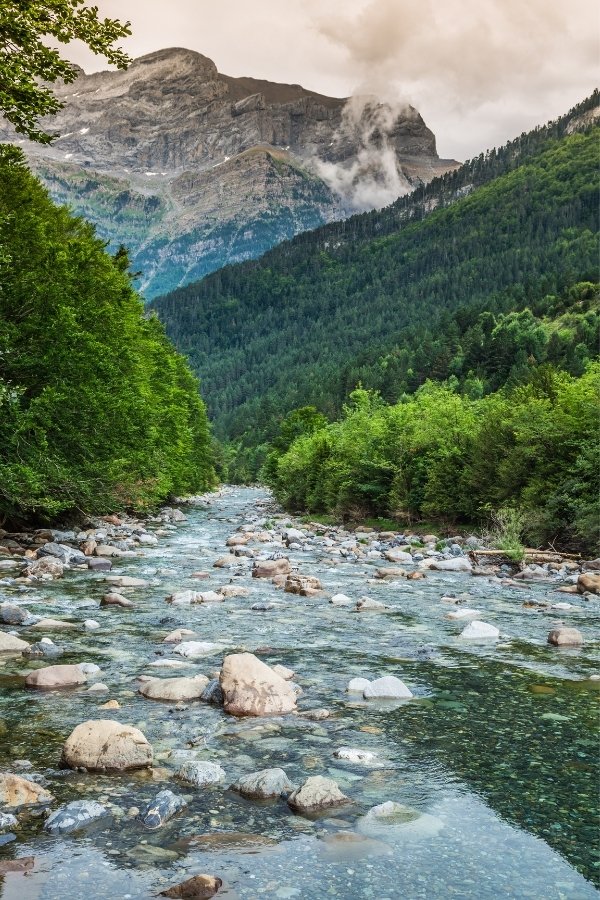 Ordesa y Monte Perdido National Park to San Sebastian: 252 km / 3h 10 min approx.
Northern Spain Road Trip: Stop 6 – San Sebastian
The Basque Country is renowned for its food scene. Every year, many people visit Northern Spain (myself included!) purely for a wining and dining experience like no other. It's hardly surprising, after all San Sebastian in the Basque Country has the most Michelin-starred eateries per capita in Europe! In fact, there are more in this one city per capita than in London, and that's really saying something!
The Basque Country even has two restaurants with 'Green Stars', Azurmendi and Enoko, which have been recognised for their sustainable, ethical and environmental approach.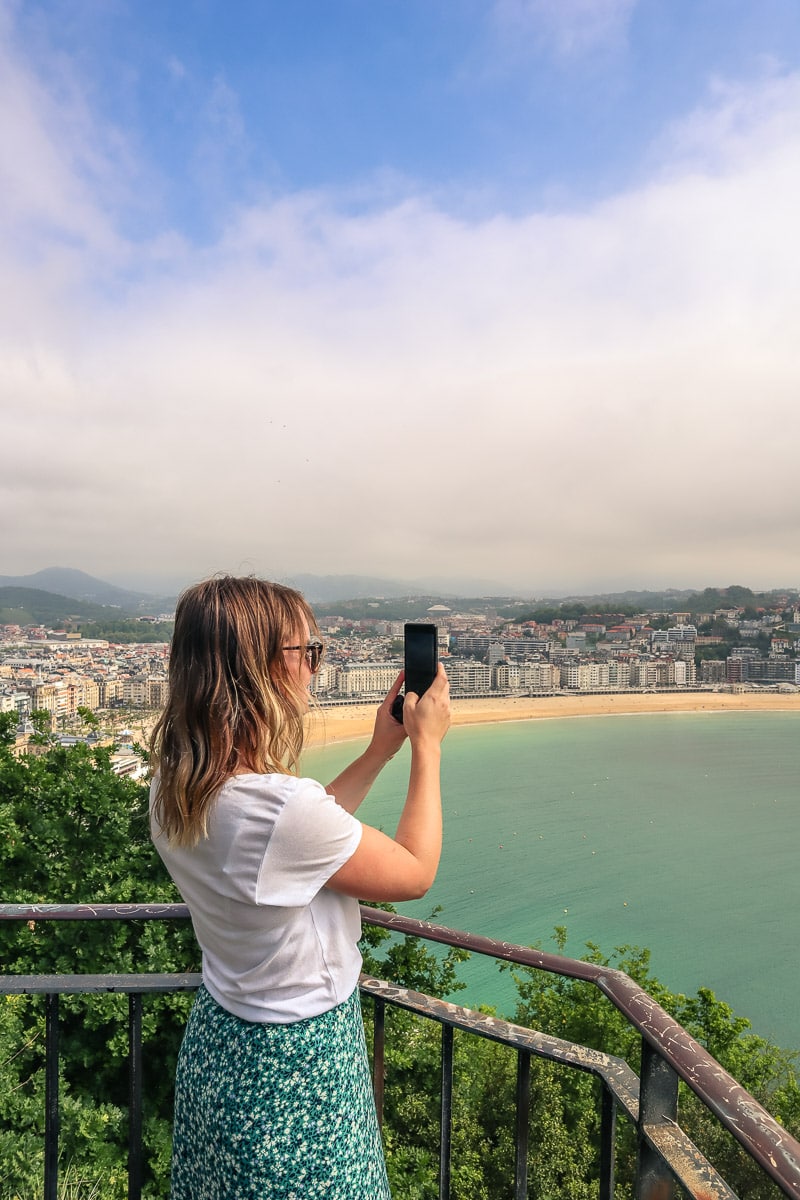 There are two sides to eating out in San Sebastian. You can either go high end with Michelin starred tasting menus, or eat the local way with dish after dish of pintxos (small dishes).
The old town of San Sebastian is filled with tiny restaurants specialising in individual dishes such as Spanish tortillas, prawns on skewers and slow cooked pork. The best way to enjoy a trip like this, is by stopping for food and drinks at multiple bars across an evening – like your very own pintxos tour .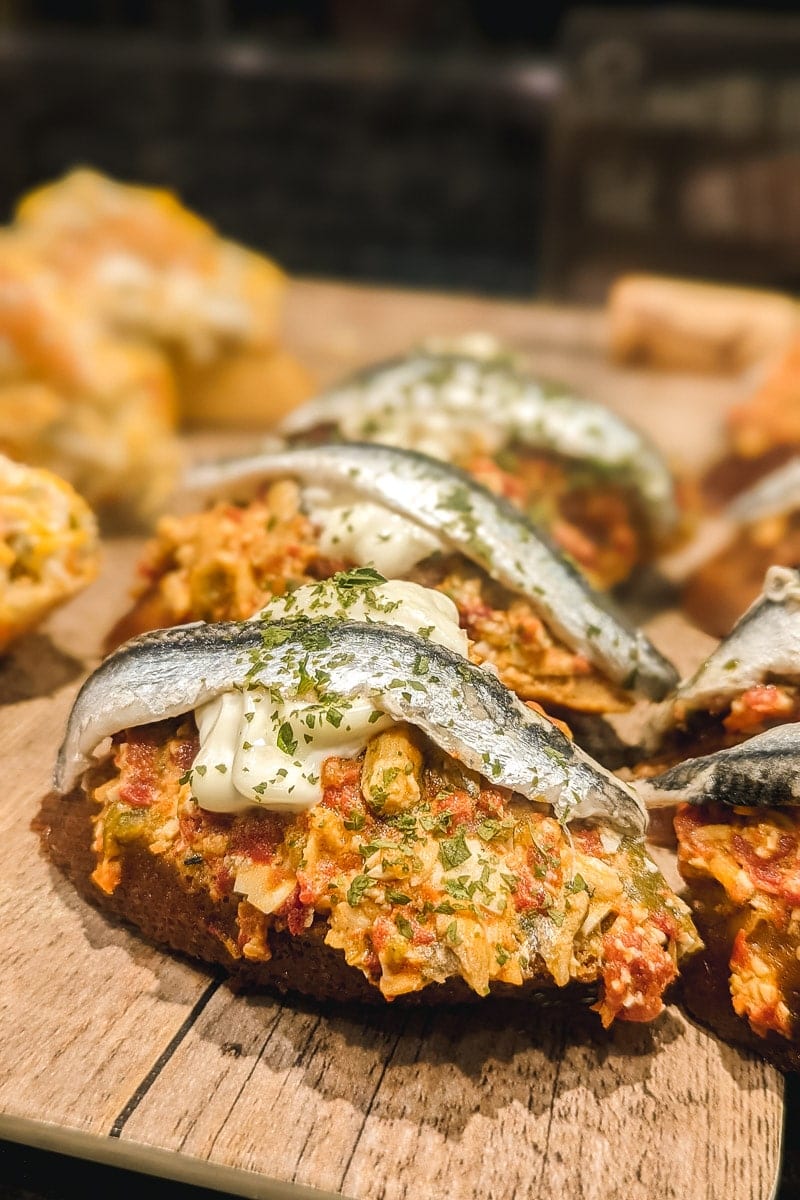 It can be difficult knowing what to eat at each place, so I'd thoroughly recommend a pintxos tour like this one . The guide will give you tips on what to order, how to eat it and all the insider knowledge to make the most of your time in San Sebastian.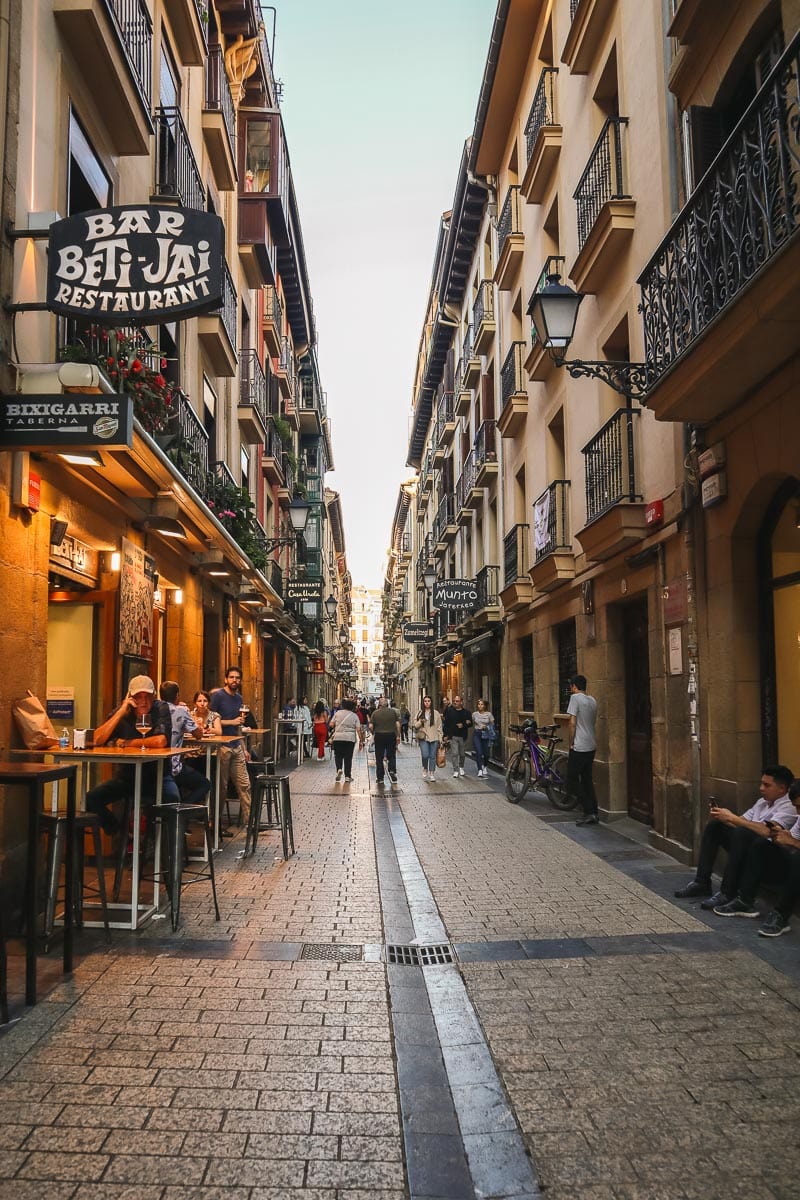 While you can't go wrong with most restaurants here, I'd recommend the incredible steak, tomatoes and fried padron peppers at Bar Nestor as well as the famous San Sebastian cheesecake at La Viña! I popped all my top recommendations together in my post about the best pintxos in San Sebastian .
Also, if you're looking for an extra special meal, how about going for a Michelin Starred meal with a view at Mirador de Ulia? We had a very memorable meal there!
San Sebastian is also a great beach destination, with turquoise waters, white sand and some great surf spots too!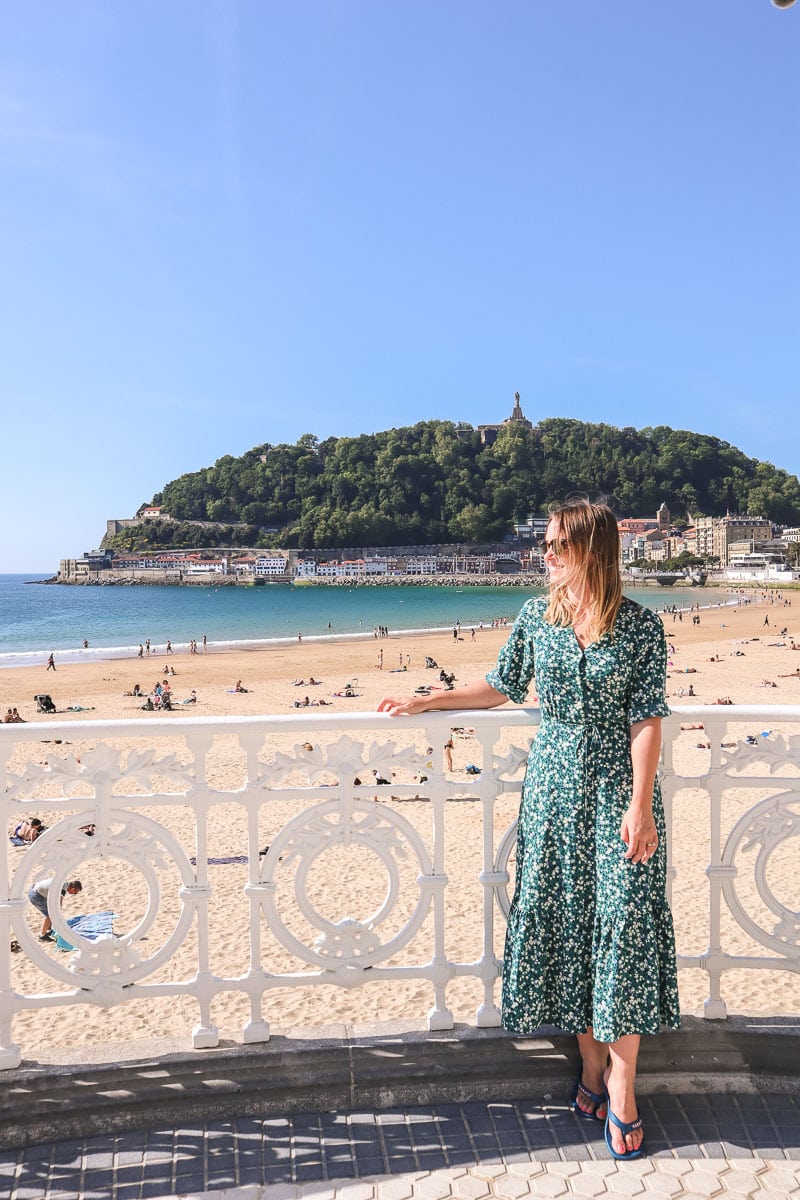 If you want to get off the beaten track in this region, how about spending a day wine tasting? Just 30-minutes away by car you'll find wineries including Hirutza , where the local Txakoli wine is produced. This is a dry and lightly sparkling white wine, which is absolutely delicious!
The vineyards are in a really spectacular location too, with huge mountains and lush green valleys all around. Once you've toured the winery, you'll get to taste some of the wines for yourself, paired with a few pintxos of course!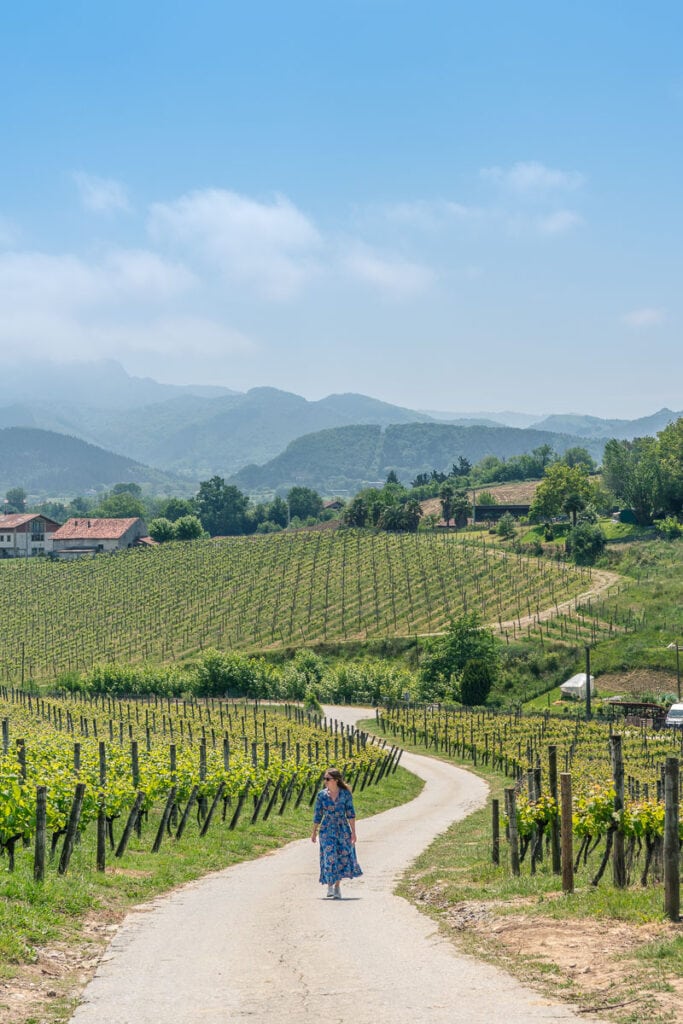 Northern Spain Road Trip: Stop 7 – Bilbao
Bilbao, the capital of the Basque Country, is home to centuries-old alleyways and modern-day architecture. The bustling city is small enough that you can explore it on foot, but big enough to keep you entertained for many hours.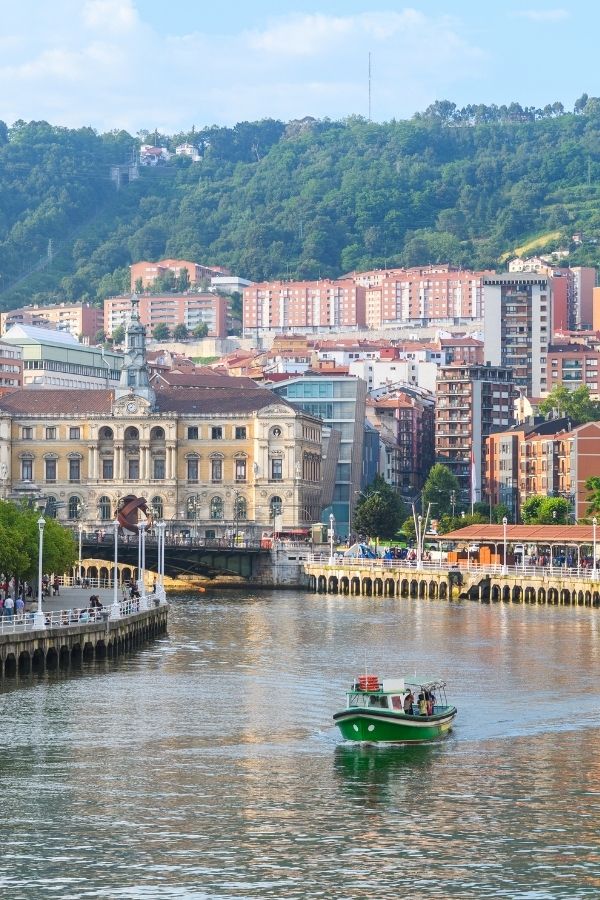 One place you simple have to visit is the world-famous Guggenheim Museum , set by the Nervión River. This art gallery has an incredible collection, as well as being housed inside a curved metal masterpiece by one of my favourite architects, Frank Gehry.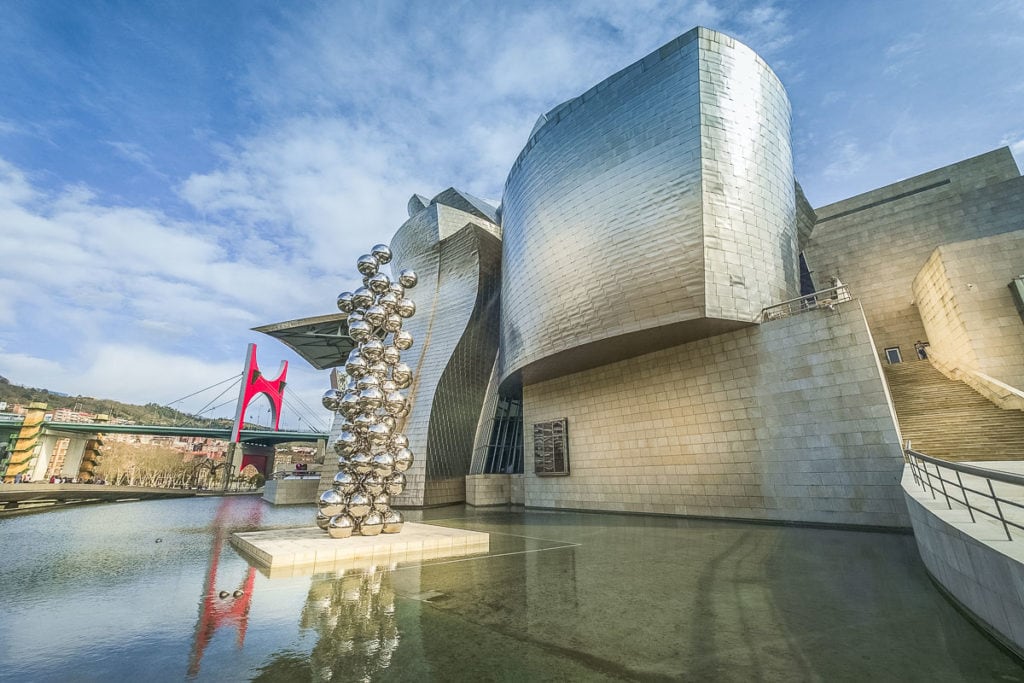 This is another great city for pintxos, so be sure to spend some time in the Old Town refuelling. You could also dine at one of the many Michelin-starred restaurants in Bilbao.
For one of the best viewpoints in the Basque Country, make your way to Gaztelugatxeko Doniene, made famous by Game of Thrones. The scenic hike is around 3km and features several fortified viewpoints. The views are worth the tired legs, I promise you!
Northern Spain Road Trip: Stop 8 – Santander
Afterwards, stop by Santander, where you can enjoy some seaside fun on the small town's myriad of beaches. Dive into the water or enjoy a trek to the Cabo Mayor Lighthouse.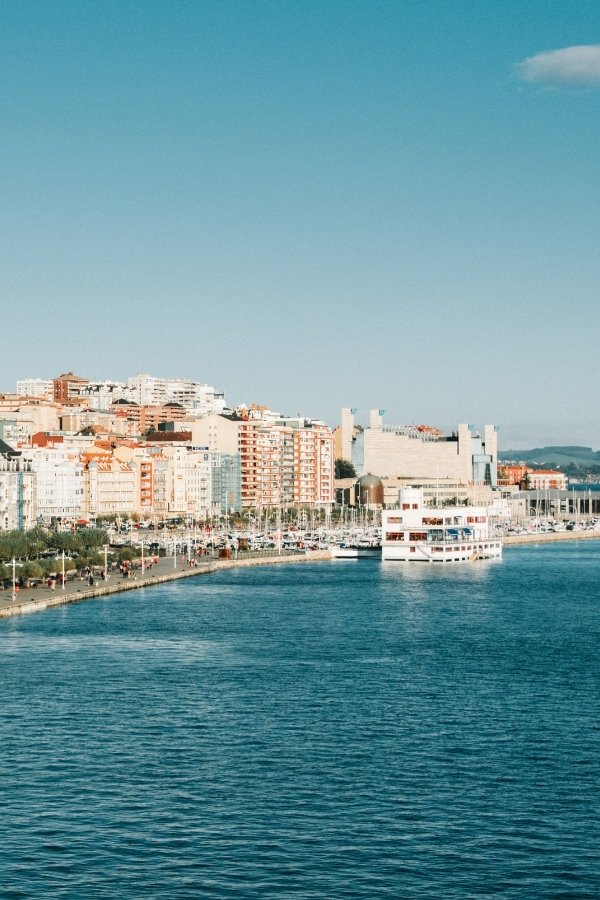 Away from the coastline, grab a bite at Plaza de Canadio before exploring Santander's Cathedral. It features two churches built on top of one another.
Santander to Llanes: 89 km / 56 min approx.
Northern Spain Road Trip: Stop 9 – Llanes and Piloña
As you drive from Bilbao to Llanes and Piloña, the road trip scenery really steps up a notch! Take in the views of the mountains and rolling hills which serve as the ultimate driving backdrop!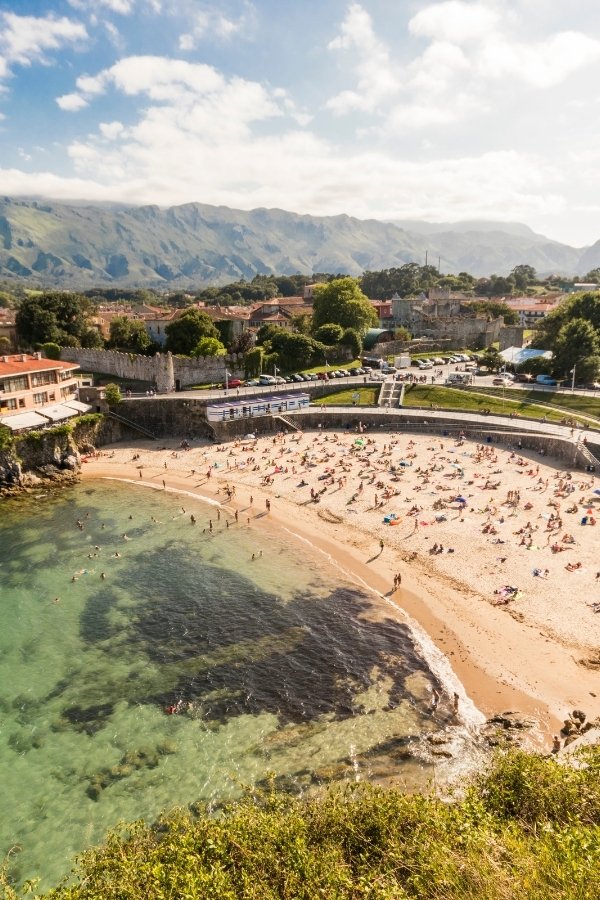 Llanes is a small-town region boasting medieval magic at every corner, as well as beautiful beach views. After some of the more touristy stops on this trip, this area is more chilled out and authentic.
Once in Piloña, you could hike up to the Area Recreativa del Monte Cayon, where sweeping views over Asturias' Picos de Europa await. Alternatively, opt for a more strenuous hike at Picos de Europa, a green paradise surrounded by mountains.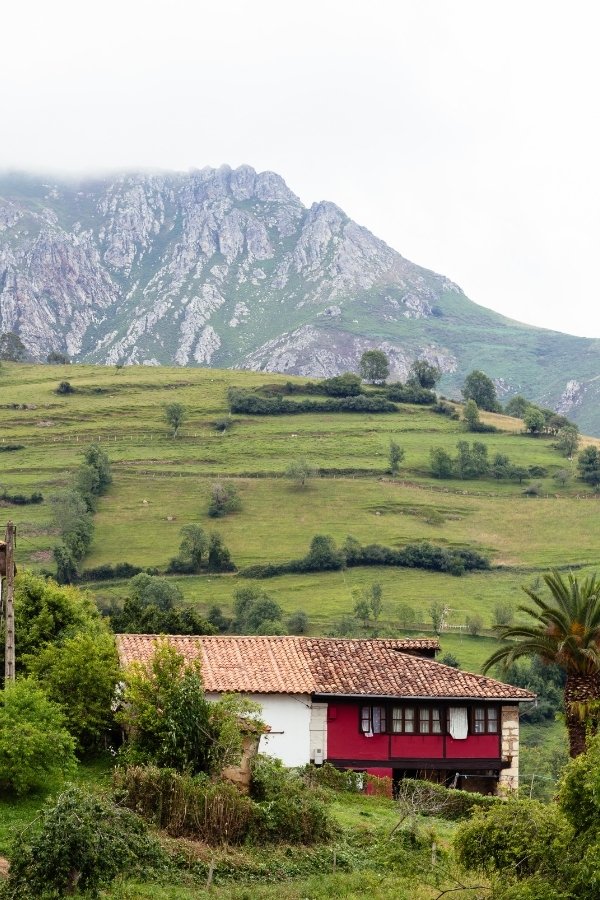 Northern Spain Road Trip: Stop 10 – Gijon and Oviedo
Gijon has a whole load of charm! The city's old town, nestled on top of a cliff, is filled with a mix of fine-dining and casual eateries and boasts iconic Roman baths and a scenic promenade.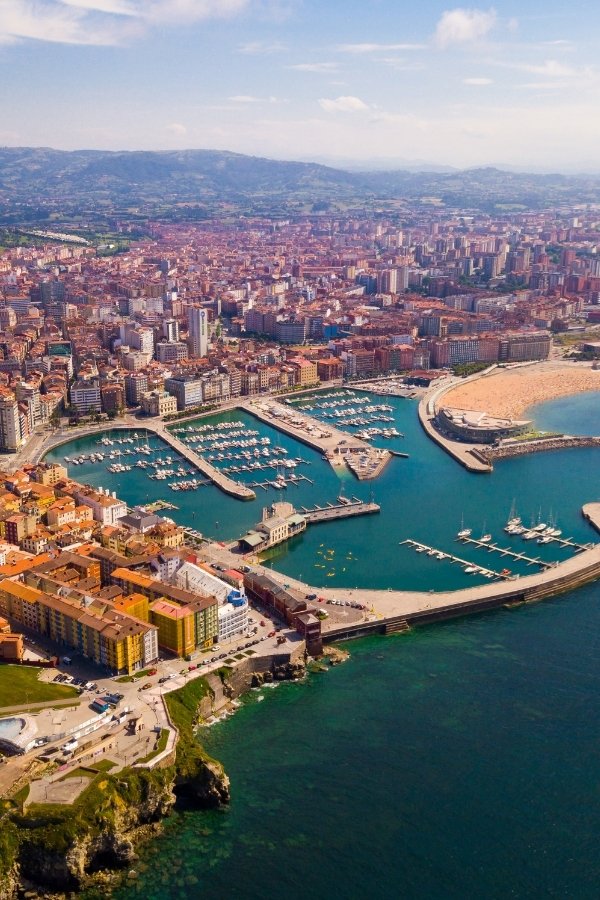 Oviedo, the region's capital, is a compact city with a lively atmosphere owing to its student population. Enjoy a culinary extravaganza at the city's many tapas bars ( Gloria Oviedo isn't to be missed) and fine dining spots. There's plenty more to do in Oviedo too, including shopping, museum-hopping, and marvelling at the city's architecture.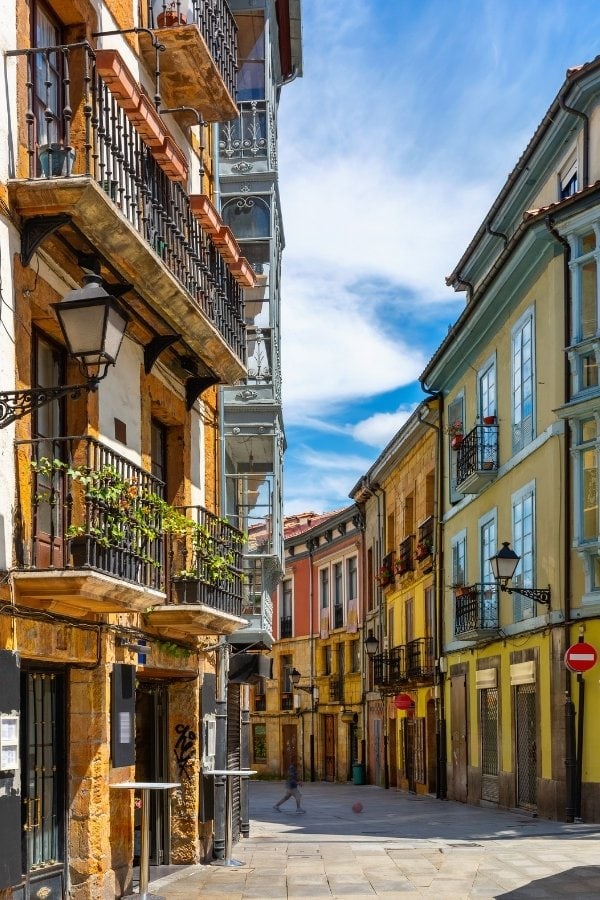 Oviedo to León: 125 km / 1h 28 min approx.
Northern Spain Road Trip: Stop 11 – León
León, the northernmost city in the region, is ready to welcome you with open arms. Top of the list of attractions here is the Catedral de León, which boasts impressive towers and colourful windows.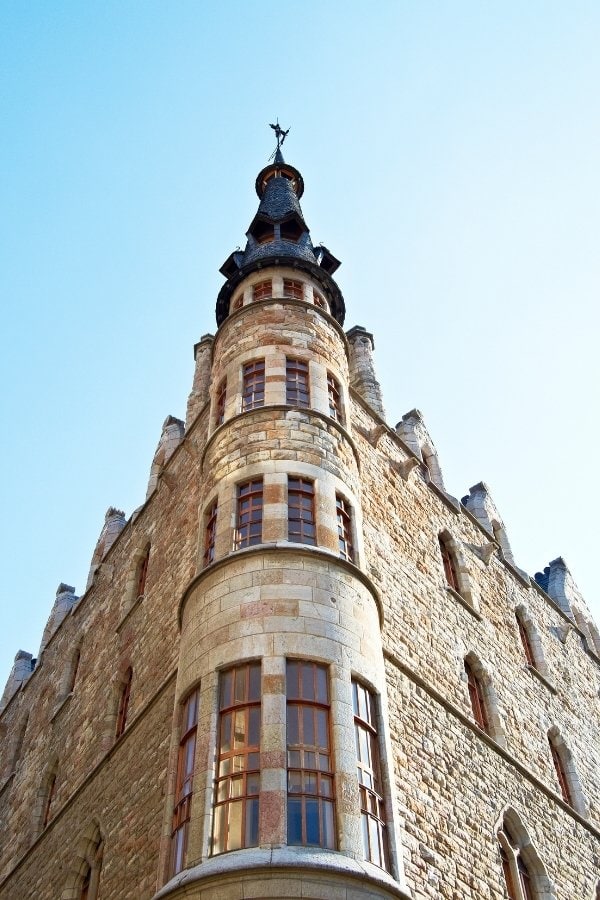 For a quintessential Leon experience, stroll through Plaza Mayor and enjoy a bit of people watching. This is also a great area for trendy restaurants, tapas bars, and impressive architecture.
Northern Spain Road Trip: Stop 12 – Valladolid and Salamanca
South of León is Valladolid, a small city famed for its architecture. The Cathedral of Valladolid is a sight to behold, as is the Museo Nacional de Escultura and the exhibits inside.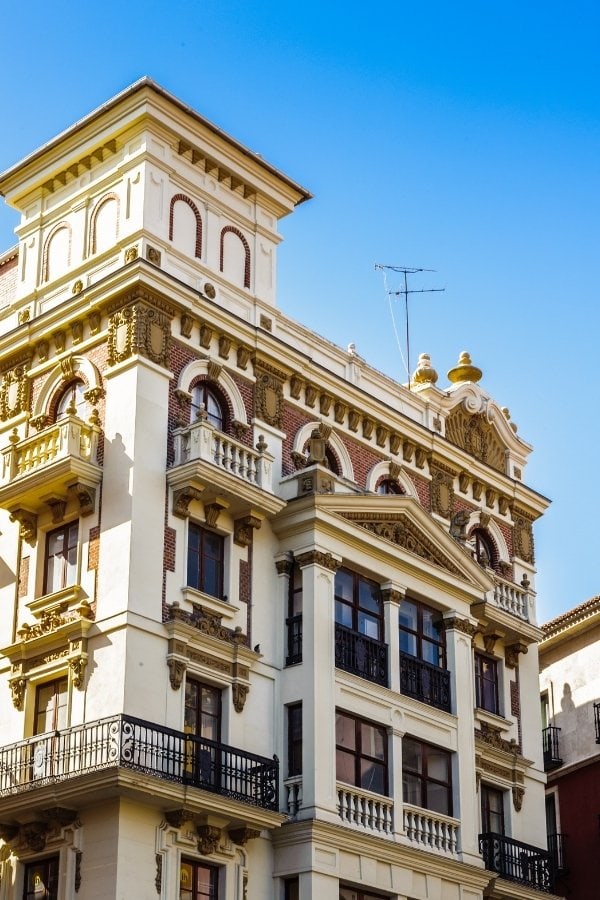 The final stop in the region is Salamanca, which has a burgeoning foodie scene that really delivers the heart and soul of Northern Spanish cuisine. In between the culinary experiences, enjoy visits to the Old and New Cathedral , Clerecía Church, and the Convento de San Esteban's plateresque. For incredible viewpoints over some of the city's attractions, be sure to visit the Roman Bridge.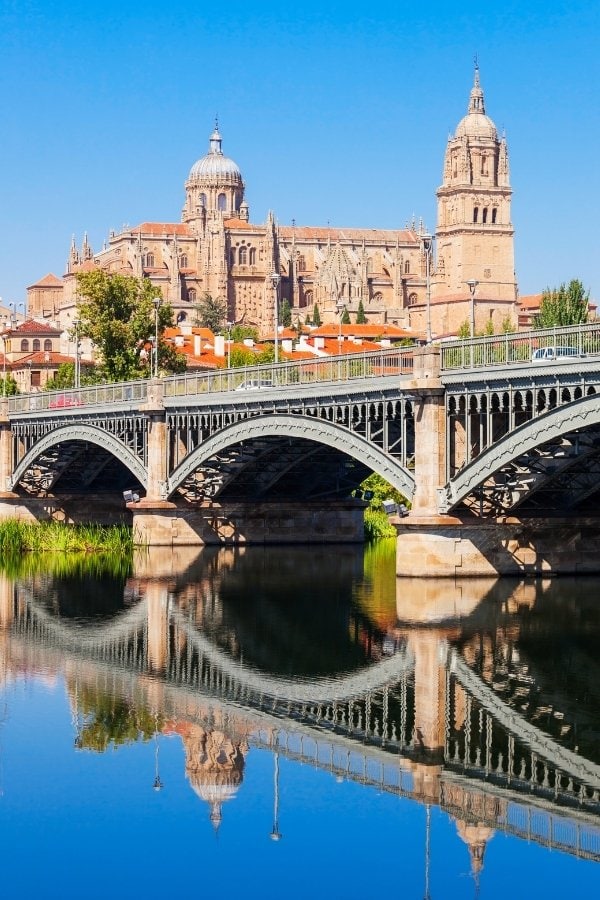 Where to Stay on a Northern Spain Road Trip
If you're wondering where to stay in northern Spain, here are a few of my top choices along this route.
Hotel Palafox , Zaragoza
This is a great luxury hotel, offering sweeping city views from the rooftop pool.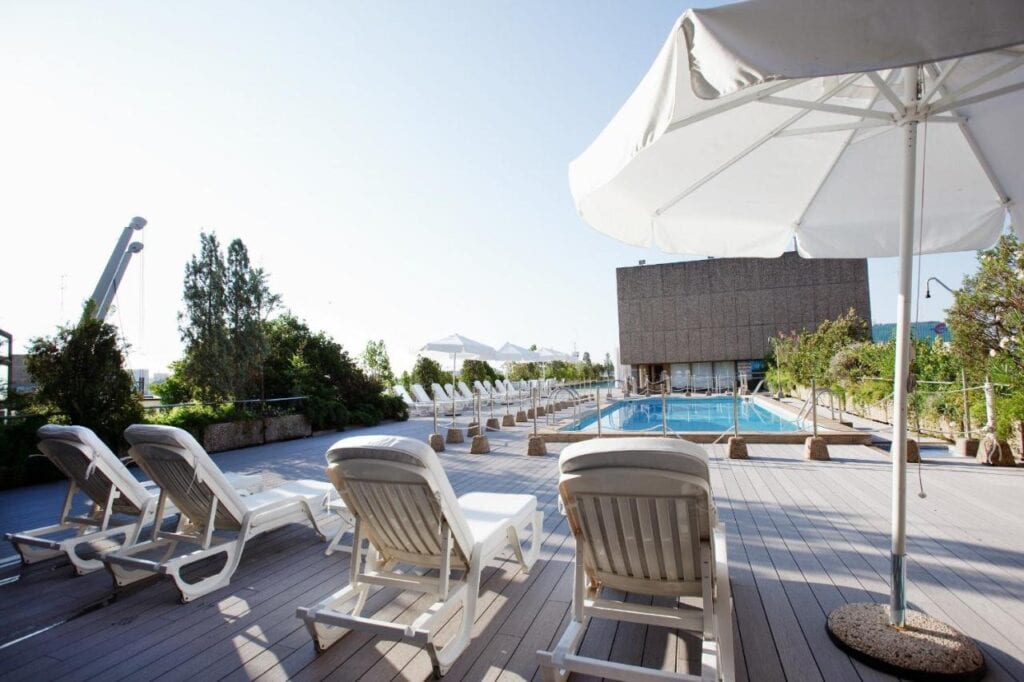 Hotel Carlton , Bilbao
This grand hotel in Bilbao offers spacious rooms with chic decor and a great restaurant serving regional delicacies.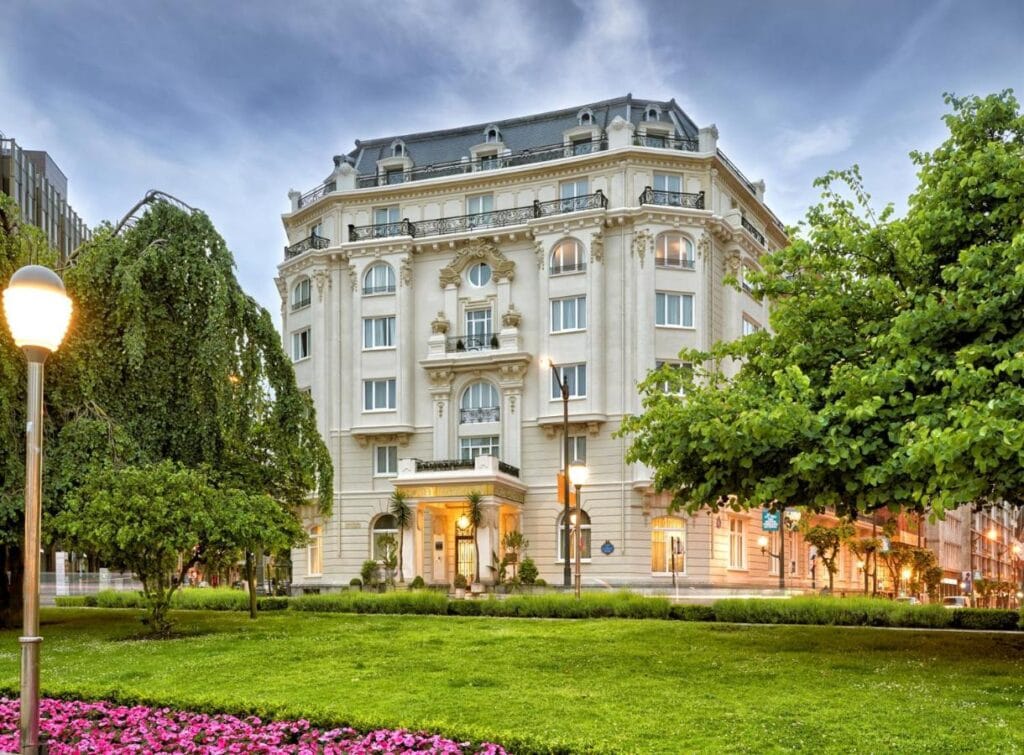 Hotel Villa Soro , San Sebastian
Enjoy a tranquil and chic hotel stay, just a short walk from the old town. This smart villa offers a country-house feel for your foodie city trip. Wondering how to get around? This hotel offers free bikes, making it easy to get around and see the sights.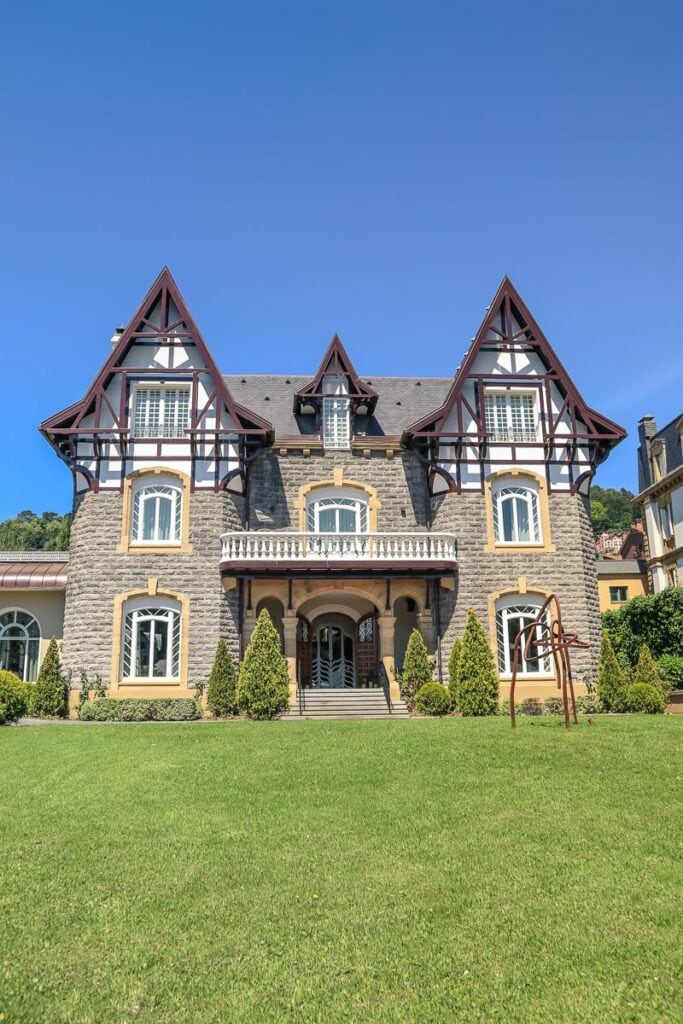 Parador de Turismo de León , León
This luxury hotel's rooms feature antique furnishings and a balcony. There's also a restaurant serving the region's top wines.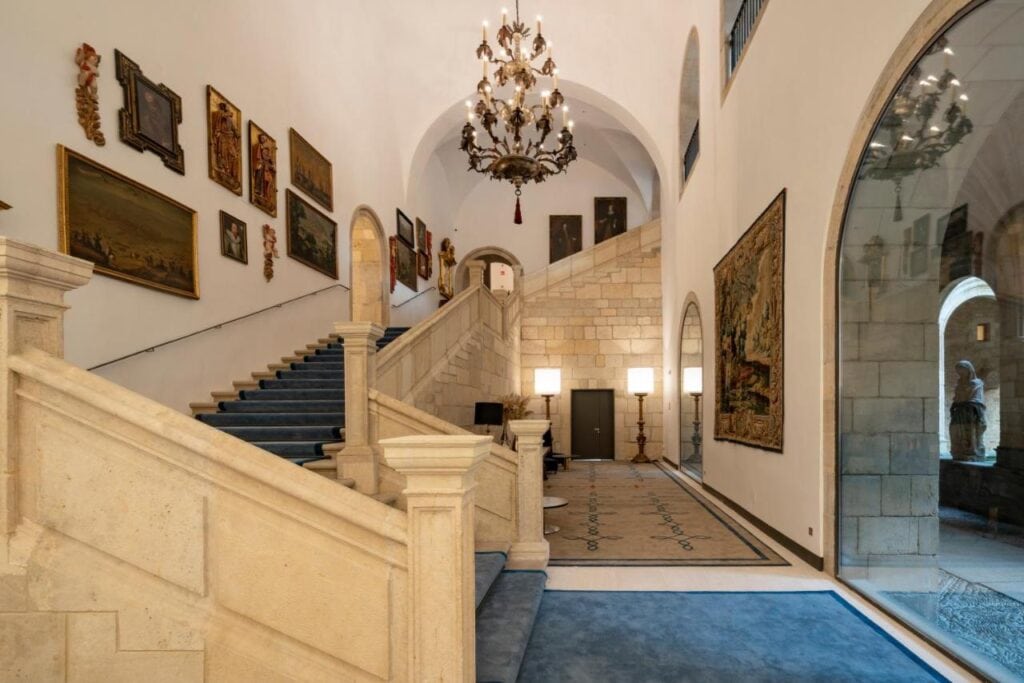 I hope you've enjoyed reading my Northern Spain road trip itinerary. There are so many great places you could visit, it's been hard to narrow it down to just a handful.
My best advice is to use this guide as a starting point, but don't be afraid to add some extra spots along the way too. If you're wondering where else to visit in Spain, check out my southern Spain road trip itinerary .
For more great road trip itineraries, check out my detailed guides to driving northern Italy and southern Italy .
Chloe Gunning
With a passion for food, fun and adventure, Chloe is the content creator behind one of the UK's top travel blogs Wanderlust Chloe. From volcano boarding in Nicaragua, to sailing around Sicily and eating her way around Japan, her travels have taken her to some of the coolest spots on the planet. Named Travel Influencer of the Year in 2022, Chloe regularly works with a number of tourism boards, producing inspirational travel content across multiple platforms. Find out more about Chloe here.
Leave a comment Cancel reply
How To Reach Llanes
Restaurants in Llanes
Things To Do in Llanes
Llanes Itineraries
Llanes Hotels
Top Tourist Attractions in Llanes
Best Things To Do in Llanes, Spain
Have you ever visited a new place and felt 'wow' about it? For many visitors, it happens at Llanes.
Llanes may not be as popular as other cities in Spain, but don't let that fool you. Llanes is a smaller but beautiful upcoming tourist destination that is worth a visit. You will be surprised by some of the unique things to do and places you can explore at this hidden destination.
You might wish to revisit it someday again, to take a break and relax at Llanes.
If you have plans to visit Spain and are not sure if Llanes should be included in your itinerary, keep reading. In this list, we have put together some of the things to do in Llanes and around. We have a hunch that if you include this city in your travel plans, you will be thrilled you did so.
Things to do with Family & Kids in Llanes
Leisure Activities in Llanes
Entertainment Activities in Llanes
Art & Cultural Attractions in Llanes
Tourist Attractions in Llanes
Here is the list of things to do in Llanes and tourist attractions in city.
Playa De Toranda, Toranda Beach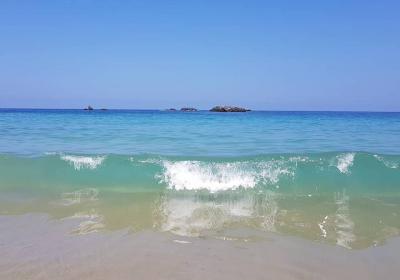 Address: Niembru, 182, 33595 Llanes, Asturias, Spain
Tejo Hontoria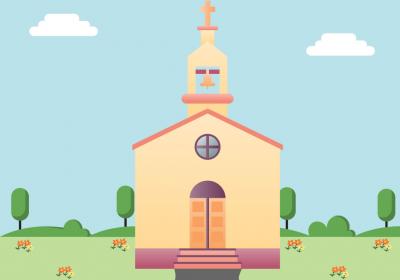 Church, Religious Site
Address: 33593 Llanes, Asturias, Spain
Mirador De La Boriza
Bufones de arenillas, bufones de pria, gastanaga mansion, idolo de pena tu, playa san antonio, bufones de santiuste.
Things to do in Bilbao
Things to do in Burgos
Things to do in Santillana Del Mar
Things to do in Barcelona
Things to do in Madrid
Things to do in Seville
What to do in Llanes in 1 day
What to do in Llanes in 2 days
Navigate forward to interact with the calendar and select a date. Press the question mark key to get the keyboard shortcuts for changing dates.
Navigate backward to interact with the calendar and select a date. Press the question mark key to get the keyboard shortcuts for changing dates.
Llanes Trip Planner
Top destinations in llanes.
Top attractions in Llanes
Other notable attractions
Popular road trips from Llanes
All road trips from llanes.
Llanes to Barcelona drive
Llanes to Madrid drive
Llanes to Paris drive
Llanes to London drive
Llanes to Rome drive
Llanes to Lisbon drive
Llanes to Amsterdam drive
Llanes to Seville drive
Llanes to Bilbao drive
Llanes to Florence drive
Llanes to Porto drive
Llanes to Berlin drive
Llanes to Valencia drive
Llanes to Prague drive
Llanes to Milan drive
Llanes to Venice drive
Llanes to Edinburgh drive
Llanes to Dublin drive
Llanes to Ranelagh drive
Llanes to Budapest drive
Llanes to San Sebastian - Donostia drive
Llanes to Vienna drive
Llanes to Granada drive
Llanes to Brussels drive
Llanes to Marrakech drive
Llanes to Bordeaux drive
Llanes to Turin drive
Llanes to Cordoba drive
Llanes to Munich drive
Llanes to Zaragoza drive
All related maps of Llanes
Map of Llanes
Map of Barcelona
Map of Madrid
Map of Paris
Map of London
Map of Rome
Map of Lisbon
Map of Amsterdam
Map of Seville
Map of Bilbao
Map of Florence
Map of Porto
Map of Berlin
Map of Valencia
Map of Prague
Map of Milan
Map of Venice
Map of Edinburgh
Map of Dublin
Map of Ranelagh
Map of Budapest
Map of San Sebastian - Donostia
Map of Vienna
Map of Granada
Map of Brussels
Map of Marrakech
Map of Bordeaux
Map of Turin
Map of Cordoba
Map of Munich
Map of Zaragoza
Llanes throughout the year
Llanes in January
Llanes in February
Llanes in March
Llanes in April
Llanes in May
Llanes in June
Llanes in July
Llanes in August
Llanes in September
Llanes in October
Llanes in November
Llanes in December
Weather in Llanes
Add places from guides with 1 click, collaborate with friends in real time, import flight and hotel reservations, optimize your route, get personalized suggestions, export your places to google maps.
4.9 on App Store, 4.7 on Google Play