Virtual Dementia Tour
Additional charges apply for the weekend.
The life changing Virtual Dementia Tour is available anywhere in England, Scotland, Ireland or Wales via one of our 9 mobile dementia simulators (Bus) or in-house training using 2 rooms.
This worldwide, scientifically and medically proven method of giving a person with a healthy brain and experience of what dementia might be like, allows delegates to enter the world of the person and understand which simple changes need to be made to their practice and environment to really improve lives of people with dementia.
Invented 25 years ago in America by Professor PK Beville and owned by Second Wind Dreams, Training 2 CARE are proud to be the UK partners and pioneers in this country. The Virtual Dementia Tour has now been proven during research produced by Ulster University to change practice within 95% of delegates, improve knowledge in 97% of delegates and improve outcomes for 100% of clients.
The Virtual Dementia Tour is taken by over 200,000 people per year in the UK and is the benchmark training that other providers strive to achieve. Already commissioned by over 18 NHS Trusts, 4 HSE Trusts, Care homes, Nursing Homes, Police, Prisons, Ambulance, Universities and Colleges, Councils, CCGs, CQC, Electric and Water Companies, Families and many more, the Virtual Dementia Tour has an impact that just cannot be matched or replicated.
Looking from the persons point of view and not basing practice on convenience really does save money, retain staff, build bridges between the family and care giver and increase positive outcomes. Therefore, if you are looking for the highest quality dementia training that really does change lives for all, then the Virtual Dementia Tour is a must for everyone.
Training 2 CAREs managing director, Glenn Knight comments The Virtual Dementia Tour is quickly becoming the UKs leading training for people who come into direct or indirect contact with people with dementia. Whether you are a family member, shop, service or care provider having a new perspective on dementia really can make the difference. With 1 in 3 people expected to die of dementia related diseases and an aging population now really is the time to make the change and improve the lives of people with dementia.
To book the Virtual Dementia Tour, please follow this web site or contact 01376 573999.
What's the impact of Virtual Dementia Tour training?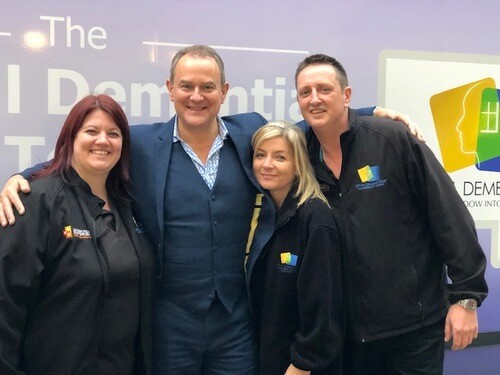 What do we cover?
The Virtual Dementia Tour was invented 25 years ago, in America by PK Beville who is president of American non profit company Second Wind Dreams. The Virtual Dementia Tour is medically and scientifically proven.
Experiential training is like no other training available and by allowing people to have a window into their world, we can start to understand simple improvements needed to reduce costs, improve staff retention, make environmental changes and provide the best outcomes for everyone.
By Walking in the shoes of a person with dementia, we can start to understand the issues that they experience everyday. You will experience being confused, isolated, lost, intimidated, vulnerable and much more and therfore understand what you need to change to improve quality of care.
Simple changes that are made to improve standards also reflects in improving lives for people with dementia. re-focusing delegates on the needs of the individual rather than convenience to the care provider is the basis of improving lives.
''It helped me make sense of many things with Mum - the shuffling feet, the not hearing/making sense of things particularly - and I am sure I will be able to help her more having done the course. Yesterday afternoon when I went in to see her I sat opposite Mum (instead of beside her, which is how the chairs are arranged) and was rewarded with her lovely smile which can light up a room, yet I haven't seen in quite a while.''
"What an incredible experience and yes, I agree with Glenn, absolutely EVERYONE involved with caring for people with Dementia should do this tour."
OMG!!! Why wasn't this available when my mum was alive and had dementia. I now understand so much more about what she did. Thank you and everyone needs to take this training.
It doesn't matter how long you've worked with people living with dementia, the Virtual Dementia Tour has made me realise the need to learn more. I have worked within nursing and dementia for nearly 30 years and I truly didn't understand until today. This course must be mandatory for everyone working within dementia care.
My mum had dementia.She loved listening to me play the violin but she would immediately lose interest.As a result of the VDT, it was explained that you lose the ability to filter out background sounds, I bought an electric violin and played to her over headphones. Amazingly she wore the headphones,began moving her head whenever I played.
The Virtual Dementia Tour is amazing training, thank you so much. This is the best dementia training I've done!"
Requirements of the VDT
The Virtual Dementia Tour can be delivered either within one of our 9 the mobile dementia simulators or in the workplace. The mobile unit will come to the workplace. The mobile simulator is ideal for any care facility that has a safe parking area and with 9 mobile units of differing sizes, we can normally accomodate most parking areas. The mobile unit adds to the experience by taking delegates out of their known environment into a controlled but safe place to complete the tour.
If the workplace does not has the space for the mobile unit then we would opt for a classroom version. We would require 2 rooms, the first for the experience and the second for use as a holding room and de-brief room.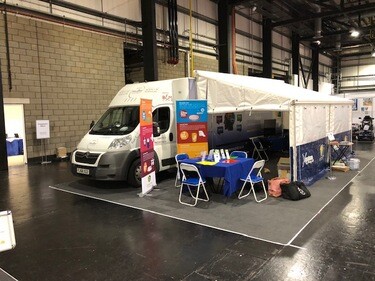 Course length and delegate numbers.
It is important to all involved with the Virtual Dementia Tour that the course is both cost effective and impactful. The course is held over a 2 1/2 hour period for up to 12 delegates and 3 courses per day. This means that we can deliver to 36 delegates per day which helps care providers to manage the floor and release staff at different times so that quality of care is not compromised. Normal start times are:
Please note that it is not possible to add further team members onto the experience and any delegate numbers about 12 will be turned away.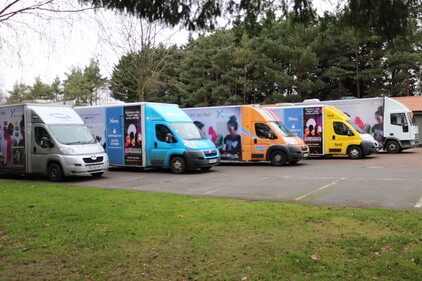 Who should book the VDT
The Virtual Dementia Tour is for everyone who comes into direct or indirect contact with people with dementia. Training 2 CARE are proud that we currently train over 350,000 people per year and a large amount of these are through the Virtual Dementia Tour.
The Virtual Dementia Tour is ideal for care staff, nurses, families, solicitors, police, prison service, ambulance staff, doctors and so many more and with a growing population, diagnosing dementia simplified and impacting on so many families lives, everyone should complete this amazing training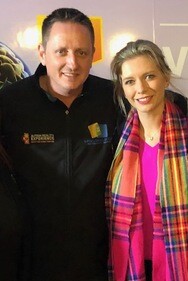 FREQUENTLY ASKED QUESTIONS
One room is for the actual Virtual Dementia Tour experience and needs to be large enough for 4 people minimum and we must be able to control both the internal and external lighting. The second room a holding room and a debrief room which must be large enough to seat 12 delegates and the trainer.
Experience training will bring all the equipment neccessary to conduct the Virtual Dementia Tour.
The sessions are 2-2.5 hours long, the delegates need to be there for the full duration of the session they are booked onto, the session will comprise of the experience itself, followed by a detailed debrief that lasts around 1-1.5 hours. 
We usually advise to allow 4-5 car park spaces to be coned off for the mobile unit to be parked in.  The vehicles do have electricity but we would ask for an electrical point to be available for multiple day bookings.
Yes, we issue certificates of attendance which will be accessed through our web site once the course is complete and payment is made.
The actual training itself is no different, it is just literally a different way of providing the training, and is a different cost due to additional fuel, insurances and staff cost.
A Walk Through Dementia
A Walk Through Dementia is a unique app for Android smartphones that's designed to put you in the shoes of someone living with dementia.
A Walk Through Dementia is a fantastic tool to help raise awareness of the affects dementia has on people's lives. We're using the app to engage with the public, healthcare professionals and those in the care sector and would welcome your thoughts to help us improve our approach.
If you've already experienced A Walk Through Dementia, your feedback would be extremely valuable.  Please help us by completing our short survey.
What is A Walk Through Dementia?
A Walk Through Dementia is a virtual reality app for Android smartphones which allows you to look at everyday life through a new lens. The experience, which can also be viewed  via the app  or on  YouTube , uses a combination of computer generated environments and 360 degree video sequences to illustrate in powerful detail how even the most everyday task of making a cup of tea can become a challenge for someone with dementia.
This app was developed by Alzheimer's Research UK, guided by people living with different forms of dementia. They were all keen to help you understand what everyday life can be like for them.
Find out more, watch our film about the project:
Download the app
Watch 360 videos, privacy overview.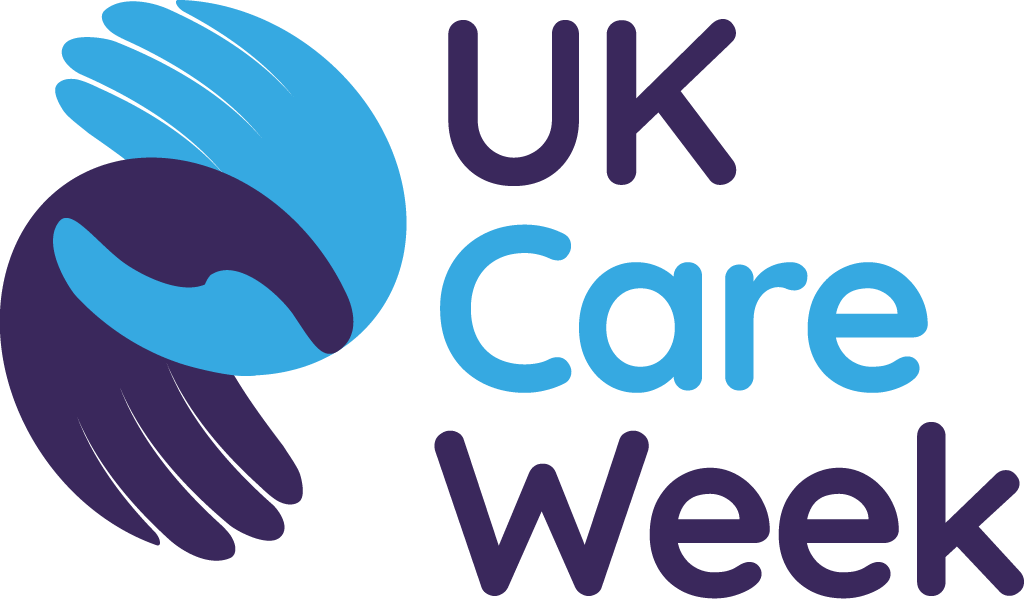 PRE-REGISTER FREE FOR 2024
BOOK A STAND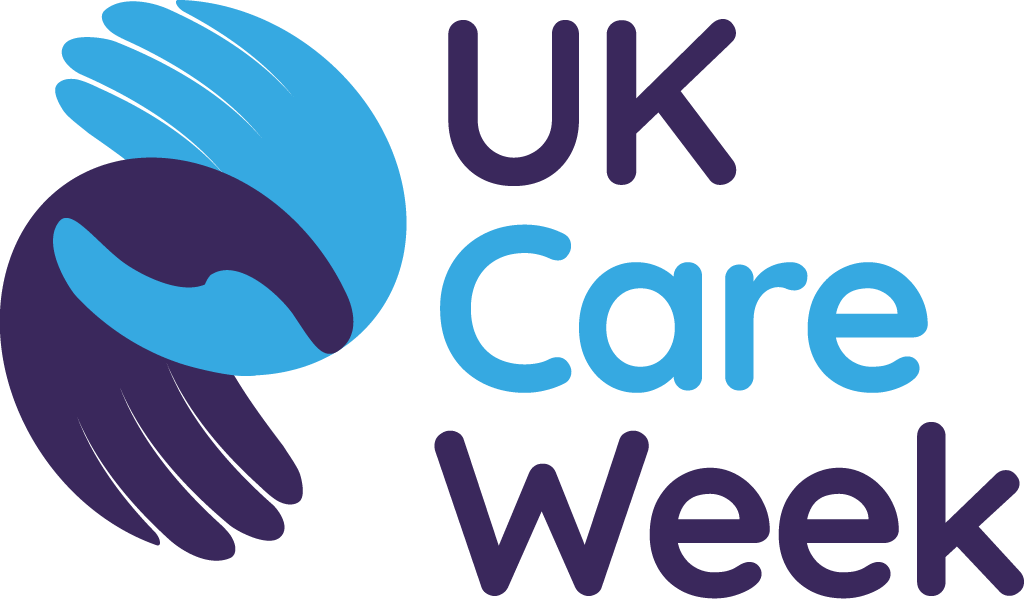 20 - 21 March 2024
NEC Birmingham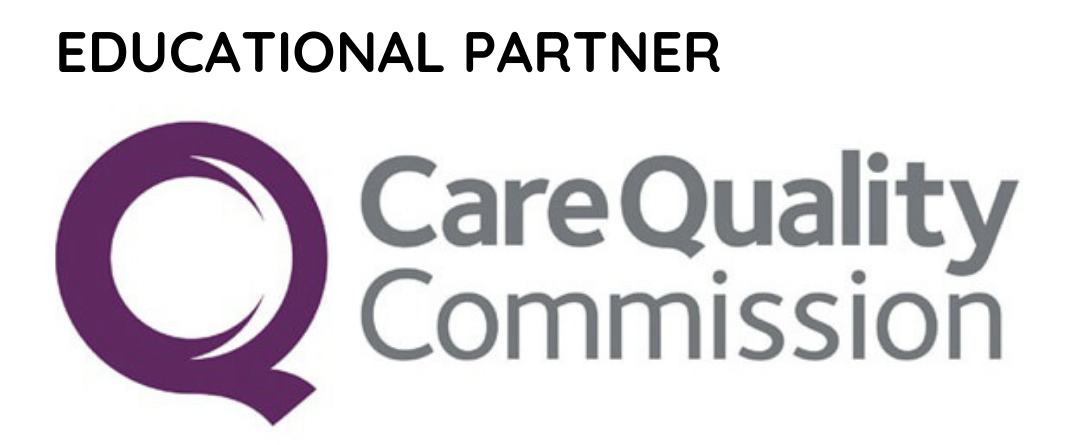 EXHIBITOR LOGIN
Virtual Dementia Tour

The Virtual Dementia Tour - The Only Scientifically Approved Way To Experience Dementia
This feature will grant access to an outstanding professional tool that offers unique and essential perspectives for caring professionals. By the end of this you will be able to recognise the issues faced by people with dementia and start to think about the correct provision of services to meet their needs.
In the UK, the Virtual Dementia Tour has been commissioned by nursing homes, CQC, care providers, NHS, ambulance services, Police, fire service, colleges, universities, prisons, and families in England, Ireland, Scotland, and Wales. The Virtual Dementia Tour has been researched in 16 countries and in the UK by Essex University and Ulster University. The Virtual Dementia Tour is recognised to change practice and has even been shortlisted for 2 awards by Skills for Care and the Times Educational Supplement.
PRE-REGISTER FREE FOR 2024

Virtual Dementia Tour in the Media
In November the Virtual Dementia Tour featured on the Channel 4 series 'Restaurant That Makes Mistakes'.
Training2Care took various celebrities through the experience and they found the Virtual Dementia Tour an experience that must not be missed.
Watch Restaurant That Makes Mistakes Here
Virtual Dementia Tour
Care teams given an insight into life with dementia.
At EveryDay Care & Support, we believe that extensive training around dementia is essential. We have developed our own internal training with Admiral Nurses to cover dementia, delirium and depression. However, we also recognise that external training is important too.
Our care teams are also provided with an immersive ' Virtual Dementia Tour '. This puts the carer in the shoes of those living with dementia.
 The Virtual Dementia Tour is delivered by Training 2 Care UK Ltd , the only licenced provider in the country. The training is delivered in 7 languages and 20 countries. 
Staff have their senses and movements restricted and are deliberately made to feel confused as part of the experience.
The aim is to give our staff the best chance possible of understanding what people living with dementia are facing every day. This supports their families and carers to continue in their caring and supportive role.
How our team felt
Viv Kirby, Care at Home Manager, said, "The purpose of the training is to put the carers in the position of somebody living with dementia to experience, potentially, what they are experiencing, which will give them an insight into how the way we care has an impact on them.
"Everyone has found it really beneficial, a real eye-opener into the impact of things which we would do with people on a daily basis – preparing food, our approach and how we talk to people.
"I did the training myself and I found it amazing."
Ashleigh McDine, Wellbeing Centre Manager, said: "I had insoles in my shoes which were really uncomfortable, headphones on with sirens and music going off and I could barely see anything out of the glasses I wore.
"It was hard to go through but a good insight into how the everyday lives of people living with dementia might be.
"It was an eye-opening experience and it will definitely change the way I work and hopefully help to change the lives of the people we work with for the better."
Maureen Rankin, a Personal Support Assistant at Crossgates in Wallsend, added: "It really brought home how the people we support might be feeling.
"For parts of it I was absolutely terrified but it was definitely worth it. I will do my job better because of it."
Access our specialist Dementia services
To chat to someone about our specialist dementia care available in North Tyneside and Newcastle, call 0191 287 7028 or click here .
Our three Wellbeing Centres in North Tyneside provide respite for carers and a social, safe and engaging environment for those living with dementia. You can find out more about our Wellbeing Centres here .
Age UK North Tyneside's Admiral Nurses also offer specialist support through the Dementia Connections Service .
Join our team
We are recruiting experienced care staff for our dementia services in both North Tyneside and Newcastle. Call 0191 287 7011 or click here to view our current vacancies.
Latest Posts
Second cost of living payment announced, get your flu vaccination, everyday care & support signs age-friendly employer pledge, speak to our co-ordination team today.
If you're thinking about accessing support for yourself or a loved one, we're here to help whether you'd like more information, need some advice or want to discuss the support available.
Customer Testimonials
Accreditation & Quality Marks
Meet the Team
Annual Reviews
Help at Home
Respite Care & Wellbeing Services
Dementia Care
Why Work For Us
Staff Testimonials
Gender Pay Gap Results
Getting here
A-Z of services
Visiting times
Clear Information

Our services
How we're doing
Patients & visitors
Work with us
Support our charity
Committed to Excellence
Freedom of information
Press releases and statements
Enlightening Virtual Dementia Tour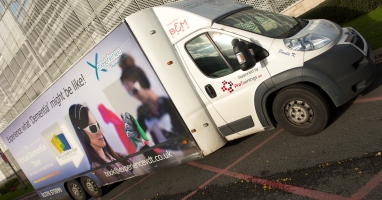 A mobile virtual dementia tour bus that takes away people's primary senses visited Russells Hall Hospital to give NHS staff a realistic glimpse into the condition that affects 850,000 people in the UK.
The Mobile Virtual Dementia Tour allows people to experience the fear and frustration people with dementia go through on a daily basis.
Staff who took the tour experienced a range of simulative distortion which robbed them of their senses to recreate the isolation and fear that people with dementia may experience every day.
Staff wore goggles to replicate impaired vision, gloves to restrict movement and shoe inserts to create peripheral neuropathy (weakness, numbness and pain in the feet) associated with dementia.
As participants tried to perform daily activities, amplified sounds, flashing lights and restricted movement trapped them into a simulated world of fear and frustration.
Lead nurse for mental health Emma Hammond, said, "The tour was extremely thought provoking and a great experience to develop an understanding of what people living with dementia might experience. I believe this will enable me to improve patient care."
Communications Apprentice Lauryn Edwards, whose auntie Elsie was diagnosed with the condition at the age of 93, boarded the virtual dementia tour bus.
"The tour was scary; I was unable to move properly or think clearly. It took me out of my comfort zone," said Lauryn, who was one of her aunt's carers.
"I now understand that people with dementia are not aggressive and complicated, but scared, confused and isolated. It also explains why they shuffle when they're walking.
"I wish I'd taken part in the tour before my Auntie Elsie died in 2012. I would have understood her behaviour and looked after her better."

The Dudley Group NHS Foundation Trust - Where people matter
Terms of use
Data protection
Accessibility statement
Consultants
Maidstone and Tunbridge Wells NHS Trust
Back to news
Virtual dementia tour stops at MTW
22nd July 2021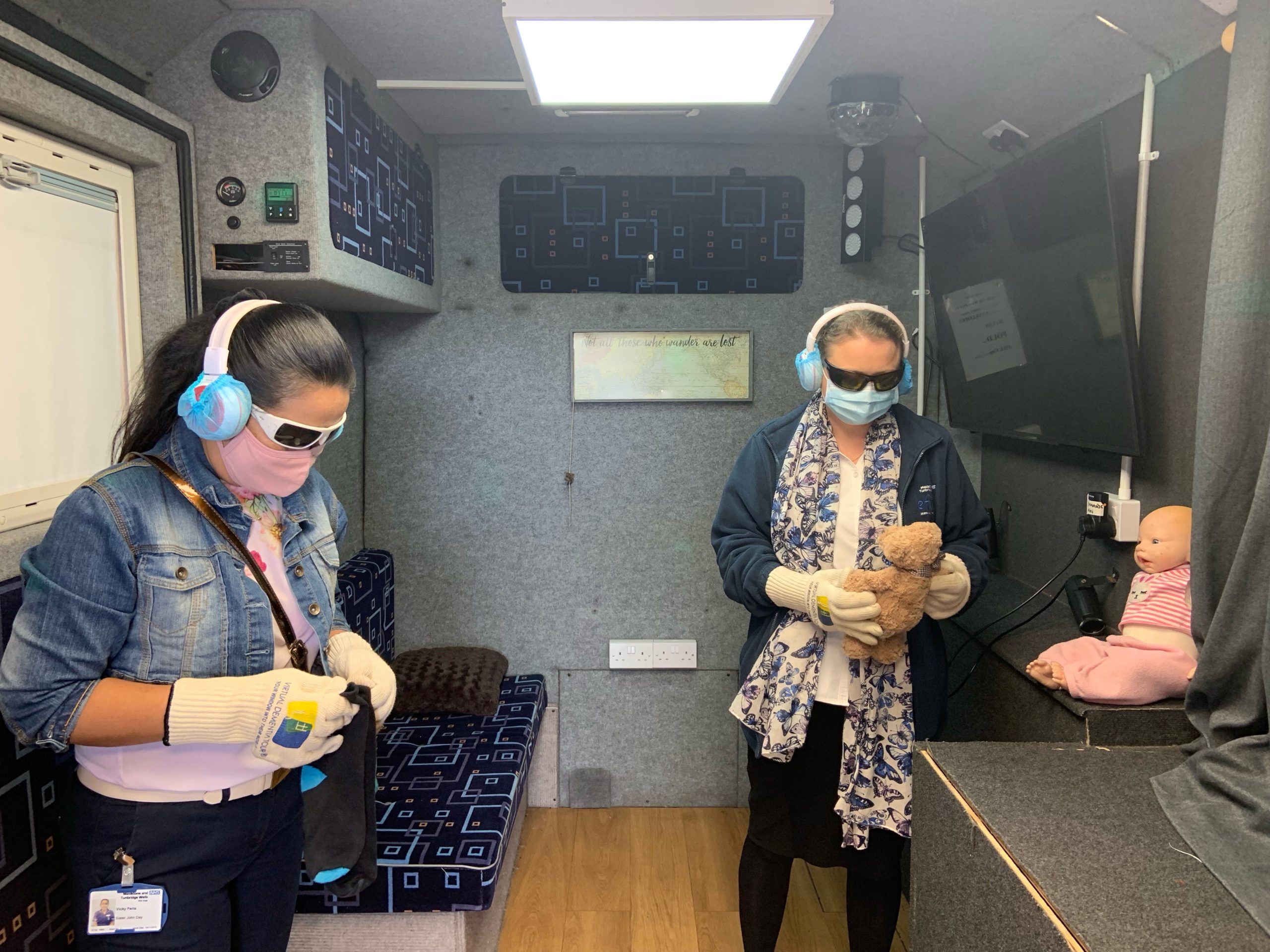 Dementia champions at Maidstone and Tunbridge Wells NHS Trust (MTW) have undertaken specialist dementia simulation training to support patients who are living with dementia. The training provided the experience of what living with dementia might be like and how simple changes to clinical practice and the hospital environment can improve the hospital experience for those living with this illness.
The training is proven to be the closest recreation of what living with dementia might be like. By using specially developed equipment, structured tasks and followed by a debrief, participants are able to demonstrate classic dementia behaviours and walk in the shoes of people with dementia. The simulation includes wearing headphones that make it harder to understand what is being said, glasses that make vision less clear and gloves that makes fingers clumsy.
Dementia is now the leading cause of death in the UK, with more than 850,000 people in the UK currently living with the disease. It is important that hospital staff are trained to provide care in a way that reduces anxiety and distress that can be experienced by people with the condition in an unfamiliar environment.
Rudi Sison, Dementia Nurse Facilitator, commented: "The simulation training provided our dementia champions with the experience of what living with dementia might be like and gave them an understanding of why patients with dementia might behave or respond in a certain way.
"It helped staff understand what they can do to help dementia patients admitted to our hospitals to maintain their independence by adapting behaviours and ways of communicating, and reduce the stress a hospital visit can cause."
Vicky Feria, Junior Sister at MTW who recently undertook the training course added: "It was a humbling experience and I found the training really helped me understand dementia behaviour.
"I am now really aware of the small things we can all do to help improve the care we provide to our patients suffering with dementia to reduce their fear and anxiety."
The training was provided by Training 2 Care Ltd as part of the Virtual Dementia Tour – the Virtual Dementia Tour is undertaken by over 200,000 people per year in the UK. Three members of staff at MTW will now be trained to deliver the dementia simulation training across the Trust.
Photograph features (left to right) Vicky Feria, Junior Sister at Maidstone and Tunbridge Wells NHS Trust and Amy Richards, Lead Cashier/Receptionist at Maidstone and Tunbridge Wells NHS Trust.
Privacy Overview
Necessary cookies are absolutely essential for the website to function properly. This category only includes cookies that ensures basic functionalities and security features of the website. These cookies do not store any personal information.
Any cookies that may not be particularly necessary for the website to function and is used specifically to collect user personal data via analytics, ads, other embedded contents are termed as non-necessary cookies. It is mandatory to procure user consent prior to running these cookies on your website.