Vintage Trek Catalogs
Table of Contents
Here you can find all the Trek catalogs from 1976 up to 1999.
Trek started out in 1975 by providing only frames. In 1976 they would supply entire bicycles.
Iconic Models
For many people Trek is most famous for sponsoring Lance Armstrong's U.S. Postal team during the late 90's up to his retirement.
But Trek already pioneered the use of carbon fiber in 1989 with the Trek 5000.
It would result in the short-lived but daring design of the Y-Foil, introduced in 1998. One of the few bikes that is designated with something more than just a number.
They were also early adopters of the mountain bike craze, with the Trek 850 launched in 1983.
Their early foray in using carbon fiber would be later used with the introduction of the iconic Y33 and Y22 models. Mountain bikes with a monocoque carbon fiber frame. Although it used the suspension technique URT ( unified rear triangle ) which would turn out to be rubbish, the original design was considered iconic.
If you're interested in learning more about vintage Trek bicycles, please visit vintage-trek.com .
Trek Catalogs
Trek Catalog 1976
Trek Catalog 1977
Trek Catalog 1978
Trek Catalog 1979
Trek Catalog 1980
Trek Catalog 1981
Trek Catalog 1982
Trek Catalog 1983-1
Trek Catalog 1983-2
Trek Catalog 1984
Trek Catalog 1985All-Terrain
Trek Catalog 1985Trek2000
Trek Catalog 1985TrekRacing
Trek Catalog 1985TrekSport
Trek Catalog 1985TrekTouring
Trek Catalog 1986
Trek Catalog 1987
Trek Catalog 1988
Trek Catalog 1989
Trek Catalog 1990
Trek Catalog 1991
Trek Catalog 1992
Trek Catalog 1993
Trek Catalog 1994
Trek Catalog 1995
Trek Catalog 1996
Trek Catalog 1997
Trek Catalog 1998
Trek Catalog 1999
Trek Models
Mountain bike, you might also like.
Vintage GT Catalogs
Here you can find a selection of GT catalogs from 1990 up to 1998. GT was founded in 1972 by Gary Turner, who welded a
Vintage Kona Catalogs
Here you can find all the Kona catalogs from 1989 up to 1999. Kona started in 1988 and quickly became a big contender in the rapidly
Vintage Giant Catalogs
Unfortunately I was only able to find a couple of Giant catalogs. Although it's a huge bicycle brand, finding the Giant catalogs proved to be
Vintage Cannondale Catalogs
Here you can find all the Cannondale catalogs from 1983 up to 1999. Cannondale started out providing cycling gear in 1973. But I've only included
Barnevelderstraat 17 1109BX, Amsterdam the Netherlands +31 618 744 920
Quick Links
1998 Trek 8500
Specifications
Description
Value Guide
Frame & Fork
Bicycle condition guide.
Bicycle Database
Compare Bicycles
Product Catalog
Shop Categories
Spoke Calculator
Copyright © BikePedia 2017 | Design by BikePedia.com | All rights reserved
Pinkbike.com
Register New User
First Looks
Friday Fails
Community Blogs
Places Directory

0 All Photos
1 Mobile Uploads
595184 Trek-8500-ZX-1997
Trek-8500-ZX-1997 (34 Photos)
Create a new album, rename album, change album cover.
Use your mouse to select the photo you would like to make the cover photo.
Move photos
Use your mouse to select the photos you would like to move. 0 photos selected.
Edit Photos
Use your mouse to select the photos you would like to edit. 0 photos selected.
Add to blog
Choose which blog post you would like to append photos to:
What size would you like the photos to be? This will look best if it matches the article format.
How do you want the photos sorted?
Use your mouse to select the photos you would like to add to a blog post. 0 photos selected.
Click to select an image. Click and drag to select multiple images. Shift+click to add/remove from your selection.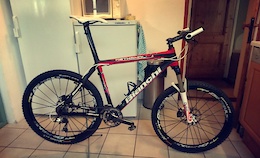 woutervt1: Trek-8500-ZX-1997 in: Bikes - All Mountain/Enduro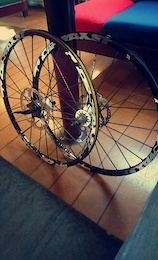 woutervt1: Trek-8500-ZX-1997 in: XC Riding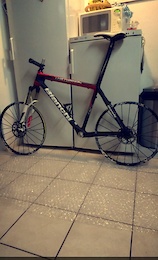 woutervt1: Trek-8500-ZX-1997 in: Parts - Suspension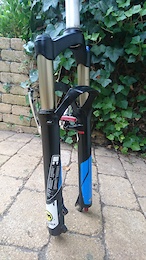 woutervt1: Trek-8500-ZX-1997 in: Parts - Other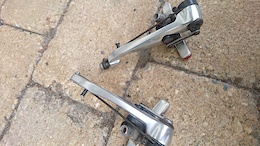 Cool Features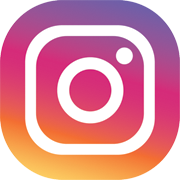 ALL MOUNTAIN
ACCESSORIES
ALL (130 Forums)
WHEELS & TIRES
Trek 8500 XC Hardtail
ZR 9000 Alloy
Rear Derailleur
Front Suspension
Bontrager Race Disc
USER REVIEWS
I use it for for things from 2m high gap jumps to 3km long climbs love it.
One two three words.
Great Bike. Very Fast and light and superb Geometry.
Bontrager Flat Handle Bars should be Riser Bars instead.
Absolutely Awesome
Similar Products Used:
Klein Attitude
It's pretty Fast, awesome! i really love this frame
i dont see any weakness so far
i love this bike!
Very stiff and quick frame!
TREK frames could be slightly lighter, but it is the stiffnes and durability that counts the most:D
The 8500 frame is probably one of the best aluminum frames on the market today! I work in a bikeshop and have seen and tried alot of bikes, but this frame is something of its own;)
Ridley Scorpion
Fast, nimble and sexy. Tough, too, since I weigh 90kg and it's never given me any sort of trouble.
Bontrager seatpost and saddle lasted 6 months and then gave up the ghost.
This bike is stellar. I use this bike to commute and to have fun - all in all I put 200km a week on this bike. This bike has not given me any kind of trouble and looks and feels like it will give many more miles of pleasure.
Merida TFS 900 D
Light,fast and looks good.great spec. Race ready.
Tyres and saddle
I just love this bike from the day i brought it.i had a scott scale 40 last year and this trek 8500 blows it away. The bike is a real head turner. I have just recently changed the tyres to mountain king 2.4 as i did not like the bontrager jones tyres,plus the bontrager saddle that came with the bike was not realy that comfy so changed for selle italia. I would recommend this bike to anyone who likes to ride at weekends or for a more competitive trail rider.
Scott scale 40
Very stiff ride, climbs excellent even whith this 96kg gorilla on top. Easy to take steep drops and excellent at cornering.
none realy ...not a full suspension version available?
I ride it at least 3 times a week on 20 to 30 km trips each day and i can say it is extremely comfortable. Even when now I'm looking to change to a full suspension because of the obvious aches i'm gettin in my back after a 40km trip due to my weight, Im sure i would keep it for shorter trips Nothing to complain really. This is a review concerning only the frame as you can see it does not have the standard accesories.
Alubike Grizley
I bought from a cousing a 2008 Trek 8500 frame w/ a 100mm Reba Race (2008) w/ remote lockout, LX hydraulic disk brakes, FSA seat tube, Matrix token stem, Titec Pluto flat handlebar, LX chainrings.... Great frame geometry, light weighted, nice paint job, it feels so confortable when going up, I noticed an incredible difference when climbing, with the 34 Sram cassette you can easily climb anything... is pretty stiff, and the alpha red aluminum gives me confidence it will hold anything... This frame along with the Reba Race fork makes this bike a very sweet ride, this fork works amazingly good...
this is a custom made bicycle, no weaknesses about the frame
I'm not changing this frame anytime soon, I will probably die with it :) Trek bikes may be somehow expensive and even more the top of the line frames and bikes but they well worth the money. From now on I will go Trek all the way...
Optimis Traxer, this is a Costa Rican bicycle company... I'd be surprise if someone around here have seen one :)
Looks nice, extremely lightweight, fast, Stiff, nice geometry. very nice handling, I like that mine is a 2006 and all the weldings are polished, the silver color is awesome
Very weak frame painting, scratch easily
With that setup is very fast, responsive, comfortable ride, climbs fast. Good for descents, It is just the best race aluminum bike you can buy. More than 1500 miles on-road and 700 off-road, Nothing to replace or repair, still like new, except some scratches. Very reliable
Gary Fisher HooKooEKoo
Light and climb really fast
easily stretchable frame paint, stock tires
Great race bike, climb steep and rough paths faster than anyone that I've ever tried. Race frame geometry, not good for riding slow or long flat ways or family Sunday rides. Good for riding fast! Stock tires worn fast and frame paint easily get scratched by small rocks hitting.
trek 4400, stumpjumper ht, Hardrock, Caldera
Get the latest mountain bike reviews, news, race results, and much more by signing up for the MTBR Newsletter
Hot Deals See All Hot Deals >>
CLASSIFIEDS
TERMS OF USE
PRIVACY POLICY
ADVERTISING
VISIT US AT
© Copyright 2023 VerticalScope Inc. All rights reserved.
Structured data
Items portrayed in this file.
Coats of arms of cities and villages of Moscow Oblast
Hephaestus in heraldry
Hammers sable in heraldry
2 flashes Or in heraldry
Atom symbols in heraldry
Superior vector version available
PD-RU-exempt
Vector-Images.com images
Media missing infobox template
Files with no machine-readable author
Files with no machine-readable source
Navigation menu