86-19138970032 (GMT+8 18:00~09:00)

Beijing Xian Tours
Shanghai Beijing Tours
Hong Kong Guilin Tours
Hangzhou Suzhou Tours
Kunming Lijiang Tours
Shanghai Yangtze Cruise Tours
Chengdu Tibet Tours
China Tours in January
China Tours in February
China Tours in March
China Tours in April
China Tours in May
China Tours in June
China Tours in July
China Tours in August
China Tours in September
China Tours in October
China Tours in November
China Tours in December

High Speed Trains
China Yangtze Cruise Tour
Photography
Desert Adventure
Ethnic Villages
Biking Tours
Kung Fu Tours
Heritage Sites Exploration
China Spring Tours
China Summer Tours
China Autumn Tours
China Winter Tours

Best-value Yangtze Cruises
Top Family-friendly Cruise Ships
Top 3 Luxury Yangtze River Cruises
Yangtze River Highlights
Yangtze River Cruise Routes
Upstream or Downstream?
Dining & Drinking
Accommodations
On-board Activities
Yangtze Cruise Booking Steps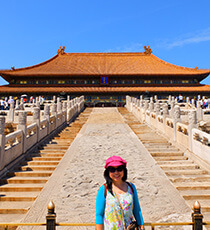 Fanjingshan
How to Plan Your First China Tour
How to Plan Beijing Tour
How to Plan Xian Tour
How to Plan Shanghai Tour
How to Plan Guilin Tour
How to Plan Sichuan Tour
How to Plan Family Tour
2023 China Travel Ideas
Best Time to Visit China
What to Pack for Your China Journey
Ultimate Chinese Visa Guide
Chinese Visa Types
Chinese Visa Requirements
Do I Need a Visa for China
Chinese Visa Application
Chinese Visa Exemptions
144-hour Visa Free
Shenzhen Visa on Arrival
Hainan 30-day Visa Free
Embassies & Consulates
Invitation Letter
Useful Visa FAQs & Tips
Entry Regulations
Baggage Allowance
Customs Declaration
Exit Regulation
How to Book Train Tickets
How to Collect Train Tickets
How to Cancel & Alter Train Tickets
How to Read Train Tickets
China High Speed Train Types
Seats Class & How to Choose
Friendly Facilities on the Train
The Train Station Departure Process
Available Food and Drinks on the Train
Western Toilets on the Train
Luggage Racks & Baggage Allowance
Beijing Train Stations
Shanghai Train Stations
Guilin Train Stations
Xian Train Stations
Chengdu Train Stations
Hong Kong West Kowloon Railway Station
Beijing - Xian
Beijing - Shanghai
Guangzhou - Shanghai
Shenzhen - Shanghai
Chengdu - Xian
Shanghai - Hangzhou
Shanghai - Xian
Chengdu - Chongqing
Kunming - Lijiang
Beijing Capital International
Beijing Daxing International
Shanghai Pudong International
Shanghai Hongqiao International
Guangzhou Baiyun International
Hangzhou Xiaoshan International
Chengdu Tianfu International
Chengdu Shuangliu International
Xian Xianyang International
Shanghai - Beijing
Hong Kong - Shanghai
Guangzhou - Beijing
Chengdu - Lhasa
Shanghai - Guilin
Shanghai - Sanya
Travel in Spring Season
Travel in Summer Season
Travel in Autumn Season
Travel in Winter Season
Weather in January
Weather in February
Weather in March
Weather in April
Weather in May
Weather in June
Weather in July
Weather in August
Weather in September
Weather in October
Weather in November
Weather in December
Top 10 China Destinations
Top 15 Things to Do
China World Heritage Sites
Top 10 Best Natural Beauties
Top 10 Museums in China
Top 10 Old Towns & Villages
Five Great Mountains in China
Top 10 Monasteries & Temples
Top 10 Ski Resorts
Top 10 Beautiful Lakes in China
7 Best Beaches in Sanya
Top 6 Beautiful Waterfalls
Panda Volunteering
Having fun on Ice and Snow Festival
About Us Who We Are Our Team Why Travel with Us Feedback & Reviews Travel Stories Travelers' Gallery Payment Guide Customer Support Contact Us
Tour Experiences
Destinations

Great Wall Tourism Board | Updated Great Wall of China Travel Information
"He who has not climbed the Great Wall is not a true man!", as what was said by China's first Chairman Mao Zedong, the Great Wall should be on every traveler's bucket list. This China's greatest engineering triumph, made from brick, stone, tamped earth and wood, is a direct link with legendary dynasties of China's past as there were continuous ancient dynasties invested unquantifiable labour and material resources to construct and reconstruct the Great Wall. Nowadays, you can still see there are more than 5,500 miles of the Great Wall snaking its way over the perched mountainsides from the gobi desert in northwestern China to the sea coast of far eastern China. Beijing, the capital city, possesses about 573km (356 miles) of the Great Wall including the world famous Badaling, Mutianyu, Jiankou, etc., stretching alone the steep peaks and hills at its remote northern districts. You can easily plan a satisfied day trip to the closer sections of the Great Wall from Beijing. But for those who want to explore, it's available to hike, bike even camp on some sections. Contact China Discovery to tailor-make a Great Wall trip now!
Latest Notice on Great Wall Travel - Updated on May 25, 2023 :
The Beijing Great Wall Protection and Management Regulations clearly state that it is prohibited to organize tours or climb sections of the Great Wall that have not been approved for visitation. Violators may be subject to corresponding fines. The Jiankou Great Wall is an unopened section of the Great Wall, and climbing it can cause damage to the structure. This not only hinders the preservation of the Great Wall but also poses significant risks to the safety of visitors. Therefore, we urge everyone not to climb the Jiankou Great Wall. Tourists can visit and hike at well-developed sections of the Great Wall such as Mutianyu, Badaling, and Jinshanling instead.
① Where is the Great Wall of China Located?
② When was the Great Wall of China Built?
③ Who Built the Great Wall of China?
④ How Old is the Great Wall of China?
⑤ How Long is the Great Wall of China?
⑥ How Tall is the Great Wall of China?
⑦ How Big is the Great Wall of China?
⑧ How was the Great Wall of China Built?
⑨ Why was the Great Wall of China Built?
⑩ Can You See the Great Wall of China from Space?
Top 7 Most Popular Sections of Great Wall
Many people mistakenly assume that the Great Wall of China is a continuous entity. Actually, the Great Wall exists in chunks scattered with natural defenses, usually the precipitous mountains. According investigations, the Great Wall of China stretches through 16 provinces, cities and autonomous regions, such as Shandong, Henan, Hebei, Inner Mongolia, Shanxi, Shaanxi, Gansu, Liaoning, Ningxia, Beijing, Tianjin, Xinjiang, Heilongjiang, Qinghai, Jilin and Hubei, etc. Taking into location, landscape, transportation, tourist amenities into consideration, below 7 sections of Great Wall are most popular among tourists.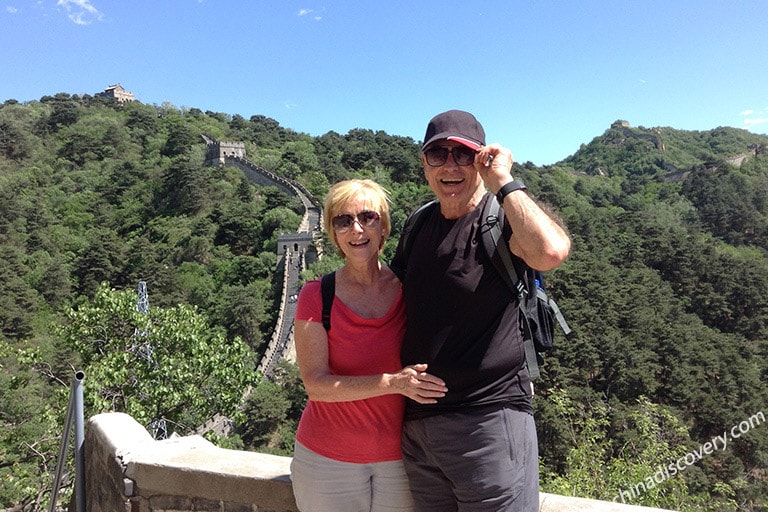 Which Section of Great Wall to Go
Generally speaking, Mutianyu is the best option if you travel with kids, or want to enjoy a leisure and scenic hike. If you are a hiker, choose 1 or 2 sections among Jinshanling, Simatai and Gubekou to hike 1 or 2 days. If you are the second-timer, maybe Huanghuacheng section will be very attractive to you. Its lakeside walls are very stunning. Read more about What Are the Best Sections of the Great Wall to Visit from Beijing?
Important Great Wall Travel Information & Tips
Below are the most important and useful articles with information and tips to help you plan your Great Wall trip easier. Fee free to contact us if you have any question about the Great Wall.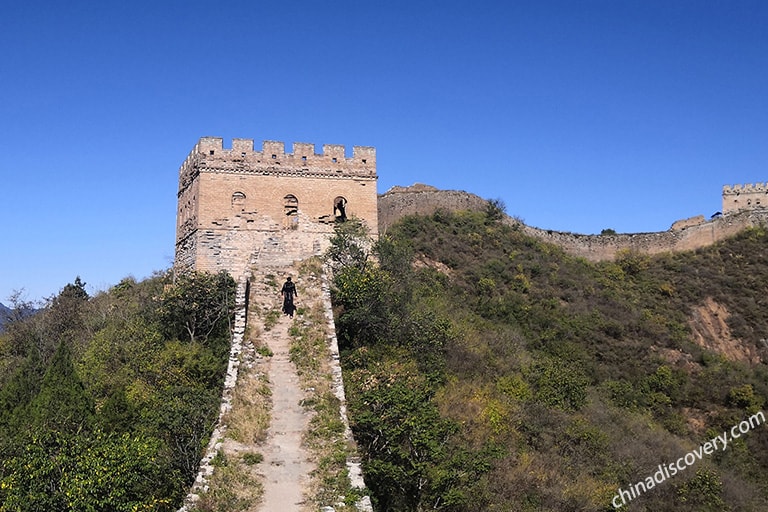 Great Wall Trip Planning
We have complied this Great Wall of China Ultimate Guide which have synthesized the most useful insights and tips from our Great Wall researcher and Beijing local tour guide to help you plan the perfect Great Wall adventure.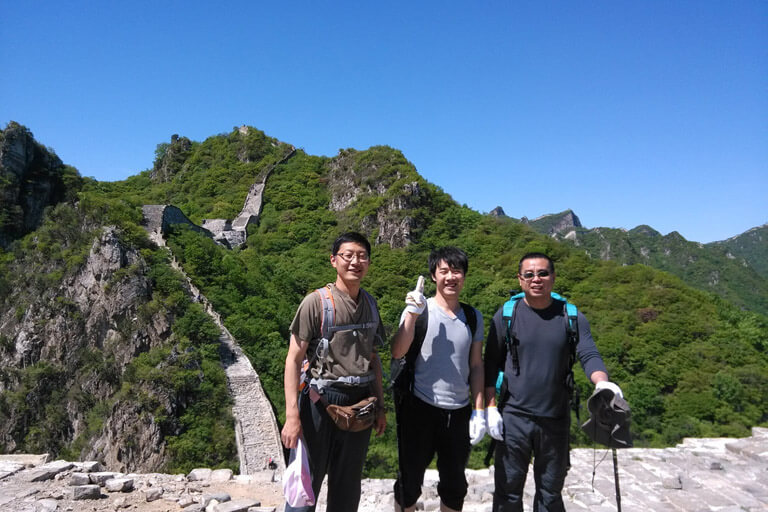 Great Wall Hiking
Our travel experts' handpicked top Great Wall Hiking tour packages which take you to explore the best sections of Great Wall, such as Mutianyu, Huanghuacheng, Jiankou, Jinshanling, Simatai, etc.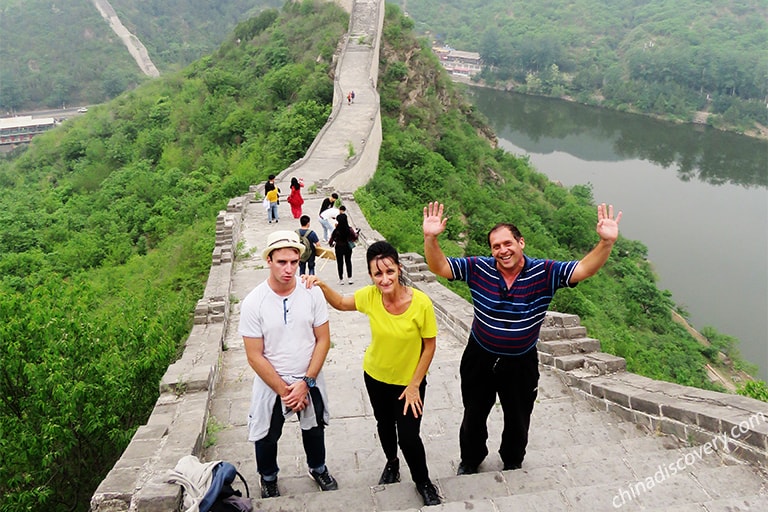 Best Time to Visit
The Great Wall is theoretically suitable to visit all year round. But considering most people would prefer a trip on beautiful days with fewer crowds, the best time is spring and autumn, especially in April, May, September, and November.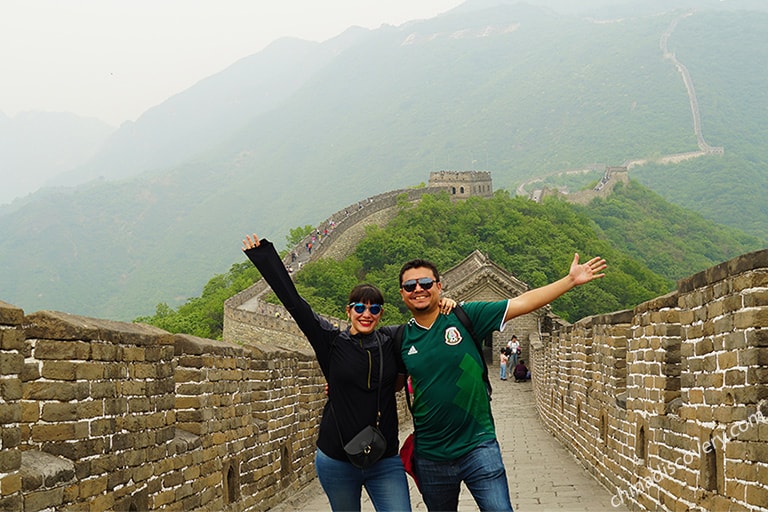 Great Wall Restaurants
There is no restaurant on the Great Wall, but some sections of Great Wall, such as Mutianyu, Jinshanling, Badaling, provide restaurants which are usually located at the feet of the Great Wall.
How to Get to & Around Great Wall of China
The location of each section of Great Wall varies greatly so is the available transportation. Some sections, which are closer to Beijing, can be reached easily, such as Badaling, Mutianyu, Juyongguan and Huanghuacheng. These sections of Great Wall provide flexible choices of transportation, including private car, train, tourist bus and public buses. Some sections of Great Wall are much further away from Chengdu, including Jinshanling, Simatai, Gubekou. Travellers can only get there by private car or public buses (usually takes much longer, and need to change bus for several times). To know more transportation information of Great Wall, please check how to get to & around Great Wall !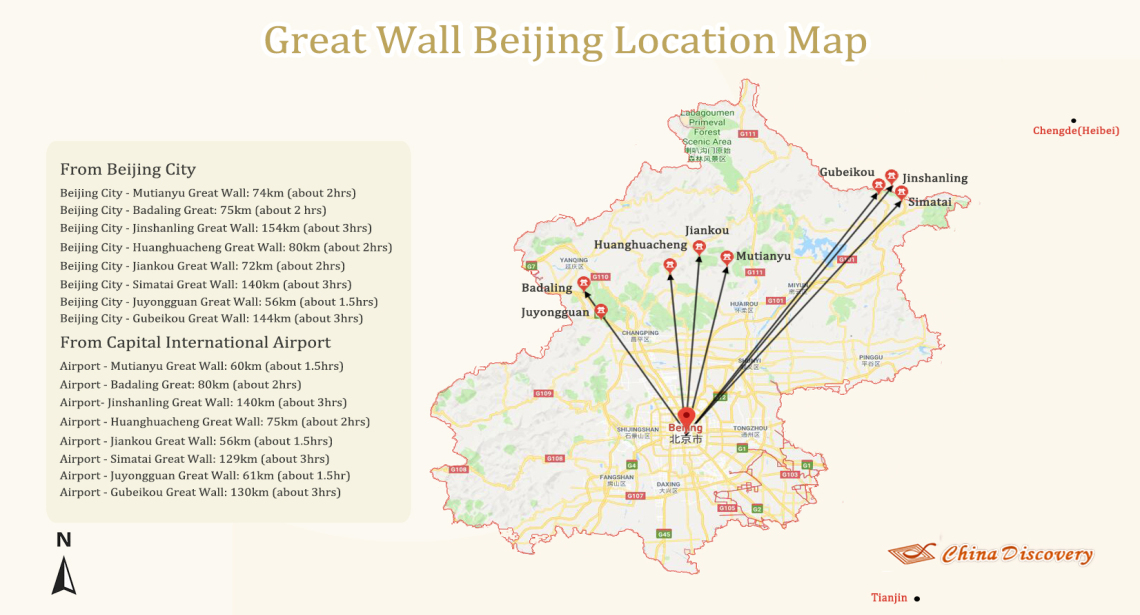 How to Get to Mutianyu Great Wall
- Location : Bohai Town, Huairou District, Beijing, China北京市怀柔区渤海镇慕田峪村, 75 kilometers (46 miles) from Beijing
- By Private Car : taking a private car is the most recommended way to get to Mutianyu Great Wall. It takes only about 1.5 hours to get there. Your driver can pick up you from your hotel, airport, train station or other locations in Beijing.
- By Bus : You can go to Beijing Tourist Distribution Center (北京旅游集散中心) or Dongzhimen Wai Bus Station (东直门外站) to take tourist buses to Mutianyu Great Wall. These buses only depart during 8:30am-9am, and return from the Great Wall at around 16:00. Beijing Tourist Distribution Center (北京旅游集散中心) is located near Tian'anmen Square, and connected by metro Line 2. Dongzhimen is about 7km away from Tianmen Square and you can get there by metro Line 2, metro Line 13 and several public buses.
How to Get to Jinshanling Great Wall
- Location : Hualougou, Bakeshiyin Town, Luanping County, Heibei 河北省承德滦平县巴克什营镇花楼沟村160 kilometers (100 miles) from Beijing
- By Private Car : using a private transfer service arranged by a travel agency can save you from the crowdedness of public buses. It takes only about 2.5 hours to get to the entrance of Jinshanling section of Great Wall.
- By Bus : There are usually 4 daily tourist buses running from Dongzhimen Wai Bus Station (东直门外站) for Jinshanling Great Wall, but only operating during April ~ October. It takes about 3 hours to get to Jinshanling. You can get to Dongzhimen Wai Bus Station by metro Line 2 or 3.
How to Get to Simatai Great Wall
- Location : Simatai, Gubei Ancient Town, Miyun District, Beijing北京市密云区古北水镇司马台村,150 kilometers (94 miles) from Beijing.
- By Private Car : pick up you from your hotel, airport, train station or other locations in Beijing, and need only about 2.5 hours to get to Simatai.
- By Bus : Simatai Great Wall belongs to the Gubei Water Town Scenic Area. You can take a tourist bus from Dongzhimen Wai Bus Station (东直门外汽车站) to Gubei Ancient Town first, then walk for several minutes to Simatai section of Great Wall. The morning bus departs at around 8am, and the afternoon bus departs at around 15:30.
How to Get to Badaling Great Wall
How to Get to Huanghuacheng Great Wall
How to Get to Jiankou Great Wall
Get from Beijing to Great Wall
Travel from Beijing Airport to Great Wall
Beijing South Railway Station to Great Wall
Beijing West Railway Station to Great Wall
How to Get Around Great Wall of China
Walking is the major way to get on and around the Great Wall. But usually one need to hike on some mountain paths to get on to the wall and towers from the entrance of the scenic zones. For those who are not in good physical condition or want to save energy and time, you can take cable cars up and down at Badaling, Mutianyu, Jinshanling and Simatai sections of Great Wall. The wild sections of Great Wall at Gubeikou, Jiankou, Huanghuacheng, Jinshanling (unrestored part), Simatai (unrestored part) have no cable cars. Taking toboggan down the Great Wall is also very popular among tourists. Currently only Badaling and Mutianyu have toboggans.
Mutianyu Great Wall Cable Car
Mutianyu Great Wall Toboggan
Badaling Great Wall Cable Car and Toboggan
Get from Jinshanling to Simatai
Get from Jiankou to Mutianyu
Get from Gubeikou to Jinshanling
Useful Great Wall of China Maps
To help you know better about location, transportation and attractions of Great Wall of China, here we prepare some useful Great Wall maps. Please feel free to read and download. Contact us if you have any question about the Great Wall.
Mutianyu Great Wall Maps
Badaling Great Wall Maps
Jinshanling Great Wall Maps
Simatai Great Wall Maps
Jiankou Great Wall Maps
Huanghuacheng Great Wall Maps
Great Wall Google Map
More Great Wall Maps
Most Popular Great Wall Tours 2023/2024
No matter it is your first, or the second or the third trip to the Great Wall, China Discovery will always find a suitable tour package for you to see and experience the Great Wall in the best way. If you are one of the first-timers, you are suggested to visit Mutianyu section of Great Wall or Jinshanling Great Wall. If you are the second-timers, it's time to take a memorable hike to those wild section of Great Wall, such as Simatai, Jiankou, Gubeikou, Huanghuacheng, etc. If you still have no idea where to start, you can contact us to design a tailor-made Great Wall trip for you!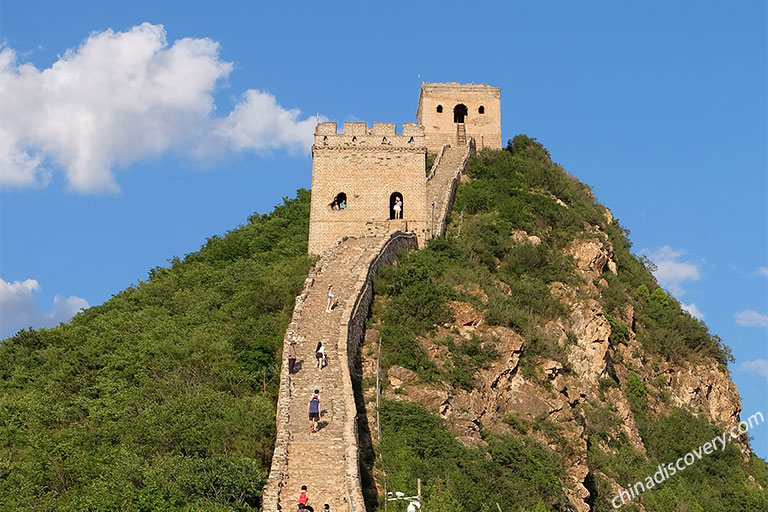 Jinshanling Great Wall, Simatai Great Wall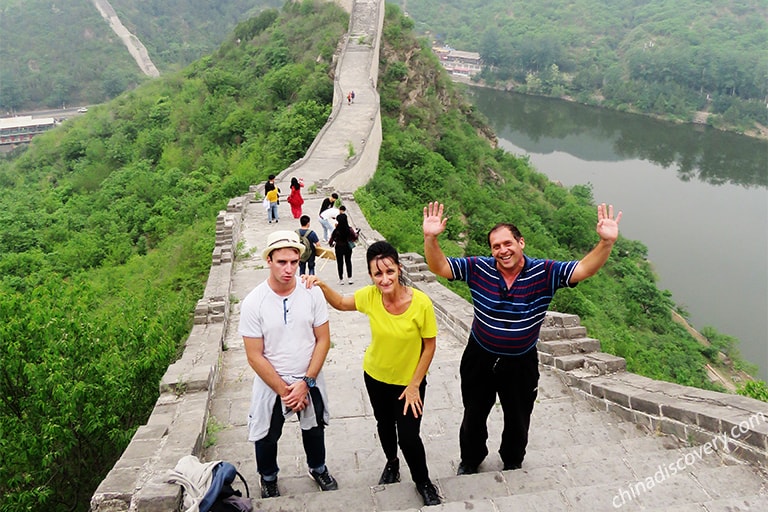 Great Wall Section(s): Mutianyu/Huanghuacheng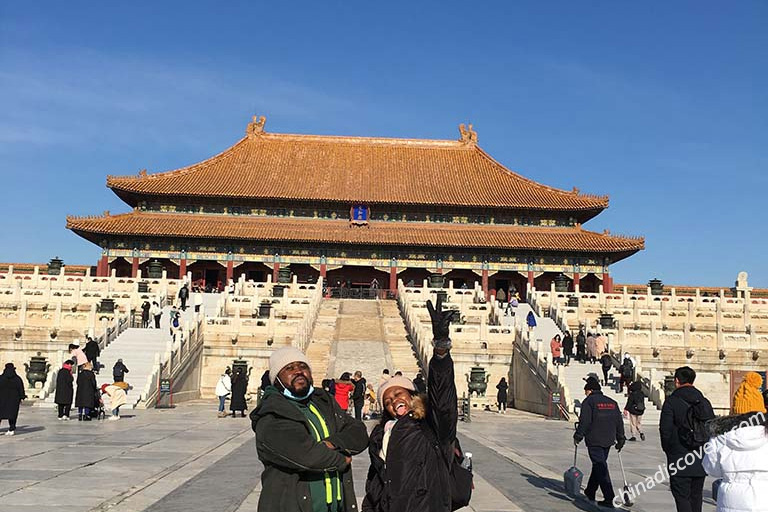 Forbidden City, Jingshan Park, Mutianyu Great Wall, Hutong, Bird's Nest, Water Cube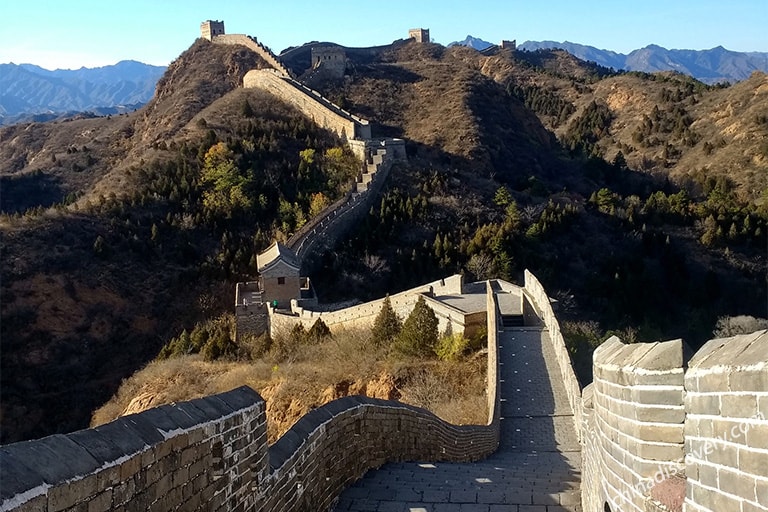 Great Wall Section(s): Jinshanling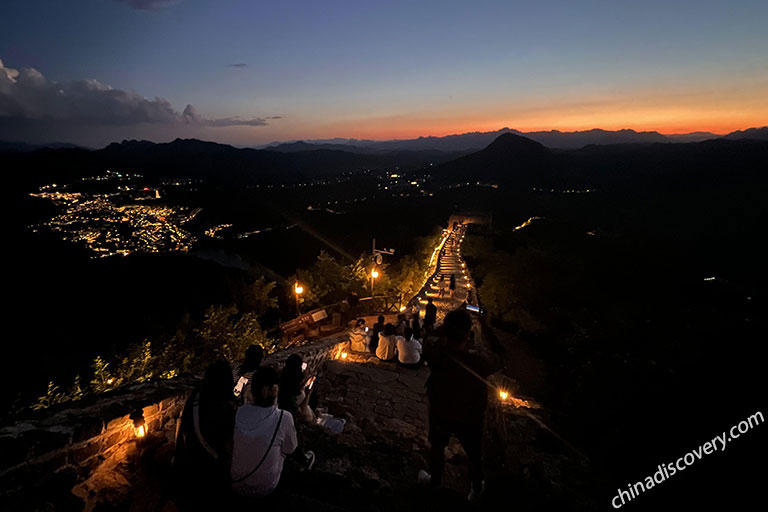 Great Wall Sections: Jinshanling + Simatai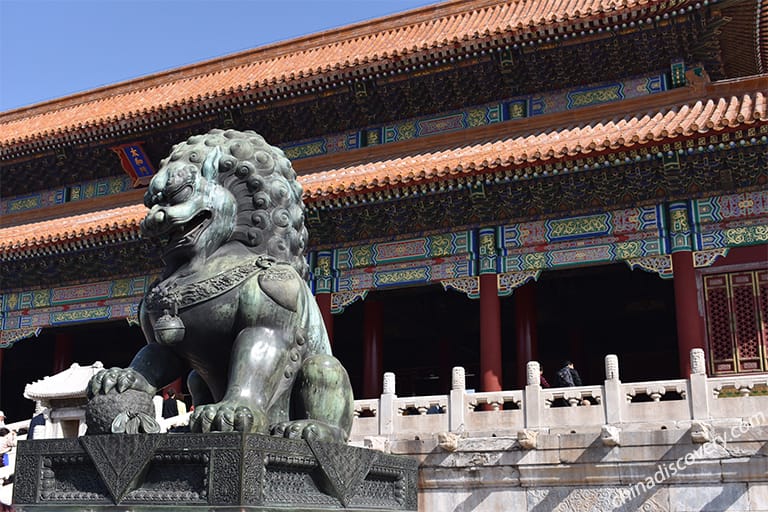 Great Wall Section(s): Mutianyu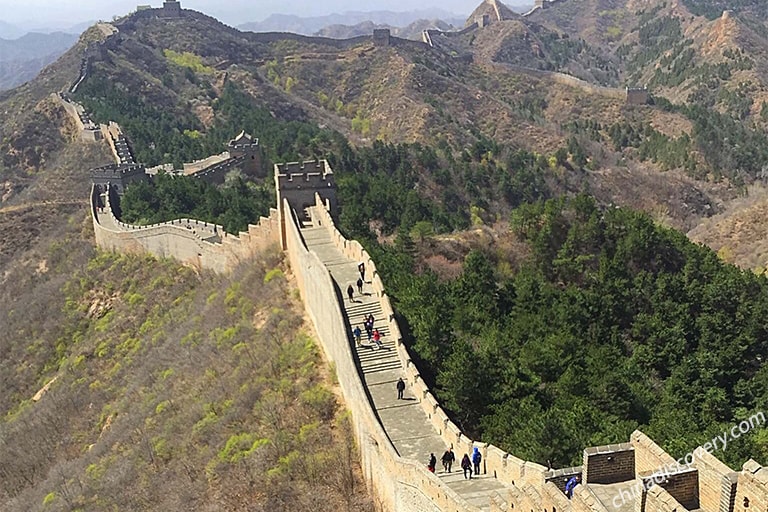 Forbidden City, Terracotta Warriors, Jinshanling Great Wall hiking, Mount Huashan hiking
Start planning your tailor-made holiday to China by contacting one of our specialists. Once inquired, you'll get a response within 0.5~23.5 hours.

Affordable and valuable price
100% tailor-made packages
Highly rated customers reviews
Efficient customer support
China Tours
Top 10 China Tours
Classic China Tours
China Tours from Beijing
China Tours from Shanghai
China Tours from Hong Kong
China Tours from Chengdu
Short China Trips
Customize China Tour
China Panda Tours
Family Tour with Kids
High-Speed Train Tour
Silk Road Travel
Yangtze River Cruise
Hiking & Trekking Tours
Photography Tours
China Minority Travel
Beijing Shanghai Tours
Shanghai Yangtze Tours
Chengdu Jiuzhaigou Tours
Chengdu Lhasa Tours
Suzhou Hangzhou Tours
Guilin & Yangshuo
Zhangjiajie
"Very good experience"
"WONDERFUL 25 DAYS IN CHINA - PRIVATE TOUR"
"Awesome China tour from northeast to southwest"
Any questions, please email us at: [email protected] or call us at: 86-19138970032 (Monday-Friday 9 a.m. to 6 p.m. GMT+8)
Terms & Condition
Privacy Policy
Customer Support
Copyright © 2011-2023. All rights reserved.
Cookie policy
We use cookies to give you the best experience on our website. Continue using our website means you agree with our cookie policy. For more info, please read here .
Search Please fill out this field.
Manage Your Subscription
Give a Gift Subscription
Sweepstakes
Travel Tips
17 Facts About the Great Wall of China You Should Know
The Great Wall of China inspires wonder among its millions of visitors each year. Read on to learn about its unique history and how to visit.
Melanie Lieberman is the senior travel editor at The Points Guy and was an editor at Travel + Leisure.
Like a writhing dragon's tail, the Great Wall of China snakes its way across China 's northern border. As its name suggests, the Great Wall is an imposing architectural marvel, and it's often hailed as one of the greatest manmade wonders of the world. The Great Wall of China's history stretches back more than 2,000 years. Despite its cultural and historic importance, it wasn't until 1987 that the Great Wall of China was listed as a World Heritage site by UNESCO .
But the Great Wall isn't even a single wall.
"The first thing to note," travel expert Stan Godwyn told Travel + Leisure , "is that it's actually a series of walls and fortifications."
Godwyn typically arranges for clients to visit one of four main sections — Badaling (the most accessible for travelers of varying mobility), Mutianyu (extremely popular and well-restored), Simatai (a crumbling, rugged stretch of wall), and Jinshanling (for serious hikers).
Want to discover more Great Wall of China facts and bits of history? Read on for our definitive guide to this world wonder and ancient marvel.
Where Is the Great Wall of China?
The Great Wall of China is easily accessible from Beijing, though the massive structure stretches from Shanhaiguan in the east all the way to the city of Jiayuguan, in the country's northwest. Generally speaking, the Great Wall of China defends the country's northernmost border. A 2012 archeological survey estimated that the wall (taking into account all the dynasties that had worked on the structure) crosses 15 provinces and extends from Xinjiang, in the northwest, to the border of Korea in the east.
How Long Is the Great Wall of China?
If you were to measure all the sections ever built, some reports suggest the Great Wall of China could be a staggering 13,170 miles long. The most popular (and arguably the most beautiful) section was erected during the Ming dynasty, and runs for 5,500 miles between Hushan to the Jiayuguan Pass. Even if you only take into consideration the main-line length (about 2,150 miles) of the wall — not including branches and spurs — it's still the record-holding longest wall in the world .
For those wondering how tall the Great Wall of China is, the general answer is that the structure's height varies considerably, from 15 feet all the way to 39 feet. At its widest point, the wall is 32 feet thick.
When Was the Great Wall of China Built?
It's hard to say precisely when the Great Wall of China was built, as so many dynasties and rulers contributed to its construction. Some 20 states and dynasties contributed to the construction of the Great Wall of China over the course of millennia. It's thought that the first lengths of the wall were built as early as 771 B.C.E., though official work didn't begin until 220 B.C.E., during the reign of Emperor Qin Shi Huang. Most of what remains today — that 5,500-mile stretch — was built during the Ming dynasty (between 1368 and 1644).
Why Was the Great Wall of China Built?
Originally built as a wartime defense, the Great Wall of China features many towers and passes. When Emperor Qin Shi Huang first proposed the so-called Long Wall, it was meant to defend the Chinese states against nomadic tribes from the north.
During the Han dynasty, (between 202 B.C.E. and 220 C.E.) the Great Wall was extended to protect the Silk Road trade. The Ming dynasty is known for not only extending the Great Wall, but also repairing and reinforcing existing structures.
How Was the Great Wall of China Built?
Despite its name, the Great Wall is actually a collection of fortifications, some of which run parallel to one another, while others are circular or side walls. There are even portions of the Great Wall that are natural barriers, like rivers or high mountains.
Hundreds of years before any official construction on the Great Wall began, individual Chinese states built fortifications against one another, using mostly earth, wood, and stones. Construction during the Ming dynasty made use of bricks rather than cut stone, which appears largely in the foundation and gateways.
More than a million soldiers, commoners, prisoners, and animals were recruited to help build the wall. Hundreds of thousands of men died while working on the wall, which required them to carry heavy materials on their backs up to the top of the ridgelines. There are rumors that many of the dead were buried in the wall, though to date there's no hard evidence of this.
Much of the work on the oldest sections of the Great Wall were built by hand, though primitive technology — wheel barrows, ropes, basket-and-pulley systems, and horse- or oxen-drawn carts — was also used.
When Is the Best Time to Visit the Great Wall of China?
The most popular times to visit the Great Wall of China are early May or October — but travelers should expect massive crowds during these periods.
"These are major holidays and everyone travels," explained Godwyn.
Autumn is arguably one of the most popular and beautiful times to visit the Great Wall of China. Weather is comfortable and dry, and the mountains' foliage is a kaleidoscopic array of hues.
During the winter, the Great Wall of China is blanketed in snow — and the number of tourists will drop dramatically. Winter is Beijing's shoulder season, so you will enjoy serious deals and discounts on hotel rooms and tours. If you do make a winter trip, be prepared for a slippery, windy walk, and pack accordingly.
Can You See the Great Wall of China From Space?
Contrary to popular rumor, you can't see the Great Wall of China from space with the naked eye. As NASA reported , however, photographs taken from the International Space Station under ideal conditions have depicted sections of the wall.
How Many People Visit the Great Wall of China?
Every year, more than 10 million people flock to the Great Wall of China, making it one of the world's most popular tourist attractions. The Badaling section sees the most visitors each year. It once received 100,000 visitors in one day.  
How to Plan Your Visit
The Great Wall of China is a perfect day trip for travelers based in Beijing.
"Most clients do one day at the Great Wall as part of a visit to Beijing," explained Godwyn. "Typically, we have a day of sightseeing in Beijing — then the second day is an excursion to the wall."
Pick the part of the wall that best suits your needs and interests. Active, confident hikers should venture to Jinshanling, while families may want to stick with the more accessible Mutianyu section (there's an unforgettable, five-minute toboggan ride from the top of the eastern end to the bottom).
Check specific fees in advance, but expect to pay around 25 to 65 yuan (under $10) for general admission to the Great Wall.
And don't rush it. Whether you're visiting the Great Wall of China on a layover or during a longer trip, we recommend spending at least two or three hours exploring the ancient structure.
Getting to the Great Wall From Beijing
The beautiful Ming dynasty portion of the Great Wall is around 50 miles from Beijing. But getting there can be a bit tricky for travelers making the trek solo.
Visitors sticking with public transportation will first need to get to Dongzhimen Station, where you can take an hour-long express bus ride to Huairou Station. Here, you'll need to transfer to a bus stopping at the Mutianyu Roundabout.
The Airport Express connects directly from the Beijing Capital International Airport to Dongzhimen Station. Subway lines also transfer to Dongzhimen Station from the Beijing West Railway Station and Beijing South Railway Station.
However, one of the most convenient (and exciting) ways to get there is by taking the train to Badaling Great Wall Railway Station, also known as the world's deepest and largest underground high-speed railway station, which was completed in 2019. There are more than 10 pairs of high speed trains that travel between Beijing and Badaling Great Wall Railway Station, running from Beijing North Railway Station or Qinghe Railway Station.
Many travel experts recommend skipping the train and opting for a hired car and a guide. They'll be able to take you to less popular sections of the wall and can help navigate unexpected hiccups, such as road closures. A car is also the best way to maximize your time.
Great Wall of China Tour Groups
For a private, luxury tour of the Great Wall, book an itinerary with Imperial Tours . A Beijing day trip with stops at the Forbidden City and less-touristy sections of the Great Wall also includes fine dining experiences.
If you'd like to hike, but would prefer not to go it alone, consider the four-day Great Wall Hiking Tour with China Odyssey Tours . After a day exploring the highlights of Beijing (Tiananmen Square, the Temple of Heaven, etc.) you'll begin a moderate hike from the Jiankou section to Mutianyu.
Try TravelStore for a personalized trip to the Great Wall of China, which might include a customized Silk Road itinerary with stops in Jiayuguan, a northern Chinese city with restored wall sections and the last fortress of the Great Wall.
Even if you're only in China for a layover, there's still plenty of time to see the Great Wall. Every single day, Beijing Layover Tour offers private and small-group tours of the Mutianyu section of the Great Wall, ranging from four to five hours in length. You'll be picked up at arrivals by a tour guide, and transferred back to the airport after the trip. These tours start at $50 for a private visit to the wall.
Hiking the Great Wall
One of the most popular hikes along the Great Wall snakes from the Jiankou section to the Ox Horn at Mutianyu. Here, unrestored sections of wall switch back and forth along steep mountain passes. Hikers should expect to spend up to four hours each way.
Another good hike covers the section from Jinshanling to Simatai West — a challenging route that covers four miles each way, and passes a series of watchtowers.
Or, start at the Gubeikou section of the Great Wall in Gubeikou Town — approximately 90 miles northeast of Beijing. From these quiet, never-repaired stretches of wall, visitors will find unobstructed views of the Yan Mountains before they descend to the Jinshanling section.
The Great Wall of China Dos and Don'ts
Don't visit the Great Wall during a holiday. The attraction is popular with tourists, but locals love the site as well. Tomb-Sweeping Day in April, for example, sends claustrophobia-inducing crowds to the country's most famous sites.
Do consider waiting until the late afternoon to visit the Great Wall, when insiders say many of the early morning and afternoon crowds begin to clear out.
Do pack comfortable walking shoes , and plenty of water.
The Great Wall Has Faced Erosion Concerns Over the Years
After centuries defending dynasties, China's Great Wall has begun to crumble. Entire sections of the wall have been swallowed by weather and time — and that's to say nothing of the many wars and manmade afflictions. Chinese state-run media has reported that nearly one-third of the walls have already disappeared. It's not just slow-moving erosion wreaking havoc on the wall — the site has also succumbed to earthquakes and torrential storms.
The Best Restaurant Near the Great Wall of China
One of the most popular places to eat near the Great Wall is Commune by the Great Wall — a five-star hotel with a restaurant, Commune Kitchen, that serves Peking duck and other regional Chinese cuisine with a dining room that overlooks the Great Wall.
Generally speaking, however, food near the Great Wall is quite expensive and not particularly notable. Travelers should consider venturing into the nearby towns for affordable, authentic meals — or waiting until they've returned to Beijing for a seat at a top table.
Laws Protecting the Great Wall
It's not just the immutable forces of weather and time that have destroyed the Great Wall of China. Alarmingly, 30% of the original structure has disappeared, largely because of mankind's endless meddling.
In 2006, China passed the Great Wall Protection Ordinance, though the country has struggled to enforce any rules or regulations.
Travelers should note that there are fines for taking bricks or other sections of the wall, and that it's inadvisable to pay locals for access to less-traveled sections, as this puts even more, unregulated parts of the wall at risk of destruction.
Notable Visitors to the Great Wall
In November of 2009, President Barack Obama visited the Great Wall. He famously said the imposing structure puts life in perspective: "Our time here on Earth is not that long, and we better make the best of it."
President Obama isn't the only notable world leader or celebrity to visit the Great Wall. Queen Elizabeth II spent time there in the '80s, while famous athletes like Kobe Bryant, Michael Jordan, and Shaquille O'Neal have also made visits. Celebrities like Beyoncé Knowles-Carter and Jennifer Lawrence have been seen sightseeing at the Great Wall.
By clicking "Accept All Cookies", you agree to the storing of cookies on your device to enhance site navigation, analyze site usage, and assist in our marketing efforts.
Great Wall of China
Wudang Shan
Inner Mongolia
Shanghai 上海
Hangzhou 杭州
Shandong 山东
Yellow Mountains
Xi'an 西安
Xinjiang 新疆
Guangzhou 广东
Hainan Island 海南
Hong Kong 香港
Small group
Our agency in China
Asian Roads Network
Presentation of China
Transport in China
China From Above
Demande d'info
09 83 07 44 60
Showing all 7 results
Photos of the Great Wall of China
Presentation of the great wall of china.
The Great Wall of China , a UNESCO World Heritage Site since 1987, is one of the Seven Wonders of the World. It remains unquestionably one of the most beautiful and most impressive buildings on our planet. Like a gigantic dragon, the Great Wall dominates deserts, valleys, mountains and plateaus. It stretches for almost 9000 kilometers from east to west. Built some 2,000 years ago, some parts are now in ruins or have disappeared altogether, but the Great Wall of China continues to attract thousands of tourists every year from around the globe thanks to its architectural grandeur and legends that surround it.
First serving fortifications in the states of Yan, Zhao and Qin, the Great Wall has undergone several extensions and repairs over the years. At first, the walls were not attached. It was Emperor Qin Shihuang who had the various parts connected to repel the Huns. However, there is very little information on its construction. We imagine that regional materials were used. Among the workers are soldiers, prisoners and natives.
Even today, the Great Wall of China plays an important role in the culture of the country. It has long been embedded in Chinese mythology and symbolism. The best-known legend is probably that of Meng Jiangnu who would have collapsed part of the wall as her tears of sorrow following the death of her husband during the construction were powerful.
To visit the Great Wall of China, we recommend you to go through Beijing. There are three sites that stand out perhaps more than others: Badaling, Mutianyu and Simatai. These are the most visited sites because the most accessible. Badaling is one of the best preserved parts of the Wall. It is 70 kilometers from Beijing and follows a winding path in the mountains, 1000 meters above sea level. The landscapes, splendid, can not be more green.
Also very well preserved, Mutianyu is a site noted for its 22 guard towers, also called miradors. This section was built in granite and is 7 meters high. There are many streams and forests nearby. The setting is again very natural and lush nature. Mutianyu, like Badaling, is 70 kilometers from Beijing.
Simatai is probably more difficult to access but less invaded by tourists and especially more authentic. After 3 years of renovation, this part re-opened in January 2014 but has kept its original appearance dating from the Ming Dynasty. Simatai is separated by a lake with two different sources: a hot spring and a cold source. It is 120 kilometers from Beijing.
Map of the different sections of the Great Wall of China
When to visit the Great Wall of China?
To get to the Great Wall of China, you can take the bus from Beijing Bus Station. The sites are accessible by car as well. In addition, the climate can be tough in this part of China. The temperature in winter can drop steadily down to -20 ° C while in the summer the mercury can go up to 40 ° C. Be sure to plan and take the right equipment with you! You will find more detailed information on the climate of Beijing on the page: Weather Beijing .
A visit to the Great Wall of China is a must for any trip to China. Since Beijing, there are many sections that you can visit by day. Some sections of the Great Wall are extremely popular, others are wild and quiet, you are spoiled for choice. We present below different sections of the Great Wall of China in order to help you in your choice of selection of the section that you think is best adapted. There are different ideas for hiking on the wall of China that we also present. In our opinion, a hike on the wall is the best way to appreciate all its grandeur by avoiding the many Chinese tourists who go there every day from Beijing.
Where to sleep near the Great Wall of China?
Staying in a good hotel is the beginning of a successful holiday. Indeed, a good accommodation can make your vacation even more exceptional … like a bad one can spoil a stay.The world-famous Wall of China is home to many places to stay nearby. You will have for all budgets, small cottages with incomparable charm to large luxury hotels located close to the direct or in the surrounding countryside. That's why we have selected for you the best hotels of the China Wall, combining comfort and quality of services.
Great Wall of China : our destinations and visits
Mutianyu 慕田峪
Jinshanling 金山岭
Badaling 八达岭
Gubeikou 古北口
Juyongguan 居庸关
Huangyaguan 黄崖关
Shanhaiguan 山海关
Simatai 司馬台
Our travel ideas to personalize see all tours.
Self Driving Tour in China – from Mongolia to Laos (22 days)
From 1 220€/person
Beijing, Yunnan and Sichuan pandas (15 days)
From 2 596€/person
Luxury Tour – China Classic (12 days)
From 1 910€/person
Classic China and Sichuan's Pandas (13 days)
From 2 140€/person
Wonders of China (20 days)
Travel by train with freedom across China (15 days)
Great sites of China (14 days)
Our small group tours See all tours
China Roads makes you travel! Every month in your mailbox find our news and exclusive information.
By indicating your email address, you agree to receive our commercial proposals electronically. You can unsubscribe from these communications at any time.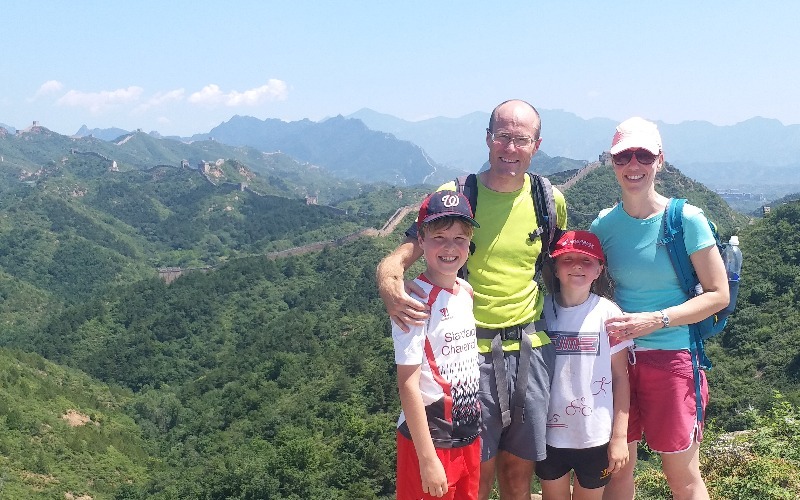 How to Visit the Great Wall of China — Insider Guide
To get the most from the Great Wall, a must-visit China attraction, you should follow the advice to plan a perfect Great Wall trip:
1. Choose the Best Times to Visit
2. Select the MOST Suitable Section to Visit 
3. Learn How to Get to the Great Wall
4. Spend a Night at the Great Wall or Maybe Camping
5. Consider Having a Guide for Your Great Wall Trip
The Best Times to Visit: Spring and Fall
The best times to visit the Great Wall (around Beijing) are spring and autumn to avoid the summer heat and crowds , and winter freezing conditions .
Spring (April–May) in Beijing's mountains is cool/warm and the green plants and flowers make the Great Wall beautiful.
Fall (September–November) is the best hiking season due to the clear weather, allowing you to see the Great Wall snaking off into the distance. The mountains are blanketed by colors of red, golden, yellow, and brown, which sets off the gray and paler Great Wall colors.
You can also visit the Great Wall in summer and winter  if that would suit you better. Summer is peak season and popular sections get crowded . It's hot with bright sunshine and some downpours. Winter is very cold , even icy, on the Great Wall, but there's almost no crowding.
More on  Best Times to Visit the Great Wall and Packing >>>
1-Day Beijing Layover Tour
1-Day Jinshanling Great Wall Hiking Tour
2-Day Jiankou Wild Great Wall Camping Tour
Select the MOST Suitable Section to Visit
The Great Wall of China lies mostly on the mountain ridges and crosses 15 provinces. The four most recommended sections are all around Beijing . See the table below to make a simple comparison and decide which section to visit.
More on  The Best 10 Sections/Parts of the Great Wall to Visit  >>>
Recommended Sections for Wheelchair Users
The Great Wall at Badaling, Mutianyu, and Juyongguan is (more) wheelchair-friendly . You could at least see some of the Great Wall near Beijing at the valley-bottom level there.
At the Badaling section, wheelchair users can get to the first north watchtower by ramps. Wheelchair users should book the elevator service in advance.
At the Mutianyu section, there is a cable car for wheelchair users ascending the wall and ramps to a platform below the 14th watchtower, from which you can appreciate the beautiful scenery from the Great Wall.
At Juyongguan , the Great Wall Fortress area in the valley bottom can be navigated by wheelchair.
Otherwise visiting the Great Wall in flatter areas is recommended for wheelchair users, like Shanhaiguan on the east coast and Jiayuguan on the western desert.
Conquer the Most Challenging Great Wall Section: Jiankou to Mutianyu (4–5 hours hike)
If you would like to experience the steepest section , the Great Wall at Jiankou is the best choice for you. This section is wild Great Wall without cable cars or any new steps. Many of the Great Wall stairs are broken or crumbling, which makes this section more dangerous. This most popular hiking route follows the wall down to Mutianyu — a magnificently restored section . 
Read more tour details: 1-Day Jiankou to Mutianyu Hiking Tour
How to Get to the Great Wall (From Beijing)
For some well-restored Great Wall sections, like Badaling and Mutianyu, you have the choice of taking a public or tourist bus, taxi, or even a bullet train (Badaling only). 
More on  How to Get to the Great Wall from Beijing >>>
But considering the language barrier, fixed departure time, and inconveniences of catching these public transportation, etc., taking a private transfer service with a spacious   car, an English-speaking guide, and the one-stop pickup service would make your trip more enjoyable. If you come all the way to China to see the Great Wall, why settle for a second-rate experience.
While for the wild Great Wall, it's difficult to go there independently .  You may consider taking our Great Wall Tours  >>>.
Spending a Night at the Great Wall
It takes about 2 hours on average to get to the Great Wall from downtown Beijing. If you do not mind changing hotels for a night, an overnight stay near the Great Wall is highly recommended as you you can: 
Avoid traffic jams and lining up at the ticket gate.
Appreciate the Great Wall in the early morning when there are no crowds.
Enjoy sunset and night views of the Great Wall.
At Simatai — Gubei Water Town Resort
Simatai offers the best Great Wall night experience and a range of 5-star hotels, boutique hotels, and local inns  in the nearby  Gubei Water Town (1 km or half a mile away).
Tell us your interests, and we can choose the accommodations you'll enjoy. 
At Mutianyu — Brickyard Retreat at Mutianyu Great Wall
Brickyard Retreat at Mutianyu Great Wall is reconstructed from a cultural revolution tile factory by Beijing expats. It aims to provide an environmentally sustainable and Western-style countryside hotel. 
Highlights:  green gardens, original brick rooms, Great Wall views from the hotel.
At Badaling — Commune by the Great Wall
Commune by the Great Wall is a private collection of modern-architecture boutique hotels , 200m from the Great Wall at 'Water Pass' (Shuiguan).
Highlights:  Different designs by accomplished architects. It's not only a hotel to stay in, but also an architectural attraction in itself. 
Camping on the Great Wall — Be Prepared
Camping is not allowed at popular sections like Mutianyu. Camping would need to be done at the wild sections  (e.g. Jiankou, Gubeikou).
Shops/guesthouses near the wild Great Wall are very rural and don't sell camping equipment/supplies. Campers would have to carry tents and everything else needed on the uneven and sometimes steep Great Wall paths, which are very strenuous. Beware trips and sprains, and dehydration. Carry lots of water.
2-Day Great Wall Mutianyu-Simatai Day-Night Tour
3-Day Jiankou to Jinshanling Great Wall Hiking Discovery Tour
5-Day Huangyaguan to Huanghuacheng Great Wall Hiking Tour
Food at the Great Wall
In restored sections, there are many restaurants and hotels that provide local food and a place for travelers to stay at. Restaurants at the Great Wall may not meet the standards of those in downtown Beijing, but you can try local dishes there.
Wild sections don't have restaurants or hotels, so you need to bring food if you are planning a Great Wall hike.
You may be interested in Best Places to Eat Near Beijing's Great Wall Sections >>>
A Travel Guide is Recommended for a Great Wall Trip
China Highlights provides a tailored itinerary, comfortable air-conditioned transport, and one-to-one tour guiding, if necessary.
In wild sections, there is a real possibility of getting lost without a guide, and getting there on your own would be very difficult.
Also, as the Great Wall is rich in history and culture — far more than just a scenic attraction — you should have a travel guide to explain and relate stories about the Great Wall in context to get the most from your trip.
1-Day Beijing Highlights Private Tour
1-Day Jiankou to Mutianyu Great Wall Hiking Tour
2-Day Huanghuacheng Lakeside Great Wall Hiking and Camping Tour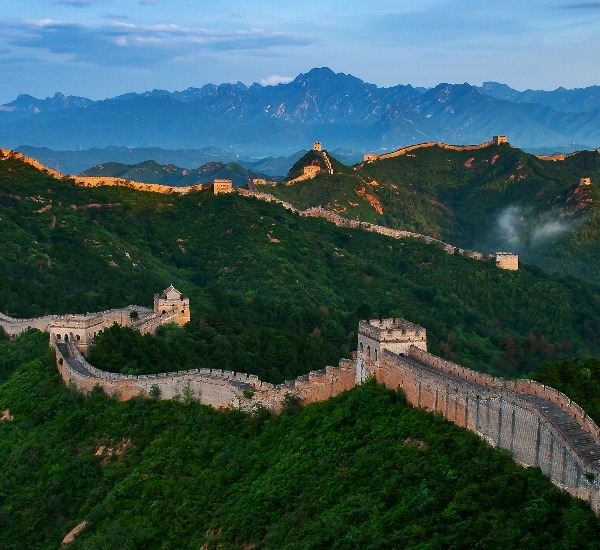 8-Day Beijing–Pingyao–Xi'an Private Tour By High-Speed Train
19-Day Shanghai, Huangshan, Hangzhou, Yiwu, Zhangjiajie, Guizhou, Tibet and Xi'an Tour
25-Day Beijing, Xian, Zhangye, Xining, Lhasa, Shangri-La, Lijiang, Chengdu, Zhangjiajie, Fenghuang and Guilin Tour
12-Day Chongqing, Chengdu, Leshan, Zhangjiajie, Fenghuang and Shanghai Tour
17-Day Guangzhou, Zhangjiajie, Xian, Lanzhou, Zhangye, Jiayuguan, Dunhuang, Turpan, Urumqi and Beijing Tour
17-Day Shanghai, Suzhou, Guilin, Zhangjiajie, Xian, Pingyao and Beijing Tour
34-Day Guangzhou, Xian, Silk Road, Chengdu, Yunnan, Yangtze River and Beijing Tour
8-Day Shanghai, Beijing, Harbin, Xi'an Tour: Explore China's Iconic Cities and Cultural Marvels
China Tours for Expats
Spotlight Experiences for Romantic China Tour
10-Day Tibet by Rail
23-Day Beijing, Xian, Chengdu, Lijiang, Zhangjiajie, Shanghai, Guilin and Hong Kong Tour
How to Plan a Winter Trip to China: Places to Go, Costs, Crowds
How to Plan a 3-Week Itinerary in China (Best 3 Options & Costs)
2 Weeks in China: 3 Top Itinerary Ideas for Couples, Families, and More
How to Plan Your First-Time Family Trip to China
How to Plan a 10-Day Itinerary in China (Best 5 Options)
Top 4 China Itinerary Options in 12 Days (for First Timers) 2024/2025
How to Plan a Trip to Beijing, Xi'an, and Shanghai (Itinerary, Costs, Transport…)
How to Plan a Multi-Generation Family Trip to China
How to Plan a Summer Trip to China
One Week in China - 4 Time-Smart Itineraries
How to Spend 19 Days in China in 2024/2025 (Top 5 Options and Costs)
17-Day China Itineraries: 4 Unique Options
China Weather in January 2024: Enjoy Less-Crowded Traveling
China Weather in February 2024: Places to Go, Costs, and Crowds
China Weather in March 2024: Destinations, Crowds, and Costs
China Weather in April 2024: Where to Go (Smart Pre-Season Pick)
China Weather in May 2024: Where to Go, Crowds, and Costs
China Weather in June 2024: How to Benefit from the Rainy Season
China Weather in July 2024: How to Avoid Heat and Crowds
China Weather in August: Tips for Family Travel
China Weather in September: a Quieter Month in the Peak Season
China Weather in October: Where to Go, Crowds, and Costs
China Weather in November: Places to Go, Costs, and Crowds
China Weather in December: Places to Go, Costs, and Crowds
Get Inspired with Some Popular Itineraries
More travel ideas and inspiration, sign up to our newsletter.
Be the first to receive exciting updates, exclusive promotions, and valuable travel tips from our team of experts.
The China Highlights Experience
Where can we take you today.
Top 10 Tours
Panda Tours
Family Tours
Nature Tours
Photography Tours
Visa-free Tours
Hiking Tours
Biking Tours
Festival Tours
Top Asia Tours
Beijing Tours
Chengdu Tours
Chongqing Tours
Great Wall Tours
Guilin Tours
Guizhou Tours
Harbin Tours
Hangzhou Tours
Huangshan Tours
Hong Kong Tours
Inner Mongolia Tours
Jiuzhaigou Tours
Pingyao Tours
Shanghai Tours
Suzhou Tours
Silk Road Tours
Tibet Tours
Taiwan Tours
Tours from Hong Kong
Tours from Shanghai
Xinjiang Tours
Xiamen Tours
Yunnan Tours
Yangtze River Tours
Zhangjiajie Tours
Thailand Tours
Vietnam Tours
Cambodia Tours
Japan Tours
Indonesia (Bali) Tours
India Tours
Myanmar Tours
Central Asia Tours
Egypt Tours
Morocco Tours
Turkey Tours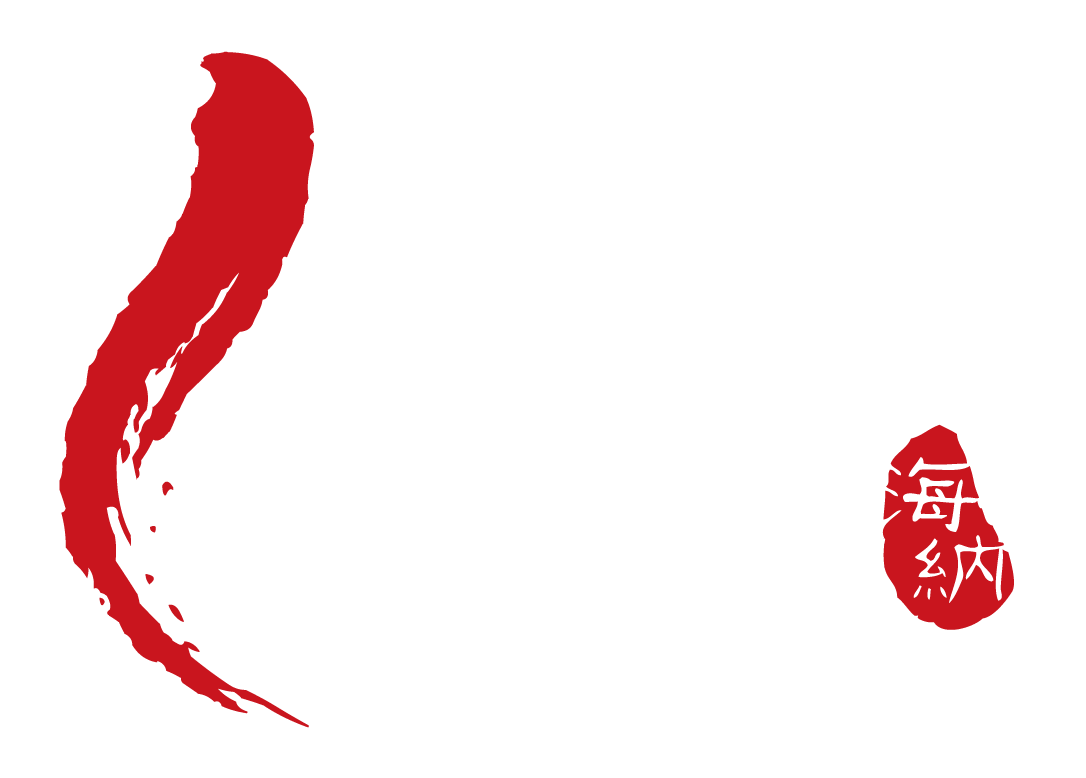 Travel Agents
Loyalty & Referral Program
Privacy Policy

China Highlights uses cookies to give you the best possible service. If you continue browsing, you agree to the use of cookies. More details can be found in our privacy policy .
Find a Tour
China Tours
Student Tours
MICE Travel
Destinations
Virtual Tours
Great Wall of China

Travel Guide
Private Tours
Sights & Activities
As China's most famous attraction, the Great Wall of China is an essential stop on all China tours . Commonly considered a wonder of the world, the Great Wall boasts a history of over 2,000 years and stretches more than 3,000 miles across several provinces of northern China, making it one of the most impressive ancient structures on the planet.
Virtual Tour of the Great Wall of China
Want to visit the great wall of china spontaneously with a professional live guide learn more about our guided virtual tour here, best sections to visit.
Beijing is usually considered the main gateway to the Great Wall, since there are several world-famous sections of the Wall in the suburbs of Beijing, including Badaling, Mutianyu, Jinshanling, Juyongguan, Gubeikou, and Jiankou. These sections were built during the Ming dynasty between the 14th and 17th centuries and have been well preserved.
Of all the sections of the Great Wall near Beijing, Badaling is the most famous one. As a result, Badaling is the destination of choice for many large tour groups and is often very crowded. The nearby Juyongguan Great Wall features one of the three great mountain passes of the Great Wall but is almost as crowded as Badaling.
Mutianyu Great Wall is just as close as Badaling and offers wonderful views of the Great Wall and the surrounding hills with far fewer tourists. This section of the Wall also features a thrilling toboggan run that you can ride from the top of the Wall down to the bottom of the hill.
Due to their proximity, Badaling, Juyongguan, and Mutianyu are all doable as a half-day trip from downtown Beijing. We usually recommend Mutianyu over Badaling or Juyongguan , since the massive crowds at the latter two sections can ruin one's experience of this impressive structure.
Further away from Beijing, Jinshanling Great Wall is about 150 km northeast of downtown and it usually takes about two and a half hours to drive there. Despite the longer drive, Jinshanling is among the most stunning sections of the Great Wall. If your itinerary allows for one full day seeing the Great Wall, then we highly recommend a tour to Jinshanling.
Gubeikou and Jiankou can also be visited within a day tour from Beijing . Both sections have not been restored since they were first built in the Ming Dynasty, making them ideal choices for those who want to hike and experience the wild Great Wall. Do be aware that the Jiankou section features very steep and dangerous climbs and is only suitable for experienced hikers.
There are also some other famous sections of the Great Wall within or outside Beijing, such as Huanghuacheng, Simatai, and Shanhaiguan, but we only recommend these if you are visiting the Great Wall for a second time or planning a multi-day, in-depth Great Wall tour.
Great Wall Hiking and Camping
Due to its original purpose as a military defense, almost all sections of Great Wall were built on mountain ranges and thus involve some challenging climbs and uneven stairs, including the well-restored sections. If you are visiting a restored section but hike to the end of the renovated part, you will be able to see the unrestored part of the Great Wall.
For most visitors, Mutianyu and Jinshanling offer good, medium difficulty hikes, while still being very safe. For those looking for a serious hike along wild, unrestored portions of the Wall, we suggest the Jinshanling to Jinshanling East , or Gubeikou to Jinshanling routes. All these routes boast both unrestored and picturesque renovated sections of the Wall. However, please be aware that hikes along wild, unrestored parts of the Great Wall involve many steep climbs and loose bricks, and can be very dangerous in some places. (People can no longer hike through from Jinshanling to Simatai since the route was closed years ago.)
Camping on the Great Wall is usually banned, especially on the renovated sections. If you want to spend a night sleeping on the Great Wall , we can take you to a watchtower on the Gubeikou section of the Great Wall to experience the life of an ancient soldier and catch amazing sunrise/sunset views over the Wall.
Best Time to Visit
For all sections of the Great Wall near Beijing, the spring months (April to June) offer temperate weather and are great for climbing. In late April to early May, many trees begin to blossom, making this a particularly beautiful period to visit the Wall. Fall is also a nice time to visit, as temperatures are usually comfortable. October to early November are particularly picturesque, as the tree leaves on the mountains begin to change color. The winter months, from December to February, are cold and can be windy, but there are usually far fewer tourists on the Wall during these months. July and August are hot and humid, and thus not the best for long hikes. In addition, it's best to avoid hiking on the Wall after rain or snowfall because some parts can get very slippery.
You should also avoid visiting the popular sections, such as Badaling, Juyongguan, and Mutianyu, around National Day (the first week in October) and Spring Festival. August is also a busy time for the Badaling and Juyongguan sections, since students are on summer vacation and many families travel to these famous sections with their kids before the new school year starts. Learn more about how to avoid the crowds when traveling in China .
Great Wall of China Private Tour Packages
Beijing and the Great Wall Day Tour
2 days Beijing highlight tour
3 days Beijing tour
Golden Triangle of China - 9 days Beijing, Xian, Shanghai tour
The Classic China Tour - 13 days Beijing, Xian, Guilin, Yangshuo, Shanghai tour
The Ancient Capitals - 5 days Beijing, Xian tour
Tale of Two Cities - 5 days Beijing, Shanghai tour
More Great Wall tours...
Customize a tour that includes a visit to this destination
Inquiry form.
Travel Guides
Destinations
Travel Companies
How to visit the Great Wall of China
The great wall's best and less crowded sections.
Megan Eaves
When to go to China
China can seem like an intimidating place, due to its huge size and the language barrier that most travellers face. However, first-time visitors needn't worry: this is a country of incredibly friendly and curious people eager to help. The pace at which China has developed its transport system means that getting around today is much easier than even a decade ago, with sparkling subways in most big cities and high-speed trains reaching all ends of the country.
When planning a trip to the country to visit the Great Wall of China, it's important to remember China's size and to plan realistically. Most of the country's major tourist sites are popular with domestic visitors, meaning that in high season and during China's national holidays, there can be long queues and enormous crowds, as well as ticketing controls at some of the biggest sights.
China continues to develop at a rapid pace, and the old cliche that this is a 'land of contrasts' certainly holds true. Things change quickly here and it's a good idea to approach your trip with a sense of expecting the unexpected. Venues often close without warning and transport timetables sometimes don't match what is listed and for international visitors, many things are lost in translation.
Visitors who approach China with a sense of adventure and flexibility will find their trip not only fulfils their dreams of experiencing some of this great culture's immensely important historical sights and tremendous culinary output, but they may also come away with a greater sense of mindfulness.
History of China's Great Wall
One of the world's man-made wonders and the most popular visitor attraction in China, the Great Wall is rightfully on the must-see list of every first-time visitor. Like the country's other main historic sight, the Terracotta Warrior Army , the Great Wall was conceived by China's first emperor, Qinshihuang , to protect his reign (221-207 BC). Construction continued on the wall through four distinct eras, including the Jin dynasty (1115-1235), when work was sped up due to the threat of attack from the north by Mongol leader Chinggis Khan.
The most visibly famous sections of the wall are the stone brickwork ramparts, beacon towers and flying eaves snaking up and down the mountains north of Beijing. These remains date to the Ming dynasty (1368-1644) when the Hongwu Emperor had just ousted the previous Mongol-run Yuan dynasty and wanted to ensure the security of his empire from northern invasion.
What many don't understand about the wall is its sheer size. At officially more than 21,000km in length, the wall stretches from Shanhai Pass, where it meets the Bohai Sea in Hebei province, to its westernmost point at the stunning mudbrick Jiayuguan Fort in the Gobi Desert in Gansu province. Not one continuous wall, it is actually comprised of thousands of smaller sections of wall across this vast distance.
There are several sections of restored Ming dynasty walls near Beijing, which are the most accessible. These tend to be busy with tourists as they are easier to visit, with even footing, handrails, cable cars and facilities like bathrooms and refreshments.
Where to see the Great Wall of China near Beijing
Of the Beijing sections of the Great Wall of China, Badaling is the closest to the city and the busiest, while Mutianyu is slightly further away and sees relatively fewer numbers, particularly in the winter.
Busy Badaling is the only section of the Beijing Great Wall accessible by train . Other sections require private vehicle hire or a combination of buses and taxis. The best option is to choose which section of the wall you want to visit and book a private car with an English-speaking driver. Some companies pre-book add-ons like the Ming Tombs, so it is worth knowing and stating your preferences upfront.
Badaling, Mutianyu and Huanghua Cheng are the closest sections to Beijing and are easily visited in a day or even a morning. Sections further away, including Zhuangdaokou, Jinshanling, Jiankou and Gubeikou can be visited on a day trip, but it's worth staying overnight at these to experience village life and to have more time to explore unrestored areas or see the wall at dawn or dusk.
If you visit Mutianyu on a January morning, you are likely to have the ramparts nearly to yourself (though you'll want to cover up, as temperatures regularly hover well below freezing). At nearly 150km from Beijing, the restored sections of the wall at Jinshanling see very few visitors, but this requires either a very long travel day or an overnight stop due to the distance.
The end of the Great Wall in Jiayuguan
Hopping on a plane or high-speed train to the desert city of Jiayuguan offers a completely different way of visiting the Great Wall of China. Here, the rammed earth and mud brick construction give the wall an almost forlorn appearance befitting its history. The name 'Jiayuguan' means 'first pass under heaven' and this fortress gate marked the end of the Chinese empire and the beginning of everywhere else. Criminals and those banished from the empire were turfed out via this gate and left to make their way alone through the desert.
Where and how to see the Wild Wall
There are numerous sections of the Great Wall that have been left unrestored close enough to Beijing to be convenient for a wild hike or trek. Be aware that the wall is steep and covers deep valleys and vertiginous mountains, so trekking can be exhausting and treacherous – as well as being frowned upon by the authorities. However, the rewards are spectacular views of this architectural wonder far away from the maddening crowds.
Hikers need to wear appropriate clothing, including very sturdy hiking boots, and bring plenty of water and food. When hiking unrestored sections of the wall, it is a good idea to hire a guide who knows the way, as some sections become completely impassable or dangerous, while others pass through military zones and require a detour.
Visiting the Great Wall of China at Zhuangdaokou
Just 80km from Beijing, this is one of the most accessible yet least visited sections of unrestored wall. It's possible to hike from here to the restored section at Huanghua Cheng in 1-2 hours, passing a river, reservoir and stunning views.
Visiting the Great Wall of China at Jiankou
This completely unrestored section 100km from Beijing is very steep and is best for experienced hikers. You can hike from here to the restored section at Mutianyu in 2-3 hours, passing extremely wild scenery, particularly at the 180-degree curve known as Ox Horn, one of the steepest and most difficult places to hike the wild wall.
Visiting the Great Wall of China at Gubeikou
Starting from Gubeikou town, 130km from Beijing, two sections – Wohushan and Panlongshan – of totally unrestored wall incorporate crumbling ramparts and watchtowers. The Wohushan section to the west of town features two 'sister mountains', while to the east is the Panlongshan section, with the General Tower and 24-Window Tower.
About the author
Megan Eaves first visited China in 2004 with her Mandarin-language class and got hooked on Nanjing's spicy weather and food. She's lived in China twice and visited countless more times, travelling the length of the country from Guangdong to Qinghai and Guizhou to Beijing. She has written on China for Lonely Planet, CNN, The Independent and Atlas by Etihad , and is the author of This Is China: A Guidebook for Teachers , Backpackers and Other Lunatics . If lost, she is likely to be found scarfing down beef noodles in remotest Gansu province, or guzzling craft beer in a Beijing hutong.
Other guides you might like
The five stans, where to go and what to do in central asia.
Steven Hermans
The great wall of china, the terracotta warriors, visiting the terracotta army and beyond in xi'an, historical rajasthan, the historical sites of rajasthan, india's 'land of kings'.
Lakshmi Sharath
Mariellen Ward
Petra and beyond, how to explore jordan's archaeological highlights.
Lauren Keith
Historical peru, visiting the best (and lesser-known) historical sites in peru.
Heather Jasper
Hugh Thomson
Historical uzbekistan, where and how to see uzbekistan's historical cities, maya mexico, an essential guide to visiting mexico's maya archeological sites.
Susannah Rigg
Trekking in bhutan, an expert guide to the best treks in bhutan.
Bradley Mayhew
Why horizon guides.
Impartial travel guides
Our guides are written by the leading experts in their destinations. We never take payment for positive coverage so you can count on us for impartial travel advice.
Expert itineraries
Suggested itineraries and routes to help you scratch beneath the surface, avoid the tourist traps, and plan an authentic, responsible and enjoyable journey.
Specialist advice
Get friendly, expert travel advice and custom itineraries from some of the world's best tour operators, with no spam, pressure or commitment to book.
Our guides are 100% impartial and are written by independent, professional travel journalists. We make money by charging carefully-screened travel companies to list their business on our website. Our advertisers have no influence on our editorial content and we never accept payment for positive coverage.
Read more about how we work and what we believe in here .
Travel guides
Work with us
Sitemap , Privacy Copyright © 2023 Horizon Guides
The Great Wall of China Explore in China - Attractions
The magnificent and spectacular view of "the great wall of china".

Great Wall of China

Location: north China, East Asia
Total Length: 21,196.18 kilometers (13,170.70 miles), half of the length of the equator
Length of Ming Great Wall: 8,851.8 kilometers (5,500.3 miles)
West End: the First Fire Tower of the Great Wall, in Jiayuguan of Gansu
East End: Hushan Great Wall, in Dandong of Liaoning
Course & Coverage: 15 provinces and regions, roughly from east to west – Heilongjiang, Jilin, Liaoning, Hebei, Beijing, Tianjin, Shandong, Henan, Shanxi, Shaanxi, Inner Mongolia, Ningxia, Gansu, Qinghai, Xinjiang.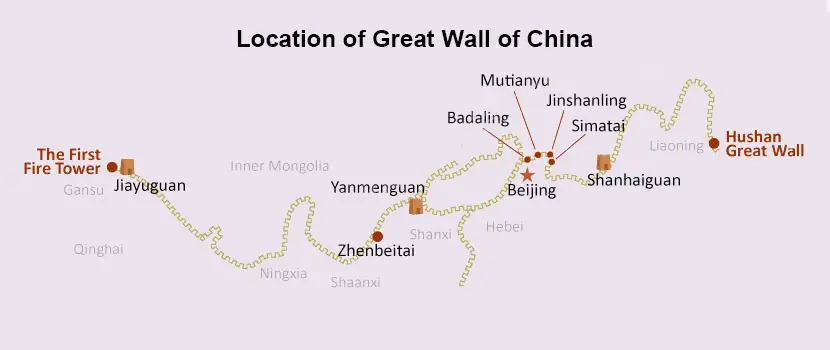 First-time visitors to Beijing: Badaling, or Mutianyu
Return visitors: Juyongguan, or Simatai (with Gubei Water Town)
Experienced hikers: Jiankou (wild and dangerous)
Best sections out of Beijing: Shanhaiguan in Hebei, Jiayuguan in Gansu, Zhenbeitai in Shaanxi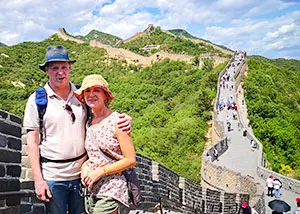 Huanghuacheng
Huangyaguan
When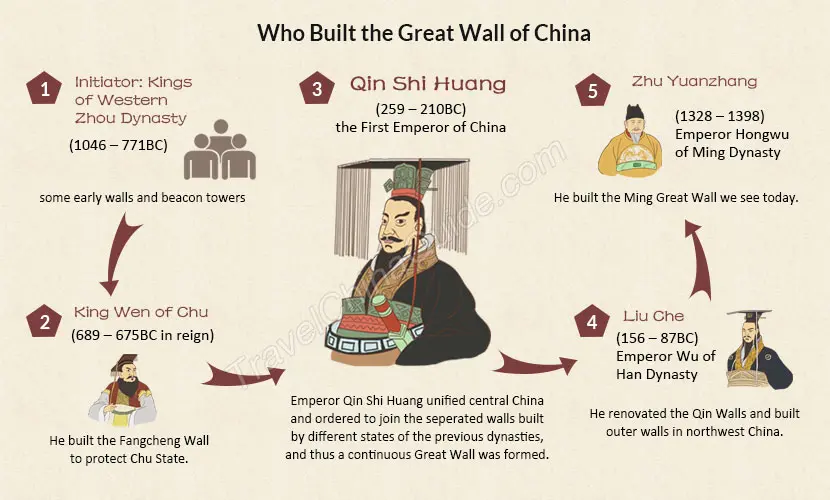 • Best Time to Visit
• best sections – badaling & mutianyu in beijing, • clothing & backpack, • how to plan a day tour to the great wall, book with us:.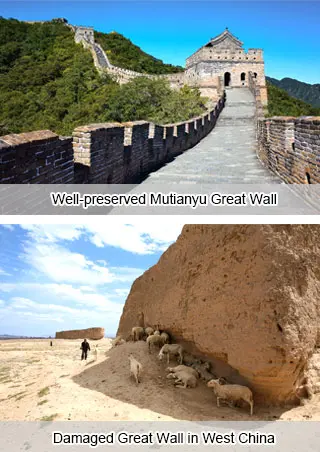 You May Like
Great wall tours.

The Great Wall
Coiling its way through 23 degrees of longitude, the Great Wall (长城, Chángchéng) stands as an awe-inspiring monument to the grandeur of China's ancient history. With sections dating back 2000 years, the wall (or, more accurately, walls, because they belong to several different eras) wriggle haphazardly from their scattered Manchurian remains in Liaoning province to wind-scoured rubble in the Gobi desert and faint traces in the unforgiving sands of Xinjiang. Interspersed with natural defences (such as precipitous mountains), the Great Wall can be visited in 15 Chinese provinces, principalities and autonomous regions, but nowhere is better than Beijing for mounting your assault on this most iconic of bastions.
Attractions
Must-see attractions for your itinerary.
Jiankou Great Wall
For stupefying hikes along perhaps Beijing's most incomparable section of Wall, head to Jiankou, where white-knuckle sections like 'Upward Flying Eagle'…
Jinshanling
Jinshanling Great Wall, near the town of Gubeikou, has been thoroughly restored, but it's distant enough from Beijing that it sees far fewer tourists than…
Famed for its Ming-era guard towers and excellent views, the 3km-long section of wall at Mutianyu, northeast of Beijing in Huairou County, is largely a…
Simatai, built during the reign of Ming dynasty emperor Hongwu, is famed for the precarious steepness of its battlements as they soar up the 'heavenly…
Historically a strategic portal between the fertile lands of the capital and the more arid plains beyond, Badaling has been called the 'Key to Northern…
China Great Wall Museum
This sizeable museum blusters through a history of the Wall, from its origins as an earthen embankment in the far-off Qin dynasty (221–207 BC) to the Ming…
Gubei Water Town
Cashing in on the magnificent Simatai Great Wall that overlooks it, this faux-historic village of waterways and old courtyards is a commercial venture…
Latest stories from The Great Wall
Filter by interest:
All Interests
Adventure Travel
Art & Culture
Beaches, Coasts & Islands
Food & Drink
Sep 2, 2020 • 5 min read
Cloaked in legend and mystique, the Great Wall of China is often misunderstood. Here's everything you need to know about this remarkable structure.
Mar 25, 2020 • 1 min read
Purchase our award-winning guidebooks
Get to the heart of The Great Wall with one of our in-depth, award-winning guidebooks, covering maps, itineraries, and expert guidance.
You will be redirected to your dashboard shortly. We will also call you back in 24 hrs .
Great Wall Of China: The Complete Travel Guide For First Time Visitors In 2023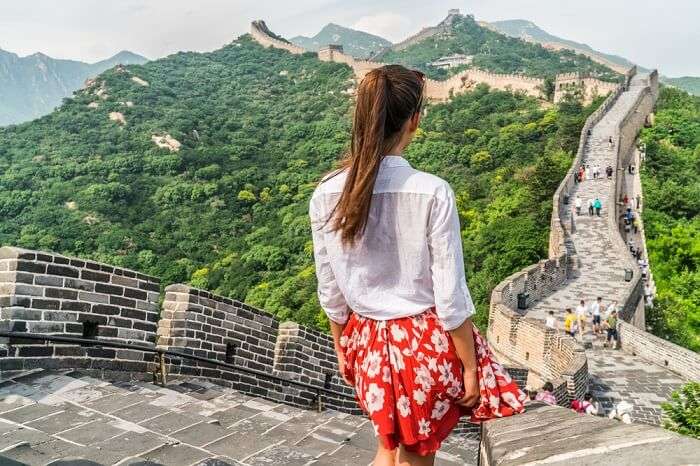 23 Mar 2023
The Great Wall of China is on everybody's bucket list. Over 10 million tourists visit one of the seven wonders of the world every year. The Chinese Name of the Great Wall of China is Wan Li Chang Cheng which literally means 'the long wall of 10,000 miles'. It is amongst the costliest developments on the planet. Instead of being one long unbroken wall, it is built up of various diverse segments.
About The Great Wall of China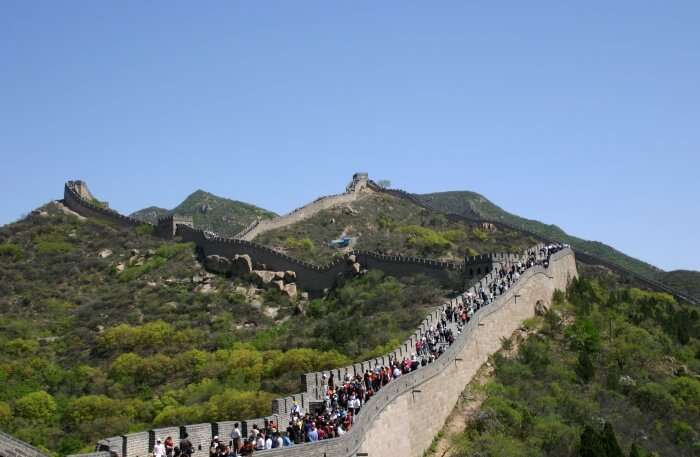 Image Source
The Great Wall of China length is around 6300 km. If the length can be measured from all the distinct segments of the wall, the distance is approx. 22000 km. In December 1987, The Great Wall of China turned into a UNESCO World Heritage Site. The Wall has been constructed by over 1 million people.
The Ming Dynasty was the most important rebuilder of the walls. They completed it with fortifications, watchtowers, and cannons to much better shield their subjects from their invaders. The legend goes that a mythical dragon hunted down the course of the Great Wall of China for the workforce. In spite of general belief, the Great Wall of China can't be seen from the moon without help.
Suggested Read: Shopping In China: 10 Best Places For Buying Classic Souvenirs And Latest Products
Looking To Book An International Holiday?
Book memorable holidays on TravelTriangle with 650+ verified travel agents for 65+ domestic and international destinations.

Trip to Sri Lanka at Rs 13,500/-
Plan Your Vacation Today!

Trip to Singapore at Rs 20,499/-
Get Quotes From Local Experts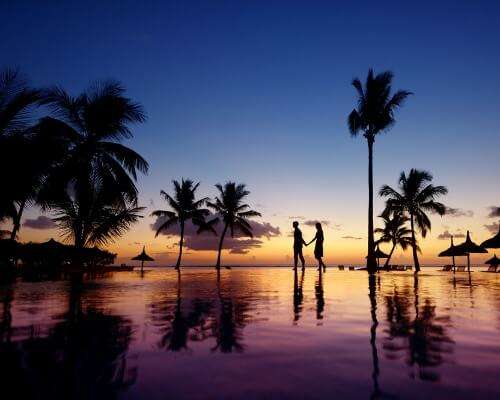 Mauritius Holiday Starting at Rs 65,000/-
Talk to Our Experts Today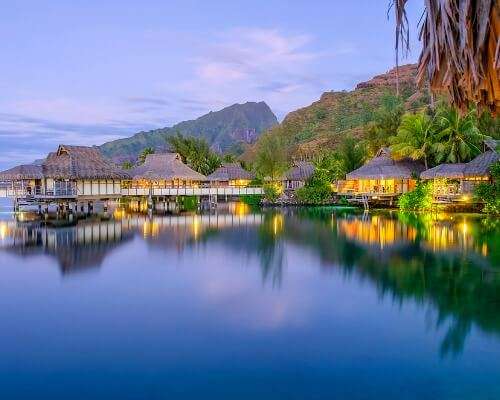 Maldives Honeymoon Trip at Rs 39,800/-
Pay with easy EMI Option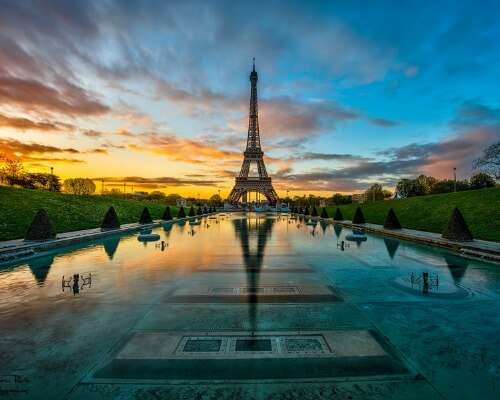 Europe Trip at Rs 89,999/-
All Inclusive Deals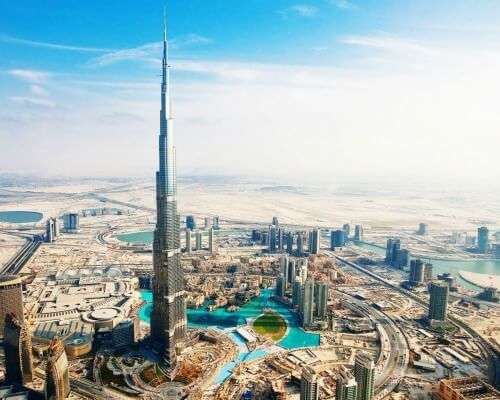 Vacation in Dubai at Rs 27,499/-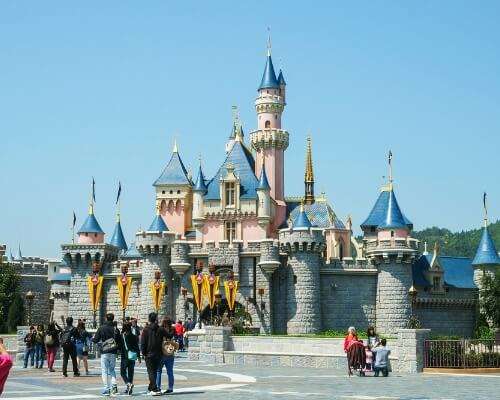 Hong Kong Holiday at Rs 24,999/-
Money Safe Guarantee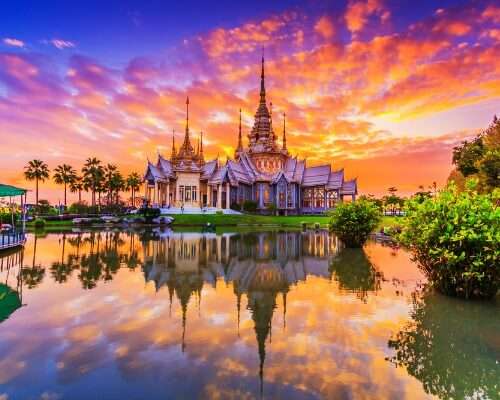 Thailand Holiday at Rs 7,999/-
Flights Excluded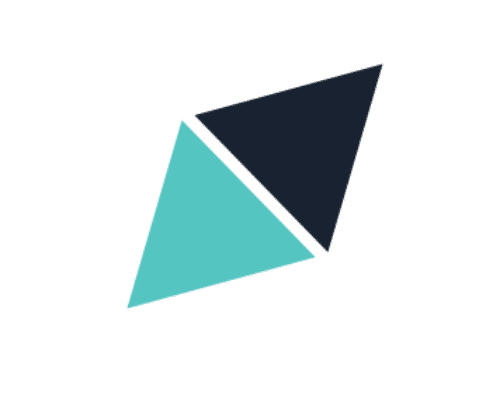 See more at TRAVELTRIANGLE.COM
Facts About The Wall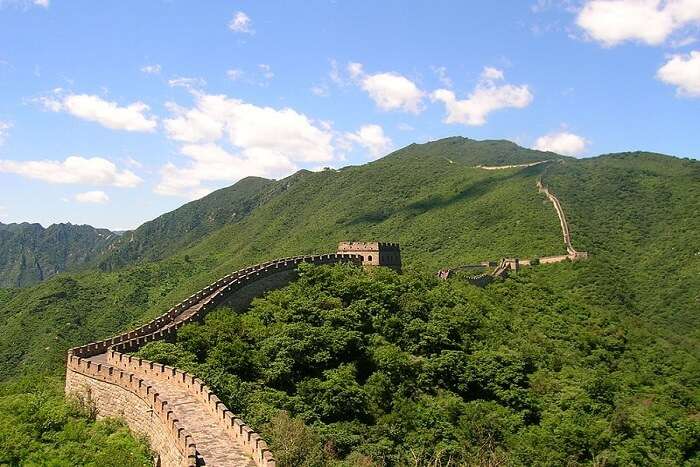 There are various myths and truths about the Wall and certain misleading facts have led many to believe in the wrong statements. Here are a few interesting facts about the Great Wall of China that will enlighten you further to keep you general knowledge in check.
Even though it has been stated in the book, 'Believe it or not!' by Robert Ripley that it is possible to see the Great Wall of China from space or moon, sadly, it cannot be.
The Chinese folk call this wall as the 'city wall' or 'Long City' and no such mention of 'Great' is mentioned by them.
The Great Wall of China is only 2000 years old and not as much as many think.
The Wall doesn't contain any bones or corpses of any labourer and this stays a rumour as probably told by the Chief Historian Sima Qian of Han dynasty.
The Wall is not a single wall and in fact, it is more than one and so, one cannot use 'it' to refer to the wall, 'them' has to be used as there are more than one walls present.
7 Places To Visit Near The Great Wall of China
There are several places to visit near the Great Wall of China. We have listed a few of them. Make sure to stop by these places which are no less than the Great Wall in terms of beauty:
1. Badaling Great Wall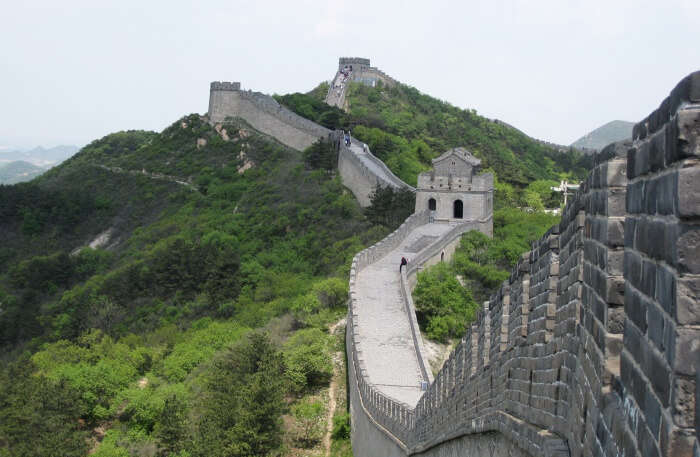 Badaling is the highly visited spot on the Great Wall of China. It lies 80 km northwest of Yanqing District, urban Beijing city. The wall served as a dominant and vital territory for securing the Beijing city and the Juyongguan Pass on the south. Bilbao is the most elevated point on the Badaling Great Wall ascending to 1,015 m above sea level. The Badaling was the prime territory of the Great Wall of China to be opened the first time for sightseers in 1957.
Suggested Read: 10 Fun Things To Do In China That Will Let You Explore A Land Beyond The Great Wall!
2. Mutianyu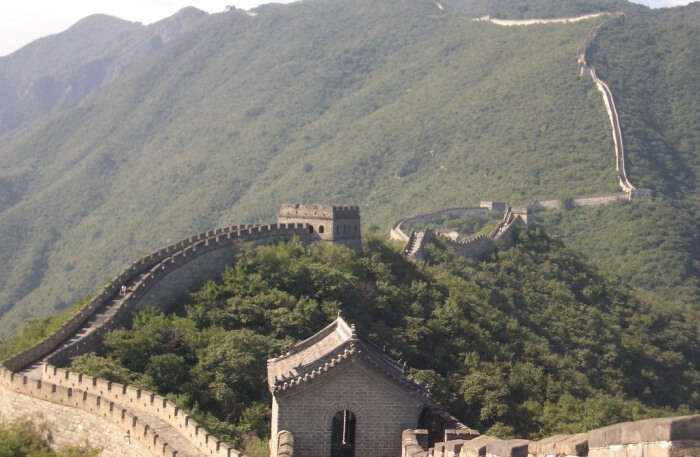 Mutianyu segment is regularly suggested as an option other than to Badaling. At just a distance of 80 km from Beijing, you don't need to go any further to be compensated with the sight here. This segment is praised for the rich encompassing greenery. More than 95% of the area flanking Mutianyu is forested with twenty of the pines are more than 300 years of age which are an attraction in itself. Mutianyu is very much developed with numerous merchants and a cable vehicle are available to transport people on the Wall. Marked by steep slopes, during your visit to Mutianyu you ought to be set up for a refreshing outing. Most of the visitors reach this segment on organized trips that often make stops at The Jade Factory and Dingling Tomb as well.
3. Nan Pass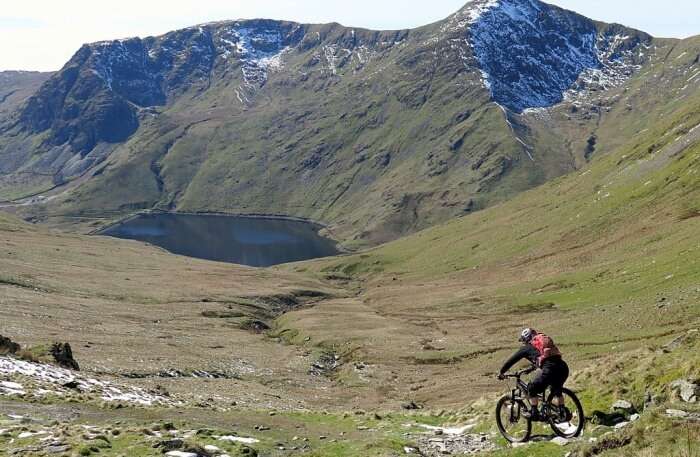 For those trying to encounter the Great Wall much nearer to Beijing and with not at all visitor traffic, head to the southern segment of the Juyongguan – the Nan Pass – which is merely at 30 miles from the city. The Nan Pass area goes back to approximately 200 BC when the wall was initially approved amid the Qin Dynasty. The most striking element of the Nan Pass is the Cloud Platform, a watchtower established during the Yuan Dynasty. The great tower is built of white marble and incorporates the statues of divine beings, and Buddhist scriptures both engraved on either side of the entryways. The Nan Pass is easy to reach via bus and car and is like the Badaling segment of the Great Wall in terms of restoration and development.
Suggested Read: Now You Can Win A Stay At The Great Wall Of China. Find Out How!
Planning your holiday but confused about where to go? These travel stories help you find your best trip ever!
Real travel stories. Real stays. Handy tips to help you make the right choice.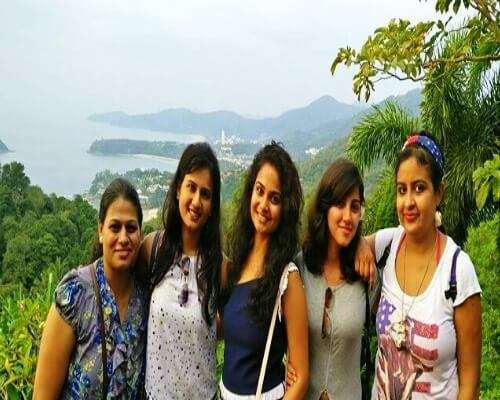 Ramya Narrates The Story Of 6 Girls On An Extraordinary Trip To Thailand
Bangkok. Phi Phi. Krabi. Why should guys have all the fun?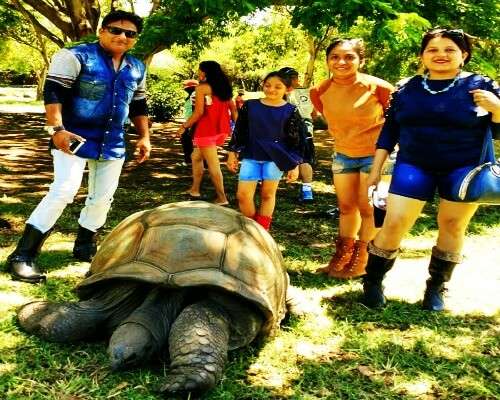 Sandeep Illustrates On The Best Activities For A Family Trip To Mauritius
Water sports. Cocktail parties. And unlimited fun at Casela.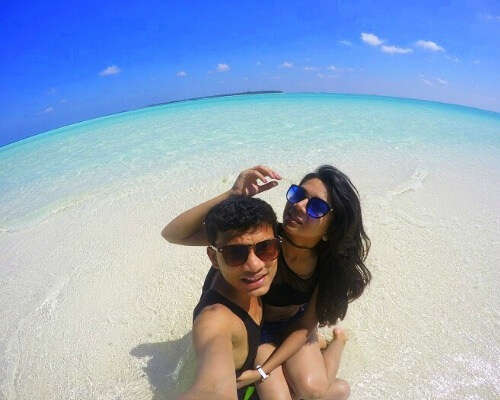 Nisarg Can't Stop Praising His Honeymoon Trip To Maldives
There was snorkeling, sightseeing, luxury, comfort, & much more!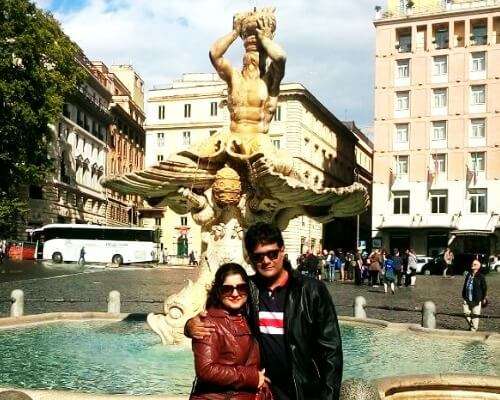 Sabyacsachi's Romantic Trip Proves Europe To Be The Mother Of All Vacations
For Art, Culture, Luxury, & more...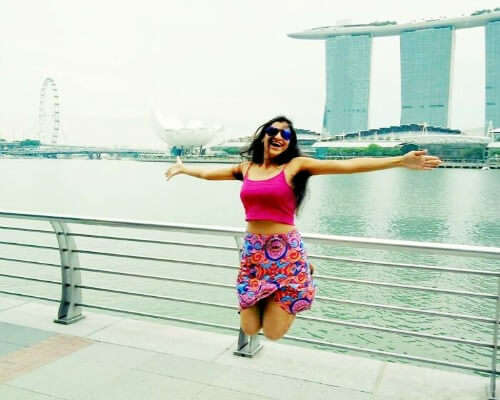 Srishti Talks Of Her Amazing Trip To Singapore With Her Mother & Niece
A fun-filled destination for ages indeed!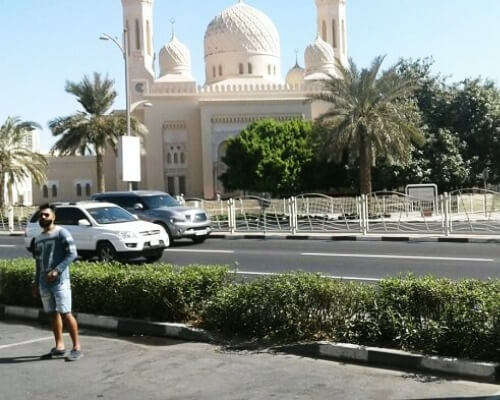 67-Year Old Sridhar Tells How He Beat The Odds & Took A Solo Trip To Dubai
Desert safari. Burj Khalifa. Welcoming locals. Tell me more!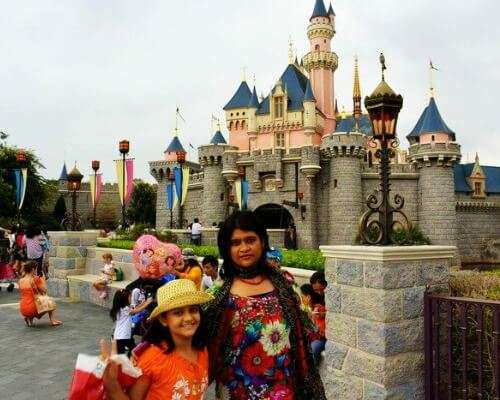 Not Adventure Lovers? Saurabh's Family Trip Proves Hong Kong To Still Be Full Of Fun
Your kids will love Disney Land & Ocean Park!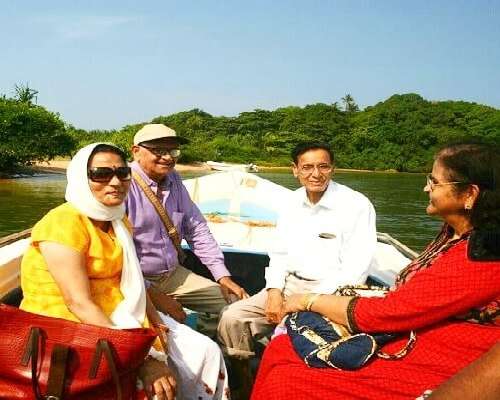 Ravi's Tale Of A Sri Lanka Family Tour Is All You Need To Know About Ramayana Tour
For the love of Ramayana & Travel!
4. Juyongguan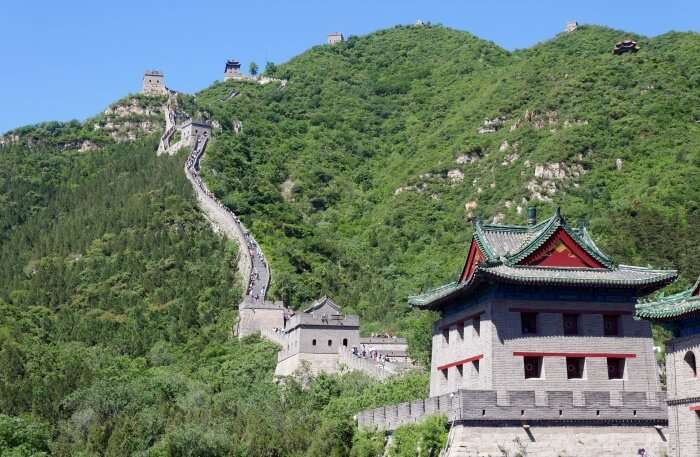 Juyongguan is at a distance of 50 km from Beijing, located in the Guangou valley of Changping District. The pass extends down the valley and has a lovely environment, constructed amid the Ming Dynasty. Juyongguan was at earlier times a military town that had an official residence, various temples, watchtowers, and army bases. Today, it is a conceivable site on your visit to the Great Wall of China, due to its astounding perspectives and extreme steepness.
5. Baishi Mountain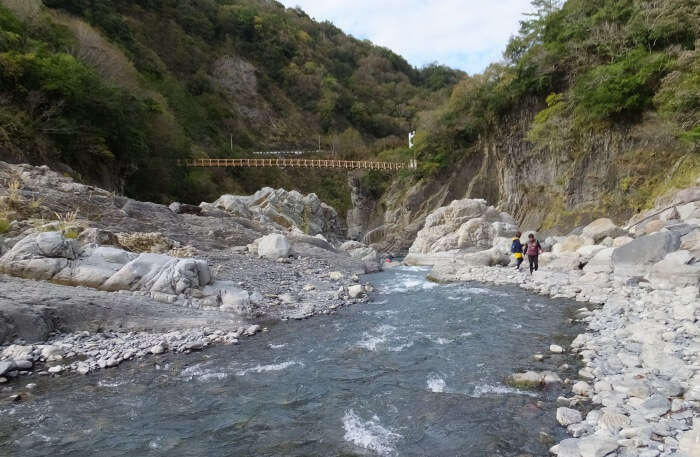 The Baishi Mountain is otherwise called Baishishan in Chinese. The white marble forms parts of the mountain, and that is the place it infers its name. Baishi Mountain's top is created of dolomite covering 20 km square. It is set in Laiyuan County, in the territory of Hebei in China. The Great Wall Of China height 6877 ft and its principle edge stretch out to more than 22,966 ft. Baishi Mountain likewise rests 200 km southwest of Beijing, and it frames the northern end of Taihang Chain. Encompassing the Mountain's lower region, prevail the remaining parts of the Great Wall of China. In September 2006, the zone was changed over to Baishi National Geological Park as it was being called a geological park by UNESCO. Moreover, in 2017, the China National Tourism Administration rated this site as an AAAAA-level tourist spot.
Suggested Read: 10 Best Restaurants In China To Indulge In A Dreamy Fine Dining Experience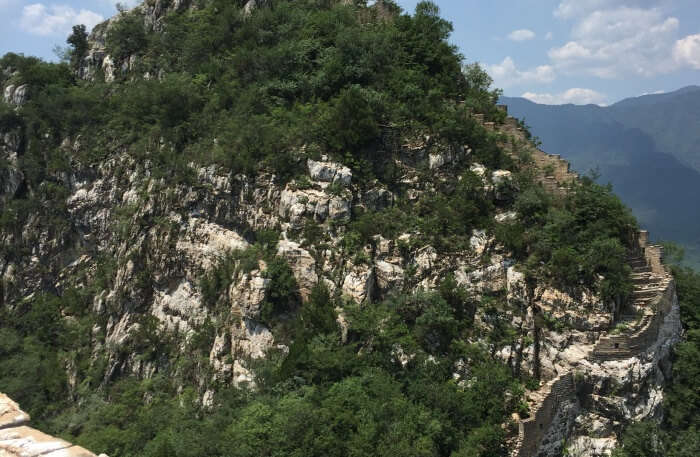 You can enjoy relevant retrieve in this unrestored but peaceful area. And the adventuresome souls can also take delight in hiking here which takes around the 4 hrs to complete. It is of a distance of 9 km from Jiankou to Mutianyu and is truly a wild track. So, only experienced trekkers must opt for it.
7. Gubeikou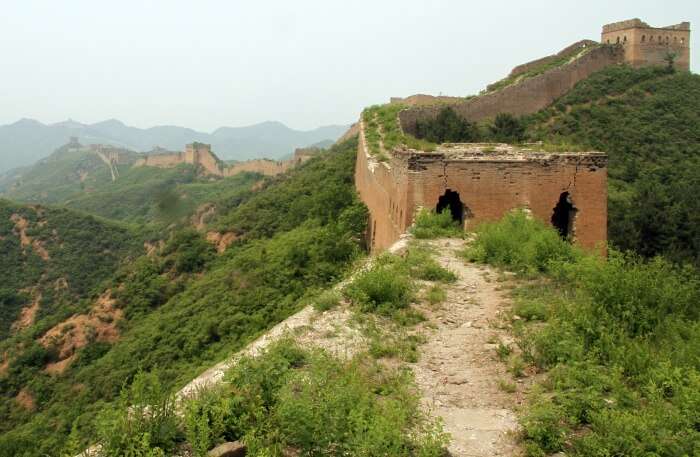 Gubeikou is at a distance of 90 miles from Beijing and is most famous for being the pass which preserved the city of Beijing from Northern Mongol attacks. It is said that more than 130 battles happened right at this pass that today remains mostly in ruins. It is recognized as a famous trekking location for avid trekkers. Be cautious though as no amenities, like cable car rides or wheelchair access, are available here. The mountain is acknowledged for its perspective in the cloudy days. In these days, the mountain's pinnacles give off an impression of being extending out from low-lying clouds and fog. The Baishi Mountain has also owned China's longest, widest, and highest glass skywalk that stretches to 95 m at the height of 1,900 m.
Suggested Read: World's Largest Glass Skywalk Is High Up In China And We Can't Wait To Walk Down
Dos and Don'ts At The Wall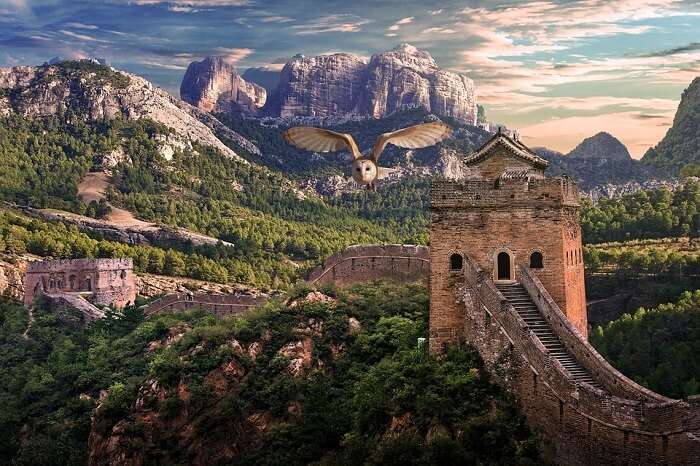 One of the main Dos that you must follow is to select the specific section of the Great Wall that you wish to see beforehand and plan accordingly. Always choose either the spring or the fall season to visit the wall. Hiking along the wall is a unique experience in itself, so make sure you don't miss out on that.
One of the major Don'ts of the Wall is to never wear open-toed shoes while visiting as it might hurt your foot on the changing terrain. It is not advisable to camp on the Great Wall due to extreme weather conditions at times and carrying a lot of weight while hiking can also ruin your experience. Never plan a solo trip to hike on the Wall, either be with a group or travel with your friends.
The Great Wall Of China Map
How to reach the great wall of china.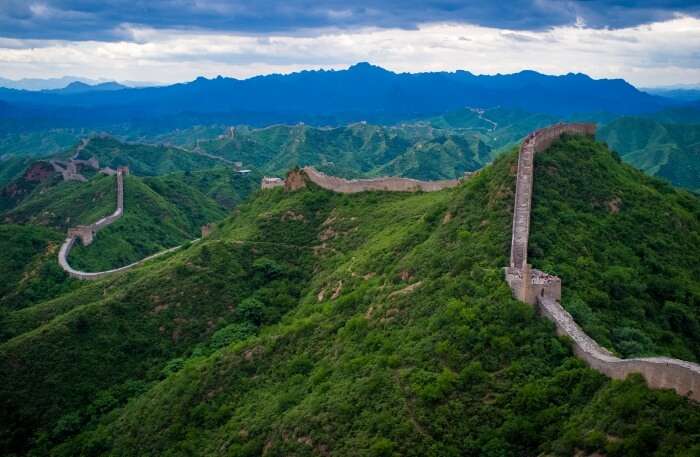 Various trains are accessible for going to Badaling every day from Beijing Huangtudian Railway Station. It takes around 1.5 hours to reach out Badaling via train. It's also easy to pre-book a car and driver for yourself to take you to the Great Wall of China. Usually, it takes about 1.5 hrs to reach Badaling or Mutianyu from the city center by the vehicle as well.
Further Read: 10 Tourist Places To Visit In China For An Epic Oriental Adventure!
In an age when travel spots and monuments all appear to be enthusiastically proclaimed, not merely does the popularity of the Great Wall of China fits the buzz around it, but it goes much beyond of it. Climbing a tower and watching the Wall as far as the eye can detect is an image withered into the minds of many. The Great Wall of China really is a miracle to behold. Book your trip to China and see this miracle with your own eyes!
Frequently Asked Questions About The Great Wall of China
Why the watchtowers were built on the Great Wall?
The watchtowers were made to transmit signals as per the movements of the enemies.
How the Great Wall was built?
Constructed mainly out of rammed earth material and forced labour, the Great Wall of China was rebuilt with stone and brick around the time of Ming dynasty.
How tall is the Great Wall of China?
The average height of the Great Wall of China is around 20-23 feet.
Looking To Book A Holiday Package?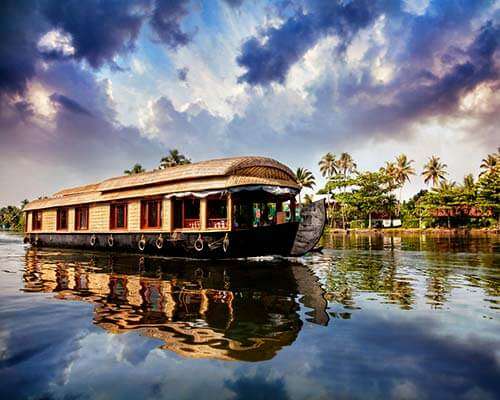 Spellbinding Cochin Family Tour 2D/1N Package @ Rs 2,750
Plan your trip today!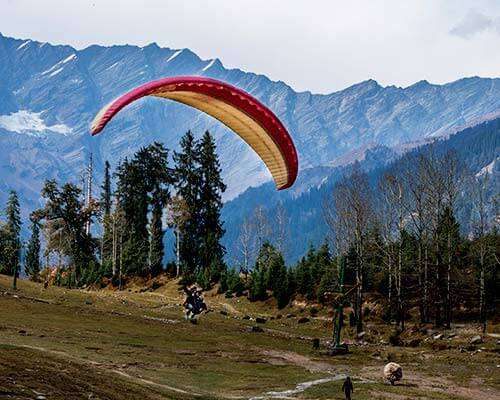 Himachal Family Tour Package 4D/3N @ Rs 8,750
Get quotes from multiple travel experts.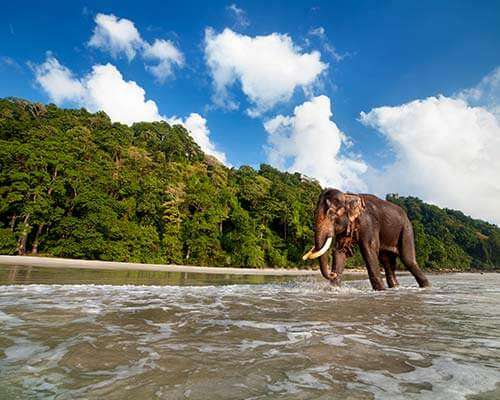 Exciting Andaman Family Trip 5D/4N @ Rs 10,250
Compare & customize quotes before booking.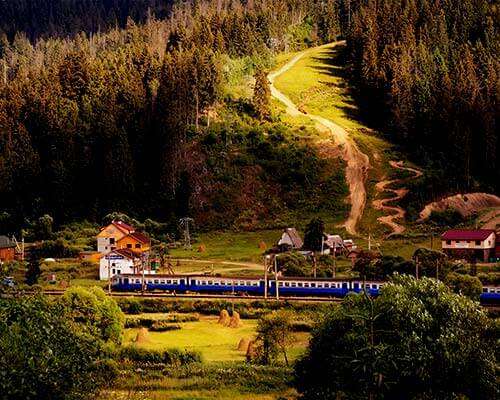 Gangtok & Darjeeling Tour Package 5D/4N @ Rs 13,000
Have Questions? Talk to our travel experts today.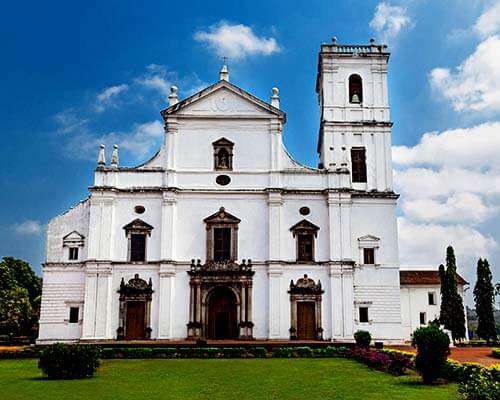 Wonderful Goa Family Package 3D/2N @ Rs 6,500
Best prices guaranteed.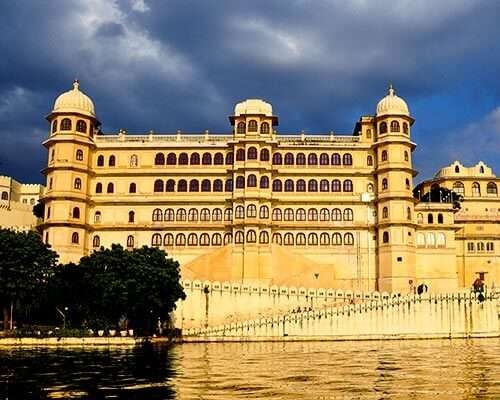 Riveting Rajasthan Vacation 3D/2N Package @ Rs 6,499
EMI option available.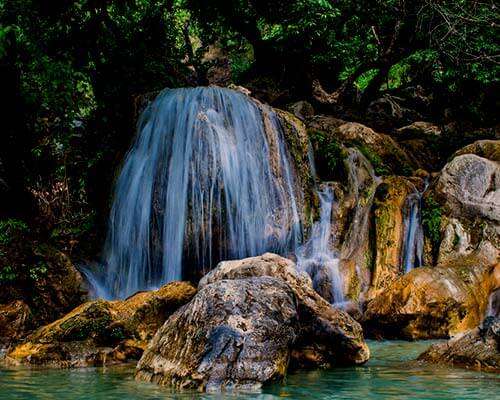 Enchanting Uttarakhand Tour 4D/3N Package @ Rs 7,199
Explore best destinations with our experts.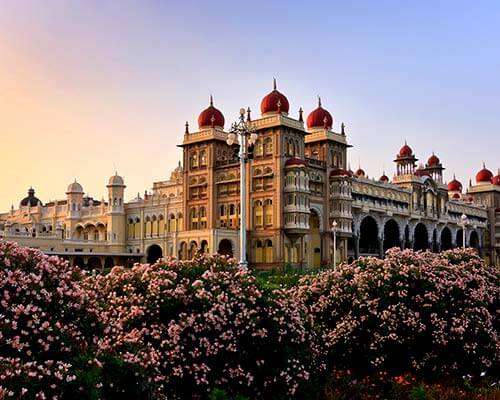 Delightful South Weekend Tour 3D/2N Package @ Rs 4,999
Thrilling weekend full of fun.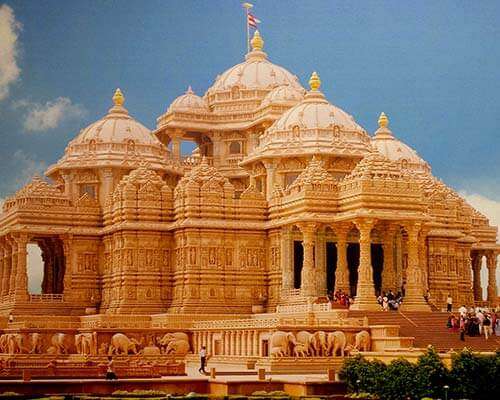 Marvelous Gujarat Tour 3D/2N Package @ Rs 4,999
Talk to our experts today.
People Also Read:
Things To Do In China Shopping In China China Honeymoon Guide
Recent Posts
Ces 16 meilleurs endroits à visiter à Daman vous feront sûrement tomber amoureux de cette ville côtière en 2023
40 meilleurs endroits à visiter au Canada qui vous laisseront sous le charme
5 Tourist Places Near Chhindwara That You Must Visit On Your Next Trip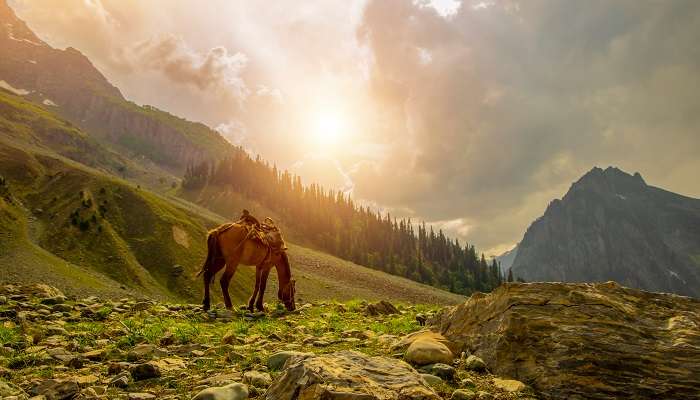 Discover 5 Places To Visit In Kashmir In July To Unleash This Heavenly Paradise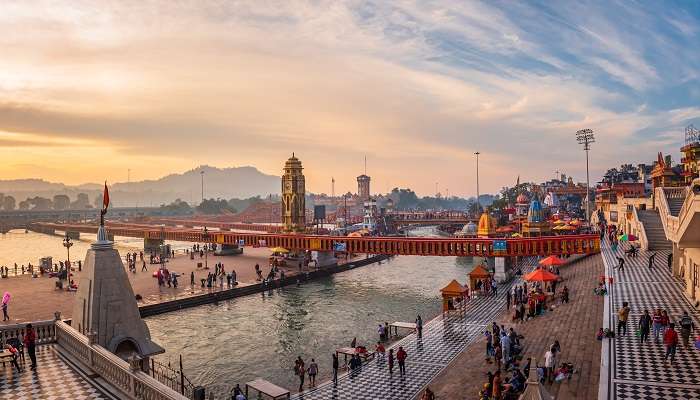 6 Places To Visit In Haridwar And Rishikesh In Two Days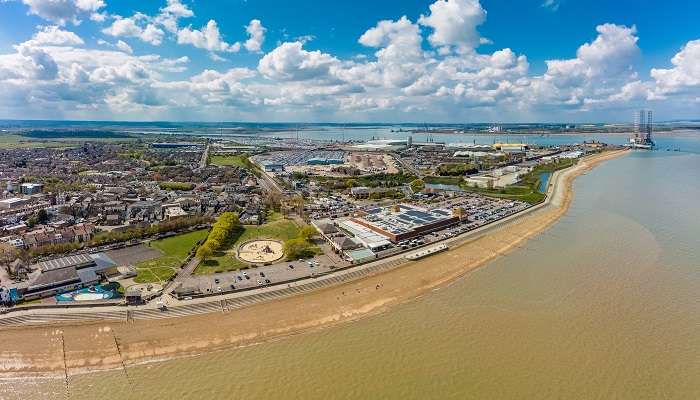 8 Scintillating Beaches Near London To Visit In 2023
Trending Blogs
20 Mysterious Places In India To Visit In 2023 More Bizarre Than The Bermuda Triangle
10 Scariest Roads In India That Are A Driver's Nightmare
101 Places To Visit In India Before You Turn 30 in 2023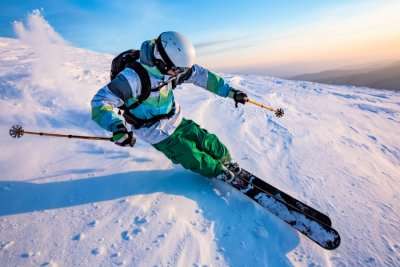 35 Exotic Places To Visit In December In India 2023 To Enjoy A Surreal Vacation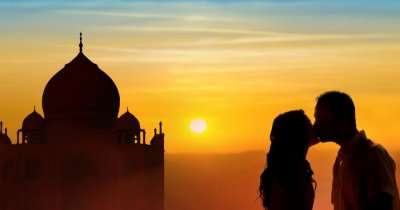 60 Best Honeymoon Destinations In India In 2023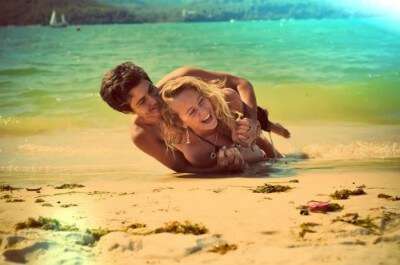 95 Best Honeymoon Destinations In The World In 2023 For A Romantic Escape!
Best Places To Visit In India By Month
Best places to visit outside india by month.
TravelTriangle
International
China »
Tour Packages
Honeymoon Packages
Family Packages
Budget Tour Packages
Luxury Tour Packages
Adventure Tour Packages
Group Tour Packages
Maldives Tour Packages
Bali Tour Packages
Dubai Tour Packages
Singapore Tour Packages
Thailand Tour Packages
Europe Tour Packages
Sri Lanka Tour Packages
Tour Packages From Delhi
Tour Packages From Mumbai
Tour Packages From Bangalore
Tour Packages From Chennai
Tour Packages From Kolkata
Tour Packages From Hyderabad
Tour Packages From Ahmedabad
Thailand Tourism
Bali Tourism
Singapore Tourism
Maldives Tourism
Mauritius Tourism
Dubai Tourism
Europe Tourism
Hotels in Thailand
Hotels in Maldives
Hotels in Mauritius
Hotels in Bali
Hotels in Dubai
Hotels in Singapore
Hotels in Sri Lanka
What to See During a Visit to the Great Wall of China?
The Great Wall of China is a true world wonder, spanning great swathes of the Chinese landscape. We look at some of its star attractions.
The Great Wall of China is one of the modern seven wonders of the world , and a protected UNESCO World Heritage site , making it one of the top must-see destinations for intrepid explorers. The wall is unfathomably long, running 21,196 km all along the northern border of China, travelling through mountains, deserts, beaches and grasslands. It would be impossible to take it all in on one visit – in fact, experts estimate it could take up to 17 months to walk the entire length.
All this means travelers tend to choose a particular area of the wall to visit, some offering half or full day treks, others for five days or more with pit stops or camping trips along the way. We take a brief look at some of the experiences you might encounter during a trip to the Great Wall of China , which will require careful planning and preparation before you set off. 
The Great Wall of China Has Many Parts
The Great Wall of China is not one long continuous stretch, but it is divided into sections which are separated by areas of mountain and wilderness, each of which was built during different stages in Chinese history . This means it is still possible to walk entire lengths of certain sections of the wall, each of which has its own attractions and distinctive features. Certain parts of the Great Wall of China are better equipped for tourists and tour groups than others, with planned guides, and accessible walkways. Below are just a handful of the most visited and accessible sites. 
The Mutianyu section of the Great Wall in the Huairou District of China is 2 km long and has undergone extensive restoration work, making it one of the more accessible areas to walk across. As well as featuring a series of 23 watchtowers, this expansive stretch of wall also showcases stunning views across the Chinese wilderness. 
Get the latest articles delivered to your inbox
Please check your inbox to activate your subscription.
Badaling is one of the most popular regions of the wall, partly because it is easily reached by car from the nearby city of Beijing, meaning it can get crowded during peak holiday seasons. It is also heavily restored, with 16 watchtowers and a whole series of breathtaking views across Chinese mountains and other stretches of the wall as you walk its length.
Simatai is more historic and ruined than some of the more populist areas of the wall, but this meant it is full of charm. Situated two hours from Beijing by car, this crumbling section of the wall is set near the ancient Gubei Water Town, which itself offers a fascinating glimpse into the architecture of China's past . 
Jinshanling
The 10 km stretch of wall known as Jinshanling runs from Jinshanling to Simatai west. It boasts 67 watchtowers of varying appearance, which demonstrate the wall's original purpose as a system of defense against China's incoming rivals . Many bricks along the walls between the towers are engraved with a time, date and name of the troop who made them.
The Great Wall of China Has Many Steps
Whichever passage of the Great Wall of China that you choose to visit, you can expect to be climbing a lot of steps, because the wall covers rocky and uneven areas of terrain. Those areas that have undergone restoration are more easily accessible on foot, while some of the lesser-known, ruined parts can make for tricky navigation as the ground surface is uneven. All this means a pair of sturdy walking boots are an essential. 
Camping, Paragliding and Cable Cars
Visitors to the Great Wall of China are allowed to camp between stretches which allows them to make a trek across several different stretches during a single visit. Other popular activities available in the more heavily developed and restored section include paragliding, and cable cars, which can take visitors up steep climbs saving them the hassle of climbing all those steps and offer stunning views across the Chinese landscape .
What Are the Seven Wonders of the World?
By Rosie Lesso MA Contemporary Art Theory, BA Fine Art Rosie is a contributing writer and artist based in Scotland. She has produced writing for a wide range of arts organizations including Tate Modern, The National Galleries of Scotland, Art Monthly, and Scottish Art News, with a focus on modern and contemporary art. She holds an MA in Contemporary Art Theory from the University of Edinburgh and a BA in Fine Art from Edinburgh College of Art. Previously she has worked in both curatorial and educational roles, discovering how stories and history can really enrich our experience of art.
Read more by Rosie Lesso
Popular Articles in Answers
Frequently read together.
UNESCO World Heritage Sites: 10 for Archaeology Enthusiasts
Who Built the Great Wall of China and Why?
The Mighty Ming Dynasty in 5 Key Developments