You are using an outdated browser. Please upgrade your browser or activate Google Chrome Frame to improve your experience.
Take Our Level Quiz
Baby Swim Lessons
Toddler Swim Lessons
Kids Swim Lessons
Adult (13+) Swim Lessons
Special Abilities Program
Private Swim Lessons
Class Schedule
Homework Tips
Parent Account Login
Request Make-Up
Request Cancellation
Our Facility
Why Choose Swimming Safari
The Swimming Safari Difference
Our Instructors
History & Press
We're Hiring!
New Families
Hope Floats Partnership
Kids Swimming Lessons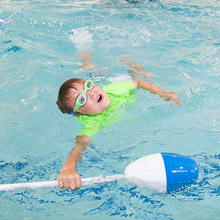 Safari Kids (4–12 years old)
Student to teacher ratio: 4:1
Our Safari Kids program is designed to have a class that meets the needs of every student ranging from their first swim lesson to getting prepared for a swim team. Under this program, we offer four different groups of classes. Each of these class groups are broken down into smaller levels designed to maximize the student's progress.
We believe it is important for children to experience the sense of accomplishment that comes with moving up to the next level. All of our Safari Kids Classes have been carefully designed to include fun games and activities that will help students reach their maximum swimming potential.
To find out more about each of the different class levels offered under the Safari Kids program, read below.
Safari Kids Program Details
Class Length: 30 minutes
Max Class Size: 4 Students
Ages: 4 - 12 years old
See our pricing page for more information on tuition and payments.
Need Tuition Assistance? View our Hope Floats Page for Scholarship Info.
Need help deciding?
We'll help you determine which class is best for you or your child.
Take our quiz
List of Classes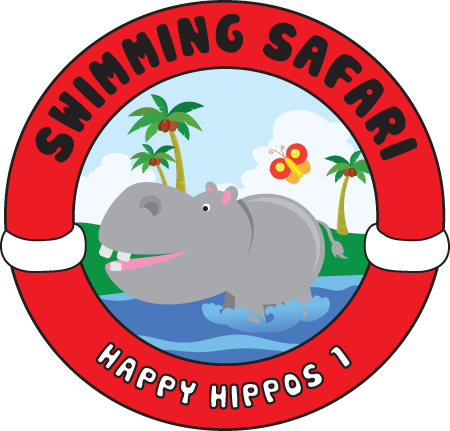 Happy Hippos 1 (Getting Comfortable in the Water)
This class is designed for beginner swimmers who may be fearful or have no prior swim experience. This class is focused on increasing the student's confidence in the water by learning through games and songs to help children relax and learn at their own speed.
Requirements for Happy Hippos 1:
Goals for Happy Hippos 1:
Comfortable submerging face for 3 seconds
Assisted back float
Introduction to self-rescue
Cost $26.25 per lesson (Billed Monthly)
Please see our pricing page for more information on how tuition is calculated.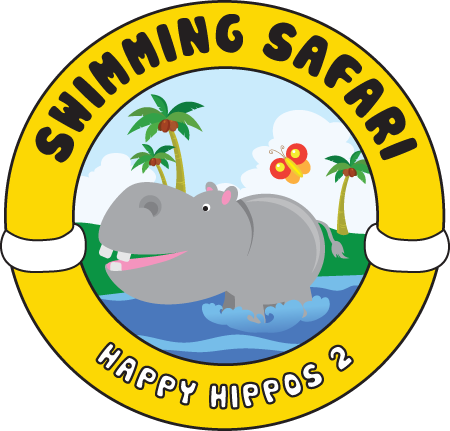 Happy Hippos 2 (Buoyancy & Balance in the Water)
This class introduces independence with buoyancy and balance in the water. Skills and lessons are taught using fun activities to help students enjoy the water and work at each individual's pace.
Requirements for Happy Hippos 2:
Confident submerging face for 3 seconds
Comfortable in an assisted back float
Goals Mastered in Happy Hippos 2:
Independent glide with a submerged face 2-3 body lengths
One-handed back float
Assisted self-rescue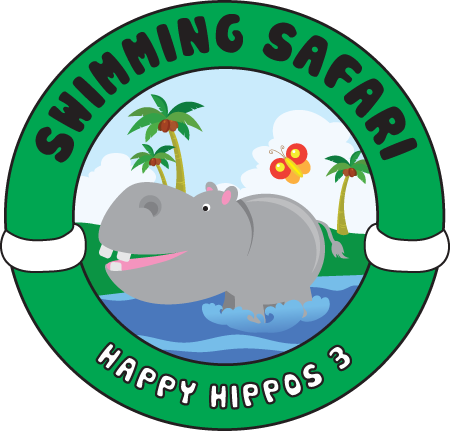 Happy Hippos 3 (Increasing Distance and Survival Floating)
This class is designed for students with basic swimming skills to increase their confidence with distance swimming and introduce survival roll to float. Games and challenging activities are used to learn new skills at a pace that the students enjoy.
Requirements for Happy Hippos 3:
Goals Mastered in Happy Hippos 3:
Streamline with kicking 3 body lengths
Survival float
Roll to float
Independent self-rescue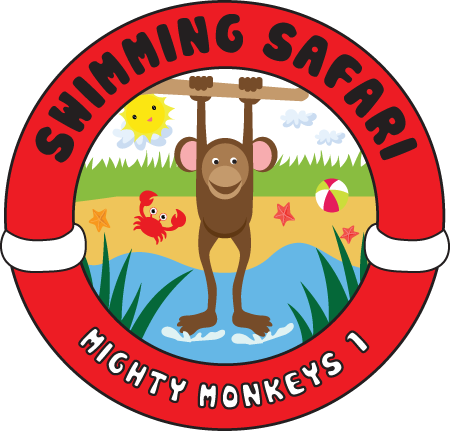 Mighty Monkeys 1 (Propulsion)
This class is designed for confident swimmers who are ready for stroke introduction. Skills are taught using fun themes in an enjoyable way to help the student acquire stroke fundamentals.
Requirements for Mighty Monkeys 1:
Goals Mastered in Mighty Monkeys 1:
Paddle arms and kicking
Swim float swim
Distance 3-6 body lengths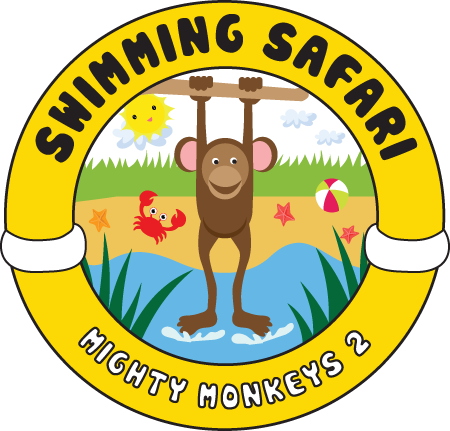 Mighty Monkeys 2 (Beginner Freestyle & Backstroke)
This class is designed for swimmers who have basic stroke abilities and are ready for stroke development. Skills are presented through demonstration, practice, and positive reinforcement.
Requirements for Mighty Monkeys 2:
Paddle arms and kicking 3 body lengths
Goals Mastered in Mighty Monkeys 2:
Beginner freestyle with side breathing
Beginner backstroke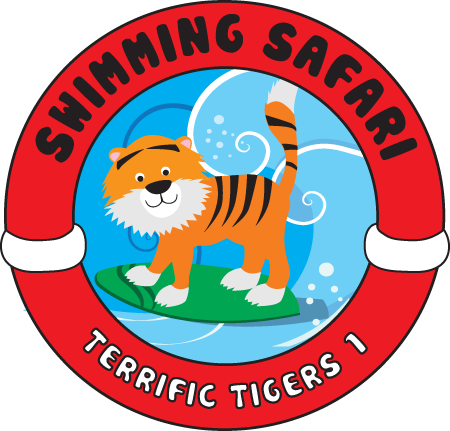 Terrific Tigers 1 (Introduction to Olympic Strokes)
This class is designed for intermediate swimmers who are able to swim freestyle and backstroke. In this class, students will be introduced to increased distances and breaststroke. Repetition and practicing the correct form is the key to achieving success with these skills.
Requirements for Terrific Tigers 1:
Goals Mastered in Terrific Tigers 1:
Olympic freestyle
Olympic backstroke
Breaststroke kicks
Breaststroke pull
Treading water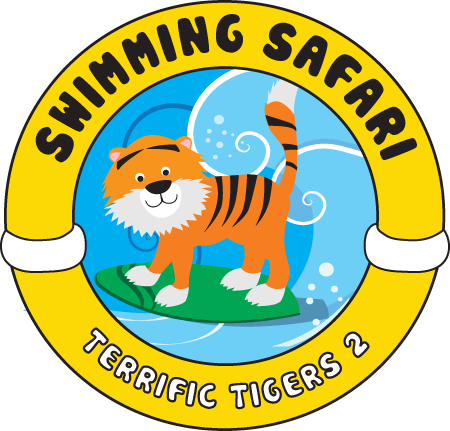 Terrific Tigers 2 (Building Endurance)
This class is designed for advanced swimmers who have mastered freestyle, backstroke and have a basic understanding of breaststroke. The focus of this class is to introduce students to butterfly, perfect breaststroke, and build endurance.
Requirements for Terrific Tigers 2:
Goals Mastered in Terrific Tigers 2:
Olympic breaststroke
Butterfly body
Butterfly arms
Endurance - Ability to swim 4 laps of all four strokes
Introduction to diving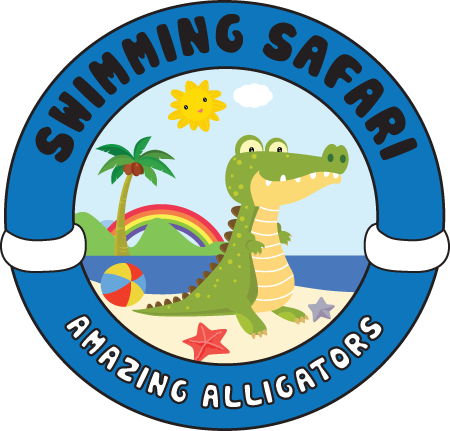 Amazing Alligators (Mastering All 4 Strokes)
This class is designed for advanced swimmers who can swim all 4 strokes in excess of 30 ft. Students will increase stroke ability through passionate hands-on coaching using exercises and drills. Each lesson will consist of drills designed specifically for your student's progression.
Requirements for Amazing Alligators:
Goals Mastered in Amazing Alligators :
Stroke refinement
Increased endurance and speed
Swim team prep
Subscribe to Newsletter
Submit a Story
Submit a Job
Submit a College Recruit
SwimSwam Store
SwimSwam Facebook
SwimSwam Youtube
SwimSwam RSS Feed
SwimSwam Pinterest
SwimSwam Instagram
SwimSwam Twitter
SwimSwam LinkedIn
USC Snags Verbal Commitment from Mission Viejo's Macky Hodges, #16 in 2023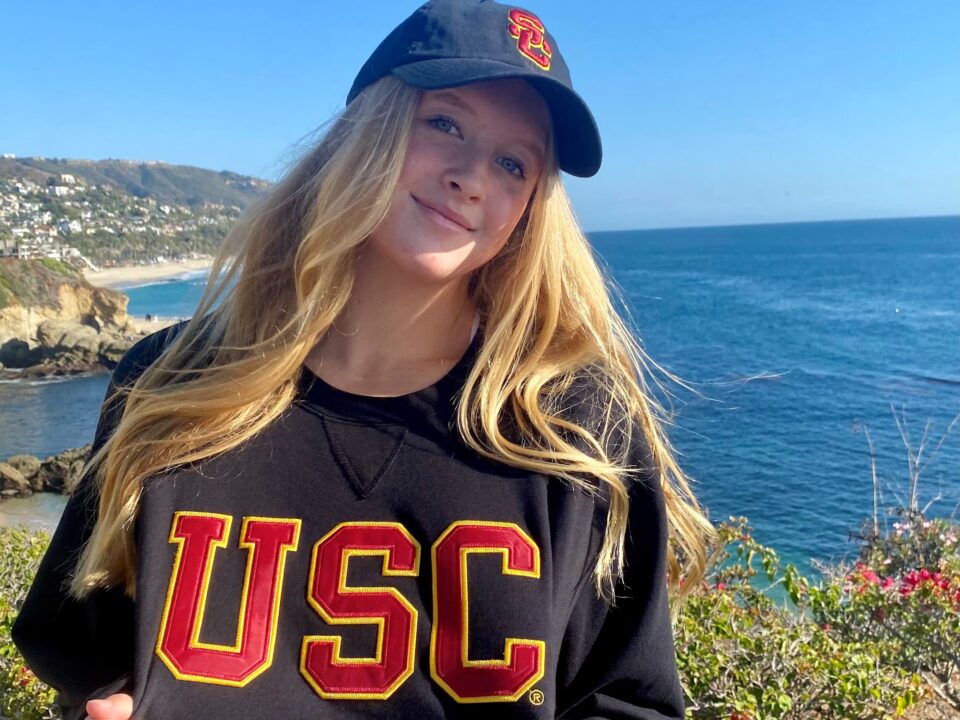 Olympic Trials Wave II qualifier Macky Hodges has made a verbal commitment to the nearby University of Southern California for 2023-24. Current photo via Craig Hodges
by Anne Lepesant 21
October 25th, 2021 College , College Recruiting , News , Pac-12
Share USC Snags Verbal Commitment from Mission Viejo's Macky Hodges, #16 in 2023 on Facebook
Tweet USC Snags Verbal Commitment from Mission Viejo's Macky Hodges, #16 in 2023
Submit USC Snags Verbal Commitment from Mission Viejo's Macky Hodges, #16 in 2023 to Reddit
Share USC Snags Verbal Commitment from Mission Viejo's Macky Hodges, #16 in 2023 on Pinterest
Share USC Snags Verbal Commitment from Mission Viejo's Macky Hodges, #16 in 2023 on LinkedIn
Fitter and Faster Swim Camps is the proud sponsor of SwimSwam's College Recruiting Channel and all commitment news. For many, swimming in college is a lifelong dream that is pursued with dedication and determination. Fitter and Faster is proud to honor these athletes and those who supported them on their journey.
Macky Hodges from Ladera Ranch, California has made a verbal commitment to swim and study at the University of Southern California, kicking off the Trojans' class of 2027.
"I am so beyond excited to announce my verbal commitment to swim and study at the University of Southern California. So thankful for my coaches, friends, and family for all the love and support. Can't wait for the next chapter of my life as a Trojan. Fight On‼️✌️"
A two-time USA Swimming Scholastic All-American, Hodges ranks 16th on our Way Too Early list of top-20 recruits from the high school class of 2023 . She is currently a junior at Santa Margarita Catholic High School and swims year-round with Mission Viejo Nadadores. At the 2021 CIF Southern Section Division I Championships, which the Santa Margarita girls won for the seventh straight time, Hodges won the 500 free (4:47.56) and was runner-up to current high school, current club, and future college teammate Justina Kozan in the 200 free (1:47.34). She also led off the winning 200 medley (25.46 backstroke) and 400 free (50.12) relays. She wrapped up her sophomore year high school season with lifetime bests in the 100/200/500 free and 50 back.
In April and May, Hodges had a series of outstanding long course performances, beginning with an Olympic Trials Wave II cut of 2:00.00 in the 200 free at Pro Swim Series-Mission Viejo. Later in the month, she notched PBs in the 50 free (26.49) and 100 fly (1:04.19). In May, she added best times in the 400 free (4:19.91) and 200 back (2:16.26) at Grand Challenge.
Hodges is a solid middle-distance freestyler but has also developed into a Summer Nationals-level backstroker, with times of 1:02.77/2:16.26 in LCM.
Best SCY times:
500 free – 4:47.56
200 free – 1:47.30
100 free – 50.12
200 back – 1:57.63
100 back – 54.98
50 back – 25.46
Hodges' best times in the 200 free and 500 free would both have landed her on the A/B-final cusp at 2021 Pac-12 Championships and her 200 back time would have put her solidly in the B final.
If you have a commitment to report, please send an email with a photo (landscape, or horizontal, looks best) and a quote to [email protected] .
About the Fitter and Faster Swim Tour 
Fitter & Faster Swim Camps feature the most innovative teaching platforms for competitive swimmers of all levels. Camps are produced year-round throughout the USA and Canada. All camps are led by elite swimmers and coaches. Visit  fitterandfaster.com  to find or request a swim camp near you.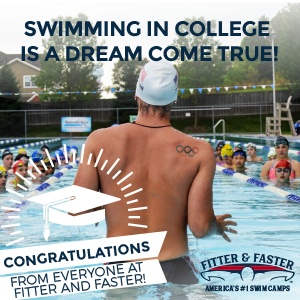 Instagram –  @fitterandfasterswimtour Facebook – @fitterandfastertour Twitter – @fitterandfaster
FFT is a SwimSwam partner.
21 Leave a Reply
That would be a helluva baseball player name! "Now batting, #22, Mackey Hodges."
Macky looks like she'd be on the USC Beach Volleyball team right now. Until a new USC football coach is announced, Trojans are now a basketball school in both Men's and Women's BB.
A Cal fan making a USC football joke…
That's the joke
What a last name though
Destined for greatness.
Congrats Macky! Great you will be close to your family. The Smith's wish you the best from Kentucky and look forward to cheering you on at juniors!
People who downvote comments like this have issues.
And those who downvote my downvote commentary 🤣
the Schubert effect continues
Why are kids committing to USC right now? No idea who the HC will be and if Kipps out probably a whole new staff next year
Team over staff
Think there's a decent chance that Lea gets the nod if Kipp does end up getting fired, but it's certainly interesting that they feel comfortable committing with that uncertainty.
Maybe there is a whole lot less uncertainty than you think.
SoCal kid wants to stay in SoCal at a great school with a scholarship. I think lots of swimmers take this regardless of who the coach is.
I have no idea why this isn't self explanatory. Same thing with Stanford. Far too much attention to trivial detail around here while ignoring the big picture
Are you joking? A head coach is far from a trivial detail. A swimmer will spend 4-6 hours a day with said coach. I think that relationship is pretty important among other things.
Lea underachieved at Stanford as a head coach for years. USC should try someone else.
They just swam wicked fast at early season meet
Coaching staffs are always in flux at any school, the team is not. Kids should realize you don't commit to a coach. Find a team that you're going to love, after all the stuff the usc team went through last year they didn't have a single transfer. That shows how much of a family it is
If you are committing to a team the fall of your junior year, 50% of the team that you love that you spent one weekend with is going to be gone. Furthermore, saying kids shouldn't commit to a coach? Don't see that ever happening.. no one is ever committing to UVA if I am coaching versus TD. TD and his staff have created that team and it's culture. The swimmers perpetuate it, but do you really think its the same team without this staff? Be reasonable….
Yea it's not like Todd puts pressure on 16-17 year old kids to commit at all
How about value of a USC degree over a lifetime. College choice is one of the important decisions you make in your life. The other is who you marry. Make it with a long view rather than a short view, like coaches. Macky would be a high school team mate of USC class of 2022 recruit Justina Kozan at Santa Margarita Catholic.
Macky has that USC look! And she's standing by that cove in Laguna Beach where I proposed to my wive years ago! That was my most important decision.
About Anne Lepesant
Anne Lepesant is the mother of four daughters, all of whom swam in college. With an undergraduate degree from Princeton (where she was an all-Ivy tennis player) and an MBA from INSEAD, she worked for many years in the financial industry, both in France and the U.S. Anne is currently …
More from Anne Lepesant See All
Texas Men Open 2025 Recruiting Class with "BOTR" Backstroker Evan Conti's Verbal
Chilean National Record-holder Montse Spielmann (2025) Verbals to Michigan
2025 "Honorable Mention" Sophia Umstead Makes Verbal Pledge to UVA
Georgia Bulldogs Pull in Verbal Commitment from #5 Sean Green for 2025-26
#15 Nicole Zettel (2025) Makes Verbal Commitment to Tennessee
Don't want to miss anything?
Subscribe to our newsletter and receive our latest updates!
Want to take your swimfandom to the next level?
Subscribe to SwimSwam Magazine!
Swimming Safari Swim School
Review Highlights
" At Swim Safari , the instructors are amazing with the kids! " in 4 reviews
" The patience the teachers have and their ability to get kids to learn not only swimming strokes but water safety is excellent. " in 2 reviews
" My five and three year old love their instructors and look forward to every weekly lesson . " in 2 reviews
Location & Hours
Suggest an edit
4775 Windsor Commons Ct
Jacksonville, FL 32224
You Might Also Consider
Center Academy - St Johns Bluff
4.7 miles away from Swimming Safari Swim School
Jana H. said "My son began attending Center Academy during his freshman year. What a difference! He had always struggled in typical large classes getting lost amongst the sea of students. He is a very bright, smart kid who just didn't apply…" read more
in Middle Schools & High Schools, Specialty Schools
F45 Training-Greenfield
Lisa J. said "I love F45 Greenfield! The coaches are great and the work out is great too! I feel challenged but yet I can workout at my own fitness level. It's totally doable. We have monthly meet ups and get to do fun 5k's as a team. It's nice…" read more
in Circuit Training Gyms, Interval Training Gyms, Trainers
The Learning Experience - Nocatee
10.6 miles away from Swimming Safari Swim School
Taylor F. said "We've had the best experience with our infant daughter at TLE. Ms. Tiffany & Ms. Charlene are wonderful to our baby girl and she is excited to see them each day. I was absolutely terrified to send her to daycare for the first time…" read more
in Child Care & Day Care, Preschools
Amenities and More
1 More Attribute
About the Business
At Swimming Safari Swim School we teach students of all ages how to be safe, confident, and comfortable in the water. All of our lesson are filled with singing lots of song and playing games. We try to make our lessons as enjoyable for our students as we can. We are registered with the United Sates Swim School Association. All of our instructors are certified by the American Red Cross in C.P.R and First Aid for infants, children, and adults. Additionally all of our instructors have been personally trained by the owner Joani Maskell who has had over 20 years experience teaching swim lessons. At Swimming Safari we believe that it is important for people of all ages to learn how to swim and be able to enjoy the water. We would love the opportunity to teach you or your child. If you have any question please check out our website, send us an email, or give our office a call. We look forward to seeing you in the water soon! …
Ask the Community
Ask a question
Yelp users haven't asked any questions yet about Swimming Safari Swim School .
Recommended Reviews
1 star rating Not good
2 star rating Could've been better
3 star rating OK
4 star rating Good
5 star rating Great
Select your rating
Overall rating
PROFESSIONAL! Every instructor is attentive. The entire staff does a great job of greeting, guiding parents and swimmers and keeping children safe. Very well organized business while creating a warm atmosphere. We travel a little distance to come here along with other swimmers. Worth it! I
We love swim safari! My daughter took private lessons before we came here and the instructor was way too intense! At Swim Safari, the instructors are amazing with the kids! Ms. Andrea has done a wonderful job with our daughter! She is now excited about swim lessons and is learning new skills every week. We are so happy to have found this place. They are very well organized, everything is clean, and the instructors are wonderful. Highly recommend!
Business owner information
Business Owner
Apr 24, 2023
Thank you for your review! We are glad that Swimming Safari has been able to create a happy, fun, and safe swim lesson experience for your daughter!
Learning how to swim in Florida is an absolute MUST! Swimming Safari makes that childhood milestone a breeze and I cannot recommend them enough! The teachers are so gentle and instill so much confidence in the children. You will not believe how FAST they learn! Each swimming level has a cute animal name and once you "graduate" from that swim class they give you a Foam Star saying, "MOVE UP!" The child is ecstatic with such positive reinforcement and it's quite the thrill for the parent as well. Alongside the pool there is a LONG glass window. There are ample chairs for the parents to watch the children in their swimming class that are separated by different levels. The lessons last around 30 minutes. Afterwards they can change in a WARM and clean changing room that is very spacious! The communication with the staff and administration was FANTASTIC! Switching your schedule once your kid graduates each swim level is a piece of cake and I have never had any issues with them. While it was a pain to come out twice a week all the way across town it was absolutely worth it. I saw the quality of the instruction and knew that going twice a week she would be more apt to REMEMBER things and learn even FASTER! The feeling of transcendence was strong as a parent while I visited Swimming Safari Swim School. We are all in the same boat watching our children learn this mandatory milestone. It was an amazing feeling and I am glad I got to be a part of that community.
Both of my boys have learned so much from swim safari. I have a 3 and 5 year old, they are both showing so much progress. All the instructors are amazing and work well with all the kids. Checking in for lessons is organized and the staff is very helpful and friendly!
Thank you so much for your review! At Swimming Safari, we take pride in creating a stress-free, and organized swim lesson experience!
We adore swimming Safari. The staff is so informative. If you are lucky you will be greeting by Riley at the front desk. Elizabeth is another instructor and brings an amazing energy while in the pool. Xavier has been amazing at teaching my daughter fundamentals. The system they have set up is amazing at keeping you informed focusing on one skill at a time and building children to be elite. They allow you to make up missed classes. Have clear expectations on things to do at home to rather you have a pool or not. My daughter was afraid of swimming and did not want to place her face in the water. She is now almost swimming across the pool on her own. They are amazing at accommodating any schedule. They also will try to ensure siblings are near each others class time.
Pool at swimming Safari
Thank you for taking the time to leave us this wonderful review! At Swimming Safari, we work hard to create safe, happy swimmers and it makes us smile to hear that your family has enjoyed their experience with us!
Very pleased with Swim Safari! We've been going for a few weeks now and my son loves it. Living in Florida it was a priority for us to get him lessons for safety reasons. The school is familiar with working with kids of all ages, and even babies, to teach life saving skills. I can already see his development and am excited to see how much more he learns as we continue. Our current teacher, Ms. Ashley is super sweet and very helpful, especially when my little guy is being a bit hard headed. Very clean, friendly and nice facility!
We love swimming safari!! We started taking our infant there 3 months ago and have been so impressed with how much he has learned in such a short amount of time! In just a few short months our infant has started going underwater and begun to learn to pull himself out of the pool. Living in Florida it was important to us to start our child as young as possible and swimming Safari delivers with enrollments as young as 4 months. The instructors are all wonderful and the facility is nice and clean. There is a large viewing area with seating for parents. The class sizes are small and each child receives 1:1 attention each class.
What an amazing team at #swimmingsafari They truly have a well oiled machine. The first day walking in was a bit overwhelming with the amount of parents teachers and children that's warm the location but it is quite amazing to be walk-through and understand the process of color coding lanes calling people by their groups & classes having a whole flow to the area so nobody's trampling on anyone. They have multiple lifeguards patrolling each of the lanes along with a separate front desk and management team not to mention phenomenal teachers in the water. They have done such a great job with my daughter. She has a love for the water but they are amplifying that by teaching her how to swim ‍ and understand water safety Obviously they have an amazing girl to teach so their job is made easier #proudparents #babymermaid #teamreagan #swimmingsafari #watersafetyfirst
See all photos from Dominique K. for Swimming Safari Swim School
Our family loves Swimming Safari. We are in the Splish Splash Baby 1&2 class. My daughter is 15 months old. We started about 2 months ago and she absolutely loves it. She has gotten super comfortable in the water in a short amount of time. The lessons are fun. I love that the pool water is like bath water so easy for young children to get in and out without being cold. I also like that it is a salt water pool, so no stinky chlorine smell or burning eyes afterwards. We swim on Saturday mornings. It is busy, but the staff has the place run like a well oiled machine. It's remarkable how well they keep the lessons flowing. All of the families we've met are warm, welcoming, and supportive. Top notch youth swim lessons, you won't regret signing up.
Thank you for the review! We are glad that you and your family have enjoyed your experience with us!
My grands have been swinging here for a while! Grandson is 4 been swimming since 3 and his sister is 7 months being swimming since 5 months!. They are flexible allowing the parents to make up days!
Enjoy watching my grands swim!
Watching the grands swim!
80 other reviews that are not currently recommended
Gate Parkway KinderCare
3.1 miles away from Swimming Safari Swim School
Tricia C. said "the new director has made this daycare do a 360. I wasn't going to take my daughter there until I went back again and did 2nd tour with new director. rooms are nice, always smells clean when walking in, communication is great, my…" read more
in Child Care & Day Care, Preschools, Summer Camps
O2B Kids Village North
19.9 miles away from Swimming Safari Swim School
At O2B Kids in Village North, we strive to ensure your children are prepared for a successful future. Through our preschool program, we offer a robust curriculum your little one(s) will love. Our nationally-accredited programs give… read more
in Preschools, Kids Activities, Indoor Playcentre
Collections Including Swimming Safari Swim School
Jacksonville
By Patricia L.
People Also Viewed
AQUA Swim School
Sunsational Swim School - Home Swim Lessons
Splash Jax Swim School
Beaches Aquatic Center
Argyle Swim Club
Coach Sally's Swim and Learn
NAS Jax Pool
Swimming Lessons JAX
Best of Jacksonville
Things to do in Jacksonville
Other Swimming Lessons/Schools Nearby
Find more Swimming Lessons/Schools near Swimming Safari Swim School
Browse Nearby
Things to Do
Restaurants
Martial Arts
Swimming Lessons for Babies Near Me
People found Swimming Safari Swim School by searching for…
Indoor Swimming Pools Jacksonville
Biden In Maine
Israel-Hamas War
Navy Drone Boat
New Planets
CBS News Live
Managing Your Money
Newsletters
Watch CBS News
Diving into the unknown, student athlete proves the merits of hard work
By Steve Hartman
April 13, 2018 / 6:55 PM EDT / CBS News
ARLINGTON, TEXAS -- They were the bad news bears of swimming. In fact, coach Alex Weidemann of Seguin High School in Arlington, Texas, says you can't overstate their underachievement.
"Our goal every meet was to finish the race. Get across the pool," Alex said. "Really, we measured our success on not getting disqualified."
Because that was the standard, four years ago, Gerald Hodges made the team -- perhaps the only kid to ever make a high school swim team without a clue how to swim.
"We had to get anybody, it didn't matter," said Alex. "He couldn't get across five yards, let alone 25 yards."
Eventually, he at least learned how to not drown, and even finished some races, albeit long after the other competitors were done and toweled off. Yes, he was that bad. Which is interesting, because on dry land, Gerald is a remarkable athlete. So why swimming?
"I felt like if I couldn't handle not being good at something, then how could I consider myself a successful person," Gerald said.
To Gerald, setting yourself up for failure is actually the key to future success. Especially if you can somehow manage to master your weakness. By start of his senior year, Gerald had actually improved a lot.
But no one really knew how much he'd improved until a big regional meet earlier this year. It was the 200-yard medley relay. The top two teams qualify for state, and as usual, Seguin was pretty much in last place with 50 yards to go. That's when Gerald jumped in the water.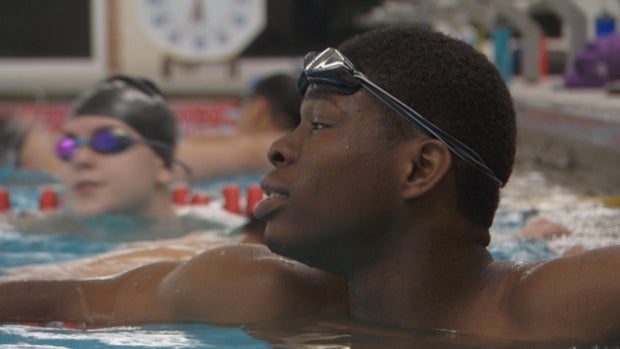 Keep in mind, at this level, making up any significant time is nearly impossible. Unless maybe you've got something to prove. Unless, maybe, there's an extra drive deep within anyone who knows what it's like to be dismissed. Whatever it was, the kid who couldn't swim, sent his team to state.
"Man, we were ecstatic," Gerald said. "I could barely contain my energy as I was trying to go get this medal! I'm sitting here just freaking out!"
From now on, whenever you think anything is impossible, think of Gerald. Whenever you think America has lost its heart, think of Gerald.

Steve Hartman has been a CBS News correspondent since 1998, having served as a part-time correspondent for the previous two years.
Swimming Safari
Related Searches
swimming safari jacksonville •
swimming safari jacksonville photos •
swimming safari jacksonville location •
swimming safari jacksonville address •
swim safari jacksonville •
swimming safari southeast jacksonville jacksonville

Your Privacy Choices
Bahasa Indonesia
Los Angeles
Philadelphia
San Francisco
Washington, D.C.
Great Britain
Netherlands
Philippines
More Great Places in Jacksonville:
Foursquare © 2023 Lovingly made in NYC, CHI, SEA & LA
People tend to check in during these times:
8:00 AM–1:00 PM
9:00 AM–1:00 PM
5:00 PM–7:00 PM
9:00 AM–11:00 AM
4:00 PM–7:00 PM
10:00 AM–11:00 AM
4:00 PM–8:00 PM
3:00 PM–7:00 PM
Is this your business? Claim it now.
Make sure your information is up to date. Plus use our free tools to find new customers.
You must enable JavaScript to use foursquare.com
We use the latest and greatest technology available to provide the best possible web experience. Please enable JavaScript in your browser settings to continue.
Download Foursquare for your smart phone and start exploring the world around you!
River City Live
Newsletters
WEATHER ALERT
A coastal flood advisory and a rip current statement in effect for 6 regions in the area
World drowning prevention day: lifesaving skills that can prevent drowning incidents.
Brianna Andrews , Reporter, weekend anchor
JACKSONVILLE, Fla. – Tuesday, July 25, is World Drowning Prevention Day.
The day highlights the long-term effects drowning has on families and serves as a reminder to stay safe in the water this summer.
Did you know a person can drown in less than 60 seconds? News4JAX spoke with the owner of Swimming Safari Swim School about lifesaving skills that everyone can learn to prevent drownings.
July saw the highest number of unintentional drownings since 2018, according to the Centers for Disease Control (CDC).
Recently in Jacksonville, a two-year girl drowned in a pool in the backyard of a home on Quan Drive on the Westside.
LEARNING TO SWIM: Amanda DeVoe, from nearly drowning to overcoming decades-long fear of deep water | Learning to swim: News4JAX traffic anchor Amanda DeVoe gives update on swim lessons | News4JAX traffic anchor comes 'full circle' after nearly drowning during childhood swim lessons
"It just hurts me so much and it's preventable, it's preventable," Joani Maskell, the owner of Swimming Safari Swim School, said.
Maskell is passionate about saving lives through drowning prevention. That's why she opened the Swimming Safari Swim School on Hodges Blvd where she teaches children — as young as four-months-old — and adults lifesaving skills in the water.
"Every lesson we have them jump in with or sometimes without goggles because you never know if you're going to be in a situation where you don't have goggles, or you'll fall into a lake," Maskell said.
The World Health Organization (WHO) declared July 25 World Drowning Prevention Day. Maskell said it's a good rule of thumb for all swimmers to never swim alone.
"I never swim by myself even though I'm a good swimmer and my instructors don't either. We always have to swim with somebody else you never know what could happen out in that ocean or that lake."
The CDC also recommends these moves to prevent drowning incidents:
Wear a life jacket
Build fences around the pool
Know the risks of natural waters
Each one can potentially save a life. It is also important to remember that children are at highest risk of drowning.
Maskell has parents wear badges that put an adult in charge of watching the child while swimming. She said this is important because drowning is silent, and adults don't always notice.
Copyright 2023 by WJXT News4JAX - All rights reserved.
About the Author:
Brianna andrews.
This native of the Big Apple joined the News4Jax team in July 2021.
Click here to take a moment and familiarize yourself with our Community Guidelines.
I've gone on over 30 safaris in South Africa. Here are 8 mistakes first-timers always make.
I've been to more than 30 safaris in South Africa , and I've seen first-timers make common mistakes.
Don't forget to bring a bug spray, sunscreen, long-sleeve shirts, and a jacket.
Be patient, and remember that you don't need to wear head-to-toe khaki.
I've spent most of my adult life in South Africa , and one thing I never tire of is safari trips. I've been on more than 30 safaris, ranging from trips with no-frills accommodations to ones with all-inclusive private lodges.
But no matter where you go, there are always the first-timers who stick out like a sore thumb. And if you want to make the most of your safari adventure , it's good to know the dos and don'ts.
Here are a few things to steer clear of during your first safari.
Calling it a safari
Giraffes can be spotted on some bush walks. sophie baker.
Yep, I'm a hypocrite. Safari is really a term that is only used by international visitors.
It's been popularized by the tourism industry, probably because "safari" sounds nicer than saying we're going to "the bush," which most locals use.
In this case, "bush" is actually a shortening of the term "bushveld," a particular ecoregion of Southern Africa, and encompasses all the main game reserves.
Speaking of game, you should also know that the actual drives to look for wildlife are named "game drives." The game, in this case, just refers to the wildlife.
Not packing appropriate attire
Many falsely assume a trip to Africa will just be really hot.
We have more than our fair share of dry, sunny weather, but if you're visiting outside summer — and especially during June or July — you must go to the bush with a warm coat.
Early morning and evening game drives can be seriously chilly on the trucks without protection from the wind or cold air.
On the other end of the spectrum, you need to take the African sun seriously. Even during winter, it's warm and dry during the day. In summer, it can be sweltering.
Not all game vehicles have a roof, so make sure to pack at least one shirt that's lightweight and long-sleeved. At the very least, bring a shirt that has capped sleeves so your shoulders are covered.
And bring a hat, too.
Wearing all khaki
We get it; you don't want to scare the animals.
Nobody is suggesting you turn up in a hot-pink jumpsuit, but an entire khaki outfit is unnecessary unless you're doing bush walks. If you're doing walks, then go ahead and don khaki, olive green, and brown.
If you're doing regular game drives, most comfortable clothing is fine as long as you don't arrive in a luminous green jacket. Turning up dressed like the game ranger will immediately let everyone know you're a newbie.
Getting caught without sunscreen and bug spray
Bring all the sun gear you need: sunglasses, after-sun care, and plenty of sunblock .
Most lodges will provide bug spray, but it's always a good idea to bring your own bottle just in case. The mosquitoes in the bush are fierce, and there are all kinds of little midges and flies and other insects around, too.
Forgoing private reserves
There are a few different types of game reserves. sophie baker.
Booking a trip to the bush can be seriously overwhelming, with a sea of information and endless options to suit all kinds of budgets.
Many first-time visitors to South Africa choose the easiest option and go to Kruger Park or Pilanesberg. There's absolutely nothing wrong with these options, and Kruger, in particular, is very popular with locals.
But if I were visiting for my first (or potentially only) safari experience, I'd choose a private game reserve instead.
Because national parks are open to the public, they can also get pretty crowded — especially if there's a great animal sighting. Private reserves are usually only accessible to a small number of lodges, and many of them limit the number of vehicles allowed at a sighting.
Plus, private game reserves have qualified game rangers who are a wealth of knowledge.
Chasing only the big game
It's pretty reasonable to want to tick off the Big Five — lion, elephant, leopard, buffalo, and rhino — but don't let that deter you from enjoying the smaller sightings, too.
If you engage your game ranger, they'll often be able to tell you fascinating stories about local trees or plants and facts about zebras, giraffes, or birds.
And maybe you'll get really lucky and see animals that really get locals' hearts racing. Consider yourself lucky if you see a cheetah, wild dog, honey badger, pangolin, or caracal.
They may not be as well known as the Big Five, but they're generally much rarer sightings.
Skipping recommended malaria tablets
One huge draw of South African safaris is that many of them take place in malaria-free areas . But if you visit a reserve where malaria pills are recommended, don't dismiss the suggestion.
Although the pills can have side effects for some people, they're certainly not as severe as malaria itself.
If your lodge recommends you take them, heed their advice. If you're traveling with young kids, be sure to double-check whether your dream bush lodge is in a malarial area before you book.
Not devoting enough time to safari
I suggest spending a few days in the bush. sophie baker.
Us Johannesburg dwellers often pop to the bush for a weekend or long weekend.
But if you're visiting from distant shores, I recommend you spend a decent amount of time looking for the Big Five. And yes, I still say that even though I know how great Cape Town and the Winelands are.
Four or five days should be enough time to see incredible wildlife without your schedule feeling too packed.
Plus, being patient is really the only guarantee of seeing anything in the bush. So, if you haven't seen anything in a few hours, try not to get frustrated. Just sit back and enjoy the scenery.
The bush has its own clock, and it always rewards those who wait.
Watch: You can swim up close with elephants at a five-star lodge in South Africa
Hedgehogs – both wild and pet hedgehog advice
Can Hedgehogs Swim? Find Out the Surprising Answer!
John Parker
Affiliate Disclaimer
As an affiliate, we may earn a commission from qualifying purchases. We get commissions for purchases made through links on this website from Amazon and other third parties.
When you think of hedgehogs, you may think of the small, spiky-haired mammals that curl up into a ball when they feel threatened.
But did you know that hedgehogs can actually swim?
Yes, hedgehogs can swim!
It is a surprisingly common behavior for these small mammals. They use their strong hind legs to propel themselves through the water. Hedgehogs have been observed swimming in shallow water, often in search of food or shelter.
Hedgehogs are naturally well-adapted to swimming. They have a thick layer of fur that makes them buoyant and helps keep them warm in the water. They also have relatively large feet, which help them move through the water more efficiently.
Hedgehogs can swim for short distances although they have been known to swim for over half a mile at times. They are not very fast swimmers. They usually swim in short bursts of energy. They can also hold their breath underwater for a few minutes.
It is important to provide hedgehogs with a shallow body of water to swim in if you have them as pets. They should not be allowed to swim in deep water, as they may get exhausted and drown.
Why do hedgehogs swim?
Hedgehogs swim to find food, cool off in hot weather, and to escape predators.
In the wild they would often need to swim to cross small streams that may be within their territory to look for food.
In captivity, hedgehogs can be taught to swim for exercise and enrichment.
Do hedgehogs bathe?
No, hedgehogs typically do not bathe, as they are very clean animals and groom themselves regularly.
In captivity you can teach your hedgehog to enjoy a shallow bath with lukewarm water, but it is not necessary.
Can hedgehogs drown?
Yes, hedgehogs can drown if they are submerged in water for too long. Although they are quite good swimmers if they end up in deep water with no way of getting out they will swim until they are exhausted and may then drown.
I have a swimming pool at my house and there are wild hedgehogs here. Sadly I have found two drowned hedgehogs in the pool over the years.
I have also found a number of swimming hedgehogs, albeit getting very tired. I removed them, dried them off and left them in a quiet place in the garden (away from the pool) where they could calm down and rest before going back to wherever they sleep.
After finding another hedgehog swimming in the pool one morning in 2021 I decided to try and make a way for them to get out.
I came up with a floating scamper mat using a piece of non.slip mat and a length of pool noodle as buoyancy. I made two of these, one for each end of the pool.
I can't say for sure that it has worked as I have never seen a hedgehog use one but also I have never had a drowned hedgehog since making them and have only found one swimming hedgehog. He pay well have found the mat and got out on its own had I not removed him.
You can also buy similar devices called "Frog Logs" if you have a pool and live somewhere that has wild hedgehogs.
Do hedgehogs have webbed feet?
Hedgehogs do not have webbed feet.
Hedgehogs have five toes on each of their front feet and four on each of their back feet. All of their toes are connected by skin, but they are not webbed in the same way a duck or a frog's feet are.
Instead, the skin between their toes helps them grip the ground when they are running or climbing. Hedgehogs also have strong claws on their front and back feet, which help them dig and climb. The claws also help them defend themselves from predators.
In conclusion, hedgehogs can indeed swim. It is a common behavior for these small mammals, and they are well-adapted to swimming with their thick fur and webbed feet.
However, it is important to provide them with shallow water if they are kept as pets.
I have been fascinated by wild hedgehogs since I was a boy as they used to come into my parent's garden every night. In later years I found two very small hedgehogs in late November two years running and fostered them through the winter indoors before releasing them in the spring.
Latest posts
Can Hedgehogs Eat Bananas? A Guide to Feeding Your Prickly Pal
If you're a hedgehog owner, you may be wondering if it's safe to feed your pet bananas. The answer is yes, hedgehogs can eat bananas, but there are a few things to keep in mind. Bananas are a great source of nutrients such as vitamin C, vitamin B6, and potassium. They also contain fiber, which…
Can Hedgehogs Eat Cat Food? What You Need to Know
If you're a hedgehog owner, you might be wondering if it's okay to feed your prickly friend cat food. The good news is that hedgehogs can safely eat cat food as part of their diet. In fact, many hedgehog owners choose to feed their pets dry cat food instead of hedgehog food. One reason why…
When you think of hedgehogs, you may think of the small, spiky-haired mammals that curl up into a ball when they feel threatened. But did you know that hedgehogs can actually swim? Yes, hedgehogs can swim! It is a surprisingly common behavior for these small mammals. They use their strong hind legs to propel themselves…
Can Hedgehogs Swim? Full Guide (With Cute Video)
Whether you own a pet hedgehog or you've simply got wild ones entering your garden each night, you're probably curious to know if hedgehogs can actually swim?
Well, we've got the answer for you right here in the post! And not just that, we've also done some in-depth research to find out everything you need to know about both the dangers and benefits of swimming hedgehogs!
So can hedgehogs swim? Yes, hedgehogs can swim very well. Their quills help them to stay afloat in the water as they are partially filled with air. Even though they are good swimmers, wild hedgehogs can still face many dangers in outdoor gardens as they struggle to get out of high sided pools and ponds and can often drown. 
Read on to discover…
Can Hedgehogs Swim? More Info
Hedgehogs are both natural and good swimmers and this is backed up by many vets and experts such as Vetmed who also sing the praises of how well hedgehogs can swim.
Hedgehogs are actually helped to float in the water by their quills.
Even though these quills are tough and strong they contain a network of air chambers that help to keep the hedgehog buoyant in the water.
This allows the hedgehog to swim with relative ease with next to no bodyweight to carry.
Take a look at the cute video below that shows a hedgehog swimming with ease…
Is It Dangerous For Hedgehogs to Swim?
Even though hedgehogs are known to be good swimmers , they can still encounter difficulties in the water.
If you have a pool or pond and you have wild hedgehogs entering your garden/yard at night it can actually be a literal death trap for them.
Often when a hedgehog falls into a pool or pond the sides are too steep for them to climb back out.
They will keep swimming for as long as they can before fatigue sets in and they inevitably drown from exhaustion.
If you have a pond it's a good idea to either cover it at night or create a sloped or ramped side to the pond so the hedgehogs can easily exit.
You can also place a hard plastic sheet or some people even use chicken wire to create the same ramp system at one end of the pond.
If you have a swimming pool it's still possible to create a ramp using the same methods but the hedgehog will obviously have to travel further to find the exit and it can still be dangerous.
If you own a pet hedgehog and you are allowing them to swim while supervised then the dangers are far less.
You shouldn't have any serious problems allowing your pet hedgehog to swim as long as you follow the advice we give later in the post.
Are There Any Benefits to Letting My Hedgehog Swim?
If you have a pet hedgehog there are two main benefits to letting your hedgehog swim.
Let's take a look at these two benefits and how they can make a positive impact on the health and happiness of your hedgehog…
1. Swimming Is Great For Keeping  Hedgehogs Fit
The first benefit is that swimming helps to keep your hedgehog in shape.
Many hedgehogs in captivity are known to struggle with obesity. Source:
This is largely due to the fact that they are fed a diet that isn't optimal for them and contains too much fat.
Here's a short and informative post that shares exactly why we recommend feeding this hedgehog food
Wild hedgehogs also naturally get lots of exercises and get cover between 1-2km per night while foraging according to the wildlife trust.
In captivity, hedgies don't get anywhere near this kind of exercise and it affects their weight.
Swimming, however, is a great physical exercise for hedgehogs and one you can use to keep your hedgie fit and healthy.
2. Swimming Helps Mental Stimulation
Swimming is also great to keep your hedgie mentally stimulated.
In the wild, hedgehogs have to constantly forage for their next meal, while keeping an eye out for predators at the same time.
These two things alone are enough to keep them mentally stimulated at all times.
In captivity, it's great that they are fed daily and there are no predators to worry about but this also hedgehogs with nothing to focus on.
This, in turn, can leave hedgehogs with a lack of mental stimulation and therefore becoming bored.
We've actually just written a great post covering if hedgehogs get lonely? Which you can check out here…
For this reason, as an owner, you have to provide your hedgie with both toys and activities that give them the stimulation they need.
Swimming is a great option if used correctly (more on how often and how long you should let them swim for later in the post)
We also recommend you offer your hedgehog many more toys and activities than just swimming to keep them stimulated.
We've created a list here that shares the best options for keeping your hedgehog stimulated with toys and games…
Can All Hedgehog Swim?
Yes, all hedgehogs are good swimmers although some will be better than others.
This can depend on a number of factors including age, gender, breed, size and weight.
As well as this, all breeds of hedgehogs can swim including the 4 most common breeds…
African Pygmy Hedgehog
European Hedgehog
Egyptian Long-Eared Hedgehog
Indian Long-Eared Hedgehog
Can Baby Hedgehogs Swim?
Baby hedgehogs or hoglets can indeed swim. It can take them a while to build up the strength that's needed to swim and for this reason, it's not recommended to simply drop them into a pool or pond.
It can also cause stress if they are struggling to swim so it's not a recommended method to take.
Instead, we recommend putting the baby hedgehog in a shallow sink of water to get them used to the concept.
The water should be shallow enough for them to walk around in without actually having to swim.
From there you can put a little more water in the sink the next time you try this and see if your hedgie will attempt to swim comfortably without panicking.
If not, then you can try again in a couple of weeks and see how they react then. If your hedgie still isn't comfortable and is panicking or struggling then it's probably best to wait until they've reached adulthood.
If your baby hedgie seems to react to the water fine with no signs of stress then it's time to move onto the bathtub and repeat the process.
Do All Hedgehogs Like to Swim?
The fact of the matter is that not all hedgehogs will like to swim. This will depend largely on their own personality.
Just like us humans, hedgehogs have their own personalities and while one hedgie might love swimming another might simply hate it.
The hedgehog could either be intimidated by the water or simply too lazy to swim.
Something that needs pointing out is that hedgehogs can be a little timid of swimming at first.
This is normal and they might shake, tighten up their spines or even poop and urinate while in water and swimming.
This should settle after a couple of sessions and even improve during the first session .
The main thing is to try and take note of how your hedgie reacts to the situation when swimming and don't force them if it's not something they don't want to do if they are still scared or unsure after a few sessions.
Do Hedgehogs Need to Swim?
Swimming isn't something that hedgehogs actually need to do and some hedgies such as the African Pygmy hedgehog may not even swim once in its entire life in the wild.
Hedgehogs don't need to swim or take baths to keep clean and you should only give them a bath if they're really dirty. Source:
Hedgies actually keep clean by licking themselves and they do a pretty good job of keeping well-groomed.
As we mentioned earlier in the post, swimming can be beneficial for various reasons but that's a lot different from them needing to swim and it being a necessity. 
Can Hedgehogs Swim In The Bathtub?
Hedgehogs can swim in the bathtub and this is probably the most popular place to allow your hedgie to swim.
Make sure the water is lukewarm and not hot like it would be when you are taking a bath.
You can check the temperature with your wrist to make sure it's nice and lukewarm for your hedgie.
Can Hedgehogs Swim In Swimming Pools (Chlorine)
Hedgehogs can swim in swimming pools so if you have one in your garden/yard feel free to let them have a dip as long as you are supervising them.
You must, however, wash off the chlorine afterwards as it can damage the skin of your hedgie if not.
It's not advised to let them do this too often as the constant exposure to chlorine and then washing afterwards isn't good for their skin long term.
Can Hedgehogs Swim In a Paddling Pool?
Yes, hedgehogs can swim in a paddling pool in your garden/yard.
The main thing to consider is that you aren't using the paddling pool for family members to jump in and out of and splash around in when your hedgehog is swimming in the pool.
If other people are using the paddling pool this can make waves and ultimately cause your hedgehog to struggle in the water or even get injured.
Just remember to be mindful and only allow your hedgehog to swim if they can do so safely.
Should The Water Be Hot Or Cold For My Hedgehog to Swim?
The temperature of the water you want your hedgehog to swim in should be lukewarm.
Water that's extremely hot can obviously burn them and what seems ok for me and you isn't ok for your hedgehog.
On the other hand, water that's too cold can shock them and even stress your hedgie out so never allow them to swim in ice-cold water.
How Often Should My Hedgehog Swim?
It's not a good idea to let your hedgehogs swim on a daily basis due to the fact that too much water can be very bad for their skin.
Excess water will dry out the skin of your hedgehog especially if they're swimming in a swimming pool due to the chlorine.
Ideally, you shouldn't let your hedgie swim any more than 2-3 times per month .
Remember that hedgehogs don't need to swim to keep clean and it's only for recreational purposes.
How Long Should My Hedgehog Swim For?
There isn't really any specific time that a hedgehog should swim for but if you allow them in the water for around 5-10 minutes then that should easily be long enough.
It's also a good idea to constantly keep taking your hedgie out of the water every 30 seconds to a minute to let them have a little rest if they are new to swimming.
You also need to use your own judgement and assess whether your hedgehog is getting stressed or tired while swimming.
They even simply might not want to be in the water at all.
If you notice any of the above happenings then you should take them out and end the session.
Can I Leave My Hedgehog Alone While Swimming?
You should never leave your hedgehog alone while swimming even if they look comfortable.
Even if your hedgie has swum lots of times before and is used to the water, there's always a chance of something going wrong and the consequences just aren't worth the risk.
This rule applies even in your home if they are swimming in the bathtub.
Hedgehogs can get tired very quickly and begin to struggle and if you're not there to supervise then the situation could end badly.
Hi, My name is Adam. I'm the main author of Pocket Pets Forever. I'm a pocket pet enthusiast and I love sharing my knowledge and passion for these amazing animals. Thank you for supporting us on our journey as we continue to publish content with the aim of helping owners care for their pets in the best way possible!
Recent Posts
Are Chinchillas Territorial? What Owners Must Know!
[et_pb_section fb_built="1" _builder_version="4.5.7" _module_preset="default"][et_pb_row _builder_version="4.4.6"][et_pb_column type="4_4" _builder_version="4.4.6"][et_pb_text...
How Often Should Chinchillas Have Dust Baths? Guide + Chart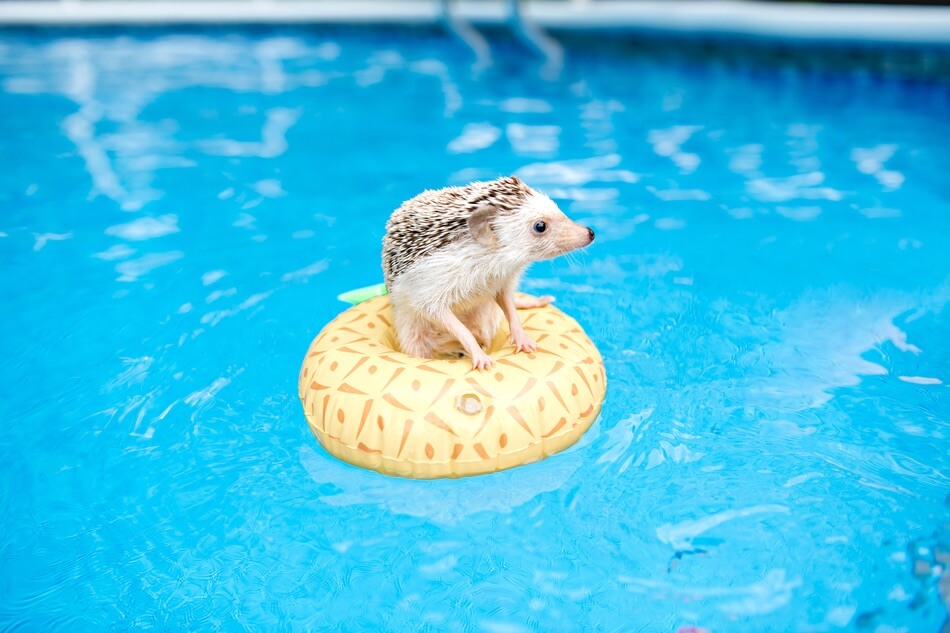 Can Hedgehogs Swim? Everything You Need To Know
by Ethel Minton
May 1, 2021
55.8K views
9 minute read
"Can hedgehogs swim?" is probably one of the most common questions we get from potential new owners.
And the answer is a bit trickier than it seems.
This resource will help you understand everything you need to know about the swimming capabilities (and preferences) of hedgehogs.
Table of Contents
Can hedgehogs swim, do they like it, is it safe to let them swim, 2. enrichment, can baby hedgehogs swim, should you avoid swimming pools, what water temperature do they prefer.
Even though hedgehogs make great pets and are becoming more popular, many owners are unsure of their swimming capabilities.
These animals are small, but they are covered with spiky quills that are filled with air. This helps to make them float should they enter water. 
So in general, the answer is yes! Most hedgehogs are able to swim well. However, that doesn't rule out the risk of this vulnerable creature becoming hurt or dying if they cannot climb back out of a steep pool or bank. They may hit their head or otherwise be injured as another possible negative scenario.
In their native habitats, hedgehogs are known as good swimmers. Since those quills are partially filled with air pockets, this creates a buoyancy that allows the creature to float and swim. Remember, without the quills, your little hedgehog may not be big at all (a process you'll understand more when they go through quilling ). This makes it easier for them to float and swim with ease.
Now, this does not mean that your unassuming little pet will one day make it into the Olympics. All hedgehogs should potentially be able to swim, and the question remains whether they want to or not (more on that later).
Some breeds of hedgehogs are known to possess the ability to swim better than some others. The four most common swimming hedgehog breeds below include:
European Hedgehog
African Pygmy Hedgehog (this is by far the most common pet variety)
Indian Long-Eared Hedgehog
Egyptian Long-Eared Hedgehog
It should be noted here that there are some factors that can make swimming more difficult for some than others. These factors include the hedgehog's weight, size, gender and breed. 
Quick Note: Sleep can also be a factor here. If your pet hedgehog is tired they might not feel like swimming (and might even put up a fight if you try to make them float). We've all been there!
Alright, now that we have established that hedgehogs can swim, it's time to gauge how much they enjoy it. Whether your hedgie will like the refreshing dip into the water will depend on the preference of your unique and personable pet. 
When it comes to preference, it's worth pointing out that some hedgehogs may be intimidated or afraid of the water due to a past bad experience. A hedgehog may become stressed just because of the unknown factors in this new situation. These fears will generally keep these hedgehogs on land. That said, other hedgehogs will dive right in without any issues! 
Another possible reason why your prickly one might not like swimming is that they are just lazy or grumpy for some unknown reason.
Hedgehogs do tend to be a bit cautious regarding swimming the first few times. So, do not be surprised if your hedgie shakes, quivers, arches up its prickly back or poops right there in the pool or other water source. All these things are fairly common.
In general, the answer here is yes, but you should never leave your pet hedgehog alone while he is swimming. Make sure that there is some sort of ramp where your pet can climb up on when he wants to get out of the water. It's also nice to have a floating platform for when your little hedgie gets tired and wishes to take a break or warm up a bit .
It is important to know that even hedgehogs that like to swim can drown if they get into trouble. Avoid leaving them alone where there is a deep pool or garden water feature where the sides are higher making it difficult for your short and sweet hedgehog to climb out when ready. It is best to cover any garden pool or other water source at night if your hedgehog will be playing outside. This can help prevent any accidents.
Another potential danger when your hedgehog is swimming outside is nearby wildlife and/or other neighborhood pets that may try to attack your little pal. Hedgehogs will freeze and roll onto their backs when feeling threatened. When in water, their air filled quills counteract this attempt. 
Even the best swimmers among hedgehogs can get tired easily from this exercise. Eventually they will become too fatigued and exhausted, and this is a situation that may cause your pet extreme harm if they're not being supervised carefully.
The Advantages Of Letting Them Swim
There are a few advantages of letting your little hedgehog swim. First, swimming can be fun for your pet provided you give them enough time to get used to the water and always supervise him/her when in or near any water source. Swimming is a terrific source of exercise for your little pet. While yoga and spin classes may be out of the question for hedgehogs, most will get plenty of exercise by swimming on occasion.
Another fantastic benefit of letting your pet hedgie swim is that it stimulates their mind, body and spirit. Hedgehogs living in the wild tend to spend long hours foraging for food and trying to stay away from any predators nearby. 
When in captivity, hedgehogs can get bored easily. This boredom can cause them to become depressed and they will sleep more often and eat more than they need at meals. This can result in the hedgehog gaining too much weight. Obese hedgehogs unfortunately are common for those kept as pets.
Many hedgehog owners feed their pet foods that have too high of a fat content. Without enough regular exercise, those calories will add up and your bored and out-of-shape hedgie friend will gain weight and even become morbidly obese. This is never good for any small creature. 
Adding some weekly or biweekly swimming into their routine can be an excellent method to encourage movement and activity. Always give your pet time to get fully used to the water first so they stay comfortable and look forward to swimming again in the future. Regular exercise and a nutritious and low-fat diet can keep your hedgehog feeling and looking fit and strong.
All pet hedgehogs need mental stimulation just like other pets do. Hedgehogs are instinctively on the alert when in the wild. However, when a hedgie is kept as a pet, this instinct can diminish, and your pet may become bored and restless. Swimming can give your pet hedgie enough mental stimulation to help prevent boredom and laziness from setting in. 
Since most pet hedgehogs do not have to worry so much about a natural predator looking to make them its next meal, a hedgehog can let its guard down. Lack of motivation will become normal for your pet, and swimming every now and then can help keep your pet alert and mentally focused.
Owners of hedgies should also give their pets stimulating and fun toys to keep their interest and encourage them to move. Rotate the toys out to prevent boredom from becoming an issue. Make sure that any toy that you introduce to your hedgehog is safe for use with these little critters. Ask your vet if you are unsure. 
Like dogs and other pets, hedgehogs will like playing games with their human family members. Swimming together can be a fun activity that enables your little prickly pet to be social as well. These kinds of activities can make your pet feel happy and fit.
Baby hedgehogs can swim if they have the opportunity. Always allow them to get used to the water experience slowly and move forward at their own pace. 
Most pet owners assume that baby and adult hedgehogs will need a bath to keep clean. However, this is not the case. Hedgehogs lick themselves clean, rather like a cat, and they spend a large portion of their day grooming themselves.
However, sometimes it may be necessary to give your hedgehog a bat h if he has gotten into something that is exceptionally dirty, sticky or smelly.
Before allowing your baby pet to swim in a deeper amount of water, it is necessary to give them some time to build up strength. Young hedgehogs will need encouragement and a calm environment to pursue swimming lessons. Never just throw your hedgehog into the water. This can frighten them immensely and even cause serious health issues and stress.
Begin the process of swimming by filling a sink or bathtub with lukewarm water keeping the water depth very shallow. Gently allow your hedgehog to put its feet in the water as you hold them carefully (while also keeping them secure). If your hedgehog panics, take them out of the water and dry them off. Try to do your best to give them lots of support and assurance that all is well. 
Quick Note: We should point out that baby hedgehogs that have never had the opportunity to swim before often kick and splash due to their fear. This is normal. Take this process slow and raise the water level a slight amount each time you take them for a swim.
At first, keep the water level low enough that your hedgehog can walk around without having to float or swim. If your baby hedgie does well with shallow water in a sink or low container, try introducing them to the bathtub next. If your pet still seems too anxious, wait a while until he grows into adulthood.
Hedgehogs can swim in swimming pools if you take the proper precautions. Always be right by your hedgehog and be careful not to splash chlorinated water into its eyes, ears or mouth. Have something in the water for your pet to climb onto if they want to just float and rest awhile.
The general rule to follow is to simply use caution when letting your hedgehog swim in your pool, and keep the swim sessions short. Also, only allow your hedgehog to swim in the pool every couple of weeks or so. 
After your hedgehog is done having fun in the pool, rinse them off well with room temperature water. This will wash away any potentially irritating chlorine.
Too much chlorine can irritate your vulnerable hedgehog's skin. Be especially careful around any pool equipment like the filter or heat pump in a warm water pool. These items can be dangerous to small pets like hedgehogs.
Hedgehogs should not be left in the care of a young child without an adult always present. This is for its overall safety and well-being.
Keep an eye on kids when your pet is inside of the pool. There should not be any nearby jumping and splashing since this can frighten your hedgehog and lead to serious anxiety and stress. 
Hedgehogs can also swim in garden pools when they are well supervised. Some prefer to swim only inside in a tub or sink. Be mindful of how your pet reacts when introduced to these new water environments, and proceed slowly to lessen any stress or fears that your pet may have in these situations.
Most hedgehog experts recommend allowing your pet to swim about three to four times a month if they enjoy it. Limit the initial swimming session to 5 to 10 minutes. Lift your pet out of the water about every 30 seconds to a minute for a rest if they are in deeper water where they need to paddle, float or swim.
It is best to keep the water lukewarm no matter which type of water source your hedgehog will be swimming in. Water temperatures that are too hot or too cold can seriously harm your little one quickly. Always test the water temperature first before allowing your pet to get into it.
With the proper supervision and precautions, your hedgehog may learn to love swimming with their favorite owner staying nearby. Swimming can provide your pet with mental stimulation and overall exercise to keep your hedgehog safe, in shape and happy throughout its lifetime.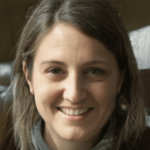 Ethel Minton
Keeping hedgehogs warm: heat lamps, pads, & other tips, everything you need to know about owning a pet hedgehog, you may also like.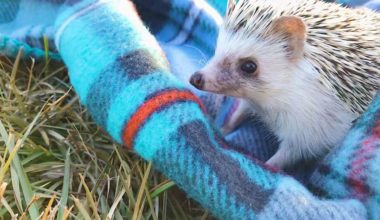 Where To Buy A Hedgehog: Your Full List Of Options
June 7, 2020
105.6K views
4 shares 1 3 0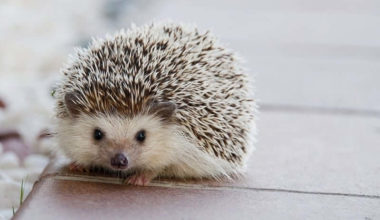 The Simple Guide To Hedgehog Colors
by Ellie Bruskin
December 5, 2020
100.3K views
72 shares 66 6 0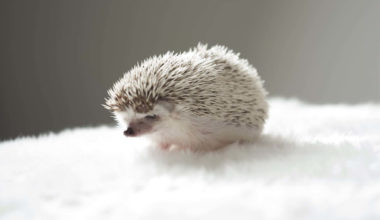 How To Bathe A Hedgehog: The Correct Method
July 9, 2020
99.3K views
13 shares 1 12 0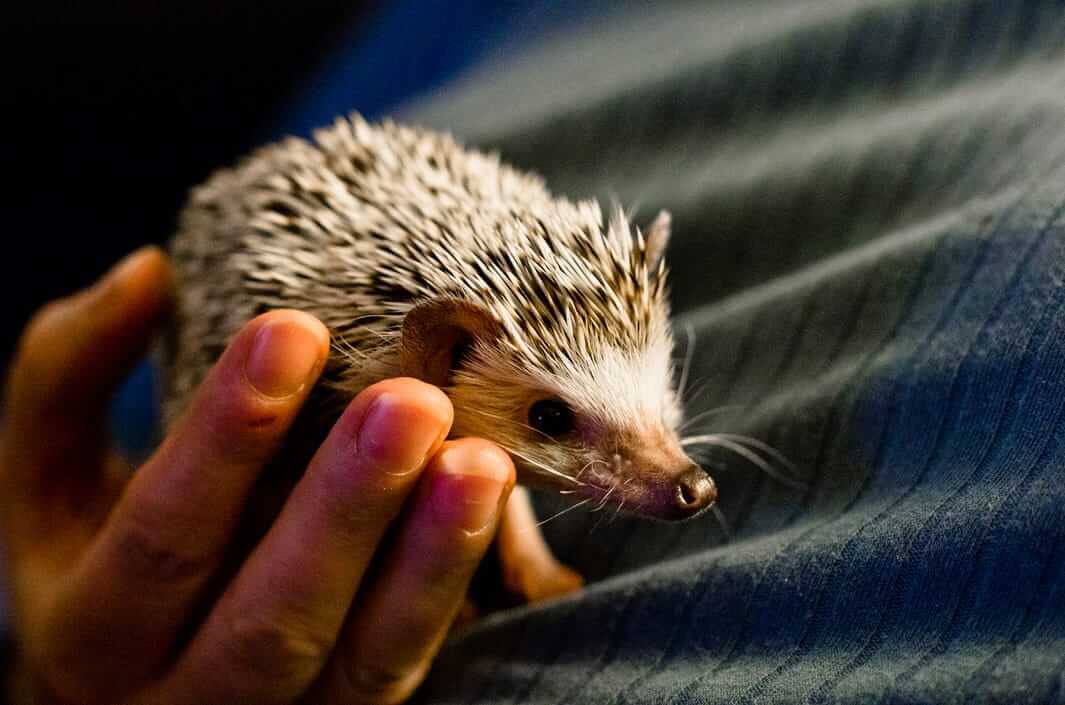 400+ Cute Hedgehog Names (For Males & Females)
by Poppy Wooster
October 30, 2020
82.0K views
1 share 0 1 0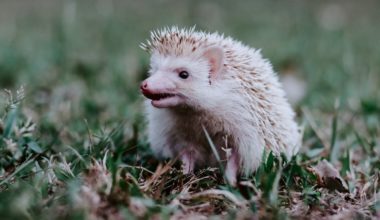 Hedgehog Self-Anointing: What Is It?
June 14, 2020
71.6K views
2 shares 1 1 0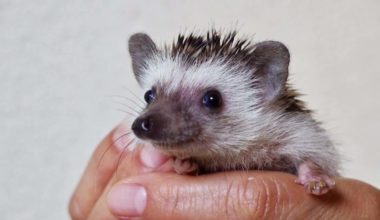 Hedgehog Litter Box Training: Doing It The Right Way
December 10, 2020
70.0K views