Your true Icelandic winter adventure awaits you. Book your tour here !

Ice Cave Tours
Glacier Snowmobile
Man Made Ice Tunnel & Glacier Snowmobile
Snowmobile on langjökull glacier.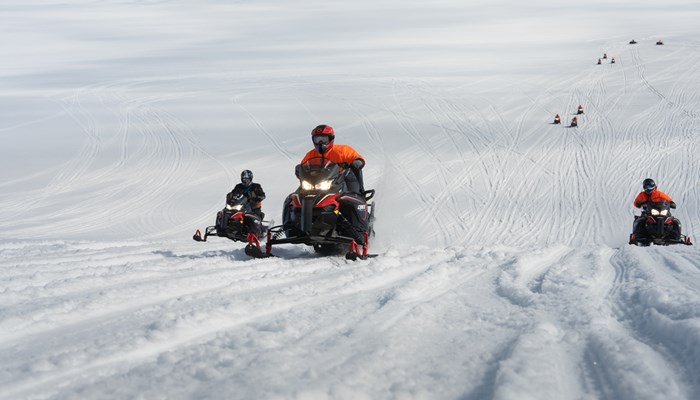 If you want to get to know Langjökull Glacier, then this is the perfect tour for you!
This single-day combination tour is perfect for anyone who wants to learn more about glaciers. It begins with an exhilarating snowmobile ride on Langjökull Glacier – an exciting way to explore one of nature's most impressive phenomena. Then, get ready to see the glacier from a totally different perspective as we travel through a man-made ice tunnel that traverses its icy heart. This tour is ideal for anyone who wants an action-packed adventure in Iceland!
Glacier Snowmobiling
Man Made Ice Tunnel
Local Guide
Necessary Snowmobile Equipment
Free WiFi on Board Your Bus
English Speaking Tour Guide
Coach Bus Transport
What to bring
Warm Outdoor Clothing
Weatherproof Top Layer
Tour Snapshot
Expert Guides
Small Group Experience
No Booking Fees
Fast & Secure Payment
Best Price Guarantee
Operated with our trusted partner
Please Select When Booking:
Meet us at Klaki basecamp
Meet us at Husafell
The meeting point is at the Húsafell center or Klaki base camp. When arriving from Reykjavik, please give yourself at least 2 hours to reach the meet-on location point. Check-in is 30 minutes before your tour starts. At Húsafell Center, you'll have a chance to grab something to eat and use the restroom, before we make the short drive to Langjökull Glacier, where our adrenaline-pumping snowmobile ride takes place.
The snowmobiling adventure is available to everyone and you don't need any previous snowmobiling experience to take part. Our certified guides will provide you with all the equipment that you need, demonstrate how to use the snowmobiles and deliver a quick safety briefing, making it ideal for beginners and experts alike.
As soon as we get onto Langjökull you'll be greeted by a seemingly never-ending expanse of white snow stretching far into the horizon. Glaciers are constantly on the move – creating an incredible landscape filled with deep moulins, beautiful ice falls and craggy crevasses. Your friendly guide will tell you more about the natural history of glaciers and how they've helped to make Iceland so unique. You'll also get a chance to take some incredible photos of the surrounding mountains and volcanoes, ensuring that the tour is truly memorable.
Then there is the snowmobiling itself – a liberating experience that will allow you to escape the chaos of the modern world and become one with nature. Enjoy the feeling of gliding across the pristine white snow and the adrenaline rush that you get from twisting in and out of this natural wonder. We'll spend around 20-25 minutes riding on the glacier and then head to the man-made ice cave that is hidden in its icy depths.
Please note
Two people ride each snowmobile. If you are on your own or wish to ride solo, you need to book this and pay for an upgrade. All snowmobile drivers need to bring a valid Driving License.
The price of the tour is for one person when sharing a two-person snowmobile. Please choose the solo ride option when booking in odd numbers. Also, if you want to ride alone on the snowmobile, select the "solo on a snowmobile" option.
You must book a solo snowmobile for 6.500 ISK extra for solo or an odd number of bookings.
If you wish to have a solo snowmobile but do not have a valid driver's license, then you can book an extra guide to operate your snowmobile for an additional 50.000 ISK. Don't hesitate to contact our sales desk for further information and booking.
Note: We cannot guarantee that the actual view during your visit will match the photographs since ice caves are a natural phenomenon that undergoes constant change. How they look may vary depending on the season, time of the day, lighting, and other factors.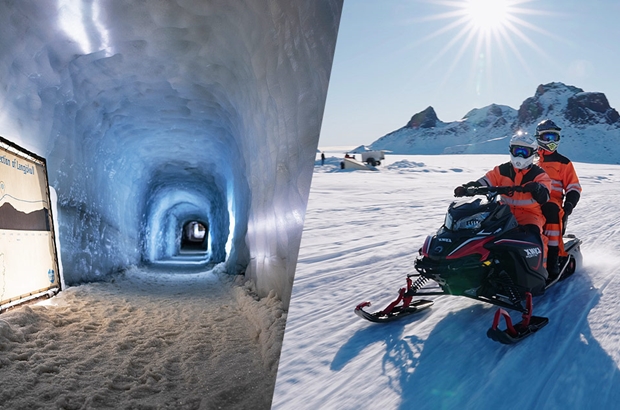 Can I drink alcohol before or during Arctic Adventures tours?
Before and during activities on the multi-day tours consumption of alcohol is prohibited. If we suspect that a participant is intoxicated, we will prohibit them from joining the activity.
After the activities of the day are finished, you are welcome to have a drink and relax.
Do you offer any family friendly tours, for younger children?
Yes, we do. Langjökull Ice Cave is a magical experience, the tour has no minimum age and is a wonderful option for the whole family. Whale Watching with our partner company Elding has been a favourite with families traveling with young children, these guys have a great success rate in seeing whales (upwards of 98% in the summertime).
Another option would be the Landmannalaugar Safari on this tour you get to explore parts of the Icelandic highlands and bathe in natural hot springs. Most of our super jeep tours  are also suitable for children over the age of 6 years old. If you would like a nice and relaxing experience we would also recommend the Golden Circle & Secret Lagoon tour .
Can the itinerary for the tour change?
Your safety is our number one priority! Keeping this in mind, Arctic Adventures reserves the right to adjust the itinerary and/or take different routes depending on conditions. Please read more information in our  cancellation policy .
Is there a guide on each Arctic Adventures tour?
Yes, there is a specially trained and certified guide on each of our tours. The only exception to this is for our   self-drive tours .
All of our tours are guided in English.
Can the guide advise if I am eligible for rescheduling the tour and/or a refund?
No, for all your questions and concerns you would need to contact our customer service.
What type of power outlets are used in Iceland? Do I need to bring an adapter?
The standard in Iceland is 230V and 50Hz and we use F-type power sockets and plugs, so you might have to bring an adaptor if you are visiting from UK, USA, Canada or other countries using a different voltage, Hz or plugs.
How are the tours rated in terms of difficulty?
Our tours are split into four different categories that help participants to understand what to expect from the tour. The categories are Easy, Moderate, Challenging and Demanding. Each tour is rated making it easier to find tours that suit you.
For further information about the   difficulty ratings   and descriptions.
How does carbon offsetting work?
We've partnered with the Kolviður Fund in a new carbon offsetting program, which passengers can select to participate in at the time of booking.
The Kolviður Fund   is the oldest, most respected carbon offsetting program in Iceland. With your support, one tree will be planted in special Kolviður forests in Iceland to carbon offset your tour with us.
Kolviður forests are strategically planted to absorb the maximum amount of CO2 and the forests are protected for a minimum of 60 years. During their lifetime the trees absorb carbon and store it in their root system, trunk, and branches. Trees also prevent soil erosion and maintain storage of carbon in the soil.
Similar tours that people also viewed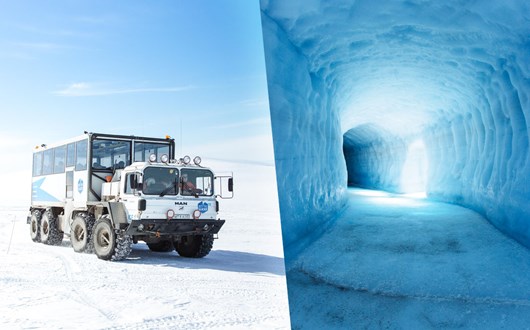 "Into the Glacier" Experience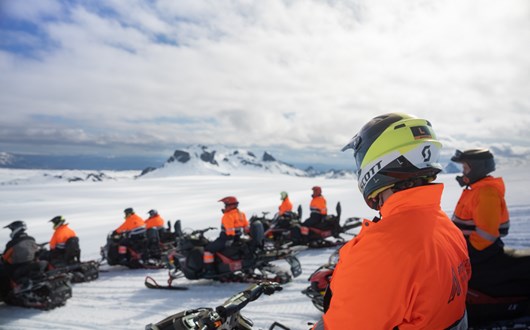 Glacier snowmobiling from Skjól or Reykjavik
Snowmobile & Ice Cave Tour In Iceland
Contact us for more information about this tour.
Arctic Adventures offers pick up service from selected Reykjavík pick up points. Note that you can always update your pick-up / drop-off location through our customer portal: https://my.adventures.is You can press the login button in your confirmation email for an easy login to the customer portal. If you experience an error with logging into the customer portal or can't find your booking, please contact us on Facebook Messenger, or send us a message here below. Chat with us on Facebook Messenger


Snowmobile Tours in Iceland
Get ready for a thrill! Snowmobile tours in Iceland are fun to get around and explore the impressive glaciers and scenery with a guide. We believe we have some of the best snowmobile tours in Iceland. Our snowmobiling tours are operated on the beautiful and famous South Coast of Iceland. Here you have plenty of breathtaking glaciers and several adventurous snowmobiling tours to choose from on Eyjafjallajökull and Highlands.
Snowmobile Tours
Eyjafjallajökull snowmobiling tour.
In perfect conditions, the jaw-dropping view includes the Westman Islands, the whole south coast all the way to Ingólfsfjall
from 29.990 / 41.990 ISK
Highland Snowmobiling on Eyjafjallajökull
This is not a follow-the-leader type trip; we'll take you on an adventure.
(1 Nov – 31. Mar)
from 160.990 ISK
Landmannalaugar Highland Snowmobiling
This 2 day tour is perfectly suited to both experienced riders and beginners
(1. nov – 15. jun)
from 259.990 ISK
Snowmobiling on Langjökull Glacier
We'll drive up towards Langjökull Glacier in a specialized Super-Jeep
from 29.500 ISK
Frequently Asked Questions
Payment policy.
Booking and payment of tours You can pay and book through the internet, through our website. This is by far the easiest, safest and fastest way to reserve and pay for your adventure.
You can also contact us via email at [email protected]
You can book and pay via phone, the phone number is +354 867 3535 Sometimes you can pay when you arrive, but this is only possible in special circumstances.
All our tours are available as Private Tours
You can make the most of your valuable time in Iceland by choosing the option of a customized private tour. If you are travelling independently, with your family, a group of friends or colleagues, private tours are designed to cater to your specific interests and time constraints.
The price for all private tours is an additional 60.000 ISK with a minimum of 3 persons.
Small group
If otherwise not stated, for most of our tours the max guide to client ratio is 1:14
Minimum number of passengers
There is a minimum of 2 people for most of our trips. We usually run the trips on the guaranteed departure dates. If you are interested in some trips and are travelling solo we can put you on a waiting list and contact you if more people book the trip.
Few of our tours have a minimum of 3 persons. The reason for this is the nature and logistics of the tour. We can put you on a waiting list and contact you if more people book the trip.
Currency exchange 
All prices are in ISK (Icelandic Krona) and all invoices are in ISK.
If requests are in any other billing currency, Southcoast Adventure reserves the right to add an exchange surcharge to the package price before the final payment has been made in case of any currency fluctuations. After the final payment has been made, no surcharges will be applicable.
All adventure trips are weather and condition depended and we reserve the right to change your itinerary or cancel your trip last minute with your safety in mind.
Cancellations & refunds
Day tours: Cancellations with  more than 48hrs  notice before departure of the trip will be refunded fully.
Cancellations with  less than 48hrs  notice before departure of the trip will not be refunded.
Multi-day tours: Cancellations with more than 42 days before departure leaves you with an 80% refund of multi-day tours. 20% is non-refundable, due to the fact that arrangements have already been made for you on the trip.
Cancellations less than 42 days before departure leave you with a 50% refund. 50% are non-refundable, due to the fact that arrangements have already been made for you on the trip.
Cancellations with less than 72 hrs notice are non-refundable.
In case of a no-show on any of our trips, refunds will not be made.
All cancellation fees held by Southcoast Adventure are only intended to cover our direct cost of canceling your tour.
All complaints must reach Southcoast Adventure within 5 days from completion of your tour. Otherwise, possible compensation is not valid.
Weather conditions In Iceland, all itineraries are designed to be flexible taking weather conditions into account. All adventure trips and outdoor activities are weather and condition dependent and we reserve the right to change your itinerary or cancel your trip with your safety in mind. At Southcoast Adventure your safety is our priority.
Please keep in mind that the weather changes fast on our northern island and with it, conditions change. Our guides are specially trained to deal with changing conditions and their number one priority is to make decisions with your safety in mind.
Please be aware of this and respect your guide's authority to do so. This is especially valid for winter travel in Iceland.
Assumed risk All adventures and glacier tours are undertaken on the responsibility of its participants. Southcoast Adventure does not assume any responsibility for accidents that are caused by its customers or can be traced to their own actions. All customers are to realize that all outdoor activities carry an inherent risk.
Appropriate footwear and suitable outdoor clothing must be worn.
We reserve the right to refuse participation to clients we believe are under the influence of alcohol or drugs, in such circumstances no refunds shall be given.
Our guides reserve the right to refuse participation to any customer whose conduct or manner is likely to cause offense, upset, or put other passengers in danger.
All adventure trips are undertaken on the responsibility of its participants. Southcoast Adventure does not assume any responsibility for accidents that are caused by its customers or can be traced to their own actions.
Personal belongings Passengers are responsible for the safety of their own belongings. We accept no responsibility for loss or damage to personal belongings or baggage.
Travel insurance
A few words about travel insurance As with any and all world travel, we strongly recommend that you buy a travel insurance policy in your home country that covers your cost should you have to cancel on short notice. This kind of travel insurance is not expensive and frequently covers other risks. In general, travel insurances are a good idea to have when you are on the move in the world.
The age limit for all our tours is 6 years old. If you have children under the age of 6 years old, please contact us and we can discuss which tours could be suitable for your child.
What is the age limit to go snowmobiling? To drive the snowmobile, you need a valid international car driver's license. For sitting at the back of the snowmobile, the age limit is 6 years old.
Pickup and Drop-off
If you need pickup and dropoff, please see the prices below:
Hvolsvöllur and Hella (all postcodes apart from 850, 851, 860, and 861): Pickup: 2.500 ISK per person Drop-off: 2.500 ISK per person
Pickups start 30 minutes before tour departure time.
Selfoss and Vík Postcodes 800, 801, 870, and 871: Pickup : 5.000 ISK per person Drop-Off: 5.000 ISK per person
Selfoss and Vík Hotel pickups start at 09:00, for 10:00 departure.
Reykjavík and surroundings Pickup: 10.000 ISK per person Drop-Off: 10.000 ISK per person
Reykjavík Hotel pickups start at 08:00, for 10:00 departure. 
Brú base and other meeting points
***Please note! Your trip may have a different meeting point. See your meeting point under "Departure" on the specified trip***.
Our main meeting point is:
Brú Base Road 249 ( 3 km past Seljalandsfoss ) Tel:   +354 867 3535 Email:   [email protected]
Special meeting points:
Private glacier hike & Private Ice climbing: Sólheimajökull, road 221
Katla Ice Cave: Vík   (outside of the building at the corner of Ice Cave Bisto Cafe)
Landmannalaugar: Bus Stop Hella
Please contact us for customized pickups and departures.
Difficulty Ratings
Easy, moderate, challenging … What does this really mean? Below you can read the definitions we use for our ratings. We hope this will help you get an idea of the trip difficulty to make sure you choose a trip that suits you best.
Easy Suitable for most people in fair condition. You have to be able to walk on uneven surfaces and hike for at least 2 – 3 hours at a slow pace, with breaks. Trails are generally of good quality and glaciers travel at a relatively low angle.
Moderate Suitable for those in good condition who are able to walk for about 4 hours at a low or moderate pace. Trails are generally of good quality and glaciers travel at a relatively low angle.
Challenging For someone in good hiking condition and with experience of hiking. Trails are generally in fair conditions but some parts of the tour might be off track. Glacier/snow travel can be on uneven ground with challenging sections. Increased distance. We recommend guests have the ability to cover 12 km a day on rugged trails and snow.
Demanding Only a few of our trips are defined as Demanding. Hence most of our tours are rated Easy, moderate, or challenging.
Demanding tours are for someone in very good hiking and physical condition. Trails are generally in fair conditions but large sections of the tour might be off track. Glacier/snow travel on uneven ground with some challenging sections. Increased distance. We recommend guests have the ability to cover 20 km a day on uneven trails and snow. A significant increase in elevation and some technical difficulty should be expected.
Equipment list
Equipment needed can vary greatly from season to season as well as the length of your tour. The following list can be used as a guideline for our trekking, hiking, and longer Snowmobile tours in Iceland.
Try to pack as lightly as possible and take only essentials. Excess baggage can be a burden to you and to our support crew. Keep in mind that there are limits on how much your duffel bag can weigh because the weight restrictions on international and domestic flights are usually around 20 kg.
Luggage for Multiday tours and longer journeys with assistance vehicle An extra bag clearly marked with your name can be kept at your Reykjavik accommodation. Large duffel bag (60/80 liters) sturdy and water-resistant, not exceeding 15 kg Daypack (30 to 50 liters)
Clothing You will need to bring comfortable and adequate clothing to protect you from the cold and wet weather. Wool, synthetics, and wool/synthetic blends are good. We discourage the use of cotton, as this does not insulate against cold or wet conditions. When camping, tents are provided. You will be responsible for bringing your mattress and sleeping bag.
When layering, the innermost layer should be long underwear. The middle layer can be a synthetic turtleneck or wool shirt, and pants. The outermost layer should be a synthetic jacket, and/or a good quality Gore-Tex wind/rain parka and over-pants.
For quantities for each item listed, use your own judgment, based on the expected weather conditions and overall packing/weight restrictions for your luggage.
Regular underwear. Synthetics are easier to wash and dry
Synthetic or wool thermal underwear
Long-sleeved, synthetic, or wool shirt
Short-sleeved synthetic or cotton/synthetic T-shirts
Medium-weight synthetic fleece sweater or jacket
Full-length pants, quick-drying synthetic fabric
Down jacket from mid-August to September (optional)
Hiking shorts, quick-drying synthetic fabric
Pile/fleece pants, ideal for around the camp
Sun & rain hat
Gloves (wool or pile)
Waterproofed shell gloves
Medium-weight synthetic socks
Gore-Tex rain/wind parka
Gore-Tex rain/wind pants
Hiking boots, medium-weight, all leather, with padded ankle, good arch support, and a lug sole traction. – —Your hiking boots should be waterproof, well broken in, and suitable for rocky terrain or possibly snow.
Comfortable shoes to wear when not hiking.
Teva-type sandals and/or neoprene socks/shoes for river crossing. Absolutely recommended!
Gaiters. Highly recommended!
Travel Accessories
Comfortable sleeping bag +10°C to –10°C
Sleeping mattress (recommended)
Pillow if you can't sleep without it (optional)
1-to-2 liters capacity unbreakable water bottle or thermos
Headlamp or small flashlight with spare batteries (daylight getting shorter around August)
Toiletry kit—soap, toothbrush, etc.
Spare pair of prescription glasses, prescription sunglasses, or contact lenses (but not only lenses)
Sunscreen and lip protection (The sun in Iceland is much more intense than you probably imagine)
Personal first aid kit
Optional Travel Accessories
Hiking poles. Highly recommended
Repair kit with needle, thread, and safety pins
Your favorite snack food such as raisins or chocolate
Protein supplements for vegetarian 1 or 2 good bottles of wine or a bottle of something stronger
Additional gear for backpacking tours
1 set of eating utensils with a bowl
Pocketknife – multi-tool
Thermo bottle 0.75L – 1L
Participants responsibility
All adventures and glacier tours are undertaken on the responsibility of the participants. Southcoast Adventure does not assume any responsibility for accidents that are caused by its customers or can be traced to their own actions. All customers are to realize that all outdoor activities carry an inherent risk.
Southcoast Adventure cannot be held responsible for any loss or damage to personal property that participants choose to bring with them while participating in activities.
Fantastic experience
"We had an amazing experience on this tour. Our driver (Elias) was knowledgeable and had the perfect balance of sharing information but also giving us time to reflect and enjoy the breathtaking landscape of Iceland. Highly recommend this company, tour, and driver!"
Review of: Landmannalaugar Super Jeep tour
Written in Aug 2022
"Perfect day in Thorsmork, thanks to Petra our guide for the great experience! Impressive river crossing, impressive views and wonderful lunch after hiking!."
Review of: Þórsmörk Super Jeep tour Written in July 2022
Glacier hike with Alberto Marini
"We had a private guided glacier walk for 3 active senior friends with Alberto Marini who is an Italian-born mountain/rock climber. Though cautious by nature, I felt completely comfortable with Alberto who apparently trained many of the other guides we encountered. He was knowledgeable about glaciers and the natural history of Iceland-verified by my geologist husband. Definitely worth doing especially if with Alberto."
Review of: Private Ice climbin tour Written in July 2022
Snowmobiling gone wild on a glacier
"We had a private tour with 2 couples to do snowmobiling on a glacier. Magnus was a very skilled ATV driver taking us on an adventurous 1hour drive to get to the glacier to meet snowmobiles. We enjoyed the vantage point even on a cloudy windy day to ride around to see the surrounding volcanoes. Quite a fun 3 hour tour."
Review of: Snowmobiling on Eyjafjallajökull Written in July 2022
Private Tour to Glacier Lagoon and Diamond Beach
" We took a private tour from Hotel Ranga out to Glacier Lagoon and Diamond Beach. We rented a car but decided it was too far to drive on our own there and back in one day so we booked a tour with Southcoast.
Our driver, Stefan, was fantastic! It was a 10-hour journey (including a stop for lunch) so it was nice to have a guide that was a great conversationalist and very knowledgeable about Iceland. He answered all of our questions about Iceland and stopped at a few places we never would have found on our own.
We had a gorgeous day and the pictures we got on Diamond Beach were out of this world. Would highly recommend this company and this guide, especially if you're interested in a private tour. "
Review of: Jökulsárlón Glacier lagoon private tour Written in February 2022
(+354) 867-3535
Brú Camp Base at road 249
Email Address
Tours About Us FAQ Contact Us Location
Ormsvellir 23 860 Hvolsvöllur Iceland
[email protected] +354 867 3535
SSN 691111-1720
Privacy Overview
+354 867 3535
Meeting point
Experience true Nordic winter with these Iceland  and  Canada  tours!
Snowmobile Tours in Iceland
Glacier snowmobiling - from reykjavik or meet us on location.
Snowmobiling Tours
Popular Tours
Meet on location Tours
About snowmobiling in Iceland
One of the most popular activities in Iceland: Glacier Snowmobiling. We offer tours with pickup in Reykjavik, and meet-on-location tours for those who have a car. Don't miss out on this glacier adventure during your stay in Iceland.
Most popular snowmobiling tours in Iceland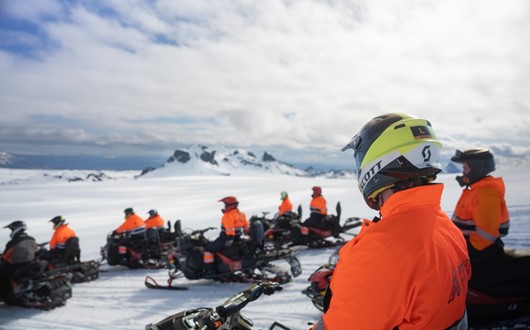 Glacier Snowmobiling from Skjól or Reykjavik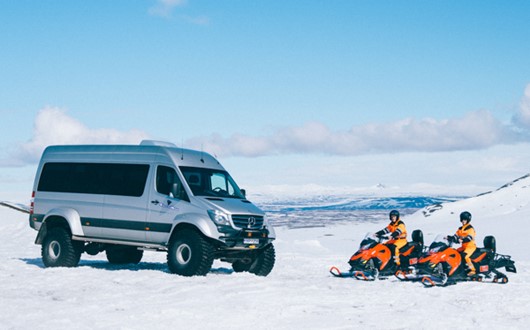 Golden Circle Tour With Super Truck And Snowmobile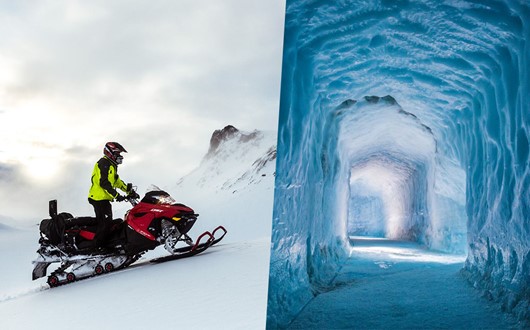 Snowmobiling & Man-Made Ice Tunnel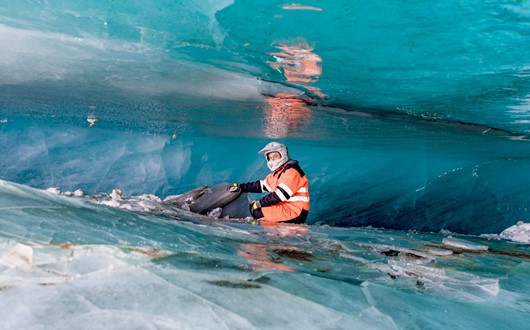 Snowmobile & Ice Cave Tour from Reykjavik or Skjól
Meet on location snowmobiling tours.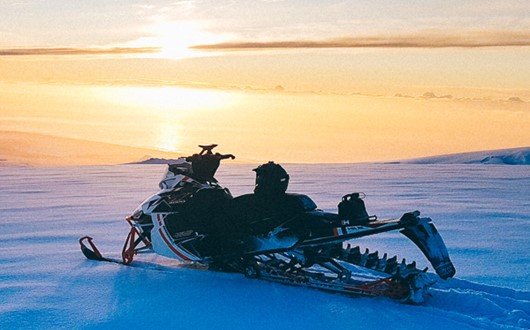 Snowmobile on Eyjafjallajokull Volcano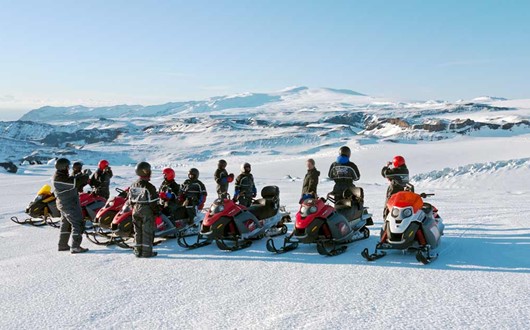 Snowmobiling Tour on Myrdalsjokull Glacier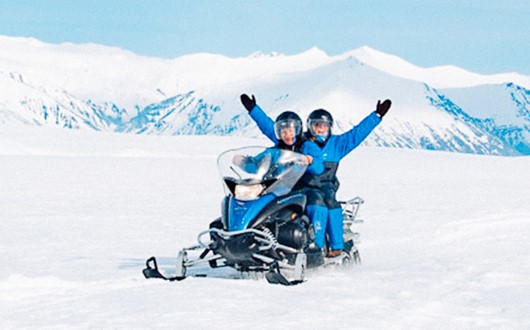 Snowmobile Tour in Iceland on Vatnajökull Glacier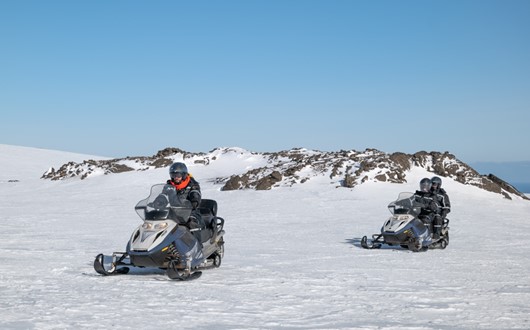 Mývatn Snowmobile Tour
A guide to snowmobiling in iceland.
Iceland's immense natural beauty and wintry wilderness are unparalleled and absolutely magical. It is the ultimate travel destination for   adventurous souls ! These captivating landscapes along with the rugged and varied terrains offer unlimited options for   exciting outdoor activities .
Snowmobiling is the best way to connect with Iceland's innermost arctic soul. Gliding through the   endless snowfields   with a roaring engine between your legs could easily be one of the   most amazing adventures   you have ever had!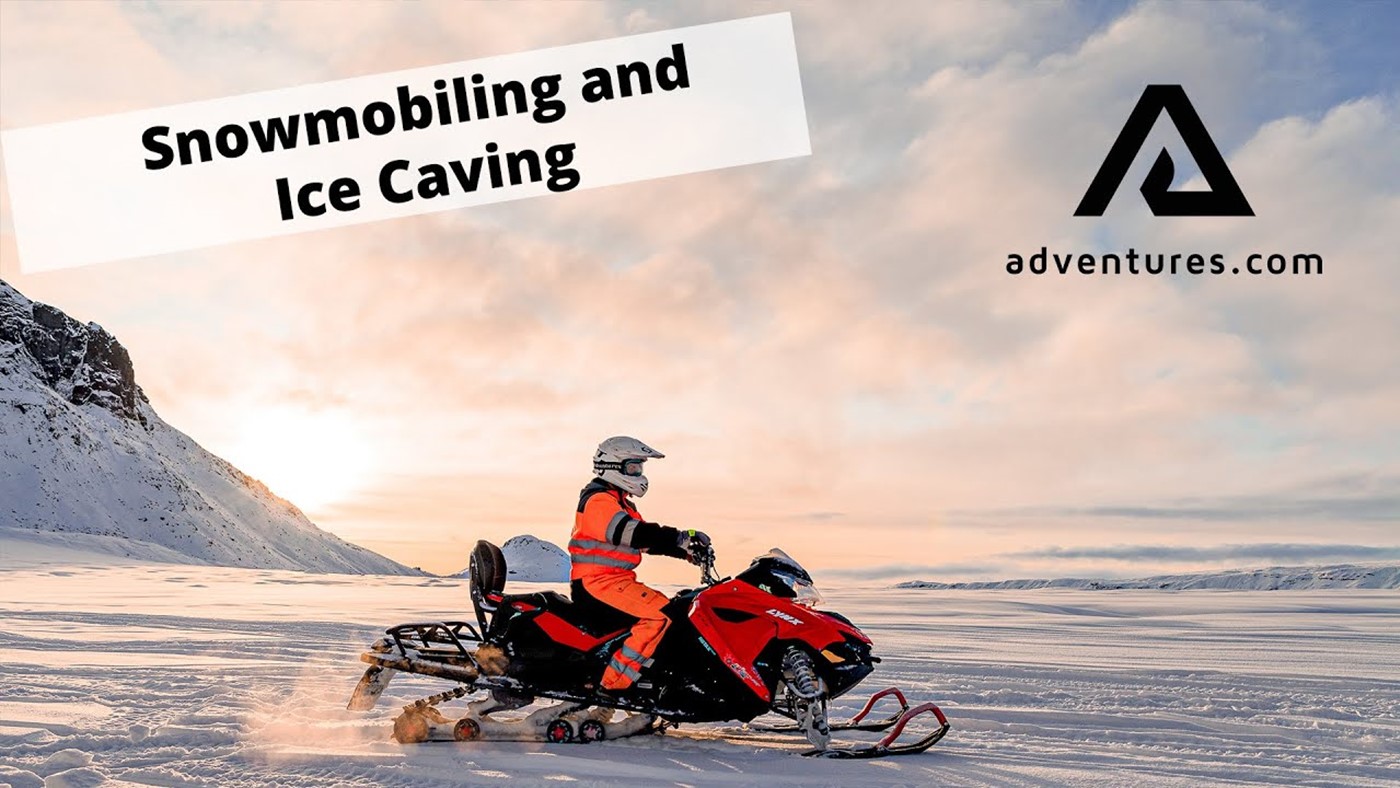 Why is Iceland the Best Place to Go Snowmobiling?
Iceland is among the very few places in the world where you can experience the thrill of   snowmobiling on the surface of a glacier . Moreover, you can do this   on top of active volcanoes , as most of them are covered by glacial ice. Imagine the feeling of speeding over a glacial   ice sheet that is hundreds of meters thick   hiding a rumbling   volcano beneath   its surface! This is something you can   only experience in Iceland !
Thanks to the abundance of glaciers,   snowmobiling is available year-round in Iceland . It is equally awesome during summer and winter. What adds even more to the fun is that the most popular snowmobiling area on Iceland's second-largest glacier, Lagjökull, is located a mere   two-hour drive from the capital .
Moreover, it also lies close to the most beloved tourist attractions. This ultimate snowmobile base camp is found a half an hour from the   majestic Gullfoss Waterfall , the superstar of the famous   Golden Circle Route .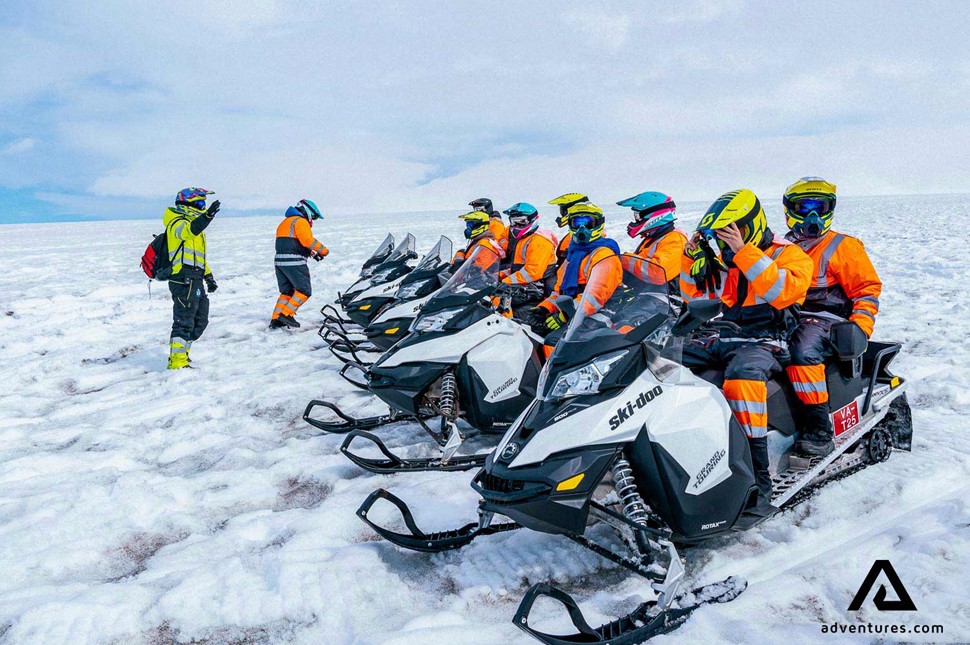 What is a Snowmobile?
This may not be so obvious for everyone. If you are from a country that rarely has snow and does not have snow-capped mountains, you may have never heard of these vehicles.
Snowmobiles - also known as motor sleds, motor sledges, or snow machines - are defined as   all-terrain vehicles   (ATVs). They are specially   designed for traveling on ice and snow . Instead of wheels, they have rubber tracks and are steered with skis. The machines are powered by four-stroke engines and can reach up to 150 km/h (93 mph). The normal - and safe - maximum speed on to reach on a glacier is 70 km/h (43 mph). Believe us, that is more than enough.
Riding a snowmobile feels similar to riding a quad bike (four-wheeler) or motorcycle on snow, but is even more fun! It is no wonder why people who live in snowy areas are so obsessed with these beautiful beasts. Snowmobiling is an   amazingly popular hobby   and recreational sport in northern countries!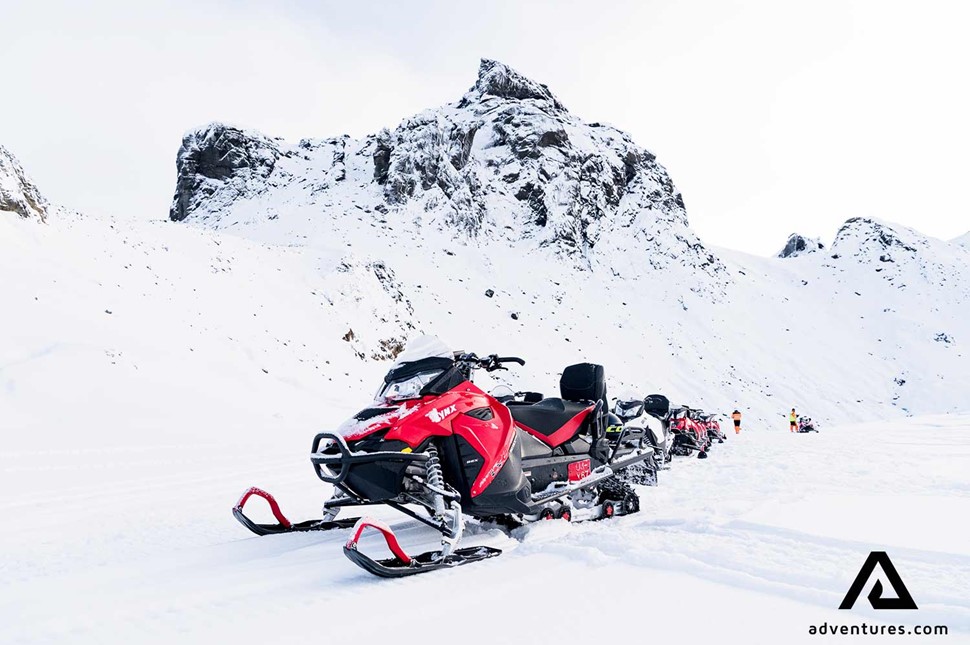 The Snowmobile Culture of Iceland
Iceland is one of the many countries where snowmobiles are an important part of people's lives. We have long winters, wide frozen plateaus, and a great number of glaciers that cover an amazing 11 percent of the total land area.
Many locals own snowmobiles   and use them for recreational purposes. They even have their own slang! Snowmobilers call each other   sledheads   and refer to their vehicles as   snow scooters , while snowmobiling is often shortened to ' biling . When winter comes, these crazy sledders bite their nails while they wait for the snow to be deep enough for a ride!
Snowmobiles also play a   major role in the work of the search and rescue teams . Iceland has more than a hundred rescue teams all over the country with thousands of volunteers. The ground units own a number of snowmobiles that   save many lives   and help to resolve innumerable dangerous situations.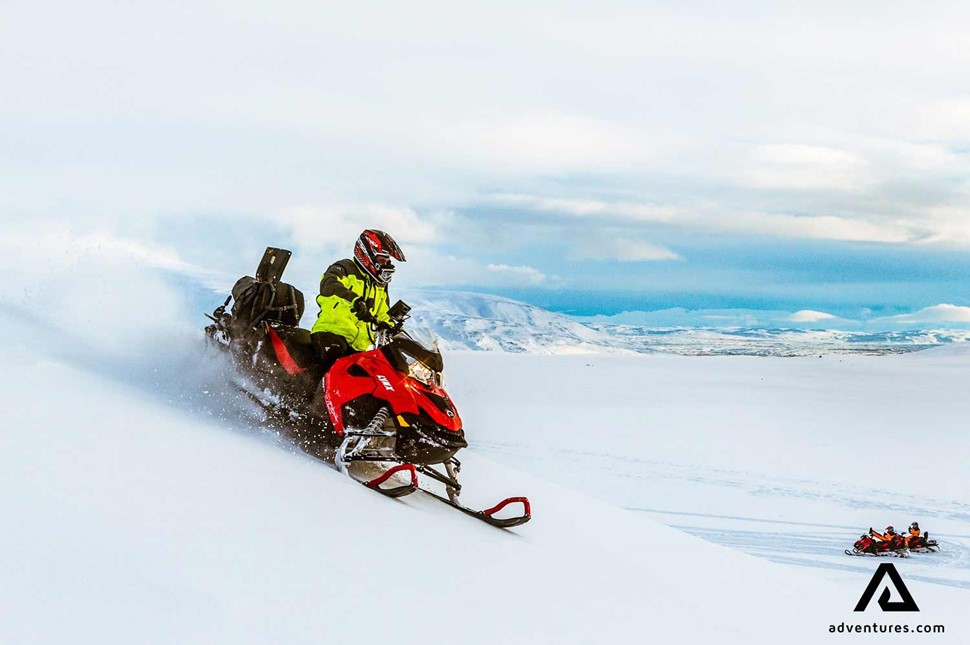 Which Snowmobile Tour is right for me?
With its year-round snowy slopes and expansive wildlands, Iceland is an ideal destination for adrenaline hunters. For the ultimate thrill, hop on a snowmobile atop some of the biggest glaciers in Europe! Zooming along at lightning speed in a sea of smooth-white snow is an unforgettable experience. There's nowhere better to appreciate Iceland's uninterrupted natural beauty and stillness than from the top of our Arctic snowmobiles, which can reach speeds of up to 70km per hour.
Our snowmobile guides are some of the most qualified adventurers in the country with years of experience leading groups on the slopes. Each of our tours is handcrafted to ensure that our guests stay safe and informed while having loads of fun! Whether you're a real pro or a newbie testing out your metaphorical snow legs, we've got your back. The best part is that you don't need to have any experience whatsoever to enjoy yourself on our snowmobiling trips. So don your gear and let's hit the slopes!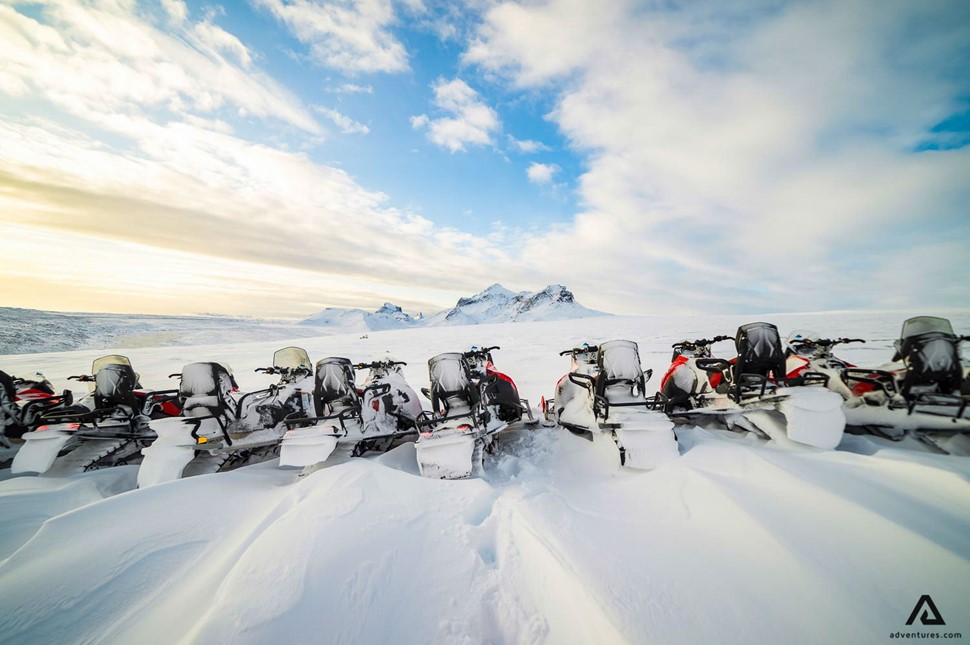 First, pick your glacier
Vatnajokull is the largest glacier in Europe, covering about 8% of Iceland's entire landmass! With 8,100 sq km (3,127 sq mi) and over 30 smaller outlet glaciers, that's a large playground! As the main landmark of Vatnajökull National Park, the wild landscapes of towering mountains and snow-smothered plains are an unparalleled experience.
In the park, you can also hike on a glacier, check out the glacier lagoon, investigate an ice cave, or trek out on hiking paths. Vatnajökull also harbors the highest peak in Iceland, Hvannadalshnúkur . It stands 2,110 m (7,000 ft) tall. Because of its distance from Reykjavik (approx. 260 km), we ask that you meet us on location in Vatnajokull National Park.
Snowmobile on Vatnajokull
Langjokull. At a massive 953 sq km (368 sq mi) length and 500 meters height at some points, Langjokull is Iceland's second largest glacier and the base for most of our snowmobile tours.
We recommend combining your ride with a magical visit to an ice cave within the glacier. Witness the majesty of sparkling blue ice up close and capture some breathtaking photos. Take note, the ice cave part of the tour is only available from November until June.
Our Langjokull tours are from Reykjavik, Gullfoss, or the Langjokull basecamp. Situated in West Iceland, they're easily combinable with a Golden Circle tour to Thingvellir National Park and beyond.
Glacier Snowmobiling from Gullfoss or Reykjavik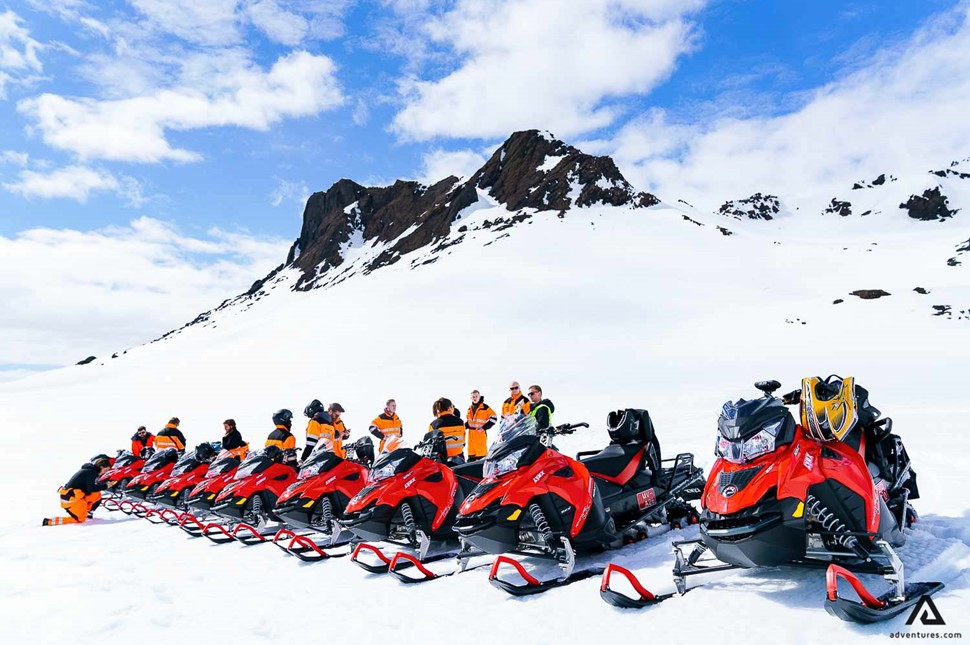 Eyjafjallajokull. After earning world recognition in 2010 following its massive eruption, Eyjafjallajokull became a hotspot for adventure seekers. This gigantic ice cap is perfect for rides across glacier tongues in breathtaking natural beauty.
As soon as we approach the glacier, you'll be struck by its magnitude--a pristine stretch of snow dotted with rock formations and ice sculptures. As we push deeper into the icy wilderness, be prepared for some incredible views of South Iceland's lowlands and the deep-blue Atlantic Ocean.
Eyjafjallajokull Glacier Snowmobiling
How much time do you have?
The average snowmobile tour takes anywhere from 2-5 hours, depending on whether we pick you up in Reykjavik or you're able to meet us at the base camp. If you're combining it with one of our other fantastic attractions, we offer tours that range from 4 hours to a jam-packed 16-hour thrill ride.
If extreme adventures are your thing
If extreme adventures are your thing, combine your snowmobiling day with a natural ice cave tour or glacier hike.
Glacier Snowmobile Ice Cave Tour on Langjokull
If you'd like to see the highlights of Iceland
If you'd like to see the highlights of Iceland, combine it with a sightseeing adventure on the Golden Circle or the Northern Lights.
Golden Circle, Snowmobiling and Northern Lights on Langjokull
Snowmobile on Langjokull & Secret Lagoon
Solo Adventurers
Typically, two passengers will share one snowmobile. If you're traveling solo, with an odd number of people, or simply want to operate your snowmobile solo, you must book a solo snowmobile tour at an added cost.
If you don't have a valid driver's license, you can book an additional guide to operate your snowmobile. Please contact us for further information and booking.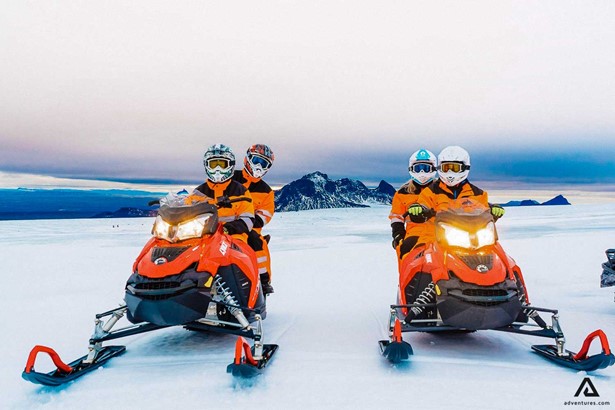 Why Iceland is Perfect for Snowmobile Trips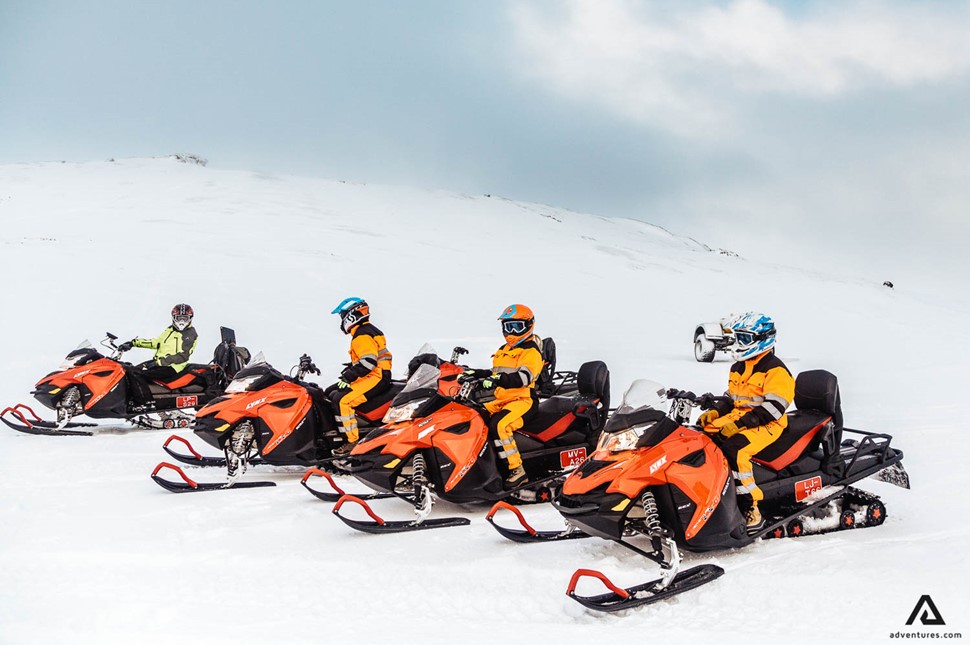 When is the Best Season for a Snowmobile Tour
Our snowmobile tours operate all year round. In the summer, temperatures are milder and days are longer, especially in June when the midnight sun gives us more time to explore. In the winter, you can combine a snowmobile afternoon with a hunt for the Northern Lights. There's nothing quite like admiring the dancing colors of the Northern Lights above the vast emptiness of a winter wonderland. Find some more winter tours for your Arctic adventures here .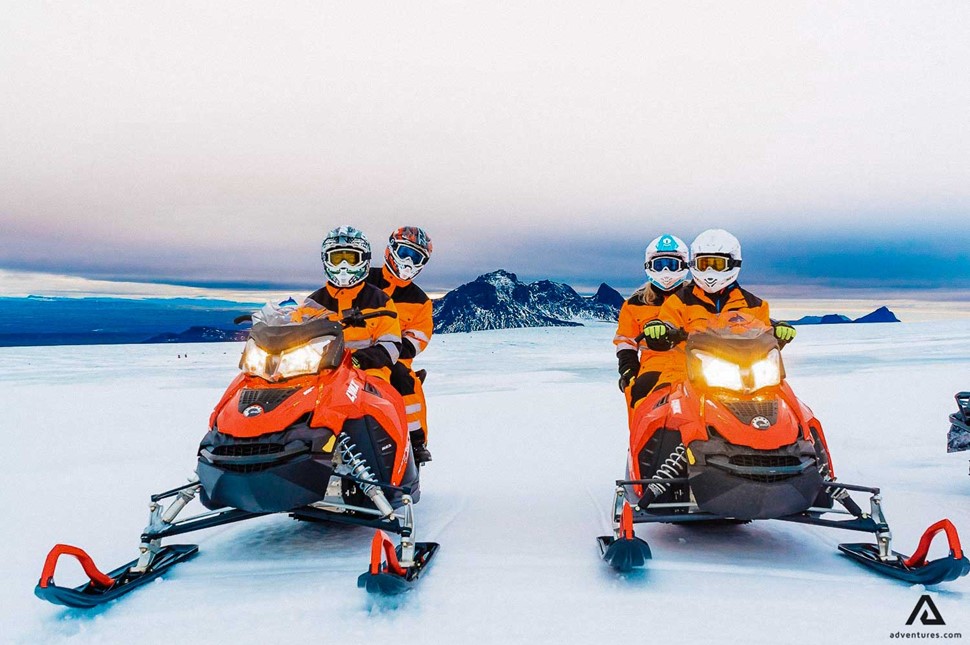 What to Expect on a Snowmobiling Tour
There are two different ways to get to Langjökull and Vatnajökull base camps. We can pick you up from Reykjavik, or you can meet up on location at the Gullfoss Cafe, behind the Gullfoss Waterfall, or at the basecamp itself.
For most tours, we'll drive a minibus. To get to Langjökull basecamp, we'll need to hop aboard a massive Super Jeep. Our Super Jeeps have been outfitted with tough engines and huge 4x4 wheels to access the highlands in West Iceland.
Once we arrive at our glacier basecamp, you'll be outfitted with all the necessary gear and a top-notch vehicle. Your guide will run you through the safety instructions.
While guests of all levels of experience are welcome, we just ask that you have a valid driver's license and are over 18 years old. Remember to stay alert, sober, and be responsible for your own actions. When riding on the slopes, follow the rules given to you before departure. They exist to keep everyone safe and having fun. The most important rule to remember is to drive behind your guide in a single line.
At last, it's time for your awesome snowmobile ride! We'll ride out for an hour tour on the middle of the glacier, on pure and untouched slopes. As snowmobiles in Iceland can go up to 70km per hour--more powerful than most standard issues--drive with caution. Don't pull the throttle too hard or you'll end up running aground in a snowfield.
It's an exhilarating experience like no other--and yes, it can be a bit daunting if you're not used to it, but don't worry. Our guides will take care of you and give you all the required gear to instill the confidence to master the glacier.
After an hour driving through the white slopes, we'll return to basecamp and heat up with some tasty hot drinks and cookies. Once we've rested a bit, we'll climb aboard the Super Jeep and head back to the starting point.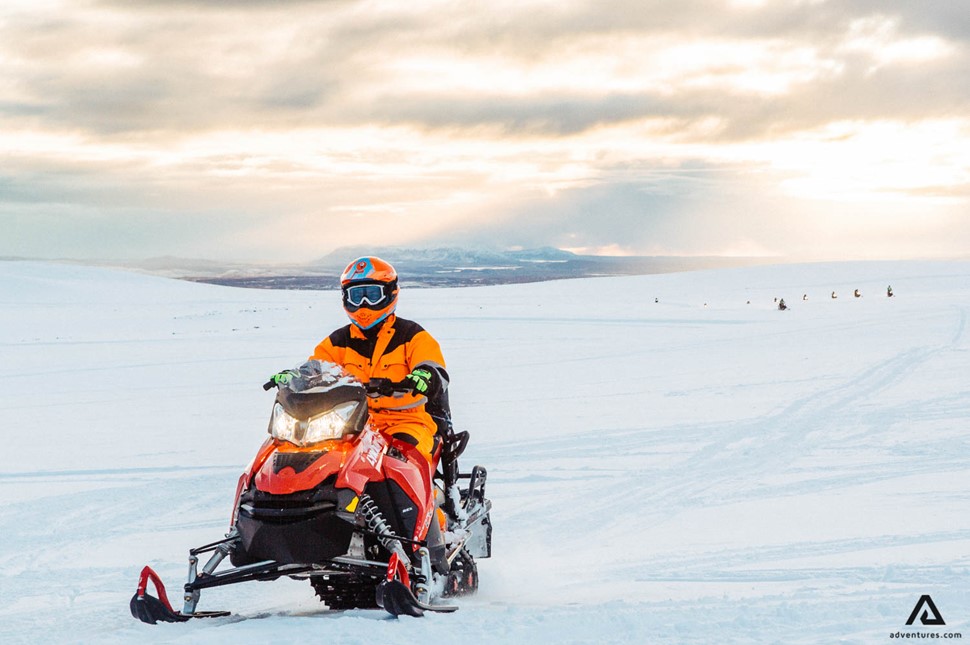 Safety Precautions
At the basecamp, we'll provide all the safety equipment: overall suits, gloves, helmets, and glasses. Overalls are usually polyester onesies.
Dress warmly, in comfortable but flexible layers, and be sure to wear sturdy hiking shoes. If you've forgotten your hiking boots at home, we can provide overshoes.
We highly recommend that you use our special snowmobile gloves even if you've brought your own. All of our snowmobiles have an interior heating system for the handles so your hands aren't at any risk of freezing.
Don't forget your lunch and your camera! Just be aware to only take photos when off your snowmobile.
All of our snowmobiling tours are available for everyone above 8 years old. Children can be passengers while only adults over 18 years old with a valid driving license are allowed to drive.
Still got questions about snowmobiling? Find the answer here!
Do I have to have snowmobiling experience to participate?
You do not need a previous snowmobile driving experience. Your guide will provide you with operating instructions that you can easily follow. However, you must have a valid driving license if you intend to drive the snowmobile.
Is snowmobiling tour optional all year around?
Yes, Iceland is a cold country so our glaciers are here all year around and we can go snowmobiling in every season.
Do you have weight restrictions for the snowmobiling tours?
We do not have weight restriction but participants need to be able to fit in our winter overalls. The largest size we have is 5XL. Same goes for the physical level, the tour is listed as a moderate level and therefore anyone in average physical condition should be able to complete the tour without trouble.
Are there toilet facilities at the base camp?
Yes, we have toilet facilities at the base camp on Langjokull glacier, where the tour starts. However, bathroom breaks are not optional during the tour itself, therefore, we recommend you to use the bathroom before and/or after the tour.
What equipment is provided for the snowmobiling tour?
We will provide you with an overall, a balaclava, goggles, gloves and a helmet.  
What is good to bring with you on a snowmobiling tour?
First and foremost warm clothing. Upper body: Thermal shirt and a fleece or a thick sweater over. Lower body: Warm pants. If you get easily cold, also thermals.
Shoes: It's best to wear boots as it's pretty cold on the glacier and they can get wet. NOTE: You need to bring a lunch or some snacks. Lunch is not included in the tour.
I am a solo traveler, do I need to pay for the single ride supplement?
Yes, if traveling solo you will need to purchase the single ride extra fee. 
What is the age limit to go on snowmobiling?
The age limit is 8 years old, of course in company with a guardian.
Am I allowed to participate in snowmobile tour if I am pregnant?
We do not recommend women who are pregnant to participate in our snowmobile tours. If you are traveling in a group, you are welcome to travel with them and stay at our basecamp while the group goes on the snowmobile part of the tour.
Can I ride a snowmobile if I only have motorcycle license?
No, full drivers license is required to ride a snowmobile.
What clothing is provided for the snowmobile ride on Langjokull glacier?
We provide you with an overall, a balaclava, goggles, gloves and a helmet. This Equipment is all included in the price of the tour.
Get exclusive deals and a taste of Iceland, Canada, Scandinavia & Baltic States straight to your inbox

Glacier Snowmobiling Tour
Tour highlights.
Snowmobile Adventure
Specialised Super-Jeep pickup!
Þórisjökull
Experience the untouched glacial nature
Live tour guide
Tour Details
Availability : Every day All Year Round!
Duration : 9-10 hours
Remember to bring : Warm outdoor clothing. Good hiking shoes are also highly recommended. Warm socks & Packed lunch
Included : You will be suited all necessary safety and snowmobile equipment. Snowmobile suit, gloves, balaclava and helmet for your ride.
How many tickets do I need? : You will need as many tickets as there are participants
Tour description
If you like adventure, exploring and having fun then this is the tour for you. The tour starts right here in central Reykjavik where you can be picked up in a specialised Super-Jeep. The pickup locations are widespread around the central area so only a few minutes walk from most hotels in Reykjavik. From there you start towards the glacier, around a 90 minute drive to the North-East. The drive is its own experience with the beautiful landscape surrounding you from the get go. You drive past mountains, lakes and even another glacier, Þórisjökull before finally reaching the second largest glacier in Iceland, Langjökull. When you arrive at the base-camp you will get suited up for your exhilarating tour. All you need will be available at the base camp, all necessary safety and snowmobile equipment, including snowmobile suit, gloves, balaclava and helmet. A guide will then show you the ropes, get you all set for the trip before safely mounting the snowmobiles before your one-hour excursion starts for real! It really is a once in a lifetime tour that no one should miss.
WHY YOU WILL LOVE THIS TOUR 🧡!
Are you looking for an adventure, something other than looking at the classic sights? Then this is a perfect tour. We're not making this complicated, not a bundle tour like some of the other snowmobiling tours we offer, but a pure SNOWMOBILE ADVENTURE!
You get picked up right from central Reykjavik, a few minute walk from most hotels in Reykjavik. The driver will take you in a Super-Jeep up to the Base Camp at Skjól where you can start your unforgettable experience.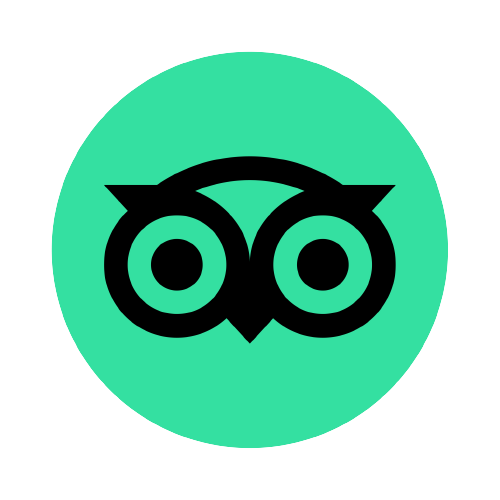 We treated ourselves to a private tour, and we were lucky to get perfect weather (between 2 storms). Had an amazing time with a great guide (Arne), went right across the glacier, in perfect sunshine, blue skies and no wind. Super friendly and helpful, with lots of information about Iceland, culture, lifestyle and weather ! Saw all the sights, with all the time that we wanted. Highly recommended, both the company and Arne as a guide ! And the cauliflower soup was delicious !
Amazing experience from start to finish with our tour guide Arni. All equipment provided and clean - first class. Best day tour we have had in Iceland , would highly recommend. Tour guides also took great pictures for us and made the trip so much fun!
The snowmobile adventure on Langjokull Glacier was well worth the money. Our super jeep driver, Gunnar, was incredible, he made sure we got the trip we paid for despite the weather not being the best. He went out of his way to ensure we had a memorable experience he customized our itinerary on the fly to show the beauty of the country. We can not say enough good things about Gunnar he is a wealth of knowledge and has a passion for his job. We recommend bringing good rain gear and hiking boots. We had two days of rain but we were still able to enjoy ourselves due to the fact we had good clothing and footwear. The weather can not be controlled by your guide but in our case Gunnar made a point to give us the best trip despite the weather. We would take another adventure with Amazing tours and Gunnar in a heartbeat. Our adventure was a good value for the price. Trust me you will not be disappointed.
Frequently Asked Questions
Is your question not listed above?
Book your tour
Price: 41,000 ISK
Best Price Guarantee
Small Group Experience
Flexible Cancellation
Check availability
More tours we think you'd love
Klapparstígur 25, 101 Reykjavík
[email protected]
+354 45 40 222
Our Awesome Blog
Privacy Policy
Most popular
Reykjavík Food Tour
Northern Lights Tour
South Coast Adventure Tour
Golden Circle and Hot Springs
Golden Circle and Snowmobiling Tour
We're socially active
Thanks for visiting nordicvisitor.com! For the very best browsing experience on our website, we urge you to upgrade to the most recent version of your browser . Some of our site features may not function properly on older versions.
Travel Update
Search Suggested Results View All Results
EUR (€)
GBP (£)
Self-Drive i
Privately Guided i
Guided Small Groups i
Northern Lights i
Honeymoon & Romance i
Ice & Snow Hotels i
All Travel Styles
Show all tours
Best Sellers
Special Offers
Scandinavia
NEW! United Kingdom
NEW! Switzerland
Book With Confidence i
Why book with us i
Booking Terms i
Sustainability Policy i
Privacy policy
Iceland Bíldshöfði 20 110 Reykjavík +354 578 20 80 View Map
Sweden Scotland View Details
Snowmobiling in Iceland: Your Complete Guide
If you're looking for a trip packed with adventure and exciting activities, Iceland is the place to go. In just a few days you could explore glacier caves, tour lava tunnels, ride ATVs on black sand beaches, and snorkel in a tectonic rift.
There's another exhilarating activity that you'll love if you're a thrill-seeker: snowmobiling in Iceland.
Imagine carving your way over the snow atop a glacier or frozen lake, gazing out at mountains and volcanic peaks as you go. This is what makes Iceland snowmobile tours so special.
But first, you probably want to know more about what it's like snowmobiling in the Land of Fire and Ice. That's why we've answered these frequently asked questions about it in this complete guide. You'll also disover where to find the best snowmobile tours in Iceland.
Read on for all the answers you need to plan your active break.
Add an Iceland snowmobiling tour to one of these top Iceland vacation packages to start your adventure
Where can you snowmobile in Iceland?
The cool thing about snowmobiling in Iceland is that you can ride over glaciers, which are covered in snow year round. You'll get to zip over some of the largest glaciers in Europe as you soak up your stunning surroundings.
And, if you visit in the winter, you could even snowmobile on a frozen lake.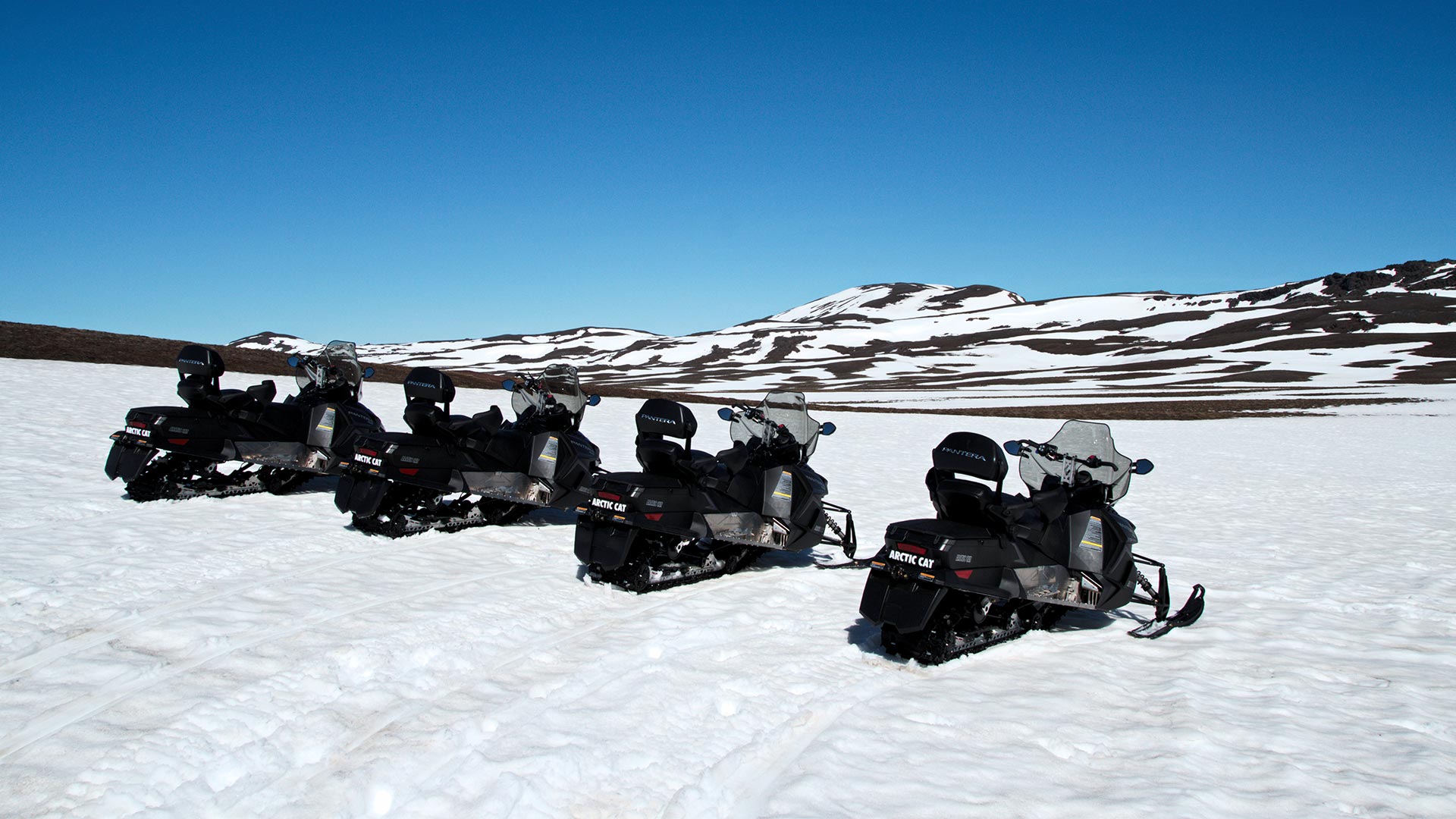 Where are the best places to snowmobile in Iceland?
1. langjökull glacier.
The best glacier in Iceland where you can go snowmobiling is Langjökull. Here in West Iceland, near the small village of Húsafell , you can dash over the smooth, snowy slopes of Iceland's second-largest glacier. You can't help but look in awe at the dramatic ice valleys and Eiríksjökull table mountain in the distance.
Glacier snowmobiling at Langjökull is also great because you are close to other top attractions. You could combine snowmobiling with a tour Into The Glacier to walk through the ice tunnels and chambers beneath Langjökull.
Before or after your snowmobile excursion, you could explore Gullfoss waterfall and the other sights along the Golden Circle route. Or base yourself in Húsafell for a couple of days to discover nearby attractions like the Víðgelmir lava cave, or the Hraunfossar and Barnafossar waterfalls.
Afterwards, there's nothing like enjoying a good soak in the naturally heated hot springs at Húsafell Canyon Baths. You might want to treat yourself to a little more luxury by staying at the charming Hotel Húsafell, one of the best boutique hotels in Iceland .
Join a snowmobiling excursion on a multi-day tour in Iceland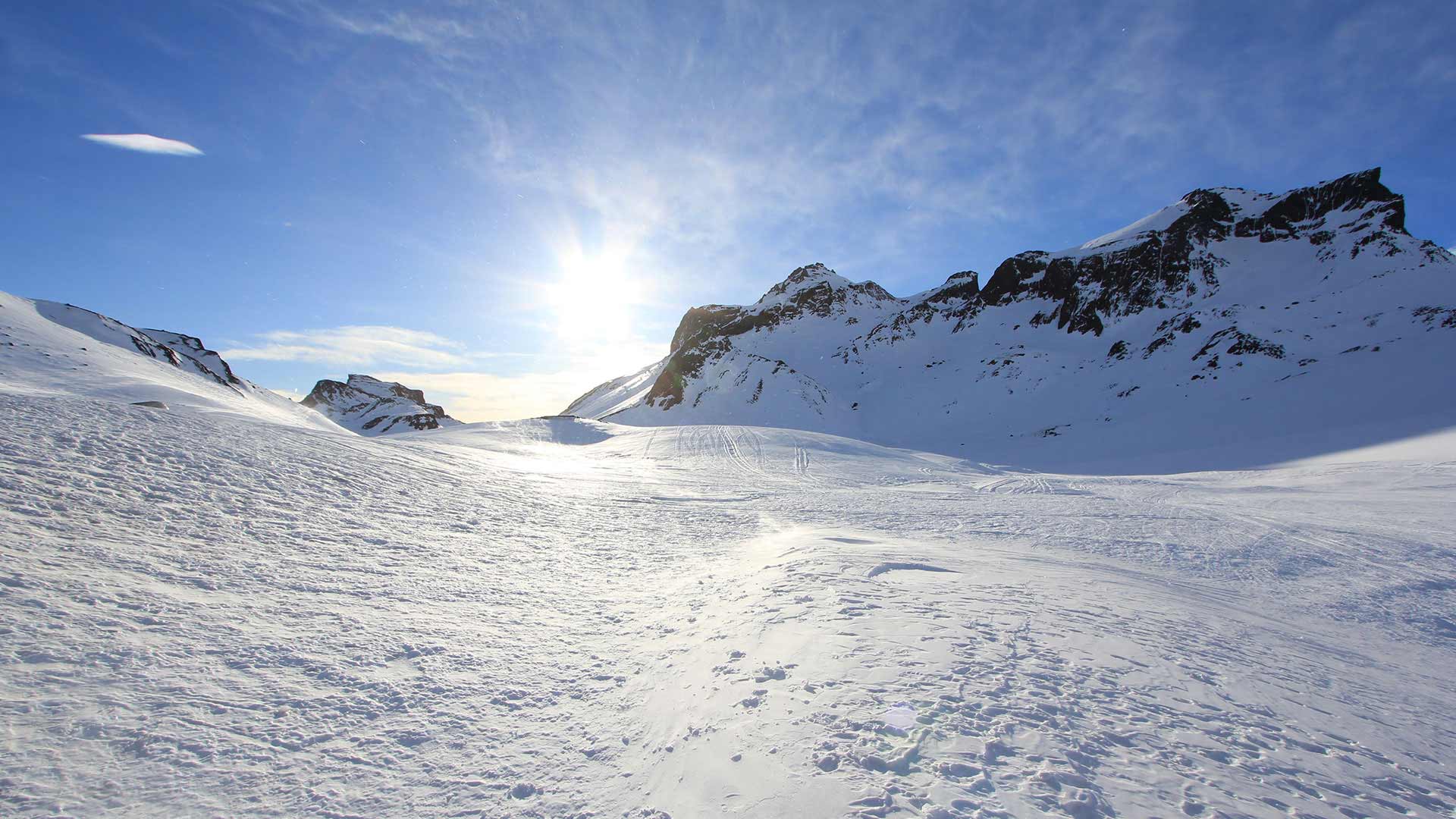 2. Lake Mývatn
Or how about snowmobiling over a frozen lake? In the winter months, Lake Mývatn becomes the perfect playground for your snowmobiling adventure.
Lake Mývatn is in North Iceland, around an hour's drive from the coastal towns of Akureyri and Húsavík . In winter the Lake Mývatn area transforms into a gorgeous snowy wonderland and the lake itself freezes over.
This gives you the perfect opportunity to soak up the view of Krafla volcanic caldera and snow-draped scenery on a thrilling snowmobile ride.
3. Mýrdalsjökull glacier
Mýrdalsjökull is Iceland's fourth largest glacier, with a surface area of 701 square kilometres (436 square miles). You'll find Mýrdalsjökull near Vík in South Iceland, covering part of the active Katla volcano which last erupted in 1918.
Zoom up to the top of the snow-laden ice cap and enjoy panoramic views of the surrounding mountains and coast. As well as exploring Mýrdalsjökull by snowmobile, you could join a Katla ice cave tour to admire the incredible work of Mother Nature here in Iceland.
4. Vatnajökull glacier
Discover one of the biggest glaciers in Europe, Vatnajökull , making up 8% of Iceland's landmass. This vast glacier – located in Vatnajökull National Park, southeast Iceland – sprawls over a few active volcanoes including Grímsvötn, which erupts every few years.
Go snowmobiling on a self-drive tour in Iceland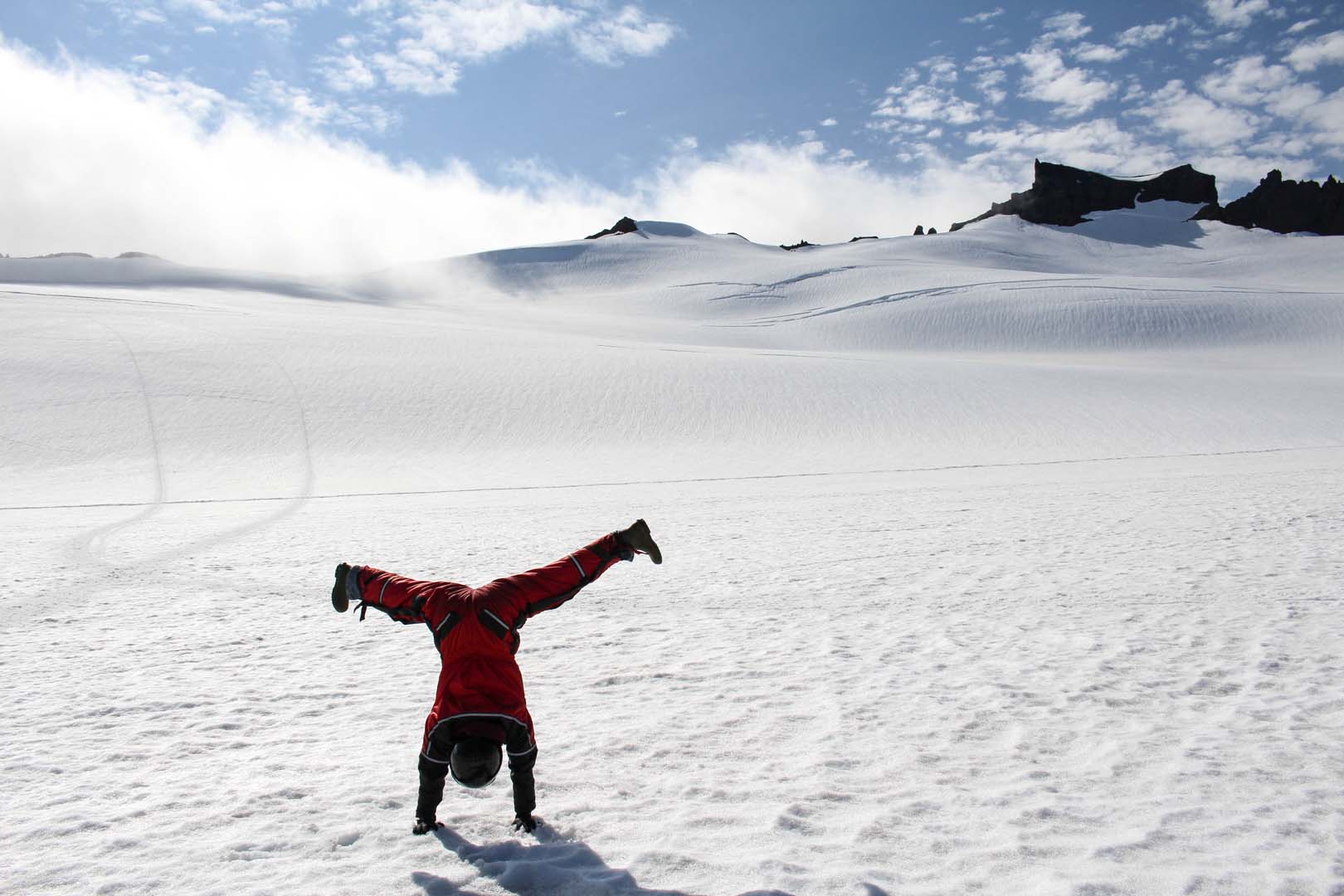 Which are the best snowmobile Iceland tours?
1. langjökull snowmobiling & into the glacier – west iceland.
One snowmobiling tour in Iceland we highly recommend is at Langjökull glacier. That's because the view of the mountains, snow and ice valleys are simply spectacular here. Plus you can combine your snowmobiling activity with a journey Into The Glacier.
You'll be picked up from the Húsafell Bistro, at either 9:30 AM or 12:30 PM, in a super jeep. From there the guide will drive you to Klaki Base Camp, where you will learn about safety instructions before hopping on your snowmobile.
Then the adventure really begins! Follow your guide and enjoy the thrill of riding over the glacier.
After you reach the entrance to the man-made ice cave and "park" your snowmobile, you'll descend 40 metres (130 feet) Into The Glacier. Take your time exploring the fascinating ice tunnels and chambers.
Once you emerge from the ice cave, jump on your snowmobile and enjoy the ride back to base camp, taking in those incredible views. This tour lasts approximately 4 hours in total.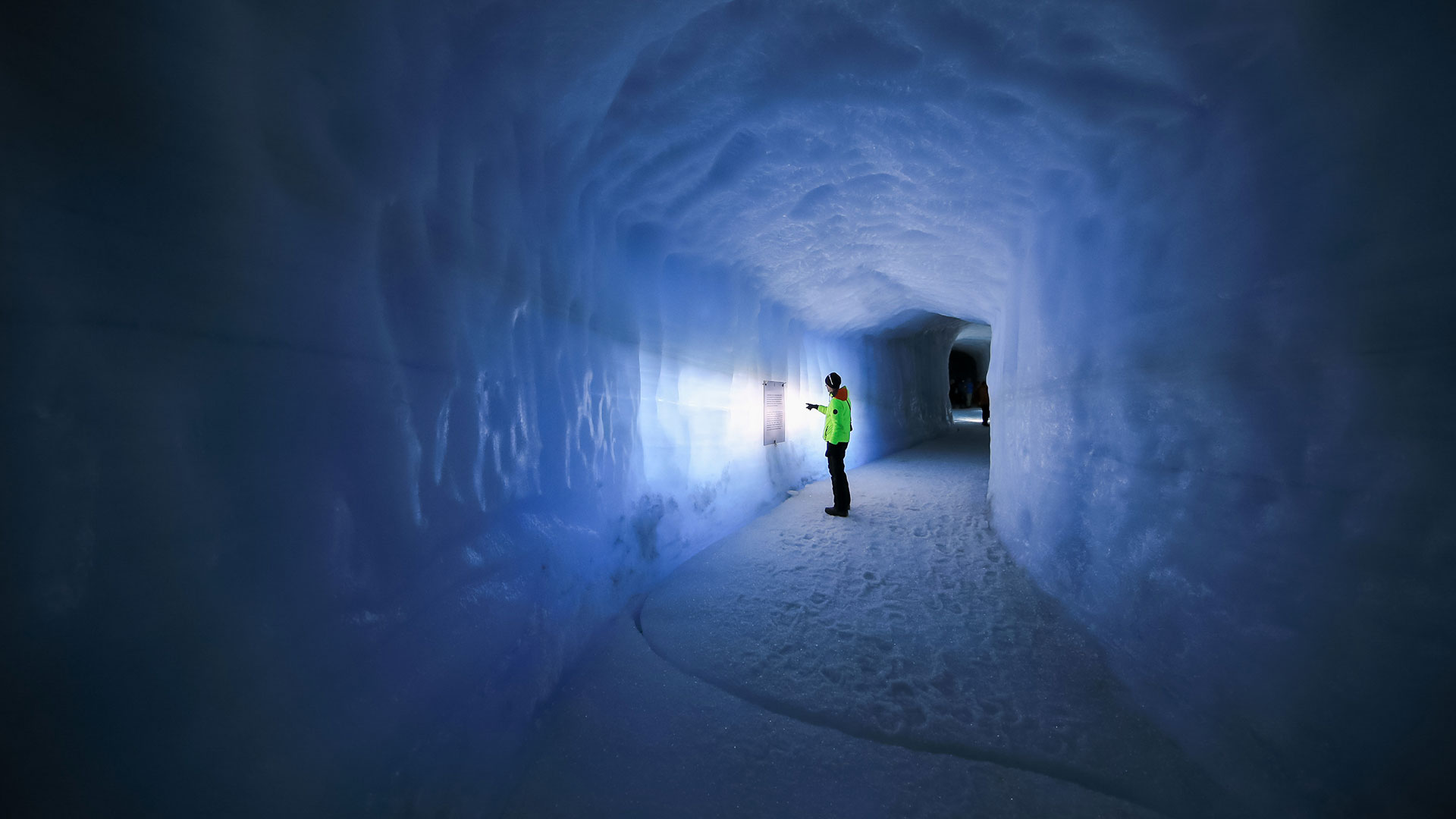 2. Mýrdalsjökull snowmobiling – South Iceland
The Mýrdalsjökull snowmobiling tour is a great option if you're taking a trip along Iceland's south coast. The base camp lies at the foot of the glacier and isn't far from the Ring Road, so it's an easy detour if you're on a self-drive adventure or private tour .
From Mýrdalsjökull Base Camp, you'll be driven up in a glacier truck to the snow-covered terrain.
After a safety and instruction briefing from your guide, you'll have an hour's snowmobile riding to enjoy. There'll be time to stop and take in the sublime views – on a clear day you'll see the ocean.
This tour lasts approximately 2 hours in total. Afterwards, you could head on to the town of Vík and walk on the black sands of Reynisfjara beach. From here you'll see interesting rock formations including Dyrhólaey , with its distinctive rock arch.
Add a snowmobiling tour to one of these classic Iceland holidays
How fast does a snowmobile go?
Snowmobiles are pretty powerful. On average they reach high speeds of up to 190 kilometres (120 miles) per hour. However, the world record for the fastest ever snowmobile speed is an impressive 277.13 kilometres (172.2 miles) an hour.
Of course, on your snowmobiling tour in Iceland, you will go much slower than this. The fastest you can drive is around 70 kilometres (44 miles) an hour, but you can take it as slow as you like.
Is snowmobiling difficult?
Snowmobiling isn't difficult once you get the hang of it. If you've never snowmobiled before, start off gently while you familiarise yourself with it all.
Riding a snowmobile is simple in that there are no gears, just a brake handle and an accelerator handle. There are usually emergency buttons and keys to use if you need to stop the engine immediately.
Your snowmobile tour guide will instruct you on how to drive before you set off. They'll give you all the safety gear and guidance you need. You'll also learn the hand signals to ensure you can communicate with your group.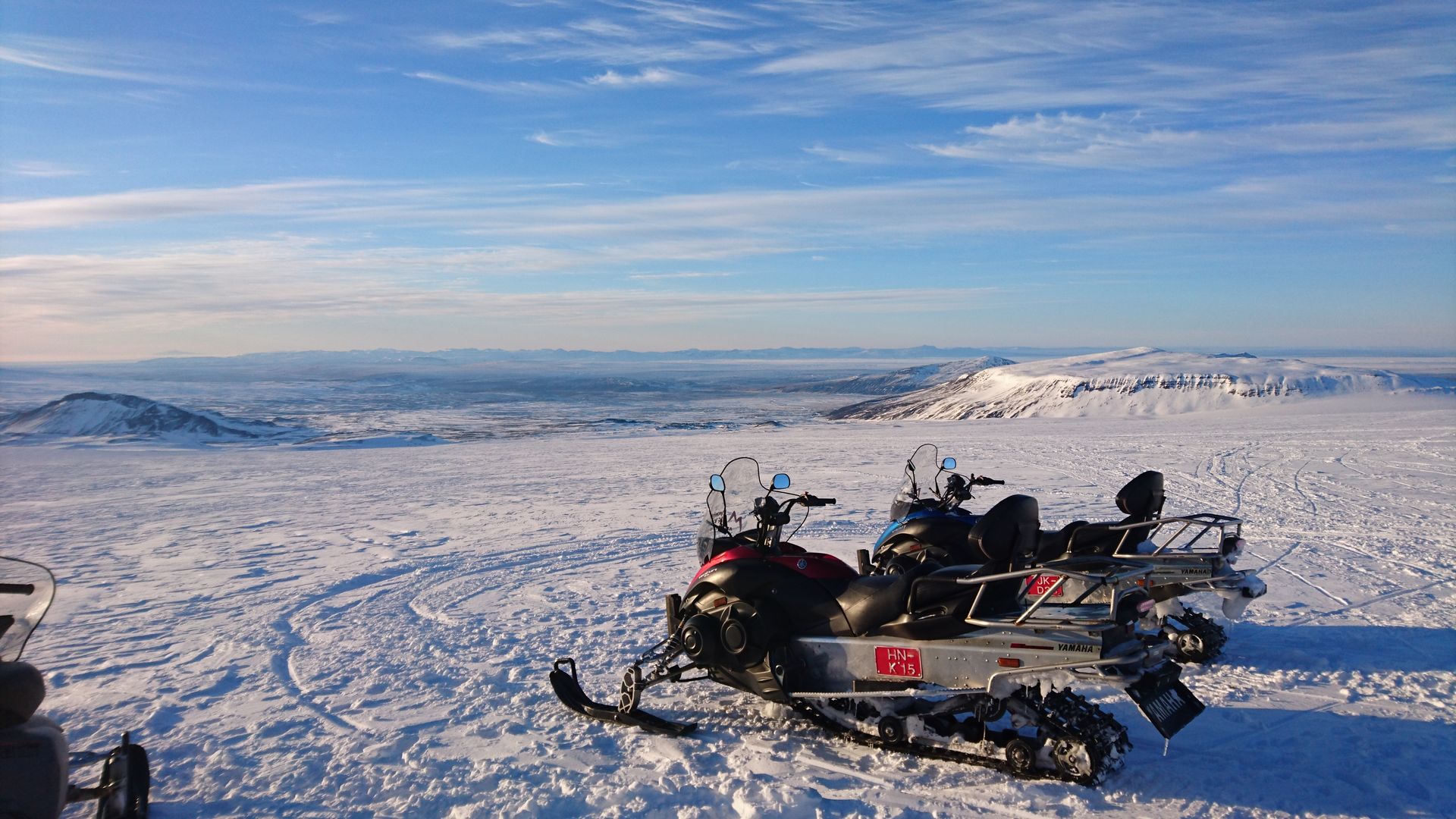 Can you snowmobile in Iceland in the summer?
You might assume that you can only go on a snowmobile adventure in the winter months, as of course, you need snow. But the great thing about enjoying this activity in Iceland is that you can do it year-round on the country's glaciers. So yes, you can snowmobile in Iceland in the summer!
At this time of year – between May and August – you can embark on many other highly recommended Iceland activities too. Plus you'll have lots of daylight hours to go exploring, thanks to the midnight sun .
Add a snowmobiling excursion to one of these Iceland summer tour packages
Is winter a good time to go snowmobiling in Iceland?
Winter is also a great time to go snowmobiling in Iceland. Although you can enjoy this activity on Iceland's glaciers throughout the year, if you want to snowmobile at Lake Mývatn you need to visit in winter. That's because the lake freezes over between December and March, then melts in the spring.
What's more, visiting Iceland in winter means you can chase the northern lights. There are many more amazing things to do in Iceland in winter and ways to enjoy the snow .
Go snowmobiling on one of these Iceland winter vacations
How many people can ride on a snowmobile in Iceland?
A maximum of 2 people can ride on a snowmobile in Iceland. You can drive a snowmobile on your own, but just note that this would involve a single rider supplement.
Is there an age limit for snowmobiling in Iceland?
To drive a snowmobile in Iceland, you need a valid driver's license and you must be over 18 years of age. If you are travelling as a family, children over the age of 8 can join snowmobiling tours, but they must be accompanied by an adult.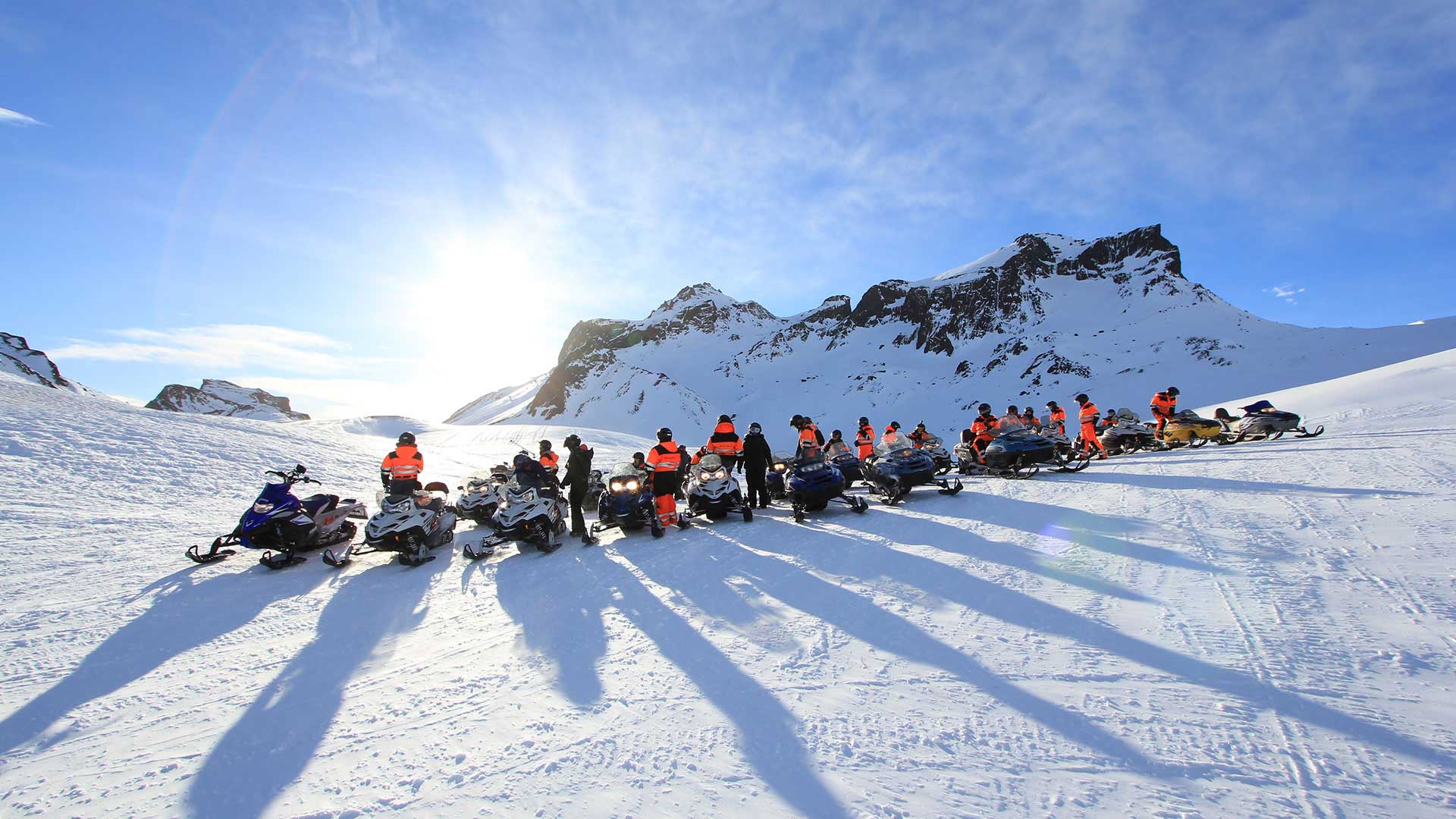 What do you wear snowmobiling in Iceland?
When you join a snowmobiling tour, you will be provided with all the necessary gear. This includes a helmet, thermal suit, gloves and warm headwear. You should dress in layers on the day of your tour to ensure you don't get cold.
You can bring a backpack to carry a camera and some snacks if you like. We also recommend you wear sturdy walking shoes and bring some more warm clothing in case you want to change after snowmobiling.
Related: What to pack and what to wear in Iceland
How much does snowmobiling cost in Iceland?
The price of a snowmobiling tour in Iceland varies depending on where you do it and how long for. It will cost more if you need return transfers from Reykjavík and if you'd like to do an additional activity in combination with snowmobiling.
When you book an Iceland tour with Nordic Visitor, you can see the price of your itinerary online. Input your preferred travel dates and passenger numbers, then add snowmobiling as an optional extra. For some of our tours, snowmobiling is already included in the package price.
Or you can speak with a local expert directly to chat through your options.
Is snowmobiling in Iceland worth it?
Do you love adrenaline-pumping activities and beautiful scenery? Then snowmobiling in Iceland is definitely worth it! Zipping over the surface of a glacier or frozen lake, with the snowy landscape stretching into the horizon, is an unforgettable experience.
If you're ready to embark on a snowmobiling adventure, you can browse our top Iceland vacations to find the right one for you. Some of our packages already include Iceland snowmobile tours, but if not you can add it as an optional extra.
Handpicked accommodation, transport in Iceland, and daily breakfast are also included in your Nordic Visitor itinerary. You'll have a dedicated travel consultant, based in Reykjavík, who will plan and book everything for you.
Plus, you'll have access to our 24/7 helpline during your tour, in case you need our assistance.
Get in touch with our Iceland travel experts and they can give you more advice about your trip. They'll tailor your itinerary to include all the activities you want to experience.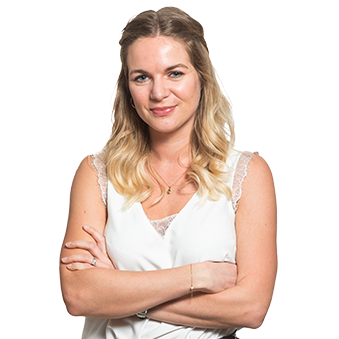 Wanderlust has taken Emma across much of the world, but it was Scotland that she made her adopted home. Aside from enjoying countryside walks, campervan weekends and gigs in Glasgow, you'll often find her writing about European travel and plotting her next trip.
Getting there
We'd love to give you the same amazing travel experiences as you read about in our blog! To visit the destinations and attractions mentioned in this post - and to discover a few new highlights along the way - check out these recommended Nordic Visitor tours.
ACTIVE ICELAND
Iceland full circle classic, active iceland - winter, related posts, 18 top things to do in iceland: the best activities & sights.
Blogs , Activity , Iceland , Guides , Things to Do
Best Time to Visit Iceland: Your Complete Guide
8 ways to experience glaciers in iceland, 10 ways to enjoy the snow in iceland, select your tour, destinations, travel styles.
Thrilling 2-Hour Snowmobile & Into the Glacier Tour in Langjokull from Klaki
Description
Join an adventure of a lifetime by riding a snowmobile on top of the famous Langjokull glacier while witnessing the grandeur of Iceland's scenery. While there, you will also be allowed to explore the spectacular interior of a glacier via the man-made ice tunnel. Book this tour now for travelers who seek an adrenaline rush.
The tour begins at Klaki basecamp, just at the base of the Langjokull glacier in the Icelandic Highlands. This location is the nearest and safest point of entry to explore the second-largest glacier in Iceland. Here, your friendly and experienced guide will brief you on everything you need to know about the tour.
The guide at Klaki basecamp will teach you how to ride the snowmobile, so you don't have to worry if you have no prior experience or knowledge of driving one. Besides, snowmobiles are pretty easy to operate.
Just note that you need to have a driver's license for this. If not, you can book a guide to drive for you for an additional cost or join as a passenger. Once settled in, you are ready to kickstart your great adventure atop the magnificent glacier.
Langjokull measures around 31 miles (50 kilometers) long and up to 12 miles (20 kilometers) wide, which is why it is sometimes called Iceland's 'Long Glacier.' It will take a little less than an hour to tour above it.
While driving or riding the snowmobile on the glacier's thick layer of powdery-white snow is a great adventure, you are getting more than that. On top of the glacier, you will witness the overwhelming beauty of Iceland's otherwordly landscapes, from icy walls to huge crevasses.
If you think that's not enough, the next part of the tour will satisfy you even more. You will be given the rare opportunity to see and explore what's inside a glacier.
Inside Langjokull lies the 1,640 feet (500 meters) long 'Ice Tunnel.' This man-made wonder features various corridors and chambers you won't see anywhere else.
As you go further into the glacier's heart, you will see more blue ice formations. It's easy to be overwhelmed by the glacier's frozen halls, so while you still can, take as many photos as possible.
Your tour experience will not be complete without some trivia and history lessons from your guide. You may ask as many questions as you like about the ice caps of Iceland, and your guide is an expert on their formation, history, and future.
After touring inside the Langjokull glacier, travelers will ride back to the Klaki basecamp via the same snowmobile. To cap off your two-hour snowmobile and into the glacier tour, consider taking a photo on top of Langjokull. It's a great memento of this unforgettable experience.
Explore more of Iceland's ice and fire magnificence by booking this day tour. Check availability now by choosing a date.
Attractions
What to bring
Good to know.
• Please note that Langjokull Glacier Klaki Basecamp is only accessible by 4x4 vehicles. If you do not have access to a 4x4 vehicle, please book the tour from Husafell.
• The tour price is for one person when sharing a snowmobile between two people. If you travel solo or if there's an odd number of travelers, you must book a solo snowmobile for an additional fee.
• If you're traveling solo but don't have a valid driving license, you can book a guide to operate the snowmobile for an additional cost.
Similar tours
Top things to do in iceland.
Book your complete trip with the best companies only
Explore an Ice Cave
Find the Northern Lights
Visit the Blue Lagoon
Go on a Road Trip
Do the Golden Circle
Visit Reykjavik
See the Glacier Lagoon
Discover the South Coast

Snowmobile and Ice Cave Tour in Iceland
Availability.
Half-Day Tour
A Glacier Ice Cave and Snowmobile Tour in the outskirts of Langjökull, the second-largest glacier in Iceland.
Come with us on an adventurous Snowmobile and Ice Cave Tour and take a look inside the Glacier.
Snowmobile and Ice Cave Tour – Iceland
Your next adventure in Iceland begins going from the upper parking lot at Gullfoss in one of our monster trucks. After roughly an hours drive we head out to the Snowmobiles
Although we know what the Glacier looks like, it's such an amazing experience to go inside this amazing structure. The ice inside the Glacier Ice Cave, where we are heading on this tour is over 400 years old and you can see layers of ash from many different eruptions throughout history.
The trip to the Glacier Ice Cave is also an exhilarating snowmobile and ice cave tour. When we arrive we will explore every corner and detail of it and our Guides will also inform you about everything you want to know about the Glacier and its history.
We then head back to Mountaineers Glacier Hut and hop on the monster truck to ride back through the snowy terrain on our way to Gullfoss.
What's Included
We provide the following equipment during your snowmobile tour.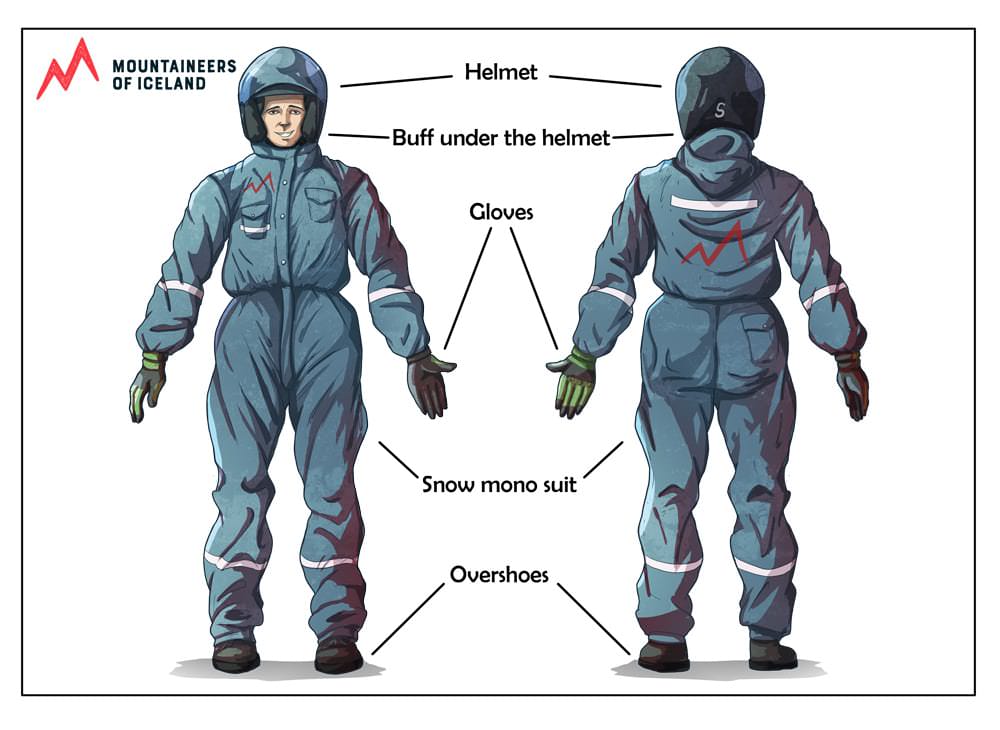 What to bring
Bring snacks as this is a 4-hour tour
Bring a waterproof jacket and pants, headwear and gloves. Good outdoor shoes are recommended.
After a great Golden Circle trip of your own, park your car at Gullfoss Café and you will be stunned by the Monster Trucks and Super Jeeps from Mountaineers of Iceland that await your arrival. Our driver will greet you at our meeting point sign and from there we start the journey to the glacial highlands of Iceland, driving from Gullfoss to Langjökull glacier.
The epic scenery on the way and the impassable road that our massive machinery eats through is an adventure on its own. Once we get to the glacier we will step out of the monster truck and into our glacier hut for snowsuits and other accessories that keep you warm during the snowmobile ride.
After suiting up we head to our parked snowmobile rows and the guide will go through the details of how to operate the snowmobile. No worries, it´s quite easy. After the short introduction, you select your snowmobile and once the guide signals you to go, the ride begins.
Riding the glacier and with good visibility, you will be emerged in the epic surroundings and lava formed rock mountains. Total whiteout is always a possibility but that is no less fun and what we truly call the moods of Mountaineers.
The ride will take you to our newly structured Glacier Ice Cave that Mountaineers have built so that you take a look inside the glacier.
After a thorough look inside the Glacier, we then head back to our Basecamp in our snowmobiles and then start making our way back down to Gullfoss.
Meeting points
The meeting point is at gullfoss upper parking lot,  outside the area where the shops and restaurant is located., it takes about 2 hours to drive from reykjavík to gullfoss., please note.
A valid driver's license is required
Timings may be delayed or canceled due to weather and road conditions.
2 persons share the same snowmobile, a single person per vehicle at extra cost
The age limit is 6 years
Only one child is permitted per adult on this tour
Dress according to the weather. In Iceland it is always smart to dress in warm, waterproof clothes, weather changes can be sudden so expect the unexpected.
The ride on the monster truck is an adventure of its own, so enjoy the moods of Mountaineers!
Book this Tour Now
Please enable javascript in your browser to book
Do you need help booking this tour?
Do you have any questions?
Other experiencies you may like.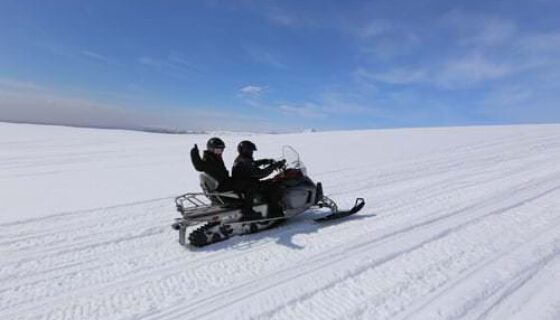 Golden Circle Snowmobiling
Reykjavík excursions.
From 32000 ISK
Northern Lights Hunt & Super Jeep Tour
Aurora borealis.
From 29900 ISK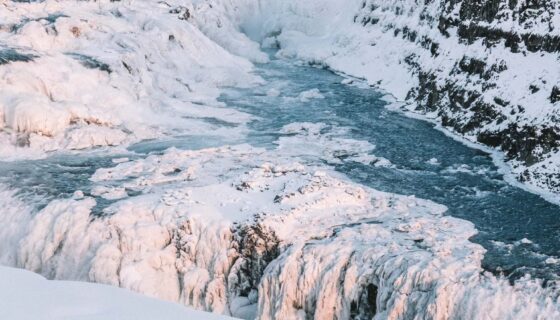 Golden Circle & Glacier
Reykjavík sightseeing.
From 36500 ISK
Glacier Snowmobile & Secret Lagoon
Hot & cool.
From 50000 ISK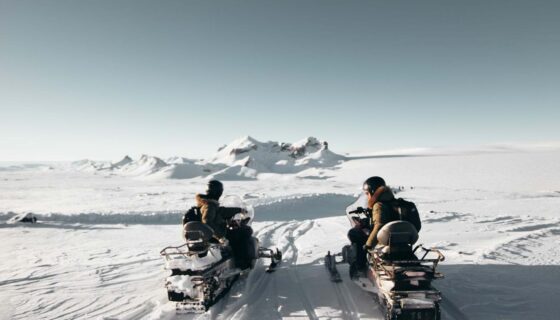 Reykjavik Snowmobile Tour
Pickup in reykjavikn/a.
From 41000 ISK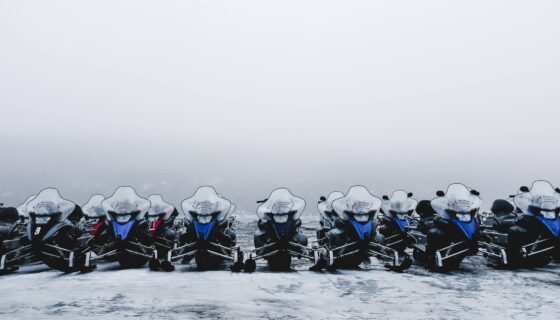 Meet us at Gullfoss
Our most popular tour.
From 29000 ISK

Error: API requests are being delayed. New posts will not be retrieved for at least 5 minutes.

Skútuvogur 12e, 104 Reykjavík, Iceland
+354 580 9900
Follow us on Facebook
Follow us on X
Check us on TripAdvisor
Terms & Conditions
Privacy Policy
All rights reserved · Skálpi ehf. · ID 5502061290 · VAT 122660