Why Won't Safari Quit and How to Force Quit It on Mac?

When Safari becomes unresponsive, it can interrupt your whole workflow. While often a frustrating experience, you can easily get out of it with a few quick fixes.
Working as an Apple repair technician has shown me that Safari often hangs and becomes unresponsive for a variety of reasons. But luckily, it's usually an easy fix.
Let's explore why won't safari quit, and how you can force quit it on your Mac.
Table of Contents
Key Takeaways
Quit via keyboard, quit via finder menu, use the apple menu to force quit, force quit from the dock, force quit using activity monitor, shut down your mac, keep your mac up-to-date, remove malware and system junk, final thoughts.
You might need to Force Quit Safari if it stops responding or freezes.
There are a few ways you can force quit Safari, the quickest way is undoubtedly using the keyboard shortcut , Option , Command , and Esc .
You can also force quit using the Apple menu or the dock , or even by killing the process via Activity Monitor.
While uncommon, you may have to shut down and restart your computer if Force Quit does not work.
To ensure Safari works as you expect it to, keep your Mac up-to-date with the latest software.
Additionally, keeping your Mac optimized and free from Malware will ensure Safari keeps working properly.
Why Won't Safari Quit on Mac
Safari is Apple's web browser that is automatically installed on all of their devices. Just like all web browsers, Safari sometimes freezes, and you are unable to quit the application. This can happen for several different reasons.
First, Safari may simply have too many tabs open . Are you someone who likes to have videos playing in the background while surfing the web with 100 different tabs open all at the same time?
Sometimes it isn't your fault at all, but an issue with the application. You may need to reset the cache or update your software .
Lastly, it is possible that Safari is just frozen . In any of these cases, the following ways to Force Quit on Mac will help you close Safari when it is not responding.
Before we continue, let's make sure you're clear on how to quit Safari normally.
If you are in an application (Safari in this instance) and you press Command-Q on your keyboard , this quits the application.
Now, this is not a forced quit, so it may not work in this instance, but it is worth a try if clicking the red X is not working for you right now.
You can also quit Safari by right-clicking on the icon in the dock . Then select Quit.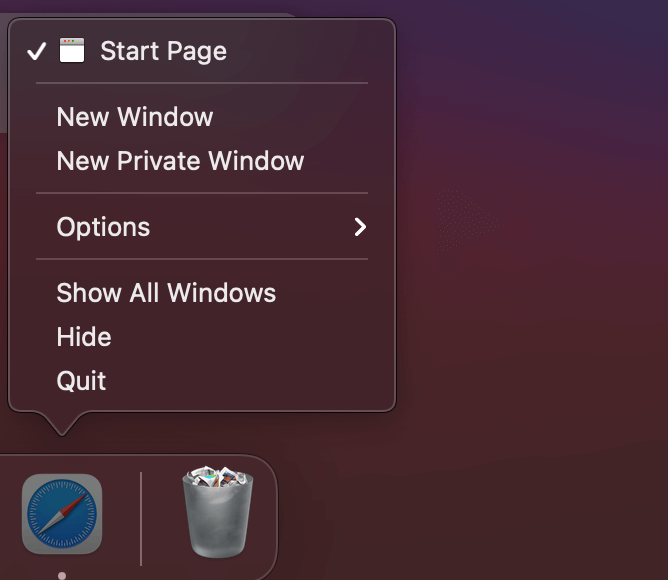 If neither of the usual ways of closing Safari work or the Quit Safari button is grayed out, then you will need to Force Quit the app.
How to Force Quit Safari on Mac?
When Safari refuses to quit, the best course of action is to use the handy Force Quit option.
The fastest way to Force Quit Safari is by using the keyboard shortcut . This special key combination will bring up the Force Quit menu.
Step 1: Hit the Option , Command , and Esc keys simultaneously. That will open the Force Quit menu.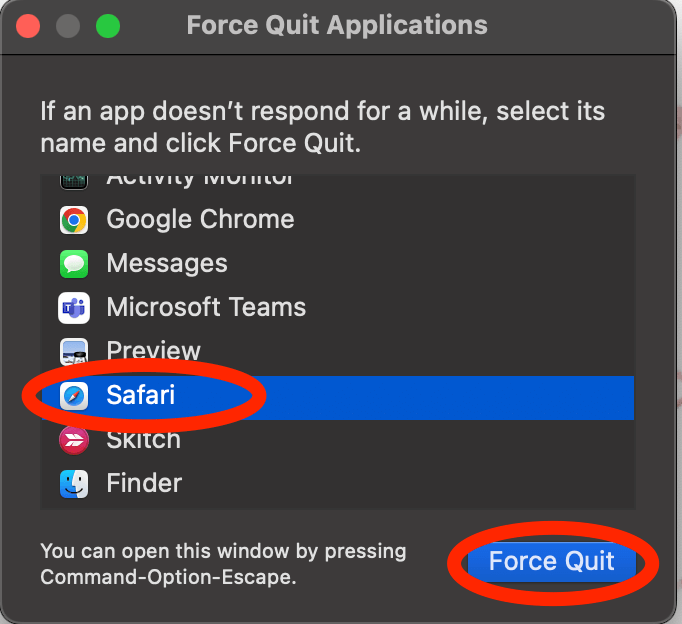 Step 2: Once this menu opens up, select Safari and Force Quit.

Step 3: Click Force Quit again to confirm.
Simply hit the Apple icon in the upper left of your screen, then select Force Quit from the options. From here, you can select the app you would like to force quit from the menu.
Finally, you can simply click on the Safari icon on your dock. If Safari is unresponsive, you will get an option to Force Quit when you right click.
If Safari won't force quit in the typical ways, you can always kill the active process through Activity Monitor.
To get started, just open Launchpad.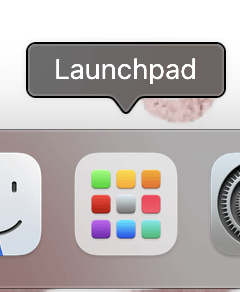 Open Activity Monitor .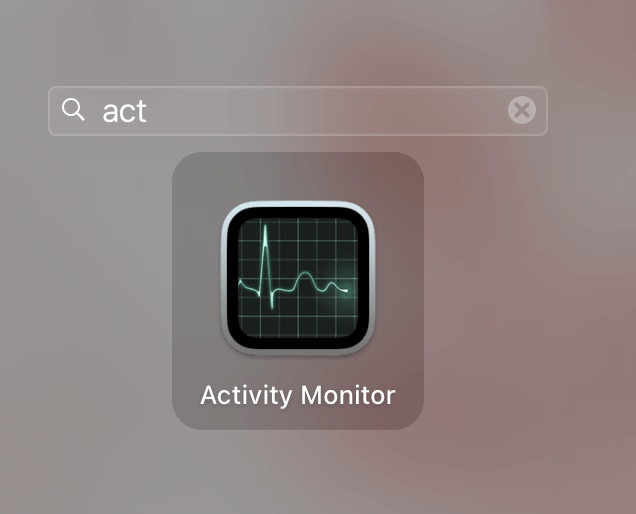 Navigate to Safari and Click the X at the top.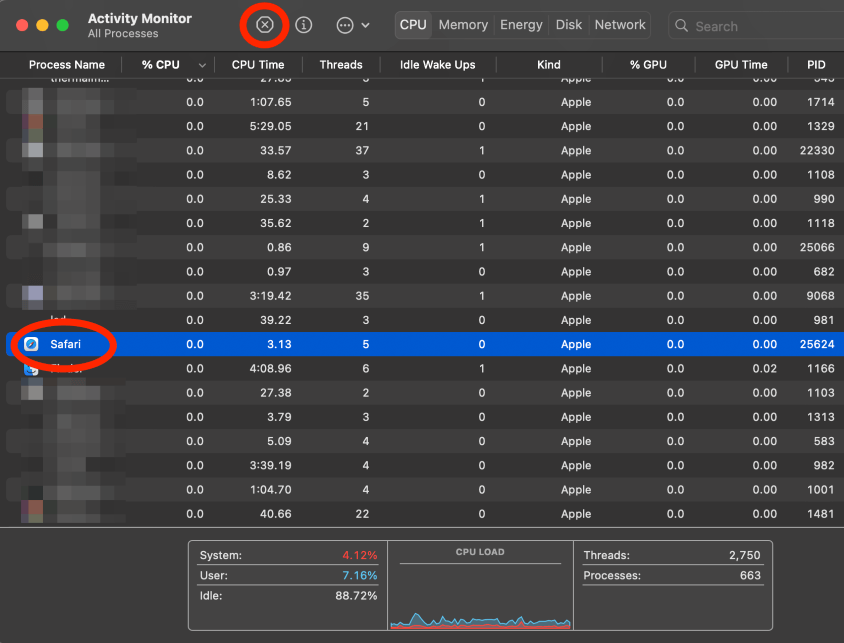 Click Force Quit to Confirm.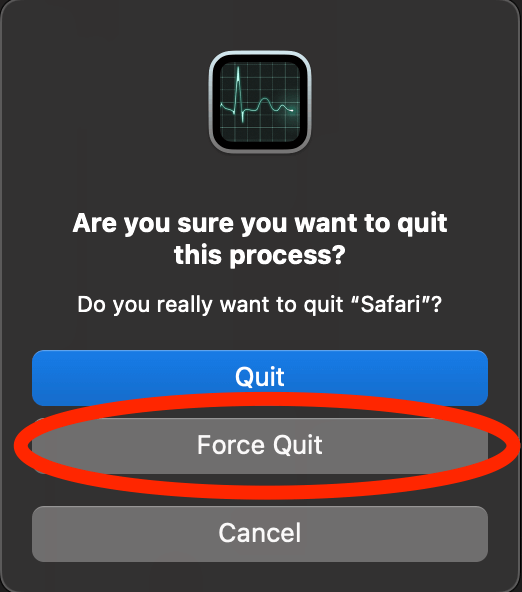 If all else fails, simply shut down the computer. This will force Safari to restart.
Click the Apple menu, and Shut Down .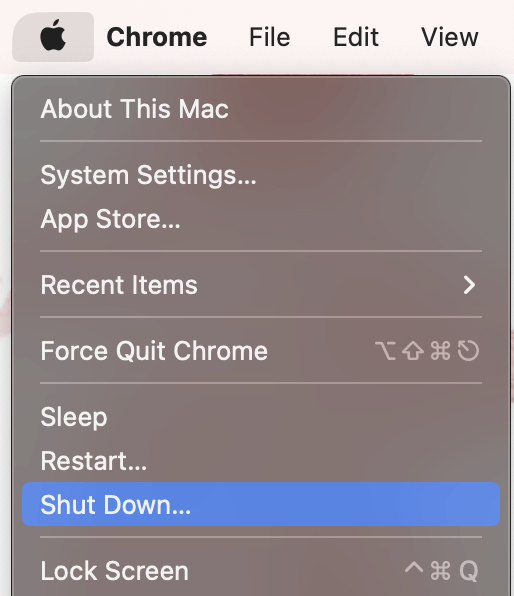 If you need to Force Shutdown your Mac, then simply Press and Hold the power button until the computer turns off.
Next, just turn your computer back on and check if Safari is functioning properly. To prevent any future issues with Safari, you should check for updates and make sure your Mac is optimized. Let's discuss how to do that.
Safari could be malfunctioning due to out-of-date software, so checking for updates is wise if Safari freezes or becomes unresponsive.
To get started checking for updates, just click the Apple icon in the upper left corner and select System Preferences from the drop-down menu . Alternatively, you can hit the System Preferences icon on the dock .
The following window will pop up. Look for Software Update . Open this and install any updates that are available.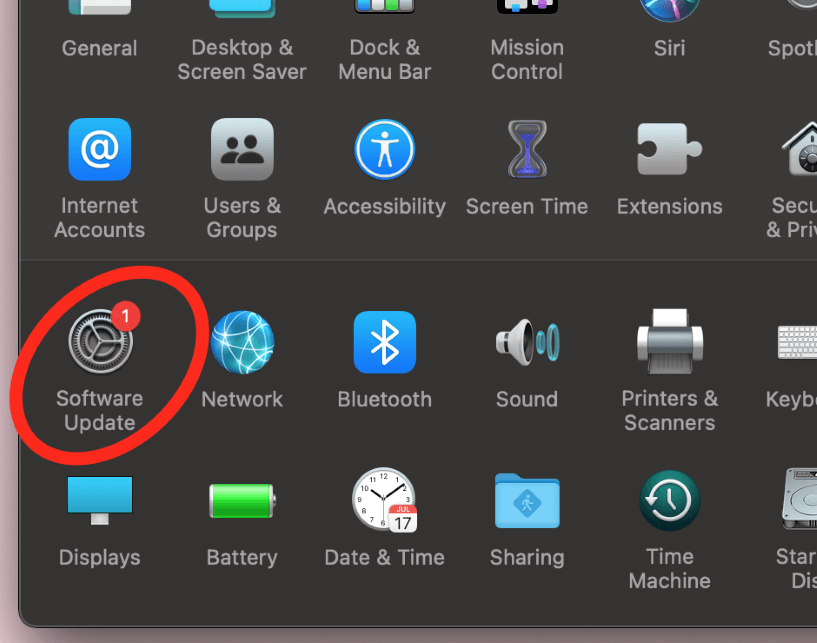 Sometimes Safari doesn't work properly when you have too much junk on your computer. While anything from minor software bugs to malware could cause Safari to malfunction, checking for these problems can be time-consuming.
A third-party app like CleanMyMac X is pretty helpful for taking care of this stuff for you in one shot. Probably the most helpful thing, in this case, is flushing your DNS cache. Resetting your cache can often fix issues related to Safari not working properly.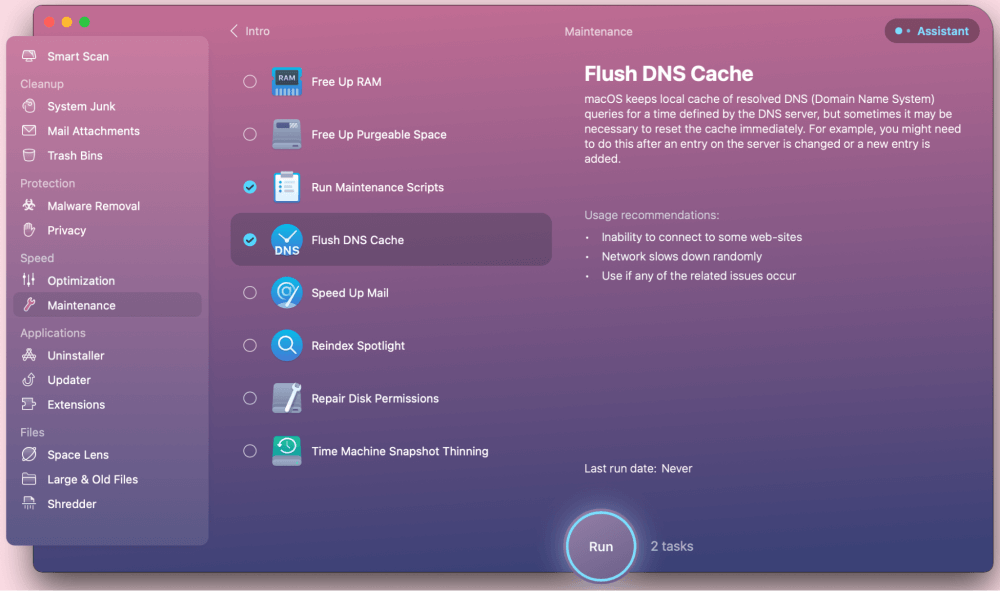 After downloading and installing the app, just launch it and select Maintenance from the sidebar. Here you can select options like running maintenance scripts and flushing your DNS cache. Just hit run, and the app will handle the rest.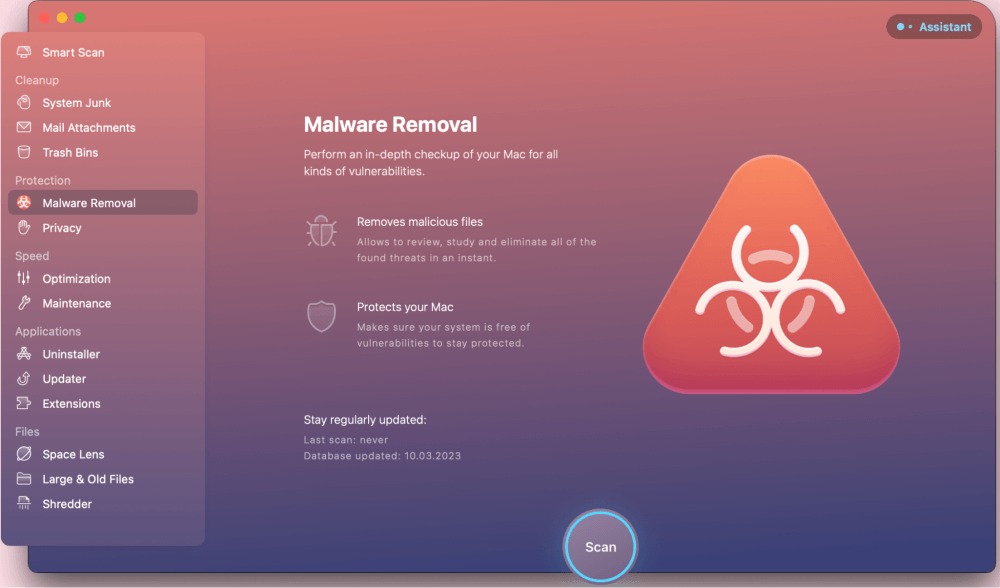 Additionally, if a malware issue is causing Safari to become unresponsive, you can easily check for and remove it using CleanMyMac X.
While not necessarily a free program, you can try it out with a free trial, and an annual subscription will save you more time than it is worth. You can read our full CleanMyMac X review to learn more.
There are several reasons why Safari may not be quitting. These include out-of-date software, cache, too many tabs open, and simply being frozen. We hope these methods of Force Quitting applications helped you to get Safari closed out.
In order to prevent future issues with Safari, and other applications as well, you should ensure you run software updates frequently.
Additionally, third-party apps like CleanMyMac X can help prevent problems with Safari by automatically running maintenance scripts, and clearing malware and system cache, among a host of other handy tasks.
Did these methods work for you? Were you able to quit Safari? Let us know in the comments below!
Can You Use WhatsApp Without WiFi?
Can WhatsApp Be Tracked?
Does WhatsApp Notify When You Take a Screenshot of Chat?
What Does Highlighted Comment Mean on YouTube
How Long Does HD Processing Take on YouTube?
Why Does Safari Keep Crashing on Mac & How to Fix It
Submit a Comment Cancel reply
Your email address will not be published. Required fields are marked *
Popular Guides
Mac Cleaner PDF Editor VPN for Netflix Photo Editor for Mac Whiteboard Animation Apps Online Backup Services iPhone Data Recovery Software
Popular Reviews
ExpressVPN CleanMyMac X iMazing Parallels Desktop Grammarly Scrivener PDFelement 1Password VideoScribe Filmora
How To Unfreeze Safari On Mac
Whenever a new version of macOS makes its way to market. Safari can be one of the applications for experiencing freezing issues. So that's why we've put together a guide to answer "why is safari frozen on my mac ?" and how to fix it!
Safari could be frozen for a number of reasons on your Mac. This could include issues ranging from an unstable version of macOS to a glitchy browser extension or even a virus within your computer.
Restarting Safari
Close tabs and/or other resource intensive applications, updating your software, wiping your history, cache and cookies data, disable/uninstall extensions, why is safari crashing on my mac, related posts, how to unfreeze safari on mac [step by step].
If Safari has crashed then sometimes a pretty simple restart can help fix the issue. However, if it's frozen to the point where you can't even close it, then you could force quit Safari.
Step 1: Press the Command-Option-Esc keys together
Step 2: Click on Safari and press the Force Quit Button
Step 3: Click on Force Quit when it prompts you to confirm your decision.
After this launch safari again and try and see if you can mimic the same behaviour that caused it to crash before. It could be that it was just a random crash and nothing to worry about.
However, if the issue still persists even after a restart you could try restarting your mac to see if that resolves the issue. Also, be sure to check if you have Javascript enabled in Safari.
Step 1: Launch Safari browser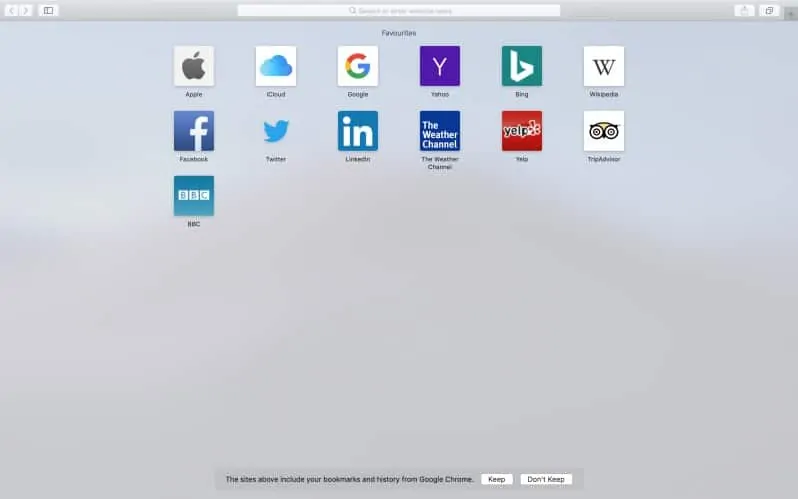 Step 2: Click on Safari in the top menu

Step 3: Click on Preferences
Step 4: A new window with a layout like this will pop up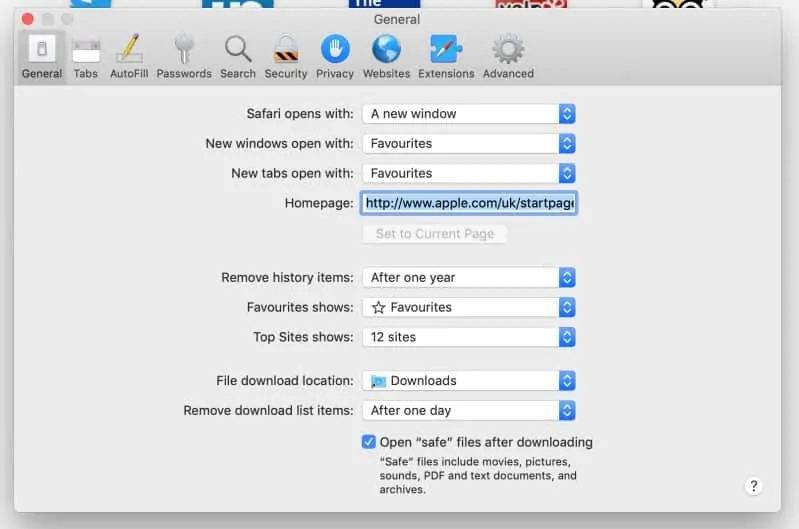 Step 5: Click on Security in the upper hand menu

Step 6: Make sure the "Enable Javascript" checkbox is checked

Sometimes too many tabs or another resource-intensive application could be the reason why Safari is crashing on your Mac. Your computer only has a finite amount of resources and it could be that too many tabs or other applications could be hogging it all.
To view your current resource usage statistics you can use Activity Monitor to get an idea of whether or not this could be the issue at play.
Step 1: Click on the Finder application in the dock
Step 2: A new window will pop up
Step 3: Click on Applications in the left-hand side menu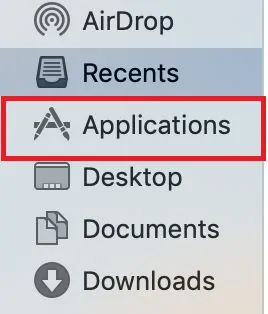 Step 4: Type Activity Monitor in the search section
Step 5: Click on the Activity Monitor application that shows up
Step 6: A new window with your MacBooks resource utilization information will pop up. This section shows CPU utilization .
Step 7: Click on Memory in the top menu

Step 8: Over here you can see the list of applications consuming memory in descending order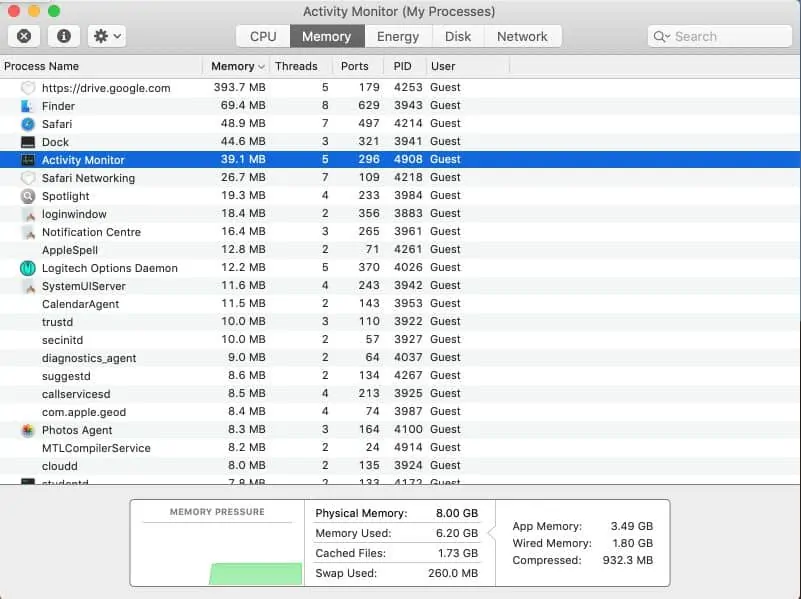 Step 9: If you find a process consuming an unnatural amount of memory, click on it and press the button with a cross symbol within it located near the top left side edge to quit the process

Step 10: Click Ok or Force Quit when prompted.
Like this, you can observe unnecessary applications that might be running in the background that you could close in order to free up more resources for Safari.
In case you find that Safari is consuming an alarming amount of resources even when you have a few lightweight tabs open. It could mean there could be a deeper issue within Safari itself.
Keeping your software updated is a crucial part of having a stable system. Outdated versions of software can have security flaws and bugs that can leave them susceptible to malicious attacks as well as issues in resource management.
Make sure both macOS and Safari are updated to the latest version. We've detailed guides below on how to do that in case yours aren't up to date.
Step 1: Click on the Apple logo
Step 2: Click on System Preferences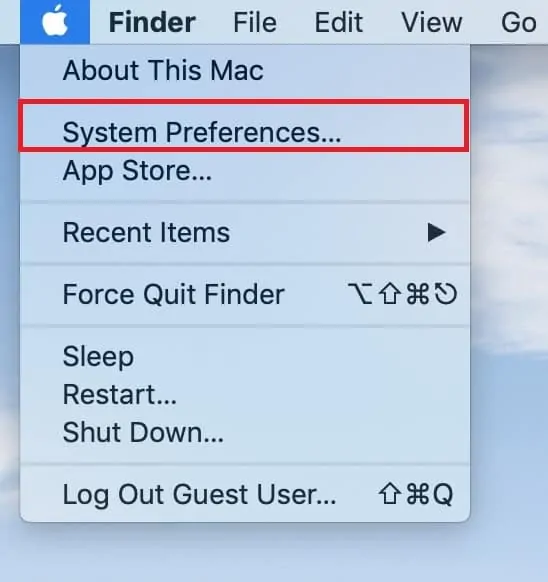 Step 3: A new window will pop up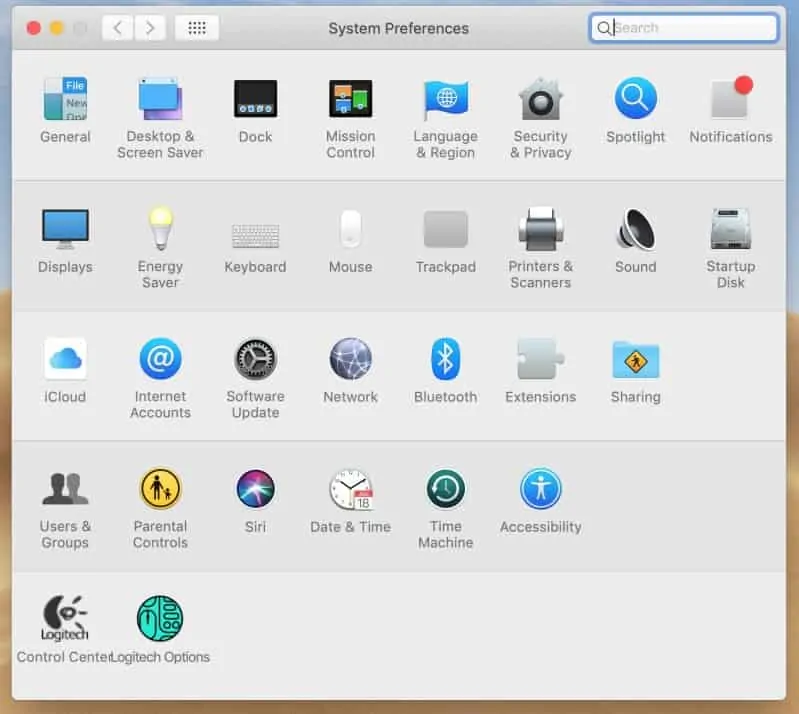 Step 4: Click on Software Update
Step 5: Wait for macOS to check for any new updates

Step 6: If there is an update you will be prompted to download and install it, if not it'll notify you that you're already on the latest version.

Step 7: Click on Advanced
Step 8: Make sure the checkbox " Check for updates " is checked.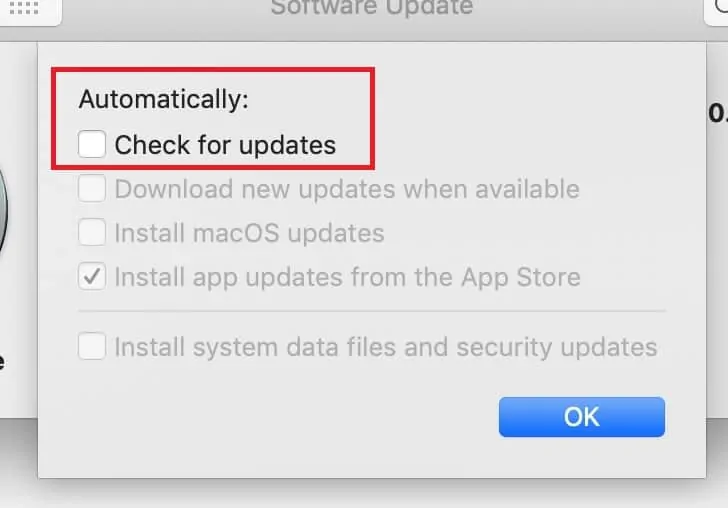 Step 2: Click on App Store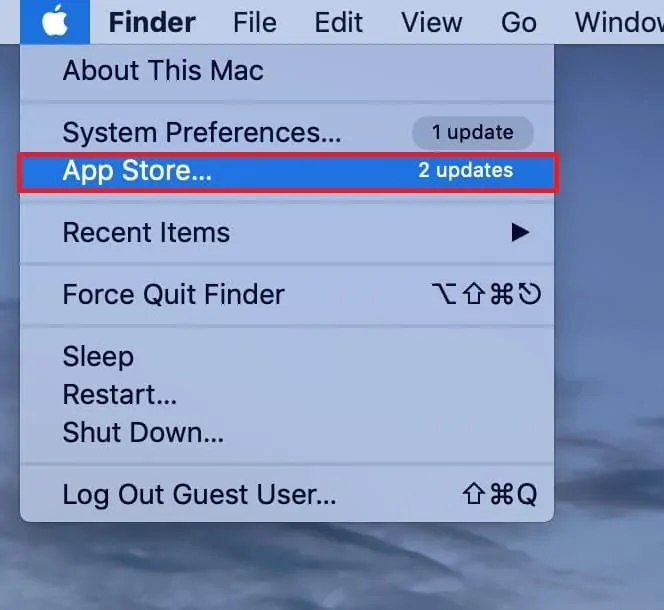 Step 3: A new window with the Mac App store will pop up.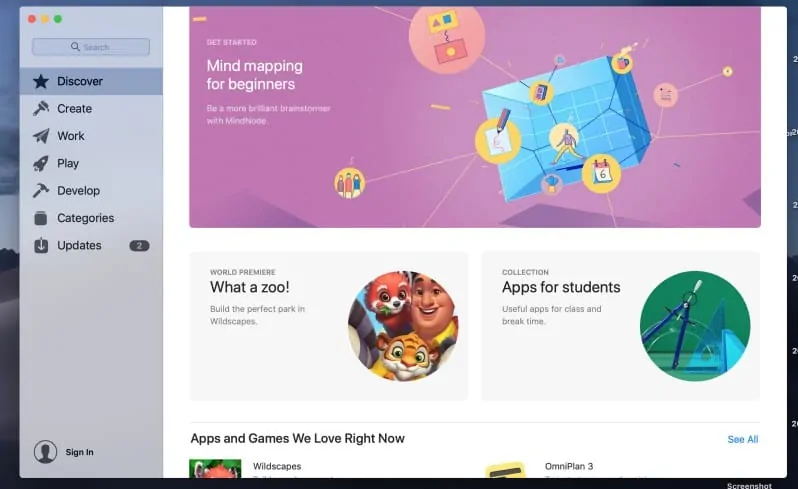 Step 4: Click on Updates on the left hand side menu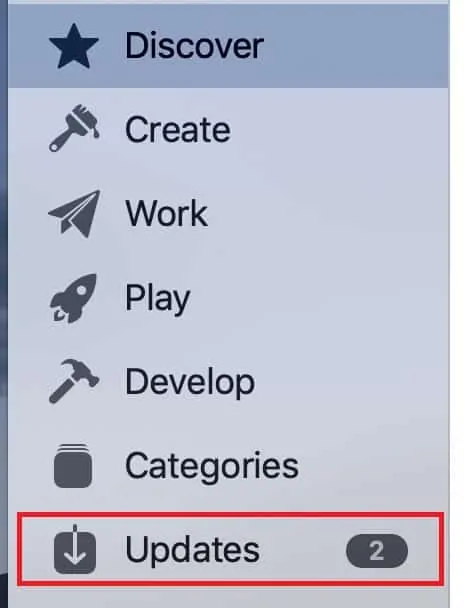 Step 5: From here if there is an update available for Safari you can download and install it from here.
Sometimes clearing your stored data in Safari can help get rid of the stutters and crashes. However be warned this will remove all your saved passwords and saved websites logins as well. So proceed at your own caution.
Step 3: Click on preferences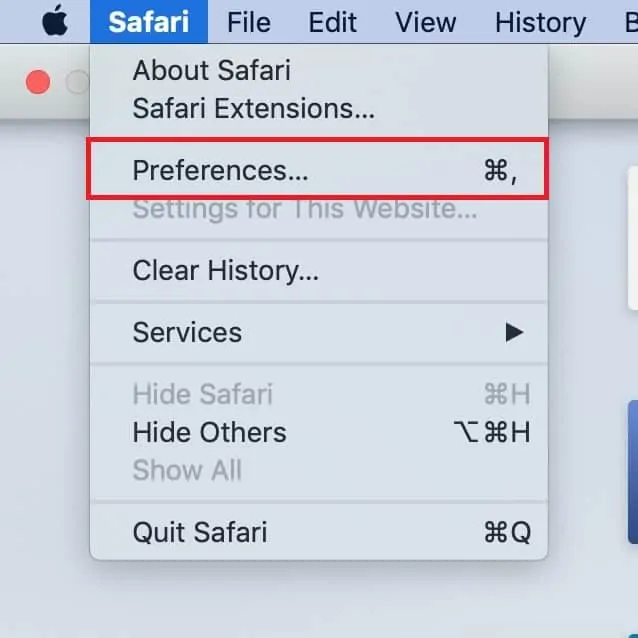 Step 5: Click on Privacy in the upper hand menu
Step 6: Click on Manage Website Data
Step 7: Click on the Remove All button
Step 8: Click Remove Now when prompted
Step 9: Click on Advanced in the upper hand menu
Step 10: Make sure the option Show Develop menu in menu bar is checked
Step 11: Click on Develop in the Safari menu bar at the top
Step 12: Click on Empty Caches
Sometimes browser extensions can the reason your browser is facing the issues that it is. To find out which browser extension could be the potential culprit disable them one by one to see and check if your issues are resolved. To disable browser extensions.
Step 3: Click on Preferences
Step 4: Click on Extensions in the top menu
Step 5: From here you can disable extensions that you have installed (if any)
Before we move on to our solutions it is important to realize why Safari might be crashing on your Mac, so that if this issue arises in the future you are better equipped to deal with.
When a new version of Safari is released or a new version of macOS. Expect there to be stability issues. It can take a while to work out the kinks and bugs within the software, so freezes and crashes can occur.
Especially if you're using beta software, as the versions released within beta are still being tested by the development team. So opt out of the beta program if the issues are too frequent in nature.
Browser extensions and old cache data within Safari could also be the reason why it keeps freezing or crashing.
Sometimes extensions no longer remain compatible with a newer version of safari till their updated and cache data can cause safari to become slow and eventually freeze.
Fixing Safari Unresponsive & Frozen On Mac
So after reading through our through and conclusive guide you should have all the information you need to figure out why why is safari frozen on my mac and how to fix it!
If you feel we missed out on anything be sure to leave that in the comments down below.
How to Unlock a MacBook Keyboard
How to Remove QuickSearch from Mac
How to Measure Computer Screen
How to Scan QR Code on Mac
How to Download Chrome on Steam Deck
How Much Does It Cost to Fix a Chromebook Screen
How to Change Case Fan Speed Without BIOS
How to Find Serial Number on Chromebook
How to Reboot Lenovo Laptop
How to Eject USB From Chromebook
How to Connect Sony WF-1000XM4 to Laptop
How to Make Your MacBook Pro Aesthetic and Stylish
How to Move Task Manager to Another Screen
How to screenshot on HP Envy x360
How to Dictate on Mac: Mastering the Basics
Hassaan Ahmed
1 thought on "how to unfreeze safari on mac".
A senior I help has had this problem on her new 16″ MB Pro and searching for led me to your page. Excellent, clear instructions! Some of the best I have seen. Nice job.
Leave a Comment Cancel reply
What to Do if Safari Keeps Crashing on Your Mac
Every Mac comes with Safari installed by default, and as a standard part of macOS, it's about as reliable as you could wish. But it's not infallible. As with any software, one day, you may find that Safari keeps crashing - either closing itself down, freezing up, or acting erratically.
In this article you will find the following:
Why does Safari keep crashing on your Mac?
How to fix Safari crashing problems on your Mac
Clear the history, cache, and cookies from Safari on your iPhone, iPad, or iPod touch
Learn how to delete your history, cookies, and cache in Settings.
Delete history, cache, and cookies
Clear cookies and cache, but keep your history, delete a website from your history, block cookies, use content blockers.
Clearing your history, cookies, and browsing data from Safari won't change your AutoFill information.
When there's no history or website data to clear, the button to clear it turns gray. The button might also be gray if you have web content restrictions set up under Content & Privacy Restrictions in Screen Time .
To visit sites without leaving a history, turn Private Browsing on .
Go to Settings > Safari > Advanced > Website Data.
Tap Remove All Website Data.
When there's no website data to clear, the button to clear it turns gray. The button might also be gray if you have web content restrictions set up under Content & Privacy Restrictions in Screen Time .
Tap the Edit button, then select the website or websites that you want to delete from your history.
Tap the Delete button.
A cookie is a piece of data that a site puts on your device so that site can remember you when you visit again.
To block cookies:
Go to Settings > Safari > Advanced.
If you block cookies, some web pages might not work. Here are some examples:
You will likely not be able to sign in to a site even when using your correct username and password.
You might see a message that cookies are required or that your browser's cookies are off.
Some features on a site might not work.
Content blockers are third-party apps and extensions that let Safari block cookies, images, resources, pop-ups, and other content.
To get a content blocker:
Download a content blocking app from the App Store.
Tap Settings > Safari > Extensions.
Tap to turn on a listed content blocker.
You can use more than one content blocker. If you need help, contact the app developer .
Information about products not manufactured by Apple, or independent websites not controlled or tested by Apple, is provided without recommendation or endorsement. Apple assumes no responsibility with regard to the selection, performance, or use of third-party websites or products. Apple makes no representations regarding third-party website accuracy or reliability. Contact the vendor for additional information.
Start a discussion in Apple Support Communities
Looks like no one's replied in a while. To start the conversation again, simply ask a new question.
Safari Tabs not closing.
I'm having a couple of problems in Safari (running on Lion.)
Firstly, once I've opened a tab I cannot close it without exiting Safari completely. Secondly, when I swipe the trackpad to go backwards, the page becomes all jumbled up and often unresponsive. I've had this computer for over 6 months now and have never had any issues with it at all in the past. This has only been a problem over the last two days and I'm not sure how or why it's started doing this. I'm pretty sure that it is a Safari problem as everything else seems to be working just fine and I haven't noticed any other differences on any other applications.
Is anyone having any similar problems?
Does anyone have a solution?
MacBook Pro
Posted on May 9, 2012 12:28 PM
Loading page content
Page content loaded
May 9, 2012 12:33 PM in response to a.baldwin
Try deleting the cache associated with Safari.
Quit Safari.
Go to ~/Library/Caches/com.apple.Safari/Cache.db
For Lion v10.7x: To find the Home folder in OS X Lion, open the Finder, hold the Option key, and choose Go > Library
Move the Cache.db file to the Trash.
Relaunch Safari to test.
Account Information
Apple Vulnerability Can Expose iOS and macOS Passwords, Safari Browsing History
Share with Your Friends
Your email has been sent
This Safari vulnerability has not been exploited in the wild. Apple offers a mitigation, but the fix needs to be enabled manually.
Security researchers from three universities have discovered a major vulnerability in Apple's iOS and macOS, including the Safari browser. The vulnerability, which the researchers named iLeakage, enables threat actors to read Gmail messages, reveal passwords and uncover other personal information.
The vulnerability affects macOS or iOS devices running on Apple's A-series or M-series CPUs, which include all modern iPhones and iPads, and laptops or desktops released since 2020. Macs can only be attacked when using Safari, but mobile devices are vulnerable when using any browser.
The researchers disclosed their findings to Apple on Sept. 12, 2022, and made the findings, as well as a research paper, public on Oct. 25, 2023. The iLeakage vulnerability has not yet been exploited in the wild as of October 27.
How does the iLeakage vulnerability work? 
How to defend against iLeakage on Apple devices 
How does the iLeakage vulnerability work?
The iLeakage takes advantage of a transient execution side channel, which is a performance optimization feature of modern CPUs. The particular side channel involved here is speculative execution, which can be vulnerable to a hardware hack known as Spectre. Attackers can detect traces of speculative execution in CPUs, particularly the cache. Attackers can force the CPU to speculatively execute the wrong flow of instructions. Then, the attackers can read sensitive data contained in the resulting side channel ( Figure A ).
The researchers who discovered the vulnerability are Jason Kim and Daniel Genkin of the Georgia Institute of Technology, Stephan van Schaik of the University of Michigan and Yuval Yarom of Ruhr University Bochum.
"Code running in one web browser tab should be isolated and not be able to infer anything about other tabs that a user has open," the researchers wrote on their website about iLeakage . "However, with iLeakage, malicious JavaScript and WebAssembly can read the content of a target webpage when a target visits and clicks on an attacker's webpage. This content includes personal information, passwords or credit card information."
The researchers demonstrated iLeakage by setting up a website that opens up a hidden window on the target's machine.
The researchers speculate that this vulnerability has not been found in the wild because it's difficult to orchestrate, requiring detailed knowledge of Safari and of browser-based side channel attacks. However, iLeakage is important to know about because of its novel approach and because the number of devices potentially open to exploitation through iLeakage is so high.
TechRepublic has reached out to the researchers for more information.
SEE: Everything you need to know about Apple's iOS 17 (TechRepublic) 
How to defend against iLeakage on Apple devices
Apple has enabled a mitigation for iLeakage in macOS Ventura 13.0 and newer releases, but it takes some work to find it. To activate the mitigation, follow the instructions posted on the iLeakage site under "How can I defend against iLeakage?" to access Safari's debugging menu . From there, you can find WebKit's internal features and an option to disable swap processes on cross-site window openings, which prevents the iLeakage exploit from working.
Also, entering Lockdown Mode or disabling JavaScript prevents the iLeakage exploit from working, but doing so may cause some of Safari's features not to work.
iLeakage can be hard to trace because it doesn't appear in the system's log files, the researchers said; instead, iLeakage resides entirely within Safari. Some evidence of the attacker website hosting iLeakage may be visible in Safari's browser cache of recently visited pages if an attack has already taken place, the researchers said.
Subscribe to the Cybersecurity Insider Newsletter
Strengthen your organization's IT security defenses by keeping abreast of the latest cybersecurity news, solutions, and best practices.
iOS 16 Cheat Sheet: Complete Guide for 2023 (TechRepublic)
Zero-Day Security Vulnerability Found in Chrome, Firefox and Other Browsers (TechRepublic)
Checklist: Network and systems security (TechRepublic Premium)
Cybersecurity: More must-read coverage (TechRepublic on Flipboard)
See all of Megan's content
International
Editor's Picks
TechRepublic Premium Editorial Calendar: Policies, Checklists, Hiring Kits and Research for Download
TechRepublic Premium content helps you solve your toughest IT issues and jump-start your career or next project.
7 Best AI Art Generators of 2023
This is a comprehensive list of the best AI art generators. Explore the advanced technology that transforms imagination into stunning artworks.
The Best Cheap Payroll Services for 2023
Find the perfect payroll service for your business without breaking the bank. Discover the top cheap payroll services, features, pricing and pros and cons.
NordVPN Review (2023): Pricing, Security & Performance
Is NordVPN worth it? How much does it cost and is it safe to use? Read our NordVPN review to learn about pricing, features, security, and more.
Best Free Project Management Software for 2023
Free project management software provides flexibility for managing projects without paying a cent. Check out our list of the top free project management tools.
Cloud Strategies Are Facing a New Era of Strain in Australia, New Zealand
Australian and New Zealand enterprises in the public cloud are facing pressure to optimize cloud strategies due to a growth in usage and expected future demand, including for artificial intelligence use cases.
Quick Glossary: DevOps
For many enterprises, the ability to rapidly develop, deploy and integrate new software and features is essential to the overall success of the organization. Managing all those moving parts requires workflow procedures that cross traditionally separate departments and can be accomplished only with effective communication and cooperation. These workflow procedures are referred to as DevOps, ...
Electronic Data Disposal Policy
Electronic data is likely to be more prevalent in today's organizations than physical printed data. Reams' worth of documents can now be stored on computer hard drives, handheld devices and storage cards smaller than a fingernail. The bulk of many strategic operations depends on this digital information and its safe handling. The purpose of this ...
End User Data Backup Policy
Data without an associated backup is only as reliable as the system upon which it is stored — and every system has a finite lifespan or may be susceptible to malware or hacking efforts. This policy from TechRepublic Premium provides guidelines for reliable and secure backups of end user data. It outlines the responsibilities of ...
TechRepublic on Twitter
TechRepublic on Facebook
TechRepublic on LinkedIn
TechRepublic on Flipboard
Privacy Policy
Terms of Use
Property of TechnologyAdvice
Create a TechRepublic Account
Get the web's best business technology news, tutorials, reviews, trends, and analysis—in your inbox. Let's start with the basics.
* - indicates required fields
Sign in to TechRepublic
Lost your password? Request a new password
Reset Password
Please enter your email adress. You will receive an email message with instructions on how to reset your password.
Check your email for a password reset link. If you didn't receive an email don't forgot to check your spam folder, otherwise contact support .
Welcome. Tell us a little bit about you.
This will help us provide you with customized content.
Want to receive more TechRepublic news?
You're all set.
Thanks for signing up! Keep an eye out for a confirmation email from our team. To ensure any newsletters you subscribed to hit your inbox, make sure to add [email protected] to your contacts list.