A Look At Amtrak Trips for Seniors (Train Travel for Fun!)
Amtrak train trips have a lot to offer seniors who enjoy travel with flexible options, lots of fare choices, and tons of destinations. Amtrak trips are often more enjoyable for seniors because you can enjoy the travel itself in addition to your destination.
Scott Grant, CSA®, SHSS®
With over 20 years of experience and certifications as a Certified Senior Advisor (CSA)® and Senior Home Safety Specialist (SHSS)®, Scott Grant provides reliable recommendations to help seniors maintain independence through informed product and service choices for safe, comfortable living.
It's a good time to be a senior citizen.
Seniors, especially those who are retired, often have a lot of free time. And these days, thanks to modern health care they're usually in good shape too. Many seniors have good health, wisdom, and the chance to take advantage of free time to finally see more of the world.
Travel can be cheap and cheerful, or luxurious, it's up to you.
While college graduates are often happy to travel by Greyhound, buses aren't ideal for those who are a little older.
You could drive and set your own schedule.
Or you could take Amtrak!. For many, Amtrak is a go-to choice and it's easy to understand why.
Fast and Fun Travel By Train
Many seniors prefer to spend their retirement days travelling and seeing the world.
Traveling by train is fast and fun. It can also be far more convenient than traveling using other methods. The Acela Express train travels at speed up to 150 miles an hour.
Travel to any new place can be stressful and difficult no matter what your age. But, travel is doubly stressful when you are a little older, for many reasons:
While many seniors are still fit a lot of the time, you may tire more easily and not want to walk long distances.
Waiting around may be an issue especially if you need to take medication at specific times.
You might find yourself a target for crime since there is the perception they you more likely to have things worth taking.
If you still have a job or family responsibilities, you need to be more stable and rigid in your schedules.
Maybe you are less comfortable with technology, e.g. ticket booking apps and maps.
You could also be used to a certain level of comfort. You've worked hard for decades and don't want to 'slum it' when traveling.
Driving requires a lot of concentration and is mentally taxing – and physically exhausting – when going long distances .
Of course, some of the above challenges could be applied to younger travelers and families too. It's one thing for a backpacking graduate to hitchhike and bus their way across the country. But if you're looking to relax and unwind then you don't want to be staying in hostels.
And, who wants to lose most of their trip to travel time.
Trains vs. Other Modes of Travel
The Greyhound bus is slow. You'll also be packed into close quarters with a bunch of strangers. Plus, there is no room to roam.
Coach tours with premium tour operators are more comfortable than taking a Greyhound. But, this means that you have to travel to someone else's schedule in a rigid way.
Driving means you can't switch off and enjoy the travel. Plus, you'll need to get in and out of your car frequently for rest breaks.
Flying is another option. Flights are fast and they can often be affordable. However, they come with their own challenges. While the actual length of a flight to another state could be quite short, you have to deal with getting to the airport, going through security hassles, and waiting at the gate. The whole process of checking in, flying, collecting your baggage at the other side (assuming it arrives) and then getting out of the airport at the other side can make air travel a pain for seniors .
Amtrak offers a convenient solution to those problems. Travel by train is fast and convenient and it can be affordable too.
Isn't Train Travel Expensive?
A lot of people have the mistaken idea that travel by train is expensive. It's true that if you travel in Business or Premium it can be expensive. Full price flexible tickets are expensive too. But there is a wide variety of ticket options and fares.
For example, a midweek ticket to travel from Los Angeles, California to Tucson, Arizona can cost $374 for a Superliner Roomette. But it costs as little as $38 for a Saver ticket!
The travel time for that Amtrak trip is around nine and a half hours. That's a long time, true, but it would take longer on a Greyhound. There are also fewer options for transport times too.
Why Should Seniors Consider Travelling by Train?
There are many reasons seniors should consider train travel:
Senior Discounts
Amtrak offers a lot to senior citizens including a ten percent Senior discount on most fares. (Saver and Flexible fares aren't included but Saver tickets are incredibly inexpensive anyway). There are also discount options for those with disabilities and their caregivers.
Easy Booking
Amtrak makes it easy to book since you can buy online or buy tickets at the station too.
Unlike some other companies, prices are almost always the same whether you buy online or at the station. There are also a handful of online-only special offers so it's a great idea to sign-up on their email list to get notifications about these deals.
Accessible Trains and Travel
Amtrak offers accessible trains and there are lounges for people to relax in at the stations.
There are station services available too. So, you can get help with navigating the station and finding your train should you need it.
Serving the Whole of the US
Amtrak has stations all over the US. This means that you can find a great vacation no matter what your tastes.
There are some destinations that are very popular with senior citizens, though, such as:
Washington DC – A trip to the capital is a must if you're interested in history and culture.
Yellowstone National Park – Nature lovers will enjoy a trip to this iconic national park.
Yosemite National Park – This is another must-visit destination for nature-lovers.
San Francisco – Enjoy the sights of San Francisco and soak up the atmosphere of the Pacific Coast.
Seattle – Everyone should visit at least once. Travel from Chicago to Seattle and you get to take in the Lewis and Clark trail along the way.
Las Vegas – A trip to Las Vegas to see the shows and place some bets will make for a nice trip at any time of year.
Hollywood – California is warm and varied; do the walk of stars, then head to some of LA's beaches to relax
Amtrak Getaway Travel Packages for Seniors
When you travel with Amtrak, you can simply book a ticket to your destination. Or, you can also take advantage of one of the travel packages that they offer. These packages have train transportation and accommodations sorted out for you. All you have to do is show up at the train stations on time.
RELATED GUIDE: Great Senior All Inclusive Vacations
Take, for example, the Northern Rail Experience. This is a nine-day trip which currently (at the time of writing) costs $1549, and takes riders from Chicago to Seattle, then to San Francisco, then back to Chicago, along a lovely scenic route. Guests will spend five nights on board Amtrak and three nights in hotels. There is a dinner included as well as CityPASS or sightseeing tickets in Seattle depending on the time of year.
RELATED GUIDE: Exciting Adventure Vacations for Seniors
Amtrak does not skimp on accommodations either. You get to choose from Hyatt, Crowne Plaza, and other similar caliber hotels so you'll be comfortable and get a great night's sleep. You also have flexibility with the itinerary so you can choose to do the traditional attractions such as the Space Needle. You even have time to go further off the beaten track if you want.
Other Benefits of Amtrak Trips for Seniors
Amtrak has something to offer for anyone. From national park visits for those who still have a lot of energy, to casino experiences or scenic rides around some picturesque parts of the north, there are plenty of choices.
There are trips – even day trips for seniors – to suit any budget, too. Savvy shoppers can put together their own trips and save a lot of money with saver tickets for their travel and discounted hotel stays.
Those who just want the convenience of someone else planning their journey can opt for packages which are still good value for money given the quality of what they offer.
Final Thought
Rail travel offers the perfect balance of speed and convenience at a price that puts it within the reach of almost every senior citizen. Whether it's a cross-country trip to visit the grandkids, or the start of the next big adventure, the train will get you there.
A gift certificate for train travel makes an excellent gift for older adults who love to travel too!
To learn more about planning an Amtrak trip for you or a senior, visit Amtrak.com
Tell me about your experiences traveling by train. Any destinations you recommend? Let us know in the comments below. And, if this guide was helpful, please share on your favorite social media account!
Stay up-to-date with helpful, uplifting insights for living your best years with practical tips and resources to maintain your health, independence, and quality of life as you age gracefully.
Learn More About Transportation Tips
12 thoughts on "A Look At Amtrak Trips for Seniors (Train Travel for Fun!)"
I am a senior with disabilities and I have traveled alone on AMTRAK for over four years Each year I visit with my two sisters and a nephew; we all meet in Laughlin, NV. and enjoy Thanksgiving together . I travel from Eugene, Oregon to Los Angeles, CA. They treat me so good with free breakfast, coffee and water, then free lunch and dinner then breakfast. The food is very good and it is brought to me as I can't do stairs. I have my own bathroom and shower and I have my own privacy. The scenery is outstanding and blissful ! I really do recommend traveling by AMTRAK. You get to see so much more of our great land, ENJOY
Hello Margaret – Thanks so much for sharing your personal experiences traveling on Amtrak! – Scott
My husband and I are taking the Grand Rail Experience in March 2021. We'll travel in a roomette on each train, with meals included. Starting from Chicago to Seattle for 2 days, then to LA on the Coast Starlight for 1 day, then to New Orleans for 2 days, on to DC for 2 days and then back to Chicago. It's a 2 week trip with 7 days on the train and 7 at the stops. Each stop includes a tour of some kind. It costs us a total of a little over $5,000. We are looking forward to being able to see the scenery passing by instead of missing it while driving.
Does Amtrack offer travel packages for people with walking disabilities?
As a single senior I enjoy seeing the USA up close, and as is, in comfort. In several rail trips I have never encountered an Amtrak Employee who was Not entirely polite and helpful. I Truly wish I could "ride the rails" much more frequently! Thanks for the happy memories! Don
good reading and comments Amtrack is on the bucket list of travels..thank you Jackie
My daughter and I want to go on a senior tour with our own room and restroom. We are both seniors. We are in Jacksonville, Florida. Four or five days would be nice. Do you have anything going out of our city? Shelby
I have been looking for days for a trip my sister who lives in Florida and I (in Utah) can take together. Obviously we will have to meet at a station and continue on. She is disabled and I have arthritis which will prevent me from having a top bunk and she can't get up to an upper level on a Superliner. We will want complete rooms, not roomettes and I am not interested in any hotel stays, only sleeping on the trains. It looks like adjoining rooms on a Superliner are upstairs. Poor planning I'd say. Let me know if anyone knows I am wrong
I want to experience the Moffatt Line between Winter Park, CO, and Denver, CO; Amtrak 5 and 6, California Zephyr.
Most convenient for me would be starting at either Granby or Winter Park, CO (whichever has the most convenient overnight parking) to Denver, then return the next morning, Denver back to Winter Park or Granby.
Cost of travel is foremost consideration, of course. Travel dates, to be determined – late May or early June? I am retired so most any days of the week are okay, and preferring least crowded days.
We booked a trip to Seattle and our train had two cars taken off it, and had to cancel the trip 3 weeks before the wedding we were going to go to. Missed the wedding. Paid $300 for trip insurance and essentially Amtrak cancelled my trip on me. I got my money back for the trip but it cost me $300 of insurance for a trip I wanted to take that they could no longer provide because they cut cars. I was not happy. Good Luck!
Please send us your brochure on your north American tours for this year
Hi Melanie- I am sorry – I am not a tour provider. Please contact Amtrak directly. This guide was more of a general introduction to train trips for seniors and the elderly. – Scott
Leave a Comment Cancel reply
Graying With Grace 6212 Fairview Drive Huntington WV 25705
More About Us
Legal Stuff
© Copyright text 2017-2023 by Graying With Grace, LLC. Stock Images by DepositPhotos . Nothing on this site should be construed as medical advice. I am not a medical professional, and no information on Graying With Grace should be taken over the advice of a medical professional. This blog is for informational purposes only, and posts are based on my personal opinions. As a participant in the Amazon Services LLC Associates Program, and as an Amazon Associate, I earn from qualifying purchases. Product prices are not guaranteed and are listed for comparison purposes only.
Train Travel for Seniors
1/17/2023 | By Donna Brody
Veteran train traveler Donna Brody looks at the benefits and basics of train travel for seniors and offers tips for travelers.
Retirees often joke that "every day is Saturday" as they enjoy the freedom from an eight-hour workday and 40-hour work week. Some seniors are anxious to fill that free time with travel. Trips to exotic places with temperate climates, journeys to ancient ruins or majestic mountains, or simple jaunts to an out-of-town craft fair or to visit the grandchildren are all options for active older adults.
Depending on the destination, the time of year, and the traveler's health, statistics reveal that most seniors will probably choose to journey by plane or automobile.
But, for some, the idea of busy airports jammed with people, strict TSA procedures, the inevitable long waits and the unexpected delays, baggage restrictions, and few meal options lessen the appeal of airline travel.
Even auto travel has drawbacks for older adults: a lengthy time in the car as well as the cost of fuel, meals, and lodging.
There is a third option that some older travelers might not have considered – the train. According to Amtrak , "Passengers over 65 make up 24% of Amtrak riders." There are a number of unique benefits to train travel that might just make seniors' vacations more comfortable and memorable.
As a primer, Amtrak is the only available passenger rail line in the United States. In 1971, the National Railroad Passenger Corporation (Amtrak's original corporate name) consolidated 20 different private passenger railroads into a single network. Its first official train ran from New York City to Philadelphia. Today, Amtrak serves more than 500 destinations .
Amtrak trains fall into two categories: long-distance trains and short-distance trains, including Northeast Corridor trains that run between Boston, New York City, and Washington, D.C. There are also some shorter distance train services in Pennsylvania, California, and Illinois. Short-distance routes are designed for day trips between major cities. They don't have sleeping cars or full dining services, but most do include a business class car with larger seats and non-alcoholic beverage service as well as a "quiet" car where cell phone use and loud talking (above a whisper) are prohibited.
Conversely, long-distance trains involve travel over a period of days through several states and offer options for sleeping.
Benefits of train travel for seniors
Amtrak travelers 65 years of age and over are eligible to receive a 10% discount on most Amtrak rail fares . On cross-border services (operated jointly by Amtrak and VIA Rail Canada), a 10% discount is available to travelers aged 60 and over.
Besides the senior discount (on fares that are otherwise cheaper than most airline flights), there are many other reasons to choose train travel over planes or automobiles.
Room to move
First, train's coach seats offer more legroom. Passengers can also get up and walk around while the train is moving or take advantage of the lounge cars and café cars. More than just a pleasant advantage, this can help prevent blood clots that can form during long stretches of inactivity. Overnight trains offer dining cars that serve three meals a day, with full menus. Long-distance trains have "smoking" stops built into the schedule at intervals along the route, and even non-smokers can use these opportunities to walk along the platform to stretch their legs and get some fresh air.
Room to snooze
Sleeping accommodations are available on long-distance trains, a top benefit of train travel for seniors. Charges for these rooms can be pricey, but customers can choose among several price points, based on size and amenities: roomettes, bedrooms, bedroom suites, family bedrooms, or handicapped accessible bedrooms.
To avoid the extra cost, some passengers choose to sleep in their coach seats, which recline and include small pillows. Amtrak coaches have outlets near every seat, so passengers can use laptops, charge phones, and watch TV and movies on their own electronic devices. Wi-Fi is available on most long-distance trains, though it is sometimes spotty in remote terrain.
Rooms with a view
By far the most exhilarating thing about a train journey, though, is the ever-changing scenery.
No conversation is necessary as whitewater rapids give way to craggy mountainsides, to enchanted snow forests, to desert cacti. The vistas can be spectacular. Extra-large windows in the Sightseer cars on some routes enhance the view. Even the sight of junk yards and abandoned, boarded-up buildings hint of mysterious backstories.
So, pack your imagination and hop aboard a train for a unique travel experience.
Tips for Amtrak train travel for seniors
Temperatures can vary in train cars, so always bring a heavy sweater or sweatshirt to wear as needed, year-round. Long pants and closed-toed shoes are also a good idea rather than flip flops or sandals.
Some travelers on trains are looking to socialize with their fellow passengers, especially in the Café, Dining, and Sightseer Lounge cars – others are not. Always respect people's preferences.
If you choose to sit in the quiet car, remember that cell phone use is prohibited and speaking louder than a whisper is frowned upon.
Passengers are allowed to bring their own food on the train, but it must be consumed in their seat. Full meals in the Dining car cost more than snacks and sandwiches in the Café car, and if traveling alone or in a twosome, you will be seated with other passengers in the Dining car. Alcohol is served in the Café / Lounge car.
Long-distance travelers who don't pay for sleeping quarters should bring blankets and larger pillows.
Each passenger may bring two personal items and two larger bags on board. The luggage racks on the lower level of coach cars fill up fast. There are ample overhead storage racks above the coach seats, but you'll have to carry your own luggage up a narrow stairway to your seat. Checking large bags at the station might be a better option and is free. Red Caps can provide luggage assistance at larger stations.
Keep medications and other necessary items with you.
Most trains do not have assigned seats in coach, but groups and families can usually find seats together. Conductors do sometimes assign seat numbers on certain crowded trains. Once your ticket is scanned, you can move about the train, but don't remove the seat check the conductor placed above your seat, and don't leave valuables in plain sight.
Trains don't always run on time. Most of Amtrak's travel is over tracks owned by freight railroads, which have priority. Build some flexibility into your schedule and always pack water and snacks just in case.
Donna Brody
Donna Brody is a former community college English instructor who retired to the Outer Banks of North Carolina. She enjoys freelance writing and has self published three romance novels. Besides writing and traveling with her husband, she keeps busy visiting her seven grandchildren.
Related Resources
Modern travel lessons learned.
The 10 Safest Countries to Visit
1/17/2023 | By Ellen Kennedy
Medicare Annual Enrollment: Changes happen. Now's the time to make sure you're still fully covered in 2024. Call to speak to a licensed insurance agent.
2023 Best Travel Discounts For Seniors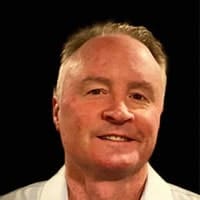 © The Senior List, 2023.  If you plan on recommending or sharing any of our discount lists, please do so with appropriate attribution to The Senior List® and a link back to our website.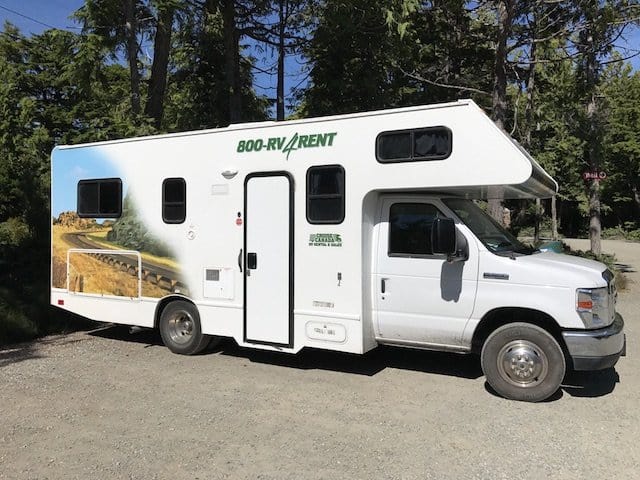 *Please note: Some of the discounts you'll see below are offered by franchise owners in local markets.  This means that senior discounts may vary by location.
Our List of Best Travel Discounts for Seniors is full of verified senior discounts.  Senior Discounts that have a verified flag next to them have vetted by us or our community members.
Remember that discount policies can change throughout the year.  Our best advice for discount shoppers is to ask ahead of time so there are no surprises.
Best Travel Discounts For Seniors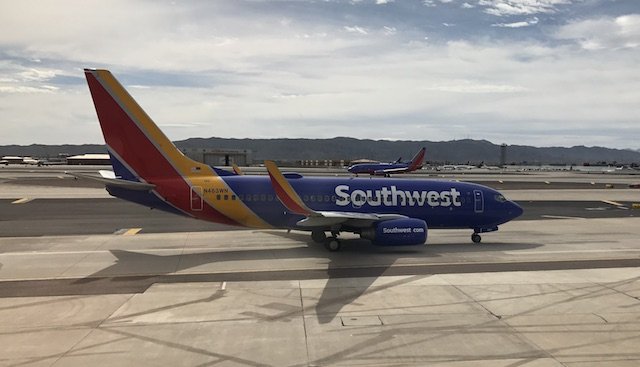 Senior Discounts On Airline Tickets
American Airlines: Various discounts for 65 and up (call directly about possible senior discounts, only available for certain markets and flights). Southwest Airlines : Various discounts for ages 65 and up (call to apply senior discount). verified British Airlines: AARP members can save up to $200 on flights. Click here to book travel. verified United Airlines : Various discounts for ages 65 and up (call to apply senior discount). verified U.S. Airways:  Has merged with American Airlines (see above). verified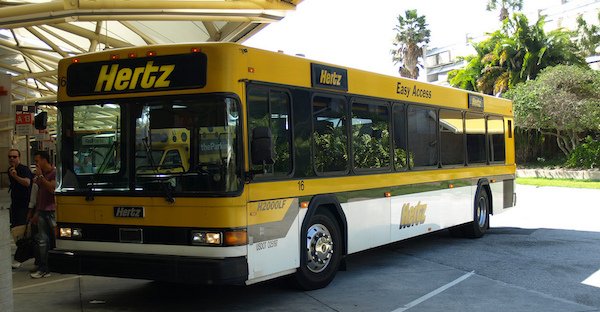 Senior Discounts on Car Rentals
Alamo Car Rental: Up to 25% off for AARP members verified Avis Senior Discounts:  AARP members save $10-$25 off Avis Car Rental  verified Budget Rent-A-Car Senior Discount : Everyday savings of 10-25% on all vehicles (domestic and international). Use Budget Customer Discount (BCD) # Y508537 to get the lowest rate(s) for AARP members (50+) verified Dollar Rent-A-Car: 10% off (50+) Hertz Senior Discount : Hertz offers exclusive rental car deals for renters 50+. Use discount code CDP# 2007815. verified Payless Senior Discount : AARP members enjoy discounts at Payless Car Rental, including everyday savings of 5% on leisure daily, weekly, weekend, and monthly rates. Use Payless Promo Code KW47RY verified
RELATED READ: SAVE MONEY ON FOOD WHILE TRAVELING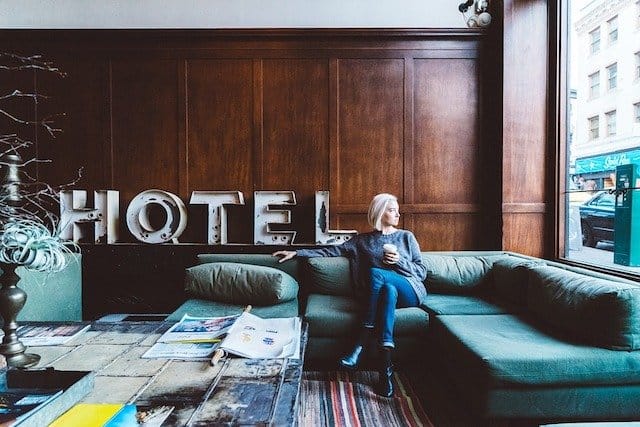 Senior Discounts on Hotels
Best Western Senior Discount : 10% or more for AARP or senior guests (55+) verified Cambria Suites  Senior Discount: (Choice Hotels) "Senior Rate":  If you are 60+ or an AARP member, you'll save up to 10% with advance reservations. Just select "Senior/AARP" from the special rate dropdown or request the Senior Rate* when you call 800-4CHOICE (800-424-6423). (60+) verified Candlewood Suites :  Discounts vary (62+) verified Clarion Hotels – (Choice Hotels) "Senior Rate":  If you are 60+ or an AARP member, you'll save up to 10% with advance reservations. Just select "Senior/AARP" from the special rate dropdown or request the Senior Rate* when you call 800-4CHOICE (800-424-6423). (60+) verified Comfort Inn  Senior Discount : (Choice Hotels) "Senior Rate":  If you are 60+ or an AARP member, you'll save up to 10% with advance reservations. Just select "Senior/AARP" from the special rate dropdown or request the Senior Rate* when you call 800-4CHOICE (800-424-6423). (60+) verified Comfort Suites – (Choice Hotels) "Senior Rate":  If you are 60+ or an AARP member, you'll save up to 10% with advance reservations. Just select "Senior/AARP" from the special rate dropdown or request the Senior Rate* when you call 800-4CHOICE (800-424-6423). (60+) verified
Related : Worried about falls or medical emergencies while traveling? Get help wherever you may roam. Check out the best cellular medical alert systems here .
Crown Plaza :  Discounts vary (62+) verified Days Inn :  Discounts vary (60+) You can also call 1-800-225-3297 and request the "senior rate"  verified Hampton Inn & Suites – AARP members save 10% verified Holiday Inn  Senior Discounts :  Discounts vary (62+) or with valid membership ID of a retired persons organization. verified Howard Johnson Hotel  Discounts :  Discounts off best available rate (60+) You can also call 1-800-225-3297 and request the "senior rate".   verified Hyatt Senior Discounts :  Up to 50% off (62+) verified Knights Inn :  Up to 10% off (60+) verified La Quinta  Inn Senior Discount :  Discounts vary (65+) verified Marriott Senior Discount :  15% off (62+) verified Motel 6 :  10% off (60+), AMAC members 10% off by using code CP545906 verified Sleep Inn – (Choice Hotels) "Senior Rate" :  If you are 60+ or an AARP member, you'll save up to 10% with advance reservations. Just select "Senior/AARP" from the special rate dropdown or request the Senior Rate* when you call 800-4CHOICE (800-424-6423). (60+) verified Super 8 :  Seniors save 10% off (up to 20% with AARP card) verified Travelodge Senior Discount :  Discounts vary (60+) verified Wyndham Hotels :  Up to 20% with AARP card, AMAC members 20% off verified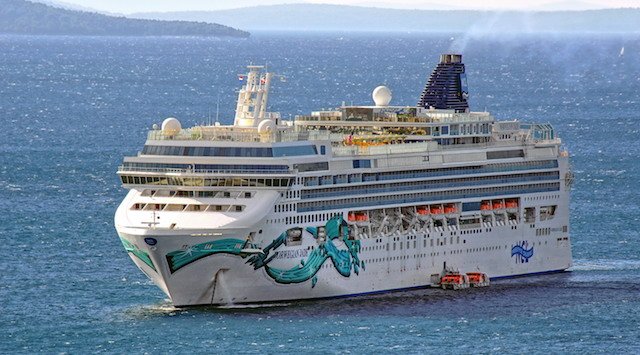 Cruise Discounts For Seniors
The cruise lines are always offering discounted fares for one reason or another.  Make sure you call your favorite cruise line to make sure you're getting the best deal for the month in which you're cruising.  In most cases, the big cruise lines like Carnival Cruises , Norwegian, Celebrity Cruises, and Royal Caribbean will offer discounts to those travelers that are 55 and older . (Be sure to ask).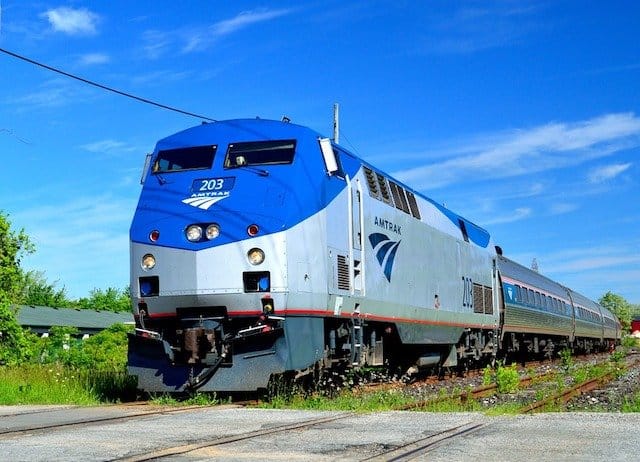 Other Travel Discounts for Seniors
National Parks Senior Lifetime Pass : A $10.00 **Lifetime Pass provides access to more than 2,000 recreation sites managed by five Federal agencies (62+). **Note – This price increases to $80 on Aug. 28, 2017   verified Greyhound : 5% discount (62+) verified Amtrak Senior Discounts : Amtrak travelers (62+) years of age and over are eligible to receive a 15% discount on the lowest available rail fare on most Amtrak trains. On cross-border services operated jointly by Amtrak and VIA Rail Canada, a 10% Senior discount is applicable to travelers (60+). verified
Other Senior Discounts:
2023 BIG LIST List of Restaurant Discounts For Seniors
2023 List of Senior Discounts for Retail and Apparel
2023 List of Senior Discounts on Prescription Medications 
Chris Clark
For over a decade, Chris has been writing about senior discounts and deals. He finds the hunt for discounts rewarding because it allows him to take care of older adults by offering them senior-specific pricing. As the son of two social workers, Chris has spent his whole life advocating for the betterment of others. When he isn't researching senior discounts, Chris enjoys fishing, spending time with his sons, and rooting for his favorite team, the Portland Trail Blazers. Learn more about Chris here
54 Comments
Leave a Reply Cancel reply
Your email address will not be published. Required fields are marked *
This site uses Akismet to reduce spam. Learn how your comment data is processed .
What would you like to share with us?
Join for Free
Members get updates like best products for seniors and senior discounts delivered right to their inbox for free.
Rutland Area
Wells Maine
Ogunquit Maine
Travel Groups
Travel Clubs
Walking Tours
Long Stay Vacations
Deals & Discounts
Best Destinations
Travel Planning Tips
Travel Safety Tips
Privacy Policy
Senior Travel Blog
Senior Travel Deals
FTC Disclosure:  If you make a purchase via a link on this site, We may receive a small commission on the transaction - at no added cost to you. Thank you!
Best Senior Travel Deals
The best senior travel deals include free vacations for senior citizens and discounts on off-season travel, senior friendly tours, last minute travel, AARP travel, ocean and river cruise lines, airlines, train travel, National and State parks, Disney World, volunteer trips and many more.
These deals are available to those who take advantage of the senior age requirements of many companies who offer them. 
There are numerous age-related discounts available for seniors.
How to Find the Best Senior Travel Deals
Check with the hotels, resorts or other accommodations for their off-season rates which can be a substantial savings.
Contact the owner of a Airbnb or Vrbo accommodation directly and ask for the best available or ask if they would except an offer for a lower rental fee. 
The best time to book a flight is 4 months to 3 weeks before your departure date. Also, you should check different departure days of the week if you can be flexible as a retiree. Most airline companies have discounted senior fares.
Always check for senior citizen discounts or AARP discounts (if you are a member) with cruises, train travel, airlines, bus travel, hotels and motels, restaurants, parks and campgrounds. 
NEW TO THE WEBSITE Our Newly Discovered FREE Vacations for Seniors Here is the Current Deal/Giveaway We Found Check Back Often To See The Latest!
We search  "high & low" for deals and giveaways for seniors. This one is a very attractive offer from Travel + Leisure.
Come back often to see the latest deals, contests or sweepstakes and "Who Knows" , it maybe you who wins!
Here is the latest we found; a Sweepstakes from Travel + Leisure .
Their offering a chance to win $10,000 for an  "Ultimate Family Vacation" .
Hurry!.... the Offer Expires on December 31, 2023!
Enter here .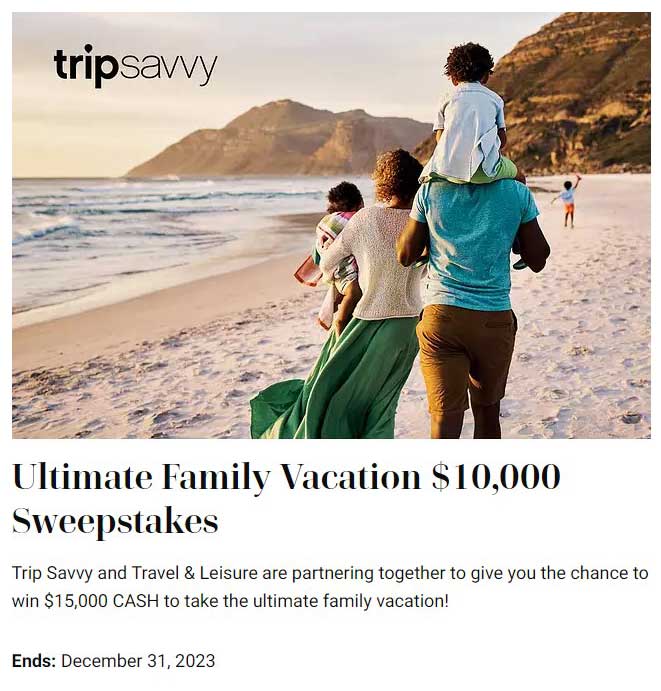 Off Season Travel Deals
Off season travel discounts are among the best senior discounts.
Taking advantage of your time flexibility can give older travelers great savings on rental accommodations.
Many tourist locations have off-season rates. You will have a better chance of avoiding the crowds of the main season and often get better service at hotels and restaurants.
Your trip will include a less crowded visit to a beach, a museum, a golf course and basically your entire itinerary.
If you visit Costa Rica, you will benefit from low season rates during May or November. We found that the sunny skies will be complemented by 10% to 40% lower rates.
Here is an example of a beautiful sunny 82° day on North Beach in Ogunquit, Maine in September. When the "Summer Crowds" have gone!
Visit Ogunquit, Maine for Seniors here .
Group and club travel.
Another alternative for some of the best senior discount is to take advantage of the group rates available to members of travel groups for seniors   and travel clubs for seniors . 
Solo travelers, traveling in a group receive socialization as well as discounts. Group travel hosts have senior vacation packages and vacations for seniors on a budget.
The groups can be free but the clubs charge a small fee for membership. 
Receiving the club's discounts can more than make up for the cost of membership.
Home and Abroad Tours
Many companies offer Tours customized for seniors.
Since these companies can generally get the best flight deals as well as a number of other discounts, these tours can be a bargain. There is a huge variety of senior tours.
Walking International Adventures has walking tours suitable for seniors.
Adventures Abroad even has custom a custom walking tour for grandparents and grandchildren.
Last-minute Travel Deals
Some of the best senior travel deals can be obtained by traveling last minute.
Check Expedia, Travelocity, Priceline and Hotwire for super discounted last minute deals.
The best way to find a deeply discounted rate on major cruise lines is to book last minute unsold cabins.
Note that you will usually need to travel within 2 weeks. As seniors with flexibility for scheduling, this can really save us some money.
Airline Discounts
Many airlines offer discounts to seniors on some select flights. 
Delta Airlines
American Airlines
Southwest Airlines
United Airlines
US Air  
British Airways doesn't offer a direct senior citizen discount but AARP members can save when booking through AARP.
Low cost airlines such as JetBlue, Spirit, Frontier and Virgin airlines do not age related discounts but offer various discounted specials on their websites.
It is worth checking airlines around the world for senior discounts if your travel includes those destinations.
Please understand that these airline deals are not always available on-line. They do not always apply to every flight destination. Always call the airline directly if interested in receiving this type of discount.
Booking flights on Monday through Wednesday will save on airfare.
6 Airline Travel Tips to Save Money
Book Winter flights in the Summer. (Just as Winter coats go on sale in the Summer, so do Airline flights.
Book One-way flights rather than Roud-trip flights. (You can save $100 - $200)
Use your Points or Miles. (Make sure you're getting the best; you should get at least 2 cents per point)
Check fares for nearby airports from your destination.
Travel on the actual holiday themselves (Could be 30% - 40$ cheaper)
Travel Internationally on Thanksgiving (It's  the best week of the year for overseas travel; everyone usually travels locally for the holiday)
Cruise Line Discounts for Seniors
Celebrity Cruise Line -over age 55 on select itineraries
Carnival Cruises  - over age 55 on select itineraries
AARP on select cruises-members over 50 years of age 
Cruise Direct is an online search engine for cruises that allows customers to compare prices and see the trip options.
Disney Cruises has special offers on specific sailings listed on their website.
Please note that some cruise lines offer a free upgrade on select cruises for senior travelers.
Holland America does not offer senior discounts but it is worth checking the website for special deals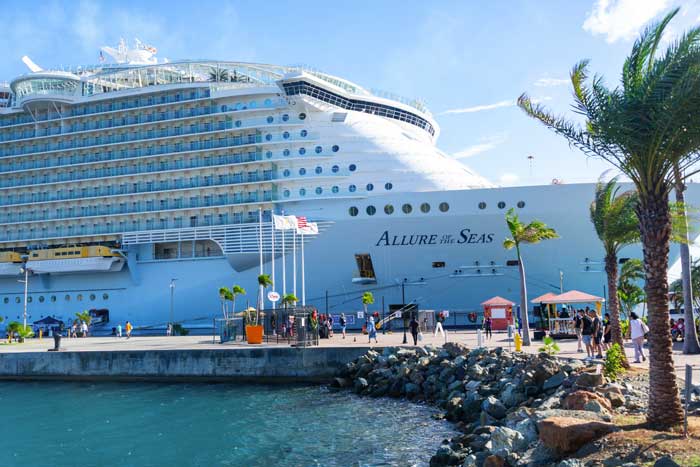 River Cruise Promotions
Many have special promotions on their websites but do not have specific discounts for senior citizens.
American Cruise Lines has special promotions listed on their website.
Viking River Cruises has special promotions on their website 
Train Travel Discounts
Amtrak offers a 10% discount on rail fares to travelers over age 65 in the United States.
For those traveling across the border to or from Canada, Amtrak offers a 10% discount to those over age 60.
Using rail travel to get to your destination of choice is a relaxing way to travel and something to consider are Amtrak's vacation packages including weekend trips.
Bus Travel Discounts
Trailways   offers a 10% discount to seniors age 65 and over. There is also a half-fare promotion on select routes for seniors and those with a disabilities. 
House exchanges
Why not list your house with a house exchange?
A house or home exchange is a mutual exchange of homes for a set period of time between two home owners.
Both parties can enjoy totally free vacation accommodations rather than staying in expensive hotels.
Choose a reputable company for the safety of your property. You shouldn't have any problems because they have regulations. The benefit of free rent is huge.
Home Base Holidays
Home Exchange 50 Plus
Home Exchange
Stay at a Hostel
You can save a lot of money by staying at a Hostel.
An older friend recently returned from Italy. She stayed at a Hostel located in a beautiful location and it was quiet in regard to the guests.
However, young people who enjoy a party often frequent Hostels. So, if you like quiet, be aware when inquiring about a Hostel.
Website: https://www.kayak.com/hostels
National Parks and Campgrounds
One of the best deals is the Lifetime Senior Pass for United States citizens.
It will provide you with free entry into all National Parks in North America for the rest of your life.
If you are on a fixed budget you can obtain a Yearly Senior Pass for entry into all of the National Parks for $20 for one year.
Besides giving entrance to the National Parks, your camping fee is reduced by 50%.
AARP members receive a 10% discount at some campgrounds.
Disneyland & Disney World
Disneyland and Disney World do not have discount tickets for seniors. However, you can buy them from a ticket broker because these brokers often have the lowest prices on legitimate Disneyland & Disney World tickets.
Some senior citizen organizations can occasionally offer special discounts.
AARP Discounts
The AARP membership gives a variety of discounts on just about everything travel related.  Membership provides savings on rentals, air fair, cruises, tours, and vacation packages You need to join for an annual membership.
For convenience, AARP provides senior members with an AARP card to present to hotels, airlines, cruises, car rentals, bus lines, campgrounds and many more to receive discounts.
Volunteer Trips
Many older adults have time on our hands and wish to put those hands to good use. If so, think about a volunteer trip that might offer free housing and food in exchange for your help.
Volunteer opportunities make for some of the best senior travel deals. They may take you to far away locations. You might put the skills of your lifetime to use by tutoring, working on computers, environmental work and much more.
You can find volunteer opportunities that involve travel with a Volunteer Opportunity Service.
Global Vision International has volunteer opportunities for seniors over 50. This is an Award Winning Company that focuses on conservation and community development programs.
Working Vacations
Jobs abound for older adults in just about every state and country.
There are plenty of positions on cruise ships for older adults to work part-time and enjoy the cruise on their spare time.
If you are no longer bound by a career, family or other responsibilities, you can work in the chosen location for your travels.
This is a chance to use the skills and knowledge you have already achieved or explore new jobs to expand your knowledge and skills.
Often, this lets you work near other seniors or people of a variety of ages. 
Hotel Deals/Discounts
Large chain hotels give a range of 10% to 15% price reduction at select dates for seniors. The age requirement ranges from 50 to 65.
Hotel Rewards Programs
A great way to save on hotels, motels and suites is to join the Choice Privileges Reward Program .
We joined a few years ago and have saved quite a bit on our many stays.
The Choice Hotels chain has various well-known brands to choose from when booking a stay. Their hotels vary from economy grade to luxury. They are found in thousands of locations throughout the world.
So you won't be hard pressed to find one no matter where you're headed on your next venture!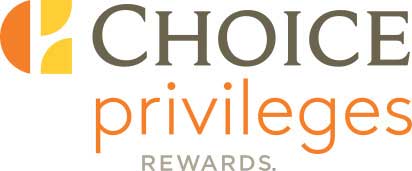 The program awards you points for each Choice hotel or suite booked.
After you've earned enough points, they can be redeemed when booking a hotel or suite as a discount on the cost.
Sign-up here .
Choice Hotels Brands
Upscale 
Extended Stay
Restaurants
Large chain restaurants offer a variety of discounts ranging from 5% to 25%.
Again the age requirement varies. Sometimes they give a drink or a coffee. 
Find Us Here!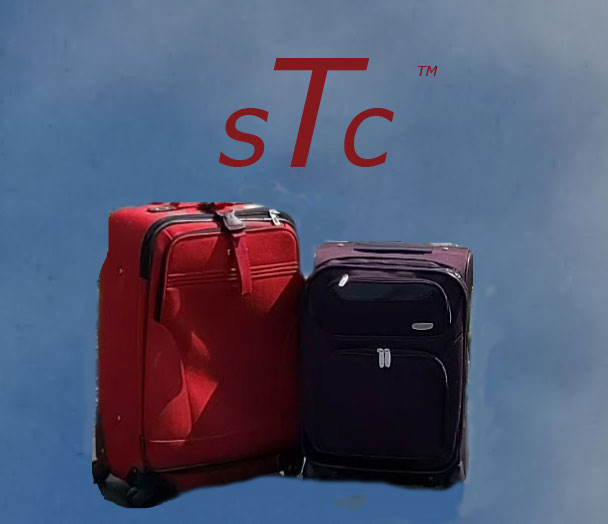 Stay in Touch With The Latest!
Subscribe to the "Senior Traveler" Newsletter
FTC Disclosure:   If you make a purchase via a link on this site, We may receive a small commission on the transaction - at no added cost to you. Thank you!
Recent Articles
Whale Watching Ogunquit Maine. Tours Near Perkins Cove.
Sep 28, 23 07:16 AM
Best Fishing Charters in Ogunquit Maine. Deep Sea Fishing Charter.
Aug 24, 23 04:51 PM
Whale Watching Wells Maine. Best Tours To Do in Maine.
Aug 24, 23 02:16 PM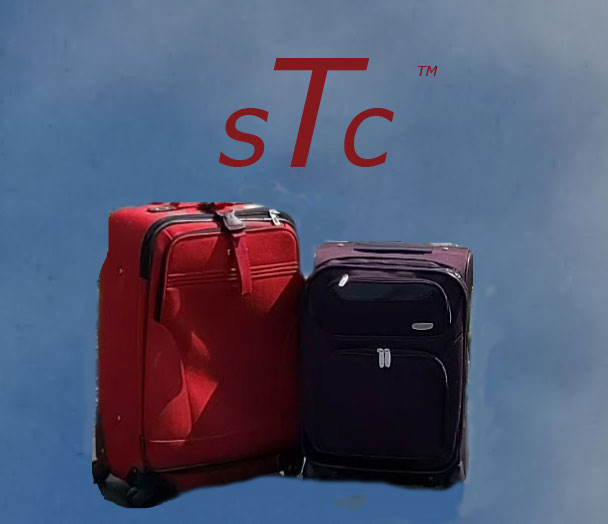 Subscribe to "The Senior Traveler" FREE Newsletter
We promise to only use your email for our Newsletter.
We will absolutely  NOT  share your email with anyone.
This website, seniortravelcentral.com, does not sell any personal information. (See Privacy Policy )
By James & Ruth White, Copyright © 2021-2023 Seniortravelcentral.com ™ All Rights Reserved
Amtrak Trips for Seniors: How to Plan the Perfect Train Tour!
Megan Marrs
Are you a senior citizen looking for a relaxing and enjoyable way to travel? Look no further than Amtrak!
With its comfortable and convenient rail service, Amtrak trains offer a wide range of trips for seniors to explore new destinations and create unforgettable memories.
Benefits of Amtrak Train Travel for Seniors
Amtrak offers many benefits that make it the perfect choice for seniors. Here are just a few:
Comfortable and spacious seating. Amtrak trains boast larger, roomier seats than buses or airplanes, making them ideal for seniors who want to relax and enjoy the journey. It's quite the step up from the cramped quarters common in economy flying these days!
Onboard amenities . Amtrak trains come equipped with dining cars, snack bars, lounge areas, free Wi-Fi access, and more–perfect for those who want to stay entertained and well-fed during their trip!
Convenient access to popular destinations across the US. With Amtrak's extensive rail network, you can get to just about anywhere in the United States with ease.
Affordable prices and discounts for seniors. Senior citizens can take advantage of special discounts on Amtrak tickets when they book directly through Amtrak.
Take in the scenery . What could be better than sitting back and watching the countryside go by while you travel? Rail trips give you the chance to witness some of America's most breathtaking landscapes up close.
Avoid the hassle of the airport. With train trips, you don't have to worry about the lines and the hassle of TSA checkpoints. All you need is your ticket, your bag, and you can hop right on the train without any waiting or stress.
Minimal walking. Train travel is great for seniors who prefer vacations with minimal walking , making trips easier for seniors who may have mobility issues. And, while it's always recommended to get out at stops and explore your destination more thoroughly, you can still see plenty of sights and scenery just sitting on board.
More relaxing than driving . If you're looking for a truly stress-free way to travel, train rides can't be beat. With room to stretch out and no need to keep your eyes on the road, senior passengers can sit and rest easy while they take in the sights along their journey.
Ability to get up and move around. Roomy Amtrak trains offer the ability to get up and move around as needed — perfect for seniors with circulation issues and those who prefer to get up and stretch their legs during the trip.
Easy to book . Amtrak makes it easy to book your train tour right from their website or by phone.
Bring small pets . Amtrak allows passengers to bring small pets aboard with them in carriers, so you don't need to leave your fur baby behind!
Popular Amtrak Train Trips for Seniors
Whether you're planning a weekend getaway or a cross-country adventure, Amtrak has a variety of train ride routes that offers something for everyone.
Whether you want to visit big cities, small towns, or places you can only see by rail, train travel can take you there.
Amtrak boasts over 30 long-distance and regional routes with 500 destinations that offer seniors the chance to explore some of America's most exciting cities, historic sites, scenic landscapes, and charming small towns across 46 states.
Some of the most popular Amtrak trips for seniors include:
Coast Starlight
This scenic route takes you from Los Angeles to Seattle, with breathtaking views of the pacific coast, lush forests, and majestic mountains. Along the way, you'll stop at iconic destinations like San Francisco and Portland.
Pacific Surfliner
This stunning trip takes you from San Luis Obispo to San Diego, with stops at train stations in Santa Barbara and Los Angeles. You'll get to explore charming beach towns, dine on fresh seafood, and take in the breathtaking California coastline along the way.
Sunset Limited
This train route takes you from New Orleans to Los Angeles, with stops in between at cities like Houston, San Antonio, Tucson, and Palm Springs. Explore some of America's most iconic southern cities and take in the country's picturesque desert landscape.
This route takes you from New York City to Montreal, with stops along the way at Albany and other charming towns in upstate New York. As you tour, you'll get to experience stunning lake views along this northern rail experience.
Empire Builder
Travel from Chicago to Seattle or Portland on this historic city route, which takes you through the heart of America's Midwest and the rugged beauty of the Pacific Northwest. Don't miss your chance to see the space needle in person!
Southwest Chief
Experience the beauty of the American Southwest on this train route, which takes you from Chicago to Los Angeles. You'll pass through colorful deserts, towering mountains, and charming small towns, with plenty of opportunities to explore the region's rich history and culture.
Build Your Own Route!
Want to customize your adventure? Amtrak offers a USA Rail Pass and the California Rail Pass which let you hop on and hop off all across train stations at various destinations.
Just pay one single, discounted fare and create your bucket list itinerary!
California Rail Pass . Hop on/off train stations within California, with 7 days of travel over 21 days.
USA Rail Pass . Hop on/off the train across 500 destinations, with 10 segments over 30 days.
Amtrak Vacations (for Extended Tours)
Looking to do a longer week-long getaway via train travel? Amtrak Vacations offer great vacation options with package deals that include everything you need.
Amtrak vacations are pricier than standard Amtrak fare routes , since these itineraries are longer and include other additions like rental cars, escorted tours, and hotel stays.
Popular Amtrak vacations include:
Grand Canyon Rail Tour : Hop aboard a vintage train and explore the Wild West on your way to the iconic Grand Canyon.
Glacier National Park Tour: Take in the stunning beauty of Glacier National Park and explore one of America's last wild frontiers by rail.
Adirondack Adventure : Explore the wonders of New York's Adirondack Mountains, including Lake Placid and Saratoga Springs.
New England Coast Vacation : Hop on the Amtrak Downeaster and explore historic seaport towns, charming lighthouses, and quaint seaside villages along New England's coastal route.
Rocky Mountains Tour : Get your fill of majestic mountain views and explore world-famous ski resorts on this rail journey from Denver to Salt Lake City.
Getting the Best Deal: How Seniors Can Save on Amtrak Tickets
You can save on Amtrak train tickets when you book your trip in advance and take advantage of discounted fares, especially during off-peak times.
Discounts for Seniors . Amtrak also offers a 10% senior discount for passengers ages 65 and older — just keep in mind that this discount doesn't apply to first-class tickets or sleeping accommodations.
Discounts for the Disabled. Amtrak also offers 10% off rail fares to passengers with a disability. Those traveling the Downeaster route (Boston, MA to Portland, ME) are eligible for a 50% discount. They also offer a 10% discount for companions traveling with a disable passenger.
Check Amtrak Deals Page . Amtrack will run promotions and discounts on certain routes, so make sure to check their deals page for what's running at a discount. For example, specific routes may have buy one, get one half off deals or up to 50% off when you book certain train routes early, before the height of the season.
What to Expect for Fare Prices
Amtrak fares can vary a lot depending on your destination, distance, and timing.
Multi-day vacation packages can run anywhere from a couple of hundred dollars to thousands.
For example:
The 5-day Grand Canyon tour with two different destinations is about $950 per person.
The 10-day Grand National Parks of the Southwest tour, with ten destinations, is almost $3,000 per person.
The 7-day California Zephyr Rail Experience tour is roughly $700 per person, with two destinations.
But there are cheaper options too.
For example, The USA Rail Pass (where you can hop on and off at various train stations across the US for 30 days) is roughly $500 for a coach ticket . The California Rail Pass is just $159 per adult!
Tips for Planning Your Amtrak Trip
Ready to start planning your Amtrak rail adventure? Here are a few tips to help you get started:
Book early for better best prices and your choice of seating options. Don't forget that certain routes can have super deep discounts for early booking. If you aren't picky about your route, you can get a great deal!
Planning a multi-day trip? Consider upgrading to a sleeper car! Even if you're just doing a day trip, booking a private room can serve as quite the upgrade from coach class.
Pack light . You'll want to pack pretty lightly on Amtrack, as luggage storage space is limited on the train cars.
With its comfortable and convenient rail service, Amtrak is the perfect choice for seniors looking to explore new destinations and create unforgettable memories.
Have you ever traveled via Amtrak? What was your experience like? Let us know in the comments!
Related Posts
40 Caregiver Statistics That Reveal A Dire Situation
Best Thermostats for the Elderly: Helping Seniors Keep Comfy!
Best Wheelchair Cup Holders: Top Picks for Convenience & Accessibility
1530 P B Ln # M3299 Wichita Falls, Texas 76302

www.seat61.com

Welcome to the official website of...
The man in seat sixty-one.
Buy train tickets
Buy ferry tickets
Book a hotel
Privacy & cookies
Train travel UK & Ireland...
Train travel in europe..., train travel in asia..., train travel in africa..., train travel in america..., train travel in australasia.

Just a reminder... Seat61.com is not a company or a travel agency, but a personal site originally started as a hobby. Ads & affiliate commission support the site and my travel habit (er... I mean research), and buy me a beer or two. The information on this site aims to help, but I can't take responsibility for any inaccuracy. All pages & photos © Mark Smith 2001-2023, except where shown. Please donate! If this site helps you, please consider donating to UNICEF or maybe contribute a photo or two .
Search Please fill out this field.
Manage Your Subscription
Give a Gift Subscription
Sweepstakes
Senior Travel
It's Not Too Late to Travel Solo After Retirement — but Don't Make These 14 Mistakes
"Sometimes as you're getting older, you might start feeling less capable. You go out there and you navigate the world by yourself? Yeah, you come back feeling pretty darn strong."
Embarking on a solo trip as a senior comes with its own set of challenges — and perks. Travel + Leisure turned to senior solo travel expert Janice Waugh of Solo Traveler World for insight into what not to do as a senior traveling solo.
Thinking You're Younger Than You Are
Don't overestimate your abilities — or underestimate your age. "It's pretty common," Waugh laughs. "When you hit about 40 or 50, you really think you're about 10, 20 years younger than you actually are. It's really important that you take an assessment and know your physical abilities so that you don't get yourself into an awkward situation. Know how far you can walk, how far you can ride, how far you can hike, what stairs are like for you, what it's like on uneven surfaces — just take account of this, because it can really affect your enjoyment of the trip once you go."
Choosing the Wrong Destination for Your Situation
Plan trips according to what's best for you at this stage in life. "You really need to choose the trip, the tour, or the destination that's right for you — and that, again, is going to be affected by your abilities," Waugh says. "Maybe you've been a great hiker in the past, but it's just not in the cards, but you also love cooking, so you go to Italy and take a cooking course. Sometimes you have to adapt according to the times within your life."
Flying Solo When a Group Trip Would Be Better
Based on your desired destination and activities, determine whether a visit is best tackled solo or within the embrace of a group tour. "It's really important to assess the destination and how challenging it might be and whether it might be best on a tour," Waugh says. "Or you might be looking at yourself and saying, 'You know what, I'm now at the stage where I need more backup so that if something goes wrong, I've got a tour guide to turn to.' Making that decision as to the nature of your trip — independent or with a tour or on a river cruise or something of that nature — I think is really an important thing to do."
Not Buying Travel Insurance
In many circles, travel insurance is up for debate , but Waugh won't travel without it.
"I have bought travel insurance my entire life — and I've won the game on some years," she says. "You have to have travel insurance. It's so important. It gets much more expensive as you get older, so that can be a challenge, but more things can go wrong, which is why it gets more expensive." She recommends simply counting travel insurance as part of the cost of your trip.
How do you choose which travel insurance package or level of coverage is right for you? "Everyone has their own level of risk, even as a senior," Waugh says. "If you don't care whether you lose your luggage, then don't get it covered. Have a look at it in terms of what you actually want to buy."
Assuming You Won't Meet Other Seniors Traveling Solo for the First Time
Trying something new is often intimidating because you fear that others are seasoned experts who have been at it for years. But when it comes to travel, you're not alone; many seniors are also traveling solo for the first time in their lives.
According to Waugh, "Very often, [seniors are] traveling by themselves for the first time, and this might be because they are now a widow or widower . Or divorced — a lot of people divorce in their 50s and early 60s, once the kids are gone. Or it might be that one party does not want to travel; maybe they traveled for work their entire life and they've had it with airports, and the other is just really keen on getting out and exploring the world. There are many, many reasons that people will come to solo travel later in life."
To seniors considering traveling alone for the first time and finding the prospect daunting, Waugh recommends a group setting. "A lot of seniors go on tours or escorted travel, and that takes the worry out of it for you," she says. "You know you're going to be sitting with someone to have dinner; you know someone's going to navigate the whole destination. So that's a really valid and useful way to travel for seniors."
She estimates that probably 75 percent of solo-traveling seniors opt for a tour, but there are certainly some who choose to explore completely independently. "I think that as long as you're fit and healthy and adventurous, then it works well," Waugh says. "Those who go independently, it's very interesting to see the response of the world to them. It's very welcoming."
Not Starting Small
Another surefire way to get comfortable traveling on your own as a senior is to start small and stay local. "Go to a city not far from you, where it's really familiar," Waugh advises.
If you have a lot of travel experience already and it's not the travel that's baffling you but the being alone, then choose a place that's different yet familiar. "If you want to be more adventurous than just going down the road, so to speak, then go to the UK or go across the country or go somewhere where English is spoken and it's pretty familiar how the world works," Waugh recommends. "You get your feet wet that way."
Overlooking the Single Supplement
Traveling solo can become surprisingly pricey when you run into the dreaded single supplement. Because most hotel rooms and cruise ship cabins are built to accommodate two occupants, solo travelers often encounter an extra charge that exists to compensate for the lack of full capacity.
"The single supplement, historically, has been up to 100 percent, and it still is in some places," Waugh warns. Solo Traveler World advertises tour companies with no single supplement or a low single supplement. "We have a 20 percent threshold, otherwise they can't advertise on our page," Waugh says. "I think it's the only resource online for solo travelers to find trips that are truly designed for solo travelers."
Not Sorting Out Your Communication Strategy Before You Depart
Don't leave home without knowing how you'll contact home in case of emergency.
"What can happen, if you're under stress and the things you have to do to communicate with home or with your travel agent or whomever is not clear to you — if you're using the phone and you've just bought the phone, that kind of thing — the stress can make it impossible, almost," Waugh says. "So make sure that you're leaving really confident about how you're communicating with home."
Not Using Technology to Make Travel Easier
Don't bog yourself down with devices you won't use, but be open to learning and utilizing the sundry travel tools available in the modern age. Traveling with technology is not necessary, though it can be helpful, Waugh says.
"Stick with what you're comfortable with. If you're going to a country that's not a language you speak, then definitely get comfortable with a translation app." She also recommends using Google Street View to take a look around the area before booking accommodations.
Overpacking
Overpacking makes travel both cumbersome and expensive. "I recommend one carry-on bag and I really urge people to just go with that because you are so much more mobile that way," Waugh says. She suggests choosing two base colors for your wardrobe and accessorizing with non-flashy, cheap jewelry and scarves.
"I've gone on business trips that have hiking side trips and it's all in one carry-on; I've been out for a month with one carry-on," Waugh says. "It can always be done."
Overall, keep your bags light by keeping your packing list simple and versatile.
Scheduling Your Arrival After Nightfall
As a senior, you should plan to arrive at your destination in the daytime — the world does not look as safe and easy to navigate in the dark, Waugh warns.
"I went to Havana one time and arrived after dark," she said. "I was dropped off at the edge of Old Havana, where there were no cars, and I had to drag my roller bag over cobblestones in what was virtually the dark, 'cause there was not a lot of street lighting, to find my hotel, which had the doors closed. And you can imagine: my bag is making these rackety sounds over the cobblestones; it's echoing on the buildings and I'm feeling incredibly vulnerable. So that was when I learned: make sure you arrive during daylight. Life will be easier."
Ignoring Your Instincts and Neglecting to Be Cautious
Part of orienting yourself with your surroundings — beyond reading maps and putting together a geographically sound itinerary — is trusting your gut. "If something feels uncomfortable, get out of there," Waugh says. "You don't want to be too polite. If someone's making you uncomfortable, be noisy about it."
In that vein, Waugh's No. 1 rule as a senior traveling solo is to remain in public with the people she meets. "To go into a private space, whether it's a taxi or you're invited to someone's home or something of this nature — don't do that," she advises. "It's difficult to evaluate someone outside of your own culture and when you're on holidays, you're all bright-eyed and excited. If you stay in a public space with someone that you find interesting or fun or whatever, it's going to be safer, so always stay in the public sphere."
Assuming All of Travel Is How It Used to Be
As a senior, you may have decades of travel experience, but don't let that cloud your awareness of the many ways travel has progressed — and become more accessible than ever.
For example: because hostels used to be called "youth hostels," many seniors write them off or overlook the opportunity they present for an affordable stay in an approachable setting. But hostels aren't just for young people anymore (though being young at heart is probably a plus). "You get families at hostels; you get seniors at hostels — not as many, but there's usually one other senior at a hostel, and of course they're such a wonderful way to stay somewhere and be in a social environment," Waugh says.
Another positive change is the increased ease of communication. "If you were traveling in the '70s — or '80s, even — your only option in terms of communication was basically postcard or an incredibly expensive phone call on a phone that made no sense because every country had its own phone," Waugh says.
With a smart phone in your pocket — even if you barely use it — you can be connected at a moment's notice, should you so desire. Gone are the days of picking up your mail at the American Express office.
Underestimating How Rewarding Solo Travel Can Be
The solo travel trend of recent years has led to its benefits being recognized widely — but the gifts that solo travel offers to seniors differ from those of any other demographic. While traveling alone might offer a young person the opportunity to discover him- or herself, for seniors, the experience is gratifying in other ways.
For Waugh, it's about the people you meet on the road. "Because you're alone, people step into the space; people step in and they'll talk to you," she says. "Whether it's other travelers or whether it's locals, it's really a wonderful experience."
However, she adds, many seniors extol the main virtue of solo travel as the chance to do what you want, when you want, however you want to do it. When you're traveling on your own, there's no attending to other people's needs or accommodating their schedules. "If they're a 6:00 riser, if they're a 10:30 riser — whatever, it's all up to them," Waugh remarks. "They don't have to go to museums if they hate museums. They can go to museums all day if they love museums. It's all up to them."
Plus, she says, the experience is incredibly empowering. "Sometimes as you're getting older, you might start feeling less capable. You go out there and you navigate the world by yourself? Yeah, you come back feeling pretty darn strong."
Hear more from Janice Waugh about the beauty in solo travel on Let's Go Together , available on Apple Podcasts, Spotify , Megaphone , and Stitcher .
By clicking "Accept All Cookies", you agree to the storing of cookies on your device to enhance site navigation, analyze site usage, and assist in our marketing efforts.
Monitor your diriving skills and get rewarded when you improve. Download AARP SafeTrip.
6 Unforgettable Overnight Train Trips
Recapture the romance — and enjoy the relaxation — of north american rail travel.
by Larry Bleiberg, AARP , Updated May 11, 2022
Rocky Mountaineer
En español | Amtrak, which runs 15 long-distance routes, offers white-tablecloth service and communal seating on most routes west of the Mississippi, and on the Auto Train. On other routes, sleeping-car passengers can dine in their cabins, or in a reserved communal area. Other passengers can buy food in the café car.
Here are six popular trips. Except when noted, they can be booked directly through Amtrak.com or using the  Amtrak app .
PHOTO BY: Amtrak
Train: California Zephyr (Amtrak)
Route: Chicago to Emeryville, California
Amtrak's pride and joy , this 52-hour journey may be the country's best rail trip, thanks to a combination of timing and scenery, with daytime travel through the Colorado Rockies and California's Sierra Nevada Mountains. The westward trip leaves Chicago in the evening, and passengers awake in the morning just east of Denver. And that's when the thrills start, with the route winding through deep canyons inaccessible to cars, through the red rock country of Utah; by Reno, Nevada; and finally rolling in to the Bay Area near the Golden Gate Bridge.
Overnights: 2
Price:  Fares vary by season and time of booking. Expect prices to start at about $470 for a single roomette, $690 for a double, with meals included; and coach seats to start at about $140, meals not included; senior discounts aren't available on the lowest-priced coach-seat fares.
Train: Crescent (Amtrak)
Route: New York City to New Orleans
Starting in the bustle of Manhattan's Pennsylvania Station, this big city train has a dual personality. At the beginning of the 30-hour route, it's full of riders on the busy East Coast corridor, with stops in Philadelphia and Baltimore. But then the pace begins to slow. Travelers soon catch sight of the Blue Ridge Mountains as they pass through historic stops such as the university town of Charlottesville, Virginia, and then down to the Deep South. The route covers some of the important sites of the Civil Rights movement, including Greensboro, North Carolina; Atlanta; and Birmingham, Alabama; before arriving in New Orleans.
Overnights: 1
Price: Starts at $466 ($444 for 65-plus) for a single roomette, with meals included; $686 for a double roomette ($642 for 65-plus); coach seats start at $139, meals not included; senior discounts aren't available on the lowest-priced coach seat fares.
PHOTO BY: VIA Rail Canada
Train: The Canadian (Via Rail)
Route: Toronto to Vancouver, Canada
VIA Rail, Canada's national rail service, runs an epic four-day trip across the top of the continent. The journey crosses by the lakes and forests of Ontario, over the vast prairies, through cities such as Winnipeg and Edmonton, and then climbs into the Rocky Mountains past Jasper before ending up on the Pacific Coast. Other memorable Via Rail overnight trips include the Ocean from Montreal to Halifax; and the Hudson Bay, linking Winnipeg to Churchill, known for its polar bears and beluga whales.
Overnights: 4
Price:  Starts at $1,111 Canadian (about $865 U.S.) for a single bunk, which is private at night and open at day, with meals included. Doubles are roughly twice the single fare. A coach seat, which does not include meals, starts at $490 Canadian (about $382 U.S.). Senior discounts aren't available on the lowest-priced fares.
PHOTO BY: Marc Glucksman/Amtrak
Train: Southwest Chief (Amtrak)
Route: Chicago to Los Angeles
This 43-hour journey takes riders over the Mississippi through eight states. It was once the route to see movie stars, who took advantage of what was then an all sleeping-car train, allowing them to travel cross-country in style. Before that, the famed Fred Harvey Company built luxury hotels and restaurants along the line to entice passengers to explore the West.
From Chicago, the route heads west through Iowa and Kansas, across the Continental Divide in Colorado, and then through the desert Southwest. During a stop in Albuquerque, New Mexico, Native American vendors sell crafts to passengers, as they have since train travel began here more than a century ago. Various proposals have suggested substituting part of the route through Kansas with bus service. But for now, this venerable line remains on the tracks.
Price:  Fares vary by season and time of booking. Expect prices to start at about $605 for a single roomette, with meals included; $840 for a double roomette; and coach seats to start at about $150, meals not included; senior discounts aren't available on the lowest-priced coach-seat fares.
Train: Coast Starlight (Amtrak)
Route: Seattle to Los Angeles
This coast-hugging route takes in sweeping Pacific views, Cascade Mountain crossings and California's fertile Central Valley. From Seattle, the morning starts with a ride past Puget Sound, and over the next 36 hours, passengers stop in Portland, Oregon, marvel at towering Mount Shasta in California, and watch surfers catch waves off Santa Barbara until the train pulls into L.A.'s grand Union Station.
Price:  Fares vary by season and time of booking. Expect prices to start at about $420 for a single roomette, $580 for a double roomette, with meals included; and coach seats to start at about $100, meals not included; senior discounts aren't available on the lowest-priced coach-seat fares.
PHOTO BY: Rocky Mountaineer
Train: Rocky Mountaineer
Route: Vancouver to Alberta, Canada
Although passengers don't sleep on the train, this private company's comfortable overnight two- and three-day trips traverse the Canadian Rockies during the daytime, and then stop at hotels for overnight accommodations. (It also offers a "Rockies to the Red Rocks" trip connecting Denver to Moab, Utah.) In Canada, the trips, which run April through October, play up the region's wildlife, gliding through forests and by snow-topped mountains. Travelers can customize their trips, visiting sites such as Lake Louise, Jasper and Calgary.
Overnights: 1
Price: Starts at $1,287 per person, double occupancy, for a two-day, one-night trip, meals and hotel accommodations included; senior fares occasionally offered during special promotions.
Virginia native Larry Bleiberg is president of the  Society of American Travel Writers , a frequent contributor to  BBC Travel  and the creator of CivilRightsTravel.com.
Editor's note: This article was originally published on January 3, 2020. It's been updated to reflect new information. 
More on Travel
Overnight train travel in North America
Affordable trips to consider this year
Mask mandate lifted on planes, trains and buses
Call: 1.800.675.4318
Search Flights
Enter a valid location
Enter a valid date
Child under 2 must either sit in laps or in seats:
Add Another Flight
Search Hotels
Search Packages
You didn't specify child's age
There are children in rooms without an adult
You have more than 6 people total
Please select a trip duration less than 28 days
There must be at least 1 traveler (age 12+) for each infant in a lap
Search Cars
Search Cruises
Select a valid location
Select a month
Search Things to Do
You are leaving AARP.org and going to the website of our trusted provider. The provider's terms, conditions and policies apply. Please return to AARP.org to learn more about other benefits.
Your email address is now confirmed.
You'll start receiving the latest news, benefits, events, and programs related to AARP's mission to empower people to choose how they live as they age.
You can also manage your communication preferences by updating your account at anytime. You will be asked to register or log in.
In the next 24 hours, you will receive an email to confirm your subscription to receive emails related to AARP volunteering. Once you confirm that subscription, you will regularly receive communications related to AARP volunteering. In the meantime, please feel free to search for ways to make a difference in your community at www.aarp.org/volunteer
Javascript must be enabled to use this site. Please enable Javascript in your browser and try again.
Senior Train Travel Discounts in Europe
Although most senior travelers associate senior discounts with rail passes, some European countries offer mature travelers discounts on individual tickets. Typically, you will need to purchase some kind of annual membership card to qualify for the senior discount. Requirements vary by country and are subject to change. In some countries, non-European Union seniors are not eligible for discount cards.
If you plan to travel by train on just a few days over a one- or two-month period, you may find that a rail pass will save you money. BritRail and France's SNCF offer senior discounts on certain types of rail passes. Senior discounts also apply to the Eurail Ireland and Eurail Romania Passes.
Do not assume that a rail pass is the cheapest way to go. Depending on the countries you plan to visit, the number of train trips you plan to take, and the senior discount plans available, you may save more by purchasing a senior card and applying its discount to your tickets. It is worth spending some time at your computer to research the best deal.
Terms by Country
Let's take a look at senior train travel discounts by country.
Belgium offers seniors age 65 and older a great senior discount on non-peak train travel . Tickets are just 6.50 Euros each if you travel after 9:01 A.M. on weekdays. You can also get this senior fare on weekends during the school year. Restrictions apply; some "frontier" train stations do not offer the senior fare. This discount is unavailable on August 15, during holiday periods and summer weekends. Proof of age is required.
France gives seniors age 60 and older the opportunity to purchase a Carte Senior+ for 60 Euros. The Carte Senior+ entitles you to discounts of 25 to 50 percent on train travel. You can also change your train ticket for only 5 Euros; the normal change fee is 15 Euros.
Germany offers senior travelers over age 60 a discount on the BahnCard 50 . Seniors pay 255 Euros for the second class BahnCard50, which gives you a 50 percent discount on flexible fare train tickets as well as a 25 percent discount on certain saver fares in the German rail system. Carefully research each leg of your journey to see whether the BahnCard50 is a good option for you. If you are traveling with one or more companions, Germany's Weekend Tickets may be a better bet, depending on your travel dates.
Italy offers the Carta d'Argento ("Silver Card") to senior travelers over age 60. The card costs 30 Euros (free for travelers over 75) and is valid for one year. With the Carta d'Argento, you will save 15 percent on most Italian train tickets and 10 percent on couchette tickets (second-class sleeper berths). You will also be able to participate in the RailEurope system with its 25 percent discount on international travel. You have to show both your ticket and your Carta d'Argento to the conductor. Certain restrictions apply.
Portugal's CP rail system offers seniors age 65 and older discounts on several different types of trains, including regional, interregional and Coimbra Urban trains. The typical discount is 50 percent. Restrictions apply.
Spain's RENFE rail system offers senior travelers 60 and older the Tarjeta Dorada ("Gold Card"). With the Tarjeta Dorada, you will save 25 to 50 percent on train tickets, depending on the type of train, the day of the week you travel and how far in advance you buy your tickets. You can buy your Tarjeta Dorada at a RENFE station for 6 Euros; it will be valid for one year.
The UK's Senior Railcard gives you a one-third discount on a wide variety of standard and first-class tickets. Morning rush hour travel within the London and the South East area does not qualify for the Senior Railcard discount. The Senior Railcard costs £30 and is available to anyone age 60 or over. British train fares are quite high, so it is also worth investigating a BritRail pass if you plan to take several train trips.
Eurostar , which operates the Chunnel trains, no longer advertises a senior fare.
Disclaimer: Some train systems may restrict senior discounts to citizens of European Union communities, even though their websites do not indicate any such restrictions.
How to Find Senior Discounts for Budget Travel
Can I Get a Senior Discount on Rail Passes?
Senior Discounts in Las Vegas
Discount Train Tickets in Germany
5 Ways to Find the Cheapest Train Travel
Getting Around Phoenix: Guide to Public Transportation
Senior Discounts for Train Travel in North America
The Best Rail Passes in Europe
Is Train Travel Right for You?
About Single Europe Train Tickets
How to Use Swiss Trains and the Swiss Travel Pass
Getting Around Frankfurt: Guide to Public Transportation
Getting Around Britain - A Guide to Transportation Options
Guide to Bus and Train Travel in Spain
Spain Rail Map and Transportation Guide
Getting Around Macao: Guide to Public Transportation
By clicking "Accept All Cookies", you agree to the storing of cookies on your device to enhance site navigation, analyze site usage, and assist in our marketing efforts.
Timetable arrow_forward_ios
Tickets arrow_forward_ios
Stations & services arrow_forward_ios
Offers & days out arrow_forward_ios
Help & contact arrow_forward_ios
arrow_back_ios Back to Main menu
Live travel updates arrow_forward_ios
Service alterations
Download timetable (PDF)
arrow_back_ios Back to Timetable
Live travel updates
JourneyCheck
Get travel updates
Buy arrow_forward_ios
Digital tickets arrow_forward_ios
Ticket types arrow_forward_ios
Ways to save arrow_forward_ios
Onward travel arrow_forward_ios
arrow_back_ios Back to Tickets
Get the c2c app
Digital tickets
c2c Smartcard arrow_forward_ios
Oyster and Contactless
arrow_back_ios Back to Digital tickets
c2c Smartcard
Automatic Delay Repay
Loyalty rewards
Ticket types
Daily tickets
Season tickets
Flexi Season tickets
Senior Rover
Ways to save
Student travel
Off-Peak discounts
Group bookings (10+ people)
Travel to work scheme
Onward travel
Oyster & Contactless
Travelcards
PlusBus scheme
Stations & services
Before your journey arrow_forward_ios
Onboard experience arrow_forward_ios
At the station arrow_forward_ios
Keeping you safe & secure
arrow_back_ios Back to Stations & services
Before your journey
Our routes & stations
Passenger Assist
Onboard experience
Advice for cyclists
Free WiFi on board
At the station
Station access
Buying & collecting tickets
Car parking
Offers & days out
Top offers arrow_forward_ios
Off-Peak discounts arrow_forward_ios
Travel inspiration arrow_forward_ios
Competitions
arrow_back_ios Back to Offers & days out
2FOR1 London Offers
Kids for £2
Southend deals
Online advance discount
GroupSave (3-9 people)
Family travelcard
Travel inspiration
Destination guides arrow_forward_ios
Things to do
arrow_back_ios Back to Travel inspiration
Destination guides
Things to do in Southend
Things to do in Leigh-on-Sea
Things to do in London
Help & contact
Accessibility arrow_forward_ios
Get help arrow_forward_ios
Refunds & Delay Repay arrow_forward_ios
Get in touch arrow_forward_ios
Get involved arrow_forward_ios
arrow_back_ios Back to Help & contact
Accessibility
Step-free access
Help centre
Lost property
Refunds & Delay Repay
Refunds for unused tickets
Delay Repay for disrupted journeys
Get in touch
c2c journey feedback
Share your general feedback
Get involved
Passenger panel
Accessibility panel
Rail user groups
Meet and Tweet the Manager
If you're over 65 years of age and you love travelling by train, you'll want to make the most of our Senior Rover tickets, which allow you to hop on and off trains all day for just £7 (exluding stations in the London Travelcard area) or £10 (including stations in the London Travelcard area).
All day in the off peak
Hop on and off c2c trains on weekdays – all day in the off peak
Great value
Great value train travel for seniors
For over 65s, or 60s with a Senior Railcard
How It Works
You can buy your Senior Rover ticket online, on the c2c Train Travel app or at a ticket machine or ticket office
Make sure you bring some ID when you travel, we accept passports and driving licences
Use your paper ticket at the gates to travel with ease
Ticket Comparison
Faq connected to this ticket type, 1. when are off-peak parking tickets valid, 2. can i take my pet with me on your services, 3. senior rover terms and conditions, useful information, can i take my pet with me on your services.
Note that there can be multiple Railcards selected, and a number value (Number of Passengers with Selected Railcard) must be sent for each one selected. The way it works is all selected "Railcards" are sent as a comma-delimited list in the rc field, and all the "Number of Passengers with Selected Railcard" are sent as a comma-delimited list in the rcc field which matches the order of the Railcards in the rc field. So if there are two "16-25 Railcards" and one "HM Forces Railcard" it will be sent as:
Also note that WebTIS doesn't handle Railcards very well, so this might not work well anyway. :(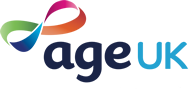 Site search Enter search keywords
Back Information and advice
Back Money & legal
Back Benefits and Entitlements
Attendance Allowance
Benefit rates 2023-24
Benefits Calculator – what are you entitled to?
Bereavement Support Payment
Carer's Allowance
Changes to mixed age couples benefits
Changes to the benefit system
Cold Weather Payment
Council Tax Support
Disability Living Allowance
Employment and Support Allowance (ESA)
Free bus pass and transport concessions
Free prescriptions for over 60s
Housing Benefit
How to challenge a benefit decision through mandatory reconsideration
How to get help with urgent or one-off expenses
How your benefits are means-tested
Income Support
Jobseeker's Allowance
Pension Credit
Personal independence payment.
Returning to the UK after living abroad
Support for Mortgage Interest
TV licence concessions
Universal Credit
Warm Home Discount
Council Tax rebate
Winter Fuel Payment
More money in your pocket information guide
Back Debt and savings
8 ways to make the most of your savings
Debt help & advice
Energy advice for the home
Financial jargon checker
How to reduce your water bills
How to trace lost money
Using credit wisely
Back Income and tax
What is equity release?
Ways to reduce Council Tax
Inheritance tax
How to make money in retirement
Equity release information guide
Back End of life planning
Back Legal issues
Advance decisions (living wills)
Finding legal advice
How to be an executor information guide
Making a will
Power of attorney
Power of attorney information guide
Thinking about end of life information guide
What to do when someone dies
Wills and estate planning information guide
Back Pensions advice
Annuities explained
Pension calculator
Pensions scams and fraud
State Pension
Tracing old pensions
What are workplace pensions?
What pension options do I have?
Back Scams and fraud
How to spot a catfish
Spotting TV Licence scams
Doorstep scams
Postal scams
Phone scams
What to do if you're the victim of a scam
Investment scams and fraud
Avoiding scams information guide
Help with the cost of living
Back Consumer advice
Changes to landline telephones
Back Health & wellbeing
Back Conditions and illnesses
Bladder and bowel problems information guide
Coronavirus
Depression and anxiety
Hearing loss
High blood pressure
Incontinence
Influenza (flu) prevention
Malnutrition
Osteoporosis
Seasonal affective disorder (SAD)
Urinary tract infections (UTIs)
Back Health services
Dental services for older people
9 health tests that could save your life
Getting the most from your medicines
Getting help when feeling unwell
NHS continuing healthcare
Your hospital stay
GP services for older people
Leaving hospital
Complaining about NHS services and hospitals
What standards you should expect from NHS services
Your hospital stay information guide
Back Being active
Getting active when you find exercise difficult
Getting active but not sure where to start
Helping someone to get active
Avoiding a fall
Fitter feet
Walking tips
Physical activity videos to use at home
Staying steady information guide
Back Mind and body
10 tips for ageing better
5 tips to boost your mood
Getting a good night's sleep
Your mind matters
Mindfulness
Staying cool in a heatwave
Staying sharp
Preventing and treating burns
Back Loneliness
A Life Less Lonely
Caring for someone who's lonely
Feeling lonely
Back Keep well this winter
How to keep warm and well in winter
Keep your spirits up
Look after each other
Cold weather advice and tips
Managing money in winter
Winter wrapped up information guide
Back Relationships and family
Financial and legal tips before remarrying
End of life issues
Protection from abuse
Dating in later life
Sex in later life
Coping with bereavement
How to adjust to living alone
Top tips for grandparents
Worried about someone?
Back Care & support
Back Finding and arranging social care
Care needs assessment
Home care: how to find the care you need at home
Back Paying for care
Financial assessment explained
Paying for residential care
Paying for homecare
How much does care cost?
Back Help for carers looking after a loved one
Carer's assessment
Financial support for carers
Balancing working and caring responsibilities
Caring for someone with dementia
Looking after yourself as a carer
Respite care: having a break from caring
What to do when your caring role changes or ends
Carer's checklist
Back Housing options in later life
Assisted living and extra-care housing
Safety in the home
Home adaptations to simplify home tasks
Specialist housing options
Renting and social housing
Homelessness
Moving in with family
Residential park homes
Sheltered housing
Back Problems with care
How to complain about care to your local council
Problems with homecare
Back Work & learning
Back Making the most of the internet
Computer training courses
Glossary of online terms
Getting started on the internet
Staying safe online
Keeping in touch using a video call
Making your device easier to use
How to download apps
Email essentials
What's WhatsApp?
Using social media
Is online banking safe?
How to transfer money and make payments
Shopping safely online
Online password security
Age UK's digital instruction guides
Back Discrimination and rights
EU citizens and settled status after Brexit
Help for Ukrainian nationals in the UK
Human rights
The Equality Act
Windrush Scheme
Your rights at work
Back Education and training
Build up your skills
Classes and courses
Higher education and university
u3a – Later life learning
Back Looking for work
Be your own boss
CVs and job applications
Job interview tips
Back Retirement
Preparing emotionally for retirement
Paul Lewis: Retirement planning advice
Living abroad after retirement
Retirement age
Back For professionals
Winter hub for professionals
Information guides and factsheets
Age UK Advice Line 0800 678 1602
Free to call 8am – 7pm 365 days a year Find out more
Telephone friendship
Get a free weekly friendship call. We'll match you with one of our volunteers. Our service is flexible to suit the different needs of everyone who takes part.
Sign up for telephone befriending
Find services near you
Find charity shops near you
Popular services
Age UK Advice Line
Befriending services
The Silver Line Helpline
Day Centres
Exercise and physical activity
Handyperson services
IT Training
Social activities
Back Services
Back Get involved
Back Donate
Make a donation
Back Leave a gift in your will
How to leave a gift in your will
Making and amending your will to include a gift to Age UK
Information for executors
The difference a gift in your will could make
Ways to write your will
Free Wills Month
Back Donate to our shops
Age UK and The Wombles join forces
Age UK's eBay store
Sustainability
Back Donate in memory
Make a donation in memory
Fundraise for Age UK in memory of your loved one
Make a one-off donation
Funeral donations and collections
Set up a Tribute Fund
Meaningful ways to remember your loved one
Make a major gift
The difference your money makes
Our professional fundraisers
Back Fundraise
Back The innocent Big Knit – get knitting for charity
innocent Big Knit updates
Back Sporting events
Run for charity
Skydive for charity
Cycle for charity
Charity walks and treks
Charity triathlon events and obstacle courses
Do your challenge for Age UK
45 Reps a Day
Swim 5k or 10k in June
Back Fundraising ideas
A-Z of fundraising ideas
Let's get fundraising
Pay in your fundraising
Fundraising resources
Leeds Abbey Dash
TCS London Marathon
Back Lottery and raffle
Play the Age UK lottery
Tuesday Treat Draw
Play the Age UK raffle
Gift the Lottery
Player Zone
How every entry helps
Are you a winner?
Lottery and Raffle rules
Back Updates
How to claim lottery winnings
What happens if you win the lottery?
Who can you give your lottery winnings to?
What's the difference between a raffle and a lottery?
What would you do if you won the lottery?
How to play the lottery
What is a lottery rollover?
Spend or save: What would you do with £25,000?
How likely are you to win the lottery?
How can I raise money for charity?
Has anyone won the lottery twice?
Behind the scenes of the Age UK Lottery TV Advert
Lucky charms and rituals from around the world
Back Volunteering
Join an Age UK shop team
Campaign with older people
Share how Age UK has helped you
Back Corporate partnerships
Why partner with Age UK
Back Ways we could work together
Can your company support the Age UK Telephone Friendship Service?
Latest jobs with Age UK
Age UK. Know what to do.
Last year, over 10 million people trusted us to help them with some of the biggest issues in their lives. Learn more about how we help.
How your support helps
Here's how, with your support, Age UK is supporting older people through the cost of living crisis.
See the difference your donations make
Making older people's voices heard
Age UK know what to do
Campaigning with older people
Discover - news, stories and features
Media Centre
Policy and research
Wellbeing programmes
Politics and government
Back Our impact
Back Buy products
Back Over-50s Insurance
Car insurance
Home insurance
Motor breakdown cover
Travel insurance
Travel insurance with medical conditions
Back Independent living
Bathing Solutions
Stairlifts and Homelifts
Personal Alarms
Back Financial services
Funeral Plans
Legal services
Back Healthcare
Incontinence products
Benefits and Entitlements
If you're 60 or over or you have a disability, you might be eligible for public transport concessions – from discounts on your rail journeys to a free bus pass.
What transport concessions are available?
Can i get a free bus pass, can i get a discount on rail travel, can i get a london freedom pass, what if i have difficulty using public transport, what if i'm unable to use public transport.
There are several national public transport concessions available to older and disabled people. Some entitle you to discounts on your fares, while others allow you to travel for free.
Eligibility for these concessions depends on whether you have a disability or your age.
Depending on your age and your circumstances, you might be able to get one of the following free bus passes, which allow you to travel free on local buses:
an older person's bus pass
a disabled person's bus pass
What age do I have to be to get an older person's bus pass?
You can get an older person's bus pass when you reach State Pension age, which is currently 66 for both women and men.
Apply for your older person's bus pass on GOV.UK
If you're 60 or over and live in London, then you can get free travel on buses, trains and other modes of transport in and around London with a 60+ London Oyster photocard.
Apply for your 60+ London Oyster photocard on the TFL website
How can I get a disabled person's bus pass?
There's no central provider of the disabled person's bus pass – to find out if you're eligible and how to apply, you need to get in touch with your local council.
Find your local council and apply for a disabled person's bus pass on GOV.UK
Are there any other discounts if I'm an older person or I'm disabled?
It's a good idea to contact individual transport operators to see if they offer discounts.
For instance, National Express offers Coachcards. These are discount cards for older or disabled customers. You buy them for a set fee of £12.50 and they get you a third off the cost of your travel across the year.
Find out more and order a Coachcard on the National Express website
Depending on your age and circumstances, you might be entitled to one of the below railcards:
a Senior Railcard
a Disabled Person's Railcard
Both railcards are discount cards. You buy them for a set fee to last either 1 or 3 years and they get you a third off the cost of your train travel.
Can I get a Senior Railcard?
The Senior Railcard is available for anyone aged 60 or over to buy.
You can apply on the Senior Railcard website using a valid passport or UK driving licence as ID. Alternatively, you can apply in person at most staffed railway stations.
Find out more about the Senior Railcard and apply online
Can I get a Disabled Person's Railcard?
The Disabled Person's Railcard is available to you if you meet one of the following criteria:
you're registered as deaf or use a hearing aid
you're registered as having a visual impairment
you have epilepsy
you receive a disability-related benefit, such as Personal Independence Payment
you receive War or Service Disablement pension
you receive Attendance Allowance
you receive Severe Disablement Allowance
you receive War Pensioner's mobility supplement
Find out more about the Disabled Person's Railcard and apply online
Freedom Passes give London residents free travel in the city – including National Rail services, the Underground, buses, river services and trams – and free local bus journeys nationally.
If you live in London, you can apply for a Freedom Pass if one of the following applies to you:
you've reached State Pension age
you have a disability.
Find out more about Freedom Passes and apply on the London Councils website
National Rail has an interactive tool called Stations Made Easy, designed to help people find their way around stations and find more accessible routes, avoiding potential difficulties like stairs. This may be helpful if you have difficulty using public transport because of your health.
Find out more and use the tool on the National Rail website
If you're disabled, you can't use public transport, or you don't have access to a car, you might also be able to use a community transport scheme – such as a social car, dial-a-ride, or taxicard scheme.
Shopmobility schemes help people shop in town centres by lending out wheelchairs and scooters. Some local councils also offer concessions on local public transport.
To find out what's available in your area, you can contact your local council or your local Age UK.
Find your local council on GOV.UK
Please select a search type
Please enter a valid postcode
Want more information?
Apply for an older person's bus pass on GOV.UK
Apply for a disabled person's bus pass on GOV.UK
We're here to help
We offer support through our free advice line on 0800 678 1602. Lines are open 8am-7pm, 365 days a year. We also have specialist advisers at over 120 local Age UKs.
About the Age UK Advice Line Find your local Age UK
Share this page
Last updated: Apr 14 2023
You might also be interested in...
Personal Independence Payment (PIP) is a benefit for people who need help with daily activities or getting around.
The way benefits are awarded to mixed age couples has changed. Find out if this affects you and what you should do if...
Pension Credit information guide
If you're over State Pension age and struggling to make ends meet, you might be entitled to Pension Credit. Download...
If you're over State Pension age and you're struggling to make ends meet, Pension Credit could help top up your income.
Become part of our story
Please enter a valid email address
Back to top
Public Transport Concessions: Free Bus Pass, Senior Railcard and More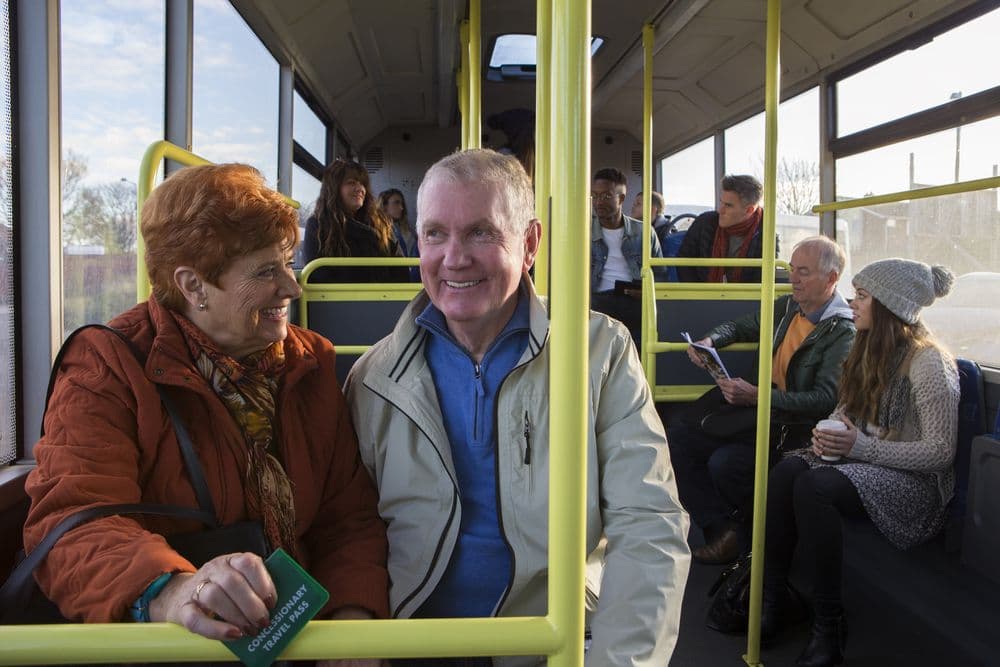 Estimated Reading Time: 10 minutes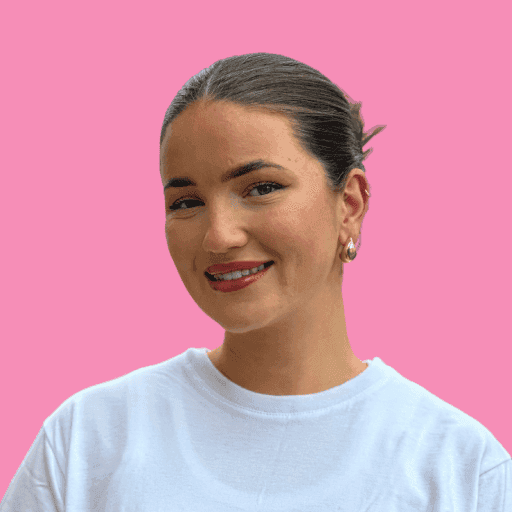 Eva Taylor-Jones
Customer Care Expert
Last Updated: 25/10/2023
Older adults in the UK are eligible for a variety of public transport concessions, helping save you money in the process. These include a Senior Railcard, a Disabled Persons Railcard, an Older Person's Bus Pass and more!
Here, we've looked at how to get each of these discounts or freebies for older adults, along with other discounted forms of public transport you may be eligible for.
We also have an article dedicated to discounts for carers .
Simplify your search with Lottie
We help retirement seekers find what they're looking for.
In this article:
Discounts on rail travel
Free bus pass
Senior rail travel and bus discounts throughout the UK
London Freedom Pass
60+ london oyster photocard, discounts on rail travel.
You could be eligible for one of the following railcards that'll get you discounts on train services, depending on your age, relationship and whether you're classed as having a disability:
Senior Railcard (60 years and over)
Disabled Persons Railcard
Both of these are discount cards. You purchase them each year for a set fee and they get you a third off the cost of your train travel.
Senior Railcard
The Senior Railcard is available for anyone aged 60 and over to buy. This costs just £30 (or £70 for three years), so will have effectively paid for itself after only a few train trips.
When using the Senior Railcard, you can expect to make average annual savings of £76, or £5.34 per journey. For example, a train from London to Liverpool goes down from around £68.60 to £45.25, while a train from Doncaster to London goes down from £32.50 to £21.45.
You can apply for one of these through the Senior Railcard website . You'll need a valid passport or UK driving licence for ID. You can also apply in person at some of the UK's most staffed railway stations.
If you meet any of the following criteria, you could be eligible for a Disabled Persons Railcard:
You receive a disability-related benefit, such as Personal Independence Payment , Attendance Allowance or Severe Disablement Allowance
You're registered as deaf or you use a hearing aid
You're registered as having a visual impairment
You have epilepsy
To apply for this railcard or to get more information surrounding eligibility criteria, visit the Disabled Person's Railcard website .
Senior Railcard For Couples
Though there's no railcard specifically aimed at older couples, the Two Together Railcard works in the same way for people of all ages. This railcard is to be used by you and a second person - both of you will be named on the railcard. They're best used by yourself and the person you travel with most - often your partner or spouse.
When using a Two Together Railcard, you get one-third off rail fares when travelling together. It costs just £30 and leads to average savings of £153 per year (or £6.26 per journey).
For example, travelling from London to Edinburgh would typically cost around £145, but this goes down to £95.70 with a Two Together Railcard. Similarly, getting the train from York to London goes down from £88 to £58.
Apply for the Two Together Railcard through the official Railcard website .
Free Bus Pass For Over 60s
You could be eligible for one of the following free bus passes, depending on your age and whether you're classed as having a disability:
An older person's bus pass
A disabled person's bus pass
Both of these passes will get you free travel on local buses.
It might also be worth getting in touch with individual transport operators to see if they offer any discounts. For example, National Express offer Coachcards to older (60+) or disabled customers. These cost £12.50 a year and save you a third on your travel.
Older person's bus pass
You'll become eligible for an older person's bus pass when you reach the State Pension age.
Apply for your bus pass through the GOV.UK website .
Disabled person's bus pass
Unlike an older person's bus pass, there's no central provider for the disabled person's bus pass.
To find out if you're eligible and where to apply, get in touch with your local council . All you need to do is enter your postcode and you'll be redirected to the relevant part of your local council's website.
Join Lottie's online care support group
Want more advice and guidance like this?
Senior Rail Travel and Bus Discounts Throughout the UK
English national concessionary travel scheme.
The English National Concessionary Travel Scheme (ENCTS) covers senior travel discounts in England. Passes are issued locally, but give cardholders free bus travel throughout all of England. An ENCTS bus pass also allows for some free and discounted rail tickets. You must be 66 years or older to be eligible.
Learn more about or apply for an English National Concessionary Travel Pass
c2c Senior Rover Travel
c2c's Senior Rover ticket allows unlimited one-day train travel for just £7 (or £10 when including London destinations). These are available to anyone aged 65 years and over.
Learn more about or buy a Senior Rover ticket
Greater Manchester Senior Travel Pass
Older adults can get free rail tickets in Greater Manchester between 09:30 and midnight Monday to Friday, and anytime at weekends and during public holidays. Eligibility is based on age and residency in Greater Manchester.
Check if you're eligible and apply for a Greater Manchester Senior Travel Pass
Merseyside Senior Travel Pass
Senior citizens can get free rail tickets in Merseyside after 09:30 Monday to Friday (to avoid morning peak times), and anytime at weekends and during public holidays. Eligibility is based on age and residency in Merseyside.
Check if you're eligible and apply for a Merseyside Senior Travel Pass
South Yorkshire Senior Travel Pass
Older adults get 50% off rail fares in South Yorkshire between 09:30 and 23:00 Monday to Friday, and anytime at weekends and during public holidays. Eligibility is based on age and residency in South Yorkshire.
Check if you're eligible and apply for a South Yorkshire Senior Travel Pass
Tyne and Wear Senior Travel Pass
Older adults in Tyne and Wear can purchase reduced-price train tickets as well as extra discounts if they get a Metro Gold Card (£12 per year). Eligibility is based on age and residency in Tyne and Wear.
Check if you're eligible and apply for a Tyne and Wear Senior Travel Pass
West Midlands Senior Travel Pass
Older adults get free train travel in the West Midlands between 09:30 and 23:00 Monday to Friday, and anytime at weekends and during public holidays. Eligibility is based on age and residency in the West Midlands.
Check if you're eligible and apply for a West Midlands Senior Travel Pass
West Yorkshire Senior Travel Pass
Older adults get 50% off rail journeys within West Yorkshire after 09:30 Monday to Friday, and anytime at weekends and during public holidays. Eligibility is based on age and residency in West Yorkshire.
Check if you're eligible for a West Yorkshire Senior Travel Pass
Scotrail Club 50
Members get a 20% discount on Off-Peak and Advance and cheaper flat-fare tickets when purchased online. These offers are available all year round to Scotrail customers aged 50 and over. Scotrail Club 50 is perfect for people who aren't yet eligible for a Senior Railcard.
Get a Scotrail Club 50 membership
National Entitlement Card (NEC)
The National Entitlement Card (NEC) allows older adults in Scotland to receive travel discounts. Anyone living in Scotland can access discounted travel schemes throughout the country. To be eligible, you must also be 60 years or over.
Get a Scottish 60+ National Entitlement Card
Edinburgh and Glasgow over 60s rail discounts
Scotland's two largest cities offer the following rail travel discounts:
Glasgow - Discounted rail tickets on journeys within Strathclyde and Glasgow Subway
Edinburgh - Free tram journeys in Edinburgh
There are also reduced train fares for 60+ NEC holders in other parts of Scotland.
Welsh Concessionary Travel Card
In Wales, travel discounts for older adults are covered by the Welsh Government Concessionary Travel Scheme. This offers free bus travel throughout Wales to people aged 60 and over, as well as some free and discounted rail tickets.
Apply for a Welsh Concessionary Travel Card
The following free and discounted rail travel is available to Welsh Concessionary Travel Scheme holders:
Cardiff and Valleys Line
Conwy Valley Line
Wrexham to Hawarden Bridge
Cambrian Coast
Heart of Wales Line
Learn more about discounted senior travel in Wales
Northern Ireland
60 plus smartpass.
You're eligible if aged between 60 and 64 while being a permanent Northern Ireland resident. A 60 Plus SmartPass entitles you to free bus and rail travel throughout the country.
Apply for a 60 Plus SmartPass
Senior SmartPass
This is aimed at permanent Northern Ireland residents over 65. They entitle you to free bus and rail travel throughout the country, along with free cross-border rail travel all along the Belfast to Dublin line.
Apply for a Senior SmartPass
London Freedom Passes allow London residents to travel around the city for free, including on trams, National Rail services, the Underground, river services and buses, as well as free local bus journeys nationally.
If you live in London, you can apply for a Freedom Pass if one of the following applies to you:
You've reached the State Pension age (in this case, you'll be eligible for an Older Person's Freedom Pass)
You have a disability (in this case, you'll be eligible for a Disabled Person's Freedom Pass)
You can travel for free on TfL (Transport for London) services with an Older Person's Freedom Pass from 09:00 on weekdays and anytime on weekends and bank holidays. A Disabled Person's Freedom Pass allows you to travel at any time on TfL services.
To learn more about the London Freedom Pass or to apply for it, visit the London Councils Freedom Pass webpage .
Apply for an Older Person's Freedom Pass
Apply for a Disabled Person's Freedom Pass
If you're over 60 but under the State Pension age and you live in any London borough, you can get a special Oyster card for free travel in the city on several different rail services.
Many people get a 60+ London Oyster Photocard before they're entitled to a Freedom Pass. If you're eligible for a Freedom Pass, you can't get a 60+ London Oyster Photocard.
This costs £20 and gives free travel on:
The London Overground
TfL (Transport for London) Rail
As well as all London Overground and TfL Rail services, you can also use the 60+ London Oyster Photocard on certain National Rail services on the following lines:
Chiltern Railways
Great Northern
Greater Anglia
Southeastern
You can learn more about the 60+ London Oyster Photocard and make an application through their webpage on Transport for London .
Searching for a care home can be stressful and time-consuming. Thankfully, Lottie removes much of the difficulty from this process by connecting older adults to the UK's very best care homes through our compassionate and knowledgeable care experts.
Request a Free Shortlist
Kickstart your search with Lottie and request a free care home or retirement living shortlist, created by our team of experts.
Similar Blog Posts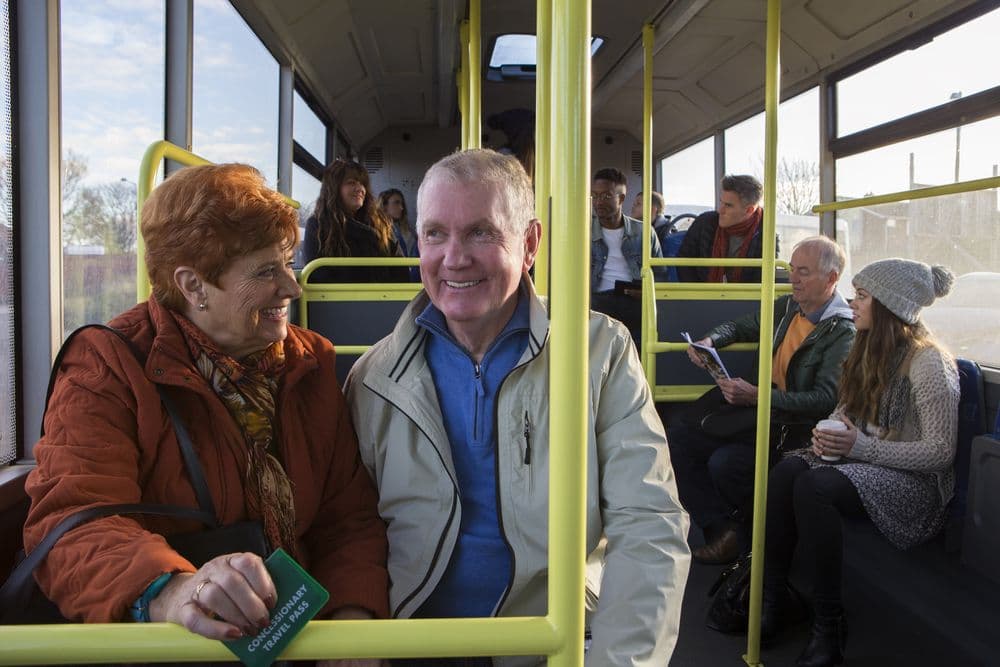 More From Forbes
Amtrak is making it easier than ever to book domestic train travel.
Share to Facebook
Share to Twitter
Share to Linkedin
NEW YORK: Passengers walk to board an Amtrak train in Penn Station in New York City. (Photo by ... [+] Mario Tama/Getty Images)
Amtrak is making it easier—and more affordable—to book rail travel within the United States. The brand has introduced a new and simplified fare structure with more flexible and affordable options.
The revamp in structure is based on extensive customer research and is just one of the recent improvements Amtrak has made to the overall booking experience in order to entice travelers to opt for train tickets over driving or flying across the country.
"[The new] streamlined fare structure with more affordable and flexible fares is part of Amtrak's continued commitment to upgrading the customer experience at every step along their journey," explained Amtrak President Roger Harris in a press release.
The recent change in structure will reduce fare types from three different categories down to just two with the idea being to provide a more consistent and reliable booking experience with pared-down fare types that are more clearly differentiated and easier to understand.
The new Flex fare was designed for travelers looking for more leeway in their travel schedule; these tickets are fully refundable if canceled and can also be changed without fees at any time before departure for added convenience.
Long Abandoned Bay Area Hunters Point Navy Shipyard Can Be A New Base
The new Value fare is for travelers looking for the lowest possible ticketing option—who won't need to change their travel plans last minute. This option is non-changeable but travelers will still receive a 75% refund if canceled before departure.
These changes come at the heels of a myriad of updates and improvements Amtrak has been working on. Other updates include ultra-low Night Owl fares—which can be as low as $5 on select routes; updating the children's discount so that all children (up to age 12) can travel for 50% off with an accompanying adult rather than just one child; and expanding passenger discounts—like senior or military—to apply to all sales and fare types.
Editorial Standards
Reprints & Permissions
Travel pass for older people
Free travel for older people.
If you qualify for a state pension, you could be eligible for free travel across the country as part of the English National Concessionary Travel Scheme.
Do you qualify?
To get a travel pass for older people you must:
live in Greater Manchester, (if you live outside Greater Manchester, apply for a pass in your own area but you cannot add tram and train travel within Greater Manchester to passes issued by other areas); and
qualify for a state pension. It doesn't matter if you are taking your pension or still working.
The age you qualify for a state pension isn't the same for everyone. You may need to be up to 66 to qualify depending on when you were born. If you're not sure, check your state pension age .
Costs and benefits
The pass is free, and lasts for five years.
Within Greater Manchester:
Travel for free on all buses within Greater Manchester between 9.30am and midnight, Monday to Friday, and all day at weekends and on public holidays.
You can also choose to pay £10 to add tram and train to your pass, for a year's unlimited off-peak travel on Metrolink and trains within Greater Manchester. You can then travel on Metrolink trams and in trains after 9.30am on Monday to Friday, and all day on weekends and public holidays.
If you travel outside of these times you must pay the full adult fare.
Throughout England:
Travel for free on all local buses between 9.30am and 11pm Monday to Friday, and all day at weekends and on public holidays.
How to use the pass
You must always remember to:
touch in at the card reader when boarding buses
touch in and touch out at a yellow smart reader on tram stops, for Metrolink
touch in and out at train station ticket barriers, where they are in place
Please show your card, when asked, to any Transport for Greater Manchester or transport operator official during your journey.
Smart readers on tram stops now accept contactless cards and devices for travel. Please move your concessionary pass away from your payment cards when you use a smart reader.
For example, if you keep your pass in a wallet or purse, remove it before you touch-in and touch-out. This will make sure you're not charged on a contactless card you didn't intend to use.
Apply by post
Download an application form or get one from an Information and Ticket office (Travelshop).
If you are eligible complete the relevant form and attach:
A passport sized colour photograph of yourself
Proof of age – a copy of either your birth certificate, medical card, passport or driving licence
Proof of your address – a copy of either a utility bill, local council tax bill or a Department for Work and Pensions letter from within the last 12 months
You can take your form and proof to an Information and Ticket office (Travelshop) who can check it.
You can also post your documents to the address on the application form.
Your pass will be sent to you in the post within 10 working days.
Please do not send original documents .
Renew your pass
At least two weeks before your travel pass expires, we will send you a new pass, provided it has been in use.
If you use your card often then we will send you a new one two weeks before your travel pass runs out.
If you have not used your pass in the last 12 months, you will not be issued a new card and will need to contact us to request a new card after it's expired. If you need a pass, please call our Concessionary Travel team on 0161 244 1000.
Please note: when using your pass, you must touch-in on buses and use the validators to touch-in and out on Metrolink or when using the trains.
If you don't then your card will show as inactive.
Updating your address
You need to let us know if you change your address. There may be a £10 charge if a card is sent to an old address.
If you feel your appearance has changed since your last renewal, please send us a new photo. This can be done via post or can also be emailed to us.
If you no longer need your pass or have any other questions please call our Concessionary Travel team on 0161 244 1000.
If you need a replacement pass
It costs £10 to replace a lost, damaged or stolen pass.
To order a replacement pass you can:
Call us on 0161 244 1000 to make a card payment (7am to 8pm Monday to Friday and 8am to 8pm at weekends).
Visit an Information and Ticket office (Travelshop) to order and pay for a replacement pass.
Say yellow to the Bee Network
The first Bee Network buses are now running in parts of Greater Manchester.
Rate your journey
We want to hear your views to help us deliver a better Bee Network for Greater Manchester.
Planned engineering works on Metrolink
There are planned improvement works on Metrolink across selected lines and stops in 2023.
News and media
Commercial opportunities
Procurement
Privacy policy
Accessibility statement
Modern slavery statement
Help and contact us
Where to find us
Safe and secure travel

Daily Record
New update on proposal to give older people with bus pass free country-wide train travel
Posted: 27 October 2023 | Last updated: 30 October 2023
The Department for Transport recently rejected an online petition calling for the concessionary bus travel scheme for people of State Pension age to include free country-wide train journeys. However, it was asked by the Petitions Committee - the group of MPs who oversee the petitions system - to provide a revised response to the proposal.
Some 21,892 people from across the UK signed the online petition, created and posted by Ronald John Bradbur, proposing pensioners be given free rail travel to "enhance their mental wellbeing" and allow them to meet up with others or venture further afield on a day out.
The Department for Transport has now given a revised response, but unfortunately for the thousands of people waiting on the update, there has been no change in its initial decision. The proposal to extend the concessionary bus pass to include free train journeys has still been rejected.
The Department for Transport said: "The English National Concessionary Travel Scheme (ENCTS) provides free off-peak bus travel to those with eligible disabilities and those of state pension age, currently sixty-six, within England.
"Local concessionary travel costs around £1 billion annually and any changes to the minimum statutory scheme, such as free travel on rail, would therefore need to be carefully considered for their impact on the scheme's financial sustainability."
However, it added local authorities in England have the power to go beyond their statutory obligations, such as offering free travel on rail as part of the ENCTS pass.
It highlighted how operators in 11 out of 84 travel concession authority areas in England offered some form of discounted rail travel for the older person's concessionary pass.
The Department for Transport continued: "The scope of any additional discretionary concessions provided and supported by a local authority is available to journeys originating or ending in the authority's local area or in the vicinity of the authority's area, unless specific arrangements between neighbouring local authorities have been agreed.
"Any additional discretionary concessions provided to ENCTS pass holders by the local authority is funded from local resources such as Business Rates and residents' Council Tax and not Central Government.
"Currently, the Government has no plans to extend ENCTS to other modes of transport."
People aged 60 and over are eligible for the Senior Railcard, which offers a third off rail travel. It costs £30 for one year or £70 for three years.
You can read the full response to the petition online here.
National Entitlement Card in Scotland
In Scotland, people over 60 are eligible to apply for the National Entitlement Card (NEC), which is administered by the Scottish Government. It is Scotland's National Smartcard, offering access to many public services across the country.
The card gives elderly and disabled people free bus travel across Scotland and, through the Strathclyde Concessionary Travel Scheme, also provides reductions on train, Subway and ferry fares.
The NEC is valid for up to three years, but in a change to the renewal process, SPT no longer sends out renewal forms to disabled card holders. This means everyone with a card - sometimes referred to as a 'Saltire card' - should check the expiry date to make sure they will be able to enjoy uninterrupted entitlement to travel concessions.
SPT recommends applying for a renewal card at least five weeks before the expiry date. It's also important to be aware guidance on the SPT website states the Concessionary Travel Card Unit at Buchanan Bus Station will be closed for in person applications until further notice.
Join the Daily Record's WhatsApp community here and get the latest news sent straight to your messages.
More for You
Republican Honeymoon With Mike Johnson Is Over
Why Norway — the poster child for electric cars — is having second thoughts
Judge dismisses Brett Favre defamation suit, saying Shannon Sharpe used hyperbole over welfare money
2023 NFL Trade Deadline Tracker: Latest news, rumors and updates
Iran increases attacks against US bases
The housing market is headed back to a 1980s-style recession, Wells Fargo says—and it's all because of 'higher for longer' mortgage rates
Too conservative for the Supreme Court? The nation's most right-leaning appeals court draws scrutiny
Tesla's latest round of price cuts means its vehicle prices now rival average cars in the US
Russia Finally 'Ready' for Ukraine Peace Talks
Top Trump allies facing charges lose lawyers after failing to pay legal bills
NFL Trade Deadline Day Tracker
US announces deadly new nuclear weapon days after China announced warhead expansion
Right-Winger Dr. Ben Carson Reveals His 2024 Endorsement
Ina Garten's Go-To Butter Brand Surprised Us
After watching Russia's and Ukraine's electronic warriors battle it out, the US military wants to 'dial up' up its own 'jamming power'
Ex-Trump WH lawyer weighs in on Trump gag order reinstated
The Most Iconic Diner in Every State
Air Force, Space Force raise maximum enlistment age to gain recruits
Frank Howard, former All-Star, home run champ and World Series winner, dies at 87
Germany Issues Ominous Warning About War in Europe