Hogwarts Legacy
Apple Reality Pro
Best Android Phones
Peacock TV Free Trial
Google Bard vs ChatGPT
Samsung Galaxy S23 Plus
How to Reset a Chromebook
Enjoy this 360 tour showing NASA's giant training pool for astronauts
NASA has posted a 360 tour (above) of its Neutral Buoyancy Laboratory at Johnson Space Center in Houston, Texas.
The tour offers an inside look at the facility, which is used to train astronauts for spacewalks at the International Space Station (ISS).
The centerpiece of the lab is a giant training pool that offers astronauts a degree of weightlessness, allowing them to experience conditions similar to those in space. During pre-mission training, crew members enter the water in their full astronaut gear and work on submerged replica sections of the space station.
Space station leak prompts NASA to rework spacewalk schedule
Thursday's spacewalk at the ISS has just been postponed
Watch NASA's capsule with asteroid samples hurtling to Earth
NASA claims the training tank is "the largest indoor swimming pool in the world, holding over 23 million liters of water," but adds that, despite its size, it's still not big enough to hold the complete space station, so specific sections of the ISS are used as and when required.
NASA's 360 video shows two astronauts entering the water for a training session. The camera even goes under the water for a closer look at the astronauts' activities. Of course, swimming in full astronaut garb is no easy task, so accompanying divers gently nudge the astronauts around the pool to the appropriate locations. NASA notes that because of the pressures experienced underwater, everyone who enters the pool uses oxygen-enriched breathing gas — otherwise known as Nitrox — to reduce the chances of experiencing the bends following a lengthy training session.
Besides the pool, the video offers a glimpse of the control rooms that monitor activities in the water, and we also get to see a mock-up of NASA's Orion spacecraft that should be on its way to the moon before too long.
You can watch NASA's 360 video using virtual reality (VR) goggles or on your smartphone . If you watch it on a laptop or desktop, don't forget that you can drag the picture around to see the view in all directions.
For more on NASA's Neutral Buoyancy Lab, be sure to check out this video showing French astronaut Thomas Pesquet undergoing training prior to his launch to the space station earlier this year. Pesquet will be embarking on several spacewalks with fellow astronaut Shane Kimbrough during their time aboard the orbiting satellite.
Editors' Recommendations
Spot the space station with this new NASA app
Record-breaking NASA astronaut reveals what he'll miss most about ISS life
NASA's record-breaking astronaut arrives home safely
NASA's Frank Rubio has just done something very unusual in space
NASA astronaut on first mission arrives safely at space station
Astronaut Frank Rubio Calls NASA Leadership From Space (Official NASA Broadcast)
With just a couple more weeks of his record-breaking space mission remaining, astronaut Frank Rubio got to chat with NASA chief Bill Nelson and his deputy, Pam Melroy on Wednesday.
NASA's Perseverance rover is continuing to explore Mars' Jezero Crater in its search for evidence of ancient microbial life on the distant planet.
The vehicle -- NASA's most technologically advanced rover to date -- arrived on the red planet in February 2021 in a breathtaking landing captured by high-definition cameras.
NASA and SpaceX are pretty much ready for Friday's launch of four astronauts to the International Space Station.
The space agency posted a video on Monday as part of the build-up for Friday's launch. You can watch it below.
To download high-res images, visit photo gallery.
HOTEL DEALS
Find the perfect hotel for your next getaway.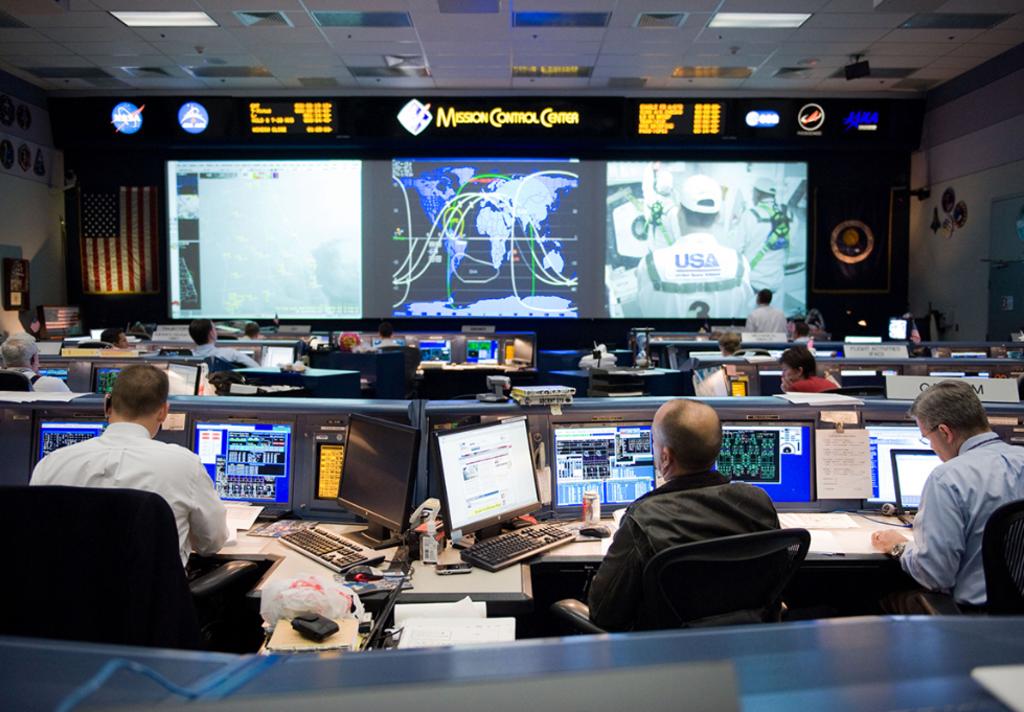 Space Center Houston NASA VIP Tours
Address: 1601 NASA Parkway Houston, TX 77058
Phone: 281-283-4755
Get unprecedented behind-the-scenes access to astronaut training facilities with NASA VIP tours!  Only Space Center Houston provides unprecedented access to the historic NASA facilities where astronauts work and train. See the exciting future and historic feats of space exploration aboard NASA VIP Tours.
Hop on our air-conditioned VIP bus and go to iconic locations at NASA Johnson Space Center, like the Shuttle Avionics Integration Laboratory, Apollo Mission Control Center, International Space Station (ISS) Mission Control, Jake Garn Simulation and Training Facility, Crew Systems Laboratory, and the Astronaut Training Facility.
Afternoon tours will also include a stop at the Neutral Buoyancy Laboratory (NBL) located at the Sonny Carter Training Facility.
Let expert guides share their knowledge and answer your questions while you get an up-close look at the real facilities where astronauts are currently training for space.
Tours are divided into two, three-hour trips, the first departing at 9 a.m. and the second at 1 p.m. The morning and afternoon tours visit different locations, so please make sure you review the stops below and select the correct tour when making reservations.
Or book both a morning and afternoon tour to get the ultimate NASA VIP tour experience!
NASA VIP Tour – Mission Control (9 a.m. – 12 p.m.)
Crew Systems Laboratory
Shuttle Avionics Integration Laboratory
Apollo Mission Control Center
ISS Mission Control
NASA VIP Tour – Astronaut Training (1 – 4 p.m.)
Jake Garn Simulation and Training Facility
Astronaut Training Facility
NASA VIP Tours are only offered on weekdays (excluding federal holidays) and guests must be 14 years or older to participate. Guests under the age of 18 must be accompanied by a paying adult who is also participating in the tour.
Tickets are $199.95 per person, per tour. The maximum group size is 10. Check-in is 15 minutes prior to the start of the tour at the Space Center Houston Guest Services Desk.
Your NASA VIP Tour reservation includes general admission to Space Center Houston. Before or after your tour, take time to explore the center which is home to more than 400 spaceflight artifacts and exhibits! Discover flown spacecraft, touch a Moon and Mars rock, go inside a shuttle carrier aircraft, and more.
Don't miss this exciting opportunity to visit some of NASA's most historic and current working locations. Seats are limited, so reserve your spot on one of the NASA VIP Tours today!
Online reservations must be made at least one day prior to the visit. Tickets may be purchased on the day of the tour at the Space Center Houston Guest Services Desk if seats are available (tickets often sell out far in advance of the tour).
Order tickets online or call +1 281-283-4755 to schedule your NASA VIP Tour.
Welcome to the new NASA website. We're working to continuously improve your web experience. If you don't find what you are looking for, give feedback .
Suggested Searches
Climate Change
Expedition 64
Mars perseverance
SpaceX Crew-2
International Space Station
View All Topics A-Z
Humans in Space
Earth & climate, the solar system, the universe, aeronautics, learning resources, news & events.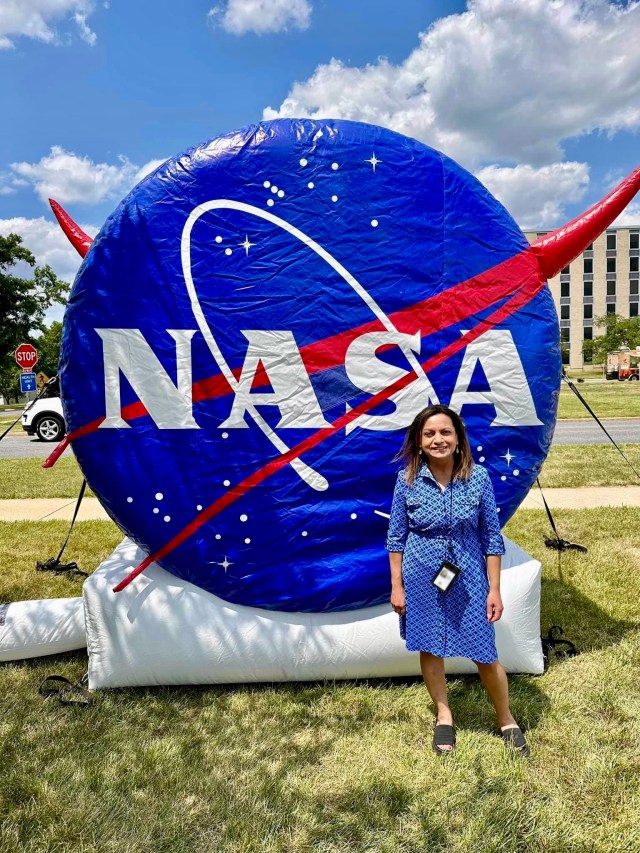 Rita Owens: Keeper of NASA's Digital Knowledge
New Patterns in Mars's Clouds Revealed by Volunteers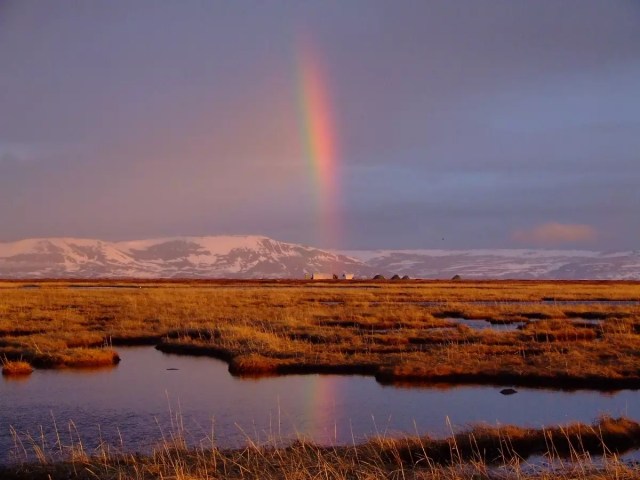 NASA Flights Link Methane Plumes to Tundra Fires in Western Alaska
Search All NASA Missions
A to Z List of Missions
Upcoming Launches and Landings
Spaceships and Rockets
Communicating with Missions
James Webb Space Telescope
Hubble Space Telescope
Why Go to Space
Commercial Space
Destinations
Living in Space
Explore Earth Science
Earth, Our Planet
Earth Science in Action
Earth Multimedia
Earth Science Researchers
Pluto & Dwarf Planets
Asteroids, Comets & Meteors
The Kuiper Belt
The Oort Cloud
Skywatching
The Search for Life in the Universe
Black Holes
The Big Bang
Dark Energy & Dark Matter
Earth Science
Planetary Science
Astrophysics & Space Science
The Sun & Heliophysics
Biological & Physical Sciences
Lunar Science
Citizen Science
Astromaterials
Aeronautics Research
Human Space Travel Research
Science in the Air
NASA Aircraft
Flight Innovation
Supersonic Flight
Air Traffic Solutions
Green Aviation Tech
Drones & You
Technology Transfer & Spinoffs
Space Travel Technology
Technology Living in Space
Manufacturing and Materials
Science Instruments
For Kids and Students
For Educators
For Colleges and Universities
For Professionals
Science for Everyone
Requests for Exhibits, Artifacts, or Speakers
STEM Engagement at NASA
NASA's Impacts
Centers and Facilities
Directorates
Organizations
People of NASA
Internships
Our History
Doing Business with NASA
Get Involved
Aeronáutica
Ciencias Terrestres
Sistema Solar
All NASA News
Video Series on NASA+
Newsletters
Social Media
Media Resources
Upcoming Launches & Landings
Virtual Events
Sounds and Ringtones
Interactives
STEM Multimedia
NASA's Webb Telescope Improves Simulation Software
Salts and Organics Observed on Ganymede's Surface by NASA's Juno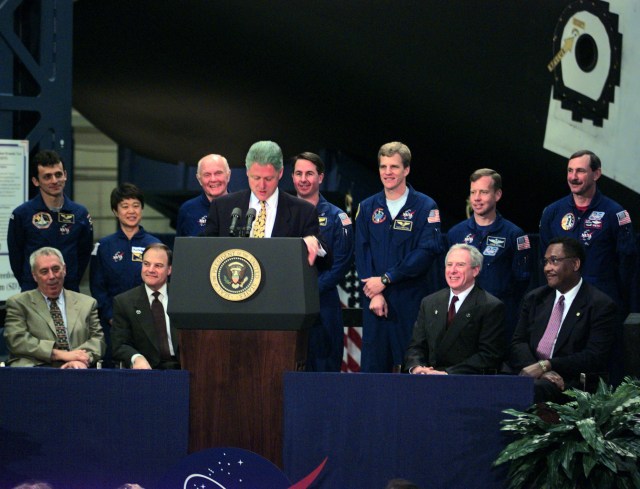 25 Years Ago: STS-95, John Glenn Returns to Space
Misión récord de astronauta ayuda a planificar viajes al espacio profundo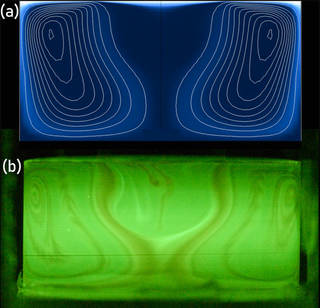 Space Station Science Highlights: Week of May 15, 2023
Earth Observation From the Space Station
Powerful NASA-ISRO Earth Observing Satellite Coming Together in India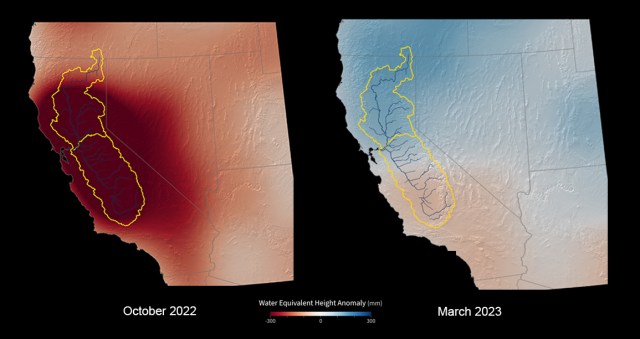 US-German Satellites Show California Water Gains After Record Winter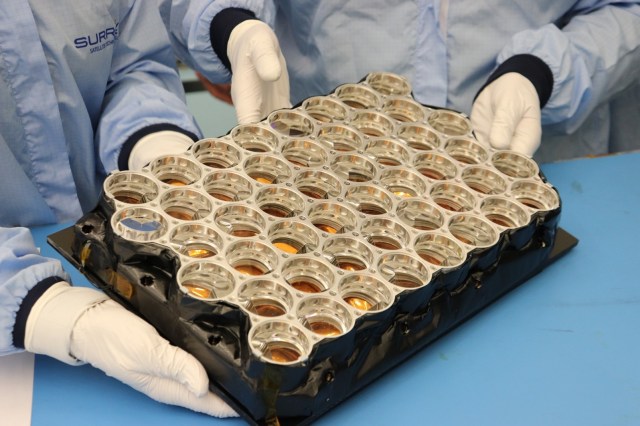 NASA Delivers First Flight Hardware to ESA for Lunar Pathfinder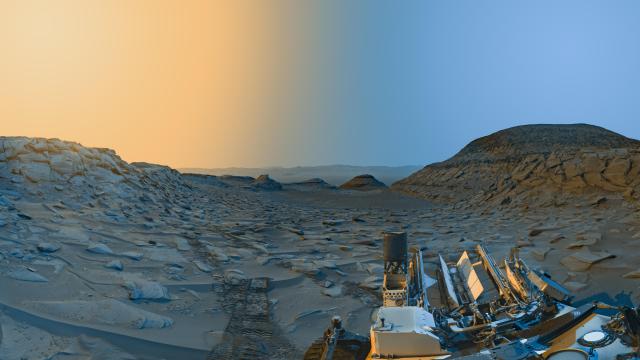 NASA's Curiosity Captures Martian Morning, Afternoon in New 'Postcard'
NASA Scientists Make First Observation of a Polar Cyclone on Uranus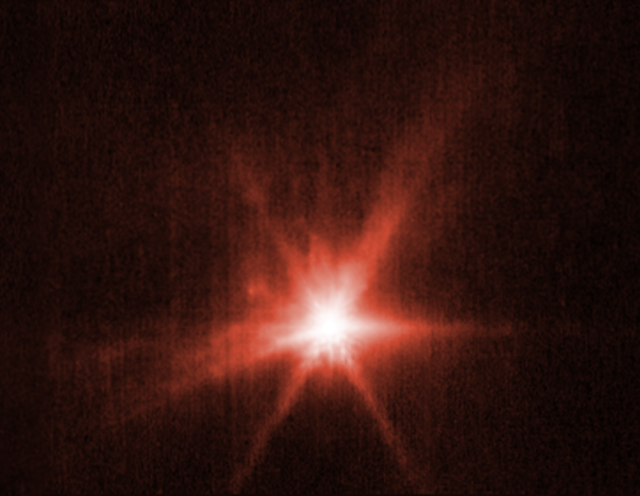 Webb, DART Missions Win AIAA 2023 Premier Awards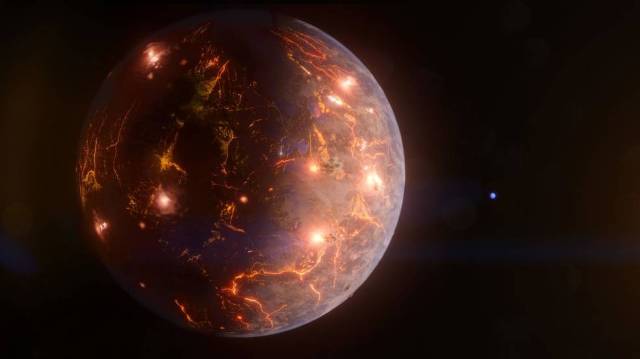 NASA's Spitzer, TESS Find Potentially Volcano-Covered Earth-Size World
Mira cómo la NASA construye su primer vehículo lunar robótico
Watch nasa build its first robotic moon rover.
B3 Collaboration Space
Government and Industry Collaboration Leads to First Air Taxi Delivery 
Joe Piotrowski, Jr.: One Engineer's (Flight) Path to Airborne Science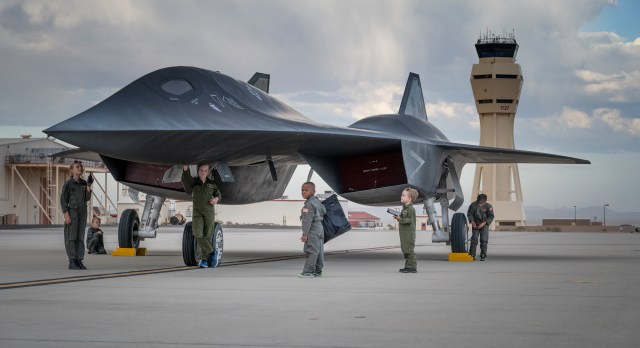 Forget Movie Magic, NASA Armstrong has the Real Thing
NASA Tech Lets Scientists See Snow-Water Through the Trees
Primary Instrument for NASA's Roman Completed, Begins Tests
STELLA: NASA's DIY Educational Gadget for Measuring Plant Health
NASA Announces Teams for 2024 Student Launch Challenge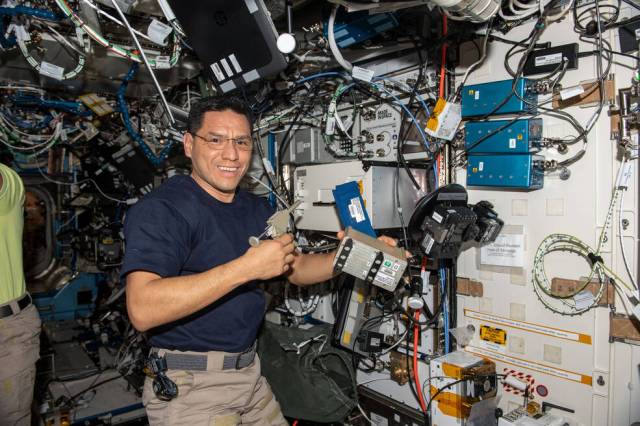 Ciencia destacada del año en el espacio del astronauta Frank Rubio
Pruebas de la NASA con maniquí de Artemis I aportan información para futuras misiones tripuladas
Building on a mission: neutral buoyancy facilities for spacewalk training, johnson space center.
This article is dedicated to Dr. John B. Charles , retired NASA scientist, manager, and space aficionado, with a unique expertise in the history of neutral buoyancy.
In 1961, the roles defined for the newly-established Manned Spacecraft Center (MSC), now NASA's Johnson Space Center (JSC) in Houston, included the training of astronauts. Among the tasks that astronauts needed to master to reach the Moon, spacewalking presented the biggest training challenge. Parabolic aircraft flights afforded only very brief periods of weightlessness while other methods had even lower fidelity to an actual spacewalk. This training shortfall manifested itself when astronauts experienced significant difficulties during several Gemini missions when attempting complex spacewalk tasks. In 1966, NASA began to use neutral buoyancy as a higher-fidelity tool for spacewalk training, a method astronauts still rely on today. Beginning in 1967, MSC and then JSC built ever-larger neutral buoyancy facilities as spacecraft grew larger and spacewalk tasks more complex.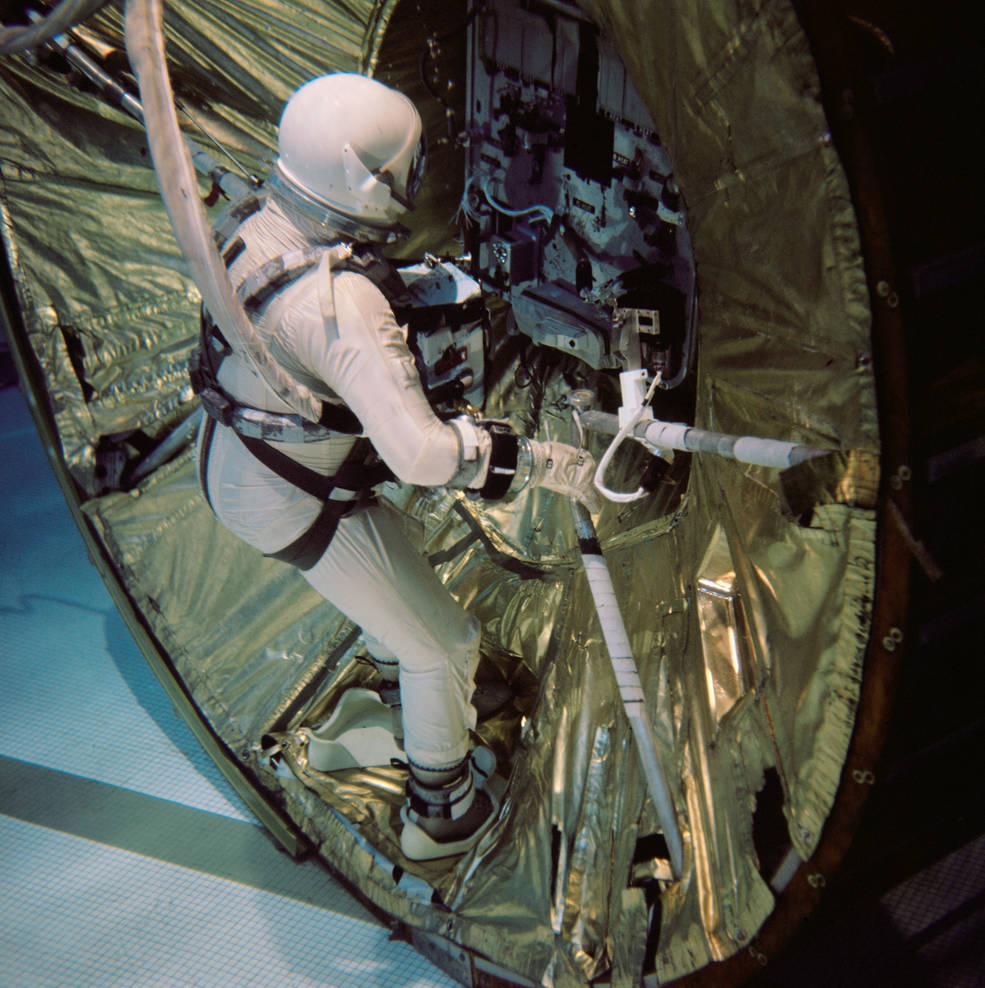 In preparation for lunar missions, astronauts needed to master working outside their spacecraft, and initially, training for spacewalks included parabolic aircraft flights that provided brief 30-second episodes of weightlessness, overhead suspension, and air-bearing tables. However, astronauts during the Gemini IX , X , and XI missions experienced significant difficulties during their spacewalks and NASA sought better methods of training. In 1966, the agency assessed the benefits of neutral buoyancy training in which space suited astronauts practiced spacewalking tasks in swimming pools. Astronaut M. Scott Carpenter provided a favorable assessment of training protocols established by Environmental Research Associates of Baltimore, Maryland, under contract to NASA's Langley Research Center in Hampton, Virginia, using a swimming pool at the McDonogh School in Owings Mills, Maryland. Based on Carpenter's positive assessment, in August 1966 MSC Director Robert R. Gilruth ordered the center to develop an in-house neutral buoyancy training capability. On Sept. 12, 1966, with mockups of the Gemini and Agena target spacecraft placed in the McDonogh School's pool, Edwin E. "Buzz" Aldrin became the first astronaut to use neutral buoyancy to train for his spacewalks on the upcoming Gemini XII mission. He returned in October for more training, less than one month before the actual mission, during which he successfully completed a then-record three spacewalks. Aldrin attributed the successes largely to his experiences in the pool.
In early 1967, workers installed a Water Immersion Facility (WIF), essentially a circular above-ground pool measuring 25 feet in diameter and 16 feet deep, in the east end of the northern wing of MSC's Building 5, the Mission Simulator and Training Facility. Astronauts used the 82,000-gallon pool to train for spacewalks during the Apollo program using mockups of the Lunar and Command Modules placed in the facility. In April 1969, Neil A. Armstrong and Aldrin, as well as their backups James A. Lovell and Fred W. Haise used the WIF in a simulation of the one-sixth lunar gravity, three months before the Apollo 11 Moon landing. Because of the large size of the Skylab space station, astronauts conducted spacewalk training for that program in the larger Neutral Buoyancy Simulator (NBS) at NASA's Marshall Space Flight Center in Huntsville, Alabama. In 1978, the WIF was moved from Building 5 to an already-existing 30-foot-by-16-foot pool in Building 260. Space shuttle astronauts used that tank for spacewalk training for about one year.
The larger size of the space shuttle's payload bay required a larger neutral buoyancy training facility, and in July 1978, workers began to construct the Weightless Environment Training Facility (WETF) in Building 29, the building that previously housed a human-rated centrifuge. The WETF, measuring 33 feet wide, 78 feet long, and 25 feet deep, became operational on Nov. 21, 1980, and astronauts used it for nearly all space shuttle spacewalk training until 1997. Some spacewalk training for the early Hubble Space Telescope servicing missions took place in the NBS at Marshall due to the instrument's large size. In April 1996, during the Shuttle-Mir Program and in preparation for space station operations, technicians tested a Russian Orlan spacesuit in the WETF for the first time.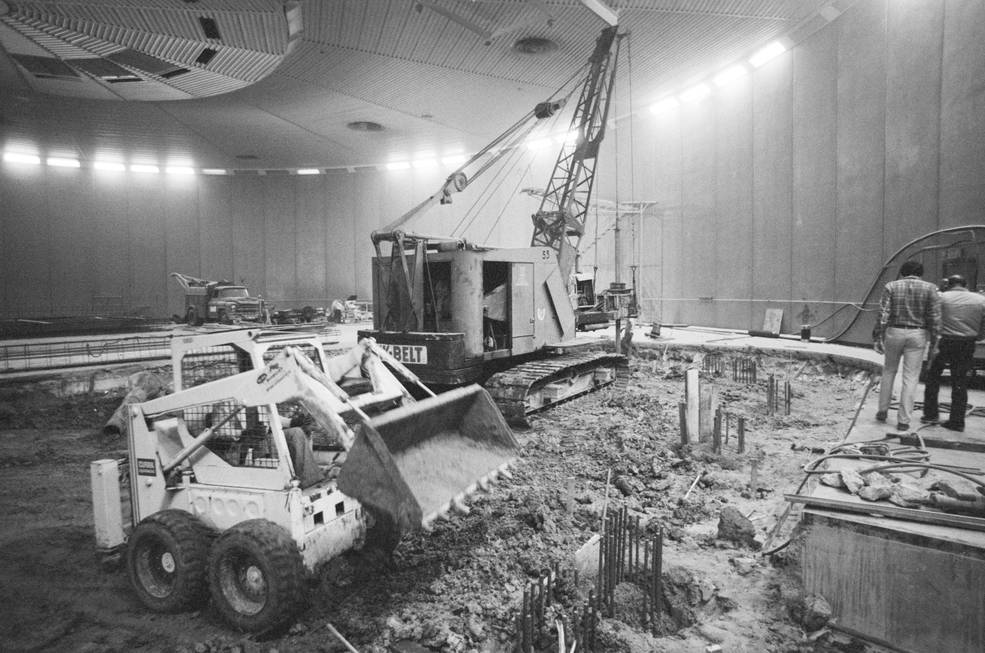 In the late 1980s, NASA began to consider the need for an even larger neutral buoyancy training facility to handle the larger modules of Space Station Freedom that eventually became the International Space Station. NASA purchased an unused processing facility from the McDonnell Douglas Corp. near Ellington Field a few miles north of JSC. Workers began retrofitting the building with a pool 202 feet long and 102 feet wide with a depth of 40 feet. Construction of the Neutral Buoyancy Laboratory, or NBL, containing 6.2 million gallons of water, began in April 1995. That same month, NASA designated the building as the Sonny Carter Training Facility, in honor of astronaut Manley L. "Sonny" Carter who died in a plane crash in 1991. The first suited dives in the NBL, by astronauts Jerry L. Ross and Linda M. Godwin , took place in October 1996, and the facility was formally dedicated on May 19, 1997. Subsequent space shuttle and space station spacewalk training has taken place in the NBL.
In addition to training space station crews for spacewalks to maintain and upgrade the orbital facility, astronauts use the NBL to test prototype spacewalk tools and techniques for future use on the space station and for exploration missions to the Moon and beyond.
To be continued…
Skip to primary navigation
Skip to main content
Skip to primary sidebar
Skip to footer
TravelAwaits
Our mission is to serve the 50+ traveler who's ready to cross a few items off their bucket list.
Prepping For The Moon — Why A VIP Tour Of Space Center Houston Is Worth The Money 
Activities and Interests
Destinations
History and Culture
United States
There has been a rebirth in excitement about America's space program as NASA, its contractors, and partnering nations prepare to send men, women, and the first crew of color to the Moon with the Artemis project in 2024. The world is once again entranced with the idea of space travel and visiting our nearest celestial neighbor, so much so that the 14 NASA Visitor Centers across the country are experiencing an uptick in attendance.
The most popular is the Kennedy Space Center , where visitors are able to watch the largest rocket ever built hurl humans to the moon. The next most visited is Space Center Houston , which is part of the Johnson Space Center. Here is where the mission control centers and training for all of the nation's manned space missions — from Gemini in the 1960s to the International Space Station (ISS) — have been located as well as the headquarters for our next leap to the moon, the Artemis missions.
Whether you are a space geek, into history, or looking for a fun destination to visit, Space Center Houston should be on your list, especially with a ticket aboard their VIP Bus Tour .
A Day At Space Center Houston
Space Center Houston is packed with fascinating exhibits that look back at our history in space and how NASA is preparing to return humans to the Moon. There are authentic historic space capsules in the Starship Gallery , exhilarating motion simulators to ride, movies continually running in the Mission Briefing Center and Destiny Theater, displays where you can walk through the Skylab space station or view the Earth as the astronauts do through the cupola of the ISS, have lunch at Food Lab Market and Eatery , and more.
A highlight of a visit to the space center are the tram tours that take you to the George W.S. Abbey Rocket Park . Here, you can see the only complete Saturn V moon rocket, the Astronaut Training Facility, and a view of historic Mission Control where Apollo 11 was guided to the Moon from a special observation area.
The first two tram tours are free with admission. Tickets can be reserved at the guest services counter. Admission is charged for the Mission Control Tour and must be reserved online .
An Out Of This World Experience — VIP Tours
Now, the tram tours are excellent, but if you really want to experience the Johnson Space Center firsthand, then upgrade your general admission to one of the two VIP Tour packages.
There are two packages available that run during the weekdays, one in the morning at 9 a.m. and the other at noon. Each lasts 3 hours and costs $199 per person. The tours are limited to 10 people per bus and tend to sell out quickly, so make those reservations early.
But why is upgrading your general admission ticket to a VIP Tour worth the money?
1. Walk In The Steps Of History
You can literally walk in the steps of history when you take the morning VIP Tour. The tour bus stops at the historic Christopher C. Kraft Mission Control Center . Walk up — or ride an elevator — to the third floor and see the historic mission control center where engineers guided the astronauts of Apollo 11 to the Moon and saved the lives of the crew of Apollo 13.
The control room has been completely restored to its 1960s state. Each control console and display screen works the same as it did those many years ago. The room has been so precisely restored to its original state that when historians discovered cigarette butts under many of the consoles, they placed them back into the ashtrays that dot the rows of equipment.
After watching a film narrated by flight director Gene Kranz, who was in charge during the Apollo 11 landing from a special observation area, and unlike the tram tour, the doors are unlocked and you can actually walk inside the control room to view it firsthand. It's an inspiring experience.
From there, the tour makes a short walk to another room to view the actual ISS mission control room that is manned 24/7 to keep the ISS and crew flying safely.
2. Touch History
The morning tour makes a stop at the Crew Systems Laboratory. Here, you will learn about what it takes to make space suits, what astronauts go through to put on and take off a suit, and its important functions. You'll even get to touch and examine a space-worn suit. There are also vintage suits from the early Mercury, Gemini, and Apollo eras on display.
3. Experience Unseen History
While there are many artifacts on display in the main visitor center building, the VIP Tours take you to see many more artifacts that are not available to the general public. In the Crew Systems Laboratory, you can see the actual device that mission control improvised to purify the oxygen aboard the Apollo 13 mission that nearly ended in tragedy.
You will also get to walk through the Ghost Shuttle in the Shuttle Avionics Integration Laboratory. This is an actual space shuttle (without walls and engines) where astronauts and engineers trained. Before every shuttle mission, the Ghost Shuttle was used to iron out any problems found in an upcoming flight before the shuttle left the ground. Walk inside the massive cargo bay then up the ladder to the crew area and sit at the console on the flight deck.
4. Get Up Close With Astronaut Training
The Johnson Space Center is the main training site for our astronauts heading to the ISS and now Orion, which will go to the Moon. Both tours take you to see the Astronaut Training Facility where full-size mockups of the ISS, Orion spacecraft, and Boeing Starliner capsule are used for training and troubleshooting.
The afternoon tour also takes you to the Neutral Buoyancy Lab , a giant swimming pool that holds full-size mockups of the ISS and other capsules. It's here that astronauts in their spacesuits practice underwater for their upcoming missions in virtually the same environment as they would in space. It also makes a stop at the Jake Garn Simulation and Training Facility where astronauts familiarize themselves with in-orbit laboratory systems. 
And who knows? As you look down into these training facilities at the work being done from a catwalk high above, you may be watching the next man or woman to walk on the Moon.
VIP Tour Basics
When you reserve a VIP Tour , meet up with your tour guide and receive a special VIP badge 15 minutes prior to beginning the tour. Space Center Houston does not open until 9 a.m., but ticket holders for the morning tour are allowed early entrance so that they can gather together before hopping on the bus.
The tour guides are incredibly knowledgeable and can answer just about any question you have.
Generally, the two tours include visits to:
9 A.M. Tour: Crew Systems Laboratory, Shuttle Avionics Integration Laboratory, Apollo Mission Control Center, ISS Mission Control Center
Noon Tour: Jake Garn Simulation and Training Facility, Astronaut Training Facility, Neutral Buoyancy Lab (NBL)
When on the tour, any fanny packs, purses, backpacks, etc., must be left on the locked bus when you enter a building.
Remember that these are working NASA facilities and you will be walking among working employees and contractors, so be considerate as you walk past their offices.
Guests must wear closed-toe shoes on VIP tours to avoid injuries. Bathroom breaks are limited so be sure to hit a restroom before heading out.
Space Oddities: Forgotten Stories from Mankind's Exploration of Space
Everyone's Gone to the Moon: Life on Earth and the Epic Voyage of Apollo 11
A Travel Lover's Guide to Mobile and the Alabama Gulf Coast
Hidden History of Mobile
Baseball in Mobile
Recently retired, Joe plans to continue his love of traveling while sharing his adventures and exploration of the U.S. and the world with TravelAwaits readers.
For details on Quillt's privacy and cookie policies, please visit our privacy policy page.

Neutral Buoyancy Research Facility (NBRF)
Brief mission.
The NBRF is one of two currently operating neutral buoyancy tanks in the US. It is the only one in the world located on a college campus, and the only one dedicated to basic research. Neutral buoyancy is one of the primary means of simulating the microgravity environment of space; while the NBRF was originally developed to support NASA studies of orbital operations, it is also actively used for underwater robotics and both human and robotic operations in simulated lunar and Mars gravity. Related research in the Space Systems Laboratory (SSL) emphasizes space, undersea, and medical rehabilitation robotics; space human factors, including bioinstrumentation and advanced space suit design and testing; human-robot collaboration technologies; and the underlying fundamentals of space simulation. 
Hours of Operation
Monday through Friday, 9 AM to 4:30 PM; alternate times by arrangement. The NBRF has the capability to conduct night tests (no ambient lighting) if required.
Services and Technologies Offered
The neutral buoyancy tank is 50 feet across, 25 feet deep, and holds 367,000 gallons of water. Water temperature is maintained at 88°F for consistency of buoyancy and comfort of test support divers, and is specially filtered for maximum visual clarity.
The facility allows external access for underwater test hardware up to 15 feet on a side and up to 4000 pounds in weight. Complete SCUBA diver support facilities include two locker rooms, air compressors for filling SCUBA bottles, and both underwater speakers and bidirectional underwater communications system. A secure storage facility for underwater test hardware is located outside the NBRF for hardware which will not be damaged by exposure to the elements.
There are currently six robots operational in the NBRF, including two generations of Ranger, a four-armed satellite repair robot; two SCAMP vehicles and EUCLID, all 6 degree of freedom free-flying underwater vehicles used as camera platforms and for advanced control algorithm development; and SAMURAI, a 6000-meter rated deep ocean electrical dexterous manipulator for autonomous underwater operations. The NBRF is equipped with a 16-camera Qualisys motion tracking system capable of providing measurement of the location and velocity of an essentially unlimited number of optical targets at submillimeter accuracy and less than 100 msec sample times. The robotic manipulator systems are also capable of operation in the laboratory environment, allowing simplified checkout and correlation between underwater and laboratory simulations.
The SSL has developed two series of human-rated suits for simulation of extravehicular activity underwater. The MX-2 system is a full pressure suit, operating at 3.5 psid and providing a dry environment for the wearer with high fidelity to flight-rated pressure suits. This suit has been equipped with a variety of bioinstrumentation for measuring body motions and metabolic workload, as well as advanced controls and displays for immersive virtual reality presentations as part of the underwater simulation. A parallel series of space suit simulators provide a lower-fidelity experience of suited operations, but provide low-cost simulations without excessive training requirements for the test subject. Wearers of the MX-C/MX-D series of suit simulators are immersed in water, and effectively supplied by conventional scuba equipment within the suit envelope. Other human test systems available at the NBRF include a body harness for body segment parameter ballasting for realistic simulation of partial gravity environments such as the moon and Mars, and an underwater treadmill for studying gaits and workloads.
A small but very well-equipped machine shop on-site is used to fabricate and repair test equipment, with both manual and computer guided mills and lathes, sheet metal forming capabilities, and TIG welding equipment. The SSL also has access to rapid prototyping capabilities and the well-equipped machine shop of the Clark School of Engineering.
The NBRF control room is used for conducting tests in the neutral buoyancy tank. The control room has four general-purpose workstations that are used to control robots underwater through Space Shuttle-style hand controllers or a virtual reality interface, as well as providing multiple user-selectable video views from cameras in and above the tank. A multichannel communications system allows test conductors to talk with divers underwater, with personnel throughout the NBRF, and with other sites across the country through the Internet and satellite links. The control room also houses a complete video control and editing suite, and is capable of sourcing live video feeds for broadcast purposes.
Equipment Available
50 ft. diameter x 25 ft. deep neutral buoyancy water tank
Standard diving equipment: regulators with octopus and buoyancy control devices
AGA full-face masks for two-way communication
25 ft. hookah rigs for externally mounted or surface-supplied air
Underwater handling equipment (lift bags and rigging straps)
2-ton overhead wirelessly controlled hoist
Diver locker rooms, scuba prep area, water ingress/egress platform
12 wall-mounted hard points for securing test hardware
Two underwater remote pan/tilt/zoom cameras controllable via internet
Numerous underwater video cameras with live feeds
High resolution underwater still and video cameras for documentation
32x32 video crosspoint switching system
Video recording in Betamax, VHS, Hi-8, digital tape, and direct-to-media digital stream
24-channel audio mixing board
12-channel audio intercom system
Wired and wireless audio belt packs
16-camera Qualisys underwater motion tracking system
Three Ranger NBV dexterous robot arms (6-7 DOF x 1.5 m length)
Two Ranger TSX dexterous robot arms (10 DOF x 1.5-4 m length)
Ranger PXL positioning manipulator (6 DOF x 2.5-10 m length)
SAMURAI 6000 meter depth-rated manipulator (6 DOF x 1.25 m length)
Two SCAMP free-flying camera platforms
EUCLID free-flying space simulation vehicle
MX-3 pressurized space suit (under development)
Two MX-C space suit simulators
MX-D hard-suit space suit simulator (under development)
Video/audio control, routing, recording, and broadcast station
Four software-configurable general purpose robot control stations
Conference and test monitoring room
Machine shop
Basic facility rental is $2500/day, which includes Space Systems Laboratory personnel supporting surface activities and conducting underwater test support. Dive personnel from outside entities can be certified to dive in support of test operations, but this requires extensive training and certification as well as physician health exams. Organizations interested in supplying dive personnel should contact the NBRF no less than two months prior to testing.
Dr. David Akin 382 Technology Drive, College Park, MD 20742 Contact Email:  [email protected] Contact Phone:  (301) 405-1138
Facility URL
Neutral Buoyancy Research Facility

VIDEO: Thought Leader Series – Training in the Neutral Buoyancy Laboratory
Our July Thought Leader Series, presented by The University of Texas Medical Branch (UTMB), features spacesuits. Learn about the suits astronauts wear when they step out into the cosmos for a spacewalk.
How does NASA train astronauts to walk in space? It sends them under the waves of an indoor pool. Floating inside an EVA suit in the Neutral Buoyancy Laboratory, astronauts get a taste of microgravity here on Earth. Our July Thought Leader Series installment, presented by The University of Texas Medical Branch (UTMB), dives into how astronauts train for being in space at the Neutral Buoyancy Laboratory (NBL).
ABOUT THE NBL
The mission of the NBL is to prepare for space missions involving spacewalks. NASA team members use the NBL to develop flight procedures, verify hardware compatibility, train astronauts, and refine spacewalk procedures during flight that are necessary to ensure mission success.
Neutral buoyancy is the equal tendency of an object to sink or float. If an item is made neutrally buoyant through a combination of weights and flotation devices, it will seem to "hover" under water. In such a state, even a heavy object can be easily manipulated, much as it is in the zero gravity of space.
Though suited astronauts are not weightless while training in the pool, neutral buoyancy is the best current method to train astronauts for spacewalks.
The NBL is split into two sections, each of which can be used for astronaut training simultaneously. It is 202 ft in length, 102 ft in width and 40 ft in depth (20 ft above ground level and 20 ft below) and holds 6.2 million gallons of water. Even at this size, the International Space Station, at 350 ft x 240 ft, will not fit inside the NBL.
ABOUT THE PANEL
Panelists include astronaut Bill McArthur, NBL Flight Lead Danny Brandon, and NBL Dive Ops Specialist Kristie Melass.
McArthur is a retired astronaut and U.S. Army colonel. A veteran of four space flights, McArthur logged 224 days, 22 hours, 28 minutes and 10 seconds in space, including 24 hours and 21 minutes of spacewalks. McArthur retired from NASA in June 2017 as the Director of Safety and Mission Assurance for NASA Johnson Space Center.
Brandon is the NBL Flight Lead. He currently manages NBL external customer and facility projects related to development operations and future capabilities. He has been a part of the team at the NBL since 1999 and was part of the dive team until 2009. His primary focus now is to support NBL operations and hardware integration.
Melass is a dive operations specialist at the NBL. She has held many different positions at the pool, including safety diver, dive supervisor, environmental control system operator, and test director. She's been a recreational diver since 2000, a professional diver since 2011, and joined the NBL dive team in 2017. Her responsibilities include assisting astronauts in their EVA training underwater.
Learn more about Thought Leader Series
Sign up for our newsletter!
Recent Posts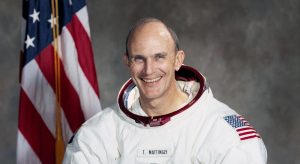 A Space Hero | Tribute to Apollo astronaut Thomas K. Mattingly II
Beloved NASA Astronaut Thomas K. "TK" Mattingly II passed away on October 31, 2023, at the age of 87.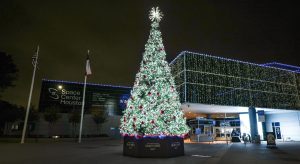 Your Guide to a Cosmic Holiday Experience at Galaxy Lights
Step into a world of celestial enchantment with your loved ones at Galaxy Lights, powered by Reliant, and get ready to embark on an extraordinary holiday journey that's out of this world!
Today's Hours
1601 e nasa parkway, houston, tx 77058.
Visitor Information
Exhibits and Experiences
Galaxy Lights
Special Events
Accessibility
The Food Lab
Find a Hotel
Education Programs
Space Center U
Explorer Camps
Overnight Experiences
Educator Resources
Field Trips
Innovation Gateway
Stars and STEM
Human Performance Accelerator Lab
Support Our Mission
Make a Gift
Corporate Partnerships
Become a Member
Member Events
Member FAQs
Host an Event
Connect with us

NASA Neutral Buoyancy Laboratory
Photos & videos.
See all 51 photos
Location & Hours
Suggest an edit
13000 Space Center Blvd
Houston, TX 77059
South Belt/Ellington
Recommended Reviews
1 star rating Not good
2 star rating Could've been better
3 star rating OK
4 star rating Good
5 star rating Great
Select your rating
Overall rating
With my dad being a well known barber in the Southbelt community, lots of cool interesting people come into his shop. This particularly moment, my dad's friend, who works for NASA invited my dad and his family on a tour through NASA, an area that isn't open to the general public. So right there, I knew this experience would be memorable and well worth it. Truly, this has been one of the best top experiences: my dad's friend was so knowledgeable about the whole tour. However, before we got to tour we had to put on special badges according to the guards to make sure other personnel know that we were going to look around. I learned a lot about NASA with all the shuttles, that they actually build some of the things in the facility, sometimes engineering students work in the lab and build robots, all the controls in the shuttles and how space life is. We even had the opportunity to tour and walk through a few of the shuttles which was super cool.
The Neutral Buoyancy Laboratory (NBL) is an astronaut training facility located at the Sonny Carter Training Facility near NASA's Johnson Space Center. The NBL consists of a large indoor pool of water (40 feet deep, 202 feet long, and 102 feet wide. In other words, this is a big ass pool, of which I recently spent parts of 2 days learning boat- and helicopter-related survival training. And yes, I can honestly say that I trained with (or at least near) the astronauts! We also had the chance (via a special visor) to see 2 astronauts perform simulated task in preparation for upcoming missions. Deep down in the pool are full-sized mock-ups of the International Space Station (ISS) modules and payloads, and visiting vehicles from other National programs. The principle of neutral buoyancy is used to simulate the weightless environment of space. What we say was the astronauts (in 300# space suits) lowered and raised in and out of the pool using an overhead crane. Once in the water, the suited astronauts are weighted in the water by support divers so that they experience minimal buoyant force and minimal rotational moment about their center of mass. Multiple divers surround the astronauts during their entire training exercise. It was a very cool thing to watch and appreciate. Postscript - Who was Sonny Carter? M. L. "Sonny" Carter, was instrumental in developing many of the current space-walking techniques used by the astronauts. Carter was selected into the astronaut program in 1984 and flew into space STS-33 aboard the Space Shuttle Discovery. He was training as a crew member aboard STS-42 when on April 5, 1991, he died in a commuter plane crash near New Brunswick, Georgia. Before he became an astronaut, Carter was a Navy doctor and aviator, and a soccer player for the North American Soccer league.
See all photos from Eric B. for NASA Neutral Buoyancy Laboratory
Absolutely AMAZING!!!!! The 40ft pool was the highlight of my NASA tour!
1 other review that is not currently recommended
People Also Viewed
National Aeronautics and Space Administration
San Jacinto Monument and Museum
Lynchburg Ferry
Galveston Central Appraisal District
Allen's Landing
Gerald D Hines Waterwall Park
Lunar and Planetary Institute
Houston Astrodome
Clear Lake Area Chamber of Commerce
Browse Nearby
Things to Do
Study Spots
Public Services and Government Near Me
Social Security Offices Near Me
Other Public Services & Government Nearby
Find more Public Services & Government near NASA Neutral Buoyancy Laboratory
People found NASA Neutral Buoyancy Laboratory by searching for…
Johnson Space Center Houston
Nasa Museum Houston
Nasa Space Center Houston
Visiting the Johnson Houston Space Center
Space Exploration
An Introduction to Astronomy
Important Astronomers
Solar System
Stars, Planets, and Galaxies
Weather & Climate
Every NASA mission is controlled from the Johnson Space Center (JSC)  in Houston, Texas. That's why you often hear astronauts on orbit call out "Houston". when they're communicating to Earth.  JSC is more than just mission control; it also houses training facilities for the astronauts and mockups for future missions. 
As you can imagine, JSC is a popular place to visit. To help visitors get the most out of their trip to JSC, NASA worked with the Manned Space Flight Education Foundation to create a unique visitor experience called Space Center Houston. It's open most days of the year and offers a lot in the way of space education, exhibits, and experiences. Here are a few of the highlights, and you can learn more at the center's website. Here's what to do at the Johnson Space Center in Houston.
Space Center Theater
People of all ages are fascinated with what it takes to be an astronaut. This attraction shows the excitement, the commitment and the risks taken by the people who fly in space. Here we can see the evolution of the equipment and the training of the men and women who dreamed to be astronauts. We want guests to experience first hand what it takes to be an astronaut. The film, shown on a 5-story tall screen, takes the viewer by the heart to bring them into the life of an astronaut from the time they receive notification of their acceptance into the training program to their first mission.
Blast Off Theater
The only place in the world where you can personally experience the thrill of launching into space like a real astronaut. Not just a movie; it's the thrill of personally feeling the launch into space - from the rocket boosters to the billowing exhaust.
After docking at the International Space Station , guests enter the Blastoff Theater for an update on current shuttle missions, as well as details on the exploration of Mars.
NASA Tram Tour
With this behind-the-scenes journey through NASA's Johnson Space Center, you may visit the Historic Mission Control Center, the Space Vehicle Mockup Facility or the current Mission Control Center. Before returning to Space Center Houston, you can visit the "all new" Saturn V Complex at Rocket Park. Occasionally, the tour may visit other facilities, such as the Sonny Carter Training Facility or Neutral Buoyancy Laboratory. You may even get to see astronauts training for upcoming missions.
Keep in mind that the buildings visited on the tram tour are real working areas of Johnson Space Center and are subject to closure without notice.
Astronaut Gallery
The Astronaut Gallery is an unparalleled exhibit featuring the world's best collection of spacesuits. Astronaut John Young's ejection suit and Judy Resnik's T-38 flightsuit are two of the many spacesuits on display.
The walls of the Astronaut Gallery also contain portraits and crew photos of every U.S. astronaut who has flown in space.
The Feel of Space
The Living in Space module simulates what life could be like for astronauts aboard the space station. A Mission Briefing Officer gives a live presentation on how astronauts live in a space environment.
It uses humor to show how the smallest tasks like showering and eating are complicated by a microgravity environment. A volunteer from the audience helps to prove the point.
Beyond the Living in Space Module are 24 part task trainers that use sophisticated computer technology to provide visitors with the experience of landing the orbiter, retrieving a satellite or exploring the shuttle systems.
Starship Gallery
The journey into space begins with the film "On Human Destiny" at the Destiny Theater. Artifacts and hardware on display in the Starship Gallery trace the progression of America's Manned Space Flight.
This incredible collection includes: an original model of the Goddard Rocket; the actual Mercury Atlas 9 "Faith 7" capsule flown by Gordon Cooper; the Gemini V Spacecraft piloted by Pete Conrad and Gordon Cooper; a Lunar Roving Vehicle Trainer, the Apollo 17 Command Module, the giant Skylab Trainer, and the Apollo-Soyuz Trainer.
Kids Space Place
Kids Space Place was created for children of all ages who have always dreamed of experiencing the same things astronauts do in space.
Interactive exhibits and themed area make exploring the different aspects of space and the manned space flight program loads of fun.
Inside Kids Space Place, guests can explore and experiment commanding the space shuttle or living on the space station . (Age and/or height restrictions may apply on some activities.)
Level 9 Tour
The Level Nine Tour takes you behind the scenes to see the real world of NASA up close and personal. On this four-hour tour you will see things that only the astronauts see and eat what and where they eat.
All your questions will be answered by a very knowledgeable Tour Guide as you discover the secrets that have been kept behind closed doors for years.
The Level Nine Tour is Monday-Friday and includes a FREE HOT LUNCH in the astronauts' cafeteria which makes it a "Big Bang" for your buck! The only security clearance is that you must be 14 years of age or older.
The Space Center Houston is one of the most worthwhile trips any space fan can make. It combines history and real-time exploration in one fascinating day! 
Edited and updated by Carolyn Collins Petersen .
Christa McAuliffe: First NASA Teacher in Space Astronaut
Apollo 13: A Mission in Trouble
The Future of Human Space Exploration
The Evolution of the Space Suit
The Space Race of the 1960s
Biography of José Hernández, Former NASA Astronaut
Personal Hygiene in Space: How it Works
The Apollo 1 Fire
The History and Legacy of Project Mercury
Women in Space - Timeline
First Man on the Moon
Apollo 14 Mission: Return to the Moon after Apollo 13
Bringing Humans to Mars is a Challenge
Space First: From Space Dogs to a Tesla
History of the Lunar Rover
By clicking "Accept All Cookies", you agree to the storing of cookies on your device to enhance site navigation, analyze site usage, and assist in our marketing efforts.
More results...
NBL Facilities
Nasa's neutral buoyancy laboratory (nbl) is home to a massive, 6.2 million-gallon training pool and related testing technologies, providing full oversight in a controlled, secure environment..
Skybox-style control rooms overlook the pool to provide direct and indirect monitoring, communications, data connectivity, and control capabilities. A closed-circuit video system provides high-definition video and still photography of subsurface and surface locations. Real-time, password-protected streaming is also available.
The NBL supports various testing and training activities, including remotely operated vehicle (ROV) testing, and VideoRay and astronaut training.
Rov testing, rov testing at the nbl provides an opportunity to test concepts and technologies early in their life cycle where technical, operational, and programmatic risk can be reduced at a low cost to the developer. the earlier risks are identified and retired, the greater the opportunity for success..
The NBL's permanently-installed, work class Millennium ® ROV is used to analyze and prepare operational and test situations prior to open-water deployment. The ROV is used to test operational scenarios for existing and emerging subsea tools and equipment. Individual components or systems can be fully tested, and, in some cases, certified in the NBL for integration with an ROV during operational, stand-alone testing, or as part of a full system integration test (SIT).
In addition to live testing, we can design and fabricate subsurface mock-ups at our light manufacturing facility to produce operationally functional models. Using these models, we can simulate the anticipated conditions and near operational configuration to verify concepts, develop tools and procedures, and troubleshoot obstacles.
VideoRay Training
The nbl hosts a two-day training program for rov piloting training and certification through videoray—an industry leader in small, underwater rovs..
Astronaut Training
Providing a safe environment that enables astronauts to train, execute project activities pre-space flight, and interact with a mock international space station set-up., available services and equipment.
Onsite hyperbaric chambers
Facility-level uninterruptable power supply, compressed air, and chilled water
Two 20.5-ton overhead cranes
Four 1.6-ton jib cranes
Two Davit cranes
Lifting equipment (tow tug, Lift-A-Loft, scissor jack, and forklifts)
High-bay–accessible outdoor secured storage and staging areas
Conference and meeting rooms
Fully secured 24/7, ensuring guard-gate–controlled access to the grounds and badge-controlled access within the facility
Additional security options for proprietary projects
Facility Specifications
Pool: 40.5 ft deep × 202 ft long × 102 ft wide High bay: 80 ft tall, 72,000 ft²
High-Definition Animations
We use state-of-the-art video equipment and software to produce animations and visualizations that accurately show proposed operations. By clearly visualizing objectives and operational scenario animations, we enable sharing and review of concepts and plans before committing to the development of actual hardware and procedures.
Neutral Buoyancy Laboratory | 13000 Space Center Blvd. | Houston, TX | 77059
Company page Since our founding in the early 1960s, Oceaneering has expanded and grown globally to service several industries such as the offshore energy industry, defense, entertainment, material handling, aerospace, science, and renewable energy industries. In 1964, Mike Hughes and Johnny Johnson formed a Gulf of Mexico diving company called World Wide Divers. The company grew in response to increasing demand for their services and in 1969 merged with two other diving companies to form Oceaneering International, Inc. To solve the toughest challenges, we do things differently, creatively, and smarter. As your trusted partner, our unmatched experience and truly innovative portfolio of technologies and solutions give us the flexibility to adapt and evolve, regardless of market conditions. Our mission is to solve the unsolvable. We thrive by creating industry-changing technically creative solutions for the most complex operational challenges under water, on land, and in space. Our five core values establish a common culture and demonstrate what is most important for us as a company. Since the beginning, the company has transformed from a small regional diving company into a global provider of engineered products and services. Today, we develop products and services for use throughout the lifecycle of an offshore oilfield, from drilling to decommissioning. We operate the world's premier fleet of work class ROVs. Additionally, we are a leader in offshore oilfield maintenance services, umbilicals, subsea hardware, and tooling. We also serve the aerospace, defense, and theme park industries. Underpinning everything we do, safety is not only the foundation of our core values, but it is vital to our unmatched performance record and company culture. The industries we serve are as diverse as they are complex. Whether we are engineering deepwater umbilicals or developing robotics for aerospace applications, the safety and health of our employees, vendors, and customers is an integral part of our day-to-day business. If we are working, then our responsibility is to be working safely. Since our inception in 1964, we have placed a high value on employee safety—from diving services and subsea inspection to vessel-based installation operations. We have and will continue to evolve not only our health, safety, and environmental (HSE) processes, but those of the industries in which we work. Although we have been fatality-free since 1999, our HSE journey goes beyond statistics. As our portfolio of services has grown, we have continued to prioritize and advance our approach to HSE.
News and Media
Latest News
Article Archive
Trade Shows and Events
Financial Press Releases
Case Studies
Why Oceaneering?
Career Search
Diversity and Inclusion
Recruiting Calendar
HSE / Quality
Mission, Vision, and Values
Corporate Sustainability
Reducing CO2 Emissions
Active Patents
Product to Patent Mapping
Employee Access
EthicsPoint

Ask your question online: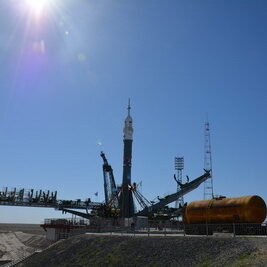 February 15, 2024
Baikonur cosmodrome tours
Join our group for the launch of Progress MS-25 cargo spacecraft in February 15, 2024. The cargo spacecraft Progress MS-26 will deliver on aloft more than 2,5 tones of different supplies.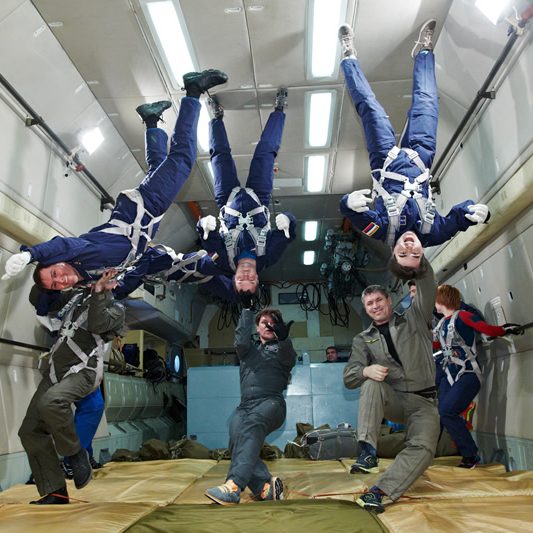 December 21, 2023
Zero gravity experience.
Amazing zero-gravity flight onboard IL-76MDK huge airplane.