Agency Information
Langkawi JT Travel & Tours Sdn Bhd is a registered travel agency located in Langkawi, Kedah. The agency provides travel and tourism related services on behalf of suppliers such as airlines, car rentals, cruise lines, hotels and package tours in Langkawi.
Langkawi Langkawi is an archipelago made up of 99 islands on Malaysia's west coast. Surrounded by turquoise sea, the interior of the main island is a mixture of picturesque paddy fields and jungle-clad hills. If you're intent on carting off duty-free alcohol, cigarettes and chocolate, then this is the place to be. Still, nature lovers will find the island just as agreeable as the shoreline is fringed by powder-fine sand and swaying coconut trees.
From the expansive Underwater World Langkawi along Pantai Cenang to the soaring Cable Car in Pantai Kok, Langkawi is an electrifying locale that keeps visitors coming back for more.
There are many interesting places to visit in Pulau Langkawi such as Kuah Jetty, Gunung Macincang Mountain, Dataran Lang (Eagle Square), The Oriental Village, Underwater World Langkawi, Telaga Harbor Park, Makam Mahsuri (Mahsuri Tomb), Pulau Payar Marine Park, Langkawi Cable Car and the Langkawi Sky Bridge.
And if you're more outdoorsy, why not go trekking through the pristine rainforest that blankets most of Langkawi, or go on a boat tour of the mangroves, go diving, or play a round of golf at some of the 5-star resorts.
Some of the most popular beaches are Pantai Cenang, Pantai Tengah, Burau Bay, Pantai Kok, and Datai Bay. Pantai Cenang is a picturesque beach with seemingly unending stretches of fine white sand.It has numerous restaurants and bars for evening entertainment, several hosting live music and for watching the sun set. The beach is contoured by tall coconuts and casuarinas.
Pantai Tengah is separated from Cenang by a small cape. It too faces the setting sun and is populated more by hotels than bars making it less busy in the evening. Burau Bay, fringed by rocky outcrops, is the favorite place of migratory birds in Langkawi. Pantai Kok is a peaceful beach with the backdrop of limestone hills. Datai Bay has a combination of forests and sea. The milky beach is backed by lush forest.
Tourists can enter the island via ferry from Kuala Perlis or by flight from Kuala Lumpur. AirAsia and Fireflyz provides budget connections to the island.
Classifieds
Langkawi JT Travel & Tours Sdn Bhd
No comment found.
Name (required)
Mail (will not be published) (required)
Similar Listings
Envomarine Travel & Tours Sdn Bhd
Syaemmy Travel & Tours Sdn Bhd
The Blue World Travel Sdn Bhd
Golden Eagle Travel & Tours Sdn Bhd
Starlux Vacation Sdn Bhd
Angkaland Travel & Tours Sdn Bhd
Malay Asia Holidays Sdn Bhd
Discovery Overland Holidays Sdn Bhd
Langkawi Sail & Cruise Sdn Bhd
Mandaq Tours & Car Rental
and more ...
Langkawi JT Travel & Tours
Rank 3119 of 6129 in Travel Agency
Specialized : travel agency, email : [email protected], location : langkawi 07000 , kedah view map..., tour promotion, travel package, tour packages, airline tickets, cheap flights, coverage area.
Value of Money
Availability
LANGKAWI JT TRAVEL & TOURS SDN.BHD is registered under Ministry of Tourism and Culture Malaysia and offer services of Inbound. 0 0 August 10, 2016 by MOTAC
Langkawi JT Travel & Tours is registered under Malaysian Association of Tour & Travel Agents and offer services of Inbound. 0 0 August 10, 2016 by MATTA
Lokasi & Nombor telefon? 地图? 电话号码?
Other Travel Agency
Other categories.
Entertainment [ 510 ]
Travel Agency [ 6127 ]
Transportation [ 779 ]
Hotel [ 2096 ]
Homestay [ 510 ]
Artist [ 3300 ]
Lion and Dragon Dance [ 203 ]
Model [ 97 ]
Magician [ 43 ]
Clown [ 42 ]
Resort [ 73 ]
User Sign in
You must login to give Review / Enquire
User Sign Up
Login with Facebook
Quality (6.8/10)
Reliable (6.8/10)
Value of Money (6.0/10)
Availability (6.0/10)
Copyright © 2023 LookP Services. All rights reserved.
LANGKAWI JT TRAVEL & TOURS SDN. BHD.
LANGKAWI JT TRAVEL & TOURS SDN. BHD.
SIMILIAR NAME
Langkawi strategic developments sdn. bhd..
EXISTING Registration No.: 1191096-U
LANGKAWI INTERSTAR TRAVEL & TOURS SDN. BHD.
EXISTING Registration No.: 1189166-W
LANGKAWI COSMETIC ISLAND SDN. BHD.
EXISTING Registration No.: 1188730-X
LANGKAWI FUNTASTIC ADVENTURES SDN. BHD.
EXISTING Registration No.: 1183840-K
LANGKAWI OYSTER & FISH FARM SDN. BHD.
EXISTING Registration No.: 1178580-A
LANGKAWI FURQAN SDN. BHD.
EXISTING Registration No.: 1177046-T
LANGKAWI MEDICAL CENTER SDN. BHD.
EXISTING Registration No.: 1055258-U
LANGKAWI AQUACULTURE SDN. BHD.
EXISTING Registration No.: 1055610-M
LANGKAWI RESORTS DEVELOPMENT SDN. BHD.
EXISTING Registration No.: 161650-W
SIMILIAR NAME other countries
Langkawi holdings pty. ltd., langkawi properties pty ltd, langkawi limited, langkawi capital limited, langkawi maritime shipping pte. ltd., langkawi international pte. ltd., yume trading sdn. bhd..
EXISTING Registration No.: 885116-V
GRAND COURT INN (SB) SDN. BHD.
EXISTING Registration No.: 885118-A
About MYS Business
Business directories, malaysia company search, quick links.
Travel Agency (10)
Automobile - Car - Rental (1)
Ulu Melaka (113)
Bandar Pasir Puteh (1)
Langkawi Jt Travel & Tours - Ulu Melaka
Amend the information
Add my company
Search for a company anywhere in the world
Langkawi Jt Travel & Tours
Other businesses in the same area.
Mahsuri Travel & Tours
Langkawi canopy adventures, golden sands holidays, pangsajaya holidays, qq holidays travel & tour, a-muna travel & tours, fi holidays, fantastic tour services, ilham langkawi holidays, increase the visibility and hits of your company right now , information available on the internet, categories related to travel agency in langkawi.
Hotel in Langkawi (16)
Tourist Attractions in Langkawi (2)
Clothing Store in Langkawi (2)
Estate Agency in Langkawi (1)
Amusement Park in Langkawi (1)
Locations related to Travel Agency
Travel Agency in Kuala Lumpur (2439)
Travel Agency in Kota Kinabalu (566)
Travel Agency in Sungai Buloh (448)
Travel Agency in Johor Bahru (317)
Travel Agency in Alor Setar (233)
Travel Agency in Petaling (219)
Travel Agency in Ampang (192)
Travel Agency in Shah Alam (192)
Travel Agency in Georgetown (183)
Travel Agency in Ipoh (178)
Travel Agency in Klang (136)
Travel Agency in Kawasan Perindustrian Ehsan (134)
Travel Agency in Kajang (132)
Travel Agency in Kuching (132)
Travel Agency in Seremban (131)
Travel Agency in Kuala Terengganu (128)
Travel Agency in Ulu Melaka (113)
Travel Agency in Taman Lawan Kuda (105)
Travel Agency in Subang Hi-Tech (94)
Travel Agency in Bandaraya Melaka (85)
Dive Into Malaysia
Langkawi Jet Ski Tours: All The Options [2023]
Ready to explore the beautiful waters around Langkawi and wondering if a Langkawi jet ski tour is the best way to do this?
The short answer is yes!
A jet ski is a great way to explore Langkawi. The good news is that there are some great Langkawi jet ski tours around that are both affordable and fun that you are sure to love.
From island hopping on your own jet ski to an easy jet ski ride on the waters off a beautiful beach, you have some great options.
So why not do a jet ski tour? Langkawi offers some fabulous options. All of them are detailed below as well as extra information about what to expect on a jet ski Langkawi tour.
Have any questions? Join our Malaysia Travel Planning Facebook group here now! It's the perfect place to ask any questions and to be inspired.
Why Book A Langkawi Jet Ski Tour?
Have you ever been on a jet ski? Riding a jet ski can be a thrilling and exhilarating experience.
When you're on a jet ski, you'll feel the wind in your face and the power of the water beneath you as you speed across the waves. The sensation of being propelled forward at high speeds can be exciting and invigorating and quite an adrenaline rush.
And while it's fun riding a jet ski round your favourite beach, going on a Langkawi island hopping jet ski tour takes it to a whole other level.
Here are some reasons why it's a great idea:
It's a thrilling adventure . Jet skiing is a fast-paced and exhilarating activity that can provide a thrilling adventure on the water.
There are so many scenic views to enjoy. Jet ski tours Langkawi offer scenic routes that allow you to explore and admire beautiful landscapes and seascapes.
It's a unique experience. Jet skiing is a unique way to explore the water compared to traditional boating or canoeing.
It's fun with friends and family. Jet ski tours are a great way to spend time with friends and family that you won't forget.
You get access to remote area. Jet skis can access shallow waters and remote areas that are difficult to reach by other boats.
Sound good? Let's discuss your options.
Comparison Of Jet Ski Tours Langkawi
Here's a quick comparison of all your jet ski tour options including the Langkawi jet ski price.
Langkawi Jet Ski Tours
Beginner jet ski fun time experience .
If you're a total beginner to jet skiing and you want to test if you like it quickly and easily then this Langkawi jet ski rental option is perfect for you.
This 30-minute experience for one or two riders allows you to board a 1.8cc or 2.6cc watercraft on easy-to-reach Cenang Beach.
An english-speaking instructor is available to help you throughout your ride to make sure you're safe and you learn how to operate your jet ski properly.
This activity is available every day and you'll be given a time slot by the operator to ensure you get the attention you need.
Click here to see the latest prices and make a booking now
Jet Ski Fun and Paradise 101
This Naam jet ski tour Langkawi includes a 15 minute jet ski ride with safety briefing along with many other inclusions. It's best for people looking for a half or full-day island tour that also includes some jet skiing.
This is a tour to Paradise 101 which is a private island off the coast of Langkawi. It's the perfect place to chill in a gorgeous location or to do water sports.
As part of this package, you get:
15 minutes jet ski riding plus safety briefing
Either a 10 minute banana boat ride OR 30 minutes of kayaking
Return boat transfers from Jetty 101 to Paradise 101
Entry to Paradise 101
Access to all other facilities at Paradise 101 such as toilets and showers, volleyball, board games, prayer room and more. There is also a restaurant and bar
You can also choose to pay for more time jet skiing or other activities, such as parasailing, while you're there.
The boat transfers leave throughout the day so you can pick the time that suits you and stay for as long as you want.
Jet Ski Experience and Paradise 101
Similar to the last tour, this jet ski experience is also at Paradise 101 and you'll visit this gorgeous private island as part of your tour.
Once you are on the island, this package includes 30-minutes of jet skiing.
30 minutes jet ski hire plus safety briefing and lifejacket hire.
As with the last option, you can purchase other water sports once you are here as well as lunch, a drink and more. Boat transfers leave throughout the day in both directions, so you can pick whatever times best suit you.
Click here for the latest prices and more information .
Langkawi Island Hopping Jet Ski Tour
If you want to get the full jet ski experience while exploring some of the islands around Langkawi, this is a great tour to book.
Under the supervision of an experienced guide, you'll soon be speeding through the blue waters past several Langkawi islands.
You can choose either a 3.5 hour tour or a 6 hour tour. You can also choose to ride a jet ski alone or tandem with a friend or partner. The good news is that a tandem ride for two costs the same as a solo ride for one.
Your guide will take you to various islands like Pulau Dayang Bunting, eagle watching at Pulau Singa Besar and Pulau Beras Basah. You will also have the opportunity to visit other islands such as Intan Kecil Island (for snorkelling), see the mangroves at Tuba Island and cruise the Andaman Sea.
Exactly where you'll stop depends on which option you take with the longer tour visiting more places. Everything is included except for the admission charge to Tasik Dayang Bunting. It costs an additional RM6 or RM3 for locals.
These tours run in the morning daily as well as some afternoons.
The price only includes pick-up from Pantai Cenang area. If you are elsewhere, there's an extra charge of RM50 direct to the driver.
Click here for the latest prices and times .
You can read more about the islands visited here.
Pulau Dayang Bunting and Langkawi Islands Jet Ski Tour
This is another great option for an island hopping Langkawi jet ski tour that will allow you to explore the islands around Langkawi while having a thrilling jet ski adventure!
This is a four hour tour that departs daily at both 9am and 2pm. With your guide, you'll visit 8 beautiful islands on your jet ski including Dayang Bunting where you'll take a short hike to the beautiful Dayang Bunting Lake. You'll also snorkel at Intan Kecil Island, visit limestone cliffs and eagle watch at Pulau Singa Besar.
There's plenty of opportunity for swimming and you'll get the chance to kayak or paddle board too.
This is a great half-day tour which starts at the Mega Water Sports Operations Beach Cabin at Pantai Cenang. Transfers are not included.
Click here for the latest prices and availability. 
Final Words
I hope you have found this guide to Langkawi jet ski island tour options useful, and you are all booked and set for an amazing jet ski experience in Langkawi now.
Want to discover more great things to do in Langkawi? Find our full guide to things to do here , our guide to island hopping in Langkawi here , our guide to parasailing in Langkawi here and our full Langkawi travel guide here.
Related posts:
By Sharon Gourlay
Sharon is a certified Malaysia travel expert and can't get enough of travelling and talking about Malaysia since she first visited 21 years ago. She travels around Malaysia multiple times a year both alone and with her kids. She used to call Penang home and especially loves this food paradise. Sharon also has a Bachelor of Arts in Asian Studies, a Certificate III in International Travel Sales and has been certified by Tourism Malaysia as a Malaysia Travel Expert. Through this site, she'll help you have the perfect trip to this amazing destination.
Discover & gain insights on
Langkawi jt travel & tours sdn. bhd. (0885117d).
Get an accurate picture of a customer's financial status with a credit report for a business. Our solutions help you minimise risk, increase sales and improve business performance.
LANGKAWI JT TRAVEL & TOURS SDN. BHD. was incorporated on 2010-01-06 in Malaysia with registration number of 0885117D. LANGKAWI JT TRAVEL & TOURS SDN. BHD.'s business includes 1) TRAVEL AGENCY ACTIVITIES
Latest Corporate Profile From SSM
Directors & Shareholders
Financial Highlights
CTOS SME Score*
CCRIS Information*
Litigation*
Trade Reference*
5 Directors Score Report*
Financial Statement & Analysis
Cash Flow Statement
Credit Rating
Credit Score
Default Rate
Proposed Credit Limit
Defaulter Check Against Subject*
Phone & Address Validation
Biz Activity Validation
Industry Outlook & Analysis
Credit Risk Evaluation & Recommendation
Subscribe To Credit Manager For More Access
We understand the need for business information to make informed decisions. Our solutions help you minimise risk, increase sales and improve business performance.
Customer Acknowledgement
Jet Ski Tour Langkawi | 2023 - Visit 8 Islands With Adventurous Tour
Recommended Tour On Tripadvisor
"With at least 99 islands, plus countless smaller outcroppings, there's lots of Langkawi to see. Rather than sit passively in a boat, thrill-seekers will love to take control of their very own craft on this adrenaline-fueled Langkawi Jet Ski tour, led by a local guide. A group of no more than eight people ensures a personalized experience"
10 years of experience.
We Have Solid , Long and Extensive Years of Experience
  With our long years of experience, there are no doubts that we're the top choice for Jet Ski Tour Langkawi 
300 Booking Every Month
Plenty of Bookings Every Month
Our plenty of bookings every month attest how travelers, tourists and adventurers trust us. We received many bookings per month and this position us as one of the most trusted and reliable company for Jet Ski Tour Langkawi
50 Amazing Crews
We Have the Most Amazing Crews
We value our team so much as they are the real backbone of our successful journey of handling safe and efficient Jet Ski Tour Langkawi
100 ++ 5 Star On Google Review
We Obtain Positive Reviews and Feedbacks
  Thanks to our countless customers for their positive comments and feedback as we strive really hard to give our customers the best possible experience during their Jet Ski Tour Langkawi
Jet Ski Tour Langkawi
What better way to island hop around langkawi then on a jet ski. it was such an exhilarating morning, while also being able to appreciate the beautiful sights and sounds of langkawi. of course, you can choose to hop on one of the many tourist boats that will take you out on a tour of the islands. but why not try something different.
RM 550 / Jet Ski
3 hours jet ski tour.
Rental Fees (Jet Ski, Life Jacket and Wet Shoes)
English Speaking Guide
All taxes, fees and handling charges
Hotel Transfer
RM 600 / Jet Ski
4 hours jet ski tour, "one mustn't miss this. but one must plan this as early in the morning as possible. once the scorching heat get started, it can really play spoil sport. but still it's very enjoyable " -james, melbourne.
Recommended On Tripadvisor
Tour Details
Starts at 10.00 am or 2.00 pm
Meet up point is at LangkawiGo Water Sport (Next to Dash Resort)
Session : 10am & 2pm
Please let us know which resort (hotel) you will be staying. We provide transfers to and from our departing point to give you an easy and relaxing time. 
Extra charge will be applied if you are staying outside Cenang area.
Jet Ski Tour Langkawi Description
Spend an exciting 4 hours exploring 8 beautiful islands of Dayang Bunting on your very own jet ski. Jet skiing is the most fun way to explore the islands and after a short tutorial you will be free to skim across the surface of the tranquil waters at your own pace. One of the islands is home to an active monkey population that you will see playing amongst the trees as you approach. Then, float along as you discover the island's fresh water lake- the largest in Malaysia. Pregnant Maiden lake is so-called because of the outline of hills and rocky outcrops resembling the shape of a pregnant maiden lying on her back. Then swim in its fresh water, which legend has it promotes fertility. During the 4 hours, you will have the opportunity to take part in a wide range of activities. Leave your jet skis and trek through the abundant jungle, or jump in a kayak to further discover the waters surrounding the island. Whatever you decide, you will be in awe of the stunning scenery that surrounds you.
It's Free!!We won't charge you for booking, Pay when you arrive in Langkawi
Ready to book jet ski tour langkawi follow this 3 simple steps.
Choose jet ski package you prefer and hit button below to text us
Fill up the details on whatsapp
Confirm the booking with deposit at our counter
The 10 BEST Langkawi Tours & Activities 2023
Mangrove Tour Langkawi
Trek the mangrove forest reserve via boat and learn about its ecology, plants, migratory birds and role in nursing juvenile marine life. After that visit the floating fish farm, the Bat Cave, the Crocodile Cave, take part in an eagle feeding session, and finish the day with a gorgeous view of the Andaman Sea for a lively and eventful day 
Island Hopping Langkawi
Island Hopping Langkawi is probably the most popular boat tour in Langkawi. The tour starts at 9.00 in the morning for 4 hours.It covers three islands that include wonderful scenic islands to the south of the main island of Langkawi and eagle feeding where you can watch the marvelous spectacle of many eagles swooping down from the sky to catch their prey on the water. 
With at least 99 islands, plus countless smaller outcroppings, there's lots of Langkawi to see. Rather than sit passively in a boat, thrill-seekers will love to take control of their very own craft on this adrenaline-fueled Langkawi Jet Ski tour, led by a local guide. A group of no more than eight people ensures a personalized experience.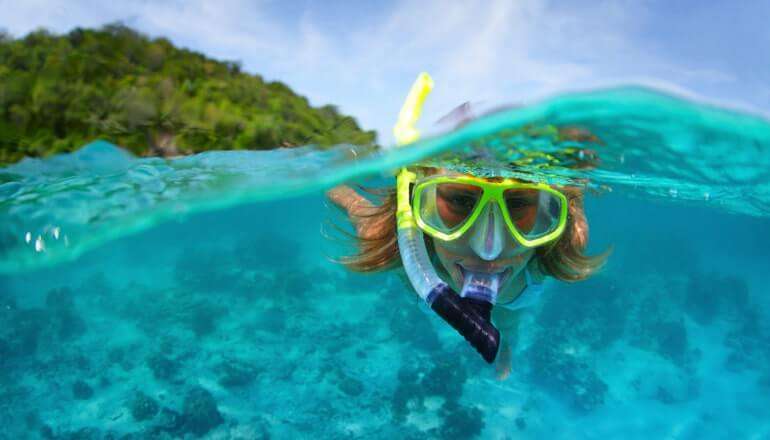 Pulau Payar Snorkeling Langkawi
The Langkawi Pulau Payar Marine Park is one of the exotic and beautiful parks in Malaysia which designed as a colorful tropical marine life and abundant. You may enjoy swimming with fishes in fresh warmed seas and sun bathing on the glittery white sand. The main attraction here is the black-headed baby sharks will swim with you.
Langkawi Sunset Dinner Cruise
Nothing makes the island paradise of Langkawi more magical than the sunset. Enhance your experience of this enchanting time of day on a 4 hours sunset cruise including dinner and an open bar. As the sun begins its descent, you'll enjoy unlimited cocktails and feast on a barbecue buffet dinner featuring fish, chicken, beef, and salads. Hotel pickup and drop-off are included.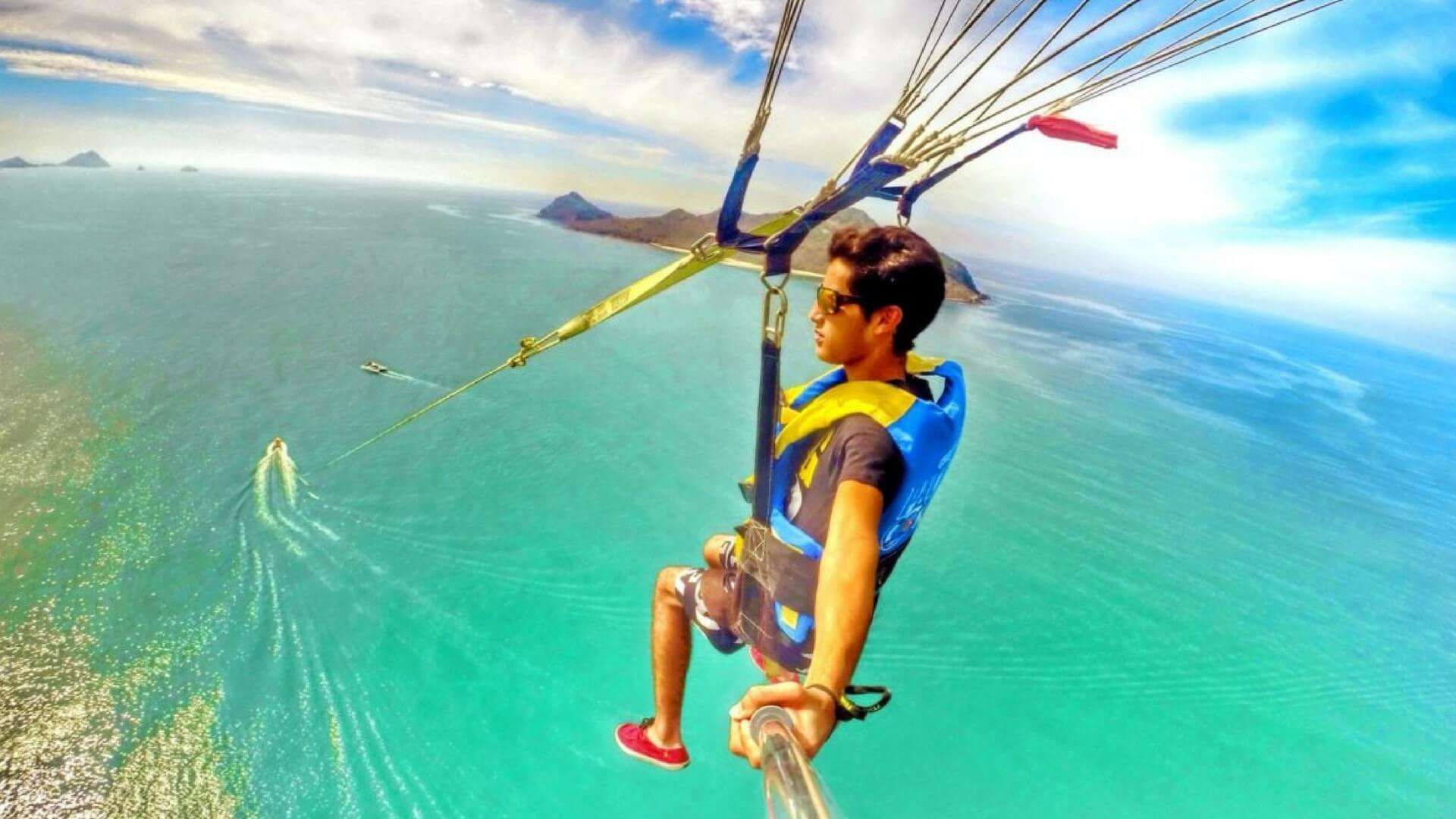 Parasailing Langkawi
The excitement to take a bird's eye view of the emerald green water , the coconut fringed beaches and the islands from the sky and experience the thrill of parasailing in Langkawi.  Enjoy spectacular views of  Langkawi archipelago as you float 500 feet above the tranquil blue Andaman Sea. When you see so many parachutes in the sky at a beach like Pantai Cenang, it's hard to resists the temptation of taking a flight. 
Langkawi Cable Car Tours
Enjoy the exhilarating 920m long cable car ride to the summit of the famous Mount Mat Cincang. The cable car has the longest suspension in the world between two stations. It was built without constructing any roads through the jungle. At highest tower (72 meters), you get to enjoy the cool air and the view of the highlands before proceeding down to the Oriental Village. 
ATV Rides Langkawi
The 'Jewel of Kedah' has plenty of pristine beaches and bustling resorts, but there's just as much to discover inland that less adventurous travelers might miss. This half-day ATV tour gives you the chance to visit some of those scenic highlights. Ride your own private ATV through the rice paddies and villages, roar through the Ulu Melaka rubber plantation, and top off your tour with a visit to a peaceful waterfall nestled within the local rainforest.
Mangrove Kayaking Tour
Paddle through a mangrove forest in a kayak and visit a local fish farm on this 4-hour eco-adventure from Langkawi. With your local guide, watch a fish-feeding show at the local fish farm. Climb in to a kayak and take off through the mangrove forest to observe local flora and fauna like sea eagles and kites, kingfishers, herons, mudskippers, fiddler crabs and monitor lizards. Hear about the ecology and natural environment from your kayaking guide. Dig in to a fresh, locally sourced lunch, including refreshments, before enjoying transportation back to your hotel.
Ziplines Langkawi
Go ziplining in the Matchinchang Cambrian GeoPark for 2.5 hours of high-flying fun on Langkawi island. Your guide leads you on a course with 12 ziplines and three suspended sky bridges that takes you past towering waterfalls and trees. Soak in views of the Andaman Sea and Langkawi Sky Cab before finishing with an abseil descent from the final platform. Learn from your guide about the island's geology and the wildlife of the Malaysian rain forest along the way. Includes refreshments, guide, and use of equipment.
Rent a Car In Langkawi
Book direct from Langkawi Car Rental provider like us, skip the middleman & grab the best rate. You won't go wrong with 10 Years of experience. You can now enjoy your own private car with our affordable rate. All costs you can see from the site are final. No hidden charges to worry about.Just  text us  on Whatsaap to book, you can rent a car in Langkawi for your preferred car model no matter where you are in the world. We also offer delivery service for your car at any area in Langkawi. You will be welcomed with our friendly staff to ensure a smooth travel experience with us.
Stay In Our Local Homestay
An impressive bungalow style house with three bedrooms (two air conditioned), two bathrooms, a large living room with LCD TV with Astro channels, garden setting, open patio in front with enough car park and all other basic amenities. This is an independant private stay where you will need to get your provisions and cook. The host doesn't stay in the premises. Over 40 units of homestay available!
If you are looking for the best company that can offer you with unbeatable Jet Ski Tour Langkawi options, packages and rates, we are the company you are looking for. Feel free to contact us anytime if you wanted to avail any of our services.
We wish to inform you that our services are designed having your convenience and happiness in mind. We are available round the clock to answer all your queries and to provide you with the most needed assistance.
You can reach us by phone  or send us your email . We are more than willing and happy to assist you in your needs for quality Jet Ski Tour Langkawi. Call us now!
+6 018 665 1866
[email protected], jet ski tour langkawi, cenang beach, disclaimer: informations and facts display in this website are correct and we are responsible for the content published. if you have any question, kindly contact us for assistant., need help call our supportive team +6018 665 1866.
LANGKAWIGO ESCAPE HOLIDAYS SDN. BHD. LOT 63 KOMPLEKS PEKAN RABU, MUKIM KUAH, 07000 LANGKAWI, KEDAH, Kedah
MOTAC License NO : 10113
Mangrove Tour
Island Hopping
Pulau Payar Snorkeling
Sunset Dinner Cruise
Jet Ski Tour
Watersport Activities
Entrance Tickets
Wildlife Park
Crocodile Park
Underwater World
Vehicle Rental
Private Transfer
Be Our Partner
LANGKAWI LOWEST PRICE CAR RENTAL
ISLAND TOURS
PLACE TO GO
TESTIMONIAL
LANGKAWI LOWEST PRICE CAR RENTAL LANGKAWI JT TRAVEL & TOURS SDN BHD (0133455599-KORO) Hi dear all, warmest greeting from Langkawi Jt Travel & Tours Sdn Bhd. We are here to offering you a great package in Langkawi that will enhance your excitedment to know more. We will share the most interesting place must go, the best restaurant to eat and all the activities must do. Lets start you journey by exploring our blog or can contact us instantly. Our services: 1) Transportation: Scooter/car/Mpv/van/bus 2) Accomodation: Homestay/Hotel/Resort/Motel/Chalet 3) Combo package: Student/Backpacker/Family/Honeymoon/Group/Budget/Luxury package 3) Island tours: Island Hopping/Mangrove/Payar Island(snorkeling/diving)/Sunset Dinner Cruise/Day Cruise/Helicopter tour 4) Watersport: Jet ski/Banana bot/Parasailing/Band wagon/Donut/Wakeboard/Waterski/Stand up paddle/Kayak 5)Extreme Activities: ATV/Skytrex/Jungle Trekking/Hiking 6) Leisure Activities: Cable Car/Mahsuri Tomb/Galeria Perdana/Gamat factory/Under Water World/Wild Life Park/Crocodile farm/Rice field/Mardi Agrotechnology Park/Langkawi Craft Complex/Eagle Square/Legend Park/Natural Park/Mount Raya and many more...... Company Backgroup & registration number: LJTT was incorporated under the Companies Act 1965, on and from the 06th of January 2010, and the company is a limited company by shares and that this company is a private company. COMPANY NAME: LANGKAWI JT TRAVEL & TOURS SDN BHD (885117-D) (KPL/LN:6122)
2 comments:

being slightly lower fuel prices in some localities in others. Rent a cheap car and not only is the main concern for tourists, but it is also important to shop around to find out which cities it is more economical driving. Car Rental Denver Under 25
The King Casino Archives - Hertzaman The King Casino Archives, including news, articles, videos, address, gaming info, The King Casino & Hotel in Henderson, NV is one 출장안마 of the jancasino.com newest 바카라 사이트 hotels and herzamanindir.com/ motels on
DROP DOWN NAVIGATION
COMPACT CAR
ISLAND HOPPING
MANGROVE TOUR
PAYAR ISLAND
SUNSET CRUISE
LEISURE ACTIVITY
EXTREME ACTIVITY
WHERE TO EAT
SHOPPING COMPLEX
ABOUT US LANGKAWI LOWEST PRICE CAR RENTAL LANGKAWI JT TRAVEL & TOURS SDN BHD (0133455599-KORO) Hi dear all, warmest greeting from...
Stay Connected
Featured listings, sidebar ads.
Popular Posts