Bucket List
Full Trip Itineraries
Middle East
An Amazing 7-Day Israel & Jordan Trip Itinerary
This was TRULY a trip of a lifetime.
The week I spent in Israel and Jordan blew my mind in so many ways.  But planning the trip also took a ton of work—figuring out where we wanted to visit, narrowing down based on feasibility, figuring out the logistics of holiday closures, and trying to pack everything in.
So if you're looking to visit this amazing part of the world, I've done the legwork for you and laid out all the info you need to know to plan the best 7-day Israel and Jordan itinerary.
You might also like:    20+ Tips To Survive & Thrive On A Long Flight
How this post is laid out:
General tips for planning a trip in Israel & Jordan
What you need to know before planning a trip to Israel
What you need to know before planning a trip to Jordan
Overview itinerary for one week in Israel and Jordan
Northern Israel
Tel Aviv & Old Jaffa
Driving the Negev Desert
Wadi Rum Desert
The Lost City of Petra
Masada, En Gedi, & the Dead Sea
You might also like:   A Detailed Middle East Packing List: What to Bring & Wear
How to plan a trip to Israel & Jordan
While traveling in this area of the world is incredibly rewarding, there are some logistical and cultural things you should be aware of that will help you get the best itinerary.
For instance, our trip planning was complicated by the fact that we'd not only be in Israel over a sabbath, but also over Independence Day (May 1) and I really wanted to do Petra by Night (which only runs 3 days a week), so there were lots of logistical considerations—what would be open on the national holiday, if public transportation would be available, etc.
I had a lot of help from my friends Steven and Danielle, who were living in Tel Aviv at the time.  TripAdvisor was super helpful as well, and I read a ton of different blog posts.  Make sure you check calendars for Jewish holy days, national holidays, and (especially in Jordan), Muslim holy days as well.
Ensure you read up on various cultural aspects, including hospitality, eye contact, greetings, gender dynamics, religion differences, and more.  This is true of pretty much anywhere you visit, but I've found particularly critical in the Middle East.
You might also like:  Book Reco: "Start-Up Nation, The Story of Israel's Economic Miracle"
What you need to know before visiting Israel
Israel is a country that's only the size of the state of New Jersey in the United States.  I don't know a good comparison for Europeans, but it's basically only a little bigger than Sicily.
But despite its small size, it is absolutely fascinating—boasting thousands of years of history and culture, as well as one of the most tech- and entrepreneur-focused modern countries.  And the great thing about its size is that you can see and do SO much in a short time.
From the U.S. you don't need a visa (current as of 2019)
They don't stamp your passport when you fly in and out of Israel anymore, but instead give you a paper that you need to keep in your passport that functions as your entrance stamp.  DO NOT LOSE THIS!!!
However, if you cross the border into Jordan (or, I assume, any other countries) by foot or bus you will get a Jordanian stamp at the border (and sometimes the Israeli side will stamp too), so it's easy for any other countries to know you were in Israel.  If this is an issue for you, like if you plan to travel to lots of different Middle Eastern countries (who can be jerks and refuse entry to someone who's previously visited Israel), you should plan to only fly in and out of Israel.
If you do happen to end up with a long security interview, stay calm and just say as little as possible.  Answer the questions simply and don't feel bad playing "dumb tourist".  They're not hard questions…things like why you're visiting, if you know anyone in Israel, if you speak Hebrew, etc.  But a good (life) rule is just to answer briefly and not offer up tons of extra information.
You can pay with a credit card almost everywhere , and certainly in most hostels and hotels.  It's still good to have cash though, and ATMs are widely available; be aware that some of them (especially those in stores) charge a commission of up to 7 shekels.  It happened to me once that the ATM only took Mastercards (and my bank card is a Visa).
An easy way to get to and from the Tel Aviv airport (which is basically halfway between Tel Aviv and Jerusalem) is the Nesher Shuttle , which runs 24/7 every day of the year except Yom Kippur.  These are 10-seater vans or minibuses, and they will drop you off at your hotel (or outside the Old City in Jerusalem, since no vehicles are allowed in).  You can get the shuttle from the airport easily, and then your hotels can help you book the shuttle back to the airport.  I believe it's about 64 NIS or around $20 USD (at the time we went).  Think of this kind of like Uber Pool, so they'll be picking up and dropping off several people, which will add a bit of time to your ride.
There are bus options as well, and of course you could take a taxi (about $40 USD to Tel Aviv).  If you're taking a taxi from the airport, make sure you go to the official taxi line and don't go with anyone who just approaches you in or outside the airport.
If you're going anywhere except Tel Aviv and Jerusalem, you definitely should consider renting a car in Israel.
You might also like:    10 Things You Should Do Before Every Trip
What you need to know before visiting Jordan
Jordan's rose-colored deserts, undulating and cave-ridden cliffs, black starry nights, and hot, sweet tea captivated me.  From the quiet hospitality of the Bedouins to sandboarding down desert dunes to staring at the intricate carvings of Petra, this country is absolutely amazing!
It's a cash economy!   There's an ATM in Aqaba, so the first thing we did was ask the taxi driver to take us to the ATM (it's in his best interest, since that's how he'll get paid).  You might get lucky and get your credit card to work somewhere, but you should assume that you'll have to use cash for everything—housing, tours, Petra tickets, taxi, bus, food.  Use an ATM any time you find one!
If you get into or out of Jordan by a land border, you will get a stamp in your passport , any other Middle Eastern country can easily tell you've been in Israel.  If that's a major concern, you may want to fly in and out.  Also, make sure your passport is at least 6 months from expiring.
To get your visa in Jordan, you don't need to do anything special.  You just buy it in a special window at the airport or when crossing the border by land.  It costs 40 JOD (about $60 USD) if you'll be there less than 4 nights, or 10 JOD if you're there longer.
Additionally, there are exit taxes both when going from Israel to Jordan (about $25 per person) and also from Jordan back to Israel (about $15 per person).
If you're visiting Petra, make sure to keep your ticket and get your manifest (the paper they give you at the border) stamped; this will affect your exit fee when heading back to Israel.
Taxis and buses are the two best ways to get around the Petra and Wadi Rum area.  There are buses that go from the border to both Petra and Wadi Rum, and between the two as well.  However, you will need a taxi to get to the bus station from the border, so in my opinion unless you are on a crazy tight budget, just spring for the taxi from the border to either Petra or Wadi Rum—so much simpler.
We took the bus from Wadi Rum to Petra, it runs around 8:30am (there are probably a couple others too).  This is a squishy time, not concrete, and it is quite cheap.  But the bus ride took longer than I'd been led to believe, and honestly I think a taxi would have been simpler.  It's a fine option though.
The Bedouin culture is more conservative in clothing than what many of us are used to, so you should be respectful in clothing choices.  I wore loose and breathable hiking cropped pants and a loose v-neck t-shirt in Wadi Rum, and swapped out the pants for yoga pants in Petra.  See my detailed packing list here.
Is Jordan safe?  Short answer, I'd say yes.  I provide more info on that and more in this post .
That said, Jordan is a male-dominated culture , and if you are a woman traveling with a man (or even by yourself), it will be common for men to avoid eye contact with you and address the man you're with even if you asked the question or made the plans.  This happened a lot with me and my dad, and while it was disconcerting, it was never hostile or anything—just a cultural difference.  Everyone also thought my dad and I were married, which was also super weird for me.
Alcohol is only available in Western hotels and is heavily taxed, as Muslim culture prohibits alcohol; a beer will set you back quite a bit, so just have appropriate expectations in Jordan.
Want to know all my inside trip planning tips?    Download my e-book  here!
For renting a car, I always search in a few different places and compare both the prices and specific offerings/benefits.  My go-to's are  DiscoverCars ,  RentalCars.com , and  AutoEurope as well.
A perfect 7-day Israel and Jordan itinerary
The biggest consideration is whether to rent a car in Israel, and unless you have friends willing to drive you around I'd strongly consider it.  Within Tel Aviv and Jerusalem themselves, relying on taxis and public transportation makes perfect sense.
And you could fly from Tel Aviv down to Eilat for the Jordan portion of the itinerary.  You could also join group tours for seeing Northern Israel and the Negev Desert.  You will just give up a lot of autonomy and won't be able to stop everywhere you want.
Day 1:   (arrival night before)  Northern Israel …Caesarea, Tel-Megiddo, Sea of Galilee, & Akko
Day 2:  Tel Aviv & Old Jaffa , then Negev Desert (including Tel-Beersheba, Mitzpe Ramon)
Day 3:   desert adventures & sleeping in a Bedouin camp in  Wadi Rum , Jordan
Day 4:   exploring the amazing Lost City of Petra , Jordan
Day 5:   driving back up to Jerusalem
Day 6:   a full day wandering through Jerusalem's Old City
Day 7:  a   tour including sunrise hike up Masada , En-Gedi, & the Dead Sea; fly out in afternoon
Driving within most of Israel is super easy, with great highway infrastructure and easy to read signage.  You can't take rental cars into parts of the West Bank, or across any country borders, but otherwise you're golden.
Where we stayed
We stayed at the Abraham Hostel Tel Aviv  while there, and the Abraham Hostel Jerusalem as well, in private double rooms.  They have a a good continental breakfast and the Tel Aviv one at least has a cool bar in it too.  And they run lots of city tours as well, with discounts for people that stay at the hostel (we took the Masada, En Gedi, and Dead Sea tour).
On our quick overnight in Eilat , we stayed at Cactus B&B .  In Wadi Rum we booked with Bedouin Directions , and spent the entire day in the desert doing a jeep tour with them, followed by a night in the Bedouin camp.  In Wadi Musa (where Petra is), we stayed in Sharah Mountains Hotel and it was great.
You might also like:    How to Choose the Best Hotel or Rental Every Time
My dad and I flew Turkish Airlines, which I've always found to be super comfortable.  We took advantage of a long layover in Istanbul on the way back to get out and see Istanbul a bit (one of my fave cities!).
We arrived in Tel Aviv in the evening, and my friends Steven and Danielle picked us up.  Getting through customs at the Tel Aviv airport was pretty smooth, though we ended up waiting in line for a bit.
Overall our customs and security experiences weren't bad at all, but you need to be ready for anything at the Tel Aviv airport since security can be quite intense at times.
Day 1:  Northern Israel
Caesarea, tel-megiddo, sea of galilee, & akko.
Our 7-day Israel and Jordan itinerary had us starting in northern Israel.  We were up early the morning after arriving, and on the road with my friend Steven.  After a quick stop in Netanya (an enclave of French emigré Jews) for delicious French pastries, we arrived in Caesarea Maritima.
This port city dates back to the 500s BCE originally, and was a major port and vacation home for Herod the Great.  The sea views from the hippodrome are particularly primo.
You can read more about our trip through Northern Israel here!
You might also like:    11 of My Best Tips for ANY Trip
After Caesarea, we headed inland to the famous biblical tel of Megiddo.  A.k.a. Har-Megiddo or the Armageddon spoken of in the bible.  A "tel" is just an archaeological mound, and while there are over 200 tels in Israel, only 3 of them have been officially designated as biblical tels.  So Megiddo is kind of a big deal.
It was in ancient times as well.  Overlooking the Jezreel Valley, the city was strategically important for millennia since it sat at the crossroads of major trading routes.
It saw a LOT of war over the centuries (even as recently as WWI), and there are close to 30 different layers of civilizations piled on top of each other to make the mound.
You might also like:    The Best Cross-Body Purse for Travel
After Megiddo, we stopped for a stroll and delicious street food shawarma lunch in the resort town of Tiberias, right on the Sea of Galilee.  Then we did some exploration in the Galilee area.
Famous for being the center of much of Jesus of Nazareth's ministry, this whole area is a mecca for Christian tourists.  Seriously, busloads of them.  I'm happy to have been here and seen some of these sites, but many of them feel too manufactured for me.
Capernaum is definitely interesting, though.  It's where many believe the Jesus lived much of his adult life (and where Peter was from), and also is one of the three cities He famously pronounced "woes" on in the bible (the other two were Chorazin and Bethsaida).
It's got a lot of black basalt rock that makes the building ruins quite striking.  Once you've had your fill of the ruins, you can go down and chill by the Sea of Galilee for a bit if you'd like.
Fun fact:  the Sea of Galilee is the lowest freshwater lake on earth, and the second-lowest lake in the world (after Dead Sea)
To round out our little tour of the "Jesus Trail", we visited the supposed Mount of Beatitudes, where Jesus gave His famous Sermon on the Mount (you know, "blessed are the meek" and all that).  I was not a fan of the Mount of Beatitudes, which is just a tourist destination, though it does have some lovely landscaped gardens.
Nothing much historical here from what I could see though.  However, I was oddly fascinated by this cinderblock church.  It's just…very eye-catching.
You might also like:    My Favorite Korean Face Sunscreens & Moisturizers
After leaving the Sea of Galilee area, we continued on to Akko (also called Accra, Acre, etc.).  It's one of the oldest continuously-inhabited sites in Israel (which is saying something!), with a rich history ranging from ancient seafarers to Romans to Crusaders.
It's also an Arab-majority city.  We walked around the famous market, which was fairly quiet since it was late on a Friday (a holy day for Muslims and preparation day for the sabbath for Jews).
We had a lovely dinner of different dips and salads, and then when we walked outside after dinner were greeted by one of the most magical sunsets I've ever seen.
With only one week in Israel and Jordan, I did have to make some tough choices on what we could and couldn't see.  Three of the things that fell off the list were Rosh Hanikra, Haifa and Mount Carmel, and the Golan Heights.
But on our way home we stopped for a just few minutes in Haifa to see the Baha'i Gardens lit up at night.  They're definitely spectacular, so if you have time to visit them within your itinerary I'd recommend it.  It was a late night for us since we'd crammed a lot into our day, but completely doable and worth it.  Read this post for more details on our Northern Israel route and each of our stops.
A few specific route notes on this day:
This assumes you're coming from Tel Aviv, but if you're coming from Jerusalem you won't be able to accomplish quite as much (shave an hour or more off your exploration time) since it's a longer drive.
You also could visit Haifa instead of Akko if you'd rather explore the Shrine of the Bab, Baha'i Gardens, and Mount Carmel.
If you have a second day to spend in this area, there is a lot more around the Sea of Galilee and you could get up to the white cliffs of Rosh Hanikra (I was bummed to miss this!), as well as Golan Heights (which as wineries).
Day 2:  Tel Aviv & Old Jaffa, Negev Desert
One of my only regrets about this trip itinerary—because it was mostly amazing—is that we didn't spend enough time actually exploring Tel Aviv.  I used it as a base for a couple nights, but we only actually spent a morning walking around the city.
And it deserved more, because Tel Aviv is AWESOME.  You can read more about what to love about Tel Aviv in this post .
One of the big draws is the beautiful Mediterranean beach.  It's the most beautiful, totally natural beach I've seen in a major city.  If you walk up to the path that runs down the coast, you can look to the right and see the very modern city of Tel Aviv, and to the left the ancient port of Old Jaffa.  It's truly a fascinating juxtaposition.
You might also like:    The 10 Best Books I Read In 2020
As a bit of background, Tel Aviv is a very modern city, only founded in the early 1900s.  But next-door and now included is Jaffa (also Yafo, Joppa, etc.), one of the oldest functioning ports in the world.
Because it's such a strategic natural port, it's been controlled by everyone and their dog over the millennia…from the Canaanites to the Egyptians, Philistines, Assyrians, Israelites, Persians, Greeks, Romans, and soooo many more.
Napoleon even conquered it before the British seized control in 1917.  This port got around.  Which means it is steeped in history.
You might also like:    The Only Carry-On Suitcase You'll Need
We were there on a Saturday morning (sabbath), but Tel Aviv is pretty secular and so while many businesses were closed, that meant that the locals were out and about.
The city was ALIVE…not the sleepy weekend morning I'm used to in European cities.  My dad and I grabbed coffee and pastries and just walked around, savoring the hot sun, gorgeous water, quirky street art, and vibrant culture of Tel Aviv.
Then we headed into Old Jaffa to explore the maze-like narrow streets and alleys.  A stop at the famous Abulafia bakery was in order as well, where we grabbed some savory stuffed pastries for lunch, which we enjoyed back on the waterfront.
I was bummed we didn't have more time to spend in Tel Aviv and Jaffa, but we had to meet up with Steven and his wife Danielle and head south.
Our final destination of the day was Eilat, since my dad and I were headed over the border into Jordan the next day, but our afternoon drive was taking us through a few key stops in the Negev Desert.  You can get a much more detailed rundown of our Negev Desert stops in this post ).
Prepare for fifty shades of tan…
You might also like:   9 Sunscreens I Swear By For Travel
Our first stop was the second of the three biblical tels, Tel-Beersheba.  The wells from which it gets its name ( be'er means "well") are mentioned several times in the early books of the bible.  This is definitely worth a quick stop on your road trip.
You might also like:    A Guide to Choosing the Right Flight Every Time
Sde Boker (pronounced shuh-de boquer ) was our next stop, famous as the home and final resting place of David Ben-Gurion, Israel's first prime minister.
Ben-Gurion was passionate about the need to have people settle in the Negev Desert, and led by example—after he was no longer the prime minister, he moved here permanently and was a fully-participating member of the kibbutz.
The paths through here are super peaceful and provide a lovely respite from the heat.  The stark, harsh desert you can see behind us in the picture is Ein Avdat, which has a lot of well-known hiking trails (but bring water!!!).
You might also like:    The Best Travel Pillows for Different Types of Sleepers
Finally just 30 minutes down the road, we stopped at Mitzpe Ramon (or Makhtesh Ramon).
The Ramon Crater is the world's largest erosion crater (meaning it's not made from impact or a volcano), and it truly looks like you're on Mars or something.  It's 40 km long (about 25 miles), anywhere from 2 to 10 km wide, and about 500 meters (~ a third of a mile) deep.  It's INSANELY MASSIVE.
You'll see all kinds of different colors and textures in the crater…lots of shades of tan and red, with some black as well from stripes of basalt.  We saw several ibex both in front of the visitor's center as well as roaming through the crater.  This guy went all Lion King on us…
From here it's quite a long haul down to Eilat (close to 2 hours), with not a lot to do or see (plus, we were running short on time).  There are a few tips on entrance fees and such at the bottom of this post .
Day 3:  Wadi Rum, Jordan
In our entire one week in Israel and Jordan, the Jordan part was one of the most exciting!!!  The next morning we got up early and Steven drove us to the border.  It's only about five minutes, but you'd need to either take a cab or have your own car, it's not really something you'd walk from the main part of Eilat.
We went through all the different security checks and walked across the border into Jordan.  We waited in the parking lot for our taxi driver to arrive, then he drove us about an hour to the village of Wadi Rum.
We had booked a full-day jeep tour of the Wadi Rum desert, followed by sleeping in a Bedouin camp.  I'll highlight a few of my favorite pics and some of the big stops below, but you can read tons more about our experience in Wadi Rum in this post .
You might also like:    11 Of My Best Travel Tips for ANY Trip
Wadi Rum is a protected desert wilderness in southern Jordan.  It often looks like you're on another planet, but you also feel the weight of millennia of history here.  Sitting on a cliff overlooking the red sand, I kind of felt like Moses and the Israelites would wander around the corner at any moment.
Our first stop of the morning was at the Lawrence Spring, where we scrambled up a big cliff for a great view of the valley.  We refreshed ourselves with the omnipresent hot sweet tea that you'll find all over the Middle East, and then tried our hands at sandboarding on the dunes.
You might also like:    A Travel Bucket List for Your 30s
Throughout the day we explored canyons, examined ancient Nabatean carvings in the rock, climbed up giant rock arches, posed in front of the Mushroom Rock, and enjoyed various views of this otherworldly landscape.
Throughout the day, our guide, Mohammed, told us about the history of the area and the Bedouin people who still live here.
You might also like:    13 Cool Souvenir Ideas To Pick Up While Traveling
After watching the sun fade over the red sand, Mohammed took us to the camp, which was tucked between several cliffs to avoid the desert wind.
We enjoyed a traditional dinner—cooked over coals under the sand all day—and then watched the sun come up while enjoying halva, bread and honey, and tea for breakfast.
This guy says "heeeeyyyyyy"…
Our time in Wadi Rum was absolutely amazing, and if you're planning to spend any time in Jordan at all then it HAS to be on your itinerary.  It's easy to get to from the Eilat/Aqaba border, and even just one day out in the desert will blow your mind.
We booked with Bedouin Directions , and had a great time with them so I'd highly recommend—you can find out more about costs and details in my post about Wadi Rum .  If you have the time, one other thing I'd recommend is doing a sunrise hot air balloon ride!
Day 4:  The Lost City of Petra
But alas, we didn't have the time for hot air ballooning because we had to catch the 9:00(ish) morning bus from Wadi Rum over to Petra.  The bus ride took a little longer than I'd been led to believe, but we got into Wadi Musa and found our hotel, then it was probably around 1:00pm by the time we made it down to Petra's entrance.
The Lost City of Petra is one of the New Seven Wonders of the World, and has been at the top of my bucket list since I was a teenager, so I was BEYOND excited at the prospect of visiting.  It's honestly challenging to truly convey how I felt there after years of poring over pictures.
As you walk through the undulating walls of the Siq, you can picture the caravans of spice traders who did exactly the same thing a couple millennia ago.  And as you round the corner and capture your first glimpse of the famous Treasury, you'll be in awe of the size and detail of the carved facade.
And that's just the beginning…what I have below will just whet your appetite, but you can read more in my ultimate first-timer's guide to Petra .
You might also like:    Trip Planning Tips: How to Make Every Itinerary Epic
The thing is, though, the Treasury is just the first carved building you come to.  There is an unbelievable amount more to see and do there.
My dad and I were only there for half a day, and did as much as we could.  But you could easily spend a few days, or even a week if you wanted to really explore the whole area.
We walked through the Street of Facades and then tried to climb to the High Place of Sacrifice (though didn't make it all the way due to time), then grabbed some hot fresh falafels and made a game plan.
The afternoon was getting away from us, and I *really* wanted to see the Monastery, but my dad's hip was killing him.  So we ended up giving in to some mule wranglers who'd been hounding us and riding mules up to the Monastery.
They are so incredibly sure-footed, it's amazing!  I have some mixed feelings about the animal situation at Petra overall though, which I talk about in more length in my Petra post .
Because it was so late in the day, we had the Monastery all to ourselves.  It's maybe even more impressive than the Treasury, and we were blessed with like 10 minutes of blue skies right when we were here—the rest of the day was overcast, so this was a huge photo win!
You might also like:  My Ultimate Airplane Reads: The Best Romance & Urban Fantasy
Finally we had to get back to the entrance quickly for closing time.  I have a bunch more super helpful tips in my detailed post, but one of the most important things to know is that if you wait until right at closing time, you'll have the Treasury to yourself and can get good pics without all the crowds!
Also, if you're planning to attend Petra by Night, you can actually stay in the park while they set up.  This allows you to get some good pics before everyone arrives (though not sure how you'd get the Siq lantern photos, but still…).
I came back for Petra by Night on my own, trying to hang back and let everyone go through so I could take long exposure photos of the mystical glowing lights.
I wasn't sure whether I'd love it or just find it way too touristy and cheesy…ultimately, I could overlook the crowds and "herding" and found the experience to be really lovely.  And I got a couple of pics that I'm super excited by!
You can see more about the Petra by Night experience in this post .  They only offer it three nights a week, so make sure you plan ahead if it's something you're wanting to do.
So that ended our two-day jaunt into Jordan.  If we'd had more than one week in Israel and Jordan I wish we could have explored this large and fascinating country more, but even with two days we had an amazing time and I would definitely advise someone planning a trip that it can be done and be valuable with only a couple days.  You just really have to have your logistics down.
To get from Petra back to the Eilat border, a taxi made the most sense vs. trying to take the bus.  So we did that and then met back up with Steven and Danielle to head up to Jerusalem.
Day 5:  Travel
We made it back through security at the border, which took just a bit longer to get through than it had entering Jordan (though still not too bad).
Then we spent the day driving back up through the Negev Desert with Jerusalem as our final destination.  Steven took a slightly different route so we'd see new landscape.  This way took us along the Dead Sea, which was really stark and pretty with the sun on it.
You might also like:    10 Places I'm Dying to Visit in 2021
We also stopped at a well-known creamery for some awesome ice cream, and caught a glimpse of the Qumran Caves from the road.
The Qumran Caves are where the Dead Sea Scrolls were discovered, the earliest manuscripts of various biblical texts.  I believe you can visit the caves if you want, but we both didn't have time and it happened to be a national holiday.
We arrived in Jerusalem and got checked into our hotel, and then ended up at the Israel Museum right around sunset.  I'm definitely NOT a museum person, but it was Independence Day so the museum was free and our friends really wanted to go.
I will say that the Israel Museum is massive and really good, and is worth a visit if you're interested in the history there.  It contains some of the Dead Sea Scrolls as well, and the Shrine of the Book (which contains them, this big white clay pot structure) is really beautiful at sunset.
You might also like:    My Trip Planning Process: Inspiration>Research>Reality
We finished our night at the Shuk, or Mahane Yehuda Market, for dinner.  More on that in a minute, because that place is AWESOME.
In Jerusalem we based ourselves at the Abraham Hostel (in a private double room), and stayed at the Tel Aviv version as well.  It was clean but basic, and offered a good breakfast spread as well as a bar at night.
Day 6:  Jerusalem
It's a tall order to make the most of just one day in Jerusalem, given that literally thousands of years of history originate from this one spot.  But we got up early, caffeinated, and had a game plan.
You can read TONS more about our one day in Jerusalem , including the Old City, Temple Mount, Mount of Olives, all the historic gates, and amazing Shuk market here .
We entered into the Old City through the Jaffa Gate, and overall make sure you visit several of Jerusalem's historic gates, set inside the old walls.  Many of them have really awesome history, both old and newer.
You might also like:    The Best Books I Read in 2019
Our first stop of the morning was the Temple Mount, which includes the Western Wall (a.k.a. Wailing Wall or Kotel) and the Dome of the Rock.
These are two of the most holy sites in Judaism and Islam, respectively, and has made this one little hill hotly contested for centuries.  It's one of the last visible remaining pieces of the Jewish temple that the Romans destroyed in 70 A.D.
We went through security quickly since the lines weren't long and were able to step up to the famous, sacred wall.  However, this varies by day, and if there's been a security incident it can get shut down at a moment's notice.
The wall is split by gender, and men will be given a kippah (head covering) if they don't bring their own, while women's shoulders and chests must be covered.
From the Western Wall we continued over to the Dome of the Rock, which is dazzling.  First you'll see the Al-Aqsa Mosque and the fountain where worshipers can wash themselves.  The mosque itself is very plain looking outside next to the Dome of the Rock, and non-Muslims cannot enter.
It's the Dome of the Rock itself that draws the eye on this part of the Temple Mount.  The blues, greens, and yellows on the intricately-patterned tiles are so vivid, and the gold-covered dome is super bright on a sunny day.
For Muslims, the rock is where Muhammad ascended to heaven, making it the third holiest site for Muslims.  For Jews, it is The Foundation Stone (among other things) of the temple and the Holy of Holies, and the holiest site in Judaism.  You can read lots more on the background of the Temple Mount and tips for visiting in this post .
We left the Temple Mount and then exited the Old City through the Lion's Gate.  From there we easily got a taxi up to the Mount of Olives, which has a dope view of the Old City and Dome of the Rock.  This is the iconic Jerusalem view, and is a can't-miss.
There are a number of sites you can stop at on your way down the Mount of Olives.  We made a brief stop at the Tomb of Three Prophets, thought to contain the tombs of the 6th-5th century BCE biblical prophets Haggai, Zechariah, and Malachi (as well as some of their followers).  And we stopped into the supposed Garden of Gethsemene, where Jesus prayed before His arrest and crucifixion.
We continued to explore the Old City, stopping for a delicious Palestinian lunch in the Arab Quarter.
Jerusalem's Old City is divided into four quarters—Jewish, Christian, Muslim and Armenian.  Each has its own ambiance and tons of history, and all of this is crammed into only about 1 square kilometer.
Just wandering around is one of the best things you can do.  We also stopped by the nearby Church of the Redeemer to climb the tower for a great less-known view of the city.
Wandering the narrow streets and alleys of the Old City is special during the heat of the day, when the city is hustling around you.
But it's also super special as the sun sets and the streets quiet, with the shopkeepers closing up for the night and everyone headed home.  We went to the Austrian Hospice for a lovely glass of wine with a view, and then wandered the streets a bit more as the light faded.
And then we headed back to one of my favorite spots—Mahane Yehuda Market, a.k.a. The Shuk!!!  I've written a whole post about why I love Mahane Yehuda so much , and in fact I visited three separate times in my less than 48 hours total staying in Jerusalem.
Mahane Yehuda is a huge market, with over 250 stalls that offer everything from fresh falafel to craft beer to fresh produce to these delish pastries.  And that's just during the day!
At night the merchants close up shop (with awesome murals on their doors), and it gets even cooler by transforming into a vibrant assortment of bars and restaurants—even DJs spinning.  I LOVE THIS PLACE!
So as you can see, we really immersed ourselves in Jerusalem despite only having a short time.  There is obviously so much more you could see or do…if I'd had another afternoon I would have visited Yad Vashem, and I've given some other great options in my post on visiting Jerusalem .  But since the Old City is so compact you don't feel cheated on time.
A few notes on Jerusalem:
Do be aware that the city—especially major chunks of the Old City—really shut down from Friday night at sunset to Saturday night at sunset for the sabbath, and Friday tends to be pretty dead as well as this day is holy both to Muslims and is a sabbath preparation day.  Public transportation will be challenging, including to the airport.
We stayed at  Abraham Hostel , in a private double room; it was around $110 a night
Day 7:  Tour to Masada, En Gedi, Dead Sea; fly out evening
On our last day of our amazing 7-day Israel and Jordan trip, I knew exactly what I wanted to do before leaving—hike up the ancient Masada fortress at sunrise.  We had to be up at 2:45am to take a small bus down to the fortress in the dark, and then started up the winding path as the sky began to lighten.
Despite the fact that I'd badly twisted my ankle a couple days earlier, I knew I was literally racing the sunrise, so kept up a brisk pace.
The light kept changing as the sun crept over the horizon, highlighting the salt and mineral deposits from the Dead Sea and glinting off the water.  You can read more about why a sunrise hike up Masada should be on your bucket list here.
I was gross and sweaty (and starving) when I hit the plateau at the top, but had made it just in time.  I grabbed a seat right on the edge of the fortress wall and just…watched.
I watched the light change from purples and pinks to oranges and yellows, and as the reflection spread over the Dead Sea.  I thought about people thousands of years ago looking at this same view.  It's one of those places and views that feels timeless.
You might also like:   My All-Time Favorite Bra for Travel
Finally, I coaxed myself up and explored a bit of the fortress's ruins, as well as taking in the surrounding landscape.  Even if you can't do the sunrise hike, Masada is still completely worth a visit and has tons of history.  It's very meaningful to the Jewish people, particularly for an event in the 70s AD.
Toward the end of the First Jewish-Roman Warm, the Romans besieged the fortress.  At the time, almost 1,000 rebels (including families) had taken refuge as a place of last resort.
The Romans built a ramp up to the fortress (which still exists) using Jewish slave labor, and the rebels in Masada refused to attack and kill their fellow countrymen, even knowing that it was ultimately dooming themselves.  The entire group committed mass suicide rather than be taken prisoner.  It is such a sad and powerful story.
After getting back to the buses, we headed out for the remainder of our morning tour.  I've written more about the pros and cons of this sunrise Masada, En Gedi, and Dead Sea tour in this post.  Our next stop was En Gedi.
Ein Gedi (or En Gedi) is an oasis and a nature reserve near Masada, the Dead Sea, and Qumrum Caves (if you were looking to group sights together).
While it's a shadow of what it was like a few millennia ago,  it still has some greenery and little waterfalls and pools.  It was a great complement to the beiges and tans of the Negev Desert.
You might also like:   Travel FAQ: How to Pay for Things Overseas & Other Money Travel Tips
I was pouring sweat at this point since it was crazy hot, but we loaded back into the van and went toward our final stop, the Dead Sea (well, big lake).
The Dead Sea sits at 400 meters (1,412 feet)  below  sea level—the lowest point on earth.  It's also the deepest hypersaline lake in the world, a massive 9.6x saltier than the ocean!  This gives the water an insane viscosity, and is why you float instead of sink.
People come from all over the world to bob around like corks in the water, reading a newspaper or doing the "look, Ma, no hands!" for the cameras.
So in terms of the Dead Sea tour stop itself, this was definitely my least favorite part of the tour for me.  First of all, the public beach where they took us was kind of…gross mud.  It was heavily-trodden, crowded and looked icky and didn't appeal to me at all.  And because of all the mud in the water, the pictures were blah.
Also also (just between us), that salt water BURNS in all sorts of places.  All the places.  Just saying.  No one prepared me for that.  And I feel it's my duty to you…
Sooooo that wraps up our epic 7-day Israel and Jordan itinerary!  Once we got back to Jerusalem from the tour, I spent a bit more time at Mahane Yehuda and then our flight was at 9pm that night (so we left Jerusalem in late afternoon to ensure we didn't run into security issues.
Other amazing trip itineraries you'll love:
The Perfect 10-Day Scotland Itinerary: Highlands & Islands
Planning the Ultimate 7-Day Argentina Itinerary
How to Plan the Best Northern Croatia Roadtrip
How To Plan An Epic 7-Day (Or 10-Day) Turkey Itinerary
Two-Week New Zealand Itinerary: A First-Timer's Detailed Planning Guide
Pin this image!
Leave a comment
Your email address will not be published. Required fields are marked *
Notify me of followup comments via e-mail. You can also subscribe without commenting.
This site uses Akismet to reduce spam. Learn how your comment data is processed .
Snorkeling Between Continents: Iceland's Silfra Fissure
The Ultimate Packing List For Iceland In Summer
I'm Jessica!
Who am I? I'm not a digital nomad or backpacker. I have a demanding full-time career but still find ways to fit in tons of travel. I believe that sometimes you save and sometimes you splurge, and I'll help you figure out how to have the best experiences regardless. My goal is to go everywhere, see everything, eat all the pastries, and soak up as much food, wine, culture, and amazing views as I can in this crazy life!
Looking For Something?
Instagram adventures.
Affiliate Disclosure
Fresh Stuff!
Why You Shouldn't Skip Panagia Kapnikarea (Athens' Oldest Church)
Where To Stay On Pico Island: The Unique, Beautiful, & Historic Casas de Incensos (Azores)
A Foodie's Guide To Park City: Where To Eat & Drink
Packing List: What To Wear In Finland In Winter (Including Helsinki, Lapland, & Tallinn, Estonia!)
Exploring Sao Miguel's Glorious Sete Cidades: Miradouro Vista do Rei & More (Azores Islands)
Locations written about.
ABOUT CONTACT US
Destinations
Itineraries
US National Parks
10 Day Israel and Jordan Itinerary: Jerusalem, Petra & the Dead Sea
Julie Last updated: June 21, 2023 Israel , Itinerary , Jordan 49 Comments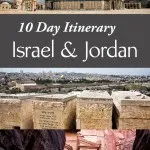 For those who want to tour one of the Middle East's most popular travel destinations, this Israel and Jordan itinerary may be perfect for you. Tour Jerusalem, an ancient city where every stone has a story to tell. Go to Tel Aviv for the beaches and the night life, float in the Dead Sea, climb Masada, and go scuba diving in the Red Sea. Just across the border is Jordan, home to Petra and Wadi Rum, and some of the friendliest people we have ever met. If you are traveling to Israel on holiday, Jordan deserves at least two days of your time.
Table of Contents
10 Day Israel & Jordan Itinerary
Day 1: Arrive in Jerusalem Day 2: Jerusalem Day 3: Jerusalem Day 4: Masada & the Dead Sea Day 5: West Bank Day 6: Tel Aviv Day 7: Eilat Day 8: Petra Day 9: Wadi Rum Day 10: Fly Home
10 Day Israel and Jordan Itinerary
Israel and jordan itinerary day 1.
Arrive in Jerusalem
Flights into Israel arrive at Ben Gurion International Airport, located just outside of Tel Aviv. From the airport, take a taxi (the quickest way to travel) or shuttle (cheap but makes a lot of stops) to your hotel in Jerusalem. Most flights arrive midday, not leaving much time for exploration. Most travelers may be exhausted, especially those arriving from the US, Australia, and the farther locations around the world. Spend the afternoon wandering the streets of the Old City of Jerusalem.
Read more about our first day in Jerusalem: First Impressions of Israel
Where we stayed: Harmony Hotel, a four-star hotel within walking distance of the Old City. Rooms are modern and clean and the hotel offers a daily happy hour for its guests.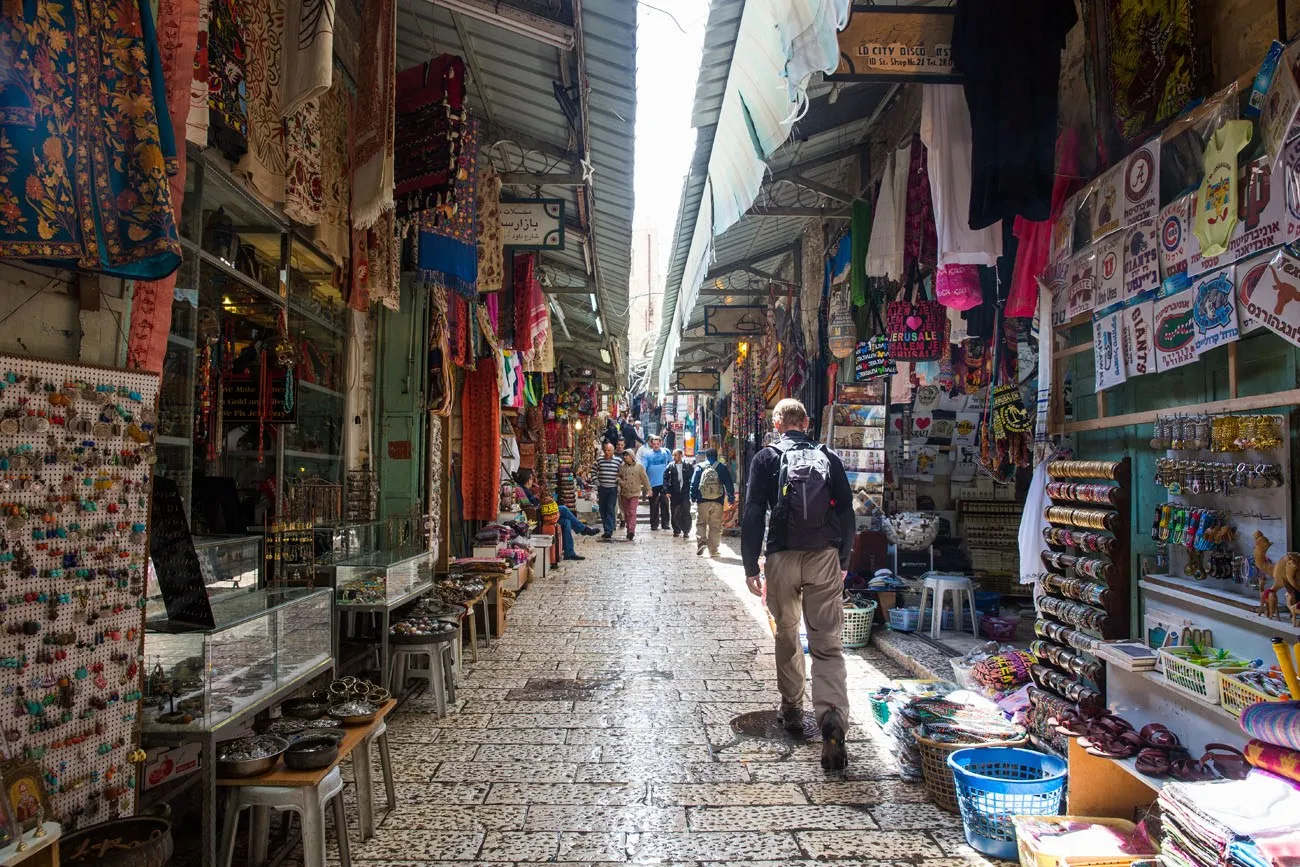 Israel and Jordan Itinerary Day 2
Two full days in Jerusalem is just enough time to see the best of this city. Ideally, four days or more would be better (and you can add in these days if you have the time). If not, don't worry, you can still see many of Jerusalem's amazing sites.
Start your day at the Western Wall . While you are here, take the Western Wall Tunnels tour , a one hour journey through the underbelly of Jerusalem. Next, visit Temple Mount and the Dome of the Rock . Once you get inside it's a quick visit, but lines to enter can be long and visiting hours are limited.
LEARN MORE: How to visit Temple Mount and Dome of the Rock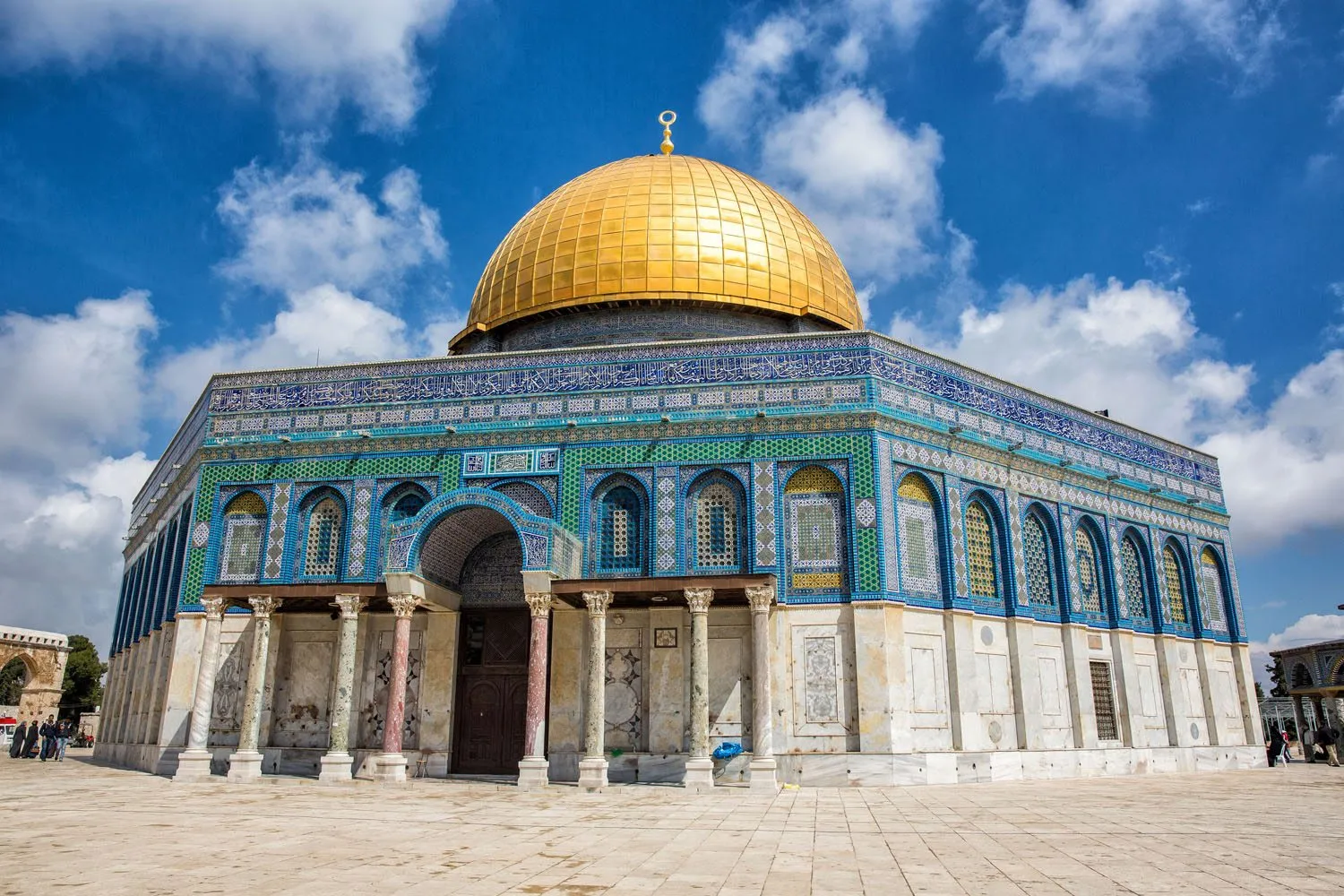 Spend the afternoon just outside the walls of the Old City: tour the City of David , walk Hezekiah's Tunnels , visit King David's Tomb , and take a look inside the Cenacle (where the Last Supper took place).End the day in the Jewish Quarter . Tour the Hurva Synagogue , enjoy the views over Jerusalem, and then have dinner.
LEARN MORE: 30 Things to do in Jerusalem, Israel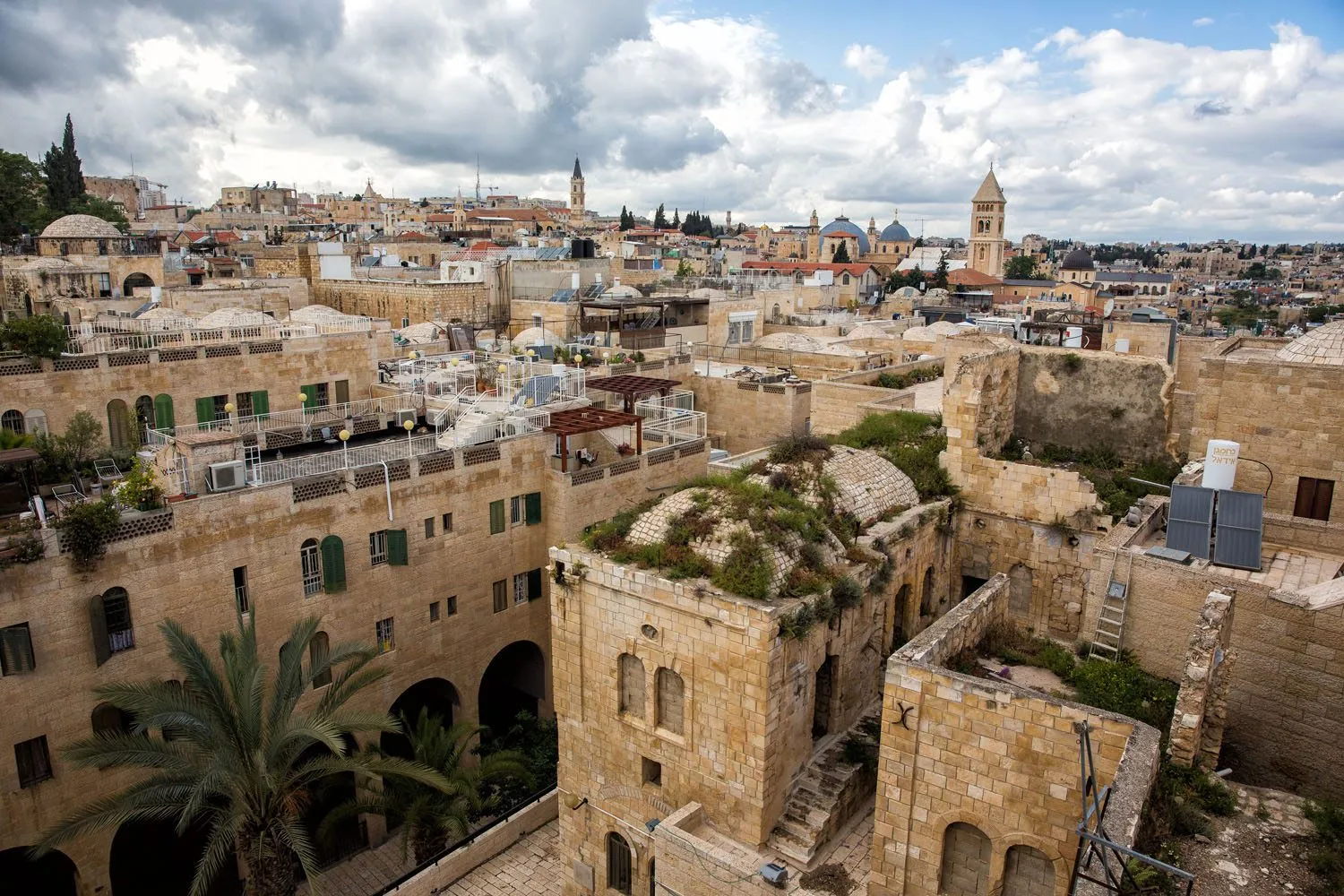 Israel and Jordan Itinerary Day 3
Today is another busy day with lots of walking.
Take a taxi to the Mount of Olives . From here you will have one of the best views of Jerusalem.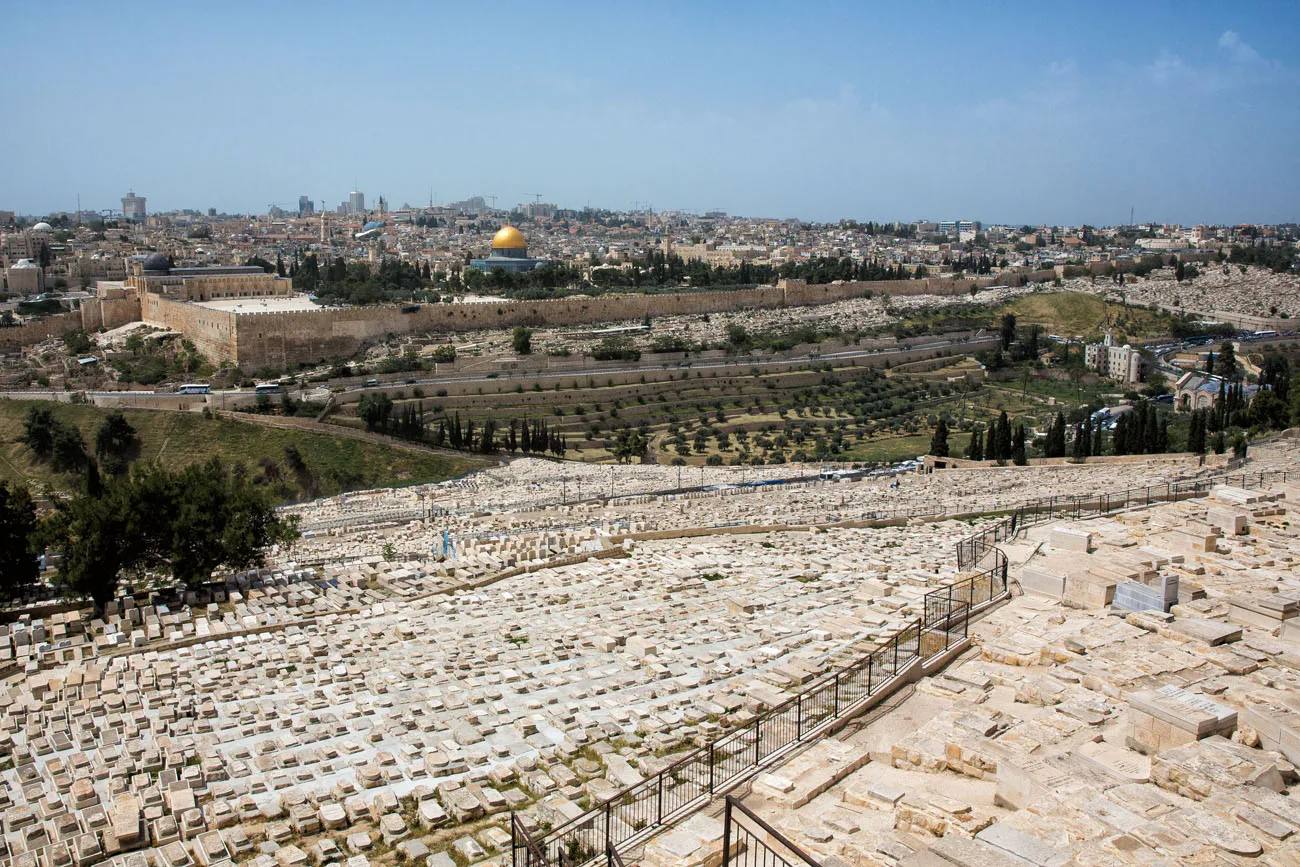 Walk downhill towards the Old City, visiting the Dominus Flevit Church , Church of All Nations , Garden of Gethsemane , and the Tomb of the Virgin Mary along the way. These are all located very close together and are quick visits.
Walk uphill into the Old City, entering through the Lion's Gate . It is here you will walk the Via Dolorosa , the path Jesus walked during his crucifixion. This walk ends at the Church of the Holy Sepulchre , the site of Jesus' crucifixion and the location of his empty tomb.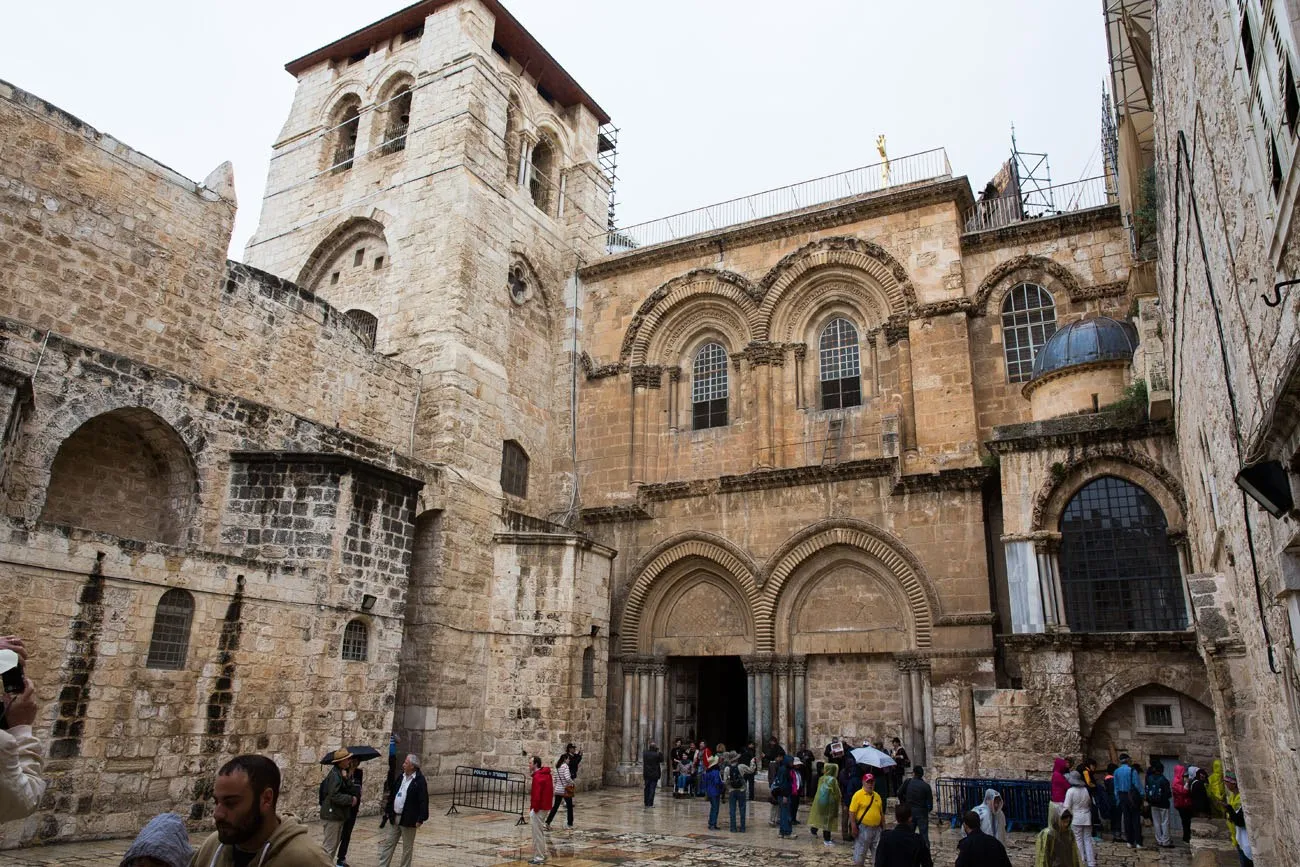 Have lunch in the Christian Quarter .
After lunch, walk the Ramparts , the top of the wall that surrounds the Old City, and tour the Tower of David Museum . This museum gives a concise explanation of the history of Jerusalem and has one of our favorite views over the city.
From here you can explore the Mahane Yehuda Market (the best market in Jerusalem and a fantastic place to get dinner), Yad Vashem (the Holocaust Museum), or the Israel Museum . All three of these places are located outside of the Old City. The easiest way to get to them is by taxi.
Israel and Jordan Itinerary Day 4
Masada and the Dead Sea
Today you will take a day trip from Jerusalem. Masada and the Dead Sea are two hours away by car. You can either join a tour (of which there are many options), rent a car, or hire a taxi or private driver for the day.
LEARN MORE: Day Trip to Masada and the Dead Sea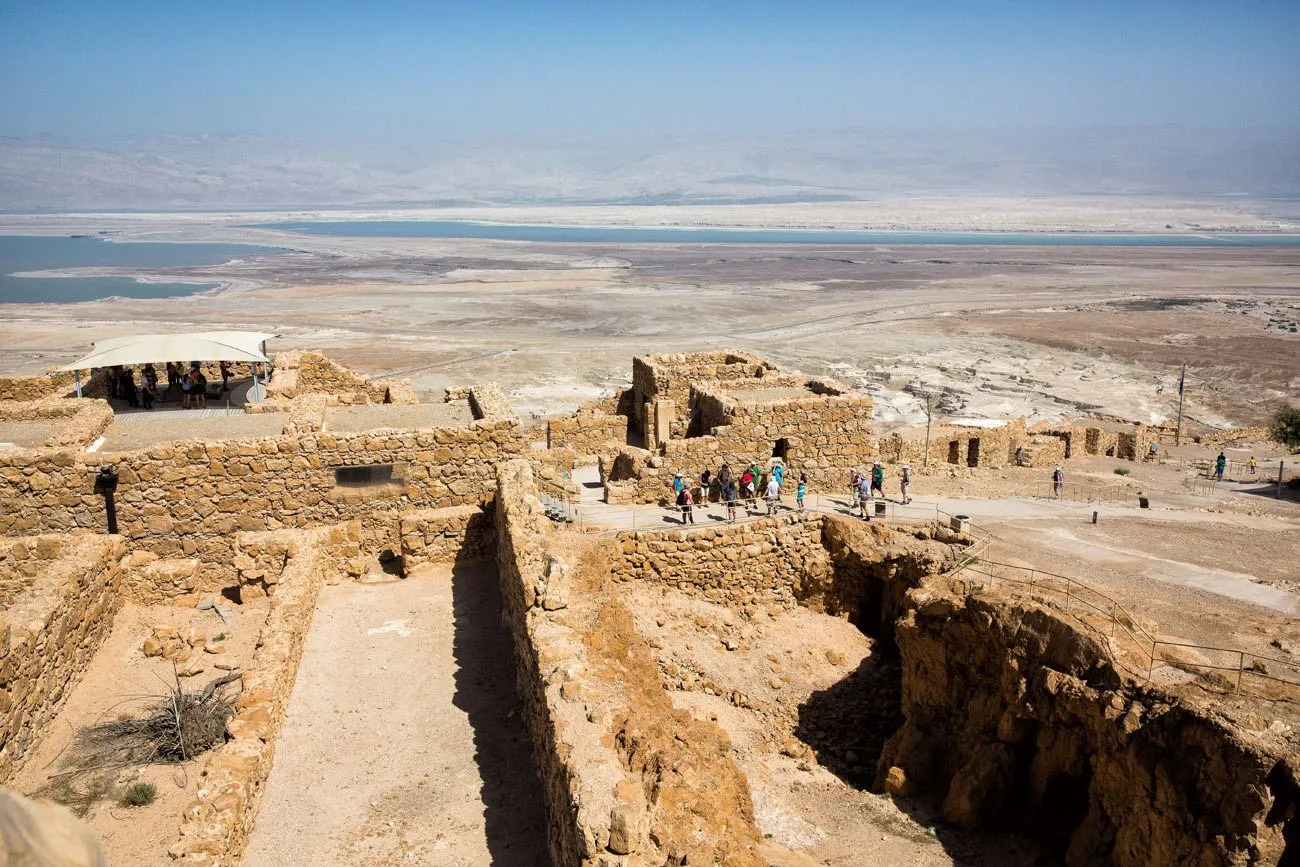 Israel and Jordan Itinerary Day 5
Take a day trip into the West Bank to visit Bethlehem, Jericho, Hebron, and/or Nablus. The easiest way to do this is to set up a tour. Crossing the border between Israel and the West Bank can be complicated so having a guide's assistance will make your visit easier. Green Olive Tours runs day trips to the West Bank. You can also take one of these tours offered by GetYourGuide.
Israel and Jordan Itinerary Day 6
After breakfast, transfer to Tel Aviv. You can travel by bus, taxi, or train. When we traveled between Tel Aviv and Jerusalem (we did this several times since Tim was working in Tel Aviv) we took the taxi because that was the fastest and most convenient option during our visit. It is also the most expensive.
By taxi, it takes about one hour to travel to Tel Aviv and costs roughly 300 ILS. By bus , it also takes about an hour but you only pay 18 ILS. However, you have to get to and from the bus stations in both cities.
There is also a high-speed train and it takes 34 minutes to travel from Jerusalem to Tel Aviv. Learn more here.
In Tel Aviv, enjoy the beaches, go surfing, go shopping, and relax. For dinner, go to the old town of Jaffa , best visited during the twilight hours.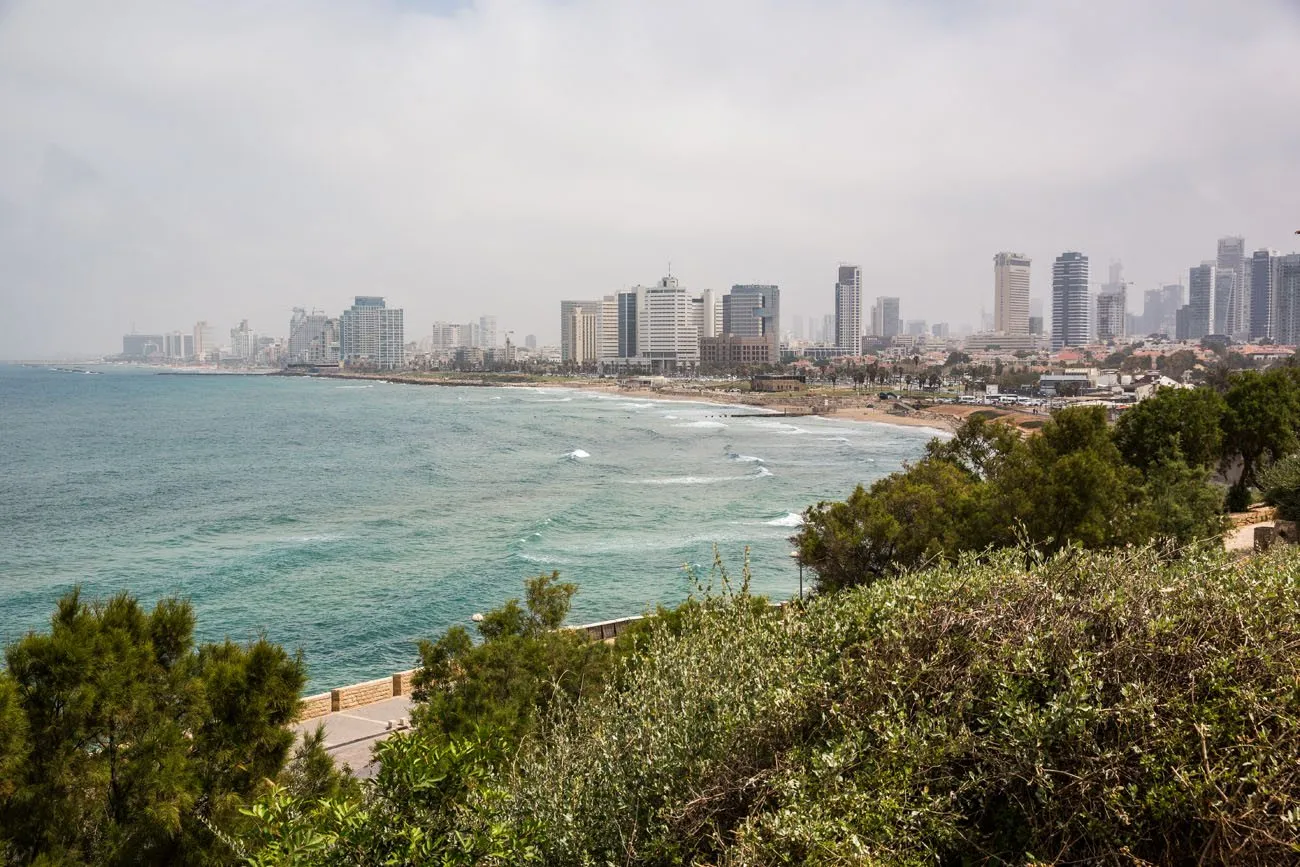 Israel and Jordan Itinerary Day 7
Eilat is the southernmost city of Israel, located on the border with Jordan and Egypt. You can fly directly there, giving yourself the remainder of the day in Eilat to swim in the Red Sea, go scuba diving, or snorkel with dolphins.
You also have the option to drive to Eilat through the Negev Desert. There are some interesting sites along the way and even a wine region to tour, believe it or not.
LEARN MORE: Off-the-Beaten-Path in Israel: the Negev Desert
Have dinner at a beachfront cafe (we recommend La Cuccina , an Italian restaurant on the boardwalk with views out to the ocean). Go to bed early. Tomorrow you will be up early for your border crossing into Jordan.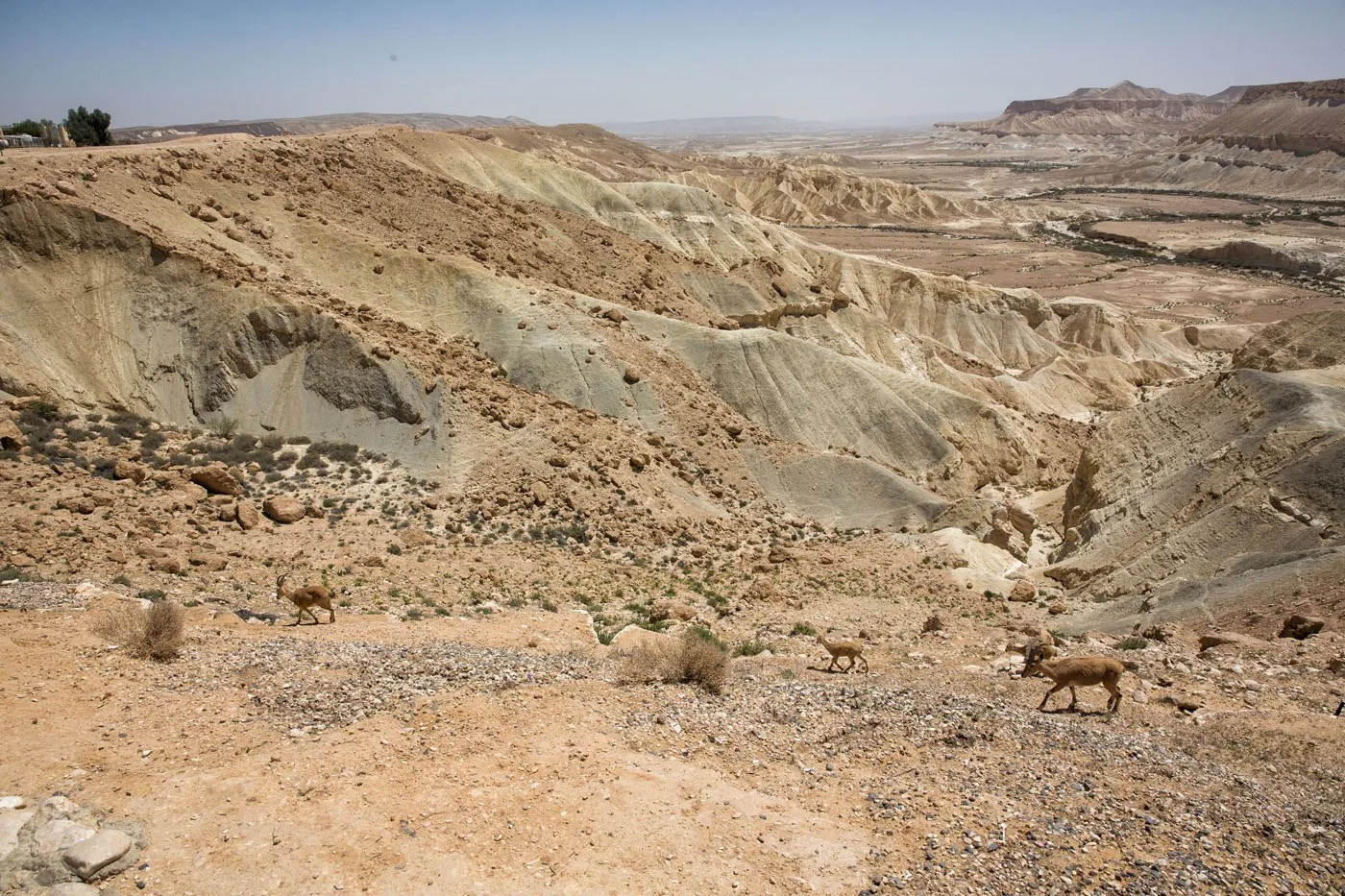 Israel and Jordan Itinerary Day 8
It's time to go to Petra! You can visit Jordan on your own, arranging your transportation and hotel accommodations, but we highly recommend hiring a tour company.
Cross the border into Jordan and travel the two hours north to Petra. Spend the day exploring Petra. Must-see sites are the Treasury , the Monastery , and the Siq .
If you want to see the Treasury without the crowds, stay until closing time. As the sun sets, most people will leave, and you will have the Treasury almost all to yourself. You may have to share it with a few camels, but that just adds to the experience!
LEARN MORE: Best Things to See in Petra, Jordan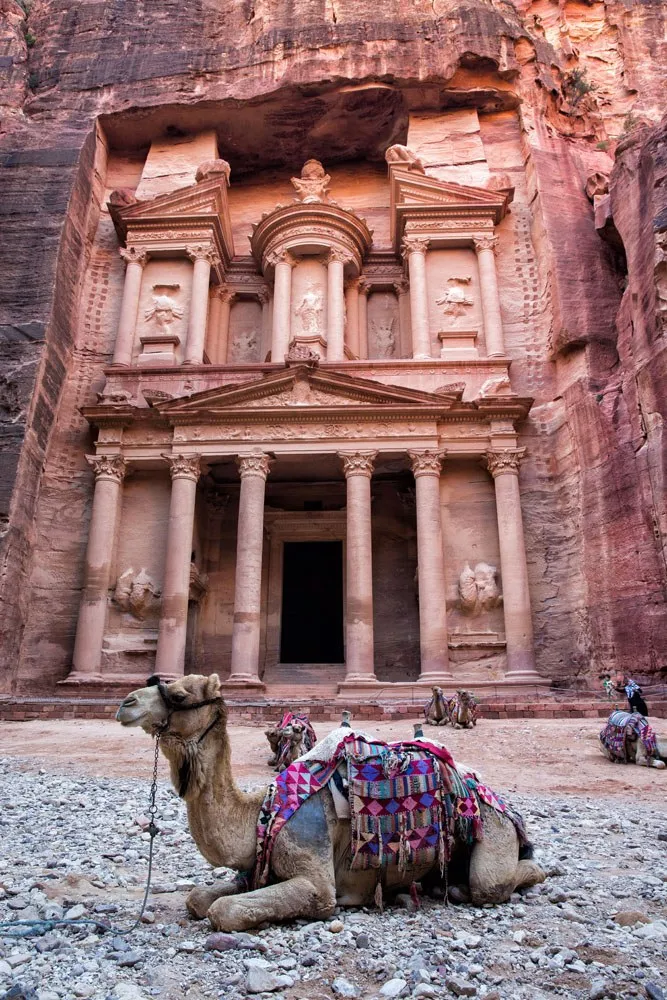 About Our Experience: We hired Desert Eco Tours . We took a two day private tour of Petra and Wadi Rum. They arranged our Jordanian visas, booked our hotel, provided transportation, and provided us with a guide for Petra and a guide for Wadi Rum. In Petra, we spent several hours with Muhammed, who explained the history of Petra and took us on a hike that we would have missed if we did not have a guide. In Wadi Rum, Ali took us on a tour of the desert by 4×4 and led us on a phenomenal hike . Our two days in Jordan was a fantastic experience and I highly recommend Desert Eco Tours.
Israel and Jordan Itinerary Day 9
This morning you have the option to see Petra at sunrise. Yes, it is an early start to the day, but if you are into photography, this is a must-do opportunity. If you want to have the Treasury all to yourself, get there first thing in the morning. In our opinion, it is absolutely worth it.
Tim and I walked through the entrance gates into Petra at opening time (6 am in April). We were the only ones walking down the Siq, other than the one lone dog who tagged along next to us. For 20 minutes, we had the Treasury to ourselves before anyone else arrived. This was one of our favorite moments on our trip to Israel and Jordan.
After breakfast at your hotel, your guide will drive you to Wadi Rum. In Wadi Rum, you have the option to spend a few hours touring the desert by 4×4, or for those feeling adventurous, you can go hiking. The hike to Jebel Burdah Rock Arch quickly became one of our favorite hikes in the world. The views are unbelievable and it is just challenging enough to really make it fun. Prior hiking experience and even some rock climbing experience are a good idea before attempting this hike.
LEARN MORE: Hiking to Jebel Burdah Rock Bridge, Wadi Rum and Journey through the Wadi Rum Desert in Photos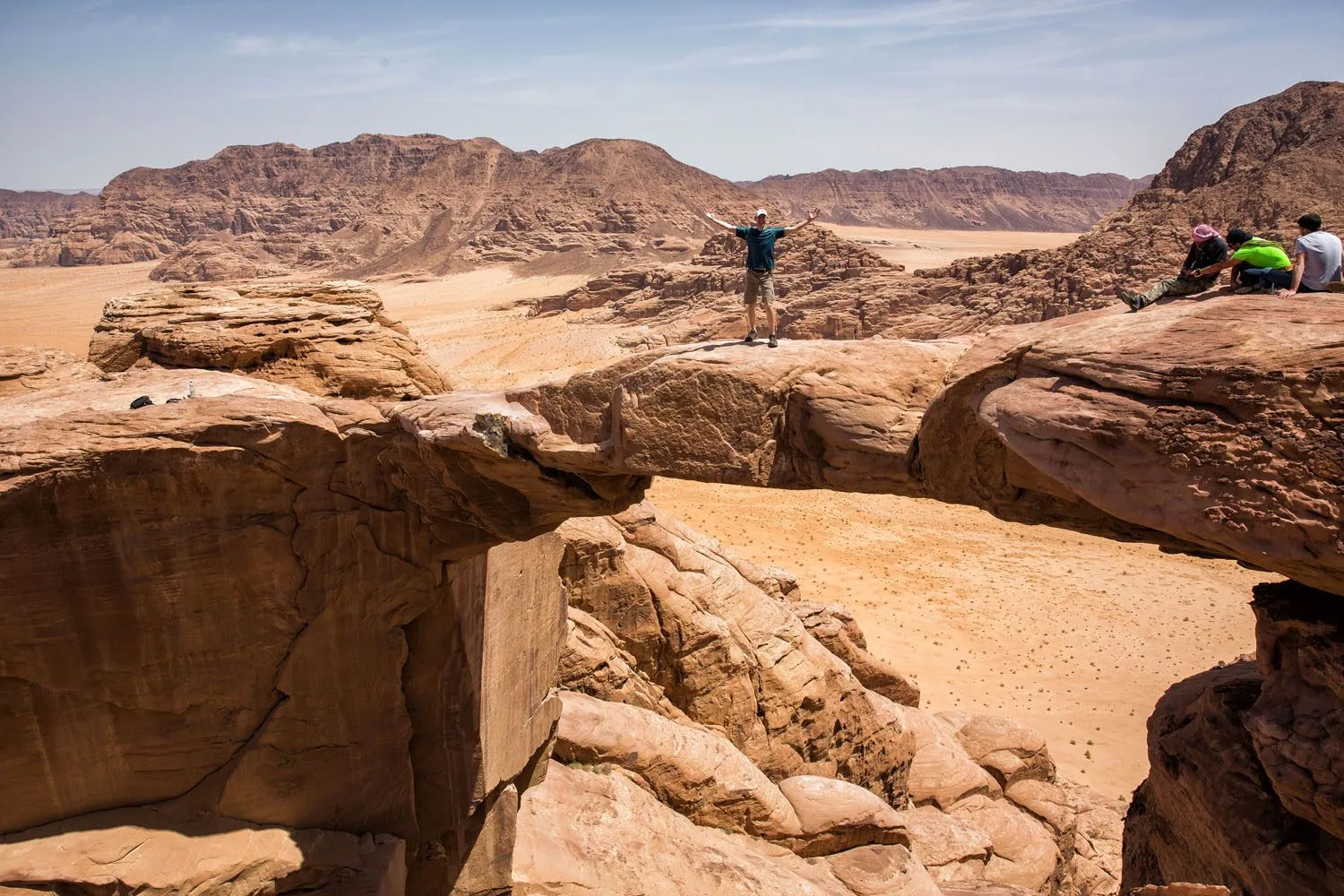 After your tour of Wadi Rum, your guide will transfer you back to Aqaba, where you will cross the border into Israel. From here, catch an evening flight to Tel Aviv or spend one last night in Eilat.
Israel and Jordan Itinerary Day 10
Fly Home or Continue Your Travels
If you did not do so last night, catch a flight to Tel Aviv or Ben Gurion Airport, to begin your travels home. Or, for those with more time, continue on to your next destination.
With More Time
If you have more than 10 days, here are some things you can add to this Israel and Jordan itinerary.
Add more time to your stay in Jerusalem.
Northern Israel. Spend several days in northern Israel, visiting Haifa, Golan Heights, and the Sea of Galilee. You could add this travel segment in between Jerusalem and Tel Aviv.
Amman, Jordan. Rather than returning to Eilat after your tour of Wadi Rum, travel north to the capital city of Amman.
Go canyoning in Jordan. At Wadi Mujib, walk through a deep sandstone gorge filled with water. Those who do it rave about it.
Best Time for This Israel and Jordan Itinerary
The best time to go to Israel and Jordan is in the spring (March through May) when temperatures are comfortable and the weather is dry. Summer can be scorching and winters can be surprisingly cold. The fall has cooler temperatures but a higher chance of rain, especially in Jordan.
Do you have any questions or comments about this Israel and Jordan itinerary? Feel free to comment below!
JERUSALEM: For information about Jerusalem, read our article Best Things to Do in Jerusalem. We also have a guide on how to visit Temple Mount and Dome of the Rock.
PLACES TO GO IN ISRAEL: Learn about the best things to do in Jerusalem , get information on how to visit Masada and the Dead Sea , and what it is like to road trip through the Negev Desert.
EGYPT: If you are also considering adding on a visit to Egypt to your trip, we check out our 10 day Egypt Itinerary , our Best Things to Do in Egypt article, and our Egypt Travel Guide for important planning information.
TRAVEL ITINERARIES: For more travel itineraries for destinations around the world, take a look at our Travel Itineraries page.
Read all of our articles about Jordan in our Jordan Travel Guide and Israel in our Israel Travel Guide.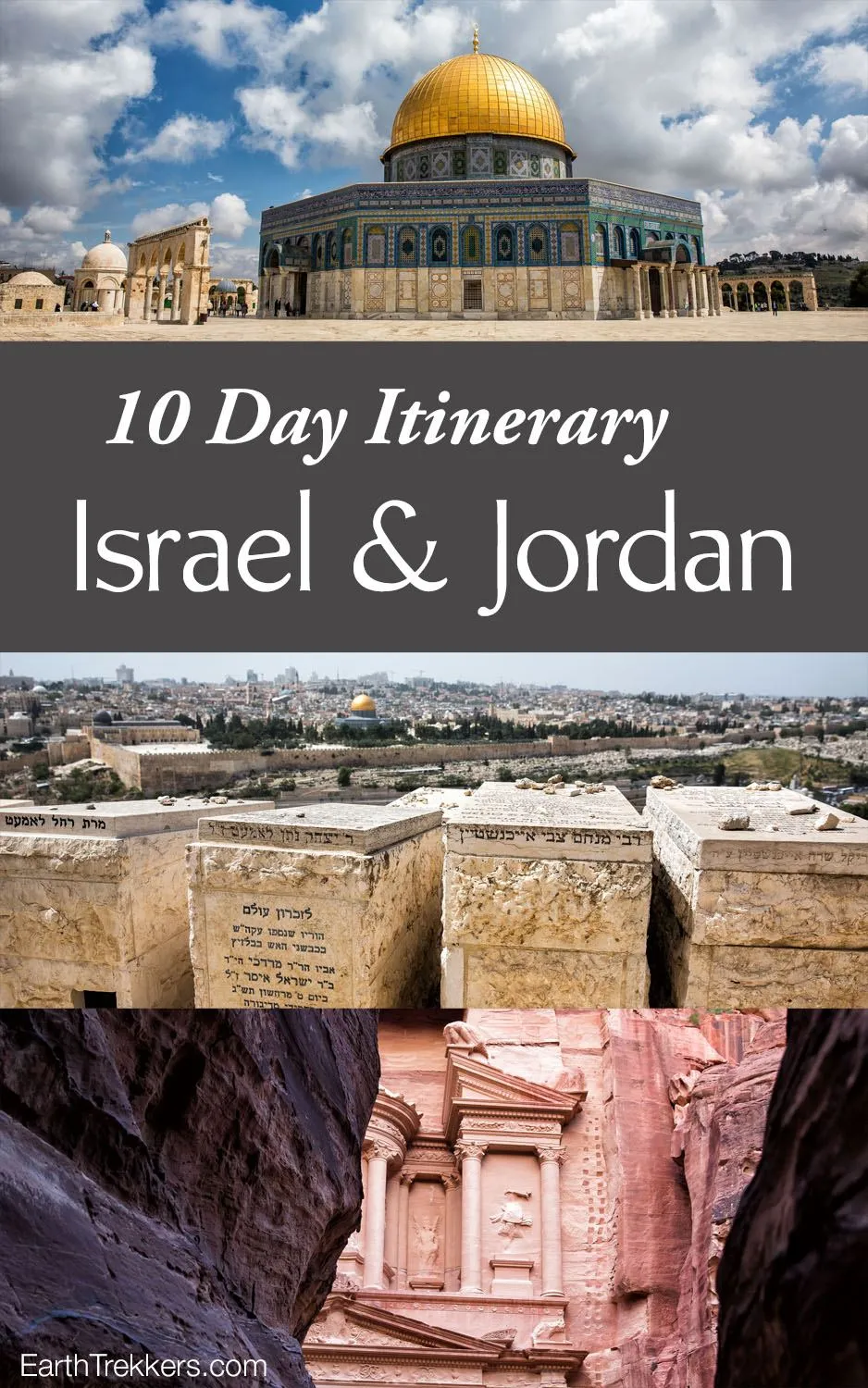 Note: This post contains affiliate links. When you make a purchase using one of these affiliate links, we get paid a small commission at no extra cost to you.
All rights reserved © Earth Trekkers. Republishing this article and/or any of its contents (text, photography, etc.), in whole or in part, is strictly prohibited.
Related Posts
Comments 49
Hello! Do you have any recommendations for tour guides from Tel Aviv to Jerusalem? Thank you!
I don't have any specific recommendations, but we have been using GetYourGuide recently when we travel for guided tours with good experiences, so you could look there. Cheers, Julie
Hi Julie, thanks a lot for this itinerary, really useful!
I would really like to go canyoning in Wadi Mujib while in Jordan – how would you suggest adjusting this plan to include this activity?
Many thanks, Leonardo
You could travel to Wadi Mujib after Petra and Wadi Rum, go canyoning, then continue on to Amman and fly home from here. If you need to get back to Israel to fly home, the best way to do it might be a short flight from Amman to Tel Aviv. I think traveling by land through Eilat will take a lot of time. I don't know if there is a border crossing between the two countries near the Dead Sea to cut down on driving time. Cheers, Julie
Leave A Comment Cancel reply
Your email address will not be published. Required fields are marked *
Save my name and email in this browser for the next time I comment.
Sign me up for the monthly newsletter!

Groovy Mashed Potatoes - Travel Blog
Unique travel experiences, fun itineraries & offbeat places to help you plan your dream trip
2 Week Israel and Jordan Itinerary Filled With Unique Experiences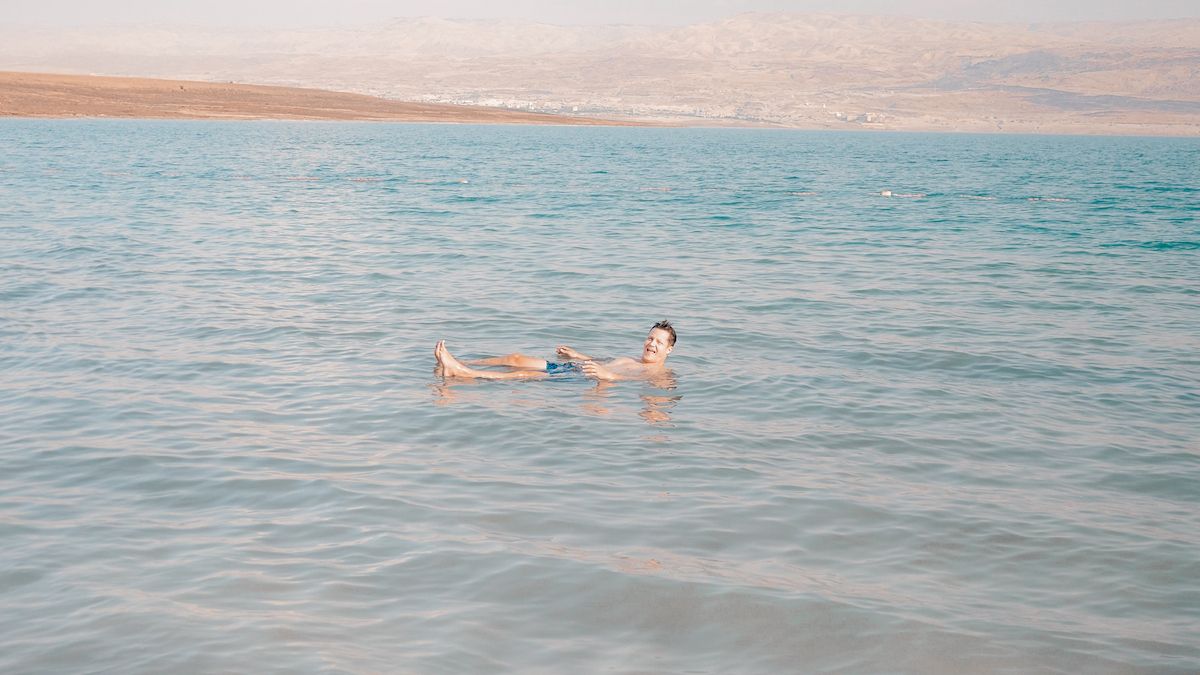 Our two weeks in Israel and Jordan were exciting and packed with wonderful surprises. We found our new favourite cocktail bar, swam in the Dead Sea and saw Petra to name only a few of the unique experiences we had on this trip.
Our 2 week Israel and Jordan itinerary will take you to hip spots in Tel Aviv, to the historic city of Jerusalem, for a swim in the Dead Sea, to the awe-inspiring Petra, on a 4x4 excursion through the Wadi Rum Desert and more!
Best time to visit Israel and Jordan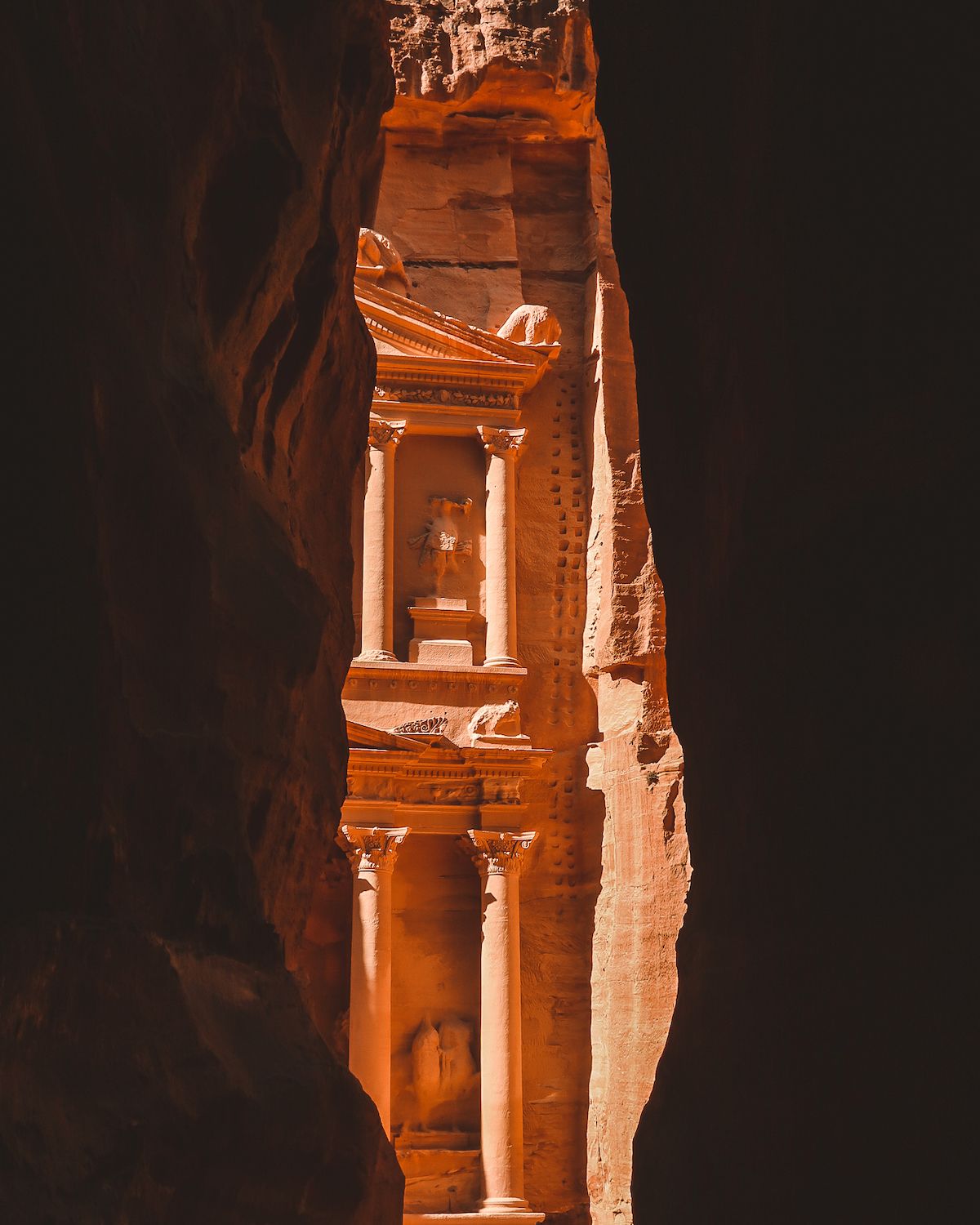 The best time to visit Israel and Jordan is in Spring (April & May) or Fall (September & October) when it's warm, but not too hot.
Avoid visiting Jordan during its rainy season from November - March. This is because if it rains, Petra closes for the day. We went during the beginning of November and had sunny days, but just a few days after, there was a dangerous flash flood in Petra!
2 Week Israel and Jordan Itinerary
Days 1 - 4: Tel Aviv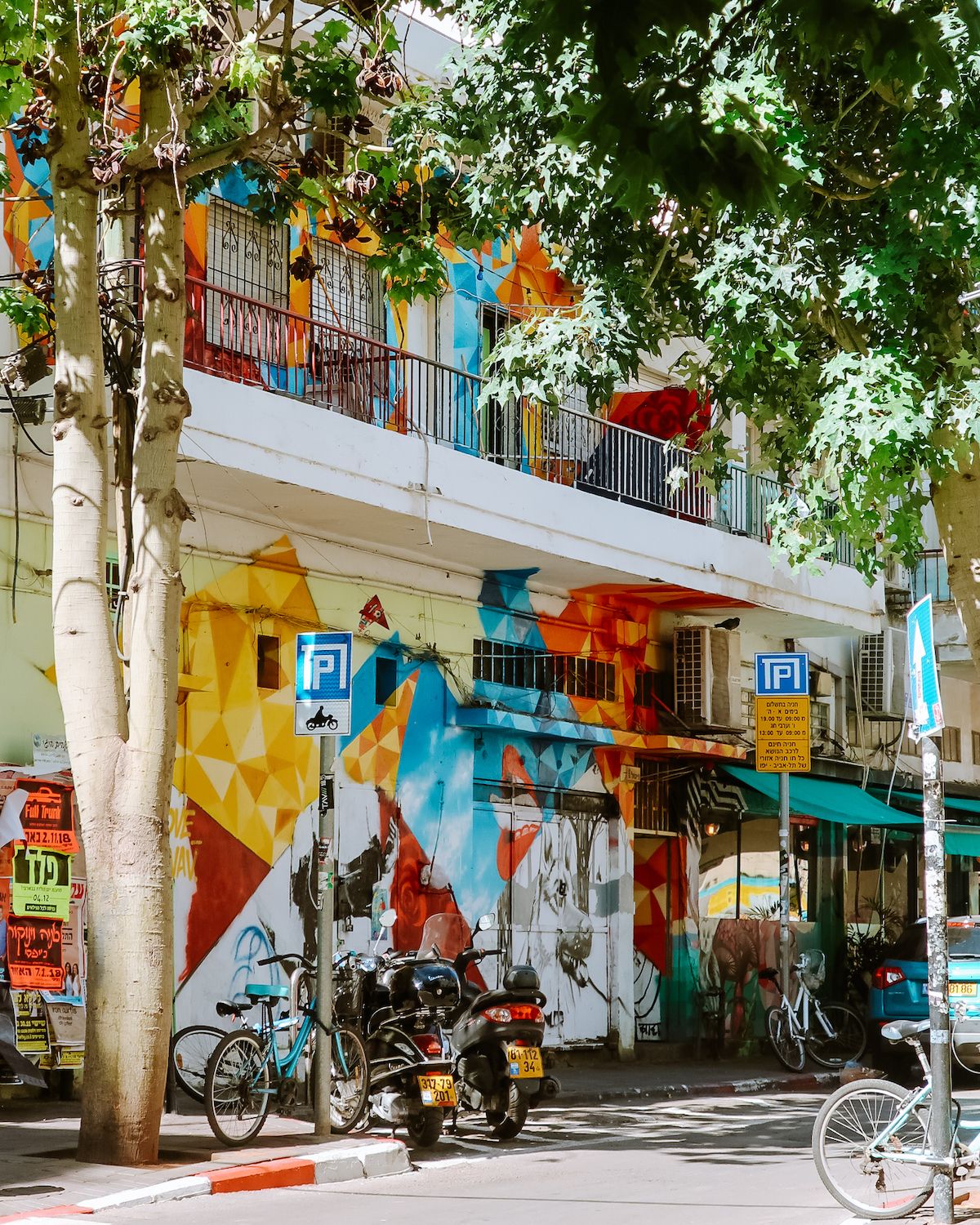 Florentin District Tel Aviv
Tel Aviv is a fun and quirky city on Israel's Mediterranean coast. The culture, cuisine, music, and nightlife are all reasons you should visit. The people were also the most considerate we've met on our trip and always willing to help us out. We spent a week in the area exploring and have some favourite spots that shouldn't be missed!
Best area to stay in Tel Aviv
Our top hotel pick in florentin: florentin house.
View this post on Instagram A post shared by Florentin House (@florentinhouse)
Best Cafes in Tel Aviv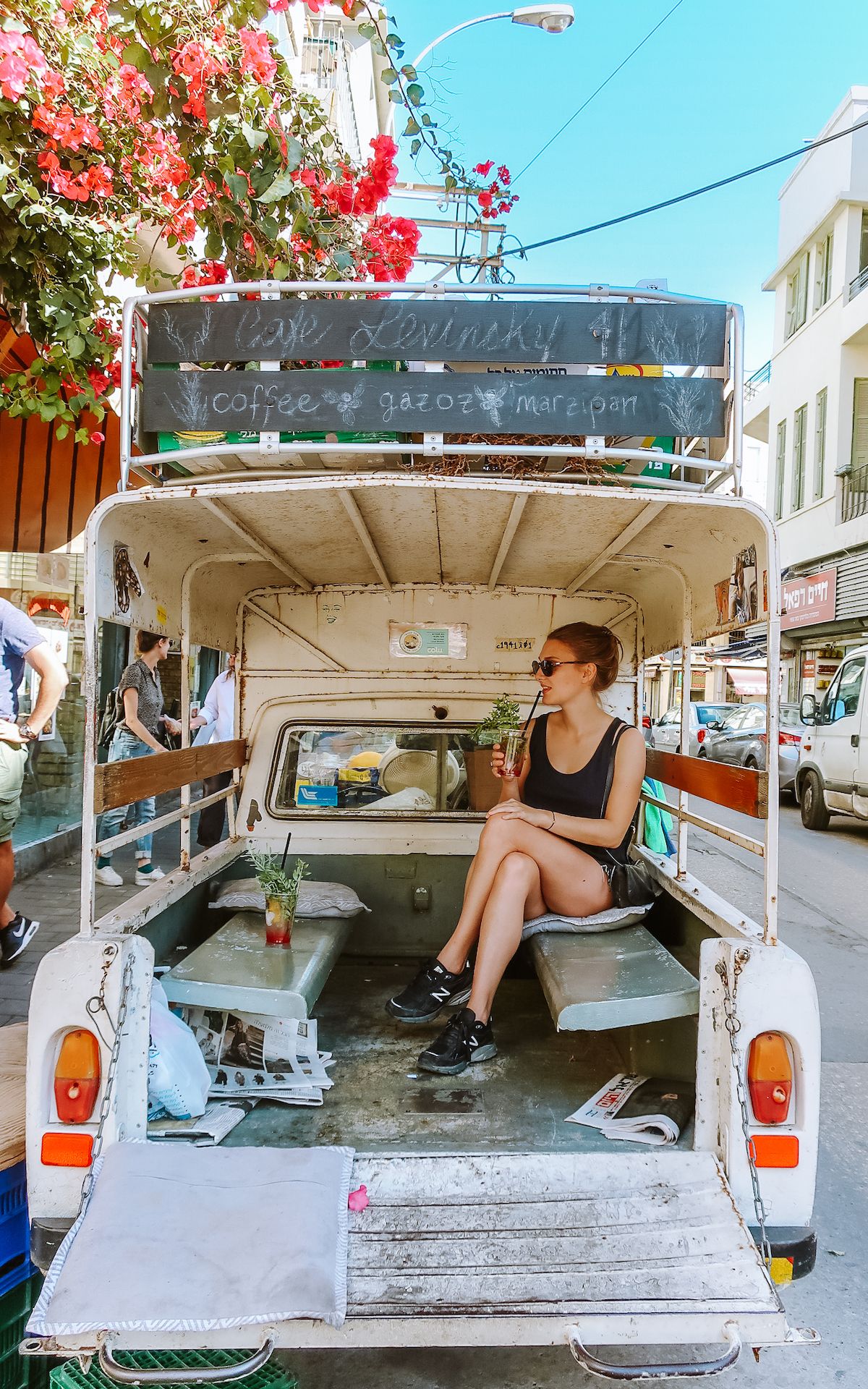 Left: Cafe Levinsky | Right: TLV Makers Tel Aviv
Most beautiful cafe: TLV Makers
We visited TLV Makers when they first opened in Fall 2018, and were in awe with how beautifully they decorated their space with flora. TLV Makers sells coffee, beer, wine and fresh sandwiches, and hosts workshops, such as a Japanese shibori (a fabric dyeing technique) .
Most quirky cafe: Cafe Levinsky
Cafe Levinsky is a magical place in the Florentin neighbourhood known for their gazoz. Gazoz is soda water infused with fermented fruits, fresh herbs, and flowers. We were lucky to grab a spot in the vintage truck outside!
Best laptop friendly cafe: Cafelix
Cafelix is an artisanal small-batch coffee roaster with outdoor seating where working on your laptop is accepted.
Top Restaurants in Tel Aviv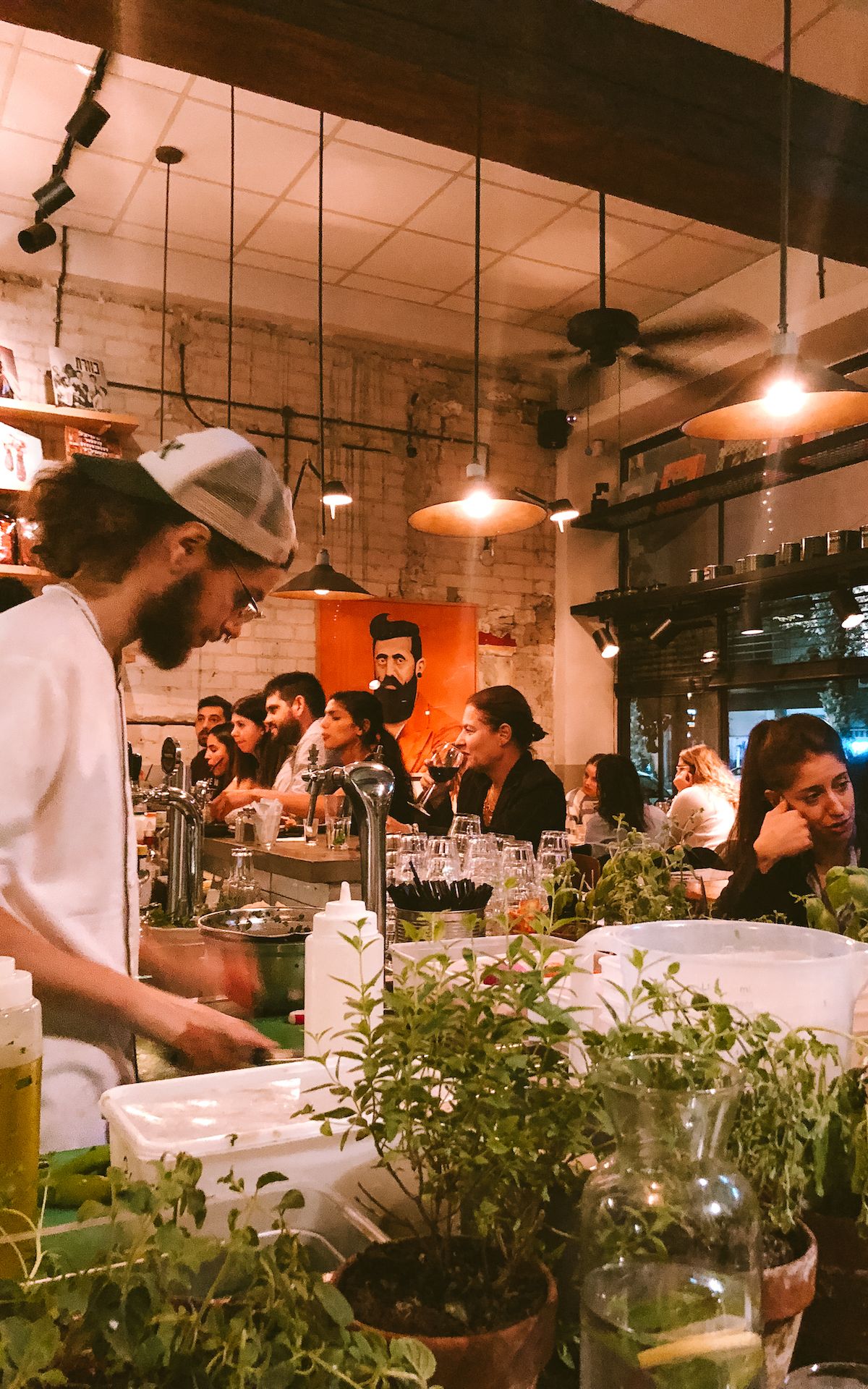 Left: Ha'achim | Right: Port Sa'id
Best for contemporary Israeli cuisine: Ha'achim
Ha'achim is run by two brothers and has a cool ambience with its own music playlist. The menu is designed for sharing so you can try a variety of dishes. The ribeye steak cooked on a charcoal grill was a highlight!
Restaurant with all the hype: Port Sa'id
Does Port Sa'id live up to the hype? We think so! Port Sa'id has a lively ambiance and features innovative Israeli cuisine from celebrity chef, Eyal Shani. The catch is that Port Sa'id doesn't take reservations, so you'll see locals and tourists waiting in line for up to two hours. We tried going on the weekend and didn't have a chance of getting in so came back on Monday at 6pm. The restaurant was packed, but we luckily got a table right away!
Best Bars in Tel Aviv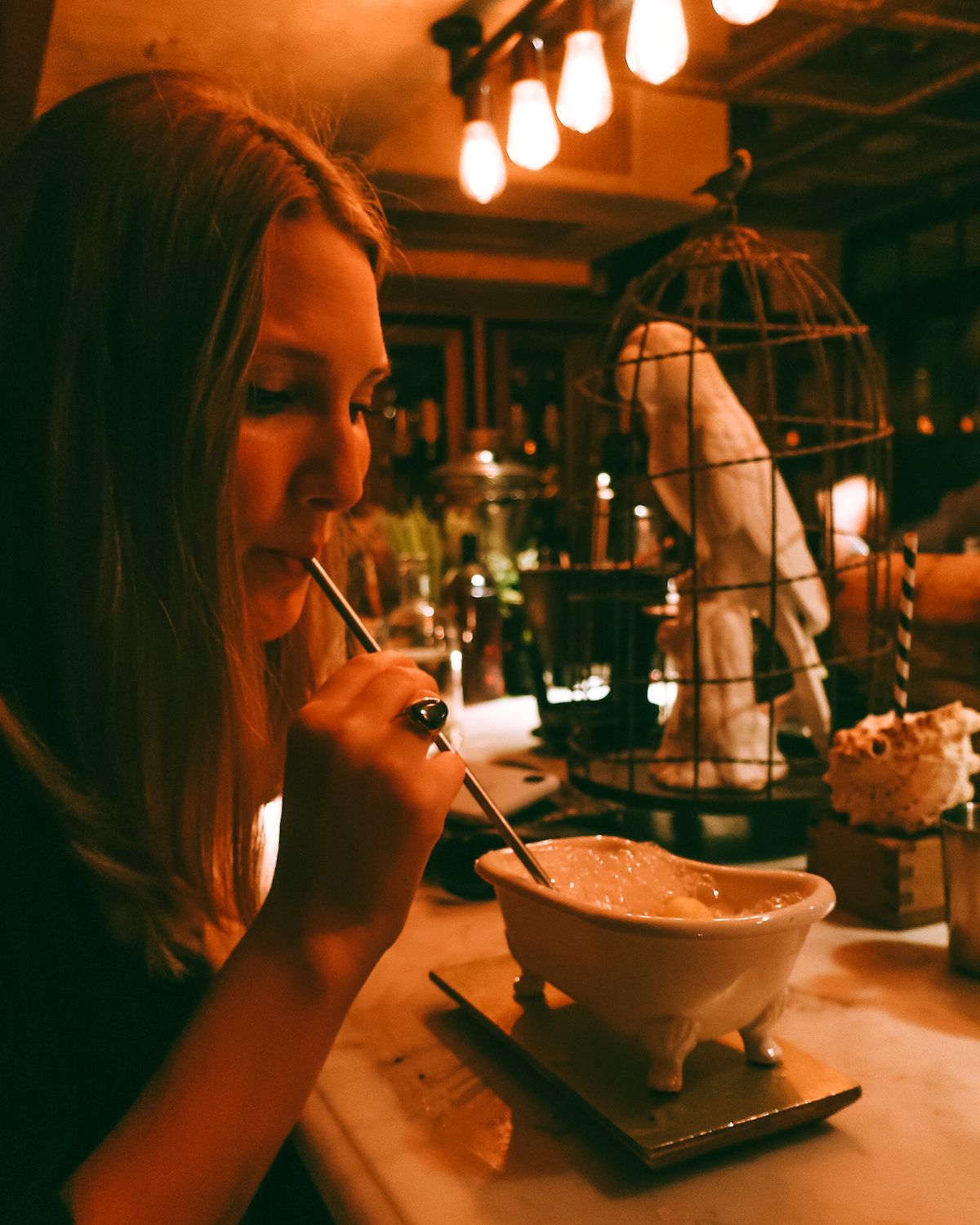 Top: Bellboy Tel Aviv | Bottom: Kuli Alma
Best cocktail bar: Bellboy
Now our favourite cocktail bar in the world, Bellboy creates the most unique cocktails we've ever seen. We ordered cocktails in a viking horn, a conch shell, a camera lens, mini bathtub with rubber ducky.. and there's even more to discover! It's done in a classy way with fitting swing music playing in the background. The food is also exquisite and the presentation all around excellent. Go at happy hour (6-8pm) for 50% off of all their cocktails! You'll need to make a reservation in advance.
Best for the party: Kuli Alma
Kuli Alma is an underground nightclub that focusses on music and art. We were there for their Halloween party and they went all out with the decor! Check out their events page to see what's going on.
Best Markets in Tel Aviv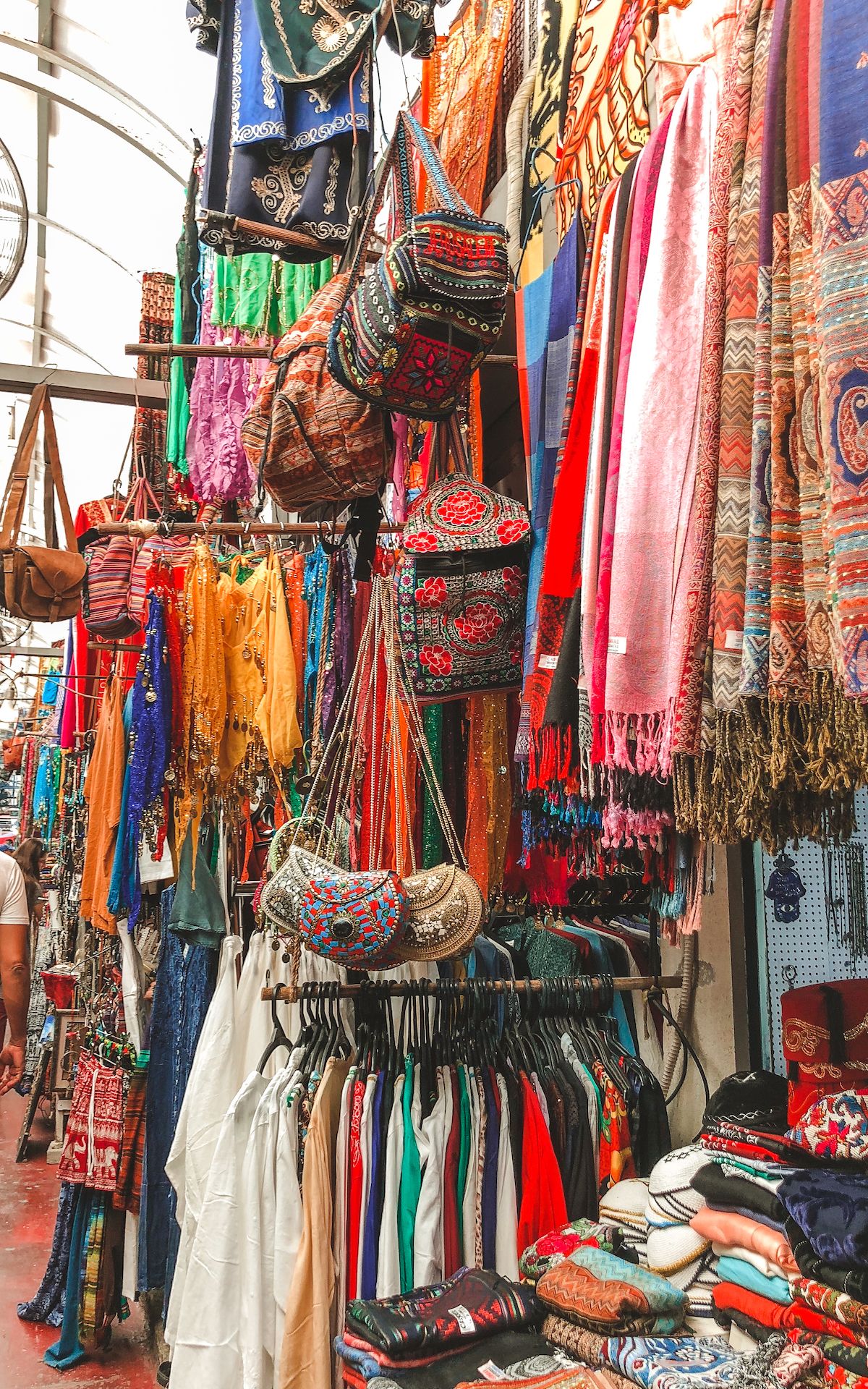 Jaffa Flea Market
Cheapest market for trinkets: Jaffa Flea Market
Best market for unique local products: Nahalat Binyamin
Best market for food: Carmel Market
Top tip: don't miss Panda Pita at Carmel Market! It was one of the best meals on our trip.
Carmel Market Tasting Tour
Jaffa Flea Market Tour with Tastings
Days 5-6: Ein Karem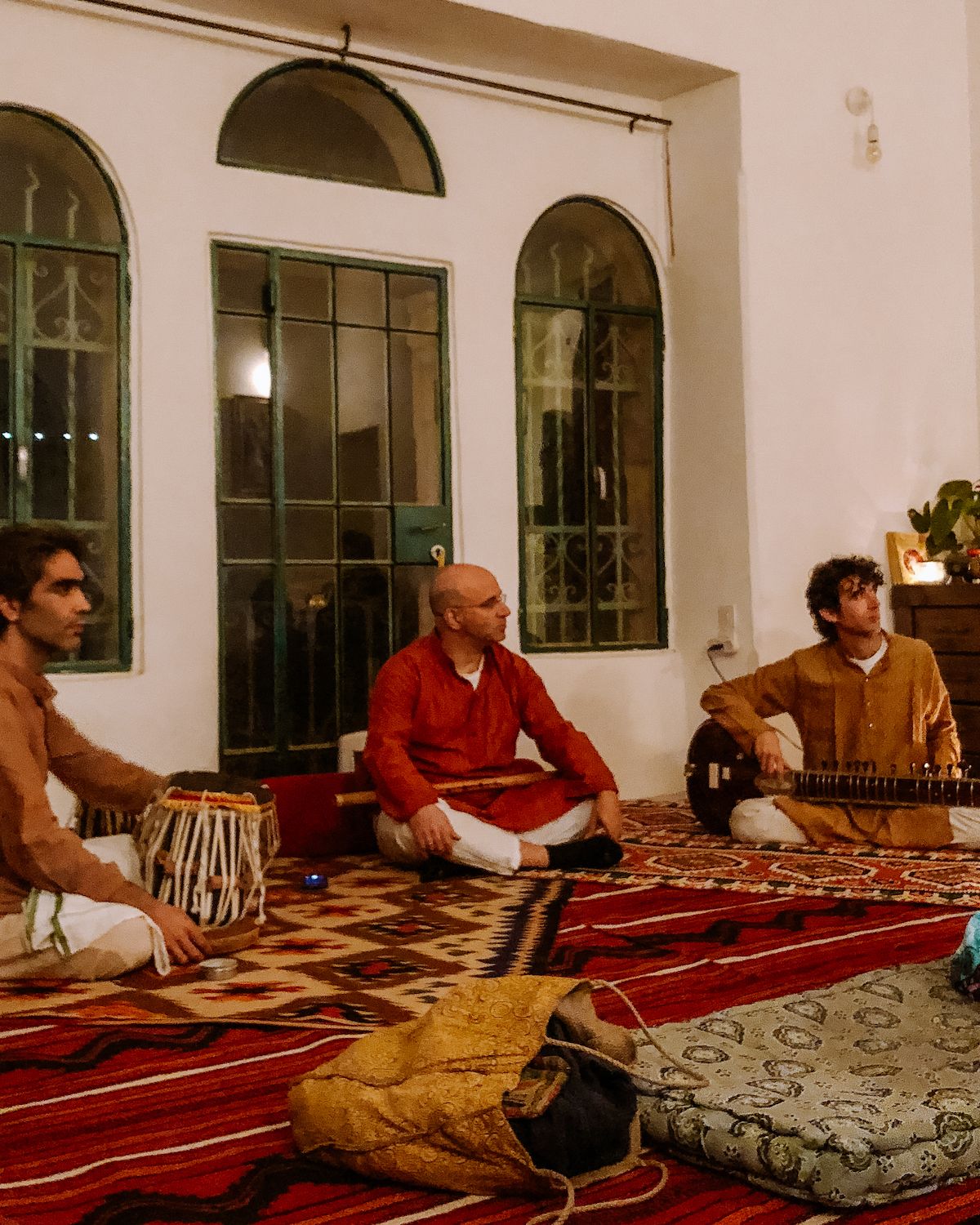 After all of the going out in Tel Aviv, we were looking for a quiet nature escape. The ancient village of Ein Karem in the outskirts of Jerusalem was just that. It's known as one of the most beautiful and charming neighbourhoods of Jerusalem. Spend your day relaxing, exploring the historical sites and cute restaurants, or go on a hike in the area to enjoy the nature.
When we were exploring the village, we found a poster for a music event completely written in Hebrew. We decided to go, although we didn't know what we were getting ourselves into. The venue was at the top of a hill in someone's home and luckily a nice woman showed us the way and even took the bus with us there.
The risk paid off! We had homemade chai tea, sat on pillows and listened to incredible Indian classical music. If you find a poster for a music event like we did, go for it! ;)
How to get from Tel Aviv to Jerusalem and Ein Karem
Unfortunately for us, we partied too hard at Kuli Alma on Halloween and our bus trip to Jerusalem was a nauseating experience. When you're not hungover, the trip from Tel Aviv to Jerusalem is quite easy.
There are non-stop busses that go all day from Tel Aviv Central Bus Station or Arlozoroff Terminal to the Jerusalem Central Bus Station. The bus journey takes under one hour.
From the Jerusalem Central Bus Station, it's a 20-minute taxi or 30-minute transit to Ein Karem.
For transit from the Jerusalem Central Bus Station to Ein Karem, first take Bus 39 to Yefe Nof Light Rail Station. Next take Bus 28 and get off at En Kerem/HaMa'ayan.
Where to stay in Ein Karem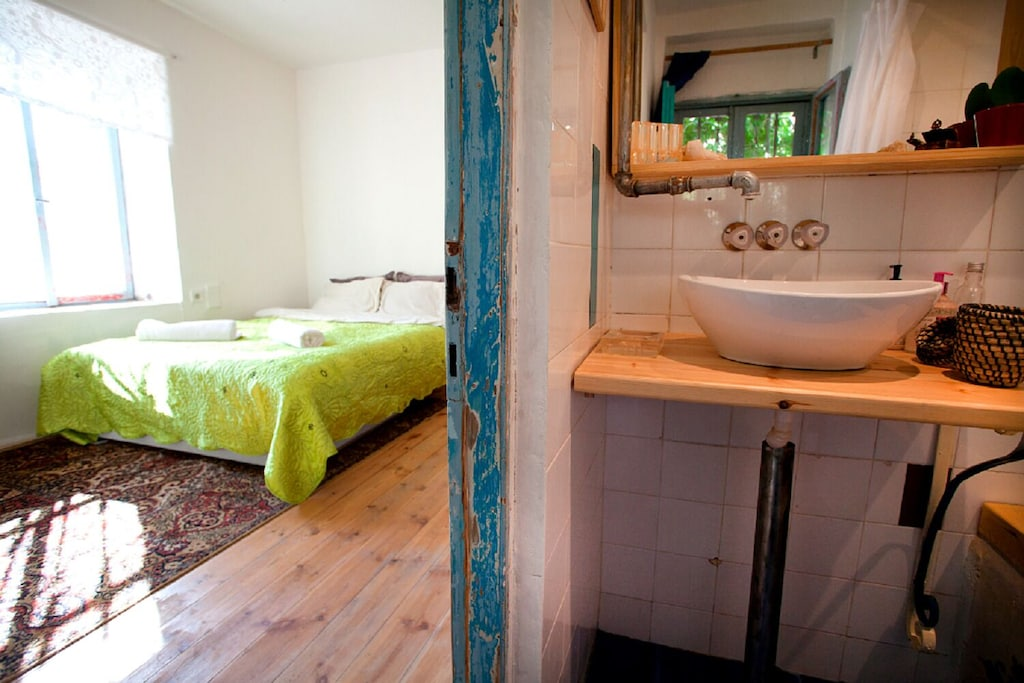 Days 7-10: Jerusalem & The Dead Sea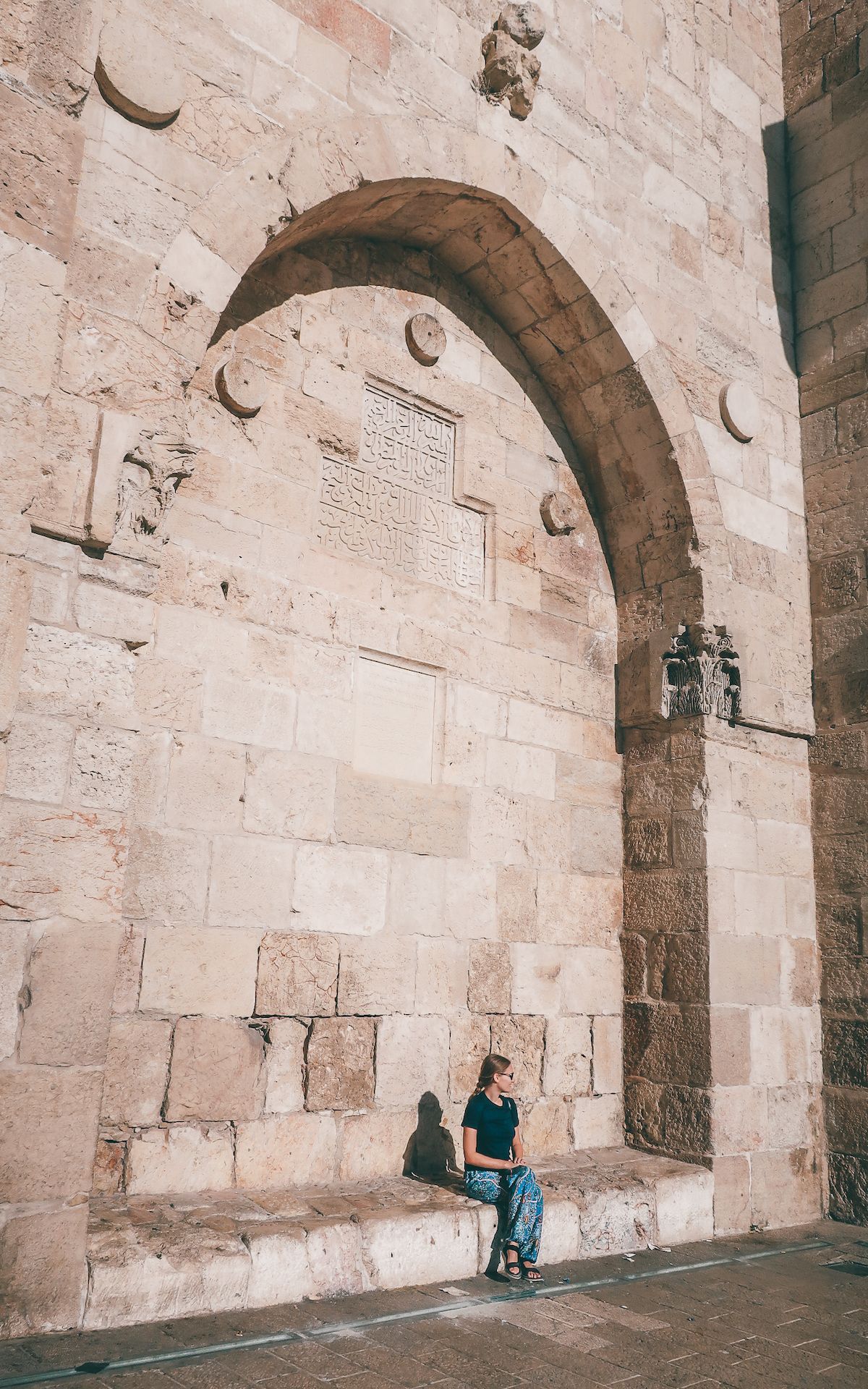 The Old City Jerusalem
The atmosphere in Jerusalem was very different from Tel Aviv. Where Tel Aviv is a modern city, Jerusalem is one of the oldest cities in the world. The walls of the old city in Jerusalem were made in the 1500s and inside them sit some of the world's holiest monuments today. The space is shared by Christians, Jews, and Muslims all having an array of beliefs that you can't imagine to take in with just a single visit. Take time to walk around and explore the Old City both during the day, and night, when the cobblestone streets are deserted.
Where to stay in Jerusalem
Best apartment-style hotel: Mamilla View Suites. In a prime location close to many restaurants and bars. Only a 9 minute walk away from the Old City. It's located on a busy street so expect to hear some street noise.
Best value hotel: My Jerusalem View. An 18 minute walk away from the Old City, but only 5 minutes away from Machane Yehuda, one of the best markets in Jerusalem. Rooms are modern with nice views. The rooftop offers panoramic views of the Jerusalem.
Best inside the Old City: Old City Boutique Hotel. Located inside the Old City walls in the heart of the Christian Quarter. This is a good choice if you plan to spend most of your time in the Old City exploring historical sites.
🥔💨 Burnt Potato: The Post Hostel. We wanted to like it, but had to listen to a very loud buzzing generator located outside of our window in the courtyard. It was loud even with the window closed. We made two attempts to switch our room, but they couldn't make it work since all rooms in our category face the courtyard. Beware!
Must do experience in Jerusalem
Where to eat in jerusalem.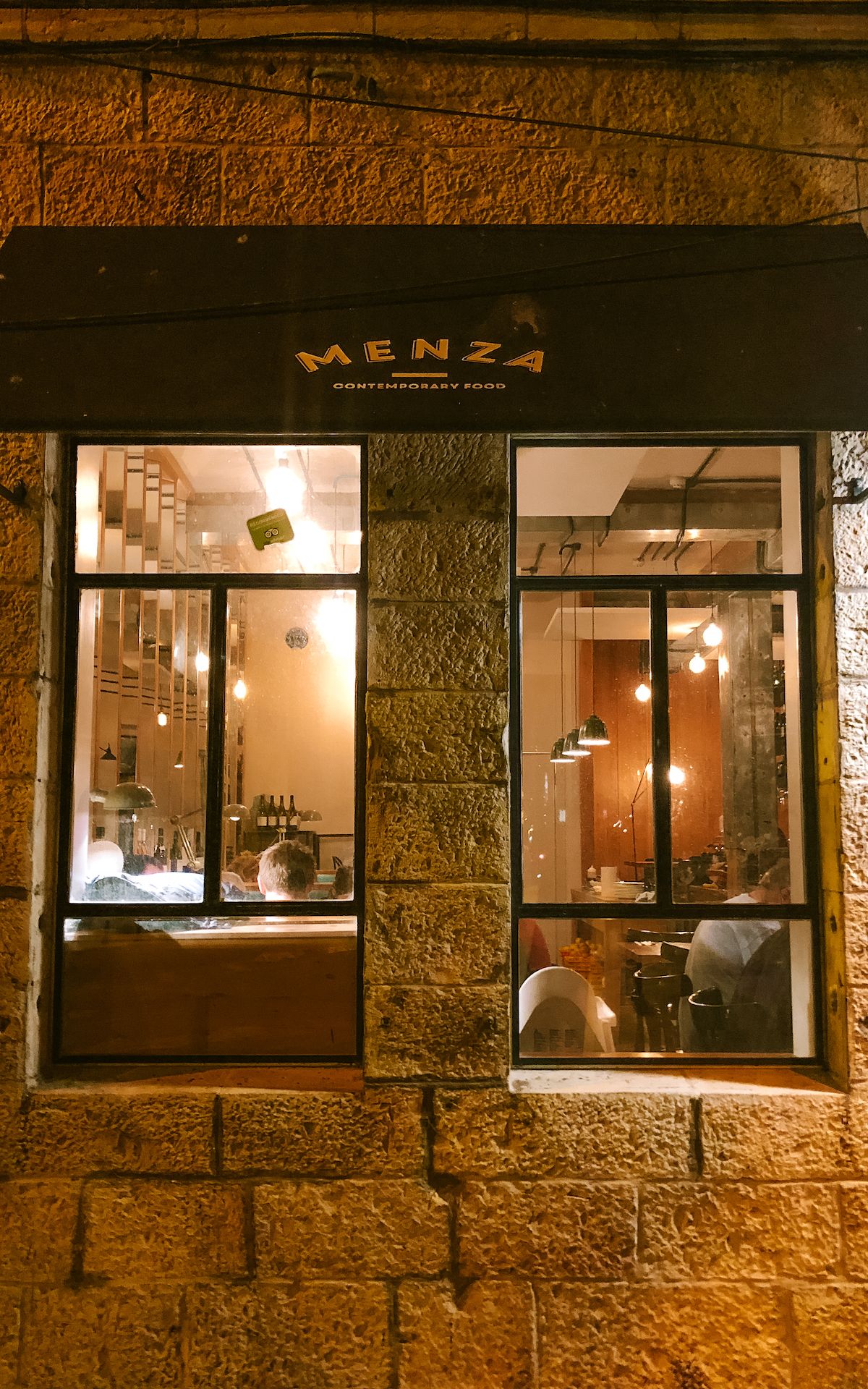 Left: Menza | Right: Gatsby Cocktail Room
Best restaurant: Menza
We were walking around Friday evening in Jerusalem on Shabbat, Judaism's day of rest, and were having a hard time finding a place to eat. From sunset on Friday to sunset on Saturday, most businesses close. Luckily we found Menza, a modern brassiere open 7 days a week, that serves fresh food and cocktails. We ordered ribs and a burger on a homemade bun. It was delicious! We also liked sitting on their outside patio and people watching.
Best place for cocktails: Gatsby Cocktail Room
Gatsby is a 1920s-style prohibition bar with an Art Deco interior for cocktail lovers. In Jerusalem, it's hard to find cocktail bars like you find in Tel Aviv, so we were in for a treat! Since it's a prohibition bar, there is no sign. Look for a fake green-grass covered door by a coffeeshop, and you'll know you've found it.
Best food market: Machane Yehuda
Shuk Mahane Yehuda Market Food Tour
Machane Yehuda Market Food Tour with 6 Tastings
Best views of Jerusalem
Best view of the old city: the austrian hospice.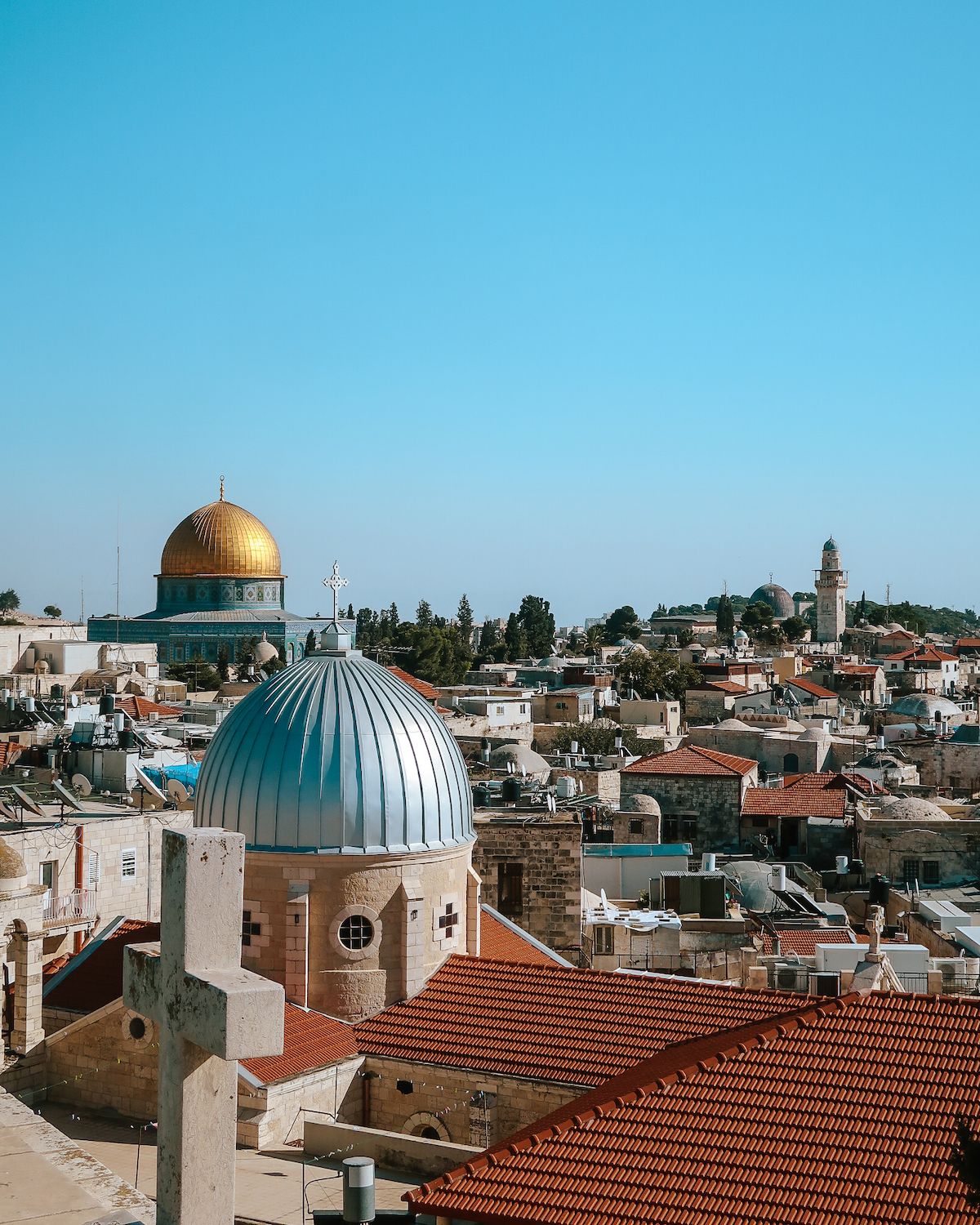 In the hustle and bustle of the Old City, there's a tranquil and quiet sanctuary known as The Austrian Hospice. It was created in 1863 as a pilgrims' guesthouse for primarily Austrian pilgrims. Go up the steps and ring the doorbell for them to buzz you in. Once inside, you'll walk up some stairs to a Viennese palace-styled hospice and cafe.
We ordered coffees and schnitzel, and sat outside on the beautiful patio! You can pay a small fee to go to the very top of the hospice and see a birds eye view of the Old City.
Best panoramic view of Jerusalem: Tayelet Haas Promenade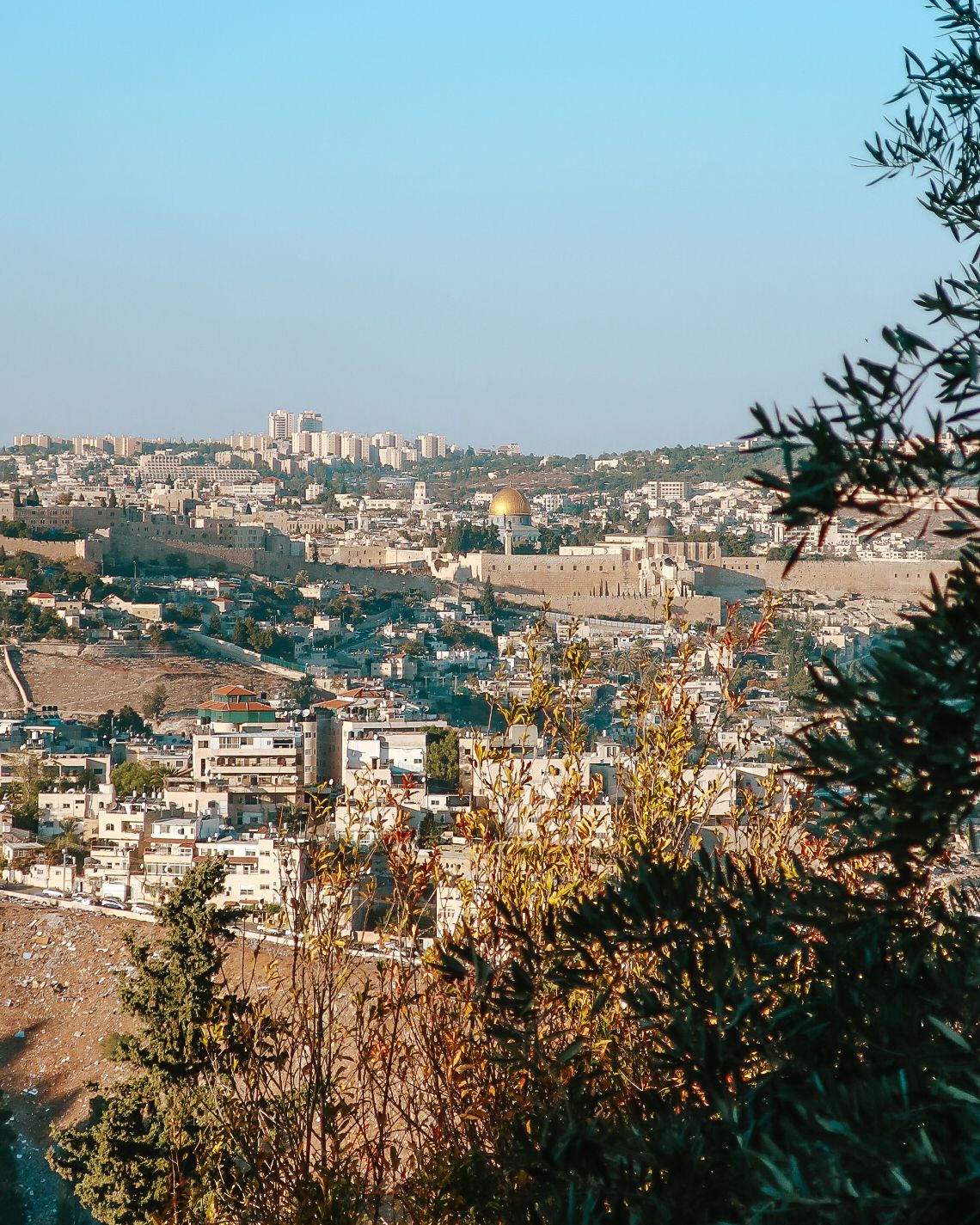 The Tayelet Haas Promenade has the best panoramic view of Jerusalem, where you can stroll on paved walkways or sit in the green grass and enjoy a picnic. To get there by transit, take the bus south to Hebron Road/Daniel Yanovski Road. From there, walk east on Daniel Yanovski Road and the promenade will be on the lefthand side at Trotner Park.
Day Trip to the Dead Sea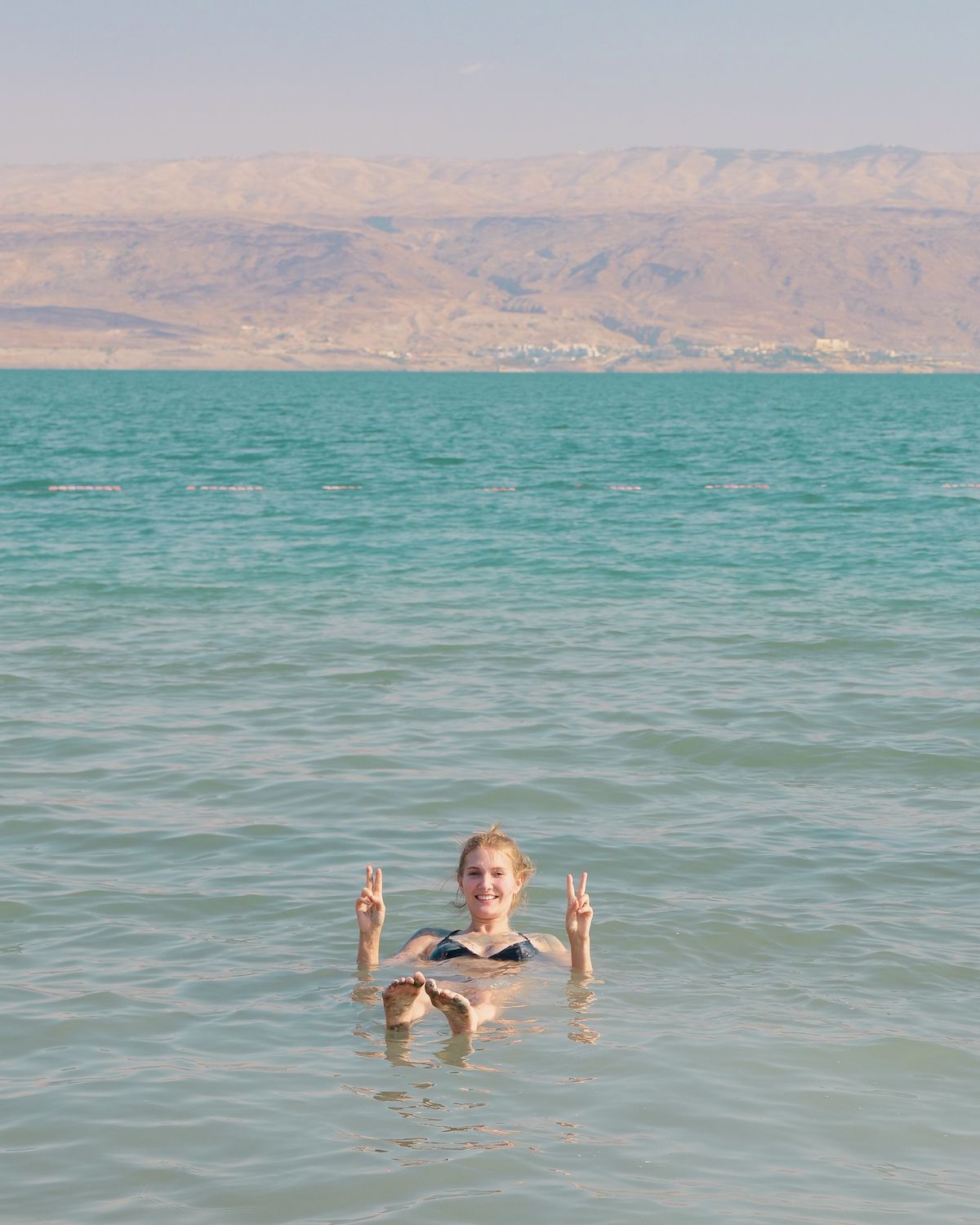 You will also want to save a day to float in the Dead Sea. It lived up to the hype and turned out to be one of our favourite activities we did in Israel. It felt like floating in outer space!
The Best Dead Sea Beach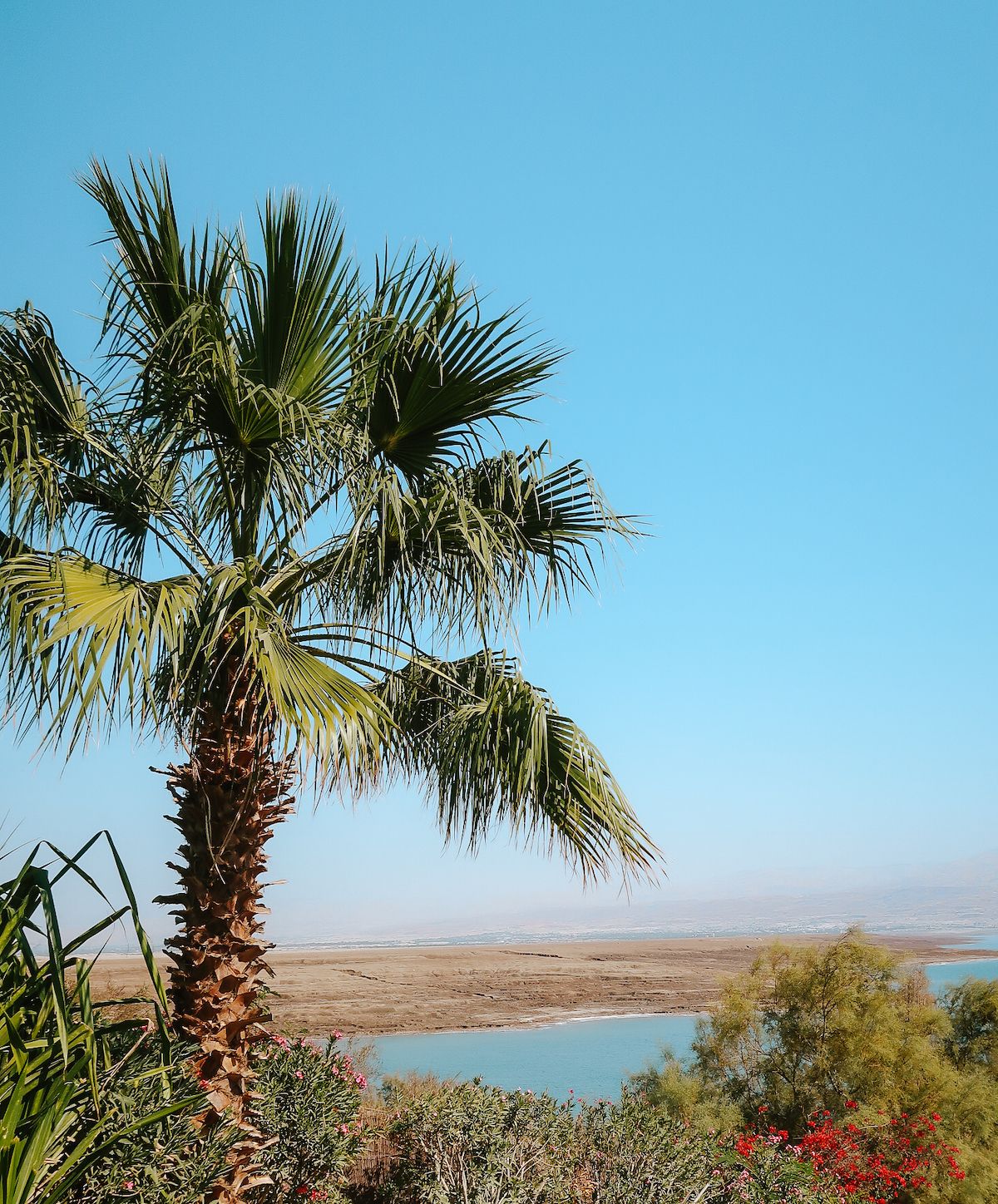 The best beach at the Dead Sea is Kalia Beach. There is a entrance fee of 60 NIS (~$17 USD), however you don't have to purchase packs of mud like you do at other beaches. The natural mud at Kalia Beach contains minerals and removes skin impurities, so get dirty and have fun. Our skin was silky smooth after. Since the Dead Sea is the lowest place on earth (420m below sea level), the oxygen level is very high. All things combined make for an amazing health experience!
Kalia Beach also has clean facilities, snacks, a gift shop and the "Lowest Bar in the World".
How to get to Kalia Beach from Jerusalem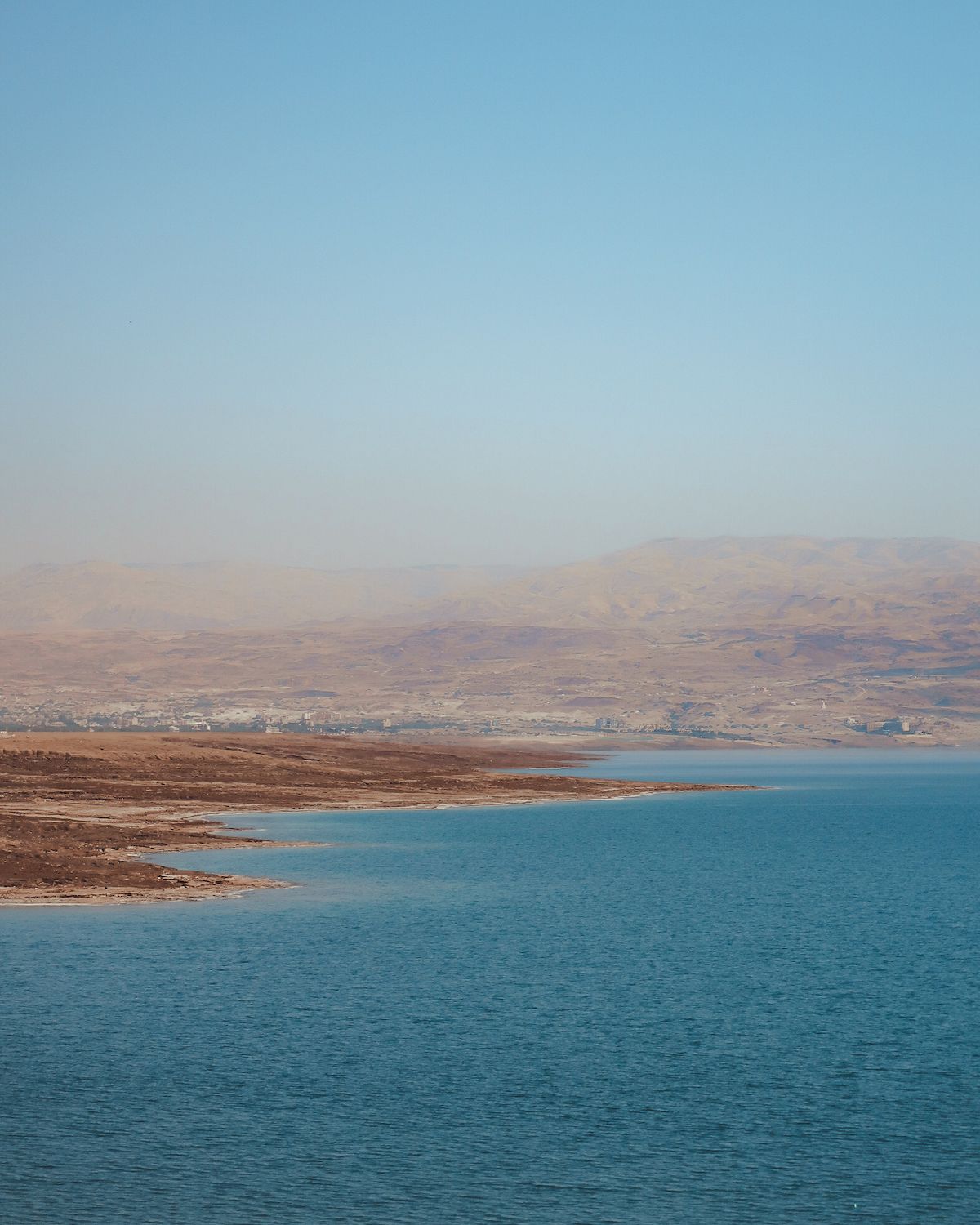 From the Jerusalem Central Bus Station, take Bus 486 ten stops to Kalya Beach stop. Make sure to look up departing times on Google Maps, since it doesn't leave very often. From there it's about a 15 minute walk to the beach. Don't miss the abandoned village along the way covered in artwork. The total journey should take you about 50 minutes.
Important: make sure you push the "stop" button on the bus, or else the driver will drive past your stop! We learned the hard way.
On your way back, take bus 486 or 444. Check out timing on Google Maps, so you don't wait too long.
Days 11-13: Jordan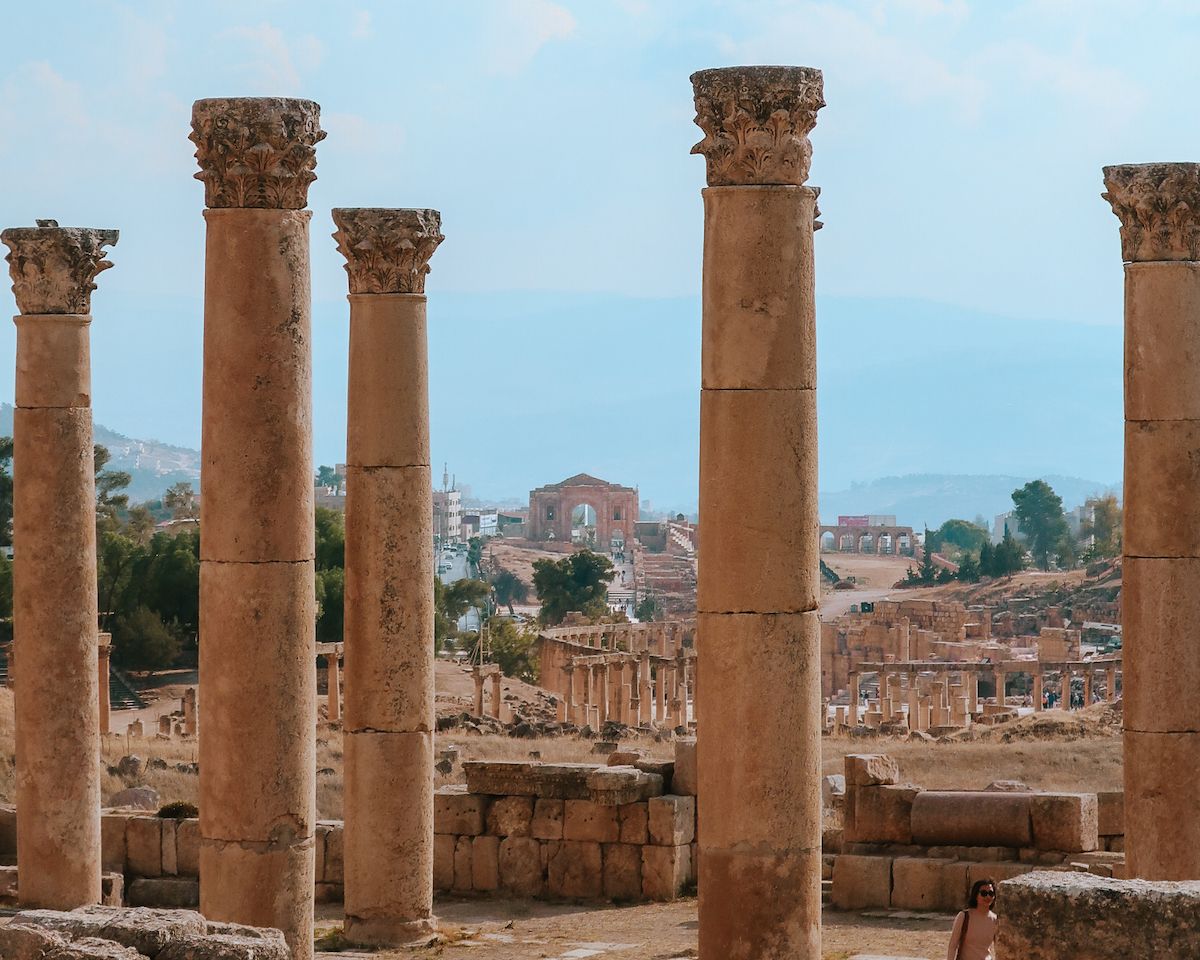 Don't miss our list of 12 things to know about your Jordan tour with Abraham Tours.
Here is what we did on our tour: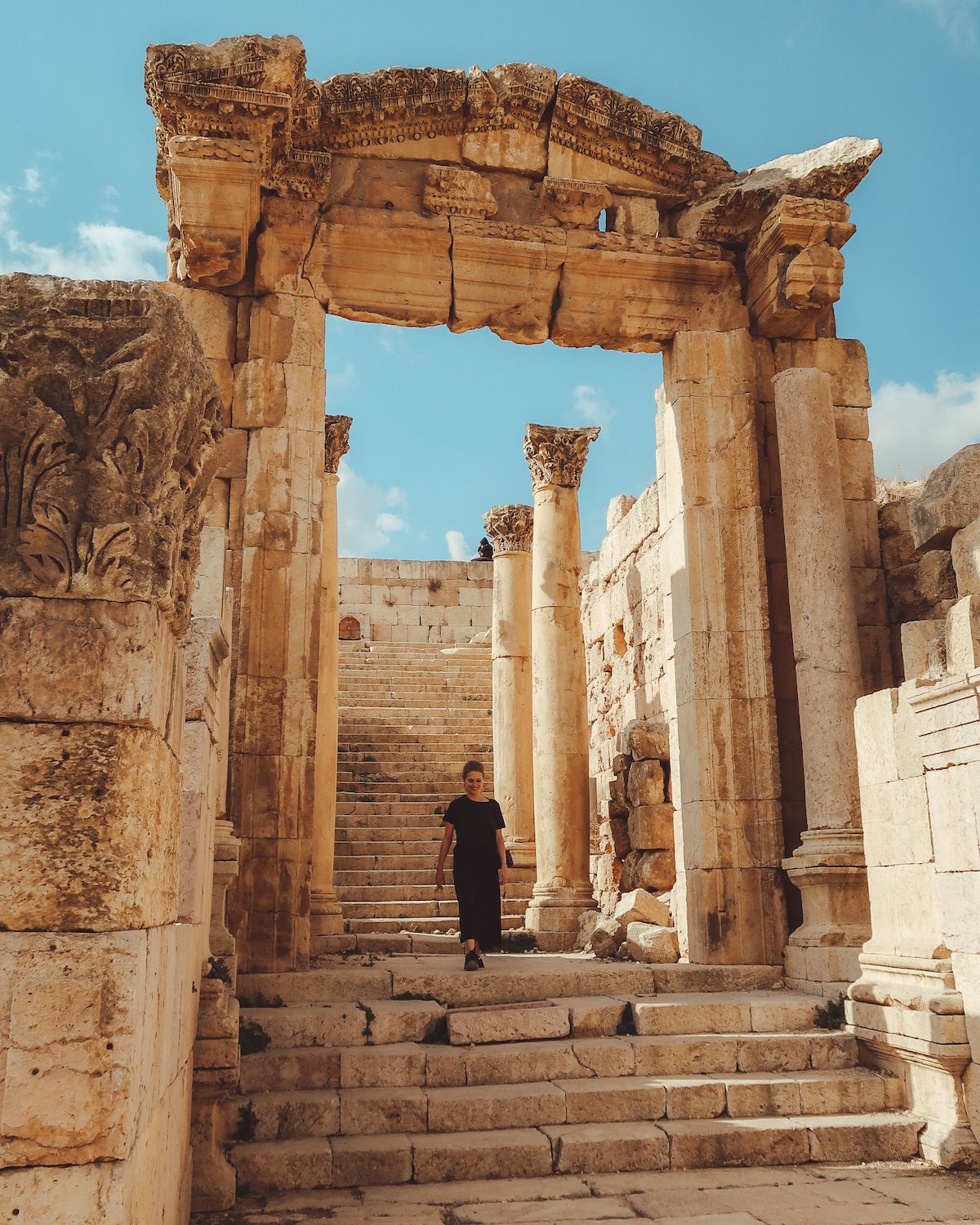 Our first day we explored Jerash, a city we've never heard of that literally made our jaws Jerop. As we walked through the ancient Roman ruins, it was easy to imagine what life would have been like 2000 years ago, with streets for chariots, fountains and a large amphitheatre. It was one of the 10 great Roman cities of the Decapolis and was hidden for centuries until a traveller found it buried in the sand.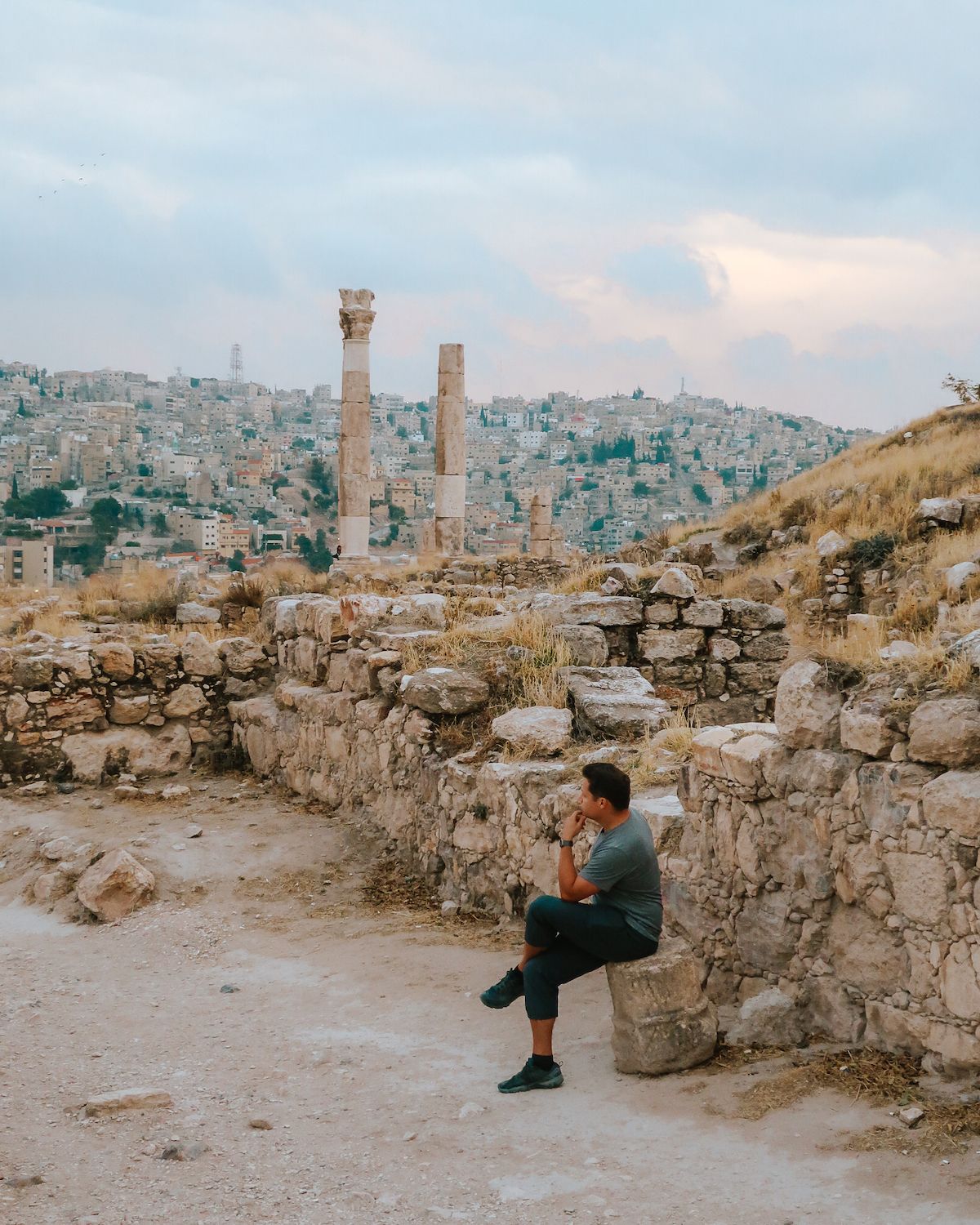 After our visit to Jerash we drove to the capital city of Amman where we walked around in the Amman Citadel. You can see amazing panoramic views of the city from the historical site located in the downtown area.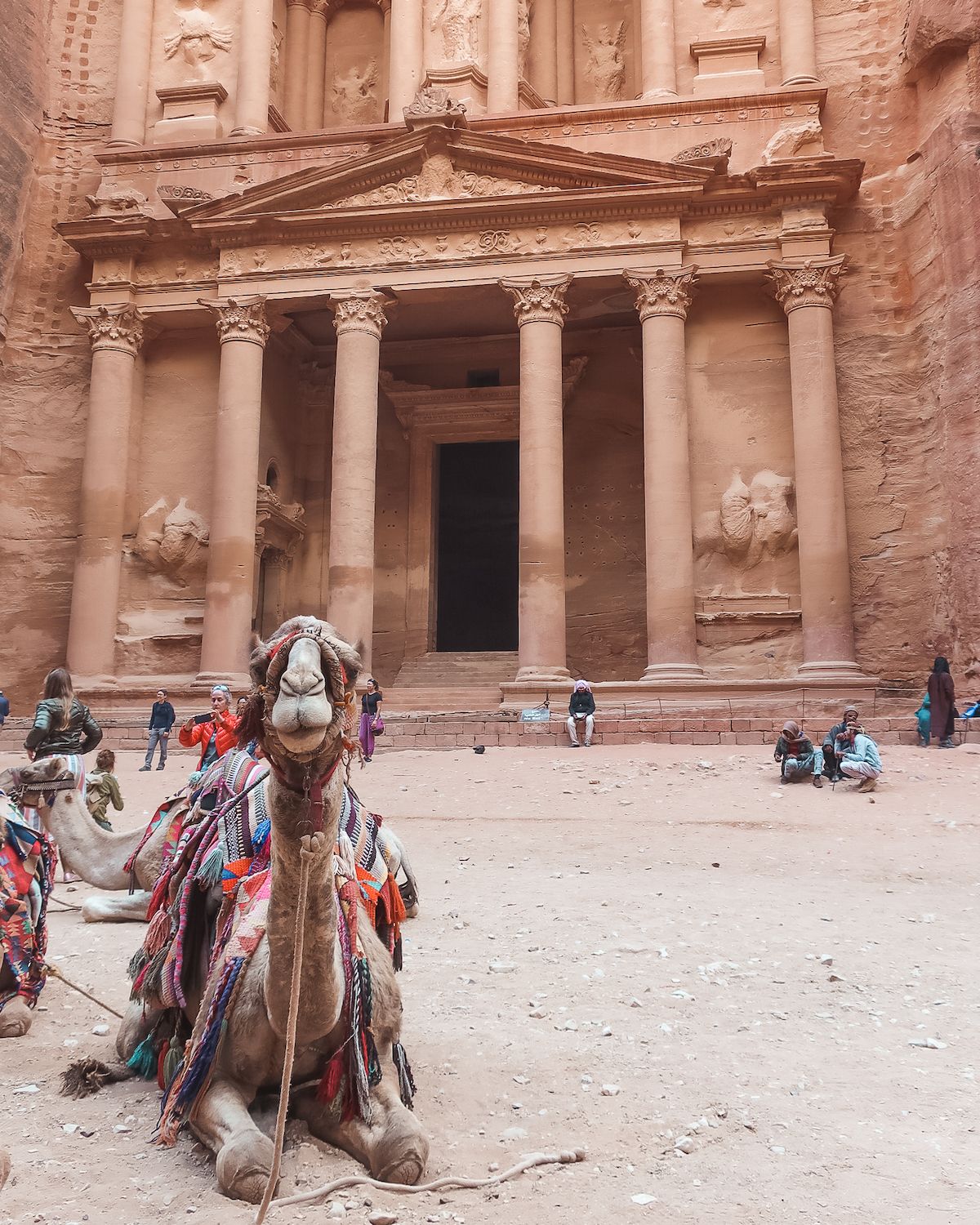 The second day we experienced one of the New 7 Wonders of the World, Petra. It felt incredible seeing it in real life! To get to the entrance of the treasury you have to first walk 2 km through a canyon. It's an easy flat walk, and takes about 30 minutes. Once you arrive, you will see the famous treasury, camels laying about, tombs, and vendors selling souvenirs.
How to see the best view of the treasury in Petra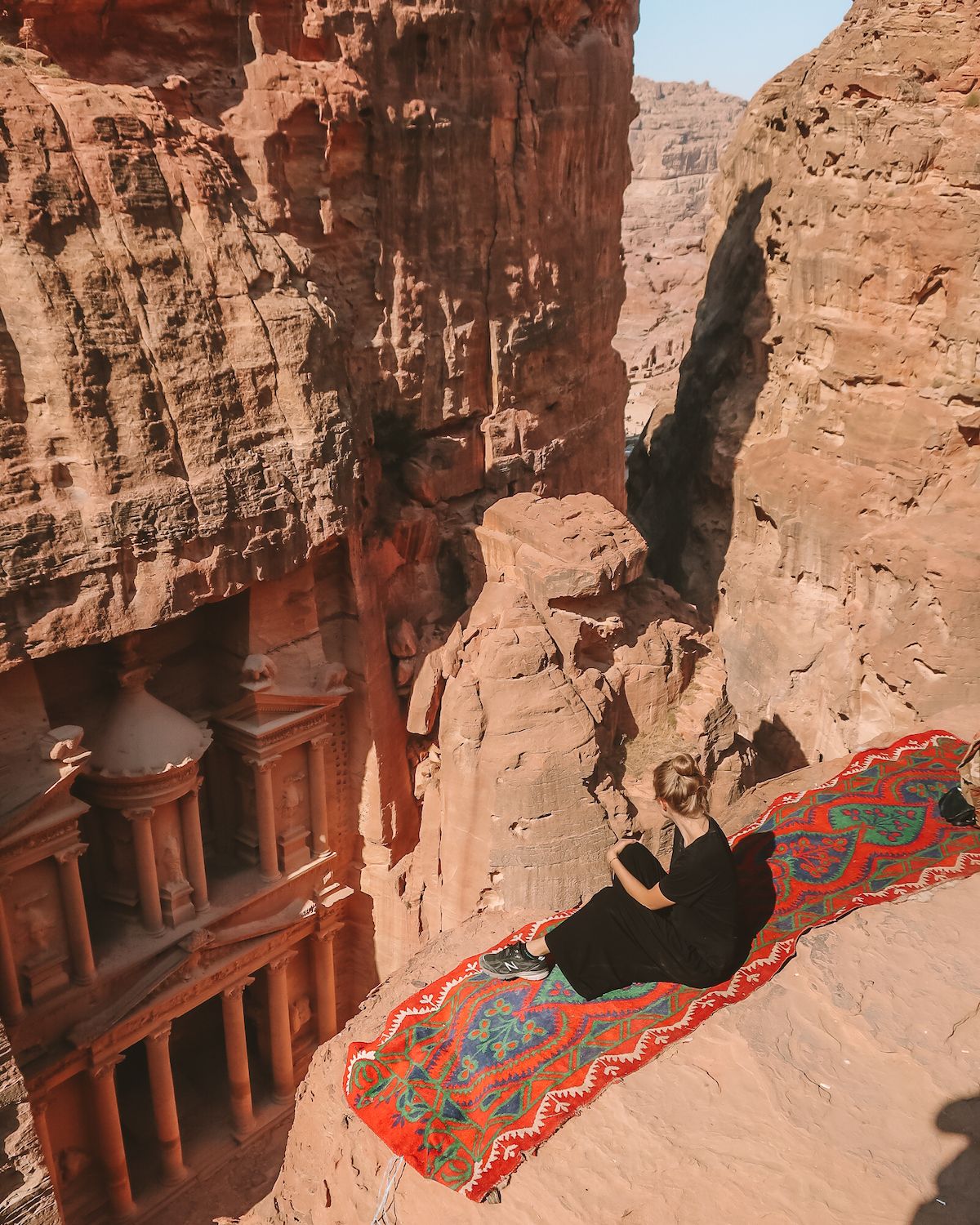 There are two ways to hike to the Petra Treasury overlook:
The first way: hire a local guide to take you the short and steep way. Warning: it is very steep , but only takes about 20 minutes to get to the top. We took the short version and had fun climbing and hiking up the rocks. It can be dangerous, so ensure you have a guide with you if you decide to do it. Once at the top, there was a blanket laid out where we could take a picture with the treasury in the background.
The second way: take the longer but less steep Al-Khubtha Trail. The scenic trail starts beside the Palace Tomb and will take you between 2-3 hours round trip. You can hike the route yourself or hire a local guide to help you. You will be rewarded with beautiful views of the Treasury at the end.
Wadi Rum Desert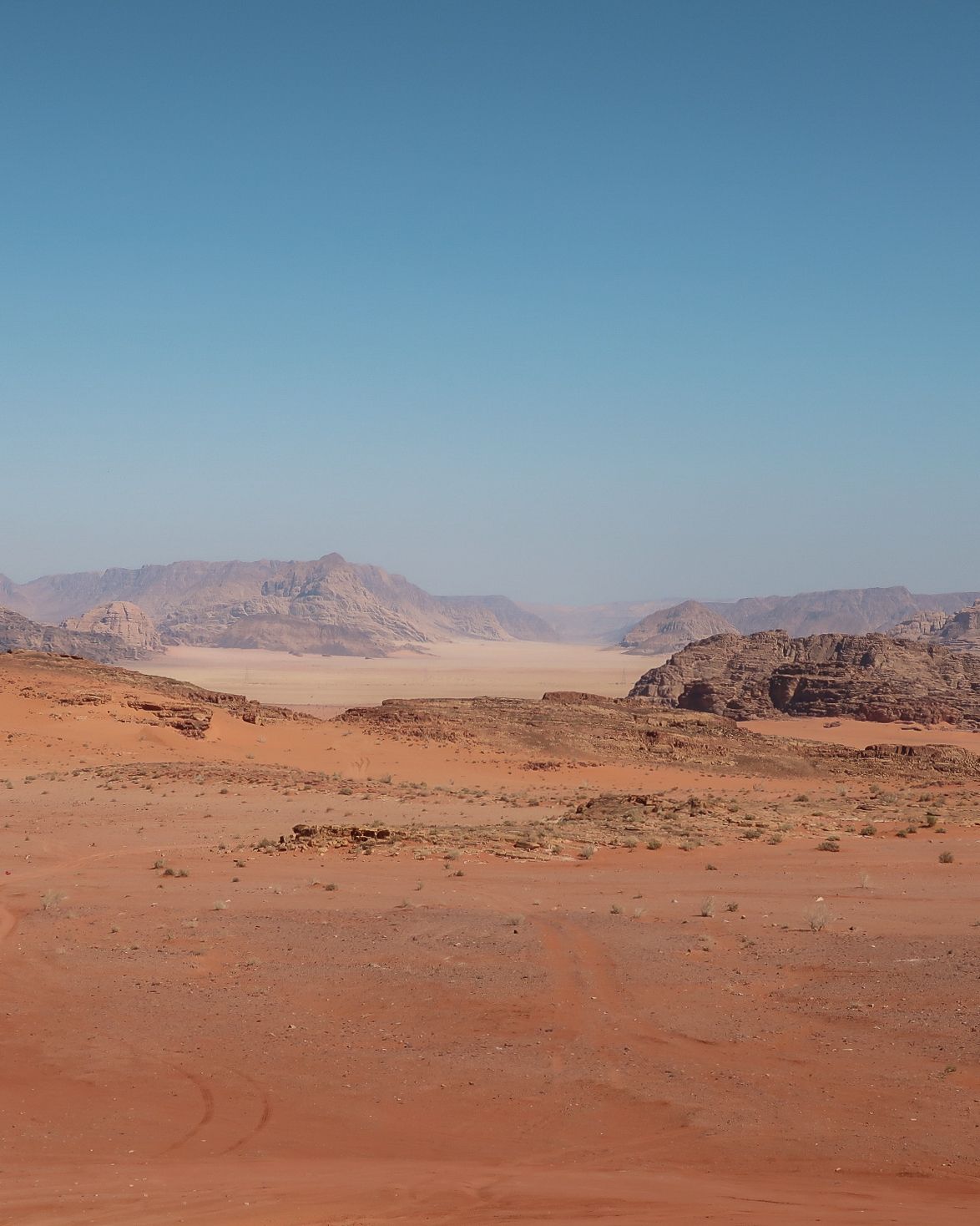 On our third day, we rode in the back of a 4x4 truck through the magnificent Wadi Rum Desert. We saw in the distance the set of Star Wars filming and heard they hired 400 Jordanian soldiers as storm troopers. How cool is that!
Jordan is a progressive middle eastern country, and we always felt safe and welcome. A fun fact, King Abdullah II of Jordan went to high school school in the US, was enrolled in the UK's Royal Military Academy, and gets around by flying his own Black Hawk helicopter. He's a badass!
Day 14: Travel day
With the tour in Jordan ending back in Israel, it makes it easy to add Jordan as an extension to your trip and then fly back out of Israel.
We hope you enjoyed this two week Jordan and Israel itinerary!
Start planning your trip to Israel and Jordan
🐫 Jordan tour from Jerusalem: book your 3-day Jordan tour with Abraham Tours through Viator. You can cancel for a full refund up to 7 days before departure.
💡 Travel tips: see our list of 12 helpful things to know about your Jordan tour
🌃 Accommodation: Booking.com is our go-to for finding places to stay. Sort by top reviewed.
🥙 Fun activities: browse GetYourGuide and Viator for a list of guided tours in Israel. They have free cancellation up to 24 hours before.
🧆 Have a home-cooked dinner with a local: Betzavta is the Airbnb of finding Israeli locals to host you for dinner.
🛫 Flights: use Skyscanner to compare flights across different airlines (we recommend booking direct with the airline however).
Check out our travel vlogs of Israel and Jordan!
Save and pin this Jordan and Israel itinerary for later: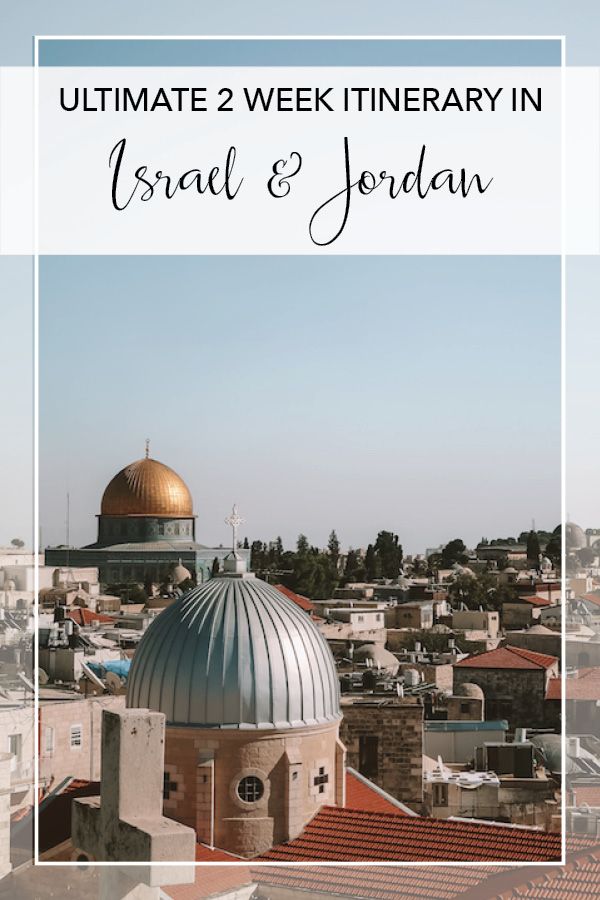 Looking for more travel inspiration? Check out our list of Unique Cultural Experiences to Inspire Your Next Trip and 20 Relaxing Travel Ideas to Clear Your Mind .
Are you a food lover? Don't miss our list of Outstanding Gastronomic Experiences Around the World .
You may also like:
Ultimate 3 Day Marrakech itinerary
How to Spend 2 Days in Marrakech
18 Unique Things to Do in Marrakech
What to Do in Marrakech at Night
2 Days in Abu Dhabi itinerary
Featured Posts
11 best things to do in abu dhabi in summer.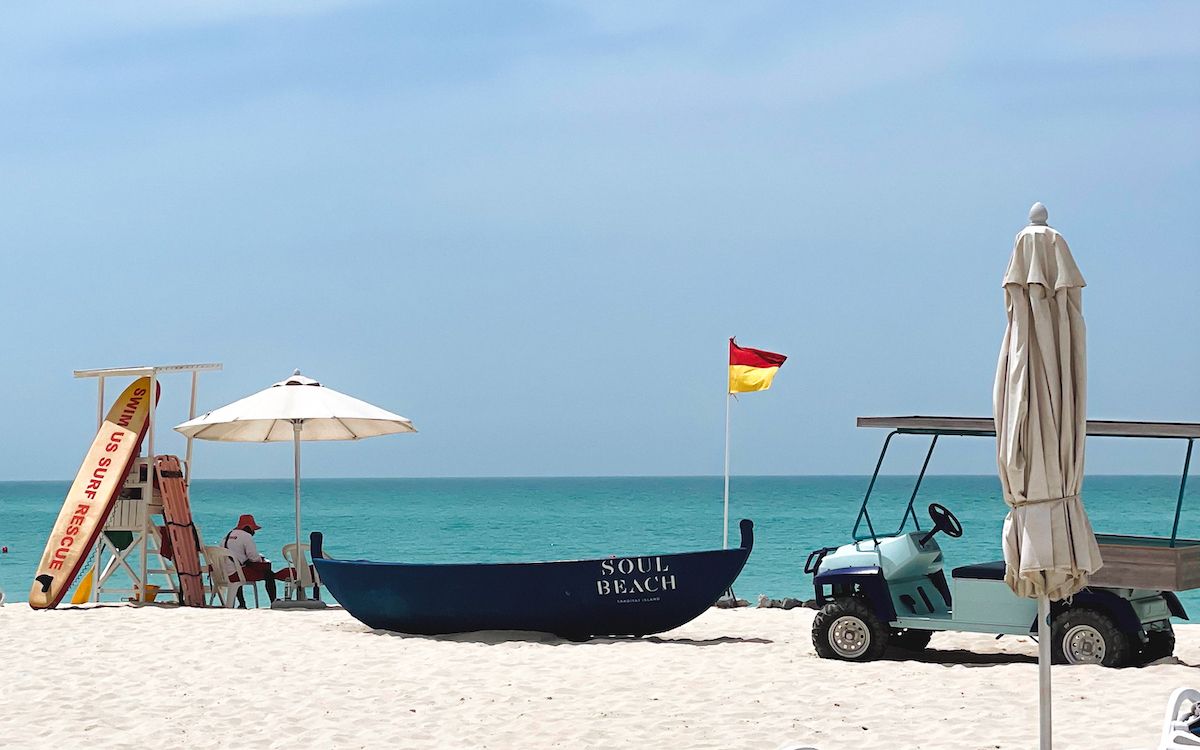 With sweltering temperatures during summertime, you'll want to be smart about what activities you do in Abu Dhabi. From refreshing places outdoors to fun activities inside, we list the best things to do in Abu Dhabi in summer that won't break you into a sweat.
9 Best Couples Getaways in Ontario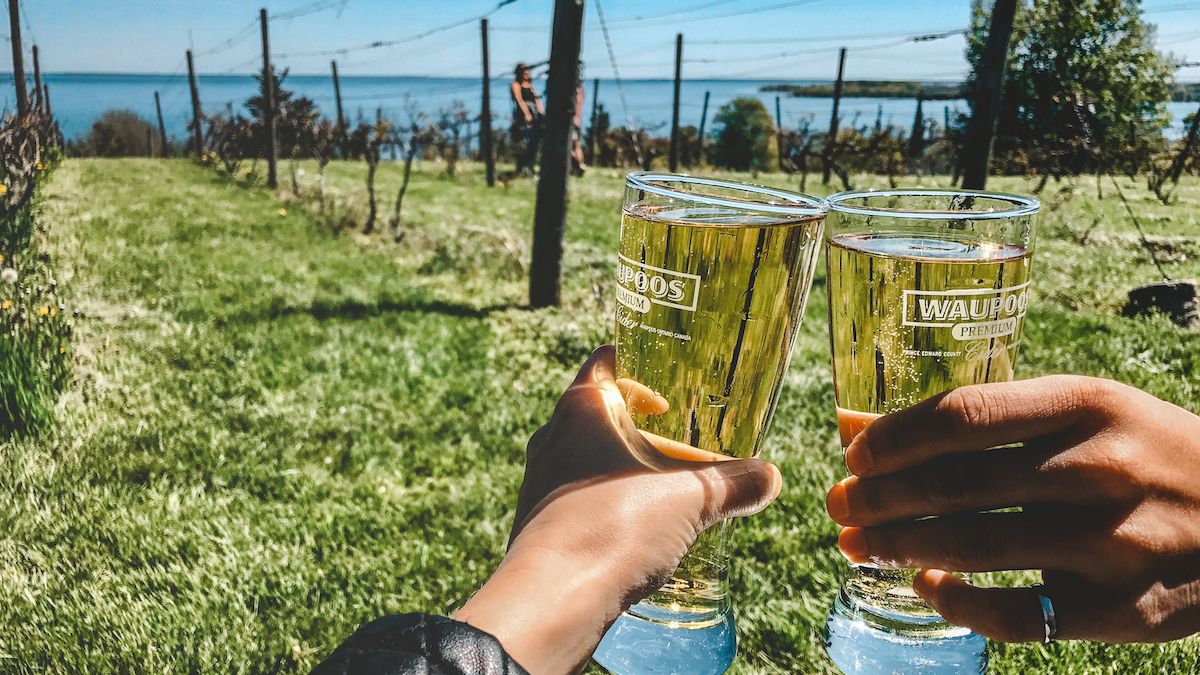 Discover quaint villages, scenic gastronomic regions, luxury spa retreats and off-the-grid places in our list of the best couples getaways in Ontario.
How to Spend One Day in Abu Dhabi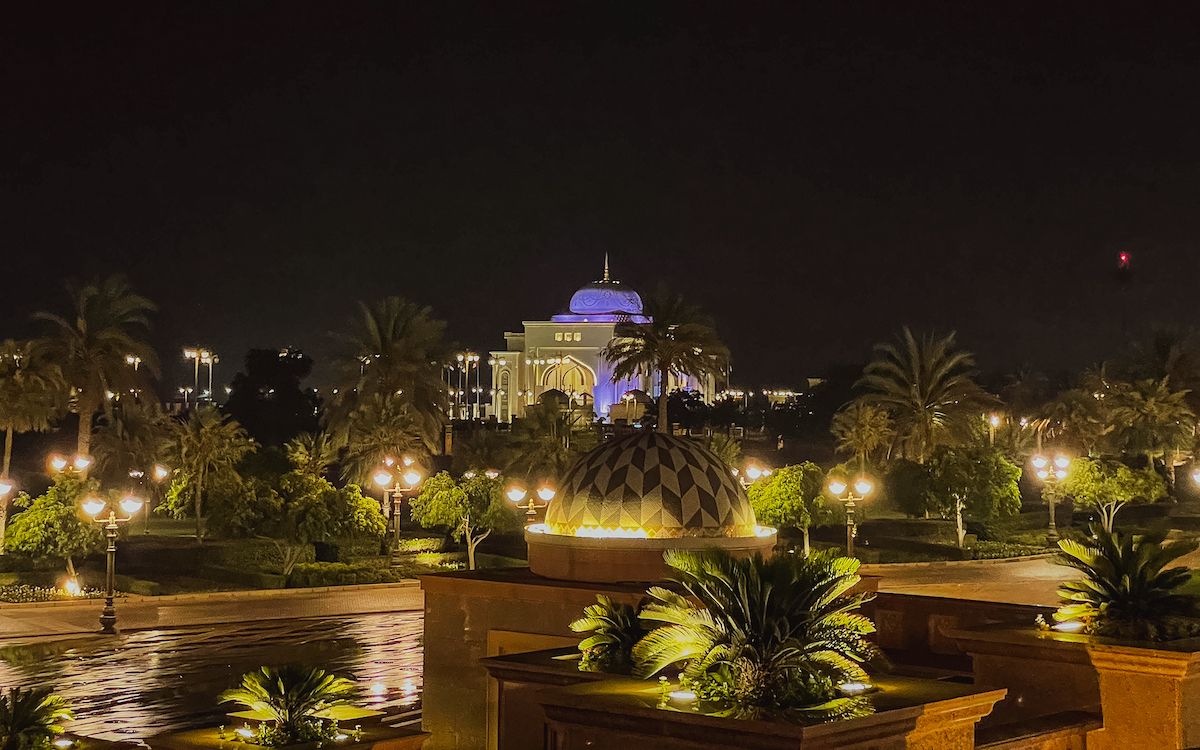 If you have just one day in Abu Dhabi, we cover the best things to do and see in the capital city. Our Abu Dhabi 1 Day Itinerary includes the nicest white-sand beaches to visit, unique dining spots and architectural sights you don't want to miss.
Search Groovy Mashed Potatoes - Travel Blog
Israel Tourism
Israel Hotels
Israel Bed and Breakfast
Israel Vacation Rentals
Flights to Israel
Israel Restaurants
Things to Do in Israel
Israel Travel Forum
Israel Photos
Israel Travel Guide
All Israel Hotels
Israel Hotel Deals
Last Minute Hotels in Israel
Things to Do
Restaurants
Vacation Rentals
Travel Stories
Rental Cars
Add a Place
Travel Forum
Travelers' Choice
Help Center
14 Day Itinerary of Israel and Jordan - Is this feasible? - Israel Forum
14 Day Itinerary of Israel and Jordan - Is this feasible?
United States Forums
Europe Forums
Canada Forums
Asia Forums
Central America Forums
Africa Forums
Caribbean Forums
Mexico Forums
South Pacific Forums
South America Forums
Middle East Forums
Honeymoons and Romance
Business Travel
Train Travel
Traveling With Disabilities
Tripadvisor Support
Solo Travel
Bargain Travel
Timeshares / Vacation Rentals
Middle East forums
Israel forum
I would like to know if our itinerary sounds feasible or if there are more sights that we should explore. Any comments or suggestions would be very much appreciated!
Day 1 - Jerusalem
- Western wall and Tunnels
- Church of the Holy Sepulchre
- Dome of the Rock
- Bible Lands Museum
Day 2 - Jerusalem (Friday)
- Ben Yehuda Street, Mahane Yehuda Market
- Nachalat Shiva, Mamilla Alrov Avenue
- Mea Shearim
- Kabblat Shabbat @ Western Wall in the evening
Day 3 - Jerusalem (Saturday)
- Mount of Olives, Tomb of Zechariah, Garden of Gethsemane
Day 4 - Tel Aviv
- Take a Sheirut to Tel Aviv from Jerusalem
- Shabazi street, Suzanne Dellal Centre for Dance and Theatre
- Ceramics studio of Samy D.
- Clouche House, Rokach House
- Carmel market, Old Jaffa, Tel Aviv Port
- Return to Jerusalem at night
Day 5 - Haifa
- Take bus from Jerusalem to Haifa
- Explore Haifa
Day 6 - Jerusalem (Tuesday)
- Israel Museum
- Yad Vashem
Day 7 - Jerusalem (Wed)
- City of David, Tower of David
- Yemin Moshe
- Night Spectacular @ Tower of David (8:30pm)
Day 8 - Masada (Thursday)
- Take Egged Bus 486 from Jerusalem to Masada
- Check into Masada Guest House & Youth Hostel, unload luggage
- Take Egged Bus 486 to Mitspe Shalem Mineral Beach. Soak in the Dead Sea
- Return to Masada Guest House via Egged Bus
Day 9 - Masada (Fri)
- Hike Snake Trail to catch sunrise to Masada
- At noon, take Egged bus 486 from Masada Centre to Eilat Central Bus Station
- From Eilat Central Bus Station, take a taxi to the Border Terminal
- After crossing the border, take a taxi to Aqaba
- Explore Aqaba in the evening
Day 10 - Wadi Rum (Sat)
- Begin Rumstars 1 day 1 night Bedouin tour of Wadi Rum
Day 11 - Petra (Sun)
- JETT bus from Aqaba to Petra
- Explore Petra with local guide (this is our second trip to Petra and I think one day would suffice)
Day 12 - Amman (Monday)
- Chill out in the morning
- At noon, JETT Bus from Petra to Amman
- Explore Amman in the evening
Day 13 - Amman
- Amman Citadel, Royal Automobile Museum, Jordan Museum
- Hercules Temple, Roman Theatre
Day 14 - Amman
- Explore the streets of Amman
- Depart for Queen Alia International Airport at 1pm.
I would really appreciate some advice on the transportation between cities, and also regarding the Dead Sea. Is the Mitspe Shalem Mineral Beach worth the time or should we go to another part of the dead sea?
I'm looking forward to reading your advice and comments!
Kindest regards,
Haifa : I would give priority to visiting Akko - it is more interesting and logistically much easier - take the train. On the way to Akko you can get off at the Haifa "HaShmona" station and visit the Bahai Gardens.
Jordan : post your itinerary on the Jordan forum for comment.
I would consider shifting Haifa to Day 7. Rent a car and drive yourselves up to Haifa, maybe check out Akko and stay over somewhere in the North. Drive over to the Sea of Gallilee and then down to Massada on Highway 90. You can tour Massada and swim in the dead sea before driving yourselves down to Eilat where you can return the rental car and hop the border. I'm willing to bet a car rental of even a few days will be about the same as bus tickets for 2 people and a rental car will be way more convenient. My wife and I rented from Eldan when we were in Israel .
First of all, i want to praise you for your great and neat line-up. Good work.
About Dead Sea - Ein Bokek beach is much closer to Masada and it's free of charghe beach (the only free beach in the Dead Sea).
If you cross to Jordan in Eilat you have to come back via Eilat or Beit Shean, otherwise you have visa problems.
You could stay 1-2 nights in Tel Aviv to make the most of your time and not waste it on the road. Devote one day to Tel Aviv, on the next day take the train to Akko, on the way back spend 1-2 hours in Haifa and back to Jerusalem by bus.
This topic has been closed to new posts due to inactivity.
Transfer in tel aviv 7:42 am
Setting up simtoisrael in iPhone upon arrival. yesterday
Flying into, then out of Ben-Gurion, same day Nov 03, 2023
Car rental in Israel inexpensive Nov 03, 2023
How to call a number in Jerusalem with Whatsapp? Nov 02, 2023
Safe to travel now?! Oct 30, 2023
Bars Oct 29, 2023
El Al - Emergency Exit Row Seats Oct 26, 2023
Micheal Oct 25, 2023
Arkia Airlines - how to access website in English? Oct 24, 2023
Travelling to Israel as a Malaysian Oct 24, 2023
Traveling to Jerusalem on the 27th of October, is it safe? Oct 23, 2023
Ben Gurion airport Oct 21, 2023
Israel Tours Oct 21, 2023
Israel adapter plug 21 replies
What kind of weather can I expect in late March? 11 replies
what to buy in Israel 14 replies
Israel Tour Companies 9 replies
Power socket Israel? 4 replies
Power adapter for Israel 4 replies
Driving from Tel Aviv to Eilat 13 replies
souvenirs from Israel 13 replies
Israel Tourism Consultants 161 replies
Ashdod port to Jerusalem 113 replies
Getting from Ben Gurion airport to....
Border Crossing - Beit She'an ("Jordan River" / "Sheikh Hussein bridge")
Rav Kav- ( details on how to ride and PAY for public transportation)
Border Crossing - Allenby Bridge (King Hussein bridge)
Private guides?
Amman to Jerusalem/Tel Aviv/Nazareth and back
Eilat - Driving to and visiting
Detailed Report of Muslim Entering Israel
Money exchange and ATMs and VAT refund
Border Crossing - Eilat/Aqaba
Visiting Petra from Israel
Visiting the North
Cruises: Shore-excursions from Ashdod and Haifa ports.
Touring the Negev
Visiting Bethlehem from Jerusalem
Dead Sea region
Public transportation information in Israel
Escorted tours
Can I visit the Temple Mount? Dome of the Rock?
Border Crossing - Taba (Israel/Egypt near Eilat)
Visas to Israel
National and religious holidays, and the effect on travelers
Things to do with children in Israel
Off-the-beaten-track places to visit in Israel? ( multiple threads)
Luggage storage locations across Israel
Day Passes & Coupons to popular Israeli attractions
Electrical outlets, converters, and plug adapters in Israel
Where can I find good, on-line maps of the Old City of Jerusalem?
Top Guide Books for Israel
Handicapped tourists information
Driving in Israel (with/without GPS)
Gluten free Israel
How do I pay for fuel with a credit card at the self-serve station in Israel?
Restaurants open on Shabbat in Jerusalem
Safety concerns in Israel
Passover seder in Israel: Options
Cell Phone Use in Israel -- collected threads
The Machane Yehuda visitors guide thread
Iphone/IPad Apps
Summer Activities for kids (and more)
Clothing suggestions
Details on Crossing the Sheik Hussein Crossing. ( northern crossing to Israel
Tipping in Israel
Getting from the airport to Jerusalem by bus
Restaurants in Israel with a view
Tel Aviv markets
Quality Christian and Jewish souvenirs
What to see and do in Tel-Aviv
Safety in travel to Israel during war in October 2023 (Non-political only!)
Quiltripping
Life is a patchwork of experiences
Tips for an Independent 10 Day Israel and Jordan Itinerary
I planned our 10 day Israel and Jordan itinerary around my most important criteria: spending two days in Petra. A visit to the Petra Archeological site was high on my travel bucket list and I wanted to have plenty of time to take in this ancient wonder.
Last Updated on 03/22/21 by Rose Palmer
A ten day trip to Jordan and Israel was definitely not going to be enough time to see all that these two history rich countries had to offer, but that was all the time we had. So I prioritized what I wanted to see and built my itinerary around this, adding in time to get from one place to another.
Day 0 – fly to Israel
Day 1 – Arrive at Tel Aviv's airport; take prearranged transportation to hotel in Jerusalem
Day 2 – Tour Jerusalem
Day 3 – Take pre arranged transportation to Tel Aviv; explore Old  Jaffa quarter in Tel Aviv
Day 4 – Day trip from Tel Aviv to Masada and the Dead Sea
Day 5 – fly from tel aviv to eilat; cross the border and take a cab to hotel in aqaba, day 6 – beach time in aqaba.
Day 7 – Drive to Wadi Rum and spend day and night in the desert
Day 8 – Drive to Petra
Day 9 – Explore Petra
Day 10 – Scenic drive back to Tel Aviv via the Allenby/King Hussein Bridge crossing
Day 11 – fly home
Visa Requirements and Crossing between Israel and Jordan
As I researched transportation options to get from Israel to Jordan and back again, I quickly realized that this would be the biggest hurdle in my plans. Entry into Israel from Jordan is easy and offered no issues, but leaving Israel and entering Jordan had some limitations.
There is no visa fee to enter Israel. However, you need to be aware that some Arab countries may not allow entry with an Israeli stamp in your passport. You need to get the stamp on a separate piece of paper which you then keep in your passport while in Israel (this is standard practice when you arrive at Ben Gurion Airport outside Tel Aviv).
Jordan charges a fee for a tourist visa to enter the country. For most visitors, including those from the USA, Canada, Europe and Australia, the visa can be obtained when landing at the airport in Amman. (See the Jordan visa requirements for each country here ).
Depending on what you are planning to see in Jordan, consider getting the Jordan Pass which waives the visa fee and also includes prepaid entry into all of Joran's most popular sights. The visa fee is waived as long as you spend 3 nights/4 days in Jordan. The Jordan Pass needs to be purchased before leaving home and needs to be printed.
There are three different versions of the Jordan Pass depending on how many consecutive days you are planning in Petra. We had two days planned so we got the Jordan Explorer pass. (There is a one day version and a three day version).
However, the Jordan Pass is not a visa – it only waives the visa fee. You still need to get the visa stamp when arriving at the airport in Amman or at one of the land border crossings with Israel (but make sure to show your Jordan Pass so that you do not get charged).
There are three land border crossings between Israel and Jordan (note that you will have to pay an Israeli exit fee when you cross by land):
The northern Jordan River/Sheikh Hussein crossing which is closest to Nazareth and Haifa in Israel
The central Allenby/King Hussein Bridge which is the closest to Amman in Jordan and the cities of Jerusalem and Tel Aviv in Israel
The southern Yitzhak Rabin/Wadi Araba crossing in between the towns of Eilat in Israel and Aqaba in Jordan, which is the closest crossing for Wadi Rum and Petra in Jordan.
Currently with the Jordan Pass, you can get a visa entry stamp at the Sheikh Hussein and the Wadi Araba crossing only, but NOT at the Allenby/King Hussein bridge so you need to take that into account if you are planning on entering Jordan by land from Israel. If you are planning on crossing at the Allenby/King Hussein you will need to get a visa from your local Jordanian embassy.
You should always check and confirm the latest Jordan tourism information and entry requirements before leaving home. Also, make sure to take into account any Jewish or Muslim holidays (like Yom Kippur or the Muslim New Year) and their impact on accessing the border crossings.
With a lot of planning and forethought it was possible to tour Israel and Jordan on our own and to cross the border on our own between the two counties.
For us, the best option was to spend a few days in Israel, Fly from Tel Aviv to Eialat, cross the border to Aqaba and then work our way north and cross back into Israel at the Allenby/King Hussein Bridge.
Getting around Israel and Jordan
We did not want to have to worry about the hassle of driving ourselves in either country, plus you cannot take a rental car across the border. We did not have the time to deal with public transportation options, so the best option was to get someone else to drive us.
In Israel I prebooked airport and hotel transfers on Viator.com and it all worked out fine. From all I had read, it seemed that in Jordan you could easily get around the country with taxis, so I planned for us to find transfers once we were at each accommodation.
My 10 day Israel and Jordan Itinerary
Our trip was in late November, scheduled around the US Thanksgiving holiday. I think this was the best time to visit Jordan because temperatures were comfortable in both countries and since it was considered shoulder season, the major sights like Jerusalem and Petra were not very crowded.
Day 0 – Leave the USA
Most flights from the USA to Israel connect somewhere in Europe though there are a few non-stop options from major hubs like New York, Los Angeles and Miami. We had an overnight flight with a connection in Munich.
Day 1 – Arrive in Tel Aviv and transfer to Jerusalem
Our layover in Munich allowed us to stretch our legs and get a nice and leisurely breakfast and lots of coffee. Not surprising, security to get onto the flight to Tel Aviv was very tight. (I had a tiny pair of scissors in my carry on bag which I always travel with and I had to leave it at security). We finally arrived at Tel Aviv's Ben Gurion airport mid afternoon local time, though with the 7 hour time difference, our bodies thought it was still morning.
Our pre arranged pick up and transportation was waiting for us once we passed through customs and took us from the airport to our hotel in Jerusalem . It was about a one hour drive to get to our Jerusalem hotel. In mid November the sun set around 4:40 PM so we only had a little bit of light to see the scenery on the way.
I chose the Sephardic House Hotel for our stay in Jerusalem because it was in the heart of the Jewish Quarter and gave us easy access to the main historic sights that I wanted to see. The hotel was quite comfortable with a nice mix of modern amenities combined with the traditional elegance befitting a 200 year old building.
We took a little time to explore the Jewish Quarter around the hotel and picked up a quick bite before crashing after our long travel day.
We had only one full day in Jerusalem so we wanted to make the most of it. We started early in the morning at the Dome of the Rock followed by a stop at the Western Wall.
To get the most of our day we also took two Sandemans tours, the free two hour Introduction to Jerusalem tour and the Mount of Olives Tour. This was a very efficient and instructive way to get to see the most of this historic city.
We finished the day with a stop at the Church of the Holy Sepulcher.
You can read all the details in my post One Day in Jerusalem: Where Three Religions Intersect .
Day 3 – Transfer from Jerusalem to Tel Aviv; explore Old Jaffa in Tel Aviv
Since we were up early, we strolled around Old Jerusalem for a bit again, including another visit to the Dome of the Rock. Read about my Tips For Visiting the Dome of the Rock and Temple Mount in Jerusalem post to learn the best way to see this beautiful UNESCO listed sight on your own.
Once again I had set up for a driver to pick us up and take us from Jerusalem to Tel Aviv. We checked into the DAN Hotel Tel Aviv which was perfectly situated on Tel Aviv's long beachfront. After grabbing a quick late lunch we chose to walk the 40 minutes to the old city of Jaffa.
Tel Aviv has developed their waterfront into a beautiful multi use area with a wide walking path that skirted the beach for much of our walk. It was a pleasure to stroll to our destination with a warm Mediterranean breeze in our face and the sound of the waves hitting the shore. Unfortunately we arrived a little too late for the Sandemans free Tel Aviv Old Jaffa tour which we had hoped to take, so we just explored on our own.
Jaffa has been a port town for almost 4000 years. Throughout the centuries Egyptians, Greeks, Romans, Crusaders, Ottomans and Europeans have trodden its narrow alleys and left their mark on its history.
In the 1960's the area was rebuilt and its historic roots restored while at the same time being modernized so that today the old narrow lanes are filled with galleries, artists studios, cafes, and restaurants. It's a popular destination for locals and tourists alike and it was fun to explore.
The walk back to the hotel along the beach was just as pleasant, especially with a stunning sunset to keep us company.
While in Israel, I really wanted to see the UNESCO World Heritage site of Masada as well as the Dead Sea. I booked a guided day tour on Viator.com to both destinations which also offered hotel pick up and drop off.
The two hour drive took us through the Palestinian Territory as we passed into the dry, desert region of Israel. At Masada our guide gave us an enthusiastic tour of the site and all of its fascinating history.
King Herod built Masada high on an isolated plateau in 31 BCE as a retreat to escape to. Despite being in the desert, his engineers built a sophisticated catch and transport system that captured and stored rainwater. The views from the top of Masada go on for miles and take in much of the nearby Dead Sea.
From Masada we went to the Dead Sea to swim in the lowest elevation lake on earth. The hypersaline water here has been used as a resort since the time of King Herod. Our guide took us to one of the public beaches where we had a chance to change and then experience the floating properties of this highly salty body of water.
You can read all the details about this day trip on my post A Day Trip from Tel Aviv – Take A Tour to Masada and the Dead Sea .
We started the day with an 8 AM flight from Tel Aviv to the southern coastal town of Eilat which I had booked through Orbitz. It was a quick one hour flight, though with the tight security at the airport, we still made it a point to get there two hours early.
Once we landed in Eilat we took a taxi from the airport to the border crossing. After getting through the Israel crossing terminal and paying our fees it was a short walk to the Jordanian entry terminal. At that early hour of the morning, we were the only ones passing through the border.
Before leaving the US, I went through the effort to also get Jordanian visas from the embassy in Washington DC just to be sure that we were covered. Unfortunately, already having a visa as well as a Jordan Pass caused some confusion with the border agents since they were used to seeing just one or the other. After seeing three different agents, they finally agreed to let us pass through.
Once we exited the gate at the Jordanian border terminal, we took one of the waiting taxis to our hotel. Mohammed, the taxi driver was extremely pleasant and congenial, and we ended up using him to drive us around Jordan to our other destinations.
Aqaba has some big name brand resorts with beach front property like Kempinski, Movenpick and Intercontinental. I decided on the Intercontinental for its large private beach and its great restaurant options. and it did not disappoint.
Our primary reason for stopping in Aqaba was so that my husband could spend some time diving in the Red Sea. The Red Sea is supposed to have some of the best diving sites in the world. He chose to dive with the Aqaba International Dive Center because of its good ratings.
The dive shop was a short walk from our hotel and after getting outfitted we were driven to Japanese Garden Dive site. The beauty of diving in this part of Jordan is that there are many great diving sites that are easily accessible from the shore.
Even though my husband was PADI certified, he had not been scuba diving for very many years. His scuba instructor gave him the one on one attention he needed to feel comfortable under water again. He got in two dives with a lunch break in between. He was thrilled with his diving experience and kept saying that it was like swimming in an aquarium.
While my husband was diving, I relaxed on the beach and tried some snorkeling but the reef close to shore was not that colorful. In hindsight, I think I should have stayed at the resort and enjoyed the facilities there instead. We did get to spend time later in the day taking advantage of all that the Intercontinental had to offer.
Day 7 – Drive to Wadi Rum and spend a day and night in the desert
From Aqaba, our driver took us to the Wadi Rum Rest House where we met our guide from the Wadi Rum Night Luxury Camp where we were spending the night. The Wadi Rum desert is another one of Jordan's UNESCO listed heritage sites which protects 12,000 years of petroglyphs and other rock art.
Along with our overnight accommodations, I also booked the optional camel ride through the desert and a 4×4 tour of Wadi Rum. We started with the camel ride which took us from Wadi Rum Village to Lawrence's Spring. This was my first time riding a camel and while it was not particularly comfortable, the desert of Wadi Rum certainly was the right atmosphere for such a memorable first experience.
This part of Jordan was made famous by the author T.E. Lawrence of "Lawrence of Arabia" fame and Lawrence's Spring was named after him. As a British colonel he played a big role in the Arab Revolt against the Ottomans during World War I.
After our Camel ride, we transferred seats to the back of a pickup truck for the rest of the afternoon to see the sights in Wadi Rum. While the seats here were more padded, the ride was not necessarily more comfortable as the truck bounced across the sand.
The Wadi Rum desert was indeed a beautiful natural sight to see. Wide reddish tinted swatches of fine sand were ringed by huge reddish tan rocks formations that had been wind carved over the millennia into rugged and jagged shapes.
The afternoon ended by watching the sun set over the desert from one of the many rock outcroppings. Afterwards we headed to our glamping site and our luxuriously appointed tent and home made Jordanian dinner.
For more details about our Wadi Rum experience you can also read my post Desert magic at a Wadi Rum Luxury Camp in Jorda n.
Day 8 – Drive to Petra and explore Petra
After another bumpy drive through the early morning desert back to Wadi Rum village, our driver took us the two hours to Jordan's premier archeological site, Petra. We checked in to the Movenpick Resort Petra which I picked because it is conveniently located across the street from the Petra Visitor's Center.
Our Jordan Explorer Pass covered our two days of sightseeing in Petra, so after a quick lunch we headed straight into Jordan's most famous sight. It was about a 30-40 minute walk through the Siq to the Treasury, Petra's signature ancient structure.
From the Treasury we continued through the heart of Petra, and spent the rest of the afternoon exploring the Street of Facades, the theater and the Royal Tombs. Petra was the capitol city of the Nabateans, a wealthy merchant culture that existed about 2000 years ago. This city was the heart of their trading empire which extended as far as India to the East and Greece and Egypt to the west.
We spent our second day in Petra exploring it in more detail. We started early and beat the crowds and the tour groups as we walked through the Siq again. To get a different perspective on the Treasury we took the hike to the high view of the Treasury and reached the top in time to see the Treasury totally lit by the morning sun.
Besides Nabatean ruins, there are also remains from Byzantine churches that were built in the 4th century. Intricate mosaics have been excavated and are now displayed under a large protective roof.
For the afternoon we tackled the long uphill hike to Petra's most advanced structure, the Monastery. The hike takes 40-60 minutes and includes 800 steps but is well worth the effort. The afternoon sun makes the Monastery glow like gold and we enjoyed the view with a snack and a drink at a Bedouin run café.
We ended the day with the Petra by Night event which is held every Monday, Wednesday and Thursday night (this is an extra fee and is not covered by the Jordan Pass). It's a very well attended activity but even with the crowds, seeing the Siq and the Treasury lit up by hundreds upon hundreds of candles was special.
My posts Inside Petra by Night and Day and 13 Petra Photography Tips provide lots of detailed information about our 2 days in Petra.
Day 10 – Scenic drive back to Tel Aviv via the Allenby/King Hussein border crossing
This day did not go quite as planned for us – one of the very few times where my well laid travel plans did not work out. Before leaving home I had prebooked for a driver/guide to pick us up and drive us to the Allenby/King Hussein border crossing while doing some sightseeing along the way.
Our tour driver did not show up at our hotel at the scheduled time. When he still had not arrived an hour later despite numerous phone calls to the tour company, we had the hotel concierge at the Movenpick set us up with a driver/guide for the day. Unfortunately this meant we left two hours later than I wanted to and had to cut short some of my hoped for touring.
Without stopping, it's about a 4 hour drive from Petra to the central border crossing which gave us a couple of additional hours for stops. After the first two hours of driving, we made a short detour to view the great Kerak Castle.
This crusader castle was built in the early 12th century on top of what were once Nabatean and Roman structures. Because of its critical location on the trade route connecting Syria to Egypt and Mecca, Kerak Castle had a tumultuous history as different leaders attempted to take control.
Kerak Castle is a popular tourist sight, but unfortunately, we only had time to see it from afar before we had to move on. Two hours later we were in the town of Madaba to visit St. George's Greek Orthodox Church.
St. George's church is famous for a Byzantine mosaic map depicting the Middle East as it looked in the 6th century. The church building is fairly recent having been built a little over 100yers ago, but it protects this unique, ancient mosaic that was discovered during construction.
The original map was incredibly large, but what still remains today is still fairly impressive. It measures about 50 feet by 15 feet and is made up of a few million little pieces of stone tiles which clearly depict the world as it was known fifteen hundred years ago.
An additional 20 minute drive took us to the Mt. Nebo overlook. According to the Old Testament, Mount Nebo is where Moses finally saw the promised land though he never actually got there. It is also supposed to be the location where he is buried.
At 2000 feet above the valley floor, the view from the top was indeed expansive taking in the Dead Sea and Jerusalem on the distant horizon. If this was his view of the promised land, hopefully it was a little greener in Moses's day.
Though the church has been rebuilt and is quite simple and modern, it preserves a large number of intricate mosaics from the 6th century basilica that once stood on this spot. When Pope John Paul II visited here in 2000, he planted an olive tree representing peace.
Our final stop in Jordan was the Tourist Terminal at the King Hussein border crossing. (If you have to pay any exit fees this is where you will pay them). With our Jordan Pass and the fact that we spent 5 nights in Jordan, we did not need to pay anything additional at the time.
Jordanian passport control kept our passports until we boarded the shuttle bus that takes you to the Israeli Terminal 3 miles away. We had to pay for a ticket for the bus, and once we were on the bus, we were given our passports back.  When the bus had enough people on it, it left for the Israeli side.
At the Israeli Terminal, we dropped off our large luggage at a curbside counter and then had our passports checked at another outside counter. Inside the building, our passports were checked again and then we went to the immigration kiosk where the agent asked us some questions (ie: what was your mother's grandmother's maiden name? – really?)
After a few minutes with the immigration officer we went through and had our passports checked yet again, and then picked up our luggage which presumably had been screened and was safe for further travel through Israel. Fortunately, it was not that busy so the whole border crossing process took us about an hour. I can see it taking significantly longer on a very busy day.
Once we were outside the terminal building we took a bus into Jerusalem where we then negotiated with a taxi drivers to take us the 1 hour drive to our hotel near the Tel Aviv airport.
With all the driving we had to do on this day and the hassles of the border crossing, this was my least favorite day of the trip. Our Jordanian driver was great and was also a fantastic guide, providing a lot of information about the sights we stopped at and also about life in Jordan, but it all felt rushed.
Had we had the time, I would have added another day or two or three in Jordan to work our way north before crossing back to Israel. I would have liked to also have seen the Dana Biosphere Reserve (another UNESCO site), stayed at a resort on the Dead Sea and seen the well preserved Roman ruins at Jerash – next time I hope.
Our flight home left Tel Aviv at a very early 6:15 AM. On the way back we had a connection in Madrid, one of my favorite airports in Europe from an architectural standpoint. By 4 PM  local time we were back in the US, ready to get home and get some much needed sleep.
Tips for independent travel to Israel and Jordan
The benefits of traveling independently are that you can do and see all the best place to visit in Jordan at your own pace and on your personal schedule, but it requires a lot of up front research, especially as it applies to the visa and entry requirements which can be confusing for this part of the world. Do your research for the most recent information regarding transferring between these two countries. Get information from official government websites and from the most recent traveler reviews. Be wary of websites that have old and outdated information.
Take plenty of cash in US currency and then also converted to the local currency. You will need it for taxi drivers, tips, snacks, drinks, and potentially for attraction entry fees and country exit/entry fees. I always keep my cash in a money belt when I travel.
Be flexible, patient and polite at the border crossings. Answer the questions asked but don't necessarily offer up any additional information.
Don't have your passport stamped with an Israeli visa if you think you will be traveling to an Arab country at some point – get the stamp on a piece of paper and keep it in your passport for the duration of your trip.
Security for flights into Israel and at the border crossings into Israel is serious business. Give yourself plenty of time and stay patient.
If you are not comfortable waiting to find transportation when you get to Israel or Jordan to get around, contact your hotel to have them set you up with a driver. Good quality hotels can help you with dependable transportation.
Having two days in Petra was definitely worth the time. The archeological site is large and it's nice to be able to enjoy all the accessible areas without rushing.
I hope that by sharing our Israel and Jordan travel experiences you find them helpful for planning your own itinerary to this incredibly diverse and historic part of the Middle East.
Thanks for visiting

2 WEEKS IN ISRAEL AND JORDAN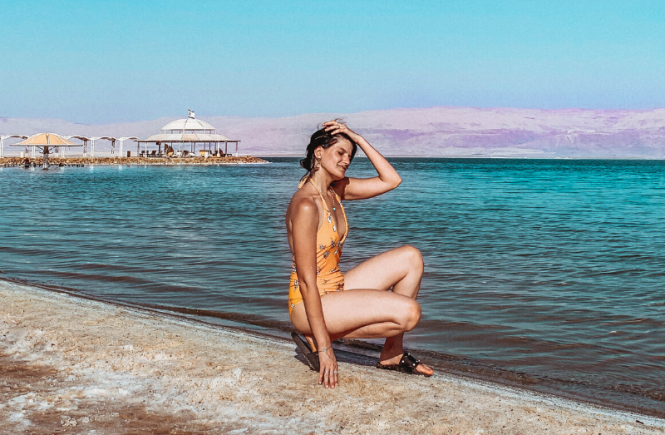 I decided to visit Israel and Jordan in 2 weeks and planned this 2 week Israel & Jordan itinerary using information from other bloggers and it turned out to be a lot better than expected. I loved every place I visited and every hotel I stayed on! See a break down of the Israel & Jordan itinerary as well as recommendations on what to do each day below. Heads up that it includes a super fun road trip.
Table of Contents
2 weeks in Israel and Jordan – Daily Breakdown
Days 1 & 2: jerusalem.
It might seem weird not to start the Israel trip in Tel Aviv, but I actually arrived to Tel Aviv's Ben Gurion airport during Shabbat and took a Nesher Sherut to Jerusalem directly which takes around an hour.
For the next two days, I explored Jerusalem! I felt like this was enough time for us to get a good grasp of the city and the religions that co-exist here in harmony. I've written a separate post with my Jerusalem Bucket List. There is a lot to do, so pick and choose.
Stay at: Golda Jerusalem or The Jerusalem Hotel.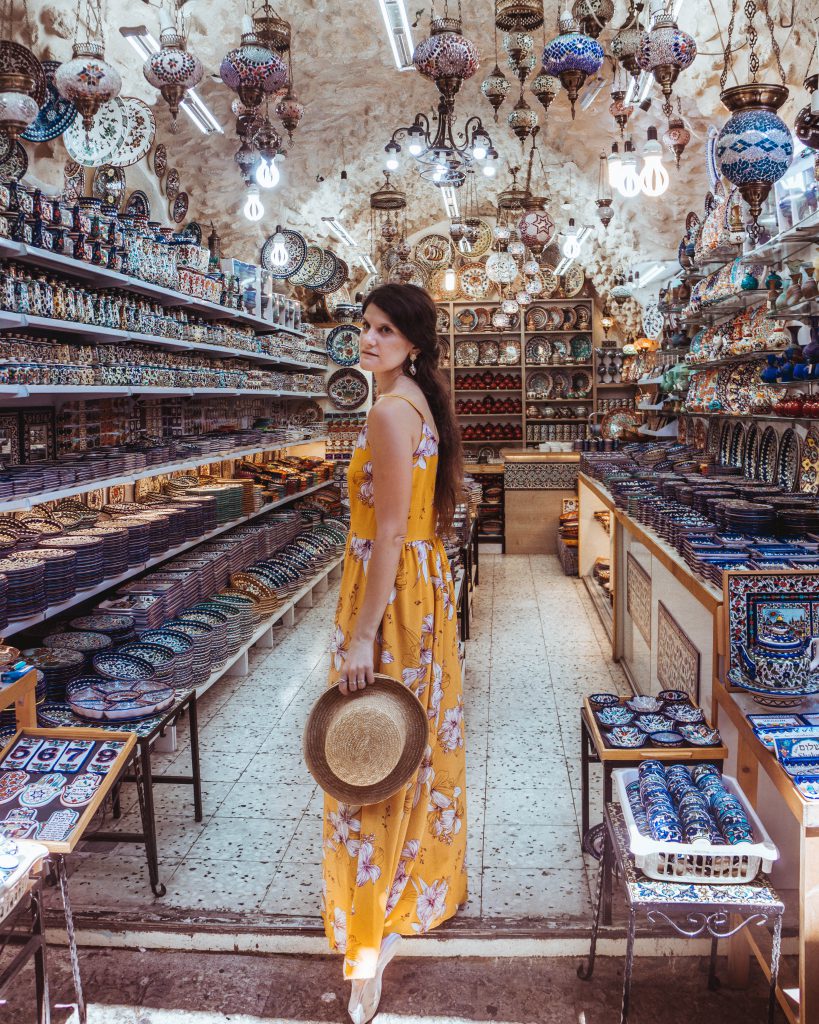 Day 3: Best of the West Bank Tour from Jerusalem
I kind of coincidentally ran into this Best of the West Bank Tour which takes you to Palestine for the day from Jerusalem. I wanted to visit Betlehem which is in Palestine, and this tour takes you to Betlehem, however I ended up visiting other cities and getting a good grasp from Palestine, and the Palestine-Israel conflict. I've reviewed the tour in detail here.
Book: Best of the West Bank Tour from Jerusalem , below:
Stay at: Tzefania ApartHotel
Days 4, 5 & 6: Jordan with Abraham Tours
I spent the next 3 days of the 2 week trip in Jordan. After much hesitation, I decided to do it via a tour instead of independently. And it was grand! I've reviewed the 3 day Petra & Wadi Rum Tour I did with Abraham Tours in detail here . Give it a read and consider it, it's definitely value for money!
Book: 3 Day Petra & Wadi Rum (Jordan) Tour from Jerusalem
Day 7: Tel Aviv
After Jordan, I went directly to Tel Aviv to pick up a rental car from the airport and start the road trip! I got the rental from Rentalcars and it was awesome, and also cheap.
I took the chance to stay one night in Tel Aviv to start checking off some of the items of my Tel Aviv Bucket List .
Book: a rental car using Rentalcars
Stay at: ISLA Tel Aviv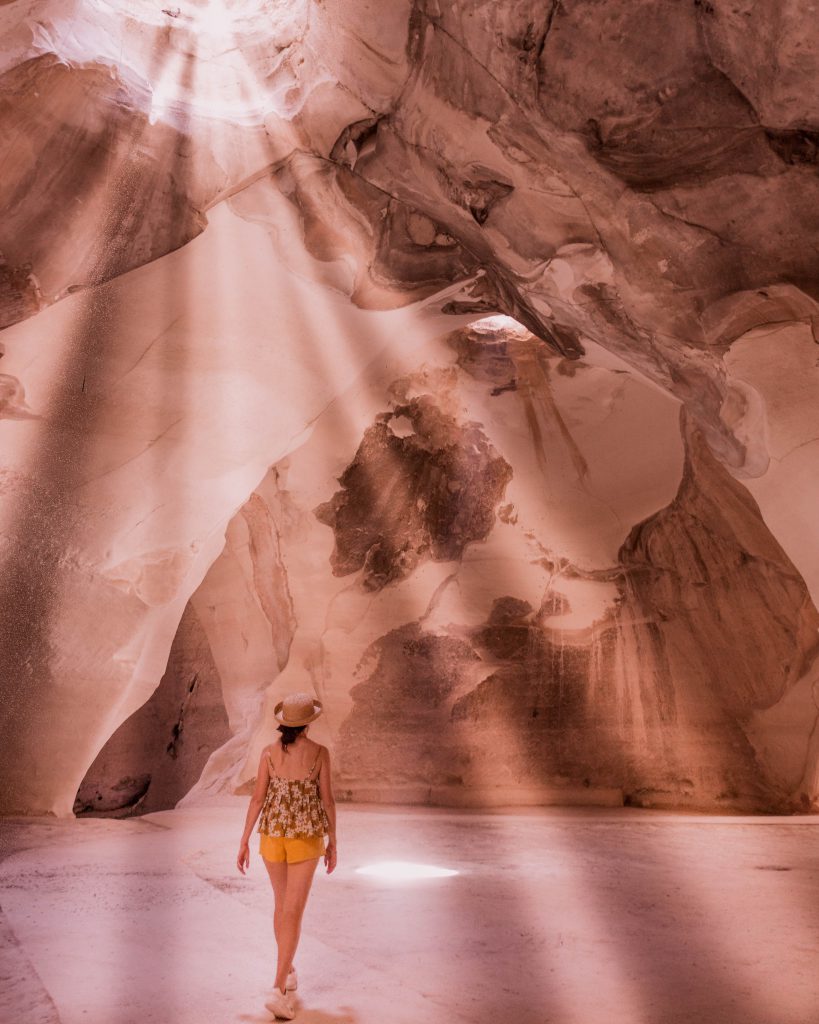 Day 8: Beit Guvrin, Ein Gedi, Ein Bokek & Arad
The next day I woke up early in Tel Aviv and arrived in Beit Guvrin-Maresha National Park just after 9. Beit Guvrin-Maresha National Park encompassesthe ruins of Maresha, one of the important towns of Judah during the time of the First Temple , and Beit Guvrin, an important town in the Roman era, known as Eleutheropolis .
I explored Beit Guvrin-Maresha for over two hours with the car, I didn't walk through the entire park instead stopped at every parking lot, saw the sites and then got back into the car as it was really hot. The highlights of the park were The Maze Cave and The Bell Caves. Note there are Roman ruins across the highway you can also visit with the same ticket. This park is nothing out of this world but definitely worth a quick stop if you are passing by. Remember to purchase a money saving ticket vs a single ticket if you'll be visiting various National Parks! The Israel National Parks Authority has money saving tickets if you plan to visit 3, 6 or more national parks. These can't be bought online.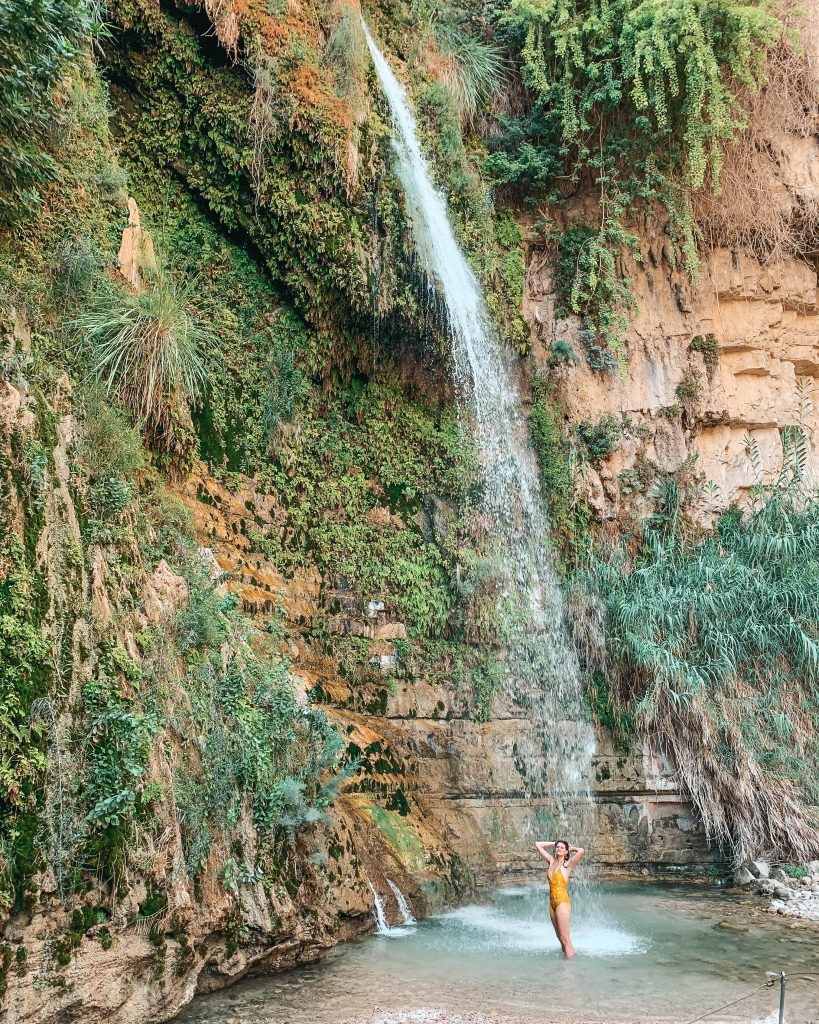 Next I drove to Arad for lunch at Muza , which was OK and continued to Ein Gedi. In Ein Gedi the plan was to visit the Ein Gedi Nature Reserve and swim on the Dead Sea but soon learned it's not possible to do so due to dangerous sinkholes. Ein Gedi Public Beach is closed, literally in ruins, and not accessible by car. I wouldn't recommend that you even try to get there.
The visit to Ein Gedi Nature Reserve was wonderful but brief because I arrived rather late to it. I only got to do the trail to David Waterfall which is advertised as 1hr but took us 45mins. If I had known what the trails were in advance and the hours you needed to do them by, would have skipped lunch / rushed the day to get to the reserve early. Unfortunately, the Israel National Parks Authority doesn't post it's map online! There are hikes as long as 7-8hrs for which you must arrive to the reserve when it opens at 8AM. I would have liked to do a hike to David Waterfall, Shulamit's Spring, Dodim's Cave & Ein Gedi Spring which is 3-4hrs.
I left Ein Gedi by 15.45 and stopped by Ein Bokek Public Beach to swim in the Dead Sea. This beach is completely free and it's great. There are showers and drinking water available. Swimming in the Dead Sea is a unique experience. I debunked so many myths when I did: I was able to flip forwards and backwards easily, my hair got wet with its water and didn't fall off, my swimsuit didn't get ruined, I had various open cuts and they stung only a tiny bit. What's true is that you float so much it feels like you are constantly in a floaty when you are not and tasting the water is not a good idea. It doesn't taste salty, it tastes poisonous.
Left around 5.30 towards Arad to head to the accommodation for the night: Desert Call. I wanted to get something quick to prepare in the B&B as I knew it had a kitchenette and the only supermarkets open (it was Shabbat) seemed to be Russian! There is a small Russian community in Arad and they have mostly Russian products for sale, it's pretty crazy.
Got to Desert Call and met lovely Dafna who checked us in. This B&B is amazing, it's a studio apartment with everything you need, a kitchen counter with sink and equipment including a microwave and kitchenette, fridge, bathroom with toiletries a comfy bed and even a jacuzzi which I obviously used. But what makes this place extra special is its location: it is set up on the edge of Arad overlooking the desert and therefore you can enjoy the most beautiful sunrises and sunsets from here. I'm glad I stayed in Desert Call and not in the massive commercial hotels in Ein Bokek!
Stay at: Desert Call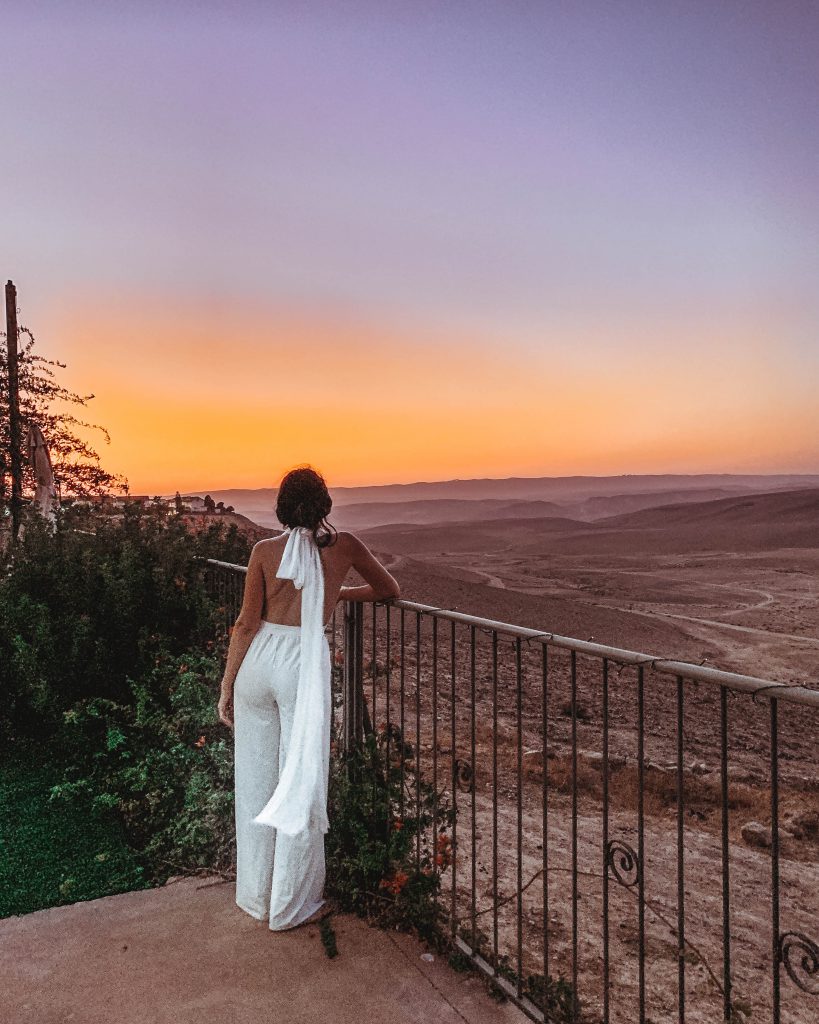 Day 9 – Masada & Eilat Coral Nature Reserve
I woke up at 6am and watched the sunrise from Desert Call and soon left to Masada. Desert Call is closest to the West entrance of Masada so it's only a 25 min drive and a 25 min hike to the top. The sun was almost up when I got there but it was nice to do Masada in the morning. I spent around two hours exploring the city and learning about it's unique history. Masada is the city where the Judean rebels did a siege to prevent the Romans conquering them, living in that Masada up in the mountain for around a year!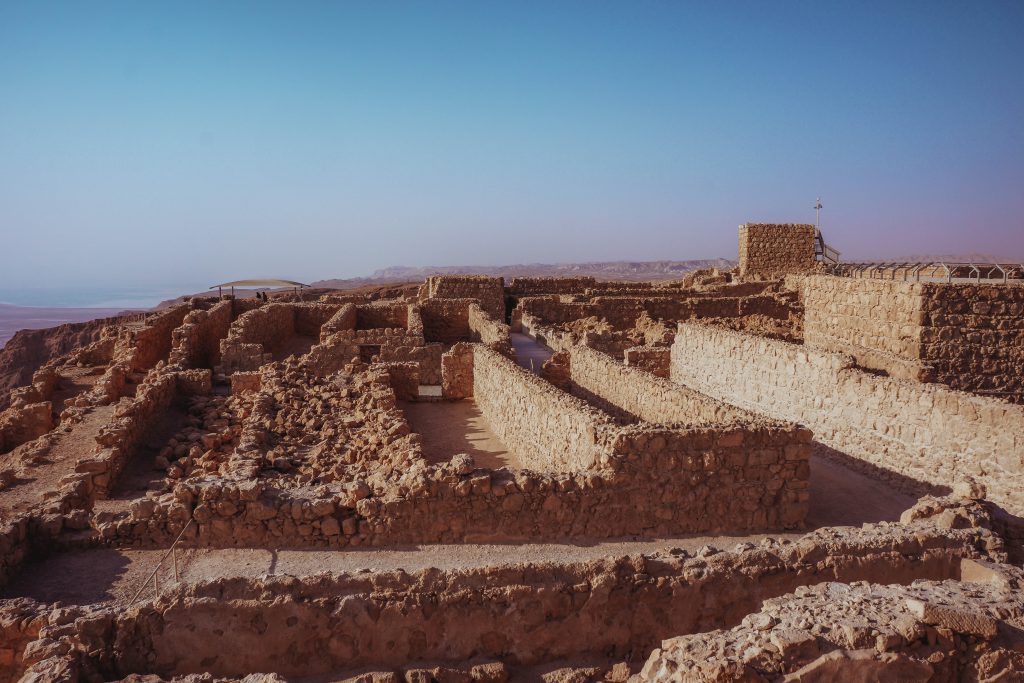 After that it was time to leave for Eilat as the plan was to explore the Eilat Coral Nature Reserve during the afternoon. I ate in the car and drove for a couple of hours, then reached the nature reserve around 1pm. I didn't pay entrance as I already had the money saving ticket card but rented masks, snorkel & fins for about 40 ILS each. I spent the whole day snorkeling and relaxing at the beach. After all, this reserve is literally a protected beach with wonderful snorkel right by the coast.
Around 5pm, left the reserve to go the accommodation for the evening, Americana Hotel Eilat. I was skeptical about this place because the reviews weren't the best but it was amazing! The rooms are basic but clean, there is a safe in the room and they provide tea/coffee, towels and bath robes. There is a nice big pool and it also has a spa with a jacuzzi, sauna & massage.
Went out for a beer in a local brewery called Soof and then headed back to Americana Hotel Eilat for dinner. Dinner was amazing! So many options and so many vegan ones. Ate too much, and went for a walk to see the town of Eilat. It was quite nice, more of an upmarket beach town with lots of malls and stores.
Stay at: Americana Hotel Eilat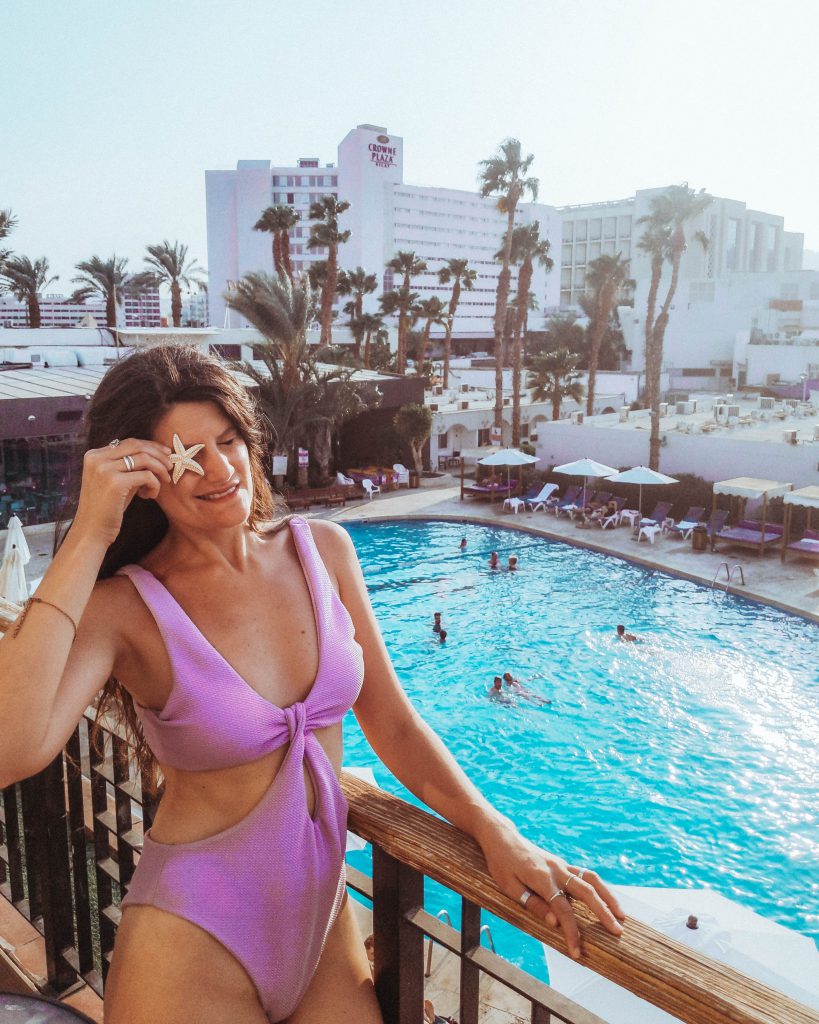 Day 10 – Mitzpe Ramon
Woke up at 6.30AM and had breakfast at the Americana Hotel Eilat . Breakfast was even more amazing than dinner with all sorts of foods: salads, hummus, sausages, lots of grilled vegetables, various types of cheese, cereal, cakes, scrambled & boiled eggs, halva, pancakes and so much more. Honestly it was one of the most complete breakfasts I've ever seen, they even had pasta and an omelette / fried egg station with these made to order.
Had a long drive ahead today as well as I were visiting the Makthesh Ramon Crater. It is the world's largest erosion cirque. It is 40 km long, 2–10 km wide and 500 meters deep, and is shaped like an elongated heart.
The drive was nice, I passed through what seemed some military sites and a town called Neot Smadar. Didn't stop but I later did some research and found that it's an organic community featuring architecturally unique buildings with passive cooling towers. Would have liked to stop.
Got to the Mitzpe Ramon visitor center around 10am and asked for help on hikes. I decided to do a 3hr hike around Mount Ardon. I drove there from the center, which meant driving back and also driving 4×4 tracks although i didn't have a 4×4 but the road wasn't that terrible.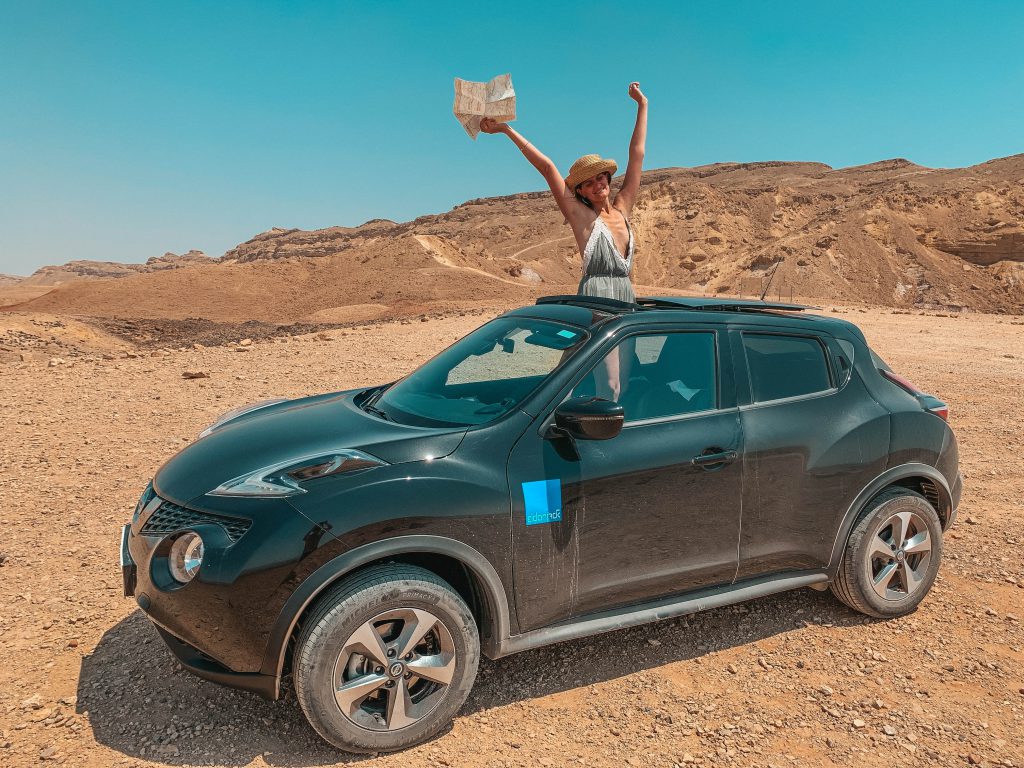 The hike I did was all encompassing and for this reason I thoroughly recommend it! You need to park the car at the Mt. Ardon parking then follow the blue trail for about 2hrs and then take the green trail once it intersects the blue trail. This is paramount as the complete blue trail hike is 5-7hrs which is more that you want on a summer day in the desert. The hike is hard but not exhaustingly hard. The most strenuous part is actually going down Mt. Ardon as it's a steep descent through rocks. The hike is complete as it passes through so many geological landscapes, different kinds and colors of rock, rocky floor, sand, etc. I saw manure but didn't see any animals. Also, there are poop shaped rocks.
After the hike I bought some food and headed to Vila Nahal Faran 32 . I was enthusiastic about staying in this Villa in the middle of the desert and it met my expectations! The Villa is on the edge of the city of Mitspe Ramon overlooking the desert and has 4 double bedrooms, a pool, hot tub, outdoor lounge area, grill, and all the kitchen equipment you could need. The Villa is spread across two floors, with two bedrooms in each floor and 4 bathrooms in total, three in the ground floor and one on the first floor. The first floor also features a nice outdoor terrace with another lounge area overlooking the desert. Spent the afternoon relaxing in the pool and later the hot tub while watching the sun go down and in the evening made a BBQ in the grill.
I must say, that one day in Mitspe Ramon is definitely not enough. There is so much to do including multiple hikes, star gazing, 4×4 exploration and more. If you try to replicate this trip definitely add more time to it.
Stay at: Vila Nahal Faran 32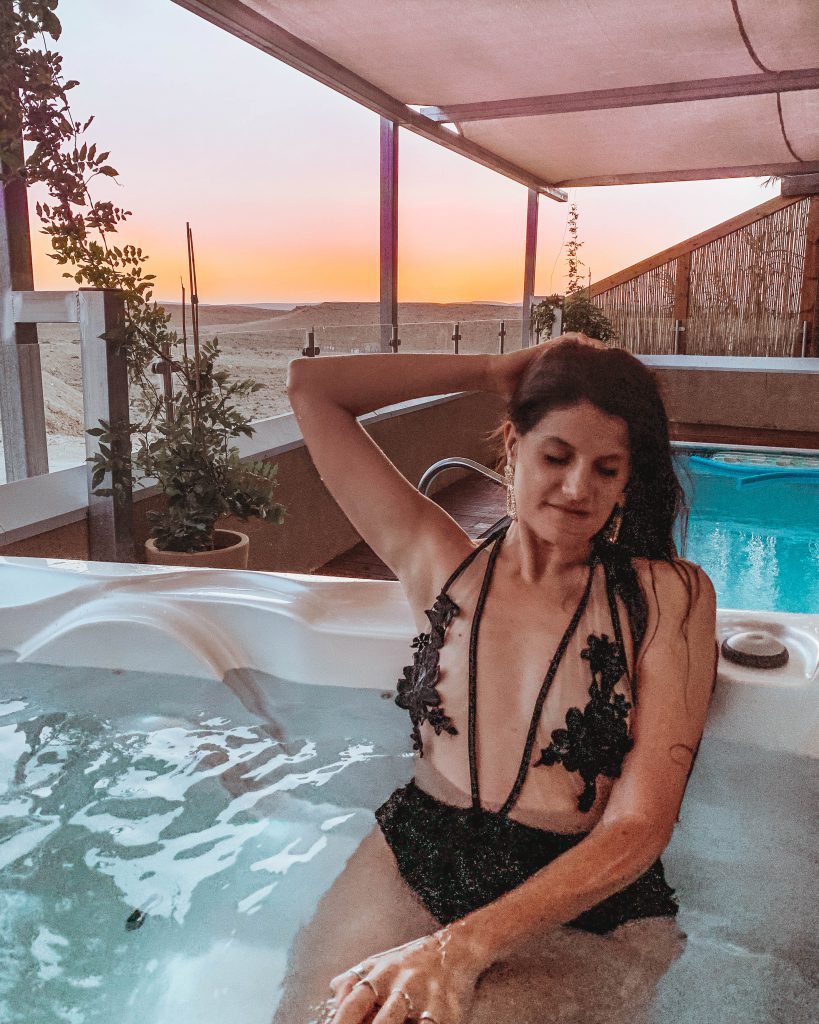 Day 11 – Caesarea, Haifa & Accre
Although it was heartbreaking, the next day I had to leave Vila Nahal Faran 32 early to head to the next destination: Caesarea National Park.
Caesarea National Park houses Caesarea Maritima, a city and harbour built under Herod the Great during c. 22–10 or 9 BCE. In simpler words, an ancient city on the sea shore which makes it visually appealing and particularly interesting. The site mixes ruins with high-end shops and restaurants.
Spent the rest of afternoon in Aqueduct Beach , a beach with a Roman aqueduct behind it and then stopped by Habonim Beach Nature Reserve , a quiet protected beach.
Towards the end of the day got to the city of Haifa which in all honesty, I didn't like. I got a strange vibe from it and found it to be dirty with a rather industrial feel and way too many stray cats. If you follow me on Instagram, you know my cat is my favorite thing and seeing so many cats in a not very good condition in Haifa put me off. Thankfully, I chose to stay in Bat Galim Boutique Hotel that night which was my good vibes oasis! This hotel was tastefully decorated, clean and felt like home. That's thanks to its lovely host Anna, who does so many little things to make guests feel cared for: there is tea, coffee, water, cookies and dates at all times at reception as well as a telephone where you can call for help after hours.
At night, found a cool area towards the port full of restaurants and bars.
Stay at: Bat Galim Boutique Hotel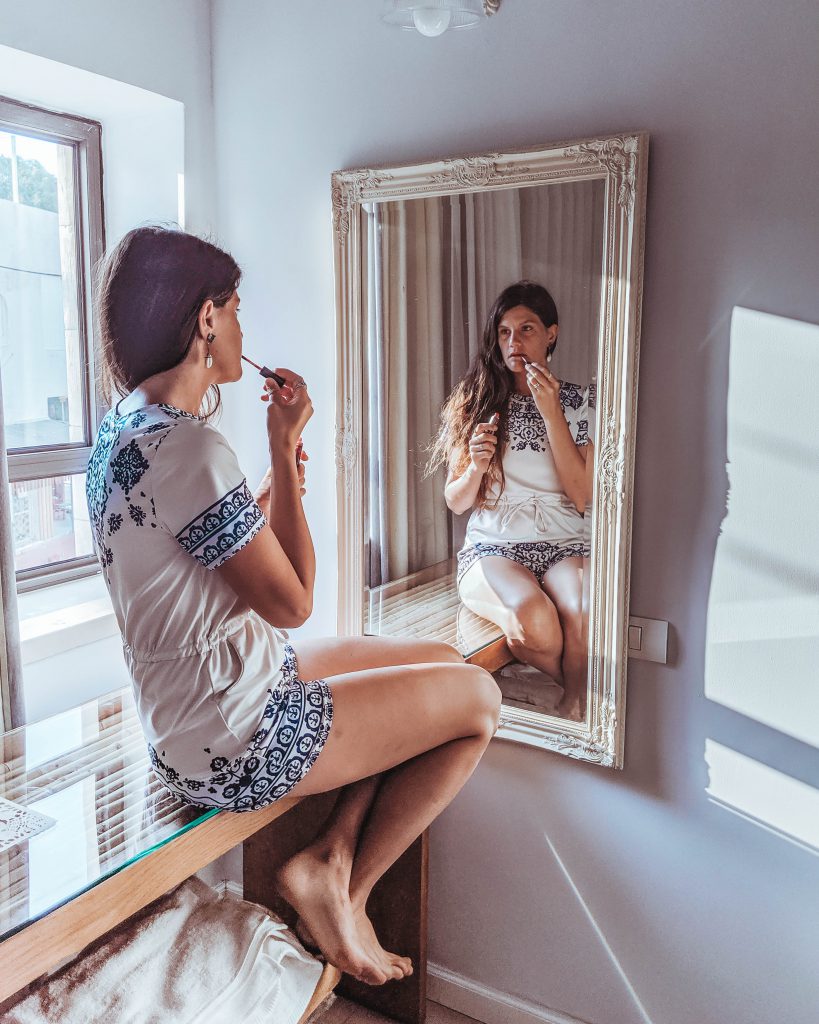 Day 12 – Haifa, Nazareth & Sea of Galilee
The next day had a delightful breakfast at Bat Galim Boutique Hotel and went to visit Haifa's icon: the Bahá'í Gardens or Hanging Gardens of Haifa made up of eighteen terraces which span almost the entire city. They are an impressive monument although hard to visit as not all areas are accesible and hard to photograph as they are incredibly massive.
Then it was back on the road towards Nazareth. I had visited the place where Jesus was born (Betlehem) and the place where Jesus carried the cross, died and resurrected (Jerusalem). I was missing the place where Jesus grew up: Nazareth.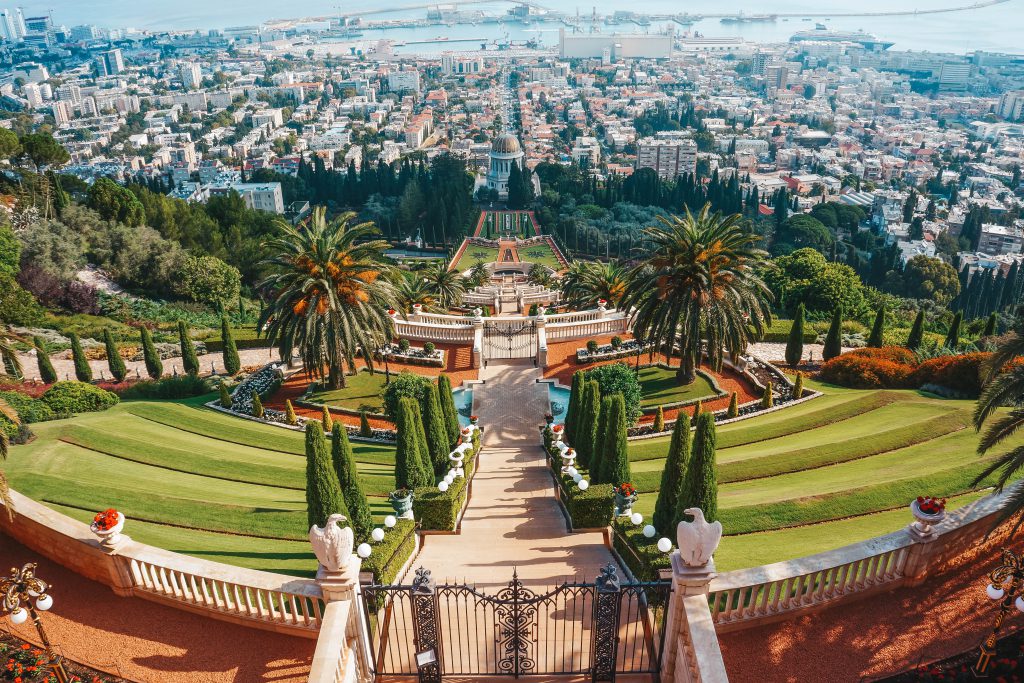 In Nazareth I visited the Church of Annunciation, where angel Gabriel appeared to Mary and announced that she would conceive and bear Jesus. Outside of being a holy place, this church was unique in shape and also featured multiple murals donated by countries around the world. I walked around Nazareth to see more, but there were no highlights other than the Church.
Next I would go to where Jesus walked on the water: Sea of Galilee. This is where I would be staying for the rest of this day. The Sea of Galilee or Lake Kinneret is the lowest freshwater lake in the world and second lowest lake in the world after the Dead Sea. It is also the only natural freshwater lake in Israel.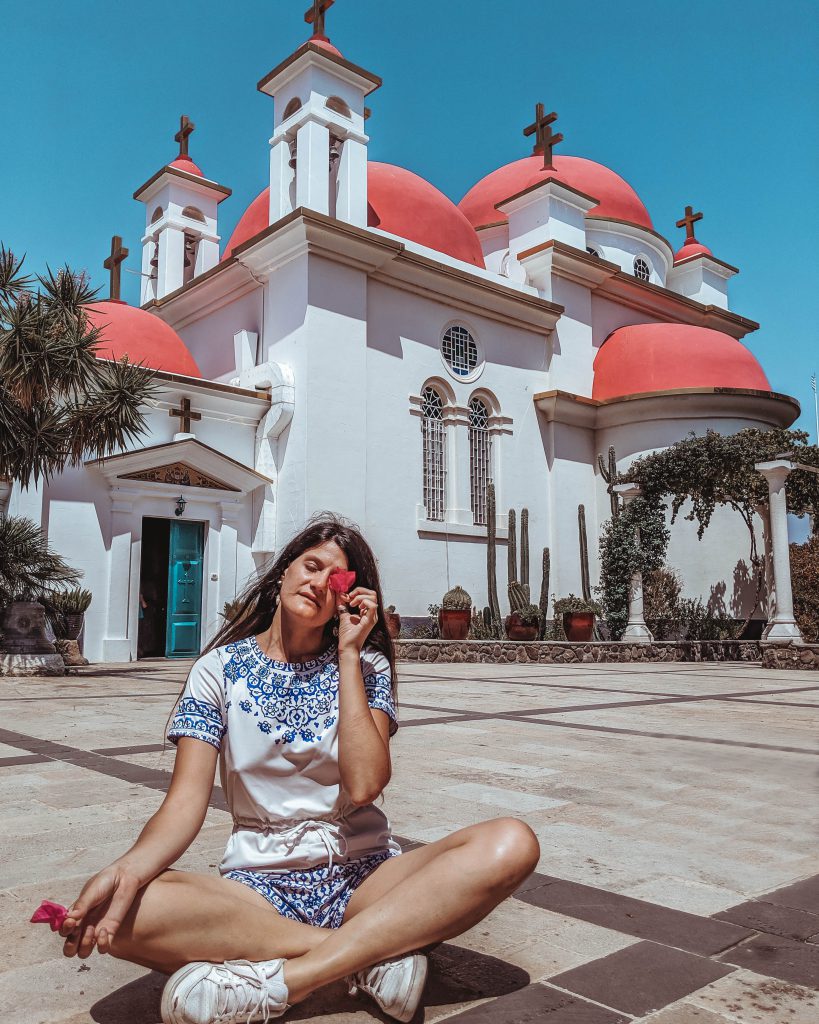 I spent the rest of the day driving around the lake and visiting its various attractions such as:
Beaches , there are many across the lake and I wouldn't say one is prettier than the other so just stop for a dip in the lake!
Tiberias Hot Springs , which consists of ancient pools fed by 17 natural springs, where you can get massages, mud treatments and Turkish baths;
Korazim National Park , which contains the preserved remains of the ancient Jewish town of Korazim, known for its cultivated fine wheat;
Capernaum , an archaeological site is believed to be the fishing village of Capernaum mentioned in the New Testament where Jesus lived, preached, and gathered the first of his disciples. It houses the remains of a 4th century synagogue, a modern church built over the remnants of a Byzantine church and the ruins of the House of St. Peter.
Greek Orthodox Church of the 12 Apostles , which was my favorite attraction in all Sea of Galilee. Don't missed the frescoes inside.
Many, many other religious sites such as the Church of the Multiplication of Loaves and Fishes , Mount of Beatitudes (where Jesus delivered his famous Sermon on the Mount), The Galilee Boat (also known as the Jesus Boat), etc.
After some sightseeing I spent the rest afternoon relaxing in Nino Magdala Resort where I had booked an apartment with a private pool in its balcony. The apartment is sparkling clean, equipped with everything you might need including a barbecue. But if I have to be honest I spent most of the time outside in the balcony just relaxing and enjoying the breathtaking views. It was a lot nicer and better than expected and the price is very reasonable.
Days 13, 14, 15 – Tel Aviv
The next day I woke up and saw the sunrise from the pool in the balcony at Nino Magdala Resort . I didn't want to leave, but unfortunately had to. I soon arrive in Tel Aviv where I spent the remaining three days continuing to explore the city and checking off the items of my Tel Aviv Bucket List .
How to get to and around Israel
To get to Israel you'll need to fly to Ben Gurion Airport in Tel Aviv. Get the cheapest flights to Tel Aviv using Momondo and Skyscanner . If you are flying from London, definitely check out British Airways . It might not look cheap at first but when you factor in the luggage that's included + comfort + cost of travel to the airport it sometimes ends up being best.
To get around Israel, I recommend you book a rental car. Driving in Israel is a breeze! Book your car through Rentalcars who always have the best deals. You can get insurance through them, which I've actually used and it works! In the even you have an accident they reimburse you pretty quickly.
Enjoyed this article? Support my work by buying me an oat capuccino . Otherwise, do me a great favor of leaving a comment and following me on Instagram (@ travelwithpau ). Feel free to say 'Hello!' I don't bite. And make sure you save the article for later!

This post contains affiliate links. If you click on one and make a purchase, I might make a small commission, at  no  extra cost to you in order to help support my blog.
You may also like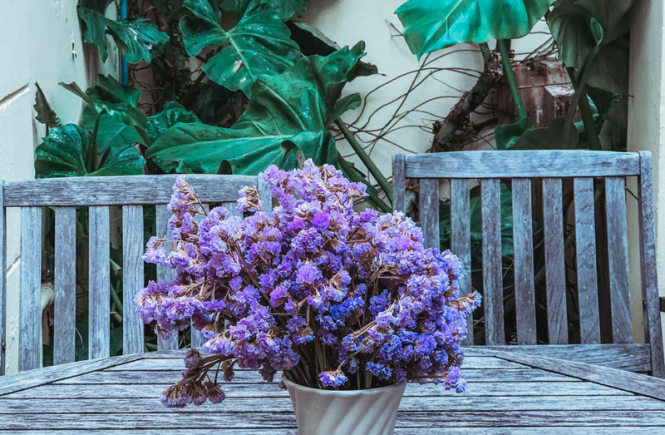 BANGKOK HOTEL REVIEW: BAAN 2459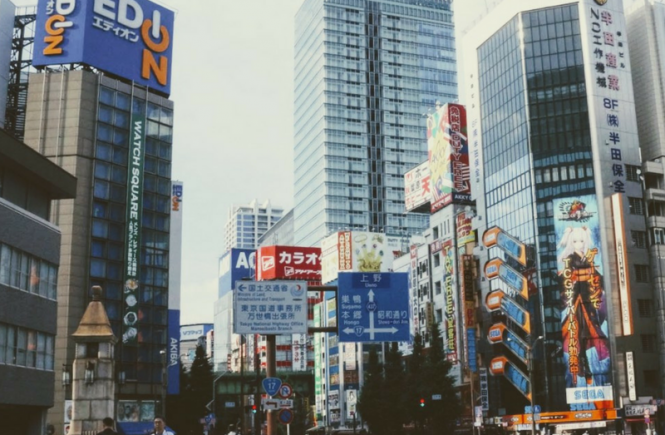 12 things to know before going to Japan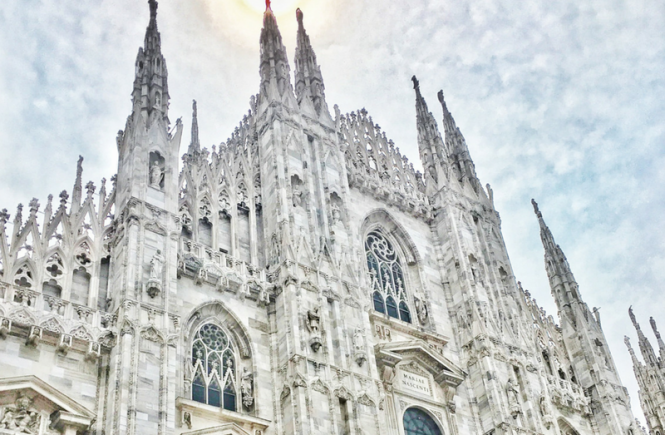 MILAN BUCKET LIST & TRAVEL GUIDE
Hi! Thanks for the detailed itinerary, I was wondering how much money you spend during this trip?
It would be hard to say… as it was a long time ago! But you can do it budget, hotels were approx 60 euro per night for 2, car rental was cheap, The Jordan tour seems to be around 550 / 600 euros now and it was very good.
Leave a Reply Cancel reply
Your email address will not be published. Required fields are marked *
Sign up for more travel fun!
Skip to primary navigation
Skip to main content
Skip to footer

LOCAL GUIDE GRAN CANARIA
Todo sobre Gran Canaria / Everything about Gran Canaria
Travel to Israel and Jordan. Things to do and places to eat
12/02/2023 - Ruth & Jorge
Would you like to travel to Israel and Jordan ? In this post we want to let you know about this trip that we did on our own . Despite the lack of knowledge we had about Israel and Jordan, especially in terms of security. We threw ourselves into the adventure and went without an agency. That is to say, the t hree friends who went organised everything. So the preparation and organisation was key for everything to go well. In fact, we have prepared an article with tips for travelling to Israel and Jordan that will come in handy if it's your first time.
Here is the table of contents you will find on our trip to Jordan and Israel .
Itinerary and map trip to Israel and Jordan
Tel Aviv things to do
Aqaba things to do
Wadi Rum things to do
Petra things to do
Dead sea and Masada National Park
Jerusalem things to do
5% DISCOUNT in your travel insurance
Travel to Israel and Jordan. Complete itinerary
We traveled from Gran Canaria with stop in Madrid and from Madrid we flew directly to Tel Aviv. To return we did the same tour. The airline that we chose was the Israeli national EL AL and everything was great. Below we show you where we stayed each of the 10 nights in both countries. And after reading this post you will realize that a trip to Israel and Jordan on your own is possible!
Tel Aviv (Israel) – Hayarkon Hostel
Áqaba (Jordan) – Sea Beach Hotel
Wadi Rum dessert (Jordan) – Oasis Bedouin Camp
Petra / Wadi Musa (Jordan) – Sabaa Hotel
Arad, Dead Sea & Masada National Park (Israel) – Or Gani Local Appartment
Jerusalem (Israel) – Alon Hotel
For us, the itinerary carried out, both in times and in visited places, has been perfect. Our conclusion is that we could see the most important things of Israel and Jordan in 10 days. Also, unhurried and with time for bathing in the Mediterranean Sea, Dead Sea and Red Sea. Yes, it is a trip for travelers, not to be lying in the sun bed. Also for leisure and enjoyment of local culture and cuisine. Then we tell you our most important tips on what to see at each stop if you are traveling to Israel and Jordan on your own. Here we go!
Things to do in Tel Aviv. Israel and Jordan tours
Tel Aviv is a super modern city , it reminded us of Berlin mixed with the coast of Los Angeles, California. Why? Because it is full of bars and has spectacular kilometric beaches that run from the new part to Jaffa (old town). As we see it, you can not miss the following places to visit in Tel Aviv :
✔ Walk through the sea promenade and bath in the Mediterranean
One of the best things to do in Tel Aviv is to take a walk along the seafront avenue and go to the beach . You will see a healthy environment full of people walking, running, riding bikes, walking their dogs, etc. In addition, there are bathing areas even for pets , beaches where bathing is not recommended and areas with hammocks suitable for bathing. We went in November and the water was cool and crystal clear.
✔ Guided tour around the old town of Jaffa
We chose the company Sandemans . It's a free tour, where you pay what you consider. Super recommended, since Jaffa has a lot of history. After the tour you can take a walk through its streets and pier, all full of bars, restaurants and art shops . Many artists live in the old part of the city. Therefore, you will find different exhibitions and stores with artistic creations of different kinds.
✔ Carmel market Tel Aviv
Here as well as fruit and vegetables and food in general, you can find souvenirs and other gift items. The opening hours of the Carmel market are Sunday through Thursday from 8:00 a.m. to 7:00 p.m. Fridays from 8:00 a.m. to 4:00 p.m. Curiosity: on Fridays in the afternoon before the Shabbat and when it has closed, the different stalls make available to the interns fruit and vegetables that are very ripe and have not sold for the whoever takes it. Thus, instead of throwing it away, others can take advantage of it.
✔ Nachlat Binyamin artists market
It is a few steps from the Carmel Market. On the street Nachlat Binyamin different artists market stalls are installed. The well-known bar The Prince is also shown in the photo below. Highly recommended to have a drink or a snack with good vibes.
✔ Go to bars from their different neighborhoods
There are bars practically in any neighborhood. In Jaffa as we said before, also in the whole area of the market of artists and neighborhoods of Carmel. Also in Bograshov stree t and surroundings you will find nice places to eat. We were able to premiere the first night with local food at Falafel Gabay and ate for € 11 each . Very good for Tel Aviv prices (a beer costs around € 6). It is the site that we show in the following photo.
In the same way, you should take the opportunity to try homemade local food on Fridays before Shabbat. At the Dizengoff Center shopping center on Friday afternoons they set up take-away food stalls . Here come the locals to fill their refrigerators to spend the Shabbat without cooking as indicated by their religion.
✔ Hotels in Tel Aviv
To sleep, we decided to stay as central as possible, without sharing a room/toilet, nearby parking and breakfast included . The Hayarkon hostel fulfilled all the requirements and the truth is that we would recommend it. Breakfast is buffet, quite complete and clean rooms. We did not use the car in Tel Aviv for anything. We visited everything on foot: Jaffa old town, the modern side and the coast.
✔ Travel between Israel and Jordan: Yitzhak Rabin – Wadi Araba border
Although in Tel Aviv we were at the beginning and end of the trip, we explained you everything together, so as not to confuse you. After our first night in Tel Aviv, we traveled along the highway number 40 towards the southern border of Yitzhak Rabin – Wadi Araba . To drive around the country we used Maps.me that works offline, since we did not have internet. On our way to the south we stopped by the National Park of Avdat and we did our break here for lunch. Once we crossed the border we spent one night in Aqaba, southern Jordan.
Places to visit in Aqaba. Travel Jordan and Israel
Aqaba is a tourist destination located next to the Red Sea. Mainly it is a destination of Jordanians being the only coastal city of Jordan. In addition, it has lower taxes than the rest of the country. That's why it's a paradise for shopping. Its streets are full of stores for coats, blankets, fashion, etc. However, the shops are not focused on foreign tourists, but as we said before to the national tourist of Jordan . Here you can get lost in its streets, eat very good falafel, try the pomegranate juice and visit its yummy bakeries.
Places to visit in Aqaba. Jordan & Israel tour
✔ local food.
To eat in Aqaba we recommend without a doubt the Hashem Son's restaurant. You have to order the Fatah and the Shawarma. Hummus is also delicious, but you have it in many places in Israel and Jordan. Although there are also fish and seafood restaurants by the sea, we did not have the chance to try them.
✔ Snorkel in the Jordan Red Sea
In the Red Sea at Aqaba there is spectacular coral for snorkelling. What's more, it is right on the shore. We were surprised by its beauty, we did not expect it to be so well preserved and so little exploited. We went to the Japanese Garden beach, about 10 minutes from the centre. With the name of the beach, you can imagine its seabed. IT IS SPECTACULAR. If you have the time, you can go scuba diving in the Red Sea , a highly recommended and highly rated activity in Aqaba.
There is also a beach in the centre, but only for locals, as the women are covered. The sand is also quite dirty, as people eat food on the shore without removing the rubbish. We therefore recommend the tourist areas for bathing . In the previous photo we can see a boat with a glass bottom showing the seabed, although in the area of the buoys you can see the coral perfectly and you can swim there yourself. It is only a few metres.
✔ Hotels in Aqaba
We stayed at the Sea Beach Hotel . The staff was very friendly, but the wifi only works at the reception and the rooms were nothing fancy. In any case, it was centrally located, had air conditioning and for the price we paid for one night, it was fine. If you do not like this, you can always check more hotels in Aqaba below.
Wadi Rum desert. Places to visit in Jordan and Israel
We can affirm that the best experience of traveling through Israel and Jordan on your own is the desert of Wadi Rum , south of Jordan. We hired a 4-hour 4×4 trip through the desert with the campsite where we stayed and it was awesome. They took us to the most beautiful places and we saw the sunset in the heat of the campfire.
One of the points where the route ended was where the film of Lawrence of Arabia was recorded. We show it below.
We stayed at the Oasis Bedouin Camp and we recommend it 100% . We had included dinner with Bedouin food and breakfast. The owners of the campsite were young Bedouin boys, very close and friendly .
We also enjoyed the shooting stars at night an incredible sunrise in the morning . Please, do not avoid this awesome experience!
Petra, things to do in Jordan and Israel
The city of Petra or "stone" is located in the village of Wadi Musa. Here, in addition to visiting Petra and Little Petra, there is nothing else you can do, as Wadi Musa itself is a bit ugly. The souvenir shops and the food in general is quite expensive . In the same way, to enter Petra the entrance is also very expensive.
✔ Tips for visiting Petra
As you may know, Petra is very visited, since it is one of the 7 wonders of the world. We decided to go at 6:00 a.m. in the morning to avoid the masses and it was a great decision . Take into account that in Jordan in November it gets dark at 4:00 p.m. Therefore, we were walking from 6:00 a.m. to 3:00 p.m. in the afternoon. We walked in total 20 kilometers. Still we had things to see. We bought the entrance to see Petra by night, but it was canceled due to rain and they gave us our money back.
A tip that we give you is that after seeing El Tesoro, go directly to see The Monastery and then see the rest , since the path to The Monastery is something hard and long. This way, you will also prevent it from being crowded.
The landscape that we show you below can be appreciated at the end of the path of The Monastery. A hidden place behind the cafeteria indicated with a handwritten sign as "best view of the world" or something like that. Highly recommended to drink tea and rest your legs to regain strength. Also, the tea here is much cheaper than in the tourist cafés and the man was so nice.
✔ Restaurants in Petra, Wadi Musa
We tried the local dish Maqluba (chicken with vegetables, rice and yogurt) at the Beit Albarakah restaurant and it was delicious. For dessert they brought us an amazing pastry too.
✔ Hotels in Petra, Wadi Musa
We stayed at the Sabaa Hotel. Everything great, except the bathroom that was full of humidity. The beds were comfortable, the breakfast was fine and the staff was very friendly. We could go walking from the hotel to Petra, that was the best thing of the hotel.
Dead Sea and Masada. Things to see in Israel and Jordan
After two nights in Wadi Moussa, we returned to Israel across the same southern border and headed for the Dead Sea. You could say that this part of the trip might be the most essential. Especially after seeing so many wonders. In any case, the history of the J ews at Masada is very interesting and, of course, experiencing a swim in the Dead Sea is unique. We bathed in the Ein Bokek bathing area next to Israel . As we had time, we included it in the itinerary.
If we are not mistaken, this is the only suitable bathing area on the Israeli coast of the Dead Sea . You have the option of the coast that is inside Palestinian territories, but they do not advise you to drive through Palestinian territories in a rental car (Israeli plates). On the other hand, from Masada you will have spectacular views of the Dead Sea. We recommend you go early in the morning, as it's a bit of a hike to see the ruins and it's very hot. You also have the option of visiting Masada and the Dead Sea from Tel Aviv on a guided tour with very good reviews from other travellers.
✔ Places to stay Dead Sea and Masada
We stayed in a nice house in the Israeli town of Arad, just 20 minutes from Masada by car . We booked the house by Booking and it was called Or Gani . The owner treated us like at home, impeccable cleaning and comfortable beds. She also cooked us with products from her garden something for dinner and breakfast . Therefore, we recommend this accommodation 100%.
Things to do in Jerusalem. Israel & Jordan trip
As you may know, Jerusalem is a very old city, the cradle of religions. Here we detail what to do in Jerusalem:
✔ Make a walking tour with a local guide
Even if it is a trip to Jordan and Israel on your own, in this case it pays to at least take a free tour of Jerusalem , as there is a lot to learn. Plus, you'll be taken to the must-see sites within the Old City, such as the famous Western Wall.
✔ Mount of Olives
From here you will have the best view of the city, we went by car and there were parking places for free.
✔ Market of Mahane Yehuda
In this market you can eat local food, buy Israeli tea and drink, as it also has bars. We loved the Freddy Lemons bar, very good music and happy hour (2 beers for one). Also , there were only local people, no tourists.
✔ Visit the Jewish Orthodox neighborhood: Mea Shearim
Although the Sandemans guide warned us that it could be a dangerous thing to go without the dress codes they have for women, we dared to go in jeans. It is a unique neighborhood where only ultra-Orthodox Israelis reside. Of course, we must try to respect their rules of dress for women to avoid problems and we indicated in the post with tips for traveling to Israel and Jordan. And it is: long skirt up to the ankle (not pants), arms and chest covered, without tight clothes. It was brutal adrenaline to walk there, but better to wear proper clothes to feel something safer and less noticed. Think that you are the "rare" there.
✔ Hotels in Jerusalem
In Jerusalem we stayed at the Alon Hotel . It was super central, so we went everywhere on foot . It really was a kind of apartment with a mini kitchen that had a sink and fridge. The beds were very comfortable and cleaning was great, so we recommend 100%. Jerusalem is quite expensive in general, both the food and the stay.
5% discount in your travel insurance to travel to Israel and Jordan
And this has been roughly our itinerary through Israel and Jordan on our own. We hope it serves you as a guide. Finally, if you still do not have travel insurance, you have a 5% discount for being our reader. We recommend you the travel insurance IATI Backpacker for Jordan and the IATI Star for Israel .
We are Ruth & Jorge, Gran Canarians with a travelling soul. Experts in tourism and digital marketing. We share the most authentic side of Gran Canaria (where we live) and… our adventures around the world!
Reader Interactions
07/02/2023 at 03:56
Hello, did you find it very expensive to rent a car and do your own driving? Is traffic crazy? Was the gas a big part of your budget?
Do you think it would be a better idea to stay mostly in Jordan (and make day trips to Israel) since it is said to be cheaper there?
If we go in May, is the water warm enough to swim in? Is it too hot to walk around in May?
07/02/2023 at 08:44
Hi Janet!! We didnt find it very expensive because we divided the total between three! Traffic was normal in Israel and the drive is not so long, so it wasnt a big part of the budget!
Concerning staying in Jordan, it could be, but you will spend more time traveling then…
The weather is a bit crazy right now, I think it is better to check the forecast a week before… We went in November, I can only talk about my experience… water was OK in the Death sea, Red sea and Mediterranean sea.
I recommend you to check this post with all the tips for traveling to Israel and Jordan.
https://localguidegrancanaria.com/en/tips-for-traveling-to-israel-and-jordan/
Have a good day!
Leave a Reply Cancel reply
Your email address will not be published. Required fields are marked *
Quiero recibir la newsletter de Local Guide Gran Canaria
Legal Disclaimer:
Cookies policy
Privacy policy
Terms & conditions
youtube
Newsletter Telegram:
Subscribe to our epic newsletter:.
We do not send spam. Read here our privacy policy.
Check your inbox or spam folder to confirm your subscription to our newsletter and start receiving our news about Gran Canaria :)

Strictly necessary cookies
Third party cookies or analytics
Additional cookies or advertising
This website uses cookies so that we can offer you the best possible user experience. Cookie information is stored in your browser and performs functions such as recognizing you when you return to our website or helping our team understand which sections of the website you find most interesting and useful.
You can check here our privacy policy and cookies policy .
Strictly Necessary Cookies must always be enabled so that we can save your cookie setting preferences.
These cookies are:
User Log in
Cookie acceptance
If you disable this cookie we will not be able to save your preferences. This means that every time you visit this website you will have to activate or deactivate cookies again.
This website uses Google Analytics and Facebook Pixel to collect anonymous information such as the number of visitors to the site, or the most popular pages.
Leaving this cookie active allows us to improve our website.
Please enable strictly necessary cookies first so we can save your preferences!
This website uses the following additional cookies:
Google AdSense
More information about our privacy policy and cookie policy.