facebook-official
pinterest-circled
youtube-play
How to Get the Best Hobbiton Discount
Where to buy cheap hobbiton tour tickets online.
Hobbiton: it's the magical movie set that, whether you're a fan of The Lord of the Rings or not, is oh-so-enticing to visit. "Ringers" will marvel at standing in real Middle-earth, movie buffs will learn a lot about the behind-the-scenes, while landscape-lovers will be spoiled by the rolling farmlands and quaint village. Those who are conscious about their budget, however, will want to make sure they get the best price for the experience. This guide on how to get the best Hobbiton discount will help you solve this real mystery of Middle-earth…
We'll preface by saying that the Hobbiton Movie Set rarely does discounts. However, there are ways to be a savvier traveller by using online travel agents like Klook to get a bit of a discount and/or combine Hobbiton with a better-value experience for your money. We compare booking through the Hobbiton Movie Set and online travel agents in this guide.
How Much Does Hobbiton Cost?
The retail prices for The Hobbiton Movie Set Tour have fluctuated over the years, but to give you a ballpark figure, we've listed the typical Hobbiton tour prices below.
The prices for the standard Hobbiton Tour from "The Shire's Rest" i.e. Hobbiton itself on Buckland Road near Matamata, are the following:
Adult – NZ$80-$100
Youth (9-16 years) – NZ$40-$50
Child (0-8 years) – Free
Family Pass (2 Adults and 2 Youths) – NZ$220-$240
Should You Book Your Hobbiton Tour Direct?
It's common for tour operators to offer the best deals to customers who book direct, but, honestly, this has never been the case with Hobbiton. Hobbiton keeps their tours at a rigid price where they'll rarely offer a discount. On the flip side, that price stays the same for booking through online travel agents, so you can simply book through your preferred booking method without having to waste time comparing prices across several websites. So what are the benefits of booking your Hobbiton ticket directly through the Hobbiton Movie Set?
The one benefit we can see is the price of the Hobbiton Movie Set Family Pass. The Family Pass is rarely available through online travel agents, which saves you over 15% off the full price if you were to pay for two adults and two youths separately.
Consider Online Travel Agents
As already mentioned, there tends to be no difference in Hobbiton ticket prices between booking directly and with online travel agents. So why do we prefer to use an online travel agent anyway?
More User-friendly
Usually, we would say that the cancellation policy tends to be better on online travel agents, but with Hobbiton having a pretty lenient cancellation policy of a full refund if cancelled more than 72 hours before the tour, cancellations are not really an issue with Hobbiton. The difference, however, is that it's much more straightforward to cancel a tour through online travel agents – they are designed to be user-friendly. Cancelling a booking through the Hobbiton Movie Set requires some emailing back and forth.
Get Instant Confirmation
Speaking of ease, online travel agents can offer instant confirmation, so you'll get peace of mind knowing that you have a place on the tour as soon as you book! You don't have to wait around for a confirmation email like you do when booking directly through the Hobbiton Movie Set. This is especially a feature we like about websites like Klook.
Benefit from Loyalty Programs
Another aspect of online travel agents is that they often have some sort of loyalty program. For instance, Klook does "Klook Credits" which you can use to get a discount on your next booking. Like any loyalty program, that's not going to save you a crazy amount, but that's a discount you would otherwise not benefit if booking directly through the Hobbiton Movie Set. Check out the Hobbiton Movie Set Guided Tour on Klook to see their other benefits from booking this tour.
Save on Your First Purchase
Of course, online travel agents want you to purchase from them again and again and again, as we already established with the "Klook Credits". Well, some online travel agents also offer a discount on your first booking – again, a discount you were never going to get out of the Hobbiton Movie Set. Even if you never use the online travel agent again, at least you benefited from that first discount.
Purchase Bundles and Save
Finally, online travel agents sell all sorts of travel experiences, from tours to airport transfers. With that, they have the ability to create "bundles" of experiences, which tend to work out a little cheaper than if you were to purchase separately. Browse the online travel agents' websites and see what you find! After all, we bet Hobbiton is not the only activity you want to do in New Zealand…
Get a Hobbiton Activity Combo
After comparing booking a Hobbiton tour direct with booking through an online travel agent, we might have found ways to get a small Hobbiton discount but we can't end this guide without mentioning Hobbiton activity combos, which we believe is the best way to get good value for money when it comes to visiting Hobbiton.
A tour of the Hobbiton Movie Set is only around two hours long, so no doubt you'll want to fill the rest of your day with more excitement. There are all sorts of Hobbiton combos with other activities that are available on online travel agent websites, such as the Hobbiton and Waitomo Caves Tour for Auckland available on Klook . The small-group tour includes return transport to your hotel, water and snacks to keep you going, and of course, entry and guided tours at both Hobbiton and the Waitomo Glowworm Caves. Considering the ease of the experience and the fact that Klook often has discounts of around 30%, this sort of combo is one of the best ways to visit Hobbiton while stretching your dollars further.
More About Hobbiton
23 Lord of the Rings Locations You Can't Miss in New Zealand
12 Things to Do in Matamata (That Doesn't Involve Hobbits)
New Zealand Travel Advice: How to Plan a Trip to New Zealand
This article was reviewed and published by Laura, editor in chief and co-founder of NZ Pocket Guide. Since arriving solo in New Zealand over 10 years ago and with a background in journalism, her mission has been to show the world how easy (and awesome) it is to travel New Zealand. She knows Aotearoa inside-out and loves sharing tips on how best to experience New Zealand's must-dos and hidden gems. Laura is also editor of several other South Pacific travel guides and is the co-host of NZ Pocket Guide's live New Zealand travel Q&As on YouTube.
Was this article useful?
Related posts, the hobbit location guide, new zealand infographic: new zealand is middle-earth, the guide to the lord of the rings in nelson tasman, the lord of the rings vacation guide: how to plan a lotr trip to new zealand 🧙‍♂️, 10 best hobbit filming locations in new zealand 🧙‍♂️, 23 best lord of the rings locations in new zealand, recommended for you, 30 reasons to travel in the shoulder and low seasons in new zealand, the 10 best tour companies in new zealand 🏅 [2023], the 6 best 7-day tours of the south island ⛰️ [2023], destinations, travel tips, connect with us, accommodation.
Welcome/Kia Ora By using this website you agree to our Privacy Policy and terms of use within it which includes sponsored posts and affiliate links.
Connect with us
Welcome/Kia Ora! By using this website you agree to our Privacy Policy and the terms of use within it.
© 2023 NZ Pocket Guide. Contact – Disclaimer

ULTIMATE GUIDE TO HOBBITON MOVIE SET DISCOUNT TICKETS & MORE
INSIDE: Everything you need to know about Hobbiton Movie Set Discount tickets & MORE!
Here's some Hobbiton facts for you.
30% of visitors to Hobbiton Movie Set have NEVER seen the films!
IT'S TRUE.
And yet, they LOVE it.
Reviews are outstanding.
Planning a visit to Hobbiton of your own?
Looking for Hobbiton Movie Set discount tickets & more tips before you go?
Keep reading!
Disclosure: This article contains affiliate links . If you make a purchase after clicking on one of these links, we may receive a small commission at NO extra cost to you.
Fun Hobbiton Movie Set Facts!
Here's three more facts about Hobbiton you never heard.
Hobbiton Movie Set Fact #1:
95% of what you see is real.
5% is fake, mostly the stuff on tables and in wagons.
(Your challenge when visiting Hobbiton is to see if YOU can spot the fakes!)
Hobbiton Movie Set Fact #2:
30 – that's THIRTY – cameramen (and camerawomen) and their equipment can fit inside Bilbo Baggins Hobbit Hole.
It's the largest on the farm.
Hobbiton Movie Set Fact #3:
When Gandalf looks out the window to see the sunset, the hobbit hole was facing the wrong way.
So Sir Peter Jackson filmed sunrise, and played it backwards!
Now that's movie magic.
There's plenty more facts and intrigue to be found on a Hobbiton Tour of Middle Earth.
Our guide to Hobbition below has ALL the details you need to know when booking a Hobbiton trip.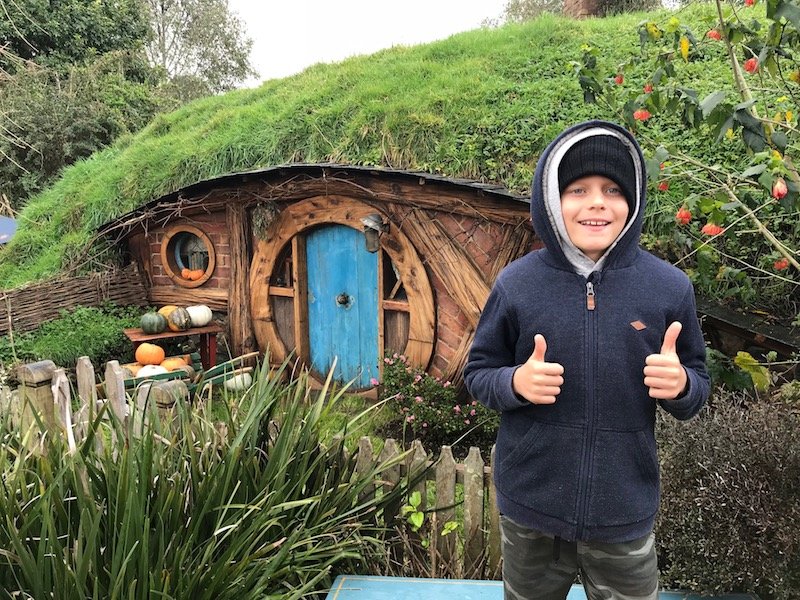 Guide to the Hobbiton Movie Set Tour New Zealand
Via self drive to the shire.
The wander around Hobbiton and the Shire starts for self-drive tour participants at the Shire's Rest Cafe, a 15 minute drive from Matamata i-SITE.
This super cute Tourist Information building in Matamata town is Hobbiton-themed too!
There's plenty of free parking at Hobbiton for cars and RV vans where you can leave your vehicle for the duration of your tour.
The Shire's Rest has a cafe where you can fuel up before your adventure, plus :
there's a ticket office, and
Hobbiton souvenir shop selling all kinds of Hobbiton souvenirs and official Hobbiton merchandise.
The cafe and ticketing centre is open 7 days a week, from 9am to 4.30pm with extended hours in summer.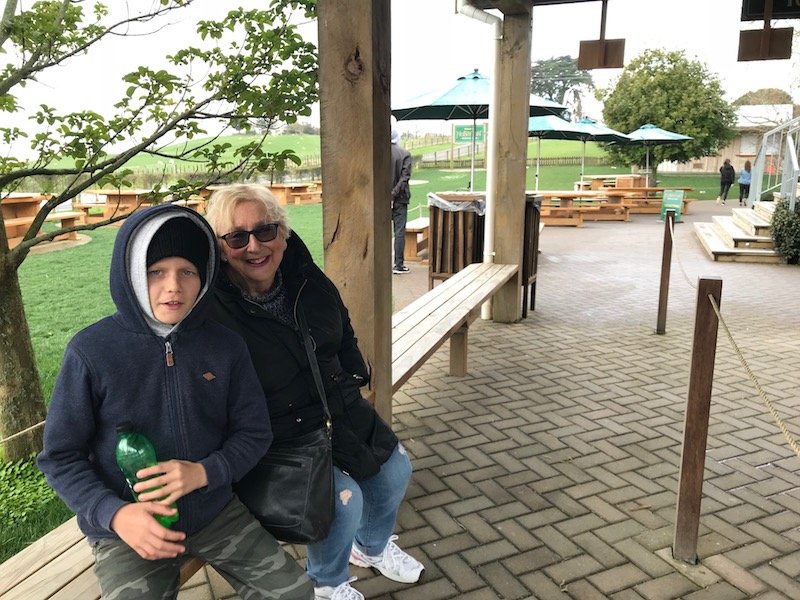 Guide to booking your Hobbiton Movie Set Ticket
HOT TIP: Book your Hobbiton Tour tickets in advance BEFORE you drive all the way there.
This is a best selling tourist destination in New Zealand, and there's NO guarantee of availability at the door, especially in the busy months of summer and spring.
DON'T RISK IT.
In fact, book as early as you can to secure the date you want.
Two friends have recently taken my advice, and could not believe how close they came to missing out when looking at the lack of tour availability on the day they wanted to visit.
This is not a drill. I repeat, this is not a drill.
(Thank me later!)
Book Hobbiton Tickets Now: Hobbiton Movie Set Guided Tour (self-drive) via Get Your Guide.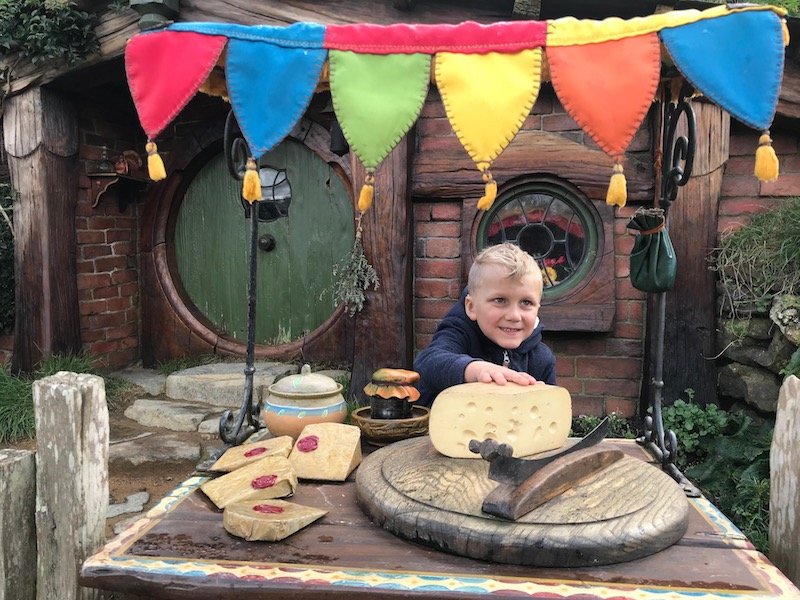 Book a Hobbiton Movie Set Tour And Festive Buffet Lunch Combo
Did you know you can also book a Hobbiton Movie Set Guided Tour that includes a FESTIVE BUFFET LUNCH?
First you'll experience the magic of Hobbiton on a Hobbiton walking tour of the movie set grounds. Next, you'll sample one of the special Hobbiton drinks when you head INSIDE the Green Dragon Inn.
Lastly, you'll feast on a festive lunch of delicious Hobbit approved dishes, including Kiwi classics and Hobbit family favorites in the Party Marquee.
The Meeting point for this tour is at Shire's Rest at 501 Buckland Road, Hinuera Matamata.
BOOK NOW: Hobbiton Movie Set Guided Tour & FESTIVE BUFFET LUNCH combo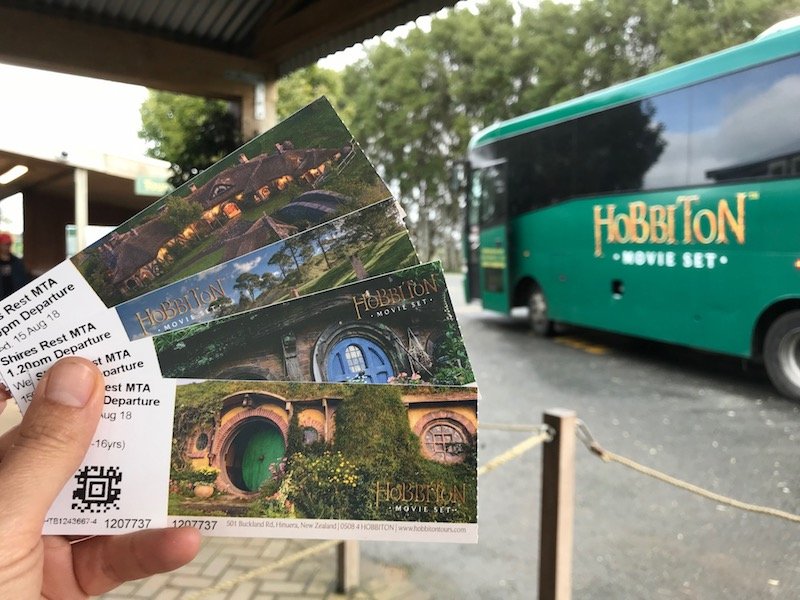 Hobbiton Movie Set Matamata & Rotorua departures
Booking hobbiton buses from matamata and rotorua.
If you are travelling New Zealand by public transport, catch the Hobbiton Tour bus from either the i-SITE at Matamata, or the Hobbiton Shop in Rotorua.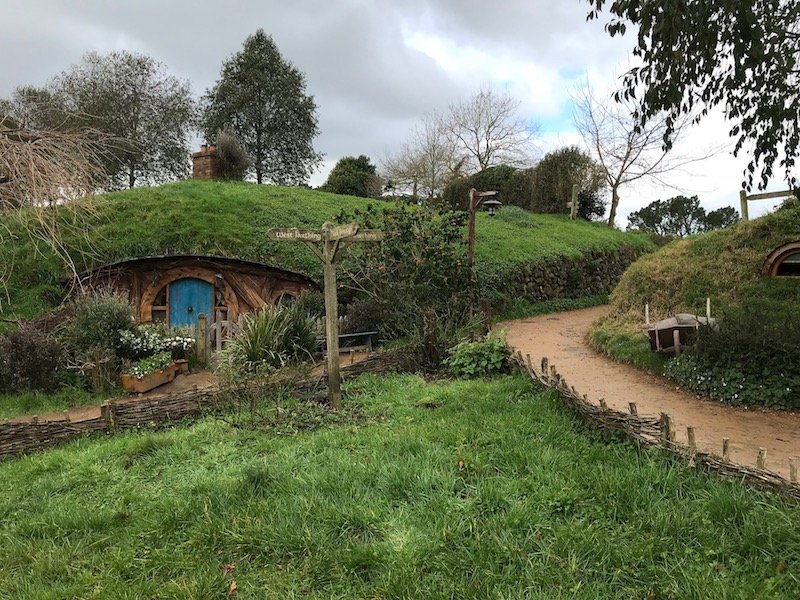 Hobbiton Tours from Auckland and Hamilton.
You can also visit the Hobbit village on a Hobbiton tour from Auckland.
Hobbiton day tours are run by a bunch of different tour companies, offering different itineraries including one that heads to Hot Water Beach on the Coromandel Peninsula and another that returns via Waitomo Caves.
Pick the one that suits you best.
How long is it from Auckland to Hobbiton? The drive is about 2 and a half hours.
BOOK NOW: Secure your place on a Hobbiton Tour from Auckland (via Get Your Guide)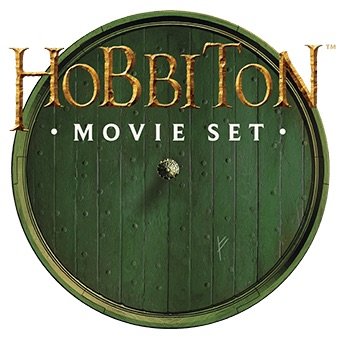 Hobbiton Movie Set Tours
From Shires Rest, you travel by bus (either one of official green Hobbiton buses, or with your coach tour) through the gates and INTO the boundaries of the Hobbiton Shire.
There's no other way in.
The drive takes you through the rolling hills and green pastures of the Alexander Farm.
Spotted by Sir Peter Jackson and his team during an aerial search for suitable film sites, the lush scenery proved irresistible.
It's truly magical.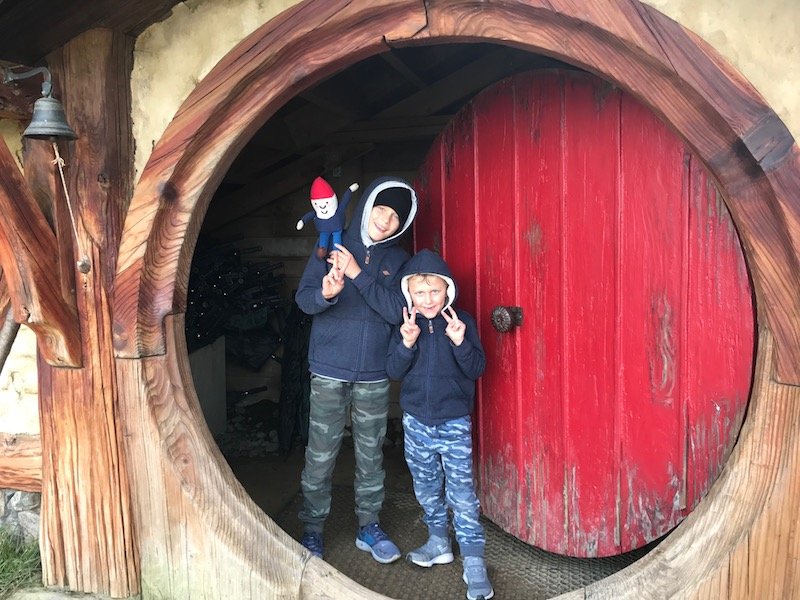 Hobbiton The Shire New Zealand
Soon enough, you reach your destination and head into the Shire on foot.
It's not long till you spot your FIRST Hobbit hole.
There's 39 of them.
The burning question on everyone's lips: 'Can we go inside'?
I'll let you in on a little secret.
Most of the Hobbit holes are cute whimsical facades only, but there is one Hobbit hole photo opportunity where you can see inside for yourself!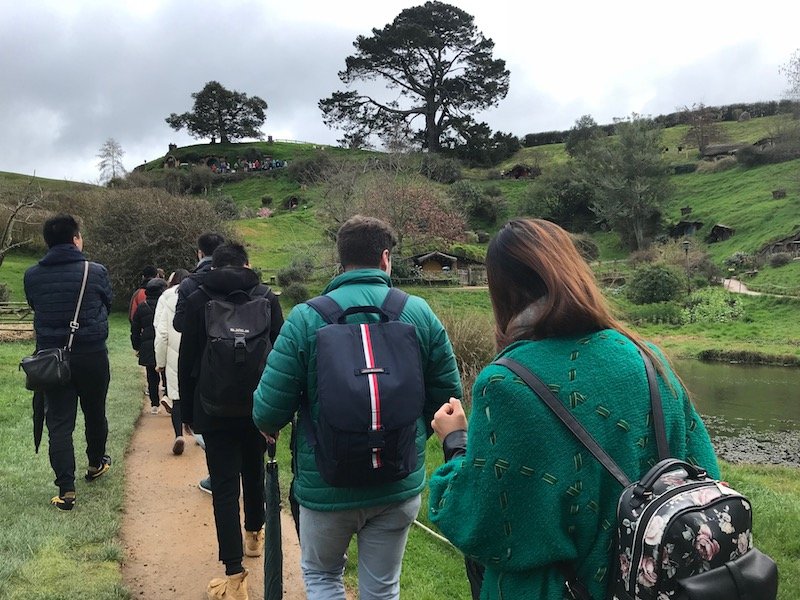 Wander the Hobbiton Movie Set on a Hobbiton Tour
The Hobbiton tour is led by a guide, who orchestrates the group to meander through the Shire at a moderate pace.
As you wander, you'll see many, many groups ahead of and behind you.
Somehow it's not too bad, as you are spaced out and never intrude on one another.
Stay close to the guide as you wander the Hobbit setting and hear all the stories, a well-rehearsed humorous spiel filled with interesting titbits of history and Sir Peter's filmmaking antics.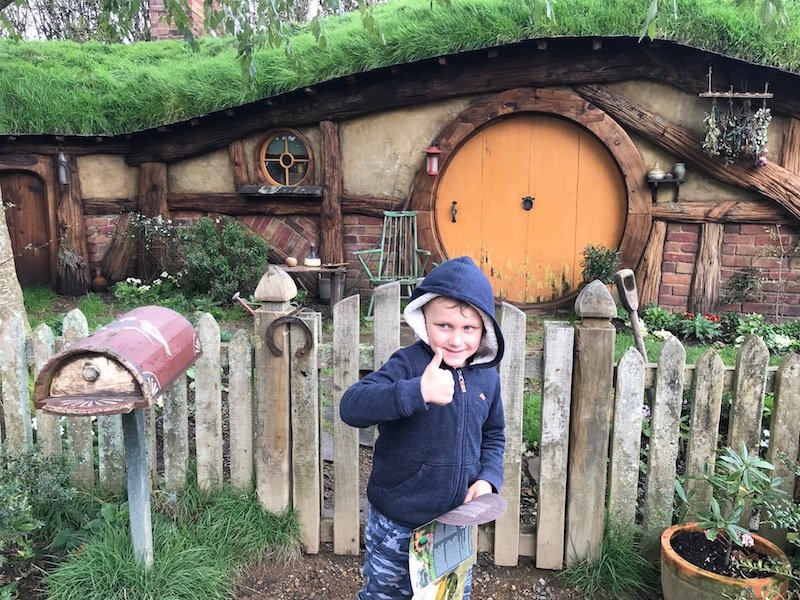 Hobbiton selfies!
There's plenty of time for photos and selfies in this super cute Hobbit shire.
Take a selfie in front of a Hobbit door.
It's the stuff of dreams.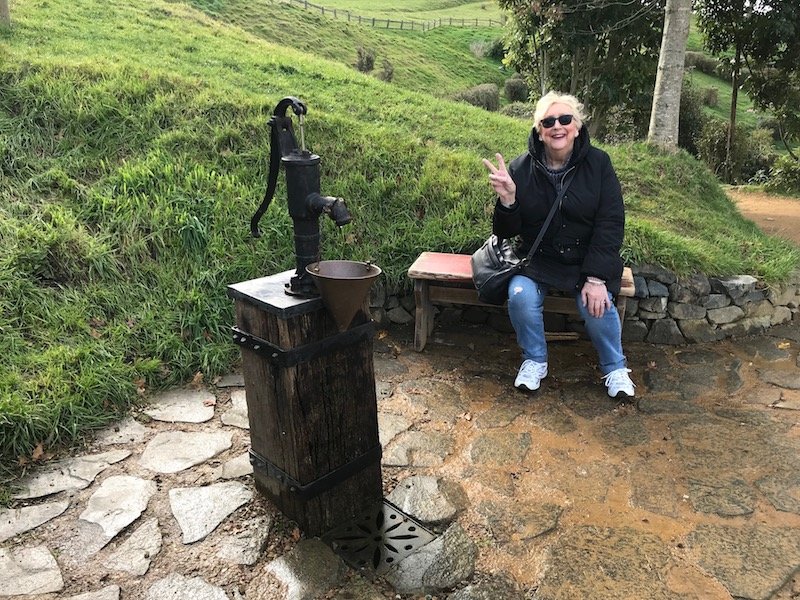 It's hilly!
Be prepared for a slog up a slippery slope as you head up the hill towards the giant (fake) Oak Tree, back towards the Mill, and over water to the elegant Green Dragon Inn.
Luckily, there's a few places to sit down and rest when you need to catch your breath.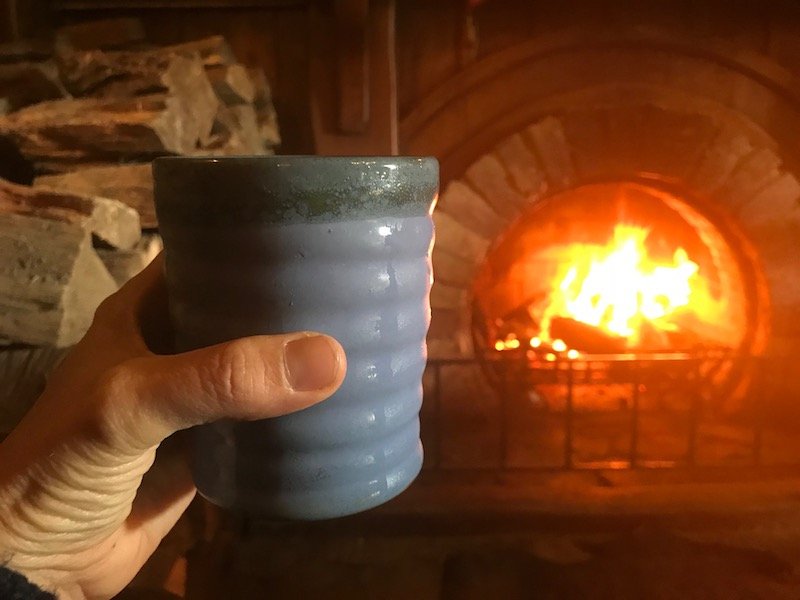 Visit the Green Dragon Inn at Hobbiton
End the tour with a complimentary glass of one of Hobbiton's own exclusive drinks – brewed ales, apple cider or non-alcoholic ginger beer.
We nabbed chairs by the fire , enjoying the picturesque elf-like surroundings of this enchanting pub.
Be quick if you want to eat something from the snack menu at the Green Dragon™ – you have about 20 minutes to wolf it down.
It's our only complaint about the tour.
20 minutes in the Green Dragon is simply not long enough to soak up the magic!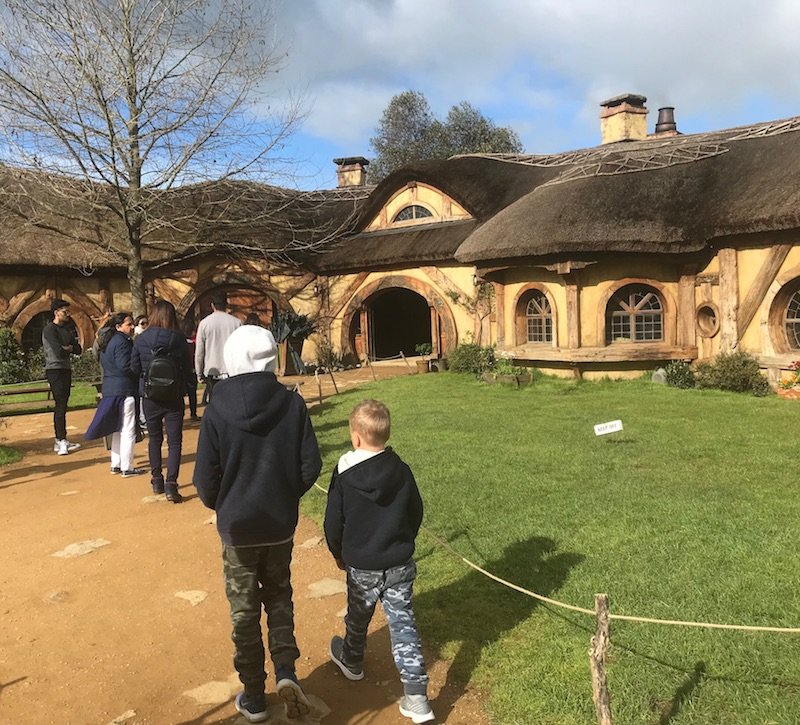 Hobbiton Evening Banquet Tour
If eating a decadent meal in the Green Dragon Inn at Hobbiton is on your bucket list, join the Hobbiton Evening Banquet Tour for a banquet feast fit for a Hobbit, or a King.
This Hobbiton Movie Set events tour includes an exclusive look at Hobbiton at night , and a secret celebration too.
Evening Banquet Tours depart four times per week on Sunday, Monday, Tuesday and Wednesday evenings all year round, with additional departures subject to demand over summer.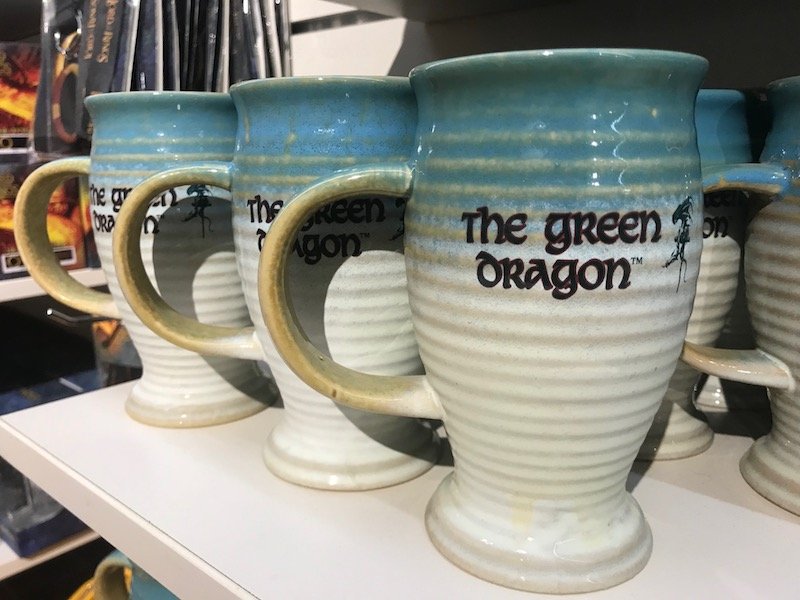 Hobbiton Movie Set Gift Shop
Want to know what hobbiton souvenirs to buy .
Collect all your favourite Hobbiton souvenirs in the Shire Store and Hobbiton Gift shop at the end of the tour.
There's a tonne, including:
exclusive Hobbiton souvenirs
Hobbit memorabilia
Hobbition postcards & stationery
Hobbit ears!
You'll be hard pushed to leave empty-handed.
(See the link at top of page for a sneak peek INTO the shop!)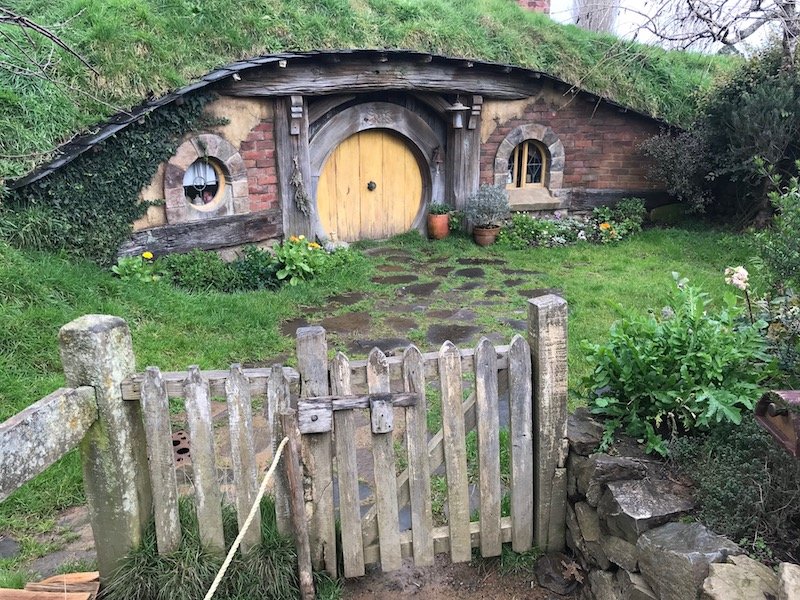 Hobbiton Accommodation
Lookingn for Hobbiton movie set accommodation?
Check out these Hobbiton farm stay accommodation near Hobbiton movie set.
Woodlyn Park Hobbit Holes
Or if you desperately want to sleep a night in your very own Hobbit Hole, book one of these two Hobbit Hole hotel rooms at Woodlyn Park.
(You can also sleep in a Bristol Freightor plane , in a train carriage , or on a landlocked ship at Woodlyn Park motel too!)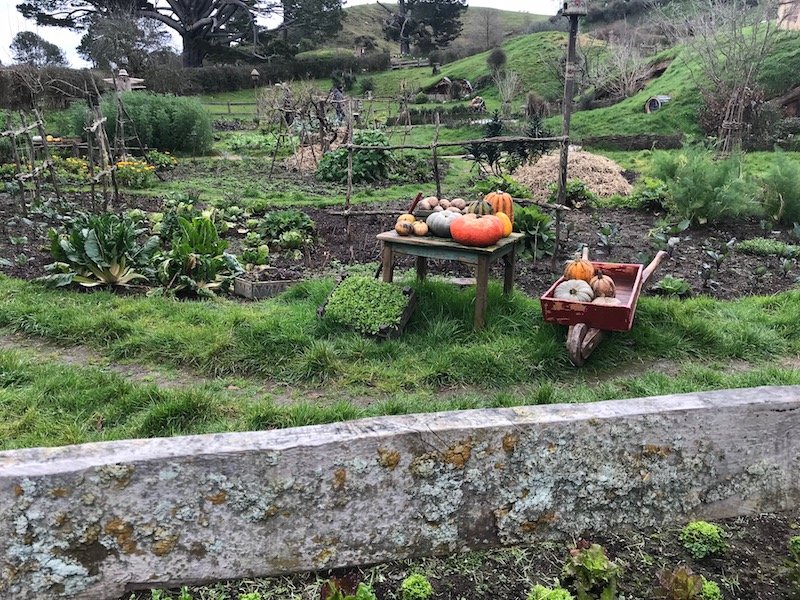 FREQUENTLY ASKED QUESTIONS
No.1: where is hobbiton in new zealand.
Wondering where in New Zealand is Hobbiton?
Join the club.
Hobbiton in the centre of the North Island, between Auckland, Rotorua, Waitomo, and Hamilton.
Hobbiton is:
60 minutes north-west of Rotorua
45 minutes from Hamilton
2 hours 15 minutes from Auckland
70 minutes from Waitomo
Matamata is the closest town. It takes 15 minutes to drive to the tour departure point from the main town hub of Matamata.
Take a look at our handy map here.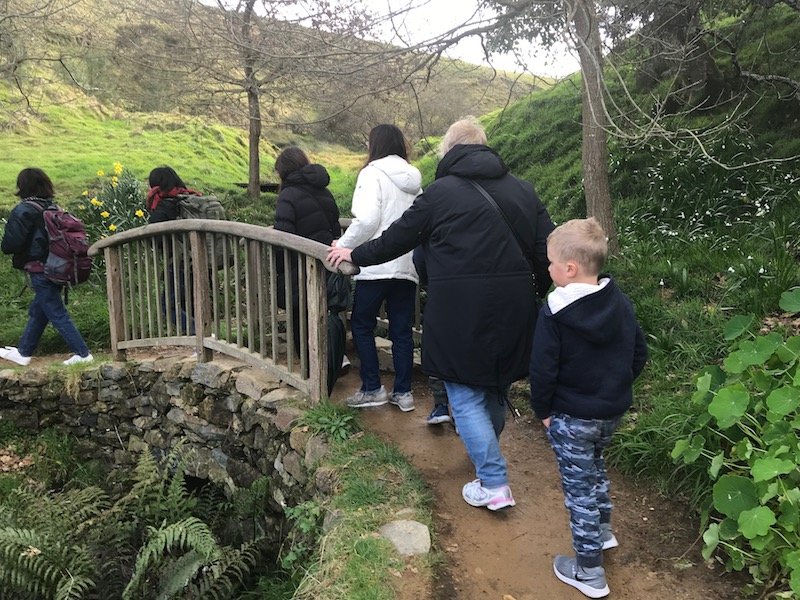 No.2: Where was the Hobbit filmed?
The Hobbit was filmed throughout New Zealand , on both the North and South Islands.
The Hobbit movie set was constructed on this land near Matamata, and remains in place for visitors to check out.
No.3: Can you go inside a Hobbit House?
You can go inside one of the Hobbit houses. The one with the red door. (See main picture).
But it's just a photo opportunity.
There's just rammed earth walls and storage areas behind it.
No.4: What's the best Hobbit Door?
There's 39 Hobbit doors around the Hobbiton set.
(Some say 44, but that's not the official word)
You get to pick your favorite!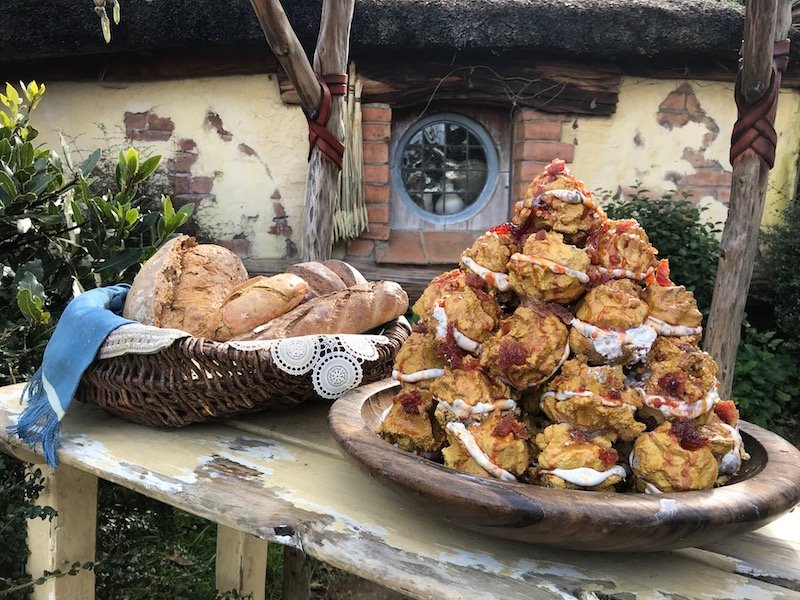 No.5: How many Hobbit movies are there?
There are 3 Hobbiton™ movie films.
The Hobbit: An Unexpected Journey.
The Hobbit: The Desolation of Smaug.
The Hobbit: The Battle of the Five Armies.
No.6: How many Lord of the Rings movies are there?
There are 3 also.
The Lord of the Rings: The Fellowship of the Ring.
The Lord of the Rings: The Two Towers.
The Lord of the Rings: The Return of the King.
No.7: Are they still filming at Hobbiton?
Filming has finished.
Tours to Hobbiton are the only way in now.
No.8: Who owns Hobbiton Movie Set?
The Alexander Family, who own the farm on which the movie set was established, in partnership with Sir Peter Jackson.
More than 800,000 people have visited since Russell Alexander conducted his first tour, back in December 2002.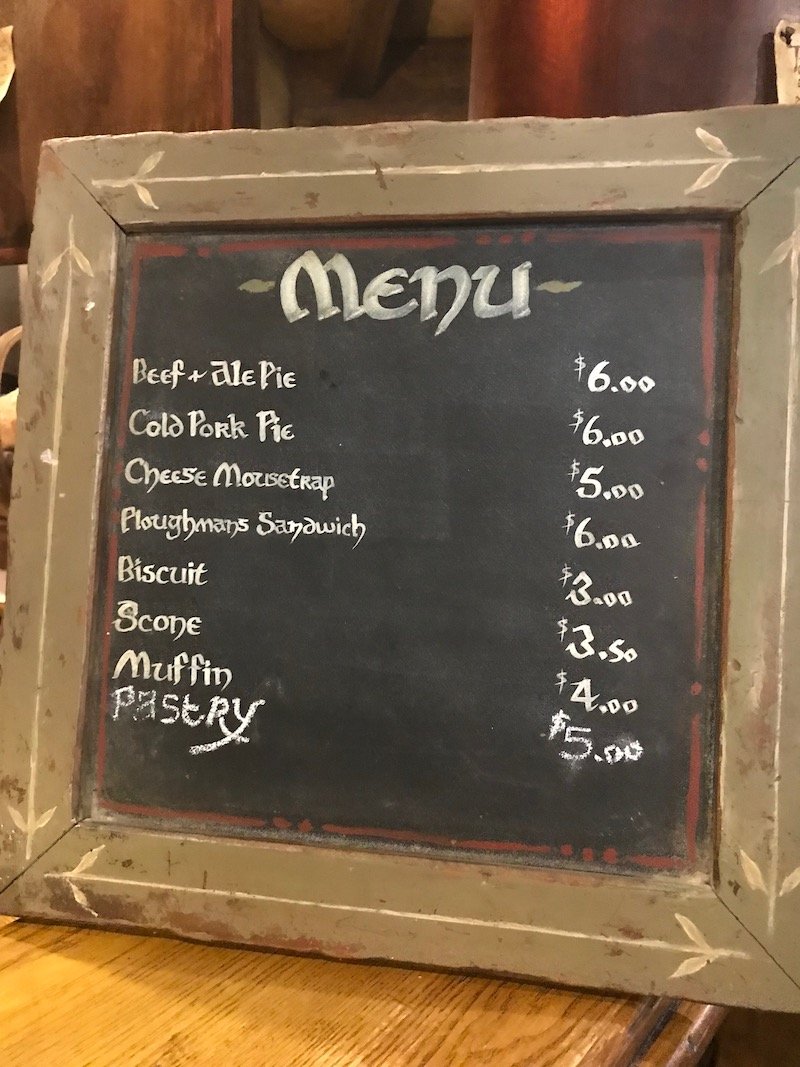 THE INSIDE SCOOP: Visit Hobbiton in Matamata
Correct at time of publication on Roam the Gnome . Please check with venue for updates. We apologise in advance if there have been any changes we are unaware of. All prices in US dollars or NZ dollars as stated
Hobbiton Address: 501 Buckland Road, Hinuera, Matamata 3472 Telephone: 64 7 888 1505 Freephone: 0508 4 HOBBITON Email: [email protected] Website: Click here Opening Hours: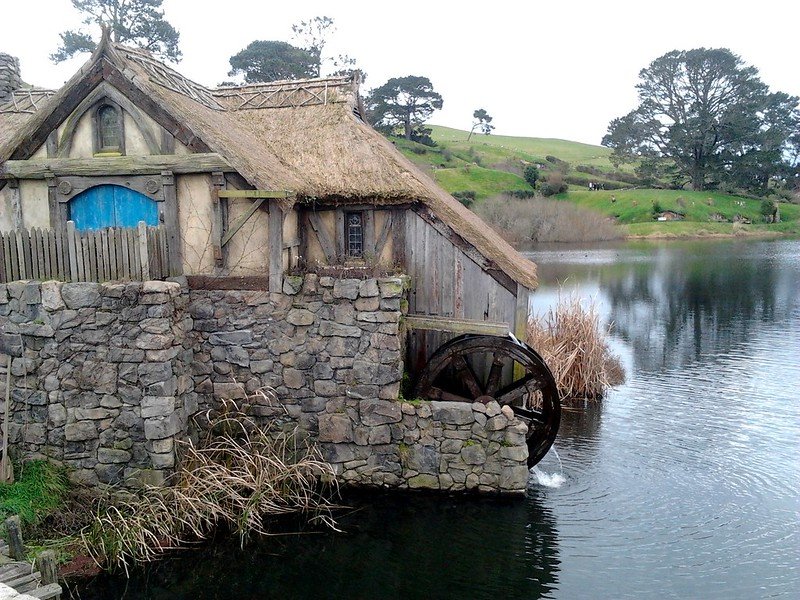 Image credit: Karina Salas F. via Flickr via CC BY 2.0
Hobbiton Movie Set price
If you want to book through the official website, the Hobbiton ticket prices are below:
Hobbiton Shires Rest or Matamata?
The Hobbiton movie set entrance fee from The Shires Rest and Matamata i-SITE including bus transfers is $84 NZ for adults 17 years +, $42 NZ for kids 9-16, and FREE for kids 0-8.
(You must book a ticket for everyone in your party, including kids under 8 to secure a seat on the bus.)
Want to know if you should buy tickets for Hobbiton from Shires Rest or Matamata?
Matamata is the closest town to the Hobbiton tour departure point.
Shire's rest is the actual final departure point for all tours – the entry gates that all tour buses drive through to enter the farm are literally across the road.
Still unsure? Here's what you should book.
Book Shire's Rest tickets
Book Shire's Rest if you are self-driving DIRECT to the onsite Hobbiton ticket office there. LOTS of free parking on site.
OR Book Matamata tickets
Book your tickets from Matamata if you don't have independent transport from Matamata to the Shires rest information centre (and the entry gates).
It's another 15 minute drive from Matamata to the Hobbiton ticket office
Hobbiton from Rotorua?
If you don't have your own car, another possibility is to join the tour bus in Rotorua.
Hobbiton prices for the tour and transfers from Rotorua are:
$119 NZ adults,
$77 NZ child 9-16, and
$35 NZ for kids 0-8 (transfer fee only).
Hobbiton Movie Set deals (ticket & meal combo)
Add a meal to your tour booking.
Festive feast lunch costs an extra $36 NZ per person for anyone 9 years and above.
A breakfast feast is $26 NZ per person extra for anyone 9 years and above. Book meals at the same time as you book your Hobbiton tickets.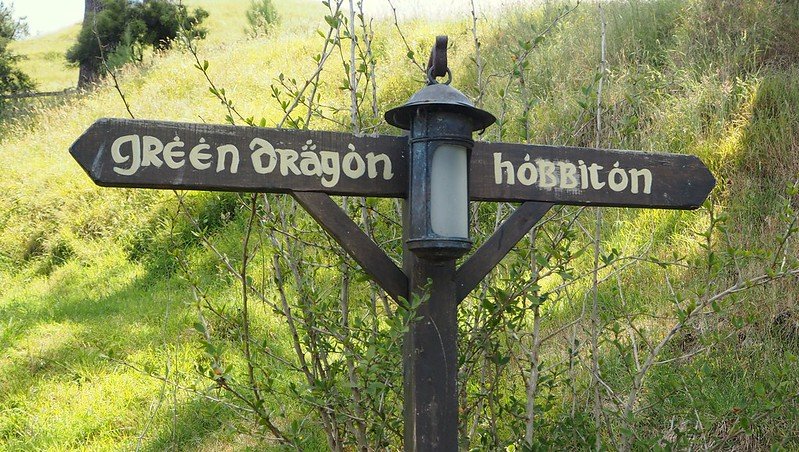 Image credit: Henry Burrows via Flickr via CC BY-SA 2.0
How long is the Hobbiton Tour?
Hobbiton tour duration.
Wondering how long is Hobbiton movie set tour?
The Hobbiton tour duration runs for approximately 2 hours if you depart from Shires Rest.
3 hours including transport from Matamata, and 4.5 hours return if you depart from Rotorua.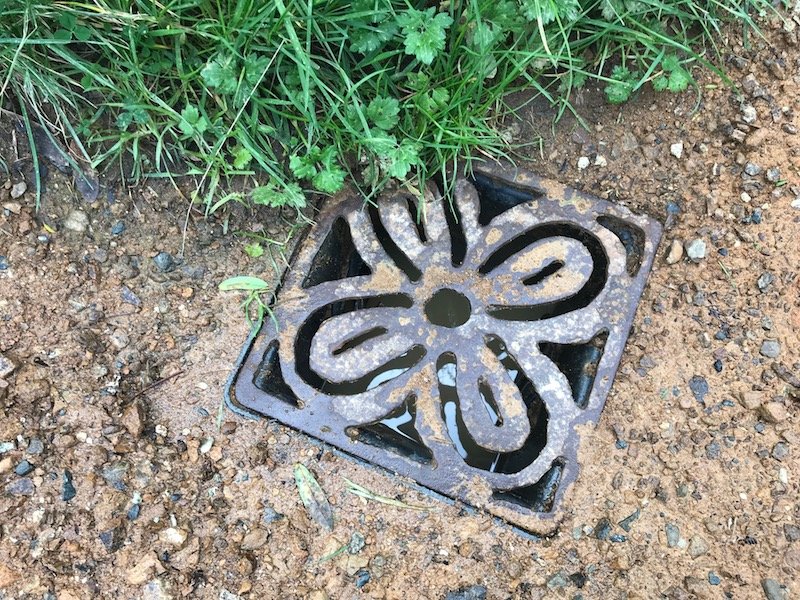 Where to buy Hobbiton Tickets (Best price)
Book hobbiton movie set discount tickets now through get your guide. .
It's the easiest way to guarantee your spot so you don't miss out, and the cheapest tickets to Hobbiton around.
You can also buy Hobbiton New Zealand tickets ONLINE from the offical site to secure your spot.
OR IN PERSON when you arrive in New Zealand at:
the Matamata i-SITE
The Shire's Rest ticketing office, or
the Hobbiton Rotorua store.
The only way to access the Hobbiton Movie Set and see the hobbit houses in New Zealand is with a fully guided walking tour.
Please arrive 15 minutes early to your departure point to avoid missing the bus.
Pre-booking your Hobbiton tour is essential.
Tours can and do sell-out well in advance so please pre-book to avoid disappointment.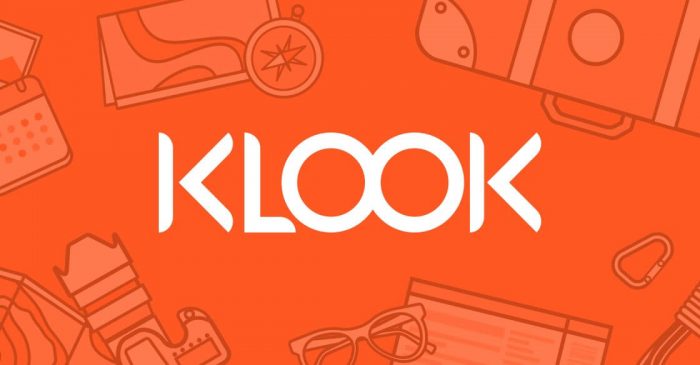 Where can you buy Hobbiton discount tickets?
You could also try Klook, or GrabOne in New Zealand (a reputable discount tour agency) for Hobbiton movie set tour discount tickets.
Compare your prices before you buy.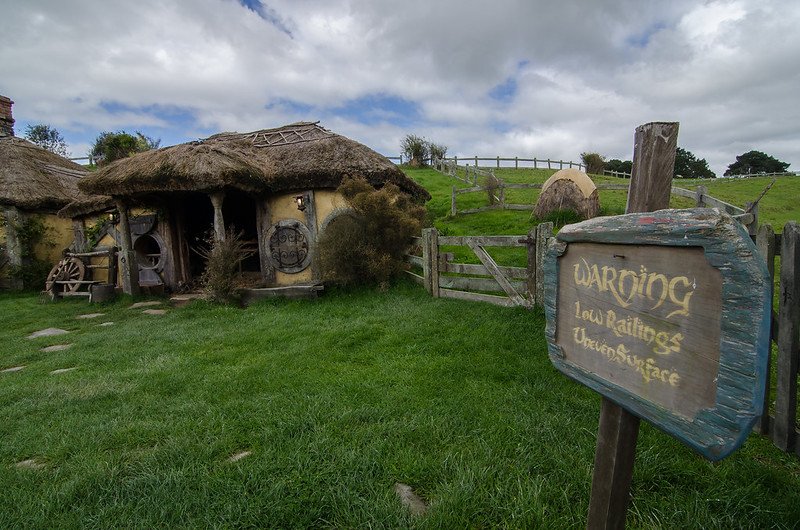 Image credit: Tom Hall via Flickr via CC BY 2.0
Hobbiton Promo Code?
Looking for a current promo code Hobbiton has on offer?
We've been unsuccessful in finding a current Hobbiton Tour promo code to use at Hobbiton, or any other Hobbiton deals.
Your best bet for discount entry to Hobbiton is through one of the Group Buying sites listed above.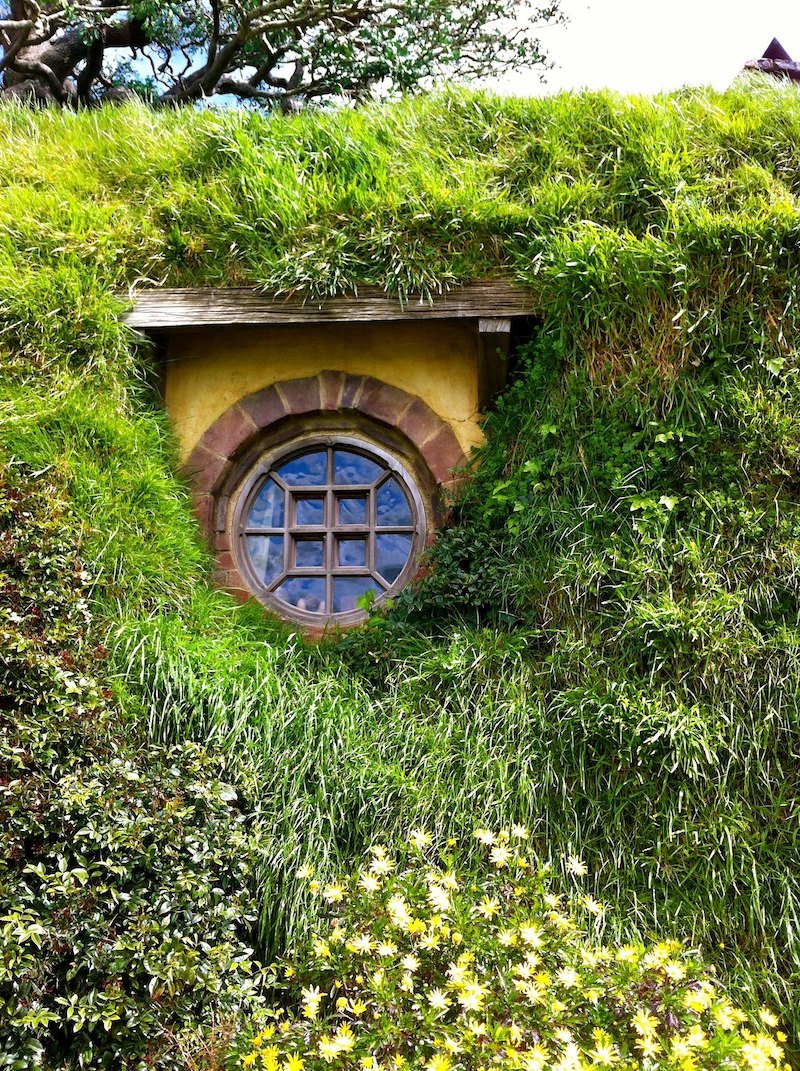 This is the window from which Sam spied on Frodo at Bag End.
Image credit: Maria Nayef via Flickr via CC BY 2.0
Is the Hobbiton Movie Set Tour worth it?
A zillion visitors will agree with me.
It's definitely worth it.
You can't see anything like it anywhere else in the world.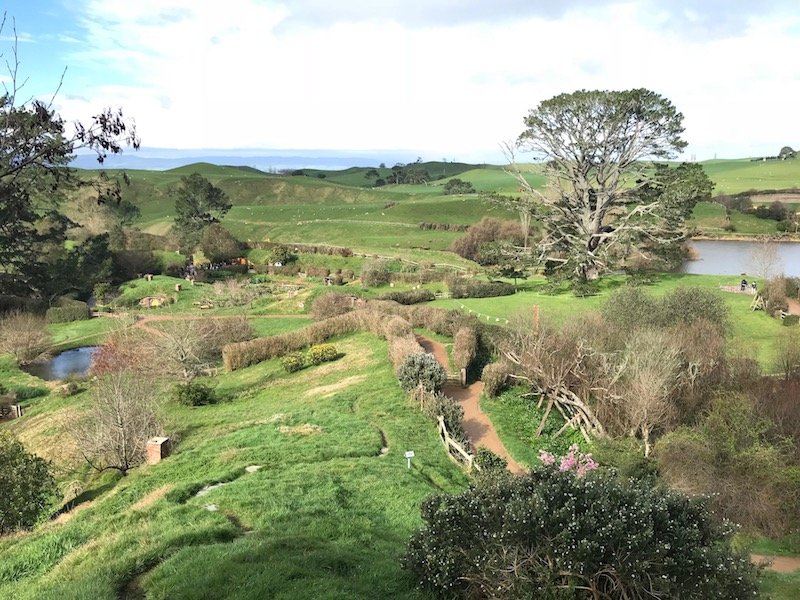 How to get to Hobbiton
All you need to know about how to visit Hobbiton movie set.
By Self Drive Car:
If you are self-driving, head straight to the Shires Rest at 501 Buckland Road, Hinuera, Matamata as there are no off-set transfers included.
Click here for driving maps from most major cities
Parking: Free parking onsite at The Shire's Rest for cars and RV vans.
How long does it take to drive to Hobbiton?
Auckland to Hobbiton by car takes approximately 2.5 hours.
Waitomo to Hobbiton by car takes an hour and 15 minutes.
Rotorua to Hobbiton by car takes an hour.
Hamilton to Hobbiton takes 45 minutes by car.
Hobbiton Tour Times
By Official Hobbiton Tour Bus from Matamata
Hobbiton Tours depart the Matamata i-SITE regularly from 9.30 to 3.30.
Additional tours departing at 3.30pm operate 1 Sep to 30 Sep.
From 01 Oct 2018, Tours depart daily at:
Additional tours departing at 4.45pm may operate on all or selected dates between 01 Dec to 28 Feb .
By Official Hobbiton Tour Bus from Rotorua
Hobbiton Shire tours depart the Hobbiton Movie Set shop at 1235 Fenton Street Rotorua at:
Tour from Rotorua is approximately 5 hours long.
Additional departure times are scheduled if these ones book out.
Hobbiton Map
Hobbiton weather
New Zealand weather is extremely changeable.
Bring raincoats or wind jackets just in case.
Hobbiton provides giant umbrellas for the walking tour. These must be shared between two.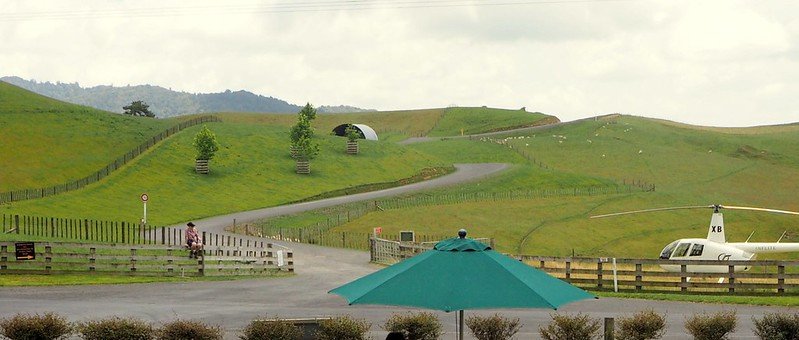 This is the entry road in to Hobbiton
Facilities at Hobbiton
Toilets:
Yes, including baby change table, at the Shire's Rest.
More toilets at the Green Dragon Inn.
Important: There are NO toilets in Hobbiton Shire, so make a quick stop before you embark on your tour.
Disability access: Yes Closest ATM: Credit cards and EFTPOS accepted at Hobbiton cafe and stores Ground cover : Can be slippery when wet. Wear good walking shoes. Picnic tables: Yes, at the Shire Cafe. Click here for the menu. Dogs : No
Toadstool Rating- Hobbiton The Shire
More FUN than we ever imagined!

Looking for More Things to Do in New Zealand for Kids near Matamata?
Click the blue links below for more things to do in Rotorua , Auckland, Waitomo and Taupo.
Rotorua DUCK BOAT tour – all you need to know
Guide to railcruising rotorua (awesome for families), ultimate guide to the waitomo cave glowworms tour.
Affiliate Disclosure:
This website contains references to products and services from our favourite brands. Some of these are affiliate links . If you make a purchase or booking after clicking on a link on Roam the Gnome™, we may receive a small affiliate commission at NO COST to you. All information on disclosures can be found in our Privacy Policy
Roam the Gnome ™ is a participant in the Amazon Services LLC Associates Program, an affiliate advertising program designed to provide a means for website owners to earn advertising fees by advertising and linking to amazon.com, and any other website that may be affiliated with Amazon Service LLC Associates program. Amazon and the Amazon logo are trademarks of Amazon.com, Inc. or its affiliates. As an Amazon associate , I earn from qualifying purchases.
Click here for a detailed explanation of our Advertising policy.
Thank you for visiting Roam the Gnome Family Travel™ Website Directory. Bookmark this page so you can find us again.
Waikato Region Tourism
Waikato Region Accommodation
Waikato Region Bed and Breakfast
Waikato Region Holiday Rentals
Waikato Region Flights
Waikato Region Restaurants
Waikato Region Attractions
Waikato Region Travel Forum
Waikato Region Photos
Waikato Region Map
Waikato Region Guide
All Waikato Region Hotels
Waikato Region Hotel Deals
Waikato Region
Things to Do
Restaurants
Holiday Homes
Travel Stories
Add a Place
Travel Forum
Travellers' Choice
Help Centre
Hobbiton Promo Code - Waikato Region Forum
South Pacific
New Zealand
North Island
Waikato Region
Hobbiton Promo Code
New Zealand Forums
United States Forums
Europe Forums
Canada Forums
Asia Forums
Central America Forums
Africa Forums
Caribbean Forums
Mexico Forums
South Pacific Forums
South America Forums
Middle East Forums
Honeymoons and Romance
Business Travel
Train Travel
Traveling With Disabilities
Tripadvisor Support
Solo Travel
Bargain Travel
Timeshares / Holiday Rentals
North Island forums
Waikato Region forum
18 replies to this topic
I don't think they deal with "promo" codes, they are very popular and most all the tours book up without issues.
You could contact them direct to see if they have any specials offers running at certain times on certain days but as others have said the tours are very popular and book out without discounting so you may not find any "specials"
It's a 2-year old thread. The OP is from Atlanta, Georgia. It's not likely a promo code at this late date is going to do them any good.
Perhaps someone is on a trip where you don't leave the farm?
**It's a 2-year old thread**
I just knew I should have gone to bed earlier last night.😊😊
You Aussies are always playing catch up 😉
In those 2 years I still haven't seen any promo codes or specials. Sometimes I think I should go, but $90! Na.
I went... and I paid over $90, and I thought it was worth it, but I loved the set and how neatly it was laid out. It brought the village of my imagination to life - and with much more colour, too. It is well designed, and well planned out, right down to the little pottery jars you get beer in at the end.
I am not sure that the price is worth it if J.R.R. Tolkien's works in general, and hobbits in particular, are not your thing; and I wish that tour operators would check with their guests about that, before bringing them there in their hordes...
Travelling around the Coromandel peninsula 29 September 2023
Catheral cove to remain closed over summer 31 August 2023
Quad bikes 28 August 2023
Fuller Ferry from Coromandel to Auckland 20 July 2023
Where to stay on Coromandel Peninsula 11 June 2023
Uber/lyft/taxi services in Matamata? 27 April 2023
Raglan-Kawhia road condition 24 April 2023
Taupo with kids - Trip report 4 nights 16 April 2023
Taupo with kids - 4 nights 11 April 2023
Spellbound vs Discover Waitomo 07 April 2023
Are visitors still discouraged? Cathedral cove and surround? 06 April 2023
Taupo or Rotorua? 10 February 2023
Is Trip Plan still viable given the rain & flood impacts? 03 February 2023
Hobbiton Promo Code 30 January 2023
Waikato Region Hotels and Places to Stay

Student Discounts
Black Friday Coupons
Halloween Coupons
Thanksgiving Coupons
Tax Preparation Coupons
Military Discounts
Employee Discounts
Senior Discounts
Back To School Coupons
Cyber Monday Coupons
Valentine's Coupons
Summer Coupons
Father's Day Coupons
Graduation Coupons
Memorial Day Coupons
Christmas Coupons
Shop Smarter
Scholarship
Hobbiton Movie Set Tour Promo Code
Refer to the latest Hobbiton Movie Set Tour Promo Code available on our website to help you achieve the best discount rates for your next online shopping. Our coupon expert team works hard to make sure all of the discount codes are valid and updated frequently. Take the suggested Hobbiton Movie Set Tour Promo Code here and start saving money instantly!
HOBBITON Promo Codes September 2022 - 25% OFF - HotDeals.com
Waitomo & Hobbiton 1-Day Tour - Hobbiton Tours
Getting Here - Hobbiton™ Movie Set Tours
WebShop HOBBITON for savings that seem too good to be true however, they're not! Hobbiton ...
HOBBITON Black Friday Promo Codes & Discount …
Evening Banquet Tour Second Breakfast Tour Plan Visit
Hobbiton Movie Set tour
Web20% Off. Double Savings! Extra 20% off Sitewide Items and Free Delivery. Soon. 75% Off. ...
Hobbiton Movie Set Tour Promo Codes & Deals - Couponannie
Hobbiton™ Movie Set Tours
WebThe discounts above are the latest, most up-to-date Hobbiton Set Tour offers on the internet. ...
Hobbiton Set Tour Coupon & Promo Code | Verified Nov 2022
WebHOBBITON Coupon Code and Discount Code November 2022. There's ...
HOBBITON Coupon Code & Discount Code November 2022
So far on WebSo, CouponAnnie has 6 coupons in all Hobbiton Movie ...
Hobbiton Movie Tour Coupon & Promo Code | Exclusive Offers …
WebHobbiton Promo Code 14 October 2022. Fuller Ferry from Coromandel to Auckland 08 ...
Hobbiton Promo Code - Waikato Region Forum
HOBBITON MOVIE SET DISCOUNT TICKETS & MORE …
How to Get the Best Hobbiton Discount - NZ Pocket Guide
WebThere are 2 coupons 4 deals, 2 code zero free shipping coupons. At an average of ...
Hobbiton Movie Set Coupon & Promo Code | Top 2022 Offers
WebThere are now 2 code, 4 deal, and 0 free shipping promo. With an average discount of …
FAQs for Hobbiton Movie Set Tour Promo Code
Are there any current coupon codes or promotional offers available for hobbiton currently.
There are currently 49 active HOBBITON coupons currently available including promo codes of 0 and 11 offers from HOBBITON. All coupons and offers are listed are available on HotDeals.c...
How often do HOBBITON announce Coupon codes for new coupons?
In general, HOBBITON offers 1 coupon code each month. The Latest HOBBITON promo coupon code was discovered on Aug 10 2022 by our editor. There are 49 promo codes available...
What is the most recent HOBBITON coupon that is valid until August 2022?
The most recent HOBBITON coupon from August 2022: HOBBITON similar deals available on Amazon from August 2022. Limited-time offer. Act now!
How much an HOBBITON promo code help you save?
Shoppers can save the average amount of $19.77 with the HOBBITON promo coupon. Save up to 25% off by using the most current coupons and offers at HOBBITON.
How do I get the most recent coupons, promotions , and deals from HOBBITON?
Sign up for the HOBBITON newsletter that contains details about the current deals and offers that will ensure you never miss a coupon ever again. You will also receive...
Outstanding Stores' Coupons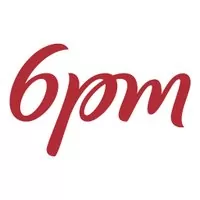 Venture beyond the door: A major development project is underway on the movie set until December 2023. Learn more here.  

Choose a Tour
Departing from Tour From The Shire's Rest™ until 30 November 2023 From Matamata I-Site until 30 November 2023
Date Selected
Group size 1
Departing from Hobbiton™ Beer Festival - Saturday Hobbiton™ Beer Festival - Friday
At Hobbiton Movie Set, we work hard to provide our visitors with an enjoyable, world-class Middle-earth experience and in return, we expect visitors to follow our policies and respect our facilities and our team. All visitors to Hobbiton Movie Set are required to meet the following conditions of entry. 
Conditions of Entry
All visitors must join a guided tour to access Hobbiton Movie Set as it is located on private property and is operated as a working farm.
Whilst on Hobbiton Movie Set premises, including The Shire's Rest, all visitors must comply with relevant Health and Safety directions, policies and announcements from staff. Any persons choosing to remain at The Shire's Rest while members of their group take part in a tour experience must be self-sufficient and able to meet their own needs for the duration of their time at The Shire's Rest. If these persons require support or assistance, a carer, family member or friend must remain with them at The Shire's Rest.
All visitors must have a ticket allocated in order to join a tour experience, including children and infants even where their admission is free of charge.
All visitors under the age of 14 must be accompanied by an adult ticket holder.
Where visitors miss their pre-booked tour time, Hobbiton Movie Set will advise visitors of the next available tour time. However, this is not guaranteed, and amendments may be made for an alternate date. For more information, please refer to the check-in process below.
New Zealand Gold Cards must be presented upon check-in to honour this fare type and are only available for direct bookings made with Hobbiton Movie Set. International Seniors Cards are not accepted.
Family Pass tickets are only available for our 2 hour Hobbiton Movie Set tour from The Shire's Rest and Matamata i-SITE and are only available for direct bookings made with Hobbiton Movie Set. A Family Pass includes 2x Adults and 2x Youth only, additional tickets can be purchased to suit individual groups.
Visitors must be able to present valid ID when requested, as indicated by the New Zealand Sale and Supply of Alcohol Regulations Act 2013. For more information on our alcohol policy, including types of ID we accept, please see below.
Visitors must remain with the tour guide for the duration of the tour, and must follow directions as set out by the tour guide at the commencement of the tour.
Photos and video recordings taken at Hobbiton Movie Set are for personal use only and are not to be sold, distributed or used for commercial gain due to our contracts with the film companies. For more information, including what equipment is allowed on the Movie Set, please see below.
Personal items must be carried by visitors for the duration of the tour and Hobbiton Movie Set is not liable for any damages or losses incurred to personal items.
Large or bulky luggage or items that may cause risk or discomfort to other visitors may not be permitted on our Hobbiton Movie Set vehicles or on the Movie Set tour. If needed, luggage can be stored in a locked storage area at The Shire's Rest.
No pets are permitted on the Movie Set with the exception of registered assistance animals.
All visitors must remain seated on Hobbiton Movie Set vehicles at all times, including infants and small children. Infant capsules are permitted, however these must be carried for the duration of the tour experience. 
All visitors must agree to remain respectful of others, and any adverse behaviour directed at visitors or staff will not be tolerated.
Unreasonable and excessive noise (such as music) or any behaviour likely to cause disruption to the tour experience for others is not permitted.
Climbing or standing on any restricted structure while on the Movie Set is strictly prohibited.
Deliberate damage, defacing or removal of any property on the Movie Set is strictly prohibited. 
Smoking and vaping is not permitted during the tour experience, but is permitted in designated smoking areas at The Green Dragon Inn.
The scattering of ashes at Hobbiton Movie Set is not permitted by the property owner.  
In the event of severe weather conditions we reserve the right to make alternative tour arrangements or adapt the tour experience in order to keep our staff and visitors safe in line with our Health and Safety procedures with no refund given. If Hobbiton Movie Set cancel the tour due to severe weather conditions, a full refund will be given
Hobbiton Movie Set reserves the right to terminate the tour experience or remove visitors from our venues if visitors are found to have breached these Conditions of Entry. Any visitor removed from the tour or any of our venues will not be entitled to a refund. Please note, these Conditions of Entry are subject to change without notice.
Check-in Process
Please check-in and collect your tickets from the Ticketing Office at least 20 minutes prior to your pre-booked tour time unless otherwise specified on your booking confirmation.
Check-in for all tours closes 5 minutes prior to your pre-booked tour departure time.
If you do not check-in 5 minutes before your pre-booked tour departure time, your booking may be moved to the next available tour. Please note this is not guaranteed and the next available tour may be on an alternate date.
Running late? Please ensure you contact our team as soon as possible. The more notice the better so we can offer the best option for your group.
If you miss your pre-booked tour time you are not guaranteed entry at another tour time. Hobbiton Movie Set will advise visitors who have missed their pre-booked tour time of the next available tour, but this may be on an alternate date.
No shows: If you do not advise our team that you will be late and fail to check in for your pre-booked tour time, your booking will be cancelled with no refund given.
If you need to make changes to your booking, please contact our team .
Amendments can be made up to 24 hours before your pre-booked tour time. 
Our tours can book out well in advance. If you need to make changes to your booking, we recommend doing so as soon as possible.
Please note, amendments to your booking are subject to availability. If your preferred tour time or date is not available and you would like to cancel your booking, our below cancellation policy applies.
Cancellation Policies
Hobbiton movie set tour from the shire's rest or matamata i-site:, evening banquet tours, second breakfast tours, tour + lunch combo, private tours, photoshoot tours and inbound tours:, special events (international hobbit day, hobbiton beer festival, hobbiton christmas etc):, photography.
Photos and video recordings taken at Hobbiton Movie Set are for personal use only and are not to be sold, distributed or used for commercial gain due to our contracts with the film companies.
Drone use is not permitted on the Movie Set, at The Shire's Rest or surrounding farmland unless express permission is obtained from the landowners.
Visitors are welcome to use small, handheld tripods or stabilisers/gimbals during the tour experience however large camera tripods are not permitted.
Service of Alcohol
Hobbiton Movie Set requires all customers to produce a form of valid ID in order to be served alcohol from our venues as directed by the New Zealand Sale and Supply of Alcohol Regulations Act 2013 . 
The following forms of ID are accepted:
Current Passport
New Zealand Drivers License
Kiwi Access Card
The following form of ID cannot be accepted:
Overseas Drivers Licence
International Drivers License
Student Card
Youth Travel Card
Photocopy of your Passport, 18+ Card or NZ Drivers License
Any Passport, 18+ Card or NZ Drivers License that is expired
Alcohol that has not been purchased at or served by Hobbiton Movie Set is strictly prohibited on site. 
Hobbiton Movie Set has a strict Host Responsibility policy and intoxicated persons will be refused service and asked to leave the Movie Set tour or venue.
Intoxicated visitors will not be permitted on any Movie Set tour experiences or events at Hobbiton Movie Set. If visitors are suspected to be intoxicated prior to their experience and are denied entry, no refund will be provided.
Clothing and Costumes
Please ensure you dress appropriately for the weather with suitable footwear. 
Footwear is required in our venues according to Health and Safety policies.
We reserve the right to ask you to cover clothing that we deem to be inappropriate and to refuse entry to guests wearing items of clothing or costumes that may be considered offensive or have a negative impact on other Hobbiton Movie Set guest's experiences.
Prop replicas or costume items that are deemed to pose a risk to the Health and Safety of our visitors or staff are not permitted on our tour experiences or special events. This includes but is not limited to large swords, knives, staffs, and bows unless constructed of soft materials.
Antisocial and adverse behaviour will not be tolerated and may result in the termination of the tour experience and removal from our venues. This includes but is not limited to:
Verbal/physical abuse directed toward any visitor or staff member
Obscene, racist or threatening language
Littering and defacing of any property
Failure to comply with Health and Safety directions issued by staff
Any behaviour that Hobbiton Movie Set deems likely to disrupt the enjoyment of the experience for others
If you have made a booking on a Hobbiton Movie Set Tour and your travel plans are affected by COVID-19 isolation requirements please contact our team .
Hobbiton Movie Set reserves the right to adapt or make changes to the above Terms and Conditions with no notice given. Last reviewed August 2023.
Share on Facebook
Share on Twitter
Share on Google Plus
Share on Weibo
Send to a Friend
Print this page
TEL: +64 7 888 1505
The Shire's Rest: 501 Buckland Road, Hinuera
Tours depart daily from The Shire's Rest and Matamata i-SITE
Tour Experiences
The Green Dragon™ Inn
The Shire's Rest™
Shire™ Diaries
PRIVATE EVENTS
Host a Private Event
Venue Information
Current Vacancies
Follow us on Facebook
Follow us on Instagram
See us on TripAdvisor
We use cookies to improve your experience on our website. By continuing to use our website, you are agreeing to our use of cookies. You can learn more in our   Privacy Policy .
Get free NZ travel advice
Matamata/Hobbiton deals
Hobbiton Movie Set Guided Tour
Hobbiton is a must-see for Lord of the Rings fans – there's no doubt about that. With thoughtful theming and careful attention to detail, this movie set is enjoyed even by people that aren't interested in LOTR. Join your guide as you tour Hobbiton, learning about the magic behind the movies, and enjoy a drink at The Green Dragon Inn before wrapping up. ⚠️ IMPORTANT: You can drive yourself to Hobbiton but you must join this tour (or join a tour from Auckland) to see anything. It's not possible to self-guide.
Promo code: NZTTPLAY
bush & beach Hobbiton Tour
If you're in Auckland and would like to join a tour to Hobbiton, Bush & Beach are your best option. With professional, friendly guides, comfortable transport and frequent departures, they'll show you Hobbiton before having you back in Auckland for dinner. These tours include entry to Hobbiton so there's no need to purchase a separate ticket. You can also add a visit to the Waitomo Caves to your tour, should you wish. Learn more.
Promo code: NZTT10
Please note: Our discounts are for our readers and members. If you read our blog but are not yet in the New Zealand Travel Tips Facebook group , please join – it's free and is an amazing resource. Operators may ask you to show the Facebook group on your phone when you check in. Or, if you're not on Facebook, be ready to explain that you read NZTT online. By booking through us, you will enjoy a discount while supporting NZTT – thank you!