UK and Ireland
Northern Europe
Western Mediterranean and Atlantic
Eastern Mediterranean
North America
South America
Australasia
South Pacific
Middle East
Panama Canal
Adults-Only Cruises
All-inclusive Cruising
Boutique Cruising
Classic Cruising
Cruise from the UK
Expedition Cruising
Family Cruises
Fly Cruising
Luxury Cruising
Mini Cruises
Ocean Cruising
River Cruises
Small Ship and Yacht Cruising
Solo Cruising
Ultra-Luxury Cruising
World Cruises
Ambassador Cruise Line
Carnival Cruise Line
Celebrity Cruises
Cunard Line
Emerald Cruises
Fred. Olsen Cruise Lines
Holland America Line
Hurtigruten Expeditions
Marella Cruises
MSC Cruises
Norwegian Cruise Line
Oceania Cruises
P&O Cruises
Princess Cruises
Regent Seven Seas Cruises
Royal Caribbean International
Saga Cruises
Silversea Cruises
Viking - Ocean Cruises
Virgin Voyages
Amadeus River Cruises
AmaWaterways
Avalon Waterways
CroisiEurope
Riviera Travel
Scenic River Cruises
Uniworld Boutique River Cruises
Viking - River Cruises
Top 10 Exclusive Cruise Deals
Top 10 Ocean Cruise Deals
Top 10 Luxury Cruise Deals
Top 10 River Cruise Deals
Cruise Package Deals
View All Deals
Insurance, hotels and transfers
Offers & Deals
Competitions
Fashion and lifestyle
Culture and history
Entertainment
Recommendation
Ship Reviews
Food & Drink
River Cruising
First cruise advice
Godmother Profiles
Our Opinion
Ship Visits
Ship Launches
search cancel search
Ambition: Ambassador's freshly upcycled ship with a noble history
As Britain's youngest cruise line, Ambassador has already made its mark on the world of cruising. Here's the full backstory of their freshly renovated ship, originally launched in 1999, and why their option of modernisation makes perfect sense
There's a new kid on the block, and they are worth getting excited about.
Ambassador Cruise Line established itself during the industry's post-Covid reshaping, emerging through the sector's mayhem with a clear-cut mission to offer no-fly cruises out of Great Britain .
Based in the UK, the company's primary focus is on "premium value", and while London Tilbury remains the line's proud base, cruises are offered out of six UK regional ports - Newcastle, Dundee, Liverpool, Belfast, Bristol and Falmouth. It's a full-on Albion operation where Britannia explores the waves.
As the first British cruise line to launch since 2010, Ambassador operated with a solitary vessel throughout the first two years of activity; announcing their purchase of flagship Ambience in May 2021, before opening ticket sales the following month.
So - that's all great, but where's the heritage angle?
Well, that's where it gets exciting as it also goes hand-in-hand with upcycling and sustainability. And, as we all know, that methodology fits with a changing cruise world.
Ambassador: Upcycling with style
To most people, upcycling is a dirty word; responsible for bric-a-brac images of questionable efforts showcasing the handiwork of priggish-churchy types. Luckily, some sectors successfully quash such negative stereotyping.
Classic car restorations command respect, whereas renovating age-old buildings remains firm as 'stylish upcycling'.
Then there's the cruise industry.
Ambassador has undertaken such a venture for the second time (following MS Ambience ), bringing new life to a celebrated heritage vessel and facilitating high-quality cruises on a more accessible price band.
May 2023 witnessed the inaugural voyage of Ambassador Ambition from Newcastle's Port of Tyne to France and Spain, except – this was not the ship's first sailing. Far from it. Ambition has been on the go since 1999. Her sister ship, Ambience , is older still – setting sail in 1991.
Ambassador Cruise Line has taken two mature vessels and transformed them into people-pleasing beacons that capture the long-lost style of older ships, and then reconditioned both interior and exterior to facilitate contemporary demands. To us, that's the perfect package. It's 'upcycling' at its very finest.
Yet, some may find such an idea unappealing. After all, old ships are…well… old; rusty relics of a bygone era.
However, such an attitude is redundant in our modern world. Renovation is far chicer and, dare we say, more environmentally friendly than laying down a new keel and plundering the earth's resources.
Upgrading the powerplant to comply with modern environmentally-aware standards, arguably, also makes better sense than constructing a new propulsion system from scratch.
Others may bemoan the loss of the heritage ship's original identity. Some may say that such a plan is wrong, but it's far cleverer than just restoration. It's modernisation. All the character of the ship is still there, but with latter-day innovations.
It's akin to modernising an old house. You keep the thatched roof and the leaded glass, but you install central heating and a SMEG fridge. You wouldn't complain about staying in Versailles after engineers installed WiFi, over the new Travelodge, right?
MS Ambition - Success and turbulence from the past
The MS Ambition, most recently operated by AIDA Cruise of Germany (a subsidiary of Carnival), was originally ordered by Renaissance Cruises in the summer of 1996, before the order was withdrawn due to financial upheaval.
Certain media outlets proclaimed that the unnamed ship was akin to an unloved orphan; the ship's lifespan destined to be cut tragically short.
With construction already underway at the prestigious Chantiers de l'Atlantique ( birthplace of the iconic SS Normandie and later Cunard's QM2 ), and ownership shared between the yard and investors through Auxiliaire Maritime, Festival Cruises then took over the build before taking delivery of the vessel prior to a new millennium.
Floated out on January 2, 1999, and christened by Claude Deschamps (wife of French footballer Didier Deschamps) on June 25, the ship was proudly named MS Mistral before her maiden voyage on July 17.
After the political strife and uncertainty, the future looked bright for Festival's up-to-the-minute acquisition.
Sailing from Genoa to the Greek Islands, before heading for the Mediterranean, she swiftly made Cuba her home from home. However, Festival Cruises soon collapsed and most of the fleet – including the semi-new MS Mistral, was sold off in 2004.
Spearheading a new chapter for cruising
Following the demise of Festival Cruises, MS Mistral enjoyed numerous titles with different firms.
Initially sold to Alstom Group (the parent company of Chantiers de l'Atlantique) and chartered as the Iberostar Mistral to Viajes Iberojet (operated by Ibero Cruises) before being sold to Ibero at auction and officially renamed Grand Mistral, the ship then transferred to Costa Cruises and became known as Costa neoRiviera.
This was a big deal. Costa wasn't just using their neoRiviera as a mere ship, but also as a trendsetter.
Her new owners launched a sub-product with neoRiviera at the forefront, focusing on smaller ships that made longer calls at port – offering more time and overnight stays in exotic locations with greater inventories.
Based out of Dubai, she debuted with Costa on November 24, 2013, following a £10 million transformation.
After a successful stint with Costa, she then left the fleet in October 2019 after AIDA Cruises purchased the ship in May 2018. No less than $55 million was plundered during a drydock session to bring cabins and safety gear up to state-of-the-art standards, integrating the ship with AIDA's fleet.
Arriving in Palma de Mallorca in November 2019 for her christening by German supermodel Franziska Knuppe, the newly titled AIDAmira joined three other vessels as part of the 'AIDA Selection' – performing longer itineraries in far-flung exotic locations.
Yet, the cruising landscape changed soon after AIDAmira's maiden voyage to Cape Town, South Africa.
In March 2020, the Covid-19 pandemic hit the industry hard, starting with the quarantine of 1700 passengers during an outbreak of Coronavirus onboard AIDAmira. Passengers disembarked after a plethora of negative tests, but that wasn't the end of the problem.
The ongoing pandemic caused an operational shutdown for cruise lines, and AIDAmira suspended operations before being laid up for almost two years. That's when Ambassador entered the picture, having been raised from the ashes of defunct CMV (Cruise & Maritime Voyages).
Ambassador takes over
AIDA Cruises sold the liner to Ambassador in January 2022, who then in turn renamed the ship Ambition before dispatch for an extensive refit in Montenegro.
Plans for her maiden voyage were quickly changed, however, to accommodate a request from the Scottish Government.
The Governmental request wasn't for anything of a political nature per se, but instead for a six-month charter to provide accommodation for refugees of the Ukraine war .
Having arrived in Glasgow at the beginning of September 2022, Ambition joined Tallink's cruise ferry Victoria I to jointly house thousands of Ukrainians fleeing the Russian invasion.
Frightened, exhausted and hungry, refugees enjoyed an introduction to their new Scottish home from the safety of the ship, before further accommodation across the country could be organised.
A four-week refit then commenced in Bremerhaven, Germany, to bring Ambition up to International Maritime Organization's Tier III emission standards, enforcing a reduction in the ship's nitrogen oxide emissions.
Work was also carried out on the rudders, stabilizers, and propulsion units, before applying a fresh coat of paint in Ambassador's official colours. After a turbulent and exciting history, Britain's newest cruise line offers a new chapter for the heritage vessel.
Christened in the Port of Tyne by Olympic Gold medalist Shirley Robertson , rather than beached up at the breakers' yard, Ambition now has a new mission to perform under the Ambassador brand.
Once referred to as the 'unloved orphan', Ambition has come through the years to find true acceptance as a no-fly idol of cruising prowess.
It is heritage in motion, and unlike other historical vessels that are dry-docked for eternity as museum pieces, Ambition can be enjoyed where she belongs – upon the waves.
Norwegian Aqua to feature world's first hybrid rollercoaster and waterslide
Azamara launches 'work & wander' package for digital nomads, edwina lonsdale, managing director of mundy cruising, on why the future is luxe, cunard to showcase new queen anne venue at 2023 wave awards, cunard to launch queen anne in six months, seabourn puts 2025-2026 expedition cruise on sale, windstar replaces middle east cruises with the mediterranean, star on board: andrew marr, competition: win an eight night 'springtime falls & norwegian fjords' cruise for two aboard borealis, msc euribia makes maiden call in southampton, about calum brown.
Calum holds a deep interest in all things heritage and remains one of Britain's most enthusiastic historians. As a seasoned journalist, he has spent considerable time abroad and relishes all forms of transport. Shipping is in the blood, with a family connection to Stena Line embedded in his DNA. He also refuses to admit that 21st Century music exists.
Calum has developed a skill for bringing history alive, and always insists on making heritage accessible for everyone.
Everything We Know About The UK's Newest Cruise Line – Ambassador Cruise Line
This post is sponsored by Ambassador Cruise Line.
In the Spring of 2022, a new cruise line will be launching, based in the UK. The line will be the first UK-based cruise line to launch in over 10 years.
Who Are Ambassador Cruise Line for?
Ambassador Cruise Line are marketing their cruises primarily at the 50+ market. There are no official age restrictions so younger guests are still welcome to cruise with the line. The cruise line will be fairly traditional and the onboard atmosphere will be relaxed.
The ship provides a high passenger to space ratio meaning that each guest has more room to enjoy.
Where will Ambassador Cruise Line Cruise To?
Ambassador Cruise Line will launch in the spring of 2022 sailing from London Tilbury. The maiden voyage will visit Hamburg in Germany,
The cruise line plan to cruise from Liverpool and Newcastle in 2023. The first sailings will take place around the British Isles, Norway, Iceland and Northern Europe. The cruise line will expand to further afield destinations as time goes on.
Ambassadors Ship Ambience Will Hold 1400 Guests
The ship has a total of 798 cabins which could at maximum capacity hold around 1400 guests. 23% of the cabins will have balconies which is common for a cruise ship of the age. Modern cruise ships tend to be built with a higher proportion of balcony cabins.
The Ambience has a distinctive shape that was designed to look like a dolphin. This shape makes it easy to identify the ship.
The ship has 11 passenger decks which makes her a small-medium sized cruise ship.
Who Did The Ship Ambience Previously Sail For?
Ambience started her life in 1991. She was built for Princess Cruises and sailed as Regal Princess for 16 years. The ship was originally named by UK prime minister Margaret Thatcher.
In 2006 the ship was due to be transferred to Ocean Village but this was cancelled. She instead went to P&O Cruises Australia. She sailed as the Pacific Dawn for 13 years and was well-loved.
In 2020 it was planned that the ship would become a floating community where people could purchase their cabins. This venture never worked out and so the ship was bought by Ambassador Cruise Line.
Are Ambassador Cruise Line The Same as CMV?
Ambassador Cruise Line is not the same company as CMV who went into administration in 2020. Multiple members of the CMVs management team do now work for Ambassador Cruise Line but the company is new and independent. Ambassadors first cruise ship Ambience was previously scheduled to go to CMV before the line went into administration.
It is expected that guests that enjoyed cruising with CMV would like a cruise with Ambassador Cruise Line. The management team have said that the experience won't be too different, but should be improved
We are hugely excited to launch the first British cruise line in over a decade. Ambassador Cruise Line offers the best of British cruising – we're a new company offering a distinctive product but maintaining traditional cruising values which we know are important to our guests Ambassador cruise line
How Much Will Cruises With Ambassador Cruise Line Cost?
It is estimated that a 7 night cruise with Ambassador Cruise line will cost in the region of £850 per person on an 'all inclusive' basis.
Ambassador Cruise Line Will Spend Tens of Millions Making Ambience More Environmentally Friendly
In 2025 new emissions standards are coming into place with cruise ships. Ambassador cruise line have said that they will spend millions to improve the environmental impact of Ambience.
Ambience was built in 1991 and cruise ship technology, particularly in regards to the environment has come along way in that time.
Ambassador cruise line will be reducing the cruise lines environmental impact wherever they can, including using eco-conscious products and having no single-use plastic on board. Menus and other one-use paper items will be replaced with digital versions such as those viewed on a mobile phone.
It's estimated that the new cruise line will create over 100 jobs in the UK alone.
Where Can You Book an Ambassador Cruise?
For more information about Ambassador Cruise Line you can visit their website here:
Ambassador Cruise Line
Cruises can be booked through us by visiting our cruise quotes page here .
Taking a Cruise: Recommendations and Resources Book a Cruise Get Travel Insurance Shop Cruise Gifts and Merchandise
Free Insiders Cruise Line Guide
Ever wondered how the mainstream cruise lines compare? Cruise lines won't tell you this, but I will.
This free email course will show you everything you need to know to find, book and enjoy your perfect cruise.
Enter your email address below:
CruiseMapper
Ambassador Cruise Line
Former names: AIDAmira, Costa neoRiviera, Grand Mistral, Mistral
Cruise line Ambassador Cruise Line
London-Tilbury (England)
Dundee (Scotland)
Newcastle upon Tyne (England)
Liverpool (England)
Belfast (Northern Ireland)
Ambition current position
Ambition current location is at North East Atlantic Ocean (coordinates 42.24060 N / -8.73093 W) cruising en route to VIGO. The AIS position was reported 3 minutes ago.
Current itinerary of Ambition
Ambition current cruise is 16 days, round-trip Canaries, Madeira Morocco Winter Escape . The itinerary starts on 25 Oct, 2023 and ends on 10 Nov, 2023 .
Specifications of Ambition
Ambition Itineraries
Ambition review, review of ambition.
The 1999-built MV Ambition cruise ship is currently owned and operated by the UK-based Ambassador Cruise Line . The vessel was previously known as "Costa neoRiviera" (until December 2019) and "AIDAmira" (until January 2022), and was built (under the name "MS Mistral") for Festival Cruises (1999-2002, now defunct ). After the company's collapse in 2004, Mistral was sold to Ibero Cruises (Spain) and renamed "Grand Mistral". In November 2013, the newly named Costa neoRiviera joined Costa Cruises after EUR 10 million drydock refurbishment . In 2019, the liner joined AIDA Cruises under the name "AIDAmira" (fleet's 14th boat), departing on its maiden for AIDA voyage on December 4, 2019 (out of Palma de Mallorca ).
The vessel (IMO number 9172777) as Costa neoRiviera was Italy- flagged (MMSI 247325300) and registered in Genova . Ambassador Ambition is currently Bahamas-flagged (MMSI 311001141) and registered in Nassau .
History and Ownership
On January 26, 2022, AIDA Cruises announced that AIDAmira leaves the fleet.
Following the announcement, a total of 66x AIDAmira cruises (itineraries with scheduled departures between April 15, 2022, and March 13, 2023) were canceled.
Most of the canceled voyages were 7-day "Agais Israel", 14-day long "Agais und Israel" and 7-day "Griechenland, Zypern und Israel" itineraries (both roundtrips from homeport Heraklion, Crete Greece planned thru October 7). The rest of the canceled program was based on homeporting in Cape Town (South Africa) for the 14-day "Sudafrika und Namibia" itinerary.
When the announcement was made, the ship was docked at Port Pula (Croatia) .
On January 27th was announced that Carnival Corporation/shipowner (via Costa Crociere SpA) sold AIDAmira to Ambassador Cruise Line. The ship (renamed "Ambition") starts services for the UK-based company in 2023, joining the fleetmate Ambience (1991-built as Regal Princess).
Prior to starting operations for Ambassador, Ambition was scheduled to enter drydock for extensive refurbishment works, staterooms and machinery upgrades, including ballast-water and sewage-water treatment plants and scrubbers (reducing gaseous emissions).
In May 2021 was announced that the new brand "Ambassador Cruise Line" (UK-based company, with headquarters in Purfleet-on-Thames, Essex England) is the new operator of the "Crypto Cruise Ship" Satoshi/now Ambience . Ambassador Cruise Line targets the UK source market exclusively (50+ age travelers), trying to take the place of the popular CMV-Cruise And Maritime Voyages (2009-founded/2020- defunct ).
AIDAmira was AIDA's 14th boat and joined the "AIDA Selection" ships AIDAcara , AIDAvita , AIDAaura - fleet's smallest, and operating on longer itineraries with more unusual routes. Prior to its AIDA service, Costa neoRiviera was drydock refurbished and remodeled. Swimming pools were reduced from 3 to 2 (larger) with 2 large whirlpools on the sundeck. Of the 624 staterooms, 96 are Suites (80 with balconies). The refitted boat had 6 restaurants and 6 bars. AIDAmira's Maiden Voyage was on December 4, 2019, leaving from Palma de Mallorca to South Africa.
The 1600-passenger ship "MS Mistral" had a Maiden Voyage on July 17, 1999, leaving roundtrip from Venice to the Greek Islands. During the winter, Mistral offered Caribbean voyages. In 2004, the Greek company Festival Cruises experienced financial difficulties and filed for bankruptcy. The vessel was sold to Ibero Cruises (Iberojet) and renamed "Grand Mistral". In 2013, it was transferred to Costa's fleet (renamed "Costa neoRiviera") joining the "neoCollection" fleetmate Costa neoRomantica .
Ambassador Cruise Line Ambition ship's max passenger capacity (1500) is limited to 1200, which as space ratio makes her comparable to many luxury cruise ships.
Decks and Cabins
Most AIDAmira staterooms (624 total) are 13 m2 (140 ft2) Oceanview cabins (287). The largest accommodations are Sundeck Deluxe Suites (450-510 ft / 42-47 m2, with terraces sized 115-150 ft2 / 11-14 m2). There are 96x Suites (all with balconies), 12x Balcony staterooms, 287x Oceanviews, and 231x Inside cabins, including 2x wheelchair-accessible (handicap).
The boat has 13 decks , of which 10 are passenger-accessible and 4 with cabins.
After the refit, the Ambassador Ambition ship has 714 staterooms (max passenger capacity will be reduced from 1498 to 1428), including 125x balconies and 113x Suites (sized ~670 ft2 / 62 m2 including the balcony).
Shipboard dining options - Food and Drinks
Ambassador Ambition ship has two MDRs (main dining rooms/complimentary restaurants) plus specialty dining venues, a bistro-style Lido Cafe, 4x lounges and bars, a British Pub Restaurant, Theater Lounge (with tiered seating), Casino, Card Room, Library, Craft Studio, wellness complex (Spa and Massage Rooms, Gymnasium (Fitness Center), 2x swimming pools, retail shops.
The ship's Galleria Shops (managed by Harding UK) are duty-free and tax-free stores selling luxury brand watches, fashion and costume jewelry, watches, perfumes, cosmetics, clothing, sportswear, Ambassador-logoed merchandise, gifts and souvenirs, tobacco and liquor, convenience goods. The brands include Pandora (jewelry), Swarovski (jewelry, watches, crystal decorations) Radley (women's accessories and footwear/bags, purses, shoes).
In March 2023 was announced that one of the new dining venues is Lupino's Restaurant (honoring Michelle Lupino, Ambassador's Head of Destination Management who passed away in 2022). The Mediterranean-style eatery has max capacity 70 seats.
In April 2023 were announced more restaurants.
Buckingham Restaurant and Holyrood Restaurant are both with a la carte-priced menus that include classic British favorites like Sunday Roast (roasted meat and potatoes, mashed potatoes, accompaniments/Yorkshire pudding, stuffing, gravy, and condiments/apple sauce, mint sauce, or redcurrant sauce) and Shepherd's Pie (casserole-made/oven-baked dish of ground lamb filling, savory vegetables, mashed potatoes).
Borough Market is a self-serve buffet-style eatery serving international cuisine, including homemade Italian pasta and Asian stir-fries.
Saffron Restaurant offers Indian dishes served in Thali/Bhojanam (round platters), fresh-baked breads and traditional desserts.
Chef's Table is an exclusive dinner-only and reservations-only venue for a la carte (9-course) dining experience and food and wine pairing.
Alfresco Grill is a poolside bar serving complimentary fast food (pizza by the slice, burgers, hot dogs, chips).
Costa neoRiviera review
Most of the onboard dining is included in cruises' fares. With the exception of the pizza on the ship's Lido Deck, you better choose the main dining room for most of the meals. As a new ship, it promotes eat-when-you-wish casual dining. There is no assigned seating and reservations are not needed. Located on Deck 11, neoRiviera's buffet features seven stations and is smaller than the buffets on most cruise ships. Its decor is a casual cafeteria. The buffet is more popular in the summer when there is a younger crowd with more kids.
Costa neoRiviera's restaurants and food bars included:
Ristorante Cetara (forward Dining Room; complimentary, with round-shaped windows and extensive wine list for dinner, with 2 fixed seatings at 6:30 or 9 pm, open seating breakfast and lunch)
Ristorante Saint Tropez (complimentary aft Dining Room with 2 fixed Dinner seatings)
Ristorante Buffet Vernazza (self-service buffet restaurant, complimentary; offers breakfast, lunch, afternoon tea at 4-5 pm, and dinner; in the evening is transformed into Pizzeria, complimentary, with waiter service)
Grill Manarola (fast food station, complimentary)
Pizzeria Monterosso (lunch & dinner only pizza restaurant, complimentary).
Costa neoRiviera had 3 restaurants (including the buffet Grill & Pizzeria), 6 bars, a show lounge and disco nightclub, two shopping arcades, a spacious wellness complex consisting of Spa & Beauty Salon, Fitness Center (modern gym), a hydrotherapy pool, spa pools/hot tubs, treatment rooms (for massages).
The ship has 3 swimming pools plus a splash pool (for children).
Follows the complete list of Costa neoRiviera lounges, clubs and other entertainment venues for kids, teens and adults.
Teatro Ravello (2-level main show lounge for grand musical and show productions, ballets, classical concerts, circus shows)
Bar Anacapri (foyer bar)
Atrio Riviera (2-deck high Atrium and central ship area with live entertainment, served by Positano bar)
Amalfi Lounge (Cigar Lounge & Bar, also selling cigars and fine liquor)
Cafe Positano (wine bar)
Sala Carte (cards room)
Casino Saint Maxime (served by Porquerolles bar)
Biblioteca & Internet Point (combined library Biblioteca Conca dei Marini and Internet computers room)
Galleria Shops Sorrento; Gallery Shops Grasse (duty & tax-free shops for brand watches, jewelry, perfumes, fashion clothes, Costa-logo merchandise, sportswear, gifts, tobacco and liquor)
Cafe Eze (patisserie & specialty coffee bar)
Saint Paul de Vence Lounge & Bar (stage for live shows, band music in the evenings)
Bar Corniglia (smoothies, ice cream)
Photo Gallery Cannes
Video Games Arcade
Discoteca Portofino (Disco & Nightclub)
Squok Club (kids lounge with Mini Club (3-6 yo) and Maxi Club (7-11 yo) playing rooms; with complimentary kids program and supervised activities; complimentary babysitting)
Teen Zone (teenagers' lounge with Teen Junior (12-14 yo) and Teen Club (15-17 yo) rooms; complimentary supervised activities, themed parties, sports contests)
Centro Benessere Portovenere (Spa & Wellness complex, with Fitness and separate Spinning/Aerobics Room; Salone di Bellezza Framura Beauty Salon, Massages and Treatments Rooms, Japanese TeaRoom, Relaxation Room, Thermal Suites, Solarium, Laconium, Aroma Steam Baths, Thalassotherapy pool, Solarium, Sauna)
Lido Via dell'Amore pool area (with 2 small pools, 2 Whirlpools, foosball table, ping pong table; served by Bar Riomaggiore)
Outdoor playing zone for kids (with a paddling pool)
Multi-sports court (volleyball, basketball, mini football, golf putting area)
Solarium (open-air relaxation area).
Ambassador Ambition itineraries
Details on Ambassador Ambition ship's itinerary program for the inaugural summer 2023 season were announced in May 2022, including the boat's UK homeports ( London-Tilbury , Newcastle Port Tyne , Liverpool , Avonmouth-Bristol , Falmouth , Dundee Scotland , Belfast ). Ambition also offers Transatlantic crossings (roundtrip from the UK) to the Caribbean islands Barbados, Grenada, the Grenadines, Curacao, Aruba, St Lucia, St Kitts, St Maarten, Antigua.
MS Ambition's inaugural season was originally planned to start with the Maiden Voyage on March 4, 2023 (6-night Tilbury-London roundtrip to Kristiansand, Copenhagen and Gotheborg). However, as the ship was 6-month contracted (September 2022 thru March 2023) for housing Ukrainian refugees in Glasgow, and due to the following drydocking, MS Ambition's inauguration was postponed for May 12, 2023 (14-day "Hidden Gems Of France and Spain" itinerary). The roundtrip from Newcastle visited ports in France (Cherbourg, Brest, Saint-Nazaire, Le Verdon), Spain (Bilbao, Gijon, La Coruna) and France (Le Havre-Paris).
AIDAmira itineraries
AIDAmira itinerary program was based on winter deployment in South Africa (leaving roundtrip from homeport Cape Town ) and summer Mediterranean deployment with homeporting in Palma de Mallorca (Balearic Spain) .
Following the Coronavirus crisis, AIDA planned to homeport AIDAmira in Heraklion Crete Greece , to be followed by a South Africa program (in 2023) with homeporting in Cape Town . However, these plans were canceled in January 2022, after the announcement that the boat leaves the fleet by March. For more info on the canceled voyages see the ship's Wiki page .
Costa neoRiviera itineraries
Costa neoRiviera itinerary program featured exotic routes around the world with unusual ports and more overnight port stays.
In December 2018 through March 2019, Costa neoRiviera had scheduled voyages in India - with homeporting in Mumbai and call ports in India (Mangalore, Cochin, Mormugao-Goa), Sri Lanka (Colombo) and Maldives (Male, Kaafu Atoll).
For the rest of 2019, the ship had scheduled Western Mediterranean itineraries departing roundtrip from homeports Savona (Italy) and Toulon (France) .
However, both programs were canceled after the decision was made for the liner to be transferred to AIDA.
Ambition - user reviews and comments
Photos of ambition.
Ambition ship related cruise news
Port Funchal (Madeira) receives 3 cruise ships on a single day
Port Funchal (Madeira Island Portugal) accommodated 3 cruise ships on Monday, October 30. This arrangement allows for all three ships to be...
Harding+ (UK) signed retail management deals for 3 new cruise ships
Harding+ has recently introduced its retail offerings on 3 newly launched ships, marking an important achievement for the cruise retailer. The...
Ambassador Cruise Line's ship Ambition christened by double Olympic gold medallist Shirley Robertson
Ambassador Cruise Line UK's second ship Ambition/fka AIDAmira set sail on her maiden voyage after being christened by former sailing champion and...
Ukrainian refugees living on Tallink Victoria I ferry in Edinburgh (Scotland) moved into new...
1000+ Ukrainian refugees who have been residing on the cruiseferry Tallink Victoria I in Port Leith/Edinburgh (Scotland UK) since last summer...
Ambassador Cruise Line's ship Ambition leaves drydock at Lloyd Werft Bremerhaven (Germany)
Ambassador Cruise Line UK's second ship Ambition/fka AIDAmira recently underwent a 4-week-long dry dock refurbishment at the Lloyd Werft shipyard in...
Ambassador Cruise Line UK launches 2024-2025 itinerary program
Ambassador Cruise Line UK unveiled its 2024-2025 schedule, which includes the 3rd season of the Ambience ship, and the second year of the Ambition...
Ambassador Cruise Line's ship Ambition enters drydock at Lloyd Werft Bremerhaven (Germany)
Ambassador Cruise Line UK's second ship Ambition/fka AIDAmira arrived at Lloyd Werft Shipyard in Bremerhaven (Germany). The vessel (previously...
Ambassador Ambition ship leaves Glasgow after housing Ukrainian refugees in Scotland
Fewer than 50 Ukrainians remain on a ship in Clydeport (Greenock/Glasgow, Scotland) that has housed ~1200 refugees over the last 6 months. MS...
Ambassador Cruise Line unveils spring 2023 promos for bookings made by April 3rd
Ambassador Cruise Line UK unveiled free cabin upgrades across a range of itineraries along with an array of new season offers. Ambassador's no-fly...
Belfast (Northern Ireland) expects GBP 20M boost in 2023 from 170 cruise ship calls (a record year)
Belfast (Northern Ireland UK) can expect a GBP 20 million boost to its economy in 2023 as it pulls in a total of 170 cruise ship calls over a...
Other Ambassador Cruise Line cruise ships
Ambition wiki.
In mid-September 2019, AIDA announced the name of Mira ship's godmother - Franziska Knuppe (1974-born German fashion model and actress). The liner's christening ceremony was held on November 30 (2019) in Port Palma (Mallorca-Majorca Island, Balearic Spain) . Mira's naming ceremony was a charity event with all proceeds donated to "AIDA Cruise & Help" - a partnership with Reiner Meutsch Foundation FLY & HELP (since 2018) for collecting donations in order to build schools in newly industrializing and developing countries. The ship's naming ceremony featured a 20-min fireworks show, live performances by Johannes Oerding (German singer-songwriter), over 1000 cruise passengers (on the ship) and the Mary Amiri-hosted charity event.
Fan fact is that Franziska Knuppe is also the godmother of the fleetmate AIDAluna (2009). AIDAmira's last Master was Captain Manuel Pannzek (Captain on AIDA Selection boats since 2017).
In January 2023, Ambassador Cruise Line announced that MS Ambition's godmother will be Shirley Ann Robertson (1968-born Scottish sailor and Summer Olympic gold medallist/Sydney 2000, and Athens 2004).
The ship's christening ceremony was held on May 11, 2023, in Port Tyne/Newcastle . On the next day (May 12th) started the Maiden Voyage (14-day "Hidden Gems Of France and Spain"/Newcastle roundtrip).
The vessel (hull/yard number J31) was built in France (by Chantiers de l'Atlantique Shipyard in Saint-Nazaire ) and has volume 48123 GT-tons, weight 4923 tons, max draft 6,9 m/23 ft. The powerplant is based on two Wartsila marine diesel engines (models 8L46B and 12V38) with total output 18 MW.
Ambassador Ambition refurbishment 2023
On April 4, 2023, Ambassador's ship Ambition arrived in Bremerhaven (Germany) to enter drydock at Lloyd Werft Shipyard.
The drydocking (April 4 thru May 7th) was for an extensive refit as well as for regular maintenance and technical works, machinery upgrades (including ballast water and wastewater/graywater treatment plants), rebranding and renovation of venues, including new furniture and carpets.
The project also included hull cleaning and painting with Ambassador's new livery.
Ambassador Ambition inaugural cruise 2023 review
MS Ambition's inaugural season was originally planned to start with the Maiden Voyage on March 4, 2023 (6-night Tilbury-London roundtrip to Kristiansand, Copenhagen and Gotheborg).
However, as the ship was 6-month contracted (September 2022 thru March 2023) for housing Ukrainian refugees in Glasgow, and due to the following drydocking, MS Ambition's inauguration was postponed for May 12, 2023.
Next table shows the Maiden Voyage's itinerary (14-day "Hidden Gems Of France and Spain").
The next scheduled voyage was the 8-day "Majestic Fjordland" (departure May 26th) roundtrip from Newcastle visiting Norway's Eidfjord, Bergen, Flam, Olden.
Costa neoRiviera-AIDAmira refurbishment 2019 review
In September-November 2019, Costa neoRiviera was drydocked in Port Genoa (at San Giorgio del Porto Shipyard) for a major (EUR 50 million / USD 55 million) refurbishment project . The 1-month drydocking (October 30 through November 28) transformed Costa neoRiviera into AIDAmira.
The project involved ~1000 workers, of which 150 shipyard employees. The shipyard works included technical maintenance, hull and superstructure repainting (also adding AIDA's livery), renovated public areas, adding new cabins - including 19x balcony and 3x inside (in the area of the former Discoteca Portofino / disco nightclub) plus numerous staterooms on Deck 7.
Next table shows neoRiviera's last voyage for Costa (10-day Mediterranean itinerary) priced from USD 980 pp.
On Oct 30, the vessel arrived in Port Genoa for the drydock refurbishment (October 30 through November 28). The renovated neoRiviera arrived in homeport Palma (Balearic Spain) on November 29 for the christening ceremony in which was officially renamed AIDAmira.
Costa neoRiviera was Madeira- flagged (MMSI 255803860), while AIDAmira is Italy-flagged (MMSI 247325300).
AIDAmira itineraries 2022-2023 (canceled)
Next tables show the canceled (in January 2022) voyages part of AIDAmira's 2022-23 program, which was originally based on homeporting in Heraklion Crete and Cape Town .
14-day "Agais und Israel" itinerary
7-day "Agais" itinerary
7-day "Griechenland, Zypern und Israel" itinerary
(repositioning from Europe to South Africa) 28-day from Mallorca to Cape Town
14 day "Sudafrika und Namibia" itinerary
AIDAmira inaugural itineraries 2019-2020
Next tables show AIDAmira's inaugural itineraries (maiden voyages by destination/homeport).
(2019) 19-day repositioning from Europe-Mediterranean to South Africa
(2019) 14-day inaugural itinerary "Sudafrika und Namibia 2"
(2020) 14-day inaugural itinerary "Sudafrika und Namibia 1"
(2020) 19-day relocation from South Africa to Europe-Mediterranean
(2020) 7-day inaugural Eastern Mediterranean itinerary "Griechenland Ab Korfu"
(2020) 7-day inaugural Eastern Mediterranean itinerary "Mittelmeerinseln Ab Korfu"
(2020) 14-day inaugural B2B (back-to-back cruise) itinerary "Griechenland und Mittelmeerinseln 1"
(2020) 14-day inaugural B2B itinerary "Griechenland und Mittelmeerinseln 2"
Costa neoRiviera itineraries 2016 changes
Costa neoRiviera's itinerary program for 2016 (March 28 through November 8) was changed. All originally scheduled calls to Istanbul Turkey were replaced with Rhodes Greece . Passengers booked with embarkation from Istanbul boarded the ship in Rhodes (instead of Istanbul).
Next, are listed Costa neoRiviera's scheduled Savona roundtrips for 2019, that were later canceled.
11-day "Italy, Spain, Balearic Islands, Malta" - prices from USD 1100 pp
13-day "India, Maldives, Sri Lanka" - prices from USD 1900 pp
Ambassador Cruise Line 4+
Ambassador cruise line, designed for iphone.
iPhone Screenshots
Description.
Are you ready to enjoy yourself with Ambassador! Enhance your sailing by downloading our app to access all the essential information you need – both before and during your sailing. With our user-friendly app, you can effortlessly check in for your upcoming sailing, pre-register for our exciting destination experiences, explore the outstanding cuisine options available on board and discover the amazing entertainment we have in store. Our app is your ultimate companion for your voyage of exploration. You'll be able to: Before your sailing • Link your reservation to the app and start planning your sailing • Complete online check-in • Pre-register for destination experiences so you don't miss out On board (connected to the ship's Wi-Fi) • Book destination experiences • View your onboard account statement • Browse our daily programme • Track the ship's position • Browse our restaurant menus • Read messages from the ship (Ambition only) We can't wait to welcome you on board!
Version 1.0.1
Update your app for an improved experience. What's New: - Minor bug fixes and improvements
Ratings and Reviews
App privacy.
The developer, Ambassador Cruise Line , indicated that the app's privacy practices may include handling of data as described below. For more information, see the developer's privacy policy .
Data Linked to You
The following data may be collected and linked to your identity:
Financial Info
Contact Info
Identifiers
Data Not Linked to You
The following data may be collected but it is not linked to your identity:
Privacy practices may vary based on, for example, the features you use or your age. Learn More
Information
Developer Website
App Support
Privacy Policy
You Might Also Like
Fred. Olsen Cruise Lines
Great Rail Journeys
Invergordon Off the Wall
Love Tendring
Historic Houses
Carnival Cruise Line shares key dining rule some passengers ignore
Posted: October 29, 2023 | Last updated: October 29, 2023
Carnival and Royal Caribbean often confuse their customers because some written rules get enforced while others seem like suggestions, not actual rules. It can also be confusing as both cruise lines seem to have different policies on different ships and maybe even on different sailings of the same ship.
Main Dining Room (MDR) dress codes can be one source of passenger confusion. Both cruise lines, for example, technically (in their written policies) do not allow men to wear shorts in MDR and both require adult men to wear a collared shirt.
Related: Southwest Airlines makes a big baggage change
It's an unspoken "rule" that the first night on any cruise is an exception because luggage may not have arrived and passengers literally may not have anything to change into. Once you hut the second night, however, dress codes are supposed to be enforced.
The problem is that neither Royal Caribbean RCL nor Carnival generally enforces any MDR dress code aside from not allowing bathing suits. In general, both cruise lines likely don't want to have a fight with their passengers and turning people away because they're dressed too casually creates a customer service nightmare.
The problem is that not every ship for either cruise line has a strict "as long as it's not hurting others we will look the other way" dining room dress code policy. Sometimes, on both Carnival Cruise Line CClL and Royal Caribbean ships dress codes will be strictly enforced down to men not being able to wear hats or open-toed shoes.
It's as confusing as both cruise lines having rules about not "saving" chairs near the pool by leaving your stuff on them. Royal Caribbean and Carnival both have policies outlawing that practice and signs telling you where your stuff will be held if you choose to just leave it on a chair and then disappear.
In reality, neither cruise line enforces the chair policies, because it's very labor intensive to track whether someone has been gone for hours or merely has gone to the bathroom or to get a drink.
So, you can forgive passengers on both cruise lines for sometimes breaking rules that actually are hard and fast. At least one of those rules, which certain passengers ignore, is a health and safety issues.
That's why Carnival Brand Ambassador John Heald shared an important message about a rule that passengers should not ignore on his social media page.
The Arena Media Brands, LLC and respective content providers to this website may receive compensation for some links to products and services on this website.
Carnival Cruise line shares key buffet rule
At any buffet, not just on cruise ships, you may see some people make awful choices. There are always people who opt to use their hands rather than the provided tongs and people who seem to not realize that you can go back as many times as you want, so they mix baked beans and dessert on the same plate.
There are, of course, people who duck their heads under the sneeze guards and those who have no respect for how lines work. Some buffet-goers, however, break a key rule, perhaps because they think they're doing the right thing.  
BOOK YOUR NEXT CRUISE NOW: Plan a dream cruise vacation at the best possible price.
"As it seems to be a topic of conversation today, I would like to ask you this. If you return to the buffet or a restaurant on Lido for a second order, you always take a new plate, correct?" Heald posted.
"Absolutely always and I always get a clean cup for drink each time as well," Patsy Crump posted in response to Heald's question.
Taking a new plate is actually the rule, and in a poll Heald posted 99% of his followers noted that they did. That other 1% may not be consciously breaking the rules, they might think they're doing something environmentally friendly.
SAVE MONEY ON YOUR CRUISE: Let our travel experts get you booked and sailing.
Passengers are also not allowed to refill the same glass or mug at drink stations. That includes the ones at the buffet and elsewhere on the ship. The mug/glass rule is actually posted at most beverage stations while the plate rule, which is in fact a rule, is not posted anywhere.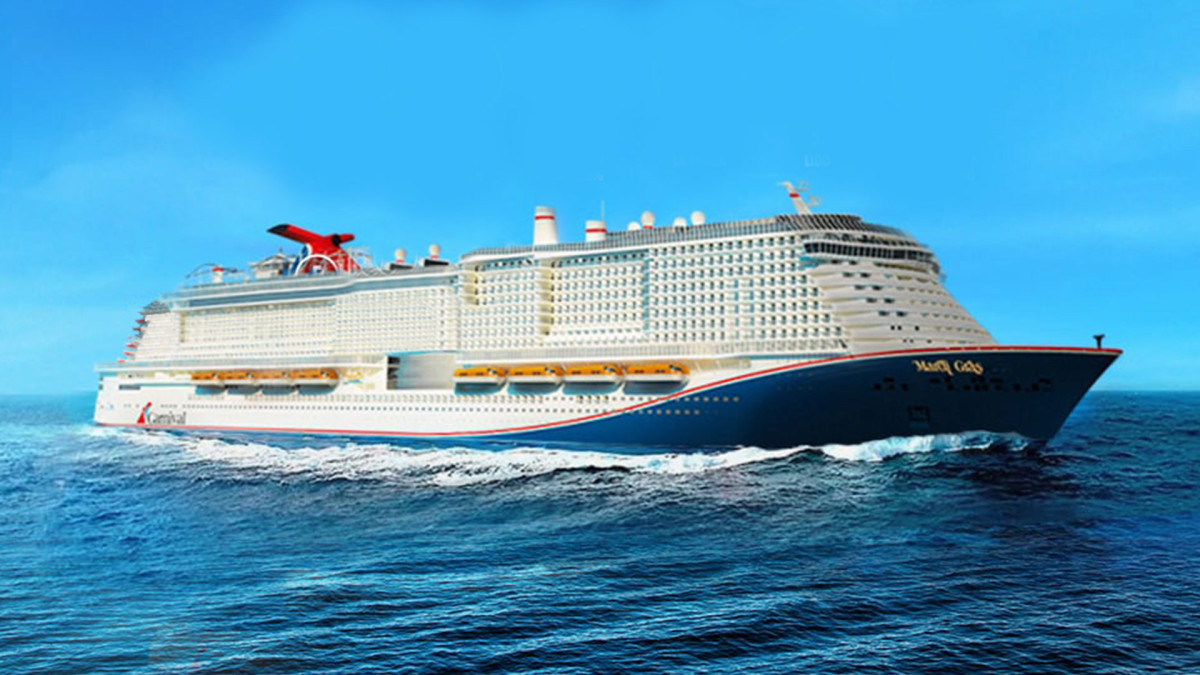 More for You
Toyota's $10,000 Future Pickup Truck Is Basic Transportation Perfection
Ukrainian President Volodymyr Zelenskyy rebuffs Donald Trump, says he can't 'manage' war with Russia
This Homemade Spaghetti Sauce Is What Family Pasta Nights Are All About
A government shutdown in 12 days could make student-loan borrowers' repayment and customer service struggles even worse
Israeli Soldier Gives Brutal Assessment of Gaza Fighting—'Endless Failures'
Multiple brands of dog food recalled as FDA warns of salmonella risks
These 9 Used Cars Just Got Way Cheaper
Trump testifies his Trump Tower triplex was overvalued: 'When you add the roof, you're not that far off'
'Nobody's hands are clean': Obama, Democrats break with Biden on support for Israel
A 26-year-old investor who's teaching other Black women to build wealth used 4 strategies to make her first million
Russian Official Issues Nuclear Weapons Warning After Historic Achievement
Lead singer of indie band dies aged 26
20 items you should declutter from your home right now
Mystery of African elephants dropping dead unraveled by scientists
A new Biden proposal would make changes to Advantage plans for Medicare: What to know
My wife received a $1 million payout from her employer when she retired. Am I entitled to 50% of that if we divorce?
Donald Trump's Enemy Wants to Return to Congress
Ukraine says it struck a brand-new Russian cruise-missile carrier before it even got a chance to fight
Obama's claim we're all 'complicit' in Israel-Hamas war sparks outrage online: 'He is complicit'
After mom, 29, got cervical cancer, she wanted her uterus removed. Her doctor said no
Text: A A A Print Business
U.s. firms voice confidence in china at ciie.
United States-based companies are attending the sixth China International Import Expo, showcasing their eagerness to deepen cooperation with China amid gradually warming bilateral relations, according to corporate executives and experts.
With closer ties most widely expected in healthcare, agriculture and technology, the executives said China's increasing appeal for U.S. companies will continue due to its robust domestic market and unwavering dedication to opening up its economy, despite globally subdued investment sentiment.
The scale of this year's expo, which runs through Friday in Shanghai, is the largest in the CIIE's history.
The strong presence of U.S. businesses at the expo came after high-level exchanges between China and the U.S., and more efforts are likely to be made to promote interaction and cooperation between the world's two largest economies, experts added.
Stephane Bancel, CEO of the mRNA vaccine developer Moderna, said it was a "very important and historic day" for the U.S. company, after Moderna announced that its research and production headquarters project broke ground in Shanghai's Minhang district on Monday.
The 3.6 billion yuan ($495 million) project, the first investment of the company on the Chinese mainland, is the largest foreign-invested biomedical project in China to date.
According to Bancel, the company is set to tap into the Chinese market by offering every patient personalized medicine, and it will conduct further clinical trials of its new medicines in the country. It took only a couple of months to materialize the strategic cooperation contract that Moderna signed with Shanghai authorities in July.
The U.S. Department of Agriculture is also leading a delegation of 17 exhibitors at the CIIE.
Liu Chang, vice-president of Cargill Investments (China), the Chinese branch of the U.S. agriculture and food company Cargill, said that "nearly one-fifth of Cargill's consumers are in China, and the country is an extremely important market for us".
"Whether it is raw materials or processed goods, China's vast consumer base provides a huge market for agricultural products, giving China a core position in the global agricultural supply chain," Liu said.
During the unveiling ceremony for a U.S. agricultural product pavilion at the CIIE on Monday, U.S. Ambassador to China Nicholas Burns said that economic and trade cooperation between China and the U.S. is very important, and Washington does not seek to decouple from Beijing.
Bai Ming, a researcher at the Chinese Academy of International Trade and Economic Cooperation, said U.S. companies' enthusiasm for the CIIE has demonstrated that there is more room for bilateral economic cooperation between the two countries, and further efforts can be undertaken to boost such cooperation.
Mutual respect and win-win cooperation are what companies from both sides want, Bai said.
Frank Meng, chairman of Qualcomm China, which is participating in the CIIE for the sixth year, said the U.S. chip heavyweight sees huge opportunities in partnering with Chinese companies in 5G, artificial intelligence, internet of things and intelligent connected vehicles, as the company highlights its commitment to China.
"Qualcomm has consistently considered China as a pivotal business partner and valued customer, viewing it as more than just a market or a link in the supply chain," Meng said.
He added that in past years, smartphones that use Qualcomm's flagship mobile chips and were launched by Chinese companies accounted for nearly half of the initial launches worldwide. "This underscores the significance of the Chinese market and our partnership with Chinese companies," Meng said.
Puay Koon Chia, Asia-Pacific president of the U.S.-based global materials science company Dow, said that the CIIE "is an important platform for us to showcase our latest innovative technologies for China and the region", and "it highlights the valuable partnerships we have in China".
The company signed a $300 million memorandum of understanding with ZKH Group, a Chinese digital service company, at the CIIE on Sunday. Under the cooperation, the two will tap into burgeoning silicone markets downstream, such as electrification, transportation, packaging and construction.

Related news
U.S. companies, products welcome to enter China through CIIE
U.S firms swear by CIIE benefits
U.S. businesses looking forward to third CIIE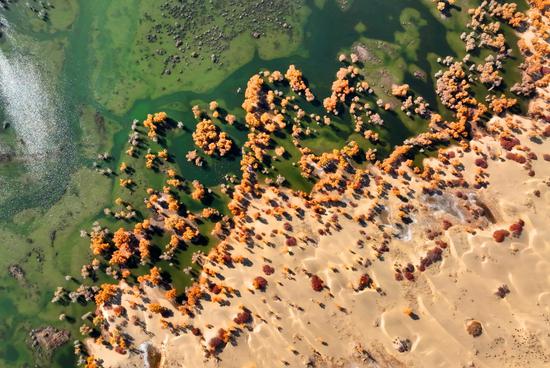 Golden oasis of desert poplar forests along Tarim River in Xinjiang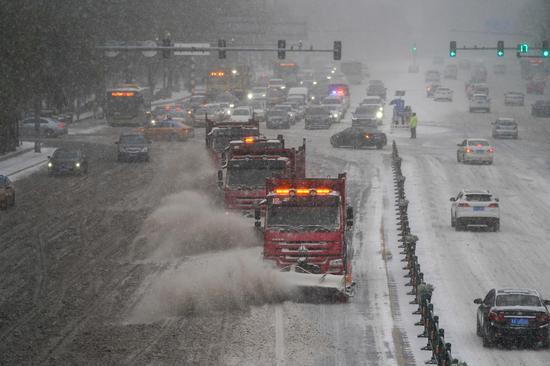 NE China issues top alert for blizzards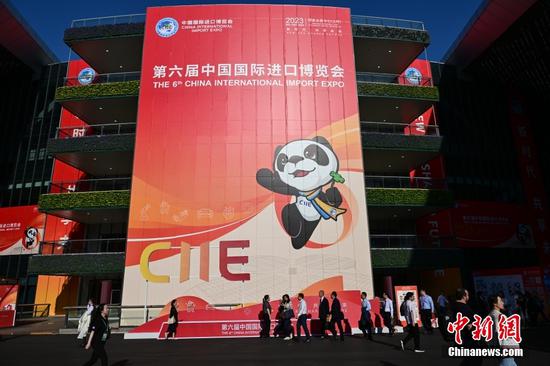 Sixth CIIE opens in east China's Shanghai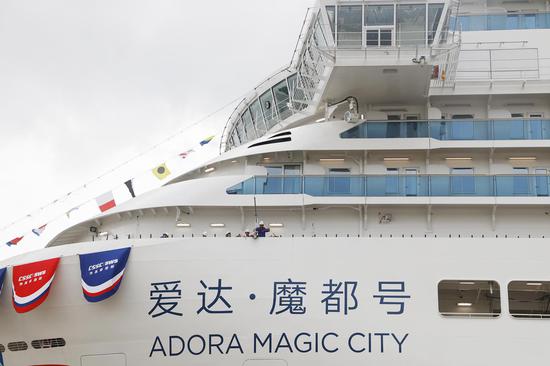 China's first home-built large cruise ship delivered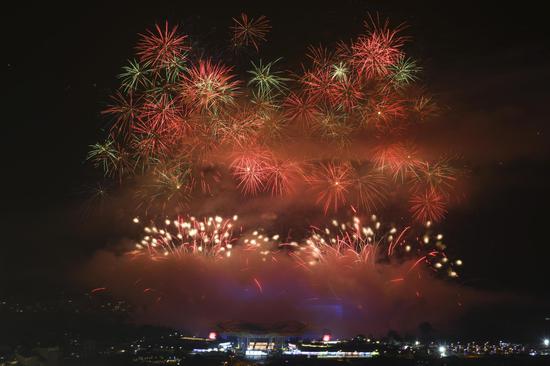 Fireworks light up night sky in C China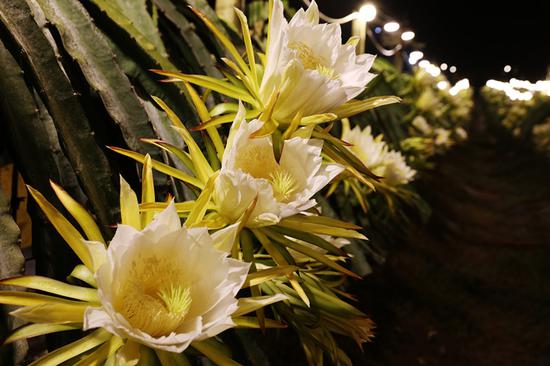 Lights illuminate dragon fruits farm in Guangxi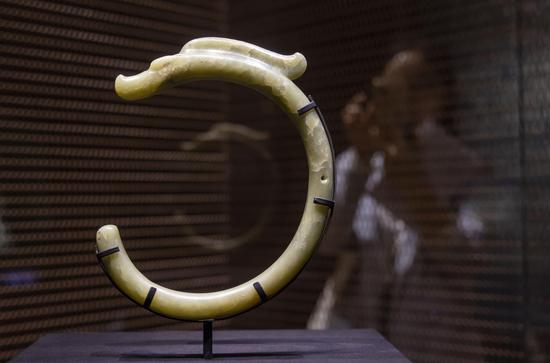 Exquisite jade relics on display at Nanjing Museum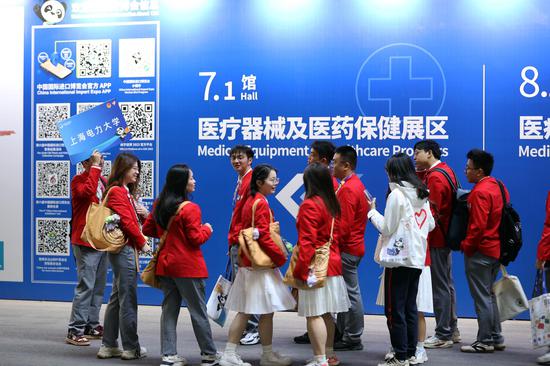 On-site training kicks off for volunteers of 6th CIIE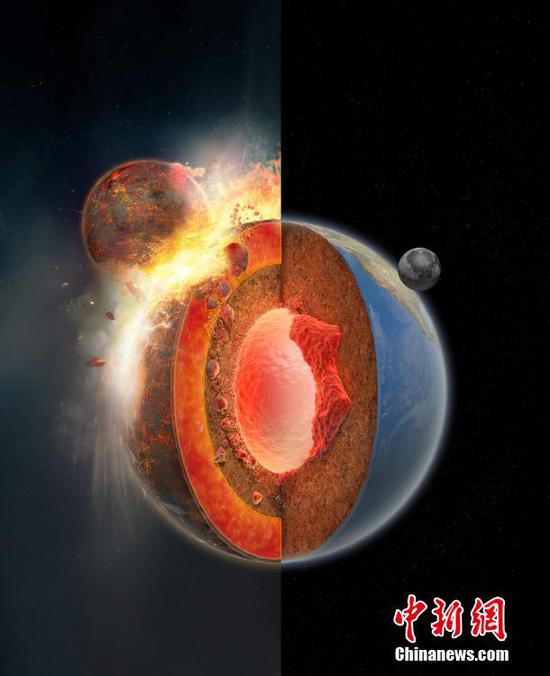 Study reveals massive anomaly in Earth's interior from moon-forming collision
Herders transfer livestock in Xinjiang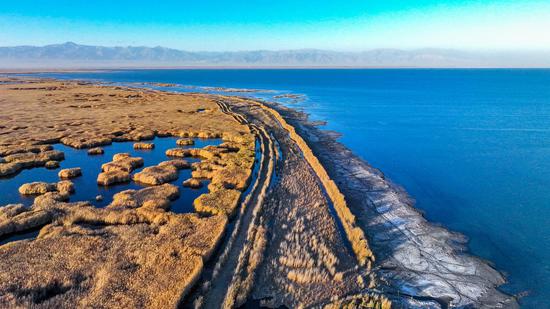 Golden reed flowers adorn Bosten Lake in Xinjiang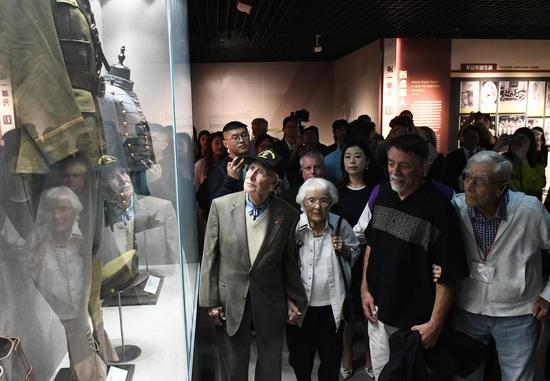 Flying Tigers veterans visit Stilwell Museum in Chongqing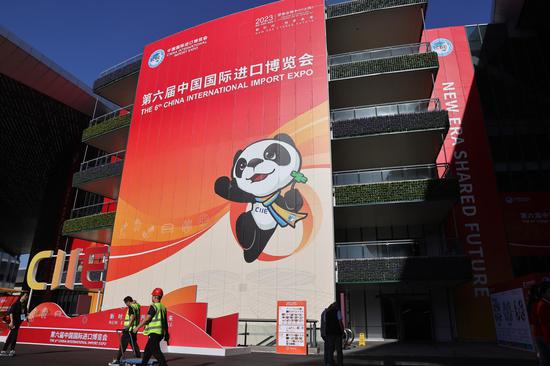 Shanghai gears up for upcoming 6th CIIE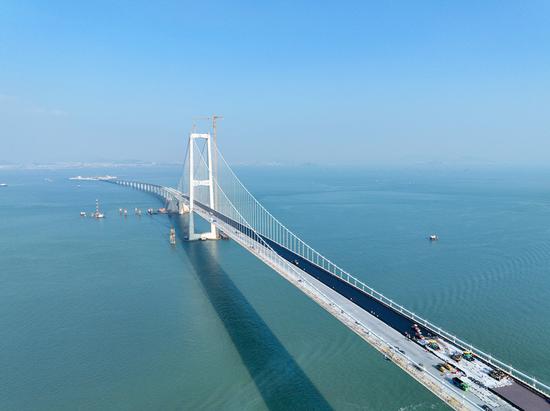 Steel deck pavement underway on Lingdingyang Bridge in S China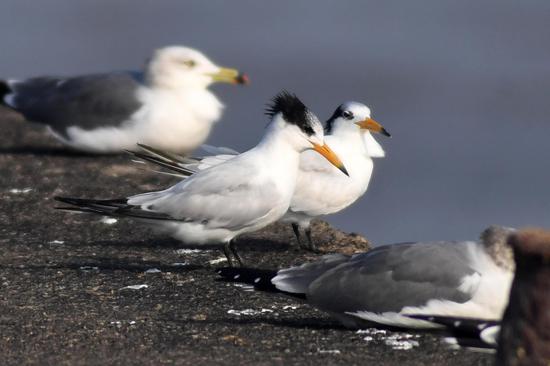 Critically endangered birds return to Qingdao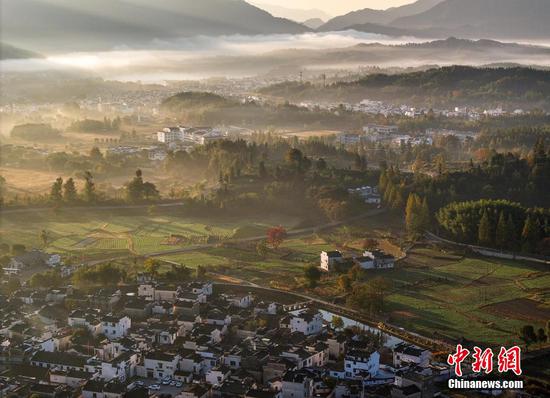 Village shrouded by mist in Autumn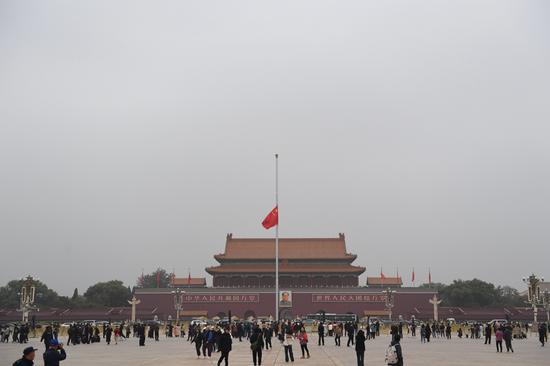 Chinese national flag flies at half-mast to mourn death of Comrade Li Keqiang at Tiananmen Square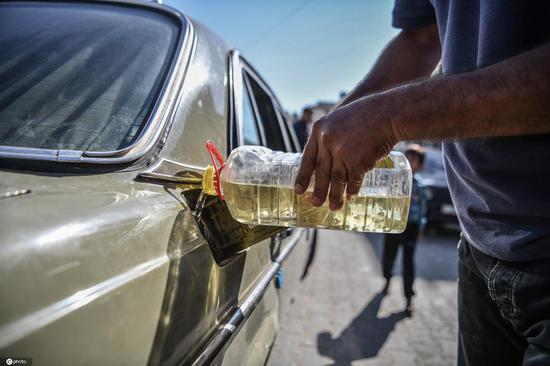 Cooking oil powers cars in petrol-starved Gaza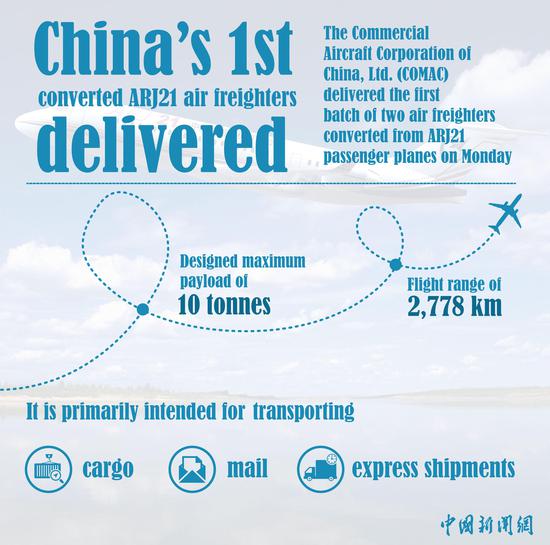 In Numbers: China delivers first two converted ARJ21 air freighters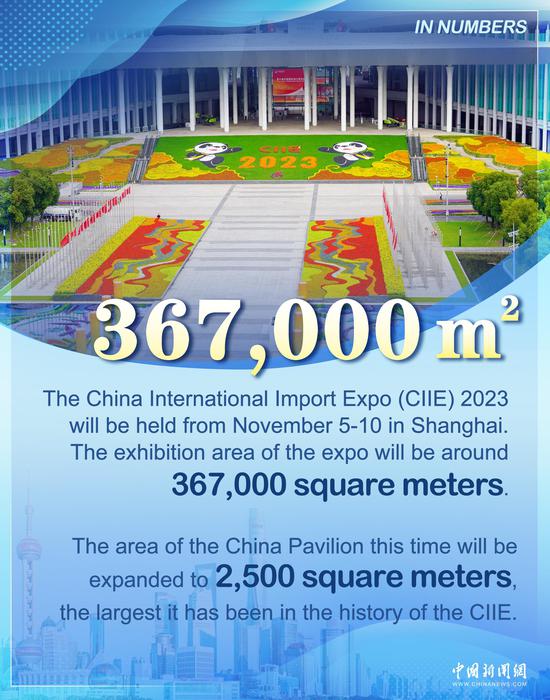 In Numbers: What to expect from upcoming China International Import Expo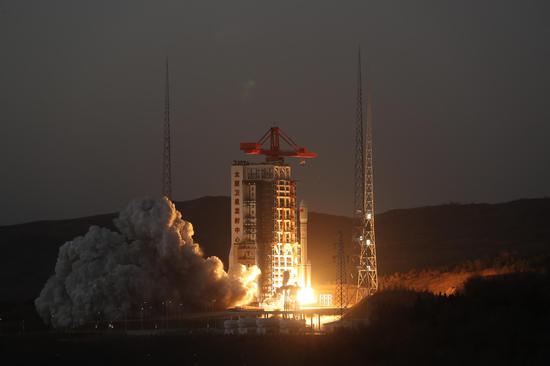 China launches Tianhui-5 satellite into space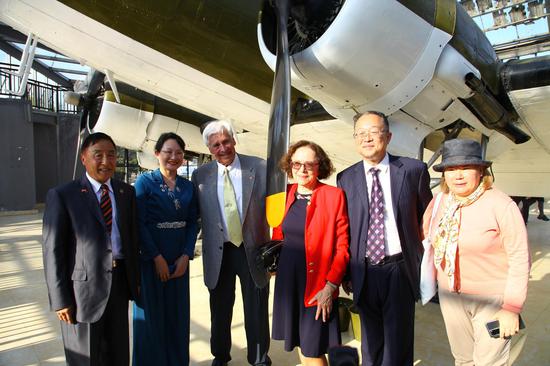 80 historical items donated to Flying Tiger Heritage Park in S China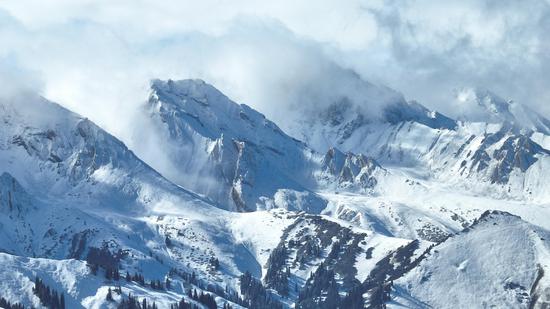 Snow-capped mountain with sea of clouds in Xinjiang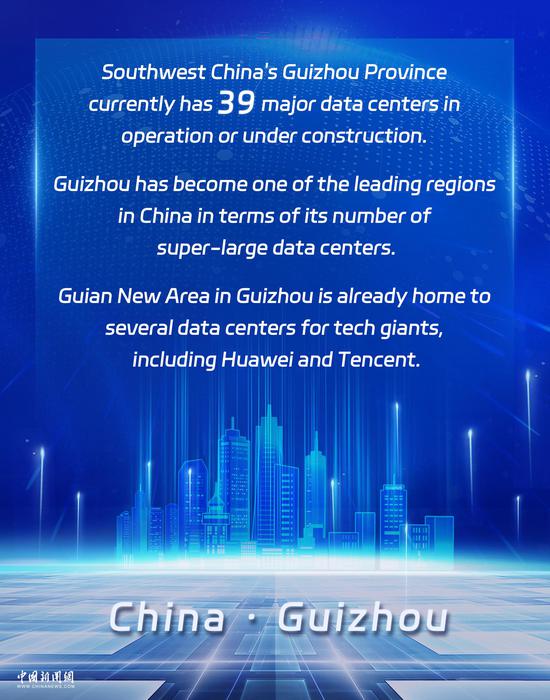 In Numbers: Guizhou has 39 major data centers in operation or under construction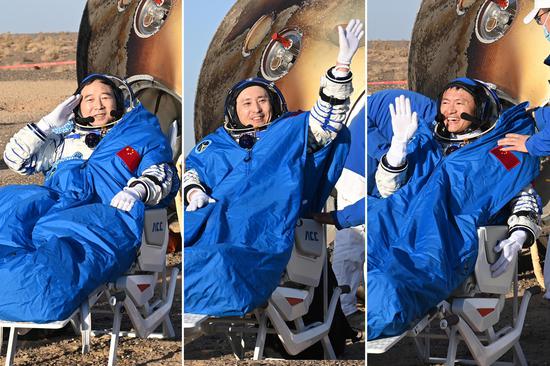 China's Shenzhou-16 astronauts return safely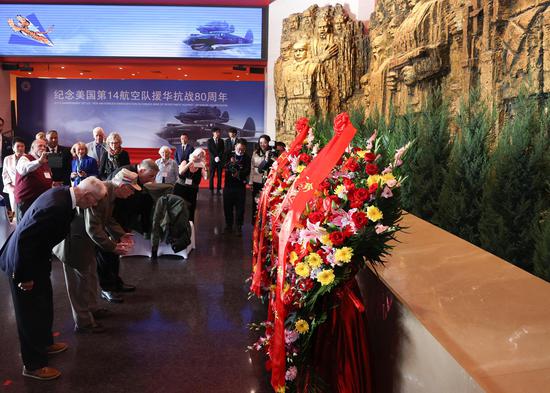 Flying Tigers members mark 80th anniversary of U.S. force's participation in China's resistance war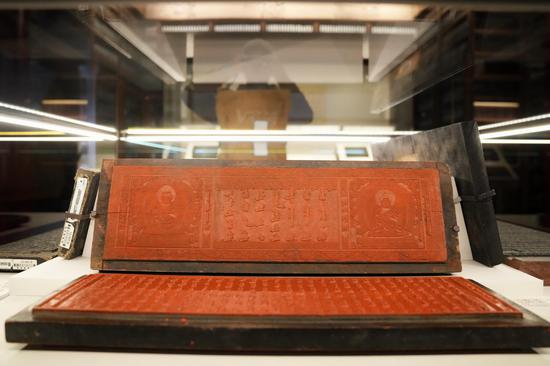 More than 15,000 printing woodblocks displayed at Palace Museum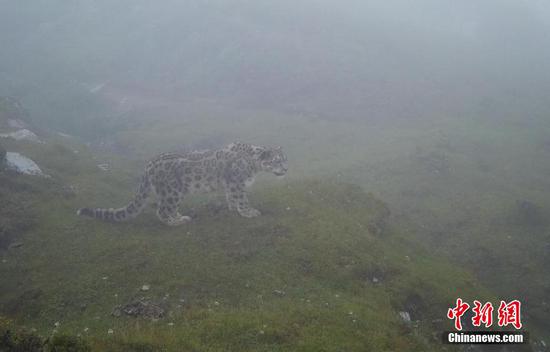 Wild animals captured at Giant Panda National Park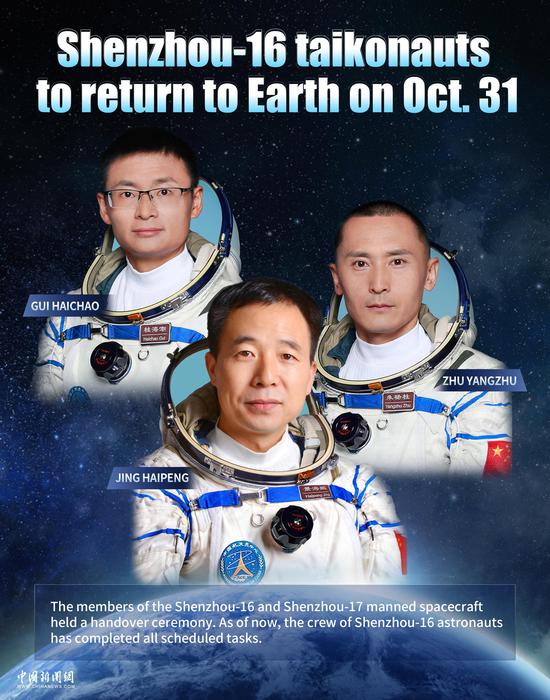 Shenzhou-16 taikonauts to return to Earth on Oct.31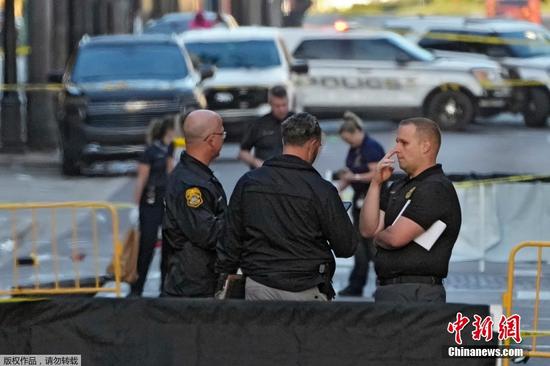 Two killed, 18 injured in Florida shooting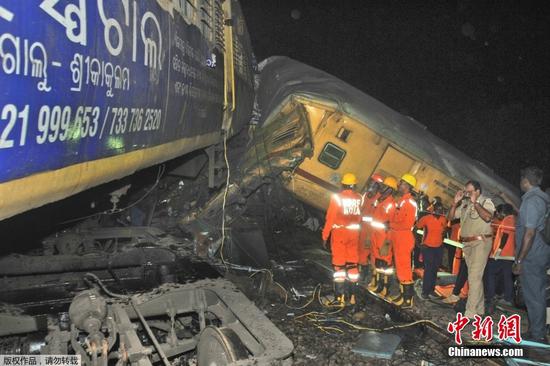 At least 9 dead in India's train collision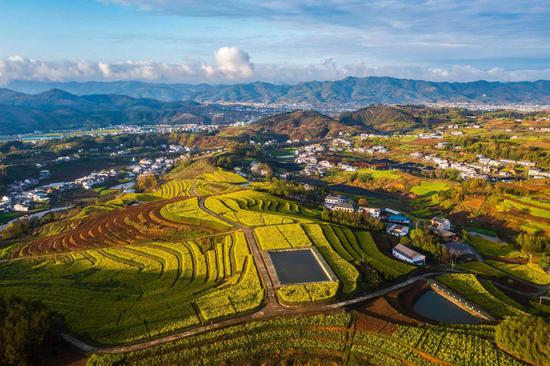 Autumn turns terraced fields into color palette in Hubei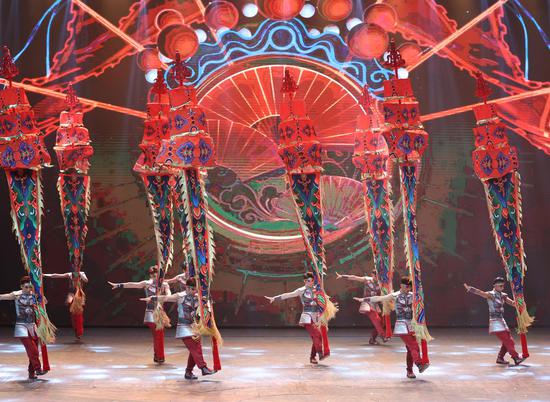 19th China Wuqiao International Circus Festival held in Hebei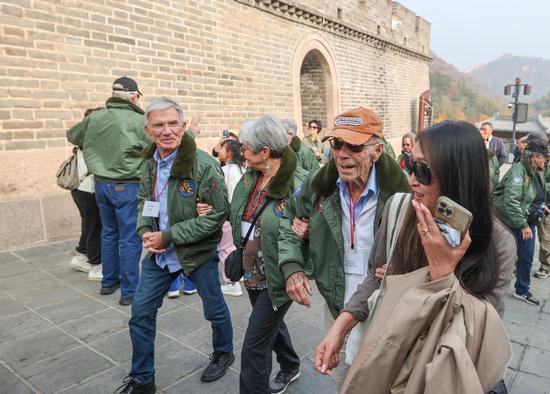 Flying Tigers veterans visit Great Wall in Beijing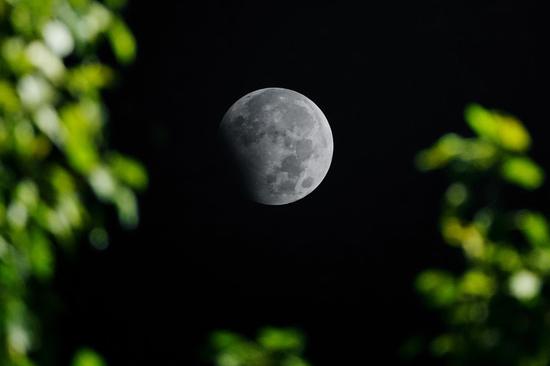 Last lunar eclipse of 2023 spotted across China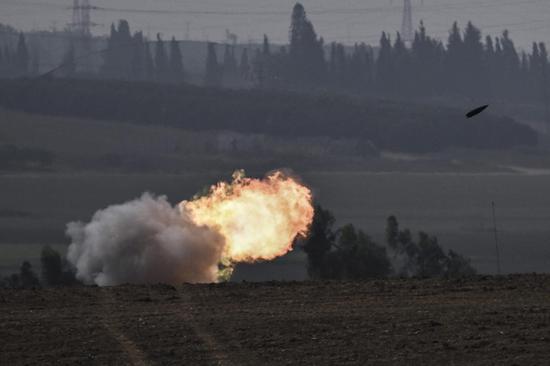 Israel expands ground offensive in Gaza
Most popular in 24h, more top news.
China firmly opposes U.S. sanctions on Chinese entities
Malaysian companies show strong confidence in CIIE, Chinese market: business leader
Mainland optimizes exit-entry services for Taiwan compatriots
Global Insights on BRI | Senior Thai official: From vision to action, sustainable development of BRI empowers future
Cruise ship a key maritime achievement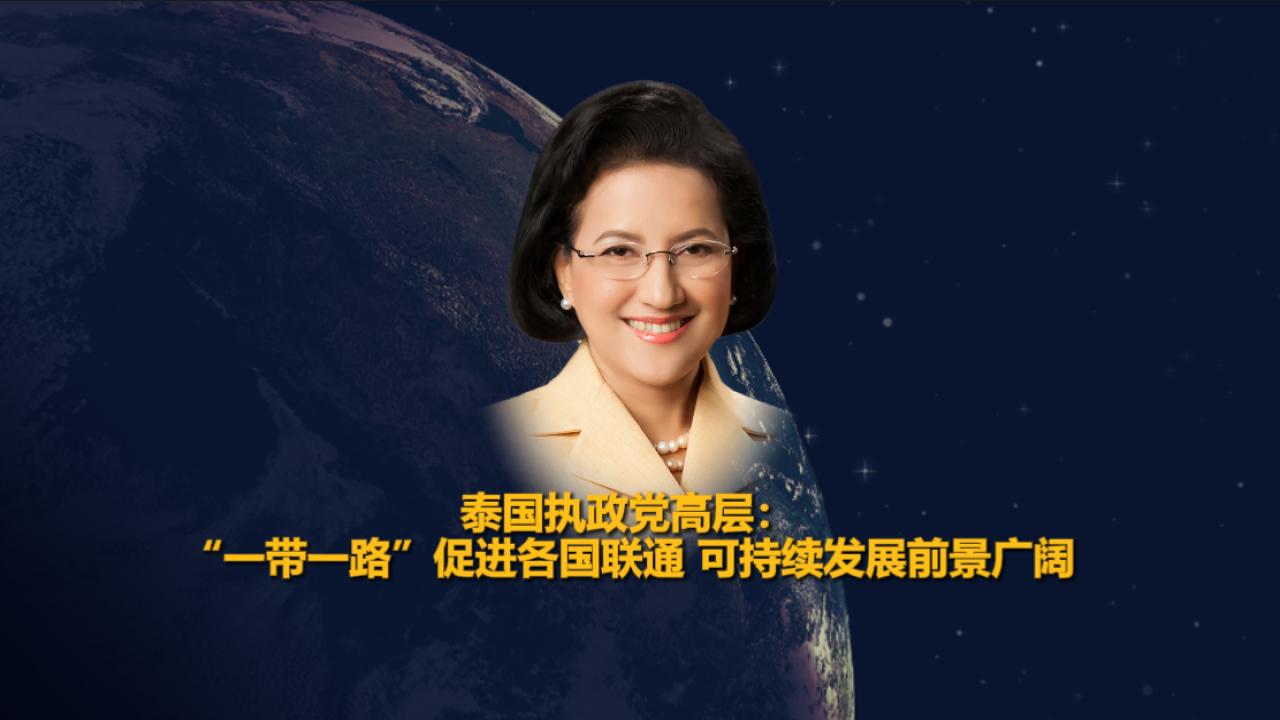 Global Insights on BRI | Senior Thai official: BRI enhances connectivity and embrace bright prospects for sustainable development
China's first homegrown large cruise ship delivered