Get the Hottest Deals First!
Peaks of Europe: The Alps to The Dolomites
About this tour.
Embark on an invigorating journey through Europe's towering Alps and idyllic towns. Ascend 4 unique mountains via cable car and cogwheel train. Join a mountain guide for a hiking experience. Visit Jungfraujoch and stand at the "Top of Europe." Visit the cheese aging cellars of L'Etivaz and the Italian vineyards of Prosecco – enjoying a tasting at both. Spend time in the idyllic storybook towns of Lucerne, Innsbruck, and Cortina crowned by towering Dolomite mountains. Across France, Switzerland, Austria, and Italy, discover breathtaking beauty and inviting local charm.
Your Tour Includes
6 Handpicked Accommodations
2 Choice on Tour Options
Included Highlights
Your Tour at a Glance
11 Breakfasts
Travel Style
Explorations
Customize Your Tour
Optional Excursions
Starting at $150.00
Activity Level
Ever wanted to travel the world but were not sure how? Piecing together a comprehensive journey can be an overwhelming task given all the details with airlines, accommodations, transportation, meals, sightseeing and more. Leave behind the stress of planning and let Collette's innovative tours make your travel dreams come true.
Travel Styles
Highlights and inclusions.
Must-See Inclusions:
Stand at the "Top of Europe," the perennial winter wonderland of Jungfraujoch.
Step into the 3 storybook towns of Lucerne, Innsbruck, and Cortina.
Stay 3 nights in the French town of Chamonix, nestled at the foot of Mont Blanc.
Gaze upon the vibrant Swiss countryside on the panoramic GoldenPass train.
Cultural Experiences:
Inhale fresh alpine air with 4 unique mountaintop experiences.
Discover the local flora and fauna during a nature walk with a local alpinist.
Meet the pups of Barryland, a foundation that protects the heritage of Switzerland's national dog – the St. Bernard.
Culinary Inclusions:
Toast to the end of your scenic journey during a farewell dinner in a Venetian villa.
Taste the fruits of Italy's Prosecco region, with a vineyard visit and tasting.
Savor the flavors of Switzerland during a raclette brunch at a dairy farm.
Alpine Walks & Nature Experiences
Prosecco Region
Venetian Villa Stay
Book with Confidence
* With Insurance Purchased
*No Hassle Refunds
Traveling Well Safety
No booking fee, *no change fees
Top Rated Travel Protection
Share This Tour
Looking to add your itinerary for friends and family? Share your Itinerary
Getting Prepared
Know before you go, travel tips, enhance your tour.
Pre and Post Tour Extensions
Unique Experience
Cultural Experiences
Enhance Your Trip
In Chamonix you have the choice between 2 activities. Explore the legendary Mont Blanc – Europe's tallest peak and birthplace of mountaineering – your way. Ascend the Aiguille du Midi by cable car to an elevation of over 12,600 feet (3,842 meters)*. This is the closest you can get to the summit of Europe's tallest peak. Your second choice is to relax aboard the Tramway du Mont Blanc rack-railway taking in its vintage charm and the impressive views from the Eagle's Nest, located 7,782 feet above sea level (2,372 meters).
Continue your exploration of Italy with a two-night stay in Venice, the "Queen of the Adriatic". From your centrally located hotel, the city is yours to uncover. Join a local guide for a walking tour of this incredible city, and enjoy ample free time to meander amongst the historic streets, taking in the city's unique architecture and gondola-laden canals.
Mogliano Veneto - Venice
Continue your exploration of Italy with a 2-night stay in Venice, the "Queen of the Adriatic." After a motorboat transfer, meet your local guide for a walking tour of this incredible city, including the Bridge of Sighs, the Clock Tower, and St. Mark's Square. You'll also learn about the Venetian art of glassblowing during an interactive demonstration.
Enjoy a day to explore Venice at your leisure. From your centrally located hotel, the city is yours to uncover. Meander amongst the historic streets, taking in the city's unique architecture and gondola-laden canals. You may choose to experience the local cuisine at a typical bacaro, a small wine-bar where locals stop for a glass of wine – traditionally called ombra – and a quick bite of local tapas – that Venetians call cicchetti. Or take a local public waterbus ride to the nearby island of San Giorgio which offers spectacular views of St. Mark's Square and the Doge's Palace.
Venice - Tour Ends
Say arrivederci to Italy as your tour comes to a close.
Cross into Germany for a visit to Oberammergau, the world-renowned home of the Passion Play. This Bavarian village of traditionally painted houses comes together every 10 years* to perform a marathon 10-hour folk theatre rendition of the Passion of Christ in thanksgiving for escaping the great plague of 1633. After visiting the theatre site and town, indulge in homemade Tyrolean cuisine at a local restaurant before returning to Seefeld.
Accommodations
La folie douce hotel, golf hotel les hauts de gstaad, sunstar alpine hotel grindelwald, seelos hotel - niko hotels.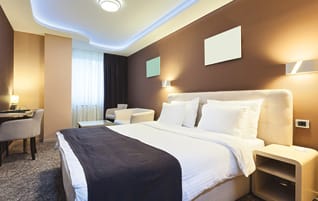 Hotel Post Bruneck
Nights 9-10
Hotel Villa Condulmer
Trip reviews.
Live, Unedited, & Independent Traveler Reviews

Filter Reviews: All

Related Blog Content
Savor the slow food movement in sicily, top 10 phrases to know for your next trip to sicily, get a taste of sicilian street food, the wines of sicily, greece: a foodie's dream vacation, keep the summer spirit alive with collette's season 106 sale, similar tours.
The Azores Jewels of Portugal
Tuscan & Umbrian Countryside featuring Italy's Charming Hill Towns
Italy: Amalfi Coast to Puglia
Italy's Treasures Art, Food & Wine of Italy
Switzerland: Hidden Trails & Majestic Peaks
Essence of France Paris, Provence & the French Riviera
Not seeing the date you want? We can help!
Call our Customer Care Team to inquire about dates beyond what's currently listed and to make an advanced reservation. You can find our full terms and conditions here .
Request a Quote
Please fill out the form below, and a Collette Expert will contact you shortly.
Yes, I'm a Travel Professional
Yes, I am working with a Travel Professional
I am traveling with 8 or more travelers
Find a Travel Agency
Once you've found the perfect Collette tour, your local travel agent can assist you in making reservations. To find a preferred travel agent in your area, please enter your 5-digit zip code, then click Search.
Enter a Whole or Partial Zip Code
Please tell us everything, we want it all.
We really value your feedback, please be open an honest. Tell us where we can improve, how we can get better. This feedback is anonymous, but if you would like us to get in touch with you regarding an issue provide your email address as part of your feedback and we will get right back to you.
Talk to an Expert
View or download.

Escorted Tours
Tour Contract
Obtaining a Passport Book
Physical Condition Guide
Privacy Policy
Currency and CC Information
Travel Protection Plan
Tourist Offices
Travel Requirements & Prep
Included Features
Dates & Prices
The Image Tours Team
Superior Value
Membership & Alliances
Travel Agents
Find a Travel Agent

Escorted Europe Tours
Click on any of the escorted tours below to learn more about what image tours offers, from detailed itineraries, dates and pricing, to optional excursions, traveler testimonials and more prices shown below are "tour only" and reflect the current available discount. selecting a specific date will take you to our pricing module, where you can find an air-inclusive price from a city near you., heart of europe® circle tour.
Featuring:&nbspAustria, Belgium, France, Germany, Holland, Italy and Switzerland
HEART OF EUROPE® Grand Tour
Featuring:&nbspAustria, Belgium, England, France, Germany, Holland, Italy and Switzerland
Paris, Tuscany & Rome Tour
Featuring:&nbspParis, Swiss Alps and The Tuscany Region
Germany, Austria, Switzerland Tour
Featuring:&nbspAustria, Germany and Switzerland
Heart of the British Isles Tour
Featuring:&nbspEngland, Ireland, Scotland and Wales
World War II Memorial Tour
Featuring:&nbspAustria, Belgium, France, Germany, Holland and Luxembourg
Treasures of Italy Tour
Featuring:&nbspRome
Spain & Portugal Tour
Featuring:&nbspLisbon and Madrid
Capitals of Central Europe Tour
Featuring:&nbspAustria, Czech Republic, Germany, Hungary, Poland and Slovakia
Scandinavia & Baltic Highlights Tour
Featuring:&nbspDenmark, Estonia, Finland, Latvia, Lithuania, Norway and Sweden
Christmas Markets of Austria & Germany Tour
Featuring:&nbspNuremberg and Salzburg
Treasures Of Europe
Enjoy radiant Paris and the Renaissance romance of Florence, dramatic Alpine landscapes and the Eternal City of Rome where you'll toss a coin in the Trevi Fountatin to secure your swift return.
Set your sights on the European journey of a lifetime and discover all the must-sees of England, France, Switzerland and Italy. See the incredible sites of London, from Buckingham Palace to Big Ben. Take the Eurostar train to Paris – the "City of Lights" – and enjoy a panoramic city tour before taking in breathtaking views from your dinner table aboard a Parisian river boat. Board a high-speed train bound for Lucerne, the enchanting Swiss city on a cobalt lake and one of Switzerland's most beautiful places. In Venice, discover a floating city where iconic landmarks of centuries-old history line canals dotted with gondolas. Tour Florence, the "Cradle of the Renaissance," and make a special visit to David – Michelangelo's masterpiece.
Our prices start from
13 Days • GUIDED • 16 Meals
The Details
11 nights accommodation
On some dates additional accommodations may be used.
Services of a tour manager
All on-tour transportation and related fees
Hotel-to-hotel baggage handling
Round trip home to sedan airport service provided when you purchase airfare through Member Choice Vacations. One transfer per person, per reservation. (Restrictions apply)
11 breakfasts, 1 lunches, 4 dinners
Engaging Experiences These special places and experiences are considered tour highlights. Look for them in the daily itineraries.
You're on your way to an unforgettable journey to some of the most magnificent countries in Europe.
Leonardo Royal Hotel London City, London
Dinner Included
Your tour opens in London, England's sophisticated capital. Discover a bustling city where centuries of history meet an evolving modern culture. Join your fellow travelers and toast to the start of an incredible journey during a welcome dinner. Today dinner will be included.
Breakfast Included
Start your morning on a tour of the quintessential sights of London. Alongside a local guide, see the Tower of London, Westminster Abbey, Buckingham Palace, Big Ben and the Houses of Parliament. The remainder of the day is yours. Take advantage of free time to explore this iconic city on your own. Today breakfast will be included.
Enjoy views of the Eiffel Tower as you gently float down the Seine River, tasting savory French cuisine on a dinner cruise.
Hyatt Regency Paris Etoile, Paris
Breakfast, Dinner Included
Venture inside the St. Pancras railway station – a masterpiece of Victorian engineering – and board the high-speed Eurostar train. Relax in style as you're whisked away to Paris, the "City of Light." Famous for its world-renowned art, food, and fashion, Paris' captivating energy can be found around every corner. This evening, enjoy French cuisine and views of the Eiffel Tower during a dinner cruise floating down the Seine River. Today breakfast and dinner will be included.
See Paris at its best during a panoramic city tour featuring Notre Dame Cathedral, Arc de Triomphe, Champs-Élysées and more. Enjoy an afternoon on your own to explore Paris independently. Perhaps you will have lunch in Le Marais, or head north to Montmartre and watch artists at work. Or, consider an optional tour* of the Louvre Museum, where you'll find more than a million precious works of art, including the Venus de Milo and Mona Lisa. Today breakfast will be included.
Radisson Blu Hotel, Andermatt or Ameron Hotel Flora, Lucerne
On board the TGV – France's high-speed train – depart Paris and make your way to Lucerne. Take in the scenery on your journey into Switzerland, passing snowcapped mountains and verdant fields. Among stunning views of the lake and the Alps, discover the beauty of Lucerne during a walking tour. Journey through city streets, covered bridges, lakeside promenades, and bustling plazas. End your day in the quaint village of Andermatt,** nestled in the Ursern Valley. Today breakfast will be included.
**On some dates, you may be accommodated in Lucerne instead of Andermatt.
Cross the majestic Swiss Alps into Italy.
Hilton Garden Inn Mestre, Venice
Travel south through the pastoral landscapes of Switzerland. Crossing into Italy, traverse through the heart of the Alps, taking in vistas of rugged mountains as far as the eye can see. Pass through the picturesque Italian Lake District – a holiday destination since Roman times. Settle in for a 2-night stay in Mestre, situated on the Venetian mainland. Today breakfast and dinner will be included.
Cruise to the island of Murano,*** renowned for its age-old glass-blowing tradition. After leaving Murano, embark on a walking tour of Venice, a collection of 117 tiny islands surrounded by a latticework of 150 canals and 400 bridges. In this floating city, see the Clock Tower, St. Mark's Basilica, and marble palaces along boat-filled canals. The afternoon is yours to explore the hidden secrets of this charming city. Perhaps you will take an optional gondola ride through the narrow waterways. Today breakfast will be included.
***On occasion, due to inclement weather, your visit to Murano Island may be substituted with a visit to a local glass factory in Venice.
Starhotel Tuscany, Florence
Breakfast, Lunch Included
Traverse the Po river valley en route to Tuscany. Stop at a vineyard in the heart of the Chianti region and enjoy a tour, tasting, and traditional bites. Continue to Florence, where you'll spend 2 nights in the "Cradle of the Renaissance," home to masterpieces of art and iconic symbols of centuries-old history. Today breakfast and lunch will be included.
Tour Florence, the legendary city of the Medici and the iconic Duomo. Enjoy a real-life history lesson as you discover the 4 pillars of city life: art, architecture, food, and fashion. You'll also visit the Galleria dell'Accademia, home to Michelangelo's David. This evening, consider an optional excursion to the 14th century Certosa monastery, featuring an after-hours tour and dinner in a popular Tuscan restaurant. Today breakfast will be included.
Tour Rome's awe-inspiring Colosseum.
Donna Laura Palace Hotel, Rome
Say arrivederci to Florence and journey to Rome, Italy's capital city. Upon arrival, a locally guided tour of Classical Rome will allow you to discover famous sights such as the Baths of Caracalla, the legendary Aventine and Palatine hills, the ancient Circus Maximus, and the Arch of Constantine. Recount the rich history of the Colosseum during an in-depth visit with a guide. Today breakfast will be included.
Enjoy a day at leisure in the Eternal City. Gaze at the Pantheon and see the oval-shaped Piazza Navona that's lined with restaurants and shops. Or consider an optional tour to the Vatican (UNESCO), where you'll discover masterpieces of art and architecture. Tonight, gather together and toast the end of an epic journey through Europe at a farewell dinner. Today breakfast and dinner will be included.
Your European adventure comes to a close today. Today breakfast will be included.
Itinerary featured is for May 2022 - May 2023 tour departures. Departures prior will vary. On some dates alternate hotels may be used. Pricing is per person, double occupancy, land only, based on November 3, 2022 travel date. Single supplement from $1,000.
All this makes it AAA Vacations ®
AAA Complimentary Inclusion: $50 per person credit toward an optional excursion
Member Benefit: $50 per person savings
Best Price Guarantee
24/7 Member Care
OTHER SUGGESTED PACKAGES
Package: Guided
2025 Jubilee: The Holy Year A Pilgrimage To Rome & Assisi
Assisi, Rome, Vatican City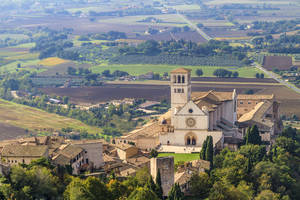 A Taste Of The Balkans
Bled, Dubrovnik, Kotor, Ljubljana, Mostar, Motovun, Plitvice, Rovinj, Sarajevo, Zagreb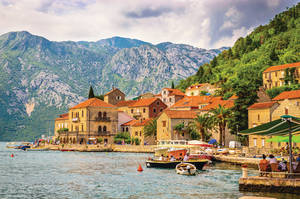 Alpine Lakes & Scenic Trains
Lake Maggiore, Lucerne, St. Moritz, Zermatt, Zurich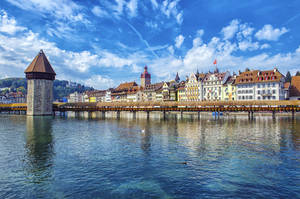 Package: Independent
Belmond Royal Scotsman Scotland's Classic Splendours With Edinburgh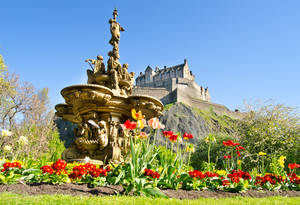 Contact a AAA Travel Agent Today!
Trust your AAA Travel Agent as your one-stop source for your next vacation. Travel with confidence knowing AAA Travel will be here for you before, during and after your vacation.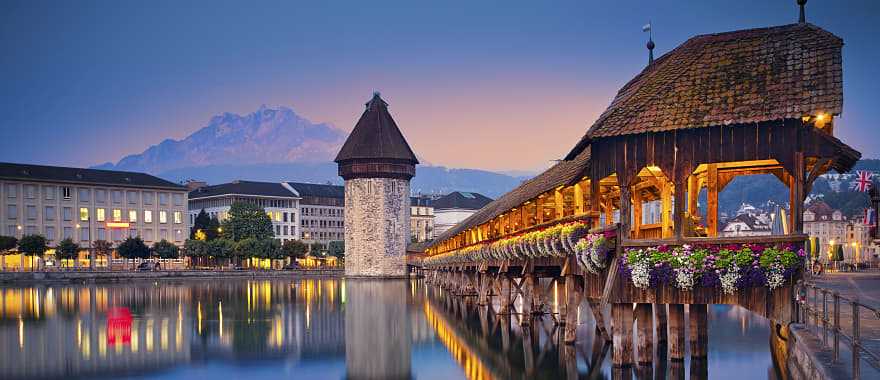 European Getaway: France, Switzerland, Italy Tour
Customers rate Zicasso's travel referral service  5  on a scale of 1 to 5 based on  1500  reviews on Trustpilot
We match you with top tour companies that specialize in the trip you want,  whether it's a customized private tour or a group tour.
This is a sample itinerary to inspire a personalized trip designed with your travel specialist
Request a Quote
Countries Visited
Places visited, suggested duration.
Aromas drift down Roman lanes, vistas extend from alpine lakes and the Renaissance city opens its heart. From Venetian canals to Parisian patisseries, this is the grand tour of Italy, Switzerland and France, a one-way two-week journey that celebrates many of Europe's grandest icons. Explore with all your senses alive as you embrace the highlights and discover how every piece of old-world Europe is absolutely unique.
Customizable Itinerary
Venice – a water taxi into the city of canals.
Fly into Venice, the Queen of the Adriatic and your airport transfer will immediately reveal what makes this city so special, the water. Travel along the canals as grand townhouses rise on either side of you as your gondolier takes you beneath the bridges of yesteryear. Take a stroll between the island neighborhoods, sip Bellini cocktails as street musicians play twilight serenades. Relax on a terrace close to St. Mark's Square as Venice is much quieter in the evening after the day-trippers have returned to their hotels on the mainland. Soak up one of the world's most unique cities, with your hotel ideally located on the Grand Canal.
What's Included:
Venice – Romance and Elegance
Venice is a city where grandeur pours from the walls, and it seems improbable that so much has survived for so long. Explore Doge's Palace and its secrets, your local guide taking you beneath corridors lined with world-famous art pieces. Walk over the Bridge of Sighs and stop to re-energize in a cafe best known to the locals. Travel out with your gondolier and learn about the ancient tradition, how it started, and how it has evolved over the centuries. Your destination is another of Venice's islands, where you can watch the skills of glassblowers and take lunch with views over the water. The afternoon is left free, and your guide can tailor it to your interests. In particular, the Venetian art scene really comes alive with a local guide with galleries presenting the works of Titian, Tintoretto, and Guardi.
Rome – Into the Eternal City
It is just over three hours by high-speed train from Venice to Rome, and you will whizz through Tuscany, stopping at a small handful of old cities on the route. This is a good time to relax and watch Italy roll by before you disembark amid the old-world bustle of ancient Rome. Your hotel is located at the very heart of an ancient empire, in a historical area that is far away from traffic-clogged streets, yet the Pantheon is just steps away. Your local guide will meet you for an orientation tour, showing you which way to turn in the Eternal City. Not just for the world-famous sights, but also for the high-quality restaurants and cafes that will be perfect for lounging the afternoon away. Rome is one of the best cities in the world for people watching, so take this day to relax and savor the local atmosphere.
Rome – Highlights of Ancient Rome
Secrets whisper from ancient walls as this is Ancient Rome, older than the Colosseum you walk through, and more complicated than what you see on the postcards. With your local guide alongside you, you can easily imagine a time of gladiators and empires and when the stones you are standing on were the center of the known world. With three days in Rome, you can take it slow, and there is more than enough to experience. Discuss emperors on the piazzas, listen to Catholic history in beautiful small churches, and make your journey through the centuries.
While the Colosseum and Pantheon are redolent of the old Roman Empire, the highlights of old Rome contains pieces from many different centuries. Perhaps that is why Michelangelo said this was a place made by angels, not humans. As with your second day in Venice, the afternoon is flexible, and your guide can customize the itinerary based on your interests. One potential option is a tour of Trastevere, an iconic neighborhood of cobblestone streets, where you can search the markets and discover a really lived-in part of the city.
Rome – Exploring the Vatican and Beyond
Move next into the holy Vatican City, a place of pilgrimage for some, a place of beauty for all. Walk across St Peter's Square, beneath the shadow of the grand basilica and Egyptian Obelisk, and then take the red carpet as you get fast-track entry to the Vatican Museums. Welcome to one of the world's greatest art collections with galleries dominated by pre-eminent sculptures, rooms covered in humongous canvases, chapels painted by the greats, Michelangelo's ceiling in the Sistine Chapel. With your private guide, you can enjoy behind-the-scenes access to the Bramante Staircase and then travel beyond the galleries into St. Peter's Basilica, a place of both serenity and art. A whole morning in the Vatican Museums is enough when your guide can lead you efficiently, but it is well worth sticking around for lunch nearby, as then you can quickly dip into another piazza, palazzo, or church in the afternoon.
Florence – Tuscan Wine Tasting and Renaissance Delights
Travel by road to Florence, the streets twisting as they ascend through Tuscany. Stop in Orvieto, where the landscape is carpeted by vineyards. Stop into wineries as you travel, and a winemaker will invite you in for a tasting. Savor more of the region's flavors as you enjoy a live cooking demonstration in an Italian kitchen, and then sit down to a lunch paired with local Tuscan wines. This experience will feel like an iconic culinary experience that blurs into the iconicity of Florence, as you spend the afternoon and evening in the Renaissance city. Like with Venice your first day is left free. You can walk without a map, explore beyond the postcards, and make your own impressions of this otherworldly city. As twilight approaches and the church bells chime, you will likely sit back and smile as Florentine life is unfolding all around.
Florence – Exploring the Masterpieces
With your guide alongside, you will look down the backstreets and enter the palaces. Gaze up at the colors of the cathedral, sounds coming from the bell tower as you admire Ghiberti's Gates of Paradise. Piazza della Signoria is like an open-air gallery from five centuries ago, its sculpted figures the works of great Renaissance artists. Compare this to the simple beauty of Santa Croce Basilica, and then take some time to discover opulent nearby streets. Again, your afternoon is flexible, and again, art can be your focus. All across Florence, some palaces that became galleries, the settings as impressive as the works by Raphael and others. While Michelangelo's David stands proudly in Galleria dell'Accademia, there are many other superb galleries to visit.
Lucerne – Swiss Landscapes From a Dream
Fly direct from Florence to Lucerne, and then land in the Alps, mountains rising all around as you settle into two relaxed days along the lakeshore. While it is a beautiful road journey from Italy to Switzerland, it is a long way from Florence to Lucerne, and you are never short of mountain panoramas once in Switzerland. Spend your afternoon with a local guide, gazing up at Lucerne's Lion Monument, admiring how it is carved into a limestone cliff above the city. Walk across Chapel Bridge and feast your eyes on Lucerne Jesuit Church, and then feast on quintessentially Swiss cuisine. The Swiss love cheese, and it would not be a trip to Switzerland without an evening of cheese fondue served in a cozy restaurant as the mountains blend into the shadows.
Lucerne – High Up in the Pristine Alps
Rise into the Alps, first on a funicular railway, and then in an open-top cable car. Mount Stanserhorn is your destination, a peak with superb views across Switzerland and into Germany. It is up here that you will meet a Swiss Ranger and take a short hike, learning about local flora and fauna on your route. If you enjoy hiking, then there are various trails to take from up here, including the zigzag going back down to Lucerne. In the afternoon, you might be up in the mountains or exploring the pedestrianized Old Town. Another option is to travel by horse-drawn carriage into the surrounding countryside. Lucerne takes its cuisine seriously, and there are many excellent places to dine this evening.
Paris – Delectable Landscapes and the City of Lights
Wake and travel by train to Paris with a short change in Basel before meandering down from alpine peaks to forested foothills. Soon the mountains fade away, and your train will zoom across a patchwork of fields and villages, revealing an openness to contrasting the tightly packed Swiss mountains. It is just under a 5-hour journey to Paris, but it is very comfortable as you lounge in your first-class carriage as drinks and food are served. Roll into Paris, and you will be transferred to your hotel just steps from the River Seine, in the heart of the city. You will be surprised at how small Paris is, especially the beautiful old core, where most of the famous attractions are located. As you check-in, you can then check out the city with one option simply to follow the River Seine. Exotic smells, elegant neighborhoods, street musicians, and famous bridges abound as Paris revolves around the Seine.
Paris – Food and Neighborhoods Tour of Paris
Paris comes alive through its food, and by following your palate, you will get to see very local parts of the city. Explore with an avid foodie and get to know the differences between a boulangerie, fromagerie, and patisserie, not just what they sell but also in the smells that lure you inside. Go to meet a chocolatier and learn all about macarons in the neighborhood where this treat was first invented. Visit a local produce market and sample delights from across the country, the wines, and the hams and cheeses so distinctive based on where they originate. Your guide will introduce you to some of the basics of food and wine pairing as you finish the tour in a small bistro, where the combination of flavors feels infinite.
With a free afternoon in Paris, it will feel as though there are too many options to consider. Climb up the Eiffel Tower or down the Champs Elysees, dip into the designer stores or just wander along the riverside promenade. Paris can entertain you for days, and by spending several nights, you cannot see it all, but you can experience a lot of what makes the city special. Different art galleries open later on different evenings, and some streets come alive with the sound of music. So go out and explore, soak it all up, walk the lanes and find a dinner table in a small restaurant, amid this city of lights.
Paris – French Palaces and Patisseries
For this final day of your tour, you can discover a little more of France. Rather than setting out for the over-popular Versailles, you can take a one-hour train to Fontainebleau, where an equally impressive World Heritage palace is ripe for discovery. Explore the imperial legacy with a guide, learning all about the artwork that hangs from the walls, and then immerse yourself in the local market, which is practically unchanged for three centuries now. Traders shout of their produce as the many aromas float through the air. There are many good cafes in the main town square, and it is nice to be away from the tourist-centered squares of the capital. Fontainebleau is also home to a stunning forest, a place you can discover before the train back to Paris and a final night on vacation.
Paris – Departure
This last morning will be at your leisure. Late check-out can be arranged, and you will be transferred to the airport with plenty of time before your return flight.
Trip Highlights
Gaze across the hills of Tuscany while sipping on fine wine
Wander Parisian neighborhoods of cobbles and charm
Inhale blissful alpine air as you spend two days on Lake Lucerne
Explore the waters and the many islands of Venice
See more of old-world France with a day in Fontainebleau
Celebrate the wonders of Rome with a day dedicated to the ancient empire and another in the Vatican
Discover Florence and its Renaissance history with your local guide
Take the funicular up Mount Stanserhorn and gaze out across Europe
Tantalize your senses as you go in search of iconic food in Italy, Switzerland, and Paris
Detailed Description
Lay a map of Europe onto one of the United States, and you will find that the state of Texas is double the size of Italy and Switzerland combined. Travel to Europe, and you will see how remarkably everything can change within just 50 miles. Begin with the city of canals, and then soon be in the midst of a Tuscan landscape carpeted in vines. Climb high up in the Swiss Alps, and then across the farm-studded plains of France. Rome and Paris could not be more different if they tried, and it will be wonderful to see how much diversity you can experience in less than two weeks of travel. From seascapes to mountain peaks, from Rome to the Renaissance to the Impressionists, this itinerary spans it all. Vibrant old-world squares to places of serenity, pasta to fondue to patisseries and macaroons, you will find with every day that there is something new, and that is what makes combining Italy, Switzerland, and France so compelling.
You will spend a week in Italy before flying to Lucerne for a couple of days amid the Alps. From there, you will take the high-speed train to Paris and enjoy the landscapes galore on your route, for several nights in the French capital. All of your tours will be private, and you can travel around by various means, including iconic road and rail journeys. Fitting three countries into less than two weeks means you that must place a premium on your hotel location, as there is no time to be wasted. You will be able to step outside of your hotel door, and you will be in the heart of your destination, surrounded by the icons and the atmospheres you came to experience.
Venice is your first stop, and you will have time to look beyond the world-famous postcard views as you explore with your insider guide. With so much to discover, your gondolier will take you down the canals, the best way to see the city. Whizz next to Rome on the high-speed train with time to soak up the landscapes before several nights in the Eternal City. One day is dedicated to the time of empire, the Colosseum just one of the highlights. The next day will bring you to the Vatican City, where the Sistine Chapel is among the artistic glories. Then move to Florence for a spot of Tuscan wine tasting on route to the Renaissance city. With your local guide, you can get to know the monuments and the neighborhoods, this being a city with secrets and surprises.
Fly next from Florence to Lucerne for two days spent surrounded by peaks, your hotel perched upon Lake Lucerne. Breathe in the fresh alpine air and take in the views, especially when riding a funicular railway up to Mount Stanserhorn. Your train journey to Paris is sublime, first through the mountains and then across a patchwork of rural fields and stone villages. You will end your vacation with nights spent in the French capital, time enough to see the famous sights as well as soak your senses into the food. Spend one day out of the city, Fontainebleau your destination for a look at local France and imperial legacy. You will likely be remarking about how different it is from Rome, and incredulous at how much you got to experience on a single trip to Europe.
Starting Price
$5,338  per person (excluding international flights)
Your Zicasso trip is fully customizable, and this sample itinerary is a starting place for your travel plans. Actual costs are dynamic, and your selection of accommodations and activities, your season of travel, and other such variables will bring this budget guideline up or down. Throughout your planning experience with your Zicasso specialist, your itinerary is designed around your budget. You can book your trip when you are satisfied with every detail. Planning your trip with a Zicasso travel specialist is a free service.
What's Included
Accommodations
In-country transportation
Some or all activities and tours
Expert trip planning
24x7 support during your trip
Your final trip cost will vary based on your selected accommodations, activities, meals, and other trip elements that you opt to include.
Reviews of Zicasso's Referral Service
4.69 stars based on 29 reviews.
Reviewed By  Bruce B.
Reviewed By  Dan S.
Reviewed By  Frank S.
Reviewed By  Stephanie W.
Reviewed By  David P.
Reviewed By  Dana P.
Expert Tips for Discerning Travelers
Your Dream Vacation
in 3 simple steps
Describe your dream trip
Get matched with top travel specialists
Book the trip
Help Me Plan My Trip
Free service - no credit card required
Coach Tours Britain & Ireland
Coach Tours of Europe
Coach Tours Worldwide
11-30 Day Coach Tours of Europe visiting many countries
Looking for shorter tours of 10 days or less click here for a keyword or tour code search click here, eastern highlights - 11 days.
Experience Eastern Europe - 7 countries in 11 days. Germany, Czech Republic, Poland,Slovakia, Hungary, Slovenia, Austria read more»
A Coach Tour of Austria, Czechia, Germany, Hungary, Pola...
Lasting for 11 Days
Prices Starting From £97 per day
Best of Eastern Europe - 11 Days
Experience the very best of Eastern Europe, including Zagreb, Budapest, Vienna, Prague, Berlin and Amsterdam on our one-way tour from Rome read more»
A Coach Tour of Austria, Belgium, Croatia, Czechia, Germ...
Prices Starting From £108 per day
Amsterdam to Rome - 11 days
During our 11 Day Amsterdam to Rome tour you will see some of the most popular destinations in Europe, including Paris, Barcelona, Florence and Rome! read more»
A Coach Tour of Andorra, Belgium, France, Italy, Monaco,...
Prices Starting From £107 per day
European Rhapsody - Start Amsterdam, Classic Group
Experience the finest Europe has to offer as you take to the stage with Viennese Waltz dance lessons in Vienna, lose yourself on the Romantic Road in Rothenburg and satisfy your appetite in Hungary wi... read more»
A Coach Tour of Netherlands, Germany, Czech Republic, Hu...
Prices Starting From £326 per day
Europe Escape - 12 Days
By far our most popular tour, you will visit all the must-see sights in Europe as you visit 7 countries in 12 days! read more»
A Coach Tour of Austria, Belgium, France, Germany, Italy...
Lasting for 12 Days
Prices Starting From £118 per day
European Whirl End Paris
The tring-tring of bicycles sounds the start of your European Whirl. Kick back on the canals of Amsterdam and Venice, in the quiet lakeside beauty of Lucerne and among the Tuscan hills near Florence, ... read more»
A Coach Tour of England, Belgium, Netherlands, Germany, ...
Prices Starting From £290 per day
European Experience
Get out of that armchair and experience the beauty of Europe with her centuries-old history, vibrant cities and splendid landscapes. You'll tick many bucket-list boxes on this 12 day trip that takes y... read more»
A Coach Tour of England, France, Switzerland, Italy, Vat...
Prices Starting From £160 per day
Eastern Adventure - 13 days
Experience some of Europe's best cities in Eastern Europe, including Berlin, Prague, Vienna, Venice and Rome read more»
A Coach Tour of Austria, Belgium, Czechia, Germany, Ital...
Lasting for 13 Days
Prices Starting From £104 per day
Mediterranean Highlights
Ease into the local love of life and good food. Sun-kissed days and sizzling nights guide you along this Mediterranean trip through coastal Spain, France and Italy. Enjoy lunch with sisters Sandra and... read more»
A Coach Tour of Spain, France, Monaco, Italy, Vatican Ci...
Prices Starting From £253 per day
Europe Jewel - 14 Days
Experience some of the best cities in Western and Eastern Europe! Including Amsterdam, Prague, Budapest, Vienna, Venice, Florence and Paris read more»
A Coach Tour of Czechia, France, Germany, Hungary, Italy...
Lasting for 14 Days
Prices Starting From £105 per day
Classic Europe - 14 Days
Explore top destinations in Europe, including London, Switzerland, Paris, Rome and Amsterdam in two weeks! read more»
A Coach Tour of Belgium, France, Germany, Italy, Netherl...
Prices Starting From £115 per day
Croatian & Eastern Delights - 14 Days
Highlight of Eastern Europe, including Germany, Austria, Slovenia,Croatia, Bosnia &Herzegovina, Serbia,Hungary,Slovakia,Czech Republic read more»
A Coach Tour of Austria, Bosnia and Herzegovina, Croatia...
Prices Starting From £98 per day
Highlights of Europe - Start London, End Paris, Classic Group, Summer
Experience the best Europe has to offer. Travel from London to Europe on the high-speed Eurostar train. Cruise along the quaint canals in Amsterdam, and travel from Austria, across the Dolomites into ... read more»
A Coach Tour of England, Netherlands, Germany, Austria, ...
Prices Starting From £358 per day
Spain & Portugal Explorer - 15 Days
Spain, Portugal and Andorra tour read more»
A Coach Tour of Andorra, Portugal, Spain
Lasting for 15 Days
Prices Starting From £106 per day
Enchanting Europe
All the travel highlights and flavors of France, Spain and Italy feature on this enchanting Europe trip. The beauty of the Loire Valley and glitzy Biarritz will be tough to beat, but living life the I... read more»
A Coach Tour of England, France, Spain, Monaco, Italy, V...
Prices Starting From £246 per day
Western Adventure - 17 days
Experience some of Europe's best cities in Western Europe read more»
A Coach Tour of France, Germany, Italy, Liechtenstein, L...
Lasting for 17 Days
Highlights of Eastern Europe
Shine a spotlight on Prague's colorful medieval streets and good times with a local Hungarian family at their winery. On this exciting eastern Europe trip you'll get to know all the highlights and hid... read more»
A Coach Tour of Austria, Slovenia, Croatia, Hungary, Slo...
Prices Starting From £201 per day
Europe Explorer - 18 Days
Explore Europe - Amsterdam, Paris, Barcelona, the French Riviera, Rome, Venice and much more in 18 Days! read more»
A Coach Tour of Andorra, Belgium, France, Germany, Italy...
Lasting for 18 Days
Northern Explorer - 18 Days
Explore 10 countries across Scandinavia, Eastern & Central Europe as you absorb the culture, beautiful landscapes and hip cities read more»
A Coach Tour of Denmark, Estonia, Finland, Germany, Latv...
Traditional Europe End London
Lose yourself in the history and romance of Traditional Europe. You'll see all the iconic sights and some beautiful surprises along this 3-week Europe trip taking in the exquisite beauty of the Rhine ... read more»
A Coach Tour of Netherlands, Germany, France, Switzerlan...
Prices Starting From £207 per day
More time to Relax and Enjoy
Put aside 11 or more days for your Europe vacation and you can begin to experience a different way of life. The expert advisors at Global Coach Tours will help you decide which is right for you according to your budget, the places you want to see and the time you have available.
Which Way to Go?
Departing from London, your tour may head in one of two different directions. One way around Europe typically takes you to either Brussels or Amsterdam. Followed by Germany Austria and Switzerland, then onwards to Venice, Florence and Rome. You will then head back to London via Paris for one or two nights. Highlights will include Swiss mountain scenery, a Rhine cruise, glassblowing in Venice, perhaps a gondola ride. You'll get to see the ancient ruins in Rome, some of which are remarkably preserved such as the Colosseum. Other famous must see sights are the Spanish Steps and the Trevi Fountain. Throw 3 coins in and you are sure to return!
See a Different Point of View
In Paris why not head up Tour Montparnasse instead of the Eiffel Tower? This lesser known view point will give you a great panorama that will include the Eiffel Tower in your photos! Relax with a cafe au lait and a croissant at a pavement cafe in the artist quarter of Montmartre or float down the Seine on a sightseeing river boat.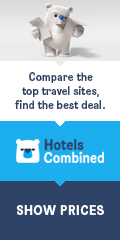 Deals of The Week: Europe Up to 50% OFF
Destinations
Personalized tours & trips in france, italy and switzerland.
Find the right personalized tour for you in France, Italy And Switzerland. There are 51 trips to choose from, that range from 6 days in length, up to 18 days. The month with the most departures is July, making it the most popular time to visit France, Italy And Switzerland.
51 Personalized tour packages in France, Italy and Switzerland with 110 positive reviews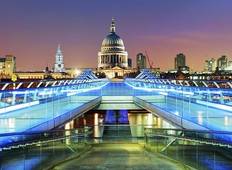 From St. Paul's to St. Peter's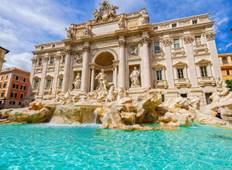 European Splendour (End London, 12 Days)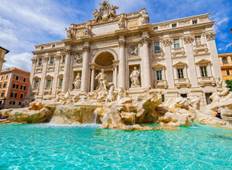 European Splendour (End Paris, 11 Days)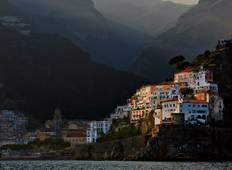 France Switzerland & Italy - Europe Marvels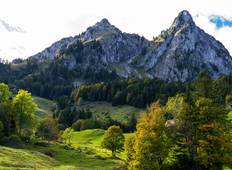 European Highlights
"Loved my first tour! A must do again but by myself."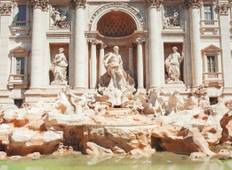 European Escape with London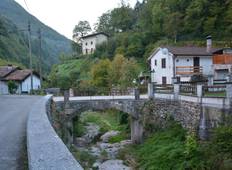 Trekking Mont Blanc
"G Adventures is amazing!"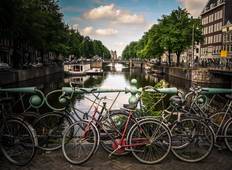 Lux Crystal Europe
"We were first curious by mixed reviews about indogusto but post being on this tour,..."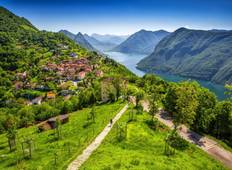 Trekking Through the Continent with Classical Italy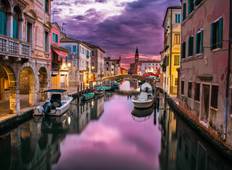 European Dream (Classic, 11 Days)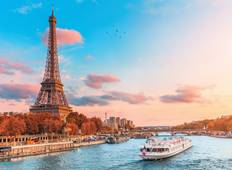 Road to Rome (Small Groups, Start London, 12 Days) (12 destinations)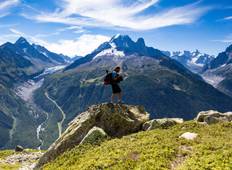 Mont Blanc TMB Circuit
"An amazing experience, would thoroughly recommend. Having done several other No Roads..."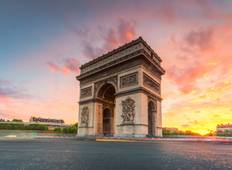 JOURNEY TO THE TOP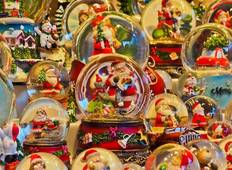 Europe Highlights Christmas - 10 Days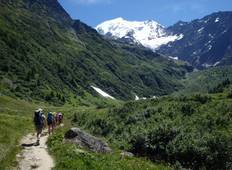 Tour du Mont Blanc 12 Days Self-Guided
France, italy and switzerland personalized trip reviews.
"Excellent tour! Laura was amazing! Very informative about all the countries we visited...."
"Loved this tour! The accommodations kind of sucked but the tour itself, hiking and..."
Travel Styles
International Versions
Deutsch: Frankreich-Italien-Schwe...
Nederlands: Op maat gemaakt Rondr...