25 Amazing Things to Do in Brno by Local
Welcome to Brno, the 2 nd largest city in the Czech Republic. Brno presents a perfect combination of history and a modern city. You can find there remarkable places, delicious food, beer, and wine. Brno was voted as 6 th most favorite student city in the world! (followed by Prague at 8 th position). It's definitely one of the best places to visit in the Czech Republic . Let's have a look at the best things to do in Brno.
This is your Ultimate Guide to Brno City written by local. As I am living there my whole life, you can bet, that I have valuable information no one else can tell you. For your easy orientation, I have prepared a map with all the mentioned places and things to do in Brno.
Obsah / Table of Contents
Best things to do in Brno City Center
Brno City Center is a lovely area which can be easily explored by walk within one day . If you prefer a faster way, you can check guided tours on Segway. Great idea is to buy a BrnoPas, which gives you free public transportation, free entry, and discounts to the best places. So, what to do in Brno?
1) Špilberk Castle
Castle of Špilberk was established in the 13th century. It's situated on 290 meters high hilltop. Špilberk was turned from the royal castle to massive baroque citadel in the 17 th century. In its casemates, there used to be the heaviest prison in the Austro-Hungarian empire, intended for the most hardened criminals.
Špilberk Casemates are opened to the public and it's one of the most interesting things to see in Brno Špilberk Castle. You can also visit the viewing tower or some of those permanent exhibitions. Check the opening hours and prices at the official Spilberk website .
You can visit the walls and courtyard of Špilberk for free. At the courtyard, you can find a castle well and chimes (which plays a nice melody every hour). There are also cannons on the wall and a beautiful view of the city.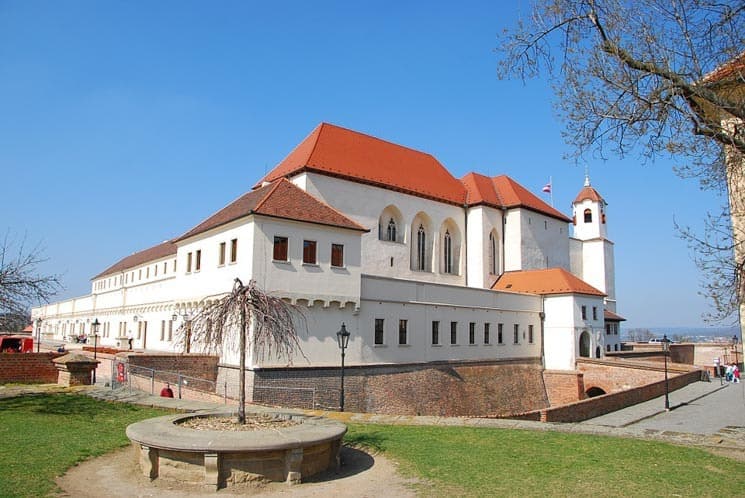 2) Petrov – Cathedral of St. Peter and Paul
Petrov Cathedral is the most iconic building of Brno. It's situated on Petrov hill and you can see it on arrival to Brno from many different directions. You can also see it on our 10 CZK coin. It has a long history. Petrov used to be a Romanesque Chapel in the 11th century, then Basilica (in 12-13th century) and later it was rebuilt into the Gothic style and officially declared a cathedral in 1777.
Cathedral can be visited for free every day from 8.15 to 18.30. There is also a mass every day. You can also climb one of the two impressive 84-meters-tall towers for a small fee. There is a nice view of Brno. If you are interested, you can join commented tour and visit also a cathedral crypt. In this case visit "Diecézní museum" – a building with address Petrov 1 by the stairs (Corner of Petrská street, next to the Cathedral).
Denisovy sady – Park around Petrov – If you are at Petrov hill, make a short walk around Denisovy sady, a nice park with a view to the tallest building in the Czech Republic. This place is also popular for parkour enthusiasts as well as a place where to have a drink and chill.
The most famous legend of Brno – Why the noon is ringed at 11 o'clock at Petrov – this legend dates back to the Thirty Years' War when the Swedish army sieged Brno. General Torstenson and his 28 000 men spent 4 months trying to conquer Brno, which had only 1526 defenders. General Torstenson agreed to call off the attack if they couldn't conquer the fortress by midday on August 15, 1645. Thanks to a wise idea, someone decided to ring noon an hour early that day and Brno was saved. True story: Swedish army was exhausted, and they gave up in the evening of 15.8.1645. 8 000 of Swedes were killed, meanwhile, on the other side, only 250 Brno defenders lost their lives.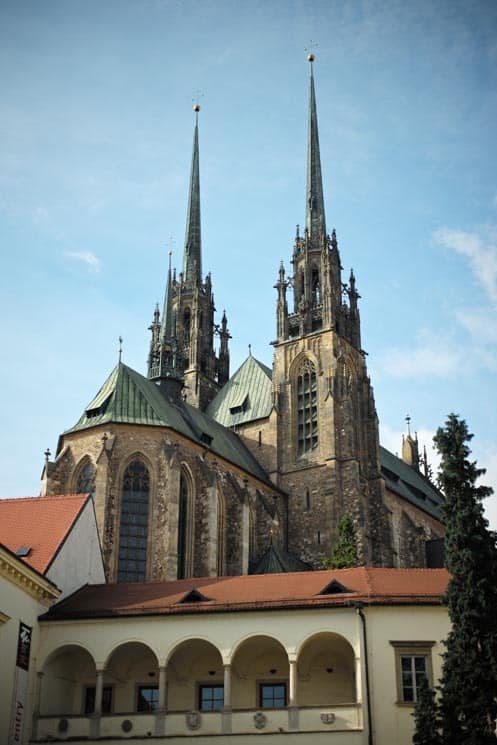 3) Old Town Hall
Brno Old Town Hall has the 63-meters-tall tower which you can climb up and enjoy the view of Petrov Cathedral and Brno City. The tower is open to public from April till October and tickets cost 70 CZK. Opening hours and other info can be found here . The Old Town Hall was built around 1240. There is also a tourist information center.
Before you enter, there are 3 interesting things worth noticing:
Twisted pinnacle – Look up at 5 Gothic turrets decorating the entrance. The one in the middle is twisted. Why? Here is another legend: When the councilors ordered the decoration, they agreed with the sculpturer Anton Pilgram on the price, but when it was nearly finished, they refused to pay him, so he got angry and made the last turret as you can see it – twisted as council manners.
Crocodile aka Brno Dragon – Crocodile is a symbol of Brno City and again it is tied to a legend, according which the Turkish sultan gave the crocodile to Brno Council as a present. The crocodile lived by the Svratka river and locals were afraid of the "dragon", who was killing their sheep. So, one day, one brave man came up with an idea. He took a bull, stuffed it with quicklime and brought it to the river. The crocodile ate it, drank from the river and died because of the quicklime. Now crocodile is hanging in the arched passage at Old Town Hall.
Wheel – You can also see there a wheel. This story began in Lednice town (60 km away from Brno) in a pub. Locals bet with the wheelwright that he is not able to make a wheel and roll it from Lednice to Brno on the same day. But Mr. Birk was so skillful that he was able to make it. As memory and tradition, there is a race of rolling the wooden wheel from Lednice to Brno every year.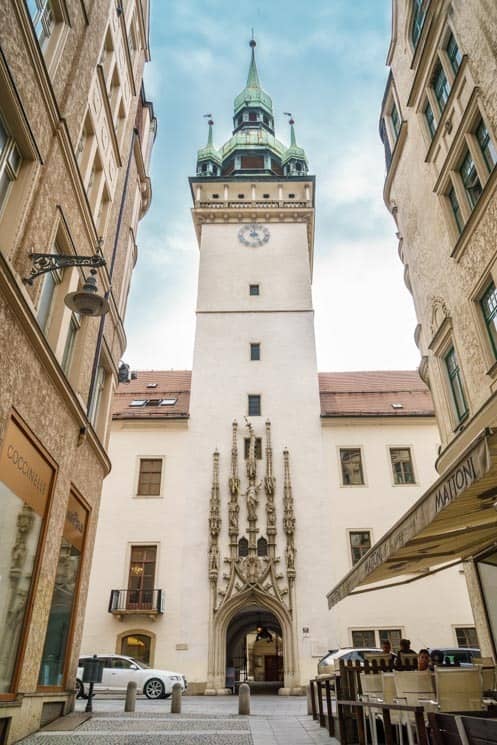 4) Zelný trh (Vegetable market)
Zelný trh is one of the oldest squares in Brno. For centuries, it has been a place where locals buy fruit, vegetables, flowers, and other goods. The dominant of the square is a monumental Baroque fountain by Johann Bernhard Fischer von Erlach. There are 2 theaters, Husa na Provázku, and Reduta – one of the oldest theatre buildings in central Europe. You can find there also the Moravian Museum.
From Zelný trh, you can continue to Biskupský dvůr, Petrov or the Old Town Hall.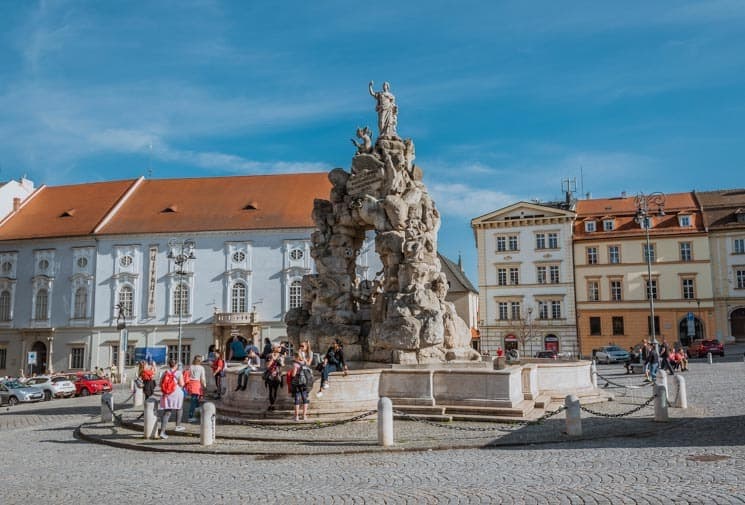 5) Labyrinth underneath Zelný trh
Brno is literally drilled through with the underground tunnels and labyrinths. Have a look to one part underneath Zelný trh.
The cellars were built since medieval times. Typically, they were used as storage units for food, beer, and wine or as hideouts during wars. More often they were used as cool storage rooms for the marketplace above them. You can join a guided tour from Tuesday to Sunday. Find out more information about the tour and prices (about 160 CZK) at the official website .
6) St. James Ossuary – 2 nd largest Ossuary in Europe
An incredible number of more than 50 000 people is buried underneath the St. James (Sv. Jakub) Church. The ossuary was discovered in 2001 and opened to the public 11 years later, in 2012. It's the 2 nd largest ossuary in Europe after Paris. It's definitely one of the things to do in Brno. Skeletal remains belong to victims of medieval cholera and plague epidemics, Thirty Years' War and Swedish siege.
You can visit St. James Ossuary in Brno from Tuesday to Sunday. Entrance fee is 140 CZK. The tour is very impressive also thanks to music composed especially for the ossuary. You can find more info here . I can 100% recommend visiting this place.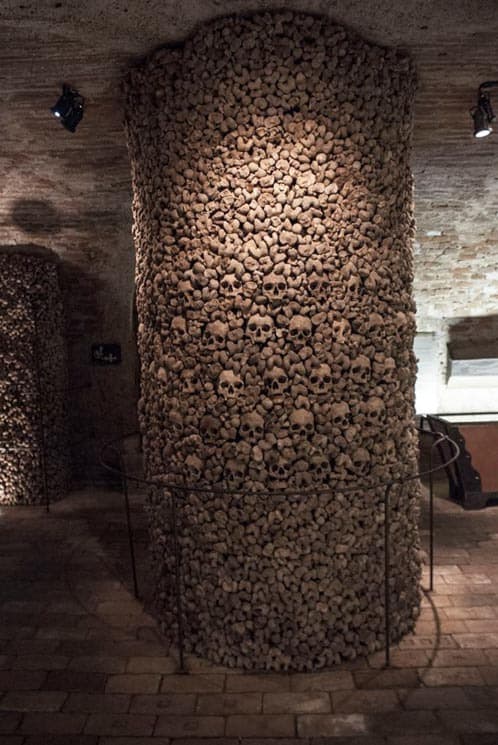 7) Astronomical Clock and it's secret
Maybe you will laugh when you see it. The astronomical clock is the last thing that it is similar too. Locals call it "big black dick" or just a "dick". Now seriously – you already know the legend about the Swedish Siege of Brno. This astronomical clock was built in a shape of the bullet, as a memory of the victory in 1645. It is made of 7 parts of granite which are rotating with different speed (one part makes one rotation in 1 minute, another one in 1 hour, etc.). So technically it really shows time, however, it's almost impossible to read it.
Therefore, there is a guideline : Face the clock with the tram track behind you, make 15 steps back, turn left and look at the clock at St. James Church.
The secret of the Astronomical Clock: Every day at 11:00 AM you have a chance to catch a glass ball (marble ball). Who wouldn't like a free souvenir from Brno? It is not that easy, but you might be lucky. Choose one of the 4 holes around the clock and wait until the 11:00 (it is good to be there early because people are usually waiting there ahead of time). Glass ball will go from the top to one of these holes. Put your hand inside by the "ball track" and try to catch it. You must be lucky to pick the right hole because there is only 1 ball out of 4 holes. Have fun!
Locals also make fun of it because "Of course, dick has to have balls" 😀
Insider's tip: During the Christmas Markets time, the marble drops every hour from 11 AM to 11 PM.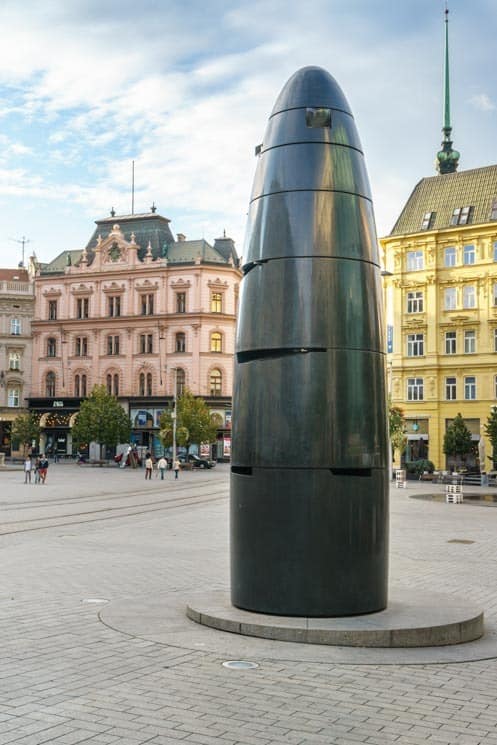 8) Sculpture of Jobst (Jošt) on the Moravian square (Moravské Náměstí)
Just a few steps from St. James Church you will find 8 meters tall sculpture of Jobst of Moravia as an allegory of Courage. Moravské náměstí is a nice square right next to the St. Thomas Church, but why I am recommending you see this sculpture? It is another fun thing to do in Brno. Go right underneath the horse, stand between his front legs, look up to his head and you can start laughing. Sometimes there might me queue of sightseers who want to take a picture from underneath the horse to add one more d*ck to their Brno photo collection.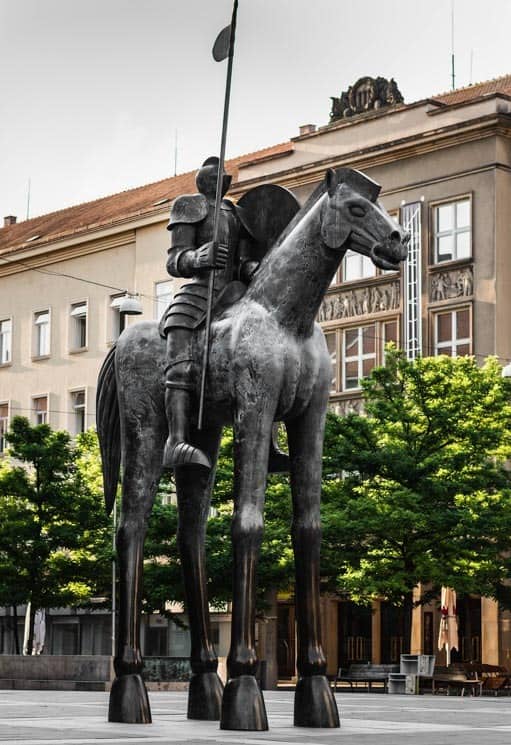 9) Villa Tugendhat
If you find yourself as a fan of modern architecture, you shouldn't miss Vila Tugendhat. The Villa of Greta and Fritz Tugendhat is a unique monument designed by German architect Ludwig Mies van der Rohe. Villa was built in 1929–1930 in functionalist style and it is the only building of modern architecture in the Czech Republic which is inscribed in the UNESCO list.
Visiting Villa Tugendhat: you can visit Vila Tugendhat every day except Monday from 10:00 to 18:00 (last entry is at 17:30). It is necessary to buy tickets in advance. Usually, all the tickets are sold out several months in advance, but from time to time you might find some free slot. So, if you want to visit this unique place, book your ticket in advance. Visit the official page of the Vila Tugendhat to find more information and tickets.
How to get to Villa Tugendhat? – the Adress of Vila is Černopolní 237/45, Brno-sever, Černá Pole. The easiest way to get there is going by tram (9 or 11) to Tomanova stop and then continue to Muchova street by walk.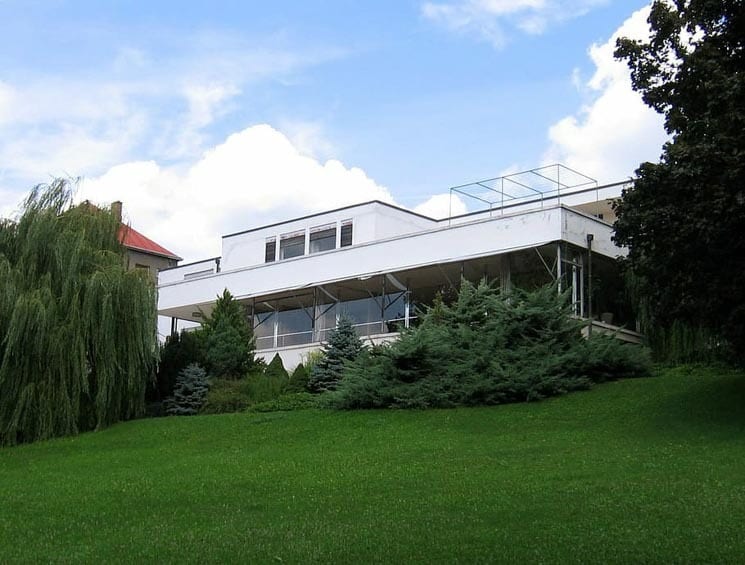 More things to do in Brno City Center
If you want something more or if you are interested in underground places of Brno, here are two extra places:
10) Bunker 10-Z
You already know that Brno has really a lot of underground places. If you are a fan of it, you might want to visit a nuclear fallout shelter 10-Z. It had been built during the Nazi occupation as a civil defense shelter and it was under control of the Czech army until 1993, and it had been classified as a top-secret . Book your cheapest ticket here .
11) Capuchin Church and Crypt
Aren't you bored with bones and underground yet? Then you can visit Capuchin Church at Kapucínské náměstí (nearby Zelný trh) to see mummified monks in a crypt from 17th century. Find more info here .
Check out this video guide about best things to do in Brno:
Things to do in Brno Dam Area (Brno Water Reservoir)
Brno Dam is my favorite place. It's an ideal leisure destination all year round. You can do various water sports there, go for a boat trip, play beach volleyball or cycle to Veveří Castle. When the winter is cold enough, it is a perfect place for ice skating or cross-country skiing.
12) Take a boat trip at Brno Dam
Sailing the Brno Dam is simply a nice experience + you can combine it with a visit of Veveří Castle. All the information can be found on Brno Transport Company website DPMB . If you click on Transport by boat, you can find a map , prices , timetable, departures and more. If you want to visit also a Zoo, Veveří Castle or Vida center – buy a combined ticket . It is only a few hundred meters by walk from tram stop Přístaviště to the port and boat stop Bystrc.
How to get to Brno Dam? Getting there is easy. You take the tram no. 1 from the Main Station (Hlavní nádraží) in the city center and get off at Přístaviště stop (one stop after Brno Zoo – Zoologická zahrada).
13) Zoo of Brno
Especially kids will be excited to visit Zoo Brno. You can find there more than 800 different species in 4 different theme areas. Highlights of the zoo are the polar bears and the goat area, where you can enter and play with goats, sheep, llamas, rabbits and guinea pigs. Zoo is open every day of the year! Opening hours, prices and more information can be found here .
You can get there easily by tram no. 1 (Zoologická zahrada stop), cross the bridge over the river and turn left.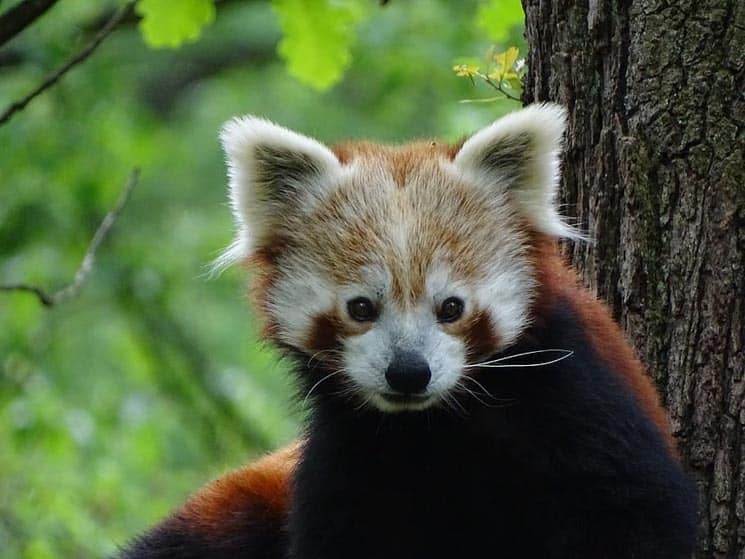 14) Veveří Castle
Veveří is one of the oldest and largest castles in the Czech Republic. According to the legend it was founded in the 11th century, first written mention of Veveří Castle is from 1213. Castle is situated on the rocky promontory above the Svratka River surrounded by beautiful nature. Find more information about different excursions, opening hours and prices at official websites .
You can get there by bus no. 303 or much more enjoyable is to take a boat from Přístaviště Bystrc and enjoy the beautiful view of Veveří Castle from Brno dam. Name of the boat and bus stop at the Castle is "Hrad Veveří".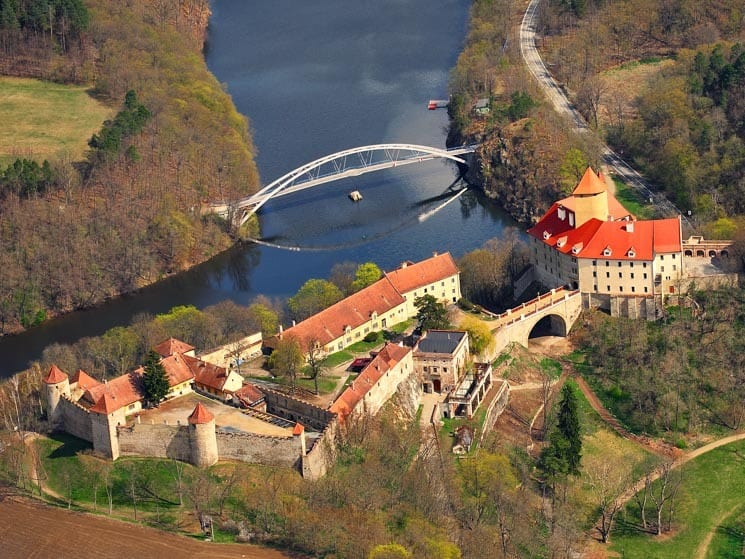 Fun things to do in Brno
If you stay in Brno for longer or if you want other ideas to do, here are some fun things to do in Brno:
15) Explore Brno with an Outdoor Treasure Hunt Game
Enjoy the exploring of the best tourist attraction of Brno while playing this outdoor sightseeing treasure hunt game. You will collect clues which will lead you to find the treasure at the end. Start your game adventure here .
16) Play Exit Game
Have you ever tried exit game? It's a great fun with friends and one of the best things to do in Brno in any weather. Read our review of the best exit game in Brno .
17) Visit Starobrno Brewery
If you like beer and you have already tried the best brands (Read our Czech Republic Beer Guide ! ) you can also try the traditional beer of Brno. Starobrno brewery in located at Mendlovo náměstí and you can join a brewery excursion with beer tasting. Tours are held every Saturday at 11 AM and 1 PM and on Sundays at 2 PM and 3 PM. Price for the tour is 150 CZK. Excursions are in English, Czech, and German.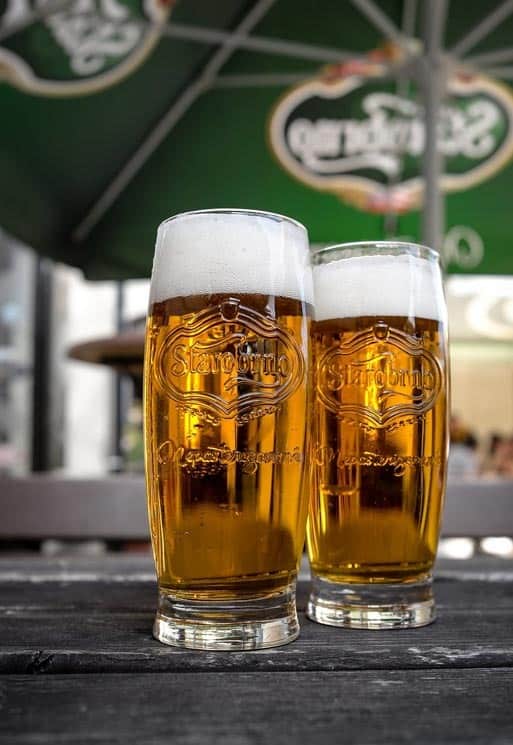 18) Vida Science Center
Vida Science Center is an interactive exhibition divided into four thematic sections: Planet, Civilization, Mankind and the Microworld. If you are traveling with kids, they will be super excited. Vida Center is open every day and it's located near the Brno fair trade complex. It's one of the best things to do in Brno in rainy weather. Find more info at VIDA website.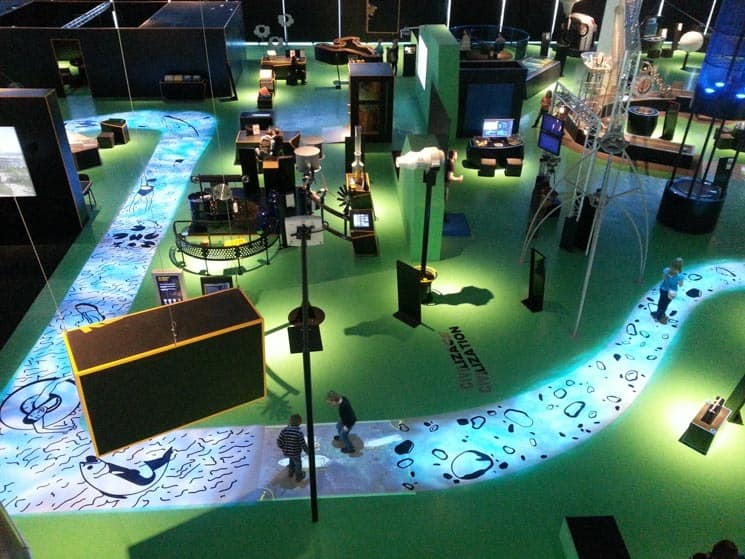 Things to do in Brno – Nightlife
Brno is a student city, there are many well-known Universities and that's why Brno has about 80 000 extra people during the school year. It means there is a rich nightlife. There are good restaurants, pubs, bars, and clubs. Especially busy are Wednesday evenings, a lot of people have a meeting at Česká street. It is really nice rush!
Best Party, Dance and Music clubs in Brno
There are several Music clubs that are in City Center. Usually, they have themed parties and evenings. Unfortunately, some of their websites are only in the Czech language. If you don't like music in one of them, just go to another one (I have put all of them to the map , which you can download).
Metro Music Bar – Open Wednesday to Saturday, Address: Poštovská 450/6
Two Faces Music Club – Open Tuesday to Saturday, Address: Biskuupská 1
7. nebe – Check their program in English, Address: Jánská 453/9
Bastila – Open every day, Address: Dominikánská 15
Caribic Club Brno – Open at Wednesday, Friday, Saturday, Address: Běhounská 2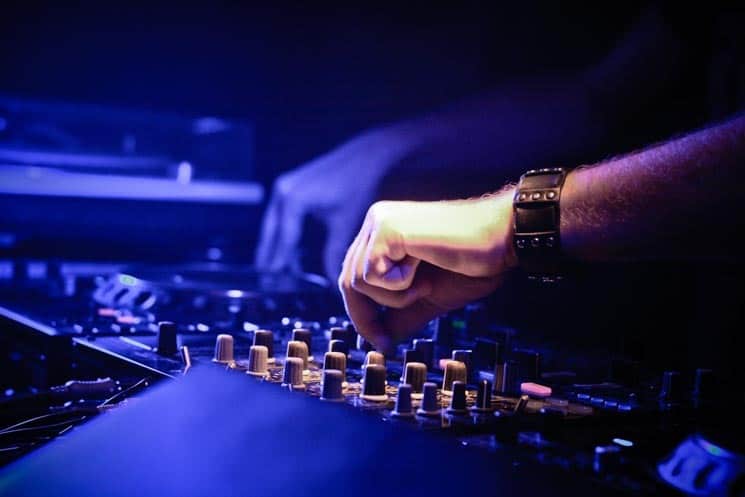 Things to do in Brno – Restaurants
Here are some tips for good restaurants in Brno:
Železná růže – my most favorite restaurant near the Brno Exhibition Center. Great Czech Cuisine for very good prices. Various types of beers and vines.
Dřevěný vlk or Dřevěný orel – steak and beer bars. Czech and International cuisine in Brno City Center.
Restaurace Pavillon – high quality and award-winning restaurant.
Pablo Escobar – if you want a great burger, it is an ideal choice. Unfortunately, it is a little further from the city center.
Things to do in Brno – Where to have a drink?
Those are the most popular places to have a beer in Brno:
Na stojáka – Great beer bar by St. James Church. It is unique because there are no chairs. "Na stojáka" means to have a beer while standing. Evenings are usually crowded, and people are sitting on the street with beer.
Lokál u Caipla – Another great place to have a beer not very far from "Na stojáka".
Pegas – Alehouse in the historical building, better to book your table in advance (it is also a very popular place).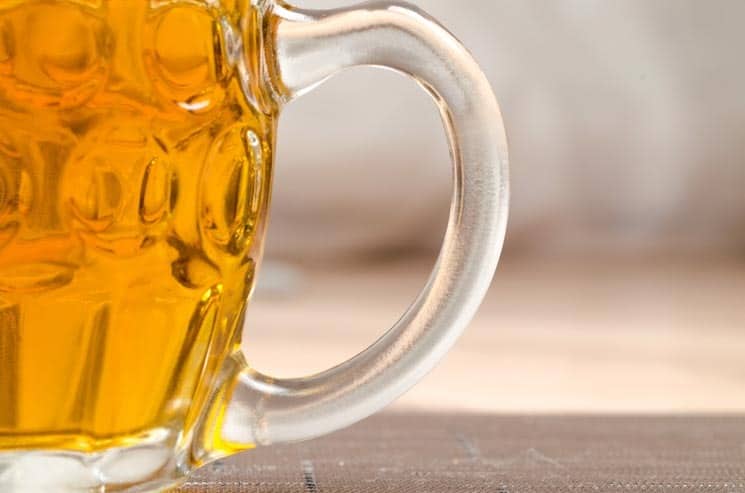 Cocktail bars:
If you are a fan of cocktails, you shouldn't miss:
Bar, který neexistuje – "Bar which doesn't exist". One of the most popular cocktail bars in Brno, where you can choose from hundreds of drinks from all around the world.
Aloha Tiki Bar – Another Cocktail bar, only a few steps from Bar, který neexistuje.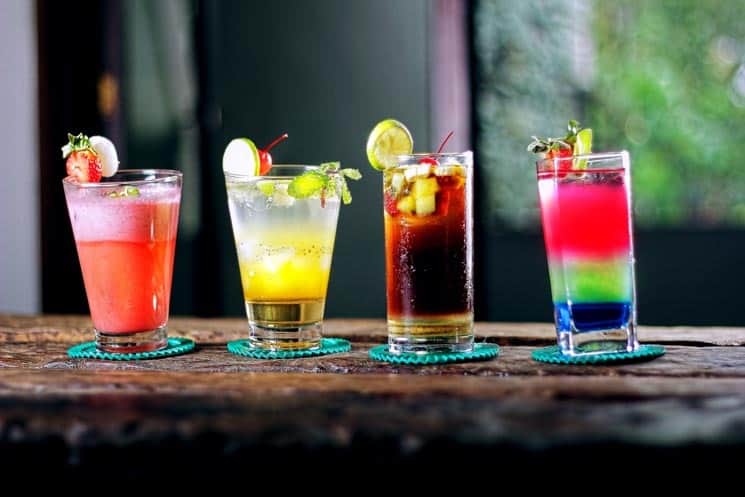 Friends Teahouse Brno – Spacy tea room in the city center.
Dobrá Čajovna – "Good Tea Room" is quite hidden but very cozy tea room not far from Main Station.
Za zrcadlem – Tea room with a lot of different board games.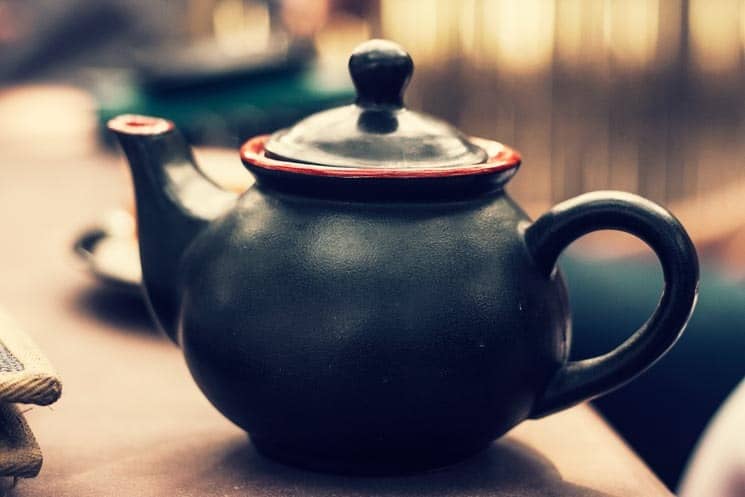 Things to do in Brno – Best Cafés and Confectionaries
Here is a few of my favorites, every single one is unique in something:
Aida – a great place to have a coffee, cake or ice cream just by the St. James church.
SKØG Urban Hub – An award-winning café, a bar, and a coffee-roasting place with interesting interior.
Café Momenta – stylish café and confectionary at Zelný trh.
Kolbaba – traditional Czech sweet shop.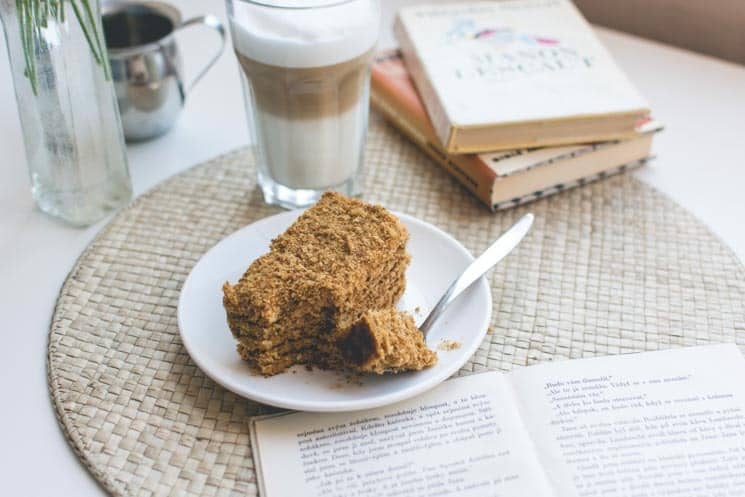 Practical map of best things to do in Brno
We have prepared a detailed map of all the best things to do in Brno to help you plan your trip out. Points of interest are divided by categories. Each category has a different color for easy orientation.
The map can be exported and uploaded to the mobile map app like Maps.me or Locus map .
Check here all our travel planning maps .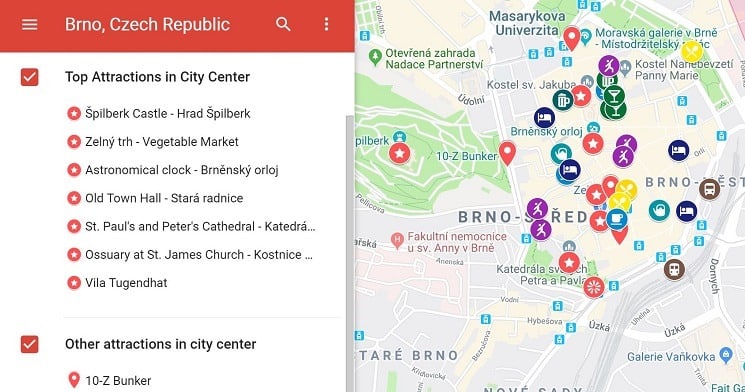 Things to do in Brno – Public Events
1) ignis brunensis – festival of fireworks (may/june).
The most popular festival in Brno! I guarantee, that you will see the most awesome firework show you have ever seen! Fireworks at Brno water reservoir are grandiose. You will see the awesome reflection and the firework accompanied by music which is 15-20 minutes long. It is a completely awesome show and one of the absolute best things to do in Brno. There are thousands of people watching these firework shows every year. Depending on the weather, 200 000 people can watch a single firework.
Ignis Brunensis is not only about fireworks, but there are many more accompanying programs, like food festivals, theatre festivals or very traditional festivals of individual Brno districts.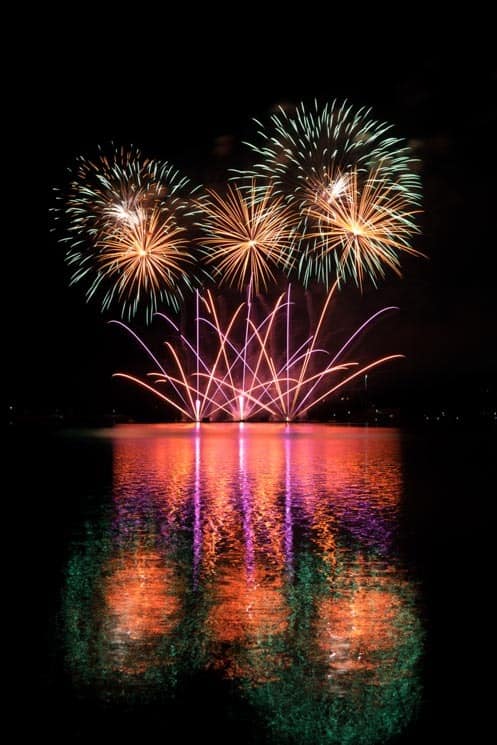 2) Brno Museum Night (May)
This is an awesome event when all Brno museums are open for free to everybody for the whole day until late in the night. This can be a very nice experience, but you have to plan what you want to see because there are sooo many options, where to go. Read more here .
3) Brno Church Night (May)
Church Night is the equivalent of the Museum Night. All the churches are open until late at night. You can collect stamps in every single church and make a nice souvenir for yourself. It's also possible to visit monasteries, cloisters, crypts, towers, organ galleries, and other usually inaccessible places. Find out more here.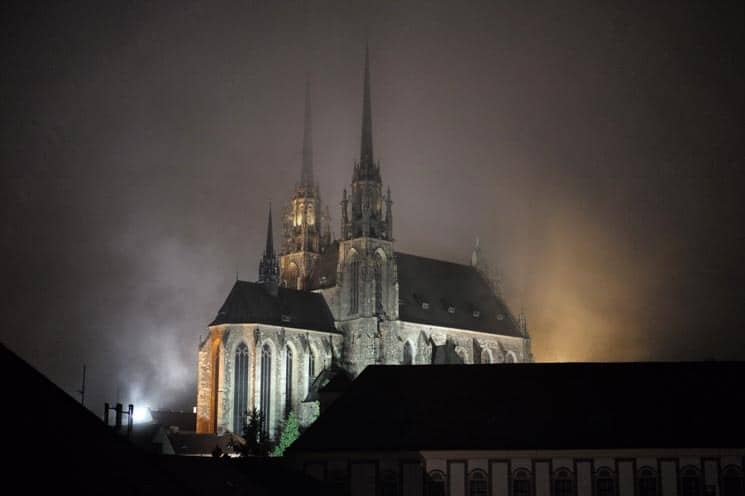 4) Moto GP Brno (August)
Fans of fast motorcycles can visit Brno for Moto GP. The annual Motorcycle Grand Prix of the Czech Republic is the circuit's most important event. You can read more about the events and circuit at official websites .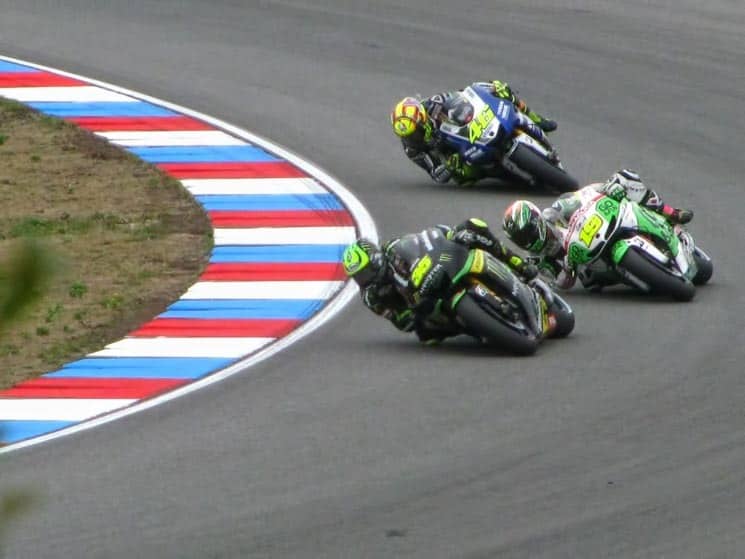 Things to do in Brno – Day trips
Although there are plenty of things to do in Brno, it might be nice to make a day trip to places nearby.
1) Moravian Karst – Moravský kras
Not very far from Brno, you can find very unique Protected Natural Area of Moravian Karst (Moravský kras). There are more than 1 000 caves which make Moravian Kast one of the most important karsts of Central Europe.
There are 5 different caves you can visit – those are pretty impressive:
Macocha Abyss (Propast Macocha) – Macocha is more than 138 meters deep abyss/gorge. Mococha is biggest of its kind not only in the Czech Republic but even in Central Europe. There are two viewing platforms which you can visit.
Punkva Caves (Punkevní jeskyně) – Punkva Caves are the most popular caves in Moravian Karst together with Macocha gorge. Maybe because of the romantic water cruise on underground Punkva River and the possibility to visit Macocha Abyss bottom.
Balcarka Cave (Jeskyně Balcarka) – is located in the northern part of Moravian Karst nearby Ostrov u Macochy, caves have a full-color stalactitic decoration.
Katerinska Cave (Kateřínská jeskyně) – Kateřínská Cave has the biggest underground hall in the Czech Republic which is open to public (nearly 100 meters long and 44 meters wide).
Sloupsko-Sosuvske Caves (Sloupsko-Šošůvské jeskyně) – Sloupsko-Šošůvské caves have a complex of large domes, corridors and huge underground gorges created in two levels. One hall (Eliška's cave has perfect acoustics which is ideal for concerts of chamber music.
Vypustek Cave (Jeskyně Výpustek) – Výpustek is not a traditional cave full of beautiful stalagmites and stalactites because it used to be an underground fallout shelter and a secret command post during the World War II and later a "socialist secret bunker".
If you want personalized tour with hotel pick up, visit of Punkva Caves, Macocha plus a visit of Pernštejn Castle on the way, book a tour with your personal guide .
How to get to Moravian Karst?
The easiest way is to rent a car (especially if you want to visit more than one cave). Check out the best deals here . There is a paid parking nearby each cave (not expensive).
Moravian Karst from Brno by public transport
Take a train from the Brno Main Station to Blansko (train from Brno goes here every hour). At Blansko you need to change to the bus according to the cave you want to visit:
For Macocha and Punkva Caves and Katerinska Cave take bus 226 to Skalní Mlýn. You can also use a special bus called Krasobus during high season.
For Sloupsko-Sosuvske Caves take bus 233 or 240 to Sloup
For Balcarka Cave take a bus 232 to Ostrov u Macochy, Balcarka
If you want to visit underground fallout shelter Výpustek , you take the same train, but you will get off earlier in Adamov, then you need to wait for bus 157.
You can find all transport connection on Google Maps or at IDOS . (Switch IDOS to English in the right bottom corner).
2) Lednice-Valtice Complex
Lednice-Valtice is a cultural-natural landscape complex in South Moravia listed in UNESCO World Heritage. You can find there absolutely charming Chateau surrounded by beautiful gardens full of rare tree species, romantic buildings, and fishponds. Lednice-Valtice Complex is known as the Garden of Europe. Chateau Lednice has a neo-gothic appearance, meanwhile Valtice in a residence od Lord of Lichtenstein. Wine lovers will surely enjoy this region. In Pálava they grow the best wine in the Czech Republic.
You can head off for a personalized Wine Tour to Lednice-Valtice and Mikulov.
Opening hours of Lednice Castle, various excursions and prices can be found at Lednice Castle website. The easiest way to get there from Brno is by car, but you can get there by public transport (bus+train).
Land of wine – the best wine in Moravia and the whole Czech Republic. The highlands of Pálava reminiscent "laying lady". Pálava Natural Reserve is a part of UNESCO biosphere reserves. Thanks to the warm and dry climate, there can be found unique flowers and both flora and fauna are extremely rich in this area. There is also a beautiful water reservoir Nové Mlýny. Adrenaline enthusiast and wellness lovers might try Aqualand Moravia in Pasohlávky.
Where to stay in Brno?
Internesto Apartments Downtown offers a unique experience because of its unique design. They have great reviews and a perfect location. If you seek a great value/price ratio, pick 7 NIGHTS Apartments. They are located at the city center and have good reviews.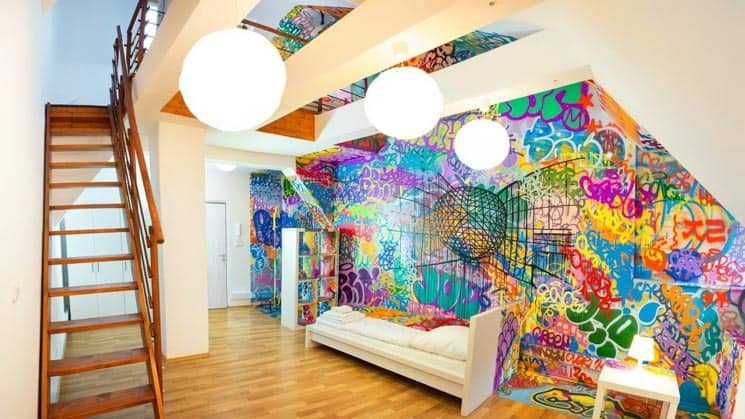 Nice hostel in the city center is Hostel John Galt . Perfect location, good prices. Another hostel option is ApatrHostel not far from the city center.
If you need to stay nearby the Exhibition center, Orea Hotel Voronez 2 is a popular option.
Best accommodation by Brno dam is at Maximus Resort , which has fabulous Wellness and Spa! The budget option is to stay just nearby at Beach Pub Sokolák .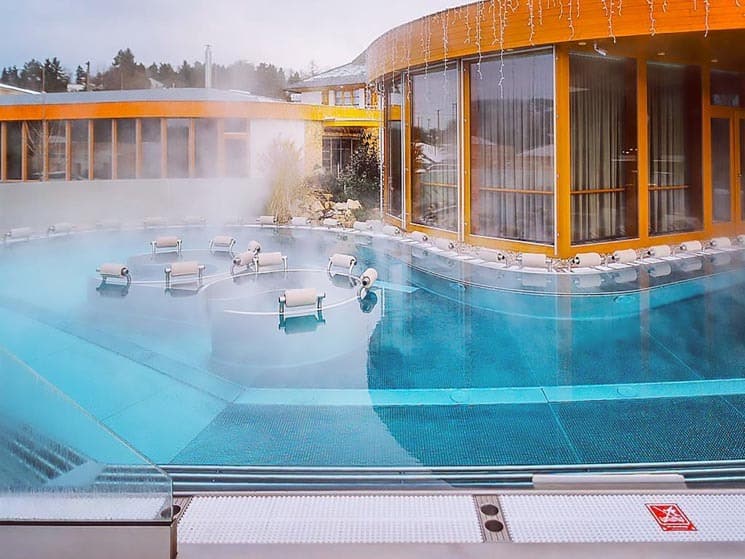 Practical Tips
BRNOPAS is a MUST! It will give you free public transportation, free entry to the most interesting places and things to do in Brno + discounts to other Brno attractions. You can buy it for 24 hours, 2 or 3 days.
Don't book your accommodation at Cejl (read the following paragraph about safety)
Safety in Brno
Brno is a very safe city in general, maybe except one quarter among the streets of Cejl – Ponávka – Francouzská. It is a gypsy quarter, all shops have bars/grids because the criminality is higher. There is quite a lot of cheap Airbnbs and Booking offers because tourists don't know about it. If you want nice memories of Brno, book your accommodation elsewhere. Cejl is not a nice area anyway.
Brno is not that touristic place, so there are no tourist scams or traps.
Brno weather
Check the weather forecast for today and the following days:
Getting around Brno
Brno has great public transportation and is quite small compared to other European cities. Getting around by public transport and by walk is more than enough. You can also use shared bikes "Rekola".
Brno by walk
If you are in the Old Town area among Main Train Station, Petrov, Špilberk Castle, and Česká street, you have everything in walking distance. Nice walking tour around all interesting places of Brno Old Town can be done in half a day to a full day.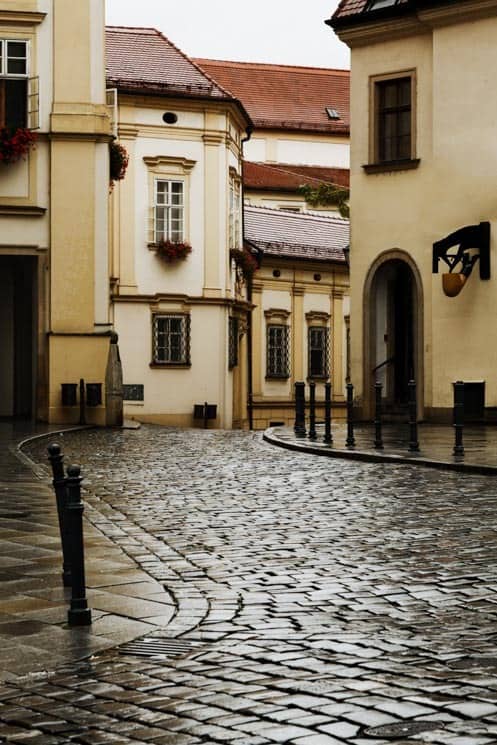 Brno Public transport
Public transport will be handy in case you are staying elsewhere than in the city center. The vast majority of the best things to do in Brno is easily reachable by public transport.
Tickets – You can buy tickets in orange machines on a frequented bus and tram stops or in some newsstand/tobacco shop (it is possible to buy tickets even from the driver, but these are more expensive). If you plan to stay a couple of days, buy multiple day ticket (24 hours, 5 days or 14 days ticket). You can find the price list here . Zone 100 + 101 should be enough for you, they cover most of the Brno city area.
A very good option is to buy a BrnoPas which gives you entry to the best Brno attractions plus public transport for free.
Connection search – You can also use Google Maps "Route Search" to find the best connection. Alternatively, you can find a connection on IDOS . Click on the English flag in the bottom right corner to get an English version.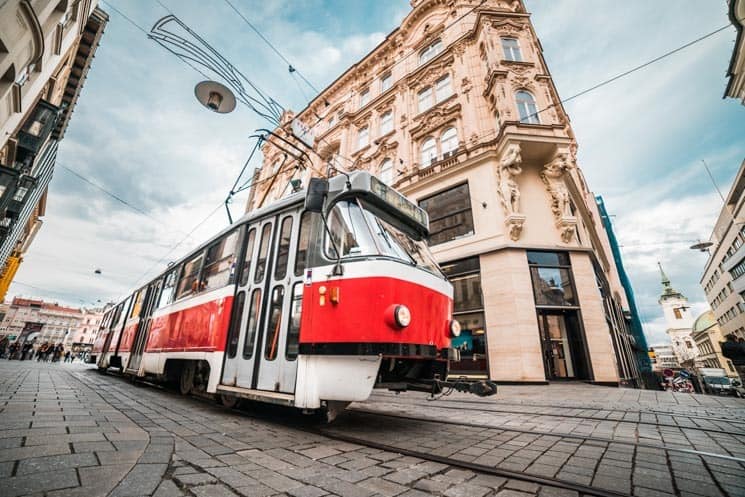 Shared bikes in Brno
If you are a cycling fan, you can use pink shared bikes "Rekola". You will need a smartphone with data to download and use the app. Visit their website to find all the necessary information.
How to get to Brno?
Most travelers are coming to Brno from Prague, Vienna or Bratislava
Travel from Prague to Brno by train
You won't find cheaper, more comfortable or fastest way to get from Prague to Brno than by train. The journey from Prague to Brno takes just 2 hours 37 minutes. Book your ticket with yellow RegioJet company. We don't have any affiliate with them, but they are simply the best and cheapest! Brno Train Station is (so far by the year 2019) right in the city center.
Prague to Brno by bus
Another option is to go from Prague to Brno by bus. You can book RegioJet or Flixbus . But beware that our highway D1 is bumpy and constantly under the construction. You never know how long the journey will take. In average the journey takes around 3 hours (2,5 outside of rush hours). The bus station at Benešova třída by Grand Hotel is also in the city center.
Bratislava + Vienna to Brno
There are fewer connections between those cities than from Brno to Prague, but again buses or trains are the best options to choose from.
Brno flights
There are regular flights to Brno from London, Berlin, and Milan by Ryanair. If you fly from different destinations, look up for flights to Prague, Bratislava or Vienna. The best deals can be usually found on Skyscanner .
More Places to visit in the Czech Republic:
Read our ultimate guide to the best places to visit in the Czech Republic:
39 Best Places to Visit in the Czech Republic: Insider's Guide
More tips for your travels:
We have prepared for you this comprehensive list of links, discounts, and resources for travel planning in one place. Bookmark this page and whenever you plan a vacation in the future, just open it and save yourself a lot of time.
1) Where to book accommodation?
We prefer to find an accommodation using Booking.com .
It's also worth it to compare with AirBnb .
Read also our guide - How to search for the best accommodation .
2) How to find cheap flights?
We recommend searching for flights on Skyscanner .
Read also our complete guide - How to find cheap flights .
3) How to rent a car?
We recommend a comparison portal RentalCars.com to compare the best offers of all available rental companies.
Pin this guide to the best things to do in Brno for later or for your friends: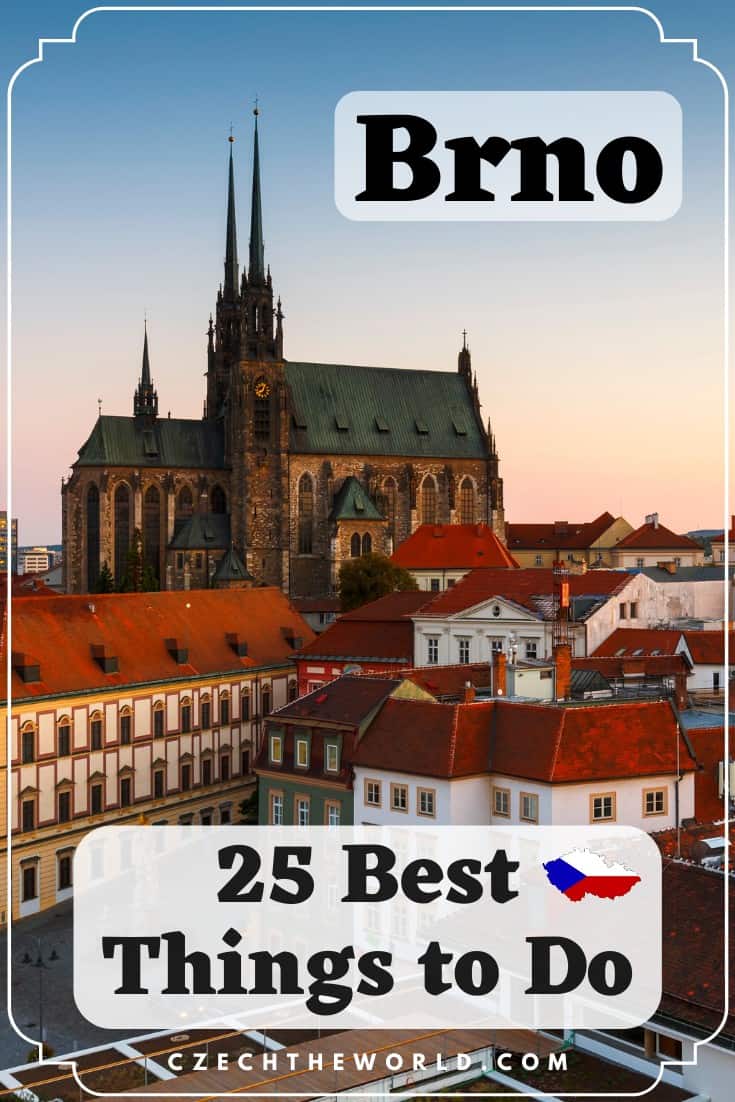 Things to do in Brno – FAQ:
Is there a downloadable map of the best things to do in brno.
Yes, you can find a  detailed map of the best things to do in Brno . You can download this map to your mobile phone.
Internesto Apartments Downtown  offers a unique experience because of its unique design. They have great reviews and a perfect location. If you seek a great value/price ratio, pick 7 NIGHTS Apartments. They are located at the city center and have good reviews.
Nice hostel in the city center is  Hostel John Galt . Perfect location, good prices. Another hostel option is  ApatrHostel  not far from the city center.
If you need to stay nearby the Exhibition center,  Orea Hotel Voronez 2  is a popular option.
Best accommodation by Brno dam is at  Maximus Resort , which has fabulous Wellness and Spa! The budget option is to stay just nearby at  Beach Pub Sokolák .
Where to eat in Brno?
Železná růže  – my most favorite restaurant near the Brno Exhibition Center. Great Czech Cuisine for very good prices. Various types of beers and vines.
Dřevěný vlk  or  Dřevěný orel  – steak and beer bars. Czech and International cuisine in Brno City Center.
Restaurace Pavillon  – high quality and award-winning restaurant.
Where to have a beer or drink in Brno?
Na stojáka  – Great beer bar by St. James Church. It is unique because there are no chairs. "Na stojáka" means to have a beer while standing. Evenings are usually crowded, and people are sitting on the street with beer.  
Lokál u Caipla  – Another great place to have a beer not very far from "Na stojáka".
Pegas  – Alehouse in the historical building, better to book your table in advance (it is also a very popular place).
Did this post about things to do in Brno help you? Share it with your friends! It can help them too!
Related Posts:
40 Best Places to Visit in the Czech Republic: Insider's Guide
Czech Beer: Insider's Guide - All you need to know + Beer map
Charles Bridge, Prague – Local's guide: What to do + Facts, History, Statues and Legends
35 Best Places to Visit in Myanmar - Your Complete Travel Guide

15 Top-Rated Attractions & Things to Do in Brno
Written by Bryan Dearsley and Diana Bocco Updated Mar 23, 2023
The Czech Republic's second largest city after Prague and the capital of the state of Moravia, Brno has a long and rich history that dates back as far as prehistoric times. While evidence of the communist era still dominates the city's outskirts, dig deeper, and you'll be rewarded with a number of splendid historical sites and attractions, including the 13th-century Spilberk Castle; the Dietrichstein Palace; and the Cathedral of St. Peter and Paul, widely considered one of the country's most important historic buildings.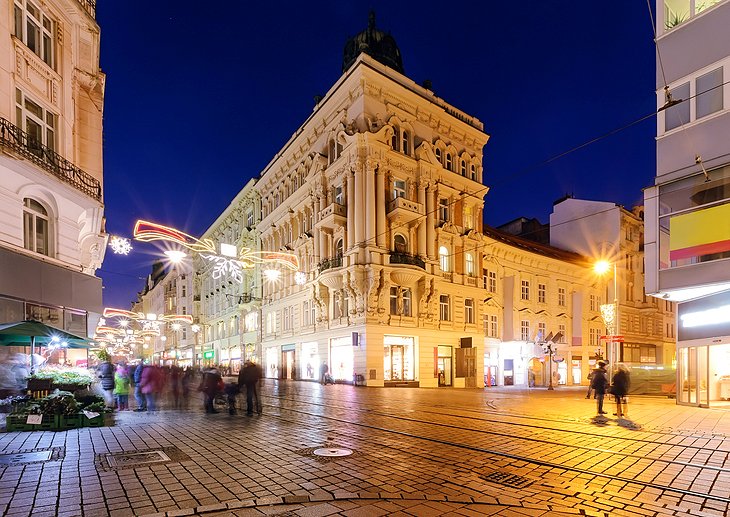 Home to many of the country's principal government institutions, Brno - a university city with numerous educational establishments - is also an important convention, entertainment, and cultural center, boasting many fine concert venues; sports halls; and racetracks, including the famous Masaryk Circuit.
Fun things to do in Brno include wandering its many delightful public spaces, in particular the historic Zelný trh square in the oldest part of the city, popular for its markets, cafes, restaurants, and boutique shops and galleries. The square is also home to the city's most attractive monument, the Baroque-styled Parnas Fountain , which dates from the 17th century and makes for a great selfie-backdrop.
Other notable public spaces that are pleasant to while away the time include the city's largest park, Lužánky ; the university's arboretum (Botanická zahrada a arboretum); and the area around the Brno Reservoir , which includes fun things to do such as swimming and, come winter, skating.
Finally, historians will want to visit the grounds of the nearby Peace Memorial (Mohyla míru), located on the site of the Battle of Austerlitz, a decisive confrontation between Napoleon and a combined Russian and Austrian army. Plan your trip with our list of the top attractions in and around Brno.
1. Stop by the Cathedral of St. Peter and Paul
2. explore the špilberk castle and the brno city museum, 3. go deep into the moravian karst and caves, 4. tugendhat villa, 5. discover the past at the dietrichstein palace and the moravian museum, 6. explore the church of st. james and the brno ossuary, 7. visit veverí castle, 8. the moravian gallery in brno, 9. the capuchin church and crypt, 10. explore nature at the brno zoo, 11. see the treasures at the old town hall, 12. walk the underground at the labyrinth & mint master's cellar, 13. join the kids at the vida science center, 14. visit the museum of romani culture, 15. take a day trip from brno, map of attractions & things to do in brno, brno, czech republic - climate chart.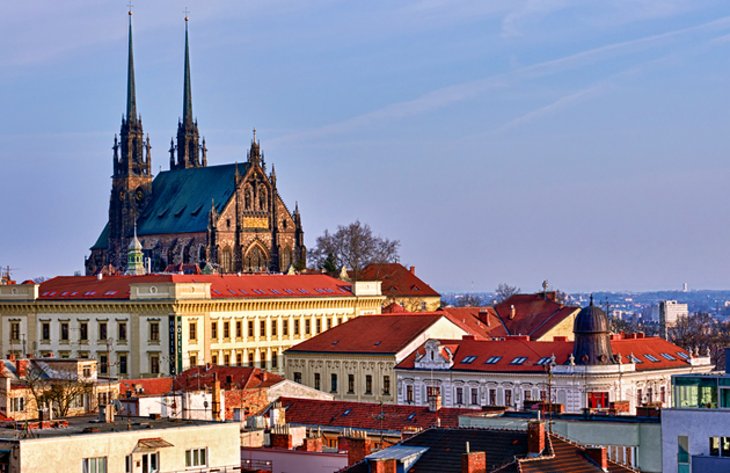 Perched atop Petrov Hill in the very heart of Brno, the Cathedral of St. Peter and Paul (Rímskokatolická farnost u katedrály sv. Petra a Pavla v Brne) is hard to miss. Considered one of the most important Czech cultural monuments, this imposing Catholic cathedral remains one of the city's most important attractions due to its splendid architecture. Highlights include its exquisite Baroque interior, as well as the 84-meter-tall twin towers that were added at the start of the 20th century (the main part of the building dates from the mid-1700s).
If possible, try to time your visit to coincide with the ringing of the midday bells, which in fact sound at 11am (legend has it the early peel successfully tricked attacking Swedes into ending their siege). Another highlight is a chance to see the remnants of the original city walls buried underneath the cathedral, as well as its interesting old crypt. Visitors are always welcome at the regular daily mass services.
Also worth visiting is St. Thomas's Abbey (Königskloster), famous for being where geneticist (and Abbot) Gregor Mendel experimented in the property's garden in the early 19th century. An interesting museum, the Mendel Museum, has been set up here to commemorate the man and his work.
Address: Petrov 9, 602 00 Brno 2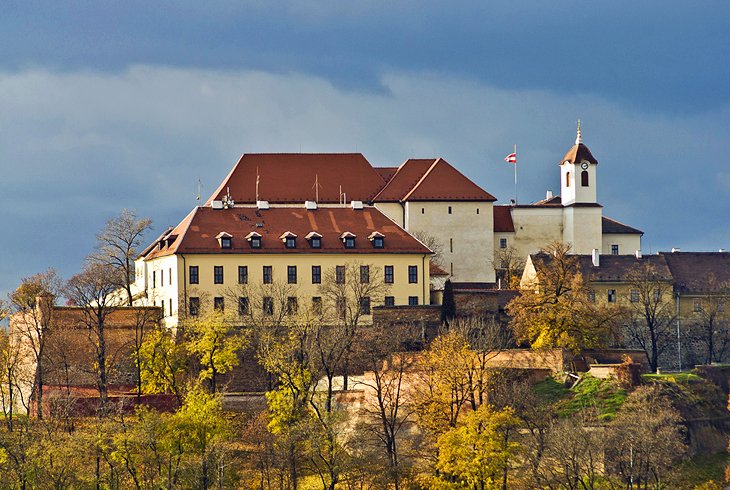 Dating from the 13th century, Špilberk Castle (hrad Špilberk) was built on a commanding hill by Czech King Pøemysl Otakar II and has served many roles over the years, including those of royal castle, fortress, and prison. Today, the castle is home to the Brno City Museum , established in 1904 and home to many excellent permanent (and frequent temporary) exhibitions. Permanent exhibits focus on the architectural history of the castle and its role as a prison, as well as the history of Brno.
Concerts, theatrical performances - including a popular Shakespearian festival - and other cultural events are held in the castle's courtyard throughout the summer, and visitors are also encouraged to climb the lookout tower for its fine views over the old city.
Address: Špilberk 210/1, 662 24 Brno
Official site: www.spilberk.cz/en/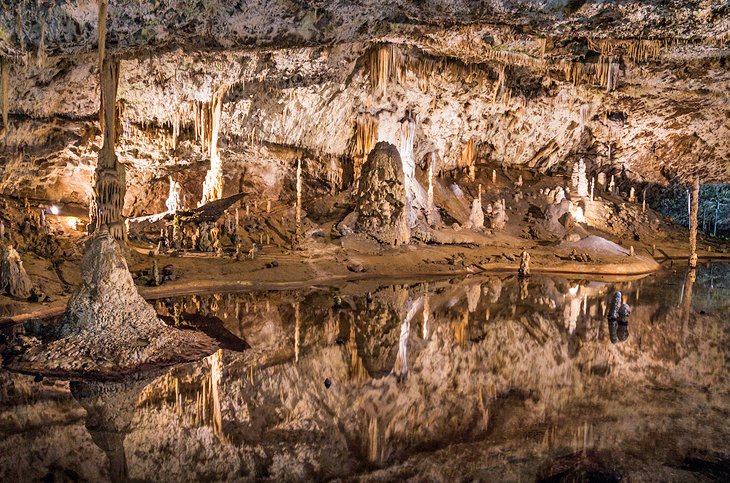 Famous for its cool air and stunning caverns, the Moravian Karst and Caves (Moravský kras) are a must-visit when in Brno. Located 25 kilometers northeast of Brno, the Karst area covers some 100 square kilometers and contains more than 1,000 known caves and gorges, five of which are open to the public for self-guided tours (trails are clearly marked indicating their level of difficulty). For the truly adventurous, a number of less-traveled caverns can be visited with a qualified spelunker as a guide.
Highlights include numerous interesting stalagmites and stalactites easily viewable from the well-lit passageways, as well as an excellent boat tour along an underground river. Also of note is the Macocha Abyss , a deep chasm overlooked by viewing platforms and footbridges, with numerous excellent hiking and biking trails. The caves are always popular with tourists, so be sure to book your visit in advance.
Address: Skalní mlýn 65, 678 25 Blansko
Official site: www.moravskykras.net/en/moravian-karst.html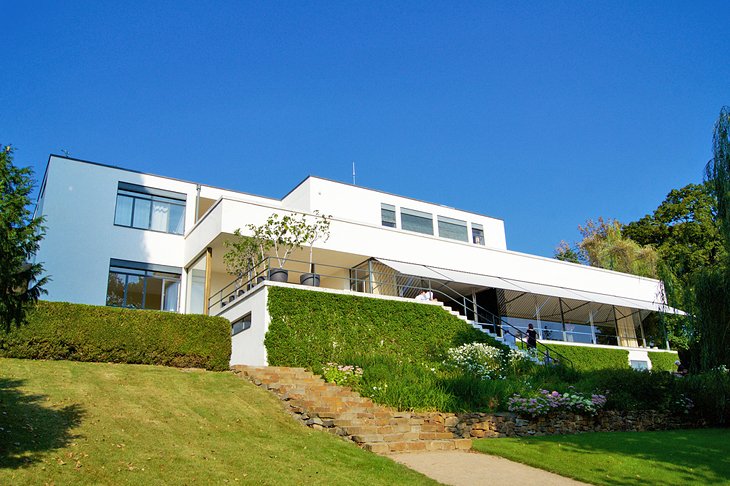 Built by architect Ludwig Mies van der Rohe, Tugendhat Villa is considered one of the most extraordinary examples of modern architecture from the early 20th century. In a posh residential area, it was constructed in 1930 for Fritz Tugendhat and his family, after whom the building is named, and is now listed as a UNESCO World Heritage Site.
Incorporating some of the most modern technology and concepts from that time period, the villa - the first masterpiece of modern architecture to be built on Czech soil - is famous for its unique open-plan structure and use of materials such as onyx, chrome, travertine, and ebony. English language guided tours are available but due to the Villa's popularity, tickets should be booked well in advance (the attraction itself suggests three to four months, minimum).
If you can, try to squeeze in a visit to other notable architectural landmarks, such as Stiassni villa . Built for a wealthy textile mogul, this impressive mansion was completed in 1929 and is notable for its attractive interior and enchanting gardens. Also worth seeing is Löw-Beer Villa , which houses a local museum, library, and café (guided tours available).
Address: Cernopolní 45, 613 00 Brno
Official site: www.tugendhat.eu/en/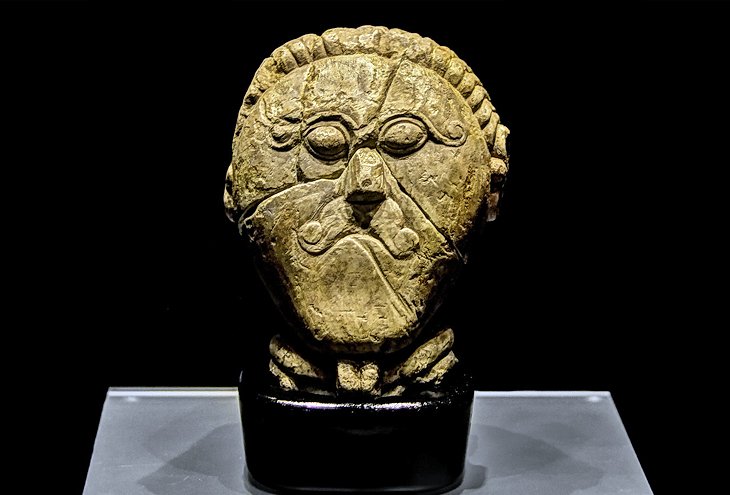 The Dietrichstein Palace (Dietrichstinsky Palac), built in the early 17th century for Cardinal Dietrichstein, is typical of Brno's splendid Baroque architectural style. Today, the palace houses the excellent Moravian Museum (Moravské zemské muzeum), the country's oldest museum - and one of the largest - and home to more than six million historical artifacts.
The museum's permanent exhibits cover a wide range of topics and time periods, including a Moravian village in the Middle Ages, and minerals and mining, as well as offering a comprehensive overview of the region's more recent history, including fascinating displays relating to WWI and WWII.
Of particular interest is the Anthropos Pavilion , which covers the earliest known period of human habitation in the area. The Moravian Museum also administers a number of interesting smaller museums, too, including the historic Bishop's Courtyard , near the cathedral, and the Palace of Noble Ladies, which houses a fun children's museum .
Address: Zelný trh 6, 659 37, Brno
Official site: www.mzm.cz/en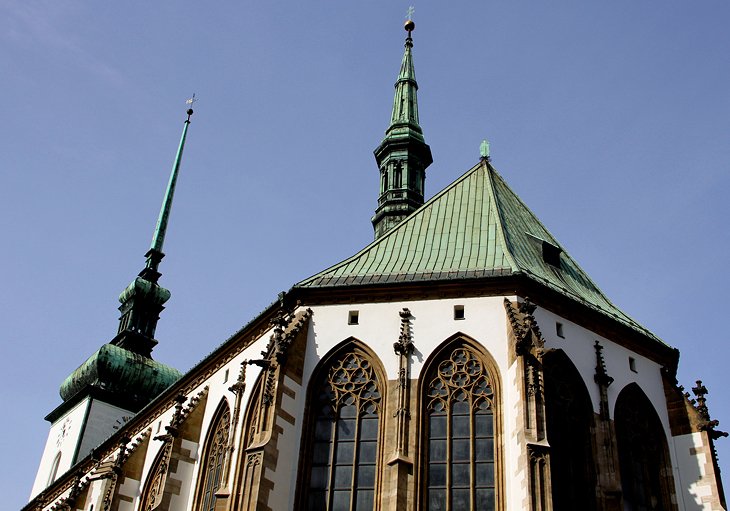 After the Cathedral of St. Peter and Paul , Brno's other most important religious structure is the pretty 14th-century Church of St. James (CzechKostel svatého Jakuba). Now a National Cultural Landmark due to its important architecture and historical artifacts, the church features an old Gothic crucifix; early 16th-century reliefs, including one of the crucifixion of Christ and a number of interesting tombstones; and a Baroque organ.
One of the most startling features is the Brno Ossuary . Revealed during an archeological survey of St. James Square (Jakubské námestí) in 2001, this vast collection of human bones is as chilling in scale as it is in the unusual way the collection is displayed, including collections heaped in archways and used as decorative displays and ornamentation.
Estimates suggest the remains of around 50,000 people were found, making it the second largest after the famous Catacombs of Paris. Equally interesting is the cause of death for most of those interred here, including plague, warfare, and starvation due to city sieges.
Address: Jakubské námestí, 602 00 Brno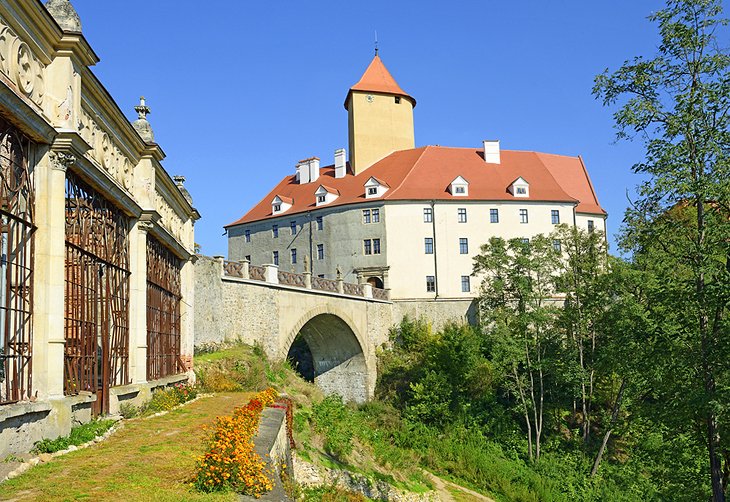 Located just 12 kilometers northwest of Brno's city center and easily accessible by public transit, Veverí Castle's (Hrad Veverí) good looks are enhanced by its commanding position high above the River Svratka. Founded in the 11th century, this stunning structure's present appearance features numerous additions and changes made up until the medieval period.
After changing hands and nationality many times - the castle was once even owned by wealthy English landlords, and hosted Winston Churchill in his younger years - the castle lay dormant for decades, but thanks to recent renovations is now certainly worth a visit.
Fun things to do include exploring the castle's impressive interior as part of an English language guided tour, taking in such highlights as the palace building with its vast loft and dining room, its fine frescoes, and large collections of furniture. The castle also makes an impressive backdrop for musical concerts and festivals, too (check the website below for details).
The castle is also accessible by a number of excellent and well-marked hiking trails that take in the beautiful surrounding scenery. For a great view of the castle and another fun way to explore the area, hop aboard one of the regular ferries that travel the River Svratka.
Address: Hrad Veverí 1, 66471 Veverská Bítýška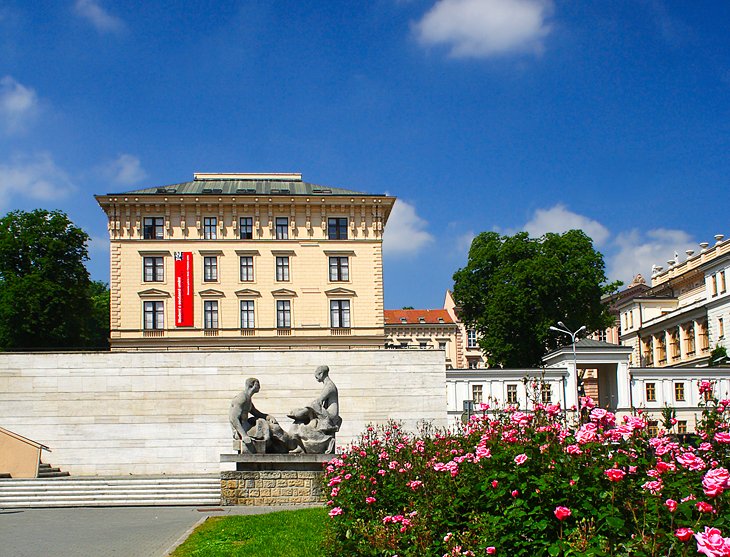 Widely regarded as one of the most important art galleries in the Czech Republic (it's also the second largest), the Moravian Gallery in Brno (Moravská galerie v Brne) was founded in 1961 and is spread among a number of the city's most important historical buildings, including Pražák Palace , the Museum of Decorative Arts , and the Governor's Palace .
The museum houses an eclectic mix of visual arts including paintings, drawings, and sculptures. Other highlights include a large display of photography and applied arts, as well as graphic design (the museum has hosted an international graphic design contest since 1963).
An important satellite museum that's well worth visiting is located in Jurkovic House . Built in 1906, this stunningly attractive former home was designed by leading architect Dušan Jurkovic and contains exhibits and displays relating to his life and work.
Also of interest to fans of great architecture is the Josef Hoffmann Museum , which likewise pays tribute to its namesake architect, who was born here in 1870. Shops and cafes are located in a number of the Gallery's locations - check their website for details, as well as the availability of English Language guided tours.
Address: Husova 18, 662 26 Brno
Official site: www.moravska-galerie.cz/?lang=en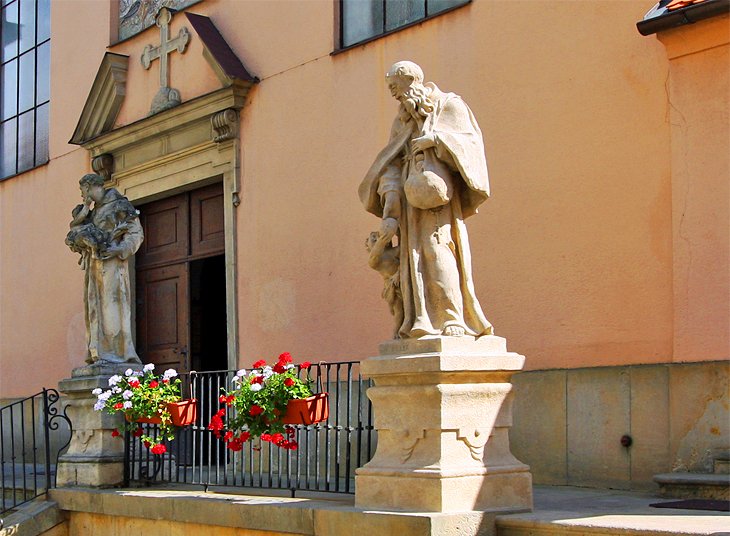 While one of the smallest of Brno's churches, the lovely old church in Capuchin Square was built as part of the Capuchin Monastery. Featuring fine Baroque statues made by Jan Adam Nessman around 1765, as well as a number of important 17th-century frescos, the church is also famous for its crypt, established in the 17th century and another of the city's unusual collections of human remains.
Upon entering, you're faced with the bodies of numerous monks who, after being laid to rest, were naturally mummified by a combination of the site's unique soil and ventilation system. Although a little eerie, it's a fascinating display, and one that's explained in detail through a series of interesting exhibits.
Also of interest is an exhibit displaying the open casket of Franz Baron von Trenck, an 18th-century officer and later mercenary who became something of a regional legend, and who was, for a time, imprisoned at Špilberk Castle. For more details of this fascinating story, be sure to pick up one of the useful English language guidebooks available with the purchase of your admission ticket (tours are also available).
Address: Kapucínské námestí 303/5, 602 00 Brno-stred
Official site: http://hrobka.kapucini.cz/subdom/hrobka/index.php/en/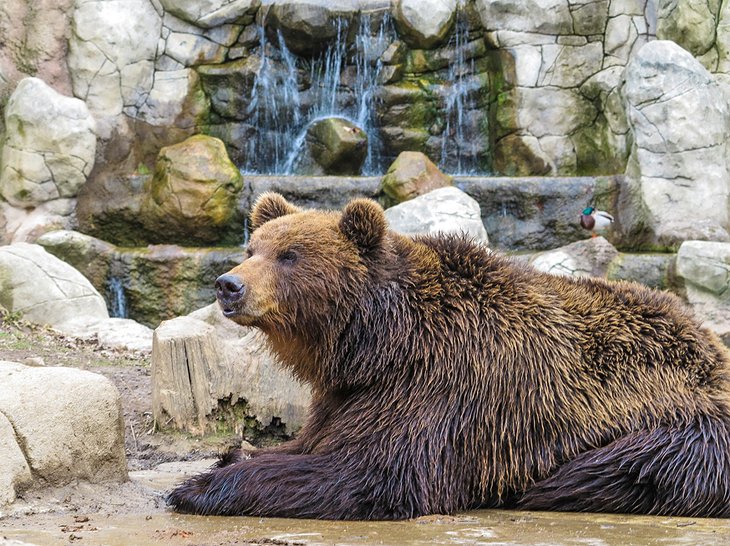 A must-see tourist attraction for families, Brno Zoo was established in 1953 and is home to some 1,800-plus animals from nearly 400 different species. In addition to the larger predators on display here, including polar bears, grizzly bears, and tigers, there are plenty of other fascinating creatures to learn about, from monkeys to lemurs and fish and reptiles. Of special interest are the many native animals to Eastern Europe and Siberia, including Kamchatka brown bears and Arctic foxes.
Well-regarded for its breeding programs, the zoo offers a variety of fun educational programs for kids, some including animal care and handling. For those traveling with youngsters, fun things to do at the zoo include hopping aboard the zoo train or spending time in the petting zoo (pony rides are also available), along with an adventure playground and trampolines.
Address: U Zoologické zahrady 46, 635 00 Brno-Bystrc
Official site: https://www.zoobrno.cz/en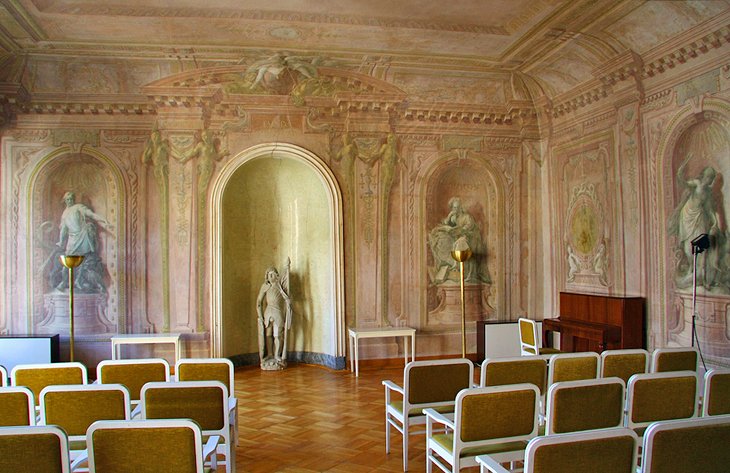 One of Brno's most important historic buildings, the Old Town Hall (Stara Radnice) dates back to the early 13th century and is notable for its many fine architectural flourishes. The building was home to the city's administrative offices until 1935, and one of its oldest highlights is a Late Gothic gate, an elaborately decorated masterpiece created by Antonín Pilgram in 1510.
Another highlight, the courtyard, was added later in the 16th century; come summer it, along with interior rooms such as the Crystal and Fresco Halls, as well as the old Treasure House, can be toured (the courtyard is also used for concerts and festivals).
During your tour, be sure to ask for the stories behind the town's two symbols, a dragon (or crocodile... you decide!) and a wheel, references to which can be seen in various locations in the town hall. If you're able, be sure to make the climb up the 63-meter-high tower with its panoramic views over Brno. The city's tourism information office is also located here.
Address: Radnická 8, 602 00 Brno-stred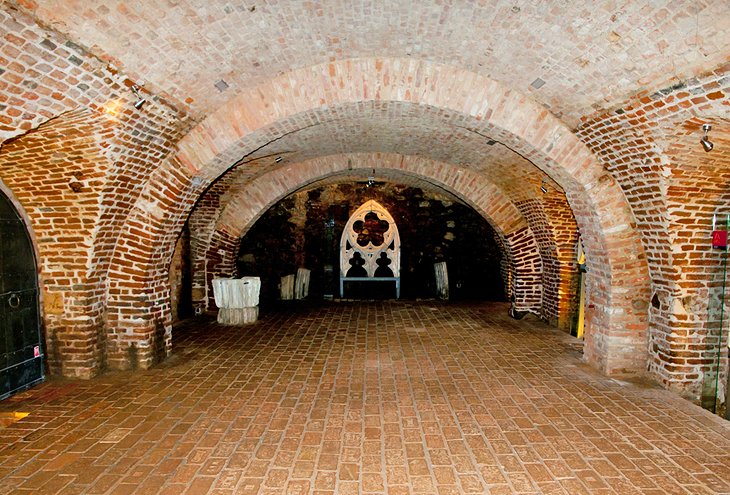 Another popular underground attraction worth visiting is the fascinating Labyrinth under Zelný trh square (Labyrint pod Zelným trhem), which includes a tour of the many old medieval tunnels and underground corridors that meander under the heart of the city's old vegetable market. These old cellars, in use since the 13th century to store food, now contain fascinating displays relating to their former use, as well as about their use as a prison.
Also worth a visit is the equally interesting Mint Master's Cellar . One of the top free places to visit in Brno, the old cellars under Dominican Square (Dominikánské námestí) and the New Town Hall (Nová radnice) house exhibits relating to the city's history, as well as the work of the mint, which was once housed here.
If time allows, be sure to also plan a visit to the interesting Nuclear Shelter 10-Z , built during WW2, modified by the Soviets, and now fun to see as part of a guided tour. Evening tour options are also available and delve into the technical aspects of this former nuclear bunker.
One of the great things for families to do in Brno includes spending time exploring the many interactive displays at VIDA! Over six thousand square meters and more than 180 interactive exhibits are divided into four themed zones: Planets, Civilization, the History of Man, and the Microworld. Families can unleash a tornado, try to contain the ocean in a bottle, experience a 3G force simulator, or try to build their own DNA.
Younger kids will enjoy the Science Center area, a fun area with plenty of activities designed just for them. Here, kids can play with water, explore an archaeological sandpit, play a giant piano, or become a mechanic. There are also plenty of open-air exhibits that cater to the senses.
Address: Křížkovského 554/12, 603 00 Brno
The only museum of its kind in Europe, the Museum of Romani Culture is dedicated to the culture and history of the Romani people. Here, a collection of 25 thousand objects retells the story of the Romani migration that started in India. There's a particular emphasis on their time in Europe starting in the 11th century, including life in Czech Republic during and after the end of WWII.
Dioramas, videos, documents, and photographs provide additional information for visitors. There's also a large library on-site, as well as lectures, Romany language courses, and concerts open to the public.
Address: Bratislavská 246, Zábrdovice, 602 00 Brno-střed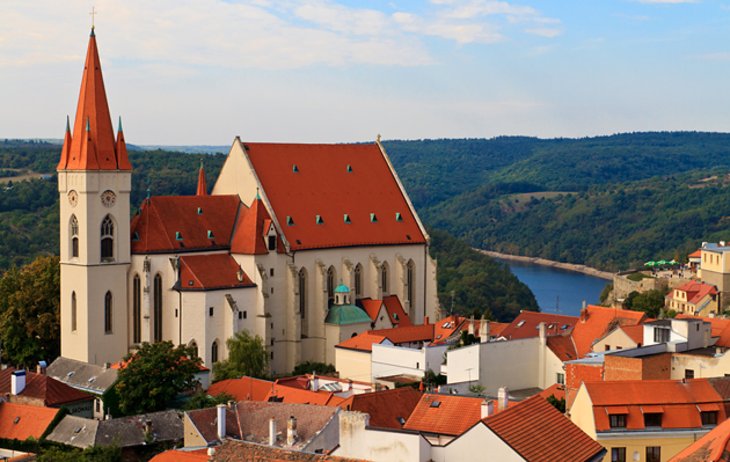 Once you've discovered all Brno has to offer, spend a little time exploring the surrounding area. Just 67 kilometers southwest of Brno is the lovely old Moravian city of Znojmo , perched on the banks of the Dyje River. Founded in the early 13th century, the town is home to some beautiful medieval architecture, including the Gothic Church of St. Nicholas; the tower of the City Hall; and nearby Znojmo Castle , a Baroque chateau built on the foundation of an 11th-century fortress, which today serves as a museum and gallery.
Also worth seeing is the historic town of Olomouc , 78 kilometers northeast of Brno and one of the larger cities in the Czech Republic. Dating from the 10th century, Olomouc boasts some beautiful old architecture, as well as an active arts and cultural scene that includes the Moravian Theatre, the Moravian Philharmonic Orchestra, and numerous museums and galleries.
Another destination of interest is Ostrava , a former mining town worth visiting for the Landek Park and Michal Mine . Although a two-hour drive northeast of Brno, it's worth the journey for its fascinating account of the history of mining in the area, as well as a chance to descend to a coalface and experience the working conditions of miners firsthand.
A little detour worth taking before heading back to Brno is to Karlova Studanka , an 18th-century spa town in the Jeseniky Mountains built around a number of cold springs considered therapeutic due to their high levels of iron. Beautifully laid out with wide streets, parks, and gardens, this picturesque town is famous for its wooden architecture, mountain peak, and numerous waterfalls and rivers.
More Related Articles on PlanetWare.com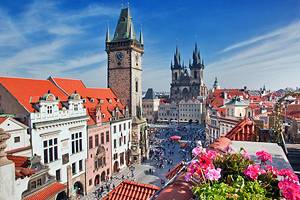 Czech-Out the Republic : Thanks to its relatively small size, the Czech Republic is easy to get around. Top travel destinations here include the country's capital of Prague , widely regarded as one of the most attractive cities in Europe for its countless church spires and well-preserved architecture. The city of Karlovy Vary - known to many as Karlsbad - is another lovely historical destination worth visiting and is especially popular for its many natural hot springs, resorts, and spas. The UNESCO-protected old town center of Cesky Krumlov is also wonderful to explore for its many historic buildings, including a well-preserved church and castle.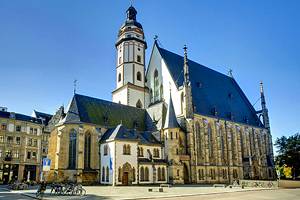 Good Neighbors : The Czech Republic is a great base from which to explore neighboring countries such as Germany . Less than two hours away from Prague by train is the city of Dresden , one of the most important Baroque cities in Europe and home to the magnificent Frauenkirche, painstakingly rebuilt after near total destruction in WWII. Although an hour farther north from Dresden, Leipzig is also worth visiting and is a popular tourist spot for its historic old city hall and the nearby public squares, now lined with attractive boutique shops, cafés, and galleries.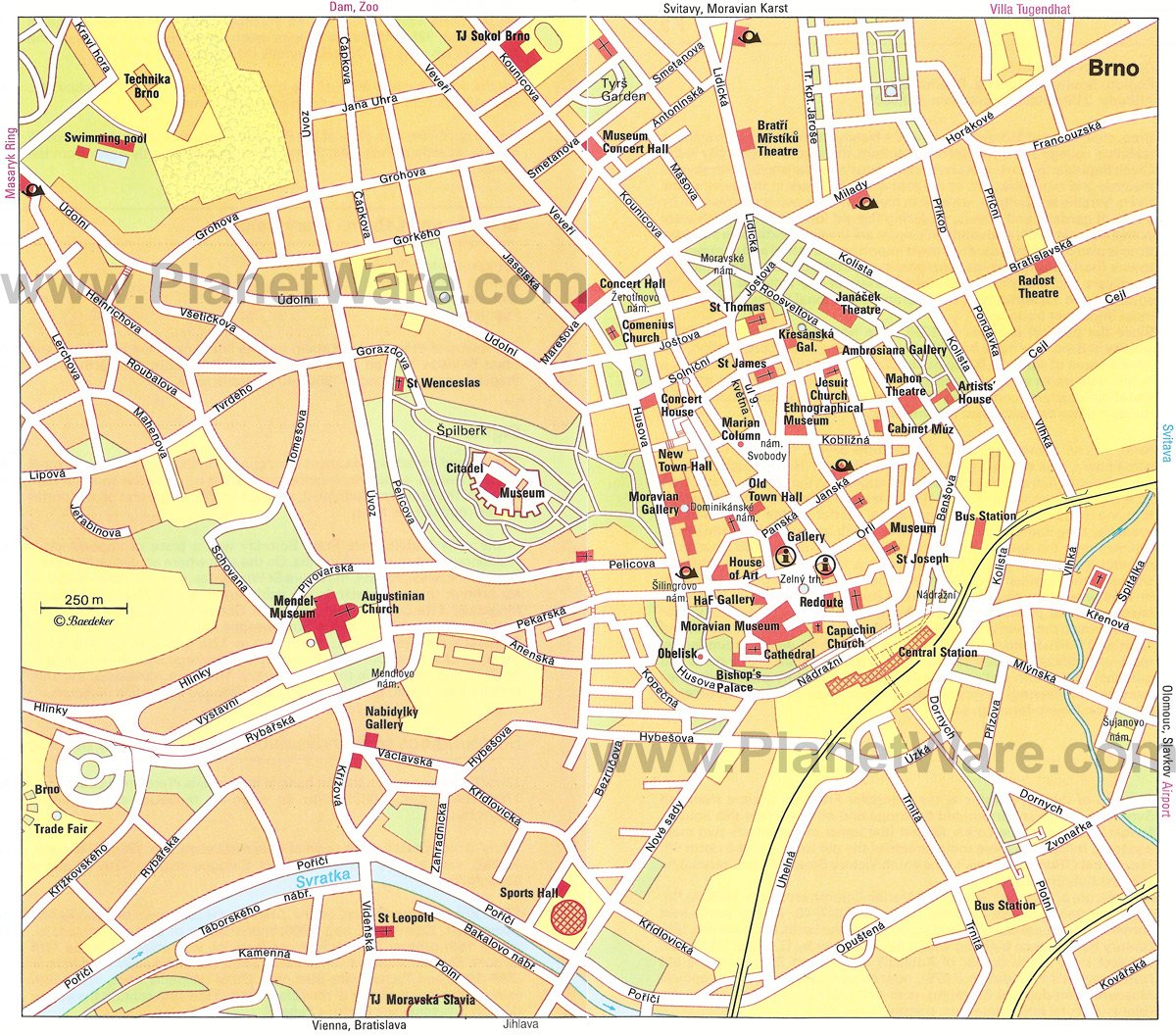 More on Czech Republic
13 Top Things to Do in Brno, Czech Republic
While it may not be as well-known as Prague, Brno is full of impressive historical sights, a thriving food and drink scene, and a number of quirky attractions. From architectural masterpieces to subterranean discoveries, the Czech Republic's second city has something for everyone without the hustle and hassle of bigger cities.
Located in the south-eastern part of the country, Brno is closer to Vienna and Bratislava than it is to Prague but is just as easily accessible from many of Central Europe's capitals. Whether you're just passing through or are making it the main event, don't miss these top things to do in Brno.
Take in the Views from the Cathedral of St. Peter and Paul
TripSavvy / Evgeniya Vlasova
Perched atop Petrov hill, the impressive Cathedral of St. Peter and Paul is impossible to miss. Explore the area around it, marvel at the Baroque architecture inside, and climb to the top of the Gothic Revival towers to take in sprawling views of the city below. This beautiful piece of architecture is such a significant landmark in the Czech Republic it landed the coveted spot on the back of the 10 koruna coin. A curious quirk of the cathedral, it rings its bells at 11 a.m. instead of 12 p.m., thanks to a popular legend originating from the Thirty Years' War.
Explore Špilberk Castle
Dating back to the 13th century, Špilberk Castle was once the seat of Moravian margraves and, for a time, was considered to be the harshest prison in the Austro-Hungarian empire. The casemates below the fortress can be visited today and offer a glimpse into this grim past. Above ground, the castle is now home to the Brno City Museum. Visitors are treated to some of the city's best views from the complex, and the gardens surrounding are a great place to enjoy a relaxed stroll.
Enjoy the Unique Nightlife
While Brno's nightlife tends to be more understated than the wild nights bachelor parties travel to Prague for, it has plenty of its own quirks. If you want to try some of the Czech Republic's world-famous brews, head to Lokál U Caipla or Pivovarská Starobrno for some of the freshest beer in the city. Výčep Na Stojáka offers a more unusual beer-drinking experience. Its name roughly translates to 'standing up pub,' so it's common to see patrons sipping their craft news on the curb outside during the warmer months as there are no seats inside.
If cocktails or fine spirits are more to your taste, Bar, Který Neexistuje (Bar that Doesn't Exist) won't disappoint. Enjoy a dram from their impressive whisky list or sip a handcrafted cocktail while enjoying the 1920's New York atmosphere. If you want to leave your drink choice up to fate, head to the entertaining Super Panda Circus .
Learn Something New at the Museum of Romani Culture
The Museum of Romani Culture is the only museum of its kind dedicated to the culture and history of the Romani people. The permanent exhibit takes visitors on a journey through the history of the Roma, covering an expansive time period from ancient India to the present day. From World War II onward, the exhibit takes a closer look at the situation of Roma in the Czech Republic specifically. Temporary exhibits showcasing art and photography are also regularly featured.
Catch the Astronomical Clock's Glass Ball in Náměstí Svobody
Náměstí Svobody, or Freedom Square, is Brno's main square and the location of the city's peculiarly shaped astronomical clock. Crowds gather around the imposing black stone monument daily as it chimes 11 a.m. and drops a glass ball for one lucky person to catch. It's common to find people standing around the clock as early as 9 a.m. claiming their spot for this event. The square hosts several festivals throughout the year and is lined with restaurants and bars, making it a great spot to enjoy a meal or drink outside in the city center.
Tour the Ossuary Beneath Church of St. James
Walking past the Church of St. James, you'd never know what lies beneath, and people didn't for many years. Rediscovered in 2001, the ossuary is the second biggest in Europe, after the Parisian catacombs. It dates back to the 17th century and houses the remains of over 50,000 people. Visitors explore this underground resting place accompanied by music from Miloš Štědroň that was composed specifically for this location.
Hike Around the Brno Reservoir to Veveří Castle
The Brno Reservoir is a beautiful setting for water sports, swimming, cycling, and hiking. Hikers will enjoy the forested trail along the water's edge leading to Veveří Castle . The castle has a long history dating back to the 11th-century housing royals, withstanding sieges, and even hosting Winston Churchill and his wife on their honeymoon. Boats run between the castle and Bystrc harbor during the summer, providing a relaxing, scenic journey back to the city after an exciting day of hiking and exploring.
Visit the Capuchin Crypt
The mummified remains of dozens of Capuchin monks lie beneath the Capuchin Monastery in Brno. Due to a vow of poverty, the deceased monks' bodies were placed in the crypt without a coffin. The composition of the environment of this resting place has naturally mummified their remains over time. This practice ceased in the 18th century due to hygiene laws, but visitors can still enter the crypt to pay their respects and marvel at this natural phenomenon. The words "As you are now, we once were; as we are now, you shall be" in Czech are inscribed at the site, leaving visitors with a solemn reminder.
Spend the Night in the Nuclear Bunker 10-Z
This formerly top-secret air raid shelter was originally built in the hill below Špilberk Castle during the Nazi occupation of Brno. It was later equipped to house 500 people in case of a nuclear attack during the Communist era. Today, visitors can explore bunker 10-Z on their own or with a guide, and the brave can even spend the night in one of the hostel rooms in this underground labyrinth.
Tour the Famous Villa Tugendhat
Villa Tugendhat is an architectural icon. Located in Brno's Černá Pole neighborhood, this building was a pioneer of modernism when construction began in 1928. The Gestapo confiscated it during World War II, but it was restored to its former glory in the 1960s. In 1992, it was the setting of Velvet Divorce that split Czechoslovakia into two independent countries, and it was designated as a UNESCO World Heritage Site in 2001. Villa Tugendhat is one of the top sights to see in the Czech Republic, so be sure to book a tour at least three months in advance to avoid disappointment.
See the "Dragon" at Old Town Hall
Not only does Brno's Old Town Hall house the tourist information center, but it's also home to the city's "dragon." Visitors should not be alarmed when they find a full-sized taxidermied crocodile hanging from the ceiling in the archway below the Late Gothic turret. Legend has it that this "dragon" terrorized the city until an ingenious idea finally put an end to its reign. Enjoy the events hosted in the courtyard or climb to the top of the tower for a great view of the city.
Explore Zelný trh Above and Below
Zelný trh is one of the main squares in Brno. Its name translates to 'vegetable market' and has been the site of a marketplace for centuries. Vendors sell produce and flowers around the stunning Baroque fountain centerpiece called 'Parnas.' The Reduta Theatre, the oldest theatre in Central Europe, can also be found here with a statue outside commemorating Mozart's performance here when he was just eleven years old. In addition to shopping, visitors can visit the medieval cellars and passageways that lie below the market.
Learn About the Father of Genetics at the Mendel Museum
The Mendel Museum is dedicated to Gregor Johann Mendel's work, who is generally credited as being the father of genetics. The museum is situated within the grounds of Brno's Augustinian Abbey, where Mendel once lived and worked, and is run by Masaryk University. It's a place where researchers and the general public can come together to learn about Mendel's life, work, and legacy, as well as other topics of interest from various scientific and artistic disciplines.
One Week in the Czech Republic
12 Amazing Castles to Visit in the Czech Republic
The Top 10 Places to Visit in the Czech Republic
The Best Day Trips From Prague
The Top 25 Things to Do in the Czech Republic
The Best Time to Visit the Czech Republic
The Top 20 Things to Do in Prague
Your Trip to the Czech Republic: The Complete Guide
Free Things to Do in Prague
August in Prague: Weather, What to Pack, and What to See
November in Prague: Weather, What to Pack, and What to See
Summer in Prague: Great Weather and Crowds of Tourists
Prague: Planning Your Trip
March in Prague: Weather, What to Pack, and What to See
15 Best Things to Do in Prague in the Winter
The 14 Best Day Trips from Rome
By clicking "Accept All Cookies", you agree to the storing of cookies on your device to enhance site navigation, analyze site usage, and assist in our marketing efforts.
Home » Travel Guides » Czech Republic » 15 Best Things to Do in Brno (Czech Republic)
15 Best Things to Do in Brno (Czech Republic)
Brno is the Czech Republic's second city and has a hardworking reputation, although commerce is a just a small part of this quirky city's story.
Set where  the Svitava and Svratka Rivers meet, Brno was capital of Moravia from the 1100s right up to the communist era. Naturally, a lot of heritage remains, and you can take in a great deal of Gothic and baroque sights on the cobblestone streets of the Old Town. But what really gives Brno its identity is its devotion to the weird, wonderful and downright creepy.
Let us explain, in our run down of the best things to do in Brno .
1. Villa Tugendhat
Nothing scary about this one.  Open daily for tours, Villa Tugendhat is up there with Le Corbusier's Villa Savoye in Paris as a prototype for modern architecture. Built from 1928-30, it was designed by Ludwig Mies van der Rohe and is a UNESCO-listed masterwork of functionalism.
This building changed the game thanks to its open floor plan and wall-sized rear windows. Villa Tugendhat's history is as important as its design. The Tugendhats were a Jewish couple and were forced to flee Brno after 1938. The villa became a base for the Gestapo, and then as quarters for the Soviet army.
It wasn't until 1967 that Greta Tugendhat returned and the restoration process began.
2. The Old Town Hall
Here you get an idea of Brno's enduring sense of fun, as well as a neat view of the city from the roost of the tower. On approach you might notice that one of the turrets on the Town Hall's decorative facade looks a bit skewed.
The story goes that Anton Pilgram, the building's architect was screwed out of money by Brno's City Council and his payback was to mess with the design. The other version holds that he was simply too drunk to get it right.
The building goes back to the 1200s, and formed part of the city defences during the famous siege by Swedish forces in 1645. More on that later.
3. The Town Hall's Curios
This is where it starts to get a bit wacky. Hanging from the ceiling in the passage beneath the tower is what looks like a large taxidermied crocodile. But don't be fooled;  you're now in the domain of the legendary Brno dragon.
In the city's earliest years this beast terrorised the population and its livestock, and eventually a butcher got the creative idea of filling a fur sack with lime. After the dragon devoured the sack it needed to quench its thirst and drank so much water it died.
On the wall here is the Brno wheel, a wagon wheel supposedly built and delivered from the city of Teplice 45 kilometres away in just 12 hours as part of a medieval bet. It's a symbol for Brno's work ethic.
4. Gregor Mendel's Abbey and Museum
The godfather of genetics spent almost his whole life in Brno, and stands today as one of the 19th century's most important scientists. At the Abbey of Saint Thomas you can visit the garden in which he conducted his famed experiments on pea plants that helped him discover the secrets of heredity.
For a bit more insight, the Mendel Museum outside the old town has detailed exhibits that shed light on his methods, and how early experiments breeding mice attracted the disapproval of the church.
You can also find out about his experiments in the field of beekeeping, but these have made a less  impact on the course of history.
5. Špilberk Castle
As the seat of the rulers of Moravia, this building has been around for almost as long as Brno has existed. And as you might expect this has left the structure with a range of styles, from Romanesque to baroque. It's a large hilltop fortress that has served all sorts of roles and seen a lot of action in its time.
Like the Town Hall Špilberk Castle helped repel the Swedish Army during a siege in the Thirty Years' War in the 1600s.
At this time it also doubled as a prison to house and torture protestants, given that Brno was a catholic city. You'll learn at the museum here why Špilberk was a no place to end up if you belonged to the wrong denomination.
6. Capuchin Monastery
And the morbid vibes keep coming, because the Capuchin Monastery on Kapucínské Square is no place for the faint of heart. The exterior and ground floor are splendid, and offer no indication of what lies beneath.
The building is in the baroque style, with an ornate rococo interior, including a memorable fresco and a preserved library with shelves of ancient volumes climbing to ornate ceilings.
Go downstairs though and you'll be confronted by an 18th-century crypt where members of the Capuchin order and other important figures of the time are lying around mummified like they've decided to take 200-year naps.
7. Modern Architecture
Alongside Villa Tugendhat, Brno had a design boom in the early-20th century when some of the most beautiful landmarks beyond the old town were built. Brno is now peppered with some 70 functionalist buildings.
Real architecture buffs can download a list and track them down on a walking tour. If you're willing to put in the legwork you'll be rewarded with some memorable yet unfrequented sights, nearly all of which continue to serve their intended public and residential roles.
In Brno-center keep an eye out for Žáckuv rodinný dum, Bassova vila, Haasova vila, state-of-the-art residences built for Brno's elite in the 20s and 30s.
8. Cathedral of Saint Peter and Paul
The Swedish siege of Brno in 1645 left a big impression on the city, and put the clocks at this dominant cathedral in a bit of a time warp.
In yet another of Brno's quirky stories, it is said that the Swedes agreed to give up on their plans to take the city if they hadn't managed to conquer it by mid-day on the August 15 1645.
Resourceful as ever, the Brno defenders decided to improve their odds and brought the clocks at the cathedral an hour forward to chime at 11 instead of 12. To this day the noon chimes take place at 11.
9. Brno Underground
A maze of tunnels and chambers sits underneath the Cabbage Market in the old town. In 2011 these were opened to the public as part of a compelling 40-minute walking tour. The square above dates back to the 1200s and many of the passageways that weave underneath are also from this time.
You'll see how food was preserved here in the medieval era, visit an historic wine cellar, and will also be able to peruse an authentic alchemist's laboratory.
As ever in historic Brno, there's a dark side. Looming underground is a real pillory, a public torture device for criminals in the middle ages.
10. The Cabbage Market
Above the underworld is a marketplace that has also been in use since the 1200s. You can still buy vegetables at the farmers' market, as well as taking a look at some of the monuments around.
One of these is the Parnas Fountain with its statue of Hercules. It is said that in old times fishmongers showcased their stock by letting their carp swim in the fountain waters.
On the south side Reduta Theatre is a concert hall that goes back to renaissance times. In 1767 an 11-year-old Mozart performed here with his sister.
11. Brno MotoGP
Another thing about Brno that puts it on the world map is the city's motorcycling circuit. Brno has been connected to this motorsport since 1930 and for many years the Masaryk Circuit here was a perilous street race on cobblestones.
When this course was laid with asphalt in the 1960s Brno became a mainstay of the World Grand Prix, and the street circuit was eventually replaced by a purpose-built venue in 1987.
MotoGP comes to town in August every year, bringing with it three days of high-octane action and the best riders in the world.
12. The Church of Saint James
A beautiful national monument, this church has survived intact for almost the last 500 years and dates originally to the 1200s.
It's a lovely Gothic building, with soaring vaulted ceilings, but recent excavations have uncovered a rather sinister feature underground.
If you dare you can step down to what is the largest ossuary in Europe after the Catacombs in Paris. It opened its doors in 2012 and is crammed with the remains of some 50,000 people, their bones and skulls arranged in ornamental designs and stacks.
13. Macocha Abyss
This sinkhole, half an hour north of the city, is like something out of a fantasy movie. The Macocha Abyss is part of the Punkva cave system and draws both serious subterranean adventurers and casual tourists who want to explore the deepest sinkhole in Central Europe.
The Abyss came about when the ceiling of a deep cave collapsed, and the feature is part of a vast and labyrinthine network of tunnels that you can navigate on a guided tour on foot and then by boat once you approach the cathedral-like Abyss.
In the open air is a trail that snakes through the rocky scenery is favoured by walkers and cyclists.
14. Brno Dam
The best time to head down to Brno's dam is after sunset at the end of May and start of June when teams from around the world vie for the top awards at the Ignis Brunensis fireworks competition.
This started out as a mere exhibition, but in 2003 things started to get serious and hi-tech pyrotechnics companies started using the event as a chance to show the marketplace what they could do. This sense of competition is great news for the public, as the increasingly elaborate displays are reflected wonderfully by the waters of the reservoir.
By day people flock to the wooded shores of the reservoir in summer for boating, water sports and bike rides.
15. Brno's Parks
Lužánky Park was the first public park in what is now the Czech Republic, which has earned it national monument status. The Jesuits played a part in its foundation, using these grounds for meditation and rest, and when they were expelled in the late 1790s Lužánky was laid out in the French formal style, later becoming more of a botanic garden with an ornamental stream.
Denis Gardens meanwhile connect Peter and Paul Cathedral with Špilberk Castle.  For those who have the energy to tackle the slope the park is full of surprises, with 19th-century gazebos and an elegant colonnade.
There are lookout platforms offering what is surely the most romantic view in Brno.
15 Best Things to Do in Brno (Czech Republic):
Villa Tugendhat
The Old Town Hall
The Town Hall's Curios
Gregor Mendel's Abbey and Museum
Špilberk Castle
Capuchin Monastery
Modern Architecture
Cathedral of Saint Peter and Paul
Brno Underground
The Cabbage Market
Brno MotoGP
The Church of Saint James
Macocha Abyss
Brno's Parks
The Top Things to See and Do in Brno, Czech Republic

The capital of Moravia – one of the historic Czech regions alongside Bohemia and Czech Silesia – Brno is now firmly on the map of European city breaks. With its neo-Renaissance architecture, story book-worthy castles and the beautiful Brno Lake, Brno has earned romantic nicknames such as 'Little Vienna' and the 'Hidden Heart of Europe'. Here's our guide to the top things to see and do Brno, Czech Republic .
View all trips, take a steam boat across brno lake.
Natural Feature

Sample wine at Veveří Castle
Historical Landmark

Venture into Špilberk Castle

This sprawling castle was built in the mid-13th century by King Přemysl Otakar II, subsequently becoming a jail for criminals and political prisoners from countries throughout the Austro-Hungarian Empire. Notorious figures locked up here include the poet Silvio Pellico, Czech outlaw Václav Babinský and members of the Italian Carbonari – a 19th-century secret revolutionary society. Today, you can explore the atmospheric vaulted passages and learn about Brno's history in the City Museum.
Become a Culture Tripper!
Sign up to our newsletter to save up to 800$ on our unique trips..
See privacy policy .
Walk around Park Lužánky
See the square of náměstí svobody.
Architectural Landmark

Drink cocktails at Bar, který neexistuje
Bar, Pub Grub

Step inside the Cathedral of St Peter and Paul
Church, Cathedral

Get a dose of modern architecture at Villa Tugendhat

Explore the activities of Kraví hora
Sports Center

Kraví hora (Cow Hill) is one of the most popular family days out in Brno, thanks to its range of indoor and outdoor activities. You could be flexing your sporting abilities with beach volleyball and ice hockey in the morning, then relaxing at the indoor pool, sauna and hot-tub in the afternoon. At nightfall, drop into the Brno Observatory and Planetarium for a journey through space and time, and to look across Brno using the Observation Deck's portable telescopes.
Eat a giant burger at Úvozna Restaurant
Bakery, Restaurant, Czech
Volcanic Iceland Epic Trip
Meet our local insider.
HOW LONG HAVE YOU BEEN A GUIDE?
What do you love about your job, it's the personal contact, the personal experiences. i love meeting people from all over the world... i really like getting to know everyone and feeling like i'm traveling with a group of friends., what destination is on your travel bucket-list, i have so many places on my list, but i would really lobe to go to africa. i consider myself an "adventure girl" and africa feels like the ultimate adventure.
Every CULTURE TRIP Small-group adventure is led by a Local Insider just like Hanna.
See Our Culture Trips

KEEN TO EXPLORE THE WORLD?
Connect with like-minded people on our premium trips curated by local insiders and with care for the world
Since you are here, we would like to share our vision for the future of travel - and the direction Culture Trip is moving in.
Culture Trip launched in 2011 with a simple yet passionate mission: to inspire people to go beyond their boundaries and experience what makes a place, its people and its culture special and meaningful — and this is still in our DNA today. We are proud that, for more than a decade, millions like you have trusted our award-winning recommendations by people who deeply understand what makes certain places and communities so special.
Increasingly we believe the world needs more meaningful, real-life connections between curious travellers keen to explore the world in a more responsible way. That is why we have intensively curated a collection of premium small-group trips as an invitation to meet and connect with new, like-minded people for once-in-a-lifetime experiences in three categories: Culture Trips, Rail Trips and Private Trips. Our Trips are suitable for both solo travelers, couples and friends who want to explore the world together.
Culture Trips are deeply immersive 5 to 16 days itineraries, that combine authentic local experiences, exciting activities and 4-5* accommodation to look forward to at the end of each day. Our Rail Trips are our most planet-friendly itineraries that invite you to take the scenic route, relax whilst getting under the skin of a destination. Our Private Trips are fully tailored itineraries, curated by our Travel Experts specifically for you, your friends or your family.
We know that many of you worry about the environmental impact of travel and are looking for ways of expanding horizons in ways that do minimal harm - and may even bring benefits. We are committed to go as far as possible in curating our trips with care for the planet. That is why all of our trips are flightless in destination, fully carbon offset - and we have ambitious plans to be net zero in the very near future.
Black Friday Offers on Our Trips
Incredible savings.
Post ID: 474188
Sponsored? No
View Payload
Přejít k obsahu | Přejít k hlavnímu menu | Přejít k vyhledávání
Explore Brno
Seznam okruhů.
This condensed tour of the city centre will take you to the most popular, interesting, and important buildings, squares, streets, and parks.
If you have enough time and energy, get to know Brno even better on the long tour and explore some of the many interesting and significant places in the city centre.
TOP DESTINATIONS
Brno is full of valuable historical buildings and interesting places. For a true feel of just how amazing this city is, here's a list of its must-see locations.
BRNO WITH KIDS
Children love to have fun and Brno is ready for them! Choose from lots of attractions to entertain all age groups so they won't have any time at all to get bored.
BRNO'S UNDERGROUND
Join us in exploring the history of the Brno underground – so deep, dark, and expansive that it takes six different tours to shed some proper light on it.
SCULPTURES IN BRNO
The streets of Brno are full of various objects that may leave you scratching your head. Some cause controversy while others get passed by without much notice.
MUSEUMS AND GALLERIES
Historical artifacts, remarkable works of contemporary art, technical and scientific exploration, and much more! Come experience it all yourself!
BRNO'S HOLY SITES
Like many other cities in Europe, Brno has a great number of historical buildings related to Christianity to visit. It also has a synagogue and a mosque.
BRNO'S GREENERY
Brno offers lots of opportunities to relax on green lawns surrounded by trees. The city's public transportation makes it easy to visit parks and even forests.
EDUCATIONAL TRAILS
Brno isn't only monuments, culture, and food. It's a city with nature merely a stone's throw away.
BRNO'S ARCHITECTURE
Brno boasts many famous architectural jewels as well as 'diamonds in the rough'. Explore the gems that have graced this city over the last 100 years.
BRNO AND ITS SURROUDINGS IN FILM
Did you know that Hollywood star Carice Van Houten – who you've seen in Game of Thrones or the film Valkyrie playing opposite Tom Cruise – has filmed in Brno? Places trod time and again by our most famous actors, names like Viktor Preiss, Jiří Langmajer, Martha Issová and Jana Plodková?
BRNO AT NIGHT
Evenings and nights in Brno have a special charm. Explore the city after dark or have a great time in any of its many restaurants and music clubs.
THE HOUSING ESTATE NEW HOUSE
Project of model housing estates, realized as part of the Exhibition of Contemporary Culture commemorating the tenth anniversary of the founding of Czechoslovakia
BRNO'S CENTRE GEOTRAIL
Geotrail, which leads you through several interesting places in the Brno centre and shows you that geodiversity has its place within the city
TECHNICAL MONUMENTS
As the second largest Czech city and an important industrial centre in the 19th and 20th centuries, Brno has a lot to offer lovers of technical monuments.
BRNO FULL OF SCIENCE
If you like to learn a thing or two (on your travels), discover new things and broaden your horizons as well as try some experiments, then Brno is the right place for you to visit.
MORAVIAN MANCHESTER
Trail with twelve stops follows the history, personages and places associated with the phenomenon of how Brno came to be dubbed 'the Moravian Manchester'.
SPORT CENTRES
Brno is well known for its architecture, culture, and cuisine, but there's also no shortage of sports centres, as the locals recognize that there's a sound mind in a sound body.
BRNO'S THEATRES
The theatres of Brno have quite a rich past with some famous moments. Current productions cover a wide range of genres, with something for almost everybody.
BRNO THROUGH GAMES
Do you remember how happy it made you to play games as a child? Now you can recapture that joy as an adult, and Brno offers many opportunities. Set out with friends or colleagues to enjoy adventures and excitement.
The Brno Dam is a hydraulic structure on the Svratka River. These days, the body of water around it is a favourite getaway spot for sport, relaxation, and recreation.
MENDEL'S BRNO
Explore places related to Gregor Johann Mendel, the Brno abbot who is known as 'the father of genetics', and his study of the laws of biological inheritance.
JANÁČEK'S BRNO
The famous composer Leoš Janáček is one of the most significant people in the history of Brno. You can take a walk through the places related to his life.
BRNO'S EXHIBITION GROUNDS
The Brno exhibition grounds were once among the most significant functionalist sites in the world. Today, the exhibition space spans almost 190,000 m².
BRNO'S SURROUNDINGS
There are lots of interesting places to go just outside Brno as well. Pick a direction and go – you're sure to experience something unforgettable.
BRNO'S OTHER GREAT PLACES
Brno has a lot of remarkable places that did not fit in the other tours. Discover other interesting locations and institutions worth visiting.
ADVENT AND CHRISTMAS IN BRNO
Advent and Christmas in Brno are different this year. The main thing hasn't changed, though: their wonderful atmosphere!
Explore Brno with a local guide
Interactive map
Find the places you'll enjoy the most
South Africa
El Salvador
Bosnia and Herzegovina
North Macedonia
Czech Republic
Transnistria
Liechtenstein
North Cyprus
New Zealand
Map with posts
Alternative Guides
Architecture Guides
Cafe Guides
Itineraries
Neighborhood Guides
Travel Tips
Photo Galleries
Photo Locations
Solo female travel
Train Travels
Work with me
Privacy Policy
20 Great Things to Do in Brno, Czech Republic
Brno, Czech Republic is one of the most interesting cities you can visit in Central Europe yet it's often in the shadow of more popular nearby destinations: Prague , Vienna or Budapest . But this second-largest Czech city offers plenty of attractions and is definitely worth your time.
The list of all the best things to do in Brno and its diversity might actually surprise you: from beautiful and interesting architecture to ossuaries, from amazing cafe scene to bunkers – the city has it all and every reason to visit Brno is a good one.
It actually took me a while to finally get to Brno (considering the Czech Republic is my most-visited country and I've been there countless times) but when I finally went there I quickly fell for the place.
I enjoyed it so much that Brno has quickly become one of my favorite cities and now I try to be there at least once a year, even if just to enjoy the vibe of the place and to wander around.
If you plan your Central European itinerary don't miss Brno. The city is conveniently located on the main routes between popular destinations (on the way from Prague to Vienna/Bratislava/Budapest) so visiting Brno really is super easy. And once you are there I can guarantee you will fall for the place too as it's simply impossible not to enjoy Brno.
Brno essentials
Where to stay in Brno: Apartmánový dům U Tomana (9.3/10) / Royal Ricc (8.4/10)
Best Brno tour: Historic Downtown Walking Tour
Best day trip from Brno: THE PUNKVA CAVE, MACOCHA ABYSS and the PERNSTEJN CASTLE
Save money on exchange rates with Revolut pre-paid card (I've been using it for years now). Order your bank card here .
Get insured for your trip to the Czech Republic with SafetyWing
Table of Contents
Where is Brno, Czech Republic
Brno, the city of almost 400.000 inhabitants, is located in the southeast part of the Czech Republic, not far from the border with Slovakia and Austria. Prague , the capital of the Czech Republic, is around 200 km away from Brno, Vienna is 130 km away, and so is Bratislava .
Why visit Brno
Brno is truly one of the most underrated places to visit in Europe. Even is the city has a long history (it was founded in the 11th century, you still can find there many remnants from medieval times), it's easy to say Brno is one of these perfect Central European cities with beautiful architecture and an undeniable vibe so distinctive for the region.
The central part of the city has some of the most stunning buildings dating back to Austria-Hungary times – it can easily remind you of other grand cities like Zagreb , Cluj-Napoca , Krakow , or Lviv .
Fans of modernist architecture (especially its functionalist trend) are in for a treat in Brno, some of the buildings are perfect examples of this style, with UNESCO-listed Tugendhat Villa being a cherry on top.
Since Brno is an important universities city (with an estimated 100.000 students living here) you can expect numerous events, plenty of places to hang out at (including numerous cafes and bars), and a vibrant atmosphere. And this atmosphere is one of the top reasons why Brno is worth visiting.
How to get to Brno
Brno is very well-connected with all the main cities in the region so getting there is actually really easy.
There are direct and frequent connections by trains and buses to/from Prague, Ostrava, Ceske Budejovice , Pilsen , Olomouc , Vienna, Bratislava, and Budapest.
Both the main train and bus stations are located in the central part of the city (the train station is literally across the street from the Old Town).
How much time for visiting Brno
You can visit all the Brno attractions in one day really, especially since the majority of them are located not far from each other.
But still, I would recommend staying in Brno for a few days, to enjoy the atmosphere of the city, to discover the place at a leisure pace and to use Brno as a base to explore Moravia – the surroundings of Brno are also full of attractions you don't want to miss!
Where to stay in Brno
Brno has plenty of accommodation options to choose from, for each taste and price range. I would recommend staying somewhere in the center to be near all the attractions, though.
Here are some of the recommended places to stay in Brno:
Royal Ricc (8.5/10 on Booking)
Hotel Pegas Brno (8.8/10 on Booking)
Jacob Brno (8.9/10 on Booking)
How to get around Brno
Since most of the attractions are within a walking distance from each other (with the exception of Tugendhat Villa which is still reachable by foot) most likely you won't need public transport to get around.
But if you do, there is a fine network of buses and trams that can get you around. You can find ticket machines on some of the tram stops (like at the main train station), you can also buy tickets at kiosks.
Things to do in Brno
And now, if you are wondering what to do in Brno, here are some of the best attractions of the city, in no particular order.
Wander around the center
The central part of Brno, as well as the area a bit beyond that, is perfect for wandering around. The pedestrian center is lined with beautiful architecture so make sure to look around to notice all the details on the buildings (and there are many of them).
The main street is Masarykova, connecting the train station with the central square – Náměstí Svobody (Liberty Square). It's always busy with people, lined with shops and with a tram line going through it so be careful when walking the street.
Even if the street was the main trade route already in the 12th century, most of the buildings you can see here date to the late 19th/early 20th century when Brno went under major renovation.
But even if Masarykova is the most important street in central Brno, every other lane you can find in this part of the city has its own charm. Be sure to wander around a bit to see the beauty and to feel the vibrant atmosphere of the city.
You can also join the "Brno Historical Walking Tour" and learn more about the city. Click here for details and to book the tour.
Visit the Capuchin Crypt
Church of the Finding of the Holy Cross doesn't look very special from the outside but it hides some real wonders. Dating back to the mid-17th century, this is a great example of Czech Baroque architecture. A great addition to the Capuchin monastery complex was the library that still today is home to a few thousand items and has its original Baroque furniture.
The main reason to visit the church is a bit morbid, though. The crypt under the church was used as the burial place for friars, noblemen, and benefactors of the Capuchin Order. The place is open to visitors, besides human remains you can see there richly decorated caskets from the period and other religious artifacts.
I wouldn't recommend visiting the place for those of you who are sensitive, for others, it might be a truly interesting place.
Shop at the Vegetable Market
Zelný trh (Vegetable Market) is a traditional marketplace and one of the most important squares in central Brno. It's been operating since the late 12th century (even earlier than the city was founded) and has been specializing almost since the beginning, making it one of the oldest continuingly operating markets in Central Europe.
Still today this is the best (and largest) place in Brno to buy fresh produce all year long. You can also get there some local street food, coffee, and ice cream. The numerous deckchairs are strewn around invite you to sit down, relax and enjoy the atmosphere of the place.
The square itself is also interesting, with some of the most beautiful buildings in Brno (like Reduta National Theater – the oldest theater in Central Europe, the Moravian Museum, or Hotel Grandezza.
Right in the middle of Zelný trh take a look at Parnas fountain – a Baroque masterpiece from the end of the 17th century. If you wish to visit Brno underground, dating back to medieval times, you can find the entrance on Zelný trh too.
Relax at Denisovy Sady park
On the edge of the Old Town, you will find a small green oasis – Denisovy Sady (Denis Gardens), named after the French historian Ernest Denis. This is a perfect place to slow down and relax a bit during your Brno sightseeing.
Not only the park is very pleasant, but it also offers some lovely views of Spilberk Castle, Husova street and modern parts of the city. Right in the middle of the park, there is the obelisk commemorating the end of the Napoleonic Wars, you will also find a colonnade with a fountain there.
From Denisovy Sady you can go for a short walk along the old city fortifications.
Visit the magnificent cathedral
The Cathedral of St. Peter and Paul is one of the most distinctive Brno landmarks, dominating the skyline of the city. It is literally impossible to miss it.
Located on Petrov hill, the building originally dates back to the 12th century. Over the years it had changed its look, being a real mix of styles with dominating neogothic.
The interior of the cathedral is in the Baroque style. Inside you can visit the treasury and the crypt – the only part of the cathedral in the original Roman style. It is also possible to go up the tower to see the panorama of the city.
Find the hanging crocodile
When you visit Brno be sure to stop in the local tourist info center, located in the Old Town Hall. You can find there plenty of brochures about the city as well as local souvenirs.
Right at the entrance to the tourist info center, you will notice right away a weird creature hanging from the ceiling. Yes, that's a crocodile.
One of the city legends says that once upon a time there was a dragon that threatened the city and its citizens until eventually, a brave butcher had an idea how to slay a monster. It is said that the hanging crocodile is actually the remnant of the said dragon and it's shown in the Old Town Hall to commemorate the legend.
See the city from above
One of the best viewpoints to admire the panorama of Brno is in the Old Town Hall (the oldest functioning secular building in the city).
To get to the observation deck you need to climb 174 stairs but the effort is rewarded with great views of the city, with landmarks like Spilberk Castle or the cathedral clearly visible. You can also admire the beautiful townhouses central Brno is full of.
On the way to the top, you can learn more about the history of the Old Town Hall, dating to the mid-13th century.
To get to the observation deck you need to cross the passage with the hanging crocodile, the entrance is on the left side.
Discover the culinary scene
Brno has an excellent culinary scene and eating out here is a real treat. If you are looking for some local cuisine my favorite place for Czech dishes is U Třech Čertů restaurant (they have two locations, at Starobrněnská and Dvořákova streets, both in the Old Town).
If you are looking for cafes to relax in and get your dose of caffeine Brno won't disappoint you either. The place is packed with some great cafes serving tasty coffee and delicious sweets to go along with. The best source of information and recommendations for Brno cafes is the European Coffee Trip website , over the years I found so many great places thanks to it.
Enjoy the main square – Náměstí Svobody
Náměstí Svobody (Liberty Square) is the heart of Brno that is vibrant and busy with people all day and all year long. The square was created in the 13th century in the place where three trading routes crossed and since then has been the main hotspot in Brno.
Some of the most beautiful and important buildings surround the triangular square: classic beauties such as the Renaissance Dům pánů z Lipé or Dům U Čtyř mamlasů as well as the building of Komerční bank (a perfect example of functionalist architecture). In the true Central European fashion, you can also find there the Baroque plague column from 1689.
Náměstí Svobody hosts numerous events throughout the year and is home to the Christmas market and Christmas tree in the holiday season. But even if there is nothing going on, the square is still bustling with people, enjoying the numerous cafes ad restaurants around or relaxing on the deckchairs.
See the quirky Clock Machine
Brno has one of the quirkiest city clocks you will ever see – it looks more like male private parts (or a giant bullet) than a thing to check the time. Its unique shape is supposed to commemorate the defense of the city against the Swedish army during the Thirty Years' War but you will make your own judgment when you see it.
The clock is a fairly new addition to the city's scenery, it dates back to 2010 and is made of polished black granite. Each day at 11 a.m. the clock releases a glass marble into one of the four holes. If you are lucky to catch it you can be a happy owner of a unique Brno souvenir.
You can find the quirky clock at the main square Náměstí Svobody. Don't expect to easily read the time on it though, it's more like a weird addition to the cityscape than a useful object.
Discover funcionalist architecture
The main focus of Brno's architecture is almost always on grand, detailed buildings from the turn of the 19th and 20th centuries that the central part of the city is full of. But Brno is actually a really big player on the functionalist architecture scene and you will find so many examples of this style all over the place, including the Old Town.
Functionalism was a popular architecture trend in the 1920s and its main purpose was to design buildings based on their purpose and function. In fact, Czechoslovakia was one of the main countries that used this style of buildings, besides Brno, you will find functionalism in Prague or Zlin.
Some of the more significant functionalist buildings in Brno include Komerční bank on Náměstí Svobody, Avion Hotel on Ceska street or Bat'a Shopping Center on Malinovského Náměstí.
If you are interested in functionalism in Brno and would like to see more of this style be sure to stop by in the tourist info center and get a free brochure with a map and descriptions of the buildings. You can also download it here .
Visit Brno ossuary
Did you know that Brno has the second-largest ossuary in Europe, after Paris? I was surprised by that fact too!
You can easily visit the said ossuary during your trip to Brno, it can be a good addition to the morbid tour after visiting the Capuchin Crypt. The entrance to the ossuary is located next to the Church of St James, at the corner of Rašínova street and Jakubské náměstí.
The first graveyard in this location dates back to the 13th century but over the years it was not enough (especially when the plague hit the city) and the remnants from the cemeteries were moved to ossuaries. It is estimated that around 50.000 people were buried in this very place in Brno.
The place you can see today is rather small but surely impressive with neat rows of skulls and bones. During your visit, you will be accompanied by the sounds of music composed especially for this place, which only adds up to the overall atmosphere of the place.
See the grotesque man on the horse sculpture
One of the most interesting sculptures in Brno is the funky vision of the man on the horse, located on Moravské náměstí, in front of the Moravian Gallery. Designed by the contemporary Czech sculptor Jaroslav Róna in 2015, the statue shows the Moravian Margrave Jošt who lived in the 14th century.
The horse is grotesque with unnaturally long legs and an eerie face and the sculpture is an allegory of Courage.
Don't be surprised if you see people laughing and taking pictures up from between the horse's legs. Better check the view yourself, I bet you will laugh a bit too.
Have a beer at Výčep Na Stojáka
Výčep Na Stojáka is one of the best bars in Brno. What makes it special is the whole idea of drinking beer while standing (that's also what the name means).
When the weather is warm the whole area of Jakubské náměstí (behind the Church of St James, where the bar is located) is packed with people hanging out, standing (or sitting on the ground) and drinking beer. The atmosphere here is exquisite and there is no better place to enjoy the afternoon/evening after all the Brno sightseeing.
Since Czech beer is pretty amazing you can be sure that you will try some fine drinks here, especially that Výčep Na Stojáka serves the golden liquid from some smaller craft Czech breweries.
Explore 10-Z Bunker
Right in the center of Brno, under Spilberk castle, you will find the WW2 bunker.
After the war ended it was briefly used for the wine store only to return to its original function to protect the most important dignitaries of Brno and its surroundings. The place, designed to host up to 500 people who could have survived there for three days, was actually never used.
A few years ago the place was opened to the public and so today you can tour the place (with a group or independently) and get to know it properly, including details such as diesel unit, filter room, or telephone exchange. Click here to buy the skip-the-line entrance ticket for 10-Z Bunker.
If you wish, you can even spend a night in the bunker – click here for details.
Go up to the Špilberk Castle
One of the most distinctive Brno attractions is Špilberk Castle, located on top of the hill with the same name right across the Old Town. It dates back to the 13th century but its importance grew rapidly in the 17th and 18th centuries when the place became a military fortress. Over the years it also worked as a jail, one of the harshest in Europe.
Today Špilberk Castle is home to the Brno City Museum and often hosts events such as concerts, festivals, or theater plays.
It's definitely worth going up the hill, not only to visit the castle but also to admire a beautiful panorama of Brno and beyond. The park surrounding Špilberk Castle is also one of the most pleasant parts of central Brno and a perfect green oasis in the heart of the busy city.
See the play in one of the theaters
Since Brno is a vibrant city with a great cultural scene you can enjoy numerous events taking place here.
One of the best ways to experience the cultural side of Brno is to go to the theater. Two of the best ones are located right in the center, on the edge of the Old Town: the Mahen Theatre (Mahenovo Divadlo) and Janáček Theatre (Janáčkovo Divadlo).
The first one, the Mahen Theatre, opened in 1882 and back then was the first theatre in continental Europe with fully electric lighting. In 1919 the institution became the main scene for the National Theater Brno and still, today is known for its high-quality plays and popular actors.
Located only a few steps away, Janáček Theatre focuses on opera and ballet performances. When the place was opened in the mid-1960s it was the biggest and most modern theatre in Czechoslovakia. The recently renovated area in front of the building was designed to relax and enjoy the city vibe.
Visit UNESCO-listed Tugendhat Villa
Among all the amazing examples of the functionalist architecture in Brno there is one place that was awarded the UNESCO World Heritage Site titles.
Tugendhat Villa was designed by Ludwig Mies van der Rohe and finished in 1930 as the first private house of its kind in Czechoslovakia. The design, used technology and materials were unique for its time, making the building so very special. Everything here works in perfect harmony, creating a wonderful living space.
Visiting Tugendhat Villa is possible but getting a ticket is rather difficult (I haven't managed to score one yet, despite my numerous tries, and only managed to visit the gardens). I recommend booking one as soon as you decide to visit Brno.
Tugendhat Villa is located a bit away from the center but it's definitely worth a small detour to see this masterpiece.
Find the statue of Wolfgang Amadeus Mozart
In December 1767, a very talented 11-year-old boy, Wolfgang Amadeus Mozart, gave a concert in Brno's Reduta theater. 241 years later the famous composer returned to the city in the shape of a unique statue presenting a boyish figure with the adult Mozart's face.
The statue is located in the corner of the Vegetable Market, in front of the Reduta theater.
If you look closely you will notice a few interesting details about the statue, such as only one angel wing on Mozart's back (the symbol of his tragic end) or his nakedness (meaning his desire for freedom). This is such a low-profile yet interesting statue so don't miss it when you visit the Vegetable Market.
Go for day trips
Brno is a wonderful base to explore the surrounding Moravia region – one of the interesting parts of the Czech Republic. You will find there so many gems, such as UNESCO-listed sites, historical towns, wine regions, and real wonders of nature.
Some of the most interesting day trips from Brno include Trebic (with two UNESCO sites), Lednice-Valtice palaces (another UNESCO site), Punkva Caves and Macocha Abyss, towns of Mikulov and Znojmo , and many more.
If you like you might also jump across the border to spend one day in Vienna or Bratislava.
You can easily visit most of these places using public transport which makes traveling around very easy. Some of the less-accessible places are best visited with the tour. Here are the best options:
THE PUNKVA CAVE, MACOCHA ABYSS and the PERNSTEJN CASTLE
Trip to the Austerlitz Battlefield near BRNO in the Czech Republic
Moravian wine trails
Final thoughts on visiting Brno
As you can see above, Brno really has a lot to offer and you certainly won't be bored or disappointed when visiting the city. I truly believe this is one of the most underrated cities in Europe that can easily compete with the famous nearby capitals.
The diversity of things to do in Brno can appeal to every traveler and the vibrant atmosphere of the city is so easy to enjoy. Honestly, it's really hard not to fall for Brno, it's this gem kind of place that you don't expect to find yet it quickly impresses you.
Doesn't matter how many times I visit Brno, my heart will always start beating faster when I approach the place.
When you travel between Prague and Vienna/Bratislava/Budapest don't miss Brno. Even if you have only a few hours it's still worth stopping here, to get a taste of the city, to walk the main street of the old town, to shop at the Vegetable Market, and to sit down in one of the cafes.
I bet you will fall for the city just like I did.
For the end I left a few announcements that might interest you:
Sign up to my newsletter or follow me on Bloglovin to get updates about the new posts
Join my Facebook group about Eastern Europe, the Balkans and former USSR and connect with fellow travellers and enthusiasts of these regions – just click here!
I've included a few handy links of services and products I personally like and use so you can plan your own trip to the Czech Republic too. They are often affiliate links. This means I will get a small commission if you book/purchase anything through my links, at no extra costs for you. Thank you!
LIKED IT? PIN THIS POST FOR LATER!
If you enjoyed that post why don't you share it with your friends? That would mean so much to me! Also be sure to join 30.000+ fellow travelers and follow me on Facebook , Twitter , or Instagram for travel updates and even more pictures! If you don't want to miss new posts sign up to my newsletter or follow on Bloglovin !

Brno is quite a nice city. One day is surely not enough for everything it can offer. I was here a week and visited some of these places. I enjoyed the view from city hall and from castle Špilberk. I would add some of daytrips if you have time. You can visit Jihlava (one and half hour drive), Litomyšl (also one and half hour) and Kromeriž (one hour drive). All of these cities are nice to visit. Litomyšl and Kromeriž are enlisted as Unesco sites. Slavkov u Brna could be also a nice half daytrip. I liked Znojmo very much. It had such a charming medieval feeling. So many interesting places in Brno and cities around Brno makes me wanting to visit it again. I hope I will.
Thank you for the tips! I hope you will go there again soon, there is so much to see and do!
Hi Kami! I am visiting Brno soon and your post really complete! Thank you! I am also part of that group you created about Eastern Europe, the Balkans and former USSR!! I am really excited to visit Brno and Cesky Krumlov! Happy travels! Filipa, World Citizen Stories https://www.instagram.com/world_citizen_stories/
I hope you will enjoy the Czech Republic, this is such a great country! Happy travels!
Robin and Ann White
looking forward to heading to Brno next year. very helpful information
I'm glad you found it useful. Enjoy Brno when you get there!
Leave a Reply Cancel Reply
Sign me up for the newsletter!
Let's become friends!
Join me on Facebook for even more travel updates!
Kami and the rest of the world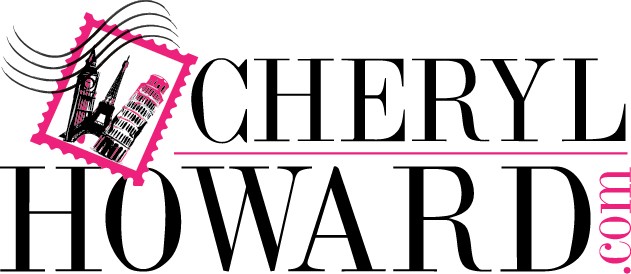 23 Exciting Things To Do In Brno Czechia (And Beyond)
by Cheryl Howard | Oct 22, 2023 | Brno , Czechia , Destinations , Europe | 0 comments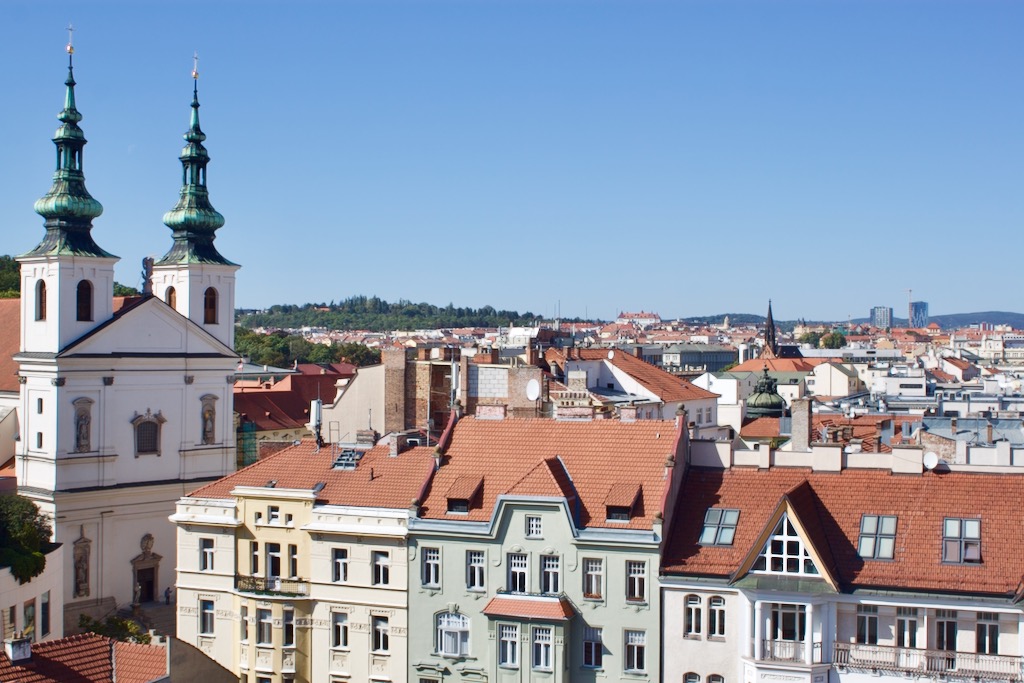 While the ever-stunning and majestic Prague is a city that attracts the bulk of tourists visiting Czechia, every once in and while, it's fun to go outside the boundaries of the country's capital. Czechia offers plenty of worthwhile cities to visit like Pilsen, Karlovy Vary, and Ostrava (just to name a few), and Brno is an especially exciting place to visit.
Not only is it budget-friendly and located within close proximity to natural sites like the Moravian Karst, but it also has a picture-perfect Old Town, top-notch places to eat and drink, and plenty of off-the-beaten-path locations to explore.
Read on to find out why you should visit Brno and how you can use this uniquely curated list of things to do to shape your vacation itinerary.
A List Of Things To Do In Brno Czechia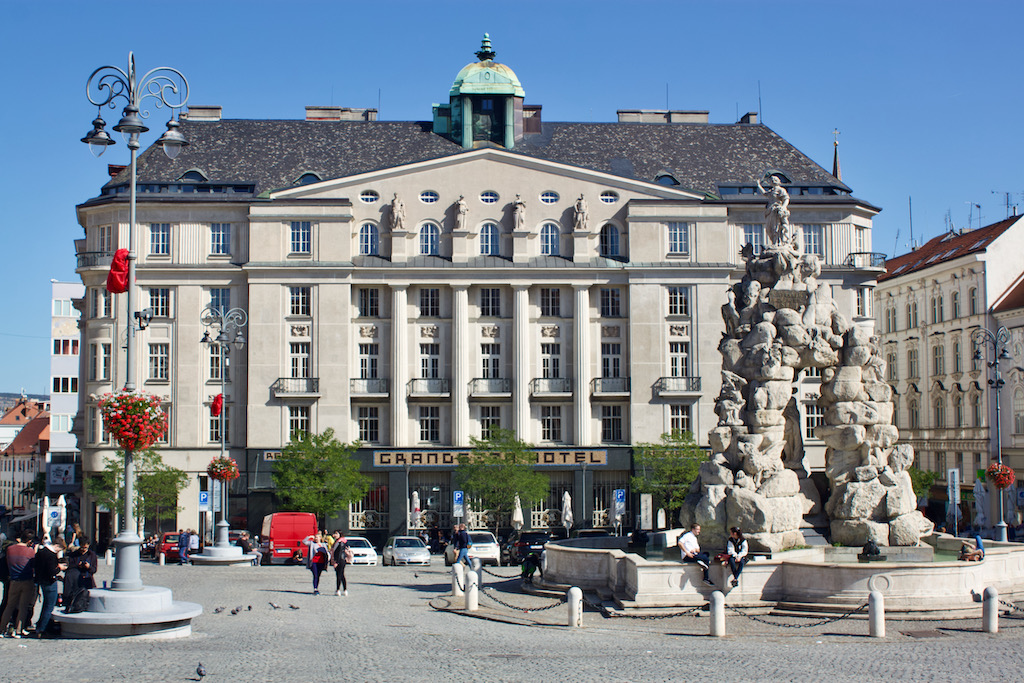 So you're planning to visit Brno and have so many questions. Where should you eat while in Brno? What are the most "must-see" places? Are there any weird and offbeat attractions to see? Where should you stay?
This guide of things to do in Brno will help you figure all of this out.
Recommended reading: For even more help from travel experts, read Czech out Brno for a cheaper, calmer city break and The inside guide to Brno, the Czech Republic's quirky second city .
1) Have lunch at a classic Czech tavern
Admittedly, I only went to Pivní bar Atrium because I'd just arrived in Brno and I needed to hang out somewhere until my Airbnb flat was ready. As this quaint Czech tavern isn't far from the main bus and train station and I was lugging my carry-on suitcase and backpack, it was a convenient location to grab a bite of local fare.
My meal was hearty and freaking delicious. I feasted on Moravian sausage and creamy mashed potatoes with bacon, pairing it with a cold Czech beer.
At the time of my visit, they didn't accept card payments, the staff didn't speak English, and the menu wasn't in English either. So be sure to have cash on hand and Google Translate at the ready.
For a complete guide to where to eat in Brno, read this overview of my favorite Brno restaurants .
Address: Josefská 514/5
2) Stay in the cutest little Airbnb flat ever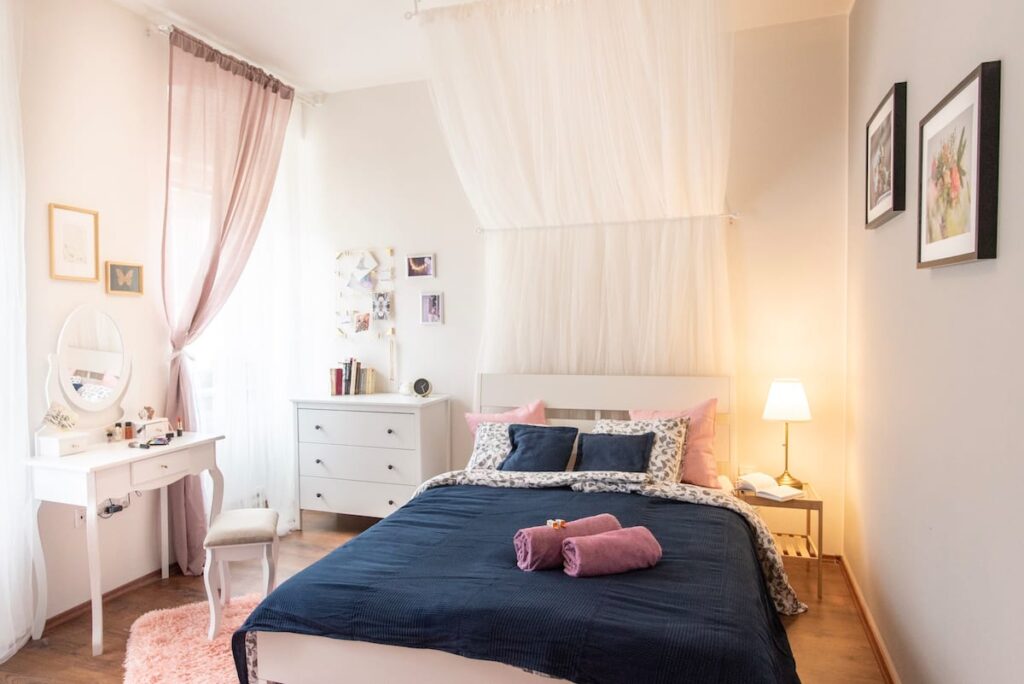 If you want to skip a hotel stay and cozy up in your own flat, I'd recommend staying in this small studio . With a decidedly feminine vibe, the pink and white-hued bedroom features a fairy-light-filled canopy over the bed, an old-fashioned vanity table, and fun artwork.
Truth be told, the apartment isn't as close to the city as advertised, but it's not more than a 20 or so-minute walk to most places. It's also not located in the most desirable of neighborhoods, yet is close to several grocery stores, and public transit, and at around €30 a night, well, the price can't be beat.
For privacy reasons, I haven't disclosed the exact address of this adorable studio. If you want to stay there, just book through the Airbnb link listed above. However, if you want to get an idea of the general area of where the flat is located, it's not far from the Museum of Romani Culture ( Bratislavská 67 ).
3) Chill out at the hipster SKØG Urban Hub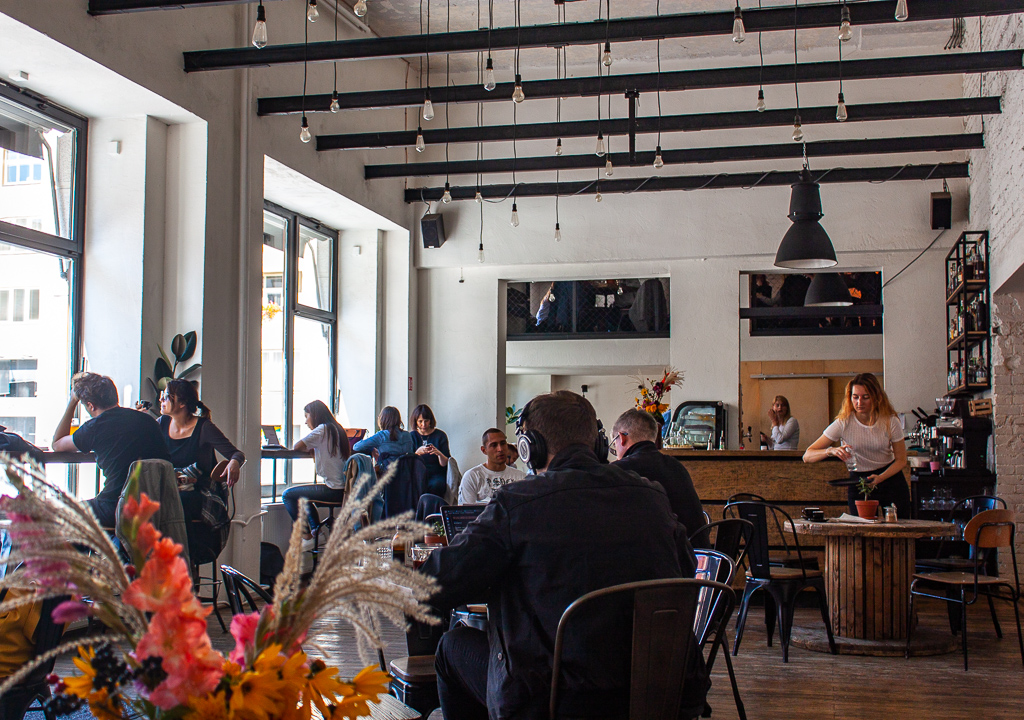 This place is mentioned in almost every Brno guide there is and for good reason, as SKØG Urban Hub isn't only a beautiful space to co-work from, but it also has sophisticated vegan food that even meat lovers would find tasty.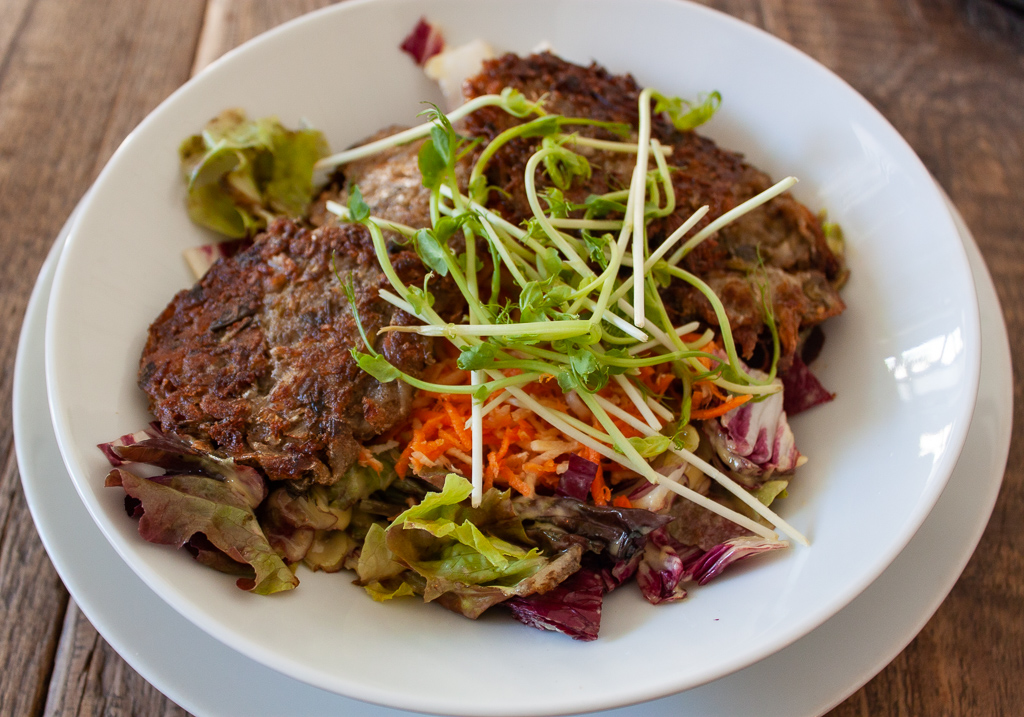 This salad bowl with cabbage patties was the perfect lunch before I ventured "out and about" to get to know Brno.
Address: Dominikánské nám. 187/5
4) Say hello to Brno's resident "dragon"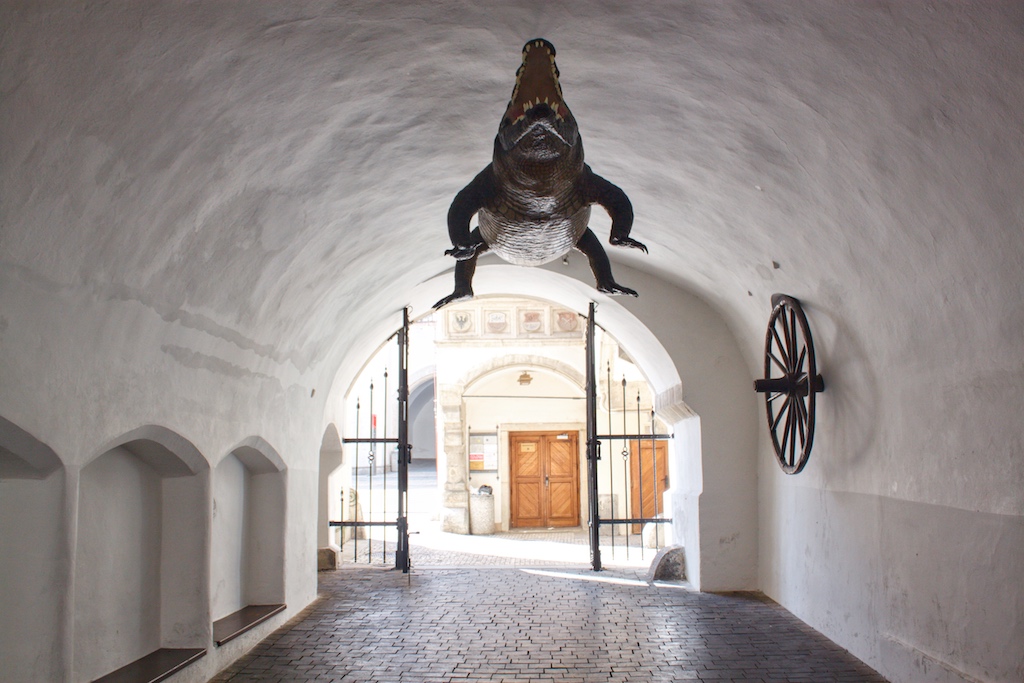 Brno is full of quirky points of interest and well, the Brno Dragon fits the bill. A five-meter-long taxidermied carcass hangs suspended from the ceiling of the entrance to the Old Town Hall.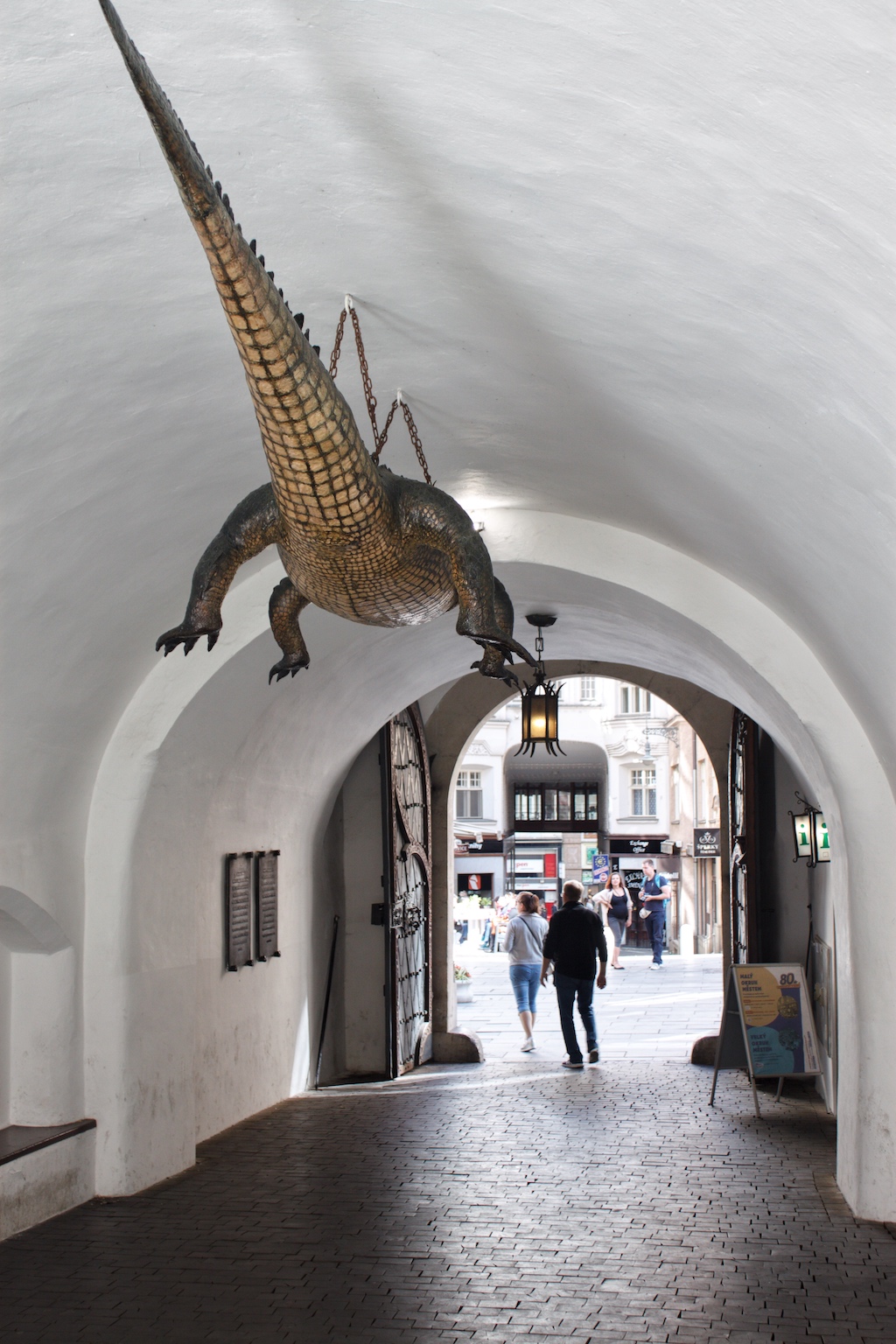 Is it really a dragon you wonder? What's the story behind this oddball beast? Read my profile of the Brno Dragon to find out more. If you have a sense of humor and like digging deeper into some unbelievable historical folklore, be sure to check out the Brno dragon.
Address: Radnická 8
5) Visit the Old Town Hall for a panoramic view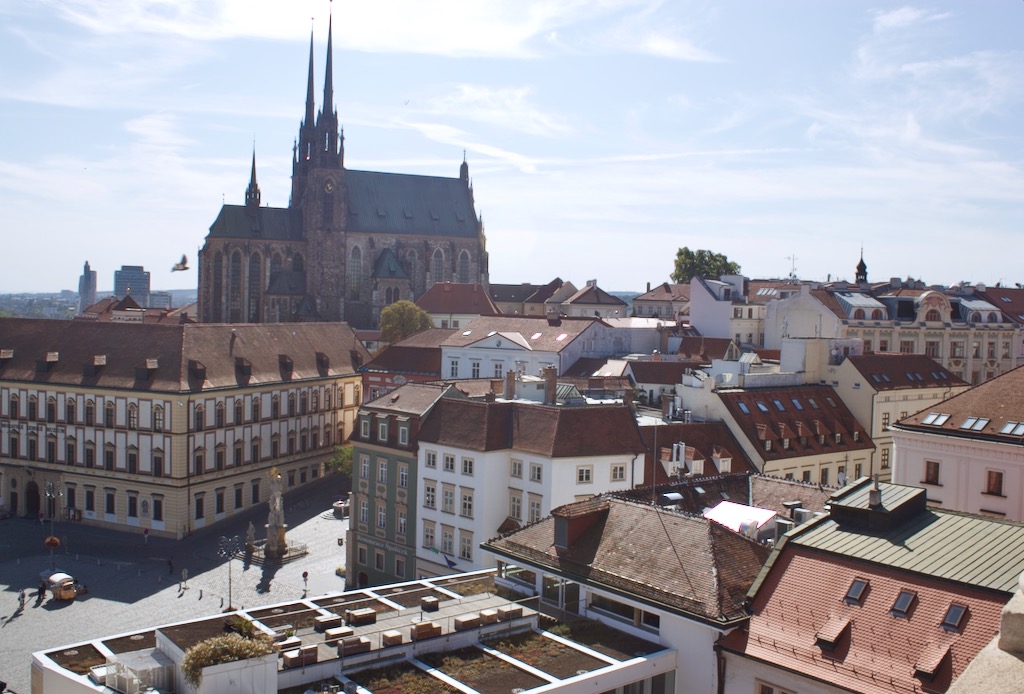 The  Old Town Hall  ( Stará radnice ) in Brno is actually pretty darn old. Standing as one of the oldest secular buildings in the city, it dates back to the 13th century. The Old Town Hall was used by city officials until 1935 when they relocated to the New Town Hall at Dominican Square.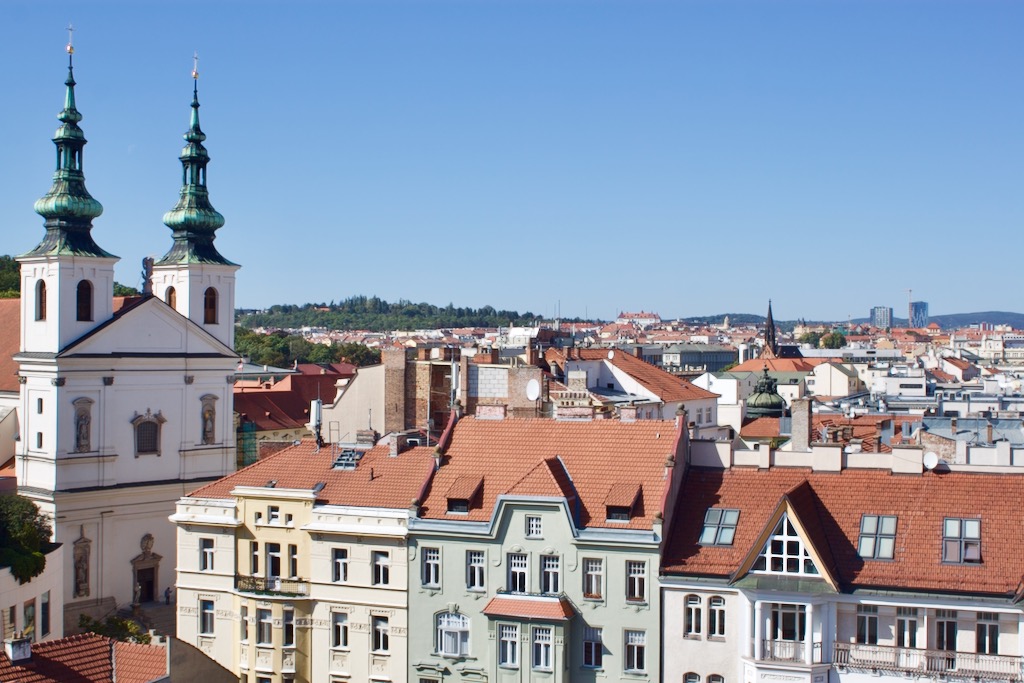 Nowadays, people visit the Old Town Hall to meet the Brno dragon, climb up the 63-meter tower for an incredible 360-degree view over the city, and take in the exhibition depicting the history of the Gothic building.
To further amp up the coolness factor of the venue, cultural events (think concerts, film screenings, and theatrical performances) are also held in the adjacent courtyard during warmer months.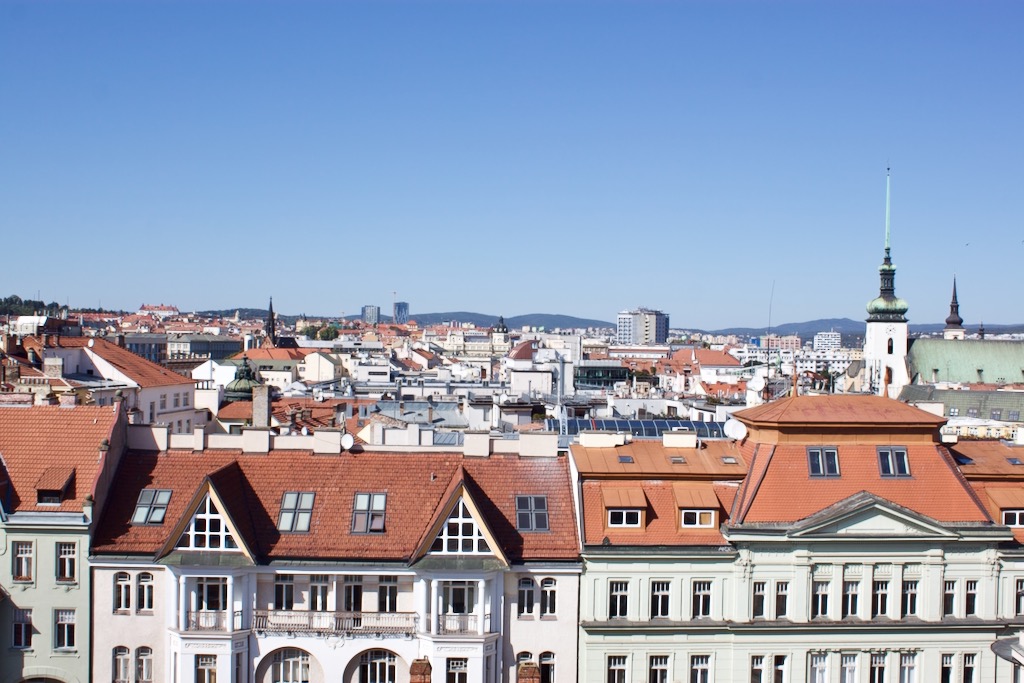 The somewhat arduous climb up the tower is well worth the effort, as you'll be treated to what's perhaps the most beautiful view in all of Brno. 
Note, access to the Old Town Hall will fetch you about €3 / 75 CZK.
6) Stop for a glass of wine at Provázek.dvůr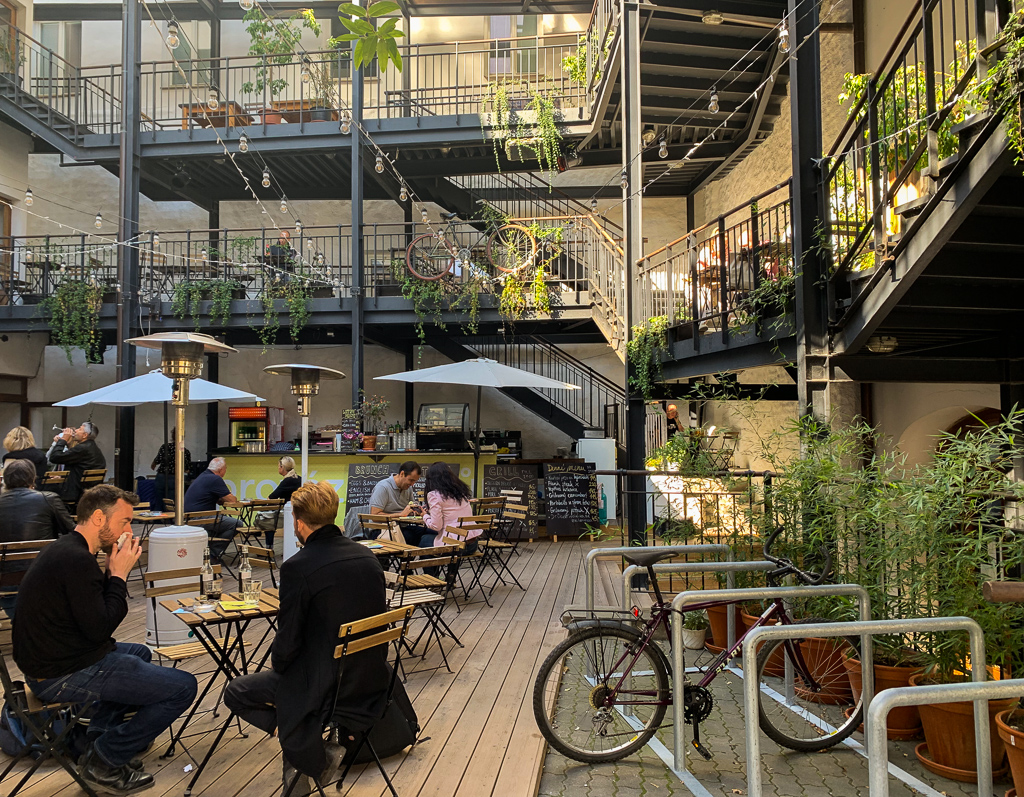 Another trendy spot in Brno is  Provázek.dvůr . It's a rather delightful outdoor locale to stop for a quick drink, be it a chilled white Czech wine or a steaming cup of strong coffee.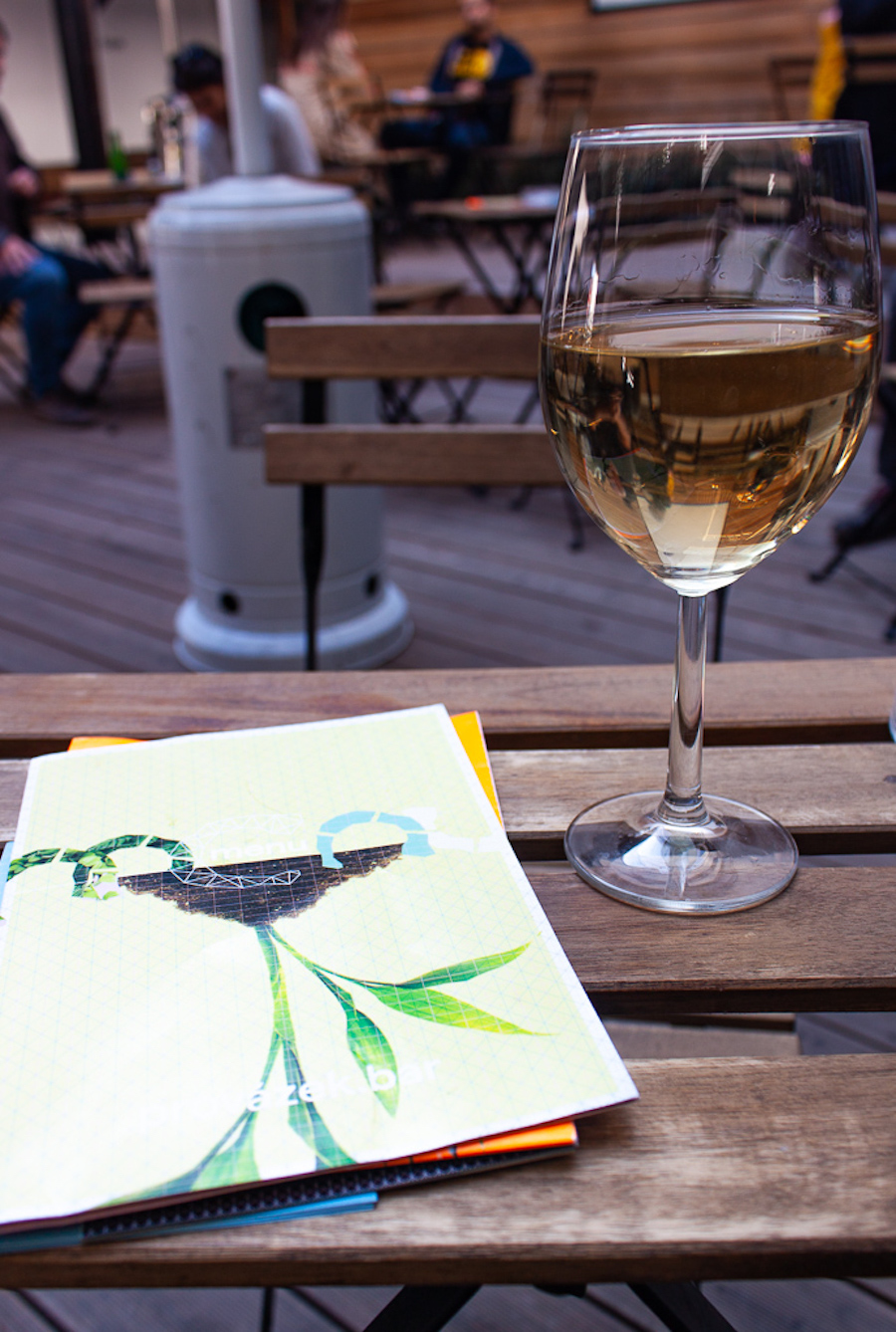 Address:   Zelný trh 294/9
7) Feel holy at the Cathedral of St. Peter and Paul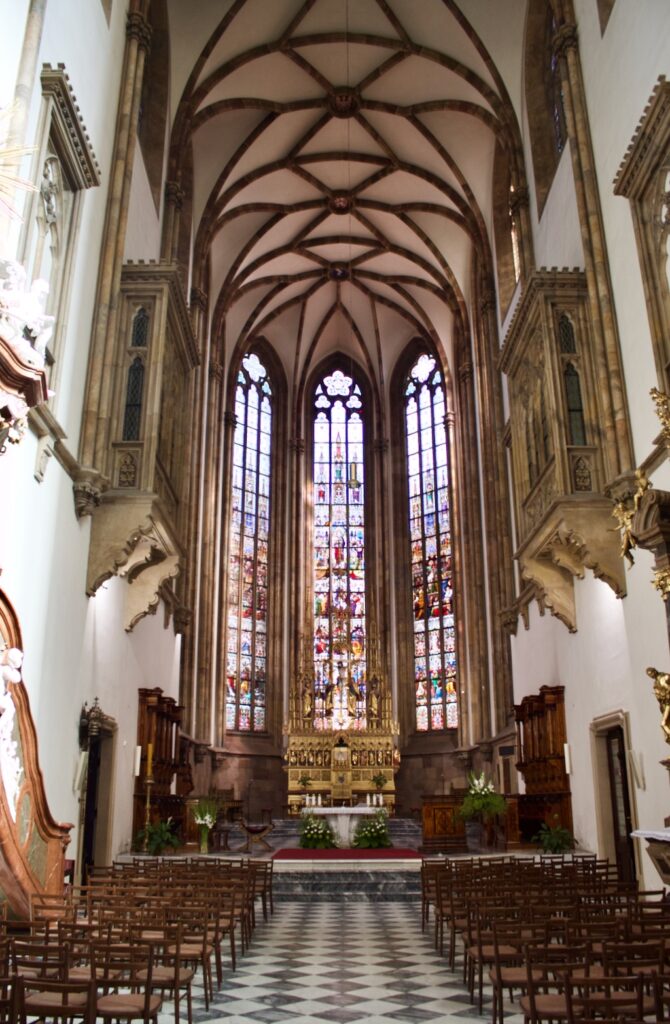 The 14th-century  Cathedral of St.Peter and Paul  bears the mighty honor of being the most important religious site in not only Brno but in all of Southern Moravia. Perched atop Petrov Hill, the church boasts a massive altar featuring the namesake saints – Peter and Paul, as well as a tall tower from where you can observe more soaring views over Brno. The outside of the cathedral is Gothic while the interior is very much Baroque.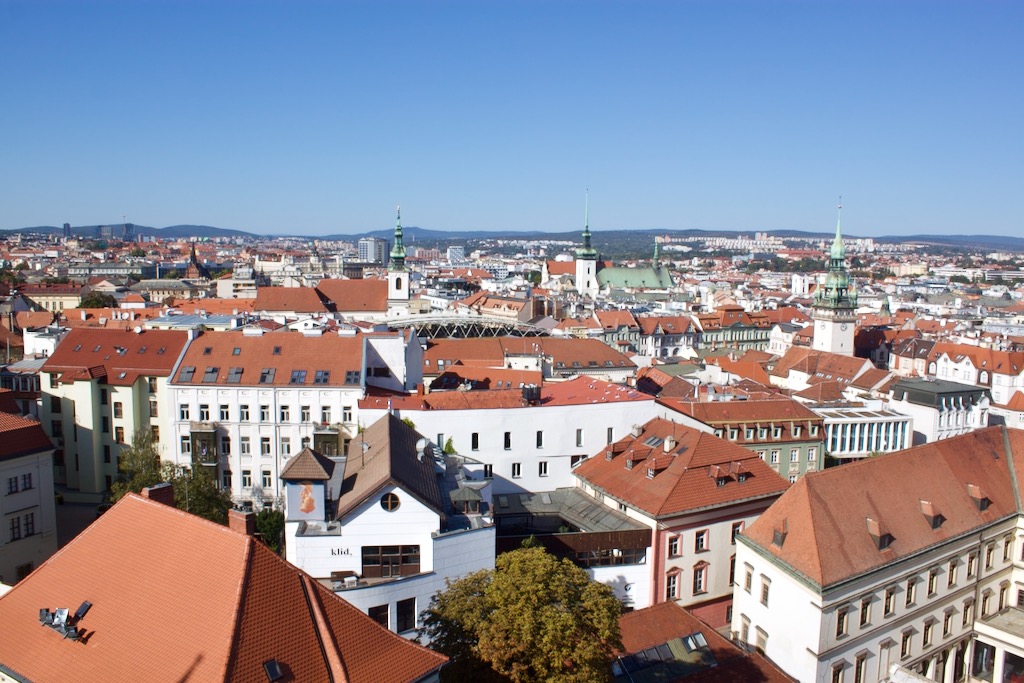 It's another climb (!) up the church's 84-meter-high tower and a small fee of around €2 / 35 CZK to be treated with even more photo-worthy scenes of Brno. 
Address: Petrov 9
8) Check out mummified monks at the Capuchin Crypt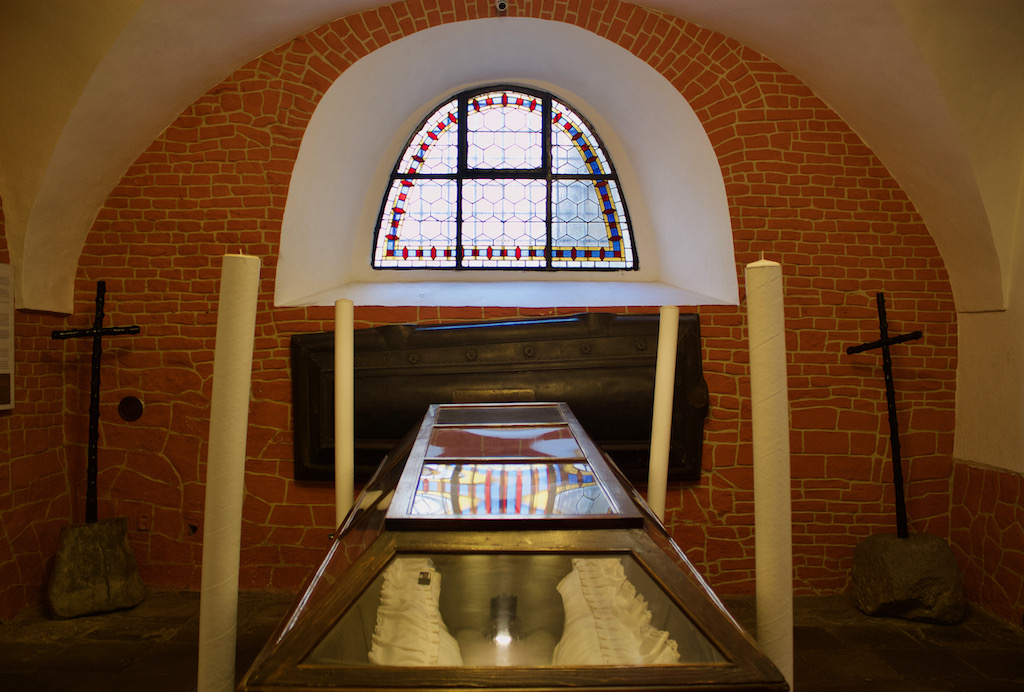 The 17th-century Capuchin Crypt in Brno's Capuchin Monastery houses the haunting mummified remains of 24 monks. When a monk passed away, they were buried beneath the church, a routine practiced for about 300 years.
While Egyptian rulers had their bodies preserved through mummification so they could reunite with their souls in the afterlife, the friars weren't actually mummified on purpose. Unlike the wealthy Egyptian royalty and nobility who wanted to take their riches into the afterlife as well, the Capuchin monks stuck to their vows of poverty, reusing the same coffin each time someone died. Their bodies would be placed in the crypt on a pile of bricks and between the dryness of the air and the makeup of the topsoil, the monks' bodies didn't decay as normal and today, are still almost perfectly preserved.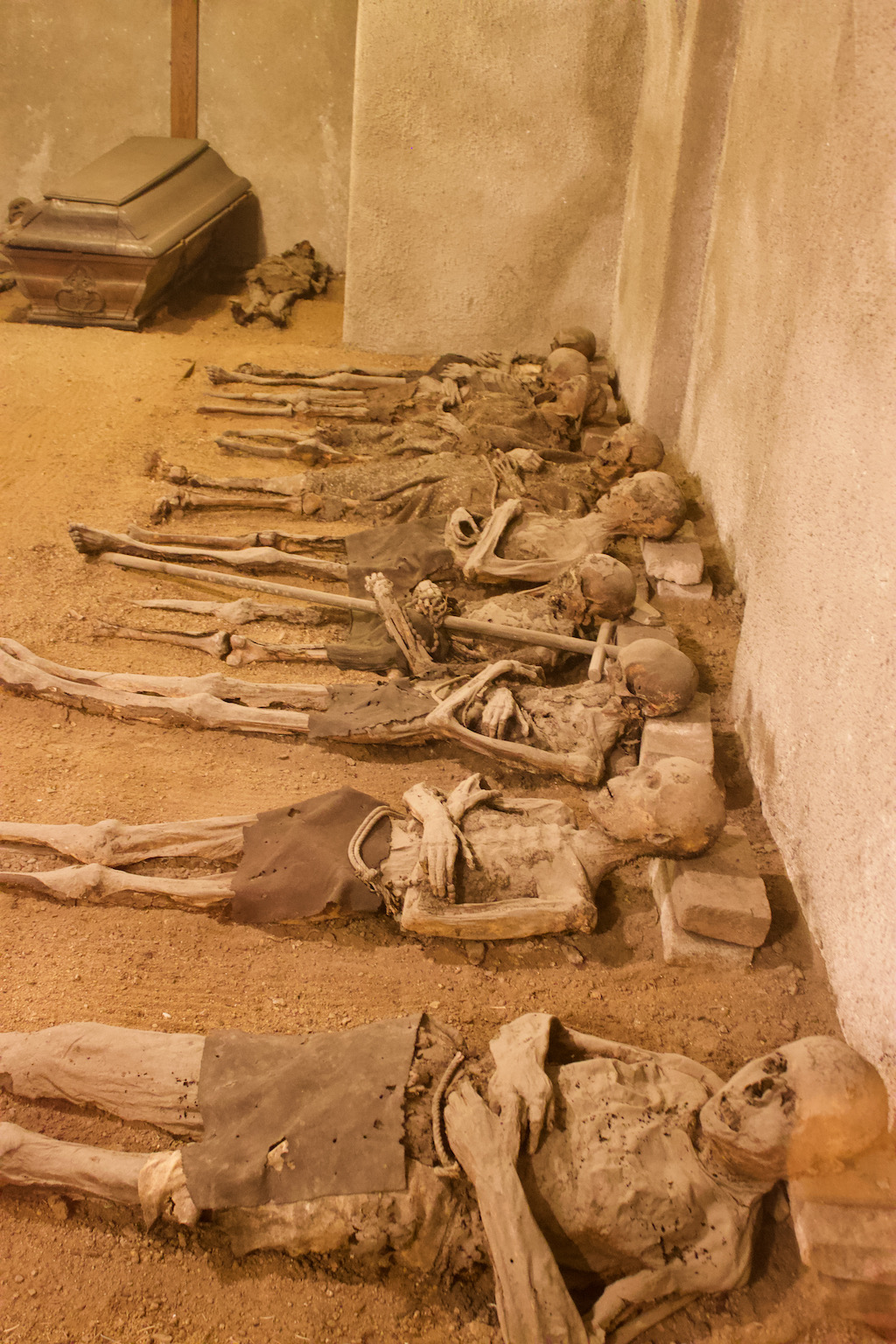 Visit the crypt and see these friars for yourself. Laying in rows across the crypt floor, they are dressed in robes, some with rosaries and crosses in hand. These religious dudes like to keep it real and there's a message displayed above them that reads, "As you are now, we once were; as we are now, you shall be." Damn , that's harsh. 
If dead monks aren't enough, the crypt also holds the remains of important dignitaries and even, the corpses of unlucky people who were buried alive. Yes, you read that right. Back in the day, being buried alive was not uncommon. When people were quite ill or fell into a coma, they were often presumed dead when they weren't and sent for burial. Basically, most people's worst nightmare comes true.
Entry to the crypt is around €3 / 80 CZK.
Address: Kapucínské náměstí 303
9) Be puzzled when you see Brno's phallic-shaped astronomical clock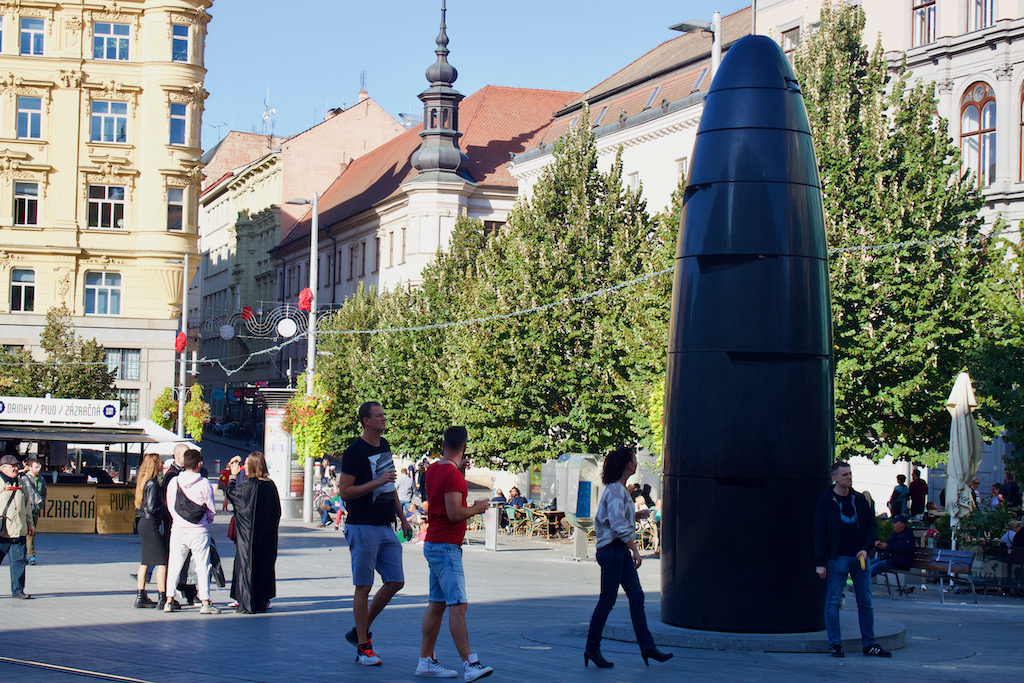 Prague is famous for its astrological clock. But I love the clock in Brno way more because it's just so … weird.
Toward the end of the Thirty Year's War in 1645, the local population managed to fend off a siege from the Swedish army. The mighty Swedes attempted to take the city for three long months and the people of Brno held fast, never surrendering. At a stalemate, the Swedes offered to leave if they couldn't take control of the city by noon. Rather cleverly, locals set the clock back an hour early, and at 11:00, the Swedes reluctantly left.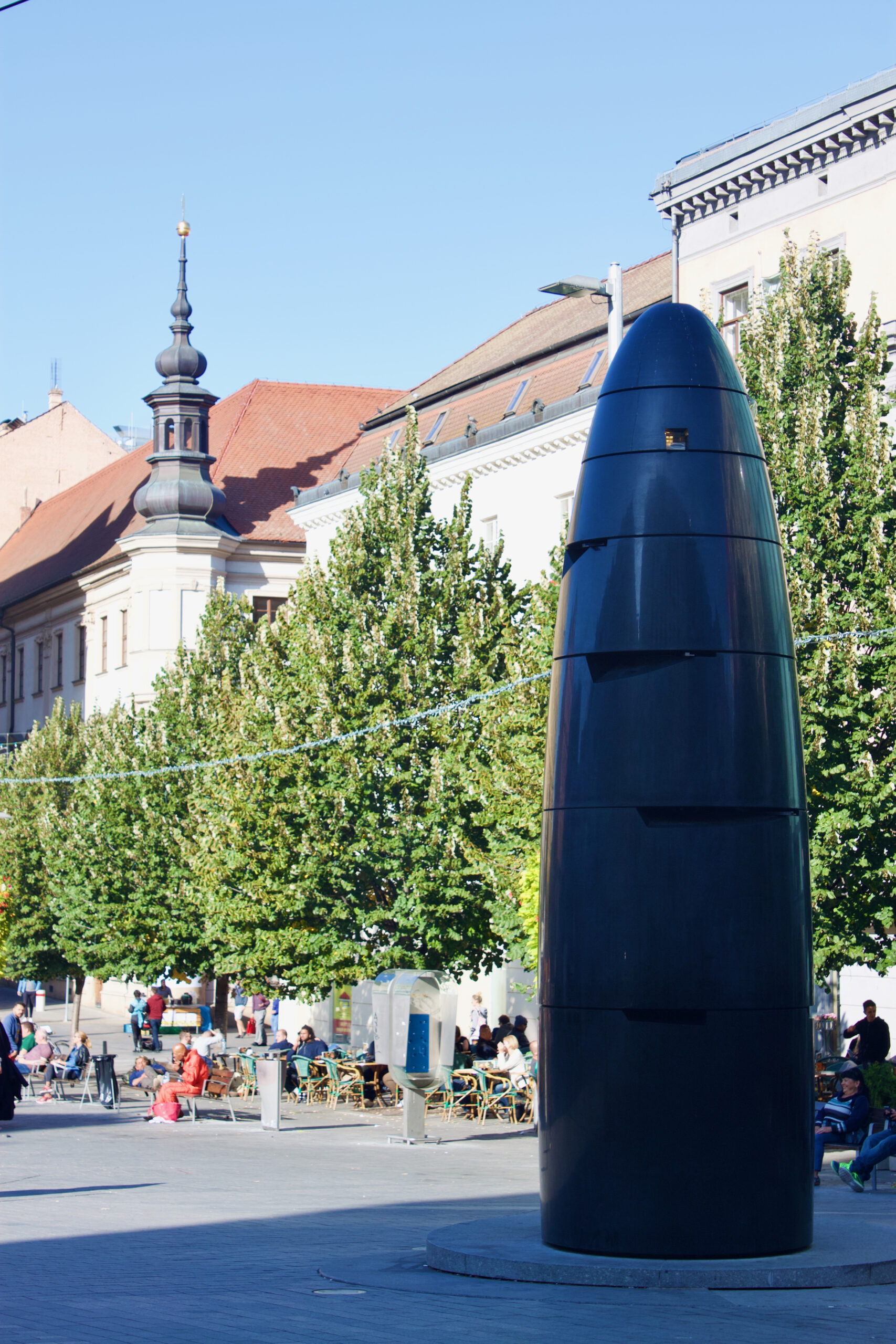 The black marble obelisk was put in place to commemorate their triumph at Freedom Square. The clock is said to resemble a bullet, but anyone with a dirty mind will think it looks like something else. At 11:00 each day, the obelisk releases a bunch of marbles and if you're lucky, you'll snag one to keep as a souvenir of your time in Brno.
Read my post about the Brno astronomical clock to find out more.
Address: 10 nám. Svobody
10) Continue your religious pilgrimage at the Church of St James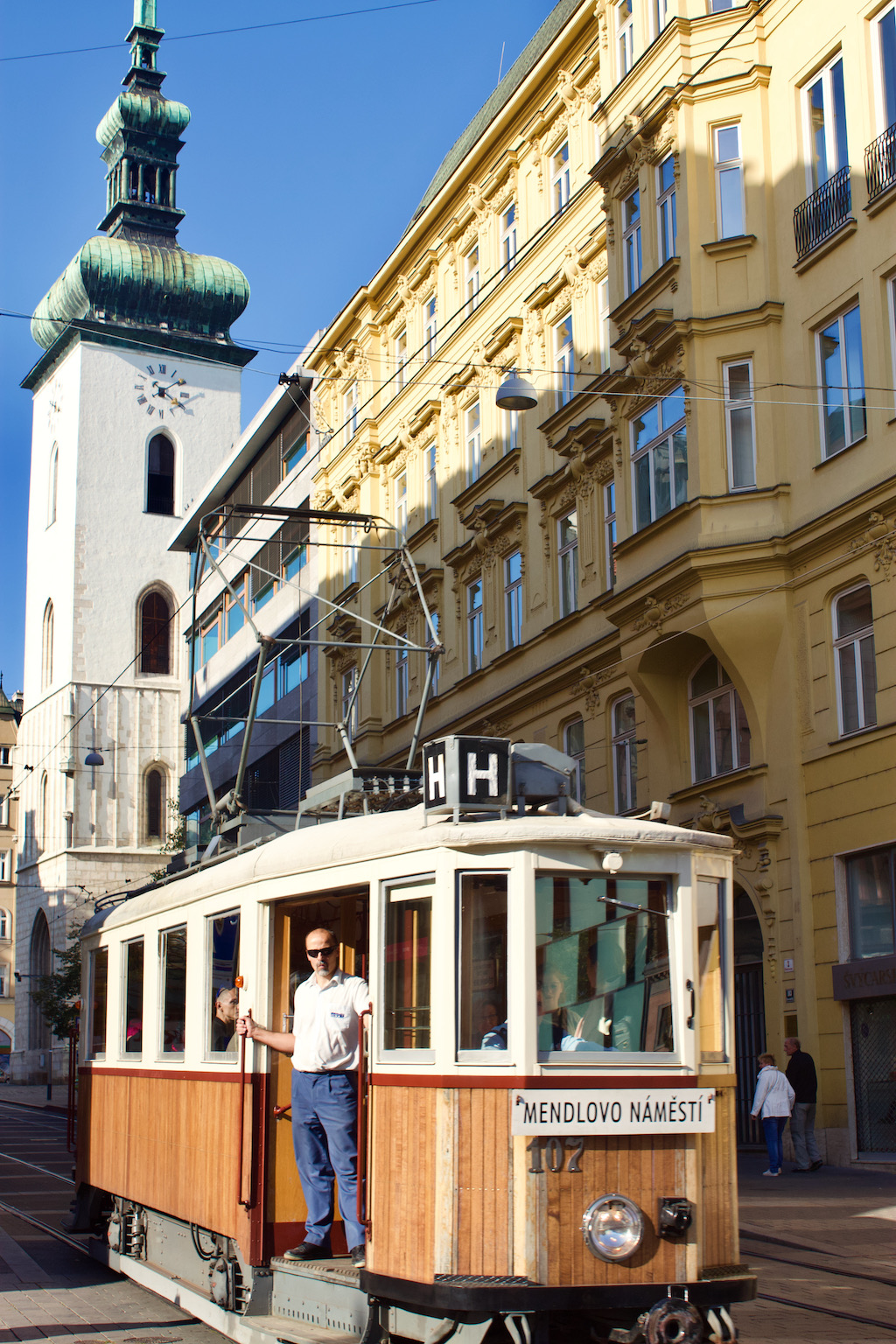 By now, it's pretty clear there are a lot of churches in Brno. They are big, bold, and beautiful, with the Church of St. James ( Kostel sv. Jakuba ) being no exception. Another church done up in both Gothic and Baroque architecture, this 13th-century church takes the bragging rights for having the tallest tower at 94 meters high.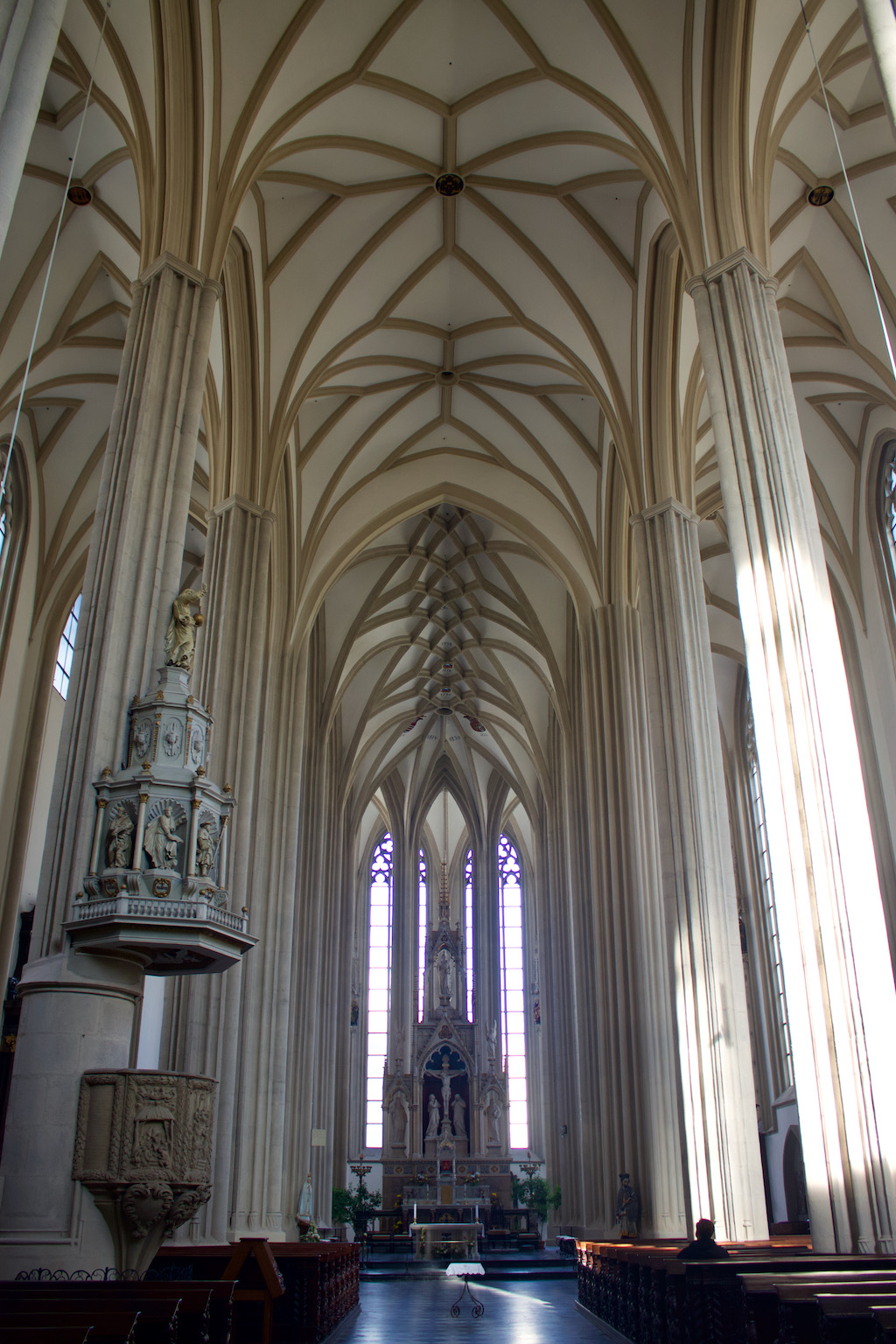 I somehow missed it during my visit, but apparently, there's also a statue of a man showing off his naked butt cheeks on the Southern side of the tower. Please find it for me and take a picture, as I adore weird statues of people assuming full-moon positions and even, peeing stances .
The church is free to enter.
Address: Jakubské nám. 11
11) See more dead people at the Brno Ossuary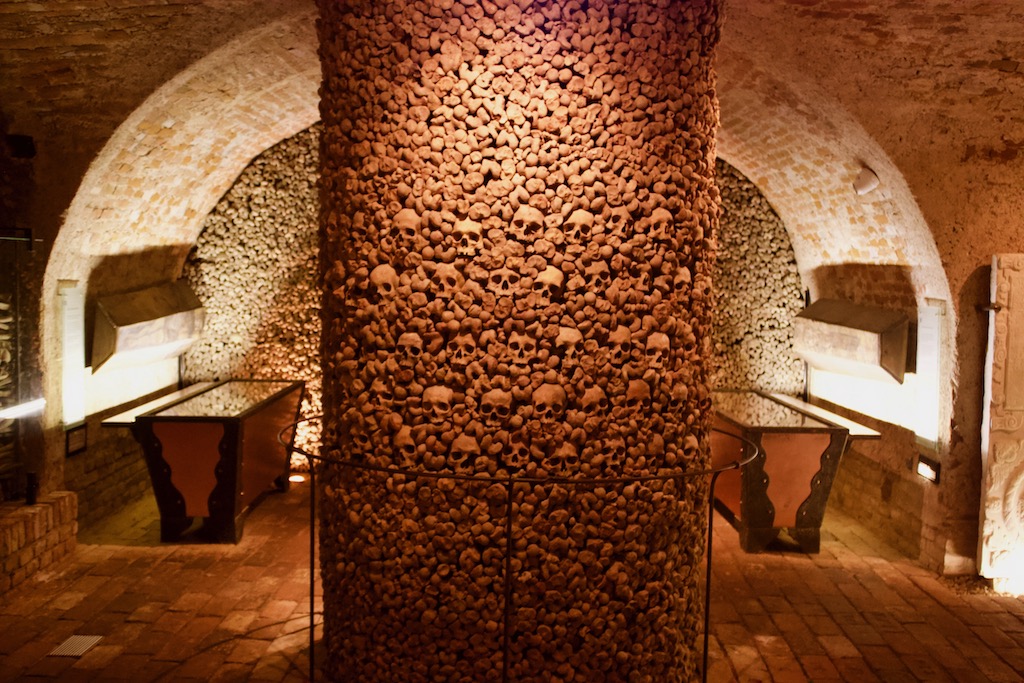 By this time, you've probably already seen more deceased bodies than you've ever wanted to in your life, but if you're fond of spooky things, head to the Brno Ossuary just outside the Church of St Jacob.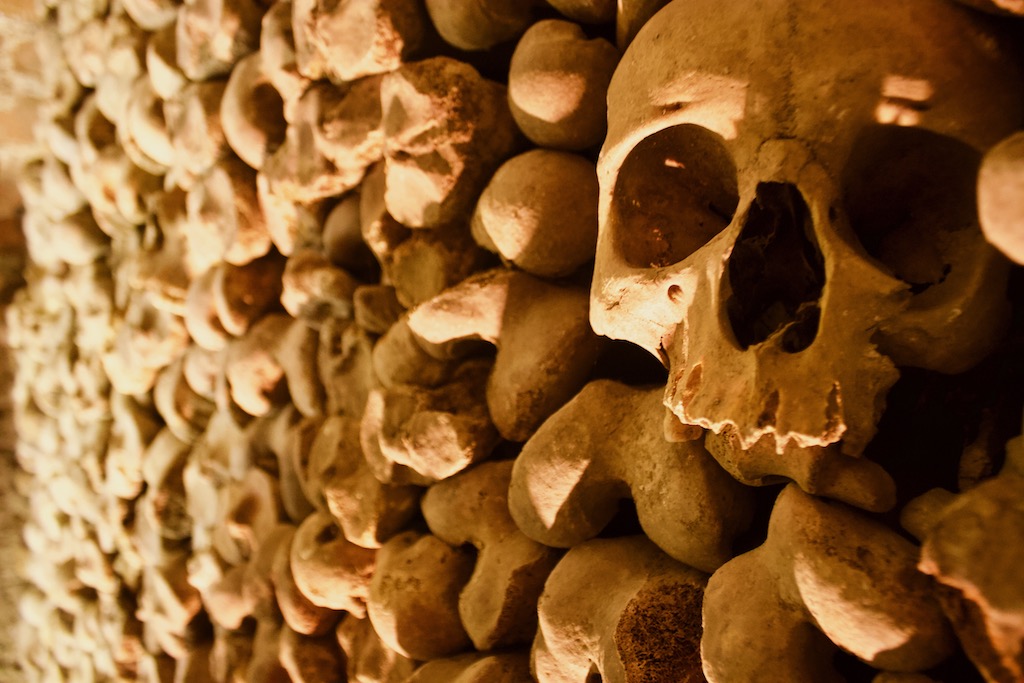 Here you'll find more than 50,000 human skulls. The ossuary had actually been long forgotten about by Brno's residents and when renovation work was being done in 2001, a construction crew stumbled across the site. In order to preserve history, the ossuary was restored and is now one of the city's most popular tourist attractions.
As I mentioned in my detailed post about the Brno Ossuary :
Visitors can now stroll through three dimly lit rooms, and learn about the history of this important location. Skulls are stacked from floor to ceiling, with some skulls being shaped into chandeliers and even a coat of arms. As you explore the ossuary, ethereal music composed by local musician, Miloš Štědroň, plays softly in the background.
Tickets for the Brno Ossuary start at about €5 // CZK 140.
12) Visit a WWII bunker at 10-Z Shelter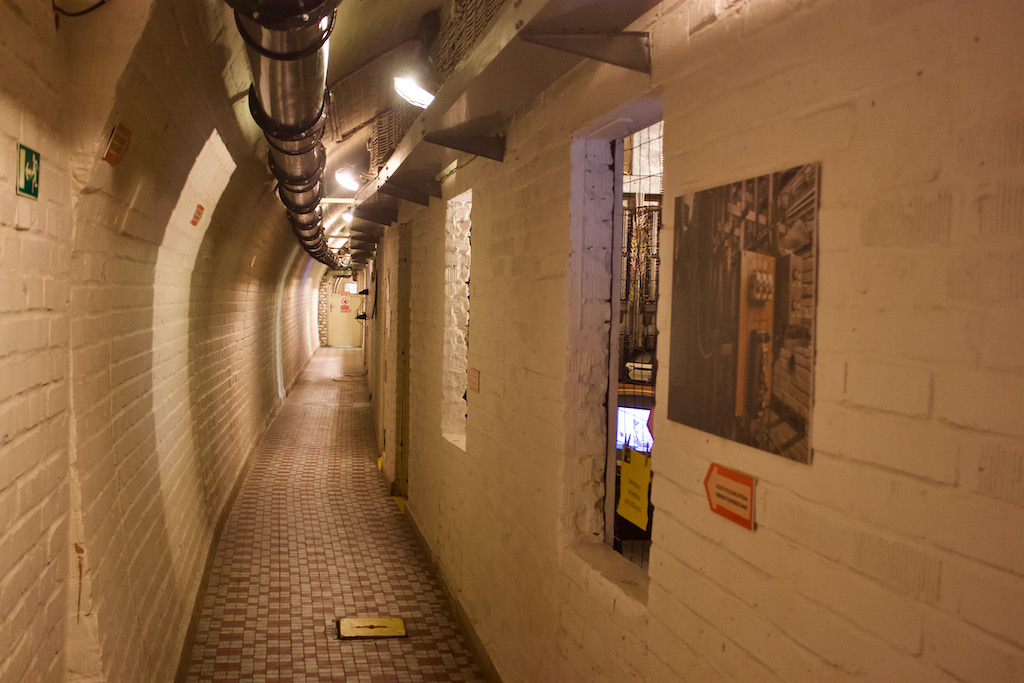 Built by Nazis and later taken over by the occupying Soviets, the bunker became a top-secret hideout intended as a shelter for Brno's Communist elites in the event of a nuclear war. It could house and feed around 500 people for three days. Nowadays, it operates as a hostel and you can stay in rooms with their original bunk bed frames and contact reception using one of the old-styled landline phones.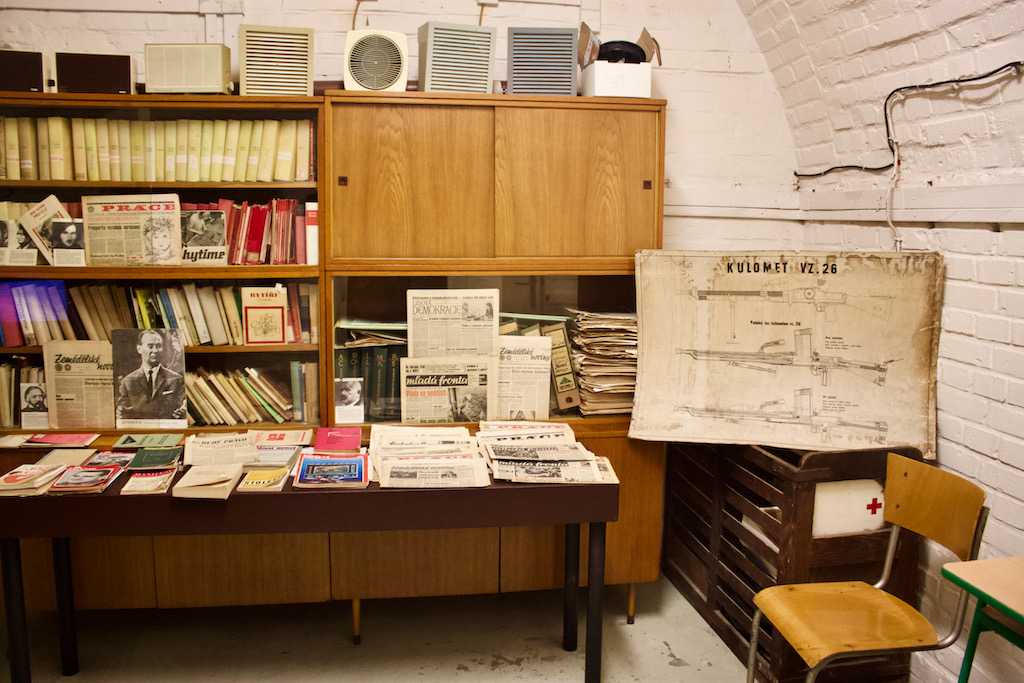 If you don't fancy a stay at 10-Z Shelter , you can take a tour through the bunker and finish it off with a drink at the shelter's bar – a seriously fun place to hang out and often, host live music events.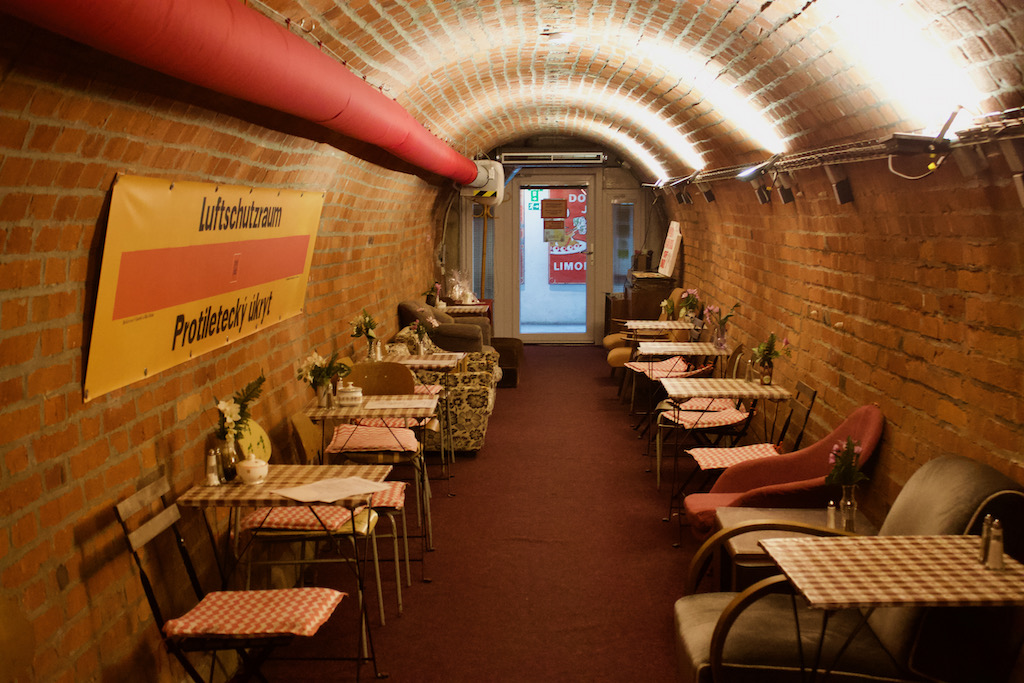 Walking through the 500 meters of the bunker's tunnel is a pretty heady experience and you can take a moment to ponder what it would be like to stay in such a place. If you really want to grasp the full history, book a guided tour. You can also opt for a self-guided tour (which includes a map in English). On either tour, you'll see things like the diesel generator, the old switchboard, and former offices.
For more of a lowdown on this unusual place, read our detailed post about 10-Z Nuclear Shelter .
A self-guided tour costs about €6 / 150 CKZ.
Address: 14 Husova
13) Stroll around Brno and simply enjoy all of the beautiful architecture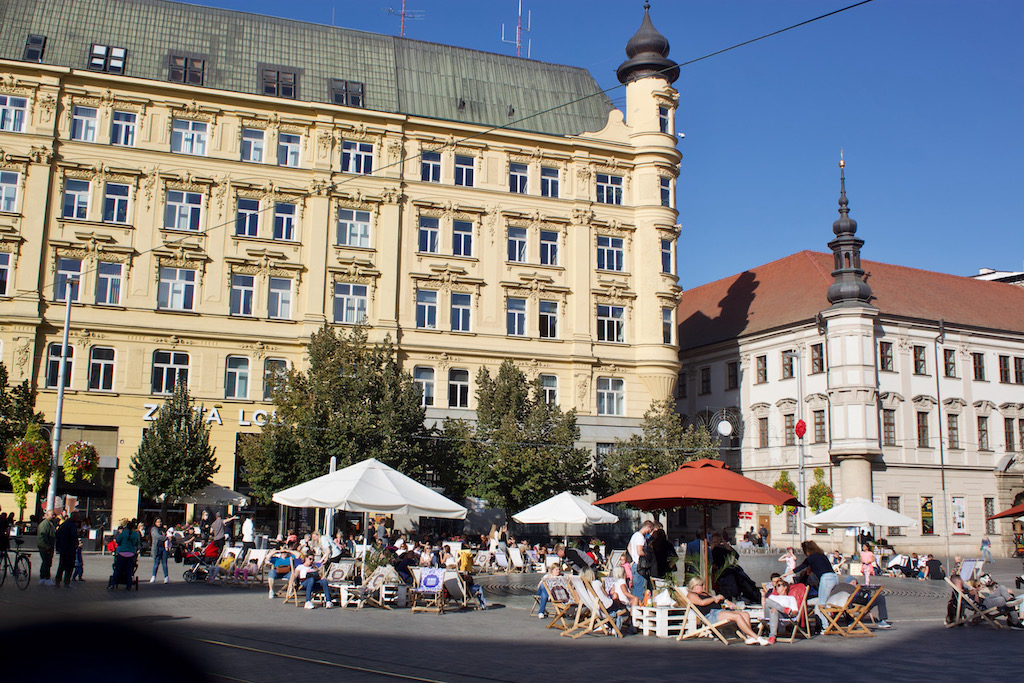 As you can see from the photos here and sprinkled throughout this guide, Brno is one heck of a pretty city. You'd be remiss if you didn't spend hours walking around and soaking up the atmosphere of the place.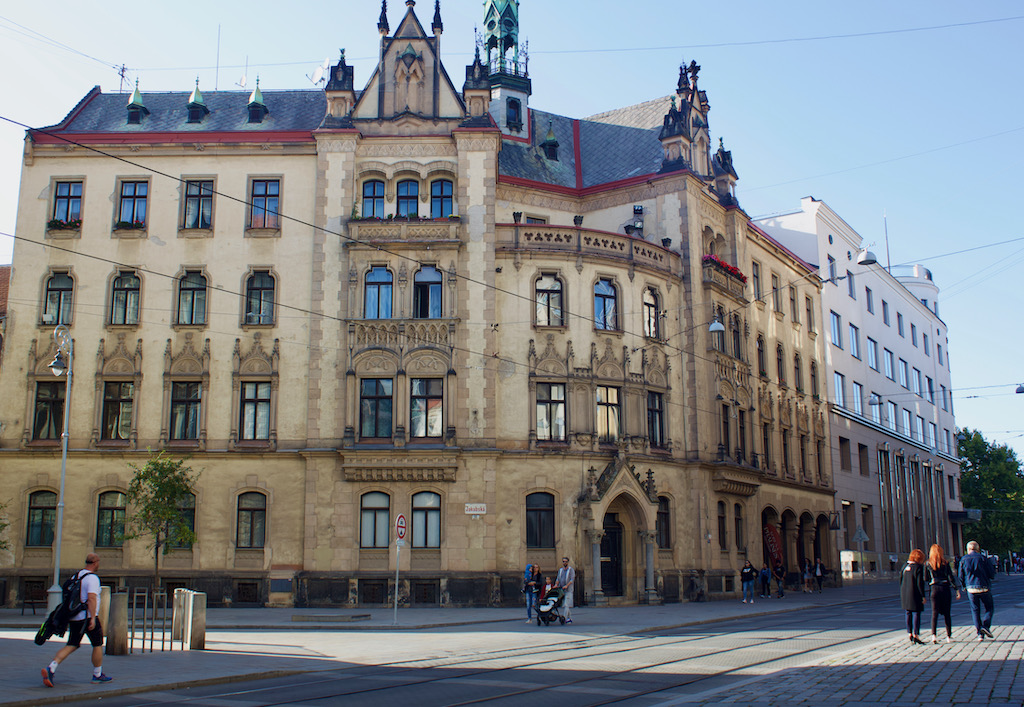 This is seriously one of my favorite things to do whenever I'm on the road. Walking around without a map, devoid of any pressure, taking photos along the way, stopping when and where I like.
Whatever you decide, enjoy your time there, get off your phone, and soak up the atmosphere of Brno.
14) Wear your fancy pants for dinner at Pavillon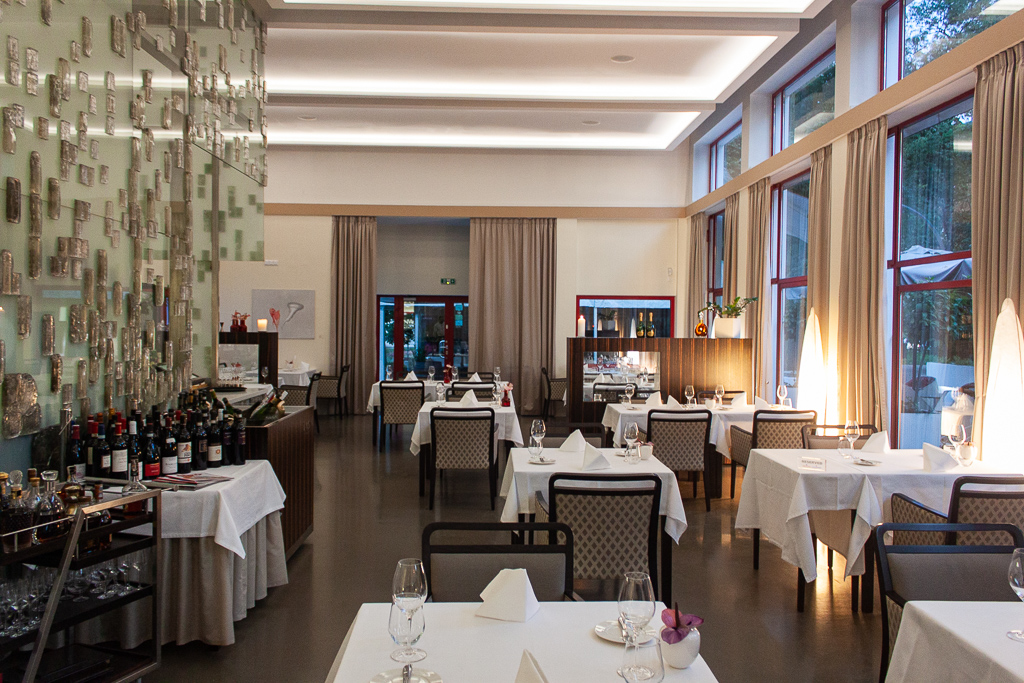 Until now, you've had meals at more casual establishments, including a trendy café and Czech pub. Now it's time to dress your best and go for dinner at Pavillon , another Brno restaurant constantly raved about in city guides.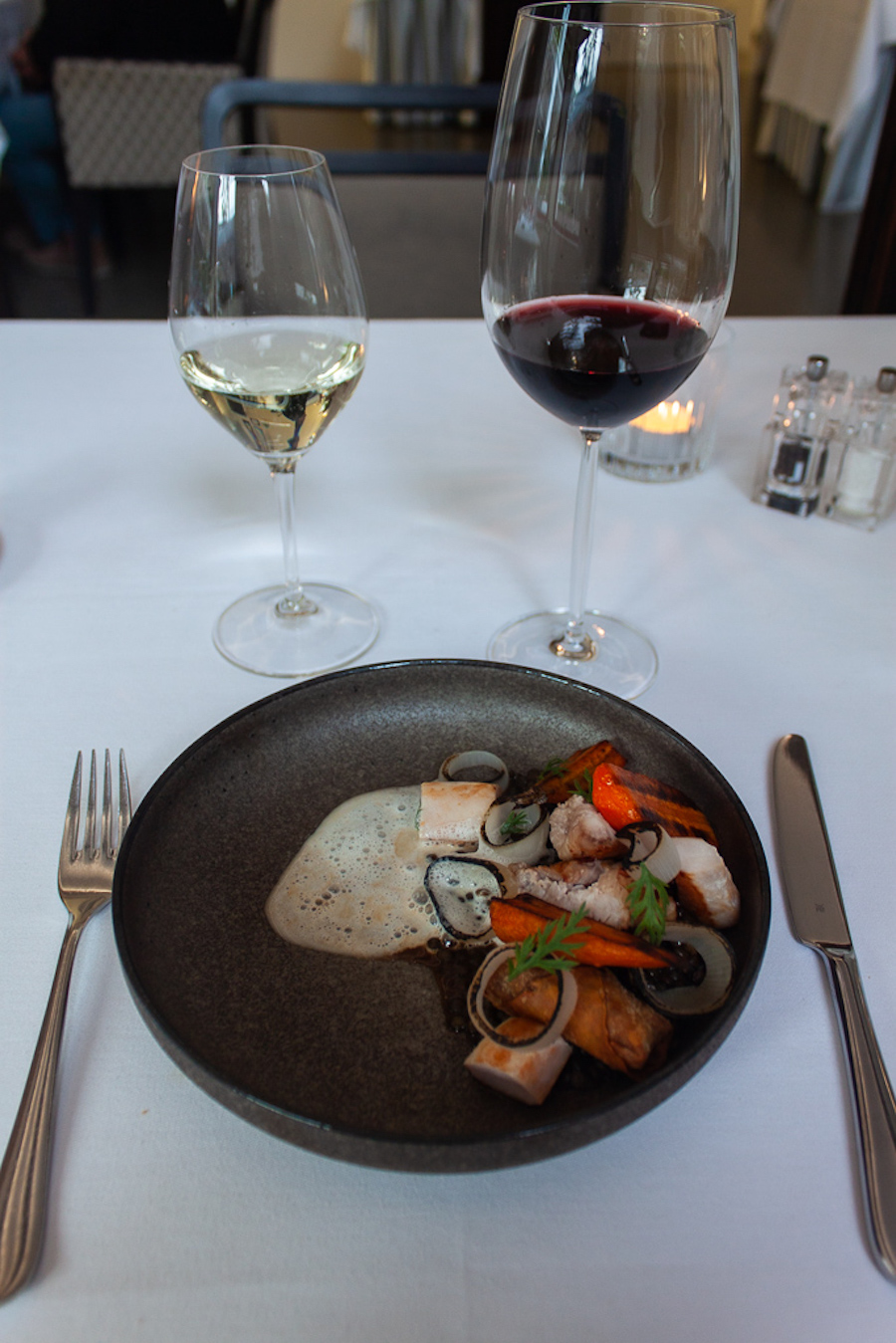 I personally recommend the rabbit if it's available and if you really want to go all out, try the tasting menu.
Address: Jezuitská 687/6
15) Go on a day trip and get off the beaten path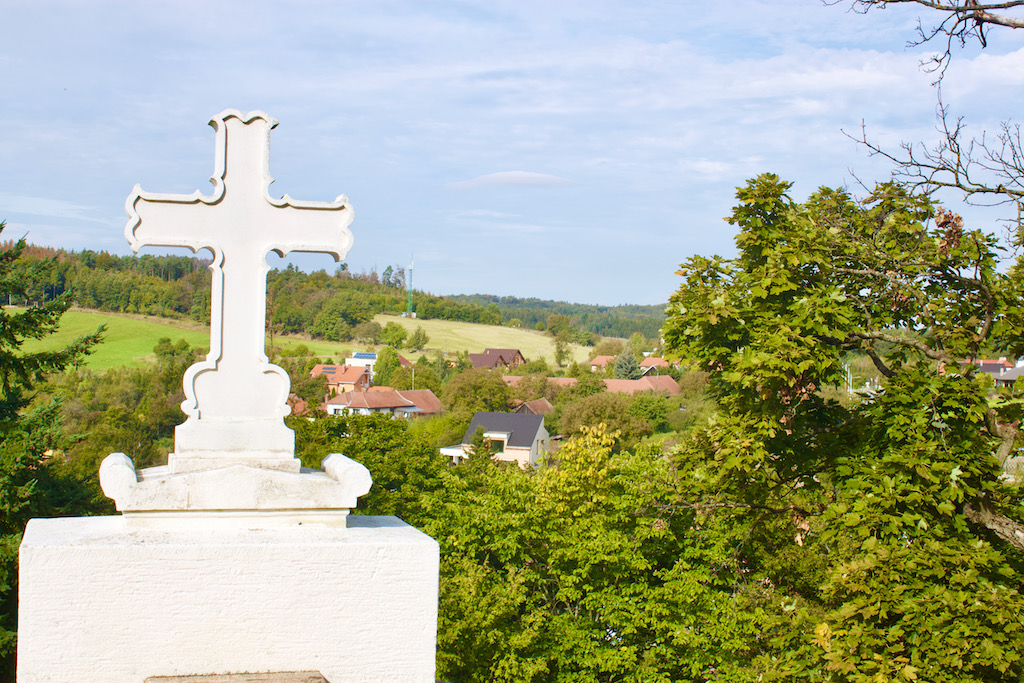 While there are plenty of things to do in Brno, it's always fun to venture outside the city limits too. And there's so much to see in Vranov, Adamov, Křtiny, and Sloup, that I highly recommend cycling to some of the spots I've mentioned, renting a car, or booking a trip through a local guide.
16) Gaze upon yet another place of faith at Vranovský klášter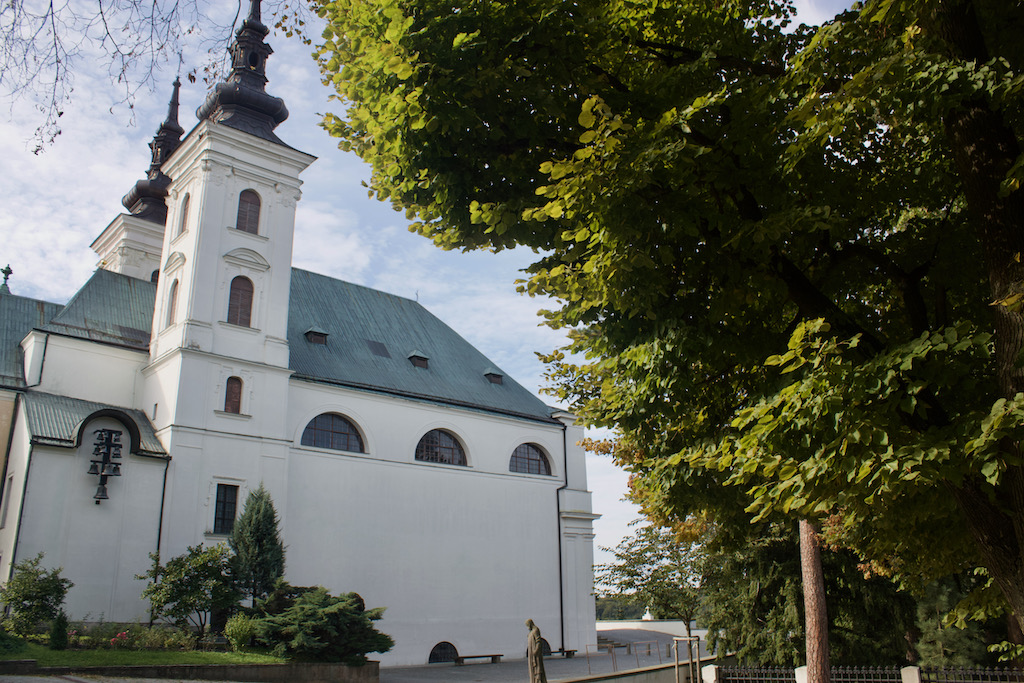 In Vranov, you'll find Vranovský klášter , a Pauline Monastery dating back to 1240. Restoration of the abandoned monastery started in 1992 and was completed almost 20 years later. Currently, the monastery is home to around 12 monks and is the only Pauline monastery north of the Alps. Featuring four wings and a small clock tower, it's another notable Czech landmark worth visiting on a day trip from Brno.
Address: Vranov 7, 664 32 Vranov
17) See the old Iron Works in Adamov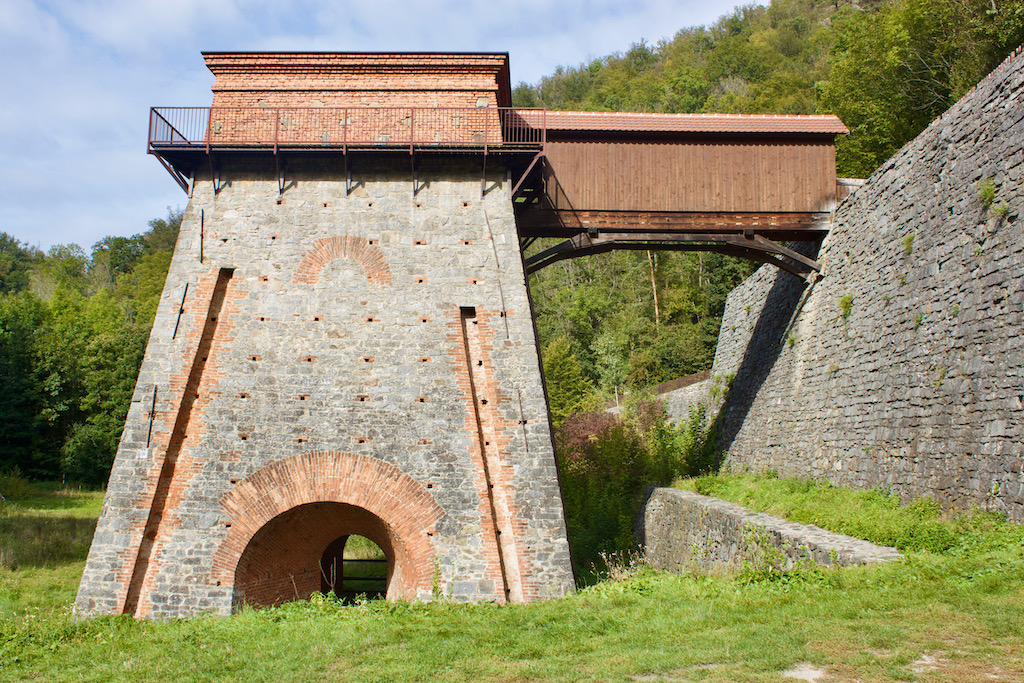 Not far from Brno, you'll find the Old Iron Works in Adamov. It's now a technology museum featuring the well-preserved remains of an 18th-century metallurgical industry complex, which includes a large 10-meter-high blast furnace. The museum houses a permanent exhibition dedicated to showcasing iron processing, even giving occasional live demonstrations of their long-practiced melting procedures.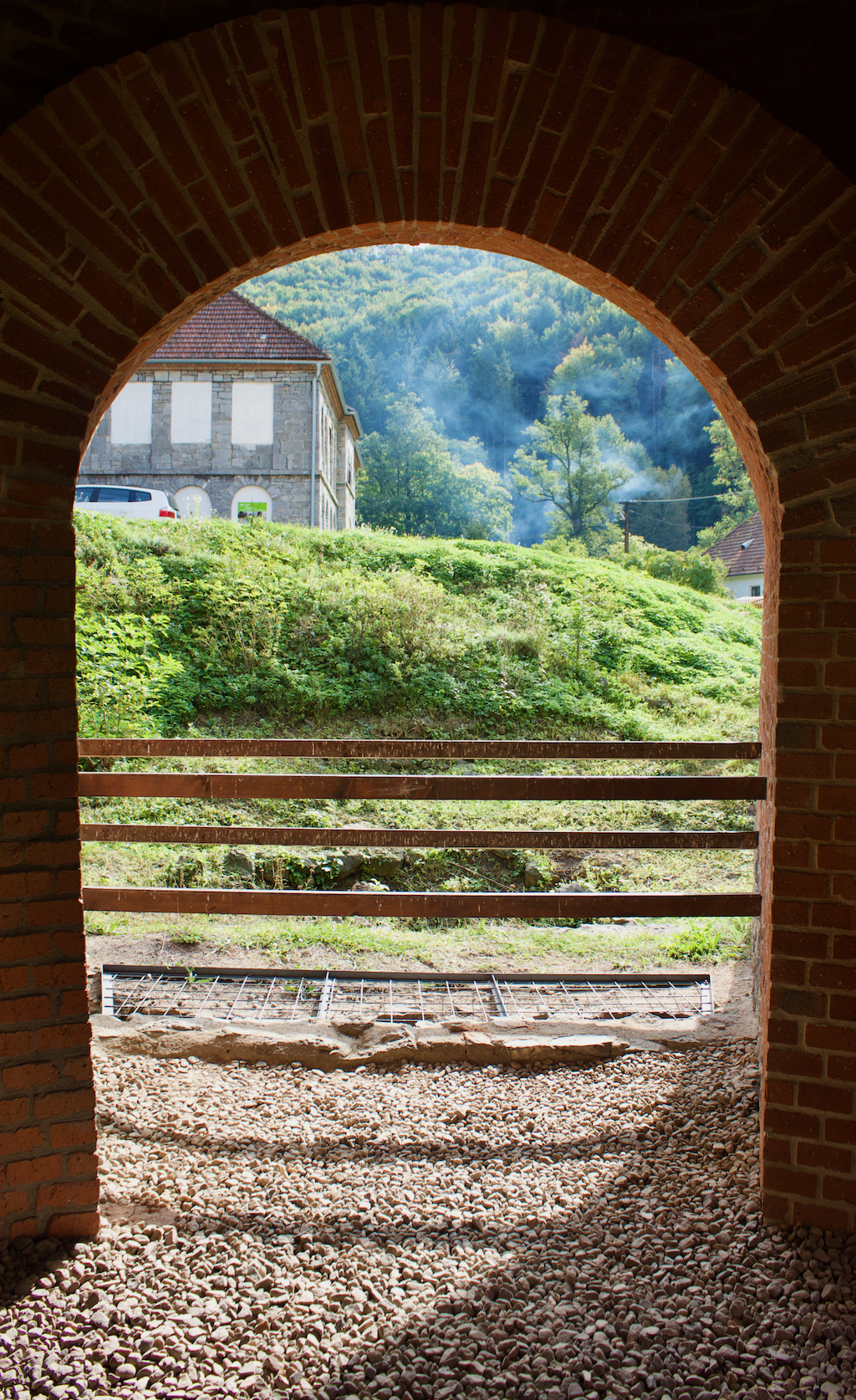 The museum offers a rare and fascinating glimpse into the history of the Moravian Karst area and is definitely worth a quick stop, even if you only check out the rather remarkable-looking industrial buildings.
A museum ticket costs about €2 or 50 CZK.
Address: 679 04 Adamov
18) Walk through a cave across the road from the Bull Rock Cave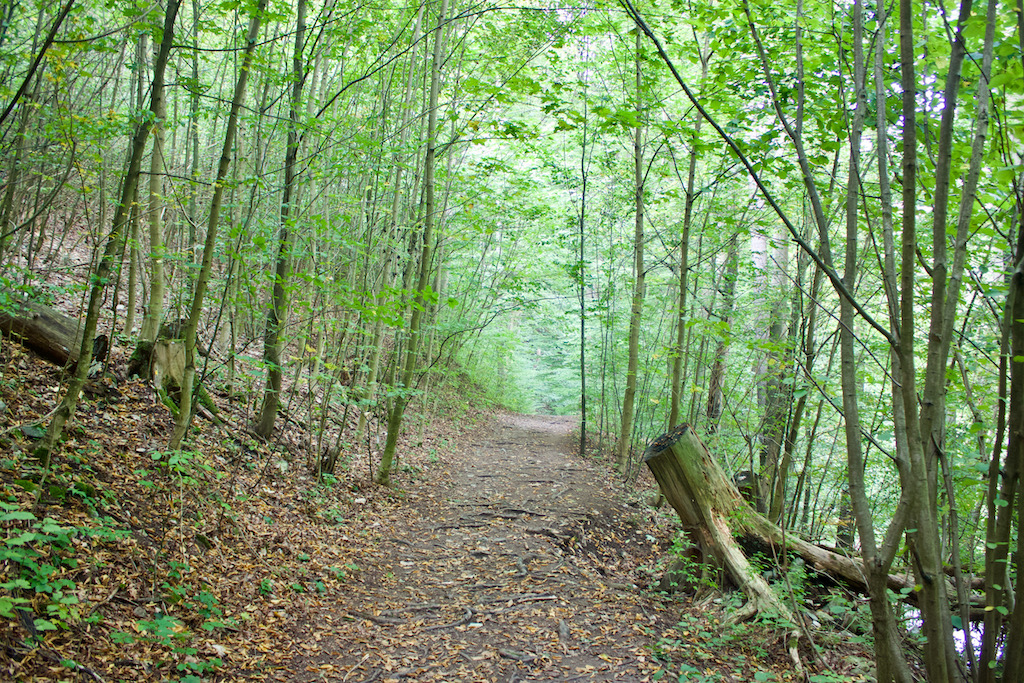 Extreme caving enthusiasts can take part in dangerous caving expeditions and go deep underground at Bull Rock Cave, or Býčí skála in Czech. I'm not sure how one can get involved in those expeditions as they're only open for trained professionals, but just across the road is a small cave that's actually open to visitors.
It's very easy to take a quick walk through and offers a pleasant glimpse into the surrounding forest.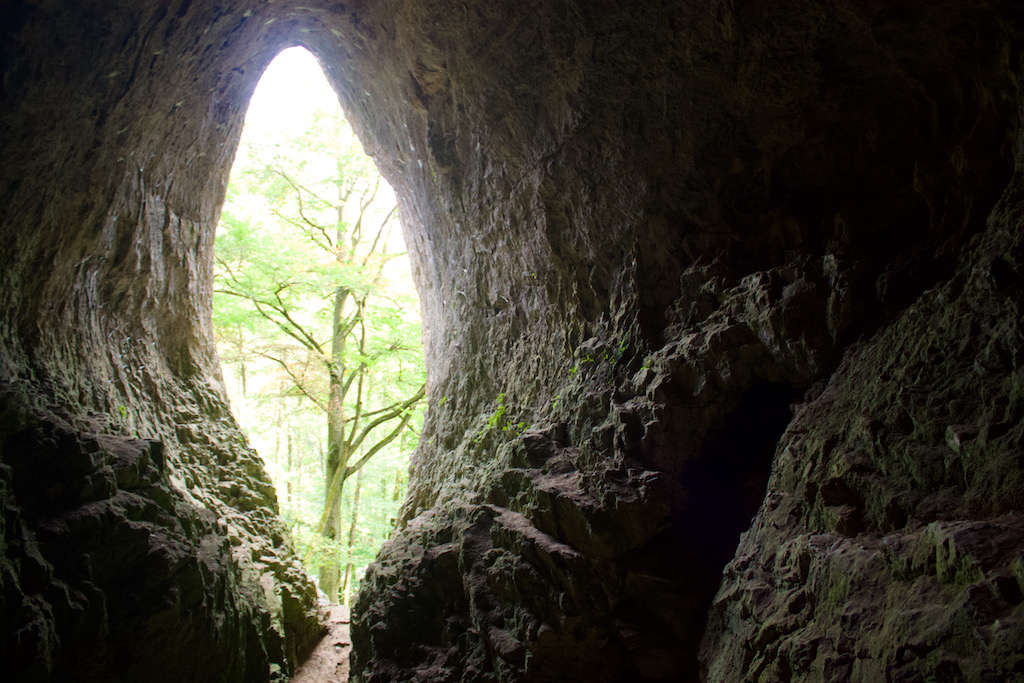 Despite my best research (and I  wasted  spent  a lot  of time looking for the name of this cave), just head to the Bull Rock Cave and ask locals about where to find the little cave pictured above.
Address: Hybešova 110/1, 679 04 Adamov
19) Take a gander at the stunning Church of the Name of the Virgin Mary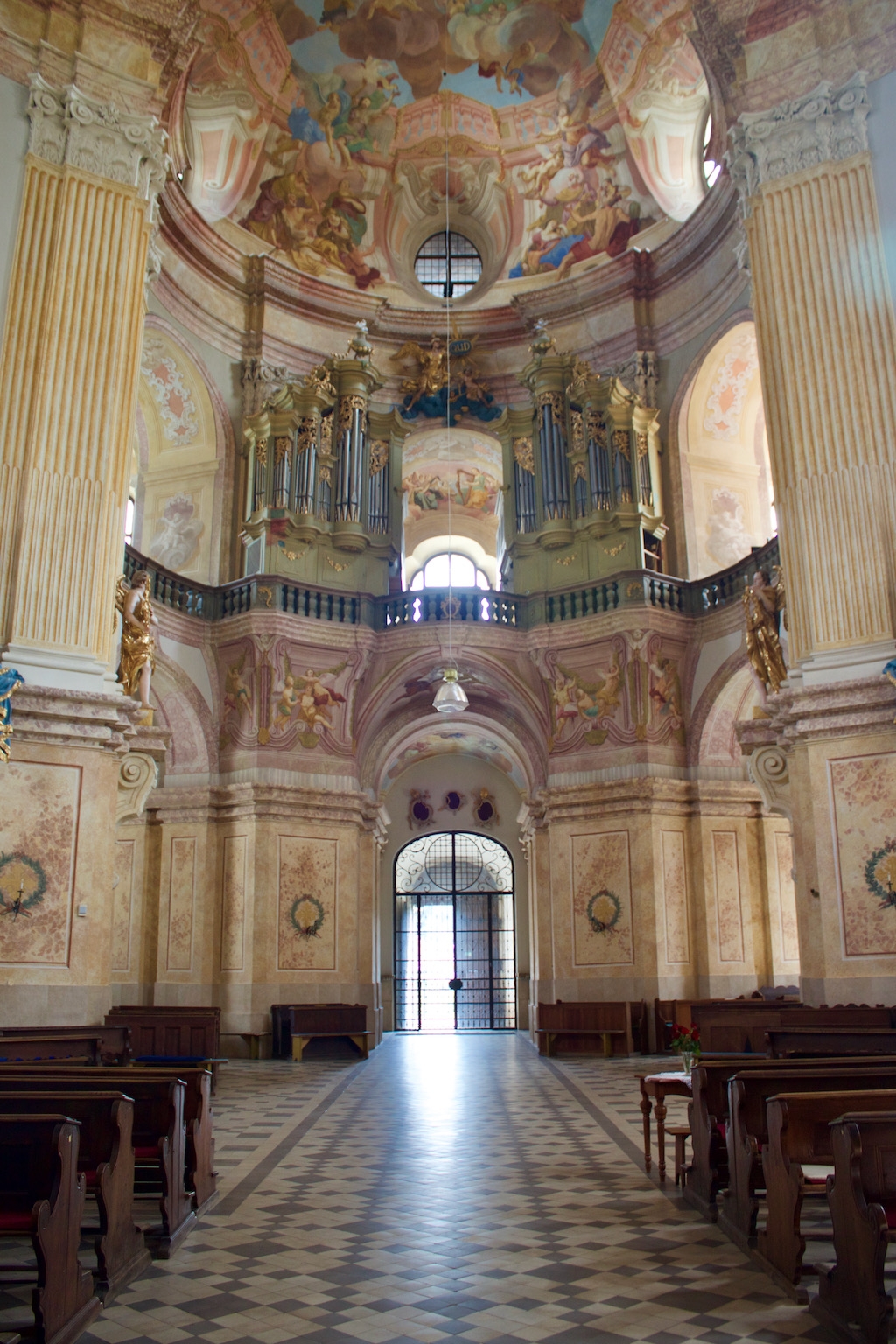 By now, you probably have cathedral fatigue and are wondering why I'm recommending you visit yet another cathedral. Well, I've saved the best for last, my friends! Head to Křtiny to view one of the most stunning cathedrals you'll ever see.
The Catholic church's Czech name is far more cool sounding than the "Church of the Name of the Virgin Mary", Kostel Jména Panny Marie . Designed by architect Jan Santini Aichel in what was considered to be a "radical" baroque style, the church was built on the blueprint of a Greek cross. As you walk around the main part of the church and take in the scene around you, the massive size of the church, the color, and the attention to detail, you'll surely be amazed. This is one seriously beautiful place.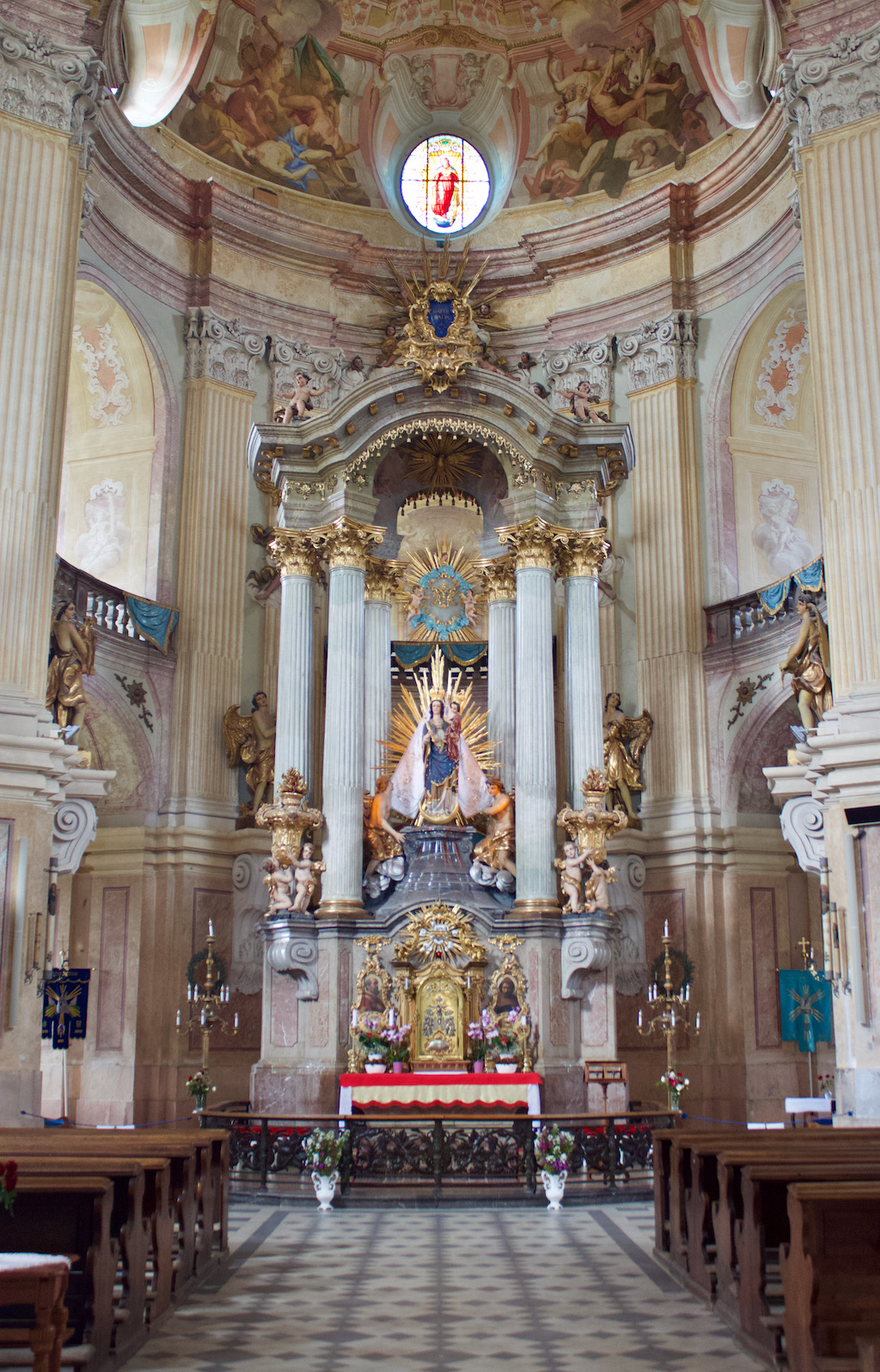 Kostel Jména Panny Marie is also part of a larger complex with cloisters, a chapel, and summer residences. Underneath the church is another ossuary, much like the one in Brno, but with a smaller number of skulls. The church, along with the nearby castle, make Křtiny a popular destination for those traveling through Moravia.
Address: 679 05 Křtiny
20) Feel important and have a coffee and cake at a manor house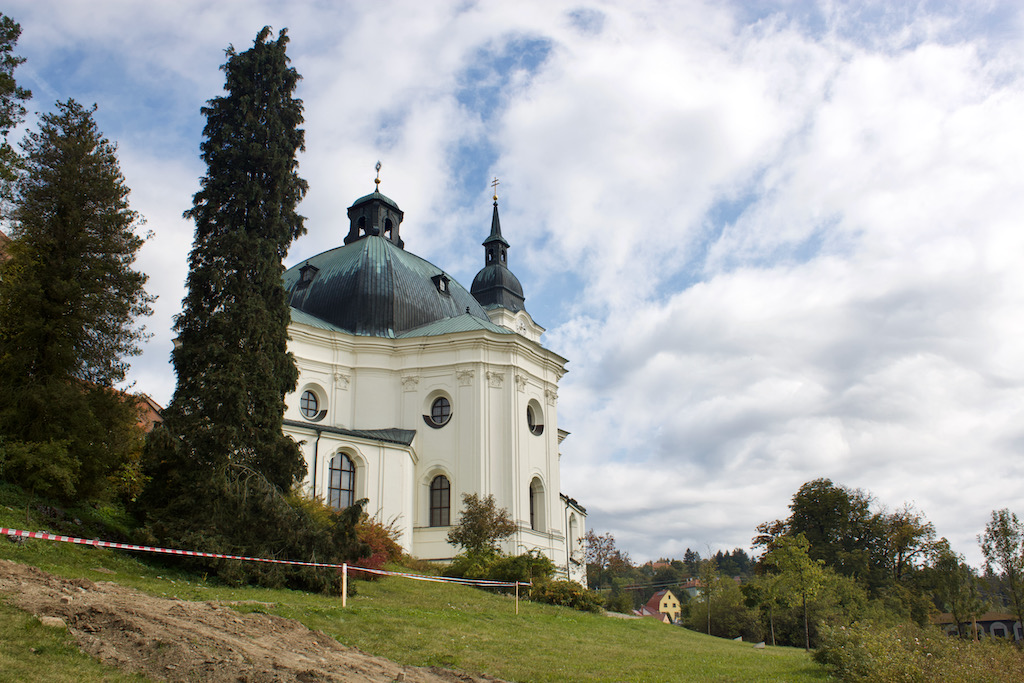 If you like to feel fancy as I often do, stop by Zámek Křtiny , a rather pretty manor house in Křtiny. The hotel is a great place to base yourself if you're exploring the nearby Moravian Karst. And if you're passing through as I was, it's a lovely place to stop for a leisurely afternoon coffee and cake.
Address : Křtiny 1, 679 05 Křtiny
21) Venture underground at the Sloupsko Cave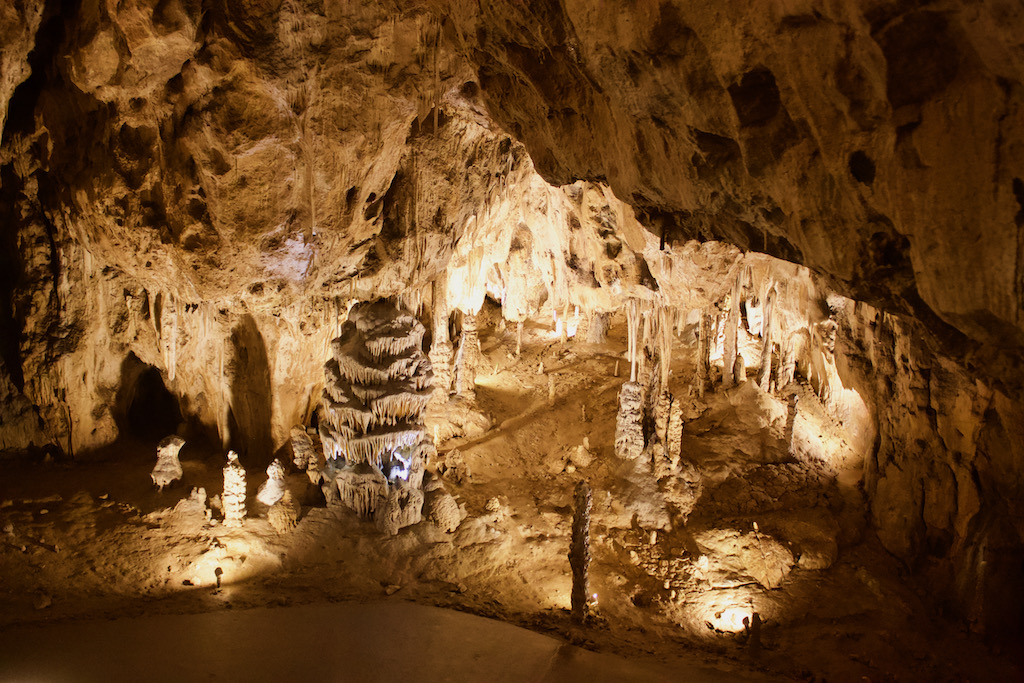 The cathedral tour I've had you on was likely mentally exhausting and maybe a bit dull for your taste, so I knew that I needed to make this Brno itinerary a dash more exciting.
So get yourself to Sloup and book yourself into a guided tour of the Sloupsko Cave .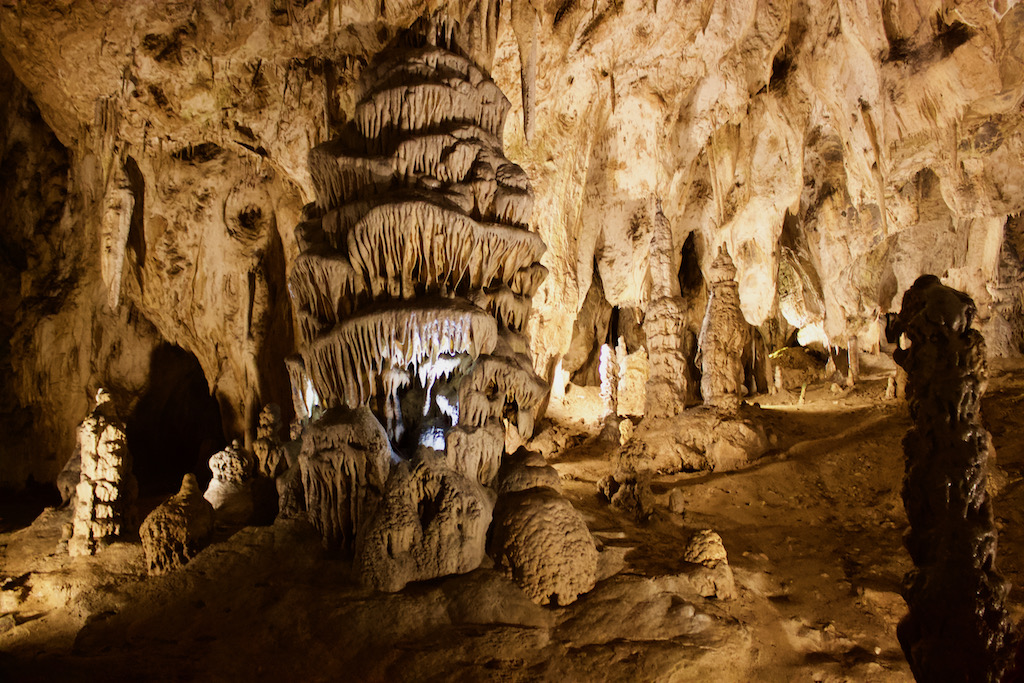 Visiting this extensive limestone cave system is only permitted via a guided tour. The fairly easy underground walk is around 2 kilometers with well-carved-out paths and lighting along the way. Your guide will tell you about the cave's history, and its geographical makeup, and give you plenty of time to take in some of the awe-inspiring sites you'll see along the way. One fun highlight is stopping and being encouraged to scream deep into an abyss and then listening to the resulting echoes.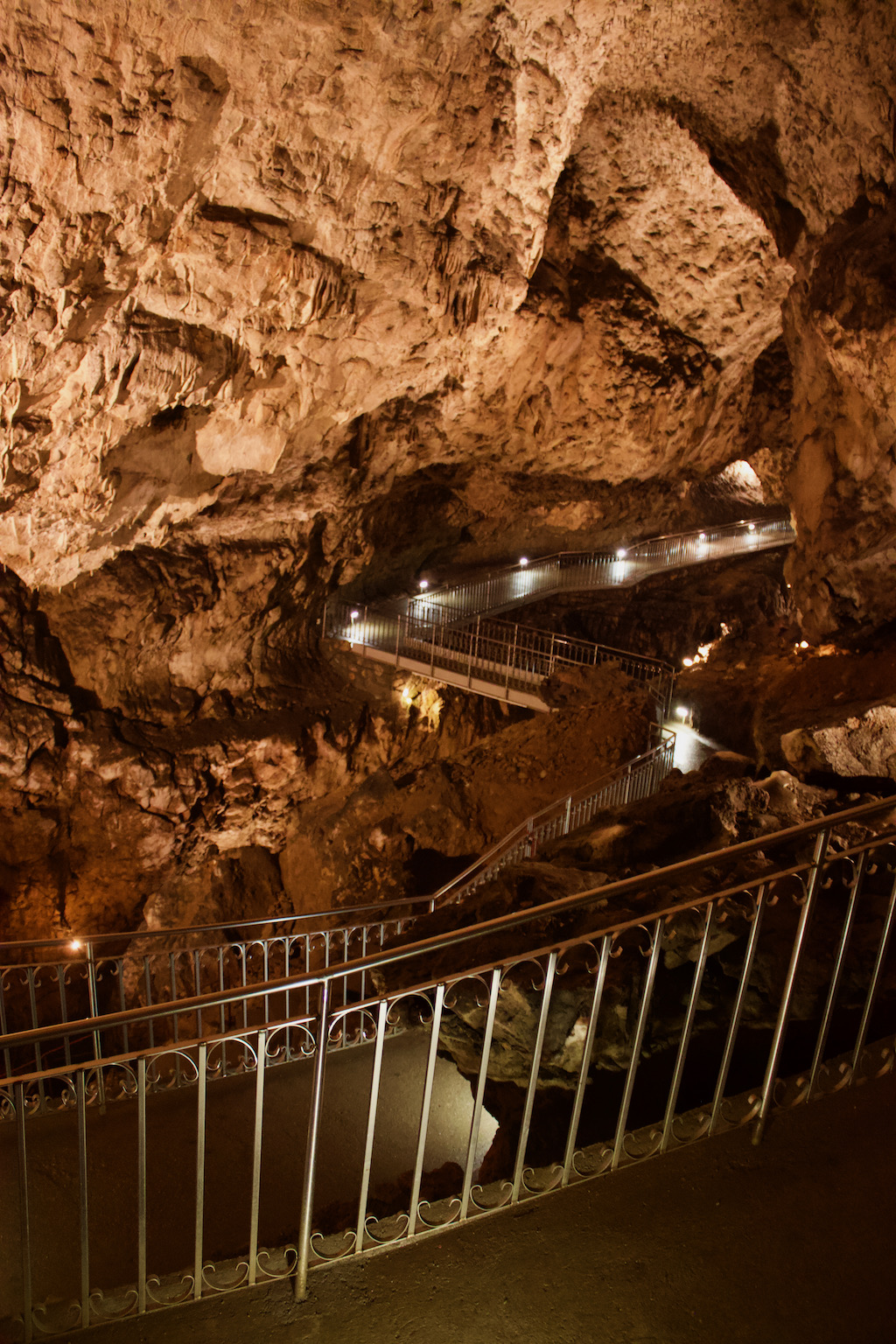 You don't need to be an athletic champ to complete one of the shorter tours – wear a decent pair of shoes or even better, hiking boots and you'll be fine. Do bring a sweater or light jacket as the caves are chilly, even in the midst of summer. Expect some minor hills and lots of stairs during the tour but otherwise, this is not a hard-core caving excursion.
As there are a lot of visitors during the summer months, book a ticket in advance online. If you like leaving things to chance, you can also just show up and buy a ticket on the spot although this will prob mean a long wait. Tours are also offered in different languages and you can book short or long tours which vary in duration and length walked.
An adult ticket to visit the cave will run you about €7 or 180 CZK. Note, that if you want to take pictures, you'll need to purchase an additional permit.
Address: Sloup 237, 679 13 Sloup
22) Visit the second-largest library in all of Czechia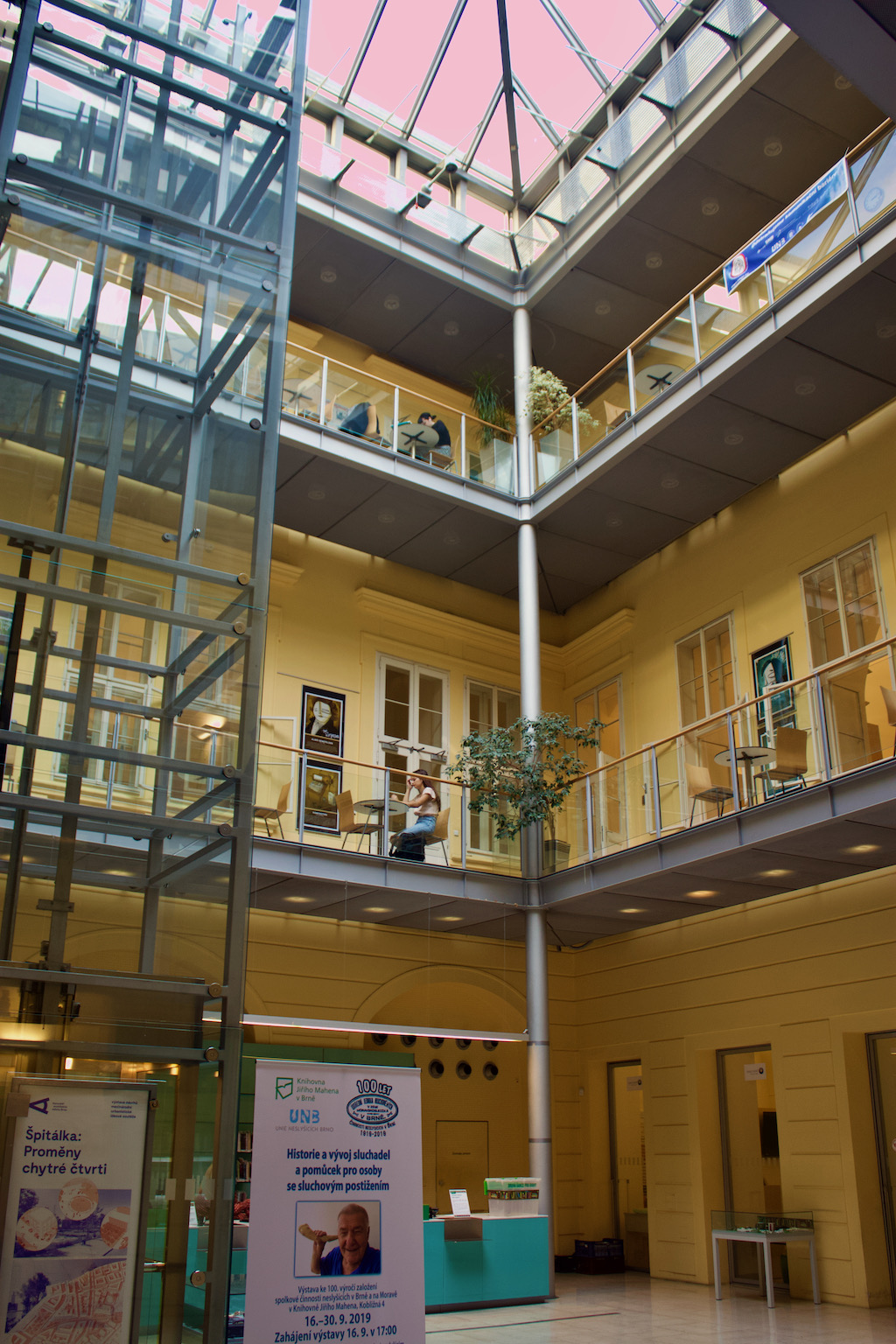 We're now back in Brno! So, what's next on our list of things to do in Brno? Visit a local library.
I always love visiting libraries when I'm in a new city, like the  Stockholm Public Library  or the  National Library Of Finland , so while in Brno, I stopped by the small  Jiří Mahen Library .
Situated in a former villa, it's the second-largest library in the country and is packed with a mind-boggling 800,000 books. It's an especially nice place to visit and if you have time, stop and read amongst fellow literary enthusiasts. Best of all – it's free to enter the library.
Address : Kobližná 4
23) Wrap your trip with a meal at La Bouchée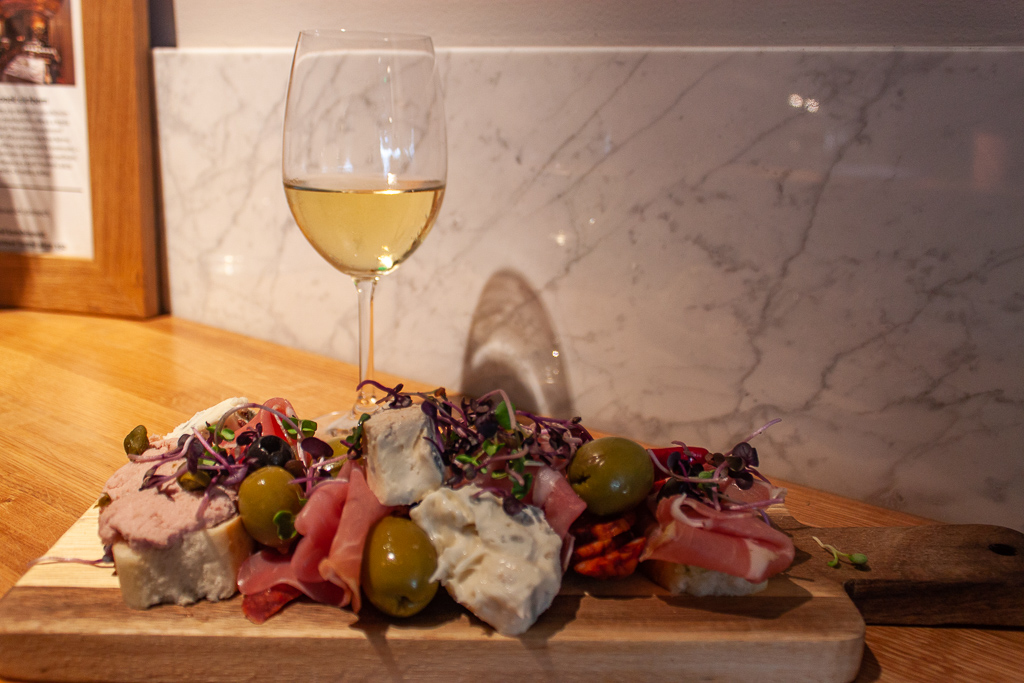 Bid farewell to your time in Brno by having one last meal at La Bouchée . This Mediterranean restaurant in St. James Square has great tapas plates and an extensive wine list that will leave you drooling.
Address: Běhounská 5/18
This map highlights everything mentioned in this post that's within Brno city limits:
This map highlights everything mentioned in this post which can be done on a day trip from Brno:
Transportation Options In Brno
All about how to get around Brno, my favorite city in Czechia:
1) To reach Brno's city center, you can drive, take a taxi, or bus from the airport and main bus/train stations:
Trains arrive at Brno dolni nadrazi, the city's main train station. You can use public transit to be in the city center within about 15 minutes. Alternatively, you can walk there within 20 minutes. You can also take a taxi – download the  Liftago Taxi app  to book a ride as Uber and Bolt don't work here. A taxi ride will take about 10 minutes.
Buses arrive at Brno Zvonařka, the city's bus station. Using public transit, walking, or taking a taxi will take approximately the same time as if you were coming from the train station (see above).
Flights arrive at Brno–Tuřany Airport (BRQ). A bus into the city (E76) runs every 30 minutes throughout the day and will take about 20 minutes to be dropped off at the city's main train station. A single ticket costs 25 CZK (€1). Driving or taking a taxi will take about 20 minutes to reach the city center. A taxi shouldn't cost you more than €15.
2) Some of the different ways to get around the city:
Bikes  – Ride through Brno with bike share company,  nextbike .
Public Transit  – Visit  Integrated Transport System of the South Moravian Region , for more information about the local public transit network.
 Ridesharing  – As mentioned above, use   Liftago  to move around the city.  
Taxis  – Use  City Taxi Brno , Brno's most popular taxi company. Have your hotel call them on your behalf, in case they don't speak English. Liftago is a better option so you can get a car on your own without having to worry about language difficulties.  Driving  – If you don't have a car of your own, rent a car.  
Where To Stay In Brno
My recommendations about where to stay in Brno, Czechia:
1) Check out your options with booking.com:
Paying For Things in Czechia
What you need to know about how to handle your money in Czechia:
1) The country has its own currency, the koruna (CZK).
Check xe.com to find out how your local currency fares against the Euro, US dollar, etc.
While most places will accept bank or credit cards, smaller shops often only take cash. Get yourself some cash at a local bank machine.
If you do pay by card, you'll be asked which currency you want to pay in – choose to pay in the local currency (RSD), as you'll save money on the exchange rate.
2) Czechia is very budget-friendly, from your accommodation to  eating out , and more.
Good To Know About Brno
What do you need to know about Brno, Czechia? Some of our top tips:
1) To fully experience Brno, book yourself into a guided tour:
2) Is Brno safe? I can only answer this from an anecdotal perspective – as a woman traveling solo, I felt safe in Brno and didn't encounter any difficulties. However, the experience for people of color could be entirely different. It's not the most ethnically diverse city and back in 2015, there was strong resistance to the mass refugee migration from many citizens. One person in Prague even approached me to sign a petition to not allow migrants into the country! Of course, I refused to sign such an offensive document. Read  this interview , done in 2020 where people of colour in Czechia discuss their experiences.
3) If you like my guide to Brno, take a look at some of my other popular guides:
Things To Do in Edirne Turkey – Need Turkish travel inspiration? A magnificent mosque, Ottoman cuisine, a rare Jewish synagogue, & more. Read my guide about things to do in Edirne Turkey.
Travel to Hungary and Spend A Weekend in Budapest – Spend a weekend in Budapest. Visit well-known sites, as well as off-the-beaten-path ones, sleep in a boutique hotel, and eat and drink locally.
Visit Burano Italy: A Guide About What To Do, Where To Eat, & Where To Sleep – Visit Burano Italy, one of the most colorful places out there. Let this photo-filled guide be your inspiration about what to do, where to eat, & where to sleep.
Disclosure – This post contains some affiliate links. If you book a tour or hotel, I'll earn a tiny commission at no extra cost to you. Thanks for your support!
Submit a Comment
Your email address will not be published. Required fields are marked *
Email me when someone replies to my comment
This site uses Akismet to reduce spam. Learn how your comment data is processed .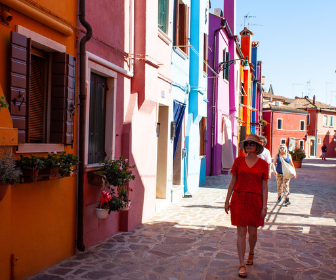 Founded in 2010, cherylhoward.com is a travel blog profiling some of the world's most unusual places and things.
I'm a Canadian from Toronto who's been living in Berlin for the better part of a decade. I like travelling Europe and writing about unusual places and things, as well as creating unique itineraries for various destinations. Read more.
Upcoming Trips

Borders Of Adventure
Leading Culture and Adventure Travel Blog by Becki Enright. Looking at the world with a different angle to change perceptions of misunderstood places, for the best in travel.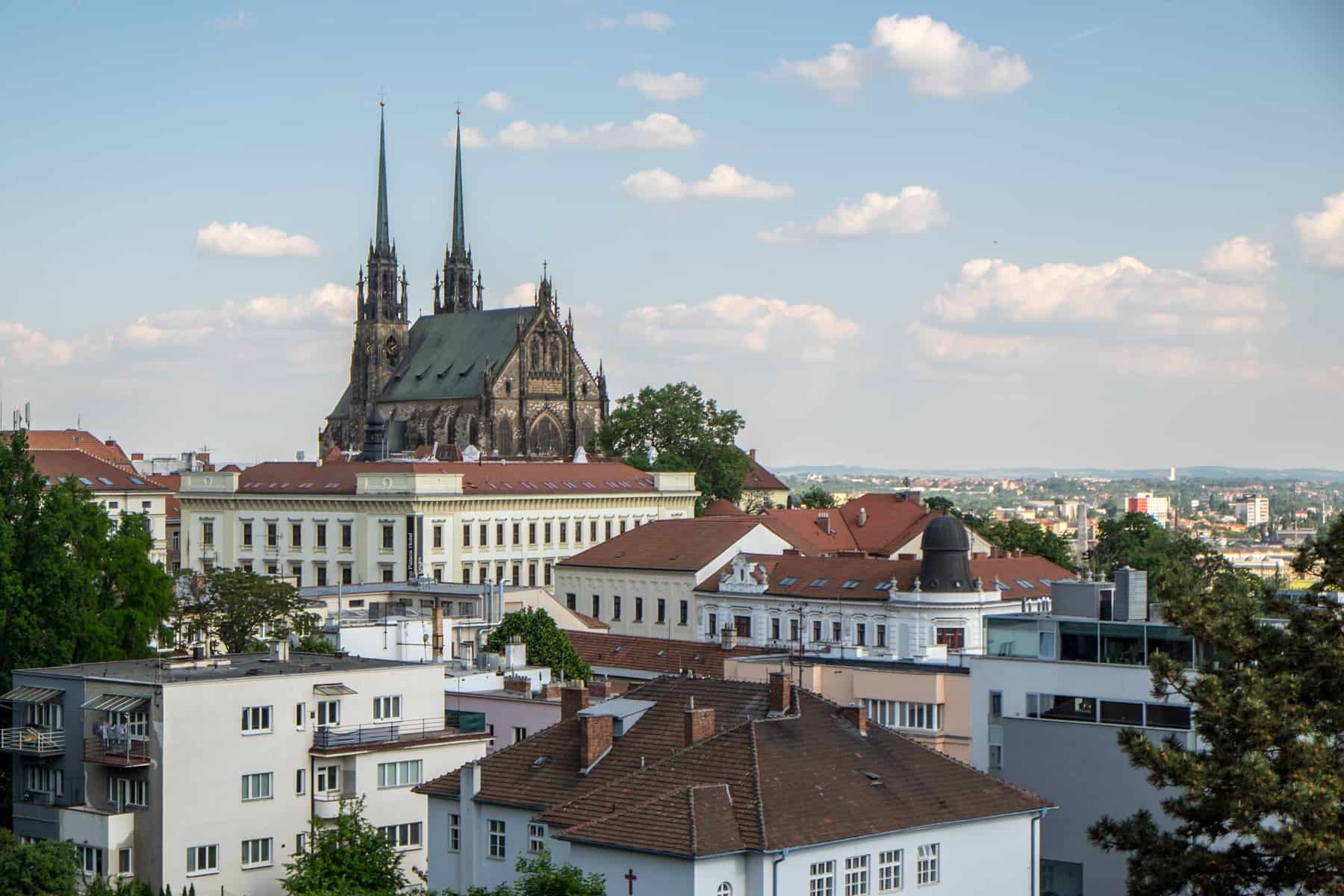 Cultural Travel , Czech Republic
A Curious Guide to the Unexpected Things to Do in Brno, Czech Republic
Disclaimer: This post contains affiliate links to handpicked partners, including tours, gear and booking sites. If you click through or buy something via one of them, I may receive a small commission. This is at no extra cost to you and allows this site to keep running.
An underground labyrinth. Whacky sculptures. Bunkers and secret bars. This travel guide tells you all the surprising things to do in Brno, why they exist, and the array of experiences that make your time here an unexpected adventure in this lesser-known Czech city.
I was always told to spend ample time in Brno as curiosity grew in Austria beyond the claim of it being a suburb of Vienna from its days as a Habsburg territory.
Eclipsed by the shininess of Prague in the west, the capital of South Moravia in the east is far from the dormitory town many expect. It's the Czech Republic's second-largest city with an attractively unusual and vibrant persona and a village feel.
In the shadows of more accessible cities, Brno became a day trip city from Prague, Bratislava and Vienna. But you might regret such a short amount of time, and I'm glad I took the advice to stick around.
In not knowing what to expect, it makes a visit here all the more surprising. Any perceptions of Brno as a city subdued by imperialism or lost behind the iron curtain are immediately crushed. After years of occupation, it created its metropolitan legacy – one that's expressive, unconventional and experimental.
Brno adds quirkiness to culture, playfulness to history, and crams a lot of cool into a compact city centre. And if you allow yourself enough days to visit Brno city, here's where to find it all.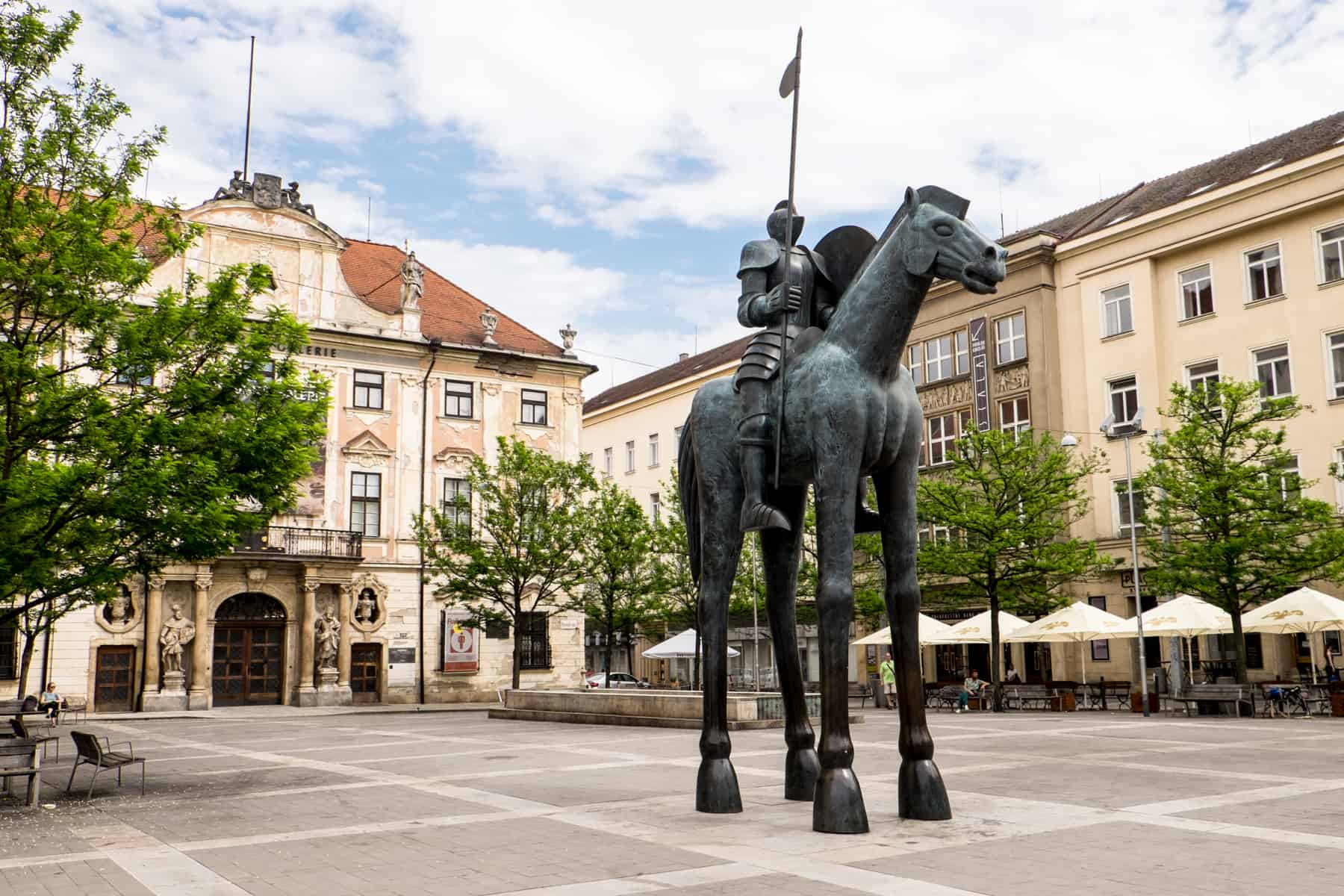 Where is Brno?
Getting to brno, getting around brno, brno is historical but youthful, brno's sculptures have hidden perspectives, brno's noon bells ring at 11 for a reason, brno created its architectural legacy, brno has the czech republic's only modern unesco world heritage site, brno conceals an underground labyrinth, brno has a nuclear fallout shelter you can sleep in, brno is where czech wine is just as important as czech beer, brno is a gastronomy haven and centre of vietnamese cuisine, brno has a secret circus themed bar, when to visit brno, where to stay in brno, czech republic, currency in the czech republic, brno tourism information – discounts & tickets, visiting brno city – what to know.
Brno is the capital of South Moravia, a southeastern region of the Czech Republic famed for its wine production. Three days here is the best introduction to the uniqueness of the city, which is broken down into two navigable areas:
Ring 1 – the city centre. Much like Vienna, a ring road belt surrounds the old town and central city, and it's where you will find the city highlights and Brno sightseeing.
Ring 2 – the city fringes. For first-time visitors, you'll likely venture into Ring 2 when you visit Villa Tugendhat and Löw-Beer Villa or if you have time to make your way up to the Cow Hill viewpoint.
Brno–Tuřany International Airport (BRQ / LKTB) serves flights from the UK, France, Spain, Germany, Greece, and more. Many people also travel here via train if coming from Austria, Germany, or onward from Prague.
You can search for tickets on Austria's ÖBB rail , Germany's DB Rail , or the Czech ReggioJet service , which also runs services between neighbouring countries.
Brno is a walkable city , navigable via its large squares and historical avenues in a traffic-free center. The city's residential neighbourhoods are accessible and home to independent stores, coffee shops, local cafes, and wine cellars. The walk to the Villa Tugendhat is only 30 minutes on foot.
Brno's public transport system consists of an extensive tram (the šalina) and bus network. Purchase tickets at the yellow machines and local kiosks. Single-use tickets: from 20CZK, depending on the distance. The 24-hour pass is 90 CZK.
Brno's designated bike paths are growing , but it is allowed to bike in the pedestrian part of the city.
Experiences and Things to Do in Brno that Will Surprise You
Beyond the Cathedral spires and castle fortress markers of the city's 1000+ years of settlement, Brno is far from just a graceful Old Town. 80,000 people – around one-fifth of the city's total population – are students, making the city hum with eternal youthfulness and a fun and vibrant social scene.
Brno social scene
We noticed it as soon as we entered the centre from the train station and most certainly in the evening, especially St. James' Square (Jakubské námestí) after sundown. Alfresco dining, clusters of people enjoying a DJ set in a courtyard, socialising around a food truck or picnicking in Dennis Gardens, almost every street, cobblestoned alley, square and green space is teeming. Brno nightlife is not lacking.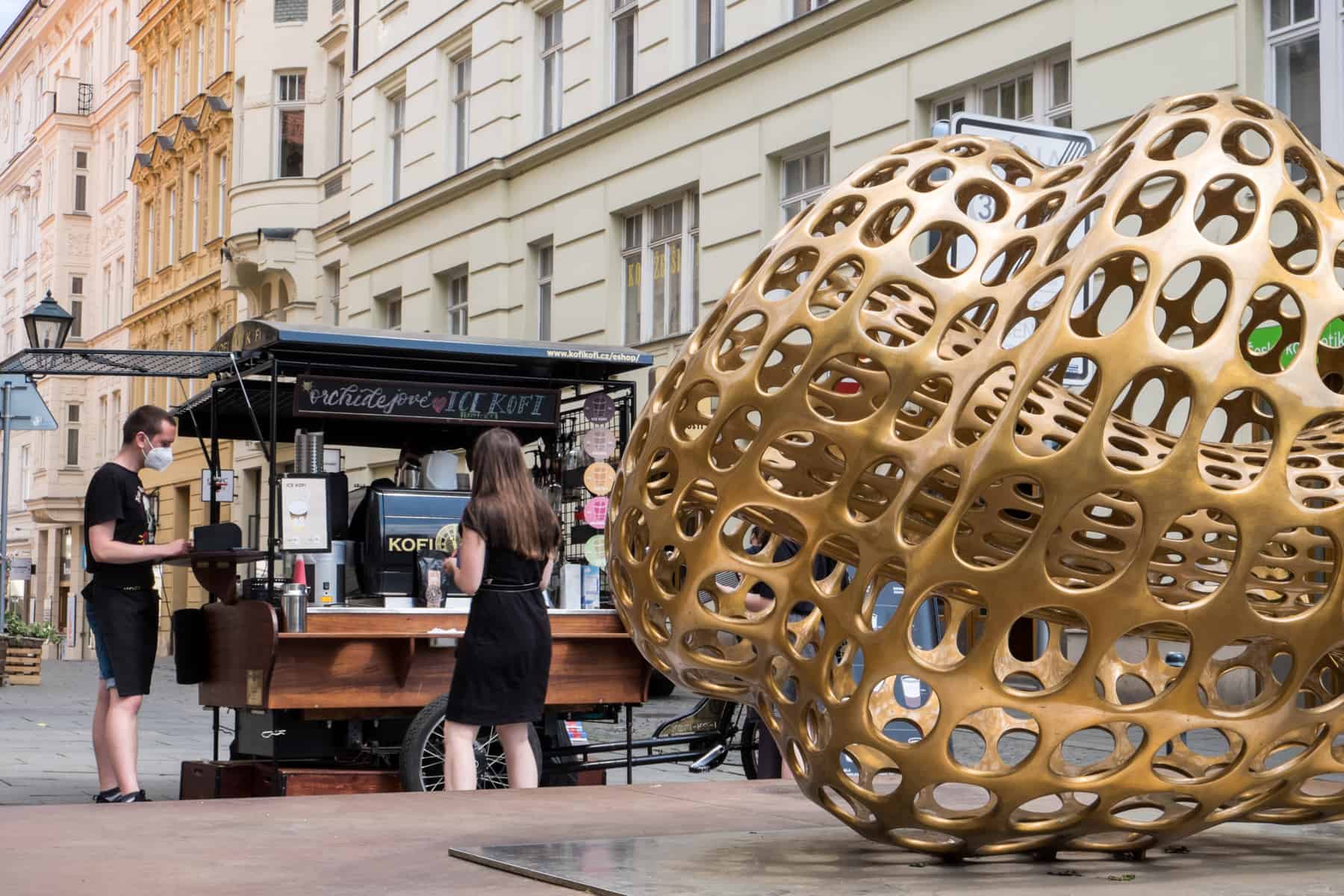 Brno's street sculptures and mobile coffee trucks. Life in the city.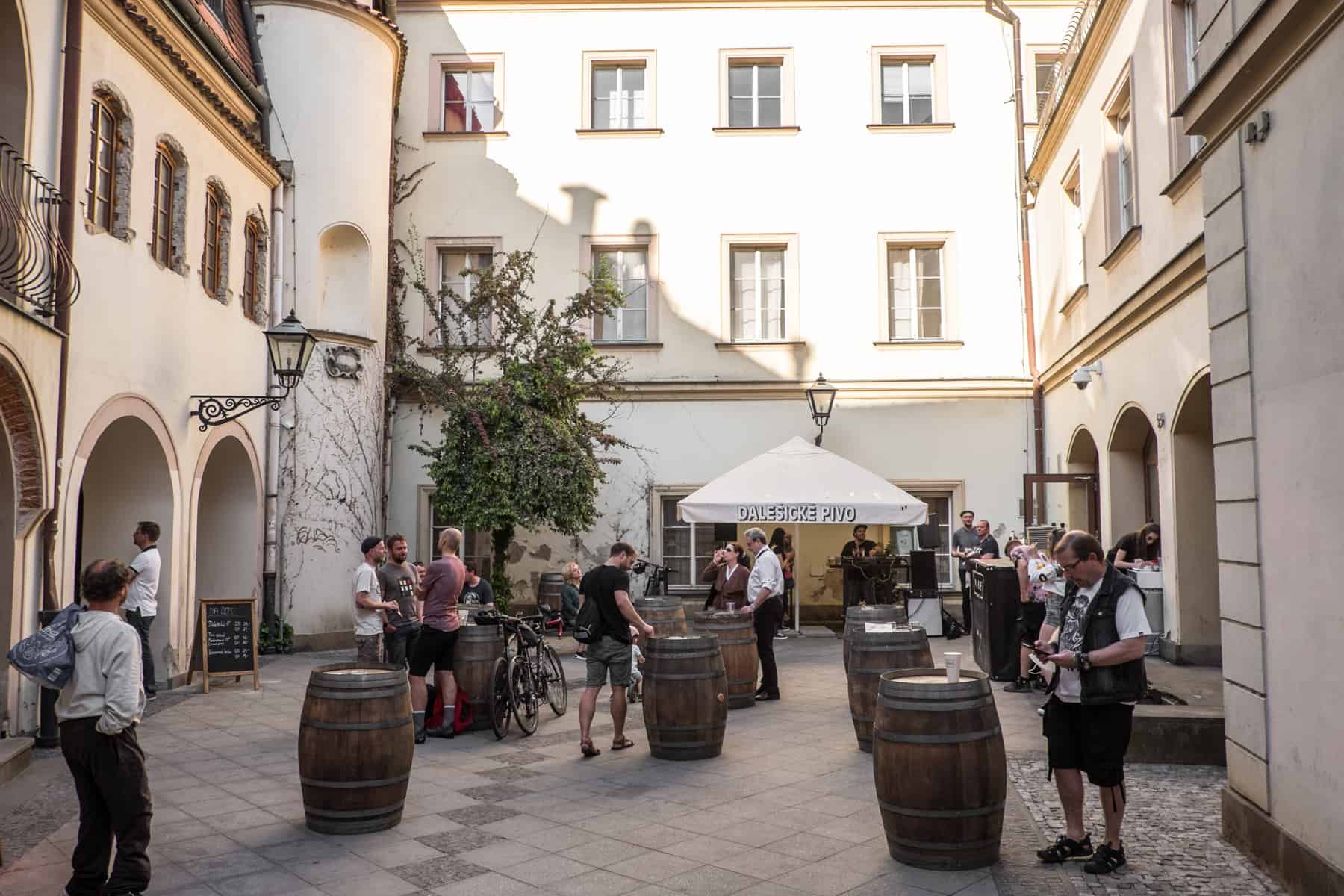 A craft beer brewery and DJ set in a Brno old town courtyard.
Brno history
That's not to say to avoid the historical areas of reference, the skyline of Brno tells its own stories. The 13th Century Špilberk Castle looks like a typical gothic-baroque fortress outside, but it hides a dark history. It turned from a Moravian royal palace to one of the most notorious prisons during the Austro-Hungarian Empire. It was later reconstructed in the first year of the Nazi occupation of Czechoslovakia for use as a Gestapo barracks.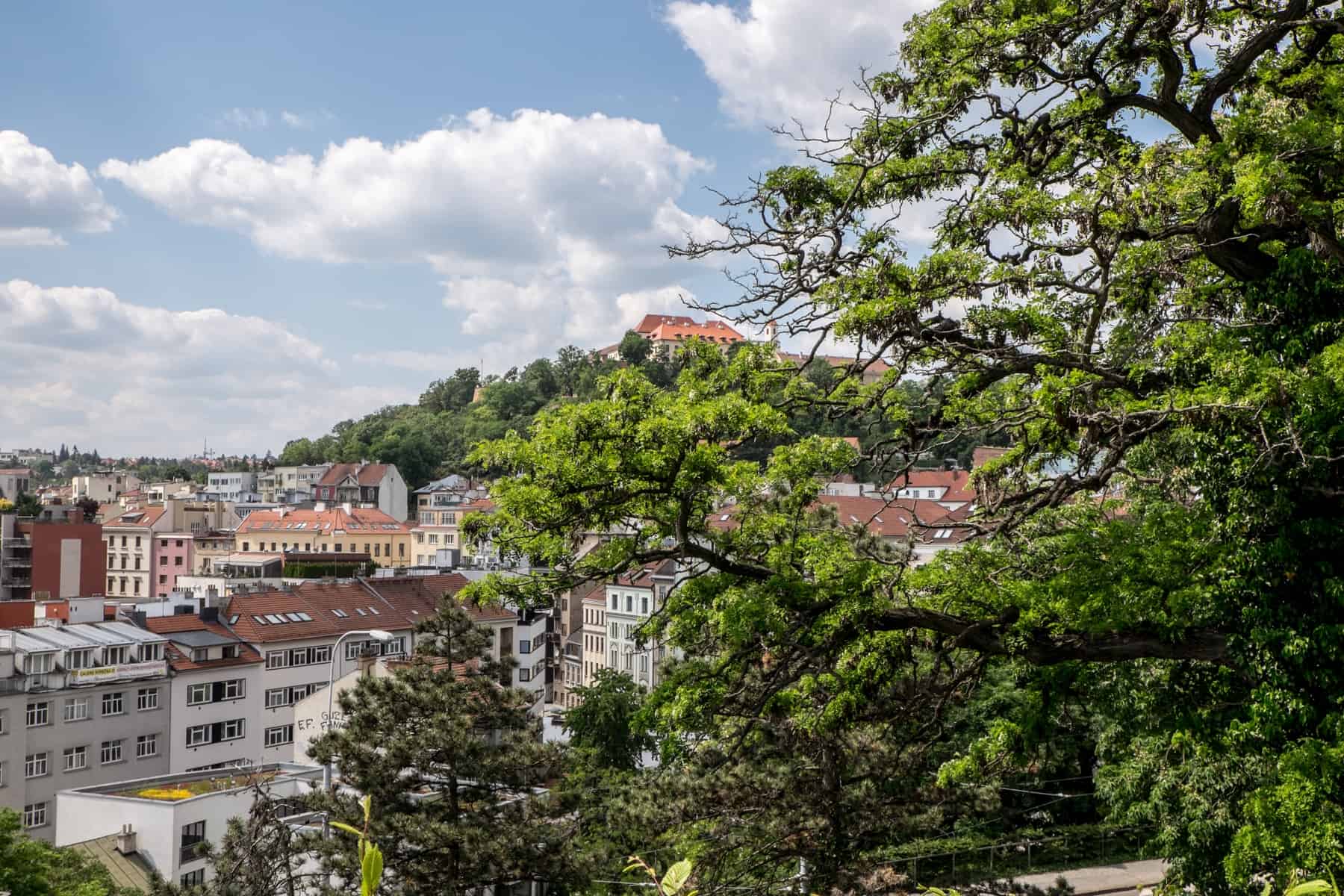 View to Špilberk Castle from Dennis Gardens.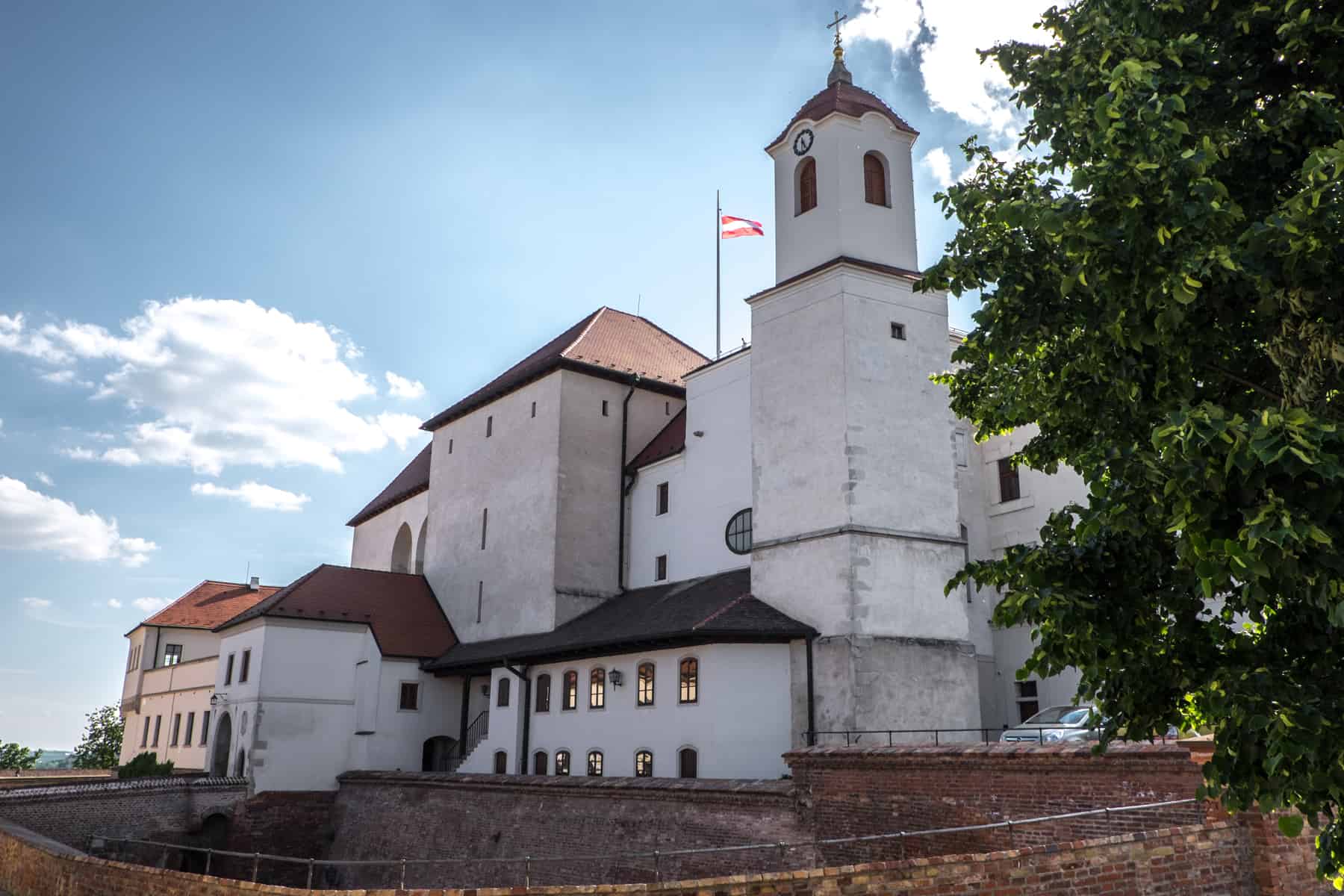 Brno's Špilberk Castle houses a dark history.
Even if you don't want to visit for the tours and exhibitions, it's a beautiful hillside for a stroll and one of the prettier views towards the Cathedral of St James and St Paul on Petrov Hill . The Cathedral is Brno's centrepiece and one of the Czech Republic's prized Gothic buildings. Below the 94-metre-high steeples, the cobblestone streets and narrow walled alleyways are a window into a preserved, bygone Brno.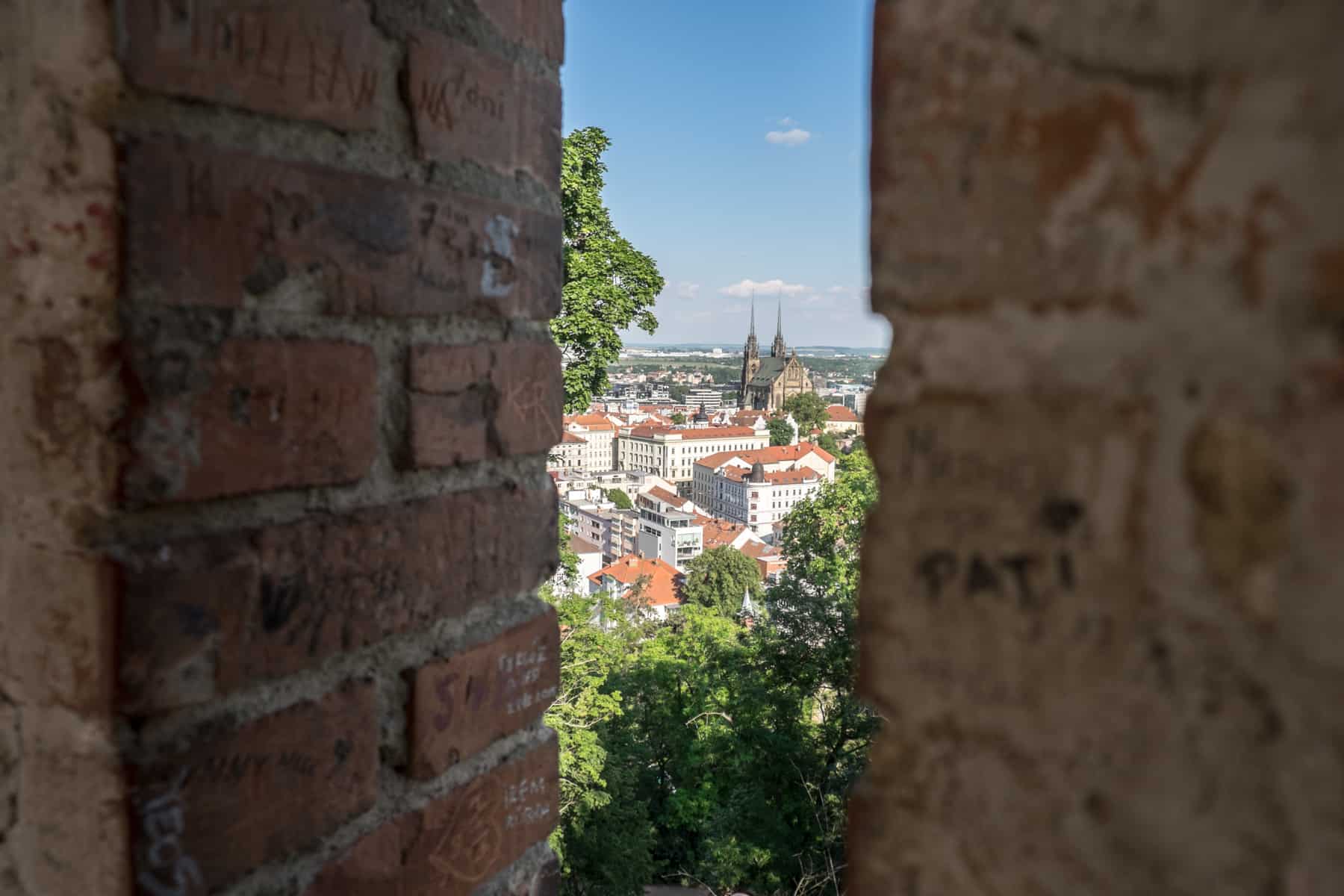 View to Brno's famed Cathedral from the Castle grounds.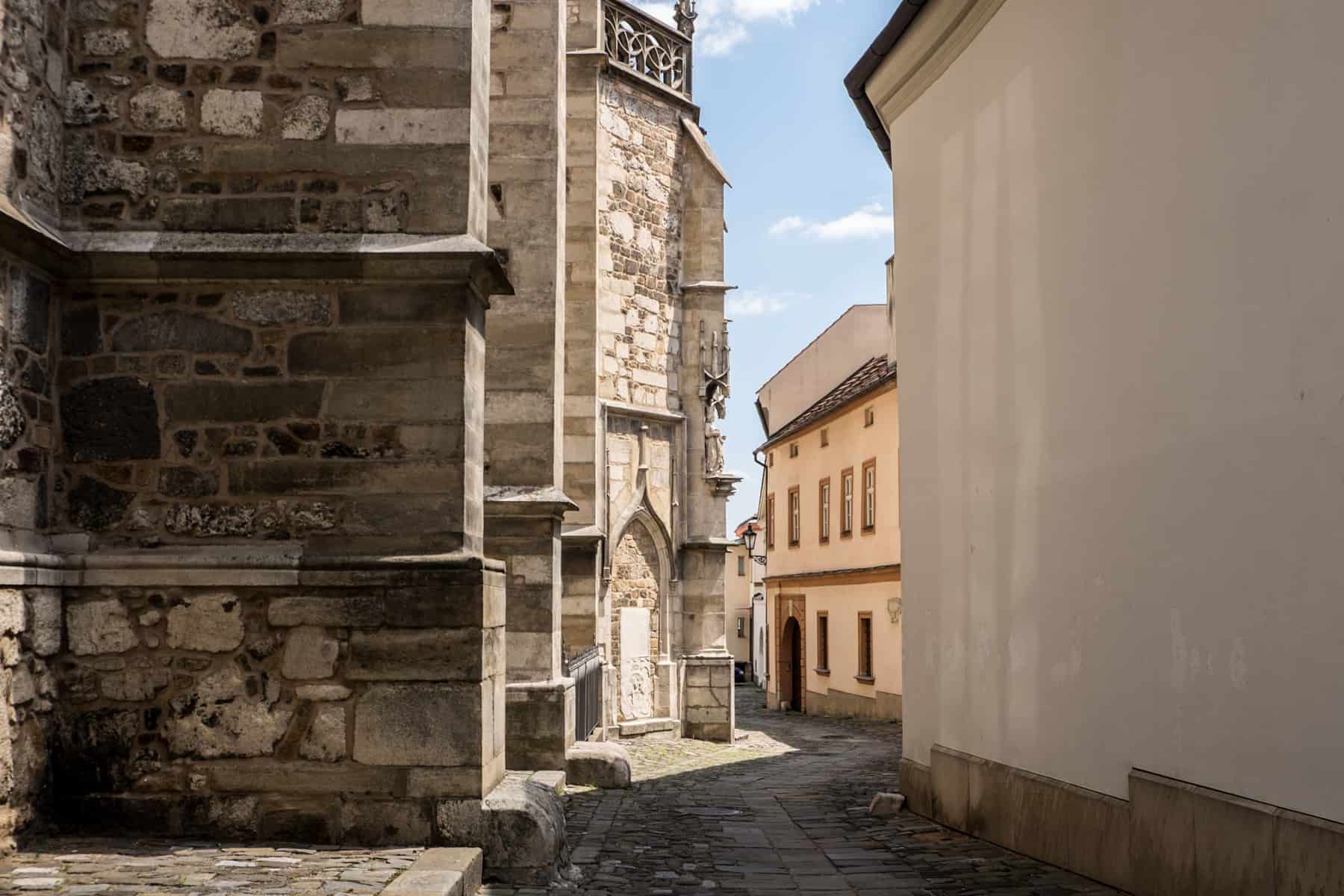 Cobblestones street around the Cathedral of St James and St Paul on Petrov Hill.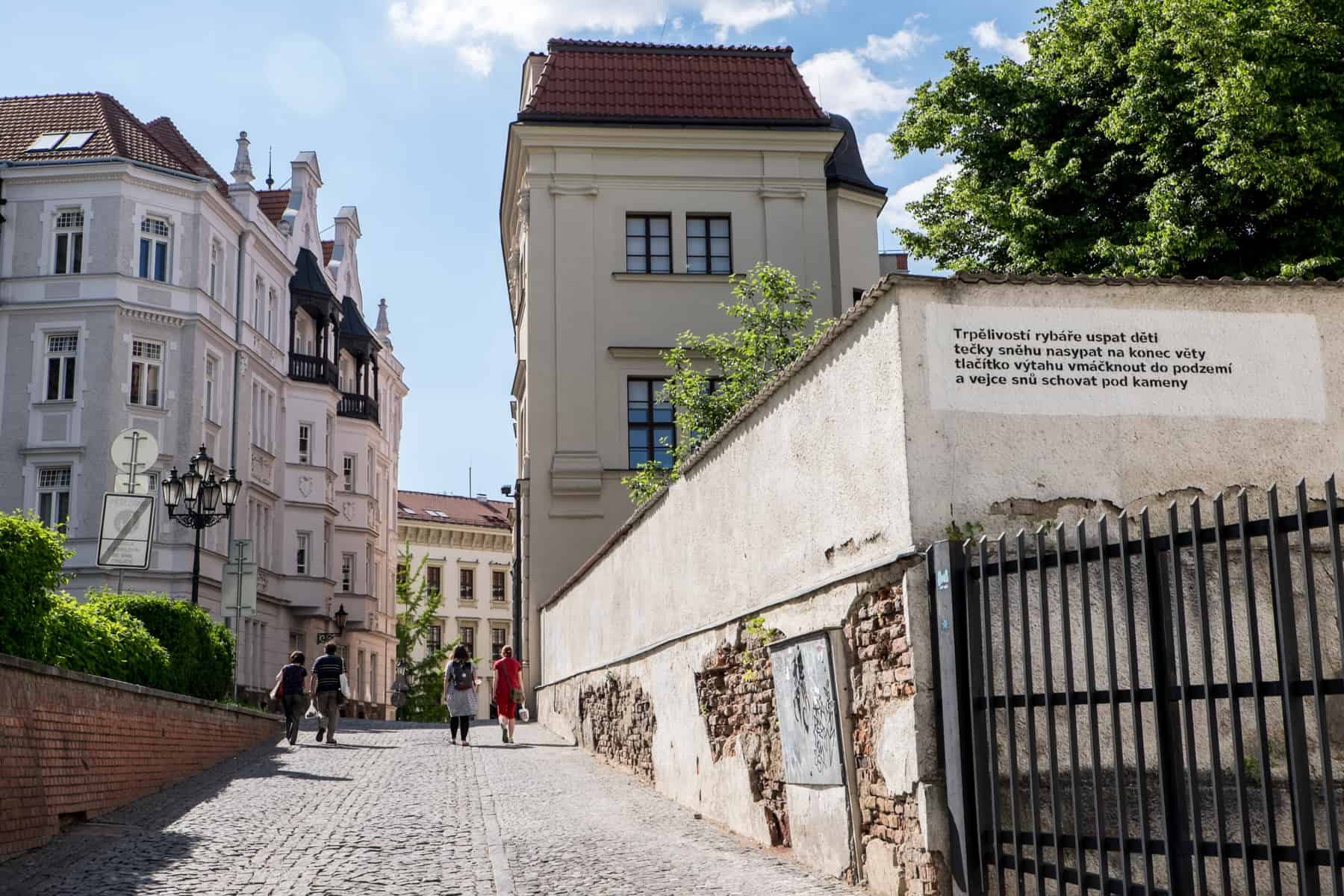 Visit Brno and wander the old historical streets.
If the art museums such as The Moravian Gallery – the city's largest – or the contemporary Brno House of Arts are not enough to tempt you, art is still accessible. You will see a host of Brno's sculptures scattered across the city streets, some with an alternative perspective at the right angle.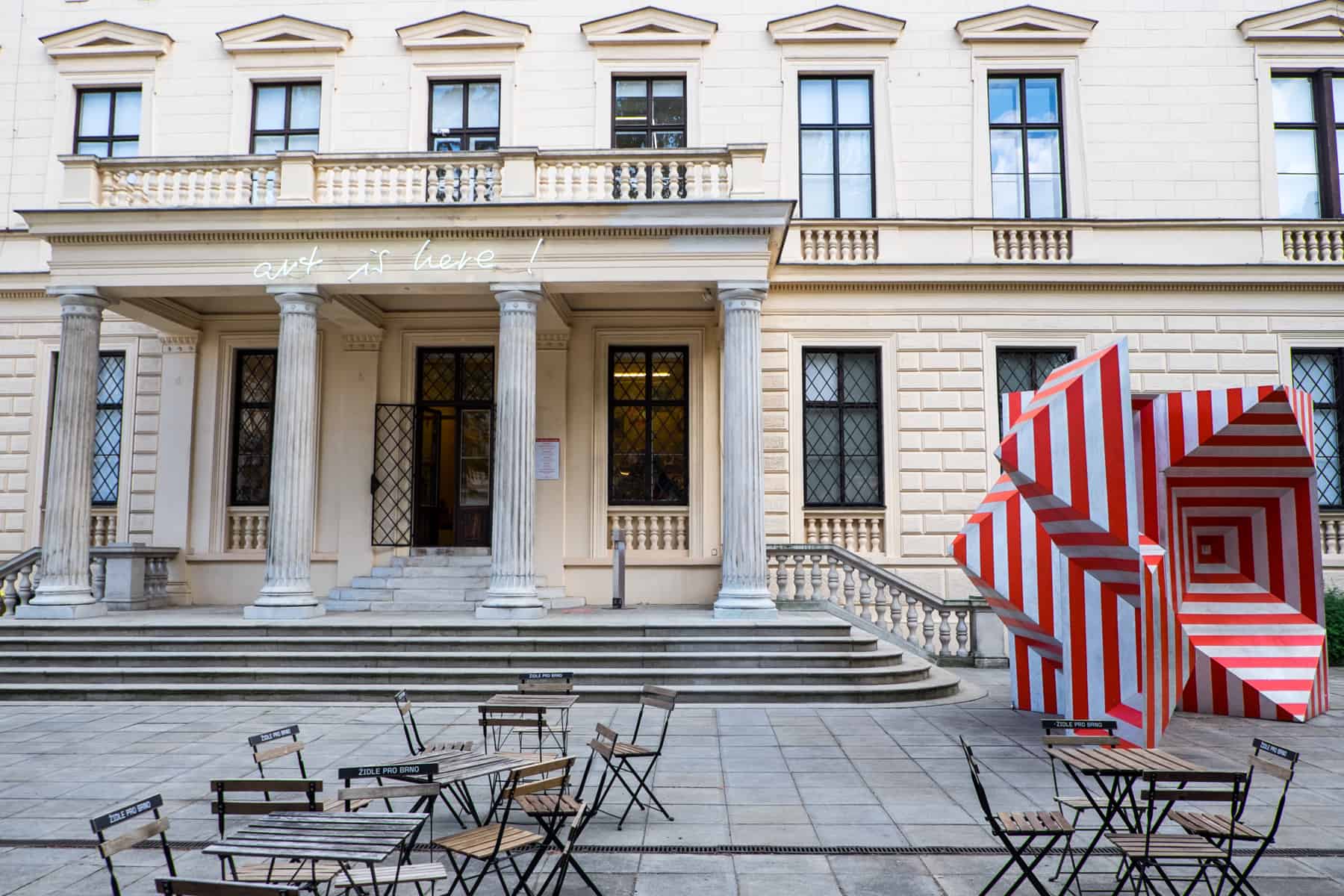 The Moravian Gallery in Brno – the city's largest collection of artworks.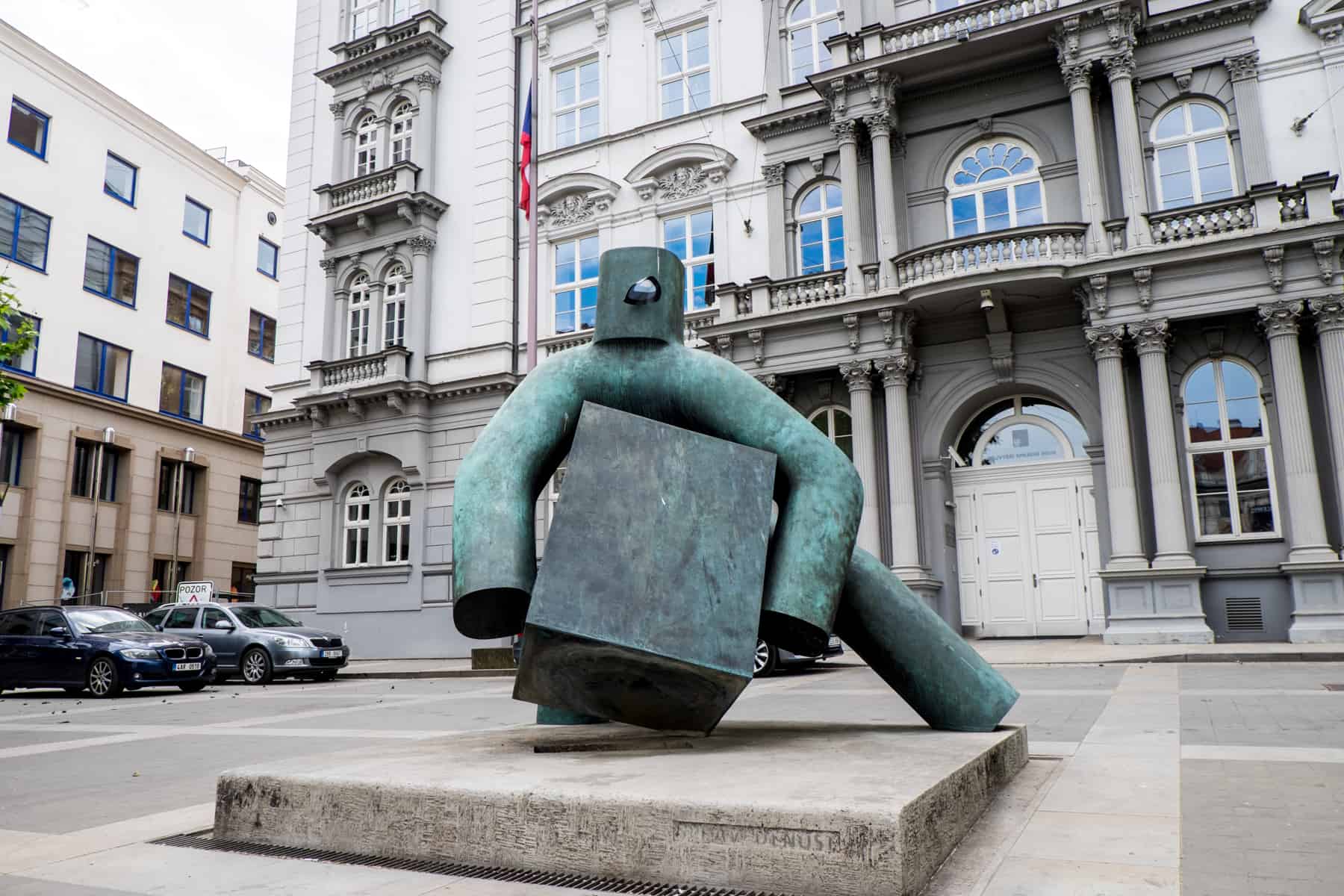 The sculpture of Justice near Moravian Square.
Of all the things to do in Brno, I bet seeking out the points of reference that have given the city a reputation for some phallic-looking art wasn't one.
The black stone Brno Astronomical Clock in Freedom Square has already been a design controversy since its conception in 2010. You can't tell the time from it (except if you wait to catch the one marble released daily at 11 am), and because it looks somewhat like a phallic emblem.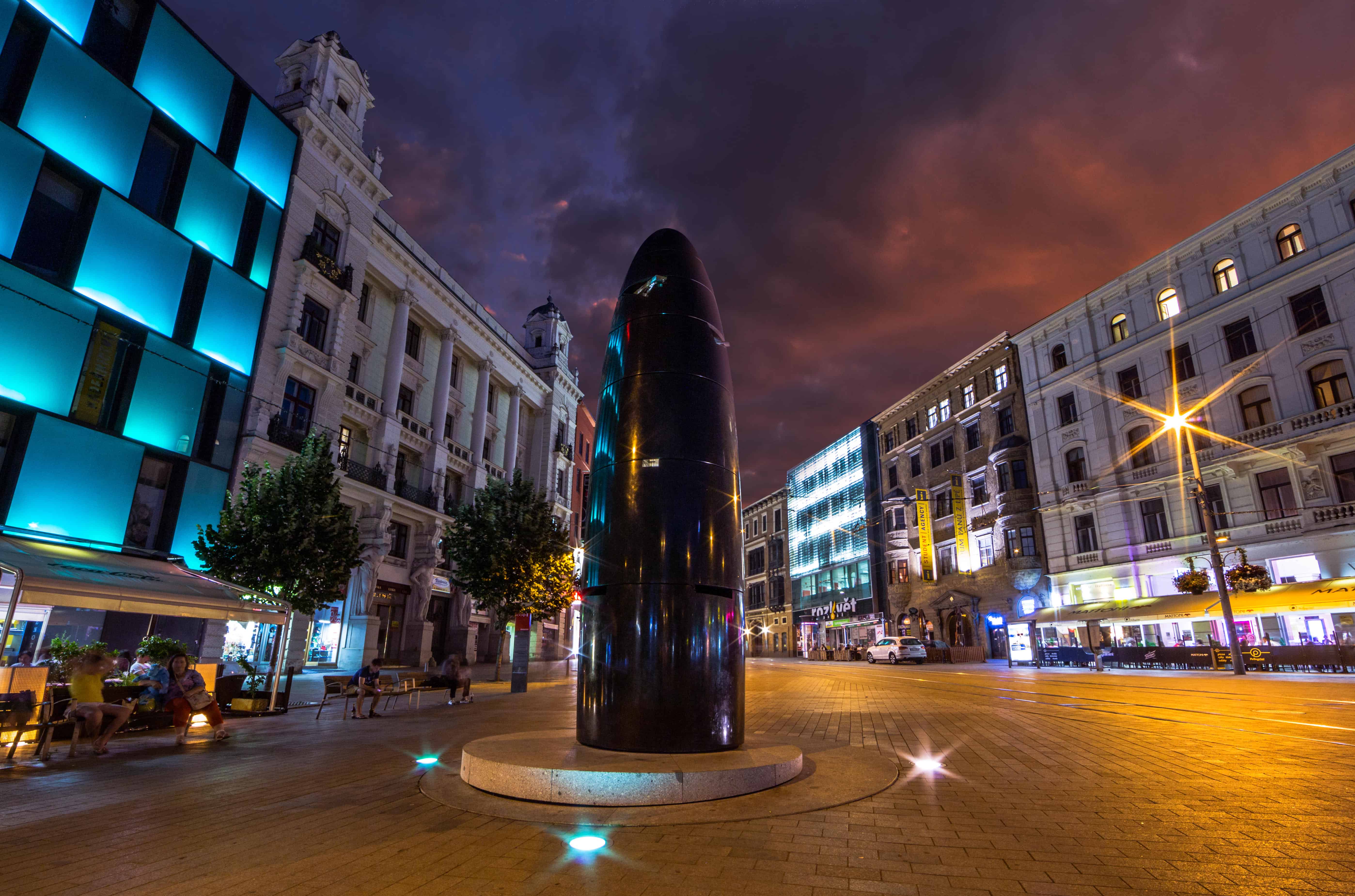 Source: City of Brno and P. Gabzdyl
The Statue of Courage in Moravian Square is more than an obscure embodiment of Jobst of Moravia on a giraffe-legged horse. Walk underneath it, and you'll see the giant steed in a new way. Intentional or not, we will never know.
Statue of Courage in Moravian Square depicting Jobst of Moravia.
From the clock to the city's countless church bells, Brno rings in Noon at 11 am. This quirk relates to a historic act of defiance by locals against the Swedish Army during the Thirty Years' War in the mid-1600s (a war between Catholics and Protestants) that saw Brno as the only town in Europe undefeated. When the Swedish General boasted that his army would leave if he didn't conquer the city by Noon, the people of Brno rang all the city bells at 11 am, saving it from siege with their shrewd trickery.
From classic boulevards of the Habsburg era and Austrian architects that gave Brno the affectionate term as a suburb of Vienna to Art Nouveau structures that started a push towards the later modernist styles and functionalism, Brno is a layer cake of urban design legacy. And if you are like me and always look up or enjoy strolling neighbourhoods looking at houses, then Brno is the place for that.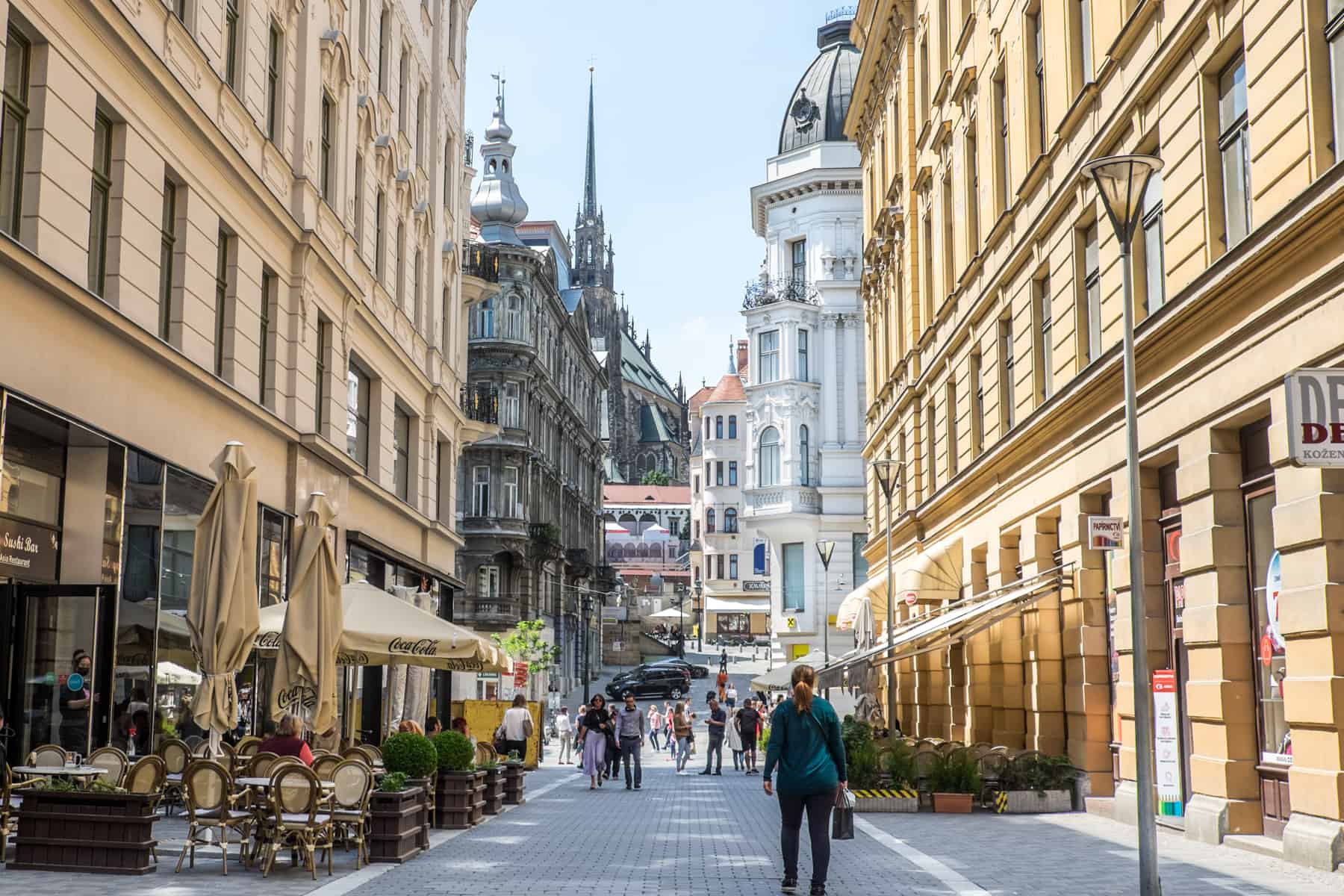 In the direction of Petrov Hill and Capuchin Square, you can see Brno's layers of architecture over the ages.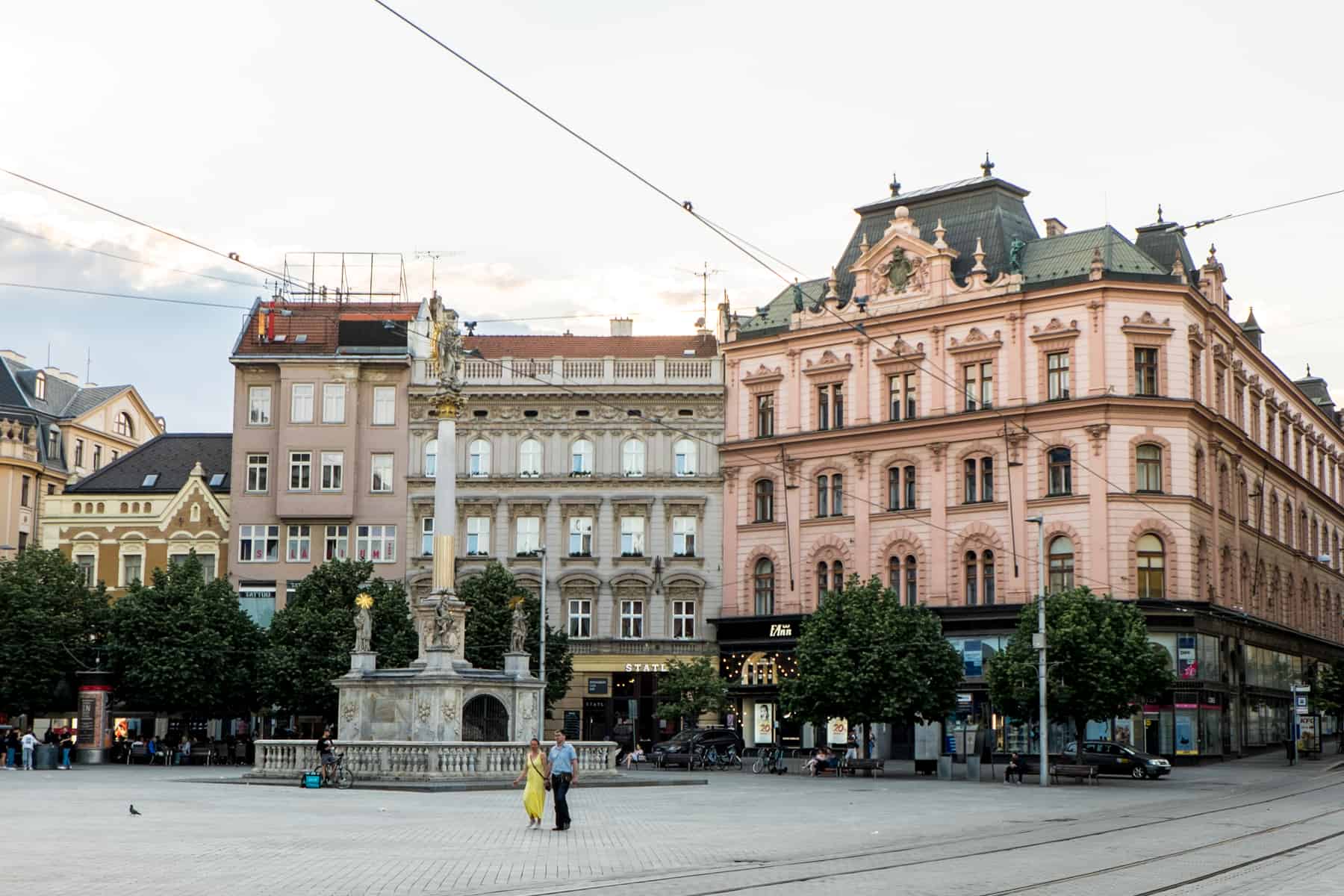 The structures surrounding Brno's Freedom Square.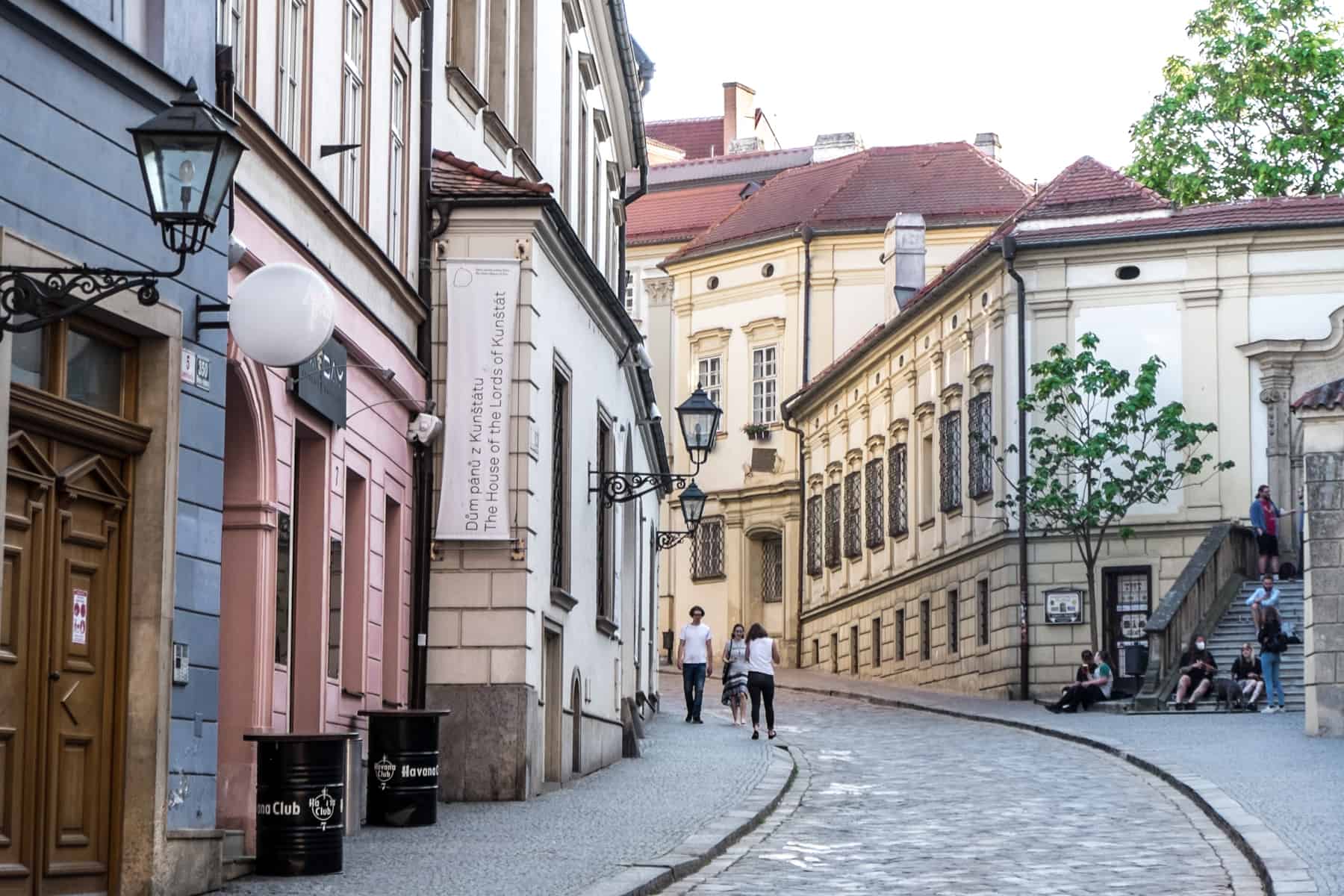 The old winding streets of Brno.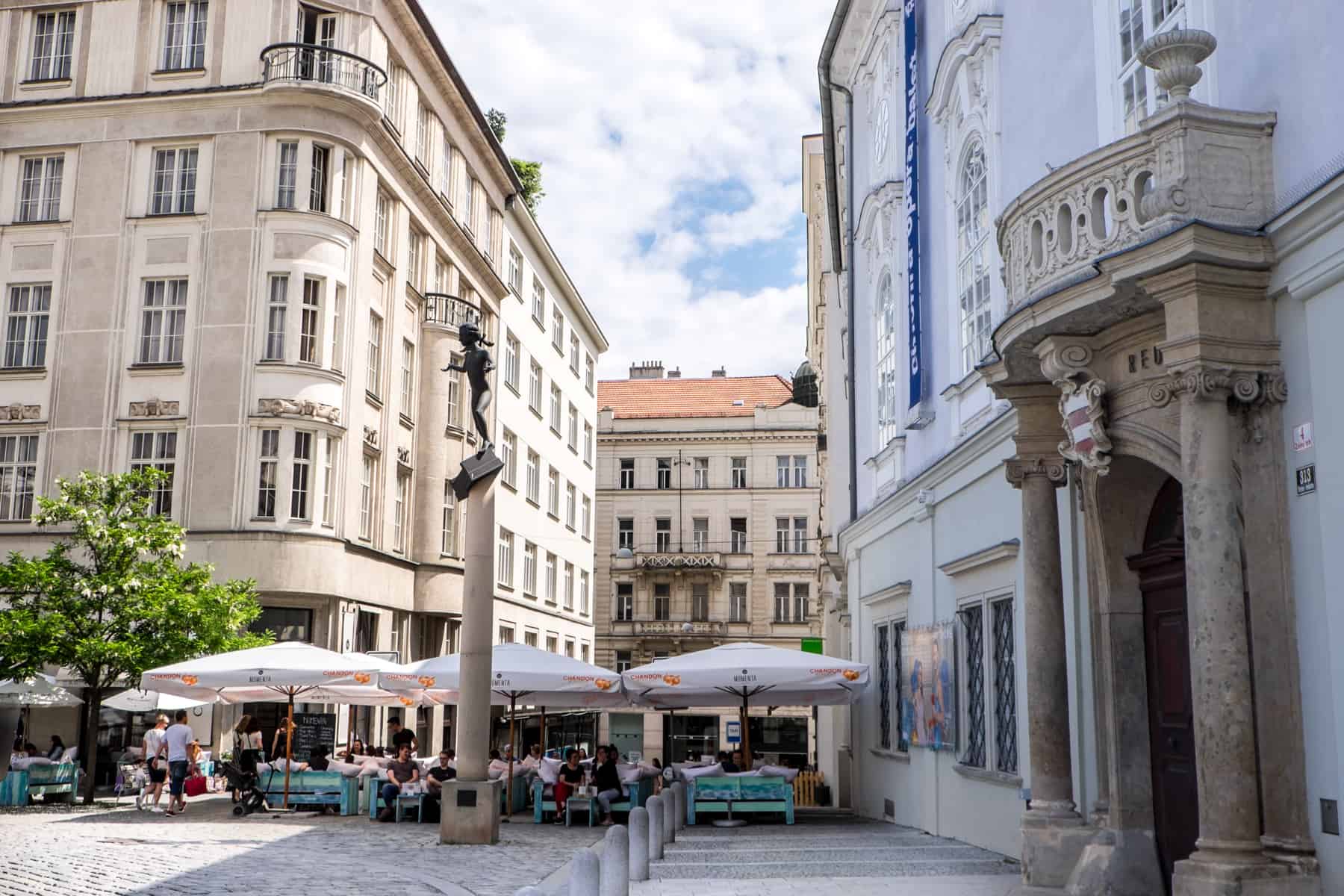 A mesh of architectural styles and the statue of Mozart in Brno, with an adult face and child's body.
A once important Habsburg industrial centre supplying cloth to the monarchy, the fall of the Habsburg Empire in 1918 saw Brno become a part of Czechoslovakia and ignite the move to differentiate itself from Viennese style through contemporary, more minimalist, functionalist design .
You can spot this modernist metropolis growth in everything from apartment buildings to churches, theatres, and shopping centres throughout Brno. In particular, the Masaryk Quarter is a well-known neighbourhood west of the city centre that's a canvas for functionalism and the famed Villa Stiassni.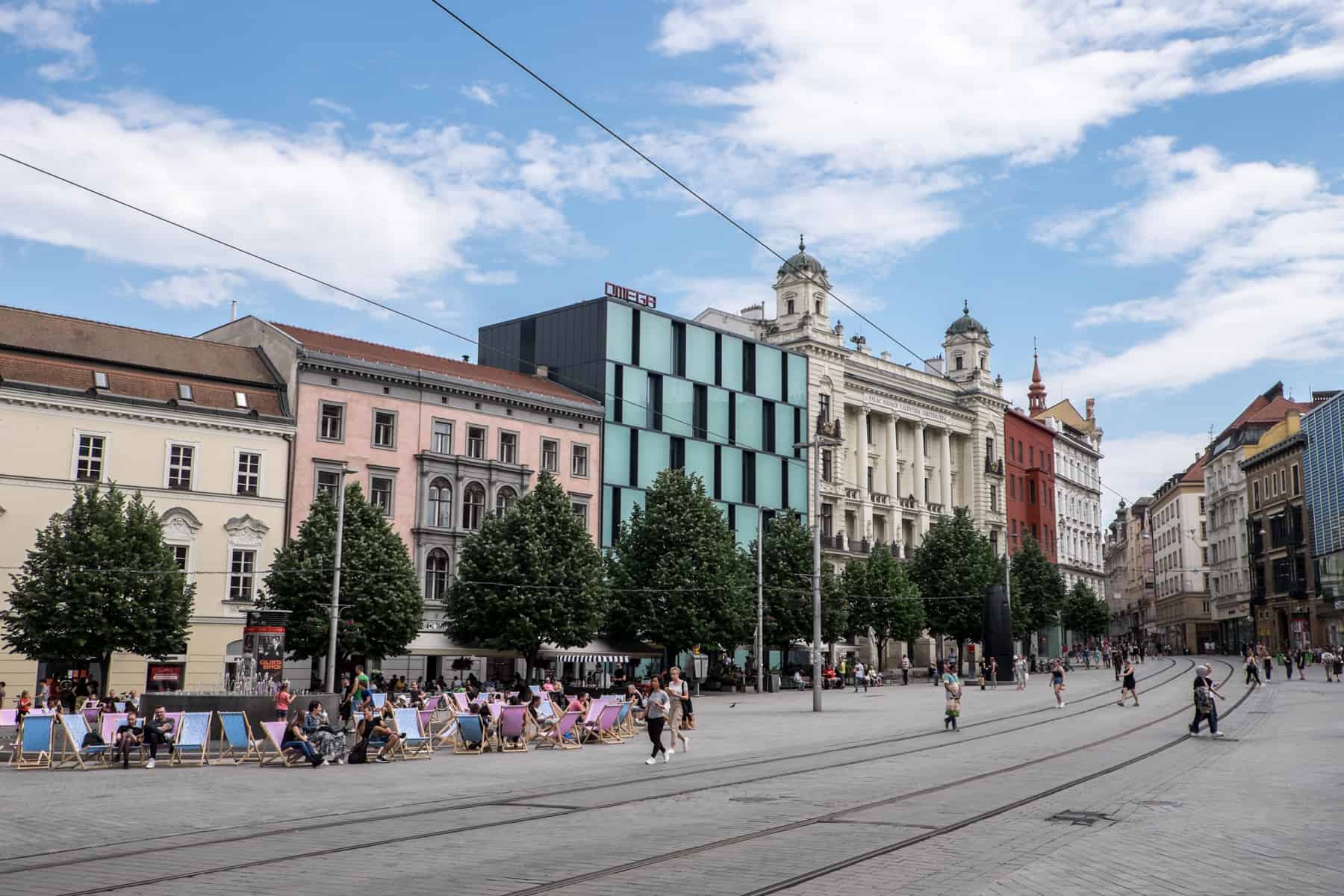 The Omega building on Freedom Square is one of the prominent examples of functionalist architecture in Brno city.
Look hard enough, and you might find those who have pushed the creativity levels in the residential areas like Kristek House in the fringes of Brno city on Tišnovská Street. Artistic Lubo Kristek returned to his childhood house and designed it to showcase the story of time and the figure of Sisyphus in Greek mythology, punished for cheating death, who holds onto the clock.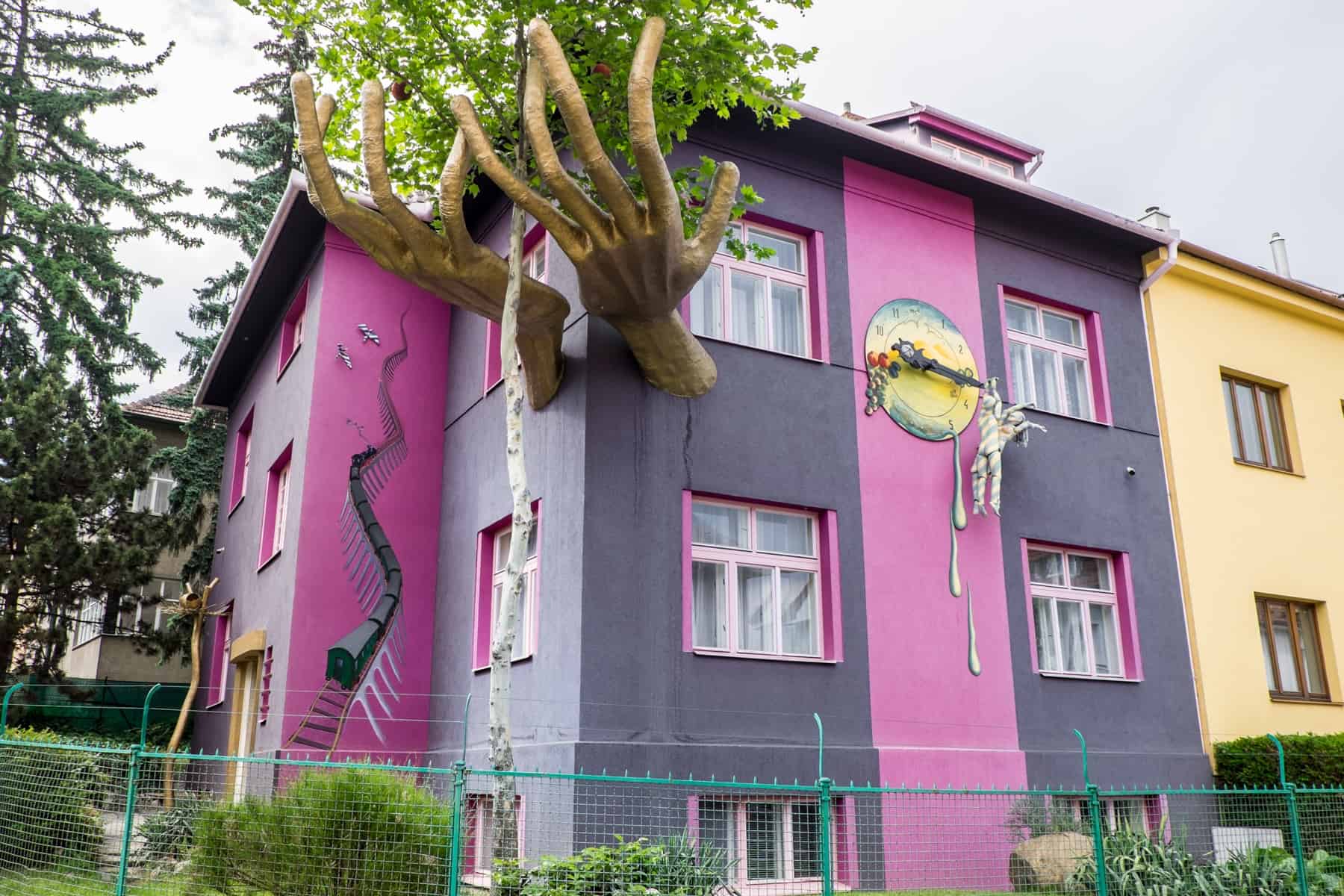 The artistic Kristek House in one of Brno's Cerna Pole neighbourhood
The Cerna Pole neighbourhood in Brno is full of functionalist housing and showcases the 20th-century villa society era, but one stands out. Villa Tugendhat is the only listing of modern architecture from the Czech Republic's 14 UNESCO World Heritage Sites – mostly historical centres and cultural structures.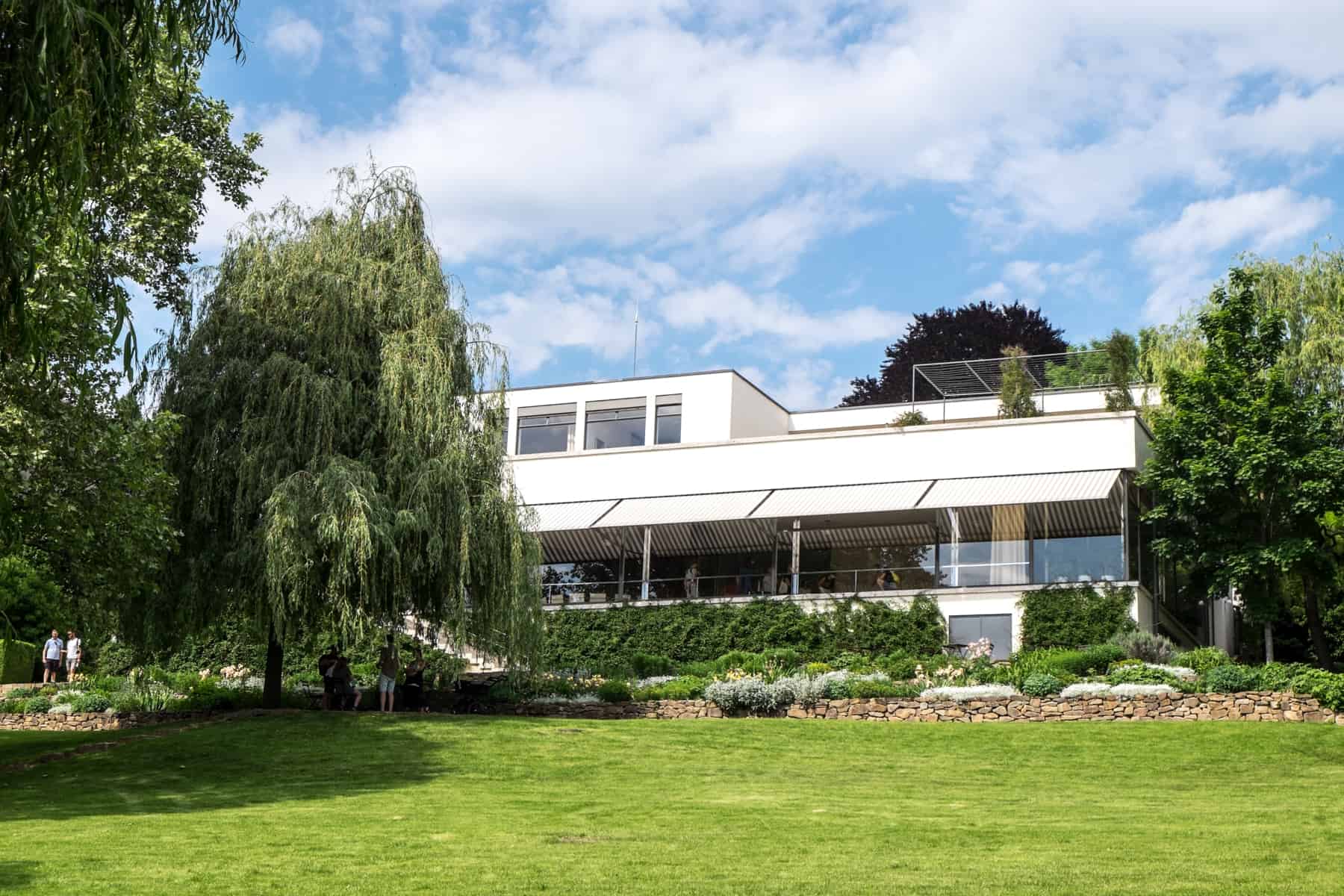 The UNESCO World Heritage Site of Villa Tugendhat – Brno's masterpiece of Functionalist architecture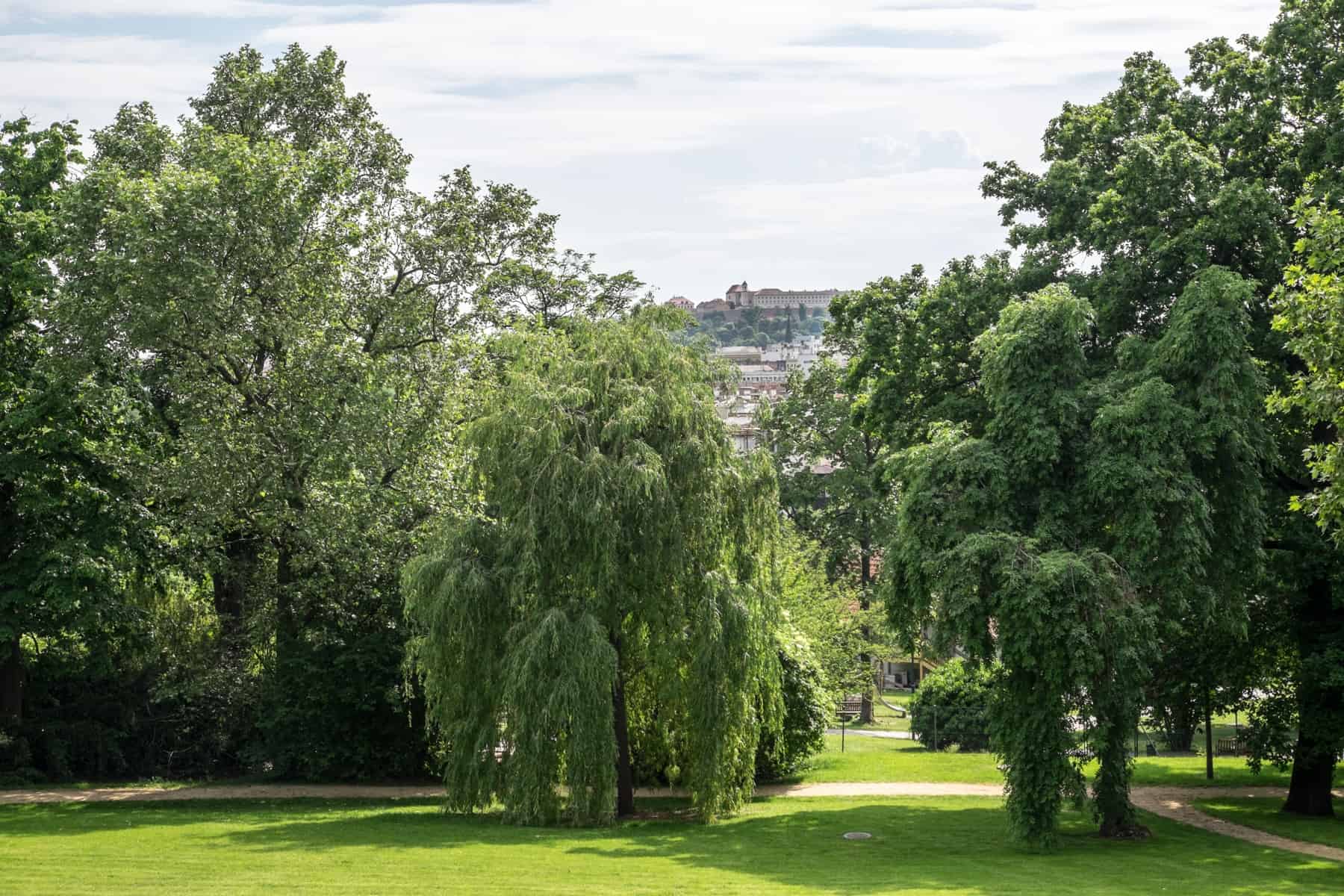 Villa Tugendhat was built deliberately with a view facing the city of Brno.
Villa Tugendhat was designed by the architect Ludwig Mies van der Rohe and completed in 1930 for Greta and Fritz Tugendhat – one of the Jewish industrialist families who owned textile, sugar and cement factories.
The Tugendhats fled Brno in 1938, anticipating World War II's threat. The villa – a significant part of Brno's Jewish heritage – was restored to its original appearance in 2012, as was Greta's family home opposite – the art nouveau style Löw-Beer Villa.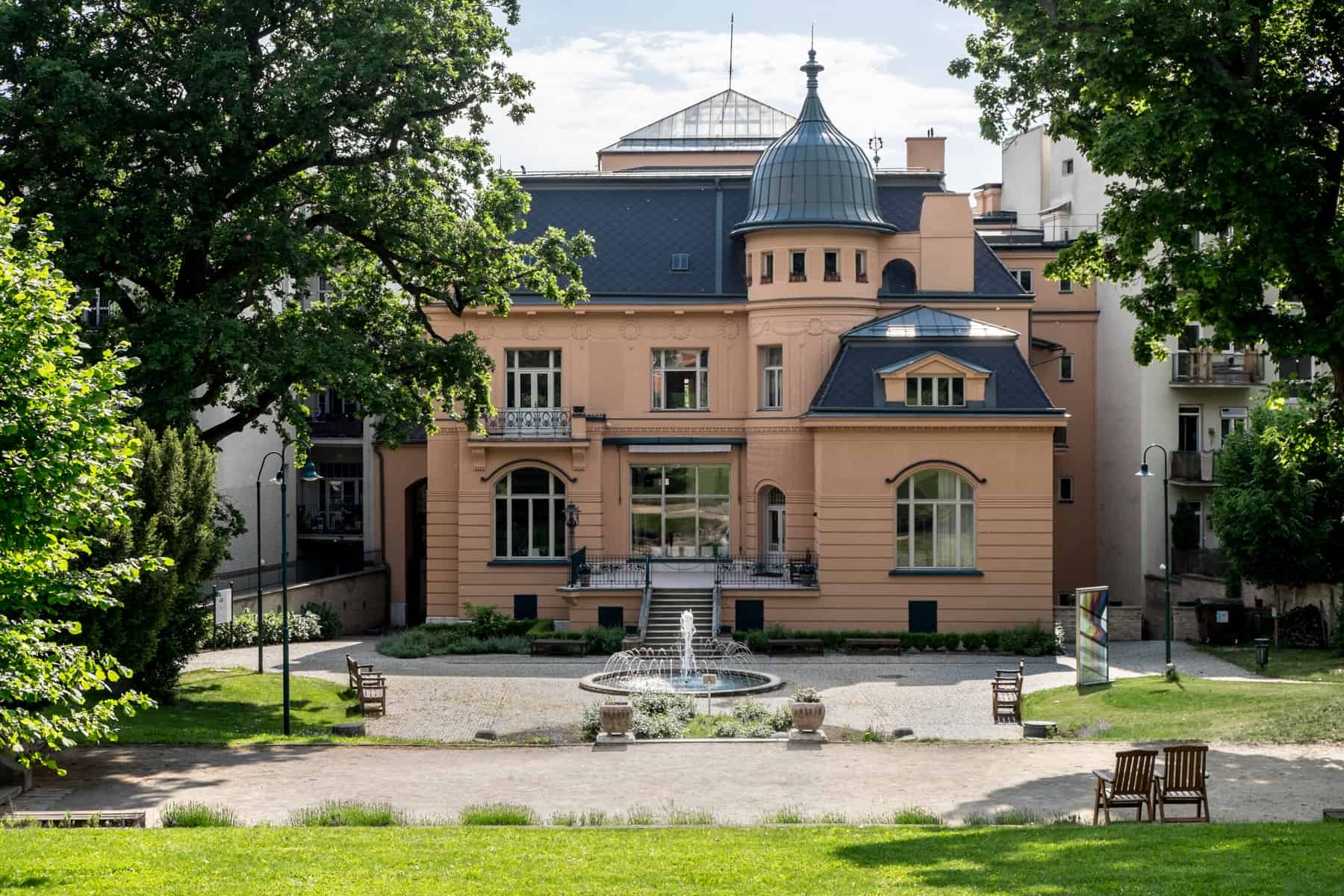 The art nouveau style Löw-Beer Villa – a family home opposite Tugendhat Villa, connected by a garden.
Tickets for the Villa Tugendhat tour need to be booked months in advance, but you can purchase a Tugendhat Garden ticket (50 CZK) and enjoy a view of the villa from the grounds. A metal turnstile gate connects the Tugendhat garden with the Löw-Beer's lawn (free).
Creepy, curious, and cultural, Brno conceals an entire network of underground spaces, crypts, cellars, an ossuary, and an aqueduct.
The labyrinth under the Vegetable Market (Labyrinth pod Zelným trhem) contrasts with its heaving social scene above, where 212 steps take you down to 1,000 metres of passageways once used as a storage space for merchants. The Mint Master's Cellar (Mincmistrovský sklep), under the New Town Hall, was where the city minted coins and the Underground reservoirs in Žlutý kopec are a newly opened space that's said to be very much like Istanbul's Basilica Cistern.
As cemeteries got full, people were buried in mass pits beneath churches. The Ossuary at the Church of St James (Kostnice u sv. Jakuba) was uncovered in 2000 when the square was reconstructed – a discovery that made this underground burial shaft the second-largest Ossuary in Europe after the Paris Catacombs. 50,000 people are estimated to be buried here, primarily victims of diseases like the plague and cholera. It was decided to rearrange the bones as a mark of dignity and remembrance.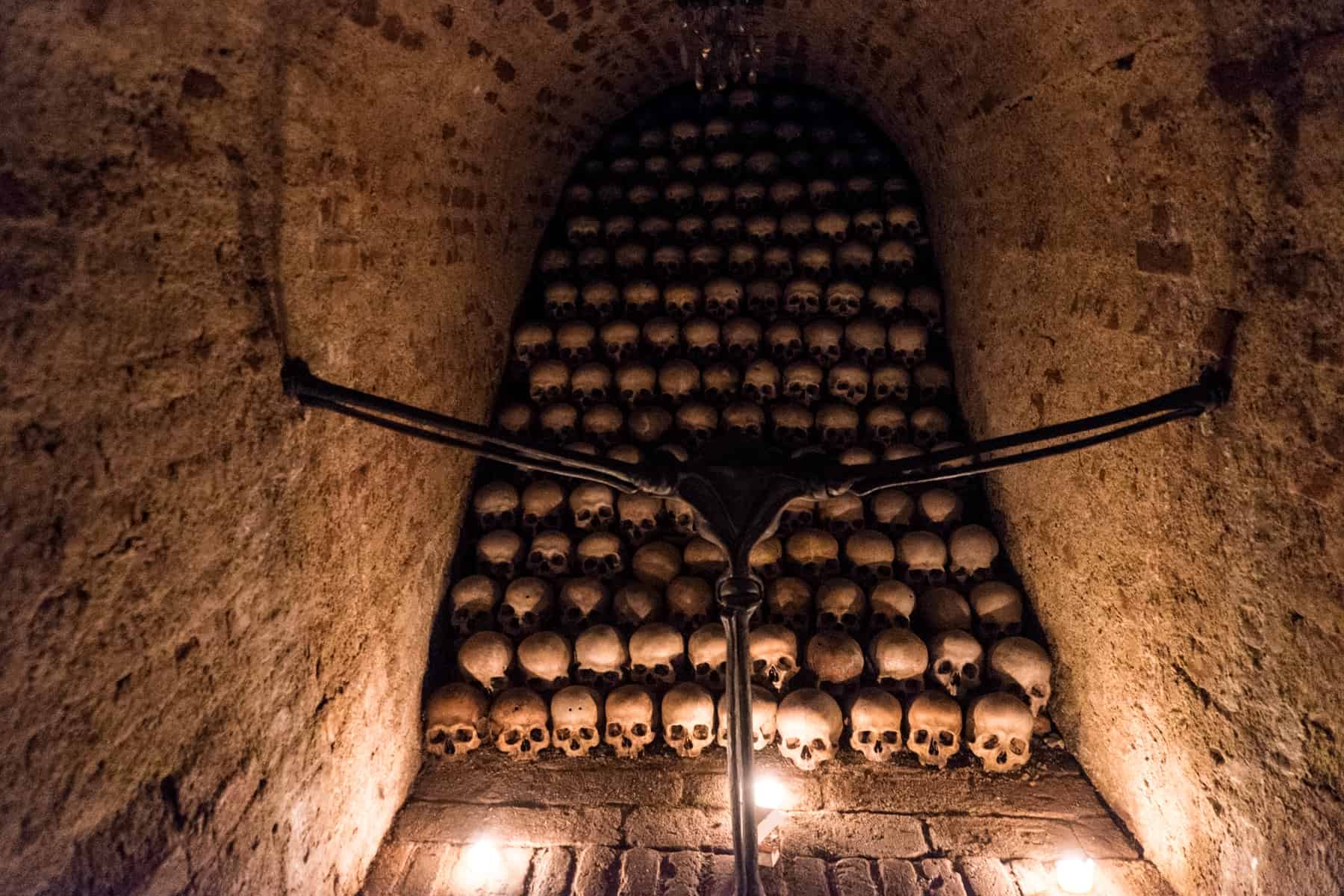 The Ossuary at the Church of St James in Brno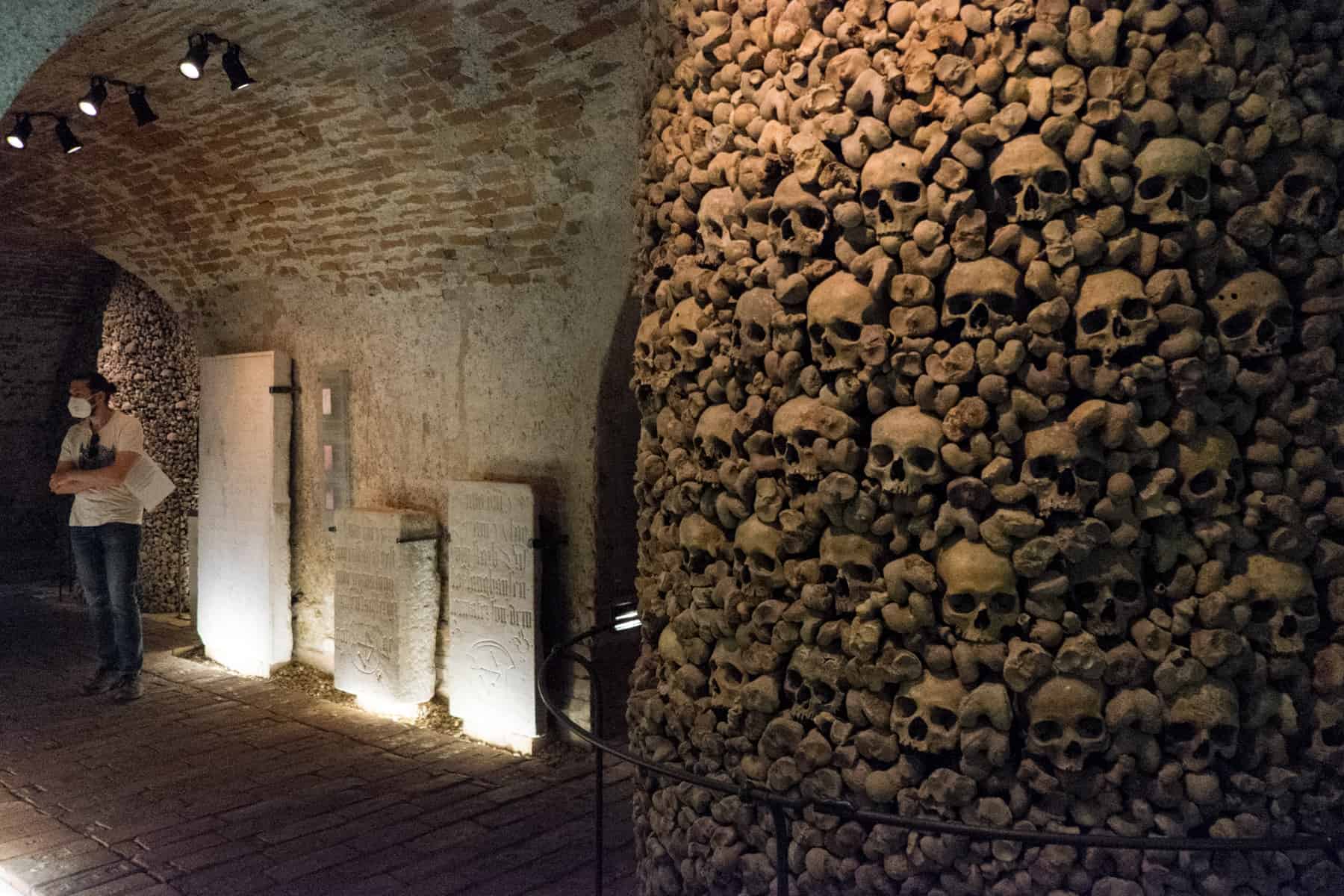 One of the more curious things to see in Brno is the display in the Ossuary.
The sacred Capuchin Crypt below the monastery on Capuchin Square is where friars of the Christian Capuchin Order and other prominent people associated with it were buried until 1784. It's a unique site because of the natural mummification of the 153 friars laid to rest here in a simple burial, naked and placed on the ground, due to the ventilation system combined with the soil composition under the monastery. The 52 benefactors were buried in coffins – some of the open caskets are also on display. It didn't feel right to take photos.
The 10-Z Bunker is also part of the Brno underground. As history geeks, we got to spend our first night here – a former Nazi civil defence shelter turned Cold War nuclear fallout shelter built for up to 600 people. Luckily, it never had to be used for its intended purpose.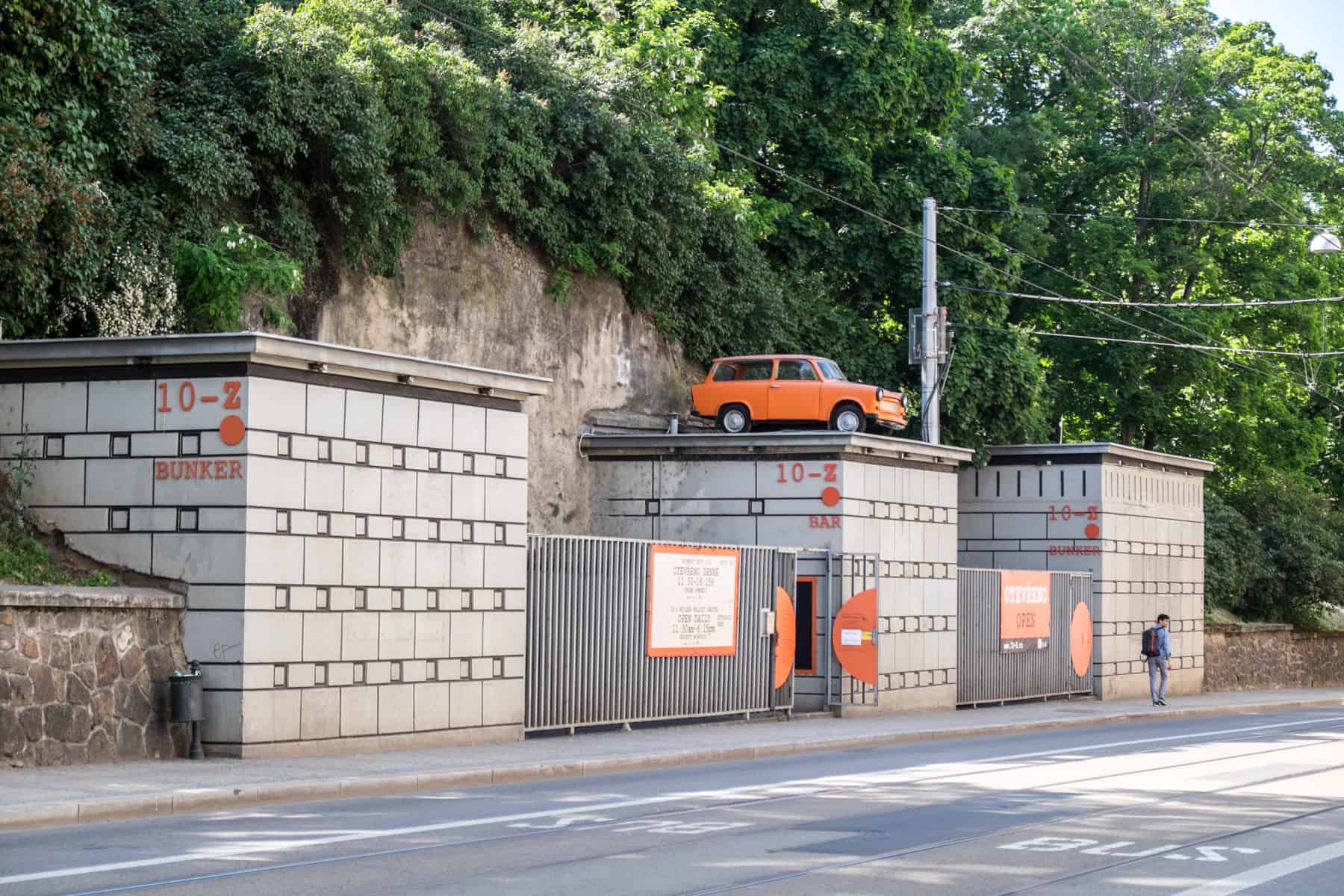 The 10-Z Bunker – Learning about Cold War Era Brno.
After our stay, we wandered the narrow corridors that lead you through an exhibition on how and why the 10-Z bunker was set up , with original rooms and artefacts – constructed in 1959 during the Communist era, its purpose was to protect the city's political elite from nuclear attack and remained a classified secret until 1993. While slightly terrifying, it is a unique experience in Brno – it's only been open to the public since 2016. See 'Where to Stay' for further booking information.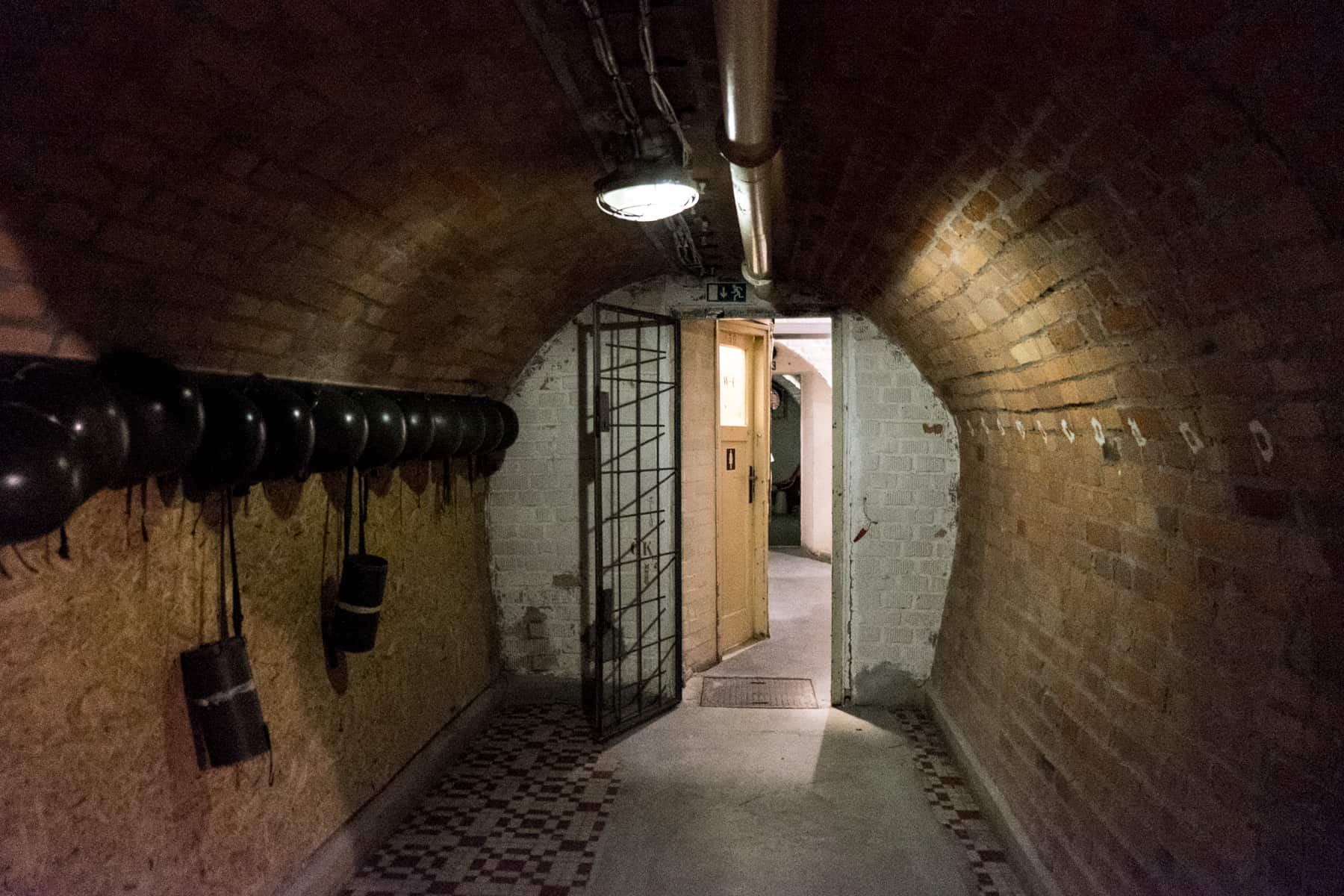 The 10-Z Bunker exhibition is one of the surprising things to do in Brno, Czech Republic.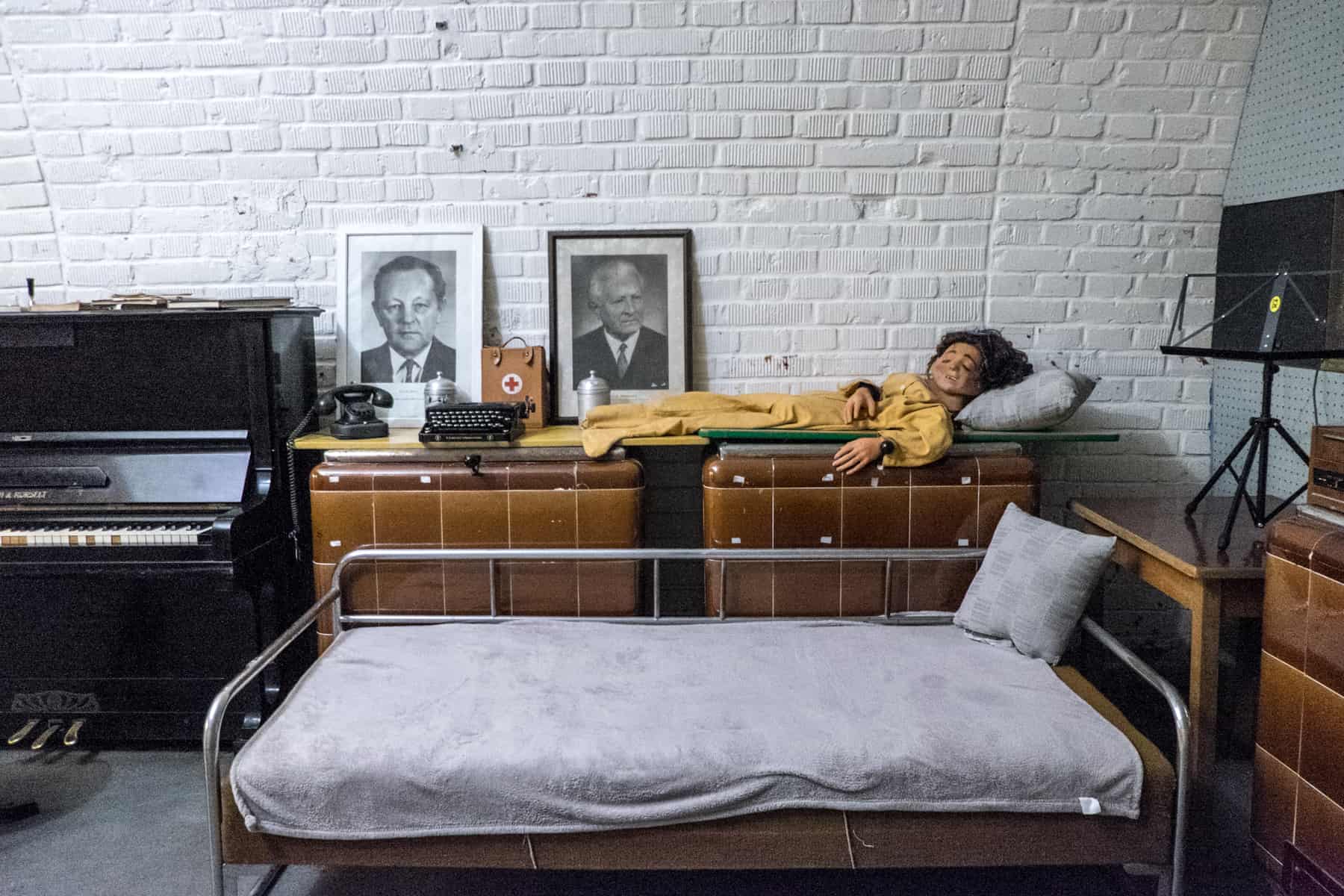 Artefacts from the 10-Z Bunker, now used for events and accommodation.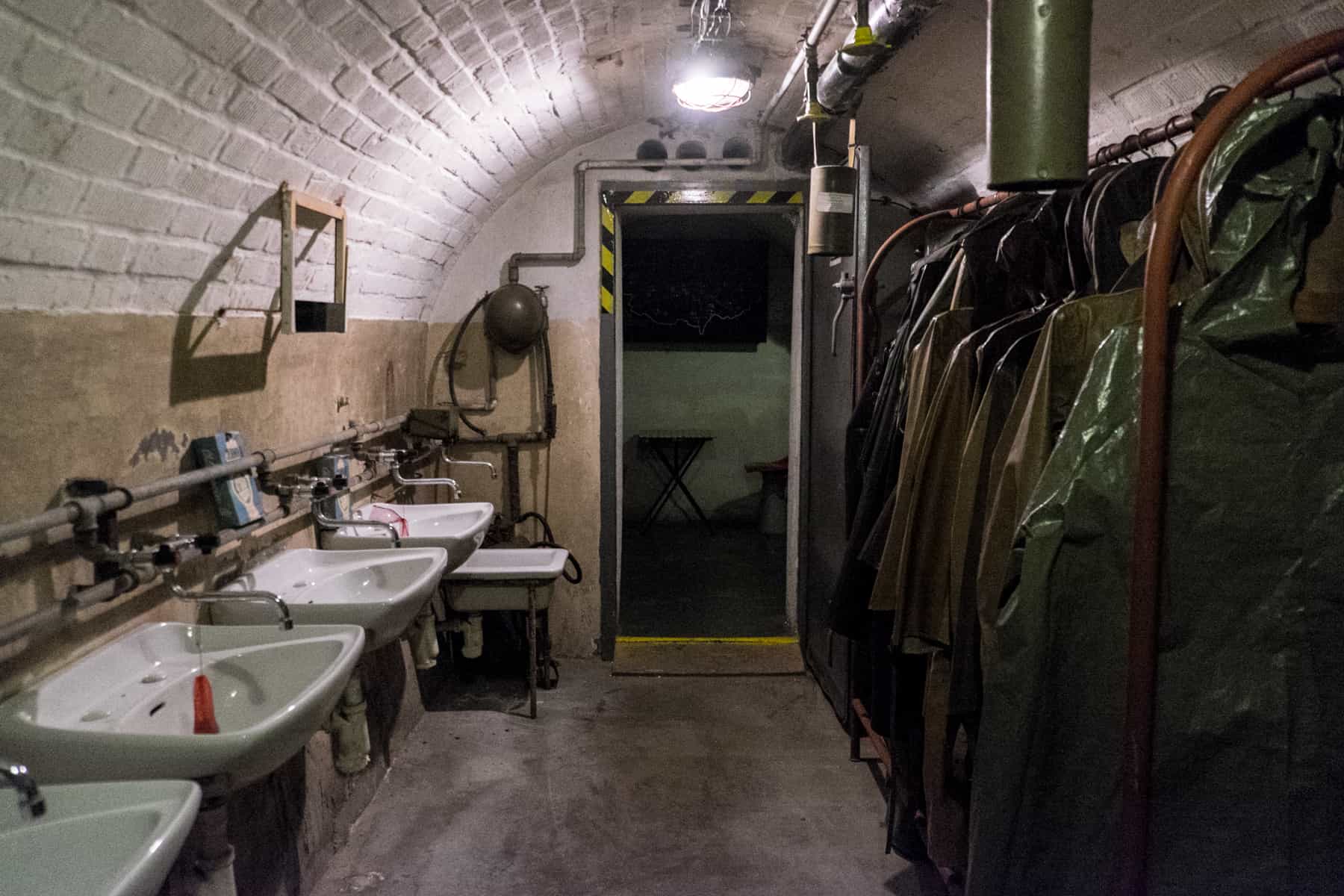 Protective gear, gas masks, and helmets can be found throughout the Brno bunker experience.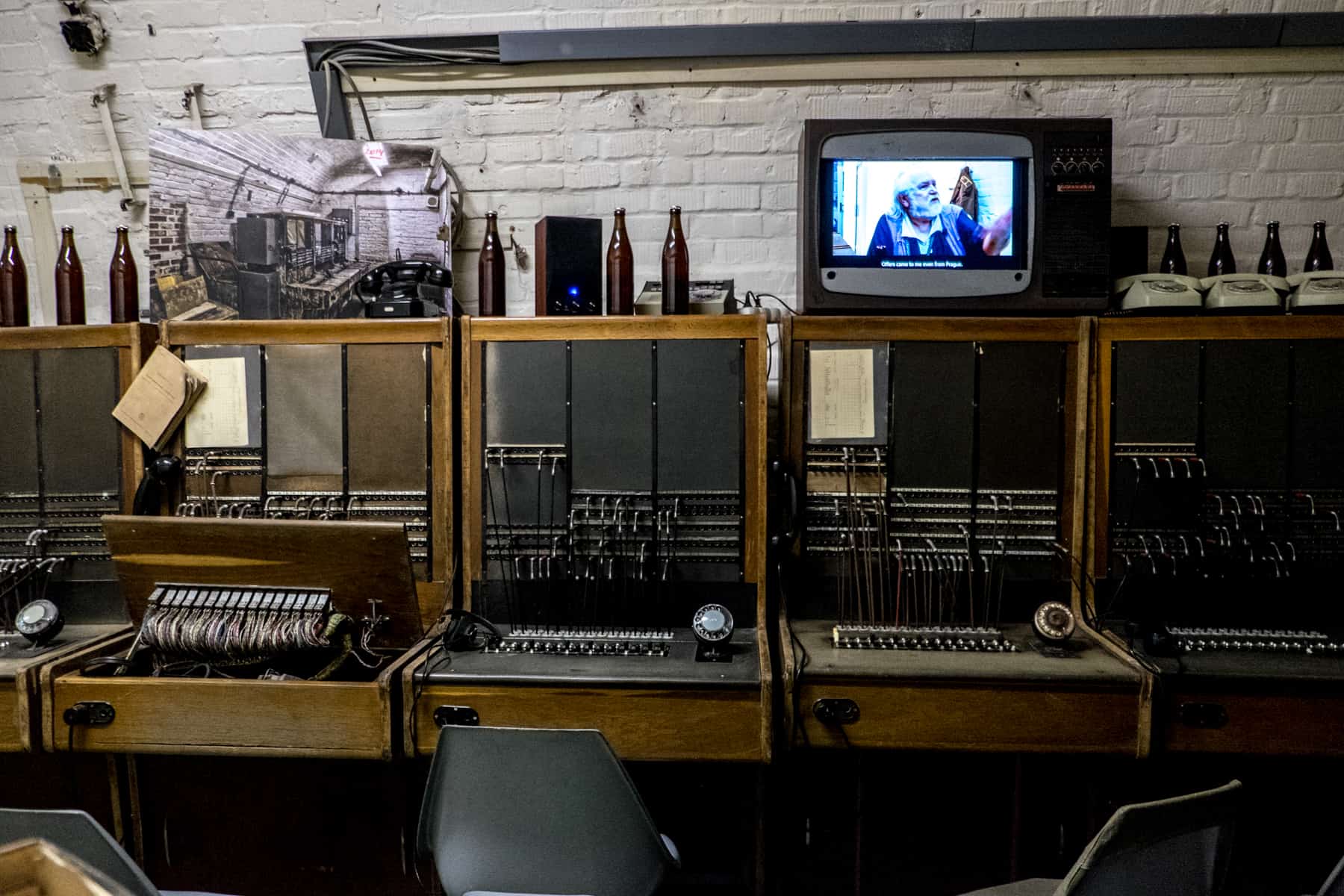 The communications room at the 10-Z Bunker remained a classified secret until 1993.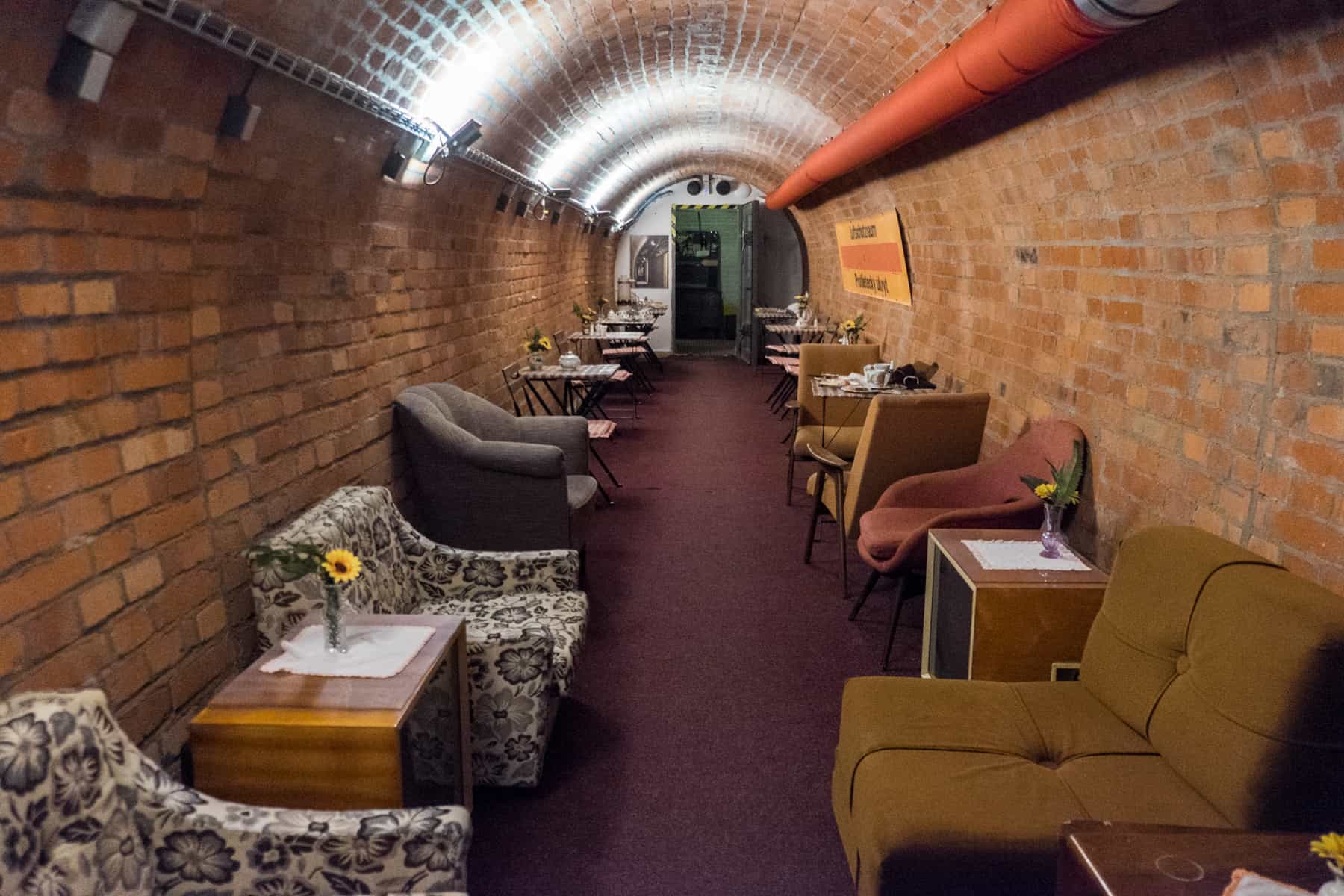 Brno is home to the Starobrno brewery , but that's not the beer the locals drink. When you consider all the craft beer bars, courtyards concealing microbreweries, craft beer festivals (which we were lucky to come across during our stay) alongside the tap bars with traditional Czech lagers, you can see why.
But while Czech beer is in abundance, the wine is famed here. Since Brno is the capital of South Moravia, that makes it the wine-producing region's capital with renowned vineyards, especially of the white variety. Local wines can be found in cellars and bars all over the city, and Brno is also a great starting point to enjoy a day trip to the Moravian countryside vineyards.
There's a lot to choose from, so here are some top picks for your first time in Brno.
Beer and Wine Bars in Brno
Pub u dvou prátel – A laid-back bar with local craft beers on the tap.
Pivni Burza – A quirky beer stock exchange where beer changes price depending on how much is purchased.
Mandlárna – We combined a Moravian wine tasting with a food plate at this bar, known for its local almond produce.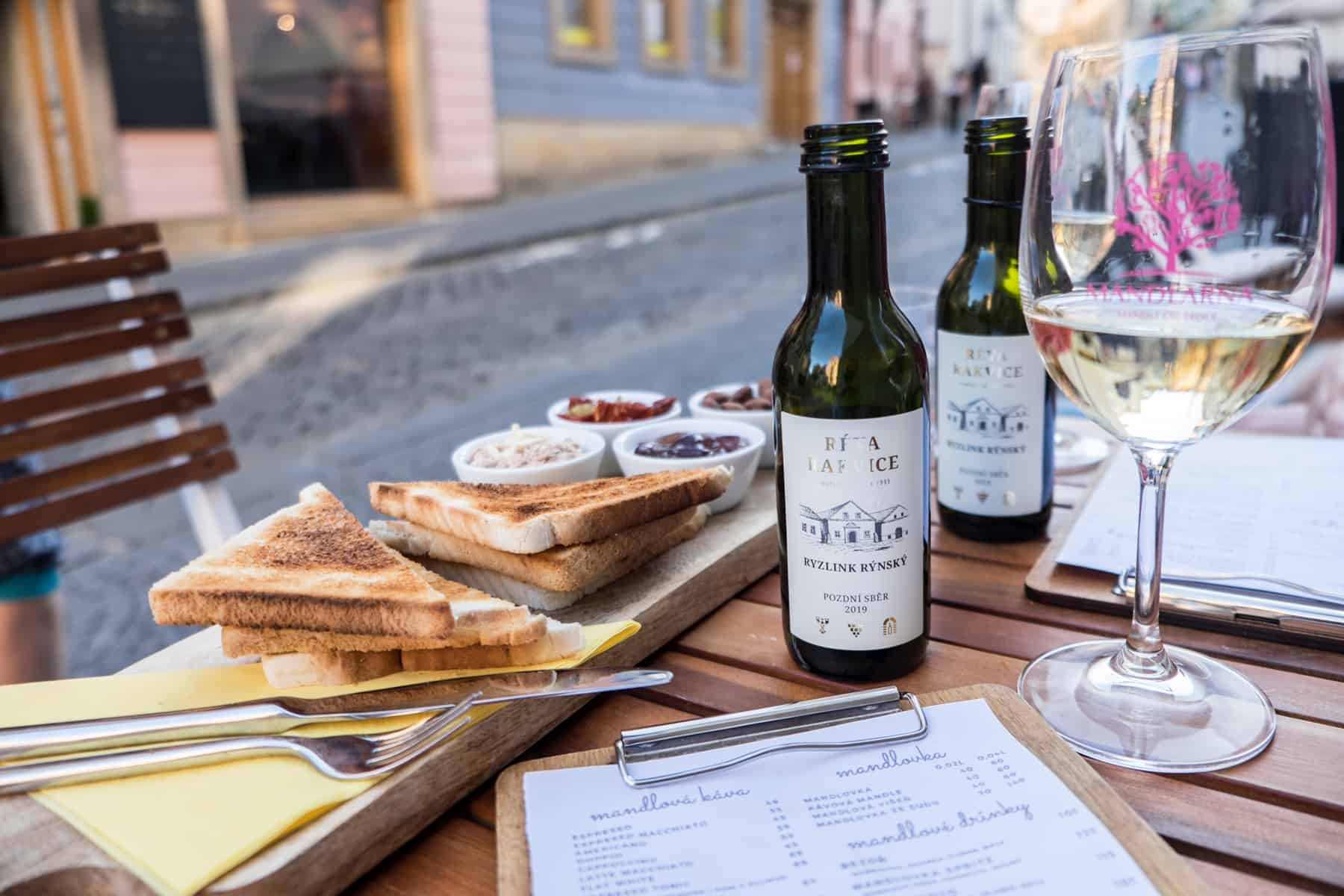 Moravian wine tasting is a must when visiting Brno – the capital of the Czech Republic's renowned winemaking region.
Retro Consistorium – Popular also for its food, but has an extensive Moravian wine list.
Cafes, pubs, bars, hidden courtyard hangouts, mobile coffee carts, the vegan ice cream truck at the Vegetable Market, and a restaurant run by nuns next to the Cathedral. From Brno city centres to its outer fringes, the city serves a feast on every level.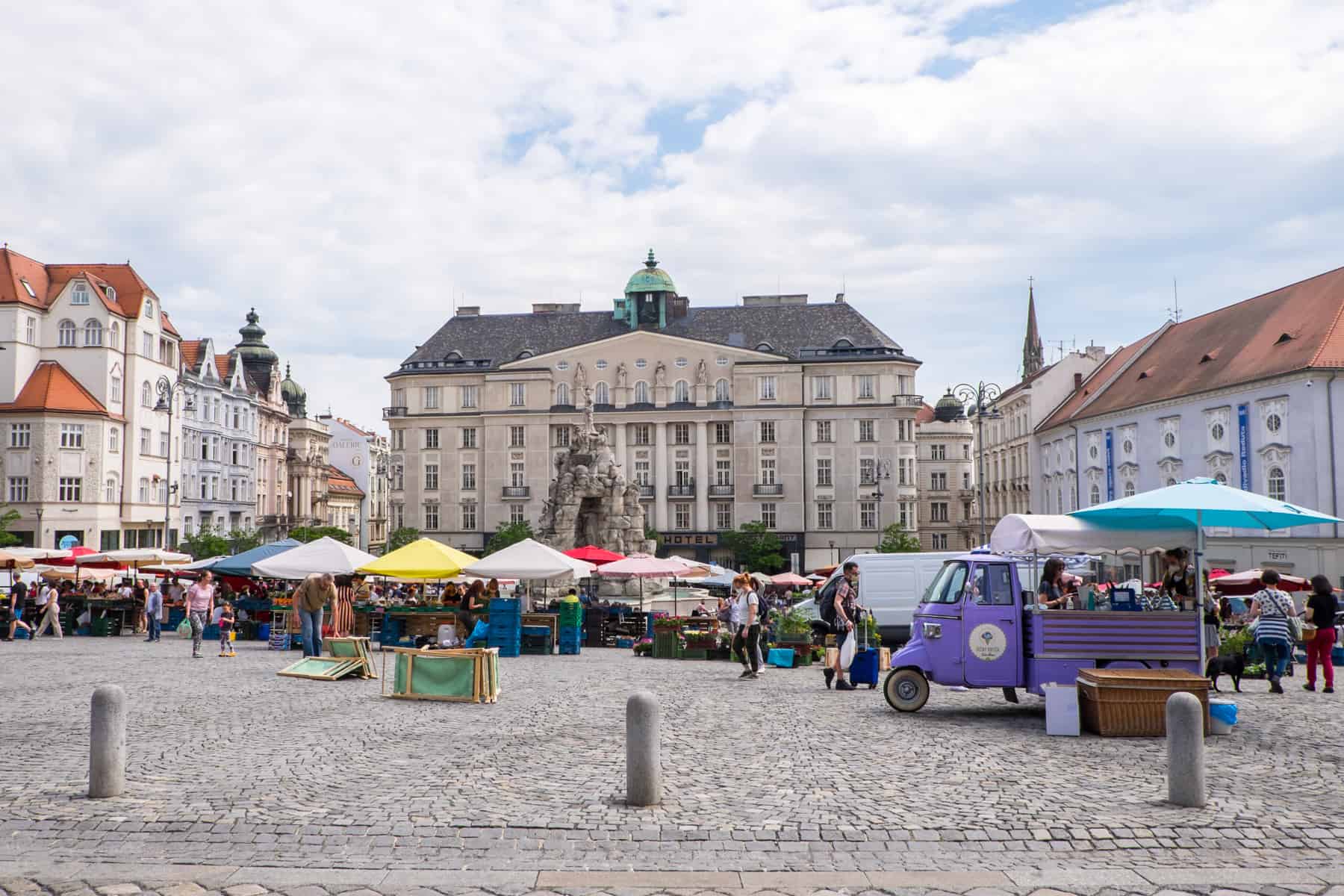 The Vegetable Market is more than a weekly shop. It's surrounded by bars, restaurants, cafes and the city's famed purple vegan ice cream truck.
Many don't know until they arrive that Vietnamese restaurants are the beating heart of the culinary scene here, with the history of Vietnamese immigrants in the 1980s staying in the city and opening restaurants. You'll be so spoilt for choice; it might be hard to decide on another cuisine.
Best Cafes and Restaurants in Brno
I like the sporadic nature of choosing in a city with seemingly endless choices, but it's good to know some of the best places to eat and drink in Brno to make an impressionable start.
Coffee shops and bistro bars
Monogram Espresso Bar – extensive coffee range including espresso tonic and cold brews.
SKØG Urban Hub – this hipster cool, fantastic food and coffee hangout is a local favourite.
4pokoje – head for the neon lights. This funky bistro bar is great for grabbing a drink and trying the Umami Chips.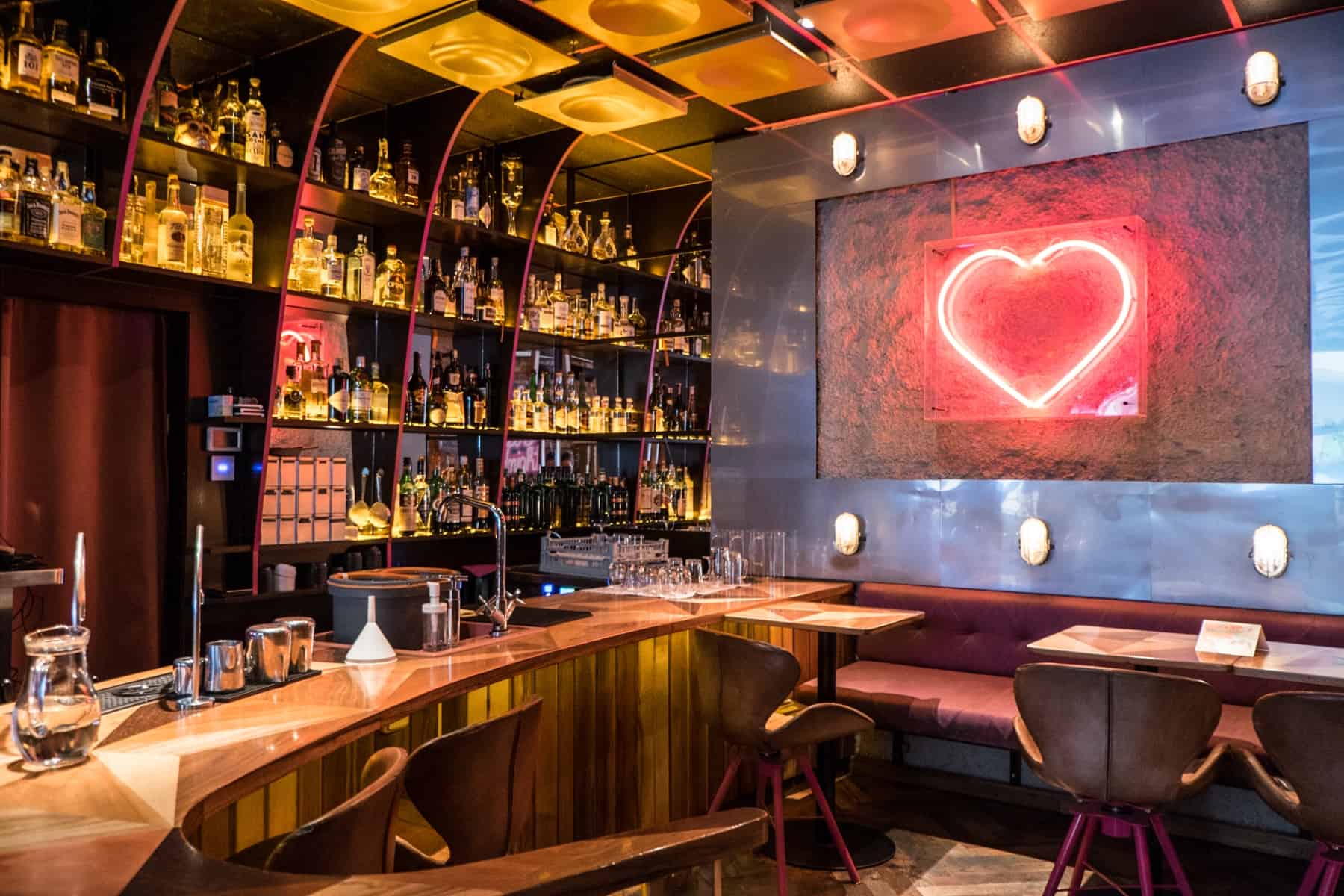 Look for the bright lights of 4pokoje bistro bar.
Café Momento – the choice for breakfast amid the hum and sweet fragrant smell of the Vegetable Market. Check out its sister store Sušenkána Momenta for delicious cookies.
Restaurants and food trucks
Ca Phe Co – Our Vietnamese top pick, known primarily for its excellent Pho but has an extensive menu, and you will likely order too much.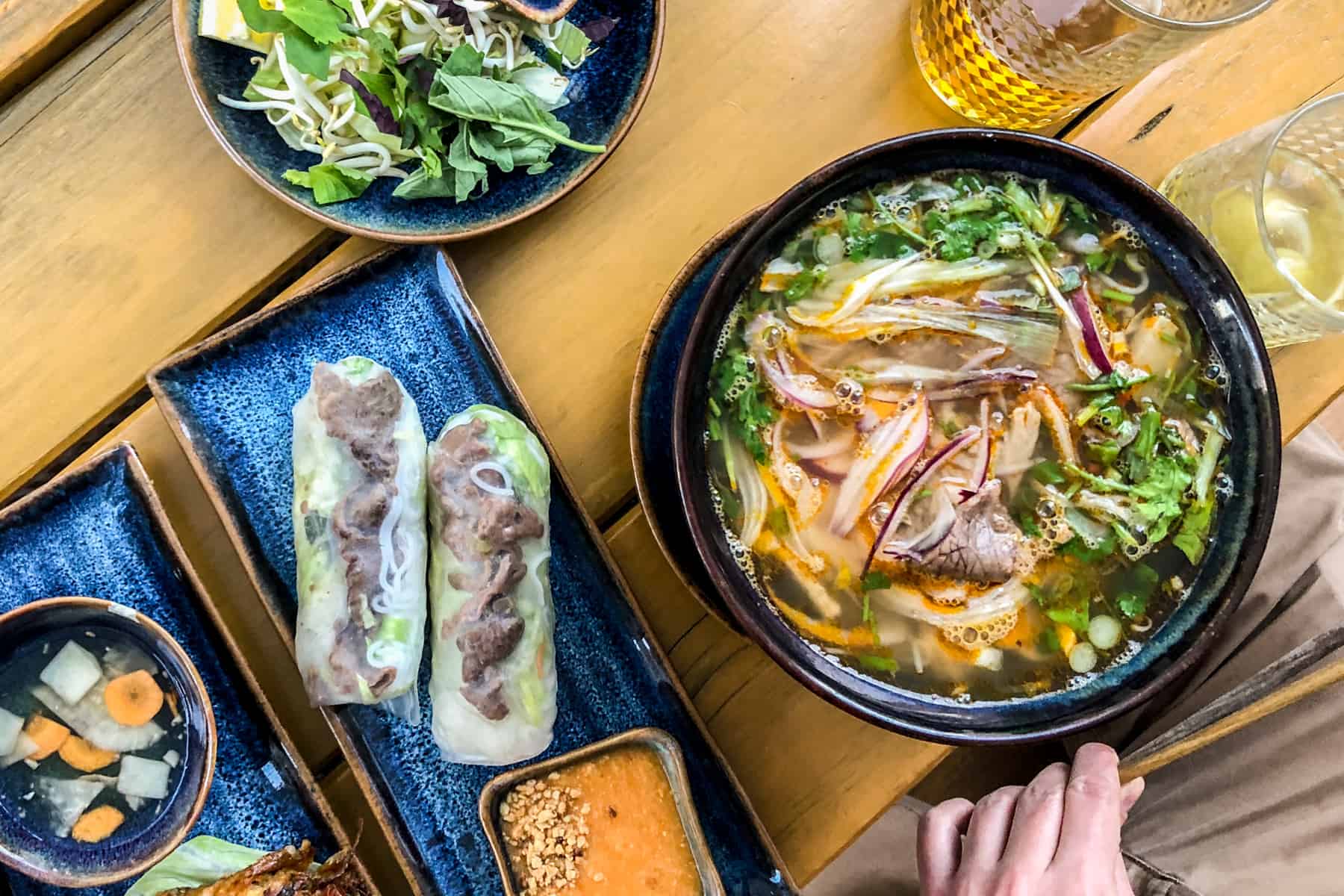 Vietnamese food is at the heart of Brno's gastronomy scene.
Annapurna – A local tip and one that's not fancy, but the Nepalese and Indian cuisine is authentic. Opt for the Thali plate and try a bit of everything.
Bucheck – the food truck at the Vegetable Market with a long queue for the pulled pork sandwich.
L'Eau Vive – French and Czech cuisine served by nuns by the Cathedral. Make a reservation, as it's popular.
Secret Panda Circus was our retreat on more than one evening, and while not entirely a secret, finding it makes it so. Unmarked and unsigned on Šilingrovo nám, it's not until you spot the red and gold circus curtain and ring the bell that you start your adventure.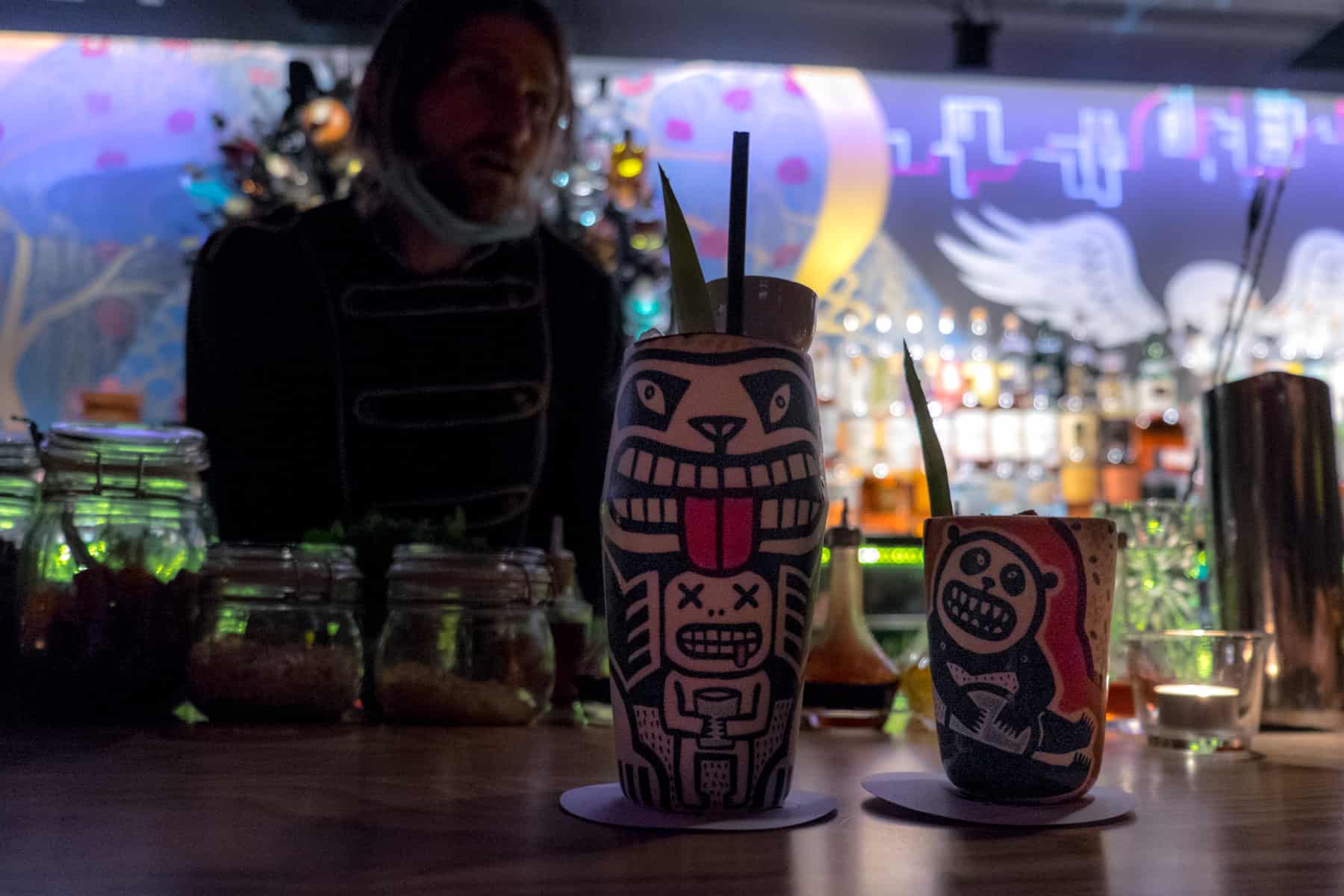 The secret Super Panda Circus Bar is a Brno favourite.
From the unique welcoming to the entire cocktail making and show experience, Super Panda Circus is a core part of Brno's inventive persona. So much so that it deserves its spot on the unique things to do in Brno list, but with a few details left unsaid. We left with a bottle of Super Panda's in-house distilled gin.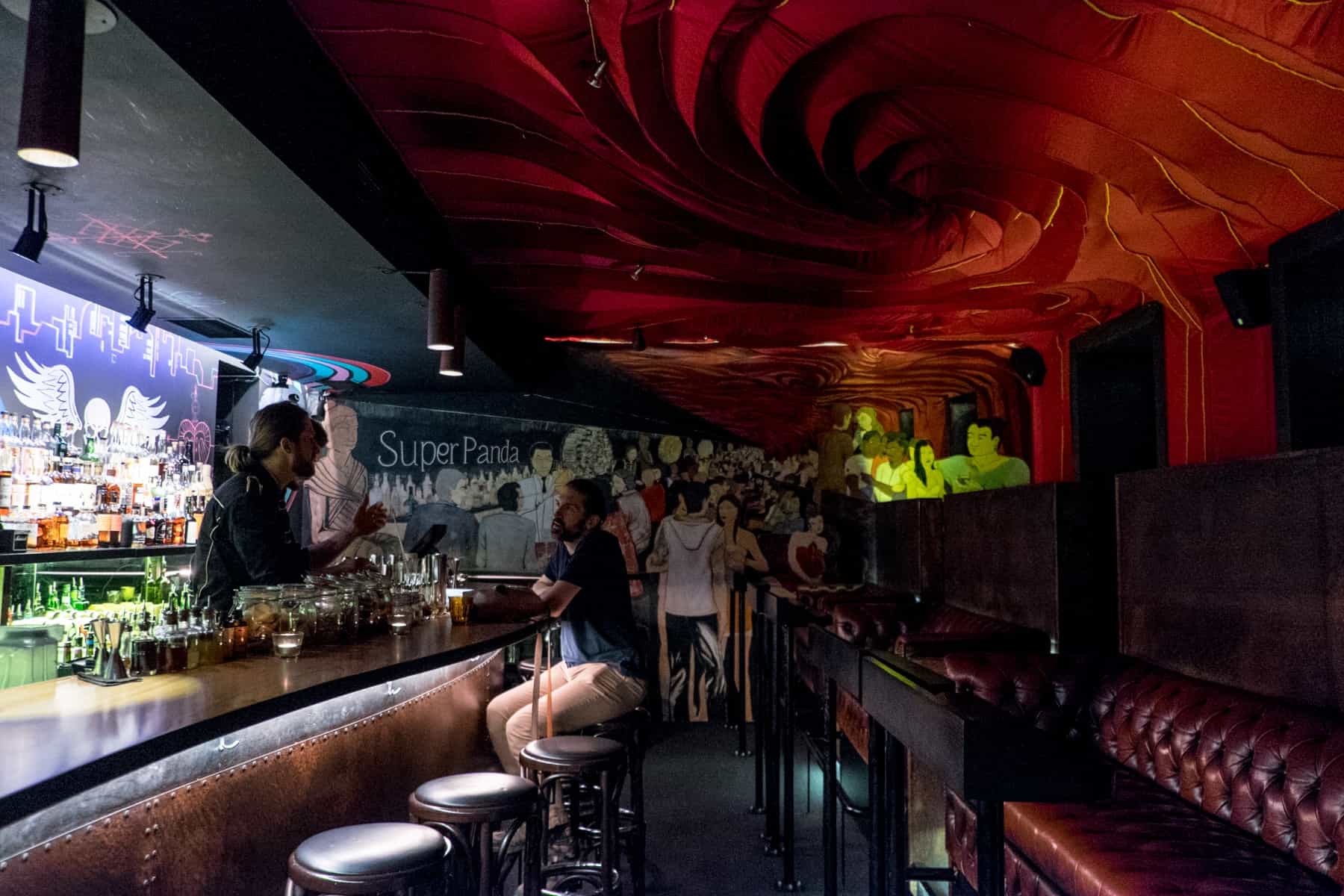 At the circus of Brno's secret bar, and its best.
In sharing more of their expertise and revelry, the same crew also opened ŽARDÁN, a summer pop-up bar project at the foot of the Castle.
Brno Travel Tips and Planning
The best time to visit Brno in the Czech Republic is from March to May, when a lot of the music, art, food, and cultural festivals begin, and during the summer months from June until September, when the weather is comfortably warm. Visit in December for the Brno Christmas markets across the city.
After you've spent time in the Czech Republic's second-biggest city, why not visit its third-largest in North Moravia? A former industrial city that's repurposed its mining sites and undergone a huge cultural revival, there are many unusual and uncommon things to do in Ostrava , Czech Republic.
From the unexpected to the luxury, Brno has enough hotels, apartments, and accommodations to tempt you to stay beyond a day trip.
The 10-Z Bunker
One night at the 10-Z nuclear fallout shelter is a curious experience for its novelty, especially since the rooms retain some original furnishings to keep the feel and communist-era historical context. It's a budget stay, with a double room for €30 with a shared bathroom, but I wouldn't recommend it for an extended stay. The cold and lack of daylight would get uncomfortable.
Tip: Bring your all-seasons sleeping bag for extra comfort.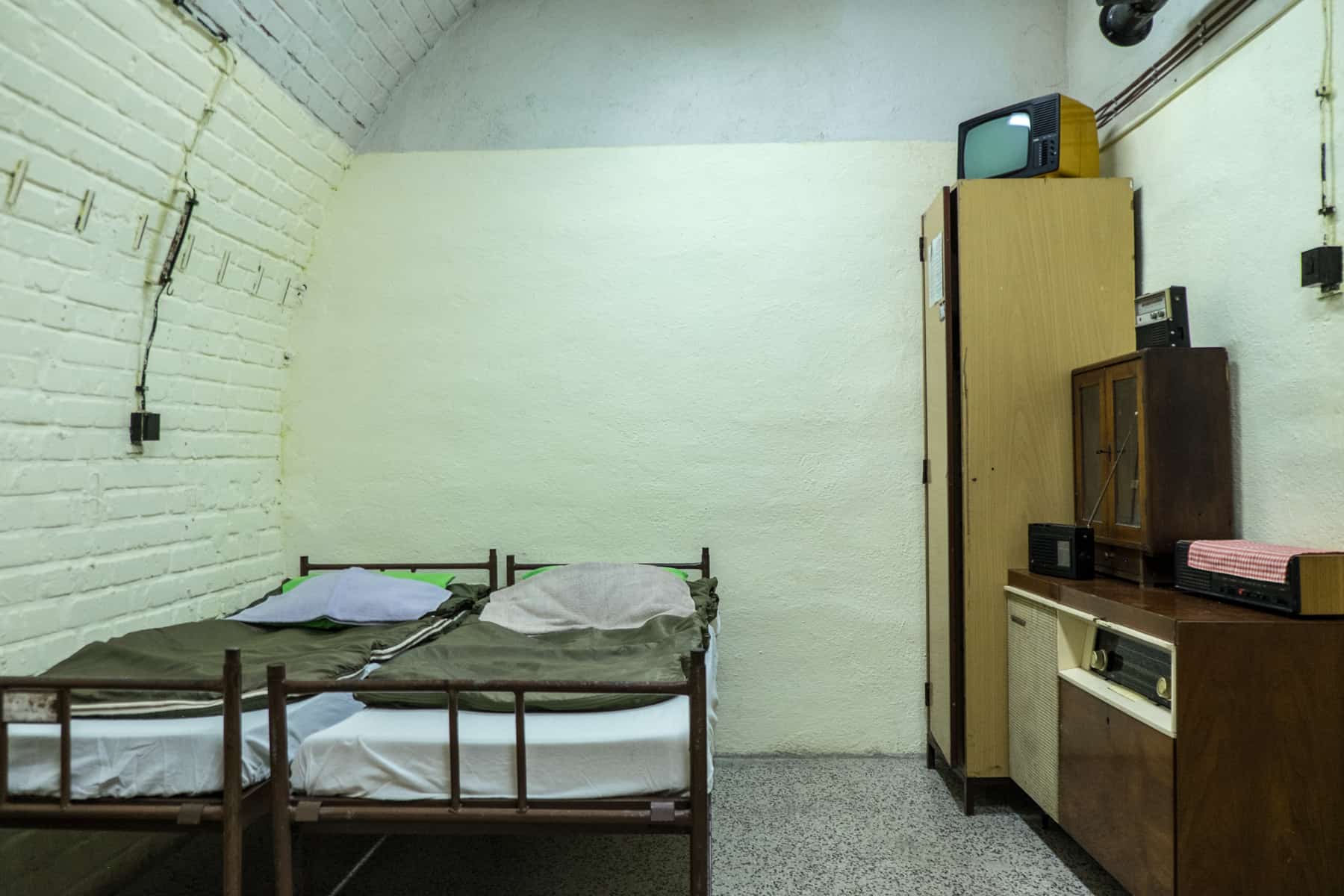 Our double room at the 10-Z Bunker in Brno, with original artefacts.
Masarykova N°30 Apartments
We spent the remainder of our stay in one of the Masarykova N°30 Apartments, which are modern furnished, comfortable and close to the train station and St. Peter and Paul Cathedral. The average cost is €50 a night.
Tip: It's almost next to one of Brno's best coffee shops, Monogram Espresso Bar.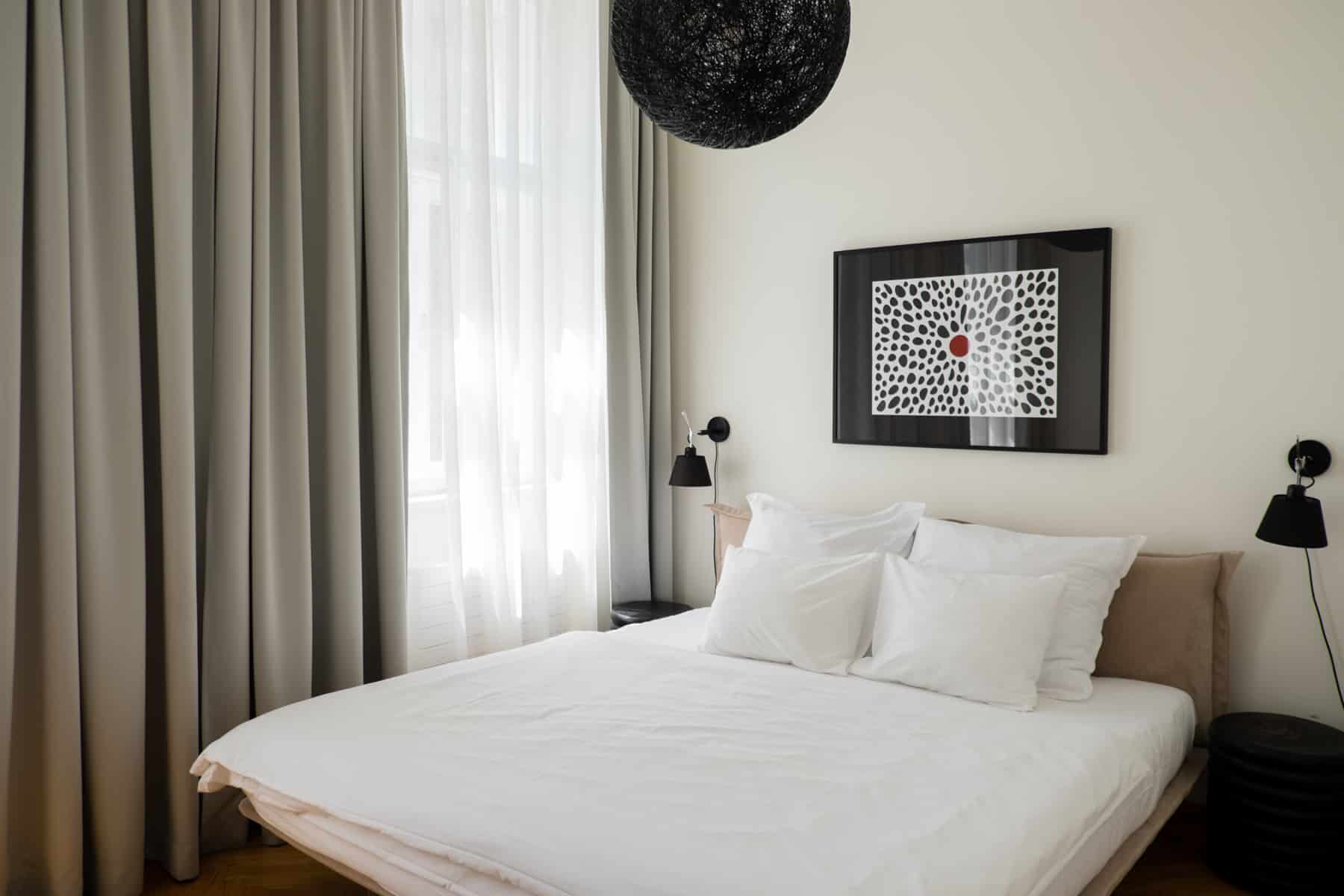 The modern self-check-in Masarykova N°30 Apartments in the centre of Brno.
Barcelo Brno Palace
It was a hard call not to book into the city's 5-Star Hotel when prices were around €80 a night. It's next to the Dennis Gardens, with views of the Castle and classic to mid-century modern décor. A swimming pool would have swayed us, but unfortunately, the hotels with pools are further outside the city.
See all Brno accommodation options here.
While a member of the European Union, the Czech Republic's currency is the Czech crown (koruna), not the Euro. You'll see it abbreviated as Kč (local) and CZK (international). We could withdraw local currency from ATMs, including branches of our Austrian and German banks, and pay by card in most establishments.
The BRNOPAS Tourist Card
Covering a lot of ground? Save money on entry fees and public transport with the BRNOPAS. You can choose if you need it for one, two or three days, and have the option to add a public transport pass.
Tickets, Booking, and Guides
Go to the Tic Brno site to pre-book attractions and tours with specific time slots or to book a guide.
You can also book this two-hour historical walking tour in Brno with a local via Get Your Guide or a three-hour tour dedicated to Functionalism in Brno , history, and architecture.
Further Information on What to Do in Brno
For detailed information on planning your visit, even more things to see in Brno, and excellent breakdowns of shortlisted restaurants, bars, and brewpubs, visit Brno's official website .
When you arrive, you can visit the Brno Tourist Info offices at the train station, the Old Town Hall near the crocodile, and the building opposite the Nuclear Shelter 10-Z.
Disclosure: This post has been created in collaboration with Visit Czech Republic . We had the opportunity to travel from Vienna to Brno as the Czech Republic opened to vaccinated visitors from neighbouring countries. All opinions remain my own.
About Becki
Becki Enright is a British Travel Press Award-winning writer whose work focuses on changing perceptions about misunderstood aspects of destinations. Her writing combines storytelling with insight into the social, historical, political and economic factors that shape the country or place in relation to tourism. Becki has appeared live on Sky News and CNN and has contributed to high profile media including National Geographic, Time.com, Guardian online, New York Times, Grazia and Buzzfeed.
Leave a Reply Cancel reply
Your email address will not be published. Required fields are marked *
Article Archives
Work with me
Privacy Policy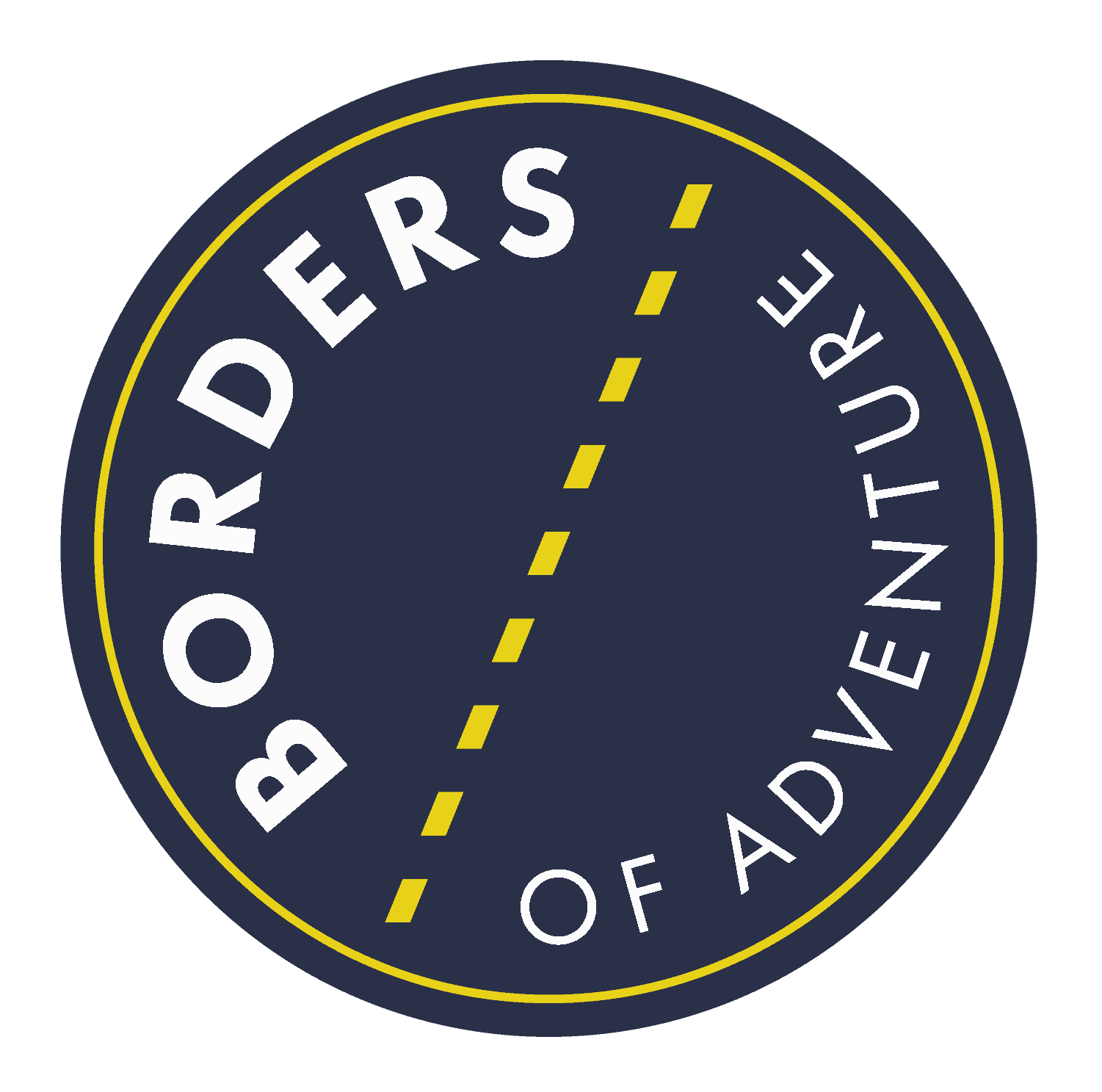 21 things to do in Brno
Looking for things to do in Brno? Brno is the second largest city in Czech Republic, and here there are lots of things to do and experience. In Brno you can visit several historical places, eat lots of delicious food, see beautiful castles, and participate in fun activities.
Here are my best tips of things to do in Brno as a tourist:
Table of Contents
Visit the 2nd largest ossuary in Europe
The ossuary at the Church of St. James is the 2nd largest ossuary in Europe after the Catacombs in Paris.
In the 17th century, a three chamber crypt was constructed below the floor of the St. James Church. The ossuary was quickly filled during the years, partly due to common plague and cholera epidemics which literally decimated the inhabitants of the city.
The staircase inside the church that lead down to the ossuary was closed with a stone slab in 1784. It wasn't until 2001 when doing repairs of St. James Square that they rediscovered the crypt and ossuary.
Today you can visit the ossuary of Brno and see all the bones and skulls stacked in piles. It's very interesting but at the same time a little bit scary to see the remains of all those people.
NOTE : I've read that some people, including myself, had a hard time finding the entrance of the ossuary. I though that it was located inside the church, but it's actually located to the right of the entrance to the St. James Church. Down below you have a picture of it, so you know what to look for when visiting ossuary.
Take a walking tour around the city
If you want to get an overview of Brno and see the most popular and beautiful places in the city, then I can recommend to go on a walking tour. A walking tour in Brno is cheap and is a great way to start of your trip to get to know the city a little bit better.
The local guide will take you to several nice places in Brno, and during the tour you can always ask for recommendations of places to see, day trips, restaurants, etc.
A walking tour is something I always recommend when visiting a new city.
Click here to book a walking tour in Brno!
Villa Tugendhat
Villa Tugendhat is one of the most famous villas in the world, and is also one of the top things to do in Brno since it's a UNESCO World Heritage Site.
The villa of Greta and Fritz Tugendhat was designed by the architect Ludwig Mies van Der Rohe and was built between 1929 and 1930. It's today a monument of modern architecture and is a part of the UNESCO World Cultural Heritage site list.
If you're into architecture and design, then this is one of the attractions you shouldn't miss in Brno!
Visit the Zelný trh "the cabbage market"
The big square in Brno is one of the most popular places to visit in the city. Here you'll find Baroque architecture, hidden underground labyrinths, and delicious food.
This square is most famous for its farmers market where you can buy local and exotic fruits, veggies and local sweets and snacks.
Climb up the old town hall
One of my favorite views in Brno is from the old town hall. It only cost 70 kc (about 3 euro) to visit the tower, which is not much considering the view you get from up there. However, it's good to know that the climb up to the top can be pretty though if you're not in shape.
From the top of the old town hall you get a 360 degree view of the city, including one of the best view of the Cathedral of Saints Peter and Paul.
To eat local food is one of my favorite things to do when traveling. There are so many dishes and new flavors to discover in the restaurants of Brno.
One of the most popular restaurants for local food is Lokál U Caipla. I can highly recommend to visit!
Explore the Castle of Špilberk
The Špilberk Castle was built in the middle of the 13th century on a hill in the center of Brno by the King of Czech Republic. First it was a royal castle, and later on a baroque fortress. It has long been a symbol of protection and safety for the citizens of Brno.
Today this castle is one of the most historical places in the city, as well as one of the most popular things to do in Brno. At the castle you can also visit the City Museum, which is another popular attraction in Brno.
Photo: Shutterstock
Visit Brno Lake during the hot summer days
If you're in Brno during the summer and feel like having one of those days when you just relax out in the sun – head to Brno Lake! Brno Lake is one of the most popular places to go sunbathing in the city, so make sure to visit if you want to cool down on a hot day.
This place is also very beautiful during autumn if you like to take photos. On a calm day you can see the autumn colors reflect in the lake, which is very beautiful!
Go on a day-trip to the cave Moravský Kras
If you have much time to spend in Brno and want to go on a day trip somewhere close, then I can recommend to visit the caves of Moravský Kras.
The Moravian Karst is one of the most important karst areas of Central Europe. Here you have more than 1100 caverns and gorges, which is pretty impressive. However, only a few of them are open to the public.
You can visit the Punkva Caves that has an underground river, the Macocha Abyss which is one of the biggest gorges of its kind in Czech Republic, and the Kateřinská jeskyně cave with its unique limestone columns.
You can also visit the Balcarka Cave that's full of colorful stalactitic decorations, and Sloupsko-šošůvské jeskyně with its huge corridors and underground gorges.
Photo: Dziurek / Shutterstock.com
Go café-hopping
If you're a coffee-lover, then you're going to love Brno. All over Brno you'll find several cafés that makes delicious cups of coffee.
Some of my favorite cafés in Brno are SKOG Urban Hub, Cafe Tungsram, Podnik café bar, and Cafe Mitte.
Have a drink at "the bar that doesn't exist"
When you're in Brno you have to visit this bar and go for a drink. In Czech its called "který neexistuje", which translates into "the bar that doesn't exist".
Here they have a great selection of drinks, including non-alcoholic drinks. I had a mocktail (non-alcoholic drink) that I do not remember the exact name of, but it was a drink with cilantro in it. It sounded new and interesting, and I must tell you that it was one of the best mocktails I've ever had!
The atmosphere is also great at this bar. It's a nice place to sit down to chat with your friends over a drink or two. I can highly recommend you to visit!
Pay your respects at the Capuchin Crypt
In addition to the ossuary of Brno, there's another place that will give you the chills.
In the Capuchin Crypt of central Brno you can see the mummified remains of the Capuchin monks. Like most other monks, the Capuchin monks were very simple, so they were buried without coffins on the ground of a tomb.
Inside the Capuchin Crypt you can see some of these tombs where you can see the remains of the monks. It might be creepy to some, but for me this is one of the most unusual and interesting things to do in Brno.
Stroll around at the Moravian Square
The Moravian Square is home to the Church of St. Thomas and the Moravian Gallery. It's one of the biggest squares in Brno surrounded by beautiful old buildings.
It's probably most famous for its 8 meter tall statue of Jobst of Luxembourg, the knight on a horse, which is a fun place to take some photos.
Also, during Christmas they have a lovely Christmas market at this square.
Admire the Cathedral of Saints Peter and Paul
This cathedral is one of the most important landmarks of the country, and is also one of the most popular attractions in Brno.
The architecture of the building goes back to the 11th century when a Romanesque chapel stood on this spot. About 2 centuries later, the chapel was rebuilt into a basilica in Gothic style.
Later during history when the Swedes took over Brno, the church got badly damaged. In the 18th century the church was reconstructed, and hasn't been changed much since. It's one of the most important and historical places in the city, so it's a must to put on your bucket list of things to do in Brno.
Interesting fact : On the Czech 10 Kč coin, there's a picture of this famous cathedral.
Go on a day-trip to Lednice Castle
Lednice Castle is one of the most beautiful palaces in Czech Republic, and in my opinion, in Europe as well. So it's not a place that you want to miss when you're in Brno.
It's located about 45 minutes from the city, so the best is to rent a car and drive there yourself. You can also go there by public transport, but it takes longer time. First you have to travel to Breclav or Podivín and then change bus to Lednice. However, either way you choose to get there, it's going to be worth it!
The Veveří Castle is a castle from the 13th century and is located above Brno Lake. If you're planning to visit either of them, I can recommend you to combine the lake and the castle in one day.
The castle is famous for its beautiful surroundings, but also for being one of the most damaged castles in the country with ongoing reconstructions.
Today you can visit the castle and view interesting exhibitions and also attend several cultural events during the year.
Eat a trdelník – a traditional Czech sweet
You cannot leave Brno without tasting one of the most traditional Czech sweets, a trdelník.
It's basically bread that has been wrapped into a roll and dipped in sugar. You can eat it plain or with several delicious fillings of your choice. I personally love when they fill the trdelník with nutella, it's super yummy.
You can find places all over Brno that sell these delicious treats.
Go on a day trip to Mikulov
Mikulov is one lovely town that's located only a 45 minute drive from Brno.
It's a beautiful and friendly town with lots to offer its visitors. Here you can admire the beautiful architecture, visit historical sites (such as the castle), and also go wine tasting which is one of the most popular things to do around there.
If you have a couple of days in Brno and feel like doing something extra, I can recommend you to go on a day trip to Mikulov.
Stay at the Anybody Hotel
During our stay in Brno we got to stay at the Anybody Hotel, which is one of the coolest hotels in Czech Republic.
It's a really cool hotel with rooms looking like scenes from famous old movies. Inside your room you can start a game to play the lead role.
For anyone who love old movies and this kind of stuff, I can highly recommend to book a room at this hotel during your stay in the city.
Stroll around in Park Lužánky
If you want to relax and have some peace and quite one day, you should head to Park Lužánky.
Park Lužánky is the oldest and biggest park in the city. It's full of trees and beautiful flowers, as well as playgrounds, an artificial river, and tennis courts. Here you'll also find a Neo-Renaissance building, a beautiful fountain, and several historical monuments.
Visit the Christmas markets
If you happen to be in Brno during Christmas season, I've got great news for you! Brno is a lovely city when it comes to Christmas markets. Almost all squares of Brno is filled with stalls selling sweets, handicrafts, Christmas drinks, and souvenirs during Christmas.
Some of the most popular Christmas markets you'll find on Liberty Square, the Cabbage Market, Moravian Square, and on Radnická Street.
This is no doubt one of the best things to do in Brno during Christmas!
Photo: posztos / Shutterstock.com
Things to do in Brno with kids
Brno is a great destination for you who travel with kids. There are everything from interesting museums and nice parks to castles and cool caves to explore. Here are my best tips of things to do in Brno with kids:
Visit Brno Technical Museum
Explore Spilberk Castle
Eat a trdelník
Explore the caves of Moravský Kras
Visit Brno Ossuary
Climb up the top of old town hall
Visit the Brno Observatory and Planetarium
Things to do in Brno when it rains
If you're in Brno when it's bad weather, do not worry, there are plenty of things to do in Brno when it rains. In Brno there are several historical buildings that you can visit, as well as bars, cafés and restaurants.
Go see the architecture and design inside Villa Tugendhat
Experience the Anybody Hotel
Visit the Brno ossuary
See the inside of Cathedral of Saints Peter and Paul
Have a coffee and some sweets at one of the cafés in the city
Visit the Castle of Špilberk
What are your favorite things to do in Brno? Leave a comment below!
Share This Story:
Leave a comment cancel reply.
Save my name, email, and website in this browser for the next time I comment.

Everybody Hates A Tourist
28 Best Things to Do in Brno, Czech Republic
Posted: February 22, 2023 | Last updated: October 20, 2023
Most visitors to the Czech Republic go to Prague & nowhere else. That's a shame since there are plenty of great places to see all over the country. Brno is the 2nd largest Czech city. Here are the 28 best things to do in Brno, including historical sites, museums, architecture, outdoor activities, day trips, arts & entertainment, bars & restaurants, and more.
Špilberk Castle
First built in the 13th century, Špilberk Castle is a medieval fortress that looks out prominently over Brno.
The surrounding park is a nice place for a walk, and the complex also includes the city museum, restaurants, and event spaces.
Cathedral of St. Peter & St. Paul
The Brno Cathedral of St. Peter & St. Paul is another prominent landmark in Brno. It towers over the city center not far from the main railway station. The interior of the Catholic cathedral is Baroque, while the exterior is Gothic from the 14th century.
Visitors to Brno may notice that the noon bells from the church actually ring at 11. Legend has it that during the Thirty Years' War, the invading Swedes had set themselves a noon deadline of conquering Brno on August 15th. The townspeople rang the bells early, convincing the Swedish to give up the siege.
Old Town Hall
Brno's former Town Hall is now a tourist information center & gallery. Visitors can climb the tower for some of the best views in Brno. The entryway of the Old Town Hall is notable for the crocodile hanging overhead, known as the Brno dragon.
Ossuary at the Church of St. James
There are a couple of places to see in Brno that can be described as creepy. Underneath the Church of St. James is the final resting place of thousands of Brno citizens, whose bones were left in the Ossuary.
The Ossuary is the 2nd largest of its kind in Europe, following Paris . Read more about the Brno Ossuary .
Capuchin Monastery & Vault
The Capuchin Monastery & Vault is another Brno place of interest that deals with death. Inside the museum, visitors can learn about the lives and deaths of the local Capuchins, whose bodies were mummified by the conditions of the vault.
Read more about the Capuchin crypt .
Náměstí Svobody (Liberty Square)
Liberty Square is the heart of Brno. The square is surrounded by bars and restaurants & is frequently the site of festivals & other Brno activities.
Náměstí Svobody is also home to the Astronomical Clock, which commemorates the victory over the Swedish. Try catching the ball every day at 11am!
Cabbage Market
The Cabbage Market is another center of activity in Brno. Every day except Sundays, vendors pack the square, selling fruits & vegetables, crafts, and more.
There are also several bars & restaurants surrounding the market square. Underground, there is a labyrinth waiting to be explored. The excellent Hotel Grandezza , one of the best places to stay in Brno, overlooks the market.
Villa Tugendhat
Architecture lovers will enjoy the Modernist home Villa Tugendhat , which was constructed in 1929 by architect Ludwig Mies van der Rohe for Greta and Fritz Tugendhat.
Villa Stiassni
Villa Stiassni is another notable piece of architecture in Brno.
The beautiful former home of the Stiassnis, a Jewish family who had to flee the country in 1938, has now been restored & is open for tours. Read more about Villa Stiassni .
10-Z Bunker
The trend of underground things to do in Brno continues with the 10-Z Bunker . Formerly a nuclear fallout shelter, the bunker is now a museum encompassing over 500 meters of tunnels underneath Brno. Visitors can even stay overnight.
Moravian Museum
Located near the Cabbage Market in the Dietrichstein Palace, the Moravian Museum covers centuries of Moravian life, from prehistory to modern times.
VIDA! Science Center
One of the best things to do in Brno with kids is the VIDA! Science Center , which has over 180 interactive science exhibits.
Brno Technical Museum
Science lovers will also enjoy the Brno Technical Museum , which showcases local engineering and industry.
Brno Observatory and Planetarium
The science fun continues with the Brno Observatory and Planetarium . Not only does the museum cover astronomy, but it also has exhibits about geology, chemistry, physics, and more. The observatory is located in Kraví hora, a park with other activities as well.
The Brno Zoo has over 400 different animal species, including polar bears, lions, tigers, giraffes, monkeys, and more.
For more animal encounters, Papilonia has exhibits filled with butterflies & turtles.
Brno Dam forms a lake that's popular for recreation, including boating, fishing, camping, and more.
Aquapark Kohoutovice
Considered one of the most fun things to do in Brno, Aquapark Kohoutovice is an indoor waterpark with pools, slides, and saunas open year-round.
BRuNO Family Park
BRuNo Family Park is a kid-friendly activity in Brno that includes 40 attractions, including games, rides, climbing, and trampolines.
The National Theater Brno
The National Theater Brno presents an array of live performances including theater, ballet, opera, & more.
Slavkov Chateau & the Austerlitz Battlefields
In 1805, the French (led by Napoleon I) defeated the Russians & Austrians in the Battle of Austerlitz. Napoleon I stayed at Slavkov Chateau afterward. Today, the historic building is open for tours. Read more about Slavkov Chateau .
Day Trip to the Moravian Karst
North of Brno sits one of the most unique geological formations in the world. Known as the Moravian Karst, the area is filled with caves & other landforms, making for adventurous outdoor exploration. Read more about the Moravian Karst .
Day Trip to Valtice & Lednice
Together, the Valtice Palace & Lednice Castle form a UNESCO World Heritage Site that also includes the local landscape. In addition to the beautiful buildings & gardens, the area is also home to the National Czech Wine Salon. Read more about a day trip to Valtice .
Day Trip to South Moravian Tuscany for Wine Tasting
South Moravia is the most prominent winemaking region in the Czech Republic. The area is filled with beautiful scenery along with dozens of wineries. During the autumn months, be sure to try the local burcak (young wine). Read about my experience winemaking in South Moravia , as well as my visits to Spielberg Winery , Bzenec Castle Winery , & the Petrov Wine Cellars .
Strážnice Open Air Museum
The Strážnice Open Air Museum shows what rural life was like in South Moravia, including farming, cooking, winemaking, and other activities. Read more about the Strážnice Open Air Museum .
Once used to transport coal through South Moravia, today the Bata Canal is a popular place for recreation, including boating & cycling. Read more about the Bata Canal .
Visit Brno's Cocktail Bars Including Super Panda Circus
Brno has some outstanding cocktail bars, including Super Panda Circus, one of my favorite bars in the world. Read more about cocktail bars in Brno .
Drink Czech Beer & Craft Beer
Czechia is known for its beer. In addition to traditional Czech styles, local breweries are also brewing craft beer. Read more about craft beer in Brno .
Where to Eat in Brno
Brno has some excellent restaurants. There are plenty of places to eat traditional Czech food (often at breweries), including EFI, U Tomana, & Lokál U Caipla. For a nice dinner with local products & an always-changing menu, try Atelier Bar & Bistro. Fabrik Food Factory has lots of vegan & vegetarian options. There's excellent Vietnamese food in Brno too. For breakfast & brunch, head to Eggo Truck Brno or 4pokoje.
Book a Brno hotel
If you're looking for places to stay,  Tripadvisor has reviews & price comparisons for Brno hotels .
I hope this comprehensive list of things to see & do in Brno has been helpful. What are your favorite places to visit in Brno?
Here are some  great Brno tours & activities  &  other things to see & do in Brno .
The post 28 Best Things to Do in Brno, Czech Republic appeared first on Everybody Hates A Tourist .
More for You
The Supreme Court Shot Down Mike Johnson's Argument Against Certifying The 2020 Election
Can I collect both my dead spouse's Social Security and my own at the same time? Here are 5 secrets of 'survivors benefits' you need to know
'Jessica's cancer was missed 20 times by GPs – she never stood a chance'
35 Creamy Soup Recipes
Popular retailer back from bankruptcy, liquidation with new stores
'MacGyver': 15 Facts You Didn't Know About The Show
What House Speaker Mike Johnson has said about Social Security and Medicare
A boomer who moved from California to Tennessee said the slower pace of life and lower cost of living are big pluses
'It's not taxed at all': Warren Buffett shares the 'best investment' you can make when battling inflation
40 Easy Breakfast Ideas with 5 Ingredients or Less
Nuclear Bomb Map Shows Impact of New US Weapon on World's Major Cities
Downtown San Francisco McDonald's location closes after 30 years: 'Not recovered since the pandemic'
My husband's parents left a $585,000 trust. My sister-in-law is trustee, but blocks our calls and plans to skip town. What can we do?
Rep. Jamie Raskin copyedited Rep. George Santos' error-laden thank you letter and sent it back to him
NFL Reinstates Former Steelers WR
6 'Golden Rules' for Crisp, Delicious Salads from Martha Stewart
Washington state senator behind wealth tax proposal responds to Bezos' departure
Ukrainian Armed Forces prompt 17,000 desertions without firing single shot: Details
China is Hoarding the World's Gold
Chris Christie heckled in Florida speech: 'What a shock, you're for Trump'
THE 10 BEST Brno Parks & Nature Attractions
Nature & parks in brno.
Nature & Wildlife Areas
Playgrounds
Caverns & Caves
Hiking Trails
Good for Kids
Budget-friendly
Good for Couples
Good for Big Groups
Hidden Gems
Honeymoon spot
Good for Adrenaline Seekers
Adventurous
Good for a Rainy Day
Things to do ranked using Tripadvisor data including reviews, ratings, photos, and popularity.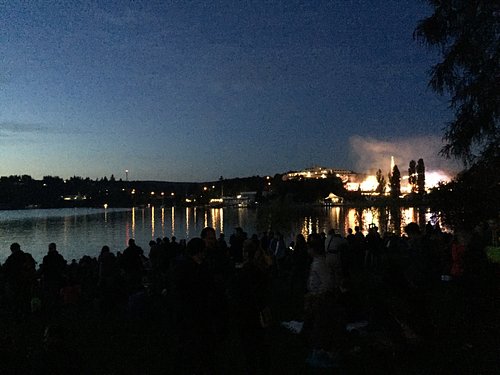 1. Brno Dam

2. Obora Holedna

3. Zoo Brno

4. Park Lužánky
5. Botanicka Zahrada (Hortus Botanicus)

6. Open Garden
7. Junglepark - Lanove Centrum

8. BRuNO family park

9. Brno Architecture Trail

10. Papilonia Motýlí Dům

11. Brnenska Prehrada

12. Botanicka zahrada a arboretum Mendelovy univerzity v Brne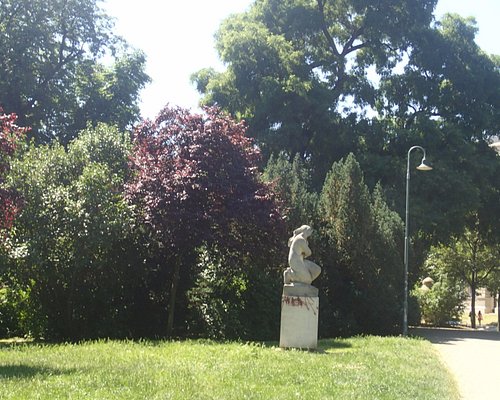 13. Park Koliste

14. Public Grillpoint Lužánky

15. Solná jeskyně Kamenná panna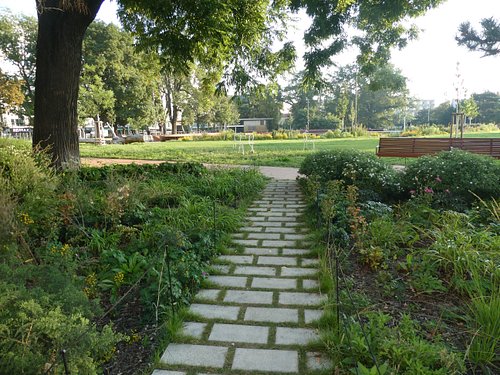 16. Park Moravské námesti
What travelers are saying.

Obora Holedna
Park Lužánky
Botanicka Zahrada (Hortus Botanicus)
Explore Brno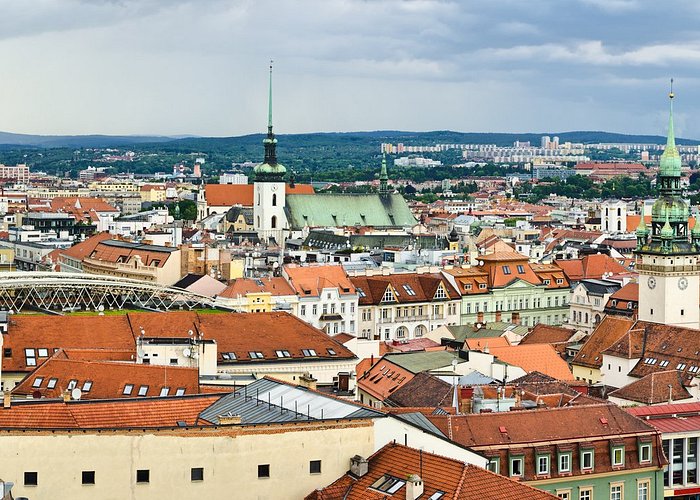 Brno City Breaks: Best of Brno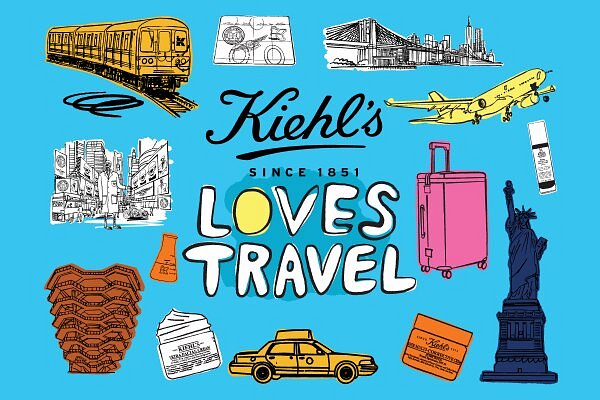 Your Fly with Kiehl's Exclusive Discount
Essential brno.
Trending in the forums
Brno Is Great For
Historical tours.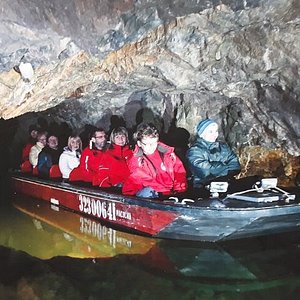 Cultural Tours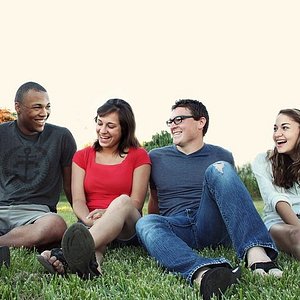 Shopaholics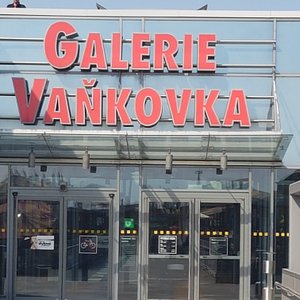 Eat & drink