Tour Packages
On the Brew Bus, it's all about having a good time so check out our packages and see what suits you best!
WHAT IS THE BREW BUS?
Brewery Bus Tours is a local Mornington Peninsula business catering for locals and our friends visiting the area on holidays or on a day trip.
For way too long, beer lovers have had to put up with that snobby lot up on the hill who like to swill grape juice, spit in a pot and look down their noses at anyone who doesn't know the difference between a Chardy and a Pinot!
Well my fellow beer guzzling friends, those days are over and now we can rejoice in the recent growth and number of quality Breweries located all over the Mornington Peninsula and nearby bayside suburb's.
There's no better way to experience visiting some of Australia's finest brew houses.
Ahhhhhhhh Liquid Gold – Gods Necter I'm getting thirsty just thinking about it!
So Book Yourself A Seat  – We will take you through some of Victoria's most beautiful countryside and along the way we will introduce you to the brains behind the brews, taste  award winning ales and also be treated to some exclusive limited edition brews.
Grab your mates -give us a buzz, we'll pick you up, have a cracking day and drop you off safe and sound at the end of the day!
Drink, Don't Drive – It's our motto. It makes bloody good sense as there's no excuse for being behind the wheel after a couple of quality beers!
MORNINGTON PENINSULA BREWERY & DISTILLERY
Situated on the Mornington Peninsula, TAR BARREL Brewery & Distillery embraces the Spirit Of Local!
We are dedicated to only obtaining products from the Mornington Peninsula, including our own craft beers, local wine, and produce.
We offer local wines, spirits, and 8 beers on tap to go with our renowned wood-fired pizzas. Additionally, the addition of a whisky and gin distillery has expanded their capacity to provide more expertly crafted flavour experiences.
BEER TASTING PADDLES BREWERY & DISTILLERY TOURS BEER ON TAP & TAKEAWAY WOOD-FIRED PIZZAS MORNINGTON BREWERY & DISTILLERY
Mornington Peninsula, Victoria
In order to continue making award-winning craft beers at 72 Watt Road Mornington, the original location of Mornington Peninsula Brewery, Matt Bebe and Andrew Gow have reconnected as TAR BARREL Brewery & Distillery. Additionally, the addition of a whisky and gin distillery has expanded their capacity to provide more expertly crafted flavour experiences.
In keeping with its commitment to being "local" and using "local," the new Tar Bar will serve both core and speciality beers on tap to go with its renowned wood-fired pizzas. All are catered for with the help of local wines and spirits.
Wednesday 3 - 9pm Thursday 3 - 9pm Friday 3 - 11pm Saturday 12 - 11pm Sunday 12 - 7pm
LAGER 4.7% PALE 4.7% PORTER 5.5% IPA 6.2% COLOUR OUTSIDE THE LINES 8.5% DEMOCRACY MANIFEST 6.5% LAY OF THE LAND 5.5% JUST ASKING FOR A FRIEND 7.0%
TAKEAWAY – 500ML CANS
WALK BETWEEN THE RAINDROPS 5.0% PORTER 5.5% IPA 6.2% JUST ASKING FOR A FRIEND 7.0% LAY OF THE LAND 5.5%
WE'RE DOG FRIENDLY
We consider ourselves dog lovers at the brewery, as long as you have them on a lead they are more than welcome to join you at the outside tables.
CLOSING INFO
PIZZAS CLOSE AT 8PM WED & THU, 9PM FRI & SAT AND 6PM SUN.
LAST DRINKS ½ BEFORE CLOSE
A BRIEF HISTORY ABOUT TAR BARREL BREWERY & DISTILLERY
Mornington, Victoria
Even though Tar Barrel Brewery & Distillery didn't open until 2020, its history is a wonderful reflection of the development of craft beer over the previous ten years.
The opening of the Mornington Peninsula Brewery in 2010 was the culmination of a happy promise made between a group of friends in 2008 as they celebrated Hawthorn's first Grand Final victory in a long time. Local Matt Bebe, the co-founder who had lived on the Peninsula all of his life, was in charge of the brewery. Andrew Gow, also known as AG and a seasoned professional even before accepting the position at Mornington, was in charge of steering the beer.
The brewery experienced significant growth over the following few years, appearing in well-known stores across the nation, garnering praise from critics, gaining national distribution, and moving into a second location close to the first.
No matter where the brewery's beers were sold, the original location at 72 Watt Road remained the best place to sample them and see the brewery where they were created. Like many brewpubs, it was here that the selection of beers was the broadest and freshest, and the accompanying wood-fired pizzas, first-rate beer garden, and regular live performances all contributed to making it a home for thirsty Peninsula residents and tourists eager to try local beers. Written by Crafty Pint's Will Ziebel .
See what customers say about our service...
Mornington Peninsula Brewery Tour
Have an occasion to celebrate, looking to try some new brews with a few close friends, mornington is home to some of the best victorian breweries., on this tour you'll visit some of the most exciting craft breweries in the country and enjoy plenty of great beer, contact us to discuss options, tour highlights.
Just over an hour from Melbourne, the Mornington Peninsula is considered one of Victoria's premier gourmet regions. Wineries, fresh produce and farmers markets have always called the peninsula home and more recently it has become an area renowned for its beer as well. The first brewery opened on Mornington Peninsula over a decade ago and now there are a number of craft breweries to visit in the area. Melbourne Brewery Tours will take you to some of the best breweries in Australia!
Red Hill Brewery
Example Tour Itinerary
10am     Pick-up at St. Pauls Cathedral (opposite Fed Square)
Stop 1  – St Andrews Brewery
To walk into St Andrews is to walk into a beer garden designed with laid-back, lazy days in mind. Tables line the pathway and lawns leading you towards towards the bar. The beer garden's pièce de resistance, however, is the converted horse stables on either side. Each one now houses a booth ideal for families and groups looking for a place to spend long afternoon sessions. All are named after the famed horses that once tore around the grounds.
Stop 2 & Lunch  – Red Hill Brewery
The Red Hill Brewery is a unique, independent microbrewery located amidst its own hop garden in the picturesque Red Hill. They have a great core range of beers available year round, including Golden Ale, Pilsner, Wheat Beer and Scotch Ale. They are also renowned for their seasonal releases, like their Imperial Stout in the dead of winter, Hop Harvest Ale in Autumn, Belgian Blonde in Summer, and Temptation in Spring. Plus their celebratory Christmas Ale, a Belgian Abbey style ale brewed for the festive season to go with the Christmas pud. You'll have the opportunity to see how hops are grown and great beer is made at this fantastic venue!
Stop 3  –  Mornington Peninsula Brewery
Here you'll be treated to a personal guided tour throughout the brewery and learn how all their beer is made. Along the way you'll sample some classic beer styles from around the world including Pale Ale, Larger, Brown Ale and IPA. They do great seasonal beers too, which are guaranteed to go down well! Mornington's founders live by the motto, "be true to the beer & those who drink it."
Drop off: Location of your choice.
We also visit other great venues in the area including: Boat Rocker ,  Dainton Family Brewery ,  Mock Red Hill Cider , Bass & Flinders Distillery , Bad Shepherd Brewing Co and Hix Beer . If you want to visit any of them just let us know!
The Minor Details
We recommend you indulge in a big breakfast before touring as a beer or two on an empty stomach is never a good thing.
Due to the nature of beer tasting and Melbourne Brewery Tour's relaxed nature, we don't run military precise tours, rather we have an organic tour where you can buy an extra beer or ask 1001 questions to the brewer.  That's why we don't have exact times on our Itinerary.
Please note that you will be visiting work sites and must under law wear wear closed-top shoes (no thongs or sandals) as a safety requirement.
Our price includes everything – tasting sessions, a gourmet lunch, transport & guide.  Should you wish to purchase extra beer along the way, make sure you bring some cash.
Drinking beer by yourself can be harmful to your social skills, so our minimum number when booking is 8 people. Should you have less then 8 people, please contact us for a revised price.
Due to popularity, Melbourne Brewery Tours are in high demand, so please ensure you book early to avoid disappointment.
Pick Up Locations
St. Pauls Cathedral (opposite Federation Square) or another agreed CBD location.
Full-Day Private Mornington Peninsula Brewery Tour
Private transportation
Craft paddle tasting at four different venues
Lunch with a pot of craft beer at a chosen venue
Entry/Admission - Dainton Family Brewery
Entry/Admission - Fingal
Entry/Admission - Dromana
Traveler pickup is offered.
We will pick you up from your city centre accommodation or agreed pick up point. Please advise where you will be staying in Melbourne, and if your pick up accommodation is impractical we will give you a meeting location very close to where you are staying. If you are staying out of the city we can pick you up and drop you off at an advised public transport point that will run direct to your home location. All tours return in time before public transport stops.
Arrival Dr, Melbourne Airport VIC 3045, Australia
Port Melbourne Yacht Club, 38 Beach St, Port Melbourne VIC 3207, Australia
Hotel pickup is offered. View the hotel list on our checkout page to see if yours is included among the pickup points.
Not wheelchair accessible
Near public transportation
Confirmation will be received at time of booking
Not recommended for pregnant travelers
Most travelers can participate
This is a private tour/activity. Only your group will participate
For a full refund, cancel at least 24 hours in advance of the start date of the experience.
Similar experiences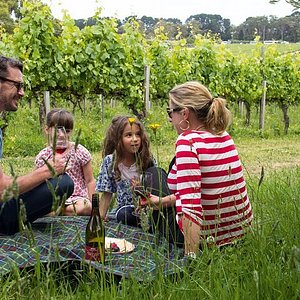 You'll get picked up See departure details
1 Dainton Family Brewery Stop: 60 minutes - Admission included See details
2 St Andrews Beach Brewery Stop: 60 minutes - Admission included See details
3 Jetty Road Brewery Stop: 105 minutes - Admission included See details
4 Mornington Stop: 60 minutes See details
You'll return to the starting point
More to explore in Melbourne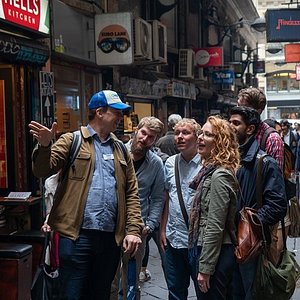 Buy it with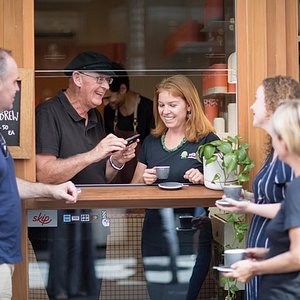 Full-Day Private Mornington Peninsula Brewery Tour provided by Wine Hop And Scenic Tours
Product overview: full-day private mornington peninsula brewery tour.
What's On
Deals + Travel Packages
HOME — Things To Do  —  Breweries + Distilleries
Breweries + Distilleries
Sip back and relax.
Across the Mornington Peninsula breweries, cideries and distilleries are bringing all the best refreshing flavours.
Quench your thirst with a new range of beer or crisp apple cider. Shake it up with a signature rum cocktail or tasting paddle. Meet the locals who are passionate about their craft and get involved with masterclasses, tastings and tours.
Beer, Cider and Spirits Trail Map
Subscribe to newsletter.
Sign up for your free digital copy of FOUND and get year round inspiration from Mornington Peninsula direct to your inbox.
Send to a Friend
​ THE FULL PINT
Brewery tours
Full Pint Brewery Tours is a family owned & operated company Local to the Mornington Peninsula
​ At Full Pint Brewery tours we are more than just trips to the Breweries for a pint! Although this sounds like a cracker way to spend a few hours our Brewery tours are jam packed, full day adventures down on the beautiful Mornington Peninsula. ​ More than just a brewery Tour company, we also offer charters to cater for all events from Bucks days/night, Hens days/nights, birthday/ christmas parties, formal fuctions and weddings, corporate days and major events.
Coco's Tours
Private wine tours for groups in Victoria & South Australia.
Wine, Beer & Cider Tour
Got any questions? Give our friendly team a call or get in touch with us today for your complete Mornington Peninsula wine tour .
Pick up (9.45am) and drop off (5pm) at your preferred address
Minibus transport with driver/host for the day
One (1) x wine tasting
One (1) x cider tasting
One (1) x beer tasting
Brewery lunch (flatbread pizzas with salads and chips to share – any dietary requirements are welcome)
Complimentary pot of beer with lunch
Bluetooth music connexion, rubbish bags & hand sanitiser on board
21 guests to 35 guests: $169pp 10 to 20 guests: $179pp
Let's do it!
You must be logged in to post a comment.
Entertainment
Local History
Advertise With Us
Read the Latest Western Port News
Read the Latest Mornington News
Read the Latest Southern Peninsula News
Read the Latest Frankston Times
Read the Latest Chelsea Mordialloc Mentone News
Competition
Concerns over Crown land use
Skye to face season of change?
Tigers' opener tears apart Baxter, Red Hill holds on
Baxter Hall to be opened with a bazaar and dance
Letters to the Editor, 7 November 2023
Art approach to protect nature, call goes out for christmas appeal.
Marathon mum first across the line
Women's works start tour in Mornington
MORNINGTON Peninsula Regional Gallery is holding four exhibitions of works by women artists from across Australia.
Know My Name: Australian Women Artists is a National Gallery of Australia touring exhibition which will make the first stop of a two-year tour in Mornington.
The exhibition features more than 60 works by 56 female artists including Margaret Preston, Janet-Cumbrae Stewart and Emily Kam Kngwarray.
Brisbane-based Natalya Hughes recreates The Interior – an immersive installation at MPRG, transforming the space and combining sculptural seating, patterned soft furnishings and collectors' pieces around a hand-painted mural.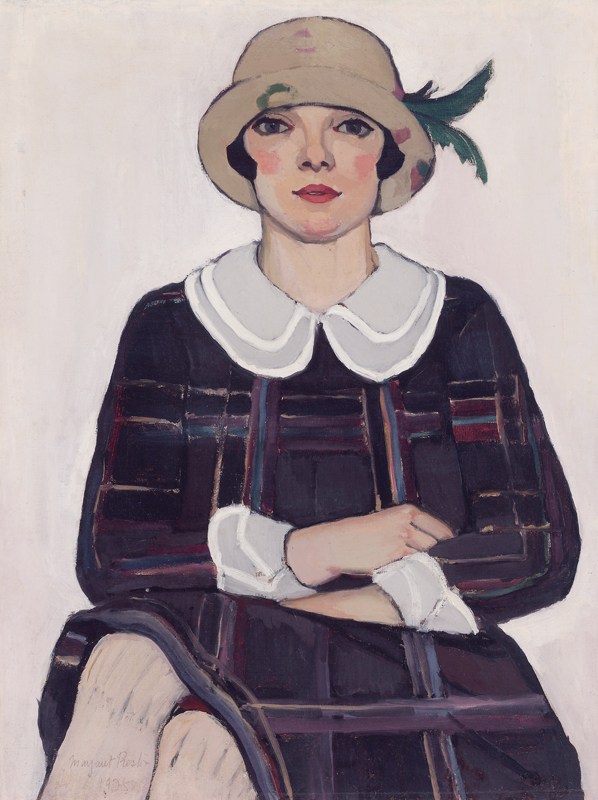 Known for her book sculptures and woodcarvings, Kylie Stillman's latest exhibition Glimmer Warning draws from her love of small tools such as scalpel blades, jigsaws, drills and sewing materials to alter objects and create negative spaces depicting "signs of life". In this new exhibition, Stillman's site specific wall-based artwork features alongside works on paper and sculptures.
The Sisterhood of Collecting exhibition explores the representation of women artists in the MPRG collection.
The exhibition will feature prints and drawings from the 1960s to the present day by predominantly Melbourne artists, including Dorothy Braund, Nancy Grant, Mary Macqueen, Nancy Clifton, Pam Hallandal, Elizabeth Cross and Rona Green.
Know My Name, Natalya Hughes; The Interior, Kylie Stillman; Glimmer Warning; and The Sisterhood of Collecting will be at Mornington Peninsula Regional Gallery from 25 November until 17 February 2024. Entry is free.
For further information go to mprg.mornpen.vic.gov.au
First published in the Mornington News – 7 November 2023
Related Posts
Comments are closed.
Type above and press Enter to search. Press Esc to cancel.
Demons coach Simon Goodwin addresses off-field-behaviour rumours stemming from Mornington Peninsula gathering
Sport Demons coach Simon Goodwin addresses off-field-behaviour rumours stemming from Mornington Peninsula gathering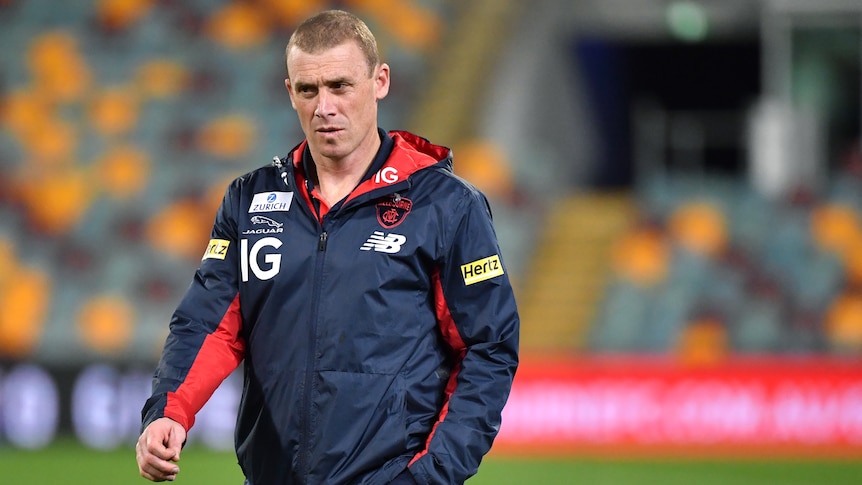 Melbourne premiership coach Simon Goodwin has publicly denied he has off-field behavioural issues, as star Demons Clayton Oliver and Joel Smith were put on notice for their own behaviour. 
Key points:
Simon Goodwin said he did not have off-field behaviour issues as he addressed rumours of alleged misconduct
Reports suggest Goodwin had been investigated by the club at the start of 2021 but was cleared of wrongdoing
Star Demons Clayton Oliver and Joel Smith have been put on notice for their own off-field behaviour
Goodwin has been the target of unsubstantiated rumours for almost three years, after a gathering with his players in a Mornington Peninsula pub at the start of 2021 sparked talk of off-field issues at the club.
Reports this week suggested the club had investigated Goodwin's behaviour before the start of the 2021 season, with the Herald Sun writing that  AFL bosses Gillon McLachlan and Richard Goyder had met with then club president Glen Bartlett to discuss the issue .
Goodwin was given the all-clear by the club and the Demons would go on to win the 2021 premiership.
"I do not use illicit drugs," Goodwin said in an interview with SEN on Tuesday morning.
"And I've said this over a three-year period now and it's pretty ordinary that I'm actually sitting in this position and having to justify that situation.
"I know where it happened in terms of a rumour from down in the Mornington Peninsula where it was clearly going around.
"That for me was really concerning and bizarre at the time. It then led to an allegation. An allegation that was fully investigated by Gary Pert and the club about what that might have looked like. And there was nothing in it.
"I do not use illicit drugs. I give everything I can to my family and my team in a way that dedicates my life to my football club and to have this play out over three years where my reputation has been caught up in a boardroom battle.
"It has been documented over and over and over again in the public and it's been really hard for myself, my family and enough is enough. I don't use illicit drugs and I never will.
"When it's such a sustained period of time and there's no fact to the rumour, it is really tough on your family.
Goodwin said while he enjoyed a drink and a punt, 'the rumours have to stop'.
"Do I enjoy having a beer and a punt and a glass of wine with mates? Of course I do. I'm a pretty straightforward type of guy, but I live my life in a way that is a dedicated approach to my career and my football club and my family," he said.
"The rumours have to stop. It's gone way out of control from a boardroom battle into court documents into republication and rehashing of a story over and over again to the extent where it's become a 'fact', which is just not fair. And it's gone from a rumour, to an allegation, to a 'fact' and it has got to stop.
"I've had enough and I think as an industry we need to be better than what we are today. We're starting to really hurt people in this game too much through this period of time."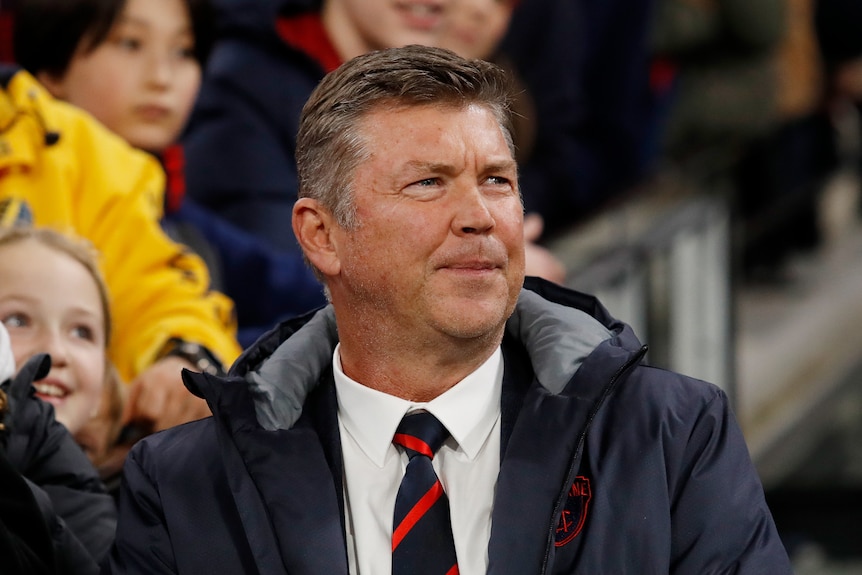 Melbourne chief executive Gary Pert said he was adamant the club did not have a culture problem, but said he was putting star midfielder Oliver and suspended utility Smith on notice.
Smith is provisionally suspended after he recorded a positive in-season drugs test for cocaine.
The future of Oliver has also been up in the air after worrying rumours emerged about his off-field behaviour.
Oliver, who is contracted until 2030, was also taken to hospital earlier this month following what the club deemed was a "medical episode".
In an extraordinary open letter to Demons fans on Monday, Pert put Oliver and Smith on notice and also addressed the ongoing rumours surrounding coach Goodwin.
Pert said Oliver must meet the club's off-field standards and discipline if he is to remain as part of the program long-term.
"The club is aware of the personal challenges that Clayton has outside of football and key club experts will remain part of his daily support team," Pert wrote.
"Club leaders have very clearly outlined to Clayton the behavioural expectations that we have of him, and these behaviours will be reviewed on a regular basis.
"It is the player leadership group, as well as Alan Richardson, Simon Goodwin and myself, who will decide if Clayton is meeting minimum behavioural expectations.
"In some ways, AFL football programs are akin to a large family.
"While honest feedback is often difficult, this approach will give Clayton the best chance to thrive within our high-performance environment, and the best chance for him to have a long career at the Melbourne Football Club."
Smith is facing a maximum four-year ban after his positive drug test following the Demons' win over Hawthorn in round 23.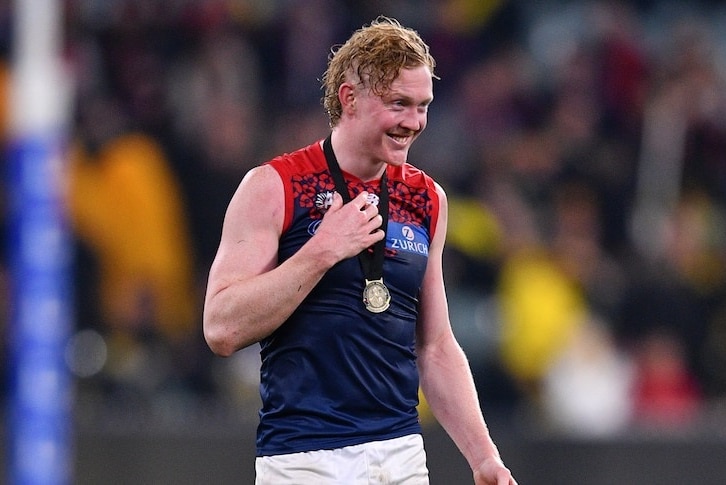 Even if he gets off lightly, Smith will face the wrath of Melbourne's leadership group.
"Joel is aware that once club leaders receive the results of the investigation, they will then determine if any further action is appropriate based on cultural standards and expectations," Pert said.
Unspecified rumours about Goodwin's off-field behaviour have been swirling for years. Pert said the rumours were simply fake.
"I wish to address the three years of allegations and innuendo suffered by Simon Goodwin, which are completely without basis or truth," Pert wrote.
"I personally investigated the matter and did so by methodically interviewing every person that I was aware of who had spread the initial rumours.
"All admitted there was no basis to the claims but were simply passing on what they had heard from others.
"The only valid information was that Simon was seen having a drink with some of our player leaders at the Sorrento Hotel, which was hardly surprising, given his strong relationship with the players who were holidaying in the area over the summer break.
"The ongoing embellishment and spreading of untrue rumours have placed an enormous stress and mental toll on Simon and his family over the last three years."
Pert insists the culture is strong, saying isolated incidents do not reflect the culture as a whole.
"Unfortunately, a strong culture does not guarantee that we will not have isolated behaviour issues from time to time in the future," Pert said.
"This is not a sign of a fractured culture, but an opportunity for our club leaders, including myself, to take responsibility and reaffirm our expectations of individuals in a high-performance environment.
"It is also important that the players who live our standards and disciplines every day see that those who fail to do so are held to account.
"I am very aware that the recent player controversies surrounding our AFL program have in some cases damaged the trust between the club and you, our supporters.
"Please know that our leaders in myself, the board, general manager football Alan Richardson, coach Simon Goodwin, captain Max Gawn, vice-captain Jack Viney and so many others are committed as ever to making you feel proud to belong."
The ABC of SPORT
Australian Rules Football