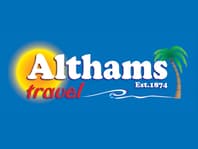 Althams Travel Services Limited   Reviews
In the Travel Agency category
Visit this website
Company activity See all

Write a review
Reviews 3.8.
Most relevant
great from start to finish
We have just returned from a fantastic 10 day vacation which we booked with Sharon at the Ramsbottom office she was very professional and knowledgeable of our requirements. I would definitely use Sharon again and have no problem recommending Althams at Ramsbottom
Date of experience : September 20, 2023
Reply from Althams Travel Services Limited
Thank you for your lovely comments and thank you for booking with us kind regards, Althams Travel.
Our 2022 Transparency Report has landed
Excellent customer service.
Excellent Customer Service The team at the Brigg branch have been brilliant. They have helped us with everything from a big family holiday with a disabled guest through to a romantic break in Rome. We can't recommend them highly enough, we look forward to using them again soon.
Date of experience : October 20, 2022
Booked my family holiday with the Colne…
Booked my family holiday with the Colne branch. Excellent help from start to finish, great customer service and would definitely book with them again!
Date of experience : July 03, 2023
Thank you Emily for your lovely comments. We will pass this on to our Colne branch. Kind regards, Althams Travel.
Used althams for a few years now
Used althams for a few years now , and I find it so easy to get sorted with a holiday . Me and my daughter are always pleased .The staff are very friendly and go out of there way to help .
Date of experience : August 05, 2023
Thank you for your lovely comments Nigel. Thank you for booking with us kind regards, Althams Travel.
Do not book with this company
DO NOT BOOK WITH THIS COMPANY. THE OTLEY OFFICE IS RUN BY PEOPLE THAT FIND IT FUNNY WHEN SOMEONE HAS A ROAD TRAFFIC ACCIDENT. THE MANAGER OF THE OTLEY BRANCH WENT OUT OF HER WAY TO TREAT US BAD To give context - Myself and my partner were parked just along from this store. We are both disabled badge holders. Whilst stationary, a heavy goods vehicle crashed into the side of our car. The manager of Althams who's initials are K.A then felt it appropriate to come out and shout at us about how we shouldn't even be parked there as it says keep clear. We were actually parked behind the keep clear and weren't blocking and entries / exits. Althams are also not in charge of policing the roads, they're there to sell holidays. When I asked what negative impact we were having on their business, they couldn't answer because they knew they were in the wrong. A shop keeper a couple of doors down made us aware that he'd had his car hit in that spot 4 times and that each time, Althams staff were rude and nasty to him. It doesn't set a good example for your company when you have a bunch of 50 odd year old women all belittling and berating people in the street over something that doesn't concern them or their business. I'm sure it isn't in their contact of employment to police the traffic and to try and tell disabled badge holders where they can and can not park. A lot of disabilities are hidden and the way these women spoke to us and treated us had a bad impact on us. We were clearly shook up and yet this was the moment all 3 shop workers of Althams thought it appropriate to laugh loudly in our faces & belittle us because in their opinion we shouldn't have been there. I admit it got my back up and sue to the sheer embarrassment, the stress they caused, the humiliation and the upset, I did start shouting back at them. They then tried to turn it all on us. We were the victims of an RTA and yet they couldn't even ask if we were ok or were hurt. We'd like to thank the businesses either side of Althams who were very kind, empathetic, made sure we were ok and offered help. SHAME ON ALTHAMS STAFF. I will not recommend them.
Date of experience : June 13, 2023
Low Street, Keighley
01535 604751
Pop in and say hello!
Don't want to book online? Pop in to the store or give us a call to speak to one of our expert travel consultants directly!
Please note that opening times may vary due to staff training, if you are unable to get through please try our free out-of-hours sales hotline on 0800 917 9997
Manager: Angela Fallon
Scroll down to meet the team!
22 Low Street
Opening Times
Mon - Fri 9.30 - 17.00
Saturday 9.30 - 17.00
Sunday CLOSED
Meet the team!
Louise stewart.
Branch Manager
Rosie Kershaw
Travel Advisor
Fleur Bucatariu
Helen ellison, search again.
Enter your location
Subscribe to our mailing list