ABOUT CONTACT US
Destinations
Itineraries
US National Parks
10 Day Egypt Itinerary: Cairo, Aswan, Luxor, & Abu Simbel
Julie Last updated: October 29, 2023 Egypt , Itinerary 104 Comments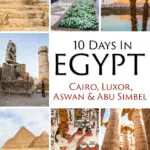 Egypt is an extraordinary travel destination. If you are like us, you have dreamed of seeing the pyramids of Giza since you were a child. With 10 days in Egypt, you have plenty of time to go beyond the pyramids and experience the highlights of this amazing country.
On this Egypt itinerary, you will visit the intricately decorated tombs in the Valley of the Kings, drift on the Nile River in a felucca, and see the Pyramids of Giza. Are you getting excited yet? The list continues, with visits to the spectacular temples at Abu Simbel, the enormous Karnak Temple in Luxor, and the ancient pyramids in Dahshur and Saqqara.
This trip is one thrilling, unforgettable experience after another. Be prepared to make some extraordinary memories and to come home with tales to tell.
I hope you enjoy Egypt as much as we did. And if you are like us, you will be dreaming about returning again someday.
Table of Contents
About This Egypt Itinerary
On this Egypt itinerary, you will not take a cruise on the Nile River. Instead, you will drive between Aswan and Luxor. This has many advantages. It's cheaper, you have the option to tour the tombs and temples in a small, private group (rather than in a large cruise ship group), and you have a lot more flexibility in your schedule. However, if a Nile Cruise is a must-have experience for you, we let you know how to include this at the end of this itinerary.
You can do this itinerary independently or you can hire an Egyptologist and driver.
Typically, we travel independently, and very rarely do we hire guides or take tours. But Egypt is different. You will see an unbelievable amount of ancient sites and the history is fascinating. To get the most out of your experience, we recommend hiring an Egyptologist.
For our trip to Egypt, we hired the company Egypt Tailor Made. For most of our visit (every day with the exception of our day trip to Abu Simbel), we had a driver and guide/Egyptologist. It was a great decision. We traveled in a private group, our guides were knowledgeable and entertaining, and we learned a lot from them. We could just sit back and enjoy the trip and let our guides handle the logistics.
10 Day Egypt Itinerary
Day 1: Arrive in Cairo Day 2: Cairo: Pyramids of Giza & Egyptian Museum Day 3: Cairo: Dahshur, Memphis & Saqqara, Fly to Aswan Day 4: Aswan Day 5: Abu Simbel Day 6: Drive to Luxor, with visits to Kom Ombo, Edfu, & Esna Day 7: West Bank of Luxor Day 8: East Bank of Luxor Day 9: Fly to Cairo, with the option of more time in Luxor Day 10: Fly Home
Egypt Itinerary Day 1
Arrive in Cairo
Many flights arrive in Cairo midday or later, so you will not do much sightseeing on this first day of the trip.
The Cairo International Airport sits on the outskirts of the city. Depending on where you stay, it can take an hour, sometimes longer, to get to your hotel. The traffic in Cairo is terrible, with some of the most congested streets we have seen. Expect long travel times by car while you are here and in Giza.
Get settled into your hotel and get a good night's sleep, because tomorrow will be a big day.
Where to Stay
Wouldn't it be nice to start and end your day with a view of the pyramids? Here are three recommended hotels in Giza with views of the pyramids. You will spend two nights at this hotel.
Marriott Mena House. This is where we stayed and it was fantastic. It was 8 pm and dark by the time we arrived at the hotel, but what a thrilling experience to see the Great Pyramid from our balcony. Breakfast is a buffet with endless choices of food (it's one of the best hotel breakfasts we have had yet). Plus, you can sit outside and stare up at the Great Pyramid over a cup of coffee.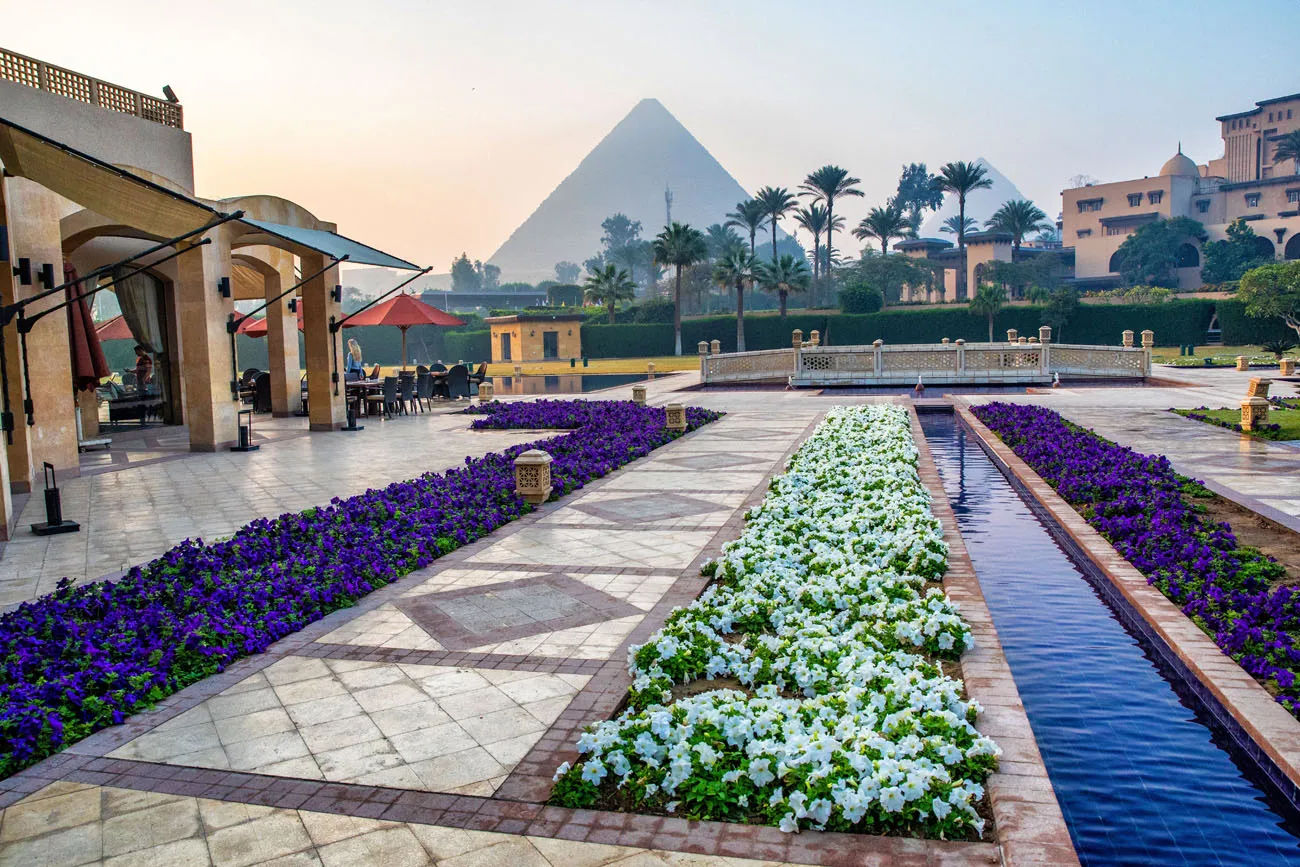 Pyramids View Inn. This small hotel offers views of the Sphinx and the pyramids. The view from the rooftop terrace is amazing and this is a great place to watch the Sound and Light Show, without joining the crowds.
Great Pyramid Inn. This is yet another hotel that boasts amazing views of the Pyramids of Giza. From the top floor terrace you have an awesome view of the pyramids. Some rooms have views of the pyramids and/or a balcony.
Egypt Itinerary Day 2
Cairo: The Pyramids of Giza and the Egyptian Museum
The Pyramids of Giza
The Pyramids of Giza are a big bucket list destination for many travelers. In fact, the Great Pyramid of Giza (also known as the Pyramid of Khufu) is the last remaining ancient Wonder of the World.
Nine pyramids, the Great Sphinx, and a collection of smaller tombs sit on the Giza Plateau, also called the Necropolis of Giza. The Pyramid of Khufu, with its two neighbors, the Pyramid of Khafre and the Pyramid of Menkaure, form one of the most iconic sights in Egypt, if not the entire world.
Most people spend about two hours on the Giza Plateau, but we recommend budgeting more time than that. There is a lot to do here.
Top things to do on the Giza Plateau include seeing the Great Sphinx, going inside one of the pyramids, visiting the photographic viewpoints.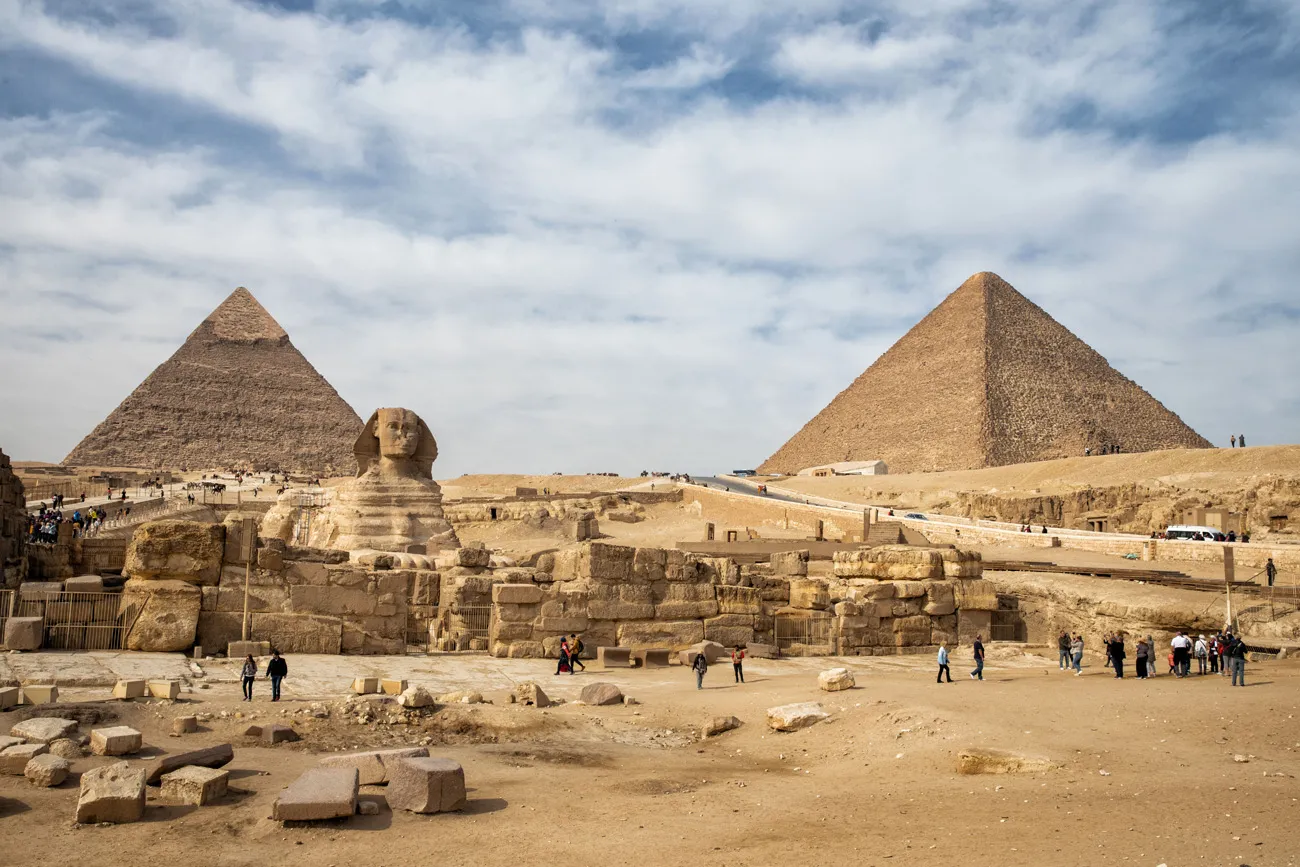 We recommend spending a minimum of three hours on the Giza Plateau.
The Giza Plateau opens at 6 am and closes at 5 pm. Start your day here by 8 am, to avoid the crowds. Most people arrive around 10 am and it stays busy for the rest of the day. There is a chance that it could be hazy in the morning, especially during the winter months, but I think that it is worth a visit at this time, to avoid the big crowds. You also get to avoid the midday heat.
Learn more about how to visit the Pyramids of Giza with these articles.
Pyramids of Giza: The Complete Guide for First Time Visitors
Where to Get the Best Views of the Pyramids of Giza
Egyptian Museum
Spend the afternoon at the Egyptian Museum, which contains the world's largest collection of Egyptian artifacts. Highlights of a visit include seeing the solid gold mask and the golden sarcophagi of Tutankhamun, the Royal Mummies room, and an astonishing number of statues, jewelry, and treasures.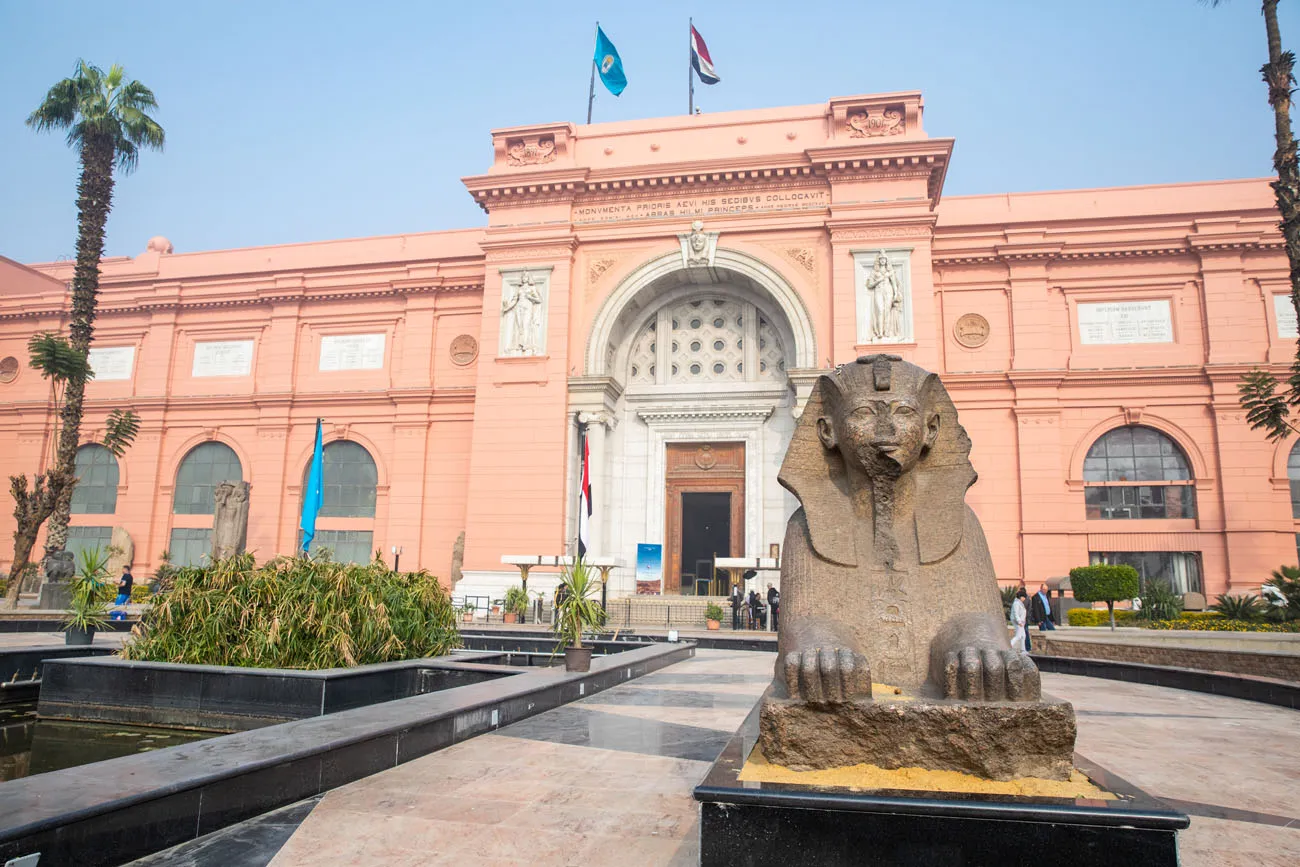 A visit here typically lasts two hours. The Egyptian Museum is located on Tahrir Square in Cairo. To get here, we recommend hiring a driver and guide, but you can also use Uber, taxis, or public transportation. It takes roughly 30 minutes to travel between the Giza Plateau and the Egyptian Museum.
Important Note: The Grand Egyptian Museum is expected to open in 2023 or early 2024, although this date seems to change frequently. Once open, it will replace the Egyptian Museum on Tahrir Square. The Grand Egyptian Museum is massive…it's so big that our guide, Laila, joked that you would need a tuk-tuk to see all of it. This museum is also conveniently located next to the Giza Plateau, so it will be very easy to combine these two sites without needing to navigate the streets of Cairo.
Qasr al-Nile Bridge and the Cairo Tower
You can end your day after your visit to the Egyptian Museum, but if you have a little more energy to spare, we have one more worthwhile place to visit.
From the Egyptian Museum, walk through Tahrir Square to the Qasr al-Nile Bridge . Walk across the Nile River, enjoying views of the city. Once on the opposite side of the bridge, it is just a short walk to the Cairo Tower.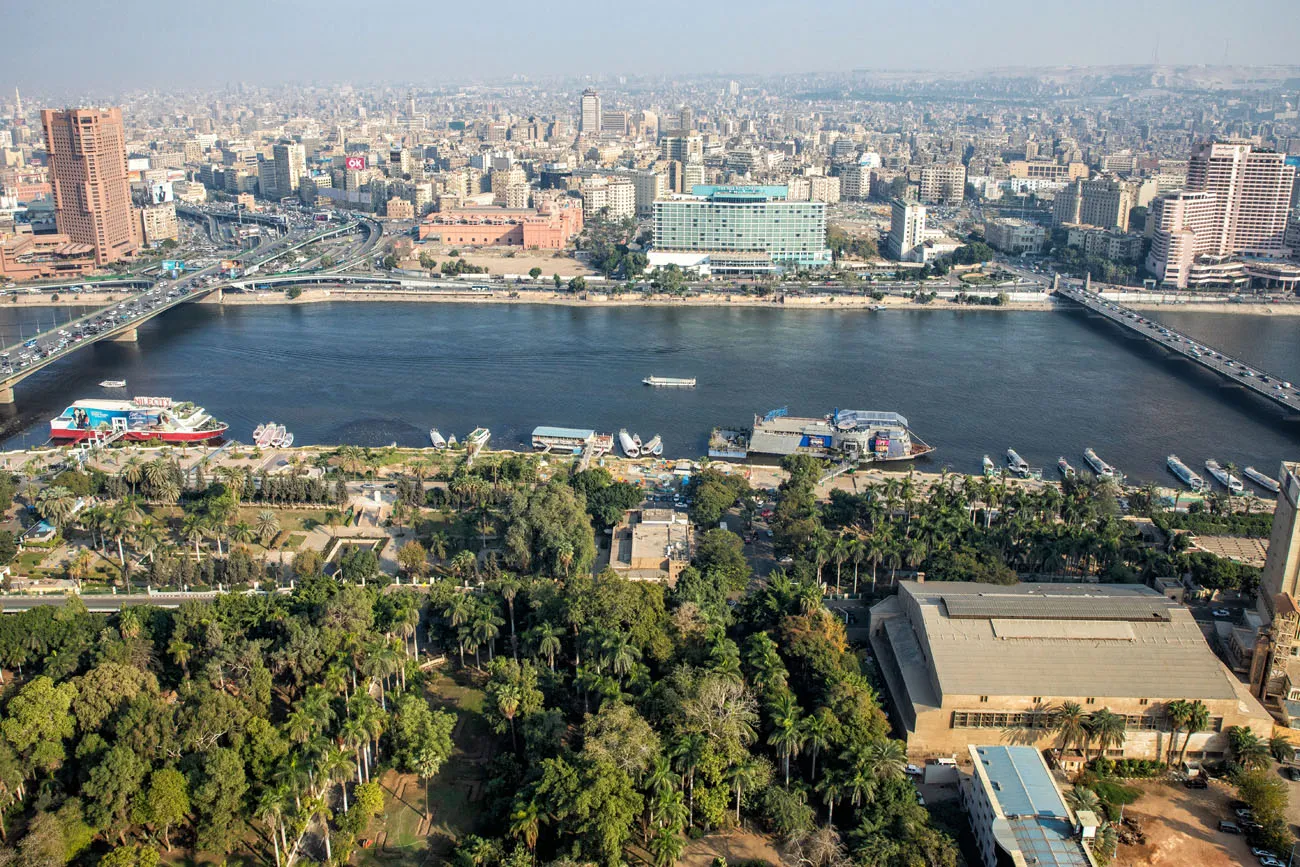 From the top of the Cairo Tower, you get a bird's eye view over the city. On a clear day, you can see the Pyramids of Giza. If you want dinner with a view, there is a revolving restaurant on top of the tower that serves good food and drinks. The Cairo Tower is open daily 9 am to midnight.
Tonight, sleep in Cairo/Giza.
For the full list of things to do in Cairo, read our article 15 Best Things to do in Cairo.
Egypt Itinerary Day 3
Dahshur, Memphis & Saqqara, Fly to Aswan
Today, you will leave the congested city streets and head out to Dahshur and Saqqara, to see some of the oldest pyramids in Egypt. After a day of sightseeing, take an early evening flight to Aswan.
Dahshur contains two of the oldest and best-preserved pyramids in Egypt. These were built between 2613 and 2589 BC, so these pyramids are older than those in Giza.
The Bent Pyramid was the first attempt at building a smooth-sided pyramid, but they didn't quite get it right, which accounts for its different angles.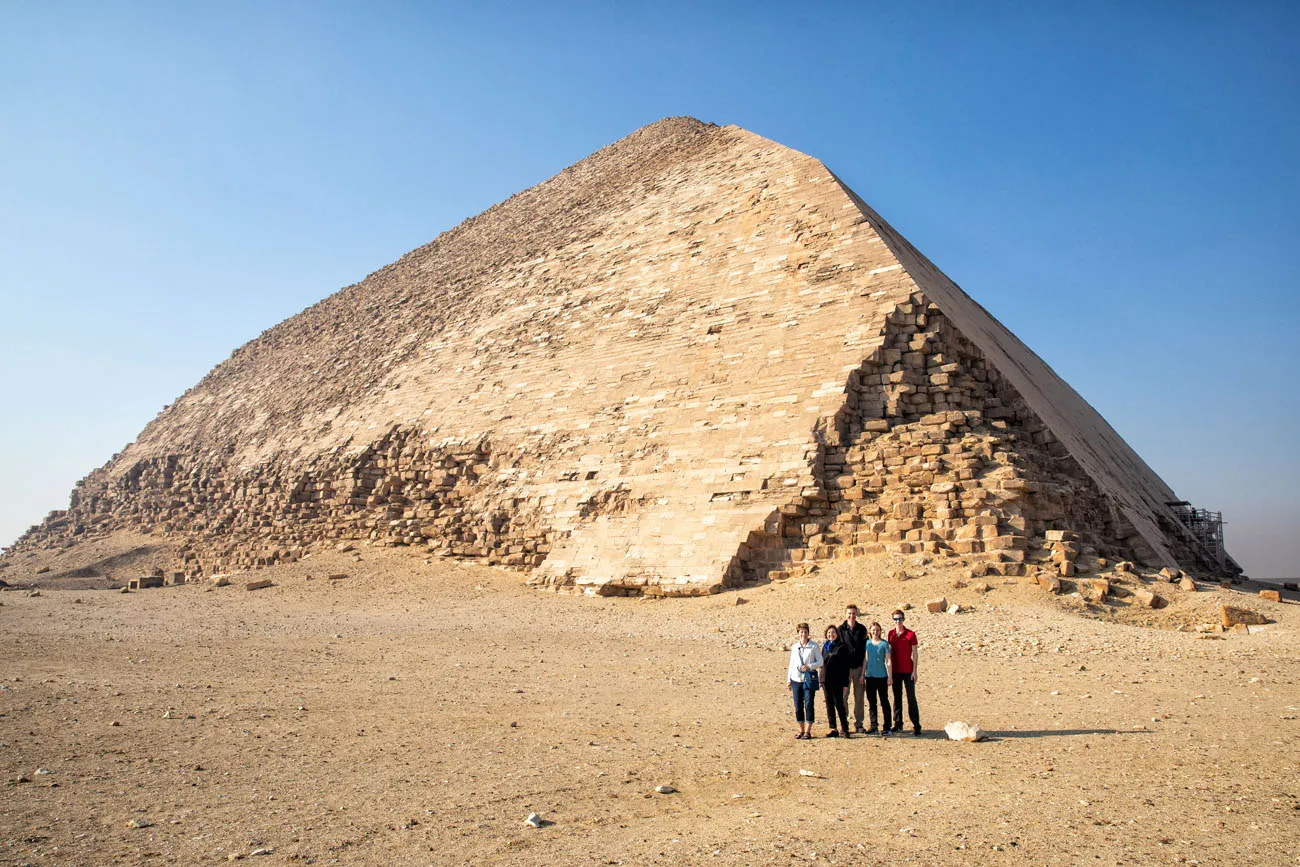 The Red Pyramid was the second attempt and it was a success, the first smooth sided pyramid. This pyramid gets its name from the red limestone, the material that was used to construct this pyramid.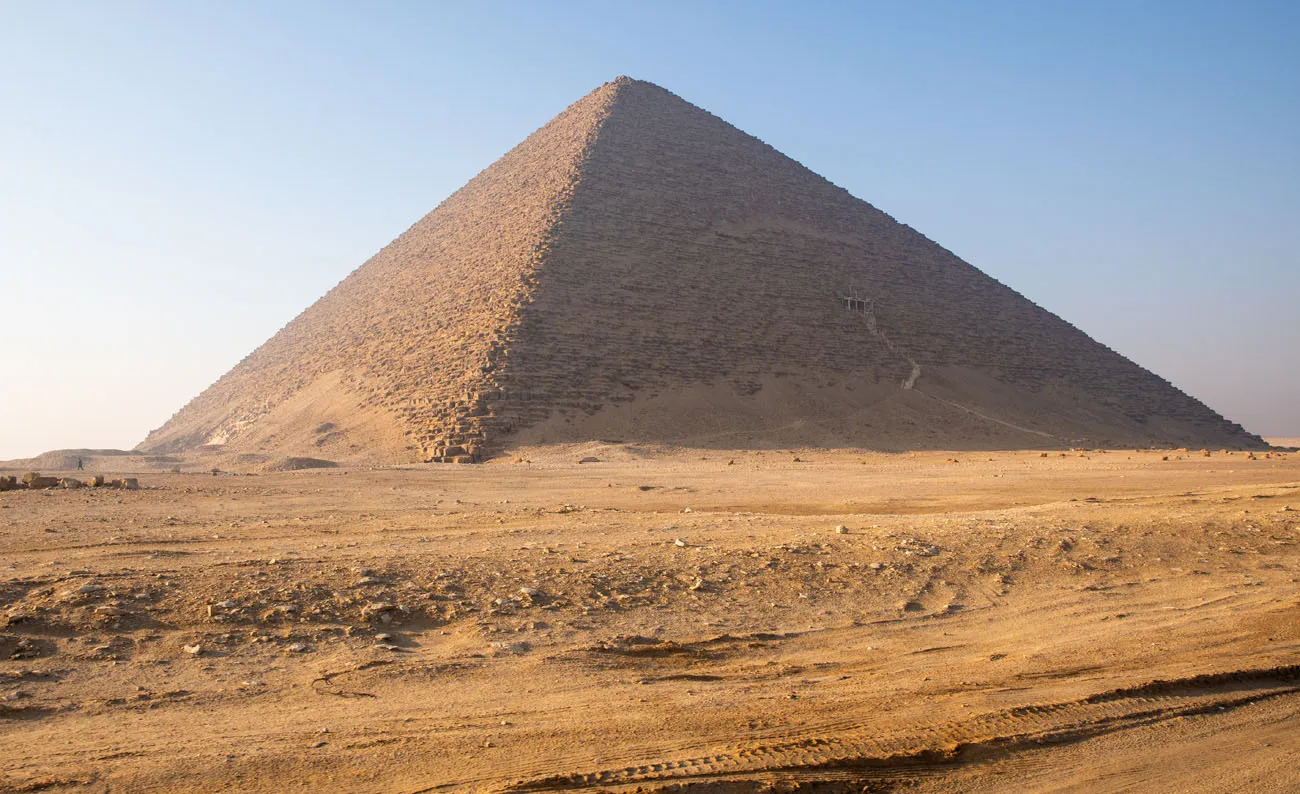 Going Inside of the Pyramids
You have the option to go inside of both pyramids (the Bent Pyramid just opened to visitors in 2019…it had been closed to visitors since the 1960's!).
First, you walk up a series of steps, since the entrance sits up off of the ground. Then, you climb down a long, narrow tunnel. It's too short to stand up completely, so expect to be hunched over until you get to the bottom. Once in the interior chambers, it can be hot and muggy, even in the winter months. There are several chambers to explore in each pyramid. Inside of the Bent Pyramid you can see a lot of bats.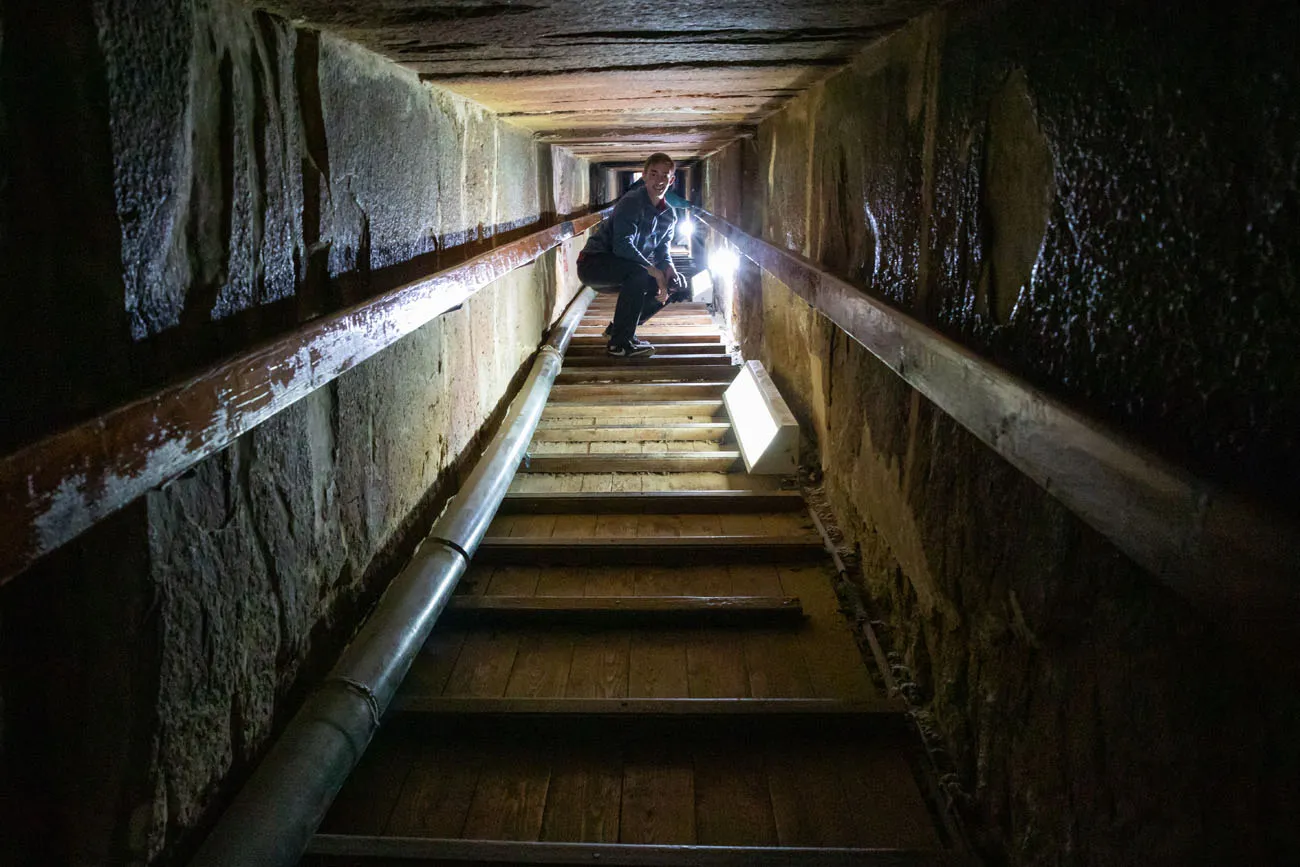 Tyler in the tunnel of the Red Pyramid.
PRO TRAVEL TIP: If you suffer from claustrophobia, skip the visit to the inside of these pyramids. Also, if you have any back, neck, or knee problems, you might also want to pass on this experience. It is difficult walking up and down through these tunnels, hunched over. My 71 year-old mom did the Red Pyramid but it was difficult for her. The Red Pyramid tunnel is shorter and larger than the Bent Pyramid tunnel, so I recommend starting with the Red Pyramid first.
Memphis was the first capital city of Egypt, and some records state that it could have existed as far back as 6000 BC. What remains today are the foundations, the stumps of pillars, and some statues, which you can visit in the open air museum. Highlights of a visit here include the alabaster sphinx and the massive statue of Ramesses II.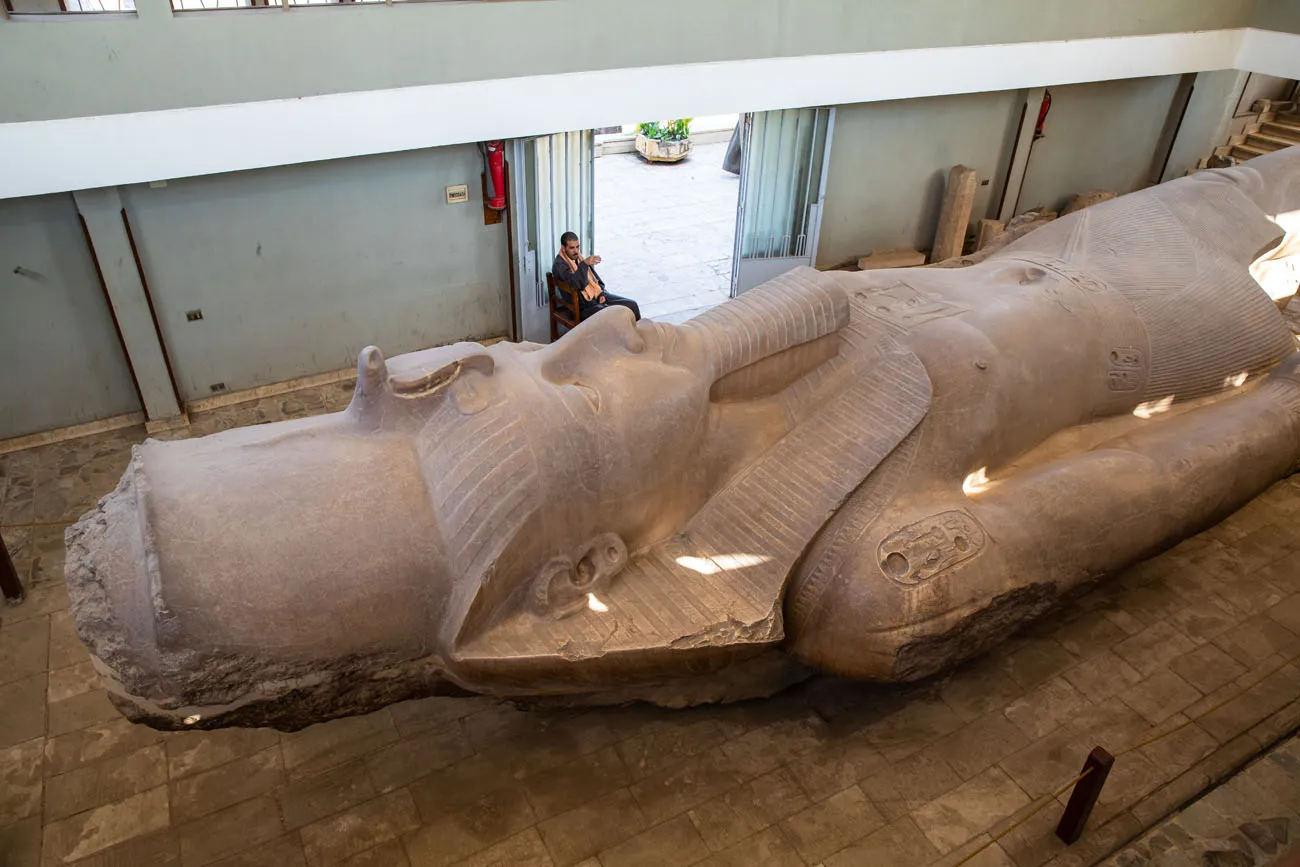 Saqqara was the necropolis for the Egyptian capital city of Memphis. It is here that you can see the famous Step Pyramid of Djoser and the oldest complete stone building complex in the world.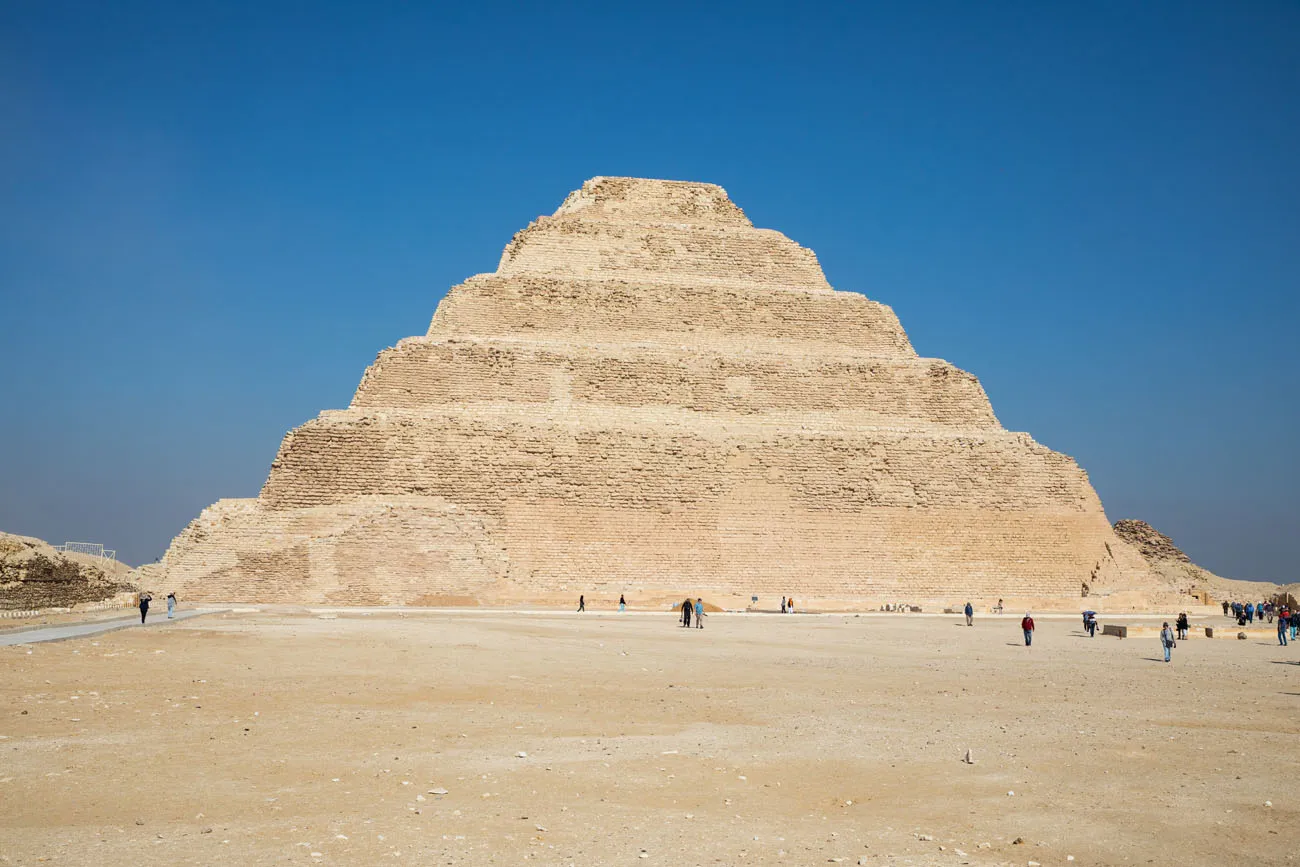 It takes three to four hours to visit Dahshur, Memphis, and Saqqara.
LEARN MORE: How to Plan Your Dahshur, Memphis and Saqqara Day Trip
Fly to Aswan
From Saqqara, it takes roughly 1.5 hours to drive to the Cairo International Airport, depending on traffic.
To get to Aswan, plan on taking a late afternoon or early evening flight. Nonstop flight time is one and a half hours. We recommend flying this evening in order to give yourself a full day for sightseeing tomorrow.
Once in Aswan, check into your hotel. On this Egypt itinerary, you will spend 3 nights in Aswan.
Where to Stay in Aswan
Sofitel Legend Old Cataract. This historic hotel is our top pick for Aswan, if you can afford the high price. The views of the Nile River are spectacular, the service is impeccable, and you can take your pick from a handful of great onsite restaurants and bars.
Movenpick Resort. This is where we stayed and we had a great experience, but this hotel does get mixed reviews. We are unsure why, but we got upgraded to a Royal Villa, which was amazing (they knew nothing of our travel blog and we pay full price when we travel). We had two bedrooms, two bathrooms, a living room, and a terrace with a private view of the Nile River. It was spectacular. However, some of the rooms in the older section of the hotel are mediocre, so make sure you know what you are getting when you choose your hotel room. It is located on Elephantine Island, so you will have to ride the hotel's shuttle boat to get back and forth across the river (which only takes a few minutes and really it is not a big deal).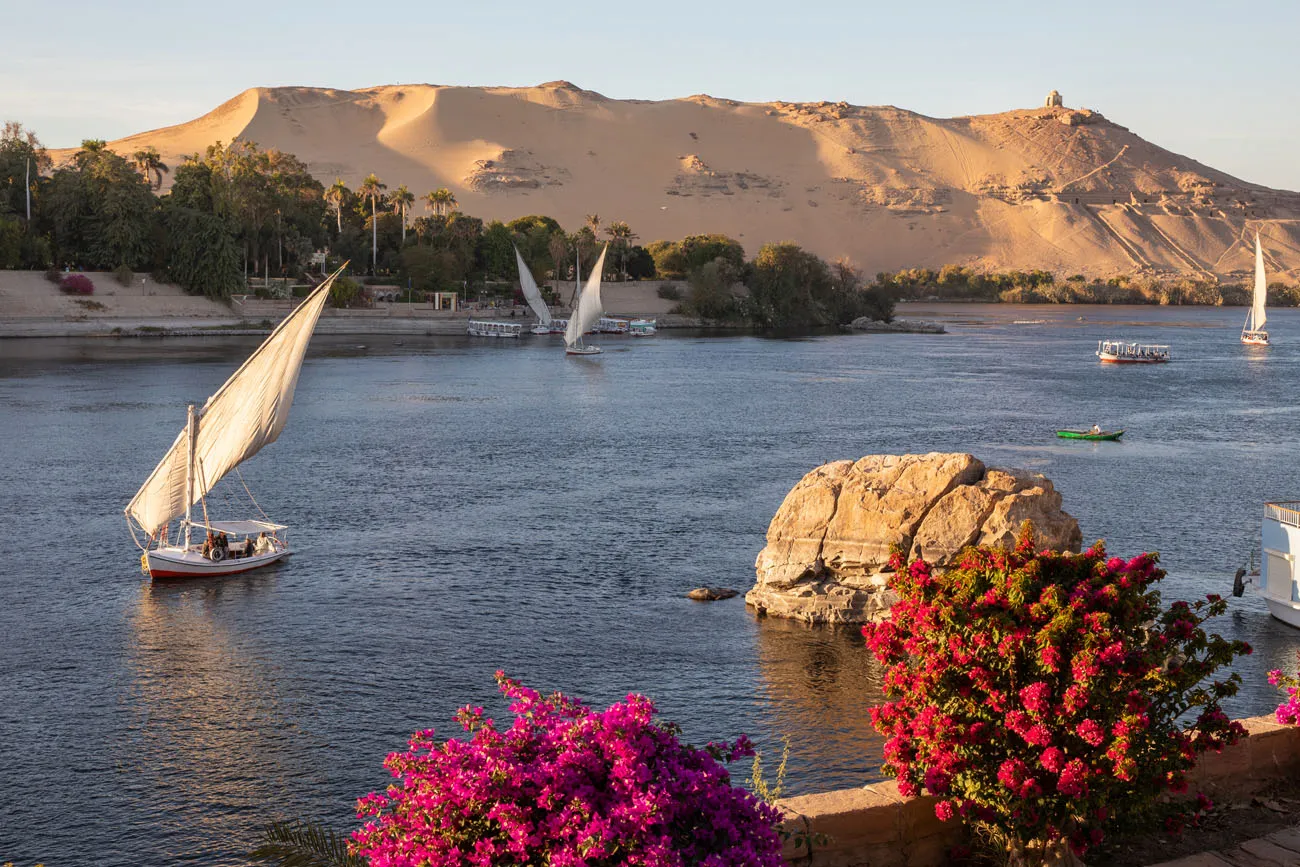 View from our room at the Movenpick.
Nuba Dool Guest House. This highly-rated guest house offers rooms with views of the Nile River at a budget price. It is located on Elephantine Island, so you will have to ride a shuttle boat to get here. From the upper terrace, you have wonderful views of the Nile River.
Egypt Itinerary Day 4
Today is a nice, relaxing day with just a few places to visit.
See the Unfinished Obelisk, the largest known obelisk in the world. It still sits in a stone quarry in Aswan since it cracked during excavation.
The Philae Temple is one of the most beautiful temples in Egypt, and to get here, it's a pleasant ride by boat on the Nile River.
If you aren't staying here, or even if you are, The Terrace at the Sofitel is a nice place to have lunch.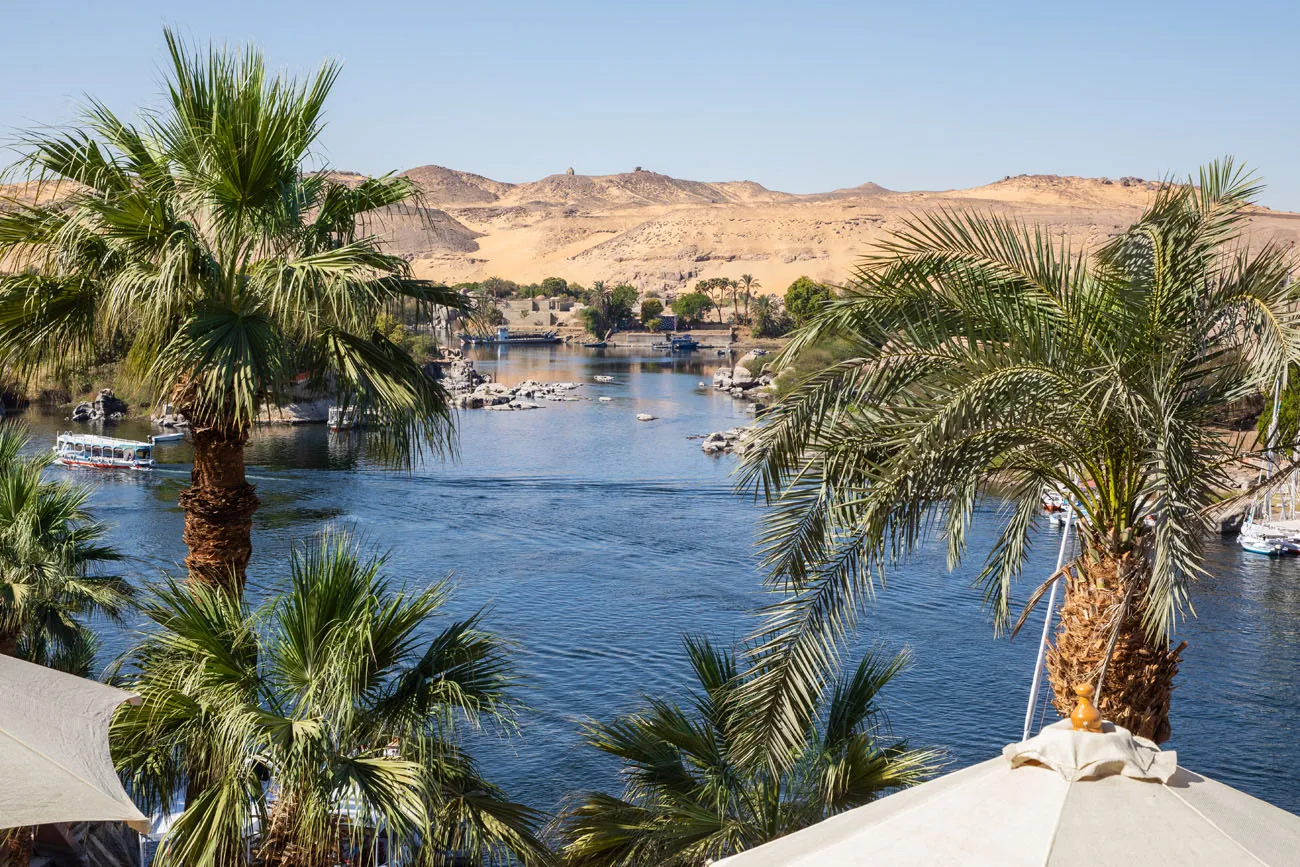 PRO TRAVEL TIP: For a table with a view, make your reservation in advance, even for lunchtime.
In the afternoon, visit the Nubian Museum and then spend the rest of your day on the Nile River.
Our guide arranged for us to have a one-hour felucca ride on the Nile , followed by a trip by motorboat to the Nubian Village. Peacefully drifting on the Nile River by felucca at sunset was my favorite experience in Aswan.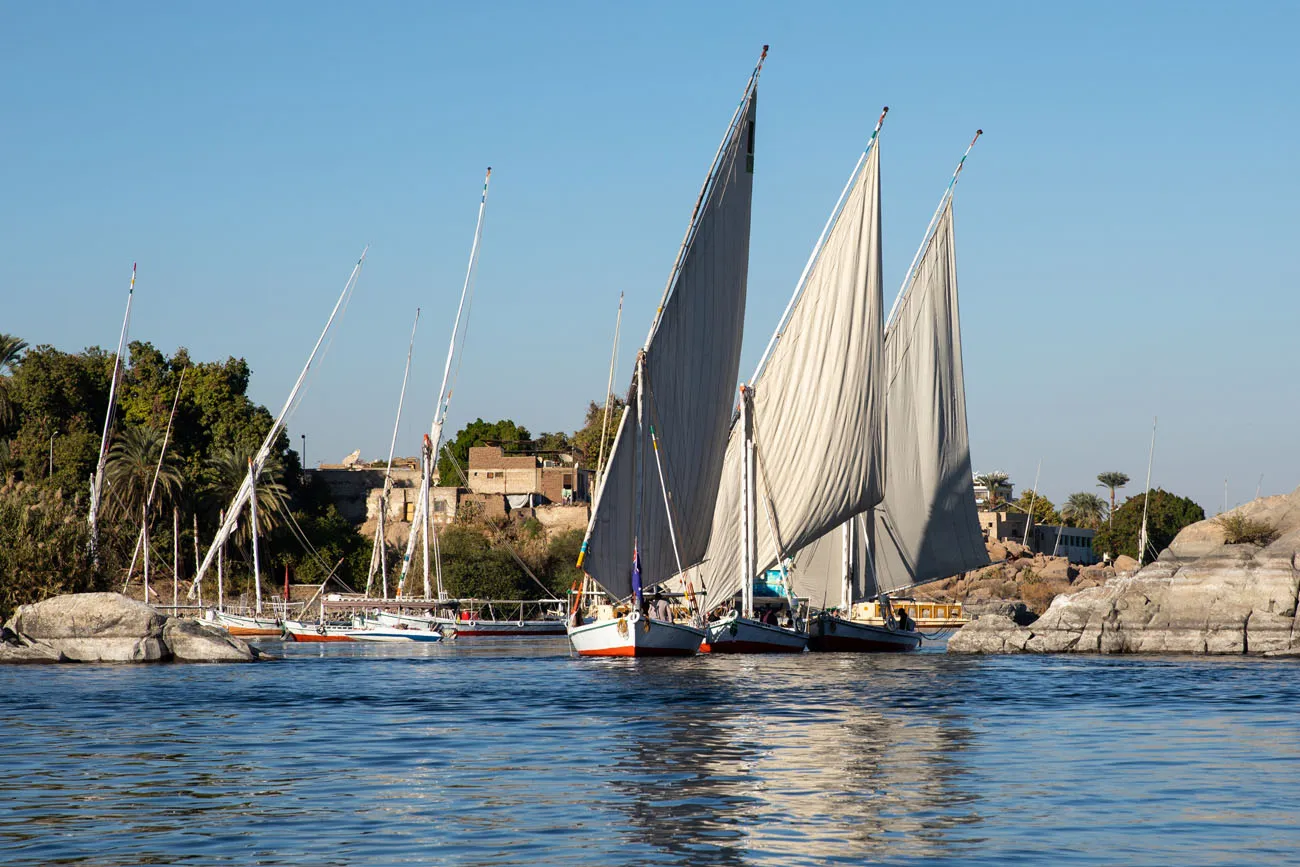 We ended the day with a visit to the Nubian Village . Some people love a visit here, some think it's a tourist trap. We liked it, but it was fun arriving by boat, shopping, and seeing the camels that walked through the city streets.
For dinner, dine at the Panorama Restaurant at the Movenpick (amazing views of Aswan but mediocre food) or Al Dokka (great food with beautiful views of the Nile River and Elephantine Island).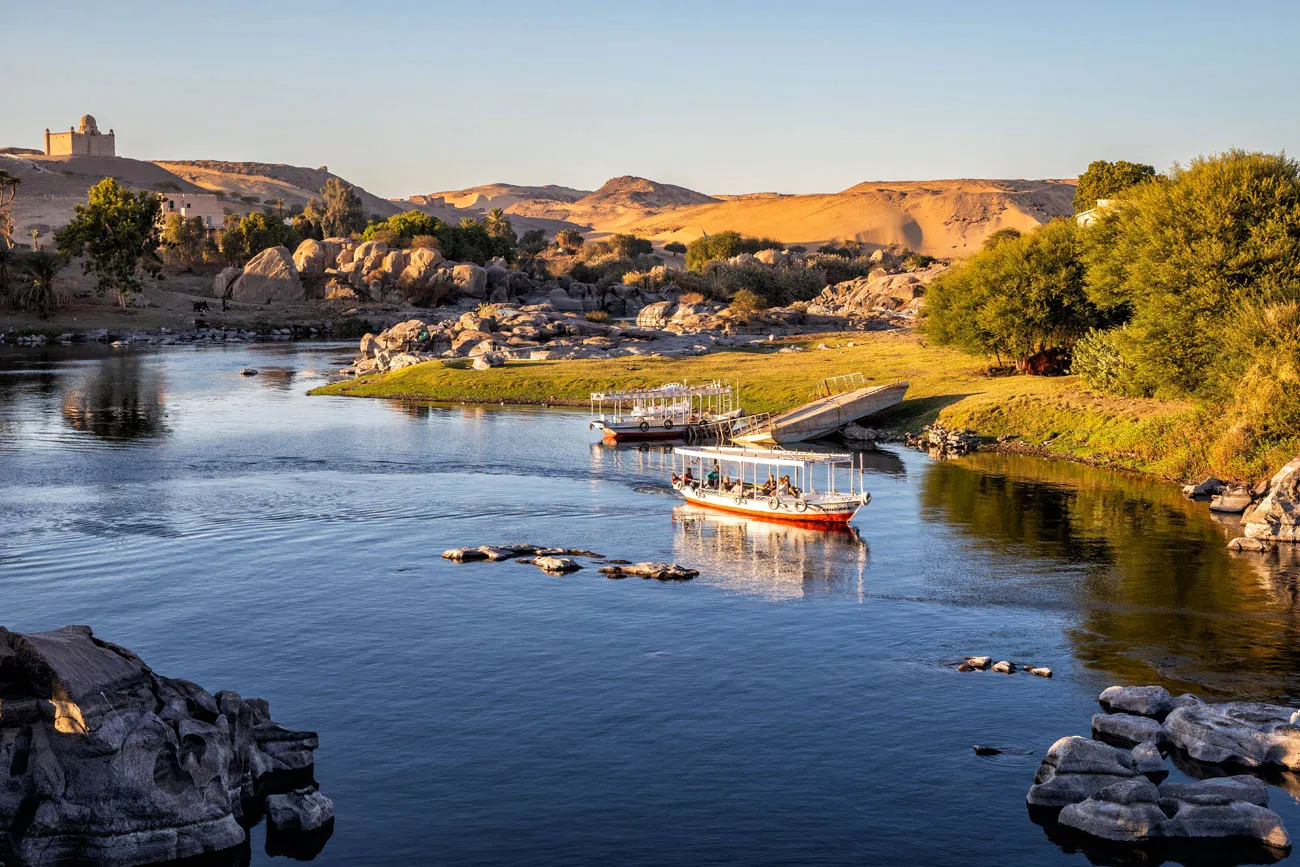 View from Al Dokka restaurant.
LEARN MORE: 10 Best Things to do in Aswan
Egypt Itinerary Day 5
Sitting on the bank of Lake Nasser, not far from Egypt's border with Sudan, sit the twin temples of Abu Simbel. These temples were built by Ramesses II over 3,000 years ago, to display the might of ancient Egypt. When the Aswan High Dam was constructed in the 1960's, the rising water levels threatened to flood the temples. Both temples were painstakingly dismantled and then reassembled on higher ground.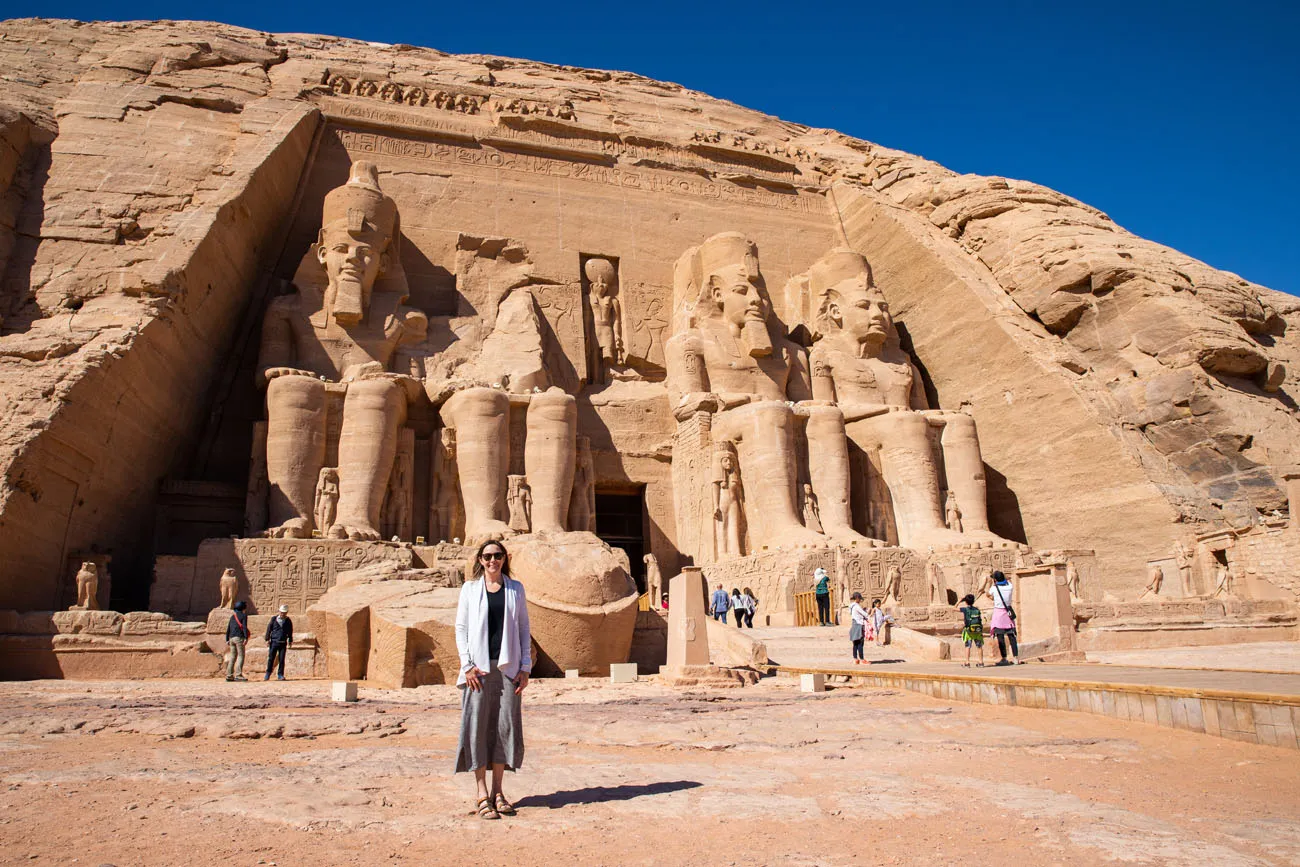 Abu Simbel can be visited on a day trip from Aswan. You have two ways to get here: by plane (fast but expensive) or by land (slower but cheaper).
For the full details on how to plan your day trip, read our Guide to Abu Simbel.
Whether you travel by land or by plane, you should arrive back into Aswan by mid-afternoon. Spend a leisurely afternoon and evening at your hotel.
Egypt Itinerary Day 6
Drive to Luxor, Visit Kom Ombo, Edfu & Esna
Today, you will travel to Luxor by land. If you were to drive directly between these two cities, without time for stops, it takes just over 3 hours, if you take the highway. By "scenic route," the rural roads along the east bank of the Nile River, it can take four and a half hours.
However, there are three important temples and historical sites to visit on the way, at Kom Ombo, Edfu, and Esna. With these three stops, it takes about 9.5 hours to travel from Aswan to Luxor.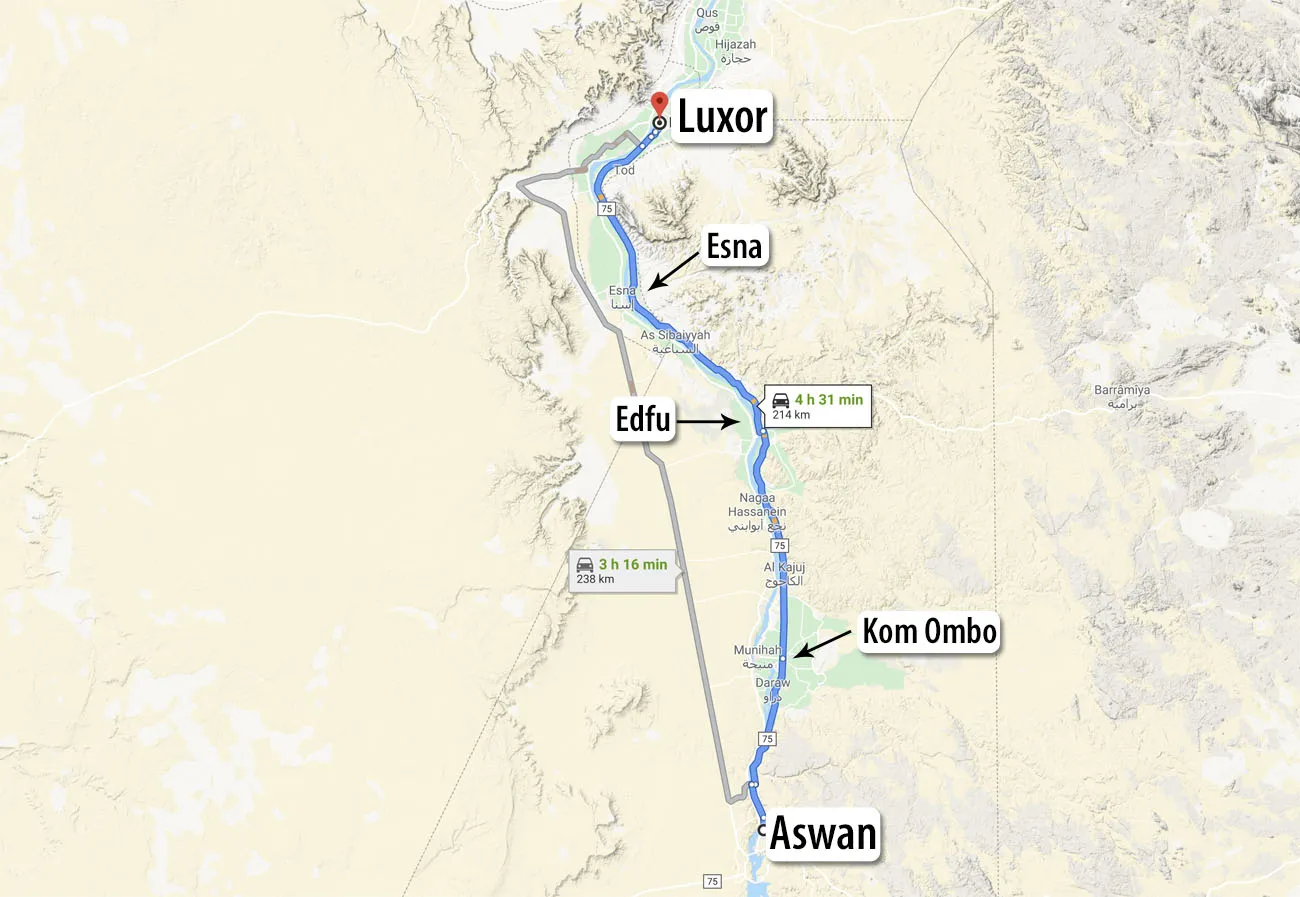 The Temple of Kom Ombo is a double temple that was constructed for two sets of gods. One half of the complex is dedicated to Sobek, the crocodile-headed god who is associated with fertility of the land along the Nile River. The other half is dedicated to Horus, the falcon-headed god.
Next to the Temple of Kom Ombo is the Crocodile Museum, where you can see the mummies of different sized crocodiles that were discovered around the temple.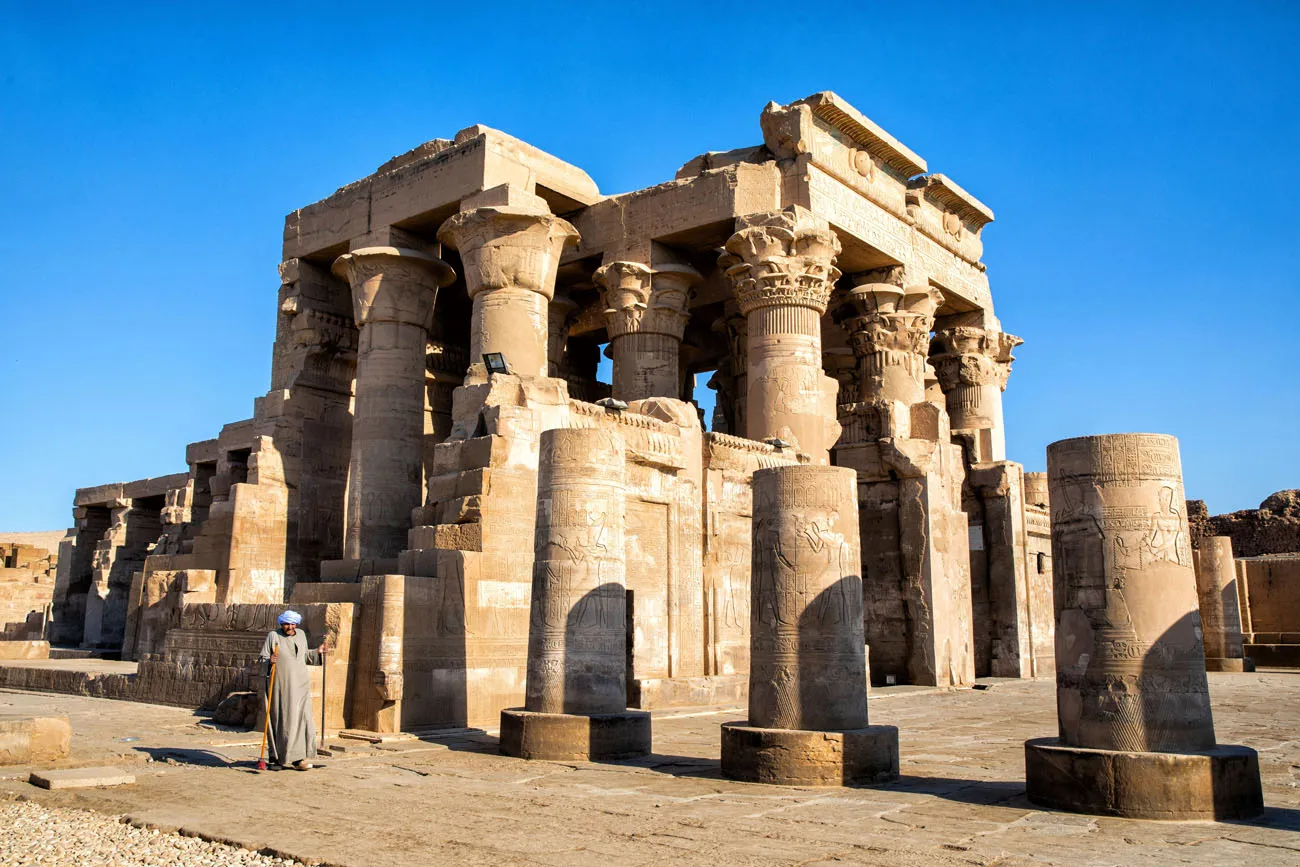 Temple of Edfu
The Temple of Edfu is the largest temple dedicated to the god Horus. It was built in the Ptolemaic Kingdom between 237 and 57 BC.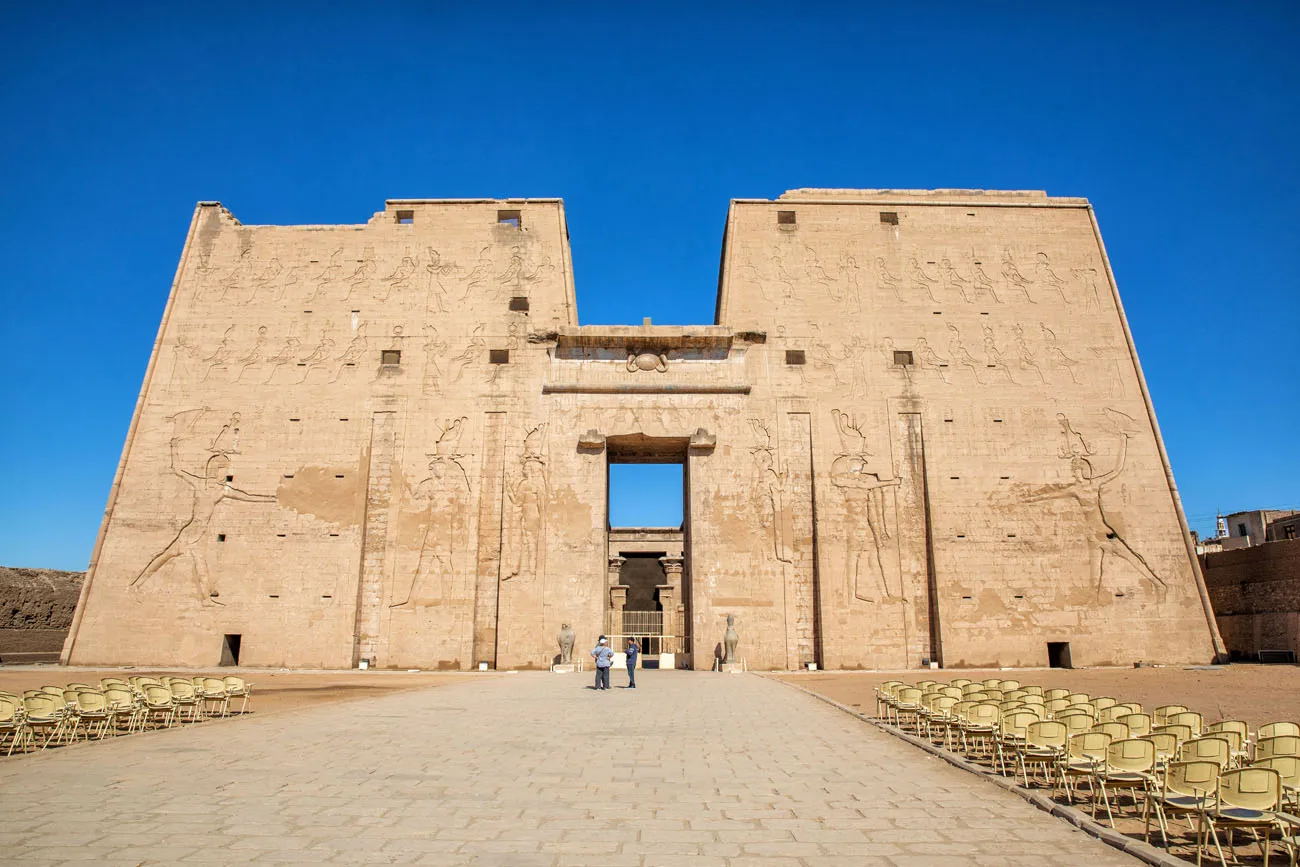 Temple of Esna
The Temple of Esna is dedicated to the god Khnum, his consorts Menhit and Nebtu, their son, Heka, and the goddess Neith. The temple sits 9 meters below street level. Over several millennia and the repeated flooding of the Nile River, the city slowly built up around this temple.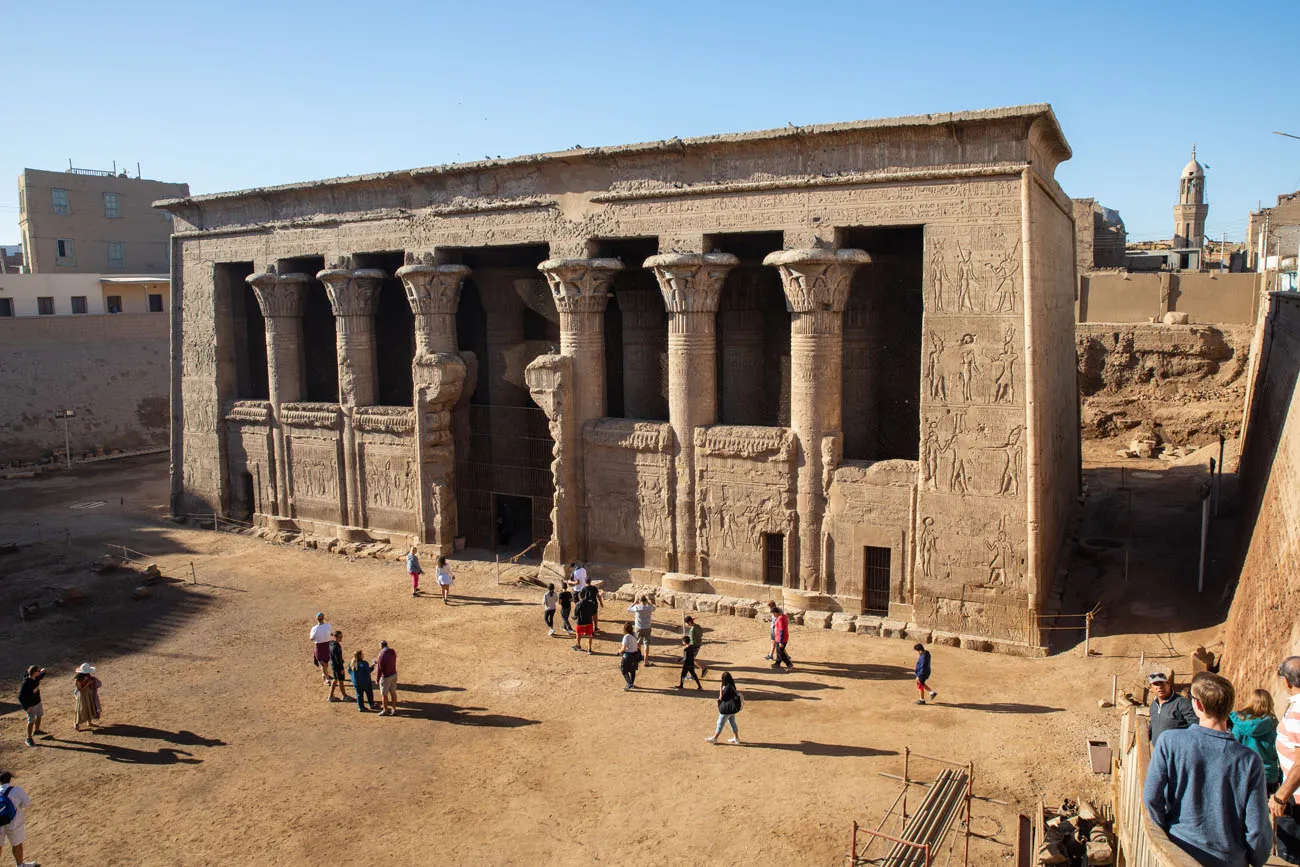 Once in Luxor, check into your hotel and have dinner. On this Egypt itinerary, you will spend three nights in Luxor.
For full details on this road trip, with information about what to expect on the drive and pricing information, read our article Aswan and Luxor Road Trip: How to Visit Kom Ombo, Edfu, and Esna.
Where to Stay in Luxor
Sofitel Winter Palace Luxor. This hotel is one of the top luxury hotels in Luxor. It is centrally located in the city, with views of the Nile River and within walking distance of the Luxor Temple.
Hilton Luxor Resort and Spa. This is where we stayed and it was our favorite hotel in Egypt. The views of the Nile River and the balloons that drift over the West Bank are magical. The rooms are large, clean, and quiet. There are several onsite restaurants, a pool, and a fitness room. We loved this place and I wouldn't hesitate to stay here again.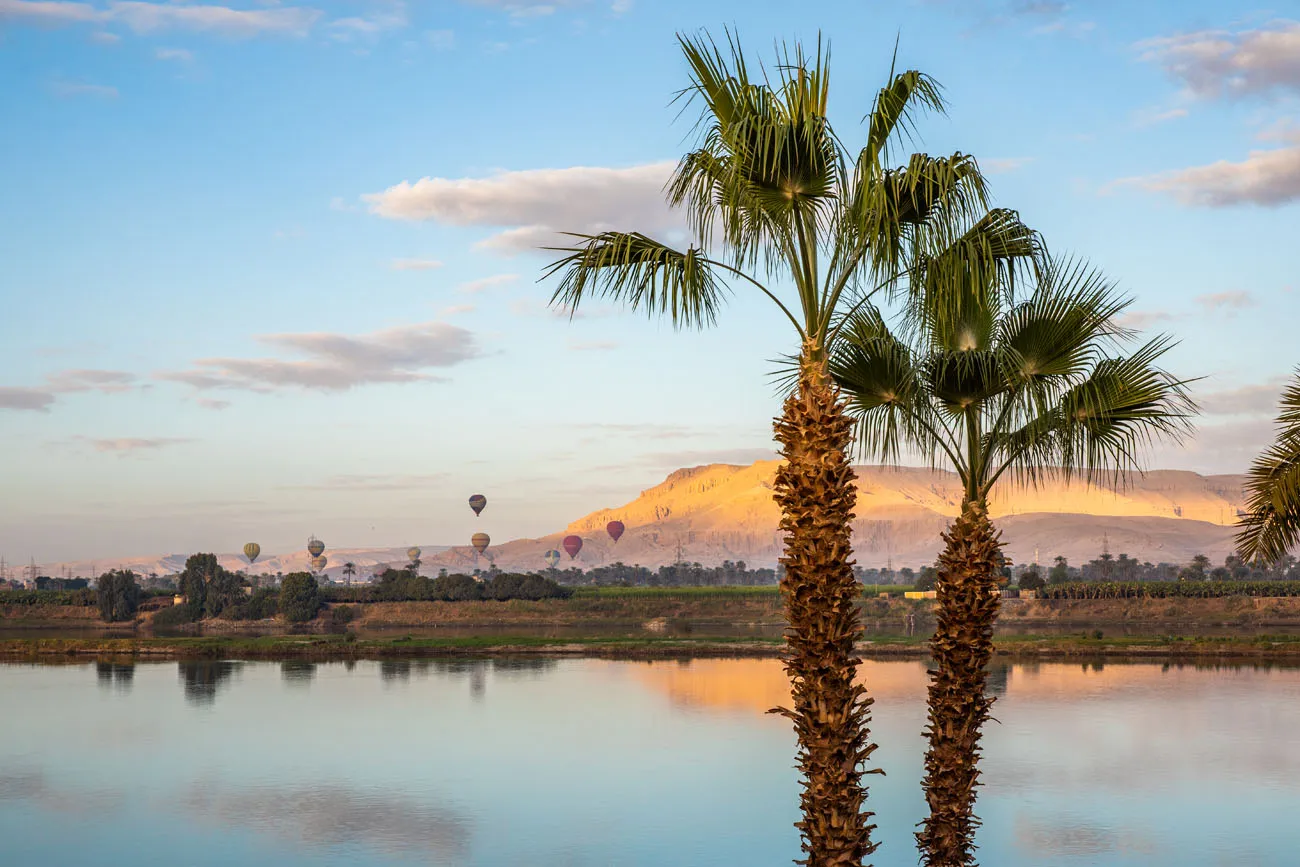 View from our room…looking across the Nile River to the West Bank at sunrise.
Nile Castle. This budget hotel gets great reviews. It is located on the West Bank of the Nile River, so you will have easy access to the West Bank sites, but expect more travel time when visiting the East Bank sites and when traveling to and from the airport.
Egypt Itinerary Day 7
West Bank of Luxor
The West Bank of Luxor is literally packed with tombs, temples, and historical sites. We spent two full days on the West Bank and still didn't get to everything. With one day on the West Bank, here are our top recommendations of where to go.
Valley of the Kings
The Valley of the Kings is one of the most famous archaeological sites in the world. This is a royal burial ground, with exquisitely decorated tombs for the pharaohs who ruled Egypt between 1539 and 1075 BC. There are over 60 tombs in this small area, although only a handful are open to public.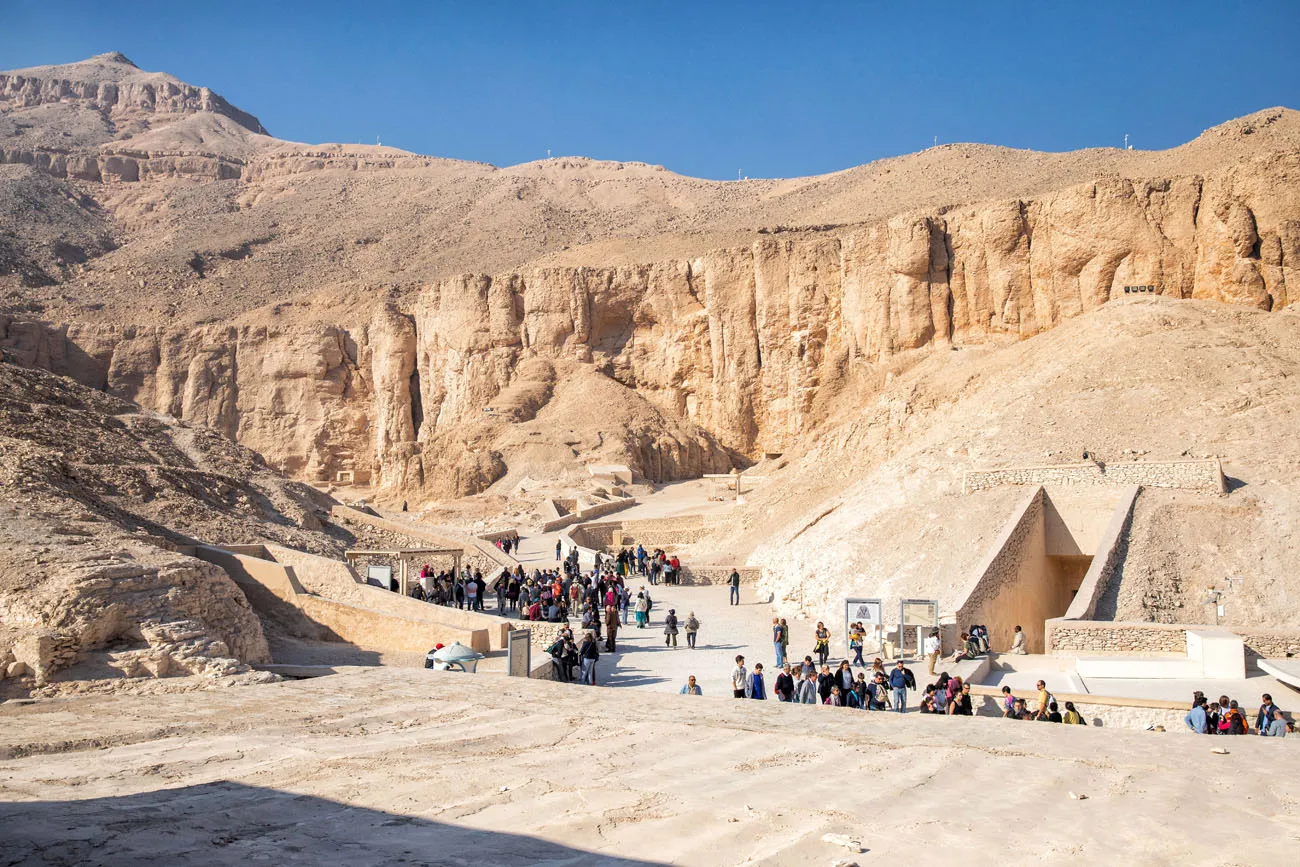 Tomb of Ramesses V and VI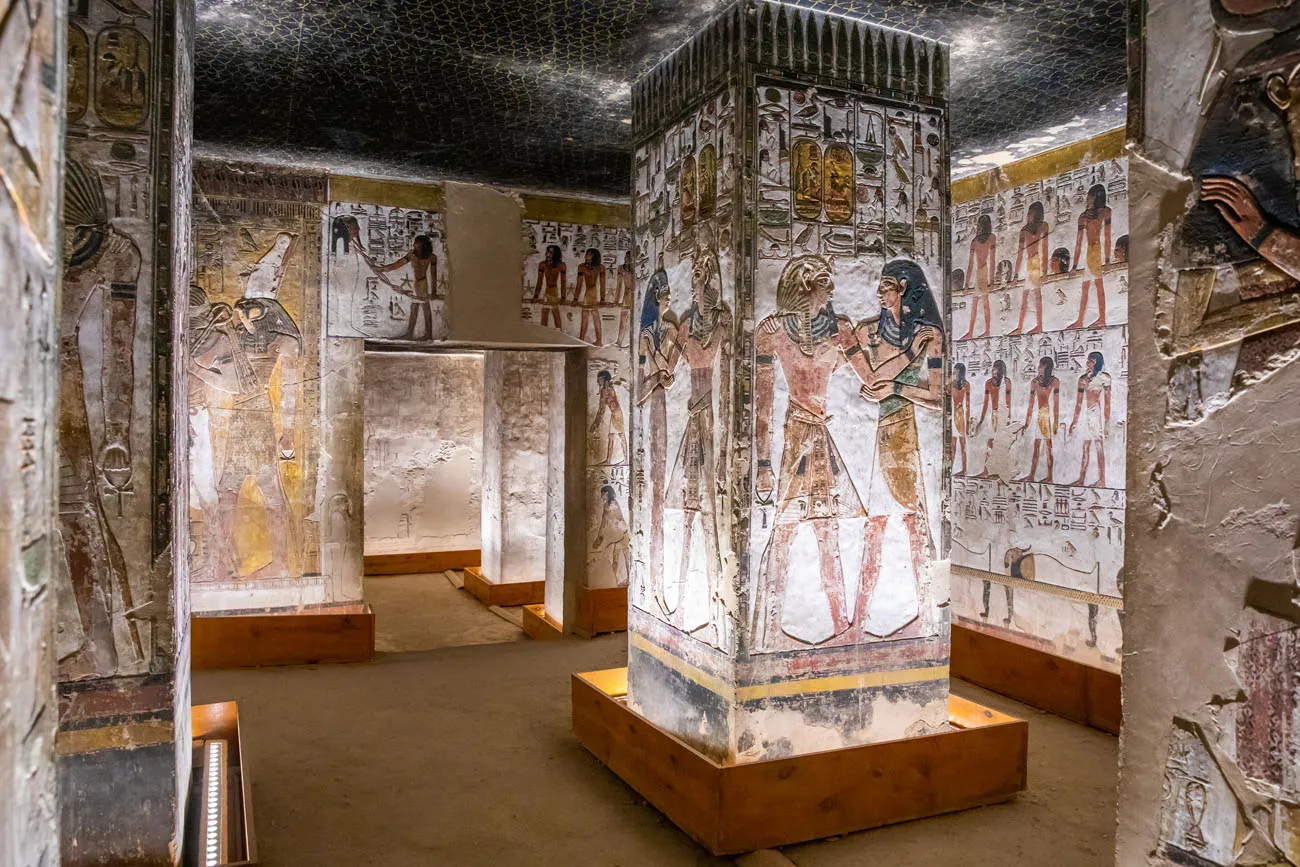 Tomb of Seti I
Your entrance ticket includes a visit to three tombs. You have the option to add on three extra tombs at an additional cost: Seti I, Tutankhamun, and the tombs of Ramesses V and VI. If you choose to visit six temples, a visit to the Valley of the Kings lasts 2 to 3 hours.
To help you plan your visit, we have two articles about the Valley of the Kings:
Best Tombs to Visit in the Valley of the Kings
Complete Guide to the Valley of the Kings
Tomb of Queen Nefertari
Located in the Valley of the Queens, this is the most spectacular tomb we visited in Egypt. It has a huge ticket price, 1400 EGP, plus the entrance fee of 100 EGP to get into the Valley of the Queens, but it is worth it.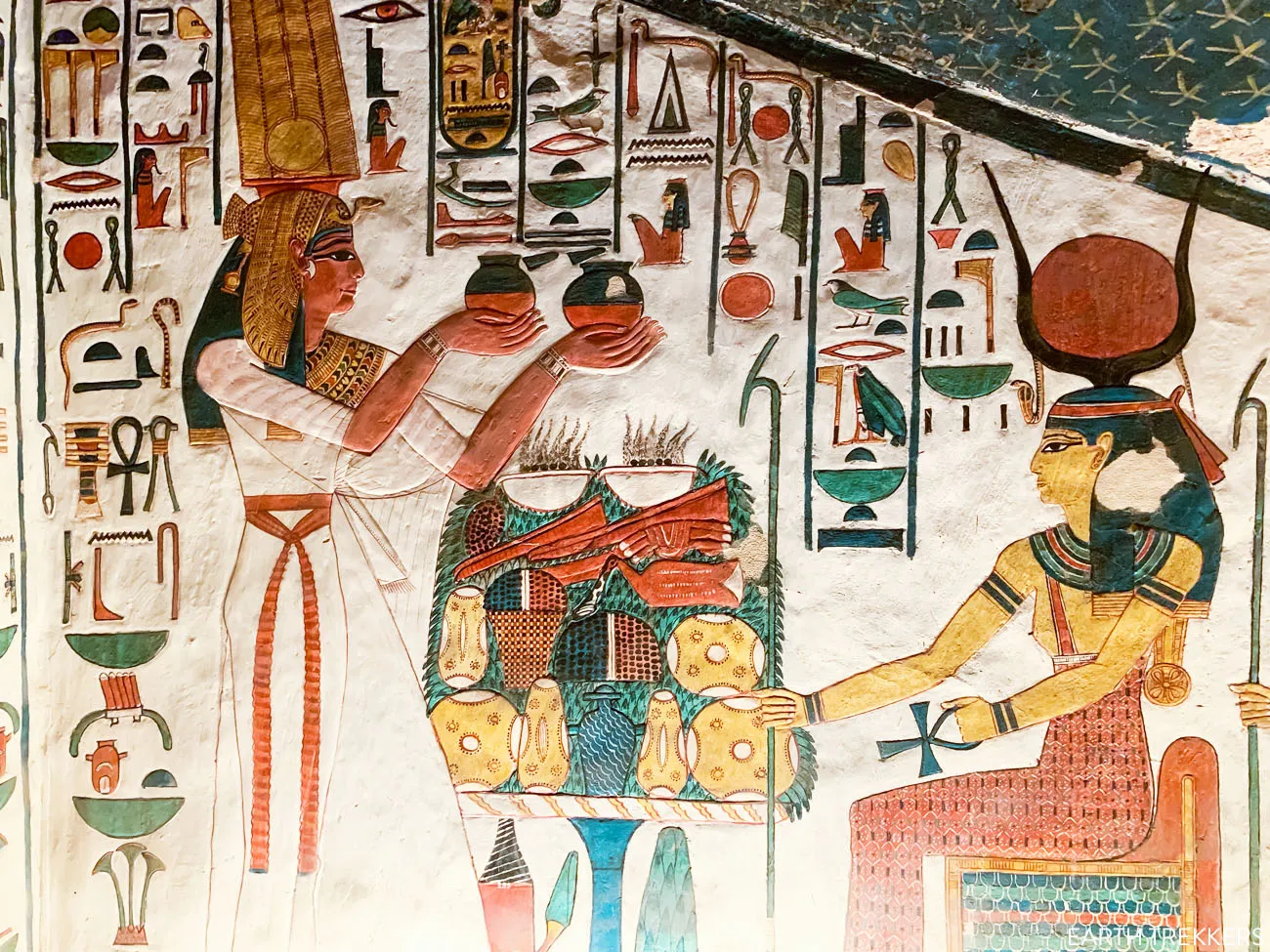 Mortuary Temple of Hatshepsut
This temple, with its three terraces and location in the cliffs of Deir el-Bahri, has a much different appearance than many other temples in Egypt. It is dedicated to Queen Hatshepsut, one of the most powerful female rulers of ancient Egypt.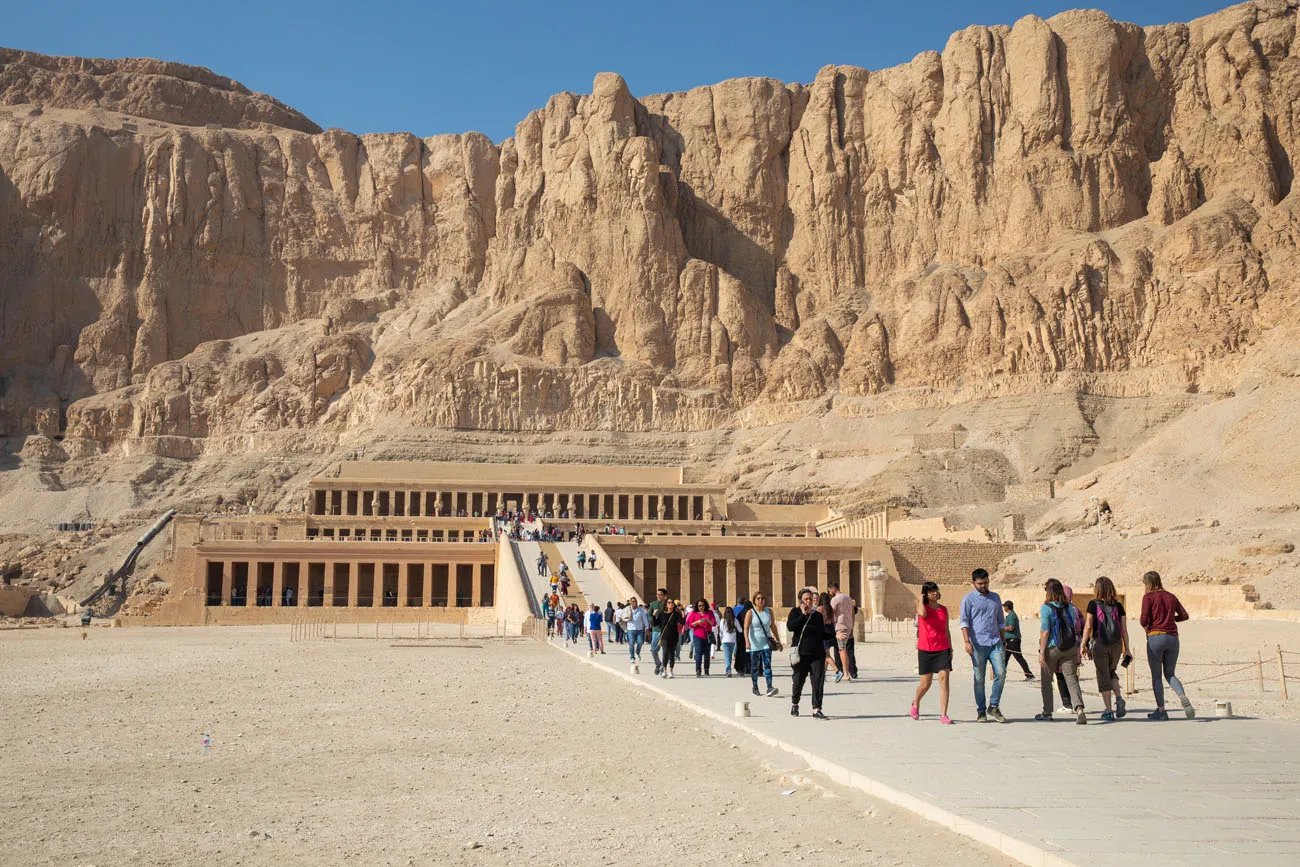 Mortuary Temple of Ramesses III at Medinet Habu
This huge temple complex is dedicated to Ramesses III. There are several courtyards, pylons, and peristyle halls, with inscribed reliefs depicting the defeat of the Sea People during the rule of Ramesses III.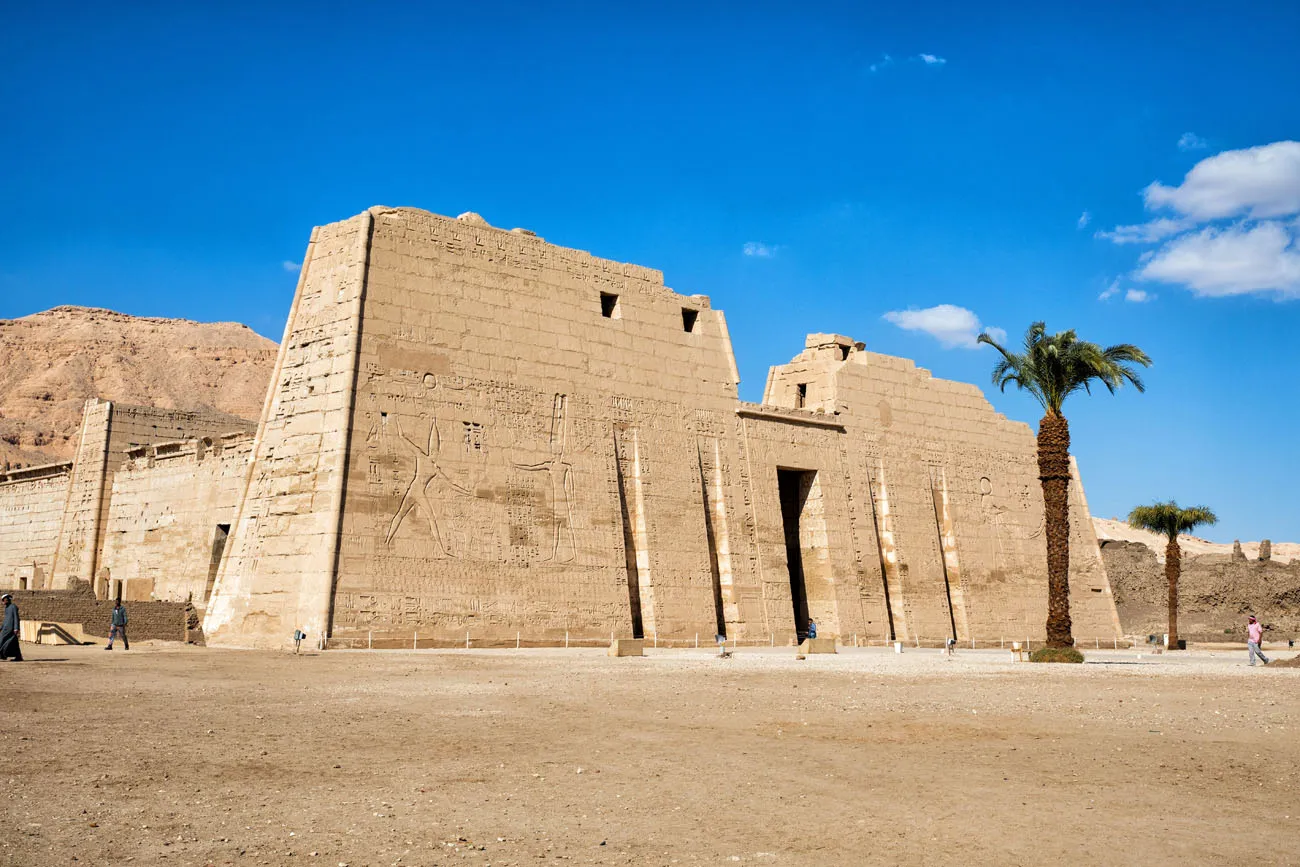 This is a mortuary temple that usually does not make it on the must-visit list of the West Bank of Luxor, but maybe that is why we liked it so much. We shared this visit with just a few other people, which was wonderful. It is a beautiful temple, another one of many temples dedicated to the great Ramesses II.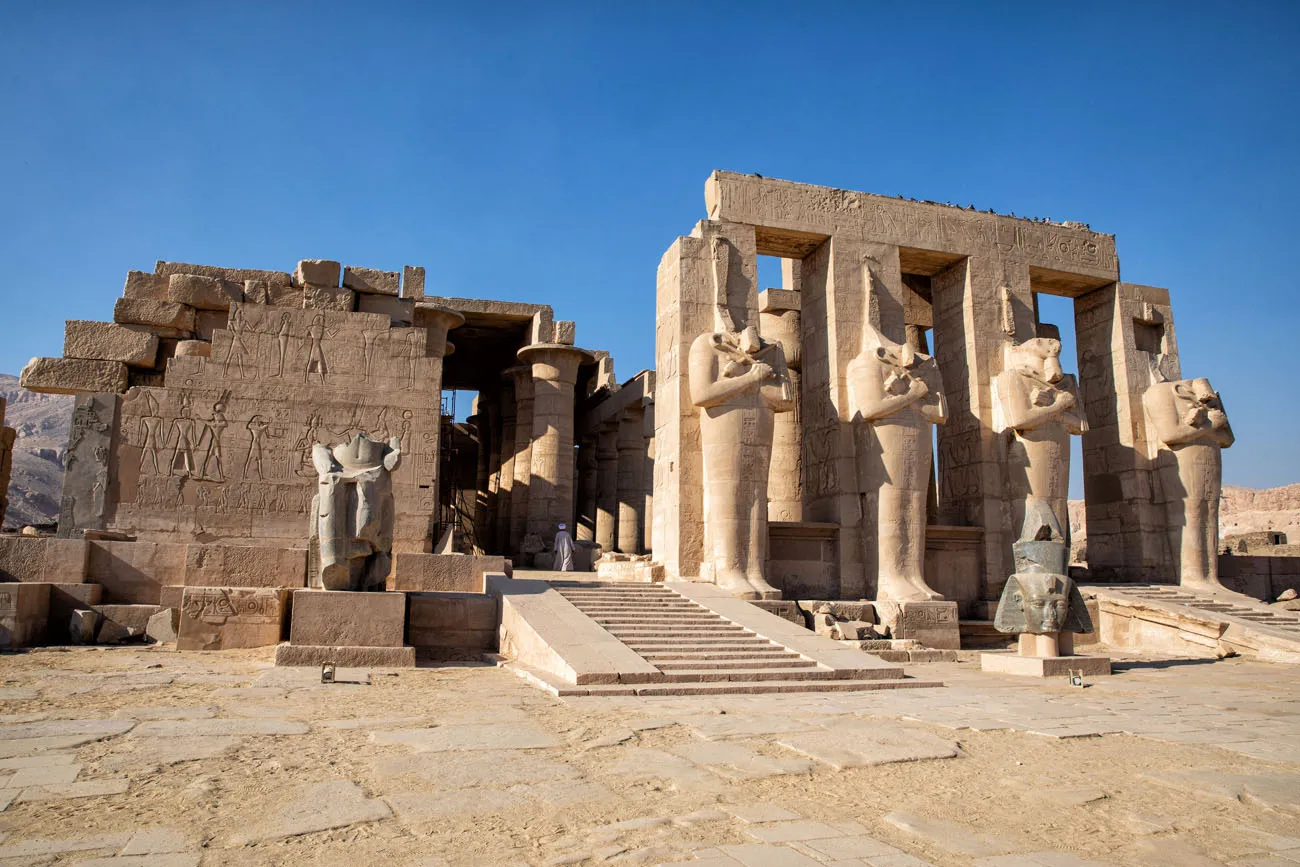 How to Visit the West Bank of Luxor
To visit the West Bank of Luxor, you can either hire a driver or a taxi for the day, or you can do what we did, and hire an Egyptologist and driver.
If you start early, at 7 to 8 am, you might have enough time to visit all of these sights, but you will have to move fast. On this list, don't miss the Valley of the Kings, the Mortuary Temple of Queen Hatshepsut, Medinet Habu, and if you don't mind the entry price, the Tomb of Queen Nefertari.
For a full list of things to do on the West Bank of Luxor, with more information on how to plan your time, how to get around, and where to eat, read our Guide to the West Bank of Luxor.
Egypt Itinerary Day 8
East Bank of Luxor
There are four major sites to visit on the East Bank of Luxor, so today is a shorter, more low-key day than yesterday.
Karnak Temple
Start at the Karnak Temple. This is the second largest temple complex in the world ( Angkor Wat in Cambodia is #1). Enter through an avenue of ram-headed sphinxes, gaze up at the massive columns in the famous Hypostyle Hall, and visit the Karnak Open Air Museum. It's very easy to spend several hours here, exploring the various sections of the complex.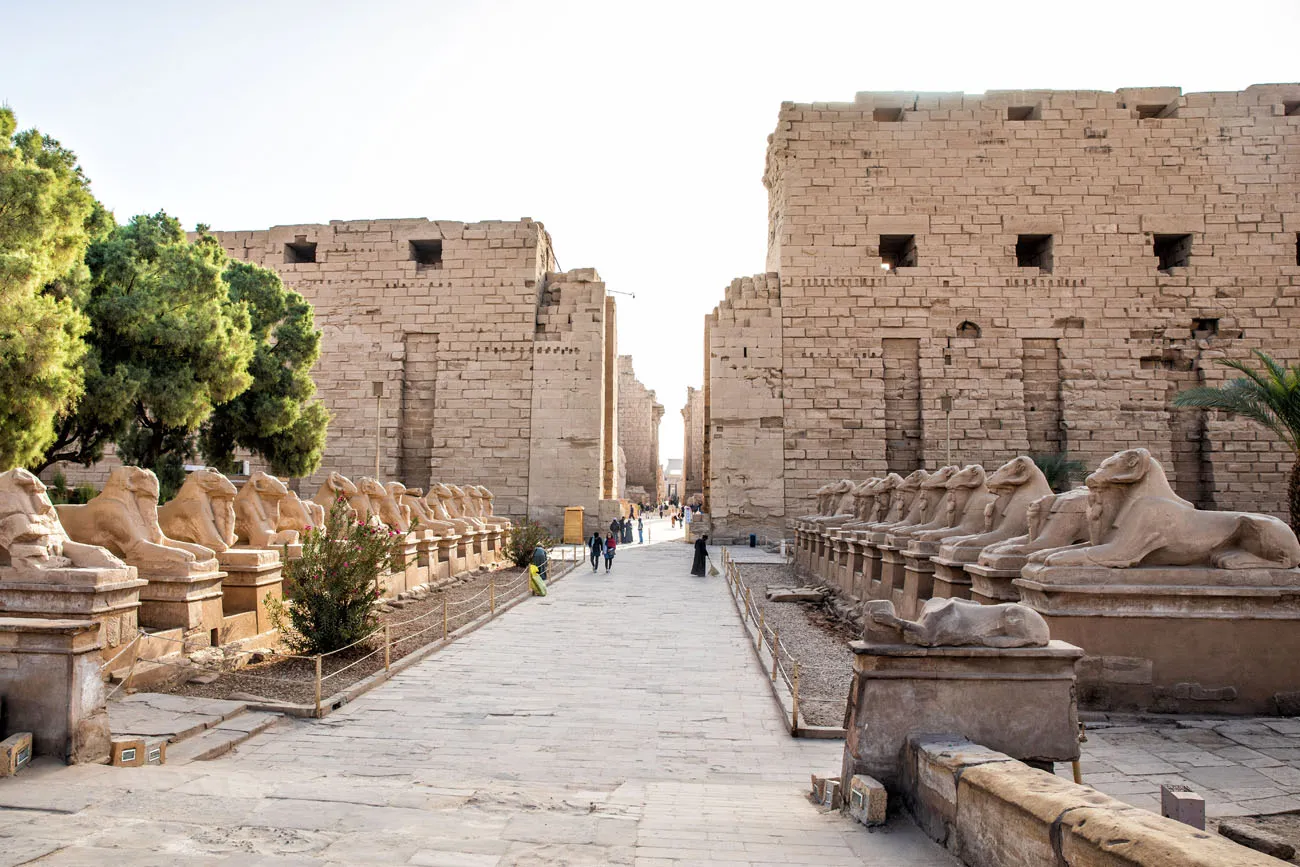 Luxor Temple
Luxor Temple looks and feels like a smaller version of Karnak Temple, although this temple served a different purpose than many found in and around Luxor. This temple is not dedicated to one particular god or pharaoh. Instead, it may have been where many of the kings of ancient Egypt were crowned. This temple was built in 1400 BC.
When you first approach Luxor Temple, you will see only one obelisk in front of the first pylon. The other obelisk can be found at Place de la Concorde in Paris, France.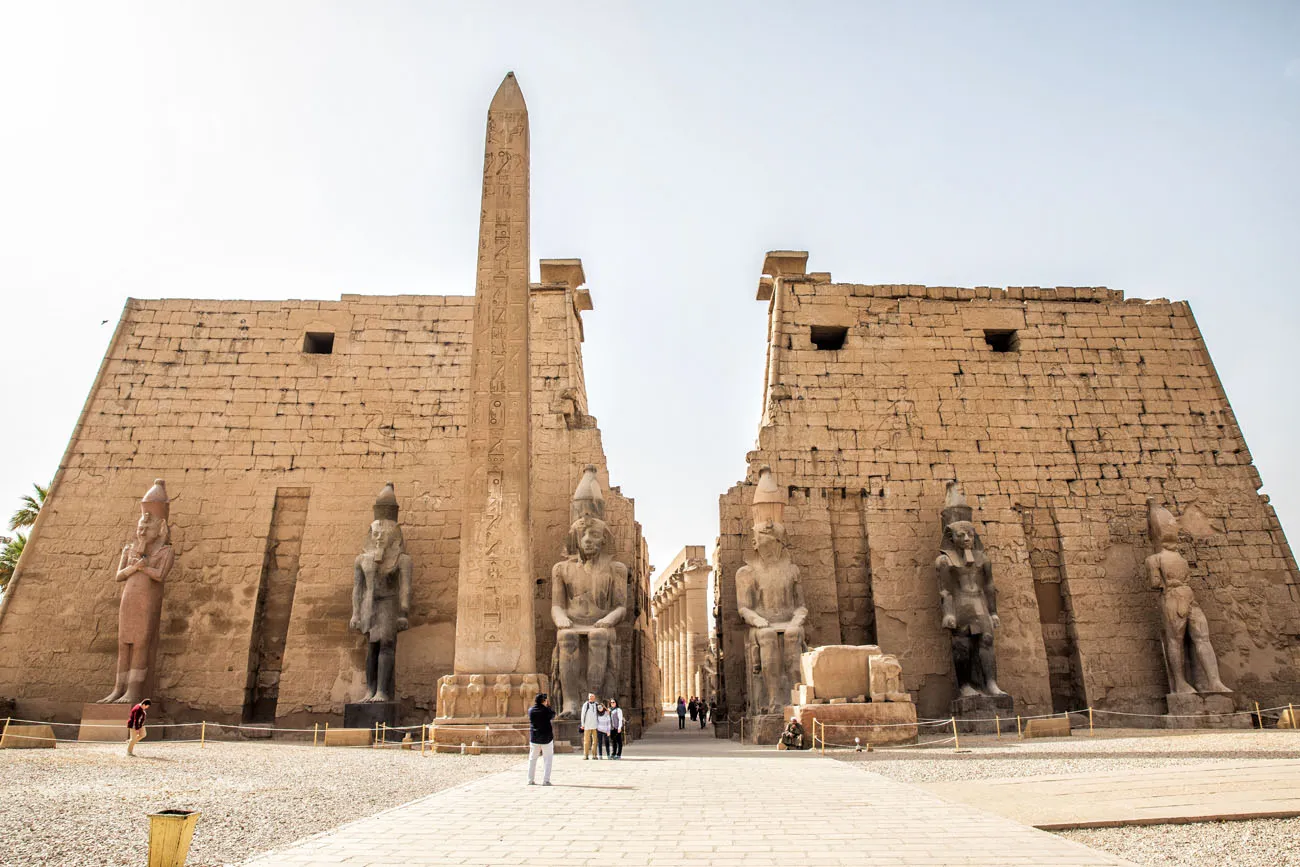 Luxor Museum
This museum contains artifacts that were found in the Luxor area, as well as artifacts from the tomb of King Tutankhamun. A visit here typically lasts about one hour.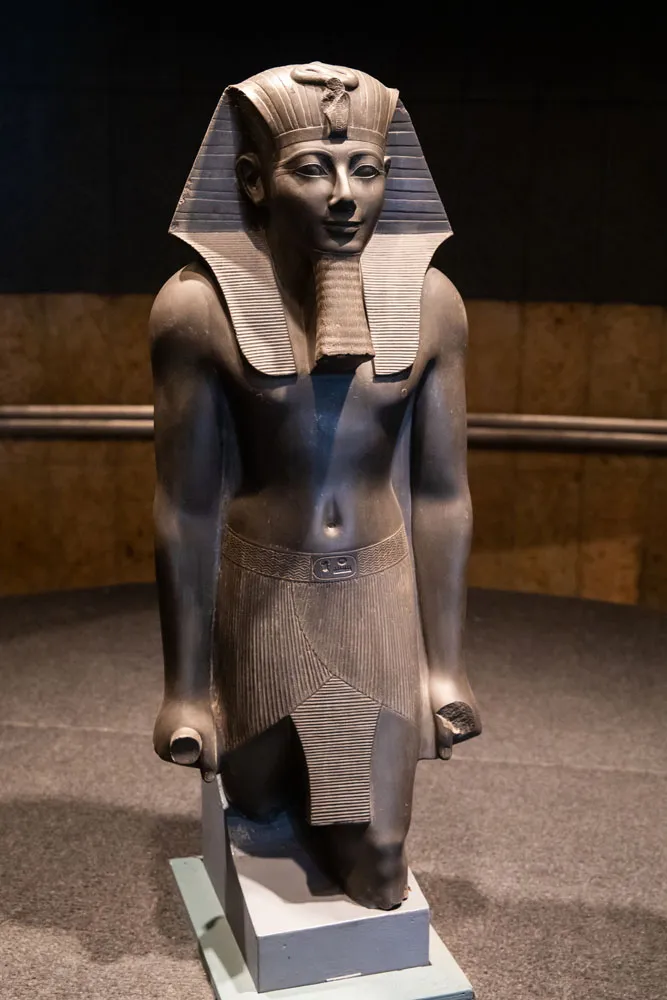 Mummification Museum
This is a small, somewhat interesting museum about the mummification process. Not only can you see mummified people but there are also mummified cats, birds, and crocodiles. A visit here typically lasts 30 minutes.
Our day started at 8 am and we finished up at the Mummification Museum by 2 pm. Our guide took us to a small restaurant called Aboudi Coffee Break, for a late lunch. This restaurant sits across from Luxor Temple and the view is great (the food is good too).
For a full list of things to do on the East Bank of Luxor, with more information on how to plan your time, how to get around, and where to eat, read our Guide to the East Bank of Luxor.
Egypt Itinerary Day 9
Fly to Cairo with the Option of More Time in Luxor
Today, you will return to Cairo, in order to catch your flight home tomorrow. You have two options on how to spend your time.
Option #1: More Time in Luxor
There is still so much to visit on the West Bank of Luxor. You could spend a morning here, visiting the places you did not get to earlier, and then fly to Cairo in the evening. Spend the night at a hotel near the airport, to save yourself a long drive into and out of Cairo.
Option #2: More Time in Cairo
In the morning, take an early flight to Cairo and spend the day touring the city. Visit the Coptic area of Cairo, take a walking tour through Old Cairo with a visit to the Khan el-Khalili bazaar, or visit the mosques in central Cairo. Spend the night either in Giza, for one last view of the pyramids, or near the airport, to minimize travel time tomorrow.
Egypt Itinerary Day 10
Fly home or continue your travels.
How to Modify This Egypt Itinerary
With more time, day trip to abydos and dendera.
The sacred city of Abydos is one of the most important archaeological sites in Egypt. It is home to many sacred temples, including the memorial temple of Seti I. The Hathor Temple in Dendera is one of the most colorful and best-preserved temples in Egypt. You can visit both of these on a 10-hour road trip from Luxor.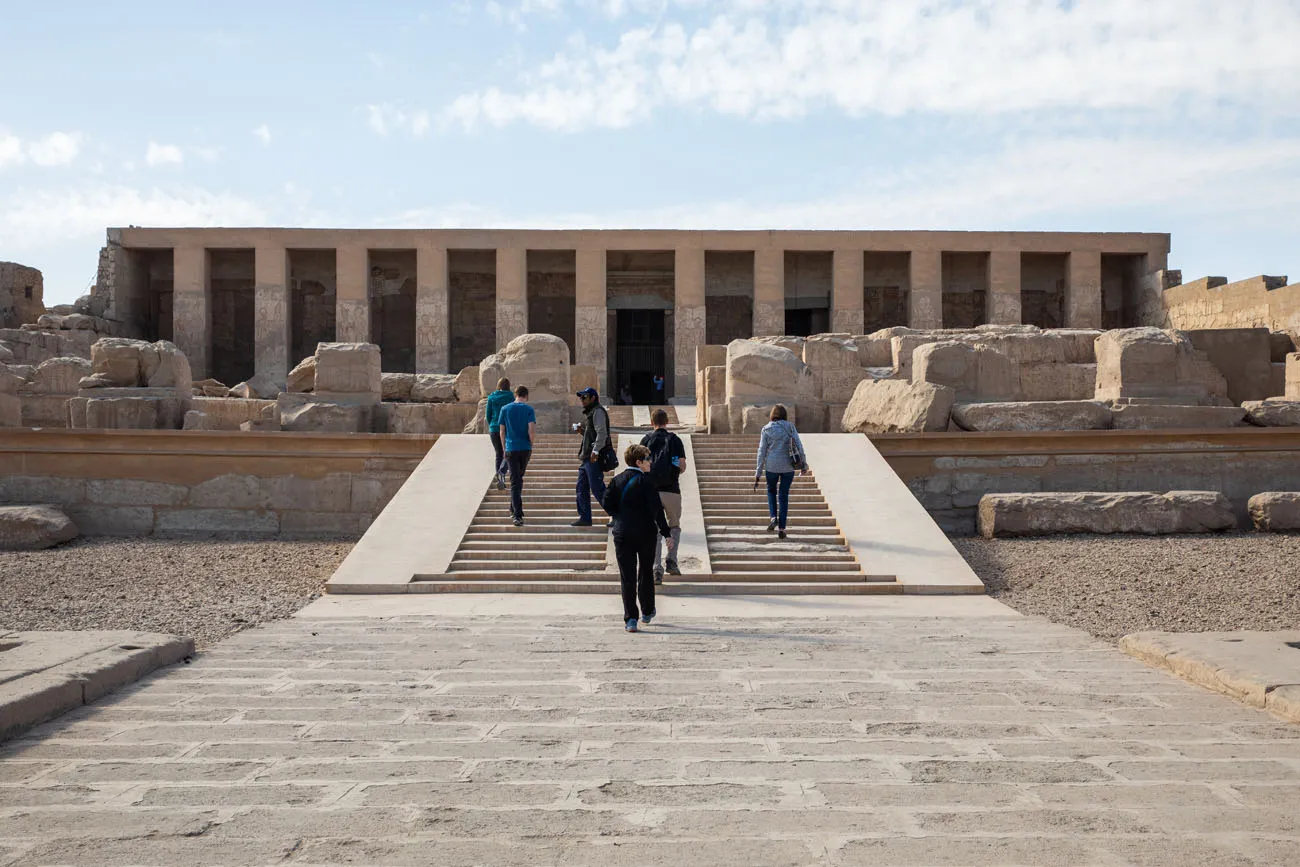 Abydos Temple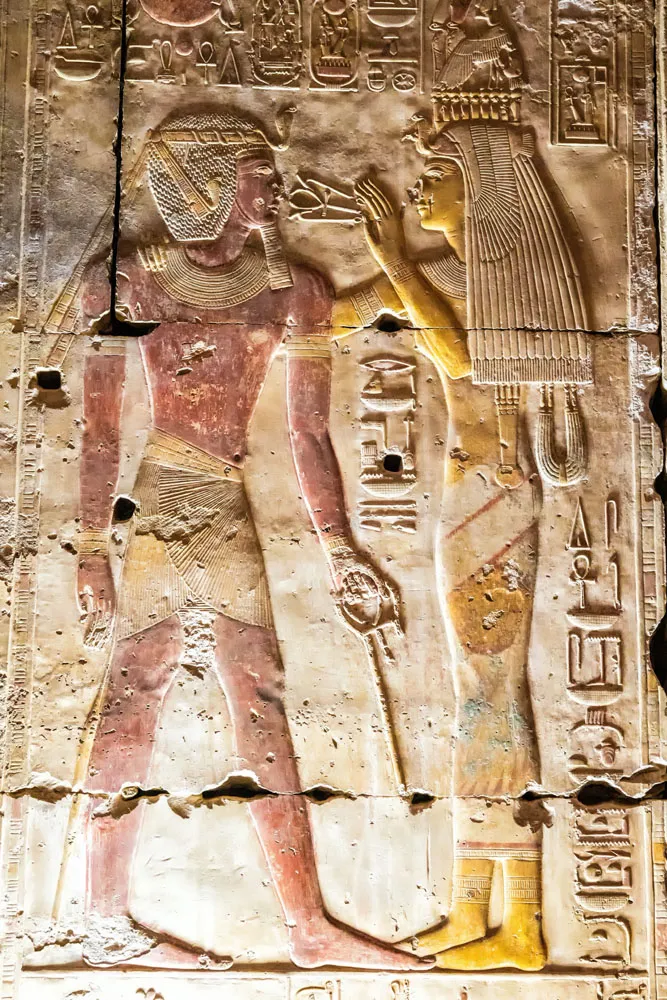 Inside Hathor Temple at Dendera
The beautiful ceiling of the Hathor Temple
LEARN MORE: Day Trip to Dendera and Abydos
Day Trip to Alexandria
On a day trip from Cairo, you can visit the beautiful Mediterranean city of Alexandria.
The White Desert
I wish I had known more about this when planning our trip to Egypt. If you want to take a break from tombs and temples and see some very unique landscapes, then add this to your Egypt itinerary. A visit to the White Desert takes two days and one night of your time. To get here, it is a 4-hour drive from Cairo and you spend the night camped out in the desert. Return to Cairo the following evening.
If this sounds like something you would like to do, check out this tour offered by Egypt Tailor Made.
RELATED: 25 Amazing Things to do in Egypt
With Less Time
To make this a 9-day Egypt itinerary, remove the day trip to Abu Simbel.
To make this an 8-day Egypt itinerary, spend only one day in Cairo. You can visit Dahshur and Saqqara in the morning and the Pyramids of Giza in the afternoon (this is what we did our first day in Cairo). In the evening, fly to Aswan.
To make this a 7-day Egypt itinerary, you can remove one day from Luxor, visiting the West Bank in the morning and the East Bank in the afternoon. It will be a big, busy day and you will miss some amazing places on the West Bank (so, if you can, it's worth it to add another day to your trip so you don't miss out on some of these incredible sites).
How to Add a Nile Cruise to this Egypt Itinerary
For some people, a visit to Egypt would not be complete without a cruise on the Nile River. Fortunately, a cruise can easily be added to this itinerary.
There are many cruise options. The shorter cruises usually go from Aswan to Luxor, since you are traveling with the current of the Nile River.
A 4-day 3-night Nile Cruise, Aswan to Luxor, works perfectly with this Egypt itinerary. On the cruise, day 1 is spent visiting the sights in Aswan. Some cruises sail to Kom Ombo the first night and others will sail to Kom Ombo the morning of day 2. On day 2, you tour the temples of Kom Ombo and Edfu (cruises typically don't stop in Esna, unless you are doing a longer cruise). Day 3, you will visit the West Bank of Luxor. On day 4, disembark the ship and tour the East Bank of Luxor.
Here is what your 10-day Egypt itinerary will look like if you add a Nile Cruise:
Day 1: Arrive in Cairo Day 2: Cairo: Pyramids of Giza & Egyptian Museum Day 3: Cairo: Dahshur, Memphis & Saqqara, Fly to Aswan Day 4: Abu Simbel Day 5: Aswan (Nile Cruise day #1) Day 6: Kom Ombo and Edfu (Nile Cruise day #2) Day 7: West Bank of Luxor (Nile Cruise day #3) Day 8: East Bank of Luxor (Nile Cruise day#4) Day 9: Fly to Cairo, with the option of more time in Luxor Day 10: Fly Home
Please note: Each cruise company offers variations of 4-day 3-night itineraries, but this gives you a general idea of what to expect.
Best Time to Visit Egypt
The best time for this Egypt itinerary is the cooler months of the year: November through March. In the southern part of the country, such as Luxor and Aswan, rain is unlikely. During the winter months, it does occasionally rain in Cairo and Alexandria.
Expect the biggest crowds in December and January.
During the summer months, temperatures can be oppressive. Temperatures can range from 40 to 55°C (104 to 130°F). In Luxor and Aswan, this is a dry heat, but up north around Cairo and Alexandria, the humidity can make the heat feel even worse.
For more valuable tips about visiting Egypt, including safety, tipping, SIM cards, and visas, read our article Egypt Travel Tips: Things to Know Before Traveling to Egypt.
You can see all of our articles about Egypt in our Egypt Travel Guide.
If you have any questions about this Egypt itinerary, let us know in the comment section below!
More Information for Your Trip to Egypt
TRAVEL ADVICE: Here is list of important things to know before visit Egypt . The Luxor Pass and Cairo Pass can save you a lot of money…learn more in our guide. And we also have information on how much it costs to visit Egypt.
CAIRO: Start with our article Best Things to do in Cairo. We also have a 2 day Cairo Itinerary , information on how to visit the Pyramids of Giza , and how to day trip to Dahshur, Memphis, and Saqqara.
LUXOR: In our guide Best Things to Do in Luxor , get an overview of places to go on the East Bank and West Bank. We also have a photo tour of the Tomb of Queen Neferatari , a guide to the Valley of the Kings , and how to day trip to Dendera and Abydos.
ASWAN: For a list of the top experiences, read our article Best Things to Do in Aswan. We also have a guide on how to visit Kom Ombo, Edfu, and Esna while driving between Aswan and Luxor.
ABU SIMBEL: In our guide to Abu Simbel, we cover what you need to know to plan your day trip.
Read all of our articles about Egypt in our Egypt Travel Guide.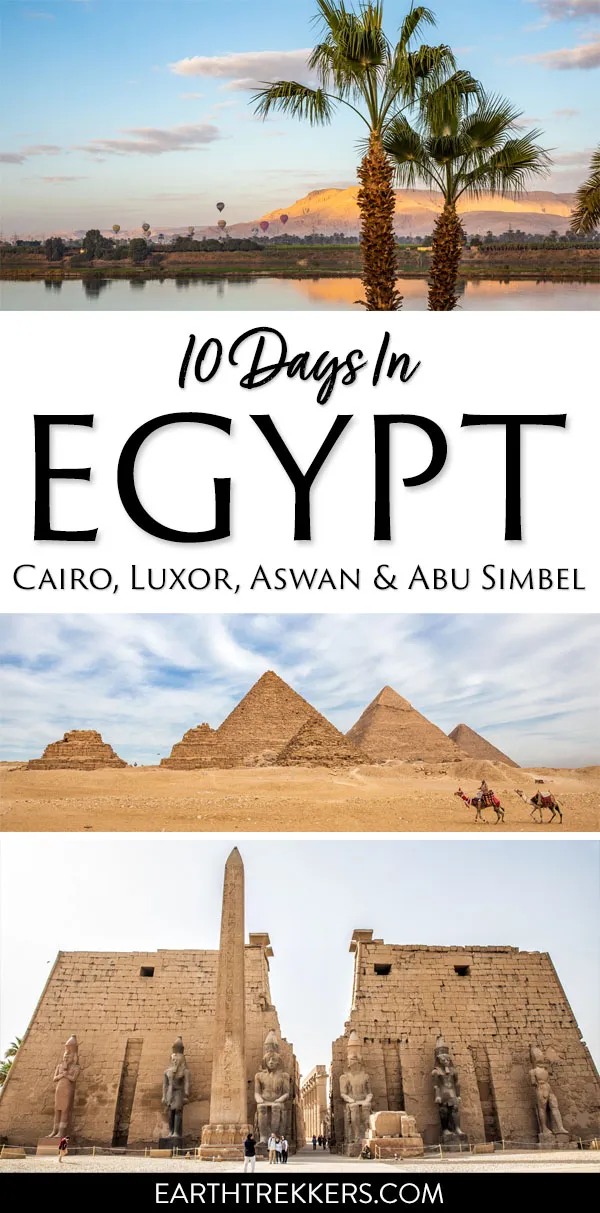 Note: This post contains affiliate links. When you make a purchase using one of these affiliate links, we get paid a small commission at no extra cost to you.
All rights reserved © Earth Trekkers. Republishing this article and/or any of its contents (text, photography, etc.), in whole or in part, is strictly prohibited.
Related Posts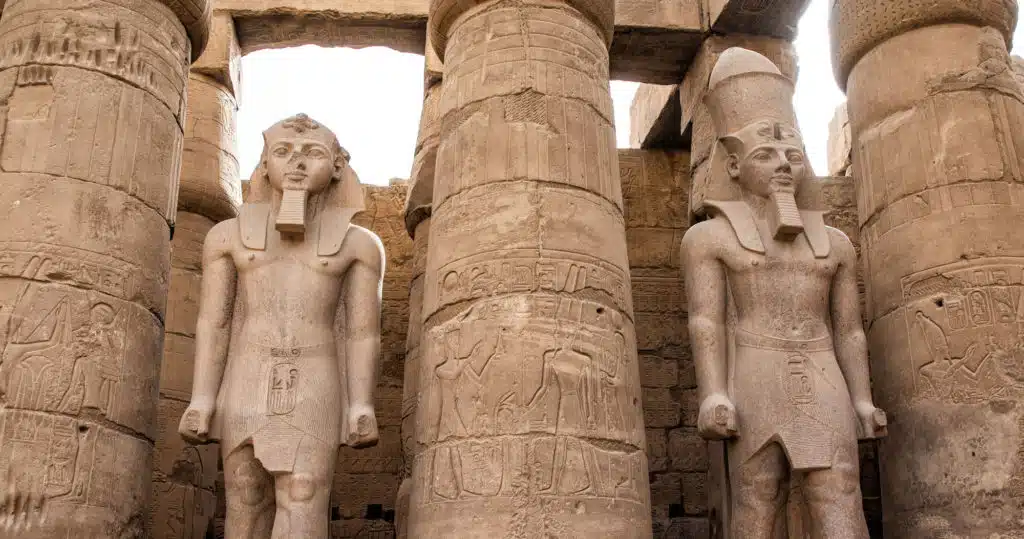 Comments 104
You mention the hassles of going to ATMs in Egypt. Our credit cards accepted such as visa? I'm thinking for restaurant, meals, and hotels and entrance fees?
I recently heard that the attractions in Egypt (tombs, temples, and pyramids) will soon be accepting credit cards. I don't yet know if that is 100% true (I'm still looking into it) but if so, that makes it much easier, since you will need less cash. Credit cards are accepted at hotels and many restaurants. Cheers, Julie
Leave A Comment Cancel reply
Your email address will not be published. Required fields are marked *
Save my name and email in this browser for the next time I comment.
Sign me up for the monthly newsletter!
Going Awesome Places
Detailed itineraries + travel guides
10 Day Egypt Itinerary – Pyramids, Abu Simbel, and the Nile
Last Updated October 28, 2023 William Tang
You are here: Home » Travel Itineraries » 10 Day Egypt Itinerary – Pyramids, Abu Simbel, and the Nile
Egypt is a land of wonder. From the epic pyramids, the mystic Nile, and endless layers of stories, this is the kind of trip that will literally blow your mind at every turn. The scale of everything you see will blow you away. The fact that this all happened thousands of years ago will blow you away. The waves of heat will also blow you away. This is simply put the best way to put together a 10 day itinerary for Egypt of your dreams.
Follow along below to find out what the journey looked like from start to end including what to see, do, eat, and where to stay.  This classic 10 day Egypt itinerary will contain detailed information that you need to know before you go and is also highlighted by the Nile cruise for those that are trying to figure out which experience to book.  Let's jump right in!
10 Day Itinerary for Egypt Highlights
These 10 days in Egypt are what many consider to be the "Classic Egypt" trip but it's anything but boring. It is such a unique experience all around but it's a select few things that really made this itinerary special.
Here are my top 5 highlights of Egypt that will make your trip unforgettable!
The Great Pyramids of Giza
Dahabiya Nile Cruise
Valley of the Kings
Sofra Restaurant
Curious where we stayed to get those epic views of the Pyramids? There are a number of boutique hotels in Giza that have rooftop views like this one called Comfort Pyramids Inn which is relatively new.
Read more about Egypt
Why the Dahabiya is the best way to cruise the Nile
The Comprehensive Egypt Travel Guide
Is Egypt Safe?
Where To Stay Near The Pyramids
Egypt Travel Guide
W here to stay in Egypt?
Besides the dahabiya Nile rover cruise, we stayed at 3 different hotels spanning Cairo ( Comfort Pyramids Inn ), Luxor ( Villa Nile House ), and Aswan ( Basma Hotel ).
Table of Contents
Looking for something specific in this itinerary? Jump to what you want to read.
Here's what we're covering:
Trip Planning Map
Day 1 – cairo – the arrival, day 2 – cairo – all the pyramids, day 3 – cairo – antiquities old and new, day 4 – luxor – ancient city of thebes, day 5 – luxor – west bank, day 6 – dahabiya – all aboard, day 7 – dahabiya – a sailing adventure, day 8 – dahabiya – quarry and crocodiles, day 9 – dahabiya – daraw, the nile, and farewell, day 10 – aswan – abu simbel, egypt travel guide essentials, our itinerary of egypt experience, frequently asked questions, classic must-do's in a 10 day itinerary for egypt.
Egypt is on many bucket lists but is often one destination that's harder to plan because of so many different factors that can include safety, price, complexity, and timing. I'm here to at least make at least one of those excuses go away with this 10 day itinerary that includes an Egypt cruise along the Nile, and seeing certifiably the most impressive ancient monuments you'll see anywhere in the world.
As I do with all of my other itineraries , this is information packed with how you should plan your vacation to Egypt if you have a limited number of days. This closely follows how we did our trip with Djed Egypt Travel including places to visit in Egypt, where to stay, what to do, and insider tips that you can only learn by being on the ground.
If you've seen my 7 Days in Austria Itinerary , 14 Day Greek Islands Itinerary , or Best Ramen in Tokyo , you'll know that I'm a big fan of trip planning maps especially for when I'm on the road. I always have one prepared before I travel so that I can quickly pull them up for reference. With this map, you'll be able to take this to go and have it ready for you on your phone or use it as part of your itinerary planning.
Tip: View the Egypt 10 Day trip planning map in full screen and create a copy (this step is key) for yourself. Make tweaks for your own trip and in Google Maps, you'll be able to view it by going into the menu, selecting "My Places" and the "Maps" tab.
BEFORE YOU CONTINUE
You need to read the companion Egypt travel guide that has literally everything that I learned from this trip and will answer all of your deepest and possibly dark questions. I totally get planning a trip to Egypt is hard so click below to get all the insider scoop.
Read The Egypt Travel Guide
Getting to Cairo may be easy for some but a long journey for others so for your first day of this 10 day itinerary for Egypt, you shouldn't have too much planned because you'll want to settle in and try to get over the jet lag quickly.
The introduction to the capital starts immediately upon descent as if you're lucky enough to have a window seat and the approach is the same as ours was, you'll have the most incredible aerial view of the pyramids. It's almost like the landing path is specifically designed to give you this perfect view of Giza.
Travelling with Djed Egypt Travel
While you can try to do Egypt solo, my personal experience with the country is one where I found that travel is much easier and smoother if you go with a local tour company. You'll have to read the piece to get the full picture but trust me, you'll need it especially if you only have a certain number of days to work with.
CHECK OUT DJED
Djed Egypt Travel is the tour operator we chose for this trip and one thing you'll find with them is that 1) all their trips are private and 2) it's end-to-end service.
This is immediately apparent when you land in Cairo. Their guides have special access to wait for passengers before you even get to customs. It may sound strange but surprisingly helpful because it's not obvious how to purchase Egypt's visa-on-arrival. All you have to do is hand the $25 USD per person over to the guide and they find the shortest line and get you sorted. Another benefit is that one your way out of the airport, the sea of people asking if you want a ride, magically part ways as you make your way out to the van. You'll understand why this matters later.
If you are on your own and need private transfer service to your hotel, you can check this out.
Most likely, your hotel will be in Giza. This is recommended because this neighbourhood is actually a long drive from the city because of insane traffic and for your Day 2, you're going to want an early start.
For the rest of your day, feel free to walk along the main street in Giza , explore your resort, or just hang out on your rooftop while watching the sunset. Like I said, Day 1 is a nice chill day before the pace picks up dramatically.
Before your guide leaves, make sure you ask your guide where a recommended place to eat is because they'll know the spots that are cleaner and safer to eat. If you're staying at the Comfort Pyramids Inn like we did, have dinner at the Egyptian restaurant, Abu Shakra .
Plan to withdraw Egyptian Pounds (EGP) on your first day as well since you'll need some to get you started if you don't have any. In Giza, there's an exchange shop along the main drag called Roxy Exchange. There are also ATM's that can exchange USD but we found that these machines were quite finicky in recognizing notes and the rate was a little worse. Tips on how much to exchange and money matters at in the quick Egypt travel guide below.
Another activity you can consider is the Sound and Light Show at the Pyramids especially if you don't have rooftop views in Giza. I'll be straight up with you that from our rooftop the light show seemed to be quite slow. I was expecting more laser projections or more changing of colours but it was mostly big flood lights shining up at the pyramids while listening to someone like David Attenborough going through a full episode of Planet Earth. Mind you, we could barely hear the audio and we couldn't see what was projected at the base of the Sphinx but that's what we saw and heard.
Day 1 Summary
What you'll see:
Where you'll eat:
Dinner – Abu Shakra – Egyptian restaurant serving traditional dishes at an affordable price. Located right in the heart of Giza and is easy to get to.
Where to stay:
As with my all of my trips, I was able to find everything I needed through Booking.com because of their massive inventory and variety in terms of types of accommodations. Another thing to consider is that they have way better cancellation policies compared to Airbnb. Here, I share with you where I personally stayed but also recommended alternatives that I think you'll like based on different budgets.
WE STAYED HERE
COMFORT PYRAMIDS INN
New property in the area that was just too cheap to pass up. At just over $20 USD a night, you get free breakfast, wifi and rooftop views like this. They are still fixing up a few things but for the price, I'd book this place again.
Booking.com
SIMILAR IN GIZA
GIZA PYRAMIDS INN
Similar to the property above and only a tad more experience. The equally have really epic views from their rooftop and similar amenities and style of rooms. Rooftop may not be as high but you do get full view of the Sphinx.
TripAdvisor
LE MERIDIEN PYRAMIDS HOTEL & SPA
For an affordable resort that is much more polished than the above two, this is one of the top properties in Giza. Cash, points, or both work well here for those with Marriott and you get the benefit of much larger grounds, pool, and a space that's more children friendly.
MARRIOTT MENA HOUSE
This used to be a lodge for the Khedive (viceroy) of Egypt and also has a significant amount of history, and has now been converted to one of the top properties in the city including 40 acres of green gardens and has a spa, fitness centre, pool, luxurious decor, and excellent service.
Back to the top
Your second day in Egypt is going to be packed! It's going to be exciting, education but also exhausting, and extended so get ready. This portion is identical to the 3 day Cairo itinerary if you're looking to just do the capital.
TIP: Start as early as possible even if your guide doesn't offer this up initially. The pyramids open at 8AM so ideally you're one of the first ones there before or as the giant tour busses roll in. With that, pick up at 7AM or 7:30AM (depending on where your hotel is) is what I'd recommend. Even though you might be looking at the Sphinx and the south entrance to the pyramids, there's actually a bit of a drive around Giza to get to the entrance for The Great Pyramid so that time needs to be accounted for.
To see the the pyramids and the whole of the Giza Necropolis for the first time from your rooftop is jaw-dropping but then to be right at its base and see all the huge blocks of granite is something else.
When you get dropped off at the entrance that is closest to The Great Pyramid itself, you'll first need to wait for your guide to purchase and pick up the tickets and then also pass through the standard x-ray machines. There are some tidbits about pricing, cameras, tripods, and microphones that are critical need to knows so make sure you read the box below.
WHAT YOU NEED TO KNOW
Address: Al Haram, Nazlet El-Semman, Al Giza Desert, Giza Governorate, Egypt
Hours: Daily 8AM-5PM (October to March), 7AM-7PM (April to September)
Price: Prices have been updated as of November 2019 and the below reflects the current state. The Ministry of Antiquities has a terrible under-construction website but I managed to find the PDF of the prices. Check the updated 2019-2020 Egyptian Archeological Sites and Museum Prices . Note that these are prices for foreigners. If you're local Egyptian, there's a significant discount.
General admission to the Necropolis: 200 EGP
Entering The Great Pyramid aka Cheops aka Khufu: 400 EGP
Entering Khafre's Pyramid: 100 EGP (closed at the time)
Entering Menakaure's Pyramid: 100 EGP (closed at the time)
Entering Mers Ankh Tomb: 50 EGP
Combo ticket for all extra admissions: 500 EGP
Students with ID are half price
Photography:
Bad news – The general rule of thumb is that any of the extra paid entrances don't allow cameras.
Good news – When they say no cameras are allowed, it really means anything that isn't a smartphone or I suppose something that fits on your pocket. Smartphones can be used inside the tombs/pyramids. Videos are technically not allowed but it's not enforced.
Enforcement – Cameras are strictly enforced at the entrance but for Giza specifically there weren't any guards inside for us.
Khufu Sun Boat Museum – No cameras are allowed but they do have storage cubbies for bags at x-ray security that our guide trusted them with so my assumption is that this area is more dependable. Photo passes can be purchased but is 50 EGP and don't think it's worth it especially when you really just want a few snaps from your phone.
Tripods – Tripods require an additional cost of 20 EGP which I paid. In retrospect, it's honestly not needed and I should've just left it in the van since there was never an opportunity to use it.
Microphones – Do not bring microphones. I had mine in my backpack because I bring it everywhere but it showed up on the x-ray. They wanted to confiscate it and have us pick up later but our guide said that I would never see it again so he had to pay them off. We learned the hard way that microphones are seen as videographer gear and that requires a whole other level of government approvals.
Someone to watch your bags – Another reason why you want a guide is because you can't nor want to enter any of the pyramids with your backpacks. Our guide patiently waited outside as we entered The Great Pyramid and a few others. This means your bags are safe and you won't need to take turns or anything like that.
Tips:
Most tourist buses arrive around 9AM and is at its peak crowds until 11AM, you can try to avoid this by coming at a different time.
If you're with a guided tour like we were, general admission to the site is included but any of the extra add-ons are out-of-pocket unless you negotiated it in your tour price.
Our guide was adamant about not showing our tickets to anyone that asks since there's a scam out there where someone will claim your tickets are false and confiscate them. As a result, we were instructed to only show our tickets when he told us to.
Thinking about camels? I get to that in a bit.
After a number of repeated incidents, climbing of the pyramids is fully not allowed.
Getting to the King's Chamber in The Great Pyramid is not for everyone. You have to be physically able, have good footwear, not be claustrophobic, can wiggle through tight spaces, and okay with intense heat built up from all the bodies inside.
HALF DAY PRIVATE TOUR
Once you're in, you'll freeze up from the awe of what you're looking at. I for one was thinking about how I've been reading about the pyramids since elementary school and now I was standing on the same sand and stone and looking at all the imperfections of each step that rises to an unbelievable height. You almost won't know what to do – do you get closer, do you snap photos, do you take a selfie, or actually listen to what your guide is saying?
You snap back to reality and if you have a great guide like ours, Mohamed, he'll draw you in by telling you the story of Pharaoh Khufu (also known as Cheops), the building of the pyramids, the choosing of the plateau, its relationship with the Nile, and much more.
While you'll find that you'll want to spend a lot of time here, the experience will feel a little rushed. As the crowds start mounting from the tour busses, you'll make your way to the literal steps up the pyramid that lead to the now not-so-secret entrance.
Some might tell you that it's not worth it to go inside but honestly when else are you going to be able to climb into the largest pyramid and get another wave of bewilderment of how the heck they built these structures.
The walk in starts off easy as if walking into a cave but that soon changes as you have to walk down and then back up a narrow shaft that's not wide enough for the two-way traffic and not tall enough either so you're side stepping and crouching as you walk. You finally get to the Grand Gallery where it opens up and what's truly impressive are size, angle, and layering of the stone. There's a bit more air here before you have to duck down into a smaller chamber (connected to an air shaft) and then another that finally puts you in the King's Chamber .
I'm not going to lie, it's a tough one because of the intense heat, awkward walking position, two-way squeezes, and being behind people that really shouldn't be in there. That said, if you stop and take in the marvel of the engineering and think about what you're actually in, you can't help but just say "Wow!"
The King's Chamber doesn't have much. Blackened stone surround all sides, there's a sarcophagus with nothing inside, and a ceiling that consists of the some of the largest slabs of granite that weigh easily up to 80 tonnes. You also might find people meditating inside the chamber.
Emerging from the pyramid, your guide will take you around the corner to see a few of the Queens' Pyramids (including Queen Hetepheres) where you can also go inside.
Continue around and you'll learn about the Khufu Sun Boat (also Solar Boat) which was discovered in a sealed pit at the foot of The Great Pyramid. Right at the site of the discovery is a large enveloping museum that has a fully reconstructed ship that was used in the time of the Old Kingdom.
Next up is the camel experience. It's not something for everyone and having done it, I hesitate to recommend it but here's what to expect.
Getting picked up by the Djed Egypt Travel van near the road that cuts between Khufu and Khafre's pyramid, you'll get a ride up and around to a point called Panorama. This spot is 1) great for panoramic views of the pyramids and 2) where all the camels were it seemed like.
Our guide made a phone call and there was already a few men waiting for us to get on. I can't say that they were really custom-hired but simply we were slotted in the rotation of people herded like sheep through panorama. The benefit of going through Mohamed was that the prices were all pre-negotiated and since he was there with us, there was no chance of any bait-and-switch.
The ride was lacklustre but it did give us a little bit of riding time along a very specific path in the desert. For the photos, we just abruptly stopped somewhere and all of our shots had a bunch of other tourists in the background doing the same thing in the area.
Back Story: Once we landed in Cairo, we were asked whether we wanted to do camel riding at the pyramids and if so for how long. It came down to not being sure whether there'd be another opportunity for it so we said yes. The heads up was needed because our guide told us that there are way too many scammers in the area where they tell you that it's 100 EGP to ride a camel but then tell you when you're done that this doesn't include getting of the camel and then extort you for $50 USD or more. Admittedly, our guide said it's a serious problem and not the right way but unfortunately there's no enforcement.
Price:
Camel Ride: 15 USD per person for 30 minutes.
Tipping: Recommended 100 EGP per person.
There is no possibility to get off the camel during the ride so you have to rely on your camel guide for photos (keep your standards real low and expect the tacky poses).
While we had booked for 30 minutes, I feel like we got something closer to 20. That said, I'm not sure if any longer of an experience would've been any better.
Honestly if you want more serious riding experience, I'd look elsewhere. You really do this for the photo op and even then you're not guaranteed to get great photos because you won't really be able to direct them to go to a very specific area or to do an extensive shoot. If you do, you will need to spell this out to your guide so they can look for another vendor.
There will be intense pressure from your guide to tip more. Don't succumb to the pressure because you can easily walk away. You'll hear a lot of "You happy? Ok make me happy!"
For those that are on their own, you can consider a few of these alternatives:
Half Day Pyramids Tour by Camel or Horse Carriage
Half Day Tour to Giza Pyramids with Camel Ride
Pyramids of Giza: 1-Hour Quad Bike Desert Safari
Private Photo Session with a Local Photographer
The last part of your tour of the this incredible UNESCO world heritage site is The Great Sphinx at its base. You'll be driven down and dropped off at the southern entrance. One thing I should mention is that at this point you'll be feeling the heat exhaustion so make sure to take advantage of the time in the van by re-organizing any gear in your bag, dropping unnecessary weight in the van, and chugging water. Again, the huge benefit of having your own private tour is that there's more or less an unlimited supply of water and the security of leaving things in the van that's exclusive to you.
You won't have too much time here but enough to take a few clean shots at the front, learn from your guide about its purpose and the temples that stand in front of the iconic guardian, and finally you can get up close to the one side of the Sphinx to see the details of the paws, tail, and do your cringe-worthy kiss photo. I won't judge if you do because Chantelle did it ;)
Okay at this point it should be about noon but it'll feel like you just spent a full day here. This should dispel the myth that it only takes 1 to 1.5 hours to see all of the pyramids here. With what's been laid out here, you can see that we've barely scratched the surface and it was incredibly rushed.
It's time to bust out of Giza and head on down to the town of Dahshur (also referred to as Dashur). It's about an hour to get down there and along the way you'll encounter a few security checkpoints which we learned is pretty normal in Egypt. There's also a military base right adjacent to the ancient site so you might also see a giant line up of trucks bringing supplies in.
The two main pyramids to visit here are the Bent Pyramid and Red Pyramid . You're in for a treat here because this archeological site is magnificent and has only 5% of the kind of crowds that Giza gets. I'm serious. While we were here, we only saw 10 people?
Timing is everything and another bonus you'll get coming here is that as of 2019, they've opened the Bent Pyramid to the public for the first time since 1965. Before you could only see the pyramid from the outside but now you can actually get inside to the King's Chamber. What's unique about this pyramid is that it almost seems impossible how they found a way to the chamber. To get there, you'll need to crouch/walk down and up a narrow tunnel from a raised entrance, climb a number of flight of stairs, and then walk through more rock carved tunnels to eventually a multi-level chamber where bats have made it their home. While you're here, you'll be lucky to encounter anyone inside.
Address: Al Giza Desert, Giza Governorate, Egypt
Hours: Daily 8AM-5PM
Price: This price was included with our tour and was a quick process at the entrance
General admission to Dahshur archeological site: 60 EGP
Bad news – Technically no cameras inside.
Good news – Smartphones are fine.
Enforcement – There's one "guard" at the entrance but he honestly is more focused on taking photos for you so he can ask for tips.
No backpacks or any bags inside. Leave everything other than what you need in the car.
Compared to The Great Pyramid, this is a way better experience because there's nobody or very few people inside but it is also much more physically challenging because you have to take the stairs to get to the entrance followed by a much longer and more narrow tunnel, flies buzzing around, and the extra staircase inside. The good thing is that there's a very nice breeze flowing through. Only attempt if you're physically able.
Account for roughly 40-50 minutes just to do the Bent Pyramid.
FULL TOUR FROM CAIRO
You have the option of doing the same at the Red Pyramid but if you're like us, you'll be too tired to do it all over again. The van'll be parked near it so you can snap a few quick photos before moving to the next spot.
What's different about the two pyramids is that the Bent Pyramid was built by pharaoh Sneferu in 2600 BC and the second of 3 he built. The Red Pyramid, named for the rusty hues of the red limestone, was Sneferu's third pyramid and often thought as Egypt's first successful attempt and construction a true smooth-sided pyramid.
At this point, lunch will be on your mind but the challenge with archeological sites in Egypt are that they all close by 5PM. We were given the option to eat lunch or power through and we opted to head straight to Saqqara's sites.
The Step Pyramid or Pyramid of Djoser is where it all began when the pharaoh wanted a mortuary complex and had a mastaba or flat-roofed ancient tomb built. You'll learn how his vizier and architect Imhotep had a vision for something grander and it eventually became what you see today.
While you can't go inside, you'll walk through a roofed colonnade passageway, giant courtyard, enclosure walls, and temple.
Not far off are satellite pyramids and additional tombs. The two that you'll get to hurry through if you have time is the Pyramid of Teti and the Mastaba of Kagemni . Neither are large but you'll see plenty of carvings, reliefs, and well-preserved colours whether it be inside the pyramid's tomb or in the tomb of the 6th Dynasty's early vizier to King Teti I.
General admission to Saqqara and the Bent Pyramid site including the Imhotep Museum: 180 EGP
Tomb of Mereruka: 80 EGP
All inclusive ticket for Saqqara: 440 EGP
Bad news – The general rule of thumb is that any of the extra paid entrances including the special tombs and Pyramid of Teti don't allow cameras.
Good news – The Step Pyramid site itself is all fair game since it's all outdoors.
Enforcement – Pyramid of Teti had an extremely hands-on guard that followed us in trying to show us things but we completely ignored him.
Worth it? The Step Pyramid is a must-see of course. I thought the Pyramid of Teti was a quick one to look at that was easy to walk down compared to the others of the day and it was really nice that Mohamed was able to squeeze in the Mastaba of Kagemni which was beautifully decorated with many stories, well-preserved with colour, and free.
There was a ton that we missed here including the Mastaba of Mereruka and the Imhotep Museum but we simply ran out of time.
You'll be ready to collapse at this point from hydration and exhaustion which means it's perfect time for that lunch/dinner. Nearby is the Blue Lotus Guesthouse where they also have a special farmhouse lunch. This buffet-style meal was exactly what we needed with plenty of food for all of us, tea after our meal, and a place to wash up as well after such a long day.
On your way back, you'll have the option of visiting a papyrus shop. Again, we knew it was primarily a shopping stop but YOLO right? In Giza is Golden Eagle Papyrus and there, like what you'll have with the Alabaster in Luxor, is a demonstration of how papyrus paper is made, a free drink, and the awkward walking around to pretend you're interested.
Day 2 Summary
The Great Pyramid of Giza
Pyramid of Hetepheres I
Pyramid Of Queen Meritetis I
Khufu Sun Boat Museum
Pyramid of Khafre
Great Sphinx of Giza
Bent Pyramid
Red Pyramid in Dashur
Pyramid of Djoser (aka Step Pyramid)
Pyramid of Teti
Mastaba of Kagemni
Golden Eagle Papyrus
What you'll do:
Camel riding at Panorama point
Breakfast – Basically skipped but we did bring our own granola bars and snacks from back home.
Lunch – Skipped.
Dinner – Saqqara Farmhouse at Blue Lotus Guesthouse – This is a bit of a hidden experience but this guesthouse also runs special home cooked Egyptian meals for lunch. We completely blew by our time slot but they were kind enough to cook for us for what really became dinner for us.
What a second day in Egypt right? Well for your third day of this 10 day itinerary of Eypt, things will slow down a bit but only a little bit.
Everything the previous day is all about pyramids but you still haven't seen Cairo at all so it's time to dive right in.
After zig-zagging through traffic and all of the crazy honking that comes with it, start your day off having breakfast in an older part of town. This is the kind of thing that your tour operator will need to help organize because these are hyper-local spots. The restaurant we went to didn't even have an English name but does show up on the planning map above as ( مطعم حمادة ).
Our guide ordered everything and the food just kept piling including traditional dishes like ful, falafel, eggplant, additional dips, and other fried goodness.
For the main event of the day you'll be spending a good amount of time at the original Museum of Egyptian Antiquities or simply the Egyptian Museum . This will soon be outdated because a brand new Grand Egyptian Museum (GEM) is opening in early 2021 where all the collections will be moving to but for the time being, this is still the de-facto museum for everything Ancient Egypt.
As with all museums, this one is massive, taking up two floors and packed with hallways, side rooms, special exhibitions, and more artifacts than you can take in. You'll be extremely thankful to come here with an egyptologist because Mohamed really showed his worth here by being able to use the 4 hours allocated here to tell a complete story that was easy to digest and not overwhelming. By all means we didn't see every corner of the Egyptian Museum but we got to see all the important bits.
What you'll find with the Egyptian Museum is that the collections are incredible but the way they are housed and protected is quite outdated and the overall condition is deteriorating. That's why I can't wait to see what the new GEM will be like when it opens. Also, if you go between now and its opening, you'll notice that many pieces are missing because they've already been transported over. More and more will be missing leading up to GEM's opening.
Address: Tahrir Square Rd, Tahrir Square, Egypt
Hours: Saturday to Thursday 9AM -5PM, Friday 9AM -7:45PM with Sunday and Thursday having extended hours from 5:30PM – 9PM
General admission: 200 EGP
Mummies Halls: 180 EGP
Combo ticket (general + Mummies Hall): 300 EGP
Photography: 50 EGP
Night visits (Sunday and Thursday) are more expensive
Is photography allowed? Yes but only if you purchase a special photography pass. Smartphones are fine (again a trend you'll see throughout Egypt). Exception is Tutankhamun's room and the Mummies Halls.
Are bags allowed? Yes. There's no coat check like in art galleries and they don't prevent you from wearing big backpacks. You do have to go through the standard x-ray machine but nothing else beyond that. If you don't plan to buy the photography pass, don't bring your camera.
Is the photography pass worth it? I guess this depends on what you want to capture. I managed to shoot stills and videos here. What I did notice is that the glass panes were either scratched up, extremely reflective, or dirty so you have to work a bit to find the right angles.
Is the Mummies Halls worth it? Personally, I did come away with it feeling that these weren't just a bunch of dusty mummies but instead incredibly interesting insight into just how good the mummification process was for pharaohs, their life, and how they died.
How much time do I need? You should plan for 4 hours at a minimum.
If you have a camera with you and you can't put it away in a car before entering the museum, just buy the photography pass because otherwise you'll have to leave it at the front entrance in questionably safe cubbies.
There's one primary mummy room where famous pharaohs like Ramses II are housed. This is where all the large tours go to but often overlooked is the second mummy room which is on the other side of the second floor so don't miss that.
The special room for Tutankhamun's artifacts does not allow photography. That said, nobody's stoping you from taking photos of the mask from outside of the room!
Guides aren't allowed in Tutankhamun's room or the Mummies Halls.
BOOK HALF DAY PRIVATE TOUR
Get picked up by the Djed Egypt Travel van and you'll make your way into one of the oldest parts of Cairo. With your guide, you'll start off at Bab al-Futuh , one of the three remaining gates in the walls of the Old City of Cairo , built in 1087.
From the gates and down Muizz street, you'll feel the pulse of Cairo through the streets that act as arteries for all of the bustling activity that you'll see, hear, and small. This is your chance to see locals going about their day, shops selling their wares, and the fascinating architecture of mosques and maze of the neighbourhood.
As you delve deeper, you'll eventually make it to the Khan el-Khalili bazaar with its dazzling array of trinkets, souvenirs, artwork, antiques, and of course, lots of tourists. Meander through the grid stalls, and make sure you check out the entry-way that is flanked with vibrant lanterns on both sides (marked on the Egypt itinerary map ).
Finish your guided walk at Al-Hussain Mosque and get picked up by your driver to finally have dinner (or late lunch). If your guide doesn't recommend it, I'd definitely ask to go to a local spot like Koshary Abou Tarek to try a type of street food dish called koshary . Something of a Frankenstein college-dorm creation of spaghetti, rice, ditalini pasta, tomato sauce, lots of garlic, fried onions, lentils, and more. This dish was invented by Abou Tarek which started off as a street cart and eventually became so big that they now have their own restaurants and copy cats all over.
After your meal, take some time to walk the streets of Cairo and get a feel for what it's like. From Koshary Abou Tarek, you're not far from the main shopping street of the city. Do a little window shopping and people watching before picking up a cup of ice cream at Abdel Rahim Koueider .
If you're lucky like we were with our local guide at Djed Egypt Travel, you can ask to hang out at a local street bar for fresh juice, mint tea, and/or shisha (this spot also marked on the planning map ).
Day 3 Summary
Museum of Egyptian Antiquities
Bab al-Futuh
Khan el-Khalili
Breakfast – مطعم حمادة – A traditional Egyptian breakfast spot.
Dinner – Koshary Abou Tarek – What may seem like a bizarre combination, it surprisingly works and was an experience on its own.
Dessert – Abdel Rahim Koueider – One of the best ice cream spots in Cairo.
Looking for deals?
It's time to put Cairo behind and catch an early morning flight to Luxor because there is so much more of Ancient Egypt to explore and learn about.
The flight to Luxor only takes 1 hour so you'll be there in the blink of the eye.
Upon landing in Luxor, you'll be picked up by the Djed Egypt Travel team and you'll hit the ground running since it doesn't make sense to head to the hotel only to drop off the bags since your room won't be ready.
The first site you'll head to is Luxor Temple right in the middle of the city. Choose this over Karnak Temple because our guide, Hamdi, told us that the crowds would be insane in the morning with all the tour buses heading there.
Luxor Temple was started by Amenhotep III but continued to completed and added on by proceeding pharaohs. Its function was primarily for the annual Opet celebration where special statues were triumphantly carried from Karnak, along the Avenue of the Sphinxes.
When you arrive you'll be greeted by a massive 24m-high pylon built by Ramses II and the remains of one obelisk. The deeper you go, more secrets of what the temple was used for and its builders and occupants are uncovered.
Address: Luxor City, Luxor, Luxor Governorate, Egypt
Hours: 6AM – 10PM
General admission: 160 EGP
Student tickets are half price
Is photography allowed? Yes photography is allowed everywhere. You will need to go through the standard x-ray machines that you'll find at all ancient sites.
Are bags allowed? No limitations or issues with this.
Come here early in the morning while all the other buses do Karnak Temple first.
If you can, return here at night because it is one of the few temples in Egypt that are open late and lit up to create beautiful plays of light and shadow on the columns and carvings.
When it comes to going through temple sites, it makes sense to let your guide explain everything first and then give you free time to take photos at your own pace instead of stressing out taking photos and listening at the same time.
BOOK A FULL DAY TOUR
With the large crowds gone, now's the perfect time to switch over to one of my favourite ancient Egyptian sites, Karnak Temple . Also located on the East Bank of Luxor, you'll get here in a matter of minutes.
This is a massive complex that will take time to explore. From sanctuaries, temples, kiosks, obelisks, and pylons, you'll only see a fraction of them but through your visit you'll learn more about how tightly connected this was with Luxor Temple and how the Thebans put so much of their focus on paying tribute to the gods Amun, Mut, and Khonsu during the New Kingdom.
Your guide will walk you through all the different sections built, added, dismantled, restored, and enlarged through various pharaohs.
The part where you'll be immediately drawn to is the hypostyle hall which is literally a forest of giant papyrus-shaped columns below remains of what was a roof. Here you'll find reliefs all around and the light bounces in so perfectly any time of day that you'll want to take a ton of photos.
What continuously amazed me in Egypt and also at Karnak Temple is just how much of it still needs to be excavated and re-built. There are whole other sections that aren't completed yet and perhaps in 50 years you'll be able to come back and see even more.
Address: Karnak, Luxor, Luxor Governorate, Egypt
Hours: 6AM – 5:30PM
The crowds die off mid-day but the disadvantage is that it's also insanely hot. Near-closing is also a good time to come because of the lighting.
There are security guards in traditional galabeya galore here whether it be at the hypostyles hall or near the Temple of Amun-Ra. They will aggressively approach you to take photos of you, show you "the best spot", or get you to take photos of them. All of these will result in them asking for tips. If you need their help, this is fine but just know what you're getting into. 10-20 EGP should be sufficient.
There are also police that roam here with guns and they behave like the security guards. We did get called out for not sitting on the columns so be careful there but ironically its the security guards that tell people to sit down for tips.
To be able to see the ruins at night, you have to go to the Sound and Light Show.
WATCH THE KARNAK SOUND AND LIGHT SHOW
For your late lunch/dinner, you'll head over to Sofra Restaurant & Café . This was highly recommended to us and boy did they not disappoint. On top of the traditional Egyptian decor and ambiance, the aromas from the kitchen and menu will surely make you want to order everything on the menu.
Start with the fresh juices. Depending on the season, they'll have incredibly sweet mangos and guava. Another popular Egyptian drink is the lemon with fresh mint. To start, their 6 dish combo of hot and cold appetizer (called mézzes) is great to share where you have your choice of dippable spreads, grilled vegetables, meatballs, samosas, and others. For the mains, our server, Ragab, recommended the lamb, duck, veal, and mixed grill. To top it all off, we a fine selection of Egyptian pastries, and tea with fresh mint.
Day 4 Summary
Luxor Temple
Karnak Temple
Breakfast – Nile Air breakfast box.
Lunch – Skipped.
Dinner – Sofra Restaurant & Café – One of the best restaurants in Luxor that serves delicious traditional Egyptian meals with the perfect ambiance whether you're upstairs or on the downstairs terrace.
Where you'll stay:
I STAYED HERE
VILLA NILE HOUSE
Located on the West Bank of Luxor, this B&B type of hotel boasts an outdoor pool, sun terraces, garden, free wifi, and free breakfast. They are 400m from the boat ramp and in a much quieter part of the city which is an advantage.
BOB MARLEY PEACE HOTEL
For those looking for budget accommodations, this is a hotel/hostel where dorms and private rooms are available. Located in the centre of the city, it's convenient to walk to Luxor Temple, super cheap and they include breakfast as well.
HILTON LUXOR RESORT & SPA
This is a great resort by Hilton on the Nile and close to Karnak Temple. Here you get the benefit of the high quality and standards Hilton sets while being able to collect/redeem points and also being out of the chaos of Luxor's downtown streets.
Hilton Direct
SOFITEL WINTER PALACE
This is Luxor's penultimate hotel, stunning example of Victorian architecture, and a short walk to Luxor Temple. With grand staircases, high ceilings, and regal decor, you'll be pampered with the pool, palm trees, and incredible service.
Get ready for a big day because for your fifth day, you'll be tackling all of the biggest and most impressive sites on the West Bank of Luxor. It'll be a step back in time that'll leave you completely amazed.
You'll be picked up at your hotel on day 5 of your Egypt itinerary and if you're living already on the West Bank like we were at the Villa Nile House , you might capture the perfect glimmer of sunrise over Luxor Temple before going to a hyper-local falafel shop on the road.
I need to mention this falafel shop because I've had some pretty good ones around the world but this was by far the most delicious deep fried, flavour packed and fresh. Hamdi asked us the day before whether this would be okay to add to the itinerary and we all said a resounding "YES!" If you're with Djed Egypt Travel, make sure you ask for it and your local guide will make it happen.
The first ancient Egyptian site you'll visit is the famous Valley of the Kings . After going through a dynasty of building pyramids dedicated to the afterlife of pharaohs, they realized that this was too much work and so with Thebes playing a more central role in the religious importance, the kings moved to the idea of building rock cut tombs in a central valley in the New Kingdom (19th – 20th Dynasties). While they weren't going to build pyramids anymore, they still made sure that there was the symbol of one and that is the triangular mountain peak that overlooks the valley.
Your visit to the royal necropolis starts off with a diorama of the area similar to what you saw at Karnak except this one allow you to see underground to give you a perspective of how they cut into the rock.
From there, there's a short 5 minute trolley ride to the start of where the tombs are located.
Once you're here, your guide will put together a plan of attack as he explains the general information about the site, excavation works, tomb robberies during the time of antiquity, and modern-day discovery.
Here are the tombs that we visited and in this particular order. I will also mark the tombs that I used the photography pass on in red .
KV11 – Ramses III
KV8 – Merenptah
KV9 – Ramses V/VI (paid)
KV62 – Tutankhamun (paid)
KV2 – Ramses IV
What will blow you away in these tombs is just how spiritually dedicated they were to the afterlife and how meticulous they were with the carvings, reliefs, and paintings that fill the corridors, side rooms, ante-chambers, final burial chamber and on the sarcophaguses themselves. You then start thinking about the work required to dig out all the stone.
It's incredibly that archeologists like Howard Carter were able to find these amongst all of the sand and mounds of stone sitting above. Add to that the fact that there are probably more tombs yet to be discovered makes you appreciate the scale of the civilization.
Address: Luxor, Luxor Governorate, Egypt
Hours: 6AM – 5PM
General admission: 240 EGP
Tram (round trip): 4 EGP
Tutankhamun Tomb: 300 EGP
Ramses V/VI Tomb: 100 EGP
Seti I Tomb: 1000 EGP
Photography ticket: 300 EGP (as of late 2019)
Are bags allowed? Yes.
Are cameras allowed? You're allowed to bring anything to the site itself as the entrance x-ray machine will let cameras in even if you don't have a camera ticket but they do check for photography tickets at the entrance of each tomb.
What about video? If there's anything I learned in Giza, I wouldn't come in with any microphones or tripods as they're a magnet for trouble. Mic automatically means video and that's something way above the guards' pay grades so they'll confiscate it or worse. Something like the Olympus EM1 that takes photo and video is the ideal set up if you plan on taking video.
Are smartphones allowed? Yes. I guess they haven't found a way to police people from using their phones as cameras so they've given up. Go nuts seems to be the direction.
How does the general admission ticket work? Most people will go in buying one ticket. Each ticket gives you access to 3 tombs. As you enter each tomb, a guard will punch a hole in it.
How does the photography ticket work? The photography ticket allows you to take photos in 3 tombs only. Similar to the general admission, the guard will punch a hole for each tomb you use your camera in. Once you have 3 holes, that's it so choose wisely and ask your guide for suggestions.
Is there a place to sit? Inside the tombs no but in the central gathering area there's a waiting area that's shaded for visitors.
Which tombs are open? This honestly changes day to day and year to year because of restoration works or whatever the government feels like. In October 2019, only 9 were open including the 5 that I visited.
How much time do I need here? 3 hours is safe to budget as this is roughly how long we took.
If you look at the photos, these tombs are completely different from the pyramids and much easier to see. That said, I'd still recommend that you go to Valley of the Kings with a relatively light set up if you are bringing a backpack because you'll be going to a bunch of different places and it will get very hot outside.
Do your research ahead of time and if you have a specific request of what you want to see, let your guide know. Otherwise, they will choose for you. If you want to see more tombs than the 3 in the one general admission ticket, buy a second one so you can see 6.
Most tour buses start streaming in after 9AM and are full force by 10AM (especially from the ones coming in from Hurghada) so you want to get here early in the morning. The other side benefit to this is that while the sun is still behind the valley, you'll won't have to contend with the insane heat.
Your guide is not allowed inside tombs so make sure you remember questions you want to ask after you come out. Your guide will also be helpful in holding onto your camera for the tombs you're not shooting in.
Full day tour of the East and West Banks of Luxor
Private tour to the Valley of the Kings
While you can't see it, just behind the mountain is another famous temple, the mortuary Temple of Queen Hatshepsut . With very few female pharaohs in the Ancient Egyptian books, Queen Hatshepsut's story is one that feels like it was lifted from the pages of Game of Thrones.
The story goes that Queen Hatshepsut grabbed power from her step-son, Thutmose III by sending him away to but then gets usurped by him later on and mysteriously disappearing from the history books.
Your guide will walk you through the impressive temple that's cut into the mountain to blend organically with the towering cliffs of Deir el Bahri and in perfect alignment with winter solstice sunrise. You'll learn more about this famous queen and how she also gained her power by getting the priests to tell the story of her divine birth.
Address: Kings Valley Rd, قسم الواحات الخارجة، New Valley Governorate, Egypt
Hours: 6AM – 5PM
General admission: 140 EGP
Are cameras allowed? There is an x-ray machine but cameras are allowed here with no restrictions.
How much time do I need here? 1 hour.
Almost impossible to get clean photos here unless you come first thing in the morning.
4 Hour Tour of the Valley of the Kings and Queen Hatshepsut Temple
You'll feel like you've done a full day's worth of things at this point so make sure you refuel in the van.
For a drastically different perspective of tombs from this time, head over to the Valley of the Nobles . With much less of a spotlight on this site, this is your chance to see where high-ranking officials were buried. Looking out into the vast open space, you'll see hundreds of tombs embedded in rock. With the handful of them that are actually open, you'll visit 3 of them as you hike into an unending maze of openings.
While you're here, there's a small house occupied by the artist and just so happens to be the uncle of our guide. There's no pressure to buy here but this is your chance to see how the talented Ahmed Abdelfattah carves sandstone using the same techniques as the ancients.
Address: قسم الواحات الخارجة، New Valley Governorate, Egypt
Hours: 8AM – 6PM
Price: The pricing here is a little different as it seems to be based on the cluster of tombs you want to visit. The below is what we did since Ramose's tomb is the largest and most impressive of the lot.
Valley of the Nobles (Ramose, Userhet and Khaemhet Tombs): 60 EGP
Are cameras allowed? There are no x-ray machines here so you can bring your camera with you but you're not allowed to use it.
Are smartphones allowed? Yes.
How much time do I need here? 30 minutes.
Awkwardly, there'll be a few guards that follow you around as you visit the tombs and this is normal. We saw our guide tip them. If you are coming here on your own, I imagine you'd have to tip them yourself which is again another good reason to use a local guide.
Cool down in the shade at the nearby Sekhmet Alabaster Shop where you'll get to see a demonstration of how alabaster is carved into vases and bowls before being escorted into the store where you'll serve you a drink similar to papyrus store in Cairo. If you're not interested in buying anything, just be straight up with them so they don't follow you around.
The next Ancient site you'll head to is the Medinet Habu Temple . This is an important archeological site in the West Bank because its incredibly detailed reliefs of the war against the Libyans and the Sea Peoples during Ramses III's reign.
Hamdi showed us how there are reliefs depicting the counting of severed male parts to tally how many kills were made on the battlefield.
Finally, you'll make a quick stop at Colossi of Memnon where only the remains of two massive statues of Pharaoh Amenhotep III sit. Unfortunately, there's not much else to see in the surrounding area even though it is said a massive mortuary temple for Amenhotep to stand behind.
It should be around 3PM at this point. You can either head back to your hotel to freshen up or you can ask your guide to recommend a spot nearby. If you're about to break down into a fit of hangry then maybe it's best you get that late lunch/early dinner.
Since Sofra Restaurant & Café is that good, I'd recommend that you just head back because you'll know what you're getting. Try some of the dishes you didn't get to the first time around and if you sat upstairs, try the downstairs terrace.
If you need to take the ferry to cross back and forth between West and East Bank, Djed Egypt Travel can help you arrange it or you can walk up to the port and grab a private boat ride for less than 10 EGP.
Day 5 Summary
Mortuary Temple of Queen Hatshepsut
Valley of the Nobles
Sekhmet Alabaster Shop
Medinet Habu Temple
Colossi of Memnon
Breakfast – Local falafel shop – The best ever.
Dinner – Sofra Restaurant & Café – So good that we had to go back again.
It's worth noting that if you're interested in a hot air balloon ride , don't hesitate to reach out to your tour operator to see how you might be able to fit it in as Luxor is the place to do it. If there's anything that I would say you can swap out could be Medinet Habu Temple and the alabaster shop.
I'll be the first to admit that the first 5 days in this 10 day itinerary of Egypt are a crazy whirlwind. It's the heat exhaustion, unending thirst, the sheer number of places to visit, and the skipping of meals. That's why you will be looking forward to start off this day when the pace of things finally screech to a gentle rolling instead constantly going full steam ahead.
Want to know more details about the dahabiya?
If you want an in-depth guide into what it's like to cruise the Nile in a dahabiya, make sure to read our review.
Start off with your complimentary breakfast at the Villa Nile House and get your luggage read to go for the 1 hour ride from Luxor to the city of Esna. This is where your dahabiya experience begins.
Several Djed Egypt Travel vans will converge at this point and your group will also meet your Egyptologist for the duration of your Nile river cruise.
If you're lucky, you'll be with Abdulla Yosef, an incredibly skilled guide with unparalleled knowledge of Ancient Egypt and a knack for making stories come alive.
Instead of boarding right away, you will start off with the Esna Temple or Temple of Khnum as it's locally known. Built during the reign of Ptolomy VI, you'll descend 9 meters from the level of today's streets into an excavated pit area surrounding the only part that's can be visited today which is the hypostyle hall built by the Romans. Your guide will show you well-reserved examples of colours, and relief carvings on the walls.
Address: Esna City, Esna, Luxor Governorate, Egypt
Hours: 8AM – 5:15PM
General Admission: 80 EGP
Student tickets are half price.
Once you get to Esna, you'll be exploring the city and the temple so make sure you've organized your bag in a way that you won't need anything in your luggage. I'm glad I had my Peak Design 5L Sling with me because it allowed me to travel light with my camera and essentials while leaving all the big heavy gear in the van.
The pulse of modern day Esna beats in the winding streets and markets of the city where tuk tuks honk, and food and goods are sold from shops and temporary stalls. Walk amongst the locals to see what daily life is like. This is also your chance to buy local fruits that are in-season. I highly recommend mangoes and figs. Your guide can help with making the purchase – just ask!
Life on the dahabiya is tranquil and peaceful.
It's finally time to make your long-awaited boarding of the Egypt Nile cruise with the Dahabiya Loulia .
Good to know: A dahabiya is not the same as a felucca. While there are a number of sailing opportunities within Luxor as a day trip, a dahabiya is a much larger traditional sail boat that has cabins, kitchen, and multiple galleys. A felucca on the other hand is normally for day excursions but for those that are used for overnight, it's one large shared sleeping space.
When you board with the group, you'll be welcome with open arms by the crew and treated with a refreshing drink to start.
First order of business is settling into your home for the next 4 nights. All of your bags will be waiting in the library of the ground floor as everyone makes their way to the cabins to pick their rooms. There's a mix of queen-size and single-bed cabins so just call dibs on the one you want once you see it since there's no real advantage of cabin location (unless you have a suite of course, in which case you'll be assigned a room). Bring your luggage into your room and make yourself at home.
You'll feel the itch to go-go-go but you'll need to remind yourself that life on the dahabiya will be completely different. Life on the dahabiya is tranquil and peaceful.
Your first day on your Nile cruise in Egypt will be a chance for you to meet some of the crew and your Egyptologist/guide to give you a quick orientation of your boat. Lunch will also be served at this time. You'll get a feel for what the daily routines will be like, how things like power and wifi work, and also things that you can order from the kitchen at any time during the day.
Routes, boats and sailings:
Every Saturday on board Dahabiya The Orient – 4 cabins and 1 suite
Every Monday on board Dahabiya Zekrayaat – 4 cabins and 2 suites
Every Thursday on board Dahabiya Loulia – 4 cabins and 2 suites
Every Wednesday on board Dahabiya The Orient – 4 cabins and 1 suite
Every Friday on board Dahabiya Zekrayaat – 4 cabins and 2 suites
Every Monday on board Dahabiya Loulia – 4 cabins and 2 suites
Price: Upriver starting at 760 EUR per person, downriver starting at 570 EUR per person.
Website: Djed Egypt Travel
What's included? All entrances, your guide, transfers at the start and the end of the trip, accommodations on the boat, and all meals
What's not included? Alcoholic drinks, tips, horse carriage ride to Temple of Edfu, and shopping
Tips: I won't get into too many details here as you'll have to head over to the Dahabiya review but here are a few nuggets of wisdom.
No shoes are worn on the boat (not even slippers or flip flops) so bring extra socks.
It gets cold in the evening and despite the bug zapper onboard, you'll probably want to cover up if you're prone to bites.
Power is on from from roughly 6PM – 10:30PM and also 7PM – 8:30PM.
There is wifi aboard through a wifi hotspot but signal is really only good on the upper deck and is quite spotty from the cabins.
MY FIRST DAHABIYA EXPERIENCE
One thing that you'll quickly learn is that the Dahabiya has two modes of moving. In most cases, it's actually pulled by a tugboat for speed but if you get to go upriver (counter-intuitively the direction that the wind blows), you'll get an opportunity to sail and let wind power the Nile cruise.
Right before afternoon tea (yes, you heard me right!), you'll head out on an expedition with your new family out to the El-Kab Tombs .
These are the type of off-the-beaten-path archeological sites that you can expect to see thanks to where the Dahabiya can sail to.
While this isn't at the scale of what you've seen so far, it gives you glimpse into how a provincial necropolis was built for dignitaries of the local town.
Pay attention to just how different these rock cut tombs are decorated – celebrating personal achievements as opposed to large and grand offerings and instructions for the afterlife.
Along the way you'll also see remnants of mud-brick walls for the ancient town of Nekheb.
Hours: Unknown
General admission: 60 EGP
Compared to Luxor and Cairo, security is much more relaxed here as you get tickets at the booth and two guards escort the group up and open the tomb doors. Photography is allowed.
There are basic plaques outside each tomb but this is the kind of site where you really need an Egyptologist to tell you what you're looking at and translate the hieroglyphs to understand their lives.
READ THE REVIEW
You'll walk back to the boat and at this point the sun will be on its way down.
Enjoy coffee, tea, and biscuits for afternoon tea once you're back on board. Chat with your other cruise-mates, grab a book from the library, relax on one of the sun loungers, or take a nap on the hammock. The choice is yours!
For dinner, your guide will let you know when it is served. All the meals on board are incredibly delicious and expertly prepared by the exclusive chef onboard. Every meal features traditional Egyptian dishes with tons of variety to make sure there's something for everyone.
Dinner is always a great time to get to know everyone else, chat about the day, and fill your belly.
And that's it. A sweet day right?
Day 6 Summary
Temple of Khnum
Esna Market
El-Kab Tombs
Breakfast – Villa Nile House – Complimentary hotel breakfast.
Lunch – Dahabiya Loulia Nile Cruise – No more skipping lunches!
Afternoon Tea – Dahabiya Loulia Nile Cruise – A nice bonus snack after the day's excursion.
Dinner – Dahabiya Loulia Nile Cruise – Ah nom nom nom.
The Nile is the lifeblood of Egypt and being on its waters and seeing a full day's cycle gives you a true appreciation of how it important it is for everything.
This will be your first full day on your Nile cruise and just like the Nile beats to its own rhythms, you too will begin to get accustomed to the rhythms of the Dahabiya.
If I may make a suggestion, something you have to do at least once is to wake up early enough for sunrise. It's a truly magical experience to watch the calm of the silky smooth Nile shimmering with the orange glow and watching life waking up all around it.
No expenses are spared for breakfast with jugs filled with freshly blended mango juice, traditional ful, the sweetest fig jam, Turkish coffee, and more!
Soon, your boat will dock and your adventure to the most impressive temple along this stretch of the Nile – Edfu Temple . Private horse carriages will be waiting for you at the wharf, eagerly ready to whisk you to temple's entrance.
Dedicated to Horus, the son of Osiris and Isis, this is a Ptolemaic temple completed around 57 BC. It is an impressive site because of how well it was preserved for centuries by the desert sand.
Exploring the temple from its massive 36m high pylon at its entrance, to the outer hypostyle hall, and delving deeper to the offering chamber, and sanctuary of Horus, your guide will tell you many fascinating stories and show you reliefs on the wall depicting the rituals of the priests that worked here.
One of the most memorable of stories from Abdulla was how Napoleon's soldiers used the pylon as barracks and pushed out blocks of stone to create defensive gun positions. The enormous stone emblem in the outer hypostyle hall is riddled with bullet holes because it was used as target practice. When you look up, you start getting a sense of how high the sand was up to hide the rest of the temple below and why it's mostly all intact.
Address: Adfo, Edfo, Aswan Governorate, Egypt
Hours: 8AM – 5PM
General admission: 180 EGP
Is photography allowed? – Yes. Similar to Temple of Khnum, there are no restrictions here.
The previous night, your Dahabiya guide will collect 20 EGP per person for the horse carriage ride. This cost is not included in the tour price.
We tipped our carriage driver 10 EGP.
Back on your Dahabiya, you'll have ample time to hang out in your cabin or chill on the top deck. Along the banks of the Nile, you'll catch glimpses of farmers tilling the land, fishermen setting their lines, kids waving from the small villages, and white egret birds wading in shallow water.
If you're lucky, the winds will be strong enough to fill the sails to carry the boat upriver. Deploying the sails is quite the task but there's something majestic and calming about replacing the chugging of the tugboat with the flapping of the sails.
After a hearty lunch and an early afternoon tea, you'll feel like the food just keeps coming which nobody will complain about.
For your second excursion of the day, you will be dropped off in an area that will seem completely in the middle of nowhere but your Egyptologist will guide you through the brush of fig trees and tall grass to eventually these innocent looking rocks that hold back the desert sand. Up close, you'll see 16,000 year old petroglyphs in Wadi el Shat that incredibly depict safari animals such as rhinos, lions, and giraffe that used to roam the fertile lands.
The rocky landscape will lend to flat road and your group will hike towards El Hamam Village while passing by fields of hand-picked figs drying in the sun and a boneyard grave of farm animals.
Walk through the village to see local architecture, way of life, and say hello to curious children and adults alike.
At the end of the village, there's an arranged "taxi" ride which was really the backside of a pick up truck. Abdulla told us that the typical taxi transportation to the boat wasn't available but I wasn't complaining because it was quite the thrilling ride with all of us holding on to each other as the truck zipped through the desert path.
And just like that you'll be back on your Nile cruise boat and getting ready for a delicious dinner with the stars twinkling above the docked Dahabiya.
Day 7 Summary
Temple of Edfu
Petroflyphs at Wadi el Shat
El Hamam Village
All meals – Dahabiya Loulia Nile Cruise
Spending the night docked right beside the sandstone quarry is a smart move because once you finish breakfast, you'll be able to walk right off the boat and be one of the only groups at Gebel el Silsila and the Temple of Horemheb .
On the 8th day of your itinerary of Egypt, you'll visit my favourite spot on the Nile. Yes, you'll see the small Temple of Horemheb dedicated to seven deities but what I love about Gebel el Silsila is that this is one of the primary quarries where sandstone was cut to build many of the grand temples that you've seen already including Karnak, Luxor, Medinet Habu, and the upcoming Kom Ombo.
Your Djed Egypt Travel guide will show you evidence of how workers were divided into groups and the techniques they used to cut blocks of stone. You'll also discover several tombs and carvings by pharaohs that ruled over this quarry.
Stand at the base of the wall of stone and just imagine how much stone was shipped along the Nile to build all the incredible sites that we see today.
Address: Al Kagoug, Markaz Kom Ombo, Aswan Governorate, Egypt
Hours: 8AM – 4:30PM
General admission: 40 EGP
Is photography allowed? – No issues with photography here.
There didn't seem to be any fuss with climbing some of the sandstone steps that have been naturally cut but definitely be mindful of the area that you're not supposed to cross on the back side of the quarry.
READ THE REVIEWS
While you'll like have a completely different lunch than we did, I remember this one particularly well because I got a chance to spend some time in the kitchen with Chef Mohamed. Watching him cook was a real treat and I remember being so impressed with what he could do in the small kitchen and on a sail boat no less. Simultaneously frying cauliflower, cooking fresh tomato sauce, stir-frying chicken, and kneading dough, he cooked a storm while I intrusively filmed.
His masterpiece that meal was no-doubt the fateer or Egyptian pizza as Abdulla jokingly called it.
With favourable winds, the sails were let loose again and we leisurely cruised up the Nile while doing not much more than reading a few books, chatting about our new-found knowledge of Ancient Egypt, and drinking fresh mango juice.
By the afternoon, you'll make it to Kom Ombo Temple dedicated to the god Sobek, the local crocodile god, and Haroeris, Horus the Elder. In this way, this is a unique double-temple with a perfect symmetrical main axis with twin entrances, linked hypostyle halls, and matching sanctuaries.
Inside, your guide will show you examples of an Ancient calendar with all 12 months and depictions of medical devices that closely resemble tools that we use today.
On your way out, you'll also visit a Crocodile Museum . It's dark and air conditioned which is quite welcome. Inside you'll find a large collection of mummified crocodiles from the area, excavated discoveries, and explanations of why Sobek and crocodiles were so important.
Address: Nagoa Ash Shatb, Markaz Kom Ombo, Aswan Governorate, Egypt
Hours: 9AM – 5PM
Is photography allowed? – Photography is allowed throughout the temple but is not allowed in the Crocodile Museum. Smartphones are allowed in the Crocodile Museum.
Is there a bathroom? – Right next to the Crocodile Museum is a public bathroom but make sure to bring your own toilet paper.
Many guards here asking for tips here so just be aware.
PRIVATE TOUR FROM LUXOR
Enjoy the rest of the afternoon and evening with coffee, tea and biscuits before another glorious meal on the Dahabiya – this time with tasty meat fresh from the grill!
Day 8 Summary
Gebel el Silsila and the Temple of Horemheb
Temple of Kom Ombo
Crocodile Museum
One of the great things about this itinerary of Egypt that you don't often get in others is that through the Nile cruise, you get a behind the scenes look at what life is like beyond the big city and beyond the tourist areas. The ability to moor practically anywhere along the river is a huge advantage especially over the large cruise ships.
Docked right by Kom Ombo Temple, you'll start off your final day with a visit to the nearby town of Daraw . From the boat you'll get on an enclosed pickup truck taxi.
What most people don't know is that the Daraw Camel Market is the largest market in the world. It's unfortunately an uncomfortable sight for most people because we learned that many of the camels sold here are meant for the slaughterhouse. We spent a little bit of time here to see the space but I felt uneasy watch the mistreatment of the camels as the handlers aggressively packed them into a pick up truck.
Hop on the taxi again and you'll be dropped into the middle of the Daraw Market . Like in Esna, you'll be surrounded by chaos as the group winds through the streets. You'll pass by butcher shops, clothing shops, cafes, shops for odds and ends, fruit stalls, and of course falafel stands.
Back on the Dahabiya, you'll quickly cross over to the other side of the river where you'll get to visit another rural village . There won't be too many people out and a bit mid-day but you'll pass by a number of dwellings, animals, farming fields, women working on dried hibiscus, and children coming from school.
You'll make your way back to a sandy beach where the Dahabiya will be waiting for you.
This is your one and only chance to swim in the Nile. While we were all a bit shocked when we heard about this, Abdulla busted the myth that there are crocodiles in the Nile. Ever since the building of the modern dams, they've all but disappeared on this side of north Aswan. Once you're in the cool waters, you'll understand how strong the current is because my front stroke was barely enough to keep me moving upriver.
The rest of the afternoon is yours to enjoy as you please. It's your last day aboard so make it count!
After dinner, you'll be treated with a farewell performance by the crew and this is also your opportunity to say goodbye to all of the incredible friends you've made with your fellow travellers on the Dahabiya.
This isn't quite the end of your 10 day itinerary of Egypt! There's still another huge monument that awaits.
Day 9 Summary
Daraw Camel Market
Daraw Market
Rural village
Swim the Nile
It's sadly time to say goodbye to your Dahabiya and so begins the last segment of your 10 day itinerary for Egypt.
At 6AM your luggage will be picked up by your new Aswan guide and the crew will bid you farewell. You'll also be given your breakfast boxes. After 4 days on the river, it'll feel a bit strange to be back on a van.
The ride to Abu Simbel is a long 3 hours which is why you're starting so early. On the car ride, you'll have more than enough food in your box. This is also your chance to catch up on some sleep because there won't be much to look at outside with desert passing by. Mid-way through the drive there'll be a bathroom pitstop.
Like a shimmering oasis, civilization will suddenly come into view with palm-tree lined roads and lush greenery.
The Abu Simbel Temple Complex consists of the Great Temple of Ramses II and the Temple of Hathor and is easily one of the most impressive monuments in Egypt next to the pyramids.
It's impressive because of a number of reasons.
1) The original construction 3000 years ago was incredibly audacious being this far south in the kingdom, lined up perfectly for sun to shine on two specific days a year which are believed to be the pharaoh's birthday and coronation day.
2) With the rising water from the building of the High Dam, the entire complex had to be cut, moved, and reconstructed above the original site on an artificial hill and above the new Lake Nasser.
Your guide will walk you in from behind the new artificial hill and the first thing you'll remark is how massive Lake Nasser is and how you never knew it was there from all the photos you've ever seen of Abu Simbel.
As you wrap around the path, you'll walk right up to the edge and when you look below, you have to imagine the original location of the temples below the water.
Turn around and you'll be hit with the grandeur of both temples. In the great temple you have the 4 statues of Rameses in seated position and stoically staring out Sudan where the border is only 40km away.
From the benches that are used for the night sound and light show, your guide will tell you what you need to know, starting with the Temple of Hathor to the right which was dedicated to King Ramses II's wife, Nefertari. After this first part of the explanation, you'll get a chance to walk inside.
Come back outside to meet your guide and you'll learn about the construction of the temple, small monkey carvings above, the stories depicted on the walls, side chambers, and the significance of the inner chamber with respect to the gods. The remaining time will be yours to explore the main temple of Abu Simbel.
On your way out, visit the museum at the entrance which tells a more complete story of the modern marvel of an engineering feat of relocating the temple complex.
Address: Abu Simbel, Aswan Governorate, Egypt
Hours: 5AM – 6PM
Photography: 300 EGP
Tripod: 20 EGP
Is photography allowed? You can take photos anywhere outside but no cameras are allowed inside the temples unless you have a photography ticket.
Are smartphones allowed? Yes. I did get called out for filming video here which was a first so just know that they're looking out for that.
How much time do I need? Most can zip through the site in 2 hours but it took us 3 hours because we took our time and we weren't in a rush.
Are there bathrooms? There are none around the monument but there are public ones just outside of the entrance.
We originally had the opportunity to come here for the sun festival which happens on October 22 and February 22. We did research and asked the folks at Djed Egypt Travel as well. The consensus was that it wasn't worth it. On top of needing to stay the night in Abu Simbel and paying inflated prices (admission and accommodations) but you also have to deal with a zoo of people (locals, tourists, and media) to see the sun shine through to the inner chamber. It's not worth it.
There's a long street of souvenir shops that you have to walk through. At this point in the trip, you already know what to expect here – $1 isn't really $1 and "no hassle" means lots of hassling.
As an alternative to driving, you can take a flight into Abu Simbel. This is operated by Egypt Air and gives you the option to fly in super early morning and out by the afternoon.
Getting a clean photograph of either temple will be a challenge but we did find that the crowds substantially subsided towards the end of our visit (11:30AM-12:30PM) since anyone flying in for the day trip and big tours will have left.
When you leave Abu Simbel, don't double back on the same path that you took to come in. Instead go around the other way that wraps around the artificial hill to get a different perspective.
BOOK AN INDIVIDUAL TOUR
If there's time, you might be able to rush back in time for Philae Temple but if you're like us and don't leave the site until 12:30PM, you won't make it.
Instead, we asked our guide, Mustafa, for recommendations of where we can try local food. This is when we learned about this seafood spot that he and the driver all frequent and to make sure the food was ready when we got there he also ordered the food for us on the phone on our way back.
We ended up with fresh fish off the grill, and plates of flavor packed calamari and shrimp to share.
After our early dinner, we got dropped off at our hotel, the Basma Hotel which is a welcome switch to western hotel comforts.
Since we were too full to eat any more, we wanted to make the most of our evening by walking into the city and wandering the local market of Aswan known as the Old Souk .
And just like that, your 10 days in this itinerary for Egypt are over.
There's another day accounted for transit time but I decided it wasn't worth fitting it in since it'll very quite drastically from person to person. If you're looking to tighten up the itinerary, you could look at taking an afternoon flight out from Aswan back to Luxor and then connect with your international flight out of Egypt. Otherwise, enjoy the night and start making your way home on your own day 11.
Day 10 Summary
Abu Simbel Temple Complex
Aswan Old Souks
What we missed:
Philae Temple
Nubian Museum
Breakfast – Dahabiya Loulia Nile Cruise – Breakfast box prepare for you.
Dinner – Seafood Restaurant جمبرى أفندى للمأكولات البحرية والنيلية (Gemberi Afandi) – A local spot highly recommended by our guide and it was pretty amazing.
There are many properties you can stay at in Aswan ranging from budget to luxury. Here's where we stayed and other places we highly considered.
BASMA HOTEL
A great balance for those looking for a quality western hotel in the city that's also affordable. I was really impressed with their pool, lounge areas inside and out, and the included breakfast which had a ton of food options. You can also request breakfast boxes if you don't have enough time in the morning. Great value!
THE MANGO GUESTHOUSE
For something a little different, this guesthouse is located on Elephantine Island and is set in a Nubian village. Free breakfast and wifi is included. "Loved the location, loved the guest house, loved my room and the breakfast was very good. Only stayed 2 nights but I hope to return to Aswan and will definitely stay here again."
This is an great option for those looking for a hotel but on a budget. ""Really surprised how upscale it was for the price. Had room with Nile view, and it was worth it! Great, big room and bathroom. Modern a/c unit … Staff was friendly – excellent all around."
SOFITEL LEGEND OLD CATARACT
The #1 hotel in Aswan and for good reason. This is the most luxurious and historic Victorian property in the city with pink granite facade with a modernized interior. It's opposite to the Nubian Museum and meets its luxury status in every way.
This is a condensed version of the full guide that you'll find in the Comprehensive Egypt Trip Planning Guide which includes topics like trip to Egypt cost, common scams, "is Egypt safe?" and more. Here are basic topics and questions that I want to cover.
Money – This is perhaps the most underserved topic when it comes to planning for a trip to Egypt. Let me break this down into a few things:
Do not exchange for Egyptian Pounds (EGP) in your home country. It's not a common currency and our guides told us beforehand to do this locally in Cairo instead.
There are money changers all over the main cities and they are regulated by the government so there is not much deviation in the rate.
Some ATMs are capable of exchanging as well but the rate is a tad worse. It is still fine to use in a pinch.
If you're on a guided tour, you'll need to factor in spending money (extra admission costs, meals, market, and tipping), and tour tips.
Spending money is mostly all cash in EGP except for the bigger restaurants where credit card is accepted.
Tipping for your tour operator can be paid in any currency but suggested amounts are given in EUR or USD. To make sure you have enough cash on your trip, make your life easier by calculating all of this beforehand based on your operator's guideline on tipping whether it be for the city guide, Egyptologist, Dahabiya crew etc. Paying by USD for this part is better because you don't have to worry as much about over-exchanging or needing a last minute exchange.
When is the best time? – Essentially the rule of thumb for Egypt is anytime that isn't summer. July to September are the hottest months in the country and should be avoided with temperatures hitting 40-50 C (104-122 F). As a result, the best time to come are in the Fall to Spring. The height of the season is around Christmas time so try to avoid that if you can. This means that the best time is going to be around late Fall (October – November) or early Spring (March – April) before the searing heat picks up again.
Getting here – The primary international airport for Egypt is in Cairo (CAI) and depending on where you live you'll either be able to fly directly here or transfer through somewhere in Africa, Europe, or the Middle East most likely.
How do I get around? – When it comes to travel within Egypt, I highly recommend going through a local operator like Djed Egypt Tour because this isn't the type of country where you can just rent a car and explore on your own. We discovered quite quickly that you need a local on the ground to make sure you're kept safe, to know the local rules, scams to look out for, and to be able to get through all the security checkpoints without issue. Within the city, taking the taxi is your best bet and for the stress-free option use Uber which does operate in Cairo. From Cairo, there are overnight trains down to Luxor and Aswan but the most efficient way is to fly. Low-cast carrier, Nile Air, and Egypt Air have frequent flights that you can find with Skyscanner .
Where should I stay? – I've listed all of the recommended accommodations above but in general when it comes to where to stay in Egypt, Booking.com is going to be your best bet to find not only the main players but also the smaller mom & pop inns and B&Bs with the benefit of a great cancellation policy and also Genius level discounts whether for Cairo , Luxor , or Asw a n . As an alternative, there's also Expedia and Airbnb .
Do I need travel insurance? – As always, travel insurance is highly recommended and even more so for this 10 day itinerary for Egypt.  While I believe Egypt is safe , it's still the kind of country where you need to be smart and if shit happens, you'll want to make sure you have insurance to back you up. Make sure to read our guide on choosing the right travel insurance for you.
This is my second time to Egypt and it was just as special as the first. I was a little hesitant at the beginning because I had done the Dahabiya before and quickly breezed through Luxor last time around but with additions to the itinerary and being able to travel with my wife and two of my close friends, I never once felt disappointed.
We were honestly in the best of hands with Djed Egypt Travel. They're really the ones that made the experience so amazing. 1) All the people they hire are quality and hand-picked, 2) The Dahabiya is an unfair advantage and 3) I appreciated all of the local off-the-beaten-path experiences. Sometimes I felt like the service was over-the-top but they really do make sure you have the best time and that you don't get affected by any unexpected bumps in the road.
If there was anything that I would change, it'd probably be the pacing of Cairo and Luxor. I jokingly call it Ancient Egyptian Boot Camp because we packed so much in. This was mostly our fault because of the limitations of only having 10 days but definitely would have liked more time at each monument, temple, or tomb to really take it all in.
Lastly, I'm convinced that any trip to Egypt that doesn't include a Djed Dahabiya Nile cruise is not a complete itinerary. It was my second time doing it and for the second time straight it's still my favourite experience.
What you need to prepare before you go:
Book your full experience with Djed Egypt Travel including the Dahabiya.
Read the Egypt packing list and pick up what you don't have.
If you're coming in from Ethiopia and staying the night there, make sure you have your Yellow Fever card.
Egypt is a mystery waiting to be discovered and this 10 itinerary for Egypt is perfect for any first-timer (or second-timer in my case!)
On average, it will cost $2,000 USD per person. This is broken down in our Egypt Travel Guide
The primary additional cost to factor in are the tips, purchases at markets, extra activities, and meals that aren't included by the tour.
This really depends on how much you want to see and whether you're also looking for a beach holiday by the Red Sea as part of it. If you want to see the primary Ancient Egyptian sites and also do a Nile river cruise, 10 days is a great starting point.
Yes, 10 days is absolutely enough to see the pyramids in Giza, explore Cairo, see the famous Ancient Egyptian sites in Luxor, cruise the Nile, and also Abu Simbel.
Overall, Egypt is safe especially when accompanied by reputable local travel guides that walk you through local customs, etiquette, and common scams. It is highly recommended to read this article on whether Egypt is safe or not .
Djed Egypt Travel is a great local operator to work with that's owned and run by Egyptians so you cut out any middle people.
Got questions for your own classic trip to Egypt? Let me help by simply dropping a comment down below !
What you should read next
Things to Know Before Going to Egypt – The Travel Guide
The Best Way To See The Nile – Dahabiya Nile Cruise
3 Days in Cairo Itinerary – Places to Visit Including The Pyramids
Egypt Packing List – What To Wear, Camera Gear, and more!
Nile Cruise from Luxor to Aswan – 4 Day Nile Dahabiya Review
About William Tang
William is the Chief of Awesome at Going Awesome Places which is focused on off-the-beaten-path, outdoor adventure, and experiential travel. His true passion lies in telling stories, inspiring others to travel, writing detailed trip itineraries to help others plan their own trips, and providing helpful tips and tricks to guide readers to travel better. He is based in Toronto, Canada but you'll find him on the road more often than not. Make sure to learn more about William to find out his story and how Going Awesome Places started.
Find us on social media 10 Days in Egypt: A Step by Step Egypt Itinerary
Planning your trip to Egypt and not sure where to start? This action-packed 10-day Egypt itinerary takes you on a jaunt through the country's biggest sights.
I've just returned from my Egypt trip and boyyyyy was it something*.
*understatement of the year
From the first day to the last, my trip was filled with hard-hitters that made my jaw drop and my eyes pop. Honestly, there was not a day during my Egypt itinerary that was not stuffed with wonder.
Let's face it. Any trip that kicks things off with a day seeing the Pyramids of Giza and the Sphinx isn't exactly going to be a forgettable one is it?
Nope.
So imagine what you get when you throw destinations like Abu Simbel, The Valley of the Kings and Karnak into the mix…
I'll give you a hint: it's something close to magic.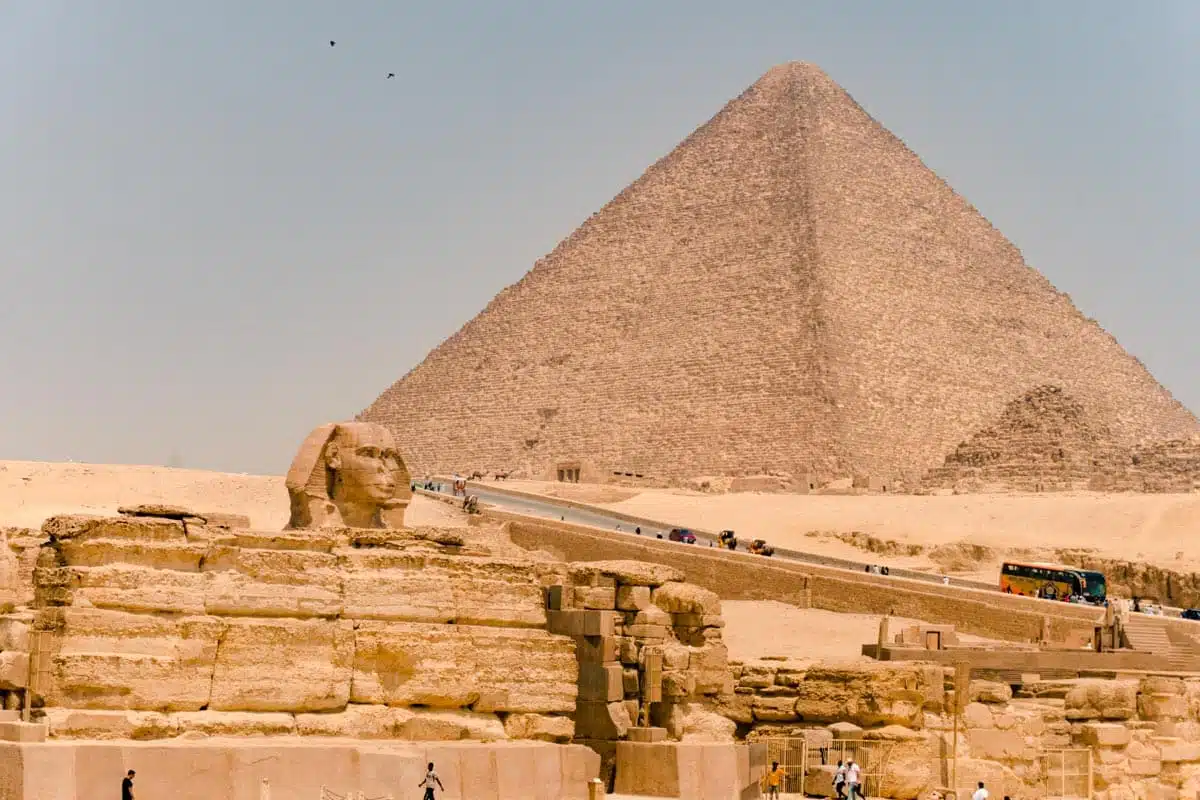 Enough of the preamble already. I have put together a banging step-by-step Egypt itinerary for 10 days.
I'm going to cover what to see, how to see it, and sprinkle in a hella lot of travel tips to help you along the way. Basically everything you need to know to plan your Egypt trip.
Yallah yallah (let's go).
Pssst! You can take a sneak peek at everything I got up to during my Egypt itinerary in my Youtube video!
Egypt Itinerary Days 1-2: Cairo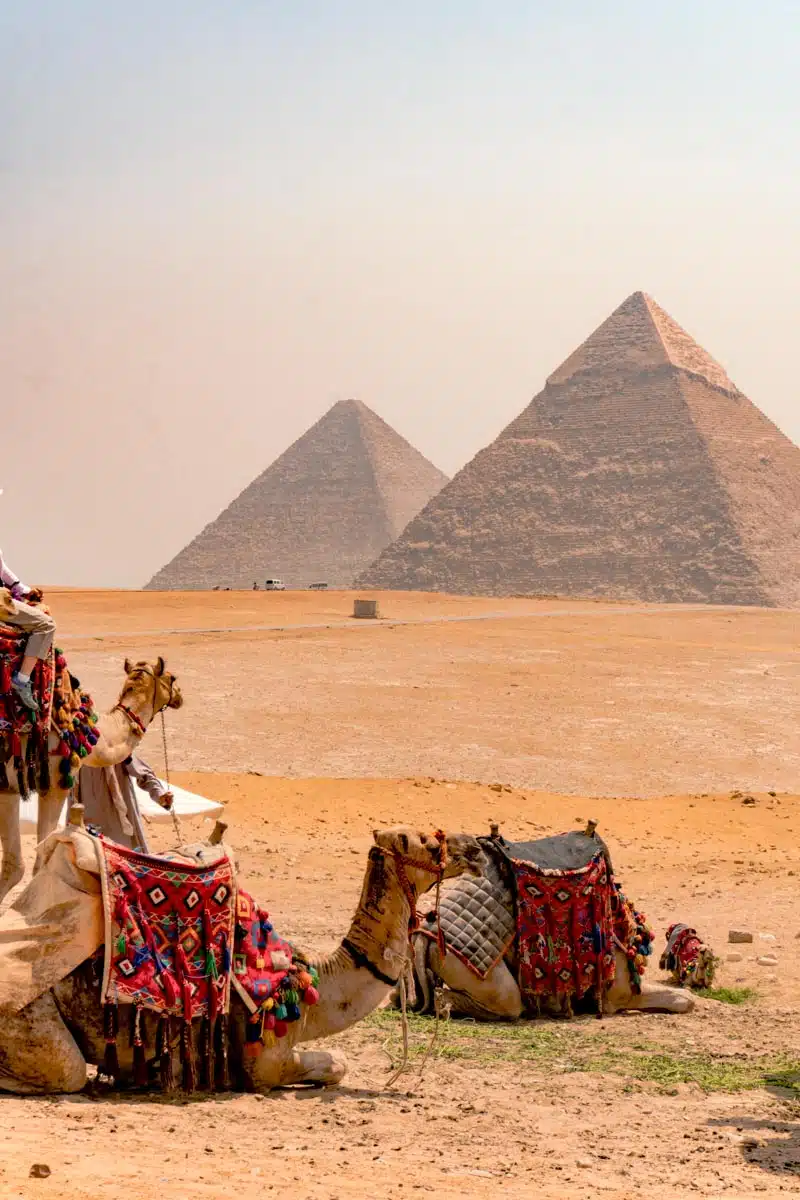 Cairo is a city of contrasts.
On the one hand, you have a vibrant and cosmopolitan city with gleaming skyscrapers and designer shopping boutiques.
On the other you have destinations like The Pyramids of Giza and The Sphinx: historical markers of ancient civilisation twinkling on the city's outskirts before it fades into a wide expanse of desert.
The Nile winds through it all, sinuous and glistening – hard and bright in the heat of the day, shimmering in the dusk of the evening light.
What I've just described above is actually two separate cities: Cairo and Giza.
Cairo sits on the east bank of the Nile, Giza on the west – but as you can expect to spend your time in this region criss-crossing over the Nile to visit them both, I'll cover them in one section.
It's nearly impossible to see everything Cairo has to offer in only a few days, but there are a few highlights you shouldn't miss and these are what I've chosen to focus on.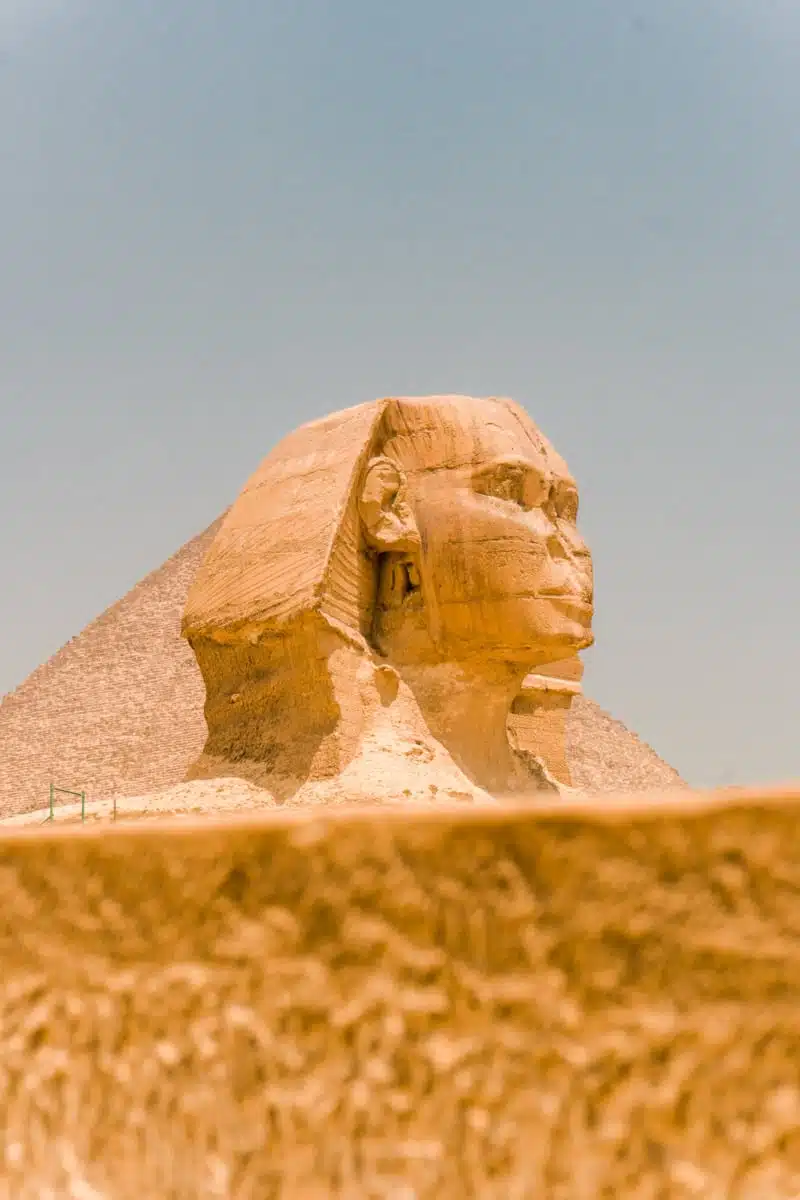 Getting to Cairo
You can get a flight to Cairo from just about any international airport. As you jump off the plane at Cairo International Airport, it's easy to find cabs or shuttles to take you to your accommodation.
Check Flights on Skyscanner
Suggested Stay for Cairo on your Egypt Itinerary
I've written a whole guide to the best places to stay in Cairo , but here's a quick tip. I stayed at the Kempinski Nile Hotel Garden City , which is the perfect accommodation for international guests. Situated on the bank of the Nile, this 5-star hotel has the right amenities to ensure your stay in Cairo is comfortable.
It's only a short drive from Cairo's highlights and has rooms with superb views over the Nile.
Alternatively, check all accommodation in Cairo
Things to Do in Cairo
Marvel at the pyramids of giza.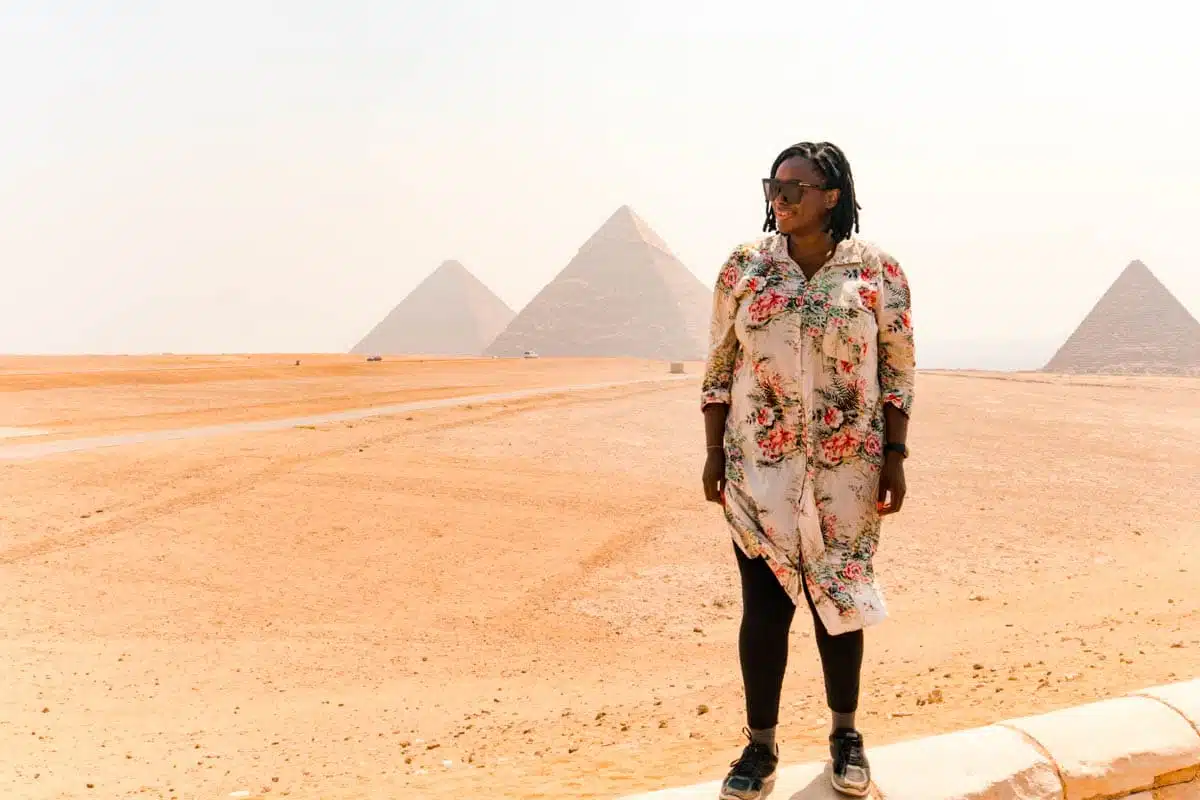 Can we talk about The Pyramids of Giza for a minute?
The largest, The Great Pyramid of Giza, is the last remaining Ancient Wonder of the World.
It stood as the tallest human-made structure for a whopping 4,000 year period after it was built in 2560 BC as a tomb for the Pharaoh Khufu (also known in Greek as Cheops).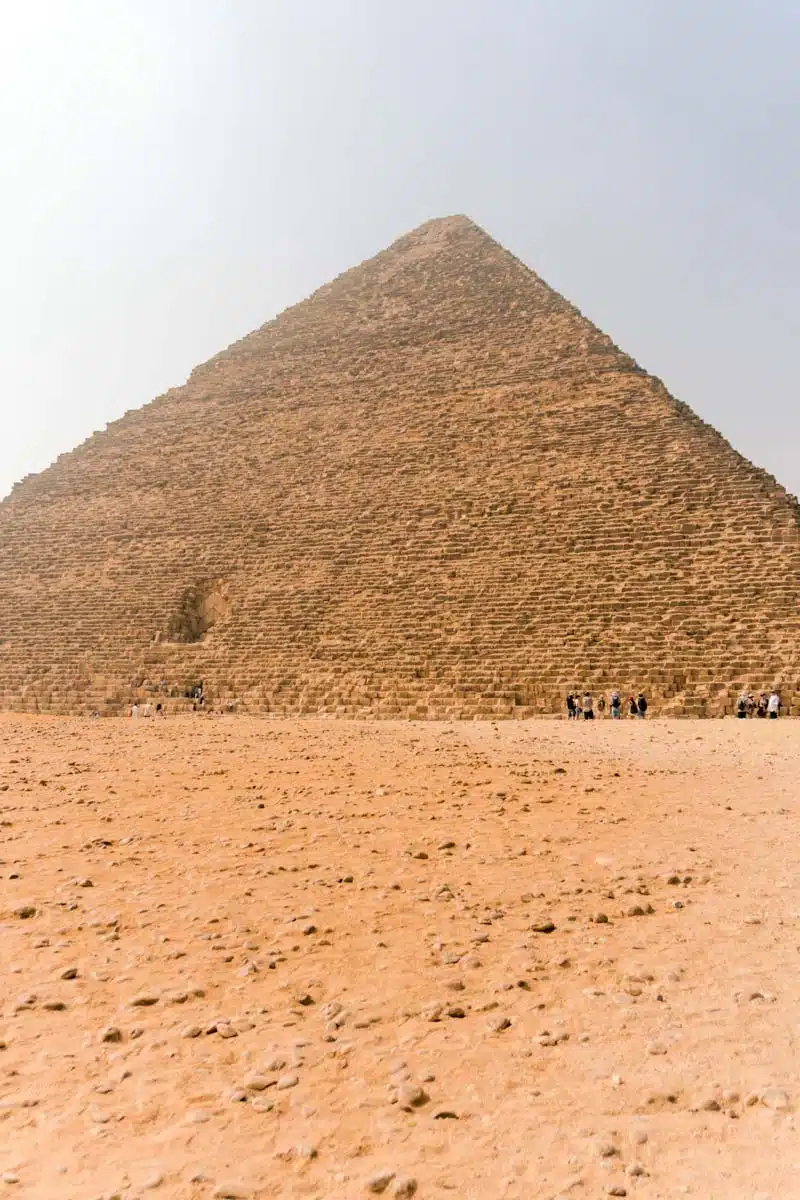 The other two, built for two subsequent pharaohs, Khafre and Menkaure are no small fry either.
Together they are a striking triumvirate that I am not ashamed to say, I lost my sh*t over when I saw them in real life.
PS: Your ticket to the Pyramids will allow you into the complex, but if you want to go inside the Great Pyramid, you'll have to pay an extra 150EGP.
There isn't a tonne to see inside, but I'd still recommend doing it because
a) how often do you get to say you went inside the Great Pyramid of Giza; and
b) doing so is actually kind of crazy – you have to crawl upwards through a tunnel that's about 1m x 1m in the sweltering heat before you emerge into a grand antechamber followed by the King's Chamber with its (long-empty) sarcophagus.
Top Tip for Visiting: When you go into the pyramid complex, it's likely that you'll encounter at least one person who will pretend to be an official and demand extra payment for you taking photos etc. Ignore them.
See The Great Sphinx of Giza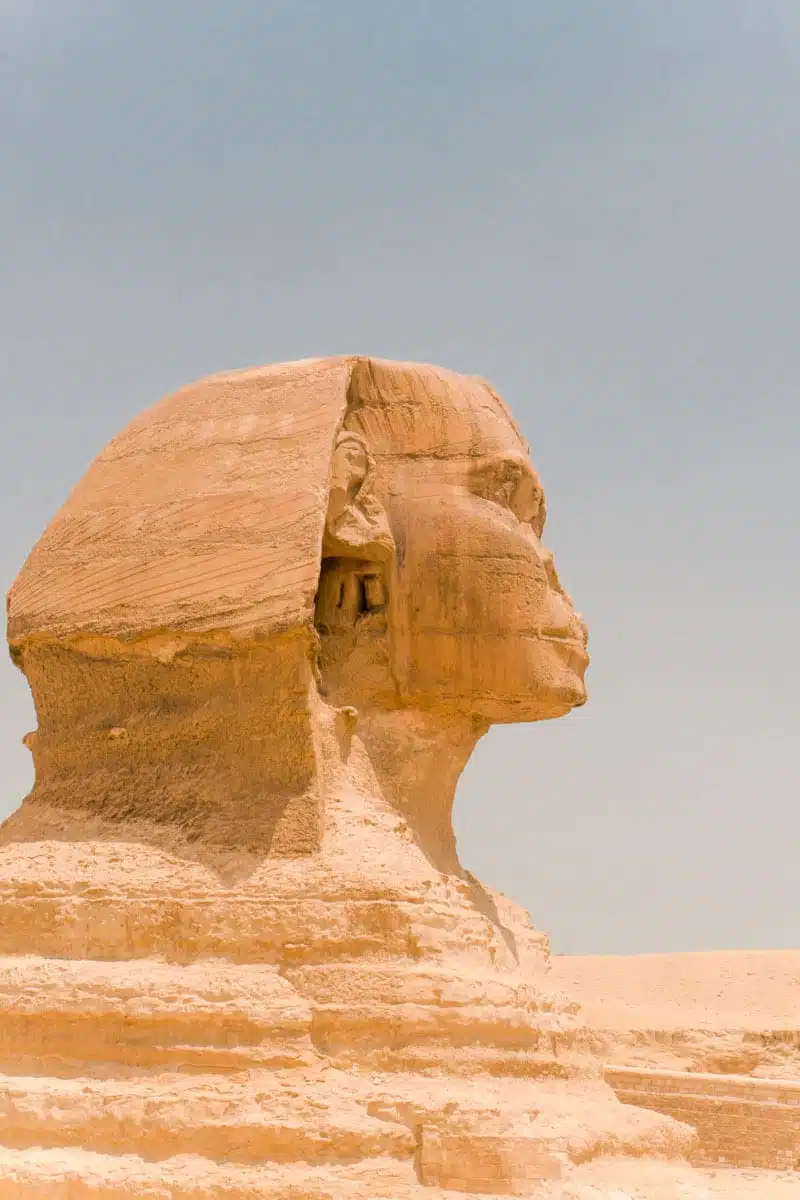 Looming 64 metres long and 25 metres high, I'll bet you've got a visit to see The Sphinx marked as a must on your Egypt itinerary. You're absolutely right to do so.
This curious statue was carved out of a single piece of bedrock. It depicts a lion's body with a human head – a meeting of power and wisdom to represent the pharaoh Khafre who commissioned it as part of his funerary complex.
Grand doesn't begin to cover it.
PS. You'll notice The Sphinx is missing its nose and its beard. The nose is completely MIA but you'll find the beard in The Louvre in Paris, plus a small fragment in the British Museum in London.
Explore The Collection at The Egyptian Museum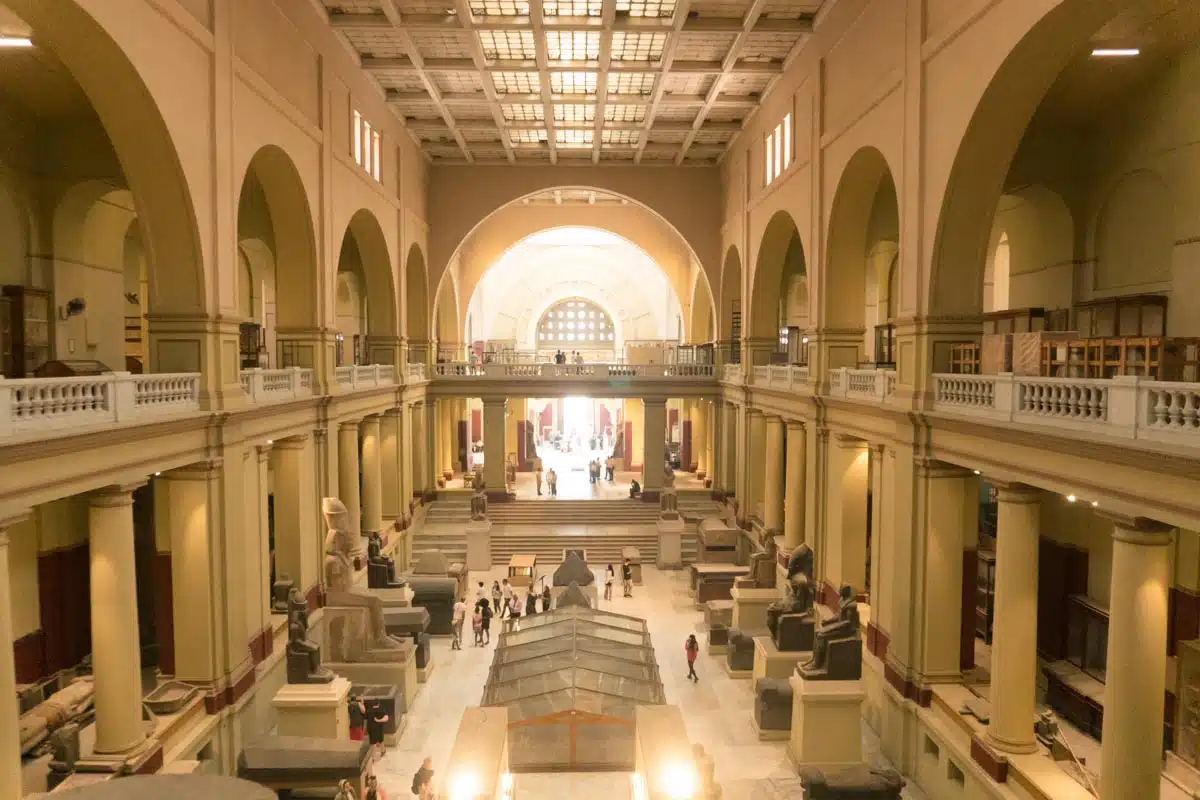 This historical 'vault' is the oldest museum of archaeology in the Middle East.
The Egyptian Museum holds an impressively large collection of the region's ancient artefacts dating from the Predynastic Period to the Greco-Roman Era.
A visit to Cairo's largest museum is an essential item on your 10-day Egypt itinerary. I would recommend spending at least a few hours wandering around its cavernous interior.
I spent about three hours and would say that was about right, but you could easily spend a whole day here and only scratch the surface.
The museum is also home to a collection of King Tutankhamun's belongings and objects from his tomb, including – wait for it – the stunning death mask we all know so well.
Top Tip: Cairo plans to open the world's largest archaeological museum in November (2022) to replace The Egyptian Museum. The Grand Egyptian Museum will house the complete King Tutankhamun collection and thousands of other artefacts and is set to be incredible.
See The Mummies at The National Museum of Egyptian Civilisation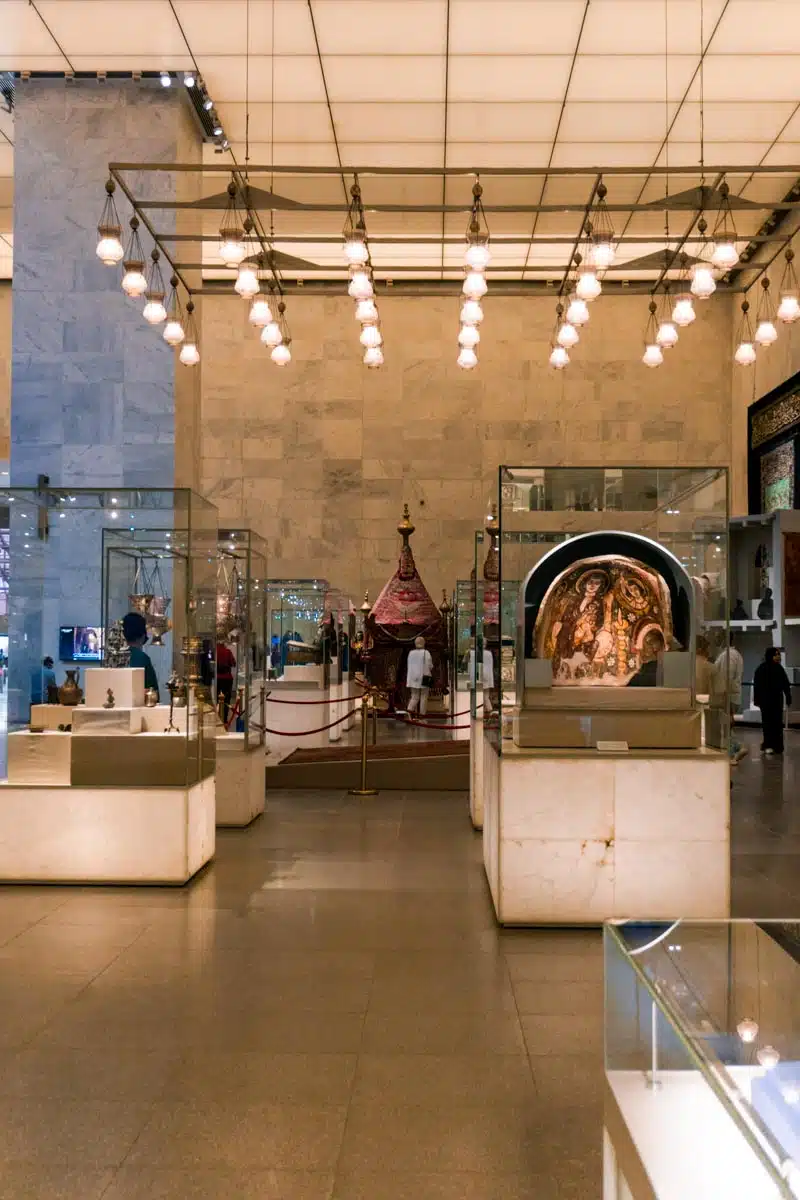 This fairly new museum in the Fustat region of Cairo displays over 50,000 artefacts that showcase the evolution of Egypt's civilisation from ancient times to the present day.
I have to be honest, after seeing everything in The Egyptian Museum, I wasn't sure whether The National Museum of Egyptian Civilisation would really be worth the effort.
It is. The two museums are vastly different and it's worth spending time visiting both.
Paying a visit to the National Museum of Egyptian Civilisation is a fantastic way to learn about past and present life in the country.
It is also home to a whopping collection of 22 of ancient Egypt's royal mummies (including Queen Hatshepsut and Ramses II), each one laid to rest in a dark maze of rooms with information about who they were and what they did during their lives.
Want to Make the Most Of It? Book a Guided Tour of The National Museum of Egyptian Civilisation
Egypt Travel Itinerary Day 3 – 4: Aswan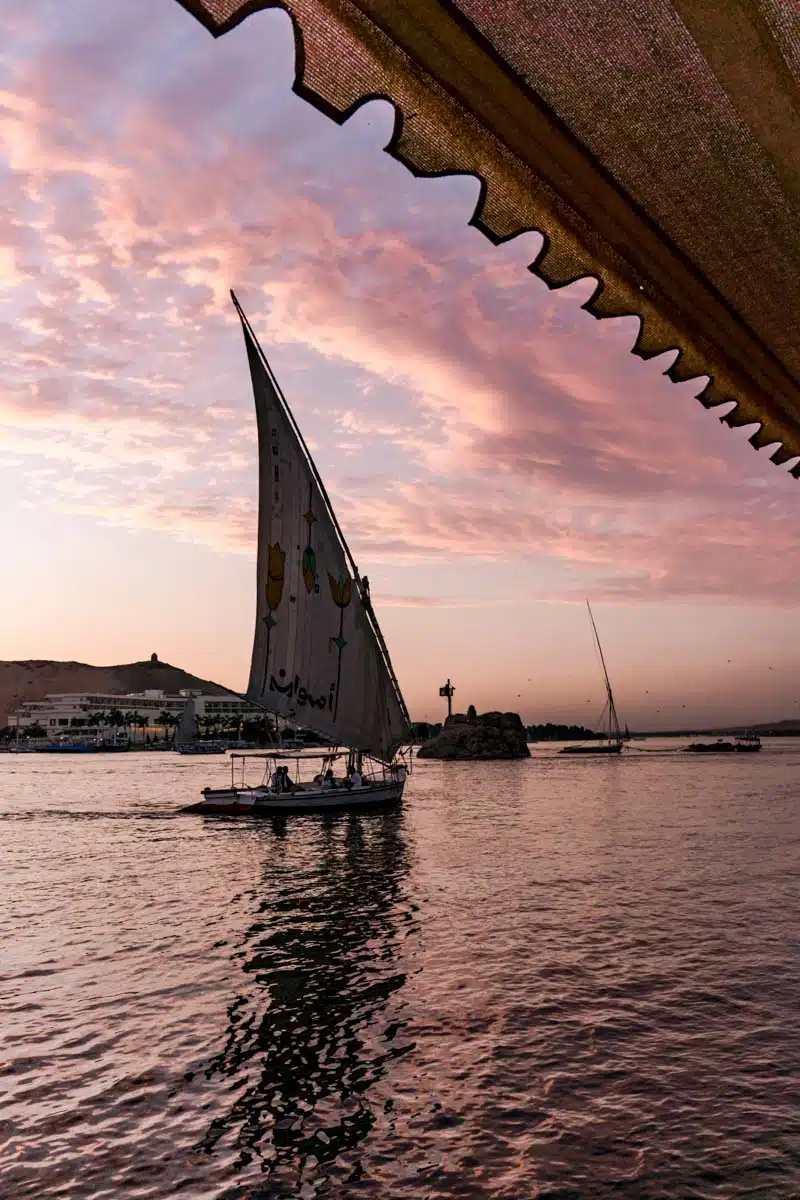 Oooh hello Aswan . Aswan was probably the destination during my ten days in Egypt that I knew least about.
Spoiler alert: by the time I came to leave, it was a close contender for my favourite spot on the trip.
Nestled in the south of the country, Aswan is different to Cairo in so many ways. It's a lot smaller for starters, as well as a significant Nubian population, who bring their own important culture and history to the city.
I should also mention it's a lot hotter – if you thought you were sweating it out in Cairo… just you wait.
Getting To Aswan from Cairo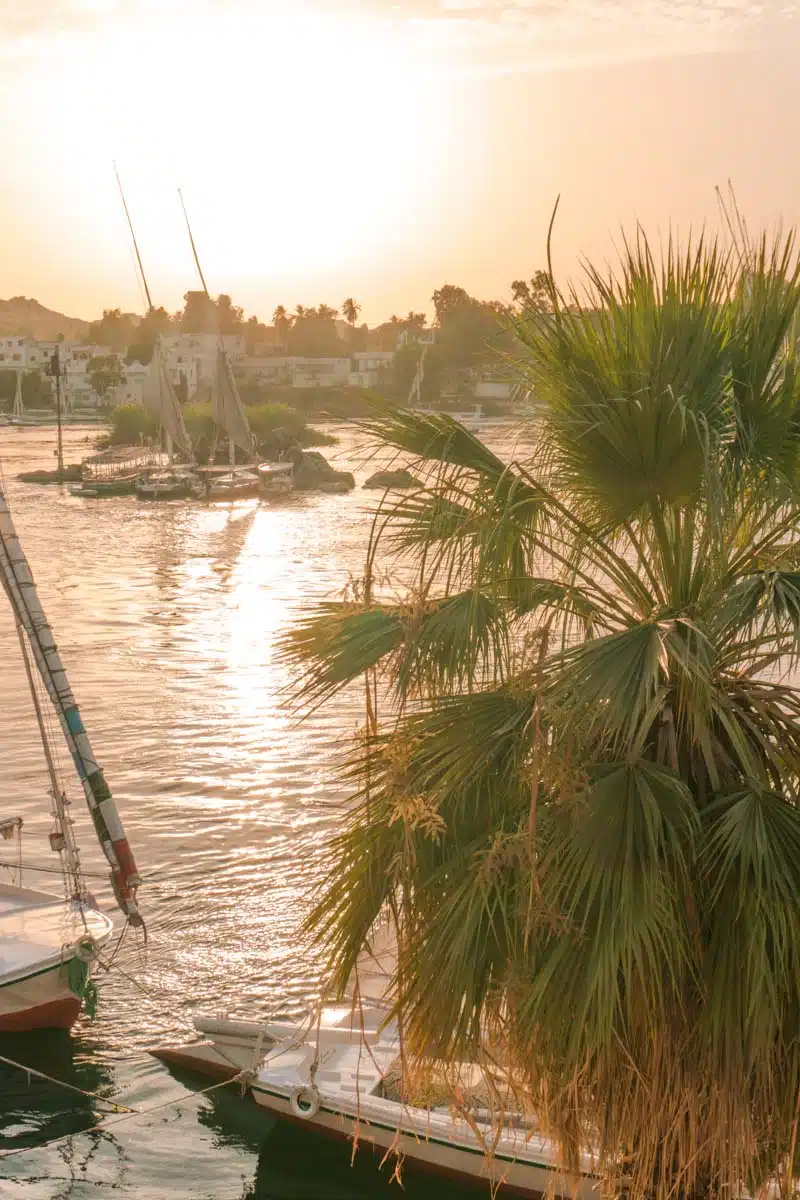 You can get from Cairo to Aswan by bus, plane, or train.
Want the quickest and easiest route? You can fly from Cairo to Aswan airport via Egypt Air. The flight is only about 1 hour and 20 minutes.
If you're OK with something slower (and a bit more rattly if we're honest) you can take an overnight sleeper train, which is what I did.
The journey on the sleeper train from Cairo to Aswan takes about 10 – 13 hours and includes meals. I enjoyed it, but I would recommend flying when it's time to return from Luxor to Cairo rather than doing the sleeper both ways.
Top Tip: Tourists are only allowed to book onto designated trains that leave from Giza Station (not Cairo station) – triple check before you book to avoid being denied boarding because you've booked the wrong train when you arrive.
Suggested Stay for Aswan on your Egypt Travel Itinerary
Aswan has a selection of great places to stay. The Sofitel Legend Old Cataract Hotel is one of the best choices of accommodation in this river-side city.
The hotel has four restaurants, a spa and a few bars available to guests. Their beautifully decorated and air-conditioned rooms are the perfect getaway after a long day.
Alternatively , the Obelisk Nile Hotel on the same stretch of The Nile offers more affordable but still very comfortable accommodation.
Things to do in Aswan
Learn about the nubian civilisation at the nubian museum.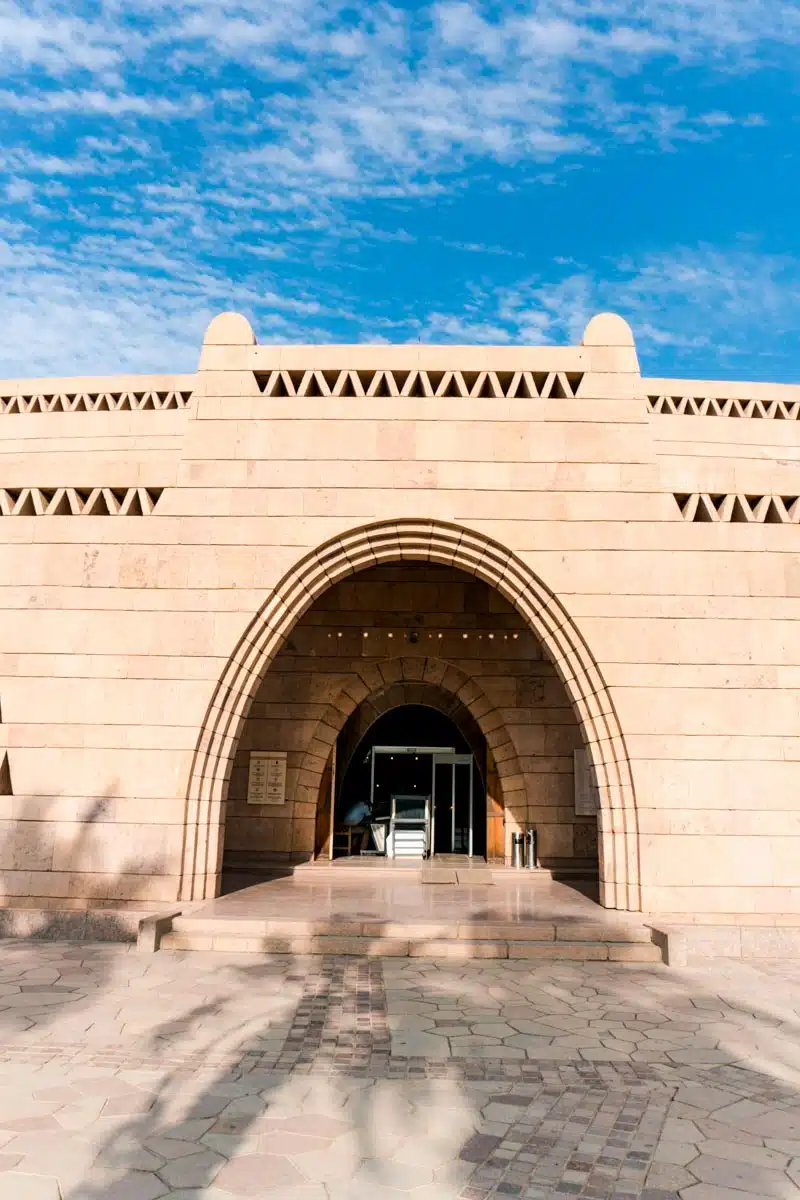 Chances are, you learnt something about the Ancient Egyptian civilisation at school, but what about the Nubian civilisation?
I'll forgive you if you draw a blank – I certainly did before I visited Aswan's stellar Nubian Museum , which opened its doors in 1997.
The building blends effortlessly into its landscape on the hillside of Aswan as a nod to ancient building styles and techniques.
The museum aims to display the region's complex history. Although the venue contains plenty of relics, the Nubian Museum focuses a lot on life in Nubia, like the ancient society's trading methods and their relationship with the people of Southern Egypt.
I definitely recommend it.
Chill Out in the Aswan Botanical Gardens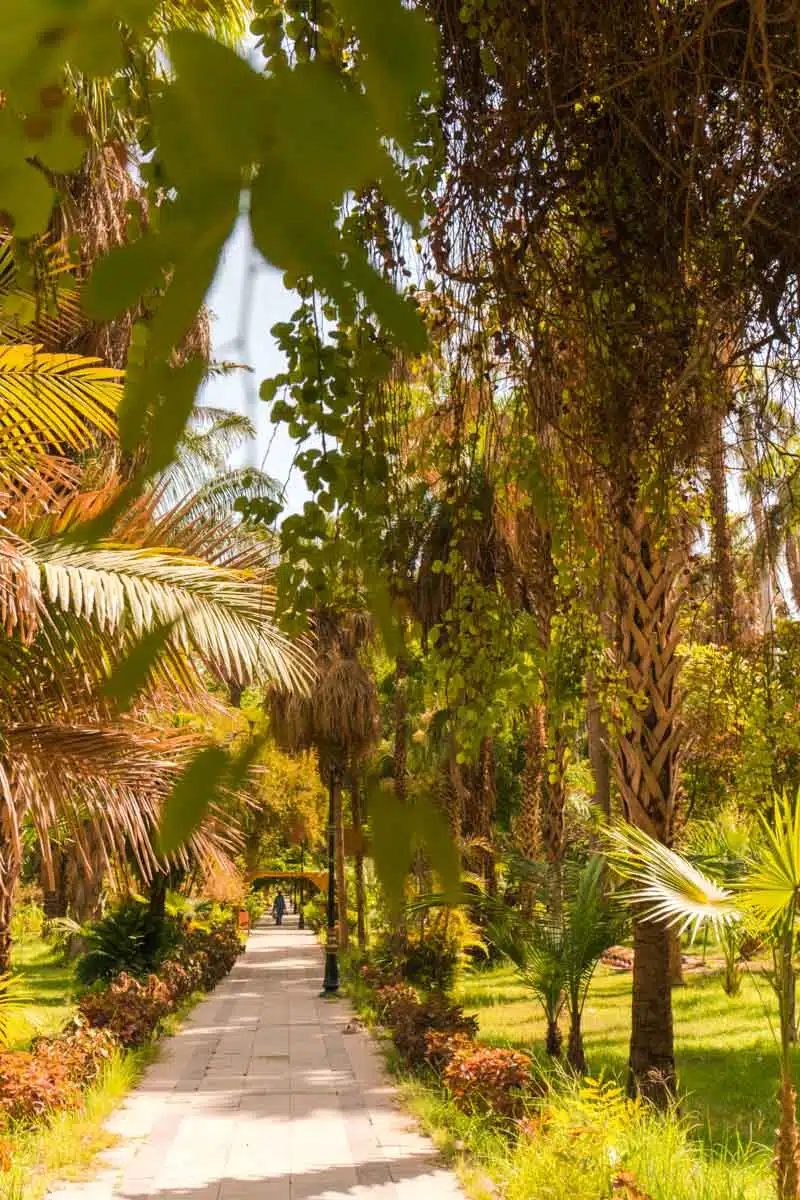 Aswan's southerly location means it's nothing short of sweltering – so the lush expanse of the Aswan Botanical Gardens comes as even more of a surprise.
Locals love this green retreat, as do the much-smaller number of visitors who hop across the Nile to go and explore.
The 6.8 hectares of the Botanical Gardens have hundreds of plant species from around Egypt, other parts of Africa and even Asia. You'll also find a variety of birds and many peaceful spots to admire the surrounding nature.
The gardens are a popular picnic spot for local groups and families, especially on Fridays and weekends.
Top Tip: You'll need to catch a boat to Kitchener's Island to visit the Botanical Gardens. The most popular jumping off point is from the jetty next to the McDonalds on the Corniche. Check how much you should pay with your hotel before you go – as with so much in Egypt, you'll have to barter to agree your fare.
See The Temple Complex at Philae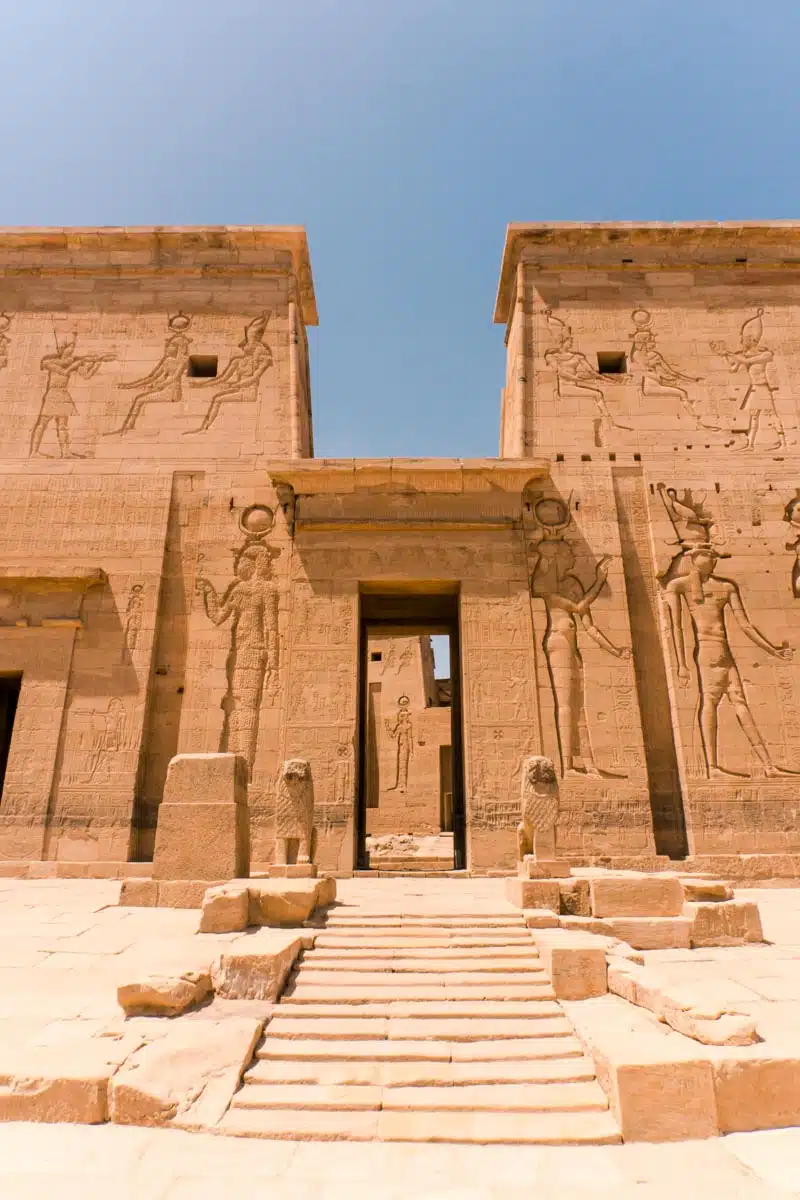 Philae is tucked away on the island of Agilkia – a jaw-dropping temple complex that will blow your mind (or at least swallow up a decent portion of your camera's memory card).
Rising from the waters of Lake Nasser, the only way to get to Philae is by boat – I *promise* that the first glimpse you get of Philae, its golden columns set surrounded by striking blue of sea and sky – will be one to remember.
Dedicated to Isis, Osiris and Horus – Philae dates back to the Greco-Roman period (it's thought to have been built around 280BC), and as such, looks quite different to some of the other older temples you'll see on this trip.
Fun fact: Did you know that UNESCO relocated Philae during the construction of the High Dam between 1958 and 1970.
Prior to that Philae had spent a significant period of time underwater ever since the Low Dam was constructed in 1902 but the High Dam would have completely submerged it permanently.
Spend Time in a Nubian Village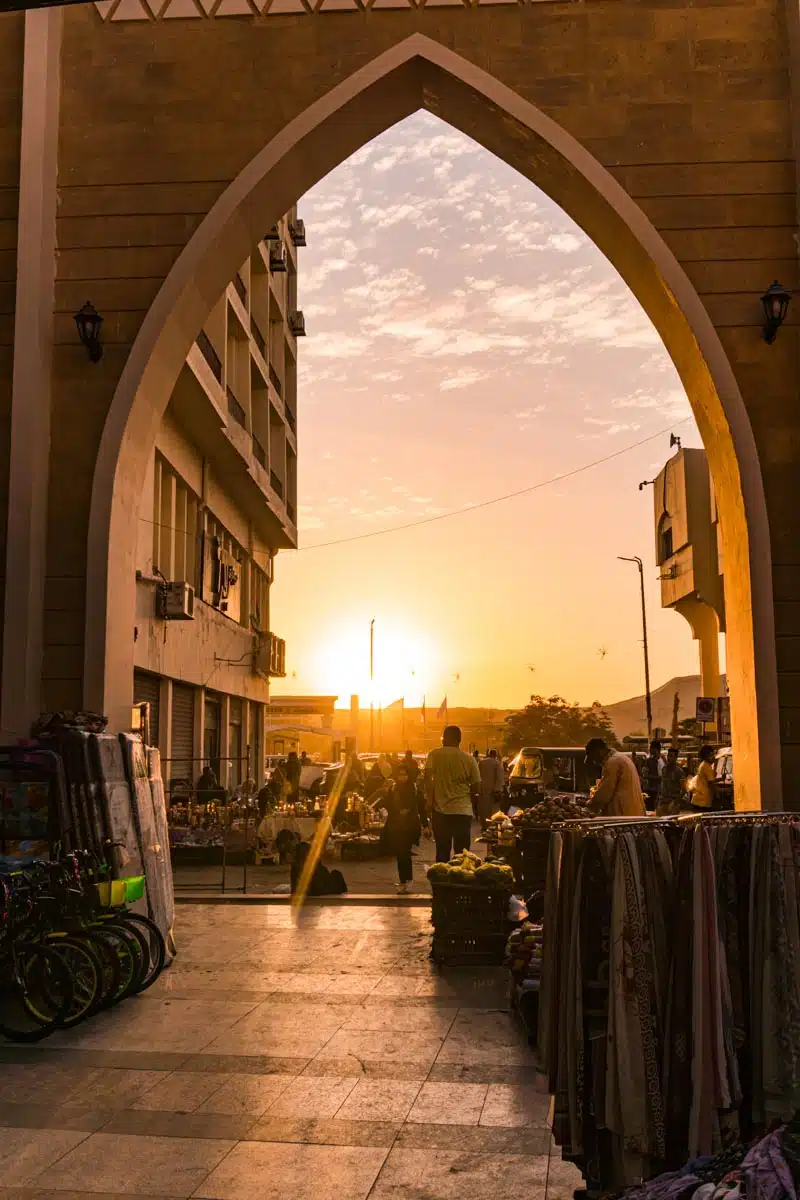 Set across the Nile from central Aswan, Aswan's so-called Nubian Villages are home to the area's sizable Nubian population.
These colourful villages are packed with jewel-toned homes, souvenir stores, restaurants, and accommodation.
We spent an evening having a traditional dinner at a Nubian family home , which I would recommend if you can – but even a short stroll around one of the villages makes for an interesting contrast with the city centre.
See the Unfinished Obelisk
It would have been the largest obelisk created by Ancient Egyptians… had it ever been finished.
Instead, all 1,200 tonnes of granite sit partially carved and uncovered in one of Aswan's quarries.
I'd probably rate it as quite interesting on a scale of boring to must-see, but worth popping into if you have a spare hour.
Stroll Along the Corniche at Sunset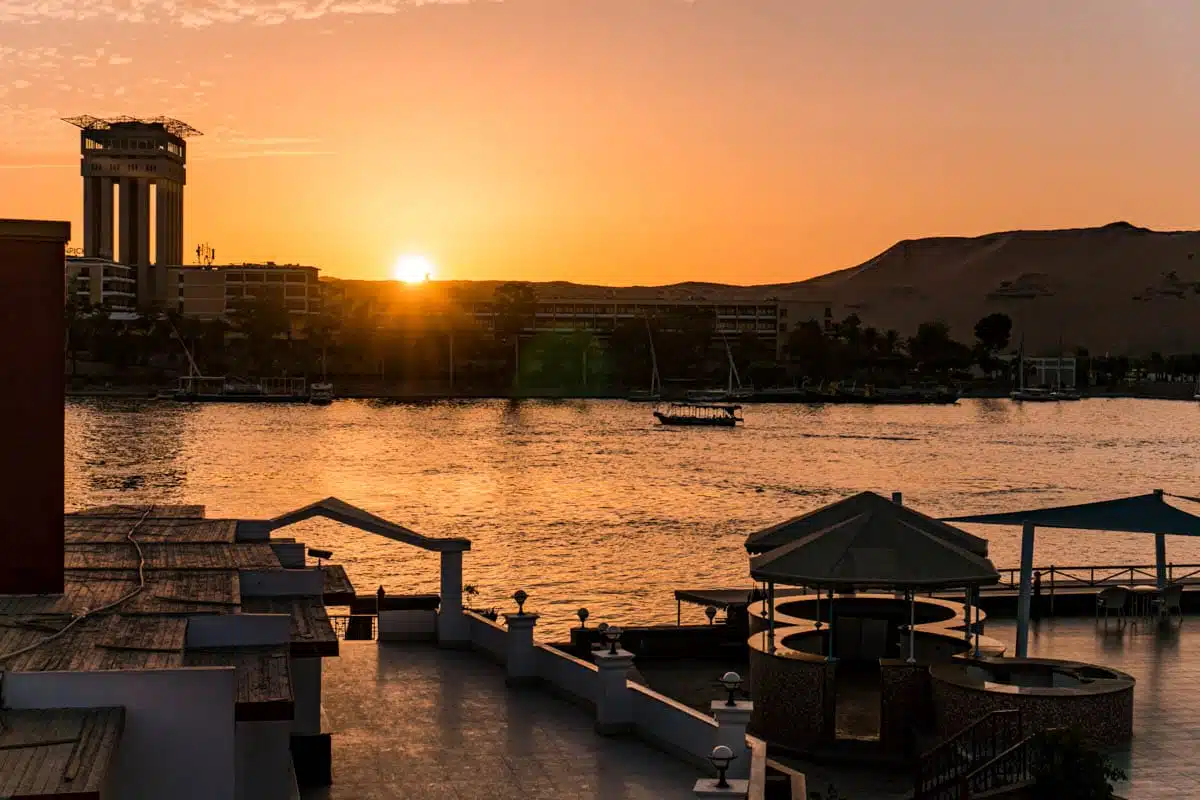 Aswan's undeniably pretty Corniche is the perfect location for a sunset riverside stroll.
Expect 3.7 kilometres of Nile views, punctuated by enticing cafes where you can cool off with a refreshing glass of lemon and mint and a glimpse at the luxury cruises that ply the route between Aswan and Luxor.
Oh, and all against the magnificent backdrop of the desert landscape and sites like The Tomb of the Nobles on Elephantine Island on the other side of the river.
Egypt Itinerary Day 5: Day Trip to Abu Simbel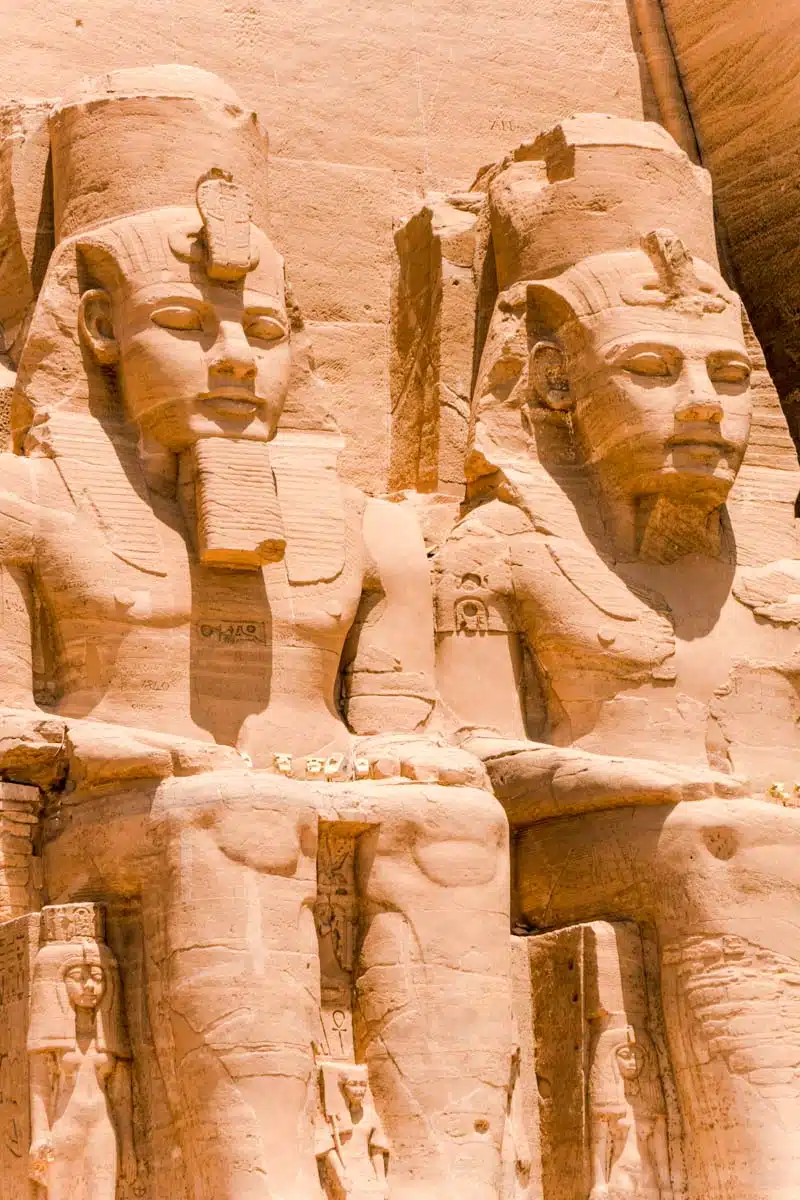 You didn't think we were going to come as far as Aswan but not take a little trip to one of Egypt's most iconic landmarks did you?
I'm talking about Abu Simbel of course. A magnificent temple complex of two temples built close to the Sudanese border and looking down on the croc-filled waters of Lake Nasser.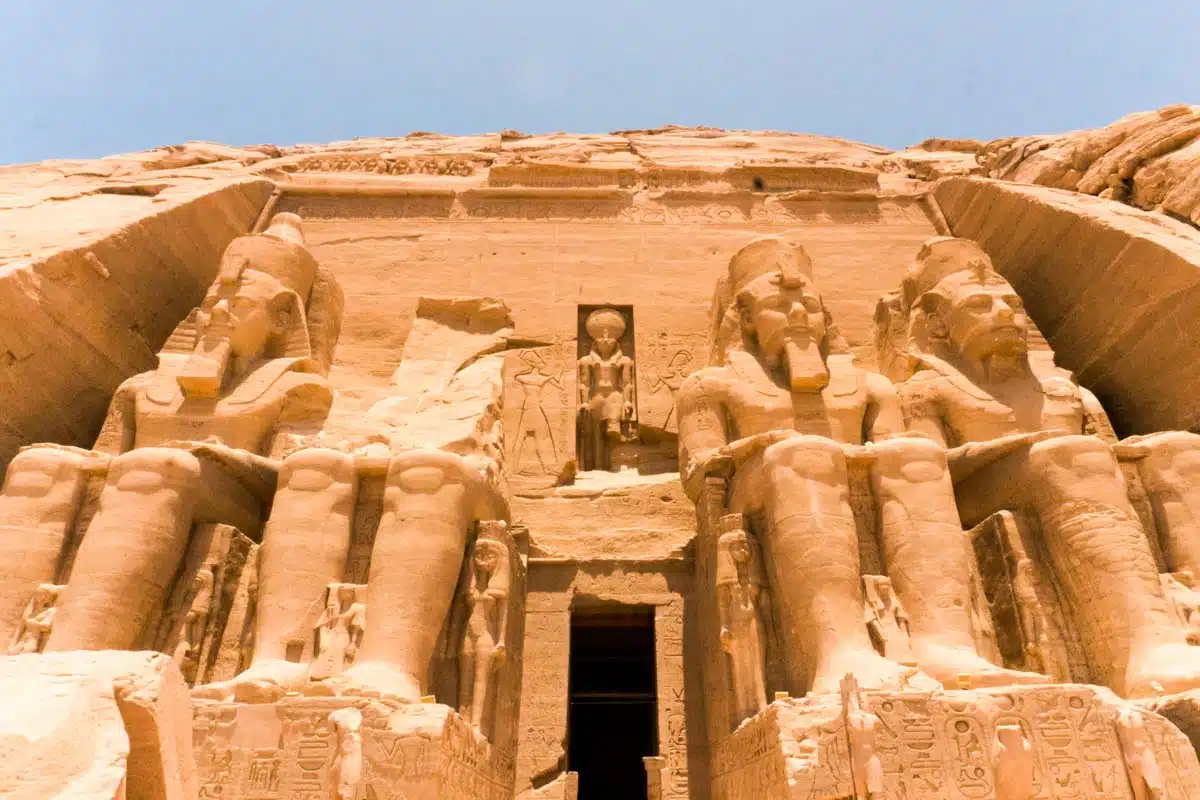 Look, I'll level with you – a day trip to Abu Simbel involves either a horrendously early start or a kind of early start, depending on whether you get the bus or fly. Either way, don't question it – it will be worth it.
Rameses II built both temples at Abu Simbel – one for him and one for his much-beloved wife Nefertari.
Sure, the Main Temple feels a little bit like an ego-trip.
We're talking colossal 20-metre statues of the King mark the entrance to the main temple and there are so many carvings of Ramses' lordly exploits inside that it's impossible to keep track of them.
But my god, it's stunning.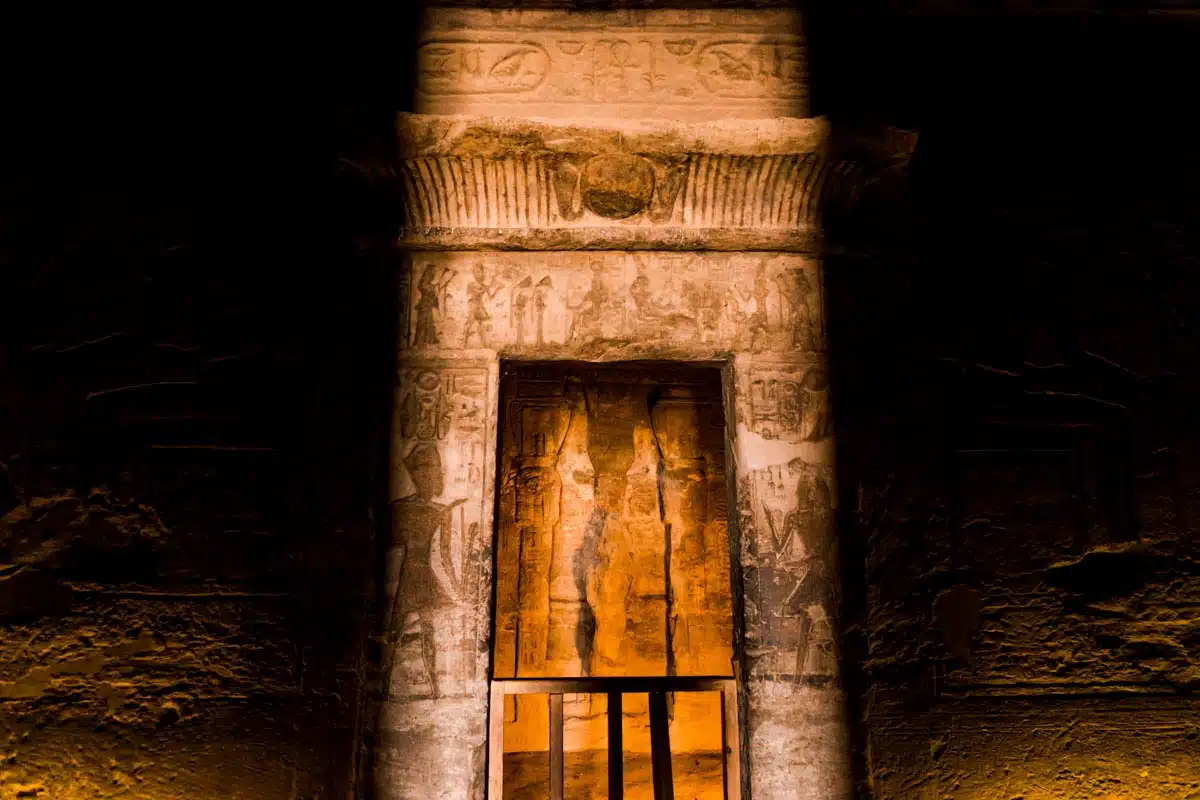 The giant faces of four Ramses at different ages staring down at you before you enter the main temple, itself an elaborate construction carved with intricate hieroglyphs and stories – it's impossible not to feel its grandeur.
Don't forget to spend some time in the much smaller Temple of Nefertari either – it's still emblazoned with Ramses' face outside, but inside is distinctly different to the main temple.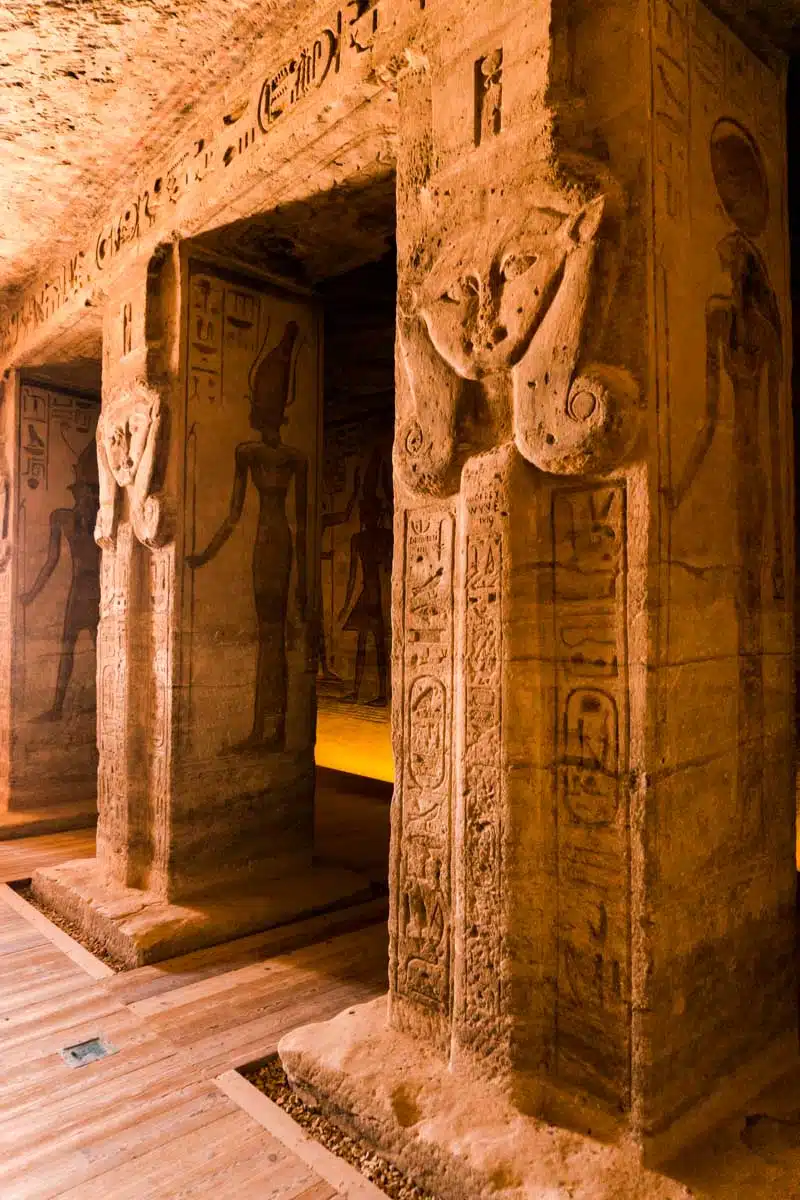 Instead of the glories of Ramses in battle, it contains depictions of daily religious ceremonies and images of the goddess Hathor to which it's dedicated alongside Nefertari.
Planning Your Day Trip from Aswan to Abu Simbel
As I mentioned above, there are two ways to do a day trip from Aswan to Abu Simbel: by bus / car (which takes a lot longer) or by plane (which is more expensive).
The flight from Aswan to Abu Simbel takes about 30-40 minutes. Prices vary depending on season but expect to pay around £200.
You can also book this Abu Simbel By Plane Tour.
If you're going by bus / car, the journey takes between three to four hours each way.
Egypt Itinerary Day 6-7: Nile Felucca (Or Luxury Cruise)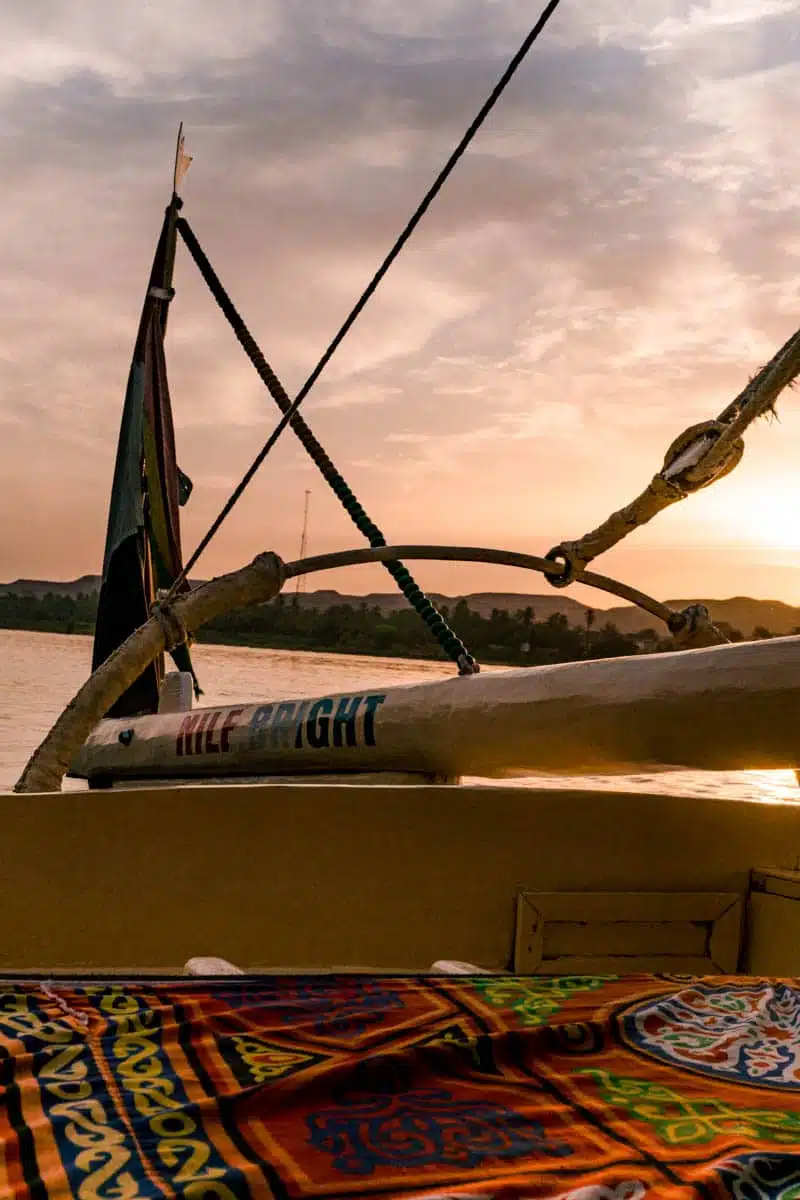 We've spent so much time ogling the beautiful Nile – now it's time to hop aboard a traditional Egyptian felucca for a sailing odyssey up towards Luxor.
Feluccas are traditional boats made from solid wood with canvas sails.
Originating from Northern Africa, particularly Egypt and Sudan, they're a great way to travel along The Nile at a slower pace.
You have quite a few options when it comes to boat trips along the Nile – whether it's sailing all the way to Luxor on a luxury cruise boat or a smaller (but still high-end dahibbaya) but a felucca is a delight if you want to take things at a slow (and silent) pace.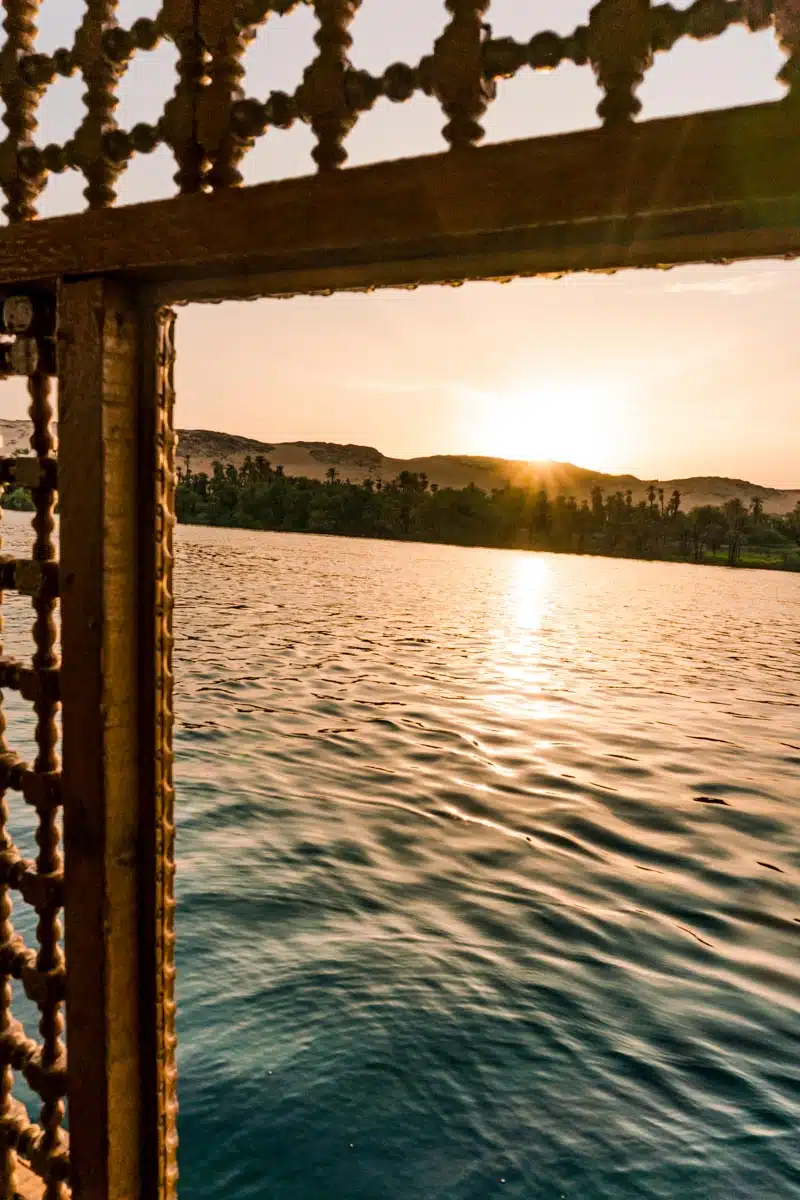 Waking up on a remote part of the Nile as the sun rises over the desert is worth the trip alone.
The downside of getting a felucca is that you can't travel all the way up to Luxor as you can with a motorised boat.
That's because feluccas are not allowed to use the Esna Lock south of Luxor… not to mention the fact that it would take an incredibly long time to get there.
Almost all felucca trips include minibus transport from your docking point to Luxor – some even stop at Edfu and Kom Ombo temples along the way.
Egypt Itinerary Day 7 – 9: Luxor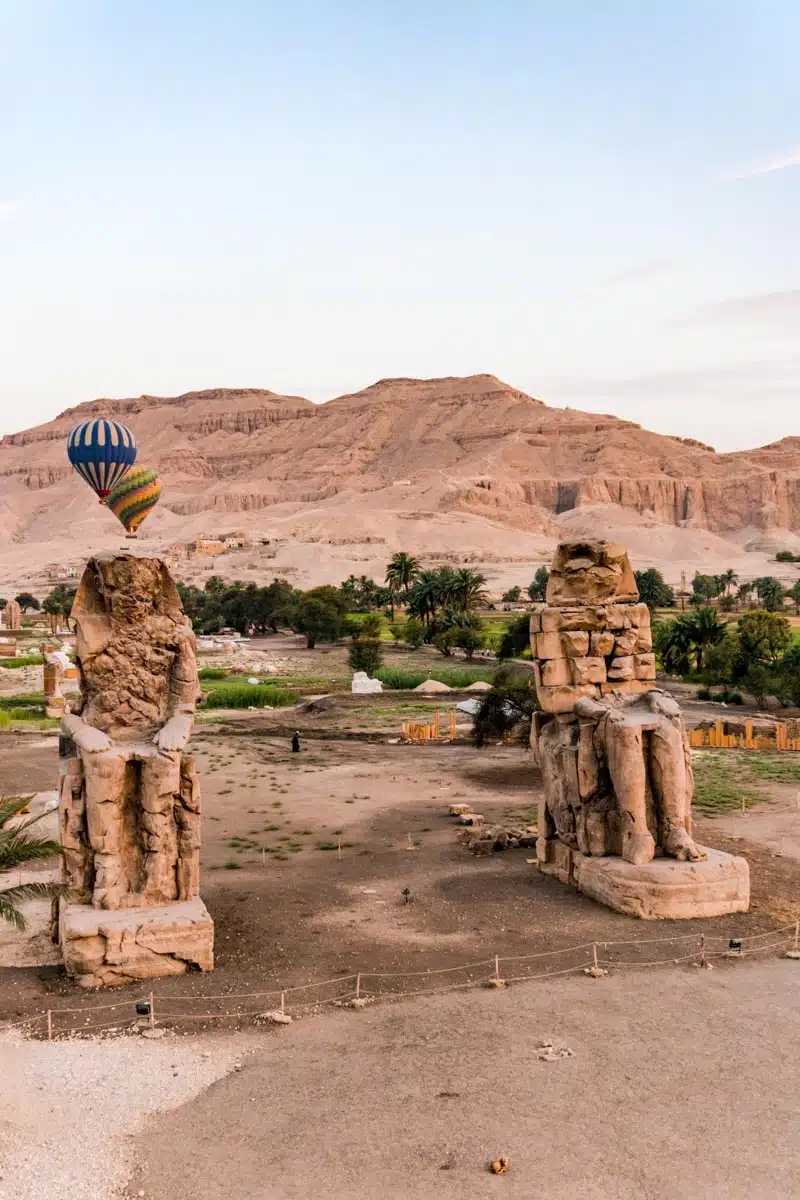 Luxor is home to many of Egypt's big sightseeing hitters.
The Valley of the Kings ? Check. Karnak ? Check. The Mortuary Temple of Hatshepsut ? Check, check, check.
The seat of Ancient Egyptian power during 16th – 11th centuries B.C (when it was called Thebes), Luxor played an important role in the country's history and has the relics to prove it.
Where better for us to spend a couple of days gallivanting around tombs, ruins and museums? I'll wait.
Getting to Luxor
The fastest way to get from Aswan to Luxor is to fly – with a flight time of 35 minutes. Other options include a boat trip (discussed above), bus (3 hours) or train (also 3 hours).
Suggested Stay for Luxor on your 10-day Egypt Itinerary
Susanna Hotel is the ideal location for your stay in Luxor. This hotel facing the Luxor Temple and the Nile River offers comfortable and affordable accommodation in the city's heart. All rooms are fully air-conditioned, with satellite TV and a private balcony.
Things to do in Luxor
See history come to life in the valley of the kings.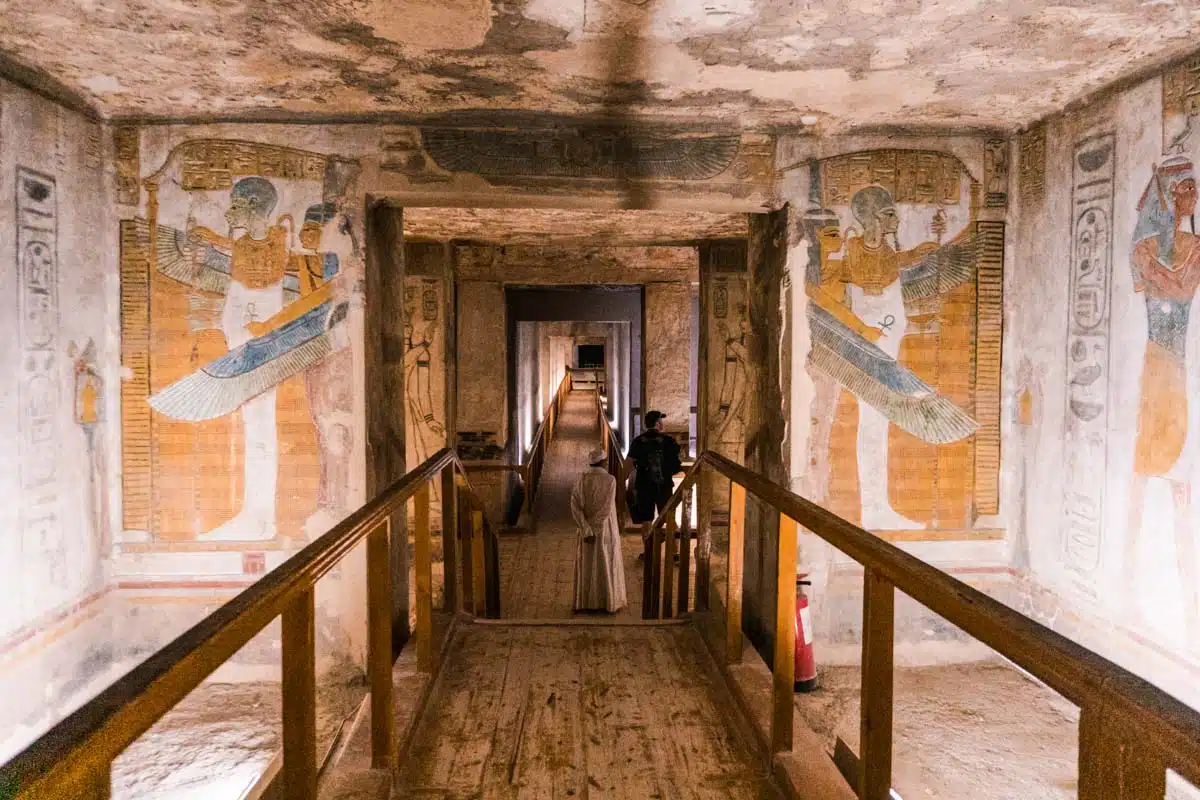 Egypt's best-known necropolis, The Valley of the Kings served as a burial ground for Egypt's Kings of the 18th, 19th and 20th dynasties – a period of over 500 years.
So much of Ancient Egyptian civilisation was based around the idea of an afterlife – the second life that, in many ways, was more important than the first because it was for eternity.
Keeping the body intact for the afterlife was paramount – even better if you could have a plush tomb or burial spot to mark your passage and protect your mummified body too.
And so The Valley of the Kings came to be. A maze of tombs of Egyptian rulers, kitted out with the materials they would need in the next life.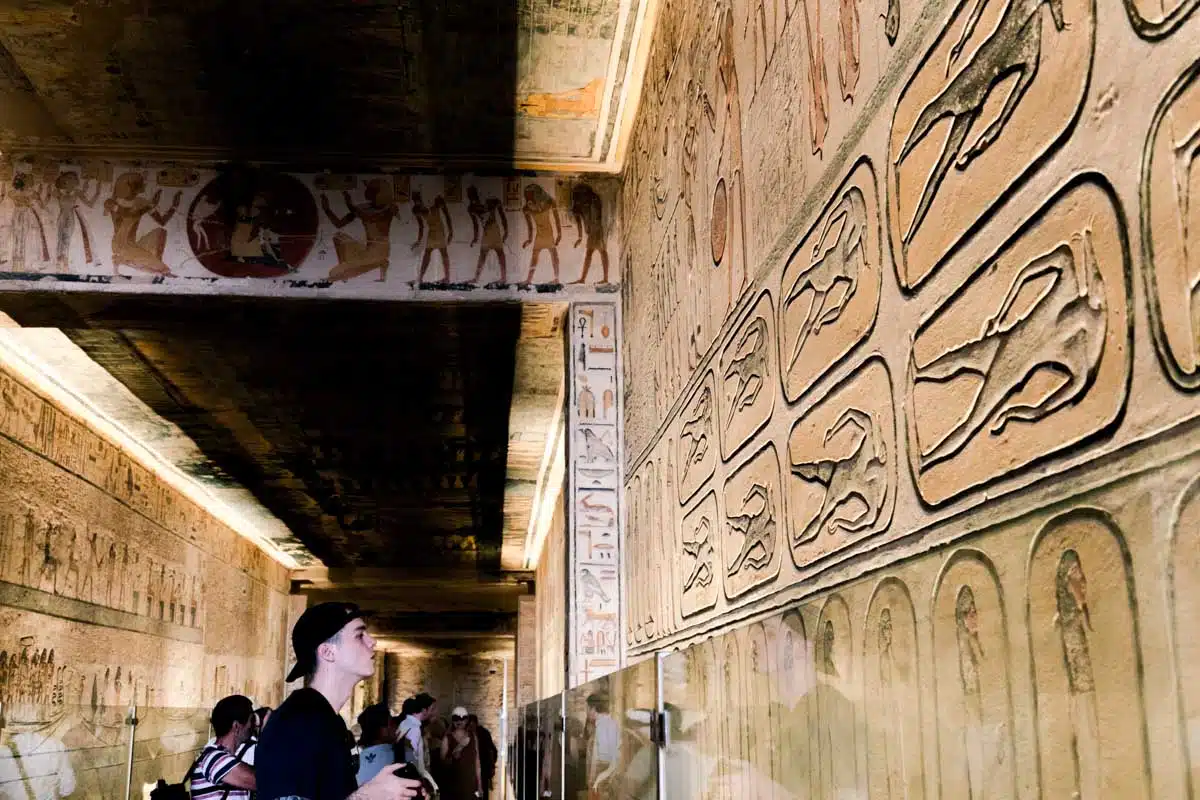 Today, only a handful of the 60+ tombs are open to the public. Your general ticket includes entrance to some – such as the tomb of Merenptah, Ramses IX and the joint tobs of Tausert and Setnakht.
Others, like that of Tutankhamun and Seti I, you have to pay extra for. It's definitely worth paying the extra for Tutankhamun's tomb – although it's very small, it's the only tomb in the valley you can visit that still has the mummy inside.
ancient Egyptians believed in a complex after-death process. To protect the sanctity of their royal burials, they began burying their monarchs in hidden tombs around the valley.
And Visit Nefertari's Tomb in The Valley of the Queens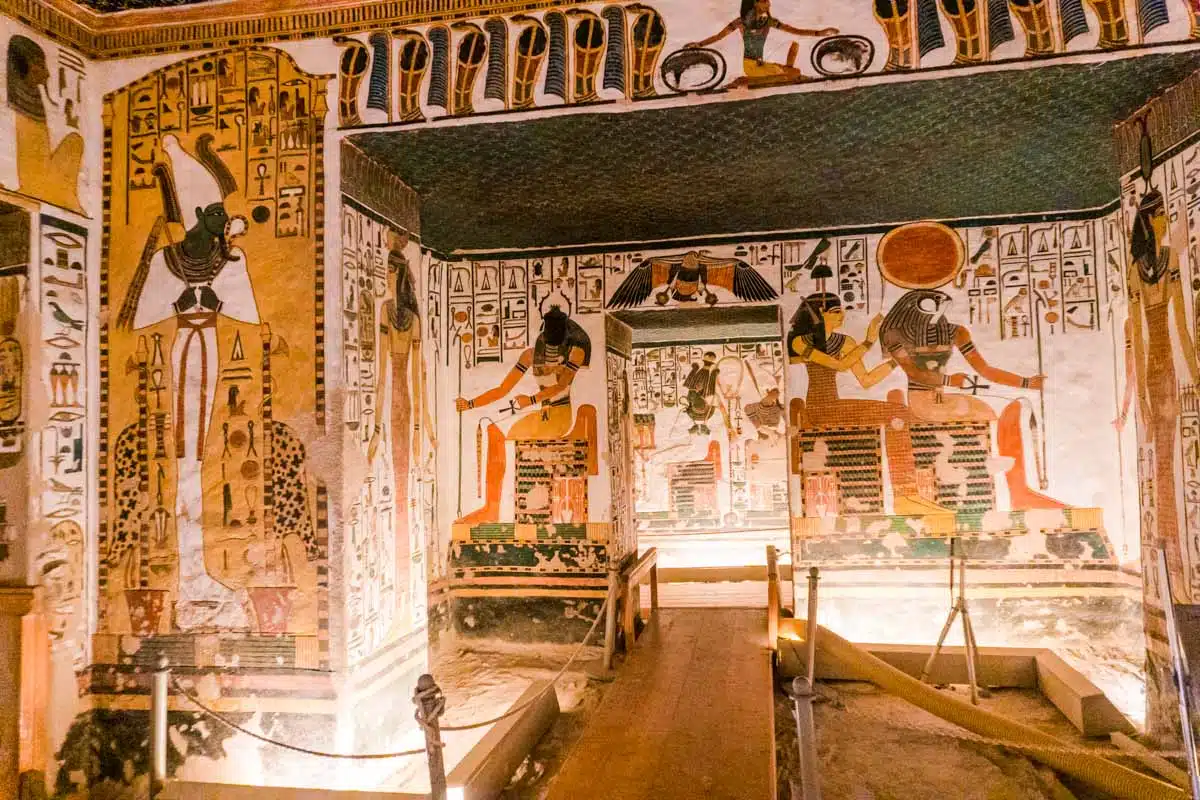 Although it's only a short distance from The Valley of the Kings, the Valley of the Queens doesn't make it onto nearly as many visitors' radars – which is a total win for you as it's much quieter.
I'll let you in on a little secret now. The Valley of the Queens is home to the most stunning tomb in Egypt AND its quieter location means there's a good chance you will have it to yourself.
Just like the Valley of the Kings, the Valley of the Queens was a burial ground for Egypt's princes and queens. In ancient times, Egyptians called it 'the place of beauty' and today it's estimated to hold over 100 tombs.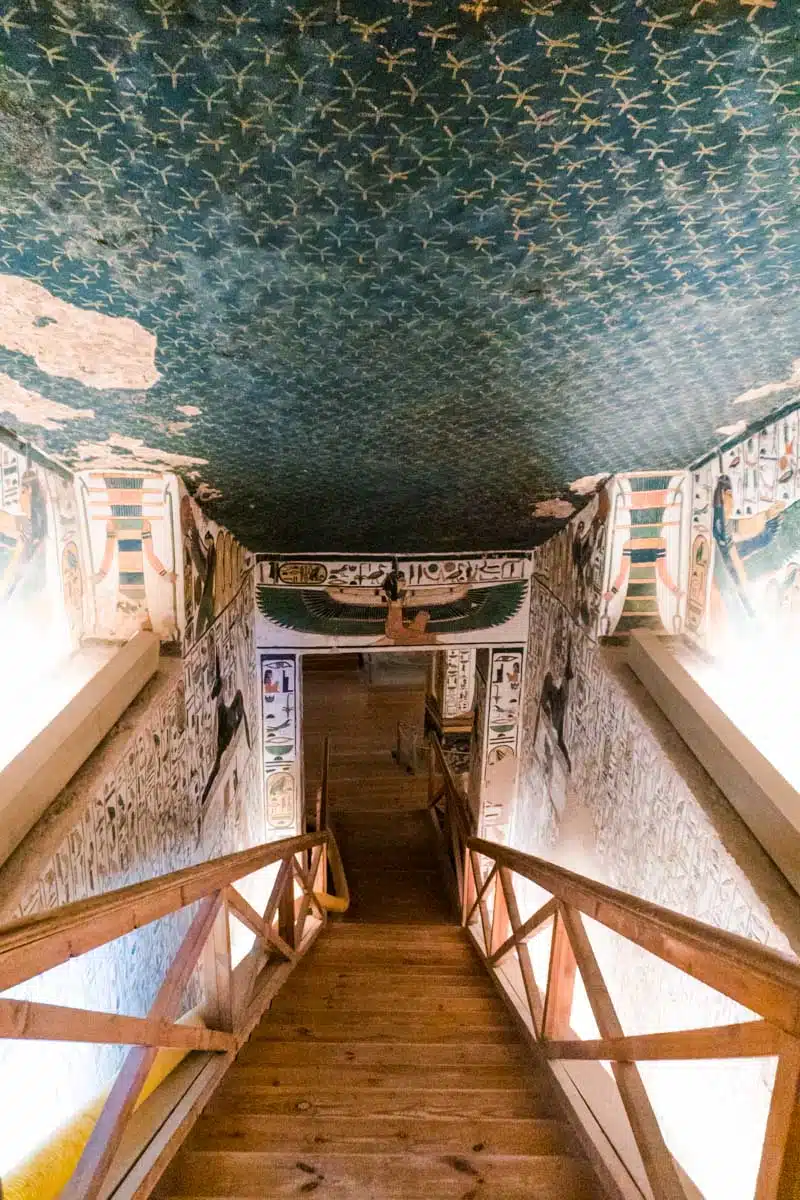 There are a couple of tombs that are open to the public and included with the general entry ticket – namely the Tomb of Tanedjemet and the Tomb of Amun-her-khepeshef but you'll need to pay extra to see the valley's gem, The Tomb of Nefertari .
Just as Ramses II built a temple for his much-loved wife Nefertari down at Abu Simbel, he lavished no end of expense on her tomb.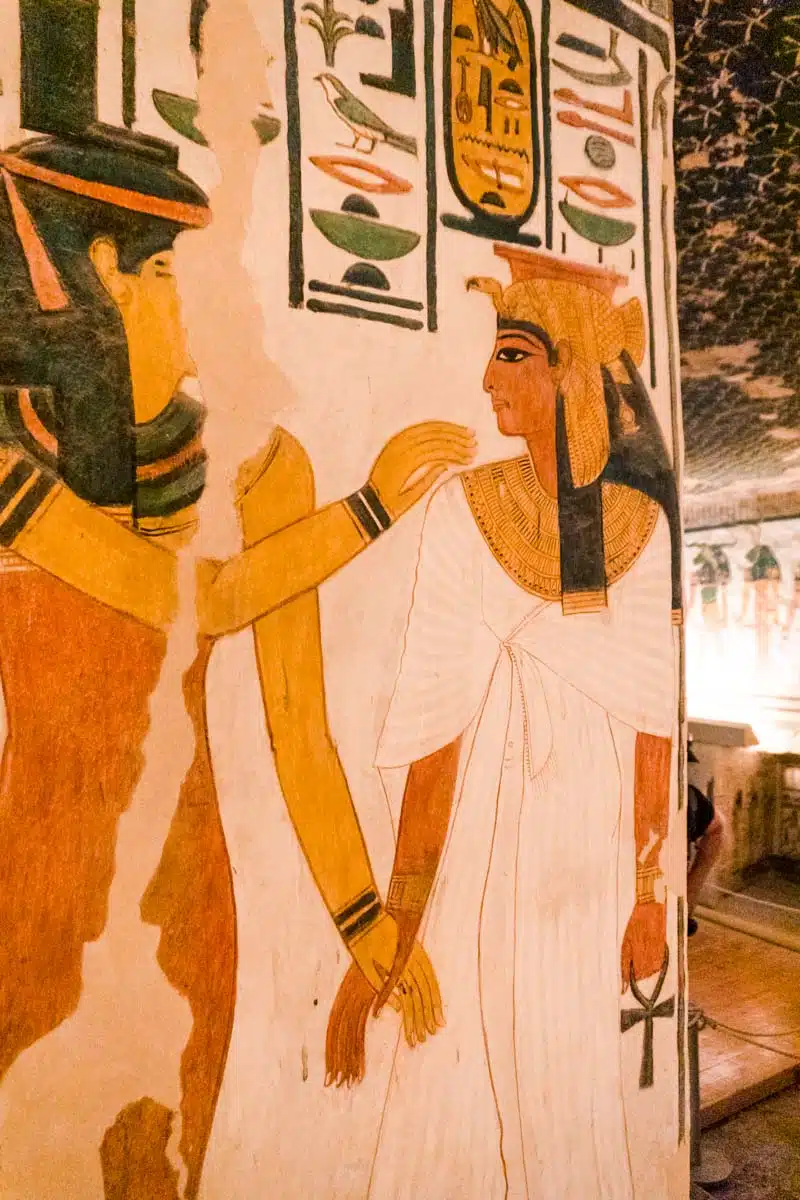 It is slathered in colourful depictions of Nefertari's life and character. It goes by the nickname of The Sistine Chapel of Egypt – once glance alone is enough to confirm why.
Explore the Karnak Temple Complex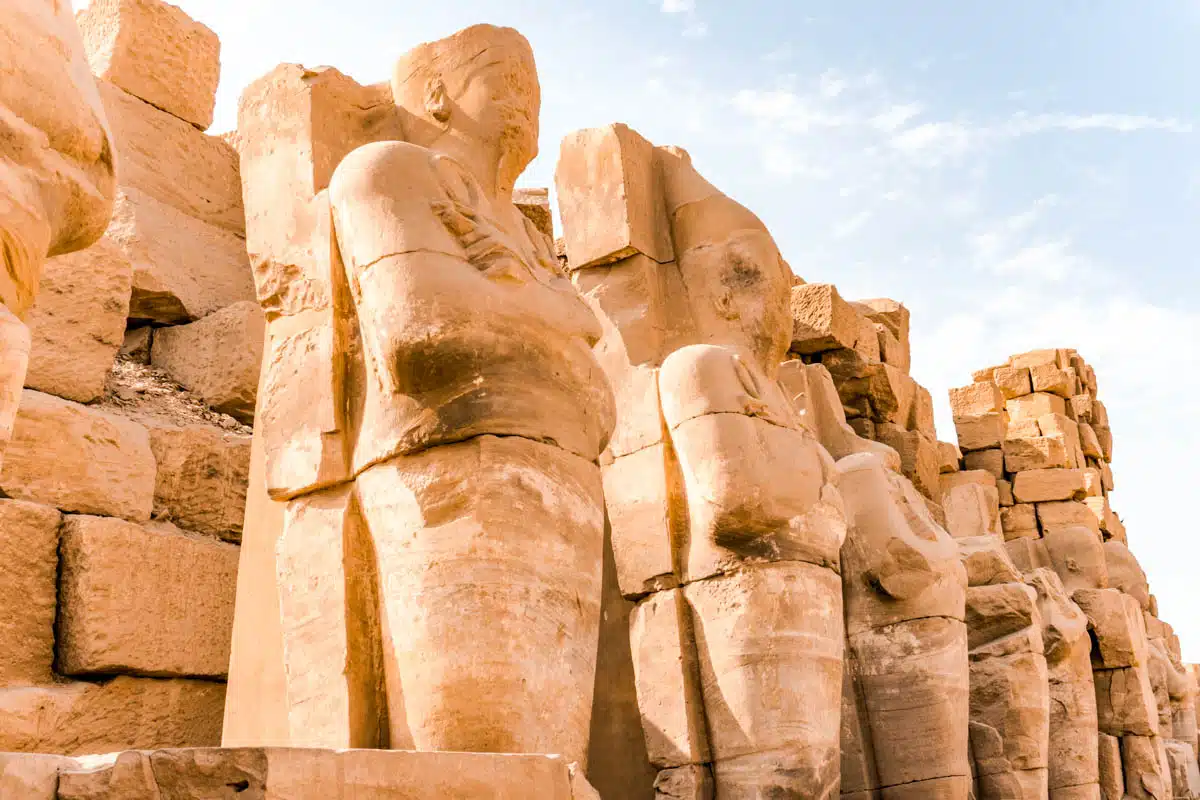 It's kind of tough to get your head around the scale of Karnak . It. Is. Vast.
Look – Karnak is no secret – it's the second-most visited destination in Egypt after the Pyramids of Giza after all.
To put it bluntly, if you're going to skip anything on this Egypt itinerary, Karnak is not it.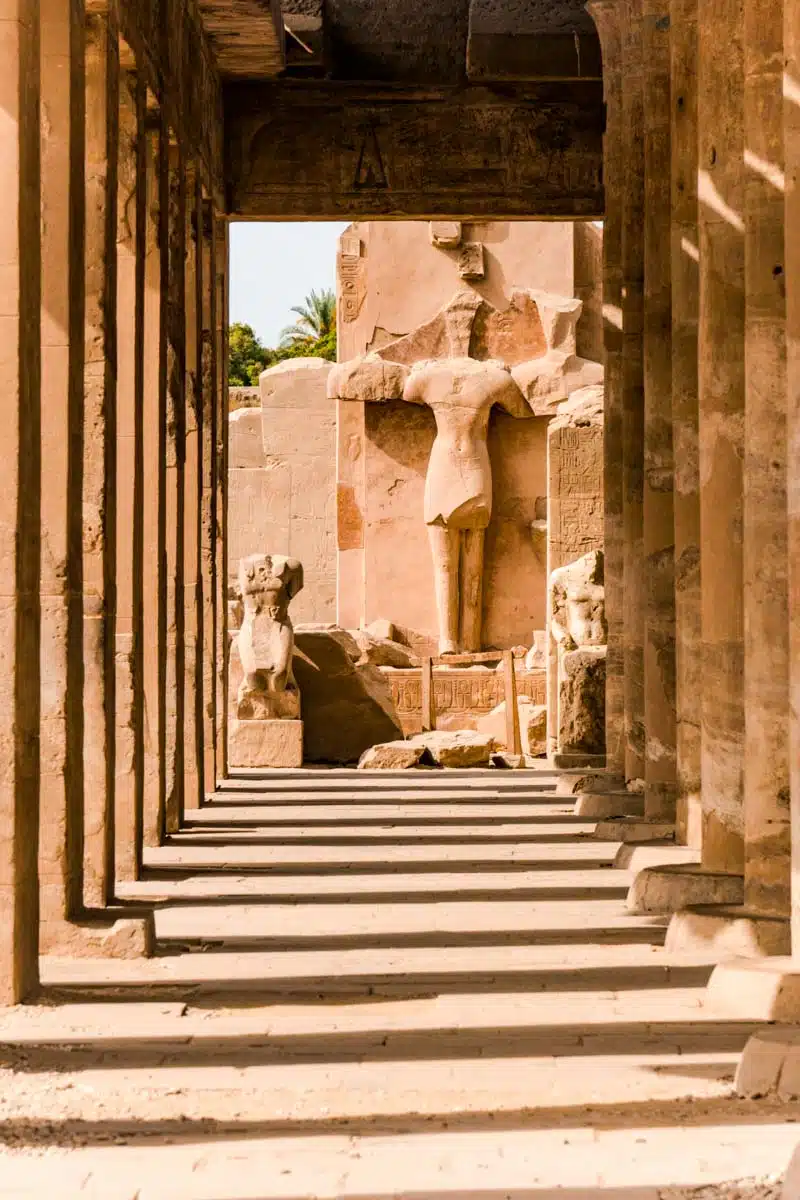 Built over the reigns of thirty (yes, thirty) pharaohs, it's best-known for the monumental Hypostyle Hall containing 134 gargantuan pillars decorated with elaborate carvings.
Outside of that, there's a lot more to see in the Precinct of Amun-Re – the only section of the complex that's open to the public (don't worry… it's big enough).
Take at least a few hours to explore… but also wear a hat and bring plenty of water too.
Take a Sunrise Hot Air Balloon Flight by The Valley of the Kings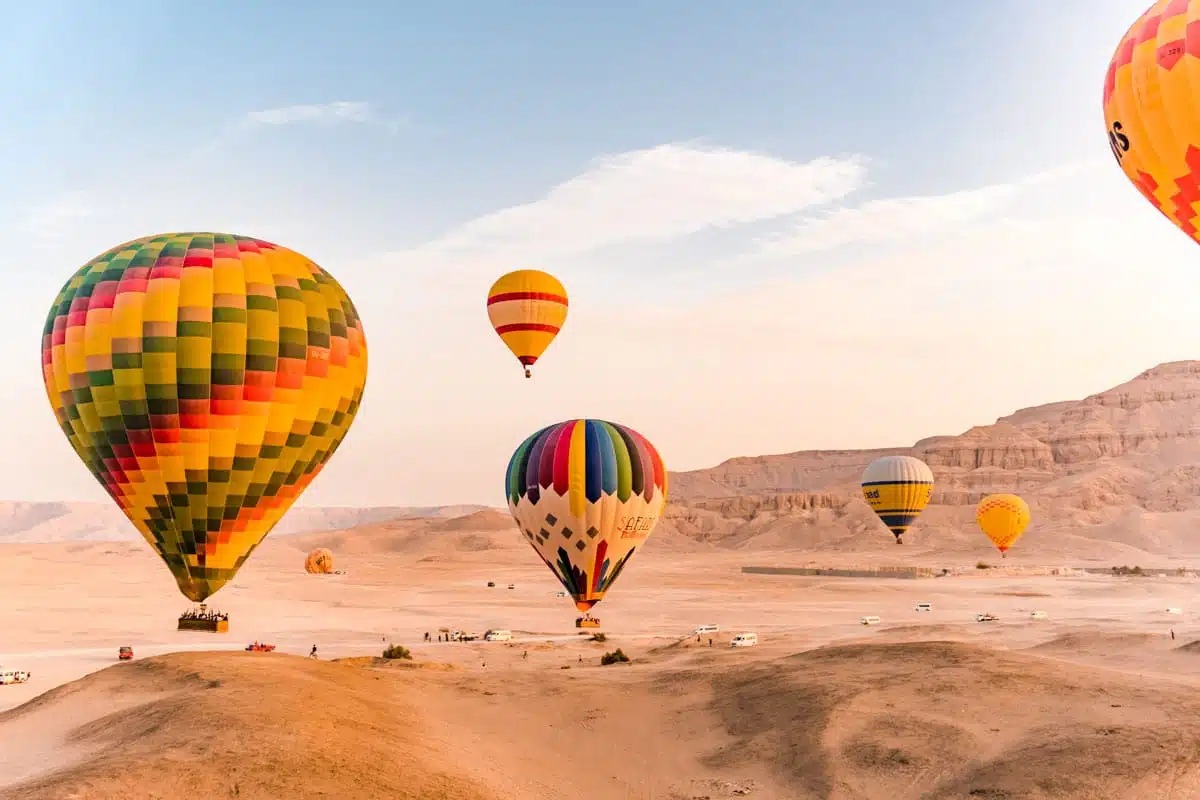 The early bird catches the outstanding views of Luxor from above on this sunrise hot air balloon adventure .
Isn't that how the old saying goes?
I loved taking the hot air balloon over the Valley of the Kings.
Yes, it meant a 3am wake up (fun!) and if you're anything like me, you're always going to have some funny feelings about being suspended from the sky using air but put your qualms aside because it is beautiful.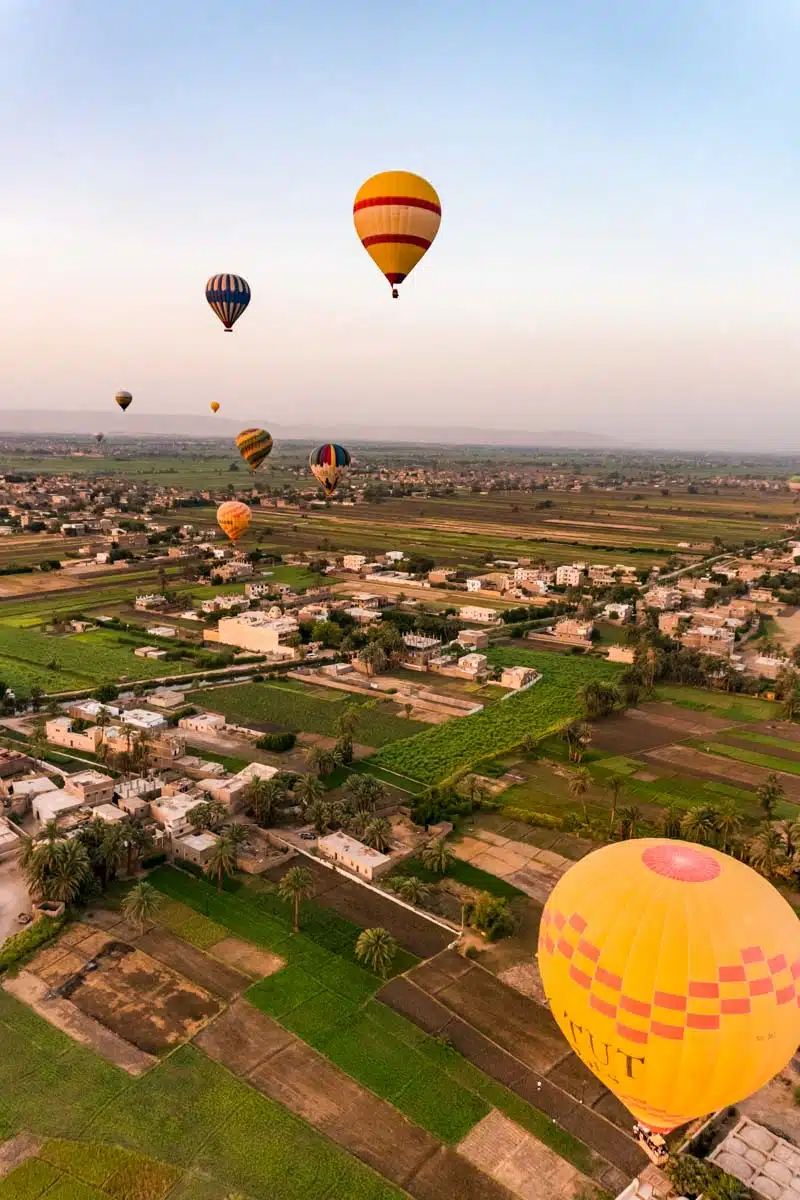 The magical view of Luxor's temples, the Valley of the Kings and the Nile River from the sky are incomparable. You'll even get to see cool spots like the Colossi of Memnon from above.
Pretty much every hot air balloon tour includes pick-up from your hotel, snacks along the way and a boat transfer across the Nile to the West Bank.
See the Mortuary Temple of Hatshepsut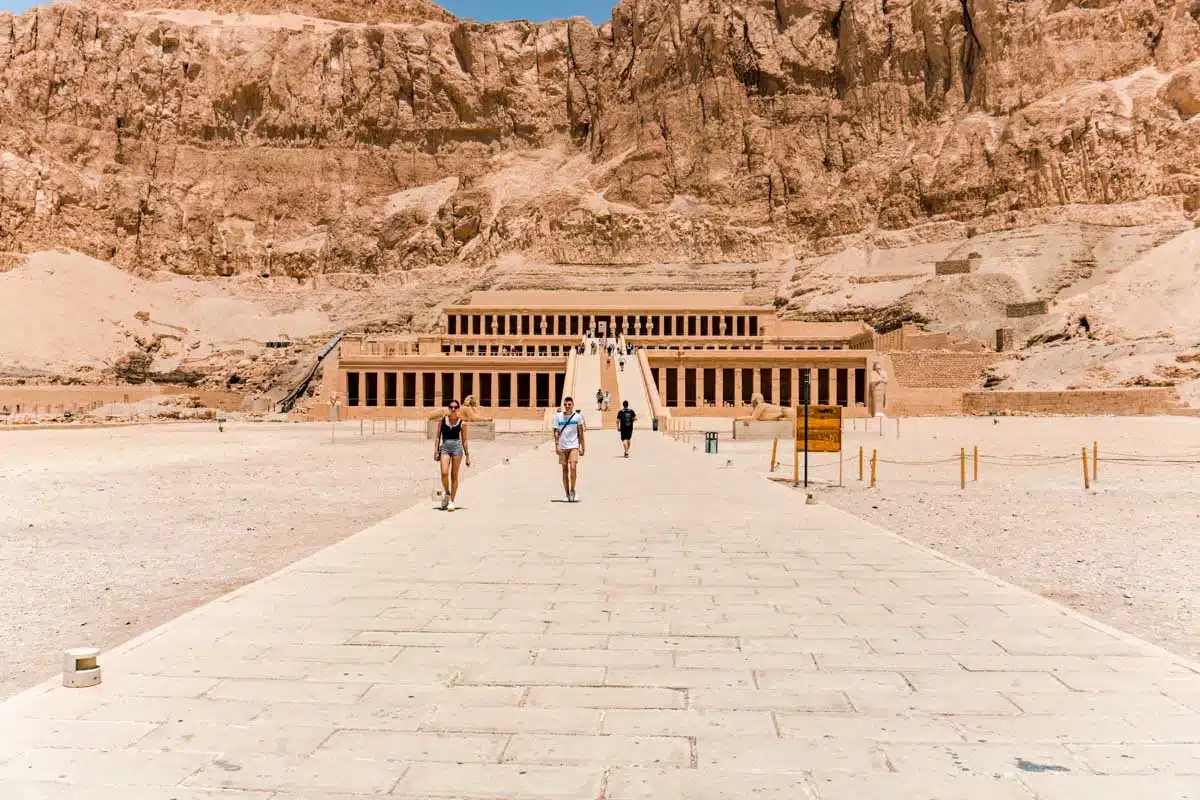 Hatshepsut was one of Egypt's more curious rulers – in fact, one of the few women to rule Ancient Egypt in her own right. That would all be interesting enough, but it's how she went about it that gives it extra spice.
You see, Hatshepsut knew the perils of being a female leader, so she billed herself as a king – and insisted on being portrayed as male in pictures – complete with a pharaonic beard.
It's a complex story, and one that needs a lot more space than I have to cover here.
Anyway, all this to say that you should definitely visit Hatshepsut's grandiose temple on the West Bank of Luxor because it's every bit as iconic as the woman seemed to have been herself.
Pop into Luxor Museum
Luxor's museum overlooks the Eastbank of the River Nile. Although it's a lot smaller than Cairo's Egyptian Museum, you'll find hundreds of antiquities from this region along the Nile.
The museum's highlights include goods from Tutankhamen's tomb, items from Karnak and a large statue of King Amenhotep III.
Visit Luxor Temple
To end your time in this river-side city, visit the Luxor Temple as the sun sets. Pharaoh Amenhotep III began the construction of this temple. King Tut completed the temple, and later, Ramases II amended it.
It spent some time being used as a Coptic Church, the temple was eventually converted to a Christian Church and featured a shrine to Alexander the Great at the temple's rear.
After thousands of years, sand and stone covered the temple, and the modern civilisation built a mosque on top of it.
With such a unique history, this site is a must-see on your journey through Egypt. The best time to visit the temple is at sunset. As the sun goes down, light streams upwards, illuminating the massive structure.
Egypt Itinerary Day 10: Cairo
On your very last day in Egypt, fly from Luxor back to Cairo and take in a few more of the city's sights and scenes before heading home.
Things to do in Cairo
Khan el-khalili.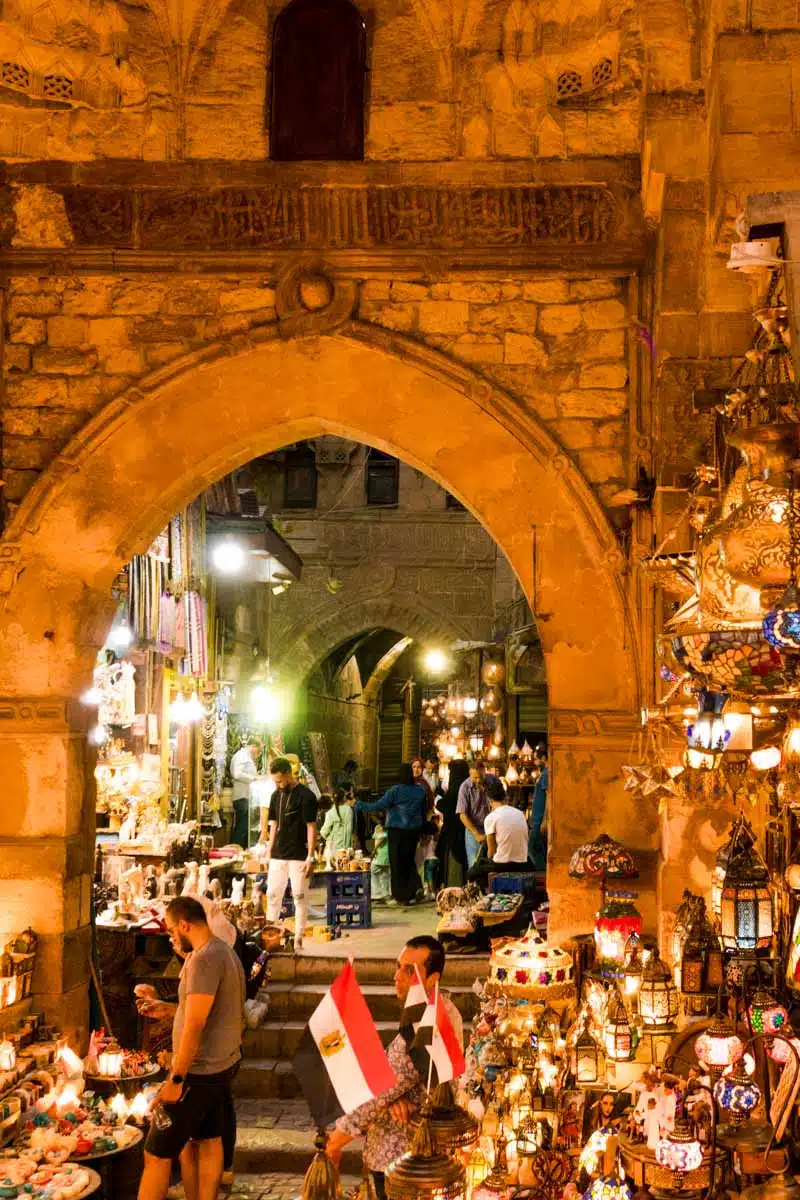 If our first couple of days in Cairo were all about Ancient Egypt, we're going to pay tribute to Islamic Cairo and Coptic Cairo on our last.
Khan El-Khalili is a famous bazaar and one of the city's most popular tourist attractions.
It sits in the heart of Cairo's historic centre and serves as an arena for Egyptian artisans to display and sell souvenirs and traditional crafts.
Khan El-Khalili was once a single building in the economic centre of Cairo and has since grown into an entire shopping district.
If navigating the bazaar on your own sounds a little too intimidating, many Cairo tours include a trip to Khan El-Khalili.
Coptic Quarter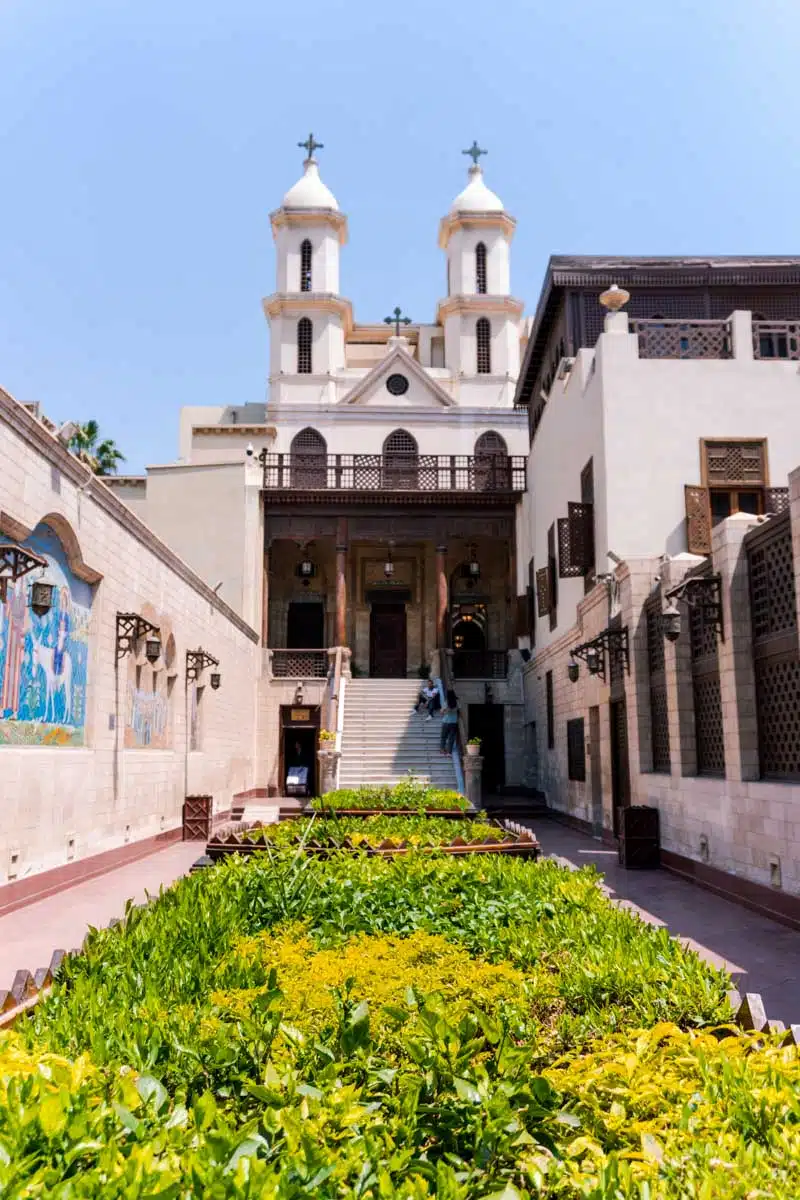 The Coptic Quarter is part of 'old Cairo.' This area played an essential role in developing religions within Egypt, and its history dates back to the 6th and 7th centuries.
Persian settlers developed this area and named it Babylon in reference to the Mesopotamian city on the banks of the Euphrates River. This region played a particularly vital role in the spread of Christianity throughout Egypt.
During the rule of Roman emperor Arcadius, he encouraged the building of several churches in what is now called the Coptic Quarter.
Many of these structures still stand today and are spectacular sites to visit near the banks of the Nile. Be sure to pop in to see the Hanging Church and the Coptic Museum.
Take a Trip to Memphis and Saqqara
Memphis was the ancient capital of Lower Egypt. Today it falls under Greater Cairo and is only about 20km south of Giza.
Memphis was said to be home to the god Ptah, a creator, and master of craftsmen and artisans.
The region once held a magnificent temple in honour of the god Ptah. While the temple no longer stands, Memphis still holds many relics and ruins from the ancient world, like the Saqqara necropolis.
The ancient necropolis of Saqqara is Egypt's oldest burial village.
Once part of Memphis, Saqqara consists of tombs, pyramids, and other ancient structures. The Pyramid of Djoser in Saqqara is thought to be the oldest complete stone complex in the world.
Saqqara was the resting place for many of ancient Egypt's rulers and royalty. UNESCO identified Saqqara as a World Heritage Site in 1979.
So, there we are – a step by step 10-day Egypt travel itinerary.
I hope you have an absolute blast on your trip. Carry on reading for lots of practical tips to help you plan your trip, as well as an alternative variation on the itinerary.
Alternative Egypt 10-Day Itinerary
I'm not going to go through a whole separate itinerary here, but if you want to spend more time on the Nile, here's a good option for you.
Do the itinerary as originally outlined for Days 1-2 but on Day 3, head straight to Abu Simbel and Philae so that you can get onto a Nile Cruise for days 4-7. Spend day 8 in Luxor and then head back to Cairo for the last two days of your journey.
Handy Tips for Planning Your Egypt Itinerary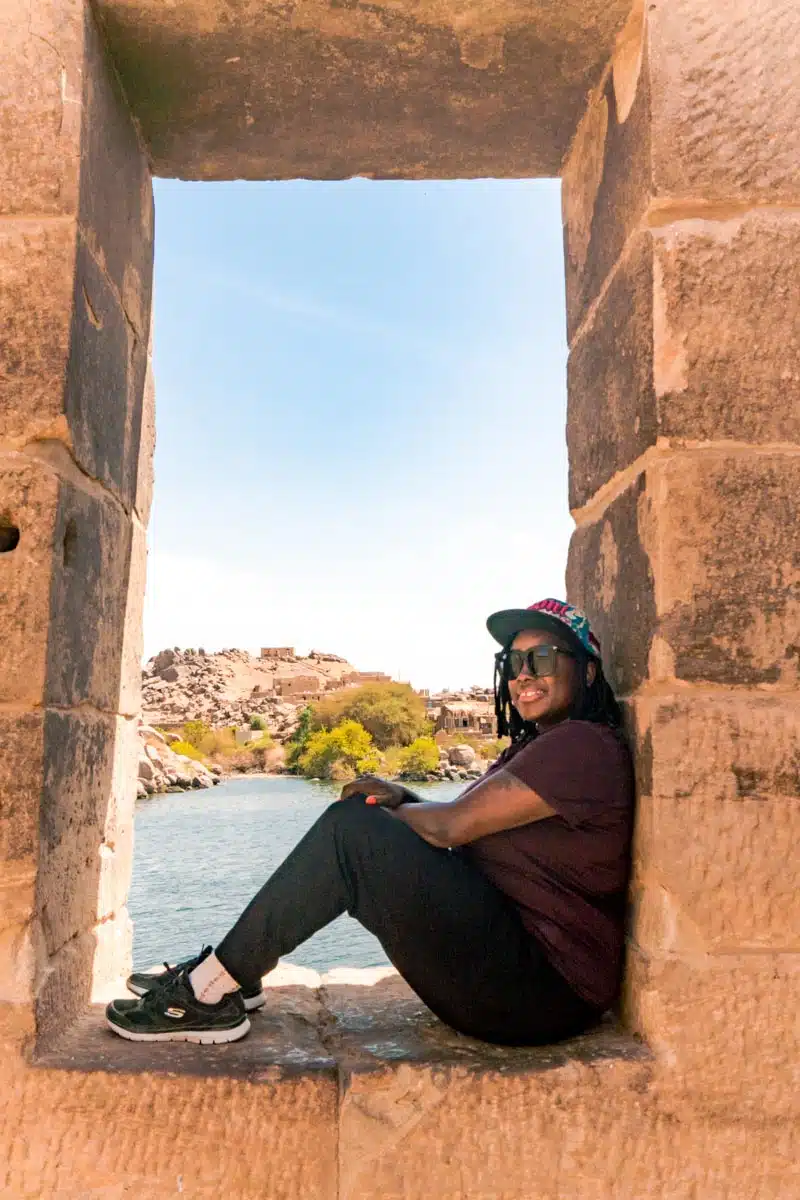 Group Tour or Independent Travel?
The first question you'll have when you're planning an Egypt trip is do you take a group tour or do it independently.
Some of you will have all the feels about not taking group tours. That's fine – I used to be one of them – in fact, my Egypt trip was the first ever group tour that I took and I'll tell you the reasons for my decision.
Firstly (and I know it will come as a big surprise to you guys), I am a geek.
There is no niche historical fact that I do not want to know, no obscure piece of trivia that I won't find interesting… so there was no way I was going to go to Egypt – the home of one of the single most important ancient civilisations without a guide.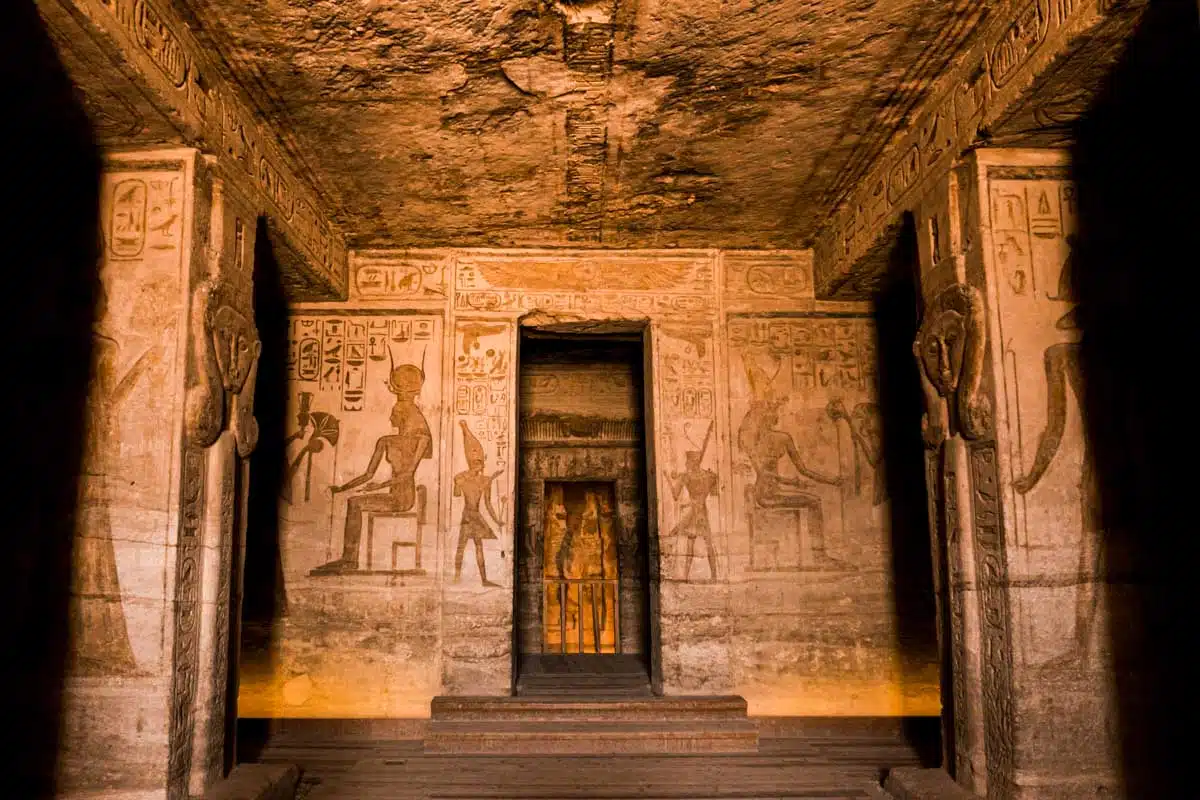 Did I need a guide for the whole trip?
Would my visits to the Pyramids of Giza, The Valley of the Kings, Karnak, Philae and Abu Simbel have been the same without our brilliant guide Ahmed? Not at all.
Essentially, given the fact that I was going to hire a guide in pretty much every destination I visited, it made sense for me to book onto a group tour like Intrepid's that came with a professional local guide leading the trip.
I don't regret it for a second either – Ahmed was straight up brilliant. Professional, knowledgeable, fricking hilarious – he also provided lots of local insight that it would have been difficult to pick up otherwise.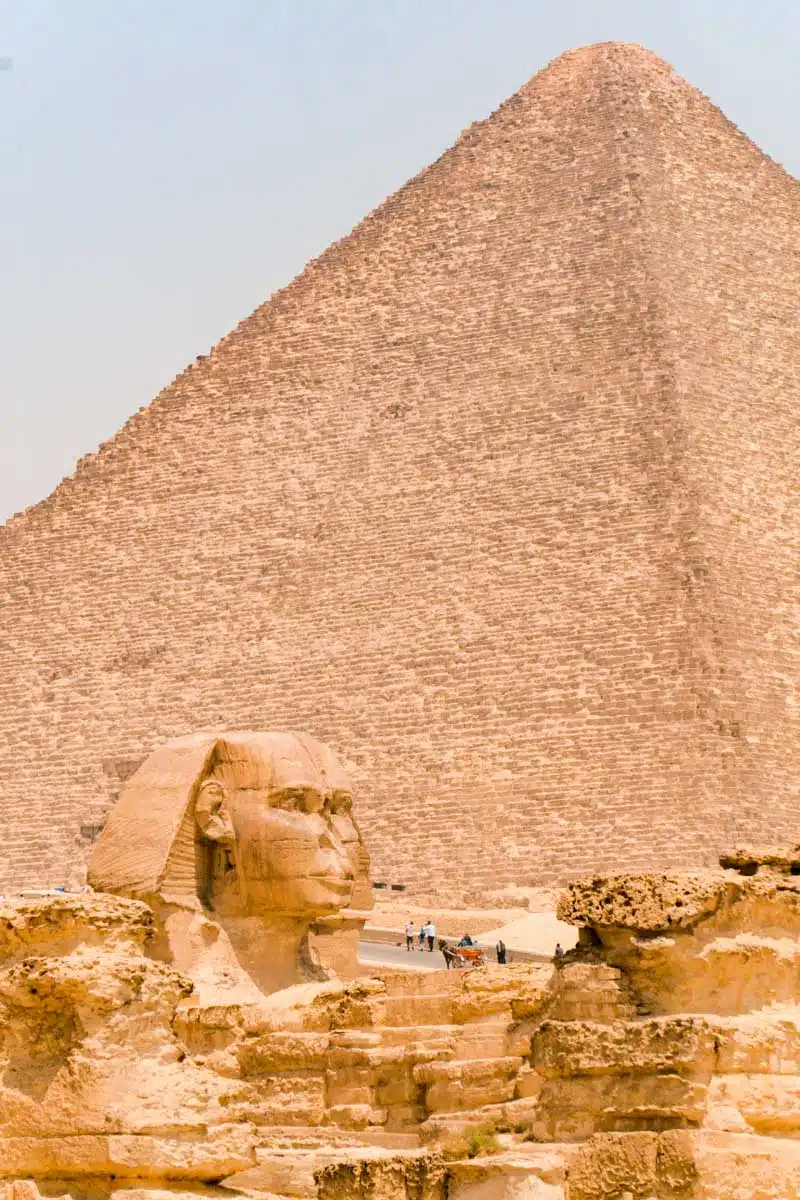 That said – group travel is not all yes yes yes. It kind of goes without saying but you have to be comfortable spending a lot of time with a bunch of people you just met.
You also have to find an itinerary that covers the things you want to see – I opted for the Intrepid Egypt Adventure because it had a lot of free time that you could pack with optional add-ons or to do whatever you wanted.
I opted to go to Abu Simbel (felt like a no-brainer) and also went to the Botanical Gardens in Aswan and the Nubian Museum on my own.
For me it was the perfect blend between doing things solo but having the structure and knowledge lent by the tour guide.
However, it's undisputed that you will have more freedom if you travel independently. You can see things in your own time and you don't have to hang out with strangers if you don't want to… so there's that. independent travel, and you can see things in your own time.
During my time in Egypt, I joined the Intrepid Travel Egypt Adventure for eight days and absolutely loved it. Like our independent itinerary guide, the tour started and ended in Cairo and I got to experience the magic of Egypt.
You can also check out G Adventure's Best of Egypt 8-day tour
What to Pack for Your Egypt Itinerary
Sturdy travel gear .
A few guide books and a map .
Some dried snacks for the road (get these in Egypt).
Sunscreen and sunglasses.
A cap/ hat.
A camera with a spare battery.
A universal adapter .
A good pair of comfortable walking shoes . I recently bought a pair of Allbirds Tree Runners , which are some of the most comfortable shoes I've travelled in.
Useful Resources for Your Egypt Travels
When planning your trip to Egypt, take advantage of the many resources available to you. These include:
Skyscanner – a handy site to help you book flights from wherever you are in the world.
Booking.com – book your accommodation in advance to ensure you have a comfy bed to sleep in.
Egypt Itinerary – Map
Love This? Save and Share on Pinterest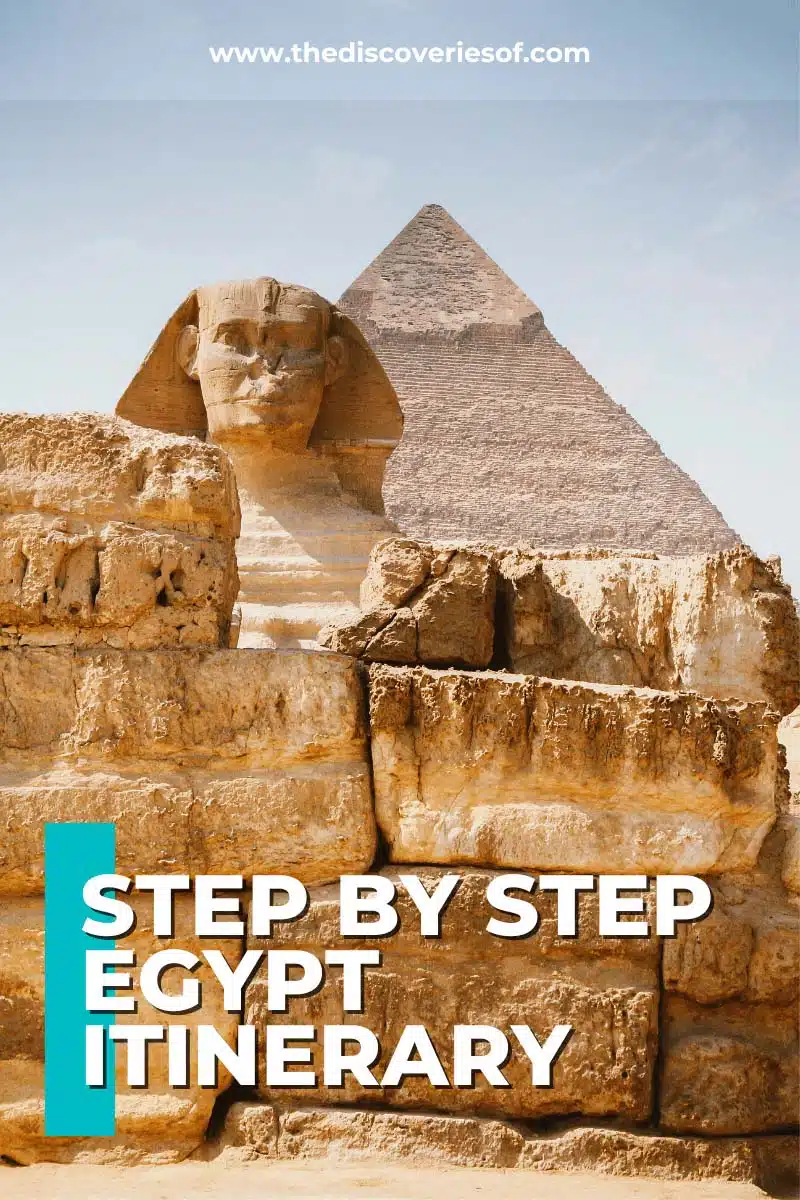 Egypt Itinerary: Read Next
The Ultimate Egypt Travel Guide
Must-Try Things to do in Egypt
Best Time to visit Egypt
Things You Should Know Before Travelling in Egypt
What to Pack for Egypt
Brilliant Things to do in Cairo
Where to Stay in Cairo
Unmissable Things to do in Luxor
How to Visit the Temples of Abu Simbel
Visiting The Valley of the Kings
What to Know Before You Visit the Pyramids of Giza
I'm Julianna Barnaby - a professional travel writer and geek extraordinaire. I started The Discoveries Of to help you to discover the best of new destinations from around the world.
Discovering new places is a thrill - whether it's close to home, a new country or continent, I write to help you explore more and explore differently.
Related Posts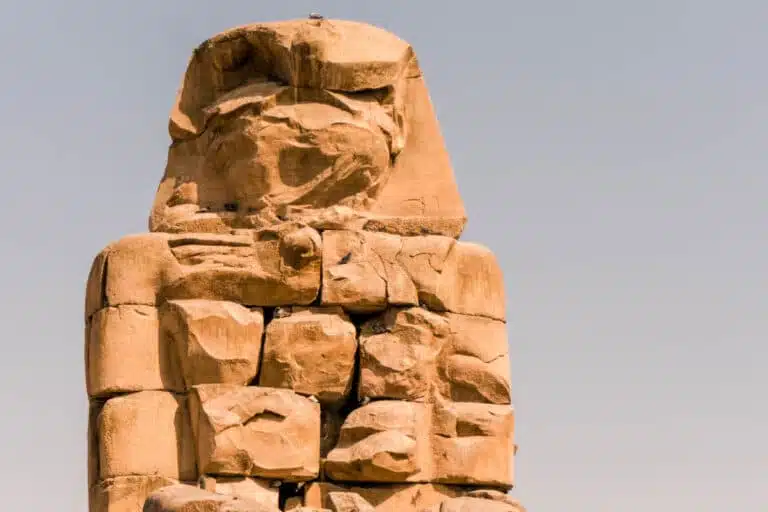 Visiting the Colossi of Memnon in Luxor: A Practical Guide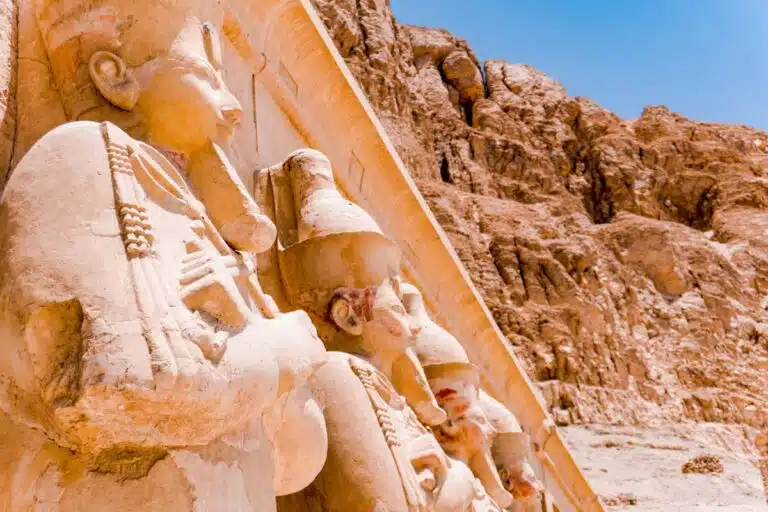 How Much Does it Cost to Travel to Egypt?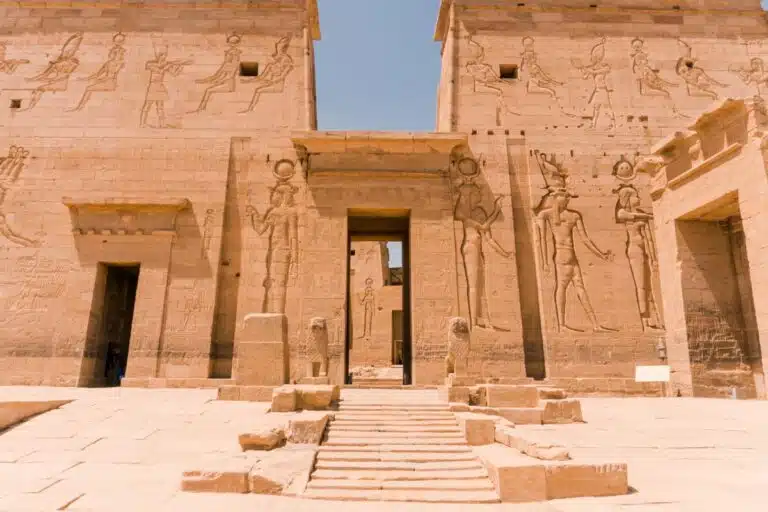 Philae Temple – Visiting The Striking Temple of Isis in Aswan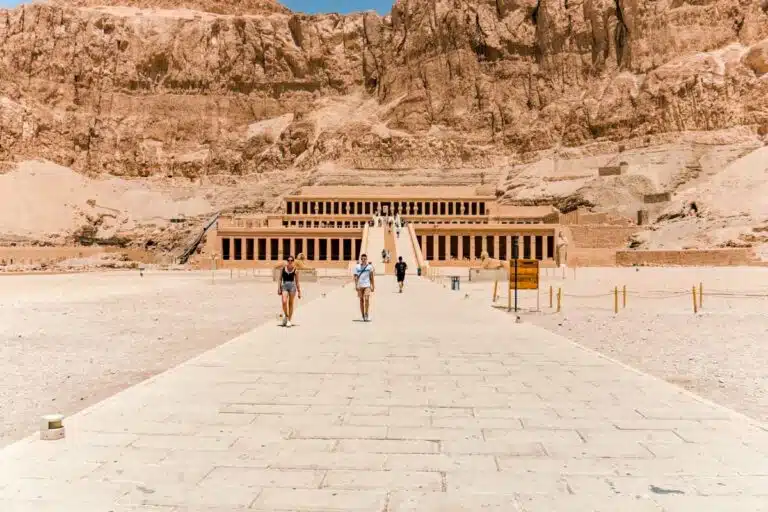 Visiting The Mortuary Temple of Hatshepsut in Luxor: A Practical Guide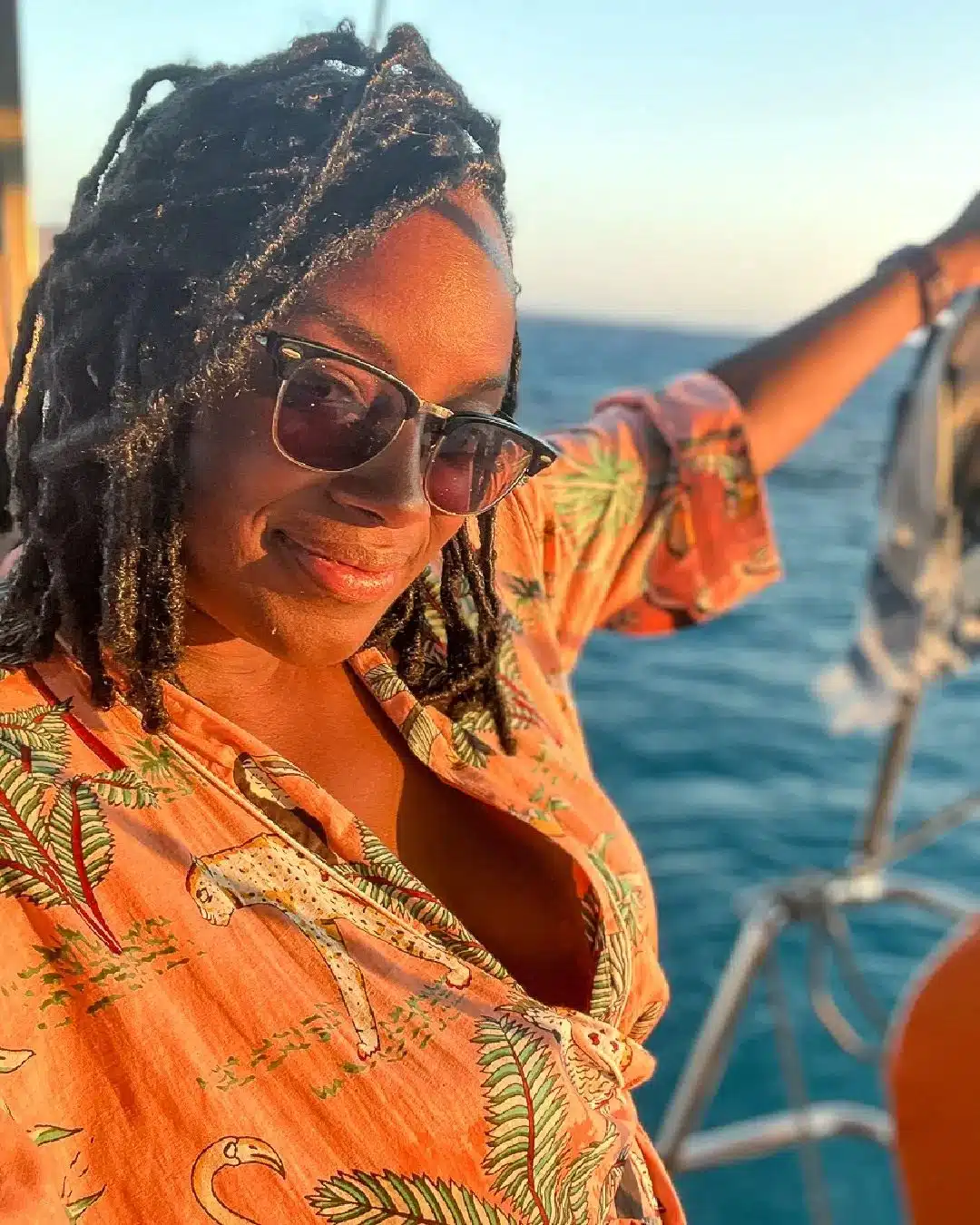 Follow me on Instagram for travel inspiration, tips, and guides.
Deals of The Week: Europe Up to 50% OFF
Destinations
10 day egypt tours & trips.
Filter for departure dates and price to find the right 10 day Egypt tour with TourRadar. Choose from 413 trips with 6,258 customer reviews, that range from 8 up to 10 days.
250+ Egypt 10 day tour packages with 6,258 reviews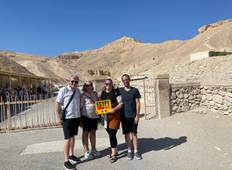 Special Egypt 10 Days : Cairo- Aswan-Luxor & Hurghada by Flight
"The 10 day tour was amazing and loved the experience particularly as two of us had..."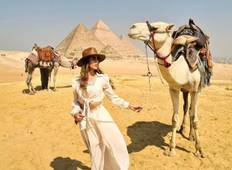 10-Day Ancient Egypt Tour with Nile Cruise
"Great Egyptian experience with excellent guides. Nile cruise accommodation could..."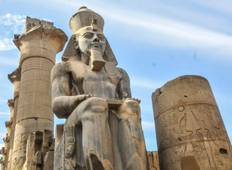 10 Days Egypt Highlights ( Cairo, Nile Cruise by Sleeping Train )
"Good value for money. Great country, lovely people, beautifull sites."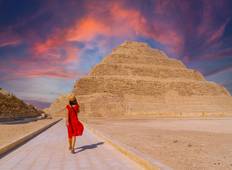 Footsteps Of The Pharaohs - Included Internal Flights
"They provided a great service. They were there whenever we arrived and stayed at..."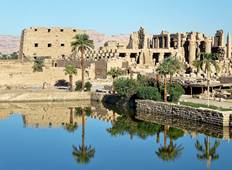 Egypt Explorer - Felucca cruise & Red Sea
"I had such an amazing time on this tour. Mina Magdy is a fantastic tour guide - he..."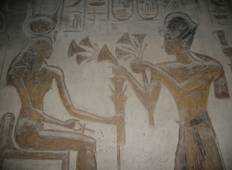 Legends of Egypt
"A very well put together tour that covered everything I wanted to see and more. Both..."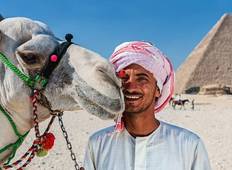 King Tutankhamun with Cruise - 10 days
"I thoroughly enjoyed the tour mainly due to Mom and my family (the tour group). I..."
Black Friday 2023 is coming!
Subscribe to our newsletter to get notified about the year's biggest deals at TourRadar
By submitting this form, I agree to the TourRadar T&Cs and Privacy policy .
You've subscribed! Stay tuned for our Black Friday deals.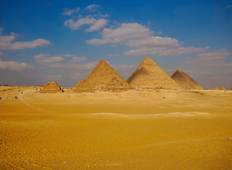 Best Of Egypt - 5* Cruise
"This is very good your of Egypt, and I highly recommend it. The people in my tour..."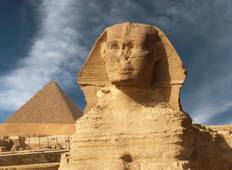 King Tutankhamun - 10 days
"Out tour was very well organised. All our transport, connections, accommodation and..."
Tailor-Made Luxury Egypt Tour with Dahabiya Cruise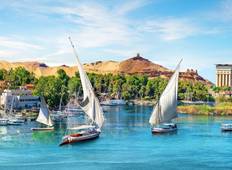 Amazing Egypt By Nile Cruise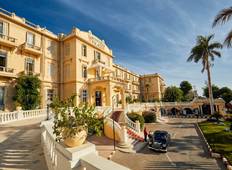 Agatha Christie Egypt Ultra-Luxury Journey/ small group ( 8persons)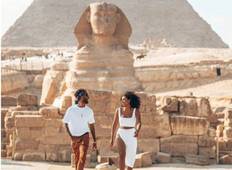 10 Day Egypt Experience Tour (Domestic flight)
"My visit to Egypt has been a wonderful experience. Amazing sights, brilliant tour..."
Pharaohs and Pyramids tour
"I also wanted to write to thank you for all your hard work and many kindnesses that..."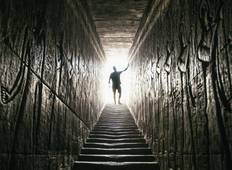 Jewel of the Nile - 10 days
"Unfortunately the sleeper train was a disaster. Everything else was very good."
10 Day Egypt Tour Reviews
"We had an amazing time. So grateful to all our wonderful guides and drivers who took..."
"We could not have had a more enthusiastic, knowledgeable & helpful guide than Bassem...."
"This was one of the best experiences of my life. Met some amazing people and had..."
"Had a wonderful time and enjoyed meeting with our knowledgeable guides Madlin, Selma..."
Regions in Egypt
Nile Valley (347)
Valley Of The Kings (165)
The Nile Basin (13)
Other Regions in Egypt
Nile Valley 10 day Tours (347)
Nile Valley 7 day Tours (282)
Valley Of The Kings 10 day Tours (166)
Nile Valley 2 week Tours (145)
Valley Of The Kings 7 day Tours (125)
Valley Of The Kings 2 week Tours (59)
Nile Valley 3 day Tours (39)
Nile Valley 3 week Tours (26)
Western Desert Egypt 7 day Tours (18)
Northern Egypt 7 day Tours (17)
Valley Of The Kings 3 week Tours (14)
Western Desert Egypt 3 day Tours (9)
Valley Of The Kings 3 day Tours (8)
Sinai Peninsula 7 day Tours (8)
Red Sea Coast 7 day Tours (6)
Northern Egypt 3 day Tours (5)
Egypt Travel Guide | All You Need...
International Versions
Deutsch: 10 Tage Ägypten Rundreis...
Nederlands: 10-Daagse rondreis Eg...
Helping you to create and organise travel adventures, even with small kids.
Epic Egypt itinerary: 10 days for an extraordinary family journey
Last Updated on 24/09/2022 by Clotilde Passalacqua
This Egypt itinerary will transport you on a fascinating journey of exploration that make you feel you have travelled back in time and are living among the History books! The ancient Egyptian civilisation, studied all over the world, has always fascinated young children. The rich cultural heritage and majesty of its monuments, which in some cases have come down to us intact, makes Egypt a dream destination. Whether you have considered to travel in Egypt to appreciate the last of the Seven Wonders of the Ancient World , or to relax on the idyllic beaches of the Red Sea, in the following itinerary you will find all the necessary information. This itinerary is set over 10 days in Egypt and includes the best places to visit in Egypt. It has the right pace for a family visiting Egypt with kids, or whoever doesn't want to rush from one place to another but prefers to take the time to also appreciate the local culture. At the end I will suggest how to adapt if you have only 1 week in Egypt available or if you could stretch it to 2 weeks in Egypt .
HOW TO PLAN A TRIP TO EGYPT : Even people accustomed to travelling independently often find themselves booking a trip to Egypt with a tour operator. I can guarantee you it is not necessary, even independently you can organise almost everything in advance . When a guide is needed you can book independent tours that will make you appreciate more the places you are visiting, but you are not tied to a group tour schedule. The only challenge of not having a guide with you all the time is being exposed to the continuous and restless attempts of the local Egyptians to sell you everything and anything. If you need some tips to build your family trip itinerary check out this step by step guide !
This post may contain affiliate links. I may receive a commission for purchases made through the links on this page, at no cost to you .
A few reflections on planning a trip to Egypt with kids
Our trip to Egypt was in October when our twins, Liam and Santiago, were almost 2 and half years old. Taking children to Egypt presents some challenges, it is an amazing super fascinating country to visit, BUT at times you could also experience some heavy moments.
In October the weather is still really hot , over 30 degrees, so you are constantly juggling the desire to visit more things and the reality of walking at 1 pm under a strong burning sun, possibly with a toddler attached to your neck/back/arm
It is not a particularly clean country : this wasn't a surprise for me as most people who travelled Egypt report this, but of course with kids you are constantly cleaning faces and hands in the hope to kill some germs. On top of that there is sand everywhere, and what's more attractive for toddlers than playing with and even eating sand?
If you are comfortable travelling with small kids then you will soon get used to this, relax, and just allow more time to visit the different places. Plan to end your Egypt family vacation with a couple of days by the sea were the sand and sun will be your friend, and you will build life time memories.
In this other article I go through my best tips and advice to make a family trip to Egypt unforgettable! Or you can read Best things to do in Egypt with kids , if you want a quick overview.
EGYPT ITINERARY: 10 DAYS SUMMARY
Arrival Cairo
Cairo-Aswan
Nile Cruise
Luxor-Red Sea
Red Sea-Departure
As you can see, in a 10 day trip to Egypt, there are some things left out, time in Luxor is sufficient for only a glimpse, but I think a Nile cruise is unmissable while you are there so I decided to cut time elsewhere to include it.
This itinerary assumes an early arrival and a late departure to take advantage of the full 10 days.
DAY 1 EGYPT ITINERARY: THE PYRAMIDS
You will start your 10 day tour of Egypt arriving in Cairo. During your time in Cairo my recommendation is to stay in Giz a in a place where you can appreciate the majesty of the Pyramids. On arrival transfer directly to your hotel in Giza and after a quick freshen up start your day.
We personally stayed at the Marriott Mena House (more info later). From there you can walk just 5 minutes and you reach the main ticket office of the Pyramids. Egypt started a digitalisation process to allow all visitors to buy tickets online and reduce queues at the most famous attraction, but at the beginning of 2021 it is not in place yet (global pandemic fault?). In the mean time there is the possibility you will find a small queue at the ticket office. It is always difficult to find the most updated price, but here you can check 2019-2020 entrance fee for all Egyptian archaeological and museum prices . That said, in summer 2020 the Tourism and Antiquities Minister cut the prices of most attractions for all foreign visitors to encourage them to go back. In summary, normal prices for foreigners (the government has been increasing these prices incredibly in the recent years) for the most common attractions are:
Giza Plateau area 200 EGP (€10.50, £9.30, $12.80)
The Great Pyramid 400 EGP (€21.00, £18.60, $23.60)
Pyramid of Khafre 100 EGP (€5.20, £4.65, $6.40)
Inclusive ticket (the general entrance + the Great Pyramid + the Boat Museum) 600 EGP (€31.30 £28.00 $38.20)
You are not allowed you to bring your camera inside the Pyramids. You can safely leave your camera with the guard at the entrance, 5 EGP will be enough as a tip when you exit. Don't forget to keep your ticket because they use it to match to your camera. In other sites/museums you will be able to buy a separate ticket to bring the camera with you. Although in the Pyramids we had no problems using our phones.
Entering the Pyramids with small kids
If you decide to enter the Great Pyramids with small kids (I definitely recommend it, even if there isn't much to see inside) be aware that to reach the top chamber there are 2 long, steep, and cramped wooden slopes/stairs . Inside there is little air and it gets really hot. OUR EXPERIENCE: Santiago didn't have any problem to climb up, but to come down I have had to carry him…meanwhile Liam was less keen and preferred to be carried the whole time….. poor Mark!
Advice on visiting the Pyramids
There is a sense of magic to walk around and be so close to something so unique and historic. When we were there the site wasn't particularly busy, and when we entered the Great Pyramid we were almost alone. The site is big, but for an adult in good health, even if it is hot, it is absolutely possible to walk around and to get from the Pyramids to the Sphinx, and, with a bit of effort, even to the viewing platform. You should allow 3-4 hours . Although if you are visiting the Pyramids with kids it could be different. OUR EXPERIENCE : we are not in bad shape but I'm definitely not fit enough to walk in the strong heat with a 16kg child on my back for too long. From the moment we entered (and also before), we were hassled from touts that wanted to sell us something or convince us to ride a camel or horses. At some point we decided to look if any of them actually had any healthy looking camels and we agreed for 300 EGP (in total for 1 hour with 2 camels) to get to the viewing point and then down to the Sphinx.
There are many people with their animals around the pyramids and not all of them look in good health, before you agree anything with anybody ask them to show you which camel or horse you are going to ride, and only accept if they seem well fed and in good health.
HOT TIP: if you take a ride on the horses or camels be sure to agree exactly where you are going and the price . Repeat it to them a couple of times including the actual guide. The guide that was guiding our camel ruined some of the magic of our camel tour because he wanted continuously to cut it shorter, and pushed a lot for additional money.
After Mark's Camel Guide induced irritation had subsided he became philosophical wondering, "if you haven't been ripped off by a Camel Driver have you even been to Giza?", so maybe try to make peace with it in advance and enjoy the experience. After arriving at the Sphinx you will probably start to feel the need for a rest. Take a taxi back to the hotel, however if you are fit for it then walking is faster as Taxis must take a longer route through often heavy traffic. Even if you arrived early in the morning, your day has probably been tiring enough, my suggestion is to take it easy and relax for the rest of the afternoon , ready for a bigger day tomorrow.
DAY 2 EGYPT ITINERARY: 1 DAY IN CAIRO
Coptic cairo.
The second day is fully dedicated to exploring Cairo. It could be difficult to choose what to see in Cairo in just one day as it is a big city, but here are the highlights. First thing in the morning you can take a Uber and go to the Coptic Cairo (~64 EGP). This is a lovely small area, one of the best places to visit in Cairo and it is really easy to walk around.
You can visit: the Hanging Church, possibly the oldest Christian church in Egypt; the Church of St. George, St. Barbara Church, the Ben Ezra Synagogue and the lovely Greek Orthodox cemetery. This visit takes around 2 hours , but you will need more if you also want to visit the Coptic museum.
HOT TIP : In this area there aren't any restaurant options, only a cafe for small snacks and drinks. If your kids are picky eaters then better you bring something with you. Near the next stop, the Egyptian museum, you will many more options.
From Coptic Cairo you can take another Uber and get to the Egyptian museum (~35 EGP). Visiting the Egyptian museum around lunch time has the advantage of during the hottest hours of the day you will be indoors.
Egyptian Museum
IMPORTANT : A completely new Grand Egyptian Museum (GEM) should open by mid 2021 in a new location in Giza. Dates have not been confirmed yet.
The tickets are sold outside the museum entrance. You can bring your camera into the museum only if you pay for an extra ticket , don't forget to buy it together with your entrance ticket or you will be asked to leave your camera at the entrance. The Mummies room also requires a separate ticket. You can buy it at the entrance or directly inside when you reach it. Here is a cost overview:
Entrance fee: 200 EGP (€10.50, £9.30, $12.80)
Mummies room: 180 EGP (€9.40, £8.40, $11.50)
Combined ticket (entrance + Mummies room): 300 EGP (€15.60, £14.00, $19.20)
CAVEAT: A visit to this museum is a must do in Egypt , but I'm really glad that the new Museum (GEM) will soon open because the actual Egyptian museum was for me the biggest disappointment of our trip. I was prepared to find a place with old displays and in a transition phase, but I didn't think it would have been so poor.
Don't get me wrong, the pieces on display are amazing and fascinating truly historical artefacts, but they are poorly lit and often with no English explanations (or often no signage at all). You can't take pictures in the Tutankhamun room or in the Mummies rooms. 
HOT TIP : To appreciate the museum you would really benefit from a guided tour with an Egyptologist , that will help you to understand the humongous treasures that are displayed in front of you. You will not regret spending that money!Shortcode
Khan el-Khalili
After you finish your visit to the museum take another Uber (27 EGP) to quickly see the Khan el-Khalili market. It is a great bazaar to spend some time wondering around in. It is a busy market with narrow streets and souvenirs of all kinds. Be careful to always check they are genuinely local and not bought in from other countries, and always negotiate price. To finish your Cairo in a day little tour , you can simply eat something at the market or a nearby restaurant. Another option is to experience a different side of Cairo in one if its posh restaurants. My research suggests to choose "8" or "The Birdcage", Chinese and Thai fine dining restaurants. Unfortunately I can't comment because we discovered only when we got there that they don't accept kids! Ask your hotel owner to call and check if you want to try something different than the local cuisine, as outside Cairo you will not have many other opportunities.
A taxi back to the Mena house at this time should be fast enough and cost around 80 EGP.
DAY 3 EGYPT ITINERARY: SAQQARA AND FOOD TOUR
Saqqara is a impressive burial site and deserves a full half day, try to go early because there is no shade from the hot sun.
The stepped Pyramid of Djoser is the oldest in the world but it isn't the only interesting thing. To access the site you need to go through a superb limestone wall, higher than 10m. After entering the door you will walk through a gigantic colonnade almost intact for nearly 5,000 years (the pillars are now covered with a concrete roof to protect them) I will maybe be boring but I must repeat that travelling in Egypt will make you step back in time!
Be aware some of the tombs close for an hour at 1pm (of course I went down one of them exactly as the guard was closing down the gate :()
OUR EXPERIENCE: We didn't go early enough so in the end visited only a small part of the site because it was too hot for small kids. We took an Uber and when we arrived we asked the driver to wait for us. He kept the journey open on the app while we were exploring. We had the Uber for roughly 3 hours and from Giza to Saqqara the return journey was around 50km. We paid $14 (261 EGP, but the fare was 1.5x higher than usual)
Saqqara is another place where it is worth to have a guide to really deeply understand the wonder behind the sand. Here the entrance costs:
Site entrance + Emhoteb Museum 180 EGP (€9.40, £8.40, $11.50)
Pyramid of Djoser 100 EGP (€5.20, £4.65, $6.40)
Noble tombs + New Kingdom Cemetery 140 EGP (€7.30, £6.50, $9.00)
Tomb of Mereruka 80 EGP (€4.20, £3.80, $5.10)
Visitors Egypt Tours offer a tour to Saqqara that includes pick up, transportation, and tickets to visit Memphis and Saqqara.
After recovering from the heat at your hotel (possibly with a splash in the swimming pool) it is time for a food tour. A food tour is an amazing idea when travelling with kids. It gives them and you the possibility to try new and different foods without committing to a full meal. In Cairo you could feel overwhelmed by the variety of local places. Even with a good research it could be difficult to discover the local gems without local knowledge or more time.
The 2 ladies behind Bellies en Route do an incredible job sharing with you the heritage of Egyptian cuisine while also telling you the historical and cultural importance.
Our experience with them was absolutely perfect. We booked a private tour as they recommended, because with small kids we could tailor it to our needs and be flexible. You will spent almost 4 hours walking in the side streets of Cairo, discovering places, and trying food you would never have tried or sometimes even heard of!
As we had a private tour they were also super helpful from the logistical point of view. Laila, our food tour guide, met us in front of the Egyptian Museum and she was really accommodating letting us leave our luggage safe in her car while walking around. After the tour we were going straight to the airport so it didn't make sense to go back to Giza just to pick up the luggage. The food tour ends the time in Cairo. It is time to move to Aswan (there are usually quite late flights). From central Cairo you can easily get an Uber (~150 EGP). Be aware of the traffic, in the evening it could take almost 1 hour and a half to get there. I'm always looking for good food, read my foodie adventures in London if you are planning a trip there.
DAY 4 EGYPT ITINERARY: ASWAN
Nubian village.
You should have arrived in Aswan at the end of day 3. Arriving in Aswan is like starting another trip. The airport is really small and from Arrivals you walk directly out into the street. Late in the evening there is no traffic, the air is warm, and the light wind will make you immediately relax and put a smile on your face. You could decide to stay in Aswan or in the Nubian village just outside the city by the river Nile. We stayed at the Kato Dool Nubian resort . (more info after the itinerary) In the morning, spend some time exploring the Nubian village. Colourful houses and friendly people will greet you as you wander around. They are most used to people coming here with organised tours, so in most cases you will not get too hassled to buy stuff.
Take advantage of a good local lunch prepared at your guesthouse or go to the Kato Dool, feet on the sand, river view, and excellent food!
In the afternoon go to Aswan . Our guesthouse owner organised for us a transfer with a speedboat (250 EGP) and after 10 minutes and lots of laughter from the kids we were there. Walk around the city, the market, and along the Nile . You could visit Elephantine Island , or just take it easy embracing local life. To go to Elephantine island you can take the public boat that crosses the Nile (near the garden on the water front), or even engage in a little felucca tour to sail around it. An alternative is to reach the Philae Temple or the High Dam. At sunset enjoy a cocktail at the the iconic Old Cataract Hotel . To go back to the Nubian village you will need to agree a price with one of the many taxi drivers around as there is no Uber available.
OUR EXPERIENCE : in Aswan we took a bit of time to relax. We enjoyed the time in the Nubian village and just walking around the city of Aswan, the Souq and the gardens. We would have loved to sip a cocktail at the Old Cataract but unfortunately we arrived at the gate to be told that the hotel was fully reserved for a private event and closed to external people…what a disappointment! Aswan is one of those cities where you could just pass by and think there is nothing to do or see, but if you slow down and spend some time here you end up finding it difficult to leave.
DAY 5 EGYPT ITINERARY: NILE CRUISE
On day 5 another adventure is starting: an Egypt Nile cruise. You can choose between 2 types of boat to sail the Nile. There's the classic cruise style big boat, and the traditional Dahabiya. The Dahabiya are small sailing boats with usually only 5 or 6 cabins. The Dahabiya will make you see life on the Nile from a different perspective while relaxing and slowing down the pace. In this 10 days in Egypt itinerary we will consider a Nile cruise on a Dahabiya boat.
We booked with Djed and everything was perfectly organised. They sail the Nile 4 times a week in both directions. When you put together your itinerary for Egypt double check where the cruise starts on that day of the week.
Aswan to Esna (Luxor). Downriver 3 nights from €570 per person (double occupancy) 
Esna (Luxor) to Aswan. Upriver 4 nights from €760 per person (doubleoccupancy) 
Kids 1 to 4 years stay free if sharing the cabin with adults, 20% discount for kids 5-12 years old. The prices include transfer from/to Aswan and Luxor, all the entrance fees, a guide with you all the time, full board (including even afternoon tea), all drinks (excluding alcohol) and wi-fi. While sailing there is enough space for everybody to relax and enjoy the view. Several deck chairs, floor cushions, sunbeds, and a hammock. The Dahabiya are a small boat, but as you never have more than 12 adults the atmosphere is always peaceful and relaxed. The crew is not unprepared for people travelling with kids, they are always happy to help, and sometimes even play with the kids. The concern that your kids could ruin the atmosphere for other guests is legitimate, but if they are well behaved you shouldn't be worried.
You can read here more details about the Dahabiya Nile cruise . It will help you to decide if it is for you especially if you travel with toddlers.
Boarding the Dahabiya
Around 9am you will be picked up and driven to board a Dahabiya boat to start your Nile cruise! The feeling when you board is like stepping onto the set of an Agatha Christie movie!
I was so excited! I'm not a fan of cruises, but a Nile cruise was one of my dreams since forever, and after all the research and the doubt of booking a cruise with toddlers the dream was coming true. After boarding you will meet the other passengers, the Egyptologist guide that will sail with you, the captain, and the crew. The guide will give you a brief of the 3 days you are going to spend together and the sailing will start. Meals are usually served all together on the top deck.
Kom Ombo Temple and Crocodile Museum
On the first day in the afternoon you will visit the first site, the Kom Ombo Temple . This is an unusual double temple, dedicated to the local crocodile god Sobek and the falcon god Haroeris (Hourus the elder), the Nile's Gods. It is considered special and unique for its design. There are two identical sections but completely independent dedicated to the two Gods.
A short walk from the Kom Ombo Temple there is the Crocodile museum. In a pleasantly cool small museum are kept the roughly 300 mummified crocodiles found nearby. Reaching this site with a Dahabiya is particularly handy. Dahabiya are small boats that can moor almost everywhere and so reach spots the big cruise boats wouldn't be able to. With a Dahabiya you only need a short walk to reach the temple.
DAY 6 EGYPT ITINERARY: NILE CRUISE
After an early breakfast you will visit the rock-cut chapels of Horemheb, Seti I, Ramses II and Merenptah, and explore the sandstone quarries at Gebel el-Silsila. The sandstone quarry is an impressive site when you realise it supplied the stone for most of the major temples in Egypt. All the stone needed to travel on the Nile to reach their final destination. On our second day during the day the wind picked up a little and we continued with a bit of sailing. (Usually Dahabiya boat are tugged by a motor boat, distant enough for you not to hear much noise) In the afternoon you could have a lovely stop by a little beach to have a splash in the Nile .
BE CAREFUL : in the stagnant water of the Nile there is a parasite that could be potentially really dangerous. Where the river current is stronger there isn't this risk, but always follow the boat captain's advice about where to swim.
On the second night if the weather is good the crew will set an unforgettable dinner on the tranquil banks of the river.
DAY 7 EGYPT ITINERARY: NILE CRUISE
After breakfast the first stop will be the Edfu Temple . This temple, dedicated to Horus, is not on the Nile edge. You will need to reach it with a horse and carriage. This is all organised so you will not be able to choose based on healthy looking animals. Unfortunately ours was really skinny and made the start a bit sad. The temple is majestic and one of the best preserved. It has been buried under sand 200 years ago which helped to preserve it. It could be quite busy and to enter it you will need to pass through a line of vendors hawking their wares.
In the afternoon there is another interesting and much less busier site. You will sail to El Kab, the ancient town of Nekheb , one of the oldest and most significant archaeological sites on the Nile. You will visit the remains of its temples and some of the tombs cut into the cliffs. In the evening you will arrive in Esna , where the Dahabiya will moor for the night. You can decide to go out and explore if you wish. In my opinion, mooring by the city with its traffic and noise ruins a little the atmosphere of the last evening, This is also the moment when you should prepare an envelope with a tip for the guide, the crew, and the captain. It is not mandatory, but this is the recommendation we got from our guide (who also gives you the envelopes).
DAY 8 EGYPT ITINERARY: LUXOR
The cruise will finish after breakfast around 10am. In this 10 days in Egypt itinerary, as I mentioned at the beginning the time in Luxor is tight to make space for some relaxing time on the Red Sea beaches. You will need to leave the Dahabiya around 7am, so request an early breakfast. You can book a driver to take you around Luxor during the day and then drive you to the Red Sea. We booked through the same company we used for the Nile cruise and we agreed on €130 plus €30 for the guide that accompanied us on the sightseeing.
HOT TIP : a taxi from Luxor to the Red Sea, needs a permit from the police which usually needs to be arranged the day before the journey. Keep this in mind as it could therefore be difficult to find a last minute transport solution. If you decide instead to stay longer in Luxor I'm sure you could find a much better price by asking different drivers.
In the short time in Luxor, you can visit the Valley of the Kings, the colossi of Memnon, and the Karnak Temple or the Temple of Hatshepsut.
The Valley of the Kings
The Valley of the Kings is an incredible place: a trip into another world in another dimension. This is also the first place where you will find a lot of tourists, nothing to be worried about, but definitely many more than the other sites you visited. Many tourists holidaying on the Red Sea take the opportunity to come and visit Luxor in a long day trip, that's why you will find it more crowded. When you arrive, the first impression is quite underwhelming, but everything is happening underground so don't worry, as soon as you step into the first tomb you will be rewarded with spectacular scenes. Tickets cost:
Site entrance including 3 Tombs 240 EGP (€12.50, £11.20, $15.30)
Tutankhamun tomb 300 EGP (€15.60, £14.00, $19.20)
Ramses VI 100 EGP (€5.20, £4.65, $6.40)
Camera ticket 300 EGP (€15.60, £14.00, $19.20)
The general entry ticket allows you to enter 3 tombs of your choice, except for those tombs which are closed (some are "rested", some are being maintained etc), and those tombs which require a separate extra ticket. To take pictures inside the tombs you have to pay another 300EGP for each camera you take pictures with, and you can only take pictures in the 3 tombs you choose with the entrance ticket (no photos in Tutankhamun's tomb).
Which tombs to see in the Valley of the Kings
The tomb structures seem similar but none were the same as another. Common elements are: stairs or steep downhill entrance, long corridors with some side chambers, and at the end the chamber where the King Mummy would rest in a sarcophagus with storage chambers around it. We visited the tombs of Ramses III, IV, and IX with the general entrance ticket . Ramses IV was particularly good. We bought 2 extra tickets to enter the tombs of Tutankhamun and Ramses V/VI . We decided to enter Tutankhamun's tomb even though I knew it is one of the less impressive and you can't take pictures inside. I can't really recommend spending money on it…but the Tutankhamun legend has always been so strong in the modern history of Egypt that many people just can't miss it. What is a bit creepy, but at the same time feeds the legend, is that his Mummy is still resting (well protected under a good glass box) in his tomb. The site is perfectly accessible with a pram, until of course you need to enter the tombs. There is a bit of walking from the parking lot to the entrance (but a little electric train is available), so a pram could be useful; if you are there with a guide they can look after it while you enter the tombs. OUR EXPERIENCE: The tombs we visited were all really close to the entrance and really easy to walk for Liam and Santiago, I would have liked to visit Merenptah tomb but our guide said that maybe for them it would have been too difficult as it has a lot of steep steps, looking at the structure now it doesn't seem so steep, but of course I trusted our guide. The Valley of the Kings was one of my highlights of the trip but I wasn't well enough prepared, I'm really happy with what we saw but I encourage you to research in advance which tombs you would like to visit. After the Valley of the Kings you will have a brief stop to see the Colossus of Memnon, and then move to the Karnak Temple.
Karnak Temple
The Karnak Temple is just incredible. I think it is one of the best places in Egypt. If you stay in Luxor you can go back at night to see the sound and light show , it must be magical. When you are wandering between the 134 gigantic pillars, you can't help but feel you are in the "Death on the Nile" scene (if you have seen it). It is just mind blowing.
Entrance ticket costs 200 EGP and also includes the entrance to the open museum in Karnak (€10.50, £9.30, $12.80) 
The Karnak Temple is actually a complex of different temples built over 2000 years. it is so spectacular that could be overwhelming.
When you start to walk through the avenue of the sphinxes be aware that these sphinxes were once connected with the Luxor Temple creating an incredibly long avenue. The great Temple of Amun is the main building. Updated by different Pharaohs it is still majestic and imposing. Remains of many other sites are still visible all around, in different states of conservation. Don't miss the Temple of Ramses II, the lake, the Temple of Khonsu, and the small Temple of Osiris. Karnak Temple is another site where you can definitely appreciate much more of such an ancient culture when an expert guide can explain clearly to you what you are looking at. To transfer to the Red Sea you will need to leave Luxor around 3pm. The transfer needs to go through a slow route that take almost 5 hours even if it is less than 250km.
D AY 9-10 EGYPT ITINERARY: RED SEA
The last 2 full days will pass by really slowly, relaxing and playing on the beach, eating really good food, kayaking, enjoying the playground, reading, and enjoying the sunrise! The best conclusion to a 10 days holiday in Egypt!
OUR EXPERIENCE : we decided to stay at the Radisson Blu Resort (more below) and we just relaxed. You can go out of the resort and visit Quesir, but we decided to unplug and just enjoy the sun, the sand, and the water. Liam and Santiago were 28 months and we all had a great time there! To fly back you should be able to catch a connection from Hurgada to Cairo. Hurgada airport is around 90 minutes drive from el Quseir. You will need a taxi: you can ask your hotel to book one for you or you can ask one of the previous drivers, for sure they know someone!!!
ADAPT THE 10 DAYS IN EGYPT ITINERARY
Let's have a look at how to easily adapt this itinerary if you have more or less time. If you only have a week in Egypt you will need to give up on the Red Sea break and move directly from Cairo to the Nile cruise, sacrificing the stop in Aswan. I think 3 days in Cairo is the minimum amount of time to really appreciate everything it has to offer and to get the first feeling of the different culture.
Below you have a one week in Egypt itinerary. As you can see even in a 7 day Egypt itinerary I recommend you do not cut out the Nile Cruise.
EGYPT ITINERARY: 7 DAYS
If you have a little bit more time to travel in Egypt, the itinerary below includes the best places to go in Egypt leaving also some time to relax. If you have 2 weeks in Egypt you have the option to spend an extra day in Cairo: you can split the third day into two. On day 3 after visiting Saqqara, you can go to Dashur. On Day 4 in the morning you can visit Islamic Cairo and take part in the food tour in the afternoon.
In Aswan you are going to spend an extra day/night. That time can be used to organise a day trip to Abu Simbel.
As you have extra time, your Luxor itinerary can also include more sightseeing. You will be able to visit Hatshepsut's Temple, the Tombs of the Nobles, the Medinet Habu Temple and if you like you can go for a hot air balloon ride!
This is the best Egypt itinerary to have complete overview of the country .
2 WEEKS EGYPT ITINERARY
Places to stay in egypt.
The first decision to take when you are planning any Egypt travel itinerary is where to stay when you arrive. Central Cairo or Giza (roughly 5 km from Cairo, where the Pyramids are) are the main options. While there you will visit sites sometimes in Cairo and sometimes closer to Giza. While there are no other relevant places to visit in Giza other than the Pyramids (until the new GEM opens), if you choose well you can wake up every morning in front of the last of the seven wonders of the ancient world.
This is why, in a Cairo three day itinerary, I recommend you stay in Giza. We stayed in a historic hotel, now part of the Marriott chain: the Marriott Mena House .
MARRIOTT MENA HOUSE *****
If you want more details then read my review of why the Mena House is the best place to stay in Cairo with a family . The hotel first opened its doors in 1886 as a magnificent oriental palace. Since then the palace has been renovated many times and a new wing has been added. It is now a modern complex, but still keeps its charm and luxurious feeling. The rooms are generous in size with a lovely balcony to relax. Many of them offer a Pyramid view. The hotel can also arrange cribs in your room. We had two and still had enough space to move around easily. There is a lovely swimming pool and also a small kids pool. There are two different restaurants serving international or Indian food. The breakfast buffet is extensive and varied. If you are a Marriott points collector you only need 25,000 points to stay here.
If you are looking for something a little cheaper then you can consider the Pyramids Guest House or the Egypt Pyramids Inn . These are smaller family run hotels closer to the Sphinx side. Some rooms have a Pyramid view and both have a great roof terrace where you have an astonishing view of the Giza plateau.
In Aswan we were really happy at the Kato Dool Nubian resort , although I would have preferred to stay at the Sofitel Legend Old Cataract . Unfortunately a famous Egyptian was getting married and rooms in the nicest hotels in town were all booked.
If you can afford the Old Cataract you can dream to be Agatha Christie taking inspiration for your next novel!
SOFITEL LEGEND OLD CATARACT*****
The hotel is located on the banks of the Nile, just in front of Elephantine Island. Many rooms and suites offer magnificent Nile views.
There are 2 swimming pools , one indoor and one outdoor.
Four restaurants cover all tastes with international and oriental options.
If you feel really active you can exercise in the fitness centre and then relax in the spa with sauna, hammam, and hot tub.
KATO DOOL NUBIAN RESORT
The Kato Dool Nubian resort is a lovely family run hotel. Calling it a resort is definitely a stretch, but is a really nice place to get in contact with the Nubian culture. The little houses are located directly on the river Nile. The rooms certainly are not five star hotel rooms, but they are super clean. Although they are a bit small if you need to add 2 cots. In the morning it is lovely opening the door to the relaxing river view, and having a good typical breakfast at the colourful tables on the sand. They offer the possibility to also have lunch and dinner . Food is really good and in the evening the atmosphere is romantic and relaxing even in its simplicity.
Red Sea, El Quseir
By the Red Sea you will have a lot of options to evaluate for your stay, from 5 star resorts to smaller guesthouses. The Radisson Blu Resort offers an unbeatable value for money.
RADISSON BLU RESORT, EL QUSEIR
The Radisson Blu Resort is one of those places where you will consider to go back just to relax. They offer full and half board and I recommend it as there is nothing else nearby. The resort is vast offering a really long stretch of beach and also a quiet lagoon. It isn't a pretentious place, everything is well integrated into the landscape and you will feel really welcomed. There are many different types of room . The best of course are just in front of the beach were you can enjoy the sunrise. There is big pool and a smaller, covered kids pool. A playground and the lagoon are also great for kids. This resort is a perfect place for families, you can read a more detailed review in this other article .
Many nationalities need a Visa to enter Egypt which costs $25. You can pay for a visa online or get one on arrival. At the airport you can only pay in US dollars, but there are options to exchange money in the Airport if you need to. As I wasn't sure if the process would be as quick as many other people reported I decide to apply online. It is a long process because the website is not optimised and you also need to wait 24-48 hours to get the Visa approval, but I preferred to have the Visa in my hands. As we travel with small kids I always try to do everything to make the admin more efficient.
VISA ONLINE : you can use the official channel Visa2Egypt . You don't need to pay an agency or intermediary to do it. When you upload pictures of your passport just make sure you save them in a small size or the system will not accept them.
VISA ON ARRIVAL : go to the visa on arrival window BEFORE getting in the queue for immigration. Here you will give them $25 and they will give you a visa on arrival sticker. Place the sticker on a blank page in your passport and get in the immigration queue.
WHAT IS THE BEST TIME TO VISIT EGYPT? Assuming that you are not planning just to lie on the beach, the best time to go to Egypt is between November and March-mid April. In those months the temperatures should range between 20 to 27 degrees ( Cairo being a little cooler than Luxor), and it will make your sightseeing much more pleasant. If you can, avoid the summer months when the temperatures are easily above 40 degrees. Weather in Egypt for kids could be tough and make them grumpy, especially if they are not used to high temperatures. Just try to organise your sightseeing early in the morning and later in the afternoon to suffer less the consequences.
MOVING AROUND
You will happy to discover that Uber has arrived in Egypt, even if it doesn't cover all the touristic sites. Cairo is where you will probably use it most. It is a welcome relief from bargaining with taxi drivers. Don't get me wrong, engaging in the bargaining game can be fun sometimes, but not when you maybe have a grumpy child and you just need to get somewhere!
From Giza to central Cairo, and around central Cairo we used Uber and we never had any issues.
AT CAIRO AIRPORT : you can now book Uber when you arrive at the airport. We personally decided to pre-book a transfer with Cairoshuttle for 450 EGP to be on the safe side. They picked us up in a minivan then in 50 minutes delivered us to the hotel in Giza.
CAIRO-ASWAN : There are several ways to move from Cairo to Aswan. If you are considering the 14 day Egypt itinerary you could evaluate the day train in first class, but to be honest with small kids in Egypt I think the best solution is the plane. We love train journeys, even long ones like the transfer we took from Cusco to Lake Titicaca , but in this case I don't think it is a pleasant enough experience.
IN ASWAN : when we arrived at the airport we had a driver waiting for us pre-booked with the Kato Dool House (€10). At the airport it is usually practical to have something organised instead of wandering around with luggage and kids.
LUXOR-RED SEA : As I mentioned above you shouldn't leave organising this transfer to the last minute as the driver needs to request a police permit the day before. If you have time in Luxor you can ask several taxi drivers around and compare or ask your hotel for help. We organised through Djed, the company we booked the Nile cruise with.
HOW MUCH IS A TRIP TO EGYPT
A trip to Egypt could cost really little if you want. Although considering that everything is much more affordable, including nice hotels and restaurants, it could be also the opportunity to treat yourself to something more special.
A double room in a three star hotel starts usually as low as $20, you can easily eat a meal for $5, and Taxis are also really cheap .
We decided to go for a more comfortable trip. Here is a summary of the cost
Final reflections
If it is the first time you organise an independent trip abroad with kids and even after reading this detailed Egypt itinerary you still don't feel so confident, then why not consider an easier country like Japan or Montenegro , or you can even start with a weekend in London , Venice , or Dubrovnik . Any of these places will give you the exploring bug and you will not want to stop travelling the world.
NO TIME NOW? SAVE IT FOR LATER
Clotilde Passalacqua
Clotilde is a resilient, resourceful and adventurous person that navigate the world of travelling with kids. She is a mum of 7 years old twins and she share practical tips, profound insights and genuine personal experience to empowers family to embrace travel with children as an enriching experience rather than a daunting challenge.
You May Also Like
Best things to do in Egypt with kids
10 Tips to make a trip to Egypt successful with toddlers
Mena House the perfect place where to stay in Cairo with kids
What a superb itinerary! We are looking for an adventurous holiday with our 16 month and 3.5 year old and you've now sold us on Egypt.
Thank you so much Ines! I'm so happy you found my article inspiring, feel free to get in touch if you have any question. Enjoy Egypt!
Enes Altintas
Hi, thank you for the good tips! we are planning to go same itinerary in April 2020. But my daughter will be 6 months old and I have a 4 year old boy. is that a risky thing to go for Egypt? We are experienced travellers with many flights. we brought our son when he was 1,5 years to south east asia. we live in west Europe. Any health issues we should concern? we will take our time (3weeks) and find some good clean hotels. Do you recommend to go ? especially with a 6 month old?
Hi Enes, I'm really happy you found my tips useful! I don't see anything risky especially for your 4 years old. April will start to be quite hot, but if you avoid to go around with your daughter during the central hours of the day you will be ok. You have a good amount of time to take it slowly! We never felt in danger and found the people really kids friendly! From the health point of view we didn't have any issue, but we were more careful than useful about we ate and drank. I had some concern too before we went, so we booked hotel and restaurant above the usual standard, and even if we had few buffet meal we didn't have any issue. Before to go we all got typhoid and hepatitis vaccination, I'm guessing you will need to check that with your doctor. Let me know if you go, I hope you will have a fantastic time!
Did Marriot Mena House have cribs or extra cots?
Hi Tracy, yes they provided us with 2 extra cots. If you look at my review article for the Mena House https://www.aprincesstravellingwithtwins.com/mena-house-perfect-place-where-to-stay-in-cairo-with-kids/ you will see a picture of them near the main bed. Enjoy
Hello! Loving this itinerary. Did you bring car seats with you when using Uber? Also, did you mainly use your prams/strollers? Thanks!
Hi, yes we did. Since our kids met the requirement in terms of weight we started to use Mifold . Mifold is a foldable booster seat, super practical to keep in the backpack/handbag. We are extremely happy with it! I wouldn't have felt safe without it. And yes also to your second question. We used our beloved Joolz Geo in most places. In some cases (like when visiting the pyramids or other sites), we left it in the hotel in favour of the baby carrier, but it was convenient to move around in markets or even places like Luxor. I hope you will have a great time in Egypt! Get in touch if you need more info
Leave a Reply Cancel reply
Your email address will not be published. Required fields are marked *
GET THE LATEST PRINCESS TIPS AND ADVICE FOR THE BEST FAMILY ADVENTURES
How to Spend The Perfect 10 Days in Egypt Itinerary
By: Author Contributor
Posted on Last updated: 11th May 2023
Categories Egypt , Itineraries
Last Updated on 11th May 2023 by Sophie Nadeau
Who hasn't dreamed about a trip to fascinating Egypt? I bet you have… This incredible country in the northern part of Africa is a perfect place to visit for a long trip. Here's the perfect 10 days in Egypt itinerary to inspire your next adventure.
Is 10 days enough time in Egypt?
Getting around egypt, days 1-3: cairo and more, days 4-5: luxor, days 6-10: the red sea and back to cairo.
Egypt is a fairly big country with plenty to see and do, especially for first timers. With that being said, 10 days is more than enough time to get a brief overview of the country and see some of its main attractions.
As Egypt is easy to reach traveling from any country in Europe, it can also be an ideal short escape destination as well. In this 10-day Egypt itinerary, we offer a well-planned outline around the country that includes key landmarks that everyone wants to see and some super fun activities to do.
You can easily copy our proposal or adapt this itinerary to your taste and travel style. Are you ready? Let's see the best of Egypt in 10 days!
This 10-day in Egypt itinerary starts and ends in El Cairo, Egypt. Moving around the country is easy with low-cost flights, buses, or even affordable group tours.
It is also very convenient to hire a driver and a guide to take you around. You can discuss your route with them during the planning phase to make the best of the time there and to make sure you visit the exact place you intend to discover.
Best Things to Do in Egypt in 10 Days
Devote the first two (or even three) days in Egypt to explore the capital. El Cairo has a lot to see and discover, especially if you are interested in the mysterious history of the civilization that thrived on both banks of the Nile centuries ago.
Once in Cairo, it will be impossible to decide which of the many local museums to explore. For that reason, and given that every traveler is different, we leave you down the two best museums to discover in Cairo, feel free to decide if you want to explore both of them or just one.
Egyptian Museum of El Cairo
It would be a pity to get to Cairo and not make some time to explore the Egyptian Museum. Spare at least 2-3 hours on your first day in town to visit the most remarkable museum in the country, where the most important pieces of Ancient Egypt are exhibited.
This incredible museum stands in Milan Tahrir, in the center of Cairo. The first thing that will catch your eye will be the unmistakable pink facade giving life to the amazing neoclassical-style building designed by a French architect.
The museum, which opened its doors back in 1902, maintains a traditional decorative style that will certainly transport you back in time.
Home to the world's largest archaeological collection of evidence dating back to the various pharaonic eras, you will be amazed at the more than 120,000 findings and monuments including the contents of the tomb of Tutankhamen, and most of the mummies discovered during different excavations.
Spanning two massive floors, the museum explores aspects of Egypt from the Ancient Kingdom to the Greco-Roman period.
However, it is a very ancient exhibition that has not been reordered or reorganized for more than a century. Unfortunately, this results in some sections lacking enough content or information, so it is always advisable to book a tour led by a professional guide.
National Museum of Egyptian Civilization (NMEC)
The National Museum of Egyptian Civilization is one of the most important landmarks in the country and one of the largest international museums for the exhibition, conservation, research, and dissemination of Egyptian history.
Besides, this is the first museum dedicated to the most ancient and prehistoric civilizations featuring exhibits that have been transferred from other museums in Egypt such as the Cairo Museum, the Museum of Islamic Art, the Coptic Museum, and the Museum of the Royal Jewels in Alexandria.
This fantastic tour includes a visit to both the Egyptian Museum of El Cairo and the National Museum of Egyptian Civilization with an Egyptologist as your guide. Check prices and availability here.
Coptic Quarter
During the afternoon, head to the impressive Christian quarter of Cairo where other than exploring the streets and old houses, you can spend some time visiting the stunning Church of Santa Barbara , which is also known as the Hanging Church.
Located in the heart of Old Cairo, the church stands on top of one of the entrances of the Babylon Fortress and its main nave stands suspended above a corridor giving the impression of an imposing building suspended in midair.
The building was constructed sometime during the third century and it was originally used by soldiers who lived inside the so-called Babylon (or also Roman) Fortress.
If you are interested in the history of the Coptic Christians of El Cairo, you can combine the visit to the church with a stop at the Coptic Museum, just two minutes from the church.
The Pyramids
The whole second day in Cairo will certainly be one of the highlights of your trip, you will discover the impressive Pyramids, the main reason to visit Egypt in the first place, right?
The best way to do the Giza Pyramids Tour is to book an online experience before arriving in Cairo, that way you'll be certain that you get what you paid for, there is enough availability, and – in case of a last-minute cancellation – you will be either given your money back or an alternative tour will be offered.
You cannot count on that if you book last-minute on-site. Unfortunately, tourist scams are super common in the pyramid area and this is one of the best tricks to avoid them. So book everything beforehand and avoid unpleasant surprises and disappointment!
No matter what tour you choose, you will start by visiting the Saqqara area and the Djoser Pyramid as it is believed to have been the first model for all the pyramids that were built after this one.
Tours usually continue with a stop at Memphis to check out the statue of Ramses II and then visit the bizarre Dashur Pyramids with their curious oval cuspids. The best part of the experience comes next when you head to Gaza to check out the three most famous pyramids, Keops, Kefren, and Mankaure.
This is a private yet super affordable tour that covers all these stops and includes transport, hotel pickup and drop-off, and a private tour guide. Check prices and availability here.
Khan el-Khalili Bazaar
Have some fun on your last morning in town exploring one of the most amazing markets in the continent, located at the entrance of an important mosque, this street market has several alleys of traditional stands where bartering for a better price is the way to go, no matter what you wish to buy!
The bazaar is also the oldest and largest bazaar in Africa and it probably dates back to the early Middle Ages spreading over an area bigger than 5000 square meters.
Other than being the right place for souvenir hunting, over the centuries, the bazaar has been the place where locals meet and socialize, discuss politics and the latest news… and eventually shop too!
The lively place is safe and friendly, and getting lost is nothing but part of the adventure. This popular spot in town is also among the locals who still do some of their shopping in most of these colorful stands.
Al Muizz Street
Al Muizz Street is another famous corner in Cairo quite close to the bazaar. You can go for a walk along this picturesque street and visit one of the most beautiful mosques and monuments in Islamic Cairo.
The street is among the oldest in the country and one of the best open-air museums and Islamic medieval buildings that you can find in Egypt.
One of them is the impressive Al-Azhar Mosque and the center of Sunni Islamic education. The incredible mosque dated back to the year 972 B.C. and it shelters one of the oldest universities in the world.
Citadel of Saladin
Finally, check out the curious Citadel of Saladin, originally built in 1176. The place is one of the world's greatest medieval attractions which houses a mosque, as well as numerous museums and sites.
The famous citadel was once the city's seat of power, where sultans, ministers, and pashas lived and ruled later in history, during the nineteenth century.
The citadel features incredible protective features, including a fortress and defensive walls, towers, and three impressive gates.
Today you will take a flight from Cairo to Luxor to check out places that you would otherwise miss on a Nile cruise. Luxor is famed for being the world's biggest open-air museum and boasts treasures such as the Karnak complex of temple ruins and the Valley of the Kings
Valley of the Nobles
In Luxor, you will spend the first day admiring the Temple of Ramses II, the Temple of Seti I, and the Valley of the Nobles. These funerary complexes were excavated inside a rocky slope and used to honor governors, other figures of the noble class, and senior officials of ancient Egypt.
Temple of Karnak
On the East Bank of Luxor, you can check out priceless archaeological sites of the ancient city of Thebes, such as the Temple of Karnak, one of the most precious gems in the country.
The Karnak temple is a complex that features a former fortified village with a great number of temples, chapels, columns, and other buildings made between 1971 BC and around 30 BC.
The complex is a vast open site where you can check out the Karnak Open Air Museum, the second-most visited archaeological site in the country after the pyramids in Giza.
Important tip: If you have extra time to discover the country, it is a good idea to embark on a 4 or 5 Nilo cruise that from Luxor takes you to Aswan.
Or, if you prefer to avoid visiting the seaside towns facing the Read Sea we propose below, these Nile cruises can be a good option for a relaxing adventure filled with sightseeing and onboard activities.
It is a good idea to spend the last days discovering the Red Sea coast. And Hurghada is an excellent destination.
You can get to Hurghada by plane from Luxor (the trip is a bit more than an hour) or by bus (about 4 hours). Once at the destination, you will be able to spend time by the sea and enjoy scuba diving, one of the most popular activities in the area.
Where to stay in Hurghada
These are some of the best seaside hotels and resorts in this important Egyptian town.
– Arabella Azur Resort: This beautiful complex features a lagoon-style pool, a private beach area, and a spa. The rooms are bright and open onto a balcony overlooking Hurghada or the Red Sea. Check prices and availability here.
– Bel Air Azur Resort (Adults Only): Check out this gorgeous, all-inclusive beach hotel with incredible freshwater pools, and rooms with a balcony and free minibar. Check prices and availability here.
During these three full days in Hurghada, activities are fewer. The idea is to relax from the several museums and archaeological sites visits that filled your first days in Egypt.
However, we have listed below some of the best things to do in Hurghada to discover the fantastic coast of the Red Sea and relax while enjoying fantastic adventures and experiences.
Best things to do in Hurghada
Giftun Islands: One of the most popular boat trips in Hurghada takes you to explore the impressive white sand beaches in Giftun Islands, a paradise for snorkeling enthusiasts and fans of scuba diving. In the area, you will find easy access to cal reefs colorful fish, and crystal-clear waters.
Jeep Safari to the Desert: Another popular thing to do in Hurghada is to spend a day of adventurous drives through the desert, traveling off-road to discover the curious acacia tree valleys in the area surrounding Hurghada.
Visit the Marina: Hurghada Marina is located in the central district of Sigala and it is the perfect place to go for a walk after sunset or to enjoy a cup of tea or even dinner in one of the many local and international restaurants.
Hurghada Aquarium: Located in the Ad-Dahar district of Hurghada, this impressive aquarium offers you the best way to learn about and identify the same variety of fish that you have already admired while snorkeling in the Red Sea.
Sindbad Submarine: Probably among the most popular attractions in Hurghada, offering the chance to check out the worldwide famous underwater environment of the Red Sea . This tourist submarine experience takes you more than 20 meters under the Red Sea's surface to see the abundant reef fish and colorful corals for about an hour. This is the best activity for people who don't swim or for small kids, still too little to go on a scuba adventure.
On the tenth and last day of your Egypt adventure, you can take an early flight from Hurghada back to Cairo to board your connecting flight back home.
Enjoyed reading this 10 days in Egypt itinerary? Pin this article now, read it again later:
Gabi Ancarola is a journalist and travel writer who has lived over 20 years in Italy, and has been living in Crete for the last five years. She hosts culinary tours, translates and writes for her Crete travel blog The Tiny Book . She's written for Greek Reporter and published several travel guides about Greece.
This site uses Akismet to reduce spam. Learn how your comment data is processed .
9 Authentic and Essential Things To Do in Seville Spain
Advertise With Us
List or Claim Your Business
10 Day Egypt Itinerary: Cairo, Giza, Luxor & the Red Sea
Here's an Ideal 10 Day Egypt Itinerary [Including Guided Tour Options]
Egypt has more treasures than ever imaginable. With the opening of the new Giza Museum soon, plus new discoveries and tombs unearthed constantly, Egypt will always boast something new and exciting. Whether you're drawn to Giza's mythical pyramids, the peace of the exotic Nile River or the Red Sea's underwater marine life, Egypt should hold a firm spot on your bucket list.
This 10+ day Egypt itinerary is best for history enthusiasts who want to see all the sights but then chill out on the shores of the Red Sea afterward. While the itinerary we discuss below can be navigated in a self-guided fashion, we mention a number of tours operated by locals. Separately, you can book an all-inclusive trip (yes, it also includes the flight) ahead of time which includes many of the highlights discussed below. The Red Sea portion can always be swapped out with a Nile River cruise .
WINE LOVERS BE AWARE
Day 4: head to luxor, day 8: off to the red sea, days 9-12: dive, swim and relax on the beach, travel tips & practicalities.
Fly Egyptair from hubs like New York (JFK) and Washington D.C. (IAD) nonstop to Cairo. Or, combine your trip with a visit to Europe and fly nonstop on a European air carrier to a European city. Once in Egypt, Egyptair offers short-haul flights to other destinations in the country.
Make sure to have local Egyptian pounds as well as US $1 bills for tipping, which is expected there. Egypt does require U.S. citizens to purchase a visa, though you can do this upon arrival. Have $25 in USD cash ready for the visa.
Visiting in summer will ensure you'll have to get up super early to see the attractions to avoid the heat; winter offers sunny and more pleasant temps — but expect more crowds and higher prices.
If you're coming to Egypt expecting wine in abundance, you will be disappointed. Egypt officially does not allow the sale or consumption of alcohol in public places. While this may be a much needed reprieve for some of us that we should take advantage of for health's sake, wine lovers should note that while many restaurants won't serve booze, some more touristy spots will serve to foreigners and almost all hotels offer alcoholic beverage options, approved by the Minister of Tourism.
Stop 1: Cairo | 3-4 Days
Cairo has one of the largest urban populations in Africa with over 20 million people. The crazy traffic and crowded markets may seem overwhelming at first, but hold some measure of intrigue for visitors wanting to experience the Egyptian capital's frenetic energy.
The best way to explore the city is with a local, and Winetraveler recommends using Alber with Egypt by Locals . Private tours often come with a driver, although Uber is available in Cairo.
The city has many upscale yet affordable hotels , with big-name brands like the Conrad, Ritz-Carlton or Marriott — sometimes for as little as $100 per night (depending on the season).
Day 1: Guided Tour of Giza and Cairo
It's complicated to do this solo, though it is doable. We suggest you do this in a guided fashion and hire a private guide for the day through Tours Around Egypt .
Start with the Giza pyramids before the heat sets in, and don't miss the Great Sphinx of Giza. Take note if you choose to go inside the pyramid, it can get crowded, hot and you may have to hunch over during certain moments. Remember, Giza and Cairo are about an hour's drive from one another, and traffic is typically heavy.
Next, head to Coptic Cairo and the Jewish Quarter Haret El-Yahud to see the Babylon Fortress, the Coptic Museum, the Hanging Church and the Greek Church of St. George.
Then, switch gears to discover Islamic Cairo, starting with the impressive hilltop Citadel and Mohammed Ali Mosque, which is reminiscent of Istanbul's Blue Mosque — except it's green.
Finish out the day at the Khan El-Khalili Bazaar, a lively market where you can barter for Egyptian perfume, ceramics, rugs and much more.
Day 2: Visit the Egyptian Museum
This museum is already open and holds many mummies as well as other treasures found in Tutankhamen's tomb. Until the larger Giza Museum opens, this is where you'll find the bounty of Egypt's best artifacts.
Day 3: Explore Saqqara
If you didn't already explore it with your guide on day one, Saqqara is worth a stop. While it is isn't as recognizable as Giza, this ancient capital of Memphis is actually one of Egypt's largest archaeological sites. Make sure to see the pyramids of Teti, the underground burial chambers of Serapeum and the pyramids of Dashur.
The quickest way to arrive in Luxor from Cairo is by plane . An alternative to the one-hour flight is a nine-hour train ride if you'd like to devote the time to admire the vast Egyptian desert by rail.
Stop 2: Luxor | 3-4 Days
Once in Luxor, the Hilton Luxor is located on the Nile River and one of the best places to stay.
Similar to Cairo, you'll need to move around a lot in Luxor if you want to see the best sites. Guided tours may be the easiest option. Emo Tours Egypt can help arrange all guided tours, river cruises and other activities.
Day 5: Guided Tour of the West Bank
Because these attractions are further away from one another, this tour may be best done guided. Why not leverage a local and legitimate Egyptologist to take you around? Book a guided day trip ahead of time with AlHassany Travel and start with the famous Valley of the Kings, where you can explore the tombs of Ramses, Tutankhamen and other ancient rulers.
Then visit the Temple of Hatshepsut, a famous feminist queen and the Temple of Habu. Before heading back to enjoy the sunset over the Nile, visit the Statues of Memnon, imposing statues of Egyptian royalty.
Day 6: Hot Air Balloon Ride and Nile River Cruise
Wake up extra early to enjoy a sunrise hot air balloon tour , flying high over the Nile River and the Valley of the Kings.
Nap or relax during the hottest part of the day; then take a sunset felucca (this is an Egyptian sailboat) ride along the Nile River.
Day 7: East Bank Tour
The East Bank of the Nile offers wonders such as the massive Karnak Temple, the Luxor Temple and the Museum of Mummification. Companies like Egypt Tours Online allow you to plan and customize a day trip per your travel preferences.
If you'd prefer to do this tour without a guide, you can. Start at the Karnak Temple, then barter with a taxi or walk along the Nile about 30 minutes to the Museum. The last stop should be the Luxor Temple just slightly further away.
Hire a driver to take you to Hurghada or El Gouna, which are resort areas along the Red Sea. The drive typically takes 3-4 hours. If you'd like to wake up early and squeeze in one last temple visit, head to the Dendera first, one of the best-preserved temple complexes in Egypt and on the way to Hurghada.
Alternative: Take a Nile Cruise
If you'd prefer to skip the beach and do a Nile Cruise , many leave from Luxor down to Aswan. Once you arrive in Aswan, you can fly back to Cairo before heading home.
Stop 3: Hurghada or El Gouna (Red Sea)
This is the laid-back part of your trip. You can choose an all-inclusive resort or not, but the days can be more flexible, without specific attractions to see. Hurghada has a little more culture and nightlife, whereas El Gouna is more of a resort town for visitors. You can take a look at current El Gouna luxury hotel prices here.
For those wanting to learn to dive, do a PADI course. Certified divers can enjoy the incredible reefs, plethora of shipwrecks and diverse marine life — including whale, whitetip and hammerhead sharks found underwater. If you're not already certified, you can still explore the stunning underwater world of the Red Sea from Hurghada on a guided diving tour with Crazy Dolphin .
Other activities include desert quad adventures or simply relaxing on the beach after a busy week of touring Cairo and Luxor. As mentioned above, this portion of the trip can always be skipped in lieu of a Nile River Cruise depending on your interests.
You can hop on a one-hour flight from Hurghada to Cairo to catch your flight home.
Frequently Asked Questions about Planning an Egypt Itinerary
Is 10 days enough for egypt.
Certainly! While Egypt is a country rich in history, culture, and attractions, a well-planned 10-day trip can give you a wonderful taste of what this amazing country has to offer. You can spend a few days exploring Cairo, visiting the world-renowned Egyptian Museum and wandering through the bustling Khan el-Khalili bazaar. Of course, a visit to the iconic Pyramids of Giza and the Sphinx is a must. Next, you can take a short flight or train to Luxor, home to the Valley of the Kings and the magnificent Karnak Temple. If time allows, a cruise on the Nile River up to Aswan can be a memorable experience, offering a leisurely way to see several ancient sites. In Aswan, highlights include the Philae Temple and the Unfinished Obelisk. With any remaining time, consider a trip to Abu Simbel, an impressive temple complex near Sudan's border. Though 10 days won't cover every single wonder Egypt has to offer, it will definitely allow you to experience the highlights and leave you with unforgettable memories.
How much does 10 days in Egypt cost?
The cost of a 10-day trip to Egypt can vary greatly depending on your travel style, choice of accommodations, sights visited, meals, and the cost of international flights from your home country. For budget travelers who are content with economical accommodations, eating at local food stalls, and using public transportation, the cost could average around $30-50 per day excluding international flights. This means your 10-day sojourn could cost approximately $300-500. On the other hand, mid-range travelers who prefer more comfort might opt for 3-star hotels, dine at restaurants, take guided tours, and use private or more convenient modes of transport. In this case, your daily cost might be in the range of $100-150, which equates to around $1000-1500 for 10 days, excluding the cost of international flights. For luxury travelers who wish to stay in 4-5 star hotels, indulge in fine dining, take private guided tours, and possibly include a luxurious Nile cruise, you can expect your daily costs to be around $250-400 or more. This would bring your 10-day trip cost to somewhere between $2500-4000 excluding international flights. Remember, these are rough estimates and costs can vary depending on various factors, including the time of year you're traveling and the current economic climate.
You are reading "10-Day Perfect Egypt Itinerary: Cairo, Giza, Luxor & Red Sea" Back To Top
Egypt itinerary, Egypt travel guide, Egypt tours to book ahead of time: best things to do in Luxor
If you enjoyed this guide, make sure you register to become a Winetraveler for free! You'll get access to all of our content and interact with other Winetravelers and for travel inspiration around the world. Be sure to follow along with us on Instagram as we continue to feature more exciting destinations.
Get Articles Like These Directly in Your Inbox!
Subscribe to Winetraveler and receive notifications when new travel guides and itineraries are published. It's free!
Email Address
Sign Me Up!
Login to view more Articles
Leave a comment, ask a question or share a review cancel reply, comments ( 6 ).
This itinerary reads like a dream. Hope to follow in these footsteps before too long and will contact the recommended guides whenever that hopefully happens.
The post reminded me of the trip I did to Egypt… would love to do your suggested itinerary too. By the way, I like your blog's name. I have "wine" in mine too as I am a wine snob. 😀
So glad you see you dive into this Lori! Egypt has been high on my list for many years being an archaeologically-intrigued traveler. This route sounds like a great place to start =D.
Thank you Lenore. I hope you get to visit Egypt very soon!
Greig, you will love it! I was pinching myself the whole time, thinking I was really seeing all the things I'd read about in books as a child up close and personal.
Ella, isn't Egypt amazing? I hope you get to test out this itinerary! And any blog with the word "wine" in it is a good one! 🙂
You Might Also Like
Top 20 things to do when visiting luxor egypt in 2023, 25 cheapest countries to visit for adventure, food & wine this year, best stellenbosch wineries & wine tours (updated 2023), the best things to do in cape town (updated 2023), cheers to free membership.
Explore new paths. Travel expertise from locals and wine industry experts.
Get free access to all the goods:
Exclusive articles
In-depth itineraries
…and more
10 Day Tour of Egypt
10 days in egypt itinerary description.
Exploring Egypt Tour
If you are wondering what to see in Egypt in 10 days, we have the answer!
Discover this beautiful country with just 10 days in Egypt on our 4-city tour. We at Inside Egypt, we've designed a wonderful all-inclusive Egypt vacation package for you that covers all the major sights in the top four cities in the country: Cairo, Giza, Luxor and Aswan. What more could you ask for on your 10 day tour of Egypt?
Your 10 days in Egypt adventure starts at Saqqara and Dahshur, where you'll see Egypt's first pyramid – the Step Pyramid – and the famous Bent Pyramid and Red Pyramid, set against the stunning desert backdrop.
On your 10 days in Egypt itinerary, you will visit the Egyptian Museum as well as Historic Cairo to see Saladin Citadel with medieval mosque and learn about the city's history. You will experience Egyptian life with food and drink at a local coffee shop, following a shopping trip to the legendary Khan el-Khalili bazaar.
The next few days of your 10 day Egypt trip are full of ancient temples. First you will take a short flight to Luxor to embark on a luxury Nile cruise sailing from Luxor to Aswan. Prepare to be wowed when arriving in Luxor. See the pharaohs' final resting place at the Valley of the Kings, the beautiful Temple of Hatshepsut and the awesome Karnak Temple Complex with its many magnificent columns and statues.
During the cruise the ship will stop at Edfu Temple and Kom Ombo Temple to let our knowledgeable and passionate guide show you the sights. You can relax while sailing along the Nile, taking in the beautiful scenery.
From Aswan, you will travel to Abu Simbel in a comfortable coach to see the rock-cut Abu Simbel Temples and the same day you will takte trip to Nubian Village. The next day you will visit the Temple of Philae and the Unfinished Obelisk. You will then fly back to Cairo.
On the penultimate day of the tour, you will visit the most iconic historic site in the world outside regular hours for an intimate and crowd-free experience. You will explore the Pyramid of Khufu – including two chambers that are closed to the public – without any other tourists. You will marvel at a once-in-a-lifetime chance to touch the Great Sphinx and watch the sunrise from between its huge paws.
This is the trip of a lifetime, one you won't soon forget. You'll wonder beforehand what to do in Egypt for 10 days, and we'll show you the best bits of this beautiful country. Your memories of your Egypt vacation will stay with you forever.
If you have a 10 days holiday in Egypt you'll think that you can't possibly fit everything that you want to see. With a carefully planned 10 days in Egypt itinerary, we'll show you this country at its magnificent best, visiting five of the most exciting cities in the world. Come with us and make the most of your 10 days in Egypt. Or, if you'd rather have a longer stay in the country, check out our 14-day Egypt tour .
We offer a 5-day trip to Jordan after the Exploring Egypt tour. 5 days is enough to visit the most important highlights of the small country of Jordan. With so much to see and do in Jordan, it would be a shame to miss out. You can easily add the trip to Jordan when booking your trip to Egypt through our online booking form. Join one of our Egypt and Jordan tours today!
If you prefer a more customized alternative, check out our Egypt private tours and let our experts create the best Egyptian itinerary for you.
Why Take This exclusive 10 DAY TOUR OF EGYPT?
Take a 5-star journey across this fascinating country with our 10 day tour of Egypt
Visit all the major sights with a 10-day Egypt tour of four cities
See iconic landmarks like the Pyramids of Giza and the Great Sphinx privately - in a true royal style
Relax on a Nile River cruise for four days
See four Egyptian UNESCO World Heritage Sites on your 10 day tour of Egypt
Live like a local with Egyptian cuisine and a shopping trip to remember at Khan el-Khalili
10 Days in Egypt Itinerary Overview
Arrive cairo, egypt - start of 10 day tour of egypt.
Welcome to Egypt! Our representatives will be waiting for you at Cairo International Airport with a sign displaying Inside Egypt's logo and will take you to the 5-star Marriott Mena House Hotel in Giza, close to the Pyramids. Check-in time is 2pm. After your long journey, you'll have time to rest in your room and get ready for dinner. Dinner in the hotel's restaurant.
Accommodation: Marriott Mena House Hotel, Giza.
Meals: Dinner
Visiting the necropolises in Saqqara and the pyramids in Dahshour
After breakfast at the hotel, there will be an orientation meeting with your Inside Egypt tour guide and tour leader. We'll begin our tour in Saqqara, with the Step Pyramid of King Djoser , the Unas Pyramid Complex, the mastaba of Kagemi and the Imhotep Museum . After lunch at a local restaurant, we will visit Dahshur to see the Bent Pyramid and the Red (or North) Pyramid , both built for Pharaoh Snefru between 2613 and 2589 B.C. The pyramid fields from Giza to Dahshur were designated a UNESCO World Heritage Site in 1979. Dinner at the hotel.
Meals: Breakfast, Lunch, Dinner
The Egyptian Museum and the Citadel of Salah Din & the legendary Khan el-Khalili bazaar
Start the day with a leisurely breakfast at the hotel. Today you will explore the Egyptian Museum, home to more than 120,000 artifacts from all eras of ancient Egypt. On display are priceless items from the tombs of pharaohs and the temples of gods.
Next we will visit the Citadel of Salah Din, a medieval fortification in Historic Cairo, and the 19th-century Muhammad Ali Pasha Mosque built within its walls. Lunch is at a special local restaurant in downtown Cairo. You will spend the afternoon at the legendary Khan el-Khalili bazaar, where you'll be able to shop for everything from trinkets to luxury items and see the local Egyptian people hawking their wares. You can then sit and watch the world go by with tea or coffee at Cairo's oldest coffee shop while you absorb the atmosphere. Dinner at the hotel.
SAILING THE NILE: Flight to Luxor, West Bank of Luxor sightseeing (the Valley of the Kings, the temple of queen Hatshepsut), the Colossi of Memnon, Luxor temple
Early morning flight to Luxor. Upon arrival in Luxor we will take a motorboat ride across the Nile to visit the Valley of the Kings , including entry to three royal tombs. If you want to visit Tutankhamun's tomb , you can do this for an additional EGP 350 (around USD 15) .
Check-in on 5-Star Luxury Cruise Ship. Lunch will be at a local restaurant.
Next, we will visit the temple of the famous queen Hatshepsut , followed by the huge Colossi of Memnon ,
Optional trip to Medinet Habu.
In the evening we will visit the beautiful Luxor Temple with its obelisk and enormous statues of Ramses II. The best time to see the temple is at dusk when the columns are lit and there are few people about – truly a magical experience. You will then have some free time. You can visit the local souk (a bazaar) and enjoy some shopping, then take a break at a local coffee shop. We'll head back to the ship for dinner.
Accommodation: 5-star Cruise Ship .
SAILINING THE NILE: Karnak temple sightseeing & Sailing to Edfu
Optional trips: Early-morning hot air balloon ride and the Valley of the Queens.
Spend the morning at the magnificent Karnak Temple Complex , the largest temple in Egypt. Lunch on board.
Enjoy the relaxing sail to Edfu. Dinner on board.
SAILING THE NILE: the Edfu temple, Kom Ombo temple with Crocodile Museum & Sailing to Aswan
After breakfast we will visitthe magnificent Edfu Temple . We will travel to and from the temple by horse and carriage, enjoying a local mode of transport. Next, we sail to Kom Ombo to visit the Ptolemaic-era Kom Ombo Temple and the Crocodile Museum , which showcases mummified crocodiles that were dedicated to the crocodile god, Sobek. We will then continue our trip along the Nile to Aswan. At tonight's dinner, we'll have some fun with a "galabeya party," wearing the famous Egyptian garment. Traditional music and dancing will accompany an Egyptian buffet.
SAILING THE NILE: Abu Simbel sightseeing & trip to the Nubian Village
Our first day in Aswan will start with a journey to Abu Simbel to visit the majestic Abu Simbel Temples, built on the orders of Pharaoh Ramses II. When their original location was to be submerged by the construction of the Aswan High Dam, the temples were moved to higher ground. In 1979, the Nubian Monuments from Abu Simbel to Philae were named a UNESCO World Heritage Site. Optional trip: Inside the mountain constructed to house the relocated temples of Abu Simbel. After lunch on the ship we will visit a Nubian village. Dinner will be served on board the cruise ship.
Accommodation: 5-star Cruise Ship .
Sightseeing of Aswan: Unfinished Obelisk and temple of Isis, flight from Aswan to Cairo
After breakfast we will visit the Unfinished Obelisk, the largest obelisk in the world. Next, a motorboat will take us to see the Temple of Isis on an island in Lake Nasser. The island where the Philae temple complex was originally located was another casualty of the Aswan High Dam and was moved, piece by piece, to its current location.
Lunch on the ship. You will then be transferred to Aswan Airport for your flight back to Cairo.
Accommodation: Four Seasons Cairo Hotel at First Residence
EXCLUSIVE! PRIVATE ENTRY TO THE GIZA PLATEAU & THE GREAT PYRAMID, SPECIAL ACCESS TO THE GREAT SPHINX ENCLOSE
Our exclusive experience begins in the early morning with a private tour of the Giza Plateau before the general public is admitted. We'll enter the Great Pyramid of Khufu, the last of the Seven Wonders of the Ancient World still standing, including a rare glimpse of two rooms normally closed to visitors — the Queen's Chamber and the Subterranean Chamber. We'll be granted special private admittance to the enclosure of the Great Sphinx to marvel at this majestic creature up close without the din of the crowds. You'll even have the opportunity to run your hand along its weathered limestone and imagine how magnificent it must have looked at the height of its glory. Lunch at a local restaurant.
Optional trip to the Old Cairo district (Misr el Qadima).
Tonight we'll toast your Egyptian memories at a celebratory farewell dinner at the hotel.
Depart Cairo - End of Egypt 10 day tour or Alexandria add-on (full day sightseeing in Alexandria)
This is the last day of 10 days in Egypt – although we think many of you will return. After breakfast and checkout, you will be transferred to Cairo International Airport by our representative.
We hope you will return home with amazing memories of Egypt. We design our program with your enjoyment and happiness as priorities. Our guides and staff want to make sure you get the most out of your visit. We hope that Egypt has found a place in your heart and you take a spirit of wonder home with you. Thank you for trusting us with your Egypt vacation.
Meals: Breakfast
EXPLORING EGYPT TOUR PACKAGE PRICING
10 days in Egypt tour cost: $4385  (USD) per person in a twin/double room , based on 2 sharing  with a low deposit of just $1000. If you travel alone and you would like to stay in a single room then the supplement is  $1585 (USD).
Payment Schedule: - $1000  deposit – during booking. - Remaining balance – 90 days before the Egypt tour Payments can be made via bank transfer or credit card. We accept Visa and MasterCard with 3-D Secure. For the wire transfer option, any fees are to be covered by the Traveler. 
Our 10 day Tour of Egypt Package Includes:
Five Star Accommodation - five nights in Five Star hotels in Giza;
Four nights onboard a Five Star Deluxe Nile Cruise Ship;
Domestic flights during the tour (Cairo - Luxor &  Aswan - Cairo);
Three meals a day – breakfast, lunch and dinner;
All sightseeing tours and entrances included in the itinerary;
bottled water during the sightseeing;
English speaking guide;
English speaking tour leader;
Transfers in air-conditioned buses;
Airport meet and greet;
Airport Arrival & Departure transfers;
Government taxes; 
Private entry to the Giza Plateau and the Great Pyramid, Special access to the Great Sphinx
Our 10 Day Egypt Tour Package Does Not Include:
International flights to/from Cairo in Egypt (we can help you with booking);
Travel insurance;
Tips, tipping in Egypt is a way to express your appreciation, and we recommend a tip of $200 per person. This will be paid on the first day of your trip to your tour leader in the hotel. The tip that you give includes all staff on your tour with Inside Egypt, such as the cruise staff, hotel staff, restaurant staff, drivers etc.
Visa cost (visa is only $25 and issued on arrival at Cairo airport),
Soft and alcoholic beverages,
Personal expenses. 
10 DAY TOUR OF EGYPT PHOTO GALLERY
INFO ABOUT THIS 10 DAY TRIP TO EGYPT
The option to upgrade your room, whether in the hotels in Cairo or on the cruise ship, is available upon request. Information regarding upgrade availability and prices will be provided before you begin your trip. Please note the upgrade availabilities are limited. The first day of your Egypt vacation is dedicated to arrivals as our guests will be arriving throughout the day. All guests will be greeted by an Inside Egypt representative at the airport and transferred to the hotel. We recommend you try to book a flight that arrives in the morning or afternoon to allow you time to unpack and rest before dinner. The final day of 10 day tour of Egypt (Day 10) will be dedicated to departures and the checkout time at the hotel is 12 noon. Transfers from the hotel to the airport are provided.
Guests are responsible for booking their international flights to and from Egypt. Please make sure to send us a copy of your flight itinerary so we can arrange your airport transfers. Feel free to contact us if you need assistance booking your international flights.
Our 10 day tour of Egypt itinerary includes all the major attractions and is sure to please you. Additional excursions are available for guests who would like to add on to our standard 10 days in Egypt itinerary. These optional trips are scheduled around the main itinerary to avoid any conflicts should you choose to add them to your 10 day tour of Egypt.
Hot Air Balloon Trip Over Luxor and the Nile River – $155 For unbeatable views of Luxor's famous temples, take a hot air balloon trip over the River Nile's West Bank. High above the crowds in the peaceful glow of dawn, your sunrise flight over Egypt's ancient monuments promises to be a highlight of your visit. For photography buffs, this aerial view is not to be missed.
Valley of the Queens & Nefertari's Tomb – $155 The Valley of the Queens in Luxor served as the burial site of the pharaoh's wives and some royal children of the 19th and 20th Dynasties (1292-1075 B.C.). There are more than 90 known tombs, usually consisting of an entrance passage, a few short halls, and a sarcophagus chamber. You will visit three very well-preserved tombs in the Valley, including the famous Queen Nefertari's tomb, known as the most beautiful tomb in Egypt for its still-vibrant colorful decorations. Nefertari's tomb was closed for many years and has only recently reopened for sightseeing.
Medinet Habu - $95 - For more information CLIK HERE .
Inside the artificial mountain of Abu Simbel – $390 With Inside Egypt you have an opportunity for a completely different perspective on Abu Simbel. This mountain was constructed to house the magnificent temples when they had to be moved. You can go inside the mountain itself to get a behind-the-scenes look at its construction and learn more about the work of archaeologists at this unique complex.
Old Cairo (Misr el Qadima) - $155 This a half-day trip will give you a chance to enter the real world Old Cairo and its monuments. The visit to the Old Cairo district includes Coptic Cairo and sightseeing of two of the first Christian Churches (the Hanging Church and Church of St. Sergius and Bacchus). Later on, you will visit the Amr ibn Al-A'as Mosque followed by the Ben Ezra Synagogue.
Payment for these additional excursions can be via credit card or cash during the tour. Credit card payments include a 2.0% processing fee charged by the bank system. Please inform your tour leader upon arrival if you would like to take part in any of these optional excursions.
Fayoum Oasis tour: a 1-day add-on for the standard arrival day (Day 1) The optional add-on tour to Fayoum Oasis is a full-day trip. We'll leave after breakfast for the 1-hour journey in an air-conditioned coach.
First, you'll see Wadi El Hitan (Whale Valley), a UNESCO Natural World Heritage Site, named for its hundreds of whale fossils. Then you will go to the nearby Magic Lake, where you will enjoy lunch before continuing to Qarun Lake, the third-largest lake in Egypt.
After returning to Cairo, you will enjoy dinner at the hotel. The price for the add-on tour does not include an extra night in a hotel in Giza.
Price: $255 per person
If you wish to participate in our optional 1-day add-on, taking place on the standard arrival day, please indicate this tour when booking your Egypt tour via the booking form on our website. You will need to purchase an extra night in a hotel in Cairo before the tour starts. This can also be completed via our booking form on the website.
If you're not quite ready to return home, we're thrilled to offer you this option to prolong your Egypt trip.
Alexandria tour: a 1-day add-on for the standard departure day (Day 10) Alexandria was founded by (and named for) Alexander the Great in the fourth century B.C. Its strategic location on the Mediterranean Sea made it a successful commercial and political center, which it remains to this day. It was the capital of the Ptolemaic Dynasty, the last dynasty of Egypt and also one of its greatest. Although much of the 2,000-year-old city is covered by today's modern infrastructure, there is still a lot of ancient Egypt to see there. Under the Ptolemies, the Library of Alexandria – the ancient world's single greatest archive of knowledge – was created, along with Pharos Lighthouse, one of the Seven Wonders of the Ancient World. We'll visit the modern library, the Bibliotheca Alexandrina, located on a magnificent site in the Eastern Harbor; the Catacombs of Kom El Shoqafa; and the Alexandria Museum. We will also see the Qaitbay fort from the outside. Lunch will take place at a seafood restaurant overlooking the Mediterranean. We'll return to Cairo and enjoy dinner at the hotel. The add-on's price does not include an extra night at the Four Seasons Cairo Hotel at First Residence in Giza. Price: $315 per person
If you wish to participate in our optional 1-day add-on, taking place on the standard departure day, please indicate this tour when booking your Egypt tour via the booking form on our website. You will need to purchase an extra night in a hotel in Cairo after the tour ends. This can also be completed via our booking form on the website.
Please contact us if you are interested in other add-on tours.
Jordan 5-day add-on, after Exploring Egypt tour (Days 11-15) We've organized an exceptional trip to Jordan, often called the jewel of the Middle East, with unique opportunities to visit ancient cities, admire the magnificent rock formations in the desert, and even swim in the Dead Sea. You'll get to know the ancient city of Petra and the modern King Abdullah Mosque in Amman, the capital of Jordan. You will visit Wadi Rum, a protected desert reserve in the southern part of Jordan, often called the Valley of the Moon, known for its red-pink sands, stunning natural arches and imposing mountains, and prehistoric rock engravings. Wadi Rum Protected Area was named a UNESCO World Heritage Site in 2011. You will end your trip with a wonderful visit to the Dead Sea, where the water is so salty you will float in it.
Day 1: Departure from Cairo & Arrival in Amman You'll fly from Cairo to Amman, Jordan, where our representative will be waiting for you holding our company sign. You will then be transferred to your hotel. Enjoy dinner and your overnight stay at the hotel. Day 2: Amman City Tour Breakfast at the hotel.
You will start the day with a city tour to explore the highlights of Amman. The Roman Theater dates back to the second century, when the city was known as Philadelphia (literally "the city of brotherly love" in Greek). The theater could seat 6,000 and was commissioned by Emperor Antonius Pius. Next, you will visit the Citadel of Amman. The complex consists of a number of structures built during the Bronze and Iron Ages and the Roman, Byzantine and Umayyad eras. At the Temple of Hercules, you'll see the enormous hand that is believed to have been part of a massive Roman statue of the famous hero himself. The two complete pillars there are 30 feet tall and it's believed that the temple would have reached more than 40 feet in height. Then you'll visit the Umayyad Palace, the best-preserved structure at Amman Citadel. The palace includes a huge cistern which was used to transport water to the palace. Lunch at a local restaurant.
Drive to Petra, where we'll enjoy dinner and stay overnight at the Petra Marriott Hotel.
Day 3: Wadi Rum Desert After breakfast, you'll start the day at Wadi Rum, also known as the Valley of the Moon for its otherworldly rock formations. This is where the films Lawrence of Arabia and The Martian, among others, were shot. It is the largest wadi (valley) in Jordan, set on a high plateau at the western edge of the Arabian Desert. Human occupation of Wadi Rum dates back 12,000 years, and on today's SUV safari, you will learn about the ancient and modern Bedouin lifestyle and the animals that make this arid zone their home.
You'll have free time to relax in the afternoon. Return to the hotel for dinner.
Day 4: Petra Breakfast at the hotel. Today, you'll visit breathtaking Petra, made world-famous when it was featured in Indiana Jones and the Last Crusade. Its rock-cut tombs and temples were carved into the cliffs more than 2,000 years ago. You will see the mysteries of the "Rose Red City," the most famous and impressive of which is known as the Treasury, although in reality it was a tomb for a Nabataean king. Its facade reveals many Roman and ancient Greek influences, and it may have been used as a Christian church in Byzantine times. Lunch at a local restaurant.
Next, we will drive to Shobak Castle, the most important Crusader castle in Jordan, followed by a visit to St. George's Church in Madaba, which contains the oldest and largest floor-mosaic map of the Holy Land, dating to the sixth century. We will then travel to Mount Nebo, where the Bible says Moses was given his first look at the Promised Land. The panoramic view takes in the Dead Sea, and you might be able to see as far as Jericho and Jerusalem.
Next we'll check in to our hotel at the Dead Sea. At more than 1,000 feet below sea level, the Dead Sea is the lowest land elevation in the world. It is also one of the saltiest lakes in the world, so much so that you can float in it.
Dinner and overnight at hotel at the Dead Sea. Day 5: Departure Transfer to Amman for your flight from Queen Alia International Airport.
Included: Transfer from the hotel in Cairo to airport 1-way flight from Cairo to Amman Pickup at Queen Alia International Airport and transport to hotel in Amman Transportation in modern air-conditioned private vehicle with an English-speaking driver Local English-speaking guide Luxury 5-star hotel accommodation Entrance fees to all sites on the itinerary 2-hour 4x4 tour in Wadi Rum 3 meals per day Bottled water Visa to Jordan (if we receive your full passport details a few days prior to arrival date)
Not included: Drinks Price: $3425 per person for a double room (deposit is $500 per person during booking; full payment is due 90 days before the tour). Single supplement costs $995 .
Download our Egypt Travel Brochure .
If you wish to participate in our optional Jordan 5-day add-on, please indicate this tour when booking your Egypt tour via the booking form on our website. You will need to purchase an extra night in a hotel in Cairo after the tour ends. This can also be completed via our booking form on the website.
Please carefully read the following Terms and Conditions .
10 Day Tour of Egypt Reviews
Exploring egypt tour travel map discover more tours.
Our signature Egypt Vacation takes you on an enthralling 14-day Egypt tour from Cairo to visit Luxor, Edfu, Kom Ombo, Au Simbel, and back again, exploring Egypt's most iconic landmarks. Vacation the Egypt pyramids ahead of the crowds and enjoy a peaceful moment to drink in the atmosphere of the Pyramid tours of Khufu and the Great Sphinx at the Giza Plateau before tourists are admitted for the day. You'll also discover the country's hidden gems with exclusive access to rooms and locations normally off-limits to the public, and sail down the Nile in style aboard our well-appointed cruise ship to delve further into the mysteries of Southern Egypt. Our 14 day Egypt pyramids vacation offers the most in-depth experience of our Egypt vacation tour packages. 
Don't let an expedient schedule prevent you from getting a premium Cairo Egypt vacation to experience of the best of this mystical realm. This 8 day Egypt tour and vacation to Egypt is planned with efficiency in mind. You'll wander through the halls of the Egyptian Museum, see awe-inspiring views of Cairo, and try your hand at bartering with local merchants before spending 3 nights abroad on a first-class trip down the Nile to see historic temples and the Valley of the Kings. Upon returning to Cairo, you'll tour the National Museum of Egyptian Civilization and enjoy an intimate visit to the Giza Plateau before it's open to other tourists, drinking in the majesty of the Sphinx and the great pyramids with every comfort our luxury Egypt vacation have to offer.
Discover More Tours
Safety Updates on Visiting Egypt During the Hamas-Israel War

Egypt Travel Guide: Best Places to Visit
Egypt, the land of mysteries. Explore the world-famous Pyramids, ancient temples, incredible landscapes, white beaches, and the beautiful reefs of the Red Sea. Egypt is an enormous country that can be traveled on every kind of budget. It is time-consuming to travel around Egypt, so we recommend spending at least one week in this beautiful destination. Use our 10-day Egypt travel guide to visit the best places in Egypt
Egypt Travel Guide (10 days)
The majority of historical sights to visit in Egypt are located along the Nile because the ancient Egyptians lived along its banks. In these 10 days traveling Egypt, you will be guided down following that river. Please note: We optimized the tour we did so you can possibly do the best itinerary.

Day 1 – 2: Cairo
Your journey starts in Egypt's capital: Cairo. It is the gateway to the Pyramids and Sphinx of Giza. Cairo itself is chaotic but in a fascinating way. Visit the mummy room in the museum, the mosque and plan to spend two days with the things to do in Cairo .
Cairo to Luxor: 9 hours
Hotels in Cairo 😴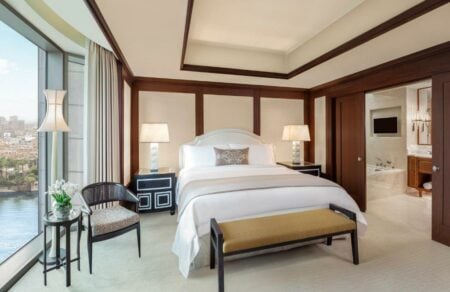 Day 3 – 4: Luxor
Welcome to the world's largest open-air museum. Luxor is the city where would need at least 4 days to visit all the well-preserved temples and tombs. Good to know: If you travel in Egypt is it required to buy a photography pass in order to take photos at most sites.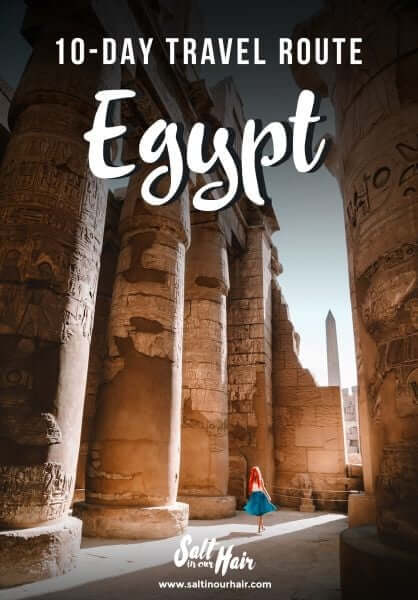 The city has a relaxed vibe, very different from Cairo. You will find yourself in some 'jaw-dropping' moments, for example when wandering around in Valley of the Kings. This is where the tomb of Tutankhamun is located.
Here's: how to get your Visa for Egypt

Spend two days in Luxor and visit the Luxor Temple, Valley of the Kings, Karnak Temple, and Temple of Queen Hatshepsut. Luxor is one of the highlights when you travel to Egypt.
Luxor to Aswan: 4 hours
Hotels in Luxor 😴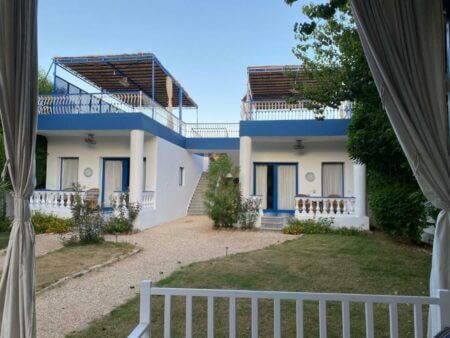 Day 5: Aswan
Aswan is another great stop on the Egypt Travel Guide. Like Luxor, Aswan is located on the Nile. Therefore, sailing the Nile with a felucca from Aswan to Luxor is a popular way to travel Egypt .
Order your Visa online here
While in Aswan, visit the Kom Ombo and Philae Temple and plan a trip to the temple of Edfu, one of the best-preserved ancient monuments in Egypt.
Hotels in Aswan 😴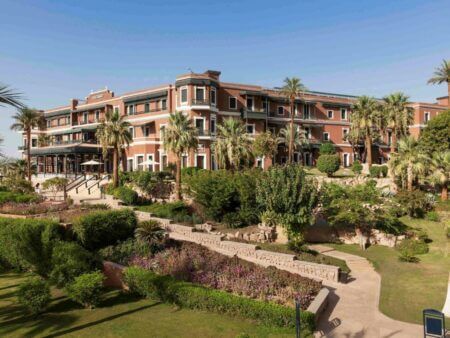 Day 6: Abu Simbel & Nubian village
Rise and shine early and prepare for a 3-hour trip down south Egypt to visit Abu Simbel. The temple complex near the border with Sudan is completely carved out of the side of a rock. Between 1964 and 1968, the entire temple has been moved to higher ground because it was threatened to be flooded. An unbelievable story when you are standing in front of the massive temple. Read more about the colorful Nubian Village in Egypt .
Tip: If time isn't a problem, visit Abu Simbel in the afternoon. It will be far less crowded.

Get back to Aswan, arrange a motorboat and cruise the Nile to the Nubian village. The Nubians are known for their kindness and colorful building. Wander around in the village for 2 hours, have lunch at Kato Dool restaurant and jump back on the boat the Aswan.
Stay in a beautiful Nubian House

Day 7 – 9: Dahab
Dahab is a chilled backpacker town on the Red Sea. Most travelers visit Dahab for its incredible snorkeling and diving into the Blue Hole. Rent an ATV and go on a desert safari and eat at some delicious restaurants located on the boulevard. After traveling in Egypt, Dahab will be one of your top stays so make sure to spend enough time here.
Hotels in Dahab 😴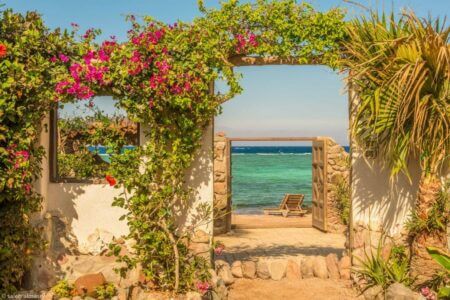 You can either fly from Aswan into Sharm El-Sheikh via Cairo. This is only 20 minutes away from Dahab.
Book your flight to Sharm el Sheikh
Another option is a 12-hour drive, where you catch a ferry from Hurghada to Sharm El-Sheikh.
We recommend to rent a car in Egypt through Sunny Cars with free cancellation and insurance included. Book your rental car here .

Day 10 – End of Traveling Egypt
Your incredible Egypt travels have come to an end. Depending on where you need to fly, you should take an international flight from Cairo or Sharm El-Sheikh.
Book your tour online
Egypt + Jordan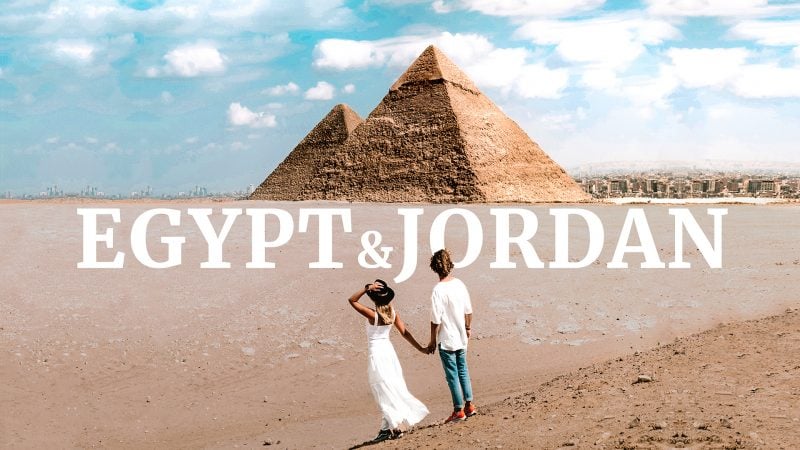 Egypt by tour or not?
Traveling in Egypt with a tour company is a great decision. Why? Getting from A to B isn't that easy, and in Egypt, every little thing comes with a hassle. By joining a tour, you learn a lot about Egypt's history, it makes traveling safer , and easier, and you will meet a lot of like-minded people.

Best time to visit Egypt
Travel to Egypt in their winter which runs from October until April. Temperatures will be much more comfortable but the attractions will be busier. Try to avoid December and January as these are known as the peak months.
Egypt Budget
Egypt can be traveled on any kind of budget. Go on a low budget by staying in hostels and traveling by train and local buses. Or choose for a little more comfort by joining a tour in Egypt .
Costs of Traveling in Egypt
Travel on a budget in Egypt, from $190 − $470 USD weekly per person, mid-range $530 − $790 USD, and high-end from $760 − $1180 USD. However, costs depend on factors like accommodation, transportation, and activities. We did not include flights. Check flight prices here
Hotels: $30 − $120 USD Check available hotels
Hostels: $10 − $40 USD Check available hostels
Transport: $5 − $30 USD Book public transport
Food: $4 − $20 USD
Activities: $5 − $20 USD See tickets & tours
Sim: $1 − $3 USD Get an eSIM or SIM here
Travel Insurance: $2 − $6 USD Get Travel Insurance

What to wear while traveling in Egypt?
Egypt is a modern country where they wear modern clothes. As a woman, you don't need need to cover your hair or ankles outside religious sites. It's best to wear breathable fabrics such as cotton, linen, and silk. During the winter time, take a sweater and long jeans as the temperatures in the evening will drop.
Visa in Egypt
Entering Egypt requires a visa. A Visa on Arrival can be purchased for 25 USD at the airport in Cairo. Make sure to have the exact amount with you in US dollars.
When you purchase something through our links we earn a small fee. However, you still pay the same. Win-win!
Find Hotels via Booking.com
Find a Rental Car via Sunny Cars
Find Flights to Egypt via Skyscanner
Get a Travel Insurance via Heymondo
Book Tours & Attractions via Viator
Book a Bus/Train/Transfer via 12Go

7 Best Things To Do in Cairo, Egypt

Visit the Colorful Nubian Villages in Egypt

Visa for Egypt: How to Get it and Entry Requirements
Looking for more travel information? Plan a chat with us for personalised travel advice or get an answer from the Salt in our Hair Travel Community on Facebook.
We had such a great time in Egypt! We didn't get to visit a Nubian Village, but we hope there is a next time :)
Your email address will not be published. Required fields are marked *
Notify me when new comments are added.
[email protected]
+201206829147
Blog Details
Unforgettable 10 day egypt itinerary : discover egypt in 10 days.
10 day Egypt itinerary is a great way to go If you're planning a trip to Egypt and want to make the most of your time with so much to see and do, it can be overwhelming to plan your itinerary. But don't worry; we've got you covered! In this post, we'll provide a detailed day-by-day itinerary for 10 days in Egypt, starting with arrival in Cairo.
When planning a 10 days itinerary in Egypt, several factors must be considered. One of the most important factors is the travel season. Egypt can get very hot during the summer, so it's best to plan your trip during the cooler months of October to April. Another factor to consider is your budget. Egypt can be a relatively inexpensive destination, but prices vary widely depending on your travel style.
You'll want to consider your interests. Are you interested in history and archaeology, or are you more interested in the food and culture of modern Egypt? Once you've considered these factors, we'll offer tips for optimizing your itinerary to make the most of your time in Egypt.
Our Top 10 Day Egypt Itinerary Tours
10 Day Cairo, Nile Cruise and Alexandria by Flight
10 Days Cairo & Luxor & Aswan and Abu Simbel
10 Days Cairo & Alexandria & Luxor & Aswan & Sharm El Sheikh
10 Days Cairo & Alexandria & Nile Cruise & Siwa by Flight
Egypt Itinerary 10 Days: Day-by-Day Itinerary
Days 1-2: starting in cairo.
Start your Egypt itinerary 10 days in Cairo and Giza ; Cairo is the capital and the largest city in Egypt, with the most direct flights from international airports; we recommend heading to the Pyramids of Giza , the Great Sphinx , and the Valley Temple for more historical sights. This ancient wonder is one of the must-see destinations for first-time visitors to Egypt, and you can even take a camel ride around the pyramids for a unique perspective. Head to the Khan el-Khalili market for delicious Egyptian street food for dinner. Consider visiting the Cairo Tower for panoramic city views in the evening.
Day 2 is all about exploring Cairo. Start with a visit to the Egyptian Museum , which houses an incredible collection of ancient artifacts, and see the country's largest collection of ancient artifacts, including the treasures of King Tutankhamun. From there, head to the Citadel of Saladin for stunning city views. In the evening, enjoy the nightlife activities ; you can join a dinner cruise and oriental show in Cairo to relax and enjoy a delicious dinner with a beautiful traditional Egyptian performance.
Day 3: Head to Luxor
Fly to Luxor and explore some of the city's most significant historical sites for the next few days. After arriving in Luxor, we recommend taking a sunset Luxor felucca ride on the Nile River for a unique perspective of the city, and it's a great way to relax and take in the beautiful scenery.
Days 4-5: Exploring Luxor
Start with a visit to the Valley of the Kings , and the Valley of the Queens , where you can explore the tombs of pharaohs from the New Kingdom and their families. From there, head to other must-see attractions in Luxor City , including the Luxor Temple and the Colossi of Memnon . The Karnak Temple complex , one of the world's largest temple complexes, will attend the Karnak Temple Sound and Light Show in the evening.
Days 6-7: Embark on a Nile Cruise
A Nile River cruise is a great way to see some of Egypt's most iconic sites while relaxing on a comfortable boat and enjoying the amenities on board. Your 10-day Egypt itinerary  with a Nile cruise tour will be one of the best ways to experience Egypt's ancient sites. You'll board the cruise in Luxor and spend the next few days sailing down the Nile, stopping at several historic sites.
Most Nile River cruises offer itinerary highlights, including the Temple of Horus , one of the best-preserved ancient temples in Egypt at Edfu, and the Temple of Kom Ombo , dedicated to the gods Sobek and Horus, this unique temple is divided into two sections, with each side dedicated to one of the gods. The carvings and artwork throughout the temple are breathtaking and provide a glimpse into ancient Egyptian mythology; these temples are among the most famous and must-see for any history buff.
Head to the beautiful Aswan City , known for its stunning scenery, and visit the spectacular Philae Temple and the picturesque High Dam . In the evening, you'll enjoy a delicious dinner on board and have the chance to socialize with other travelers. You can explore these sites and take in the region's natural beauty.
Day 8: Visiting Abu Simbel
On day 8 of your 10-day Egypt itinerary, you'll head to Abu Simbel, one of the most iconic sites in Egypt. The temples of Abu Simbel are a UNESCO World Heritage Site and one of the most impressive examples of ancient Egyptian architecture. They are famous for their massive statues of Ramses II.
The temples were built during the reign of Pharaoh Ramesses II in the 13th century BC and were carved out of a sandstone cliff. The temples are dedicated to Ramesses II and his queen, Nefertari, and adorned with stunning carvings and artwork. The temples were relocated in the 1960s to avoid being flooded by the Nile, making them an impressive feat of engineering and architecture.
Getting to Abu Simbel can be a bit of a journey, but it's well worth the effort. Most tours will include transportation from Aswan to Abu Simbel, about 240 kilometers south of Aswan. The journey takes about three hours, but the stunning scenery makes it enjoyable. We recommend taking an early morning flight from Aswan to maximize your time at Abu Simbel.
Once you arrive at Abu Simbel during your 10-day Egypt itinerary , you can explore both temples and admire the awe-inspiring architecture. The temples are massive, with towering pillars and intricate carvings covering every inch of the walls. You'll also have the chance to learn about the history of the temples and the significance of the carvings and artwork.
Days 9-10: Back to Cairo
After you visit Abu Simbel, it's time to head back to Cairo for the final days of your 10-day Egypt itinerary. You'll likely arrive in Cairo as you can explore more of Cairo before departing for home. Start your day with a visit to the beautiful Al-Azhar Park, located in the heart of Cairo. This sprawling green space offers stunning city views and is a popular spot for locals and tourists to relax and enjoy the scenery.
Next, head to the historic Khan el-Khalili Bazaar , one of the largest and oldest bazaars in the world. Here you can shop for souvenirs, haggle with vendors, and sample local street food. Be sure to explore the narrow alleys and side streets that make up this maze-like market, and keep an eye out for hidden gems and unique finds.
After browsing the market, visit the beautiful Mosque of Sultan Hassan , one of Cairo's most impressive Islamic architectural masterpieces. Admire the stunning exterior before exploring the intricate carvings and beautiful tilework that adorn the walls and ceilings before heading inside.
Finally, end your trip with a visit to the historic Coptic Cairo district, home to some of the oldest Christian churches in the world, such as the  Hanging Church . Explore this charming neighborhood's narrow streets and alleyways and admire the beautiful churches and ancient ruins.
As your Egypt itinerary 10 days come to a close, take some time to reflect on the incredible experiences you've had and the amazing sights you've seen. Egypt is a truly unique and unforgettable destination, and we hope your trip has left you with memories that will last a lifetime.
Top 10 Travel Tips for Your 10-Day Egypt Itinerary
If you only have 10 days to spend in Egypt, you'll want to make the most of them by carefully planning your itinerary.
Remember that summer in Egypt may be relatively warm, so schedule your travel accordingly. Travelers flock to friendly destinations throughout the winter.
Wear clothes suitable for the climate but respectful of local customs. It is appropriate for women to wear modest clothing covering their shoulders and knees.
Plenty of water is essential because Egypt is a hot and arid nation.
Spend a few days in Cairo visiting the city's biggest attractions like the Egyptian Museum and the Pyramids of Giza.
One of the best ways to view Egypt's biggest attractions, like Luxor and Abu Simbel, is on a cruise down the Nile.
The Valley of the Kings and the Karnak Temple are two significant historical sites in Luxor, Egypt.
Try some of Egypt's delectable and varied regional specialties, such as koshari, falafel, and ful medames. While you're there, remember to sample some of the regional delicacies.
Learning a few simple words in Arabic is helpful to better engage with people and demonstrate appreciation for their culture.
Booking an all-inclusive vacation to Egypt with a professional tour operator like Travel Door Tours to take you across Egypt in 10 days is a good idea to maximize your stay in Egypt with organized 10 day Egypt tour itinerary packages.
Is 10 Days in Egypt Enough?
Your best duration of stay in Egypt will be determined by the sights and activities you plan to see while there. In most cases, 10 day egypt itinerary is sufficient for visiting a country's most important landmarks and attractions. You can see the highlights of Egypt and have a solid understanding of the country's culture and history in just 10 days.
The Pyramids of Giza, the Valley of the Kings, and the temples of Karnak and Philae may all be seen in a 10-day trip to Egypt, along with other famous places like Cairo, Luxor, Aswan, and Abu Simbel. Of course, there is always more to see and do in Egypt, but if you've never been there before, 10 days in Egypt can be a terrific introduction to the country and an opportunity to revisit some of your favorite sites.
Ready to experience the magic of Egypt on one of our best 10 days in Egypt itineraries? Book your dream vacation now with Travel Door Tours, one of the best tour operators in Egypt with professional service and the best deals for Egypt tour packages. Our expertly crafted Egypt 10 day itinerary includes all the best Egypt sightseeing tours , unique experiences, and hidden gems Egypt offers. Take advantage of this once-in-a-lifetime adventure.
Contact us today to book your 10-day Egypt itinerary   to create memories that will last a lifetime. You can also customize your 10 days in Egypt through our Egypt tailor-made tours and enjoy the trip on your own way!
We Are Social On:
Recent posts.
Canopic Jars Ancient Egypt
What To Pack For Egypt in November?
Ancient Egyptian Amulets
Get 10% off on new year tours, hi chat with one of our agent..
Use this feature to chat with our agent.
Egypt Packages
Nile Cruises
Shore Excursions
Egypt Itinerary 10 Days: What to do as a First-Time Visitor
If you are looking for the Egypt itinerary 10 Days and want to know what to see on your trip to Egypt, you will visit the most exciting places in the country and the land of the pharaohs.
So if you want to know what to see in Egypt itinerary 10 days, we make it easy! On our site Egypt Time Travel , we have set to work to help you plan your adventure and get the most out of your visit. We will talk about an ideal route daily and, in the end, you will find some alternatives that can fit you according to your tastes.
Here we leave you some of the most recommended Egypt itinerary 10 Days with the best ratings to spend a few days off in Egypt :
10 Days Cairo, Alex, Luxor, Aswan & Sharm
10 Days Cairo, Alexandria & Cruise by Flight
10 Days Archaeology Tour to Cairo & Upper Egypt – Classic Holiday
This article will present an example of a route that includes the most exciting visits and activities. We will tell you what to see in Egypt itinerary 10 Days so you can enjoy it to the fullest and take home the best memories!
Our suggested Egypt itinerary 10 Days:  
Day 1: cairo city tour.
Now that you're in the capital of Egypt, Cairo has a lot to see; it's time to get the most out of it. In Cairo , we recommend visiting Egyptian Museum , and this museum houses the most important pieces of ancient Egypt.
Coptic Quarter: The Christian quarter of Cairo; in it, you can find the Church of Santa Barbara or the Hanging Church !
Khan el-Khalili bazaar : A large market at the entrance of a mosque with many alleys full of souks.
National Museum of Egyptian Civilization
The Citadel of Saladin and the Mosque of Muhammad Ali
Day 2: Giza Pyramids Tour 
On the second day, visit the Saqqara area , where the stepped pyramid of Djoser is. This pyramid is significant because it was the first model for all the pyramids that came after it. Then there was Memphis, where the statue of Ramses II is, and the pyramids of Dahshur , which are attractive because their top is oval. In the same area is the red pyramid, which gets its name from the color of the stones that make it up.
Then, go to Giza, where the three most famous pyramids in the world are located: the Pyramid of Cheops , the Pyramid of Khafre , and the Pyramid of Menkaure .
Don't miss to check out more Cairo Attractions &  Egypt Tours with Nile Cruise  for many things to see & do.
Book Tour: Memphis, Saqqara, and Pyramids of Giza Tour
Days 3: Fly to Luxor
Take a flight from Cairo to Luxor and spend some time in this historic city. We recommend you spend this day going to places that aren't usually part of Nile cruises, like the Temple of Ramses II, the Temple of Seti I, and the Valley of the Nobles .
Days 4: Luxor Tour
On your fourth day in Egypt, get up early and watch the sunrise from a hot air balloon over the Valley of the Kings . It's something you'll never forget. When you're ready, get on the ship on the Nile, which will be your home for the next few days.
Don't miss this complete guide: Luxor Excursions & Tours , so you can make the most of your time here.
Days 5, 6, and 7: Nile Cruise
Let yourself go, spend days cruising from temple to temple, and in the afternoons, there's nothing better than taking a dip in the pool and looking at the scenery on both sides of the Nile. The best thing about doing it this way, even if you aren't a very organized traveler, is that you don't have to worry about logistics. Almost all visits come with a guide, which you will appreciate in a country with so much history.
Most trips from Luxor to Aswan take 5 days/4nights, and cruise trips from Aswan to Luxor take only 4 days/3nights. The best thing to do is make sure you know where each one takes you and what kind of boat it is.
Don't miss to check out our Nile River Cruises in Egypt and our guide to Cruising the River Nile .  
Day 8: Aswan
You will have done some of the things you can do in this city, but if you still have time, you can make a few more stops. The famous Philae Temple ,  Aswan Dam , the Nubian Museum , and the Unfinished Obelisk are all exciting places to visit.
Days 9 and 10: The Red Sea
I think it's time to take a well-earned break by the sea. We recommend that the last part of your 10-day trip to Egypt be in Hurghada, Sharm el-Sheikh, or Dahab. The hotels are better in the first two places, but Dahab has more of a backpacker vibe, and we think the beaches are better there. You can take a bus from Cairo or fly to Sharm el-Sheikh or Hurghada to get there.
Marsa Alam is another choice if you like going to less well-known places. You can dive or snorkel from all these places to see the Red Sea's rich seabed.
If you want to finish this trip through Egypt in 10 days, you can fly from Sharm el-Sheikh to Cairo or find a direct flight home from this airport.
How to add a new route through Egypt if you have more or less time?
You could include places like these if you have more time:
Visit Alexandria Attractions : the country's second-largest city and its excellent library. It's only a couple of hours from Cairo so you can see it all in one day.
Take an overnight to the White Desert in Farafra Oasis: it has landscapes that look like they were taken from another planet.
Visiting Siwa Oasis : is just 50 kilometers from the border with Libya, and it is one of the less-visited places in Egypt that you can stay on your way through the country. It's a long way from Cairo, but it's worth spending a few days seeing the historical sites and breathtaking scenery.
A live-aboard cruise on the Red Sea: Divers can't visit Egypt without spending a few days on a live-aboard cruise on the Red Sea. Most of the time, they last 3 or 7 nights and involve 3 or 4 dives daily.
Why is it safe to book your vacation with a travel agency !!
If you are looking for Cairo vacation packages to visit our great country, it is always worth looking at our Egypt Vacation Packages .
Our company offers all types of security to tourists, such as providing a professional tour guide who knows the areas by heart and can guide tourists to different places without fear of any danger. Egypt Time Travel is also responsible for introducing a qualified representative who helps, assists, and finalizes everything for you at the airport. So, if you want to have fun, enjoy, meditate, and be safe in Egypt, choose a professional travel agency in Egypt.
In short, you can travel safely to Egypt. Please take the opportunity to book one of our Cairo packages with the Egypt Nile River Cruise to visit the most famous tourist attractions in upper Egypt between Luxor and Aswan at special prices and with expert guides!
Is Egypt a safe place to visit? 
Egypt is the only place you can visit that makes you richer because of its great historical sites and unique culture. One crucial question can be asked, though… Is it safe to go to Egypt in 2022, and when is the best time to go? Yes, Egypt is safe in every way.
Egypt, called "the cradle of civilization," has the most extended history of any country in the world. It's also called "The Land of the Pharaohs" because it has been around since the time of the ancient Egyptian Pharaohs. People come from around the world to see how great the Egyptian pharaohs were and to visit the fantastic places they built.
Don't miss reading our article Is it safe to travel to Egypt? Safety & Security in Egypt
Get up to 10%Off when booking one of our  Egypt Vacation Packages . Check them now!
Transportation on a trip to Egypt
As you have seen when designing your trip route through Egypt, you have to move around the country in many ways. The fastest way and not always the most expensive is by plane, and you will find airports in Cairo, Luxor, Aswan, Hurghada, and Sharm el-Sheikh, Egypt. When traveling long distances, such as from Cairo to Aswan or from Cairo to Luxor, you could take the opportunity to sleep during the journey by sleeper train" Night train" in Egypt. To move within the cities, you can take taxis, but it is much more comfortable to use the Uber or Careem application, which works well in Cairo, Luxor, Aswan, and Hurghada and is very cheap.
https://www.youtube.com/watch?v=bUEZzGWAs4w&abs
How much is the average trip to Egypt?
To make it easier for you when planning your trip to Egypt , we have created some ready-made itineraries, which include accommodation, visits, meals, and domestic flights:
3 Days Itineraries:
3 Days Cairo Tour Package
3 Days to Cairo & Alexandria
4 days itineraries:
4 Days Cairo Tour Package
4 Days Cairo & Alexandria Tour
4 Days Cairo & Luxor Tour Package
5 days itineraries:
5 Days in Cairo – Private Guided Tour
5 Days Cairo & Luxor Tour
5 Days Cairo & Sharm El Sheikh Tour
Top itineraries:
8 Days Travel Package Deal to Cairo, Luxor & Hurghada
8 Days Pyramids & Nile Cruise by Air- Top Travel Deal
8 Days Cairo & Nile Cruise by Airplane
10 Days Cairo, Nile Cruise & Hurghada- Top Holiday to Egypt
10 Days Archaeology Tour to Cairo & Upper Egypt
12 Days Cairo, Alexandria & Nile Cruise
12 Days Pyramids, Nile & Hurghada
After this information and knowing the average cost of the trip to Egypt, you can book one of our pre-customized Egypt vacation packages to visit the most significant temples & pyramids of ancient Egypt.
We hope that this plan for 10 days in Egypt itinerary has helped you figure out how to plan your trip. If you want your trip to Egypt to go well, don't miss these essential guides that will help you plan from start to finish:
Best Time to Travel to Egypt – Your Guide For 2022
Tipping in Egypt: How to deal with it
What to take on your trip to egypt.
Weather & Climate of Egypt | Temperature in Egypt
Top 35 Traditional Egyptian Food To Try
Entry into Egypt – All Documents you need
Related Things to Read.
Explore Top 5 Hidden Gems in Egypt
Beaches in Egypt: Your Ultimate Guide to Egyptian Beaches
Ancient Egyptian Festivals 
Best 8 Sights in Old Cairo: Historic Landmarks and Attractions
Egypt Nile Cruise Tips
Nile Cruise Itinerary
How to Enjoy A Perfect Vacation in Egypt With Friends
How to Enjoy a Classic Holiday in Egypt
Snorkeling in Egypt: Best 7 Places to Snorkel in Egypt
What to Pack for Egypt in October
Small group Tours to Egypt: Discover Egypt Together
Hot Air Balloon Luxor: Floating Amongst Pharaohs
How to Plan A Trip to Egypt
Travel To Egypt in August
Egyptian Temples: Where History and Mythology Intersect
How to Enjoy Egypt Desert Safari Tours: A Guide for Travelers
Best Souks in Cairo: A Local Shopping Experience
How to Enjoy Egypt Giza Pyramids Complex
Egypt Tours for Solo Travellers: Top Tips for Traveling to Egypt
How to Enjoy A Luxury Vacation in Egypt
Your Guide to the Different Types of Tourism in Egypt
Egypt Tours for Seniors: Top Travel Tips, Sights & Tours
Lakes in Egypt: Unwind At The Lakeside In The Land Of Pyramids
Cairo At Night: A Practical Guide to Exploring the City at Night
Top 15 Egypt Museums you have to visit – Hidden Gems
Things to do in Luxor and Aswan
Top 10 Cities Must Visit in Egypt
Egypt Itinerary: Your Best Guide to Assembling Your Route
Is Nile Cruise worth it? Travel tips about sailing the Nile
A Journey to National Museum of Egyptian Civilization
Top 12 Things to do in Cairo with Family
Honeymoon in Egypt: Best Places to Visit and Stay
Best Time to Travel to Egypt – Your Guide For 2023/2024
Weather & Climate of Egypt | Temperature in Egypt
How to celebrate Christmas in Egypt?
Easter traditions in Egypt – How to celebrate Easter in Egypt?
Top 13 Holidays & Festivals in Egypt in 2023/2024
Is it safe to travel to Egypt? Safety & Security in Egypt
Top 35 Famous Landmarks in Egypt You Must Visit
Entry into Egypt – All Documents you need
Ahmed Afify
Why book with us.
No-hassle best price guarantee
Customer care available 24/7
Hand-picked Tours & Activities
Pay Safely With Us
The payment is encrypted and transmitted securely with an SSL protocol.
Hi! Need help? Chat via WhatsApp with one of our agents.
Chat via WhatsApp with one of our agents.

Cairo Layover Tours
Half Day Tours in Cairo
Cairo Tours
Giza Day Tours
Alexandria Tours
Luxor Tours
Aswan Tours
Hurghada Tours
Sharm El Sheikh Tours
Egypt Packages
Nile Cruise

10 Days In Egypt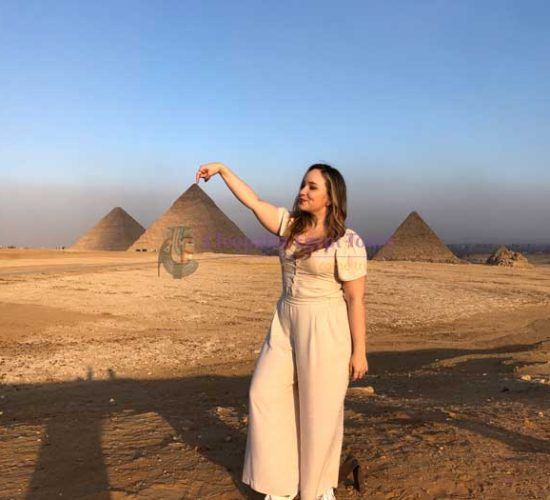 Enjoy the best Egypt tour packages for 10 days
10 days in egypt packages, 10 days in egypt itinerary, best 10 day egypt itinerary.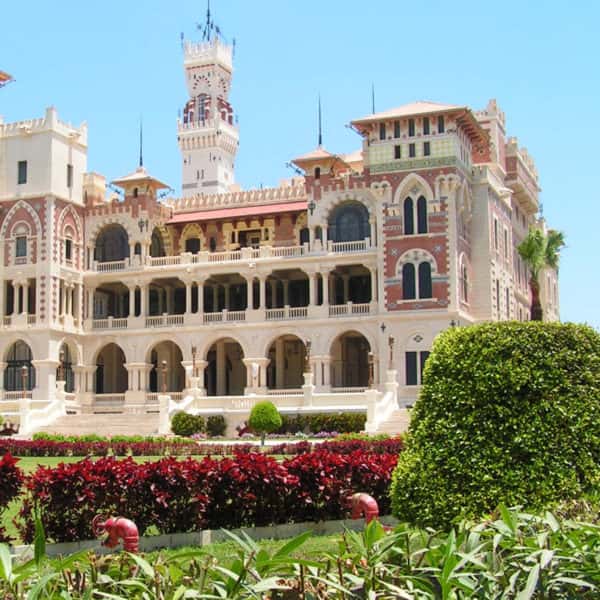 10 Days Egypt Itinerary to Cairo, Alexandria & Nile Cruise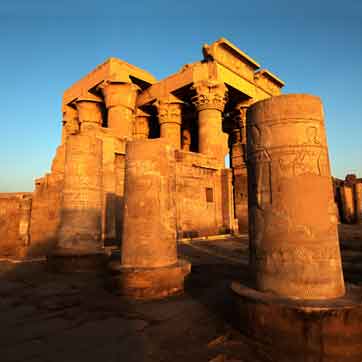 10 Days Egypt Itinerary to Cairo, Hurghada & Nile Cruise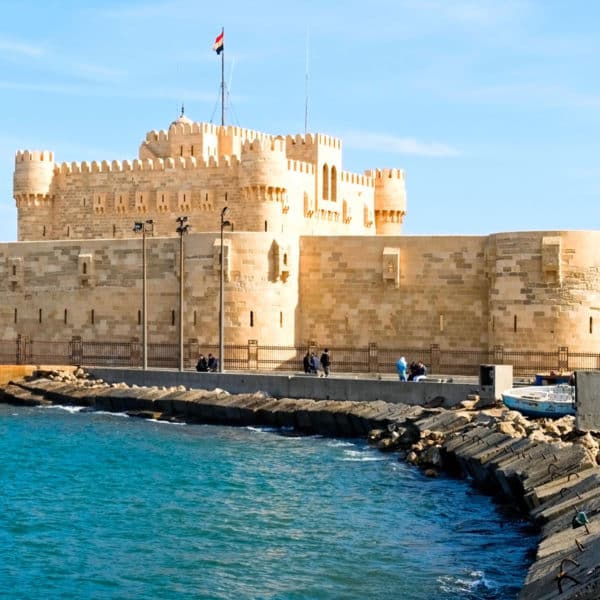 10 Days In Egypt to Cairo, Alexandria & Nile Cruise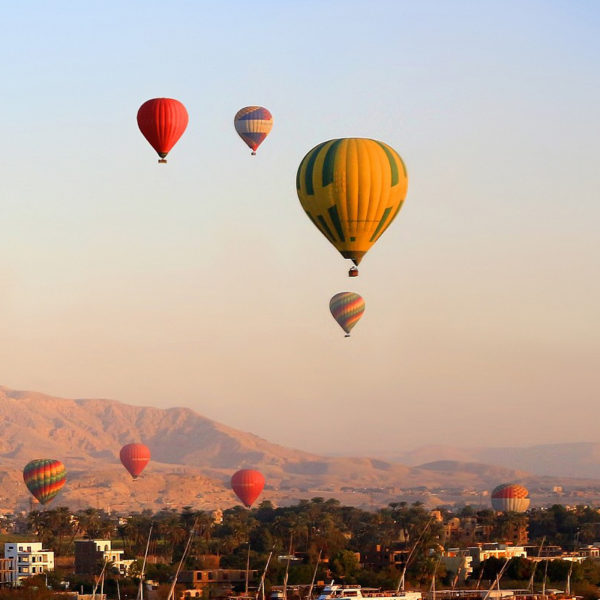 10 Days Itinerary to Cairo, Luxor, Aswan & Abu Simbel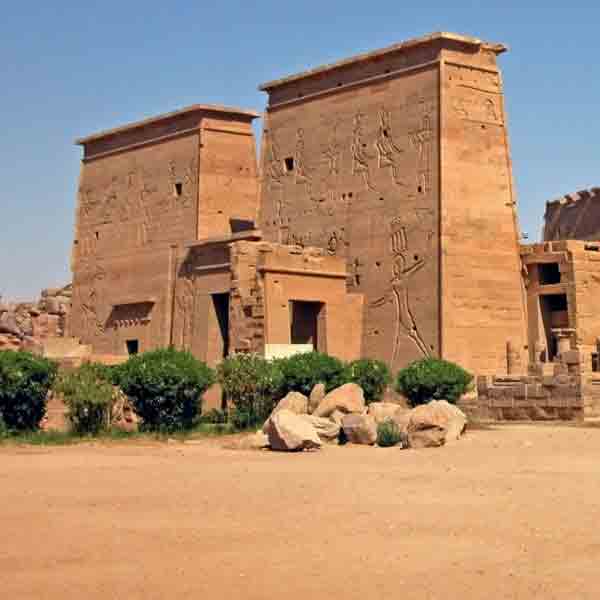 10 Days Cairo, Alexandria & Nile Cruise by Flight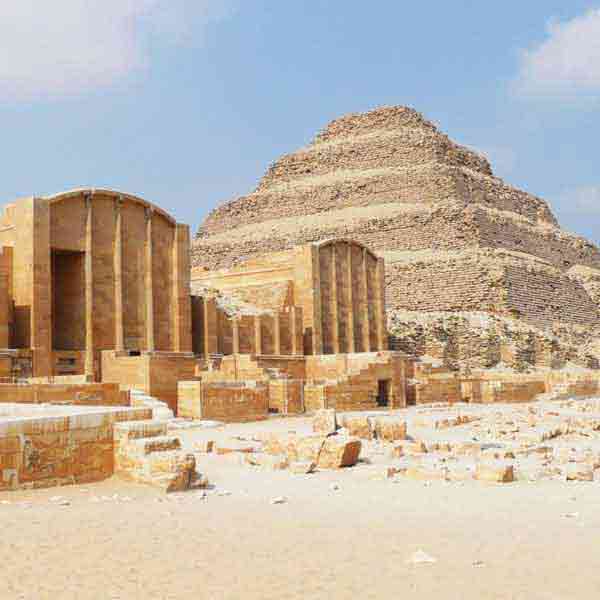 10 Days Cairo, Luxor, Aswan & Abu Simbel – Archaeology Tour
Cleopatra Egypt tours are a team of adventurers that will help you discover the best places in the world. We'll guide you throughout your adventures so you can live unique and life-changing experiences in the best 10 day Egypt itinerary . On our Egypt 10 days tour , we offer you several private or group packages to Egypt. You can combine your vacation between the Nile cruise in Egypt and the overland Egypt tours in one of our 10 days in Egypt itinerary , Prepare to be amazed by a place of magic, mystery, and amazing temples and monuments of Egypt on our 10 days trip to Egypt .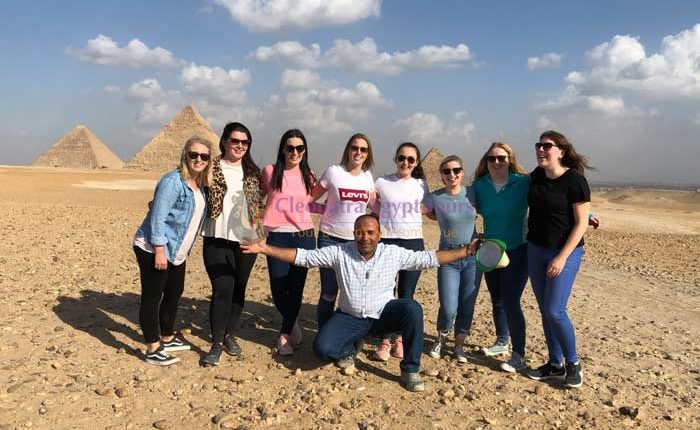 Plan your dream best 10 day Egypt itinerary a click away
General tips:.
The currency of Egypt is the Egyptian pound and they have a variety ATM which accept all the Credit cards .
Subway is a rapid transit system in Greater Cairo, but for tourism private cars highly recommend .
Before you go out drink lots of water, and keep a bottle with you at all times.
It is best to avoid direct sunlight in the peak hours between 11am and 3pm.
Wear a hat or use an umbrella to protect your head from headaches or sunstroke.
Quality Measures :
Pyramids of Giza, Memphis city, the valley of the kings and Queens.
Explore Luxor Sightseeing attractions especially the massive pillars temples of Karnak.
Get chance to unleash your inner adventurer when you visit the Egyptian Museum.
Modern Air-Conditioned Vehicles with qualified drivers.
No Hidden expenses and no surprises.
Why you choose Cleopatra Egypt Tours

Frequent Questions & Answers
Below are some of the frequently asked questions and their answers, we hope you find what you are looking for. If you didn't find what you are looking for, then send us a message and we will find the answer for you.
Is Egypt safe to visit?
Egypt is very safe to visit and the police, tourist police, and army are in prominence wherever you go, giving you the knowledge that you are secure in your surroundings. Egypt prides itself on its high safety record for tourists and will do all it can to maintain this.
How do I get my tourist visa?
Usually you need to apply to your local Egyptian Embassy or Consulate General for a pre-entry tourist visa but if you are from North America, Western Europe, Australia/New Zealand, Brazil/Argentina or Hong Kong/Japan/Macau/Malaysia or Singapore you can get your tourist visa upon arrival in Egypt.
How do I get my tourist visa if I live in a different country to that of my passport?
If you hold a residence permit in the country you live in you can apply to the Egyptian Embassy/Consulate General in that country, otherwise you have to apply to the country that issued your passport.
I am staying in a resort in the Sinai; can I visit Cairo or Luxor?
Though many nationalities are exempt from requiring a visa for the many Sinai resorts, a full tourist visa is required if you come to any place in Egypt that lies to the west of the Red Sea/Suez Canal.
I am staying in a resort in Hurghada, can I visit Cairo or Luxor?
Though many nationalities are exempt from requiring a visa for staying in Hurghada, once you leave the confines of the town a full tourist visa is required.
I am going to visit Jordan and/or Israel; will I require a visa when coming back to Egypt?
Yes, as soon as you leave Egypt your visa will be stamped and so you will require another one. If you are from a country that can get their visa upon arrival in Egypt, you can get the new one when you re-enter the country, but if you require a pre-entry visa you should apply for 2 of these, using the second one when you re-enter Egypt.
Can my tourist visa be extended to more than one month?
A tourist visa can be extended if required. To do this you have to apply to Mogamma, in Tahrir Square, or to the equivalent offices in Alexandria, Luxor or Sharm El-Sheikh
What is the difference between a 5 star and a 5 star deluxe hotel/cruise?
The star ratings get higher as the facilities and overall standard of the accommodation gets better and so it is easier to imagine 5 star deluxe (or any suffix added to 5 star) as being 6 star
Why am I being advised to stay in a hotel close to the pyramids rather than in Downtown?
If you are only in Cairo for a few days it is a lot easier for you to see the sites starting from a base in Giza. The traffic from downtown to the pyramids can cause the journey to take over an hour, which means an early start if you want a full day's experience, especially if you require to enter the Great Pyramid, when you have to be at the plateau before 0800. If you are in Cairo for a while, the Hotels at the Pyramids are all on a resort basis, built in acres of land with outdoor swimming pools and relaxing areas, something which Downtown hotels cannot really provide. This is why you tend to find that the Downtown hotels are built like towers; very tall and narrow, while Giza Pyramid hotels are limited in height, but cover more ground.
Cost also comes into the equation as a simple 4 star Hotel in the Downtown area is more than often more expensive than a 5 star resort in the Pyramids area. Cairo is like most major cities in the world in this regard as city centre property is a lot more expensive. Though it may appear that Downtown hotels do afford the luxury of being able to wander around the area for shopping and restaurants, etc. most of the Pyramid hotels offer free shuttle buses to allow you to do the same, plus taxis are not expensive and will still work out cheaper in the end.
What are the differences between Bed and Breakfast, half board, full board and all inclusive?
Bed and breakfast means that only breakfast is supplied. Half board means that breakfast and dinner are supplied Full board has all meals supplied (breakfast, lunch and dinner) All inclusive means that all meals and drinks are supplied; some hotels also supply alcohol. This latter point should be checked when making the booking.
Do I have to stay in my hotel after the day's tour has ended?
No, definitely not, and we would encourage you to go out and enjoy the culture of Egypt. Many packages are full board, which tends to make people think they have to stay imprisoned in their hotel, but the sights and sounds of Cairo, especially, are too great to be missed. Why stay in the same hotel, with the same faces, when you could go out and have your dinner on a cruise boat sailing around Zamalek Island, accompanied by either a belly dancer or a Whirling Dervish; or sometimes both. This is your holiday, so enjoy every minute and get out and explore.
I have some expensive items which I do not want to leave lying in my room/cabin, what should I do?
All Hotels and Cruises have safety deposit boxes, sometimes even in your room/cabin. All you need do is ask at reception and they will give you instructions on how to use them, or will safely put away your valuables until you need them.
Where is the main bus depot in Cairo?
The main bus depot is called Cairo Gateway (El Torgoman) bus station and is situated just off the city centre. Any taxi will be able to take you there.
Where do I get the bus in Luxor?
The bus station in Luxor is situated behind the Luxor Temple.
Where do I get the bus in Hurghada?
The bus station is situated in Hurghada town centre.
Where do I get the bus in Sharm El-Sheikh?
The bus station is on the outskirts of the town on Freedom Road. You will require a taxi to get there, though many hotels do have shuttle buses which can do this.
Can I get tickets for the sleeper train service online and if not, how do I order them?
There is no online facility for this but you can order them by telephone. Call El Watania on +20225749474 or +20225749274, or fax them on +20225749074. You will be given a booking reference and you can pay and pick the tickets up at Cairo station at least 24 hours before departure.
How do I get from Hurghada to Aswan?
Many travel books mention the road and bus service between these two towns, but these are not advised for tourists and the buses will often refuse admittance. The advised route is to get the bus to Luxor and then the train to Aswan.
Can tourists use the Cairo/Luxor or Luxor/Cairo bus service?
Though these buses are air-conditioned and are good to use, tourists are advised not to and will be very lucky to either obtain a ticket or even be allowed to board the bus. This journey, for tourists, is restricted to trains or flight.
Can I just turn up at the bus station and buy a ticket?
You can, but you are advised to get your tickets at least 24 hours before travel, if possible. If you wait until the last minute you may find that you cannot get seats that are next to one another, or they may even be at separate ends of the bus. Not a good idea if you have children with you.
Can I hire a car in Cairo?
Car hire is available and many of the world's major car hire companies are in Cairo. Car hire is NOT advised for those who have not been to Egypt before and therefore do not understand the level of driving employed by Egyptians.
Is it safe to drive in Egypt?
Unless you are used to the way that Egyptians drive, it is not advised to attempt this. Lane etiquette is unknown, cars will cut across you to make a turn, and the use of lights during the night is very seldom done. Though some road signs are in English and Arabic, the majority are in Arabic alone and there are simply not any good road maps, especially town ones.
I am on a tight budget so to save money is it okay to hitchhike between towns?
NO!! If you were to do this you could find yourself paying more for the ride than the fare by bus/train would have been.
Can I hire a bicycle to visit the West Bank at Luxor?
Yes, there are many places that will allow this but before you do so please remember a couple of very important things:
1/ as the day progresses so does the heat, so by the early afternoon it can be exceedingly uncomfortable. Do you really want to be cycling for miles in this, with very little chance of shade? This is especially important for children, who will tire a lot as the day progresses because of the heat.
2/ there are no cycle lanes and so you are sharing the roads with all other forms of vehicular traffic, which is not the best thing to experience. Many cyclists have been injured because of other road users not noticing them.
Can I get to Egypt by ferry boat from Europe?
Sadly the links between Alexandria (and Port Said) and other Mediterranean ports are not available right now due to the ongoing problems in Palestine and Israel. It is hoped that these will be resumed in the not too distant future. Commercial ferries are available, some of which carry passengers, but you would need to contact the relevant port authority for information on these.
How do I get to Abu Simbel?
Abu Simbel can be reached by flight, which is the easiest and most convenient method taking about 4 hours for the round trip and visit, or there are 2 police controlled bus convoys that leave Aswan at 0400 and 1130 that take about 9 hours for the round trip and visit.
Can I get to Esna or Kom Ombo without having to get a cruise?
You can visit either of these sites by taking the train, getting off at the relevant station and then getting a taxi, or by hiring a taxi or private driven car to take you to them (from Luxor or Aswan).
Can I get a cruise from Cairo to Luxor/Aswan?
Though movies like "Death on the Nile" show people using this cruise, it has not been possible to cover this route since the late 1990's. Flight or train are the only ways to get from Cairo to Luxor or Aswan nowadays.
Can I go inside the Great Pyramid of Khufu (Cheops)?
Yes, but ticket sales for this are restricted to 300 people per day; 150 at 0800 and the other 150 at 1500. Tickets for this can only be bought at the main entrance, not the entrance close to the Sphinx. As tickets are sold on a first come, first served basis it is advised to get to the office as soon as possible as buses will arrive at opening times and they tend to get the majority of the tickets. If you can spare the time, try for the tickets in the morning, and if you are not successful you can be first in line for the afternoon tickets.
Can I go inside the Pyramids of Khafre (Chephren) and/or Menkaure (Mycerinus)?
There is no restriction on these sales but only one of them is open at a time, they are changed to allow for them to breathe, dispersing the high levels of carbon dioxide levels that tend to accumulate inside. Tickets are available at the main entrance to the site.
Can I take photographs inside the tombs?
No, photography inside tombs, including the pyramids and Abu Simbel, is strictly forbidden, which has led to all cameras being banned from the Valley of the Kings (you have to leave all cameras at the x-ray point at the second entrance). Excessive flash damages the paintwork inside the tombs and so, because of people who ignore the rules, measures have been implemented to safeguard these ancient works of art. The simple rule of thumb when visiting sites is: no cameras inside, cameras are okay outside.
I notice that the same sites seem to be repeated in every package tour program I see, are these the only sites available for tourists to see?
Though most companies will use the same sites for their packages, this is mainly because the majority of visitors are experiencing Egypt for the first time and so these are the "must see" sites. Egypt has literally hundreds of ancient sites which can be visited and it only takes a request for them to be explored.
Do I need to take anti-malaria tablets/injections?
NO!! Malaria has not been in Egypt for well over 85 years and there is no need for any type of anti-malaria medication. To be honest, it is quite the obverse as any types of anti-malaria medication can actually cause side effects that will simply ruin your holiday. Just because Egypt is in Africa does not mean malaria is here as well.
Can I bring prescribed medication with me?
Yes, but please ensure that you only bring enough for your stay, with just a few day's extra supply as a back-up. It would also help if you could bring the prescription as well, as proof, or for topping up (there are many pharmacies in Egypt that can do this for you). If you happen to be travelling onwards from Egypt, and so have a lot more of your prescribed medicine with you, please ensure that you do have the prescription as proof.
Is it safe to drink the water in Egypt?
Yes, but not advised! Egyptian water has a high chlorine level in it which can upset the microbes in your stomach, causing diarrhoea. For drinking purposes it is far safer to stick with bottled water, ensuring the seal is intact before drinking it.
Is it safe to brush my teeth with tap water?
Egyptian water is highly chlorinated, not poisonous, and so it is perfectly safe to do this. You often swallow small amounts of water whilst in the shower, or swimming, and this causes no problems, so why should cleaning your teeth?
How should I dress for entering a mosque (male)?
Protocol does ask for men to wear long trousers as opposed to shorts, though Egyptians are used to the latter being worn and so say nothing, or little, if it occurs.
How should I dress for entering a mosque (female)?
Protocol does ask for women to cover bare skin as much as possible and so shoulders, especially, should be covered and a simple scarf will suffice. Again, it is advised to wear long trousers, or skirts, as legs should also be covered. Heads do not need to be covered, despite what some tourist books say, though it is a sign of respect if you do this.
What clothes should I wear on the cruise?
You may wear whatever you like on-board the cruise but you are asked to dress for dinner. Casual but neat is acceptable, you do not have to dress formally. Swimwear is not acceptable.
What clothes should I wear walking around towns?
When walking around the towns, dress as you would for a hot summer's day back home. Shorts and t-shirts are actually worn by many locals.
What clothes should I wear when visiting sites?
This really depends on which site you are visiting and at what time of the day. Some offer little shade and so you should ensure that you do not have too much skin available for the sun to burn (the Giza Pyramids, in the afternoon, is a prime example of this). Temples are well shaded so you do not have to cover so much, but remember that even though they are shaded well, tombs tend to accumulate the heat from the sun as well as the many visitors, so try to wear something lightweight in them, especially cotton fabrics. Though many people like to wear open toed sandals, please note that many of the floors are exceedingly uneven and so it can be easy to stub your toes. Ladies, please do not wear high heels; not only can you easily break them, they can also become trapped between the large stones in flooring, and you will also find you will tend to slip and slide on the stone. High heels and sand are not the best partners either as the heels will sink in (you may laugh, but many ladies do insist in wearing high heels).
Is it safe for women to travel alone?
Many women travel alone and have found that they have been safe. The police, tourist police and army are always close by and the Egyptians themselves are generally safe and will try to protect solo travellers. On the whole, it is generally safer for a solo female traveller in Egypt than places like Greece, Italy or Spain.
Although the chances of being confronted are almost negligible, please ensure that you take the same precautions that you would anywhere else and do not be tempted to walk in deserted areas alone: get a taxi back to your abode! You may receive some invitations, which on the whole are innocent, do not accept any of these from strangers.
Do women have to cover arms/shoulders/legs when walking around the cities/towns?
This is a tourist book fallacy. Women walking around these towns can do so as if they were walking around their home towns in the summer. You will be amazed at how many of the local women dress like this as well, looking more like tourists than Egyptian.
Can I use my credit/debit cards easily?
Yes. Most places accept these nowadays, including all decent Hotels and Cruises. You are advised to carry cash when shopping in the many street markets (souks) though the larger malls, and street shops, can accept plastic.
Are there plenty of ATM's?
Almost every bank has an ATM outside it, or just inside the front doors, and you will normally find that they are guarded by a policeman. Many shopping malls have stand-alone ATM's and you can also find them located along a busy pavement (sidewalk), or where two busy pavements meet. Airports and railway stations also have ATM's as do the larger tour company offices.
What voltage does Egypt have, and what kind of plugs?
Egypt has a voltage supply of 220V and the plugs are the 2 round pin type that are common throughout Europe (except the UK).
Can you purchase alcohol in Egypt?
Yes, alcohol is available in Egypt, either in the better hotels, higher class restaurants and cafes, pubs, and beer gardens. You will also find off licences as well. Please note though, it is illegal to drink alcohol in the streets in Egypt, so do not walk around with a can of your favourite tipple.
Are there restrictions about bringing alcohol into the country?
Yes, you are only allowed to bring in 2 litres with you.
What is the legal drinking age in Egypt?
The legal drinking age is 21.
Proceed Booking
Already a member.
Username or E-mail
Forget Password?
Don't have an account? Create one.
Or continue as guest.

10 Day Egypt Tours
10 day Egypt tours offer travelers an amazing opportunity to visit some of the very best Egyptian attractions found in the Land of the Pharaohs. Prepare yourself for ten of the most memorable days of your life as we take you on an incredible journey through Egypt.
Most 10 day Egypt tour packages will include sightseeing in all the top destinations, including Cairo, Aswan and Luxor, but as with most of out other Egypt tour packages , most will also either include a desert adventure; a Nile cruise, or perhaps a few days of unforgettable snorkeling or scuba diving in the Red Sea. Our Egypt multi-country tours will also include a visit to Jordan, Morocco, Dubai or Turkey.
Design Your Custom Tour
10 Day Luxury Nile Cruise and Cairo Tours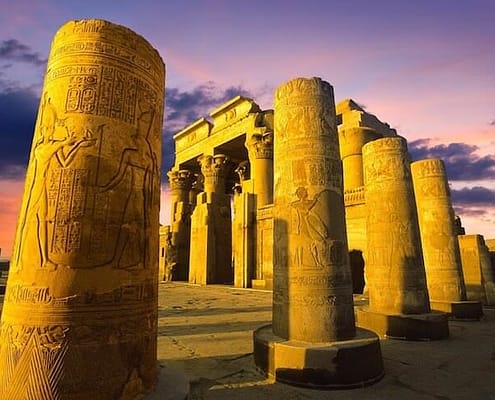 10 Day Round Trip Nile Cruise and Cairo Package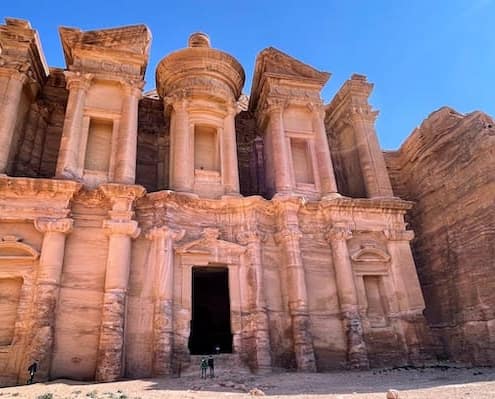 10 Day Egypt and Jordan Luxury Tours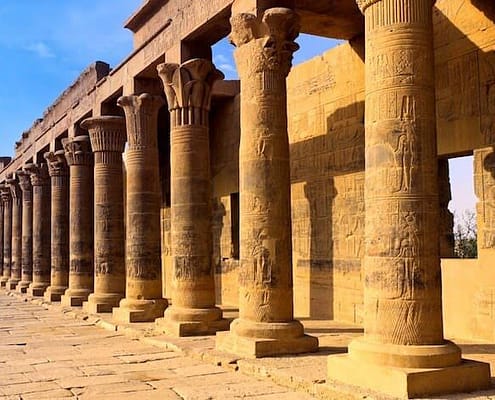 10 Day Egypt Overland Tour: Cairo, Aswan, Luxor, and Hurghada
Design your custom 10 day egypt itinerary.
Explore Egypt your way by selecting only the attractions you want to visit
Click here to learn more about our 10 day Egypt tours.
10-Day Egypt Tours – Lifetime Memories Guaranteed!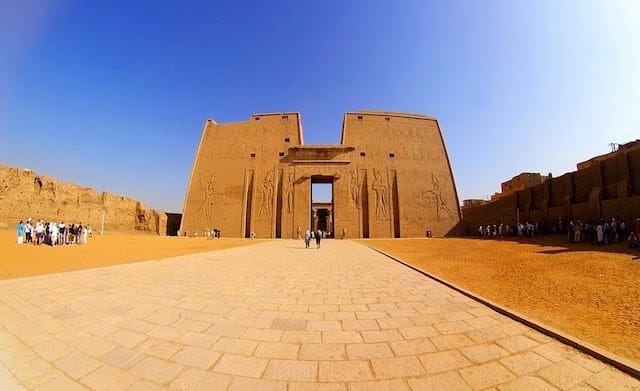 Enjoy 10 days of never ending magic in Egypt with our spectacular selection of 10 Day Egypt Tours. Whether you are looking for adventure, or whether you want to embark on a journey of discovery through Ancient Egypt, our 10 day tour packages never fail to please. Go diving in the Red Sea; trekking in the mighty Sahara, or follow in the footsteps of Pharaohs, as you cruise the Nile in Style.
Private Sightseeing Trips in the Egyptian Capital
For some people, Cairo is a chaotic and congested city that can quickly leave one feeling overwhelmed and desperate for some peace and quiet. For others, the Egyptian capital is simply lively, vibrant and certainly never boring. Whether you love Cairo or whether you hate it, it is definitely a city worth visiting, even if only for some incredible sightseeing and an opportunity to enjoy some amazing Egyptian street food.
Whether you choose an Egypt only tour or whether you choose an Egypt multi-country package, such as an Egypt and Jordan tour, your trip through Egypt is likely to either begin or end in Cairo. While our tour itineraries vary from one to the next, some Cairo attractions are featured in nearly all of our Egypt holiday packages that include time in Cairo.
All sightseeing trips to sites in and around Cairo are private guided tours. In other words, you will have your own professional Expert tour guided as well as your own personal driver. Your guide and driver will collect you from your hotel in the morning at the agreed time, and they will drop you off back at your hotel following each tour.
Egyptian Pyramids Tour
Some of our tour packages include one day of sightseeing in Cairo, while other packages might include two days of sightseeing in Cairo and the surrounding area. Most sightseeing trips begin with a visit to the legendary Giza Pyramids and the Sphinx on the outskirts of modern day Cairo. You will usually spend most of the morning at the pyramid.
At least one or two of the pyramids are open to visitors. However, if you want to actually enter one or more of the pyramids you will need to purchase admission tickets at the site. Our tour packages only include admission to the necropolis itself. The truth is, there really is not much to see inside the pyramids other than empty chambers and lots of stairs.
In addition to the famous Giza Pyramids, several of our packages also include a visit to the Great Step Pyramid of Pharaoh Djoser at Saqqara. Saqqara is only a short drive from Cairo, and as usual, you will have your own driver and your own English speaking guide for this trip as well. The Step Pyramid was the very first pyramid ever built by the ancient Egyptians.
By the time the first of the pyramids at Giza were built, the Step Pyramid was already ancient. The Dashur Pyramids which are also just a short drive from Cairo are also older than those at Giza. However, those at Dashur are not currently featured in any of you existing ten-day travel packages.
Other Cairo Monuments and Attractions
Other attractions that feature in most of our tour packages include places such as the Egyptian Museum and the vibrant Khan el Khalili Bazaar. The museum is one of the most visited attractions in Cairo, and one which features in just about all of our travel packages. The same can be said of the Khan el Khalili bazaar.
Located right in the heart of Islamic Cairo, the bazaar is one of the biggest and oldest in the entire Middle East. It has been around since the 14 th century and it is still the shopping venue of choice for most everyday Egyptians living in Cairo. If you are going to be traveling to Cairo, spending an hour or two at the bazaar is likely to be one of the highlights of your trip regardless of whether you want to buy anything or not.
Cruising the Nile in Style – Luxor to Aswan
We only book our clients on to the very best 5-Star Nile River cruise ships, where luxury and comfort are the order of the day. All of our existing 10 day packages tend to feature a Nile cruise on board one of these 5-Star river boats. Some begin in Aswan and end in Luxor, while others begin in Luxor and end in Aswan.
No matter which tour package you choose, if it includes a Nile cruise, you can be sure that your holiday is going to be a travel experience of a lifetime. Regardless of whether you cruise begins in Luxor, or whether it begins in Aswan, you can look forward to seeing the same magnificent ancient Egyptian monuments.
Luxor Sightseeing Excursions
The area around Luxor is home to many of Egypt's top ancient sites. Our itineraries typically include two excursions in Luxor. One tour will see you visiting the East to see Luxor Temple and the sprawling ruins of the Karnak Temple complex which was built over a period of more than 2,000 years.
Your other excursion in Luxor will see you visiting the West Bank. During this tour you will typically visit the Valley of Kings, Queen Hatshepsut's mortuary temple, and the Colossi of Memnon. The Valley of Kings is an ancient royal necropolis where many Egyptian pharaohs and other highly influential people were entombed during the New Kingdom era.
More than 60 tombs were discovered here, including the tomb of King Tutankhamun which was discovered by Howard Carter in 1920. It is one of the few tombs discovered that was still sealed and intact. Nearly all the treasures and artifacts that were found in his tomb are now on display in a museum in Cairo. The king's mummy, however, is on display inside his tomb in the Valley of Kings.
Edfu Sightseeing
When your boat stops at Edfu, you will be taken ashore to see the magnificent Edfu Temple which is also known as the Temple of Horus. At some point in history, this temple fell into the hands of the Romans who then later abandoned it. It was eventually completely buried under the sand and remained that way for more than 2,000 years. Being buried beneath the sand meant that it was protected against the harsh desert conditions. As a result, Edfu Temple is today Egypt's best-preserved ancient Egyptian temple.
Kom Ombo Sightseeing
When your boat docks at Kom Ombo, we take you to see the remains of another amazing ancient temple. This time we visit Kom Ombo Temple. Although this appears to be a single temple, it is actually a twin temple complex, with one being a mirror-image of the other. Both halves had to be 100 percent identical because the site was dedicated to two different gods.
One side was dedicated to Sobek the crocodile god, while the other side was dedicated to Horus the falcon-headed god. The ancient Egyptians didn't want to offend either one of the gods by make one side better than the other. Kom Ombo Temple is believed to be the only twin temple ever built by the ancient Egyptians.
Aswan Sightseeing
In Aswan we typically take you to see three different attractions. More often than not, your tour will begin with a visit to the Aswan High Dam to see the dam itself, and also to enjoy spectacular views of Lake Nasser which formed as a result of the dam being built. From here, we usually make our way to the ancient stone quarries to see the giant Unfinished Obelisk, and then we end the tour with a visit to the amazing Temple of Philae.
Philae Temple was moved in its entirety to its current location. It originally stood on Philae Island which is now submerged beneath the water of Lake Nasser. The island was once considered so sacred that only high priests were allowed to step foot on it.
Like several other ancient monuments in the area, Philae Temple was essentially rescued from the rising water of Lake Nasser by moving it to higher ground.
Small Group Tours while Sailing on the Nile
All sightseeing excursions during our Nile cruise itineraries are small group tours that you share with some of our other clients, assuming that we also have some other clients aboard the boat as well. Regardless of whether we have other clients on board or not, you will still get to enjoy all the same excursions, and as always, you will have one of our Expert guides with you during your excursions.
At least one of our tour guides will sail with the vessel, and he or she will be the one accompanying you on your excursions during your Nile cruise.
SCUBA Diving, Snorkeling and Relaxing on the Red Sea Coast
For those who want to enjoy some SCUBA diving or snorkeling, or simply get a nice tan, the country's Red Sea coast is the perfect place to be. The coastline around places like Sharm El Sheikh and Hurghada is home to many world-class dive sites. There are also plenty of nice beaches and no shortage of resorts that cater for all budgets. Not surprisingly both places are very popular destinations for a relaxing family holiday.
Those travelers who want to go diving or snorkeling can also take comfort in the fact that we only work and partner with the very best fully certified dive boat operators. SCUBA diving trips include all equipment, certified dive guides, and on-board lunch and soft drinks.
This region of Egypt may not be able to compete with places like Luxor, Aswan and Abu Simbel in terms of ancient temple complexes and ancient tombs, but it is a fantastic part of the country to visit if you just want a relaxing break near the sea.
Traveling Beyond Egypt
We also offer a number of 10 day Egypt tours that include time in Jordan. While there are certainly lots of things to see and do during your trip in Jordan, nothing can compare to Petra, also often called the Rose Red City of Petra. No amount of words can describe this ancient rock-cut city which was carved out of the sides of a deep and long rock gorge.
In short, no visit to Jordan is complete if it doesn't include a visit to Petra, which is undeniably one of the world's most spectacular Ancient attractions. For this reason, a visit to Petra is included in all of our Egypt and Jordan travel itineraries. While you are in Jordan you will also have your own driver. However, you won't always have a guide with you throughout the time you are in the country. Instead, you will meet up with a specialist local guide at each of the major sites you visit.
NOTE: Any and all domestic travel which is mentioned in our itineraries, including train travel and air travel, are included in our tour prices. However, our quoted prices do not cover visa related expences. Our prices also do not include the cost of international flights. All accommodation is included, as are all meals as specified in our various itineraries.
All our 10 day Egypt tours are also customizable. Just let one of our tour representatives know exactly what you want or don't want, and they will be happy to assist you in any way they can. Are you ready to go sailing along the Nile; to stand before the Great Pyramid; to stroll among the ruins of the largest temple ever built? If you are, contact us now to find out more or to book your dream trip to Egypt today.
FAQ: 10 day Egypt tours
What to See In Egypt in 10 Days?
Set aside 3 days for Cairo to see the pyramids and the Egyptian Museum, then head to Luxor and visit the Valley of the Kings, Karnak, Hatshepsut Temple, preferably as part of a Nile cruise package.
How Much Does a Ten Day Trip to Egypt Cost?
Prices for a 10-day Egypt trip with 5-Star accommodation, a 5-Star Nile cruise and professionally guided tours in Cairo and throughout your cruise start at around $2,300 as of the time of writing.
How to Pack For 10 Day Trip to Egypt?
Be sure to pack in sunscreen lotion, a good pair of sunglasses and a wide-brimmed hat. As far as clothing is concerned, focus on loose fitting lightweight clothes made from breathable fabrics.
Is 10 Days in Egypt Enough?
If you plan your trip properly, or if you book a pre-package to from an experienced Egypt tour operator, 10 days in Egypt is ample time to have an amazing vacation with lifelong memories guaranteed.
You might also like
Private Tours of Egypt
Why book with us.
Local Travel Experts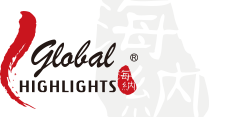 Indonesia (Bali)
South Korea
Caucasus and Central Asia
Southeast Asia
Japan and South Korea
Japan and China
Egypt and Jordan
China and Vietnam
Tibet, Nepal, and Bhutan

Top 4 Egypt Itineraries for 12-Day Trips (2023/2024)
12 days provide a reasonable amount of time to visit Egypt. During a 12-day Egypt trip, you could truly immerse yourself in iconic destinations, including Cairo, Luxor, and Aswan.
Additionally, you could enjoy leisurely moments on sandy beaches by the Red Sea. There would also be time to venture off the beaten path and discover hidden gems, such as the White Desert or Mount Sinai or visit neighboring Jordan.
To optimize your time, we've crafted four basic itineraries that serve as the foundation for many of our clients' Egypt tours. We are always ready to personalize your chosen itinerary to cater to your specific interests.
Itinerary 1: Cairo, a Nile Cruise, and Hurghada
Itinerary 2: with Mount Sinai
Itinerary 3: with the White Desert
Itinerary 4: Egypt and Jordan
Cost of a 12-Day Trip to Egypt
1. A Classic 12-Day Egypt Itinerary: Cairo, a Nile Cruise, and Hurghada
If you are first-timers, especially if taking a family/couple trip, choose this itinerary to have a well-rounded view of the best of Egypt.
In this itinerary, immerse yourself in the marvelous pyramids in Cairo, take a Nile cruise from Aswan to Luxor, and seek out some beach fun in Hurghada.
To add more fun to your trip, we have also added some exclusive activities for you to consider. Check them out in the following outlined itinerary.
China Highlights , Asia Highlights , and Global Highlights collaborate to provide families and couples with personalized and stress-free experiences in diverse destinations.
Days 1–4: Explore the Best of Cairo and an Excursion to Alexandria
Days 1–3 in Cairo (the Giza pyramid complex on a camel ride, the Great Sphinx, Saqqara, the Egyptian Museum, the Cairo Citadel, food tours, the Khan el-Khalili market, and the El Tannoura Dance Show)
Day 4 in Alexandria from/to Cairo (the catacombs of Kom El Shoqafa, the Lighthouse of Alexandria, and the Library of Alexandria)
During your 4-day stay in Cairo, you'll get up close to the pyramids at the celebrated Giza complex and then go to the less-crowded Saqqara (home to the oldest pyramid).
If you're a history buff, don't miss the Egyptian Museum, which is packed with abundant ancient treasures and mummies.
Visiting Alexandria is also a good idea, allowing you to uncover the visual and historical charm of Egypt's Mediterranean coast. You can explore the unique underground catacombs of Kom El Shoqafa and see the century-old lighthouse (the Lighthouse of Alexandria that was an ancient wonder now lies ruined in the bay).
For couples and families, you can have fun on a foodie tour and enjoy watching the traditional El Tannoura Dance Show together. As you step up to the Cairo Citadel at sunset, you can take in breathtaking panoramic views of Cairo's urban landscape, the Nile River, and the pyramids of Giza. Capturing a family photo or romantic picture together would make these memorable moments long-lasting.
Days 5–8 Take a Nile Cruise from Aswan to Luxor
Day 5: Nile cruise from Aswan (cruise boarding, the Aswan High Dam, the Philae temple complex, and the Unfinished Obelisk)
Day 6: Nile cruise (the Temple of Edfu and the Temple of Kom Ombo)
Days 7–8: Nile cruise to Luxor (the Valley of the Kings, the temple of Queen Hatshepsut,the Colossi of Memnon, the Karnak temple complex, and a sunrise balloon ride and/or a nighttime city tour by horse and carriage)
Free from the hotel changes, cruising the Nile could be one of the most atmospheric ways to discover the ancient tombs and temples as well as to admire the serene scenery between Luxor and Aswan.
Travel with us and you won't have to share guides with big groups during the onshore excursions . If you are looking for a quieter cruise or a more romantic experience, taking a dahabiya (traditional Nile houseboat) with just 5–6 cabins may be perfect for you.
Especially for milestone trips, a felucca sailing trip at sunset in Aswan and a sunrise hot-air balloon ride could enrich your travel experiences.
Days 9–12 Relax at the Red Sea
Days 9–12 in Hurghada (beach activities, such as snorkeling and diving, a desert safari, and a Bedouin village visit)
If you want to experience more than just history and ancient ruins on your trip to Egypt, Hurghada on the Red Sea would be a wonderful option. Close to Luxor, it offers a mix of relaxation and water activities. If you want a tranquil atmosphere, go to nearby El Gouna.
A comfortable hotel is essential for your beach vacation. Whether you prefer adult-only hotels or family-friendly resorts, we would select the best hotel to cater to your needs.
2. A 12-Day Egypt Itinerary with a Pilgrimage to Mount Sinai
In this itinerary, you would have a visit to a momentous Biblical site as well as the iconic highlights of ancient Egypt.
The following itinerary has a well-received winding-down sequence: Cairo – a Nile cruise from Luxor to Aswan – Mount Sinai – Sharm el-Sheikh.
Days 1–3 in Cairo (the Giza pyramid complex, the Egyptian Museum, Coptic Cairo, Wadi El Natrun, and the Khan el-Khalili market)
Day 4: Nile cruise from Aswan (cruise boarding, the Aswan High Dam, the Philae temple complex, and the Unfinished Obelisk)
Day 5: Nile cruise (the Temple of Edfu and the Temple of Kom Ombo)
Days 6–7: Nile cruise disembarking in Luxor (the Valley of the Kings, the temple of Queen Hatshepsut, the Colossi of Memnon, the Luxor Temple, and the Karnak temple complex)
Days 8–9 in Saint Catherine (Saint Catherine's Monastery and a trek up Mount Sinai)
Days 10–12 in Sharm el-Sheikh (snorkeling and diving, relaxing on the beach)
Trekking up Mount Sinai is a must for pilgrims. Instead of rushing to the top at midnight with huge crowds, we highly recommend hiking up in time for sunset. This way, you can have a good rest and enjoy the mountain to yourself. Saint Catherine's, nestled beneath Mount Sinai, is a place worth visiting.
What could be more relaxing than unwinding on the beach after an energetic hike? In Sharm el-Sheikh, you can refresh yourself in luxurious resorts, immerse yourself in the vibrant nightlife, and engage in diving and snorkeling activities.
Insider tips: Before departing for Mount Sinai, it is necessary to obtain permission from the government. Taking a private tour with us , we'd take care of all documents and help with all security checks for you!
Number in your group
Adults (≥18 years old)
Adults' ages
Children (age of children at time of trip)
10-17 yrs old
3-9 yrs old
0-2 yrs old
When would you travel?
Select your travel date and trip length (days).
I prefer to be contacted via:
3. A 12-Day Egypt Itinerary with an Adventure to the White Desert
This 12-day Egypt itinerary promises a perfect balance of historical experiences in Cairo, Luxor, and Aswan, and thrilling outdoor adventures to the otherworldly White Desert. 
See if this is your travel style from the following outline and highlights: Cairo – the White Desert – Aswan – Luxor – Hurghada.
Days 1–2 in Cairo (the Giza pyramid complex, the Great Sphinx, a food tour, and the Khan el-Khalili market)
Days 3–5 in Bahariya (Bahariya Oasis, Crystal Mountain, the Black Desert, the White Desert, and desert camping)
Day 6  in Aswan (Aswan city tour with the Aswan High Dam, the Philae temple complex, and scenic felucca ride on the Nile)
Days 7–8 Luxor (Luxor city tour with the Luxor Temple, the Karnak temple complex, the Valley of the Kings, the temple of Queen Hatshepsut, and sunrise hot air balloon ride)
Days 9–12 in Hurghada (beach time, and some free time)
Instead of the regular 3-night slow-paced Nile River Cruises, we specially arranged a  scenic Felucca ride in Aswan , allowing the best Nile experiences and more time for exciting adventures.
Beyond classic sightseeing, you'd have the chance to venture into the magical White Desert and partake in a unique Bedouin camping experience. Shutterbugs love its alien landscape and great conditions for stargazing.
Enjoy the tranquility of the desert, engage in storytelling around the campfire, and share quality time with your loved one(s) in this breathtaking setting.
4. A 12-Day Egypt and Jordan Itinerary
This Egypt and Jordan itinerary is designed for those who want to maximize a 12-day travel experience in the Middle East.
During our ultimate 12-day Egypt and Jordan adventure, you'd explore the best of Egypt and Jordan, from their history to their landscapes: the magnificent pyramids, the grand sandstone city of Petra, the stunning Nile, and the magical Dead Sea.
See the following Egypt–Jordan itinerary, for reference: 1 week in Egypt and  5 days in Jordan.
Days 1–3 in Cairo, Egypt (the Giza pyramid complex, the Great Sphinx, the Egyptian Museum, the Citadel of Cairo, food tour, and the Khan el-Khalili market)
Days 4–7 on a Nile cruise from Aswan to Luxor, Egypt (the Philae temple complex, the Temple of Kom Ombo, the Colossi of Memnon, the Temple of Horus, the Luxor Temple, and the Karnak temple complex)
Days 8–10: fly to Amman, Jordan (the Citadel, the Roman Theater, the ancient city of Jerash, and a day trip to the Dead Sea)
Days 11–12 in Petra (the Siq, the Treasury, the Monastery, and Petra by Night)
You'd follow a similar plan to other Egypt itineraries above for the first part of this trip: Cairo and the Nile cruise.
In Jordan, first-timers usually don't want to miss the capital Amman, the Dead Sea, and the red-hued canyon of Petra.
Floating on the Dead Sea together and covering each other in the rejuvenating mud can create cherished family memories.
In Petra, you would be fascinated by the intricate rock-cut architectural wonder. When you witness the illuminated Treasury by night, it creates a truly memorable and enchanting atmosphere, which is especially lovely for couples to enjoy together.
If you like this itinerary, learn about more exclusive activities from our popular 2-week Egypt and Jordan tour . Combing with Morrocco is also a great option. You can see the well-organized 15-Day Morocco and Egypt Highlights >>>
How Much Does a 12-Day Egypt Tour Cost?
A private Egypt tour can usually be an "affordable luxury" with exclusive experiences. The price of a 12-day private Egypt tour falls at about US$1,800–3,000 per person. Kids under 10 can receive discounts of between 30% and 50%.
To save some costs, you can contact us 1 year in advance to enjoy early-bird discounts. Specializing in customized private tours, we are experts at helping to optimize your costs. You'll have a unique and personalized travel experience that goes beyond traditional group tours: worry-free private transfers, character-filled boutique hotels, and authentic local food experiences.
Furthermore, going right before or after peak time (November to March) is a smart way to gain low-season savings but still have a fair chance of good weather. Whenever you go, more savings can be had in a larger group. For example, invite your family and friends to travel with you to share the costs.
Booking Your Egypt Trip With Us
Want more itinerary options? You can get our handpicked itineraries for various durations: 5 days , 7 days , 8 days , 10 days , 14 days , and 21 days ...
You are warmly welcomed to have us customize your own trip based on your group size, interests, and other needs. Sit back and use our Create My Trip service.
For inspiration, you could also see the following popular Egypt tours:
9-Day Essential Egypt Tour with Nile Cruise
10-Day Egypt Family Expedition Tour
12-Day Best Egypt Tour with Sharm El Sheikh
2-Week Egypt and Jordan Family Adventure Tour
More Egypt Tours
Why Travel with Global Highlights (98.8% positive customer reviews among 10,000+)
Unique experiences tailored to your interests: Enjoy a premium trip that goes beyond the typical tourist attractions.
Hassle-free travel and peace of mind: Every aspect of your trip will be carefully planned and organized by your 1:1 travel consultant.
Experienced and knowledgeable guides: Your guides will be local and love to work for travelers' smiles.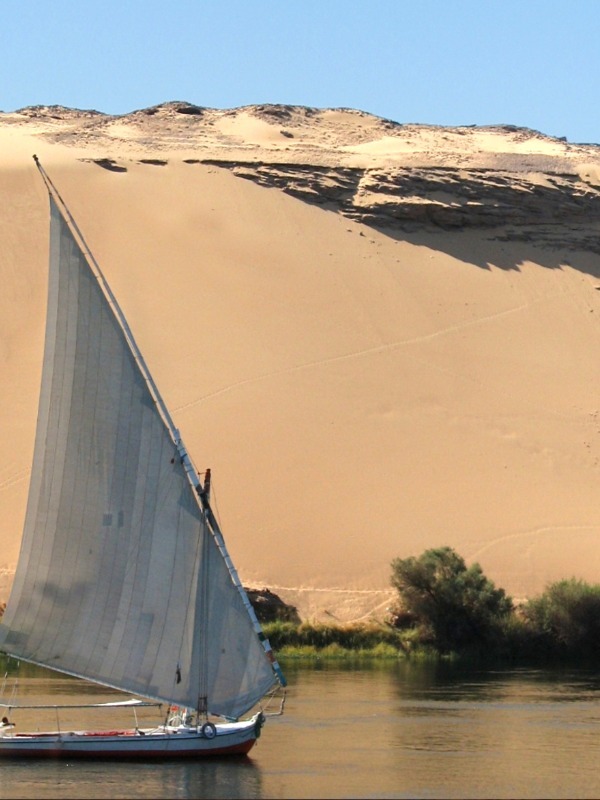 15-Day Best of Israel Jordan and Egypt Family Tour
Middle East Tours 2024/2025: Personalized and Stress-free
18-Day Egypt Jordan and Israel's Treasures Discovery Tour
24-Day Panoramic Middle East Bible Journey
15-Day Morocco and Egypt Highlights Tour
12-Day Journey Through Egypt and Jordan's Ancient Lands
10-Day Private Egypt Active Family Expedition Tour
Private Egypt Tours 2024/2025 | Creating Lasting Memories
How to Plan a Trip to Egypt and Jordan in 2024/2025
3-Week Itineraries to Egypt, Jordan, and Israel for First-Timers
How to Plan a Trip to Egypt, Jordan, and Israel in 2024/2025
How to Plan a Trip to the Middle East 2024/2025 & Itinerary Ideas
How to Plan a Trip to Israel and Jordan in 2024/2025
How to Plan a Trip to Egypt 2024/2025 & Itinerary Ideas
How to Plan a 3-Week Egypt Itinerary (2024/2025)
Planning a 2-Week Egypt Itinerary 2024/2025: Best 5 Options
How to Plan a 10-Day Egypt Itinerary (Best 4 in 2024/2025)
How Long to Spend in Egypt: Itineraries for First-Timers
Best and Worst Times to Visit Egypt 2024/2025
How to Plan a Family Trip to Egypt in 2024/2025
Weather in Egypt in January 2024: Best Places to Go & Travel Tips
Weather in Egypt in February 2024: Best Places to Go & Travel Tips
Weather in Egypt in March 2024: Best Places to Go & Travel Tips
Weather in Egypt in April 2024: Best Places to Go & Travel Tips
Weather in Egypt in May 2024: Best Places to Go & Travel Tips
Weather in Egypt in June 2024: Best Places to Go & Travel Tips
Weather in Egypt in July 2024: Best Places to Go & Travel Tips
Weather in Egypt in August 2024: Best Places to Go & Travel Tips
Weather in Egypt in September: Best Places to Go & Travel Tips
Weather in Egypt in October 2024: Best Places to Go & Travel Tips
Weather in Egypt in November 2024: Best Places to Go & Travel Tips
Weather in Egypt in December 2024: Best Places to Go & Travel Tips
Get Inspired with Some Popular Itineraries
More travel ideas and inspiration, sign up to our newsletter.
Be the first to receive exciting updates, exclusive promotions, and valuable travel tips from our team of experts.
The Global Highlights Experience

Your tour will be tailor-made to suit you by a destination expert. Your personal travel advisor will always reply within 24 hours.

Enjoy having your own personal local guide and ride. Explore destinations at your own pace. Have as much flexibility as possible.

Go beyond the sightseeing. Understand the destinations by practicing the local culture and interacting with local people.

Leave all the booking work to us, including international and internal transportation, visas, hotels, meals, and activities.
Travel Agents
Where Can We Take You Today?
Egypt Tours
Morocco Tours
Turkey Tours
Japan Tours
China Tours
Thailand Tours
Vietnam Tours
India Tours
Myanmar Tours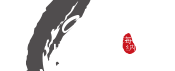 Global Highlights uses cookies to give you the best possible service. If you continue browsing, you agree to the use of cookies. More details can be found in our privacy policy .
Skip to main content
Keyboard shortcuts for audio player
Middle East crisis — explained
The conflict between Israel and Palestinians — and other groups in the Middle East — goes back decades. These stories provide context for current developments and the history that led up to them.
Wray warns of increased terrorist threat, says U.S. is in a 'dangerous period'
FBI Director Christopher Wray testifies before the House Homeland Security Committee on Nov. 15, 2022. Chip Somodevilla/Getty Images hide caption
FBI Director Christopher Wray testifies before the House Homeland Security Committee on Nov. 15, 2022.
FBI Director Christopher Wray said Tuesday the war between Israel and Hamas has led to a spike in threats against the United States, warning that "we are in a dangerous period" as various terrorist groups look to leverage the conflict for their own causes.
Israeli forces move farther into Gaza as the push against Hamas enters a 5th day
The threat of international terrorism in the U.S. had largely subsided in recent years, particularly since the defeat of the Islamic State in Iraq and Syria. But senior American officials say Hamas' deadly Oct. 7 attack on Israel has created a new dynamic with dangerous implications at home and abroad.
"The reality is that the terrorism threat has been elevated throughout 2023, but the ongoing war in the Middle East has raised the threat of an attack against Americans in the United States to a whole other level," Wray said in testimony before the Senate Homeland Security and Governmental Affairs Committee.
Hamas' attack, which killed some 1,400 people in Israel, "will serve as an inspiration the likes of which we haven't seen since ISIS launched its so-called caliphate years ago," Wray said.
He said the FBI has no evidence of a imminent threat from a foreign terrorist group, but he noted that since Hamas' attack on Israel, al-Qaida has issued its most specific call for violence against the U.S. in years, while the Islamic State has urged its followers to target Jewish communities in the United States and Europe.
Israel-Gaza conflict is being used in extremist propaganda
Christine Abizaid, the director of the National Counterterrorism Center, told lawmakers that the Israel-Hamas war has featured in messaging and propaganda since Oct. 7.
"We've seen it from al-Qaida affiliates, almost every single one of them," she told lawmakers, referring to terrorist groups in the Mideast and Africa with ties to al-Qaida. "We've also seen it from ISIS, which isn't ideologically aligned with a group like Hamas but is still leveraging this current conflict to try to sow the kind of violence, bring adherence to its cause in a kind of exploitative way."
On the home front, Wray said the biggest concern for the FBI is that violent extremists — including people inspired by foreign terrorist groups but also domestic violent extremists — will draw inspiration from the ongoing conflict to carry out attacks against Americans.
"We've seen that already with the individual we arrested last week in Houston, who'd been studying how to build bombs and posted online about his support for killing Jews," Wray said. "And with the tragic killing of a 6-year-old Muslim boy in Illinois in what we're investigating as a federal hate crime."
But Wray said he's also concerned about traditional, formal terrorist organizations like al-Qaida, ISIS or Hezbollah potentially carrying out strikes in the U.S.
"We are not currently tracking an imminent, credible threat from a foreign terrorist organization, a structured attack here or something like that, but it is something that we think heightened vigilance is warranted for," he said.
"It is a time to be concerned," he said. "We are in a dangerous period."
At the same time, he urged Americans not to be intimidated.
"This is not a time for panic, but it is a time for vigilance," he said. "We shouldn't stop conducting our daily lives, going to schools, houses of worship and so forth. But we should be vigilant."
Iran and its proxies
Abizaid said the U.S. has no intelligence that indicates Iran or its proxies, most notably the Lebanese militant group Hezbollah, "had any foreknowledge" of Hamas' Oct. 7 attack.
But she said the U.S. remains focused on Iranian activities — and those of its allies — targeting American interests since the war's outbreak. She noted that militant groups aligned with Tehran have conducted 24 attacks against American forces in Iraq and Syria.
Despite those strikes, she said Washington doesn't believe Iran currently is interested in escalating the conflict.
"We assess Iran, Hezbollah and their linked proxies are trying to calibrate their activity, avoiding actions that would open up a concerted second front with the U.S. or Israel while still exacting costs in the midst of the current conflict," she said.
"This is a very fine line to walk and, in the present regional context, their actions carry the potential for miscalculation thus requiring heightened scrutiny in the region and we monitor for signs that the conflict could spread."
On the domestic front, she said she has no indications of any Iranian threat inside the U.S., though she cautioned that Iran has a "significant escalatory capability" that it could call on if Tehran decided it wanted to ramp up the conflict.
christine abizaid
Israel-Hamas war
christopher wray
Blinken to push for 'humanitarian pauses' in Gaza; leading Democrat calls for changes in Israeli strategy
Sen. Chris Murphy calls for a change in Israel's war efforts
Blinken expected to push for 'humanitarian pauses'
Hezbollah ramps up strikes on Israel's northern border
Here's what to know:
Here's what to know, live coverage contributors 46.
12:30 a.m. EDT 12:30 a.m. EDT
11:45 p.m. EDT 11:45 p.m. EDT
11:12 p.m. EDT 11:12 p.m. EDT
10:49 p.m. EDT 10:49 p.m. EDT
10:18 p.m. EDT 10:18 p.m. EDT
9:48 p.m. EDT 9:48 p.m. EDT
9:30 p.m. EDT 9:30 p.m. EDT
9:05 p.m. EDT 9:05 p.m. EDT
8:45 p.m. EDT 8:45 p.m. EDT
8:26 p.m. EDT 8:26 p.m. EDT
8:13 p.m. EDT 8:13 p.m. EDT
7:48 p.m. EDT 7:48 p.m. EDT
7:26 p.m. EDT 7:26 p.m. EDT
7:05 p.m. EDT 7:05 p.m. EDT
6:45 p.m. EDT 6:45 p.m. EDT
6:27 p.m. EDT Bullet Key update 6:27 p.m. EDT
5:45 p.m. EDT 5:45 p.m. EDT
5:34 p.m. EDT 5:34 p.m. EDT
5:10 p.m. EDT 5:10 p.m. EDT
4:24 p.m. EDT 4:24 p.m. EDT
3:46 p.m. EDT 3:46 p.m. EDT
3:26 p.m. EDT Bullet Key update 3:26 p.m. EDT
2:50 p.m. EDT 2:50 p.m. EDT
2:36 p.m. EDT 2:36 p.m. EDT
2:30 p.m. EDT 2:30 p.m. EDT
2:28 p.m. EDT Bullet Key update 2:28 p.m. EDT
2:24 p.m. EDT Bullet Key update 2:24 p.m. EDT
2:05 p.m. EDT 2:05 p.m. EDT
2:00 p.m. EDT 2:00 p.m. EDT
1:53 p.m. EDT 1:53 p.m. EDT
1:30 p.m. EDT 1:30 p.m. EDT
12:54 p.m. EDT 12:54 p.m. EDT
11:59 a.m. EDT 11:59 a.m. EDT
11:50 a.m. EDT 11:50 a.m. EDT
11:30 a.m. EDT 11:30 a.m. EDT
11:15 a.m. EDT 11:15 a.m. EDT
11:00 a.m. EDT 11:00 a.m. EDT
10:29 a.m. EDT 10:29 a.m. EDT
10:00 a.m. EDT 10:00 a.m. EDT
9:44 a.m. EDT 9:44 a.m. EDT
9:00 a.m. EDT 9:00 a.m. EDT
8:44 a.m. EDT 8:44 a.m. EDT
8:29 a.m. EDT 8:29 a.m. EDT
8:17 a.m. EDT 8:17 a.m. EDT
8:06 a.m. EDT Reporting from Tel Aviv 8:06 a.m. EDT
7:51 a.m. EDT 7:51 a.m. EDT
7:44 a.m. EDT Reporting from Berlin 7:44 a.m. EDT
7:31 a.m. EDT 7:31 a.m. EDT
7:07 a.m. EDT 7:07 a.m. EDT
6:53 a.m. EDT 6:53 a.m. EDT
6:29 a.m. EDT 6:29 a.m. EDT
6:11 a.m. EDT Bullet Key update 6:11 a.m. EDT
5:53 a.m. EDT 5:53 a.m. EDT
5:52 a.m. EDT 5:52 a.m. EDT
5:32 a.m. EDT 5:32 a.m. EDT
5:13 a.m. EDT 5:13 a.m. EDT
4:53 a.m. EDT 4:53 a.m. EDT
4:26 a.m. EDT 4:26 a.m. EDT
3:53 a.m. EDT 3:53 a.m. EDT
3:35 a.m. EDT 3:35 a.m. EDT
3:16 a.m. EDT 3:16 a.m. EDT
2:43 a.m. EDT 2:43 a.m. EDT
2:39 a.m. EDT Bullet Key update 2:39 a.m. EDT
2:26 a.m. EDT Reporting from Minneapolis 2:26 a.m. EDT
2:10 a.m. EDT 2:10 a.m. EDT
2:08 a.m. EDT Bullet Key update 2:08 a.m. EDT
Israel-Gaza war
Secretary of State Antony Blinken continues his whirlwind tour of the Middle East in hopes of deterring other countries from widening the conflict. Communications services gradually returned to parts of the Gaza Strip on Monday after another blackout and a soaring death toll . Understand what's behind the Israel-Gaza war .
Hostages: Israeli officials say Hamas militants abducted about 240 hostages in a highly organized attack . Four hostages have been released — two Americans and two Israelis — as families hold on to hope . One released Israeli hostage recounted the "spiderweb" of Gaza tunnels she was held in.
Humanitarian aid: The Palestine Red Crescent Society said it has received over 300 trucks with food, medicine and water to the Gaza Strip through Egypt's Rafah crossing . However, the PRCS said, there hasn't been permission yet to bring in fuel, which powers the enclave's hospitals, water pumps, taxis and more .
Israeli-Palestinian conflict: The Hamas -controlled Gaza Strip has a complicated history , and its rulers have long been at odds with the Palestinian Authority , the U.S.-backed government in the West Bank. Here is a timeline of the Israeli-Palestinian conflict .
Israel-Gaza war live updates: Gaza death toll passes 10,000, health officials say; Blinken says more aid coming soon 23 minutes ago Israel-Gaza war live updates: Gaza death toll passes 10,000, health officials say; Blinken says more aid coming soon 23 minutes ago
Dozens of U.S. citizens depart Gaza as Israel presses offensive November 2, 2023 Dozens of U.S. citizens depart Gaza as Israel presses offensive November 2, 2023
Why are Israel and Hamas at war? A basic explainer. October 30, 2023 Why are Israel and Hamas at war? A basic explainer. October 30, 2023
Israel-Gaza latest: Hamas armed wing in Lebanon 'fires rockets at Israel'; Gaza becoming 'graveyard for children'
The number of people killed in Gaza since the start of the war has risen to more than 10,000, the health ministry there has said. The head of the UN has called for an urgent ceasefire, saying "no one is safe" in the besieged enclave.
Monday 6 November 2023 23:42, UK
Please use Chrome browser for a more accessible video player
Hamas says Israel committing 'Gaza Holocaust' and calls on UN to inspect hospitals
More than 10,000 people killed in Gaza, health ministry says
UN chief: Gaza becoming 'graveyard for children'
Watch: Sky team in Gaza follows father as he buries four children
Hamas armed wing in Lebanon 'fires rockets at Israel'
Blinken had three tasks on Middle East visit - none went well, says Dominic Waghorn
The war explained: What's the difference between a ceasefire and humanitarian pause? | Short history of Israeli-Palestinian conflict | Hamas's vast tunnel network
Podcast: What is Israel's next move?
Updates from Alex Crawford and John Sparks in Beirut, Cordelia Lynch and Mark Stone in Jerusalem, and Deborah Haynes in southern Israel
"Near-total depletion" of food and water supplies in Gaza is threatening the lives of those who have survived the bombing, a charity has warned.
Cases of dehydration and malnutrition are rising rapidly, said Action Aid, which works with women and girls in poverty.
Palestinians told the organisation there was no food in supermarkets and what sustenance they could find was making them unwell.
"As food and water begins to run out entirely, mothers are struggling to feed and care for their families, sharply increasing the risks of malnutrition, disease, and death," said Riham Jafari, advocacy coordinator for ActionAid Palestine.
"Cases of dehydration and malnutrition are increasing rapidly. Hospitals, which have remained over capacity for weeks on end, can offer no solace to those on the brink of starvation."
The number of aid trucks allowed access to Gaza each day has reduced since last week, with fewer than 30 crossing the border today, according to the US.
Aid agencies estimate at least 100 trucks a day are needed to meet the most urgent needs of people living in Gaza.
Myassar, 65, who is sheltering in a school with her family, told ActionAid: "There are no nappies, we also don't have milk or clothes to wear or water to drink.
"The little ones want to wash, girls want to drink, women are dying of hunger. The little ones scream all day long. What have we done?"
With an infantry-led operation expected to take place in Gaza City in the coming days, flares were photographed lighting up the sky above it this evening.
Across the border, an Israeli mobile artillery unit fired towards Gaza from Israel earlier in the afternoon.
In Rafah, southern Gaza, Palestinians gathered at the site of an Israeli airstrike that destroyed the home of the Qeshta family.
Khan Younis refugee camp was the scene of another airstrike, where Palestinians were photographed searching for survivors under the rubble.
Thomas Hand has spent weeks mourning the death of his eight-year-old daughter, Emily.
He was told by Israeli authorities that she was murdered in Kibbutz Be'eri by Hamas.
But today he is sitting on the balcony of a hotel overlooking the Dead Sea, reacting to the news his daughter is now believed to be a hostage in Gaza.
Here, he talks to Asia correspondent Cordelia Lynch . ..
Five UN aid workers have been killed by strikes in Gaza in the last 24 hours, said the United Nations Relief and Works Agency.
This means 88 UNRWA workers have died and 25 have been injured since 7 October.
Some 48 UNRWA posts have been damaged in that time, the agency reported.
One woman among the injured lost her husband and three children in an airstrike, it said.
Approximately 717,000 Palestinians have been sheltering in 149 UNRWA installations across Gaza, said the agency.
Israeli ground forces have divided the Gaza Strip in two after reaching the Mediterranean Sea.
A satellite image spanning the width of the besieged territory shows at least six Israel Defence Forces (IDF) strongholds.
The area south of Gaza City is around 7km (four miles) wide and groups of IDF tanks and troops can be seen across the whole strip.
Here, Sky News maps where Israel's ground offensive has taken place so far.
A bread shortage has forced people in southern Gaza to queue for hours in bakeries where they are exposed to airstrikes, according to the World Food Programme (WFP).
The only functioning mill in Gaza is unable to grind wheat due to the lack of electricity and fuel, said the UN organisation via the UN's human rights office.
For those people displaced in the north, the intensification of IDF ground operations means that food assistance has "almost completely halted for the past few days", it said.
Some 11 bakeries have been hit and destroyed since 7 October, and only nine across Gaza have been confirmed by the WFP to be intermittently providing bread to shelters.
Stocks of some essential food items like rice, vegetable oil and pulses are set to be depleted in the coming three days, said the organisation.
The number of aid trucks entering Gaza has declined since last week, with fewer than 30 being allowed into the territory today, according to the US.
The United Arab Emirates will establish a fully-equipped field hospital in Gaza, its state news agency has reported.
The agency said five aircraft carrying the equipment necessary for the operation of the hospital departed from Abu Dhabi today heading to El Arish airport in Egypt.
It did not elaborate on whether there was an agreement on this initiative with Israel.
Joe Biden and Benjamin Netanyahu have discussed the potential for "tactical pauses" in fighting, according to the White House.
Spokesperson John Kirby said the US and Israeli governments would continue to be in touch regarding potential pauses for humanitarian reasons and possible hostage releases.
The leaders themselves would also continue talks in the coming days, he said.
"You can expect that we're going to continue to advocate for temporary and localised pauses in the fighting," Mr Kirby said.
"We consider ourselves at the beginning of this conversation, not at the end of it."
The Biden administration maintains that a general ceasefire would not be an appropriate step.
The Rafah crossing has been the source of what little humanitarian aid has entered Gaza since 7 October, and the only exit for foreign nationals hoping to evacuate.
But their passage, as well as that of injured Palestinians, ceased on Saturday and the flow of aid trucks slowed from 102 on Thursday to 25 by Sunday, according to UN data.
After the border reopened again today, here are the latest updates from the crossing.
Evacuations: Approximately 80 dual nationals and 17 medical evacuees left through Rafah today, according to Egyptian security sources.
Aid: Between 30 and 48 aid trucks crossed the border, with the lower figure coming from the White House and the upper estimate coming from Egyptian security sources.
Ambulances: The International Committee of the Red Cross said it had escorted a four-ambulance convoy of patients from the al Shifa hospital in Gaza City to the Rafah crossing.
Fuel: Israel has thus far refused to allow fuel, which is needed for water supplies, hospital generators and aid distribution, to enter Gaza from Egypt.
Mass casualty airstrikes in Gaza have captured headlines around the world, but doubt has been cast on the reliability of fatality figures in the warzone.
Confusion is common in the immediate aftermath of attacks in any conflict, but even Gaza's official count of the number killed, based on hospital administrative data, has come under scrutiny.
While journalists and UN investigators have been able to visit the Israeli villages attacked by Hamas to corroborate its figures, Israel has not allowed observers to enter Gaza since the war began.
Here, Sky News takes a look at the reliability of figures coming out of the territory, as well as those from the Israeli side.
Be the first to get Breaking News
Install the Sky News app for free